Funnily enough, horses used to terrify me. They seemed erratic and volatile. Walking through my local park, the lush green Englischer Garten in Munich, I would veer away mistrustfully to avoid the police horses trotting through. It wasn't until a couple of years ago that I was swayed. I spent some of the pandemic on the Dutch coast, living near rugged sand dunes where wild horses roam freely across the dusty scrubland. It was here that I noticed horses weren't belligerent creatures; if anything, they were nervy but passive animals. The next summer, as things opened up, I tentatively embarked upon my first riding course up in the rural mountains of Tuscany. My pony-tailed instructor spent most of the time teaching me to 'breathe' with the horses – something they respond to above all else, he tells me – and by the end of the course, my fear had ebbed away.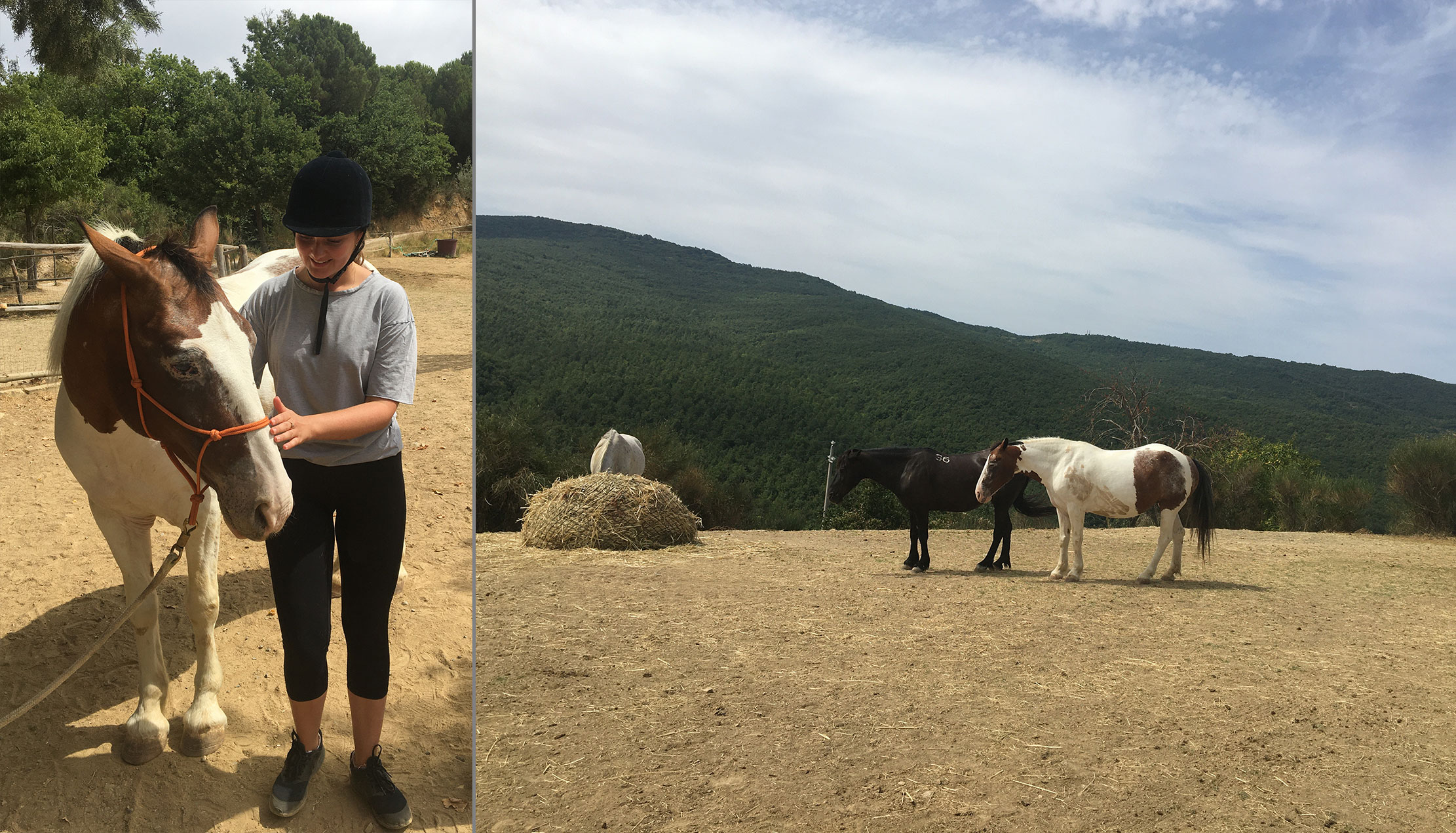 Editor Catherine Bishop gets acquainted with some horses in Tuscany, Italy
What is the CHIO?
Thanks to this fortunate turn of events, I was thus delighted to be invited to the CHIO by its sponsor, Rolex, last month. The CHIO is held in Aachen, North-Rhein Westphalia, perching on the border to Belgium and the Netherlands. The ancient spa city is best known for its early medieval Palatine Chapel, reconstructed upon the orders of Charlemagne around 800 AD. Meanwhile, the city's renowned equestrian event lies on the northern outskirts in a showground called the Soers, spreading across a vast expanse of perfectly kempt grass and rough gravel. It is here that I will be discovering exactly what role Rolex plays as sponsor of one of the most prestigious shows in the world of equestrian sports.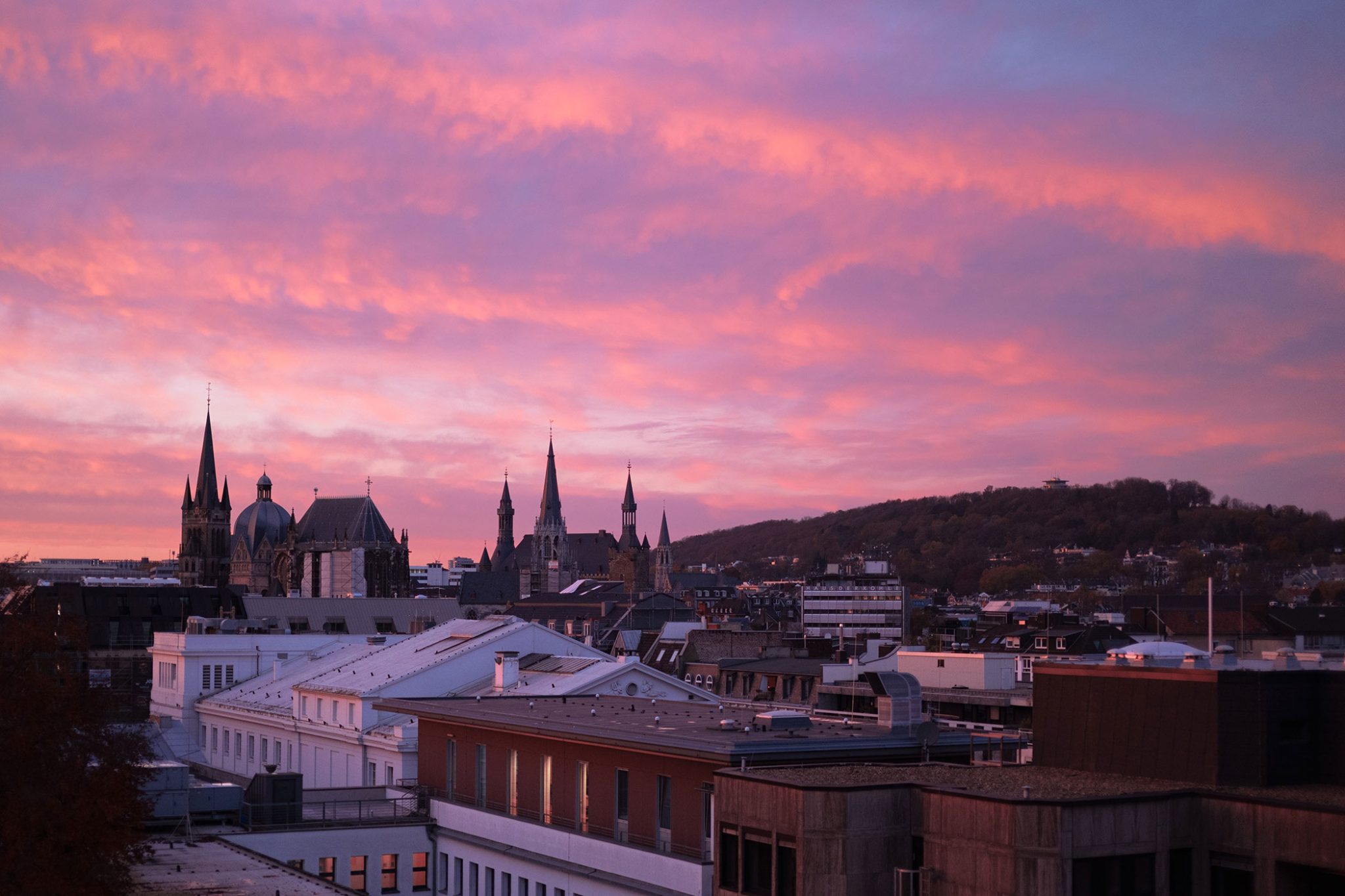 The skyline of Aachen (Germany) and its Palatine Chapel
Credit © Igor Shalyminov
The CHIO (Concours Hippique International Officiel) is one of the largest professional horse shows in the world, and undoubtedly the most prestigious in Europe. Disciplines range from its best-known events – show jumping and dressage – to 'eventing', 'four-in-hand driving', and vaulting. According to the International Federation for Equestrian Sports, each country has permission to stage only one Nations Cup in each discipline. In the case of Germany, CHIO has been christened its place of choice. The roots of this world-famous show long espoused by Rolex date back to 1924.
Rolex's equestrian history
Put simply, Rolex is not simply a manufacture: it's all about a certain lifestyle. One of refinement, class, holding an emphasis on quality. No wonder, then, that the watchmaker is so deeply involved with one of the most sophisticated sports out there. Rolex's interest in the sport dates back to 1957, when it christened British showjumper Pat Smythe as its first brand ambassador in the equestrian discipline.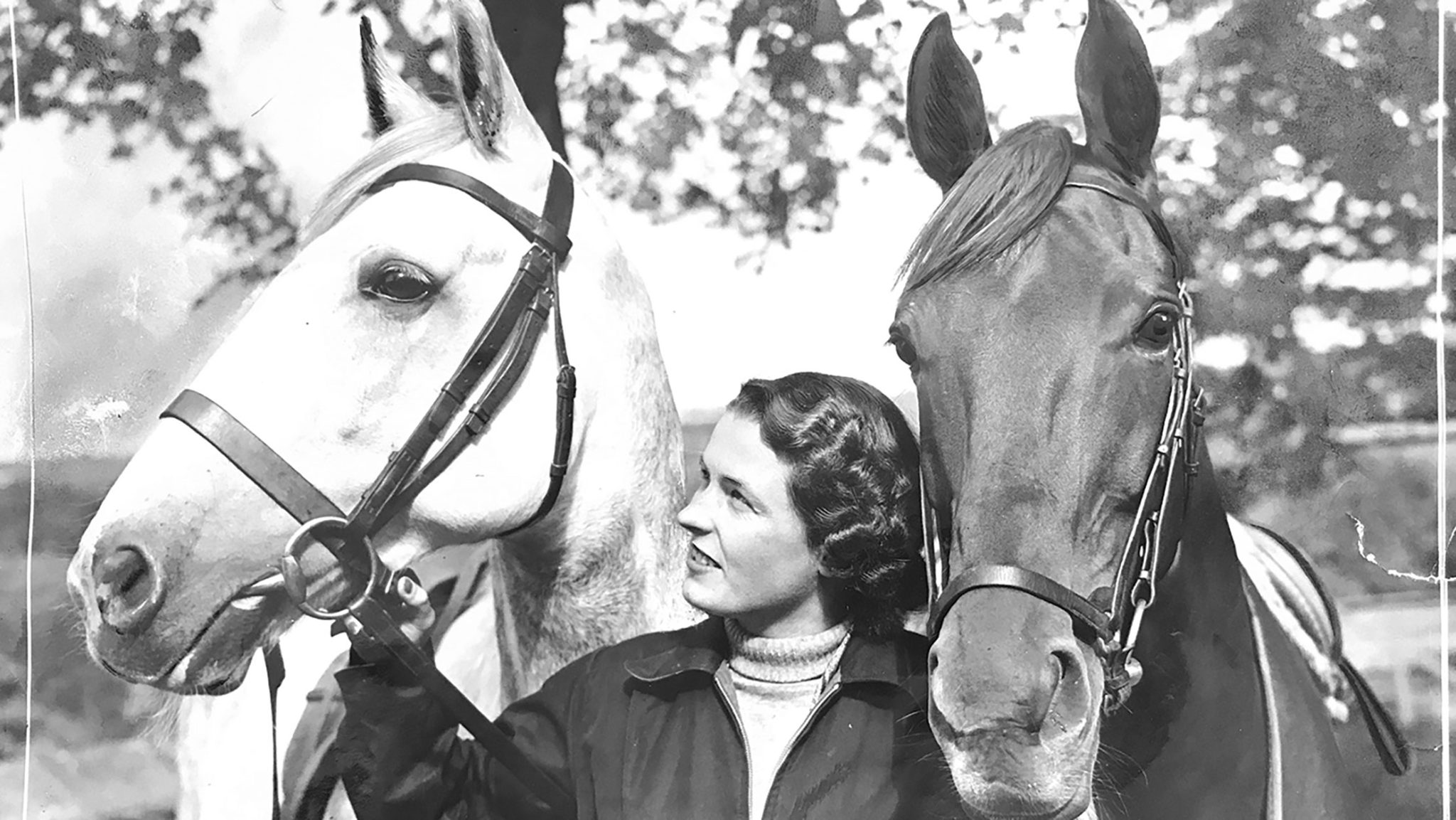 British showjumper Pat Smythe at home in Gloucestershire with horses Tosca and Hal, 1953
Credit © Horseandhound
The CHIO makes up an important part of Rolex's modern equestrian history, as a segment of the Rolex Grand Slam of Show Jumping. This international initiative created in 2013 consists of four major tournaments. This includes the SCIO Spruce Meadows 'Masters' (held in Calgary (with Rolex as Presenting Sponsor since 1989), CHI Geneva (with Rolex as Presenting Sponsor since 1996), the Dutch Masters (Rolex has been its main sponsor since 2014) and, of course, the CHIO Aachen itself (with Rolex as a supporter since 1999). The goal of the Grand Slam of Show Jumping is to win the Grand Prix in three out of these four competitions in a row. This, unsurprisingly, is no easy feat.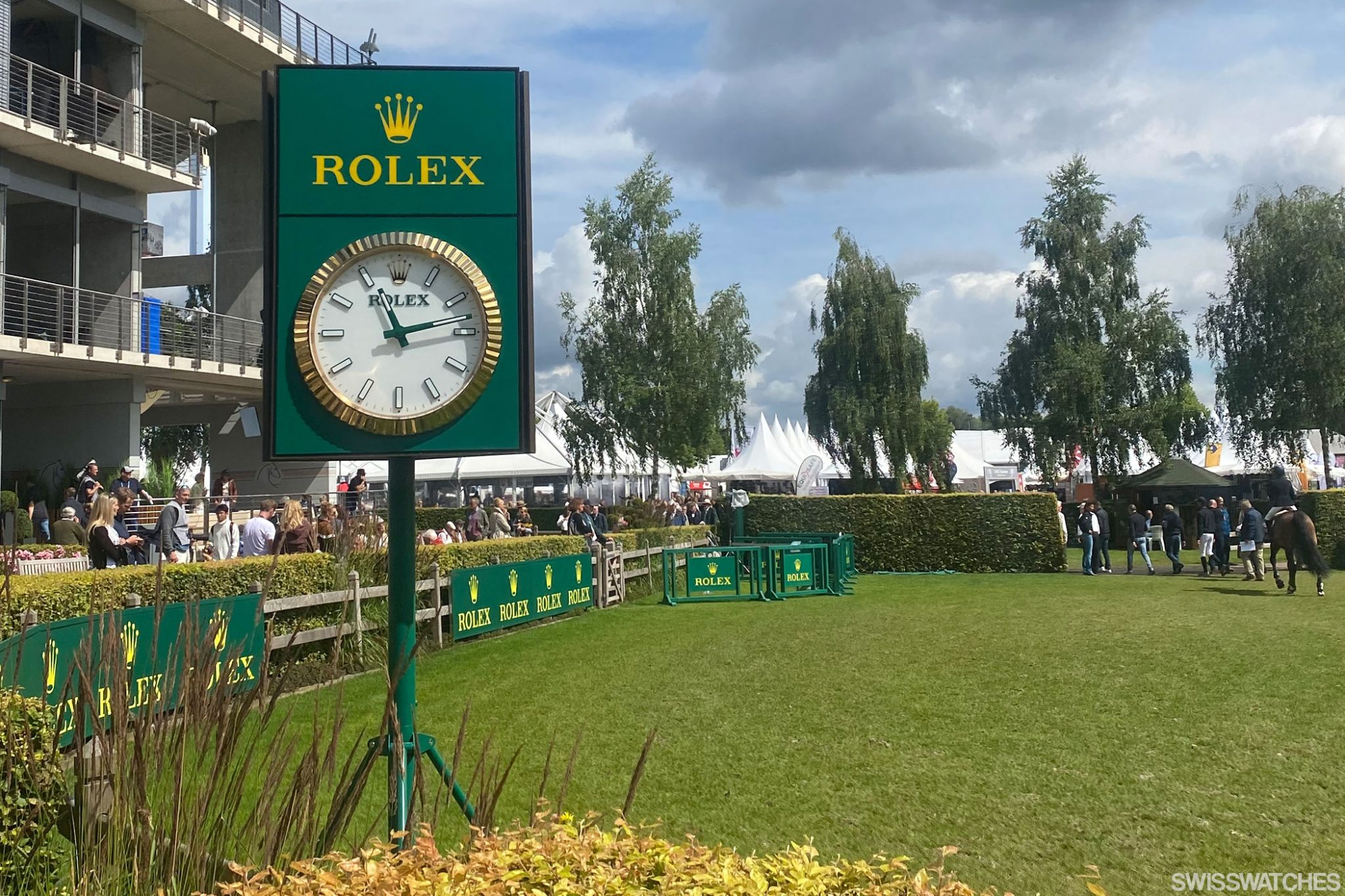 The ambassadors
Every turn you take at the CHIO confronts you with a Rolex-theme fence, sign, clock, or logo-clad parasol. As well making their presence known aesthetically, Rolex also flaunts a number of ambassadors who count among the biggest names at the event: in particular, former competitor Meredith Michaels-Beerbaum and current hotshot Daniel Deusser.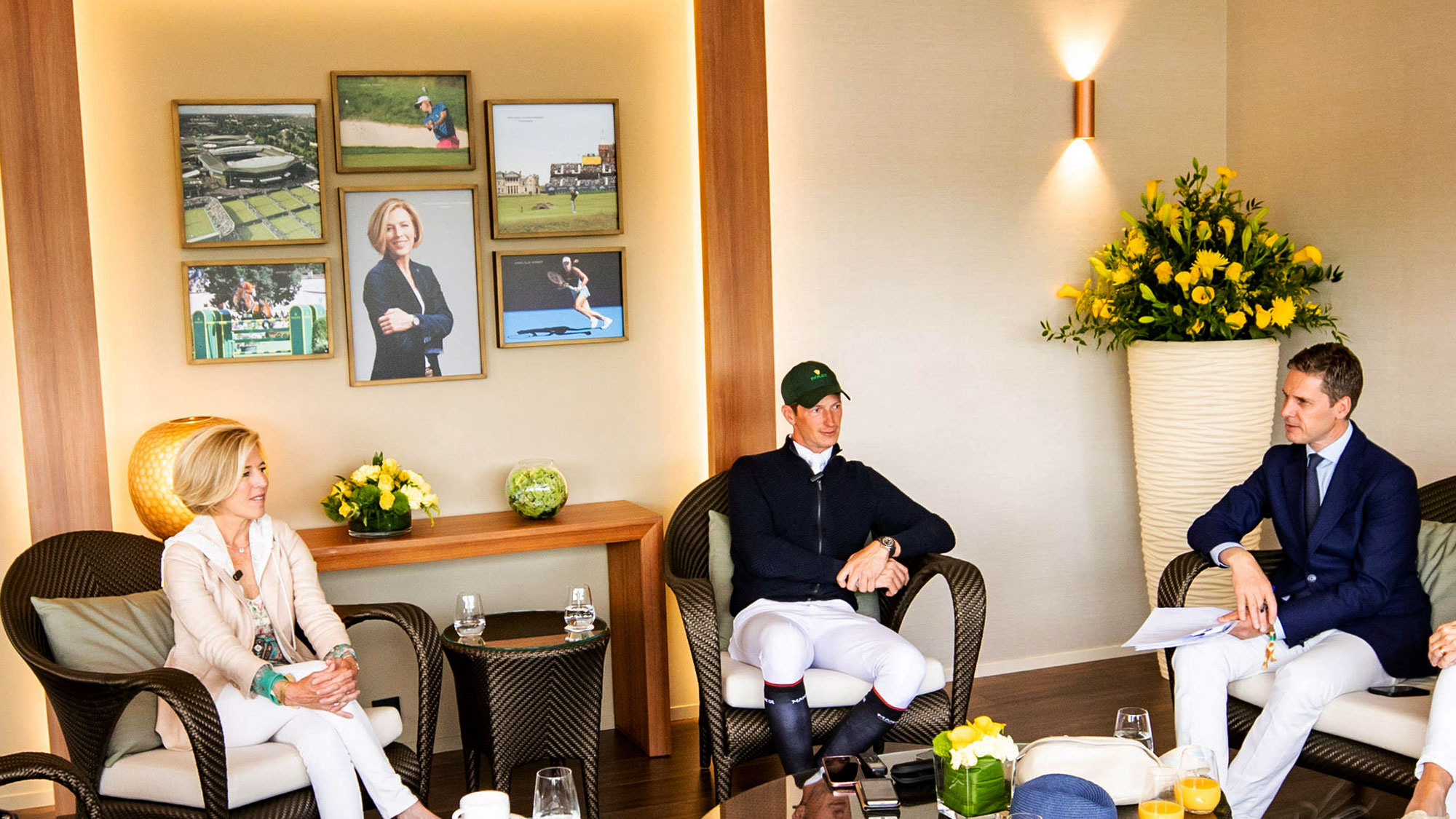 Rolex Ambassadors Meredith Michaels-Beerbaum and Daniel Deusser at the CHIO Aachen 2022
Credit © Rolex / Ashley Neuhof
Being an ambassador for Rolex is not your quintessential partnership experience: while a typical collaboration will most likely demand a certain number of engagements per year, Rolex works differently. Ambassadors are not obligated to attend events. Rather, invitations remain open, with representatives appearing only at events they genuinely wish to attend. No wonder, then, that two of Rolex's foremost equestrian ambassadors choose the prestigious CHIO as a place to support the brand, spending time with international press and Rolex employees alike. This is a pretty strong – not to mention unusual – indicator of the affinity and affection that Rolex ambassadors genuinely feel for the brand.
Meredith Michaels-Beerbaum
Despite my lack of equestrian expertise, it is immediately clear upon meeting Meredith Michaels-Beerbaum that she is every bit a horse girl. She asserts a smart, starkly American appearance, sporting a pragmatic yet elegantly cut bob – think Jackie O goes blonde. Born in LA and married to German show jumper Markus Beerbaum, her work as an ambassador for Rolex stretches back over 15 years. While many of the former Olympian's achievements have made a name for her, she is particularly noted for becoming the first ever woman to top the World Show Jumping rankings back in 2004. Currently, she is not so much a competitor as a teacher, spending her time coaching a new generation of young riders.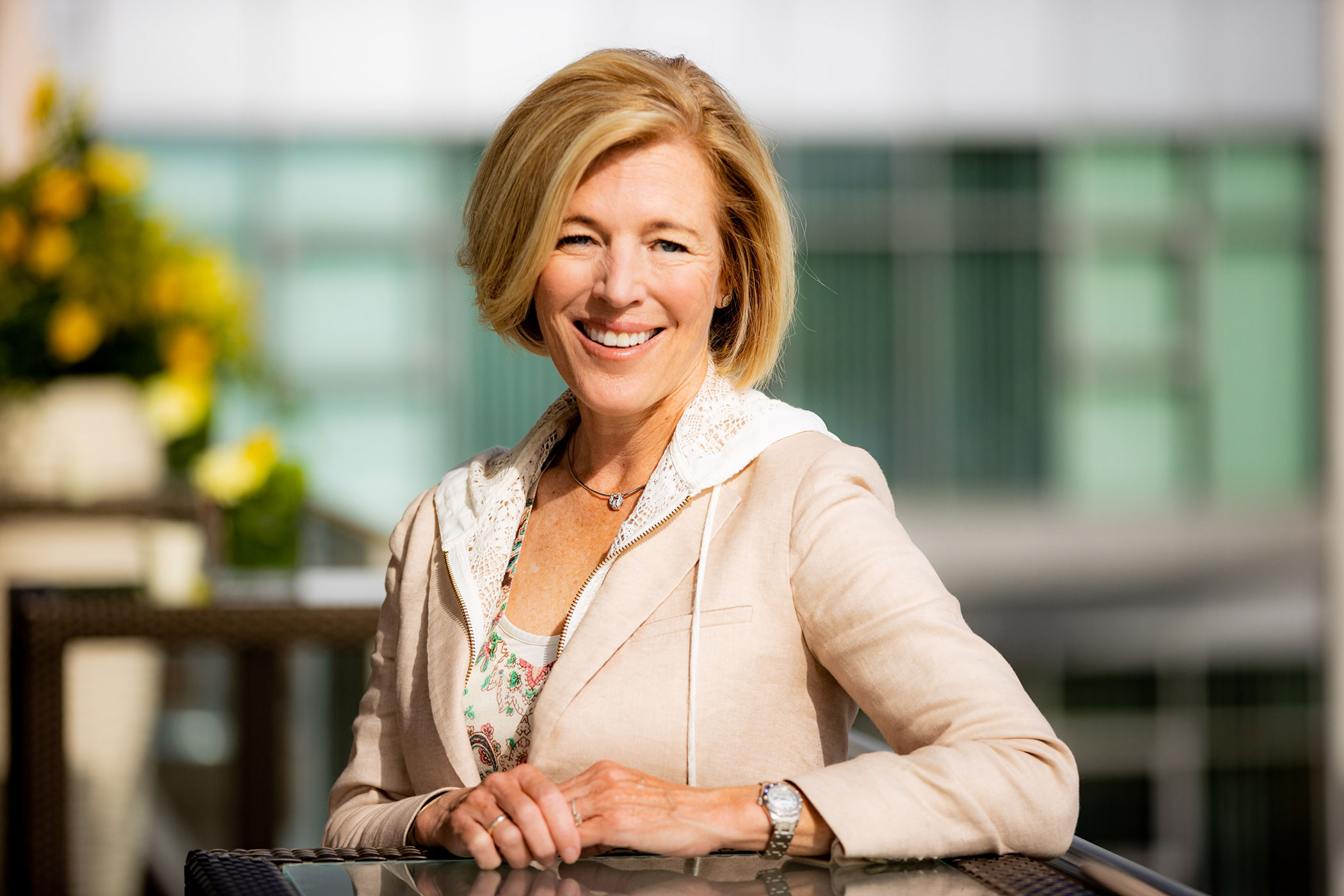 Rolex Testimonee Meredith Michaels-Beerbaum at the CHIO Aachen
Credit © Rolex / Ashley Neuhof
Michaels-Beerbaum at the CHIO Aachen
Michaels-Beerbaum's most historic moment at the CHIO Aachen took place several years ago now. In 2005, she won the Grand Prix with the help of her renowned racehorse Shutterfly, whose name, I noted, caused a reverent murmur of appreciation amongst the equestrian press. Shutterfly has since retired, aged 29, to graze upon a field tucked behind Michaels-Beerbaum's house.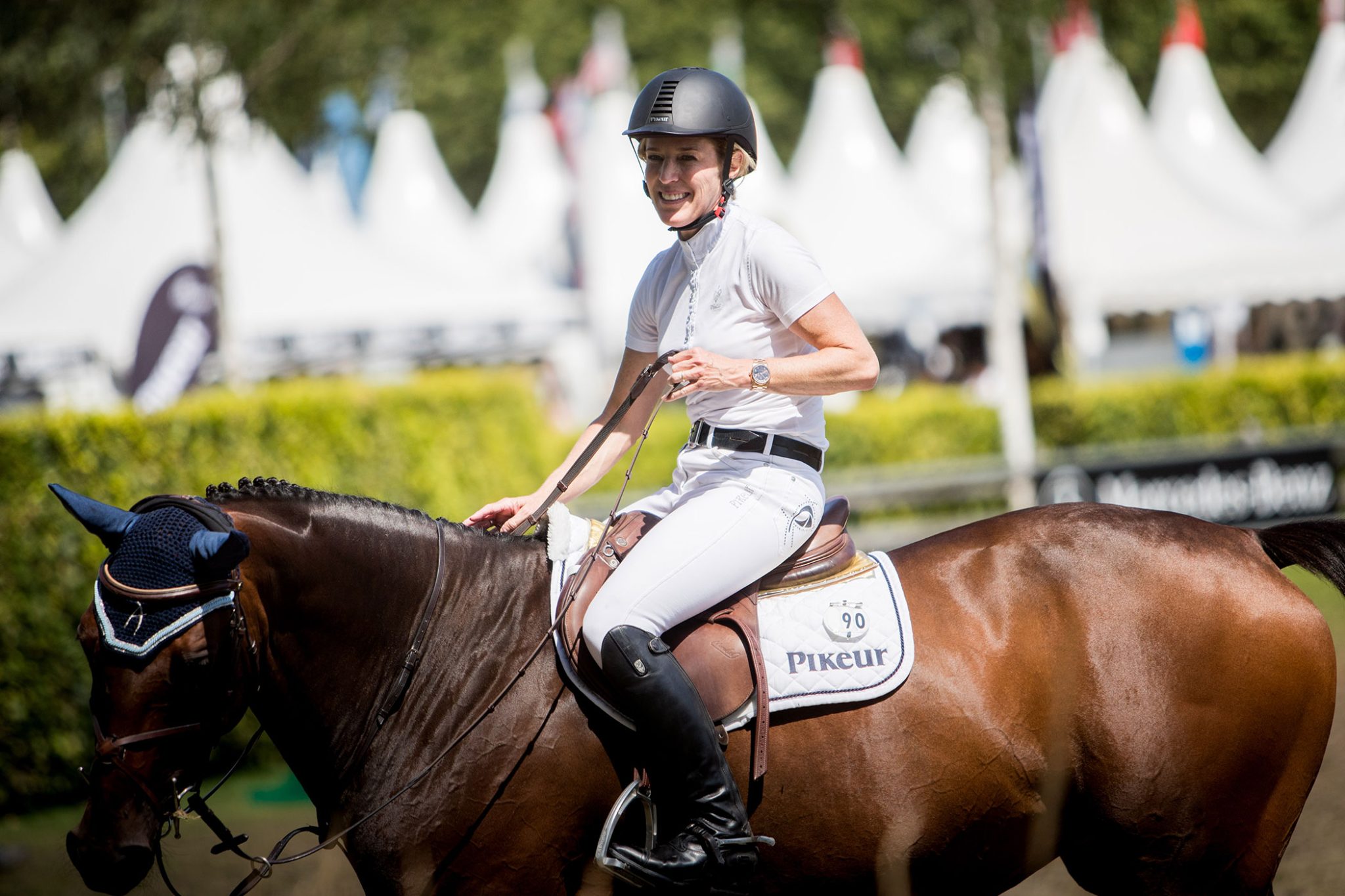 Rolex Testimonee Meredith Michaels-Beerbaum
Credit © Rolex / Ashley Neuhof
'The Rolex Grand Prix here at the CHIO Aachen is the pinnacle of the sport,' she explains for the sake of those who might be more educated in watches than horses. 'It is something that all of the top riders measure them against. Winning that class is something that we all aim to do. For me personally, it was a dream come true. I first came to CHIO Aachen as a young American girl, and I remember when I first came to the venue I was blown away.'
Meredith Michaels-Beerbaum and Daniel Deusser
Credit © Rolex / Ashley Neuhof
It was many years later that Michaels-Beerbaum made her return as a rider. 'I went in the main arena when it was empty, and I sat down on the grass and looked around,' she recalls. 'I just thought about what an honour it was to even be riding here. Years after that moment, to win the Rolex Grand Prix with my great horse Shutterfly, was incredible.' While the owner of a number of watches, Meredith has chosen to wear her Rolex Lady-Datejust Pearlmaster to the CHIO. 'This is the watch that I won at the FEI World Cup Final with Shutterfly,' she smiles. 'It's one of my favourites simply because it is so traditional and beautiful.'
Michaels-Beerbaum's relationship with Rolex stretches back to long before she became the company's ambassador a decade and a half ago. In her youth, she decided to enter the US Senator's Cup as a Junior. 'My aim for that entire year was to win the event', recalls Michaels-Beerbaum. 'Because the winner received a gold Rolex. You can imagine what this does to a 14-year-old: a yellow-gold Rolex! I had a trainer at the time, but an old horse. He was wonderful, but a little old and creaky. We would ride him, rest him, then take him to a show, then rest him again. It was a very complicated agenda. But lo and behold, we went to Washington DC and came home with the gold Rolex. It was my first ever Rolex – and I've been enjoying Rolex ever since.'
Daniel Deusser
Meanwhile, ambassador and active competitor Daniel Deusser has the easy charm and a certain level of composure that one might expect of a jockey. When we meet, he has a Rolex Yacht-Master 42 on his wrist. 'I like the black dial and I think it's just a beautiful watch,' he remarks serenely. 'The Oysterflex bracelet is something I am a particular fan of. I like that it's so comfortable to wear when I'm riding or competing.' Deusser's personal Rolex story stretches back to 2013, where he won his first ever Rolex at the Top 10 Final in Stockholm.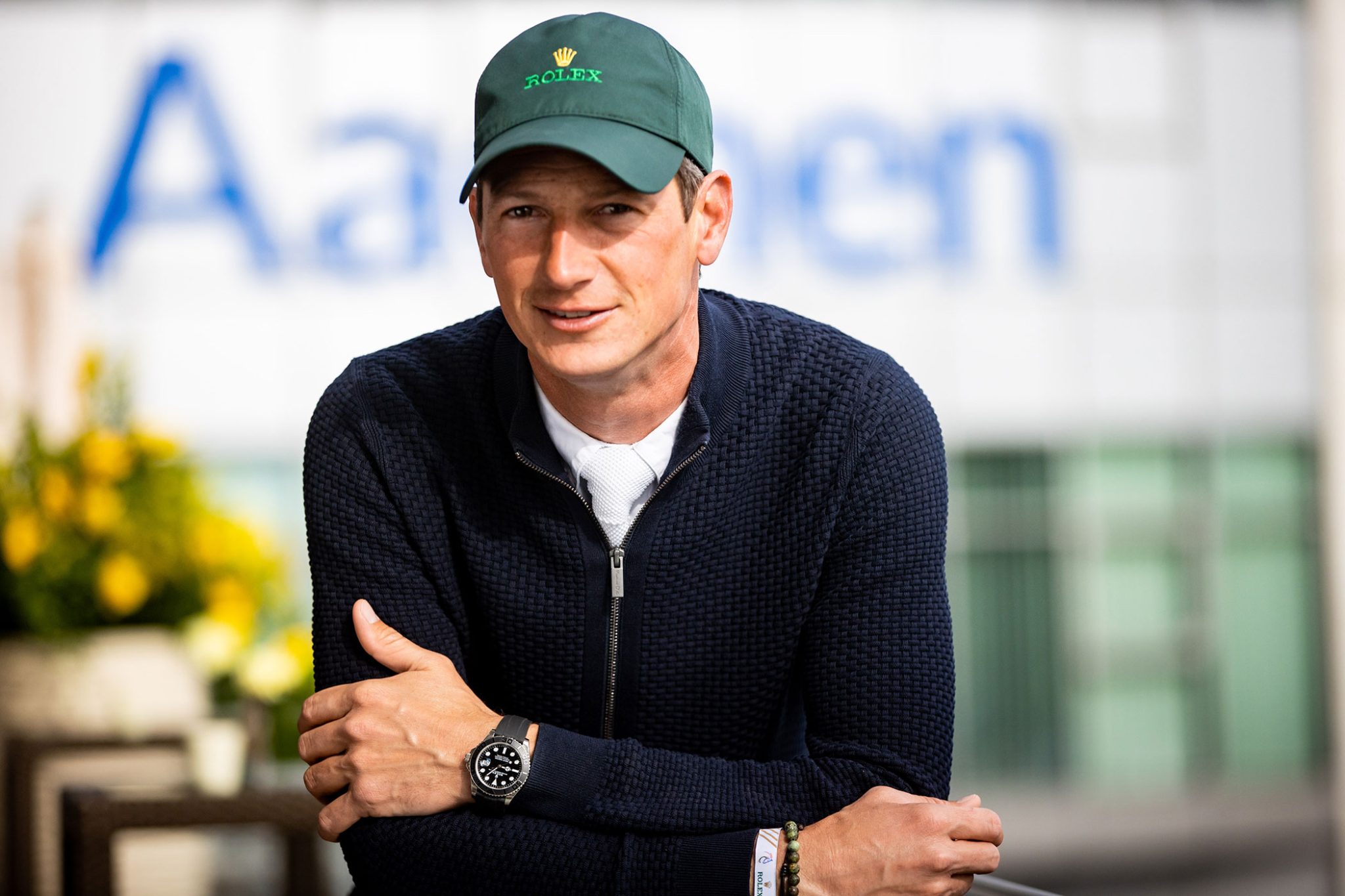 Credit © Rolex / Ashley Neuhof
A man and his horse
With a long, lithe body, Deusser and his legendary horse, Killer Queen, move together as one fluid entity in the arena. When Deusser introduces us to the other half of his team, she is standing nonchalantly in her stable with the gate swung open, eyeing us evenly before returning to her hay. Her tall, toned physique, even to the untrained eye, is phenomenal. Killer Queen's fur is a lustrous reddish-brown – known in equestrian terms as 'bay'. By now, she is a horse of experience, having been born in 2010.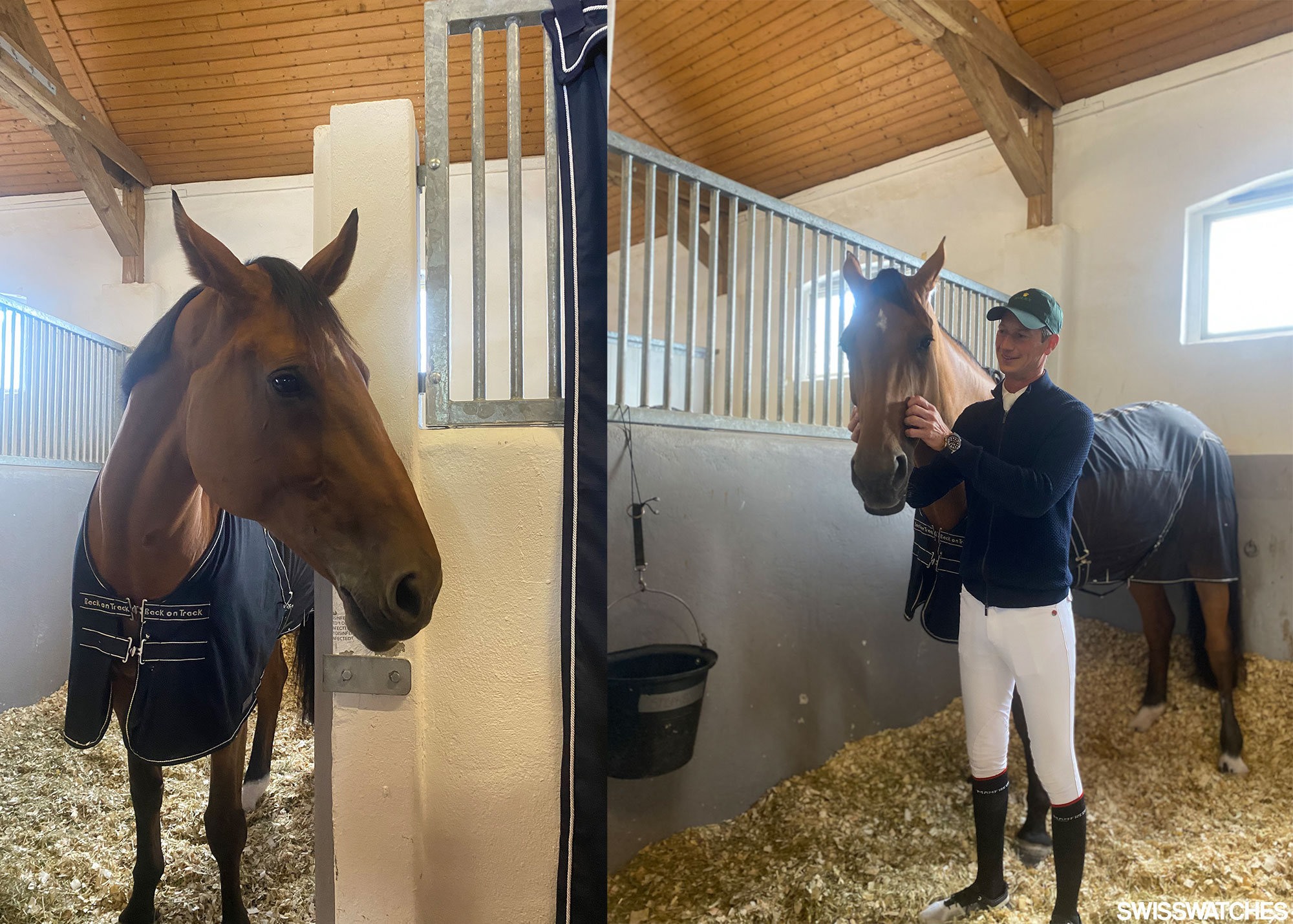 Killer Queen and Daniel Deusser
Horses like Killer Queen, performing at events such as the CHIO, start at a minimum price of 8 million euros. Each horse has not only a rider, but a whole team around them, including the crucial role of groom. Alongside riders, it is the groom who will emotionally connect to the horse, check in with it before and after a competition, and consider its needs around the clock. In addition, a highly trained team of vets perform checks on the horses, including random drug tests.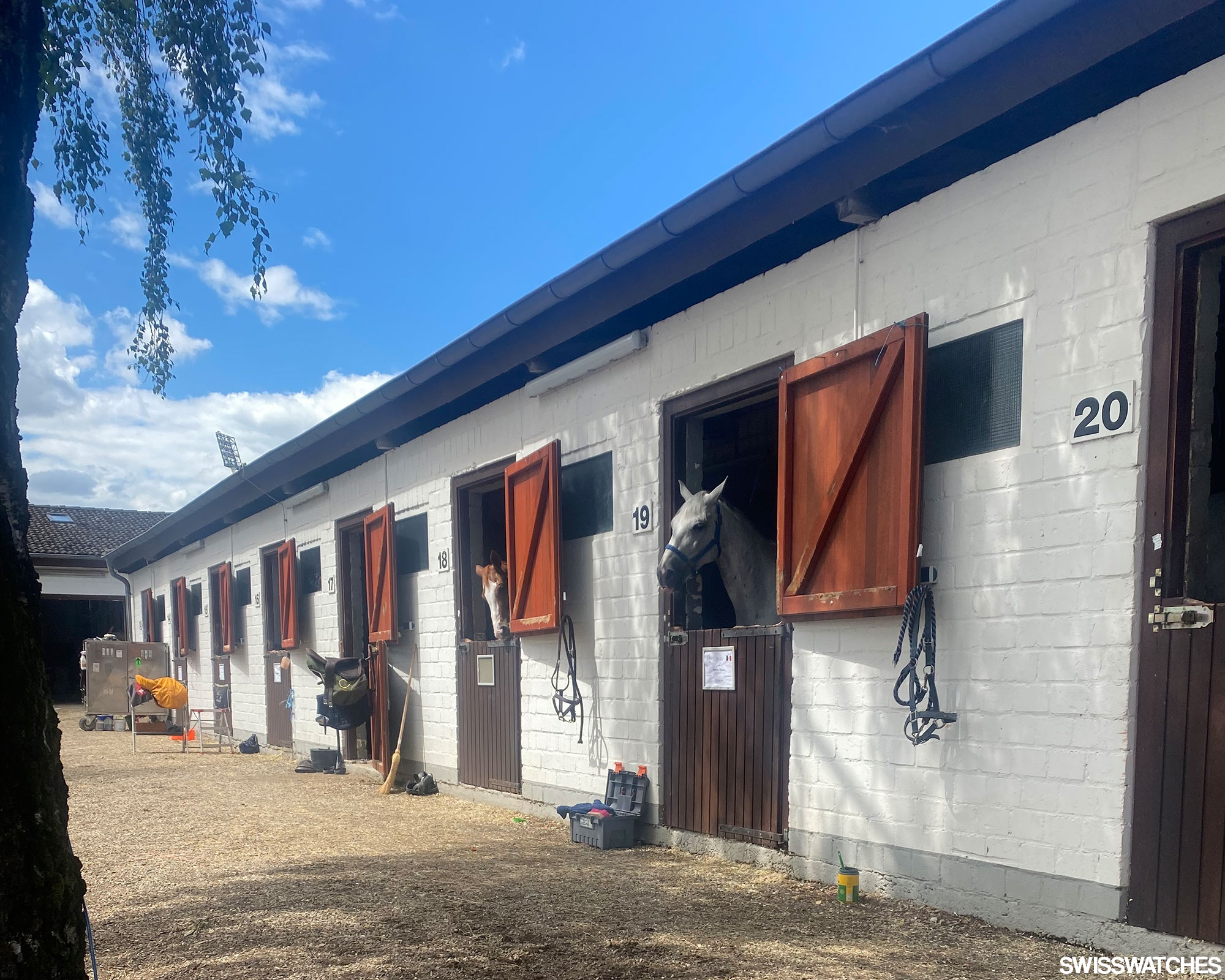 At the CHIO 2021 last year, Deusser and Killer Queen won the Rolex Grand Prix. Inevitably, heads turned towards the rider this year as thousands of Germans pinned their hopes on his and Killer Queen's performance. As mentioned, Deusser and his horse are one single unit in the arena, and you can tell their bond is something the rest of us mortals can neither relate to, nor likely achieve. In the end, Deusser and Killer Queen come in at a solid fourth place, while the winner of this year's CHIO was fellow German Gerrit Nieberg.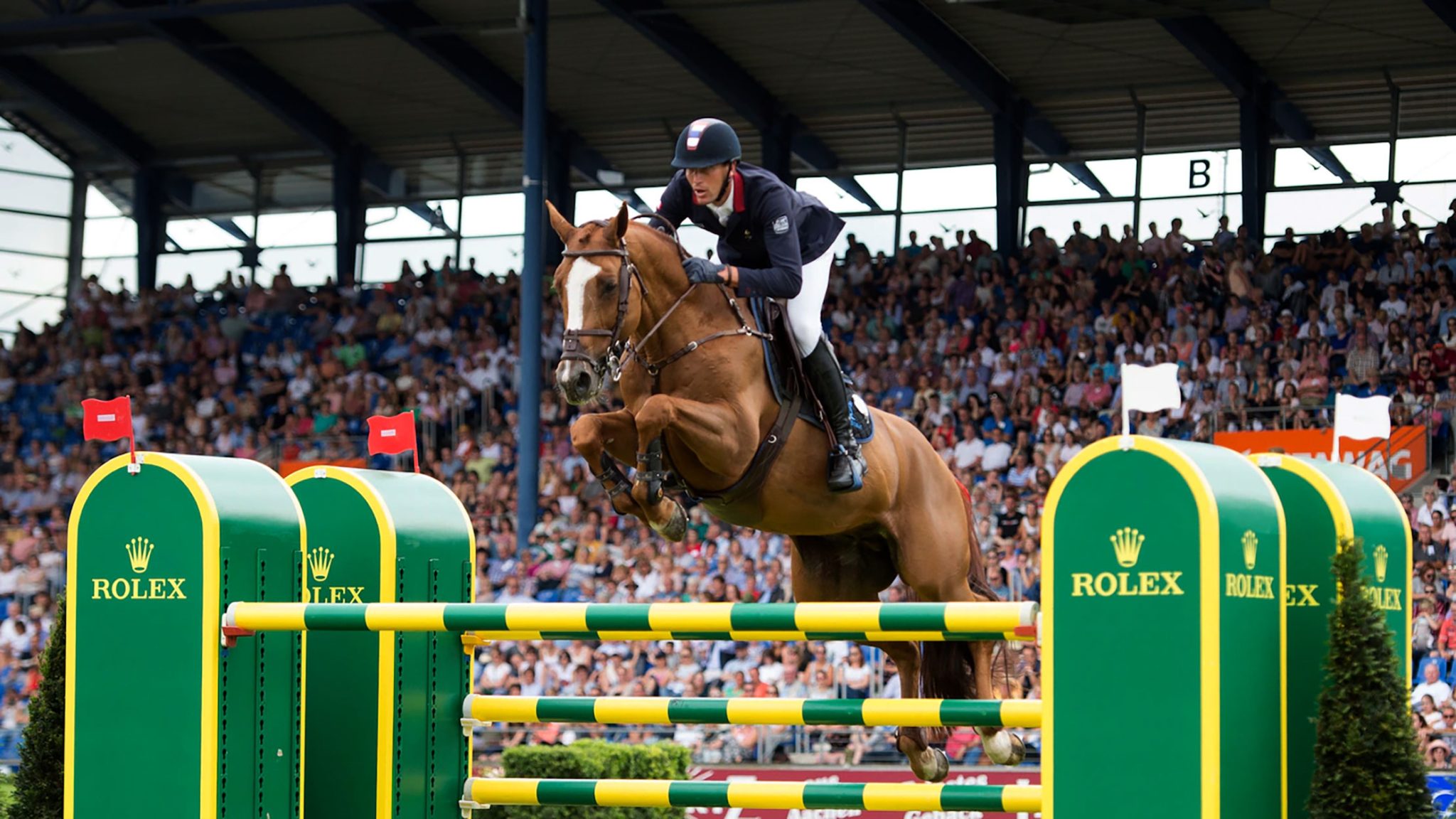 Winner at the CHIO Aachen 2022: Gerrit Nieberg Riding Ben 431
The role of timekeeping
As watch enthusiasts, there's a still one question needing addressing: what role does timekeeping play for these athletes? For one thing, there's the matter of speed. 'You can definitely train your horse to become quicker, but often in an important class your position in the jump-off will influence how quickly you go and the risks you take', explains Deusser. Before courses take place, he says, riders may take a walk around the course in order to plan how to navigate the space with their horse.
Rolex Testimonee Daniel Deusser Riding Killer Queen in the Rolex Grand-Prix at Chio Aachen 2022
Credit © Rolex / Ashley Neuhof (left)
Credit © Rolex / Peggy Schroeder (right)
Observing his competitors, Deusser became aware that he would need to take certain risks in order to be faster than them. In other words, timing would force him to move outside of his comfort zone. 'As a rider, you can make tighter turns and cut the corners, but the most important thing is to keep the poles up. Riders also know their horses and whether they are naturally fast or whether you need to take risks to the last few fences in order to win,' he concludes. 'Equestrianism is all about time and ensuring that your horse peaks at the right moment', chimes in Michaels-Beerbaum.
Watching the world-renowned horses and their jockeys in the picturesque arena later that afternoon, with its miniature ponds and toy-town aesthetics, I begin to see what they mean.
It is evident that many horses feel a certain pressure to swiftly complete the show jumping course – almost as though they, too, understand the concept of timing. Horses moving too fast inevitably knock over poles. Horses that move at a more measured pace seem to produce a neater, more controlled performance. A horse going too slowly will cause their rider to lose out on their time performance rating.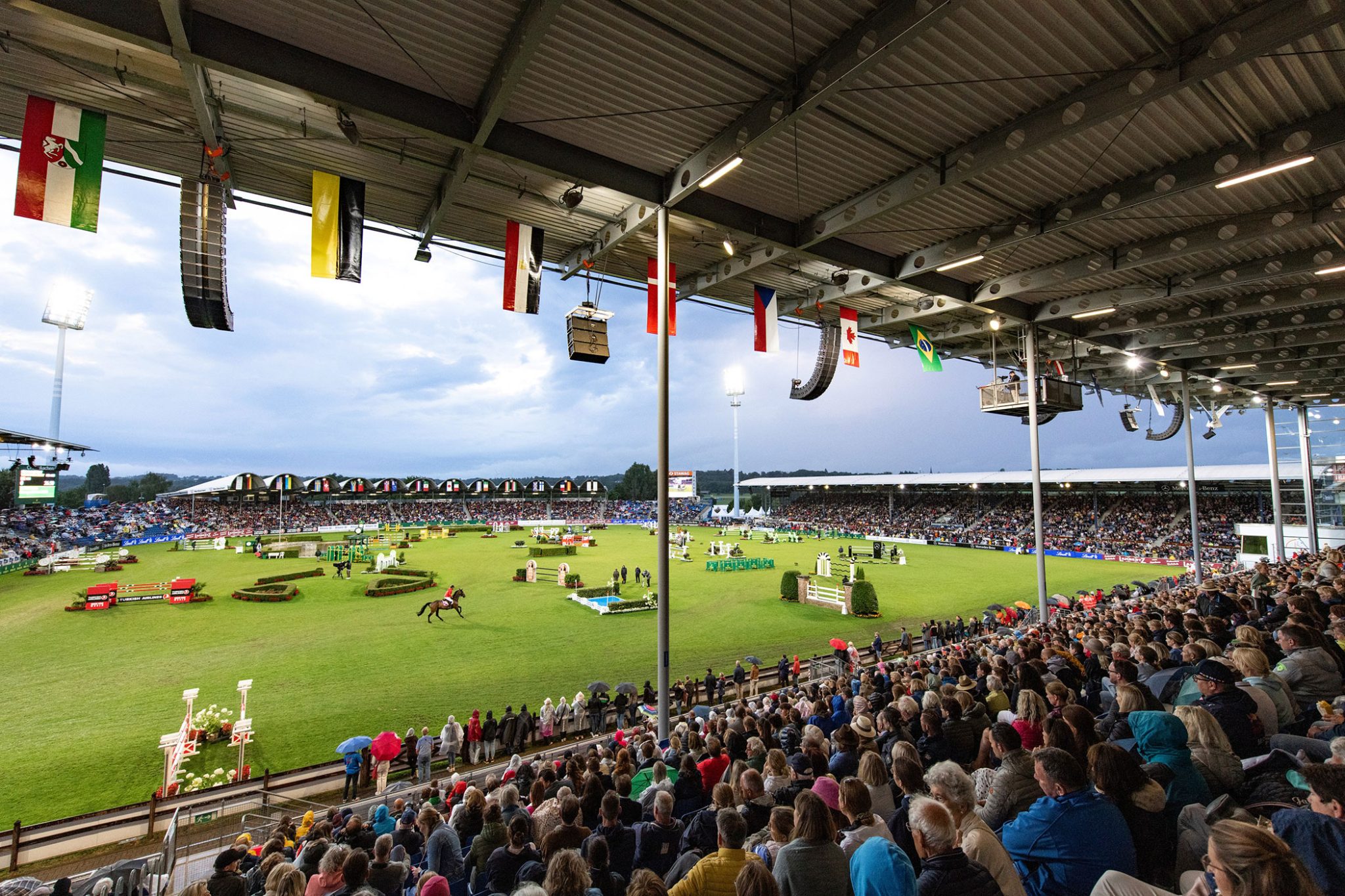 The CHIO Aachen 2022
Credit © Rolex/Peggy Schroeder
Despite the beauty of the arena, there's a tense atmosphere pulsing through the main stadium, which fits 40,000 people. Thinking about what my own instructor told me about breathing and emotions back in Tuscany, I am quite sure that the horses here are very much aware that all eyes are on them, not to mention how much is riding upon their performance.
'Timing might just prove to be the difference between winning and second place.'
'The horses are highly sensitive to their surroundings,' Deusser concludes. 'Here at CHIO, you have one jump at a time with a lot of space in-between – and it looks massive as you approach it from so far away. At other shows, you might have 16 fences in a small space, with fences coming very soon after one another. The space and scale can make the horses lose a bit of confidence and that can make you lose a fraction of a second. That means that timing might just prove to be the difference between winning and second place.'