Respected as a man, gentleman, and businessman, George Glasgow Junior is the mastermind behind George Cleverley, the renowned shoemaker of Old Bond Street's Royal Arcade. But George's style extends far beyond bespoke shoes; he is also the proud and passionate owner of some of the world's most revered watch models. We caught up with him to discover some of his favourite pieces for ourselves, as well as the inevitably entertaining stories behind them.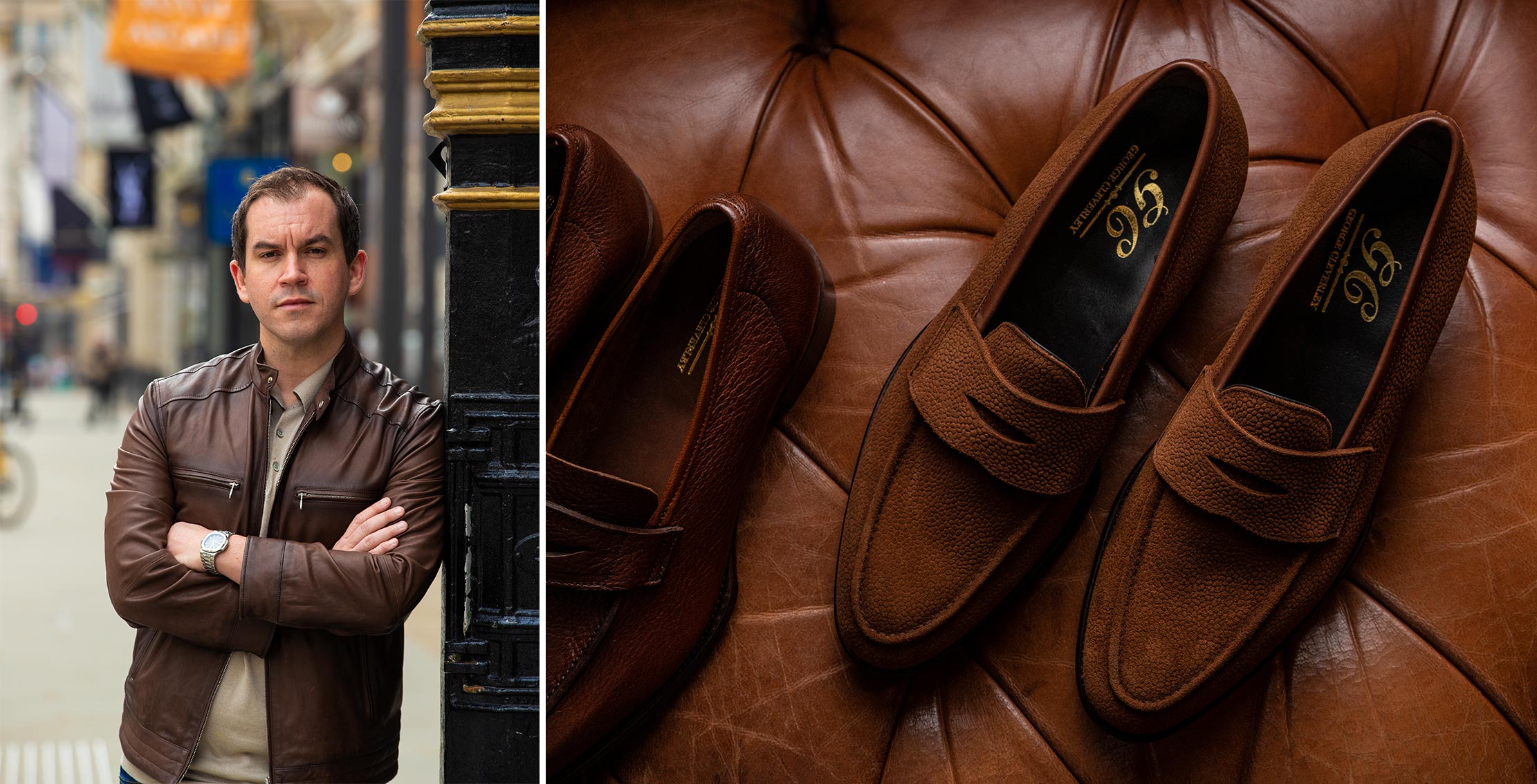 George, what is your everyday watch that you can always rely on?
Technically, the Rolex Oyster Perpetual Cosmograph Daytona is probably my everyday watch. But you know, it's interesting, because I'm one of those people who is quite guilty in the sense that I don't rotate my watches daily. If I have a specific event, of course I'll plan out a watch. Generally, I wear a watch for four or five days and then think, "Oh, I'll put something else on." Whereas right now, of course, I find myself wearing the same one for two or three weeks. Perhaps that's because I'm not seeing anybody. So I wonder if I need to keep rotating when I'm wearing quite casual attire anyway, e.g. a zip-up sweater.
That's how I wear watches as well as jackets, because I'm a big clothes guy. I have four jackets that I now seem to be gravitating towards all the time. I wonder "Why do I keep wearing those?" Well, they do the job – right now I'm just going in the car to the office and back.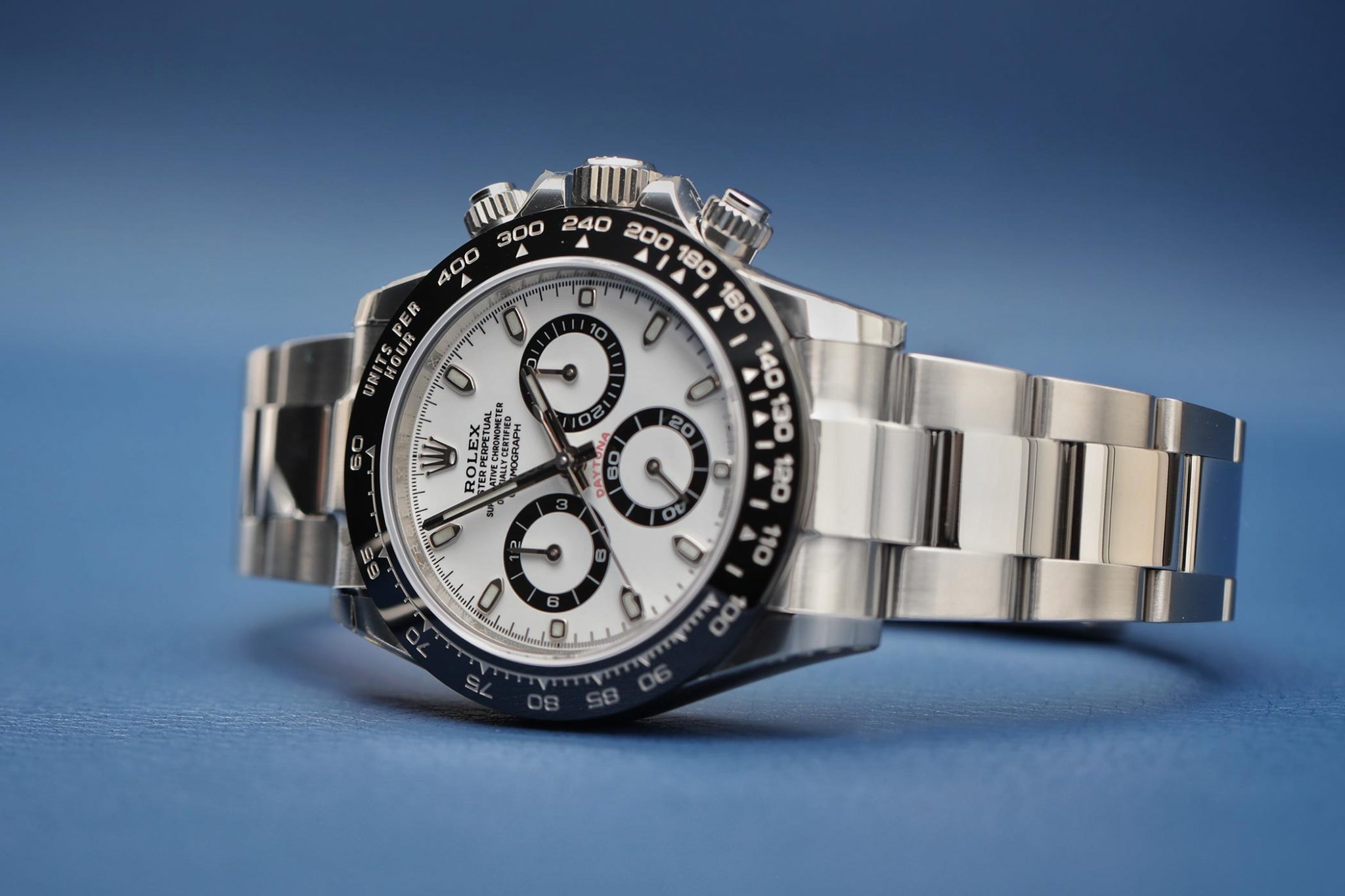 ---
George's everyday watch
---
But yes, overall, my everyday watch is the Rolex Oyster Perpetual Cosmograph Daytona in Oystersteel with a white dial and black cerachrom bezel (Ref. 116500LN). I got it in 2018, just before I got married. Then suddenly, the market goes crazy for them. It was hot then, but over the last three years, it's got even hotter. People stop me in the street and ask where I got it.
Also, I always wear all of my watches, and I never sell them. They're meant to be worn. Some people put their watch straight in the safe, and I think that's a bit of a shame because a lot of work has gone into it and it's beautiful, yet not being worn.
What about if you're at home? Do you still put on your watch every day? Does it feel like part of getting dressed for you?
In the morning, when I brush my teeth, I put my watch on, and at night when I do the same thing – it comes back off. It's a routine; it's embedded in me, and I like to feel something on my wrist. If I don't, then my wrist feels a little bit bare.
Do you like heavier watches, then?
I always say when I see these ultra-thin, lightweight, titanium watches that I like them, I think that they're nice. I totally see the aesthetic point, but I wouldn't buy a watch because it didn't weigh anything, or because it was as light as a feather. That's just not for me. For me, there's a weight that is sort of acceptable and more what you're looking for on your wrist.
---
Thoughts on titanium watches
---
I suppose it's a bit like trends with telephones, which got so small over the years, and were suddenly tiny like a flip phone, and then they gradually got bigger again. It's the same with watches. I guess if you're in the sports business, and you're Nadal, then light-weight makes sense. But I think most people want to feel something on their wrist. It's why you wear the watch. Otherwise, you wouldn't even know it was there.
Do you get worried about scratches?
Well actually, I do, which is why I wear the Daytona as my everyday watch. It's bulletproof. I really do see why Rolex has got such a phenomenal reputation, because it's so strong. For example, I can wear the Daytona to the gym, on the treadmill, in the workshop here… I literally wear it everywhere. It has a few scratches, but nothing material given the hundreds of times I have worn it. It's stainless steel. I also actually love the colour of it. I think for an everyday watch, you just cannot beat it.
When you're purchasing a watch, do you think more about the aesthetics or the technical side?
Probably a bit of a combination. I like the idea of clockwork mechanisms and I like the idea that a lot of work has gone into something. But it's got to be aesthetically pleasing. If you go, "Let me tell you about the inside of this watch" but I don't like the look of it, it's a no go. You've got to be able to look at the watch and say, "That's beautiful, I like it, it suits my needs, and I like to look at it". That's what gets me interested in watches. I don't go after a watch because of its value, or how hard it is to get. For me, you have to look at it, like it, and say, "I love this watch and I can see myself wearing it for years."
---
Priorities: Aesthetic vs technical
---
Years ago, I bought a Bulgari watch with diamonds on it. Not a good idea for a guy. Now my wife has it. It is a nice watch, but I guess it's about how your tastes change. Nowadays, I wouldn't buy a watch that was too crazy. For the most part, when I buy a watch, I ask, "Can I have this forever?" I probably didn't think like that twenty years ago. I probably thought, "It looks quite shiny, it looks cool, and it'll look great out and about." Now it's not about that.
However, I do like the idea of things being quite difficult to get hold of in the sense that I don't like anything mass-produced. It's not value-driven; I just think anything made in unlimited amounts cannot be luxury. It's the same thing with clothes and shoes. If George Cleverley started making two million pairs of shoes a year, how could that be luxury? I think it would lose the special feel. It's the same thing with watches. You want something that's going to be difficult to get hold of merely because you don't want the market to be flooded with something, because then you lose the specialness.
---
Thoughts on mass-produced products
---
I also like the idea of going to boutiques, or Patek salons, as there are only a few around, so they're not everywhere. I think that's a nice thing. It also makes your trip more special. I get that brands are businesses, but when you're appealing with something that's extremely well-made quality wise, you've got to keep the numbers small.
How do you match your watch to your outfits?
I basically just mix it up; if I am wearing a suit, I usually put on my Patek Nautilus 5711. I just think it looks nice. If I am wearing something slightly less than casual, maybe a sports jacket, then I wear the Rolex. I also have a bunch of other watches that I throw in! For example, I created a watch with IWC Schaffhausen and The Rake. It was a bronze and green IWC 36 mm pilot's watch. 150 pieces, each one numbered – I have No.1 at home. That's another one I wear randomly on the weekend; it's super cool. We used our own George Cleverley Russian leather watch straps, and sold them out within 11 minutes. It's definitely more of a weekend watch for me, worn with jeans and a T-shirt.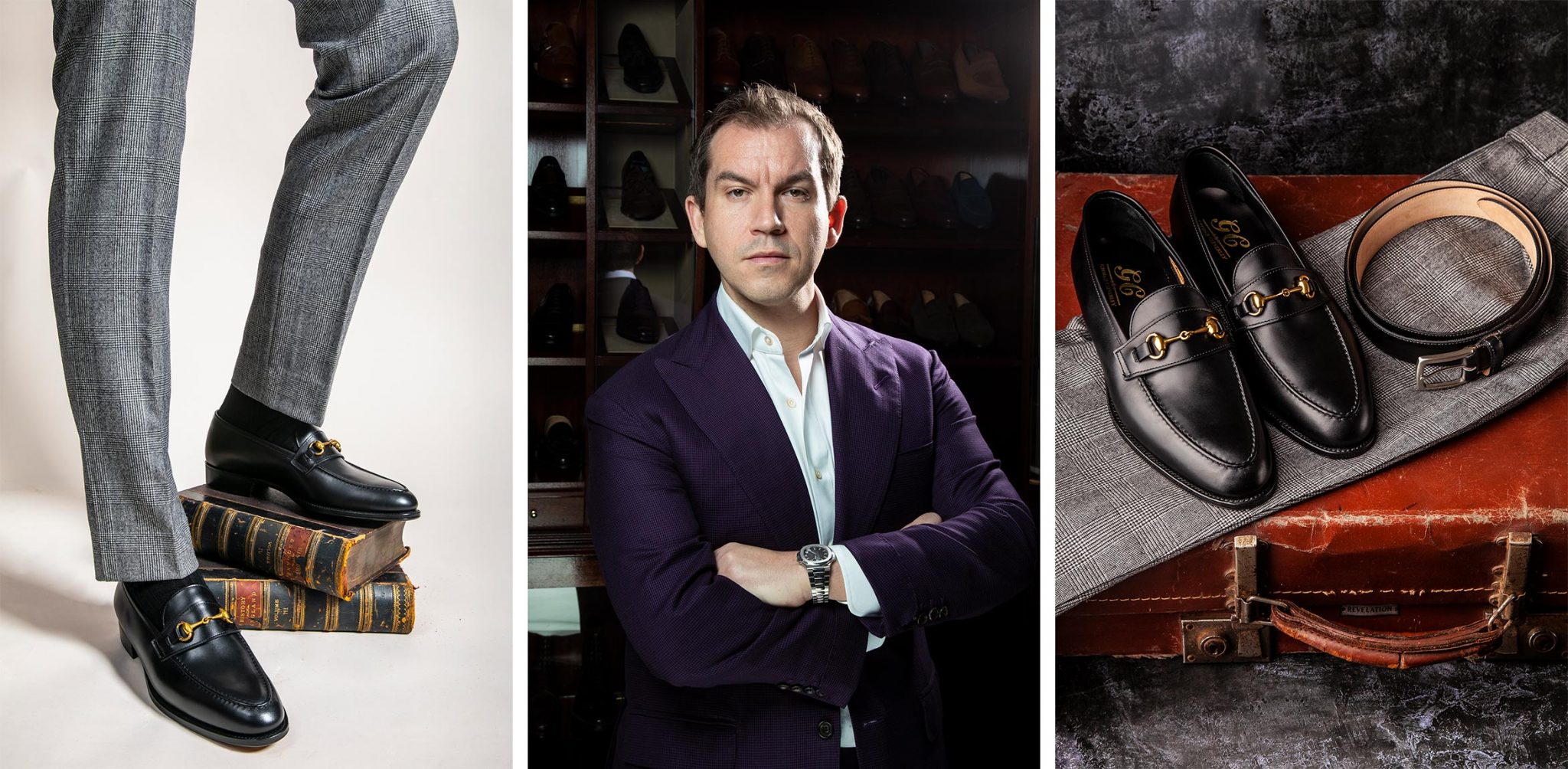 Also, I wear the OMEGA Speedmaster 60th Anniversary. I was at lunch with Wei Koh [The Rake and Revolution] one day, and he was wearing it. I mentioned I didn't have an OMEGA. He takes it off and gives it to me, and says "That's for you", basically as a wedding gift. I tried to give it back to him and he wouldn't take it.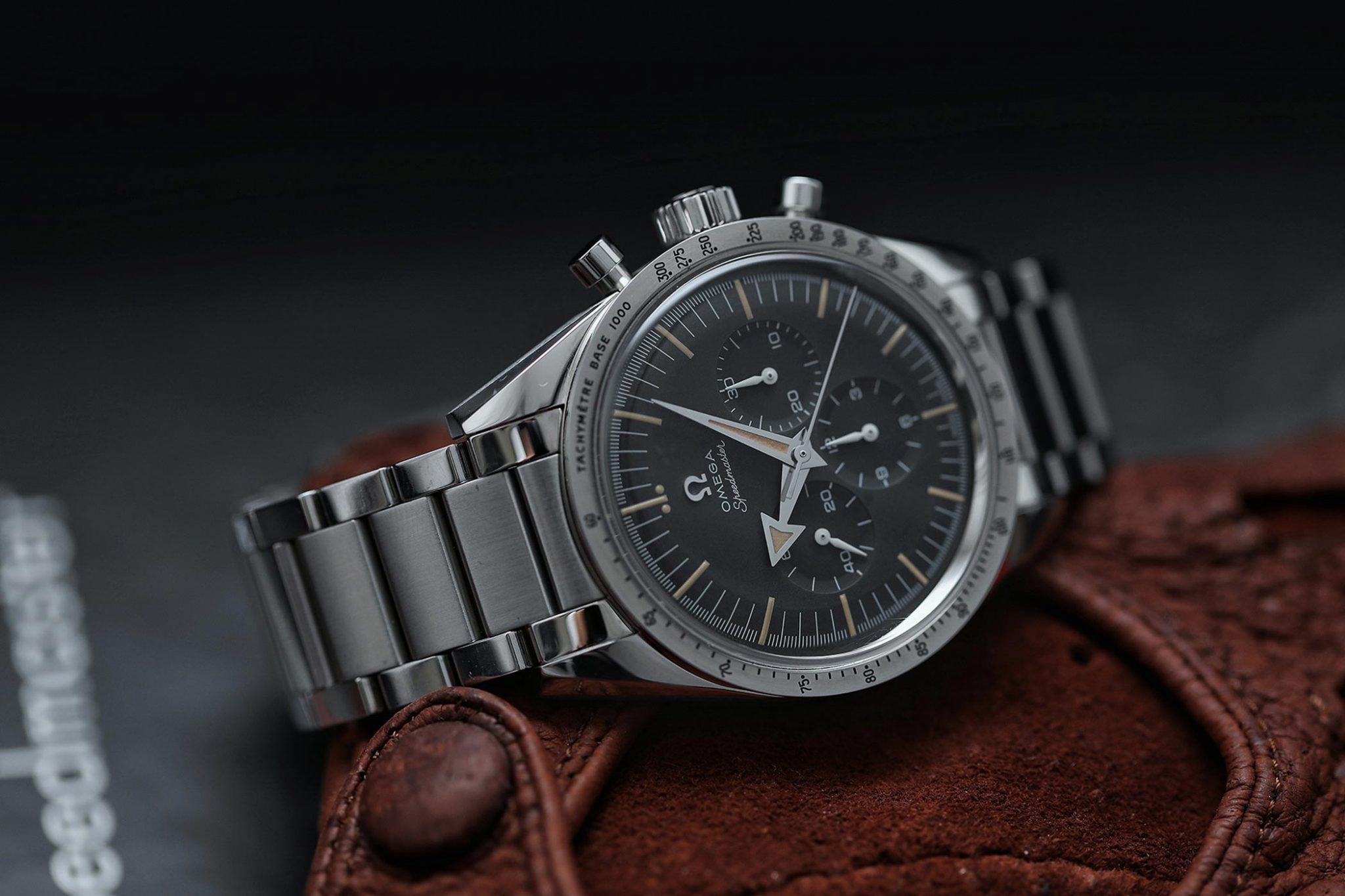 The next day we were going to the gym together, doing a spin class. I picked him up from his hotel, and brought the watch with me. In his bag, though, was the watch box and papers. He said, "George, you cannot not have an OMEGA. I'm sorry, you can't." He would not take it back – I tried on so many occasions. So that's how I got my OMEGA.
On that note, how did you get to know other people in the watch world?
My clients like watches too, and we all have appreciation for the same things. Wei Koh and I just started to go out together; we both love food, we both love wine, cigars, watches, clothes…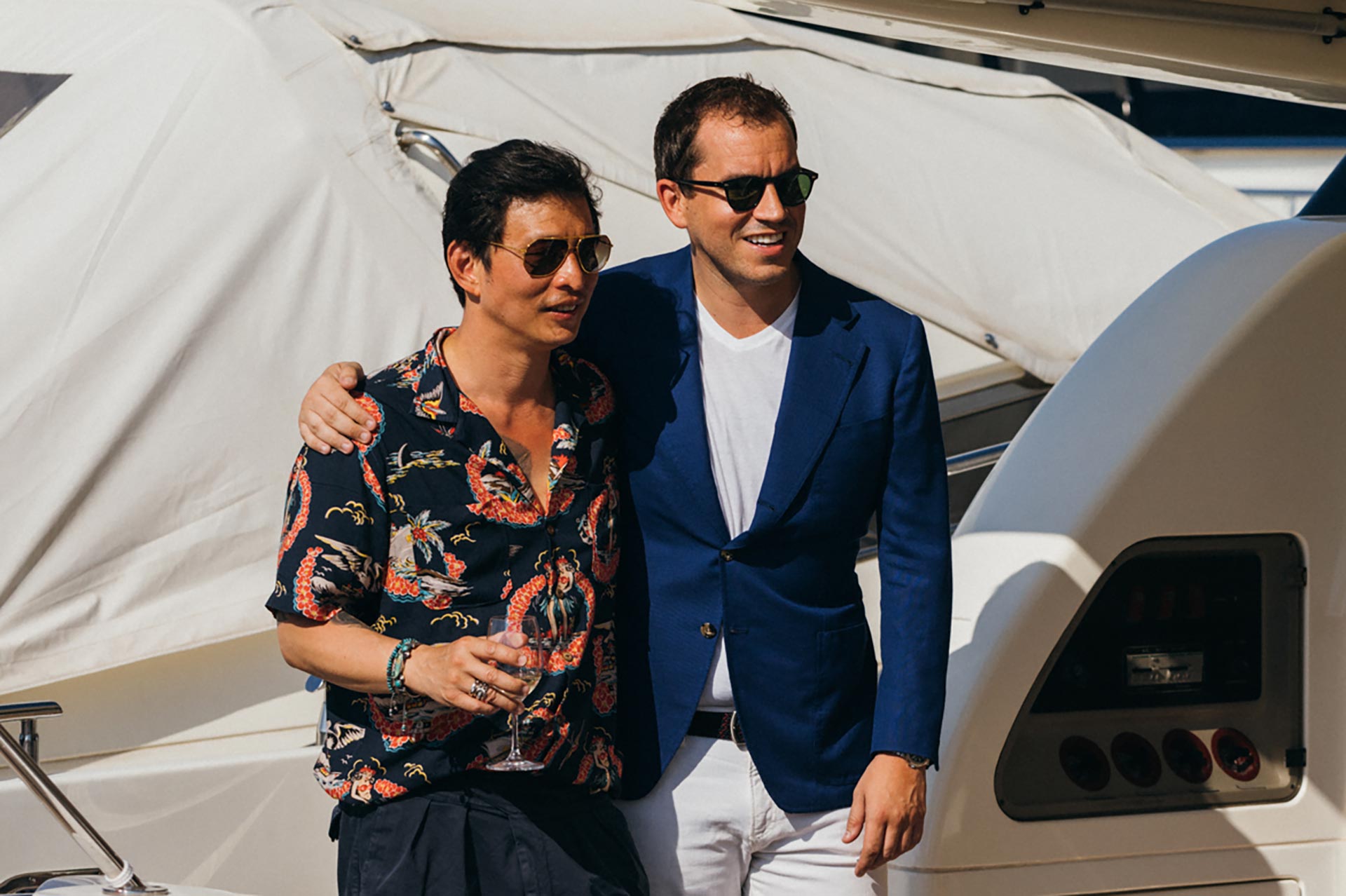 A lot of people I met, such as Ben Clymer, came to London and started buying George Cleverley shoes. I did a collaboration with Hodinkee within their first year of starting, so I've known them since ground zero. So it's one of those things where a lot of my clients love watches, and it turns out we have a lot in common. Also, as I'm in and around Mayfair, it just connects quite well.
Do you offer watch straps as one of your services alongside shoes?
We do. We sell them on our website and did a limited run for Mr Porter. That sold out pretty quickly. We have in-stock Russian leather items, and a customer can also come in, pick an alligator skin, tell us the measurements, and we'll cut it all by hand.
We use a lot of unique materials for our shoes, so we always have loads left over. Right now I probably have about 50 different colours of alligator skins that I can use for orders, so our offerings for customers is massive. We have the colour of thread, the stitch, the width, the lug… So it's quite a nice service, and it's becoming a bigger part of our service. We're getting a lot more orders from all over the world for it, which is great.
Do you prefer bracelets or leather straps?
Well, I have the Patek Philippe Aquanaut Chronograph 5968A in stainless-steel with the orange strap. I wear that quite a lot, and I love the rubber on it. I only wear it on holiday actually, taking it swimming and into the ocean. It's light and it feels sporty.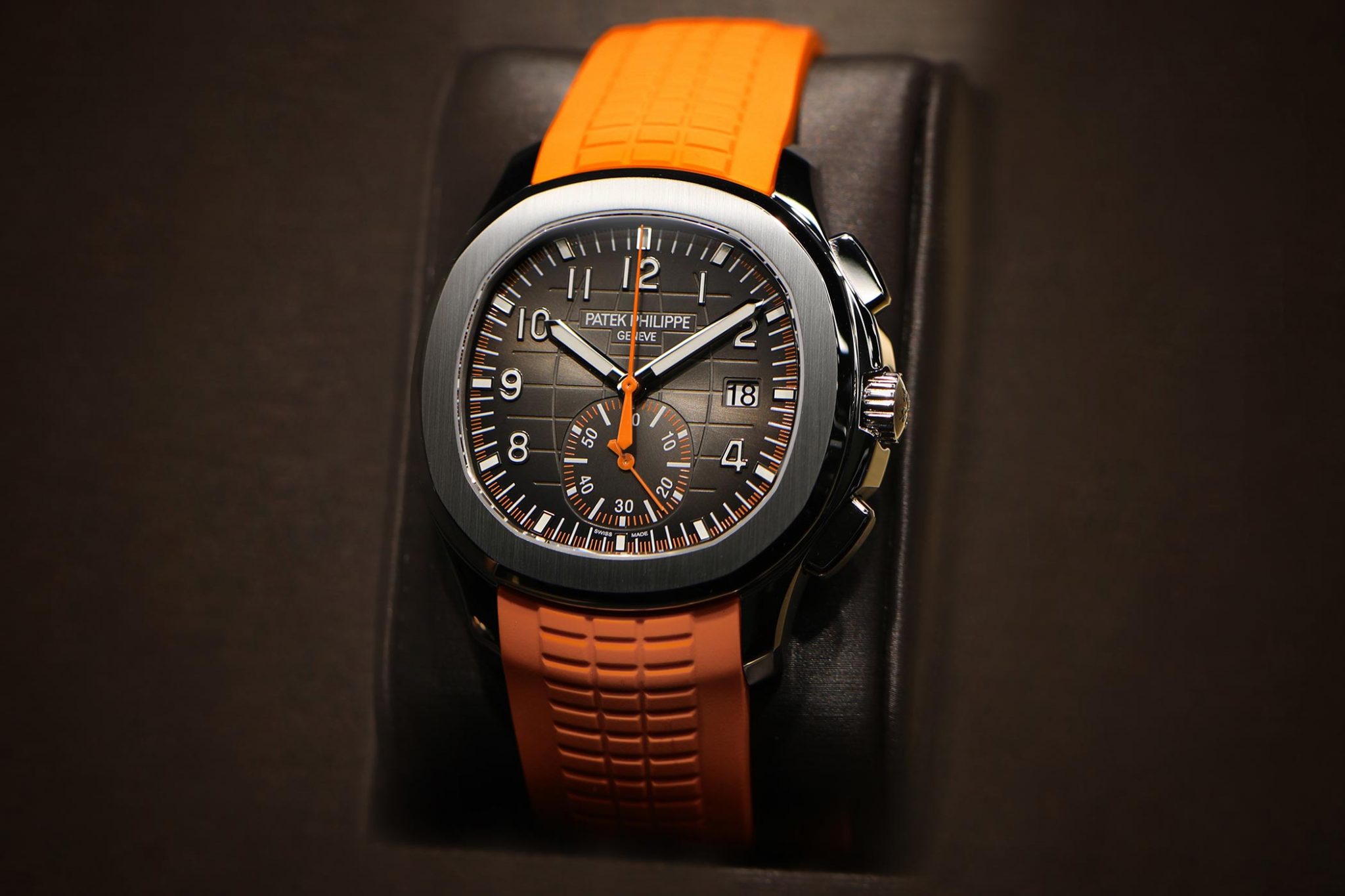 Meanwhile, there's the George Cleverley Russian leather strap on my IWC and on the OMEGA watch. Then, obviously, the Nautilus and Daytona are stainless-steel bracelets. I think rubber is a different conversation, but overall I do definitely prefer stainless-steel bracelets. They feel more secure on me.
What is your finest dress watch?
It's the Patek World Time 5130G. I've had it for about five years. I used to wear it all the time, and I wear it five or six times a year now. But actually, I've got to like it even more. It's round, and I love the idea that it shows all of the countries, because I travel quite a lot. Even though I don't use the watch for that purpose, I love that I can see all the cities that I visit. I can literally see everywhere that I do business and sell my shoes, and if I need to call a client, I can see exactly what time it is.
---
George's finest dress watch
---
It's a really nice, elegant watch. I wear it with tuxedos, I wear it with suits, and it just always looks brilliant. And the round shape has grown on me. For a while I wondered if I want to go back to square, but now I love the shape and the style of it. I think it's a beautiful watch.
What part of collecting watches most appeals to you? It sounds like you more want to enjoy them than collect them.
The idea of a clockwork mechanism to measure time is great. I also totally get the work that goes into each part and each piece, plus I like the idea of how it was made and the time that's gone into it. I appreciate that because I'm in the bespoke shoemaking business. When I see a mechanical watch, I think of the process of making a shoe by hand. While you see a finished product like a shoe [suddenly holds up a shoe], you just see a shoe. But I see all of the hours that have gone into it, and all of the work. That's the appeal of a mechanical watch. It's obviously beautiful aesthetically, I love to wear it and use it, it's reliable and well-made – but for me, it's about all the work behind the scenes to get it to tell the time.
---
Appreciating the time that goes into a watch
---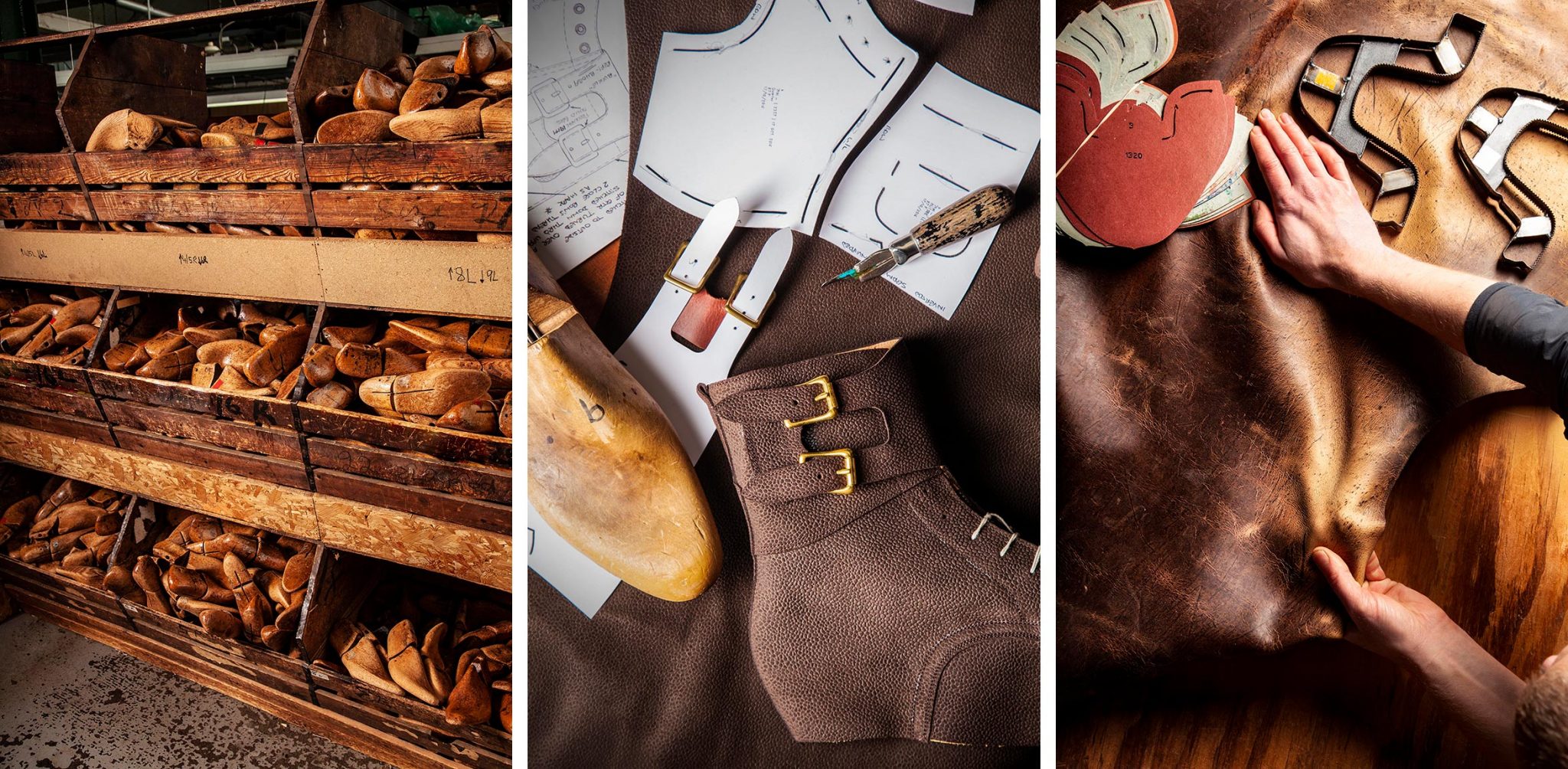 Do you know much about watchmaking? If you read a description for a watch, do you understand the terminology and so on?
Not really, to be honest. I don't understand all the intricate details about the interior of the watch. There are things that I personally look for, and then it's about the wearability of it; the shape, the size, and obviously what kind of movement. I've never got too involved in watchmaking – I have been invited to go to Patek a few times, but last year it couldn't happen, obviously, and the year before I was in LA when they were doing the trip. It is something I would love to do and would love to learn more about it. But it's not something I'm well-versed in.
Nevertheless, do you prefer manually wound or automatic watches?
I would say automatic from a lazy perspective. But then again, I do have the OMEGA Speedmaster, which is manually wound. The thing is, it frustrates me a bit when you take it off for a day, and it's already stopped and you have to reset the time. I constantly find myself winding it. So, the short answer is automatic.
What is your dream watch that you don't yet have? Why?
I would probably say it would be the Nautilus 40th Anniversary 5711/1P. When I got married, one of the best men in my wedding was Jason Statham. We both went and got our watches together. When I was buying the engagement ring, we both also went to Patek and I got my 5711, and he got his Nautilus 40th Year Anniversary. I thought I would love to get it as well, but I didn't end up getting it.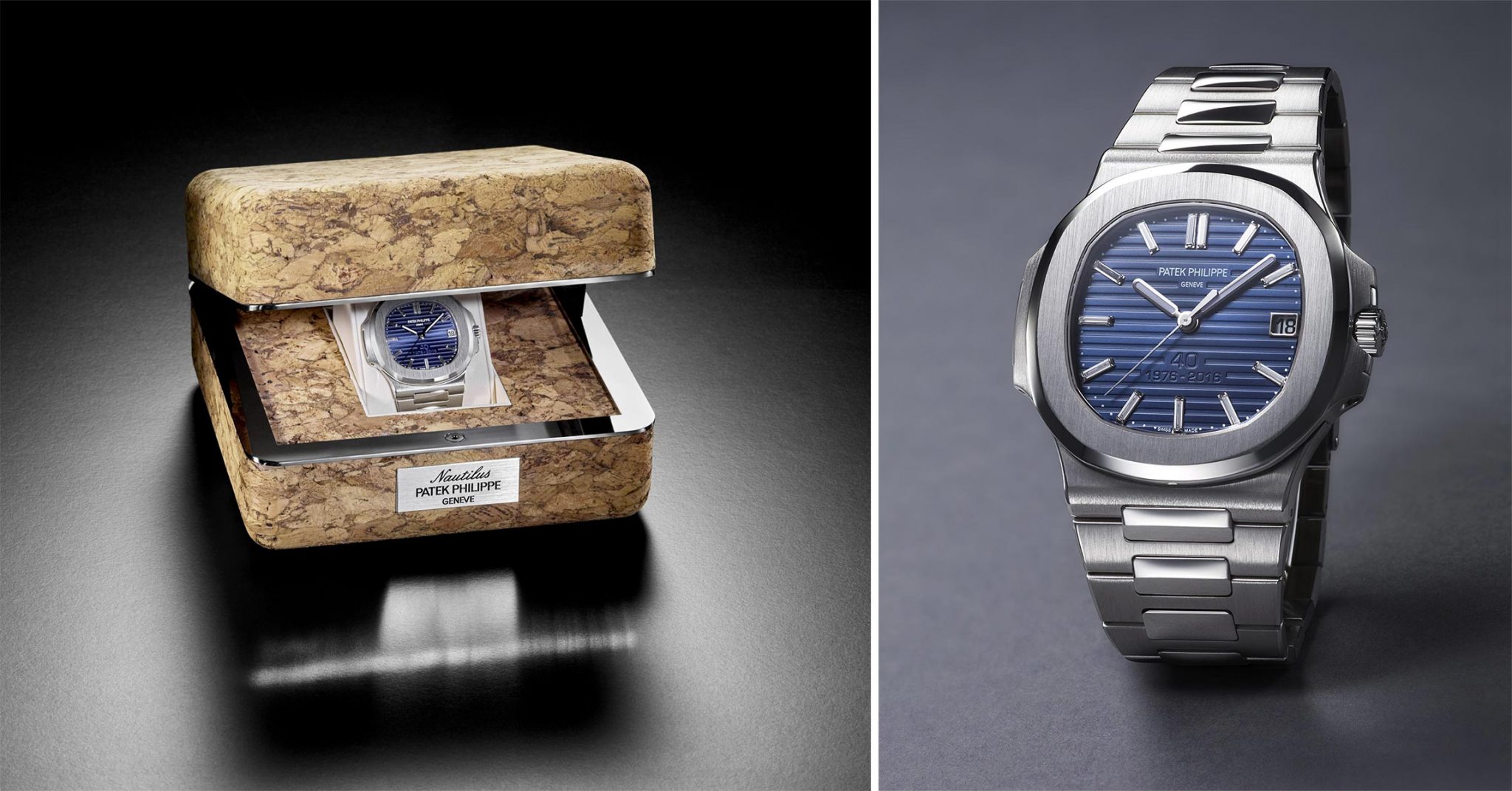 Although, I wouldn't say it's my dream watch – I'm very pleased with the watches that I do have. But if I were to add to it with a watch that I don't have, it would probably be that. Or the last Nautilus that's coming into circulation, where there's been talk of different dials and what have you. So if any of the renderings that I've seen are true, then it would probably be one of those. That would be my dream watch.
How do you feel about the discontinuation of the 5711?
Here's the thing with the discontinuation – I wear the 5711 for about three to four months out of every year, so I wear it a lot. I've always worn it because I love the watch. Obviously, people went crazy for it – and they're going even crazier now. I totally understand why Stern did what he did. Honestly, it's a bold move, because it's like Porsche getting rid of the 911, or as a friend said to me, like MacDonalds getting rid of the Big Mac. But I understand from a lot of dealers that they had an absolute nightmare with so many requests, so in the essence of doing what they did, it makes sense to me. The only people I guess I feel a bit sorry for are maybe the people who have been on a waiting list for four years. That would suck.
---
Discontinuation of the 5711/1A-010
---
But it's important to know that the market was going crazy, with so many people flipping them and putting them on the grey market and trying to make extortionate amounts of money. That's not good for a brand either. I can wear it and will probably be stopped by about ten clients in a day. They ask, "How did you get that watch? You must know someone at Patek." It's the same question all over the world. Sometimes with a client, I would hide the watch a bit because I knew that was what they were going to say. Then you find yourself talking for twenty minutes about a watch. When you do that all the time, it gets a bit tedious.
So it makes sense for Patek, and will certainly hold the value of the Nautilus for the time being. I think all it's going to do is transition the demand from that to the next reference is. You're going to get all the people on the list for the 5711 being like, "We should be at the top", and the people who already have the 5711 being like "I should get the new one first."So I don't think it'll change the levels of demand. If anything, everyone will now want the new one. But massive respect to Stern for doing what he did.
What do you think of the new olive green Nautilus 5711/1A-014?
The new 5711//1A-014 looks great. I LOVE the green, and I hope to be picking up my one in June. It's also perfect as I love to wear green loafers!
Getting stopped ten times a day – that's due to the environment you're in at George Cleverley, right?
The nature of my business means a lot of people will glance down at the 5711. It's like Jesus has turned up. They want to see it and wear it, and suddenly you've gone from a bespoke appointment with someone who is very well-known to them asking about the watch. It's a similar crossover with clients; people who are buying bespoke shoes at my price point are probably watch guys too, or car guys. It's a smaller circle. Even in restaurants, friends will want to try on the 5711 – even if they've all got Pateks themselves. They will try it on and be like, "Ah, it's perfect in every way."
Do you think the 5711 is perfect in every way?
I absolutely love it, I do. I like the plainness of the face, I like that the dial is just the right amount of blue for me – not too bright – and for me, I have quite a thin wrist, so especially with suits, it sits quite nicely. The only problem with it is that even though I wear this and the Daytona about the same, the 5711 seems to be a bit more delicate in terms of scratches. I literally wear the Daytona anywhere because it's so strong. It's a sports watch, so it should be worn on the beach, in the swimming pool, going running. That's what it should be used for.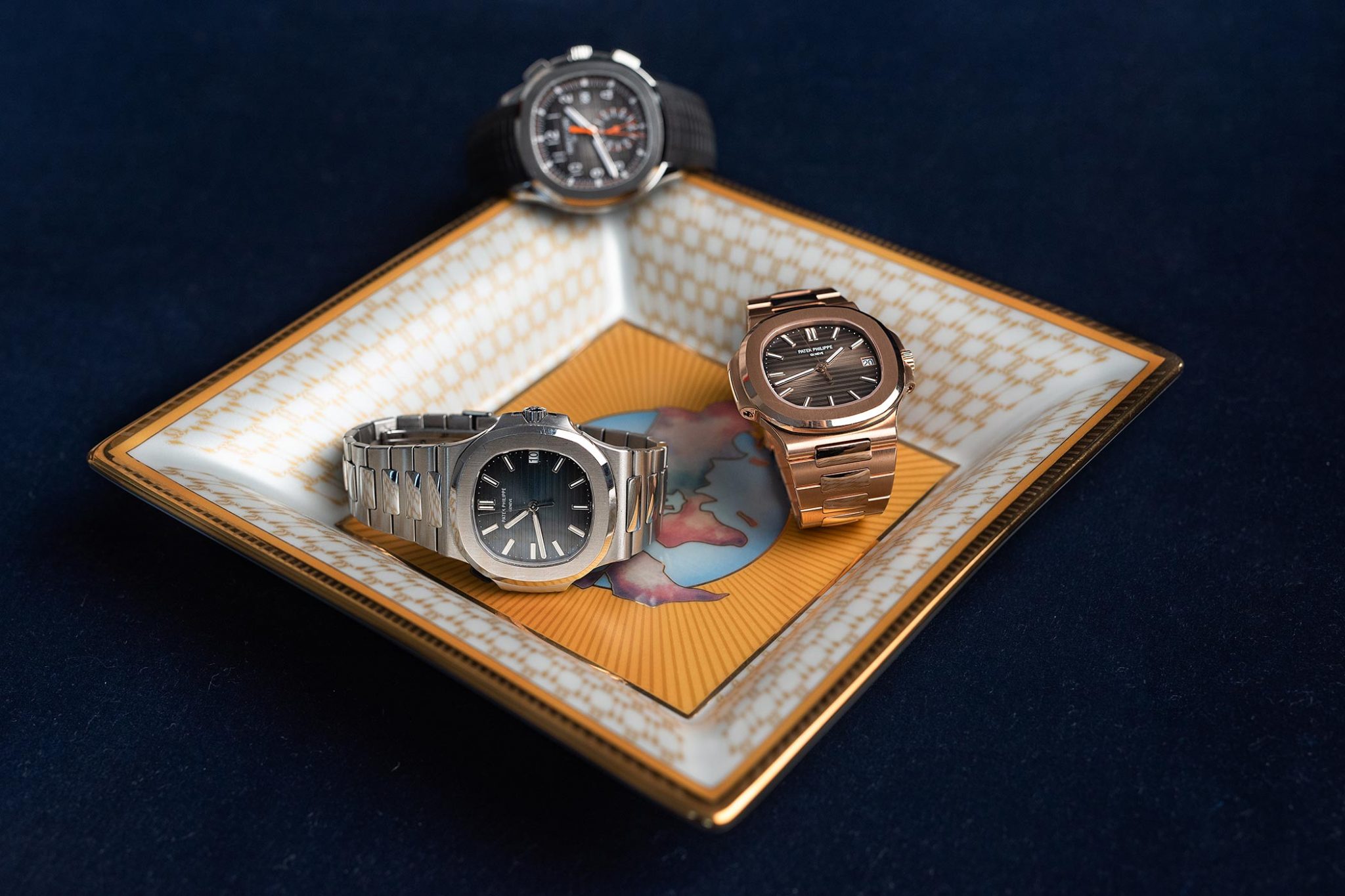 Do you pride yourself on your Britishness in terms of what you wear?
Probably, yes. I always grew up watching my dad in a suit, and you always feel so good when you put on a suit. I love buying new suits, looking at watches, and am constantly looking at new fabrics. My wardrobe at home is just crazy, with tweed and so on. I just find it so nice to dress nice. Sometimes, you go into LA and see a couple, and the woman will look fantastic. Meanwhile, he'll be wearing a T-shirt and baseball cap paired with an Audemars Piguet. You just wonder, "Couldn't he be bothered to dress up for her?"
Do you notice obvious watch trends between your main bases, London and Los Angeles?
Yes. LA is more casual; I see a lot more AP watches and a lot more sports watches. You don't see many dress watches, whereas in London you see a lot. When I go to LA, I take my Rolex and 5711, but I wouldn't take anything that was too dressy. LA is much more casual attire because of the climate, plus most people wear sports jackets and so on.
George Glasgow Jr., what would be the perfect collection of five watches for you today?
It would be the Rolex Daytona 116500LN, Patek Nautilus 5711, my OMEGA Speedmaster, the TAG Heuer Aquaracer Bamford Limited Edition, and the IWC Pilot Rake Revolution George Cleverley watch.