BY FRED S. MANDELBAUM
There has been some controversy among collectors if that widely quoted birthyear 1952 was correct – it may be the year the design work on the Navitimer began, but all available evidence points to 1954 as the year mass production started – although its roots lead much deeper into BREITLING's history.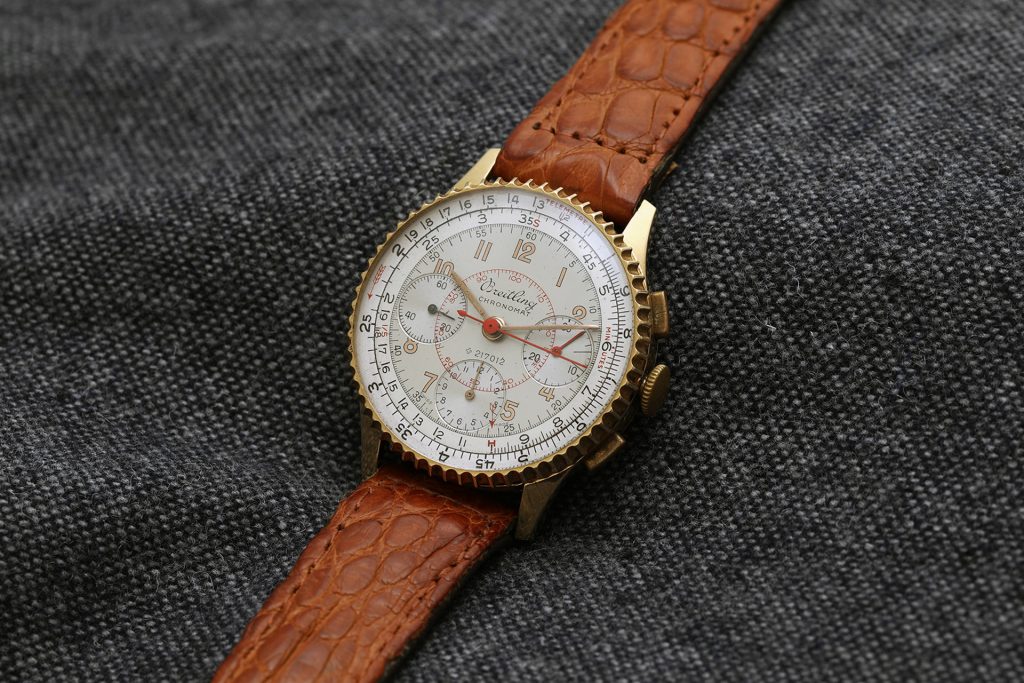 The Chronomat Ref. 786 from 1951
Starting in the early days of Leon Breitling in the late 19th century, the company concentrated on chronograph "tool-watches", this was where they excelled – patenting watches for motor racing in 1905 (and registering a redesign in 1907) raising the top speed to then highly unrealistic 250 mph, and the world's first separate "pusher at 2" wrist chronograph in 1915.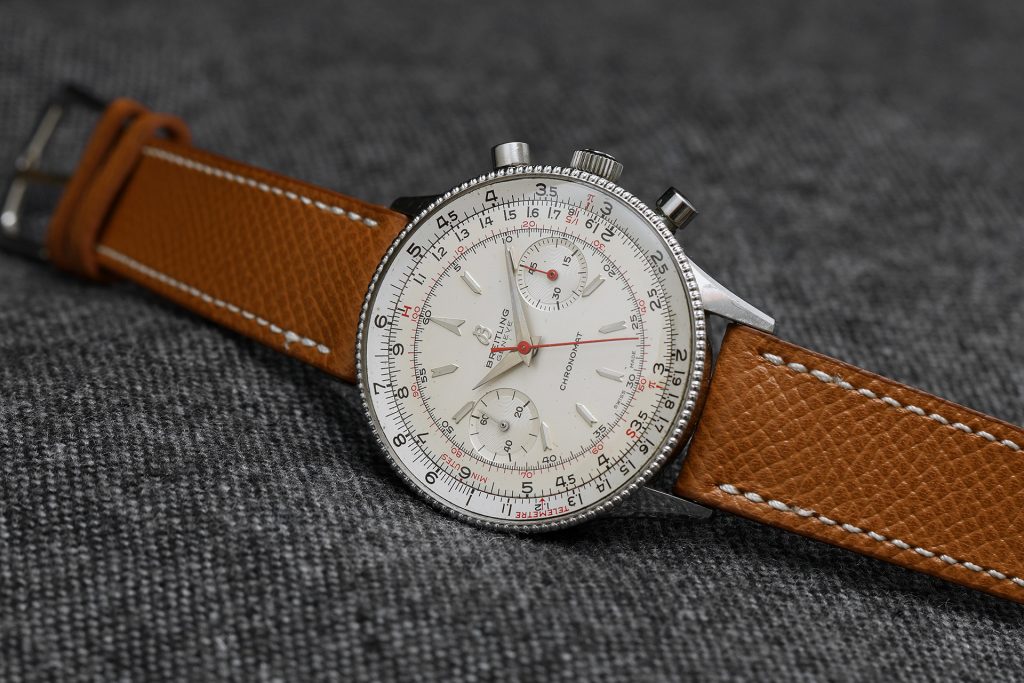 The Chronomat Ref. 808 from 1961
In 1932 Willy Breitling took over the management, at the age of 19 – and led BREITLING for 47 years, decades of fireworks of innovation until the Quartz crisis forced him to close down the company in 1979, selling brand and trademarks to Ernest Schneider.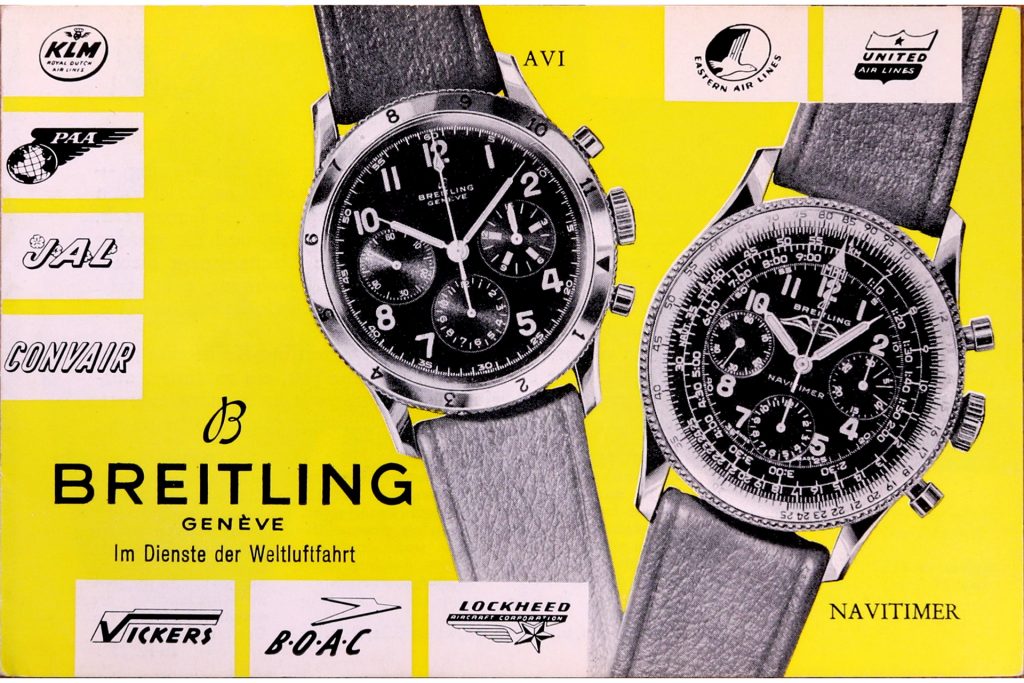 Breitling Catalog from 1957
The world's first dual pusher chronograph was based on a BREITLING patent application from October 1933, adding a separate reset pusher at 4 to pause and resume event timing, defining the function of chronographs until today; established an Aviation Division named BREITLING 8 to develop aircraft cockpit clocks and chronographs with eight-day power reserve and pilot's wrist chronographs.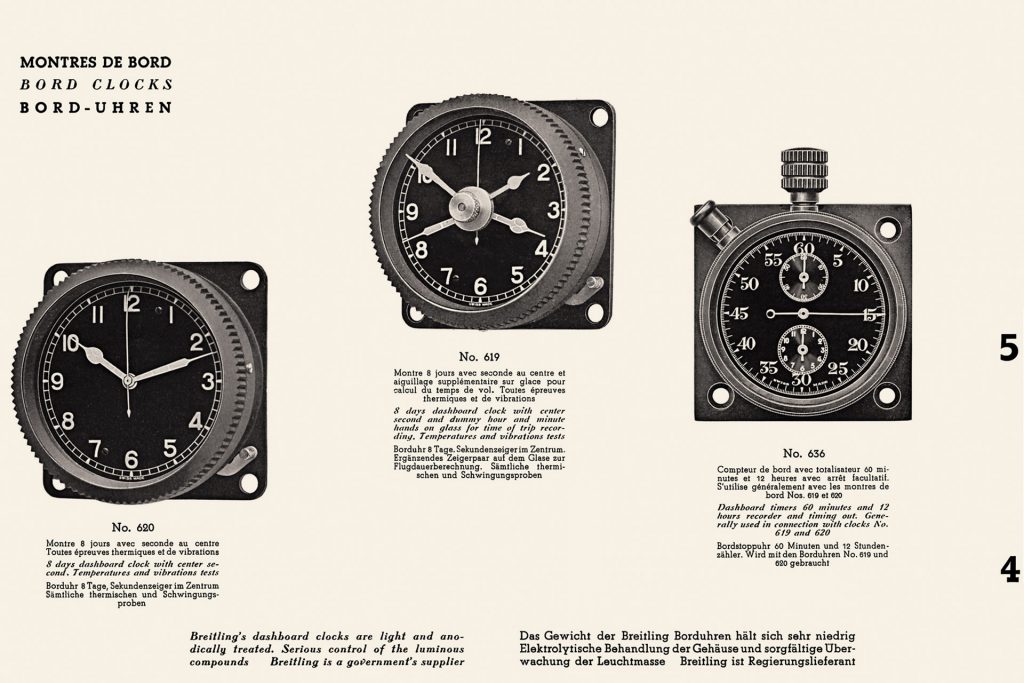 Breitling Catalog from 1941
But Willy Breitling was looking to innovate in a much broader market, making the wrist chronograph a "tool for scientists, mathematicians, engineers, businessmen" – applied for the patent of the Chronomat (derived from CHRONOgraph for MAThematicians) in August 1940 that added a logarithmic slide rule calculator on your wrist. That first "smartwatch" chronograph for complex calculations, multiplication, division, production timing, interest and exchange rates, rules of three and geometry calculations was hugely successful – and the 1940 Chronomat defines much of the brand's design DNA until today.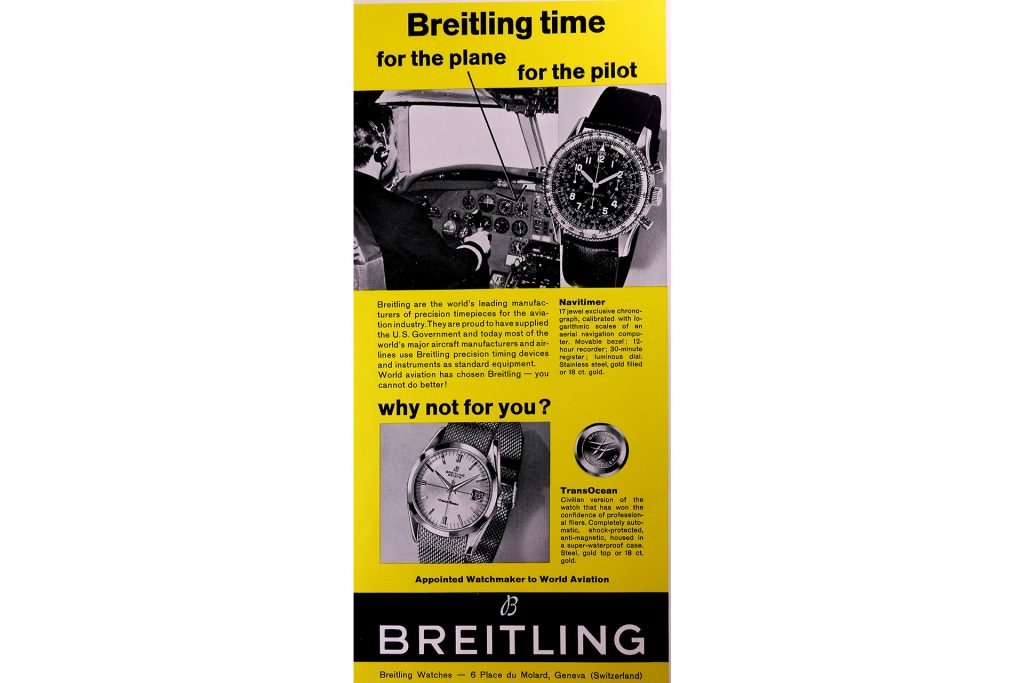 Breitling commercial from around 1957
The Navitimer was a variation of that original Chronomat "wrist computer" design and, from all evidence we could gather, wasn't originally meant to be part of the BREITLING's regular product range – AOPA, the Aircraft Owners and Pilots Association was to distribute that "AOPA Navitimer" exclusively. The first production batches (production records show 1,100 such pieces produced from July 1954 to January 1955 in small production batches from 100 to 300) had no BREITLING model reference on their casebacks like all BREITLINGS since the late 1930s did – and the BREITLING brand was absent from the dials of the AOPA Navitimers, a name derived from NAVIgationTIMER.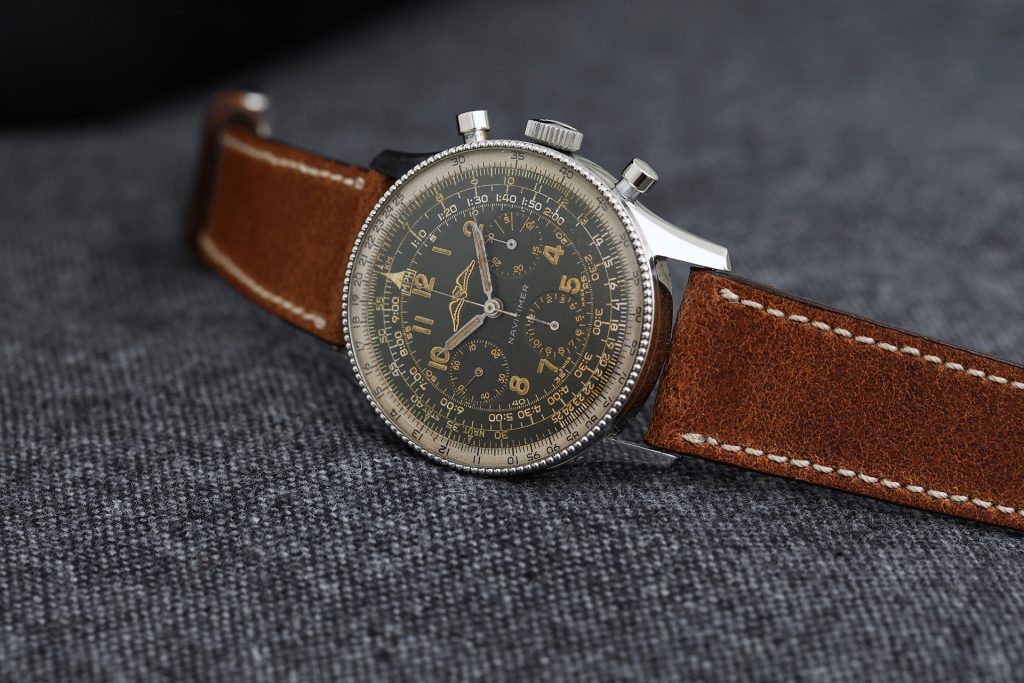 A Navitimer Aopa Ref. 806 from 1955
Considered the Navitimer "grails" for collectors, these first production batches weren't using the caliber 178 from Venus SA, the standard high-grade hour counter movement used in all other premium models of the period, but a Valjoux cal. R72. That AOPA edition was another runaway success; it seemed that pilots had been waiting for someone to combine their wrist chronographs with the slide rule time-speed-distance flight computers most of them were familiar with; calculating ground speeds, rates & distances of climb and descent, fuel consumption or converting Nautical to Statute miles.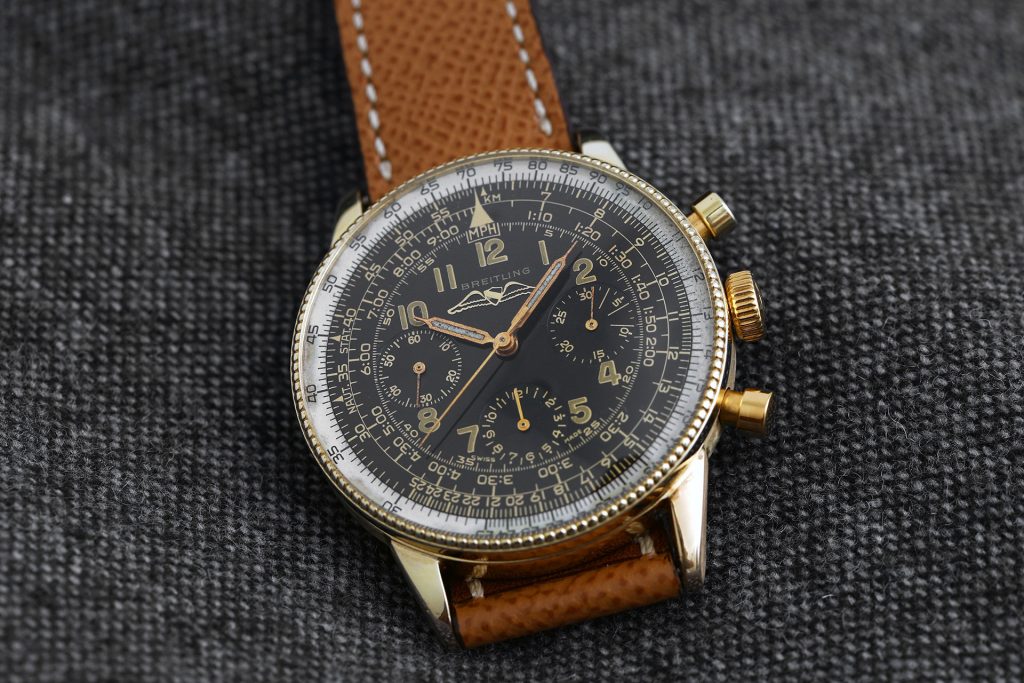 The Navitimer Ref. 806 from 1956
The last production batch of 200 Valjoux R72 Navitimers from October 1955 finally added the model reference 806 on the casebacks and BREITLING started experimenting with logo variations for their regular distribution – removing the AOPA branding from the wing's shield, adding " BREITLING " or "BREITLING GENEVE" on the dials, some scarce examples show an applied script "B". In October 1955 mass production of the Venus cal. 178 Navitimer began, the first batch of 1,000 shows the level of confidence in its success – it has been one of their big sellers until today. Aviation was BREITLING's primary market in the 1950s.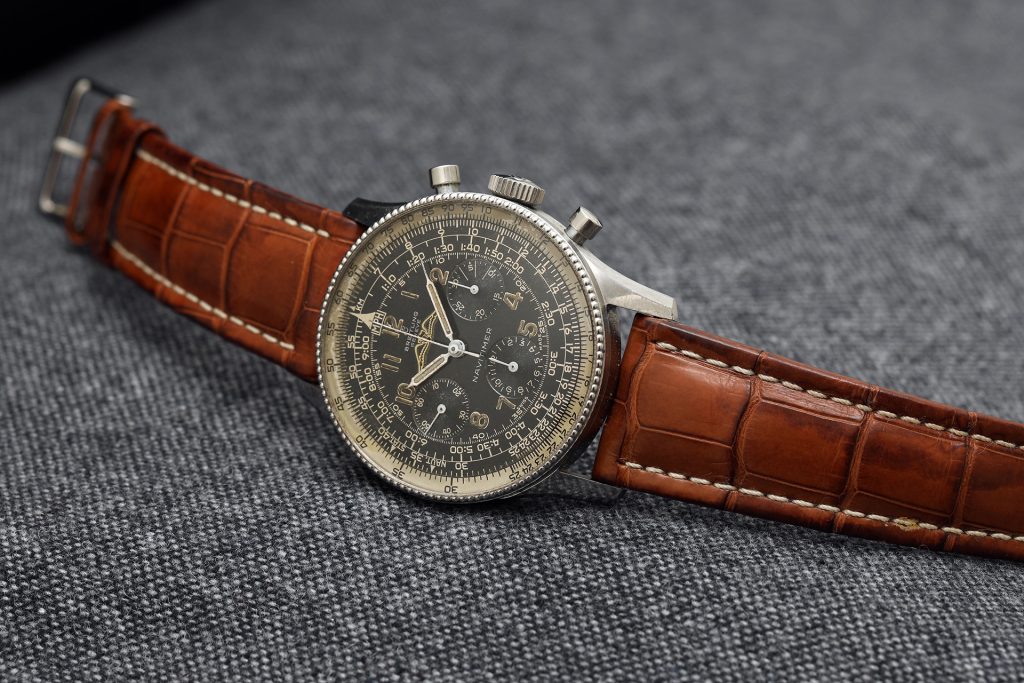 The Navitimer Ref. 806 from 1959
Willy Breitling was fascinated by space flight, by the dawn of the "Interplanetary Age" – launched a desk clock, the "Baby Moon", to honor that first 1957 space flight, envisioning "Sputniks, satellites, baby moons and space stations which will carry man to the moon, or perhaps even to Mars or Venus and beyond" – so when Scott Carpenter, one of the Mercury 7 NASA astronauts, approached him with a special request, how could he refuse?
Scott was a US Navy test pilot – and, like many others, was using a Navitimer as his wrist "navigation computer." But, as there is no night or day in space, he wanted a Navitimer with a 24-hour movement and BREITLING provided this. When Scott tried to use the slide rule calculator of his watch with his space gloves, he found the regular "rice beads" bezel was too narrow, so BREITLING redesigned that bezel, producing a wider, higher bezel for a small production batch, a specific tool watch for manned spaceflight. On May 24th, 1962, that Navitimer (the Cosmonaute brand couldn't be used in America, too "Russian" during the Cold War) became the First Swiss Wristwatch in Space, on the wrist of Scott Carpenter, aboard Aurora 7.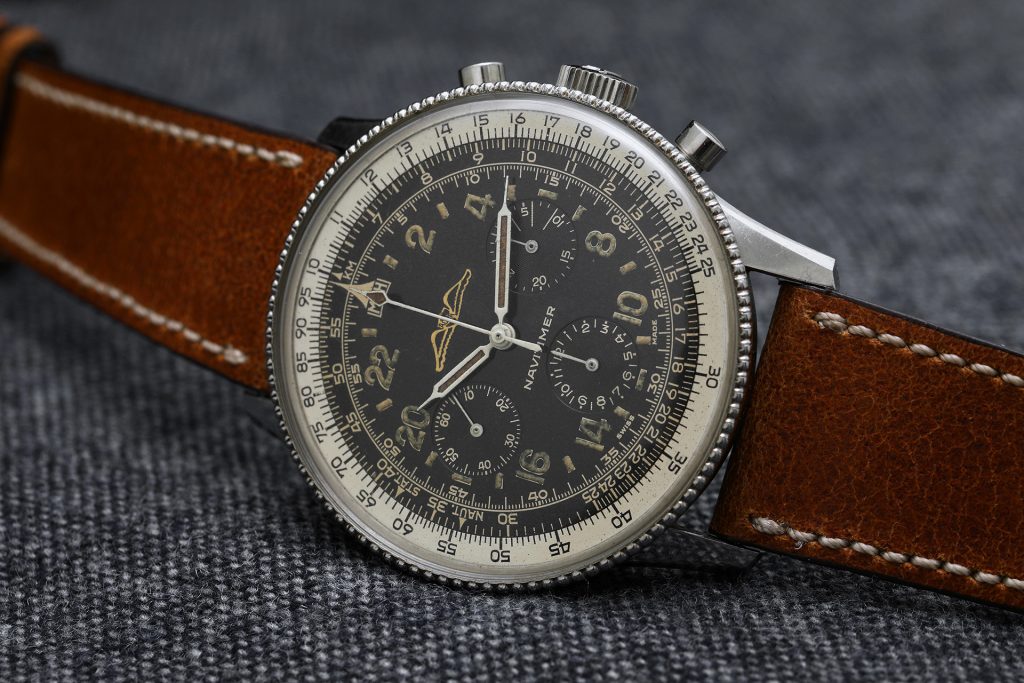 A Cosmonaute Aopa All Black Ref. 809 from 1962
BREITLING redesigned the Navitimer's dial and hands in 1963, adding white subdials and, after a short transition replacing the beaded bezel with a serrated version in 1964. Finally in late 1964 BREITLING introduced their own Navitimer logo, dropping the wings of the original design for the BREITLING-branded versions and replacing them with the "twin-plane" wings logo – the execution chosen in 1967 by Jim Clark and Graham Hill, the iconic Formula1 drivers, who apparently found the computing capabilities of their Navitimer as useful for motor racing as they were for aviation.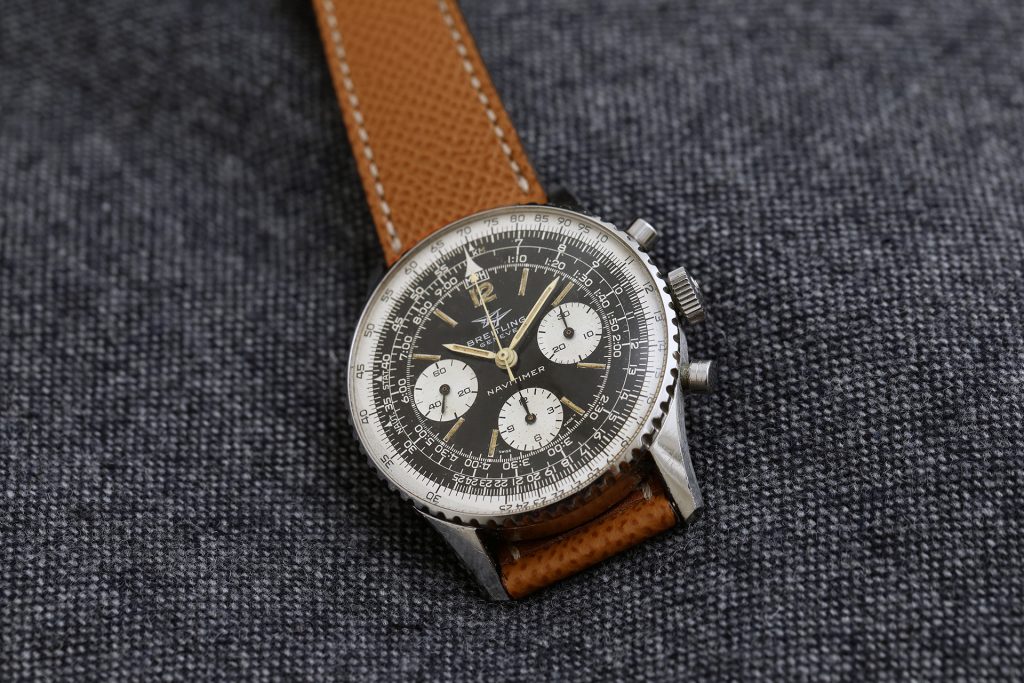 The Navitimer Ref. 806 from 1965
Another major redesign of the Navitimer was due when the race to launching the first automatic chronograph caliber was coming to an end and BREITLING, together with Heuer, Hamilton Bueren, and Dubois Depraz in September 1967 filed their patent for the cal. 11 Chrono-Matic – the reference 8806 used a very similar case and dial design, only adding a date display at 6, while the ref. 1806 launched in early 1969 went far beyond that, finally a waterproof Navitimer, but with a case diameter of 48mm case, quite revolutionary for its time, it took Sylvester Stallone, Arnold Schwarzenegger and decades more to make such watch sizes desirable (for some, at least).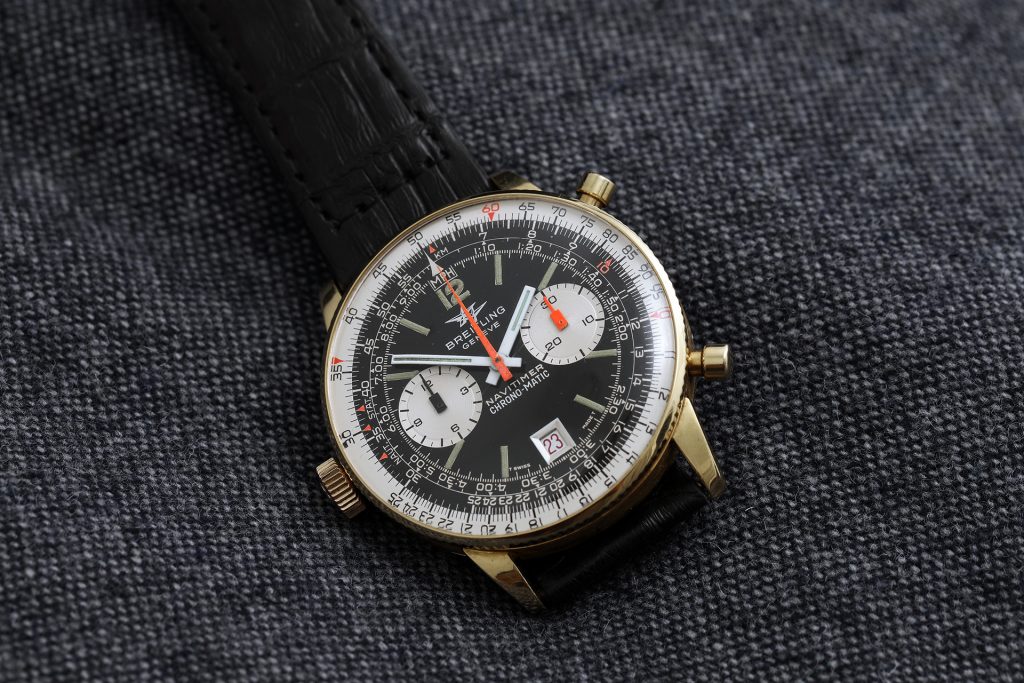 The Navitimer Chrono-Matic Ref. 8806 from 1974
The 2018 Navitimer 1 stays impressively true to its design roots from 1940 to the 1970s, but now holds one of the finest automatic in-house chronograph calibers with the B01.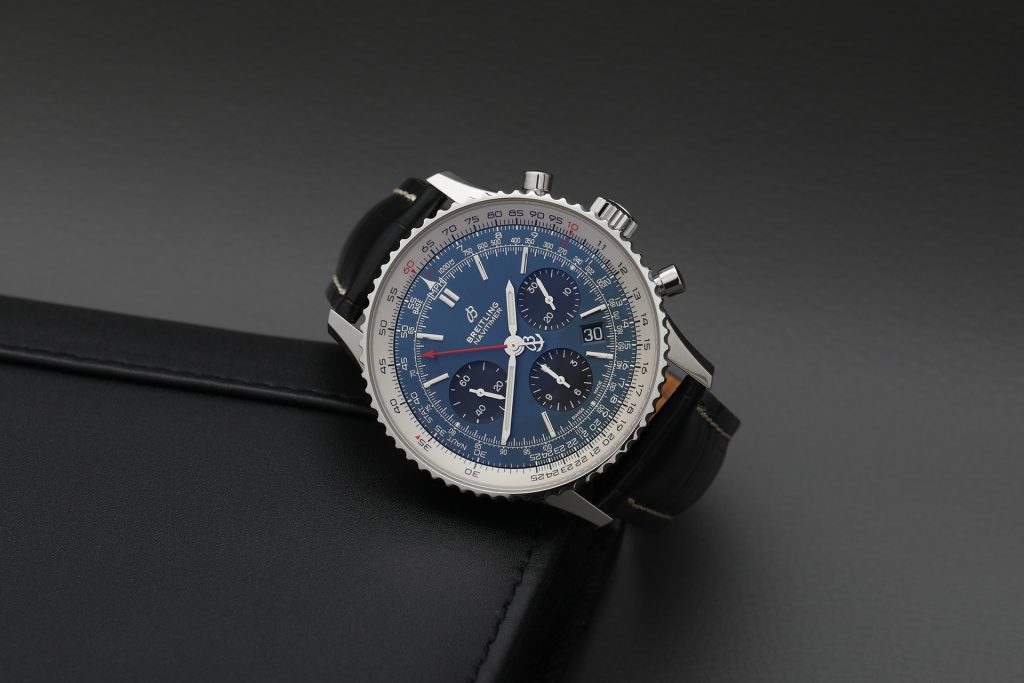 The Navitimer 1 B01 Chronograph 43
---
---