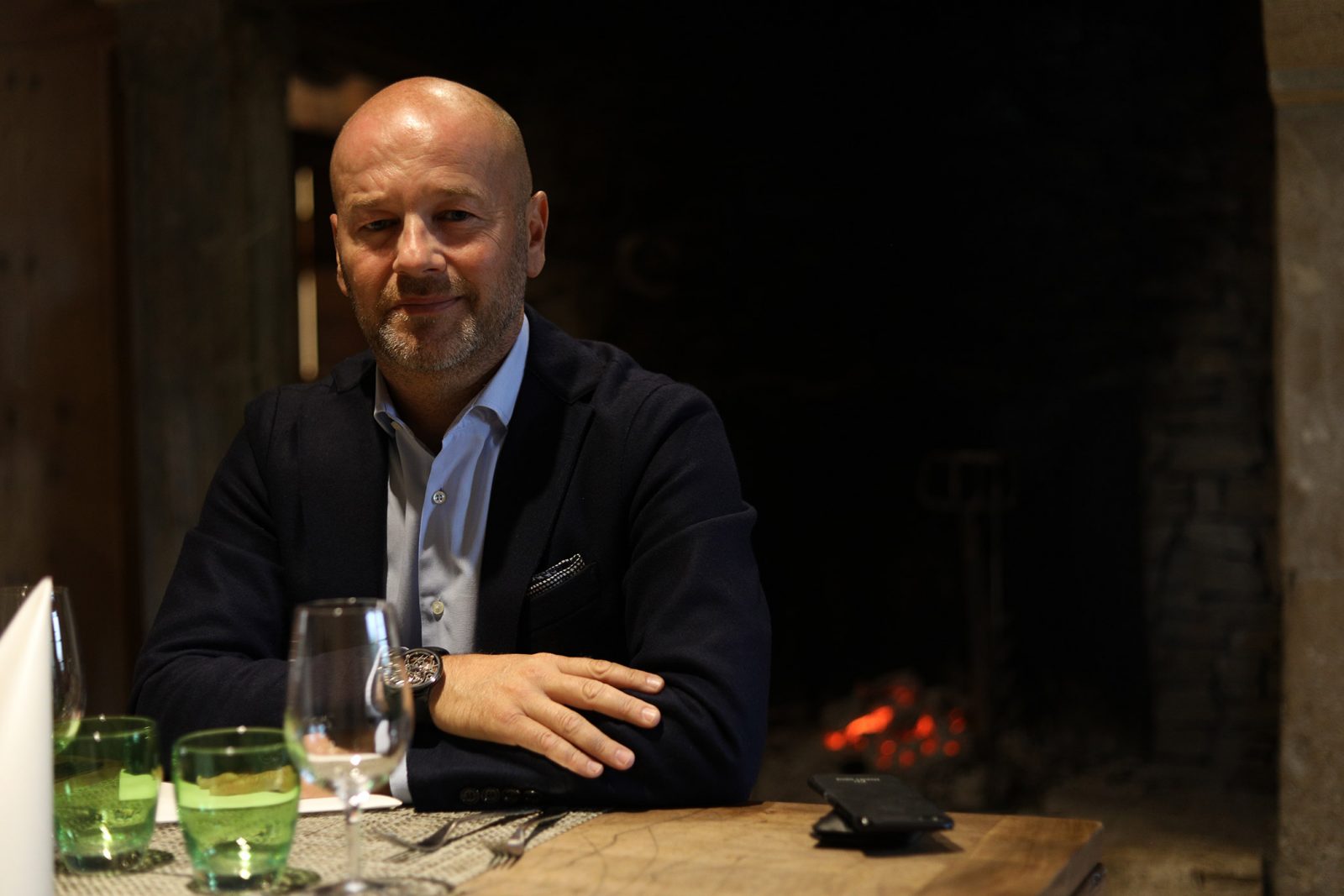 At Jaquet Droz, it's all about emotions – almost 300 years ago Pierre Jaquet-Droz already knew how to excite people from France to China with his snuff boxes, pocket watches and automata. Today, it's Christian Lattmann and his team who respectfully maintain the house's heritage. It was Nicolas G. Hayek who very early saw the CEO's business skills and potential, but much more than that, his human values. Lattmann's sincerity and positive corporate culture are reflected in the nimble hands of his craftspeople, as well as his timepieces and automata. They show surreal, minimized 3-D animations and birds that chatter from your wrist at the flick of a switch. And as emotions are difficult to control, it is not surprising that most of their clients own more than just one JD watch. Hence, our conversation with Christian Lattmann is less about hard facts and figures, and much more about beauty, passion and emotions.
1. What does a mechanical watch mean to you, which watch are you wearing today and which one do you wear the most?
---
A mechanical watch for me means beauty and passion. Beauty, because it is a jewel. Beauty is very important and give a meaning to our life. They embody a spirit and you can express a certain message and style with a watch. And passion, simply because it's made by human, by hand, with patience, expertise and passion, that I share with my team to create new mechanical watches that please our customers.
Today, I am wearing the Grande Seconde Skelet-One, a novelty from 2018, quite modern and still respecting the style of the Grande Seconde. We wanted to have a skeletonized watch in our collection, but still preserve the heritage of the brand. The Skelet-One turned out to be a huge success. Other than for most of our timepieces where we follow the idea of a famous sentence by Antoine de Saint-Exupery "What is essential is invisible to the eye", here we reveal the whole mechanism for the first time.
At the moment, I prefer wearing the Skelet-One. It has a 41 mm case and is very comfortable to wear. But I switch between the Grande Seconde Moon, which is very eye catching. Only during holidays at the sea, I don't wear a Jaquet Droz, but a Swatch Sistem51. (Laughs)
2. You have been working for the Swatch Group since 1989. What was your first encounter with Nicolas G. Hayek like?
---
I was working at OMEGA as a product manager. One day, I received a phone call from the secretary of Mr. Hayek that he wants to speak to me. In the afternoon I came to his office. He was holding my CV in his hands and said; "I am looking for a guy just like you for Breguet". That was in 2002, just two years after the Swatch Group has acquired and revived the brand Jaquet Droz. Mr. Hayek always used to say; "Remember, this is a unique experience and chance you are all having now". It took me some years to really understand what he meant.
3. Since 2016, you are CEO of Jaquet Droz. What is the key message that you want to tell about this very traditional brand?
---
As Mr. Nick Hayek said, Jaquet Droz is a real jewel, and in the future not only connoisseurs must know it, but the general public must also discover its unique history, excellence, creativity and the beauty of its products.
4. Looking at Jaquet Droz watches, especially the Automata and pieces from the Ateliers d'Art one might ask: are your clients more technically adept or pure aesthetes?
---
Our clients are attracted by the emotion which come from our watches. Our watches don't only tell time, they tell a story. I would not limit it to a certain group of people. It can be anyone who gets attracted to our pieces of art. We like the word 'astonishment', because this is really what our work does to people. It is pure emotion. And emotion you cannot control. This is what we are looking for. And therefore, most of our clients have more than one Jaquet Droz watch. I was in Tokyo last year and a collector from Osaka took the plane just to be part of the exhibition. Overall, our clients are very self-confident and don't want to follow others. They want to be different.
5. Does the production of your Automata require special craftsmanship and artisans? Where and how do you recruit such specialists?
---
We have high watchmakers, miniature painters, engravers and sculptors and we train them by ourselves. They don't need to bring a huge amount of experience as they will learn everything from us. But it is important that after they are finished with their training, they actually stay with us. And the culture of our brand is to make them understand that they are not machines but entrepreneurs. We don't limit them in their creativity, but let them fully take part in developing new designs. It is our brand and no one should feel obliged to their work, but be convinced.
6. What is technically speaking the biggest challenge to get an Automata into a watch case?
---
The miniaturising, to make it as small as possible. On some pieces we have 199 components just on the dial. All components are hand-made – you have to take this into account when it comes to quality control. They are not machine made where everything is identically. Sometimes I have to be the referee when our quality control is not entirely happy with certain parts. Another challenge is, that all parts have to be resistant, because we want people to wear our timepieces instead of being locked away.
7. How do you explain the fact that there are hardly any competitors producing Automata (in watches) today? Is the technique a well-guarded company secret?
---
First, it is a huge investment, and some brand prefer to invest in marketing instead of investing in innovation and product like us. Second, you need the know-how, the expertise in Automata is very rare.
– Do you have certain patents on some of these mechanisms?
For the Charming Bird we have three patents. For our Magic Lotus Automaton we have four patents. The most difficult part is to find the idea for a new mechanism. And then we face the challenge of building it technically.
8. How do new Paillonée patterns emerge? Where do you and your artisans get the inspiration for new ideas, materials and techniques?
---
The decisions don't emerge from one person's ideas. It is a collective process where the whole brand is involved. An idea can come from our artisans, from designers or from the past. Mostly however, we are inspired by the nature as this has always been rooted in the brands DNA. Creativity is a human process – I don't like to much hierarchy in my teams because it limits the creativity. Everyone can participate.
9. Why does your sister company Blancpain produce your movements, instead of producing them in-house at Jaquet Droz?
---
It was a strategic decision by Marc Hayek, to entirely concentrate our energy on craftsmanship. You need to bear in mind, that these movements are of very high quality with a base module from Blancpain, with hand-finishing parts and silicon escapement that are specially made for Jaquet Droz. We are not a manufacture, but an "Atelier de Haute Horlogerie" and there we have put our energy. And in terms of economic reasons, our quantities are too small to implement a whole movement unit in-house. It would put the watch to a price level that nobody would want to buy.
10. Why is there a need for a very traditional brand like Jaquet Droz to have sports watches (e.g. Grande Seconde SW, Monopusher Chronograph) in their collection? What target group do you want to address with them?
---
It is true that we don't have a long history of sport watches but we have some requests. Chinese people more and more like them. Well, they do not expect a true sport watch from us, but a more robust and casual watch. However, it is not part of our past and it will not get too much attention in the future. The most important thing is, that we don't copy and keep our strong identity.
11. Recently you said, that for you personally the future is just as important as the past. So, let's talk about both. Why did the brand Jaquet Droz not exist in the past century, before having been acquired by the Swatch Group in 2000?
---
The son of Pierre Jaquet-Droz died just one year after his father. Jean-Frédéric Leschot, who took over in 1791 had to manage three manufactures (La Chaux-de-Fonds, London, Geneva) and political unrests at that time forced him to shut all of them down. But it's very surprising, that even the brand has stood still for so many decades, Pierre Jaquet-Droz is still very present and well known in this region and considered a genius. We are at the moment working with a historian to collect all our history, that we will present in a book in 2021 in occasion of the brand's 300th anniversary.
12. In which direction does the watch industry move in your opinion?
---
As Jaquet Droz is a small brand, I prefer to only refer to us. Innovation and creativity are very important for the future of Jaquet Droz. We need to continue to create and not copy. We want to further understand and explore the young generation and teach them why watchmaking is an art and why it is so important to share the passion.