What is the point of a brand ambassador? To encapsulate the essence of a brand. Represent its values. Inspire others. These are all things that Panerai brand ambassador, Mike Horn, is certainly capable of – alongside much more.
Over the years, the Switzerland-based South African has had his fair share of awe-inspiring adventures as well as close encounters. Whether by foot, boat, or bicycle, Panerai ambassador Mike Horn has spent his life traversing the planet, living off his surroundings and instinct alone. Hair-raising moments include facing a death squad in the Congo, circumnavigating the Arctic Circle alone, and peregrinating the vast expanse of the world's largest rainforest, the Amazon.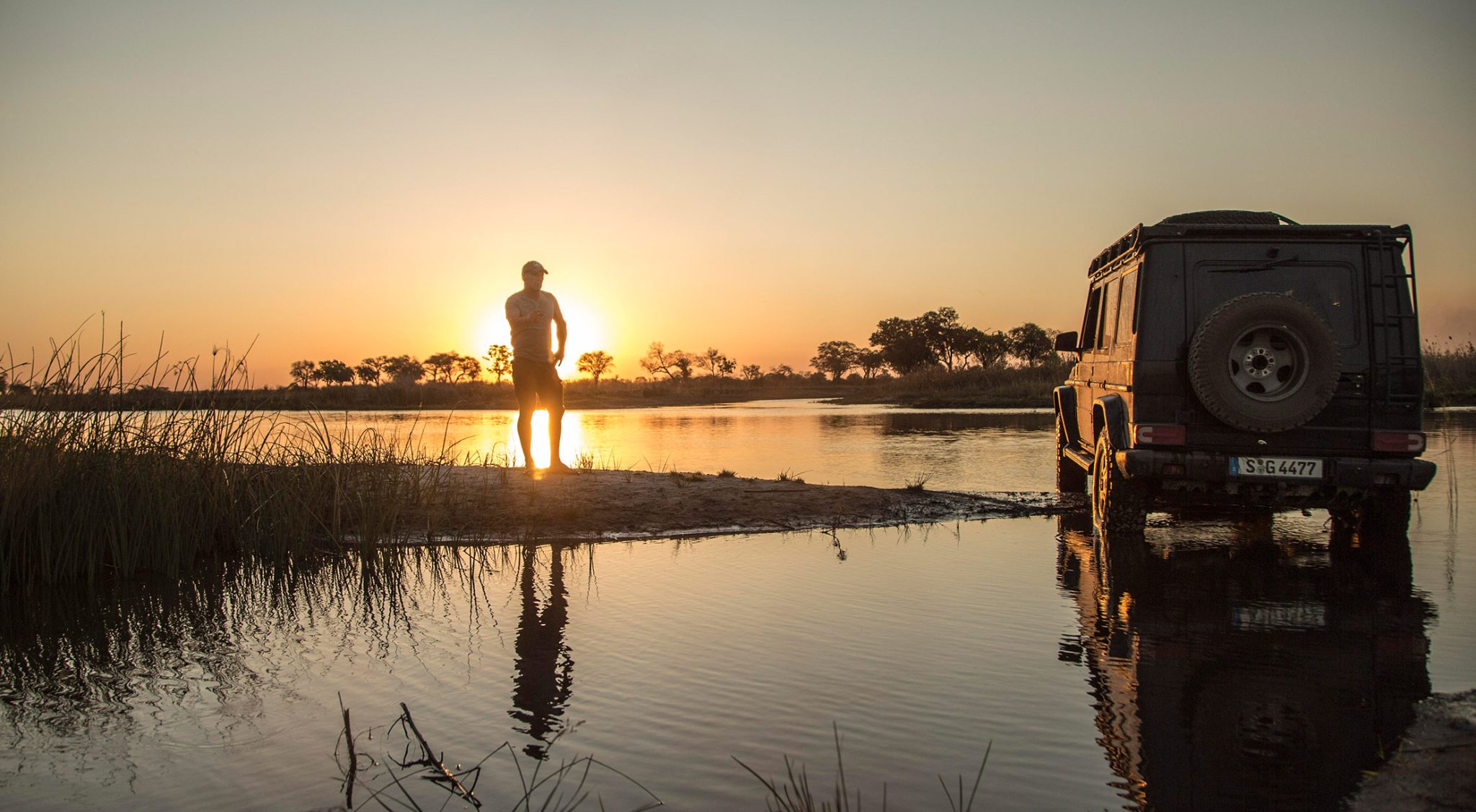 Mike Horn – During the Pole 2 Pole Journey
"I think that there's nothing between death and being alive, although you might feel that you are treading a very thin line. On this line, all you can do is concentrate and keep your balance. The fact that I feel alive when very close to death shows that we are constantly walking on that very thin line. Although failure means you'll no longer be there tomorrow, it wouldn't stop me doing what I love doing – because exploration makes me feel alive."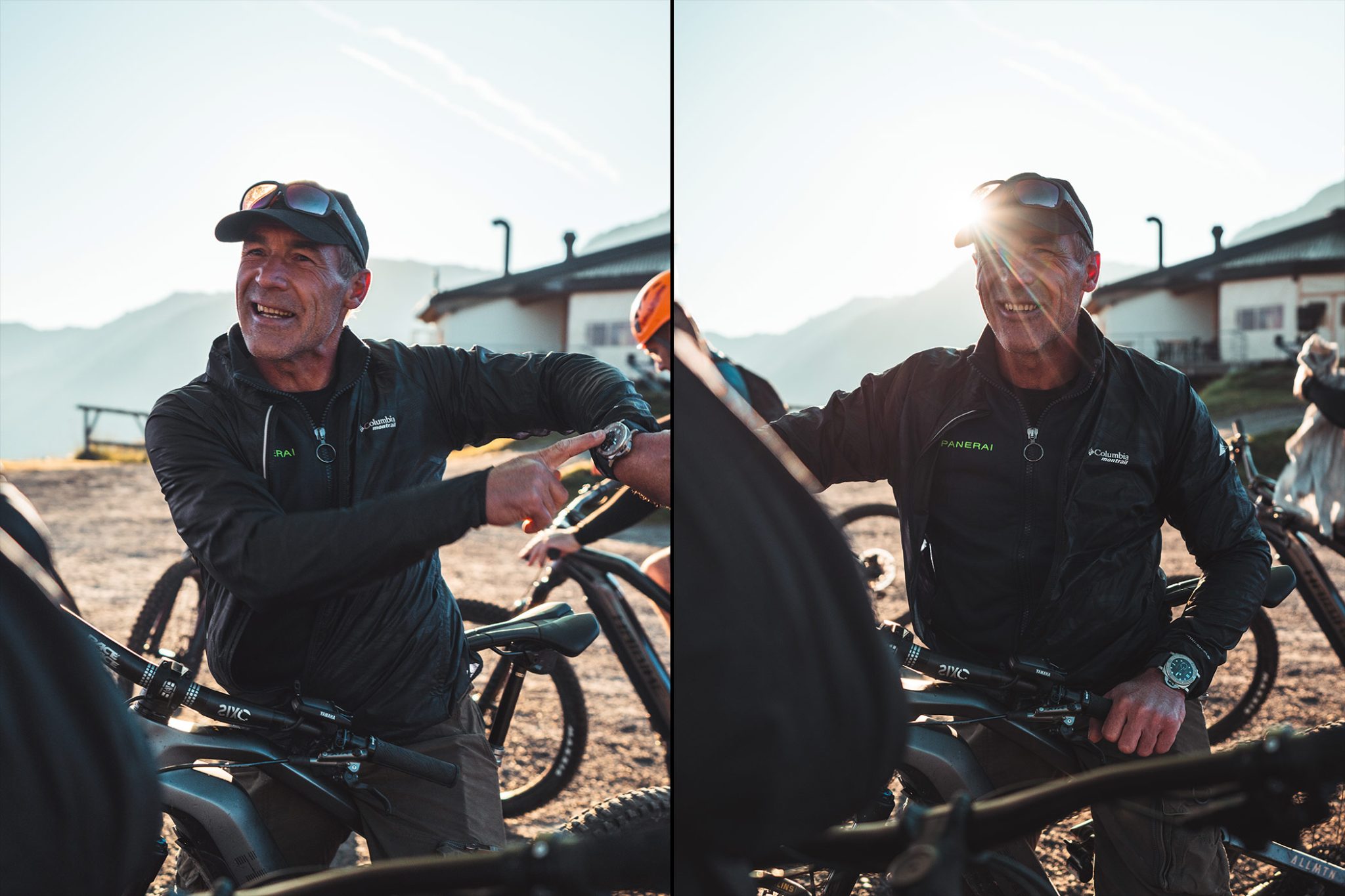 Mike Horn in Verbier, Switzerland
Credit: © Etienne Claret
Horn often speaks of having enjoyed the level of freedom bestowed upon him in his youth; as long as his homework was done, the world was his oyster. This instilled a passion in him that seems to have become an innate part of his soul. His recent exploits (to name but a few) include publishing his new book, Survivant des glaces: L'ultime challenge (Survivor of the Ice: The Ultimate Challenge), sailing to Greenland and Svalbard, roaming across Iceland, and suiting up for Cannes Film Festival.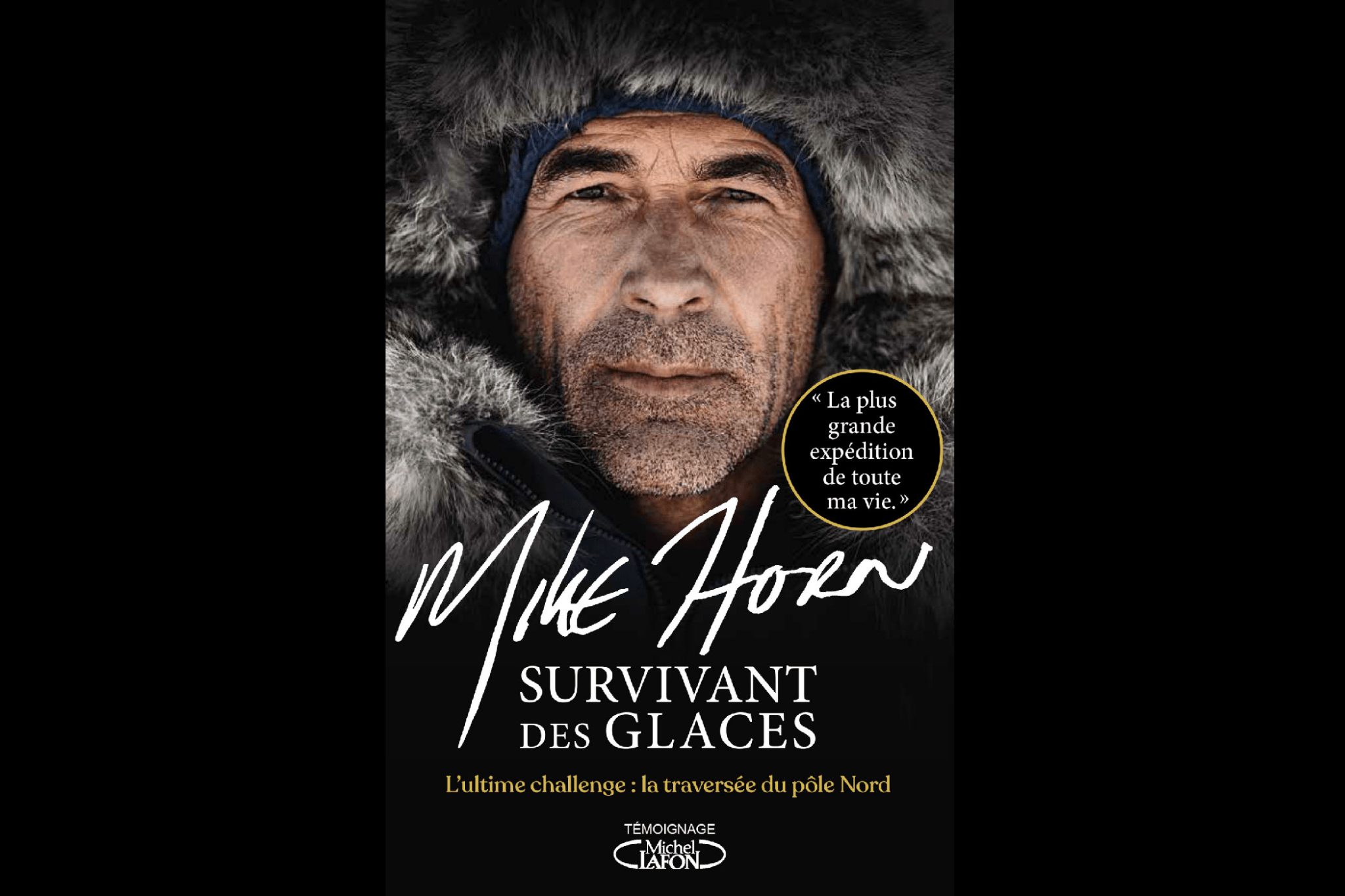 Survivant des glaces: L'ultime challenge
(Survivor of the Ice: The Ultimate Challenge)
Credit: mikehorn.com
---
Getting up close and personal with Panerai Ambassador Mike Horn
Something Mike Horn also did this year, as ambassador to the Swiss watch manufacture, is host a "XPLORE YOUR LIMITS" mountain experience in Verbier at the end of August. Following a 5-week training plan in advance, Swisswatches Magazine was also ready to attend and spend an action-packed couple of days with the man himself. After an evening of delectable cooking by the restaurant W Verbier, Mike Horn introduced himself.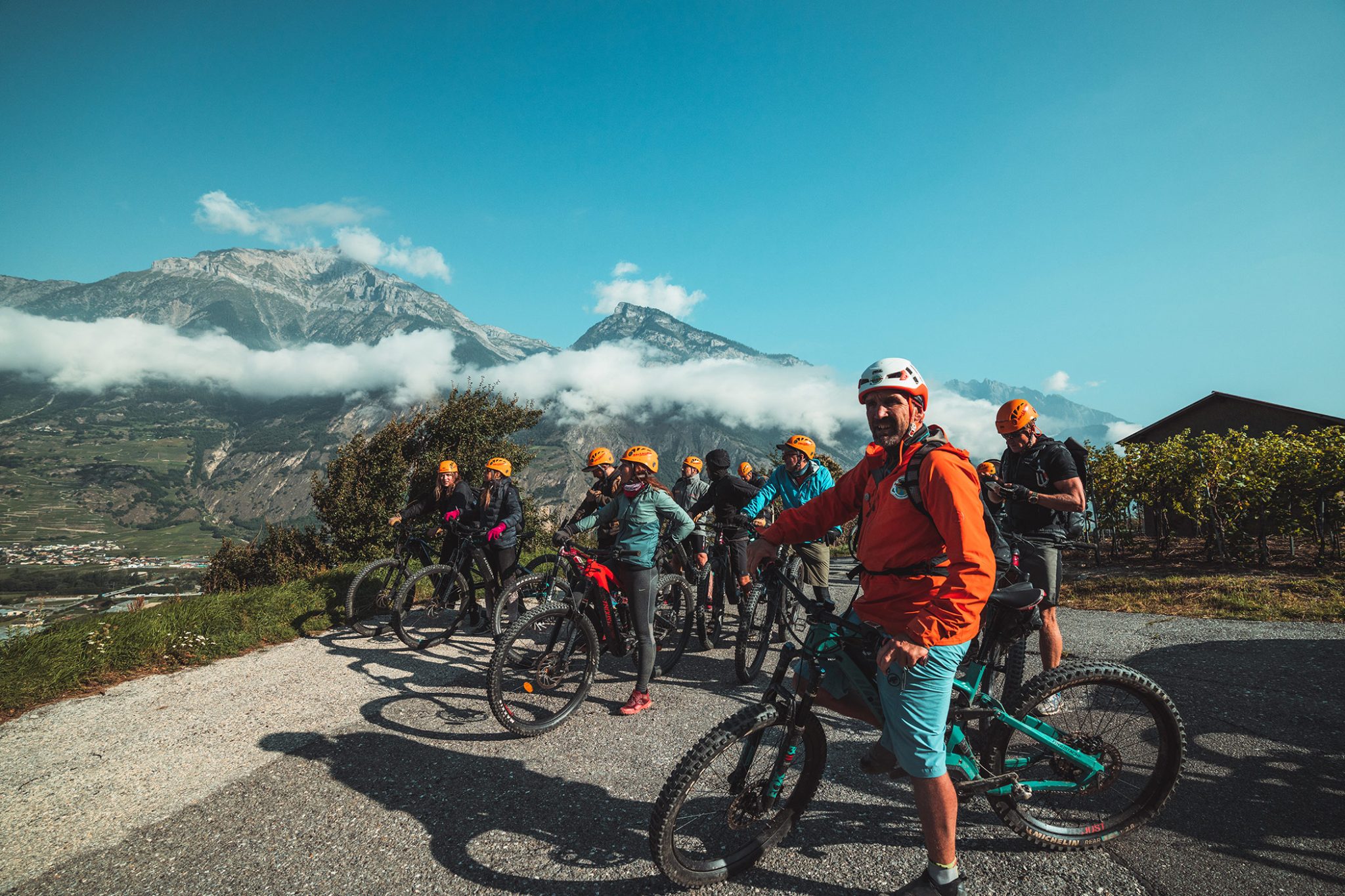 Mike Horn x Panerai XPerience – The attendees get ready for action
Credit: © Etienne Claret
"Panerai is not only a watch to me", he begins. "It's my family." He goes on to explain how he became involved with the horology house. Over 20 years ago, back in 2001, he won the Laureus World Sports Award – of which, incidentally, Panerai was a sponsor. Horn was bestowed with the award following his circumnavigation of the world, following the equator, without any motorised assistance. Amongst the audience was Johann Peter Rupert, then-Chief Executive of the Richemont Group. Approaching Horn, he removed his watch and passed it to Horn, saying: "From today, you will only wear a Panerai. We will help you to make all your wildest dreams come true." According to Horn, that is exactly what Panerai has done to this day.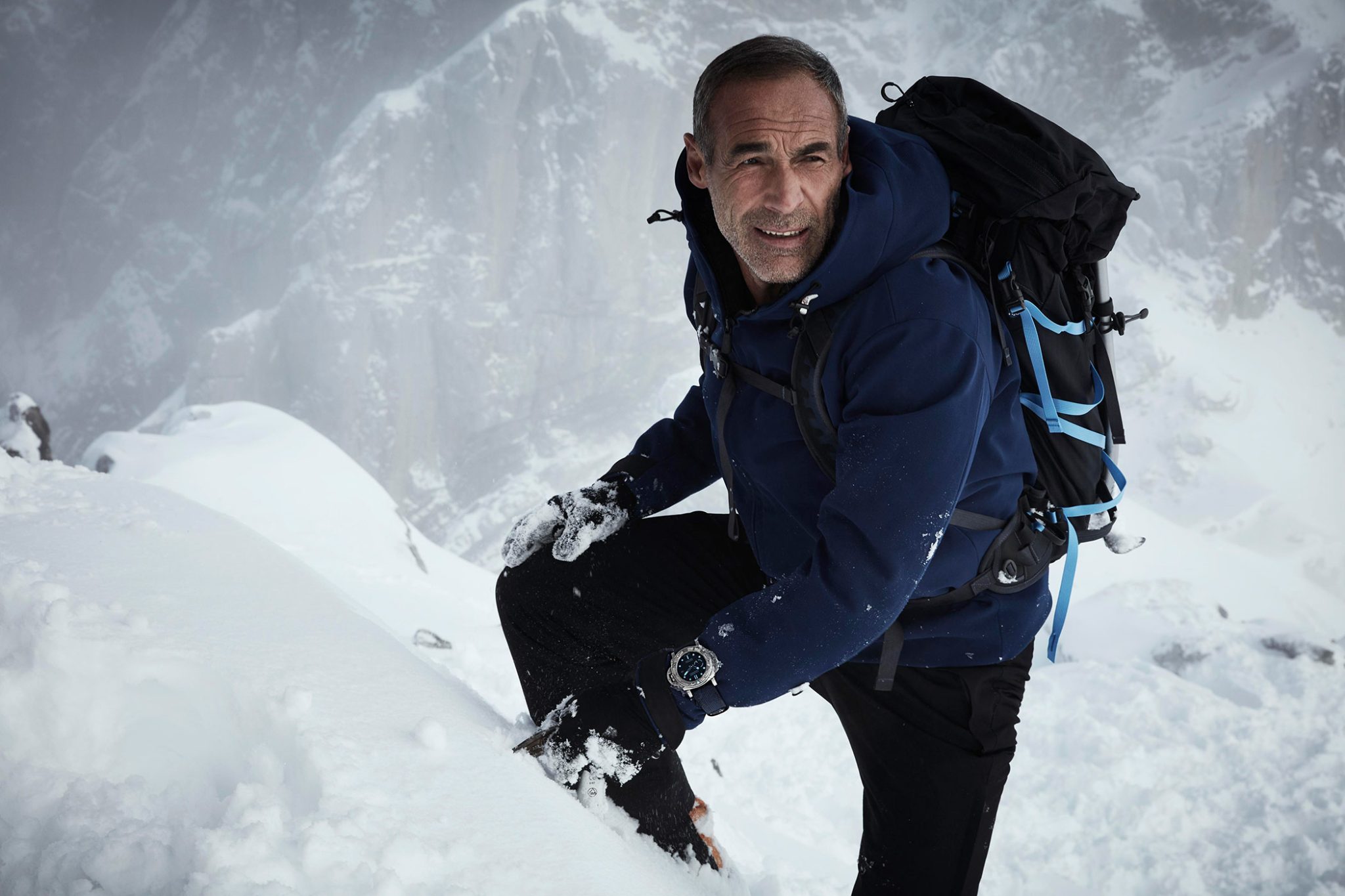 Mike Horn on an expedition
"It's not a brand that I need to promote," he elaborates. "They don't pay me to just say good things about it. It's a brand that supports me through the highs and the lows, the successes and the failures. Panerai is always next to me." He humbly (or perhaps with a touch of delusion) adds that Panerai could find a higher profile ambassador than himself. But they chose him. "To me, that is authentic and true," he says. "There's no other brand in the world that has done so much exploration as Panerai in the last thirty years. I think that Panerai is not just a brand there to sell watches, but also to sell a philosophy; to protect our planet for the future."
---
Mike Horn Panerai Limited Edition watches
"I know that a Panerai was the first watch to cross the Polar seas, was the first watch to cross Antarctica, was the first watch to sail down through the Amazon, was the first watch to circumnavigate the world above the Arctic circle. These are all facts; that's why I am proud, honest to God, to wear this brand. Panerai has accompanied me throughout my life. That's my relationship with Panerai."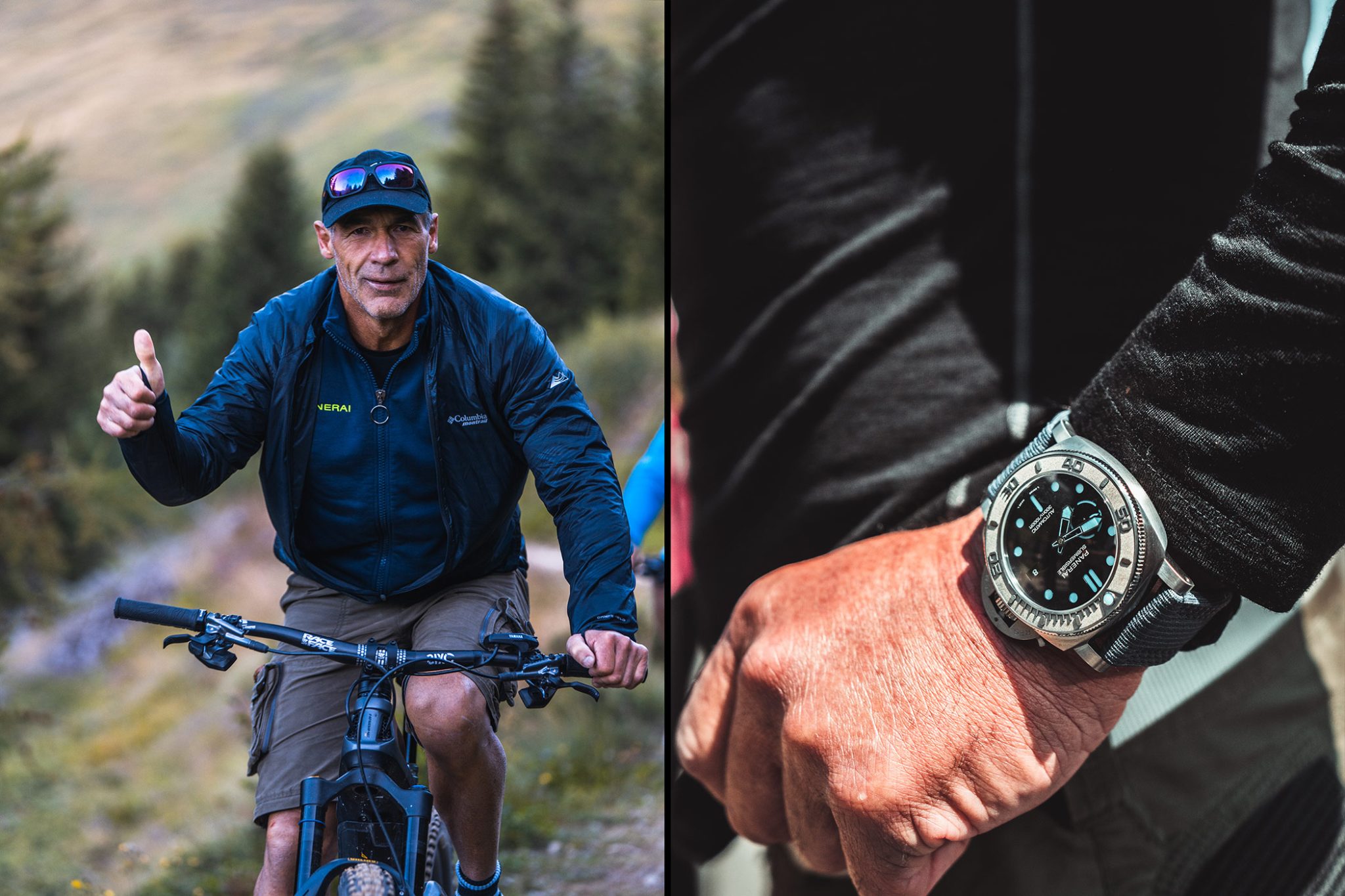 Credit: © Etienne Claret
Panerai ambassador Mike Horn has collaborated with the brand for over 20 years, meaning there are numerous limited edition watches carrying his name – but he does have a few favourites that hold a special place in his heart. "There's no bigger honour than having a watch made in your name," he enthuses. "It's the greatest honour that an explorer can have; like a gold medal. My sport is about representing something, and a watch carrying my name reminds me of what I have achieved. Sometimes I ask myself, why is my name worth something? A name can be a stamp of approval, and that's why Panerai watch is a sign of approval by me. So for me, the coolest watch for me at Panerai is of course one with my name on."
Luminor Arktos 44 mm
In 2002, Panerai ambassador Mike Horn began his journey to become the first person to circumnavigate the world around the equator; this is when Panerai conceived the Luminor Arktos watch (PAM00092). A 44 mm watch of steel with an automatic movement, only 200 pieces are made. On the caseback, there is an engraving of an arrow encompassing a globe, representing Horn's journey. A brushed steel unidirectional rotating bezel indicates the four cardinal points. To this day, says Horn, when embarking on a new expedition, around 150 of the owners of this model still get in touch with him to show their support ahead of his journey.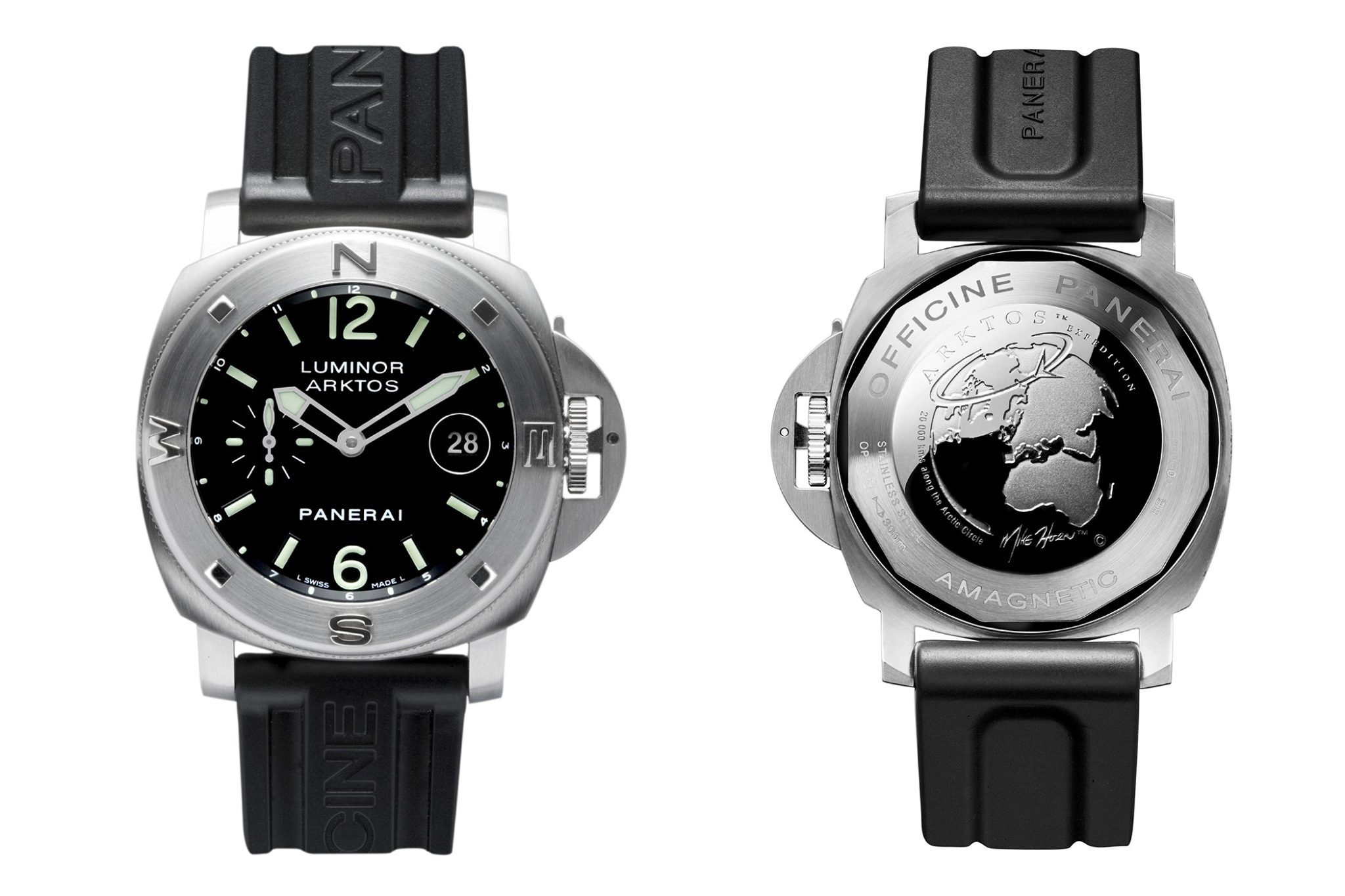 Luminor North Pole GMT
In 2006, Panerai came up with the now revered Luminor North Pole GMT, limited to 500 pieces. The model (PAM00252) was ideal for the expedition, as it indicated the time in 24 hours, rather than 12 hours – giving Horn direction and a sense of his position as he walked under the stars. Along with Borge Ousland, the men became the first adventurers to cross the 620 miles of the Arctic, heading to the North Pole unassisted and in complete darkness. The caseback features an engraving of the Arctic ice cap, alongside the explorers' signatures.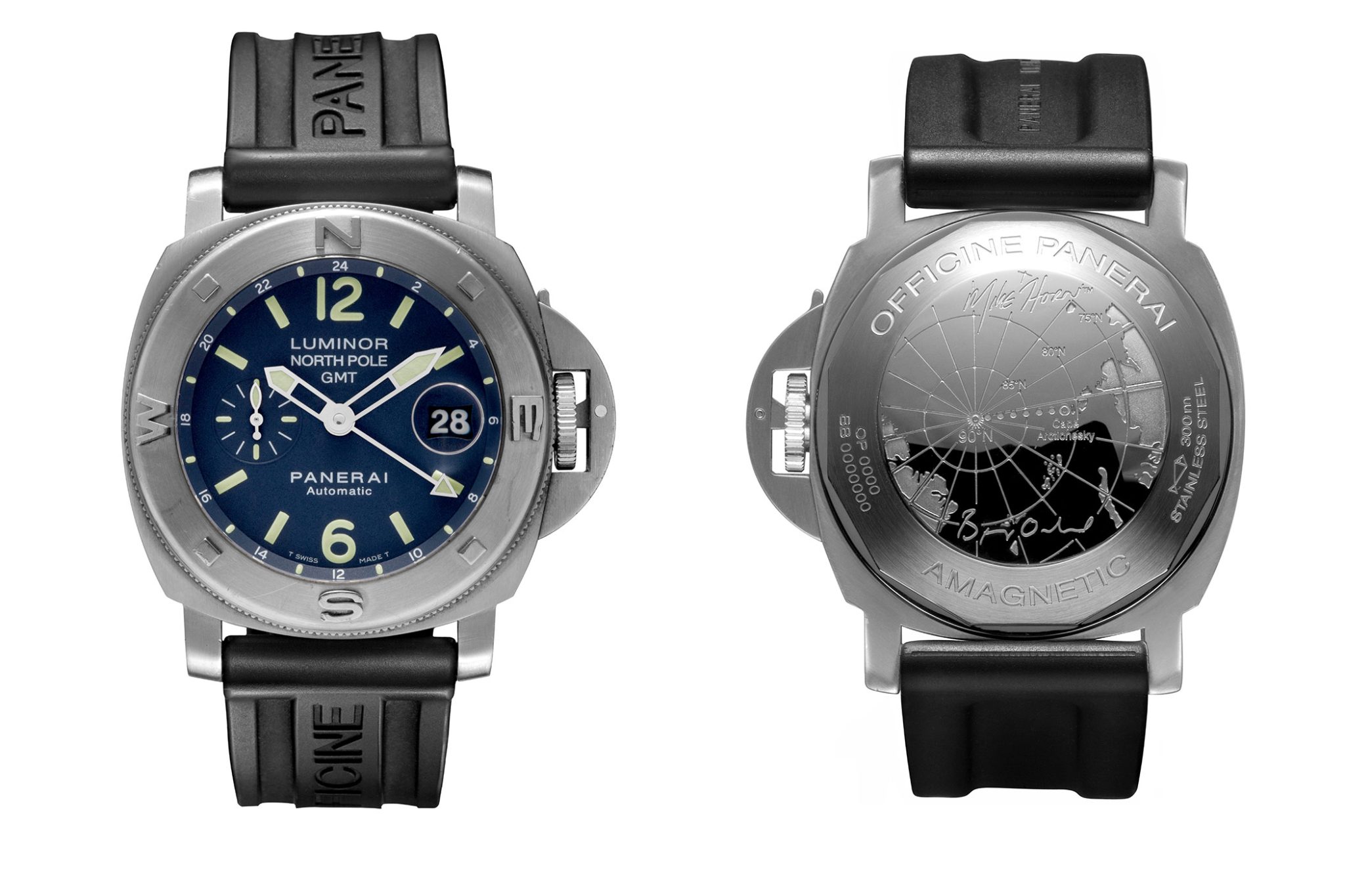 Luminor 1950 Pangaea Depth Gauge
The story around the 47 mm titanium Luminor 1950 Pangaea Depth Gauge (PAM00307), limited again to 500 pieces, is a particularly potent one. The watch includes a depth gauge scale on the outer part of the dial and allows for calculation of immersion time. When spending over 150 days on the Arctic Ocean, Horn was faced with rapidly melting ice. While this ocean was once eternally a frozen ocean, this is no longer the case due to climate change. Horn was forced to spend 8 hours a day crawling across the rapidly thinning ice on his stomach. He now believes that within 15 to 20 years, there will be no ice whatsoever on this ocean throughout the summer months. The experience left him concerned for future generations.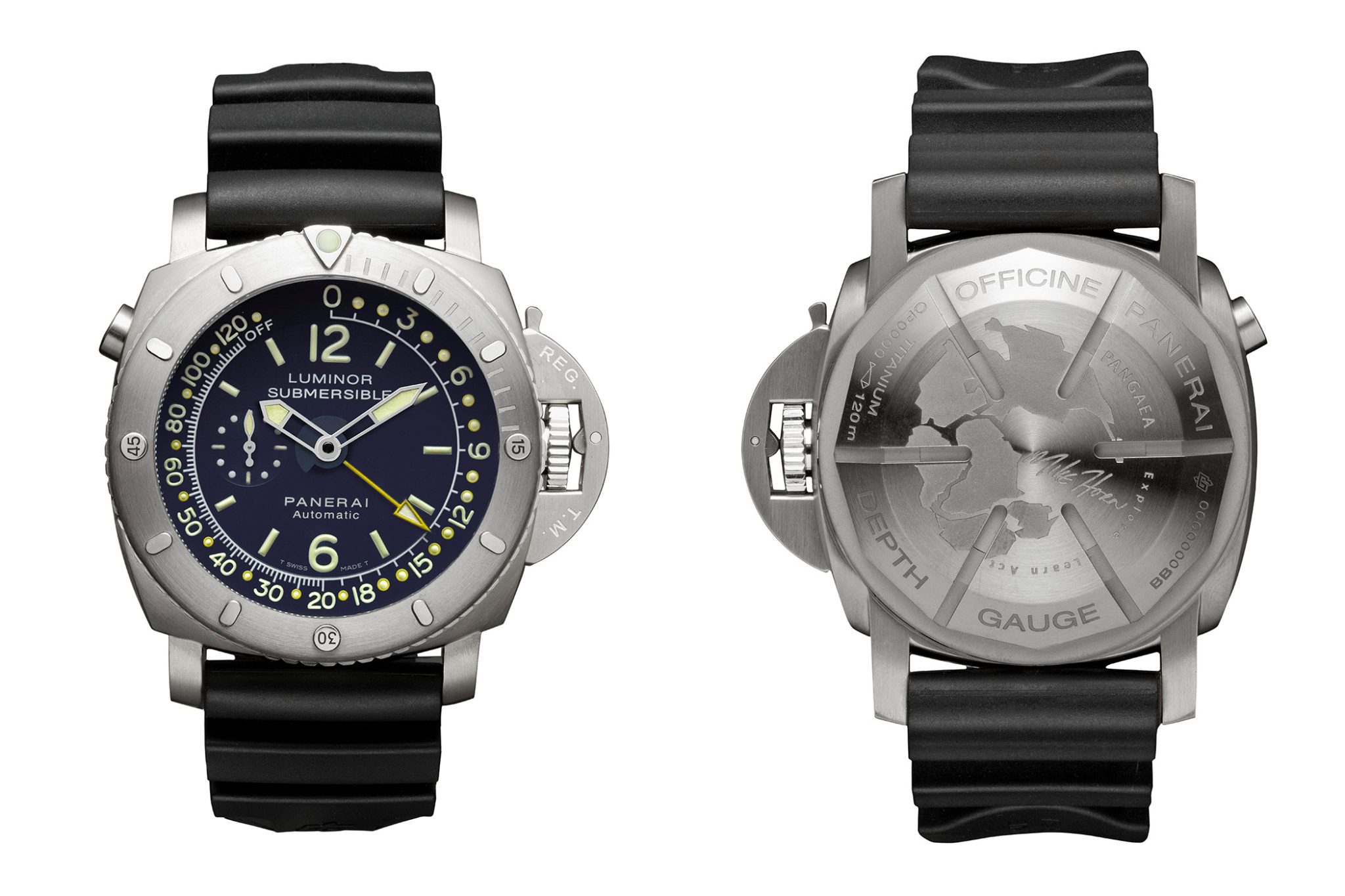 As a result, in 2008, Horn came up with the idea of building a boat, the Pangaea. The Pangaea would teach young people about taking responsibility for the future of the planet. However, Horn faced one large obstacle; how could he finance the building of this 35-meter vessel, which was to become the world's largest, cleanest expeditionary sailing ship? Horn turned to Pontroué, who came up with the following bizarre yet genius idea: selling his name, "Mike Horn", to the Richemont Group. While his namesake was later returned to him following the passing of his wife, Horn's readiness to give up his own name says a lot about the man.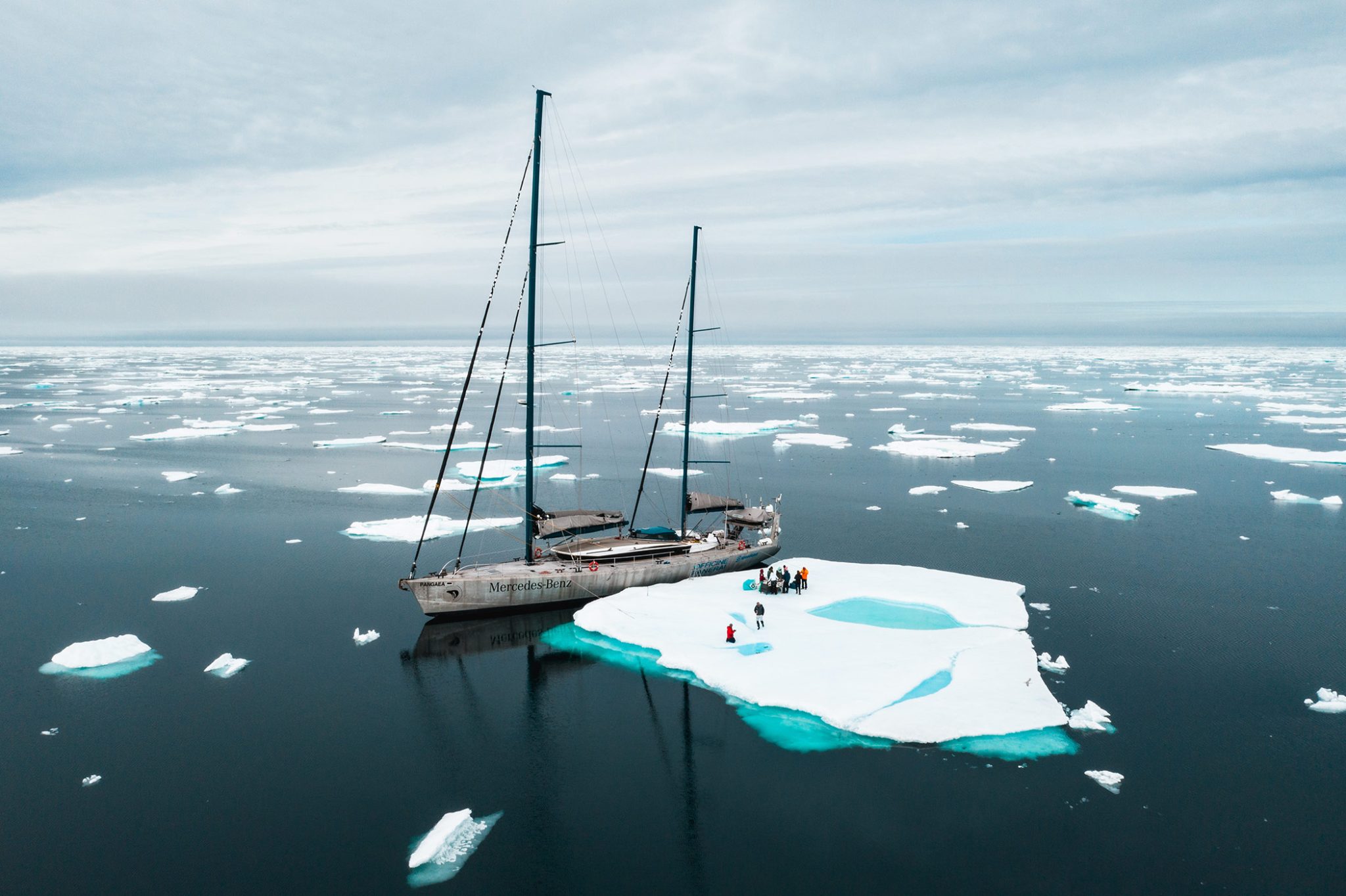 The Pangaea boat
Again, it makes sense that Horn and Panerai would collaborate on such a project. Protecting the environment is an integral part of life at Panerai. "These days, it's all about the environment," explains CEO Jean-Marc Pontroué. "It's in the interest of everybody – especially the youngest generation. It also makes sense to have a healthier way of life, to buy products from brands that are putting energy and research into topic that will make the world cleaner in the future. So for me, it is not a matter of deciding whether or not the environment should be our focus, but rather how fast we can do so.
Luminor Submersible Pole2Pole
Following his wife's passing, Horn took a break from his adventures, up until the Pole 2 Pole expedition. On this successful expedition, Horn became the first to cross both the North and South poles without any motorised transport. This inspired the 47 mm Luminor Submersible Pole2Pole (PAM00719), a titanium timepiece with a three-day power reserve. The caseback of the watch features a polar bear and a penguin, representing the two poles' most famous respective animals. The design was also inspired by the fun fact that the word Arctic means "with bear", while the word "Antartica" means "without polar bear".
Submersible Chrono Flyback
Finally, there's the new Mike Horn edition Submersible Chrono Flyback (PAM01291), which spent time in minus 40 C, sitting in 120 kg of ice for 14 days, to emerge working as well as ever. The titanium watch integrates a chronograph flyback function, as well as allowing for calculation of immersion time. The flyback complication allows the chronograph to reset and restart with one press of the pusher at eight o'clock. Its colour scheme will likely please many Panerai fans, not least because its white indices, vivid yellow central chronograph hands, and dark blue dial evoke the aforementioned Luminor Submersible 1950 Pole 2 Pole (PAM00719) from 2016.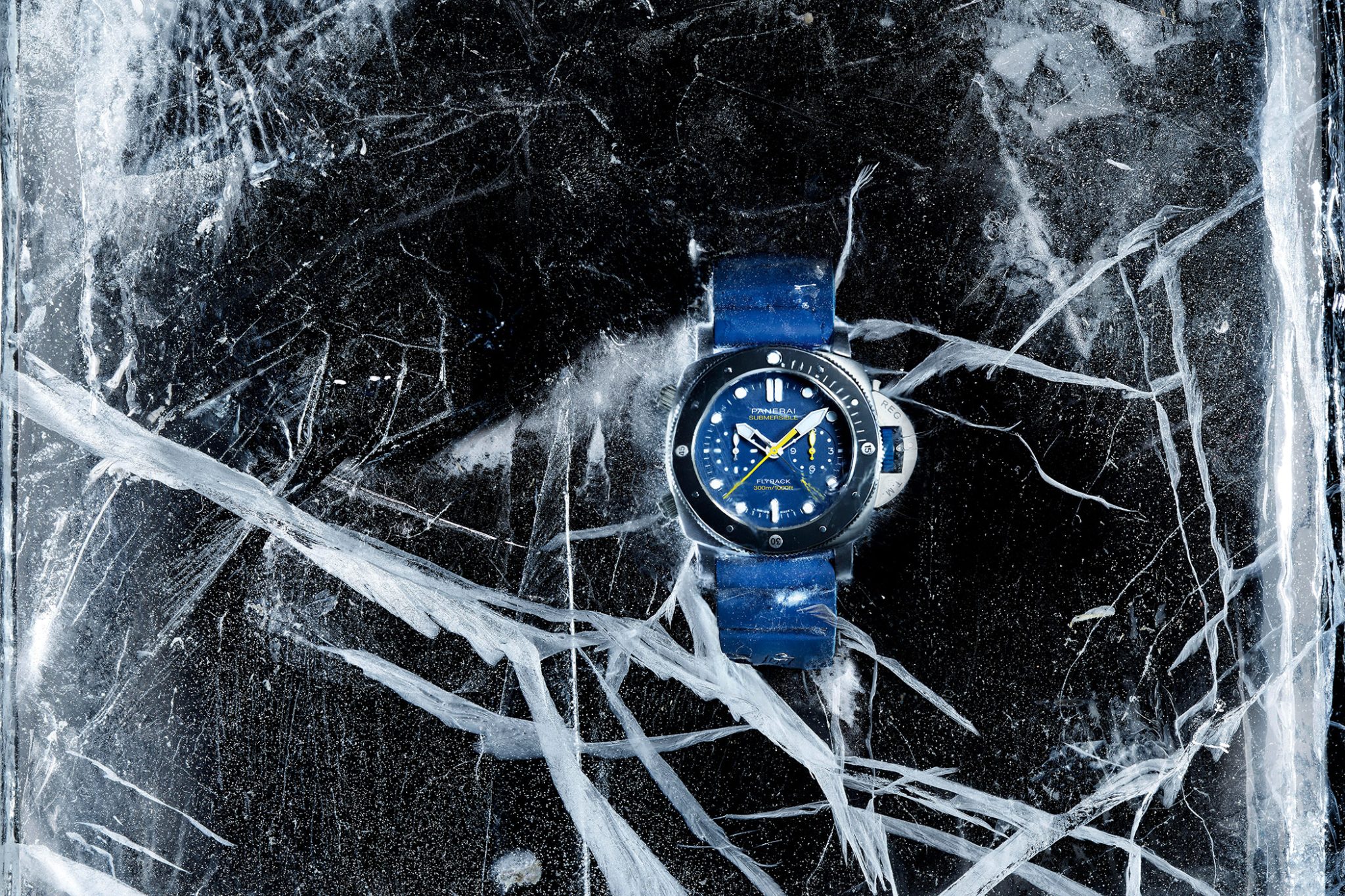 The new Mike Horn edition Submersible Chrono Flyback (PAM01291)
"The special edition watches allow me to share my passion for exploration with clients," concludes Horn in his strong accent. "It's not just a watch you buy; it's an experience that you carry inside yourself forever, when you're old, when you give the watch to your grandchild. You can never lose what you experience when you are young, which can build what you go on to do in your life. It determines who you are. The watch is really a medal that you carry, and experience is what buys you wealth in life. If you can ever do something in life that takes you out of the ordinary, then do it; because you'll carry it with you forever."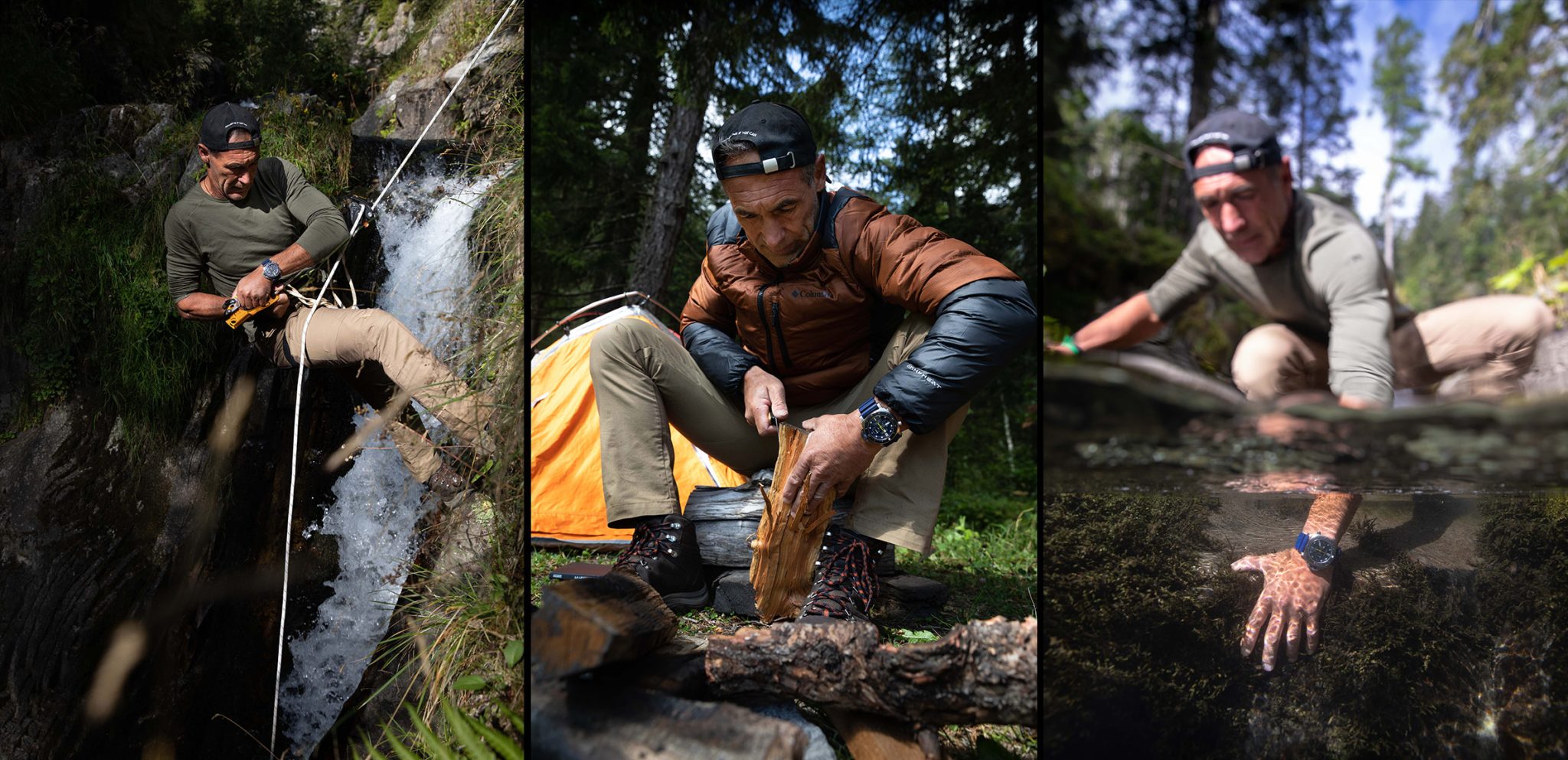 Mike Horn, Salanfe, Switzerland.
On the wrist: the new Submersible Chrono Flyback PAM01291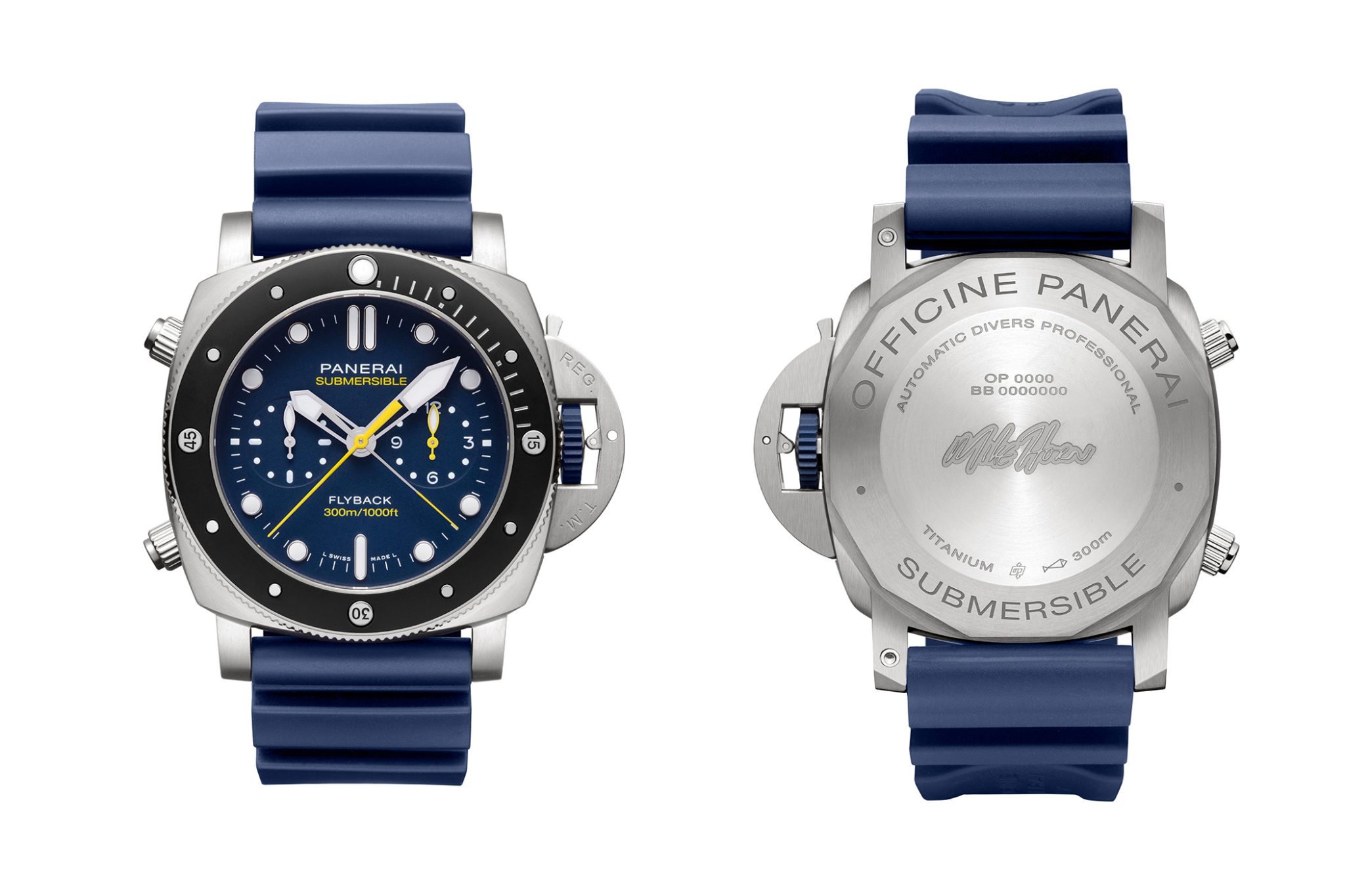 ---
Action time
So why were we in Verbier, alongside a number of excited and passionate Panerai clients as well as Panerai ambassador Mike Horn himself? "Our Panerai experiences started about two years ago," explains CEO Pontroué. "They're the perfect way to capture the spirit of the brand. Panerai is a brand of experience. What makes Panerai very different is its capacity to create emotions."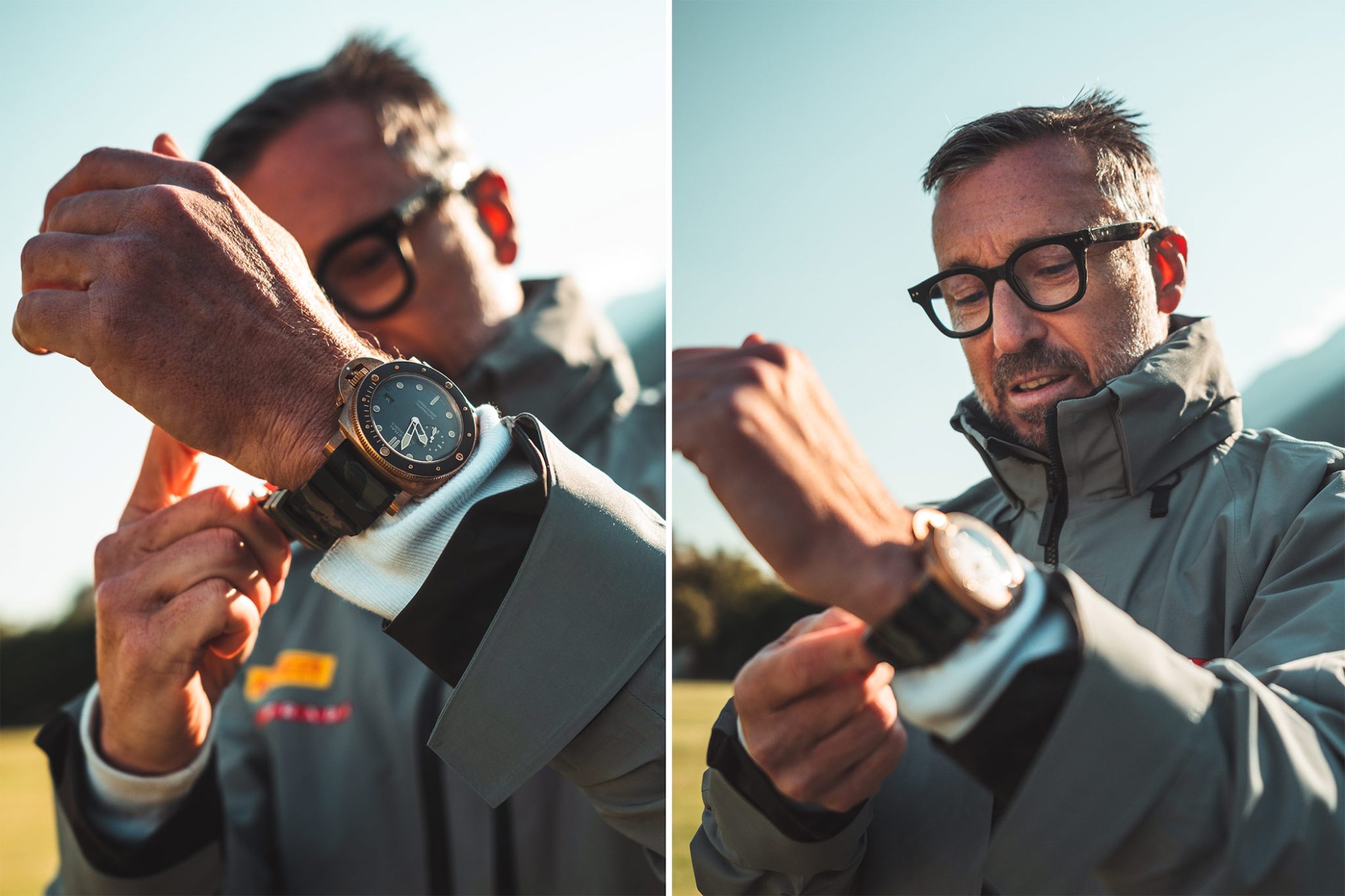 Panerai CEO Jean-Marc Pontroué at the event
Credit: © Etienne Claret
At this Panerai "XPLORE YOUR LIMITS" experience, we climbed, cycled up mountains, enjoyed beautiful scenery – but were also at times pushed to our limits. At one point, visiting a canyon, we jumped 10 metres into freezing waters, with a temperature of no more than 5 to 10 degrees Celsius. Some of us adventurers were nervous. Horn, however, is an excellent motivational leader and coach. He became a friend to everyone. "Don't overthink" appears to be his mantra, and this is what encouraged us to take the leap.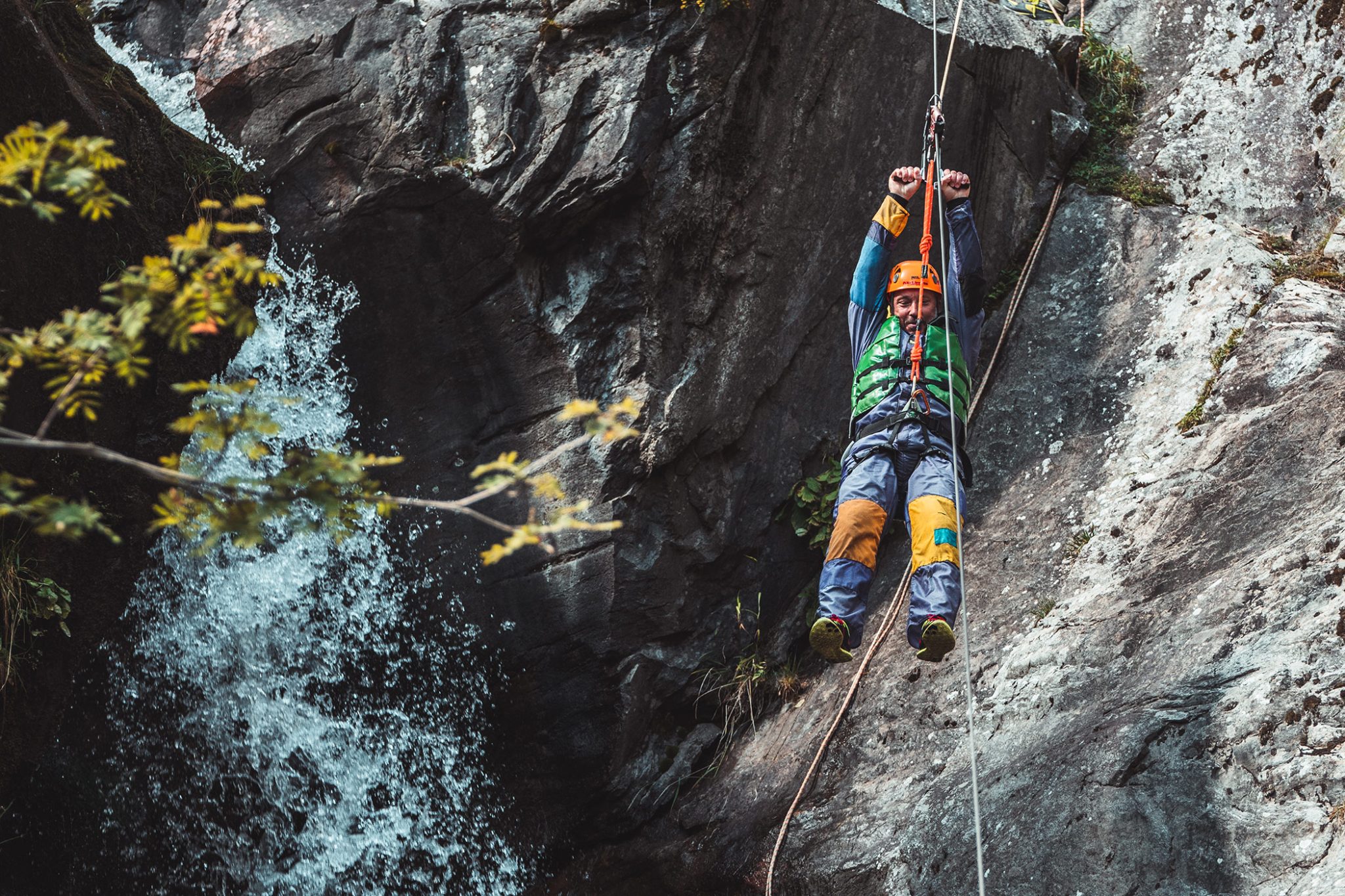 Credit: © Etienne Claret
"Why did you jump today?" Horn later asks. "You did it to be proud of yourself. You're stepping out of your comfort zone. You could have failed, but that didn't stop you from doing what you want to do because you want to grow. It's the same for me. You want to do it, so you have to make it work."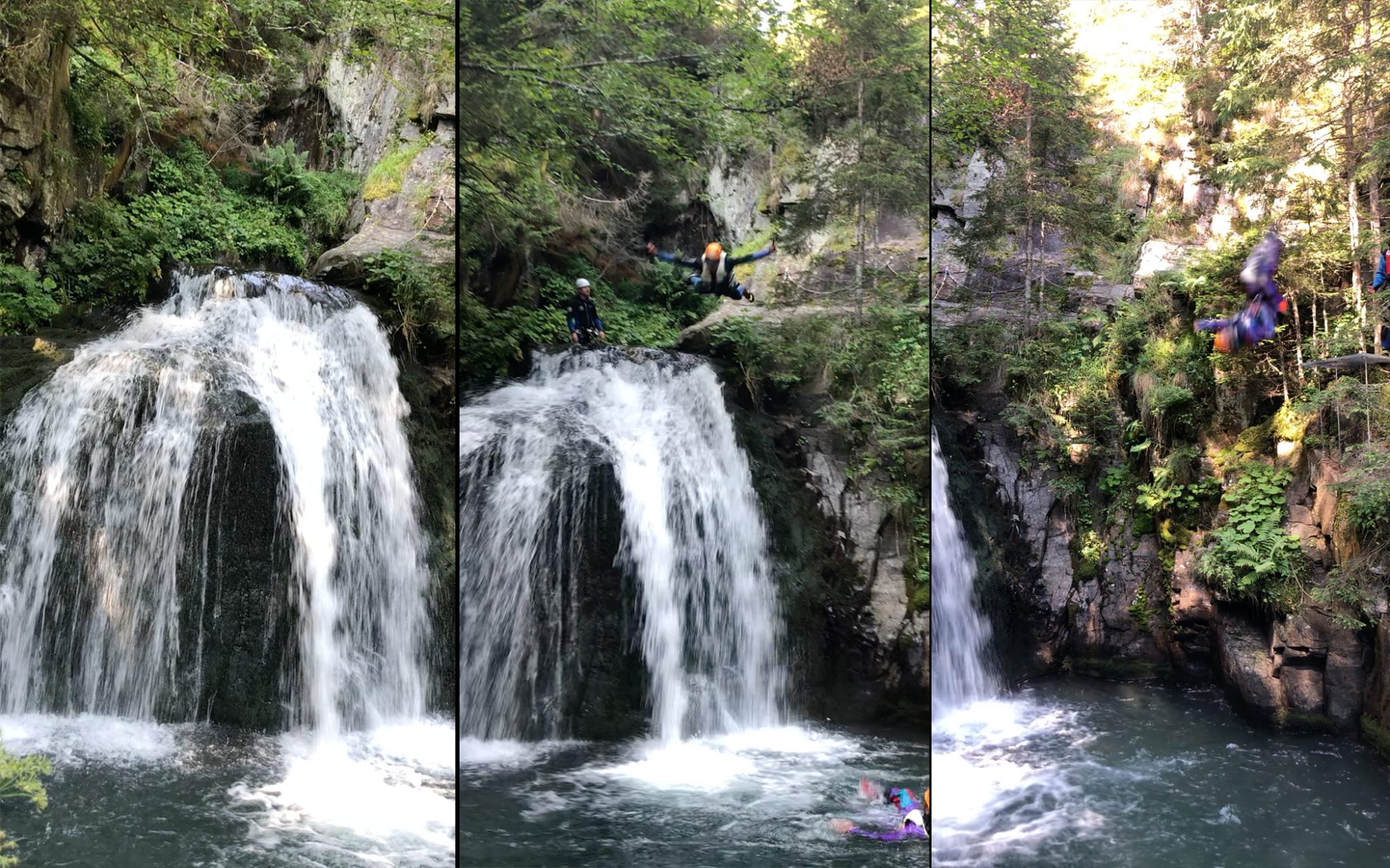 Throughout the experience, Horn radiates energy and positivity. You believe every word he says; you rarely meet someone so authentic. That said, he's also a bit of a performer – but in the best possible way. Horn is not into small talk. Rather, he is very philosophical and keen to share his thoughts and life experiences – including the more traumatic ones, including life after the loss of his wife and losing his finger to frostbite.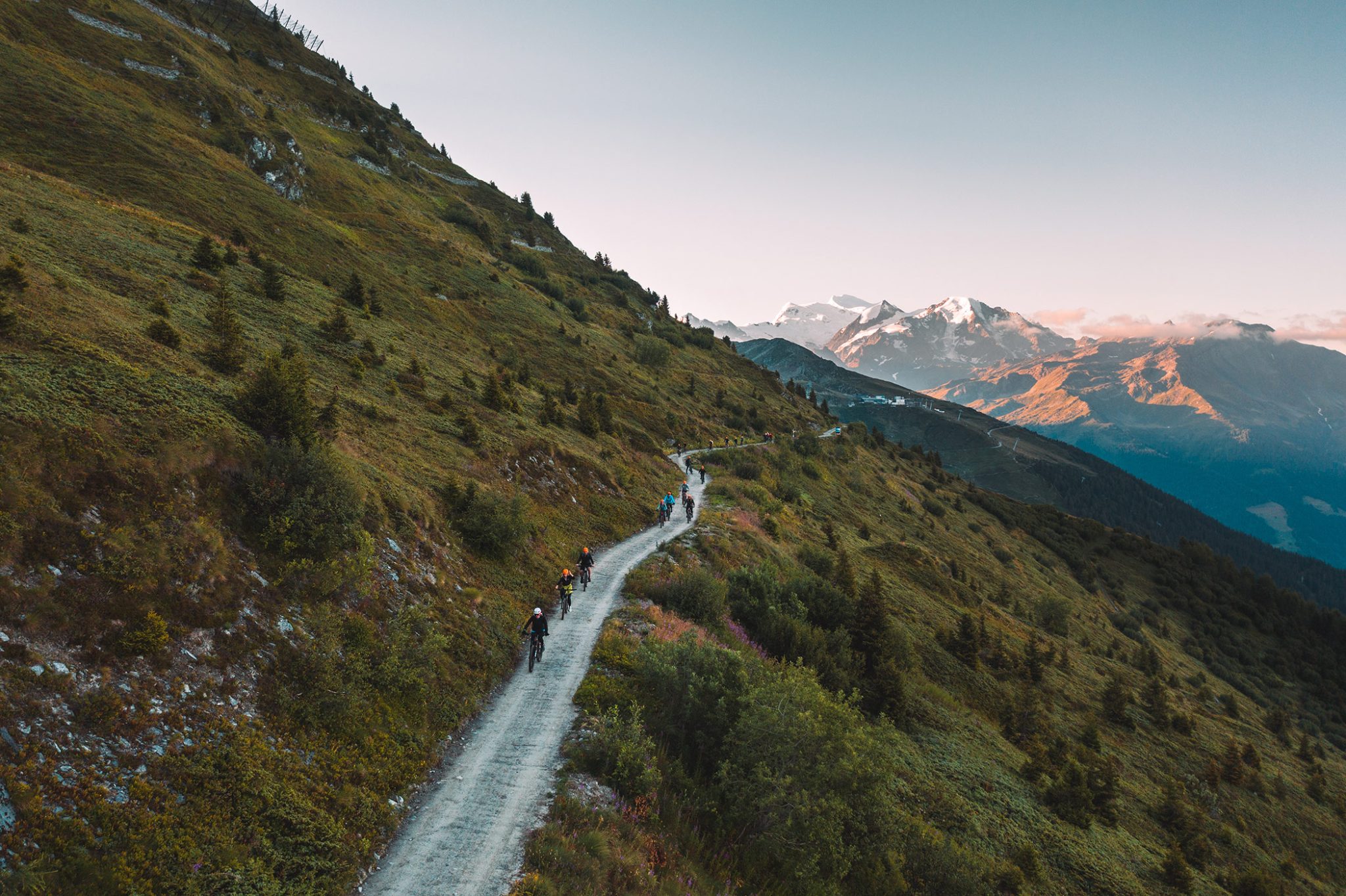 In safe hands: the intense "XPLORE YOUR LIMITS" expedition
Credit: © Etienne Claret
---
Second opinion: A chat with Panerai CEO Jean-Marc Pontroué
Panerai's CEO has a close relationship with Panerai ambassador Mike Horn, not to mention his own opinions on his occupation. We asked the two men to share their thoughts on their lengthy collaboration, which spans over two decades. We start by asking what brings them together. "I always use the word pioneer," answers Pontroué. "Panerai, like Mike, is a pioneer. This is a common denominator between the two of us."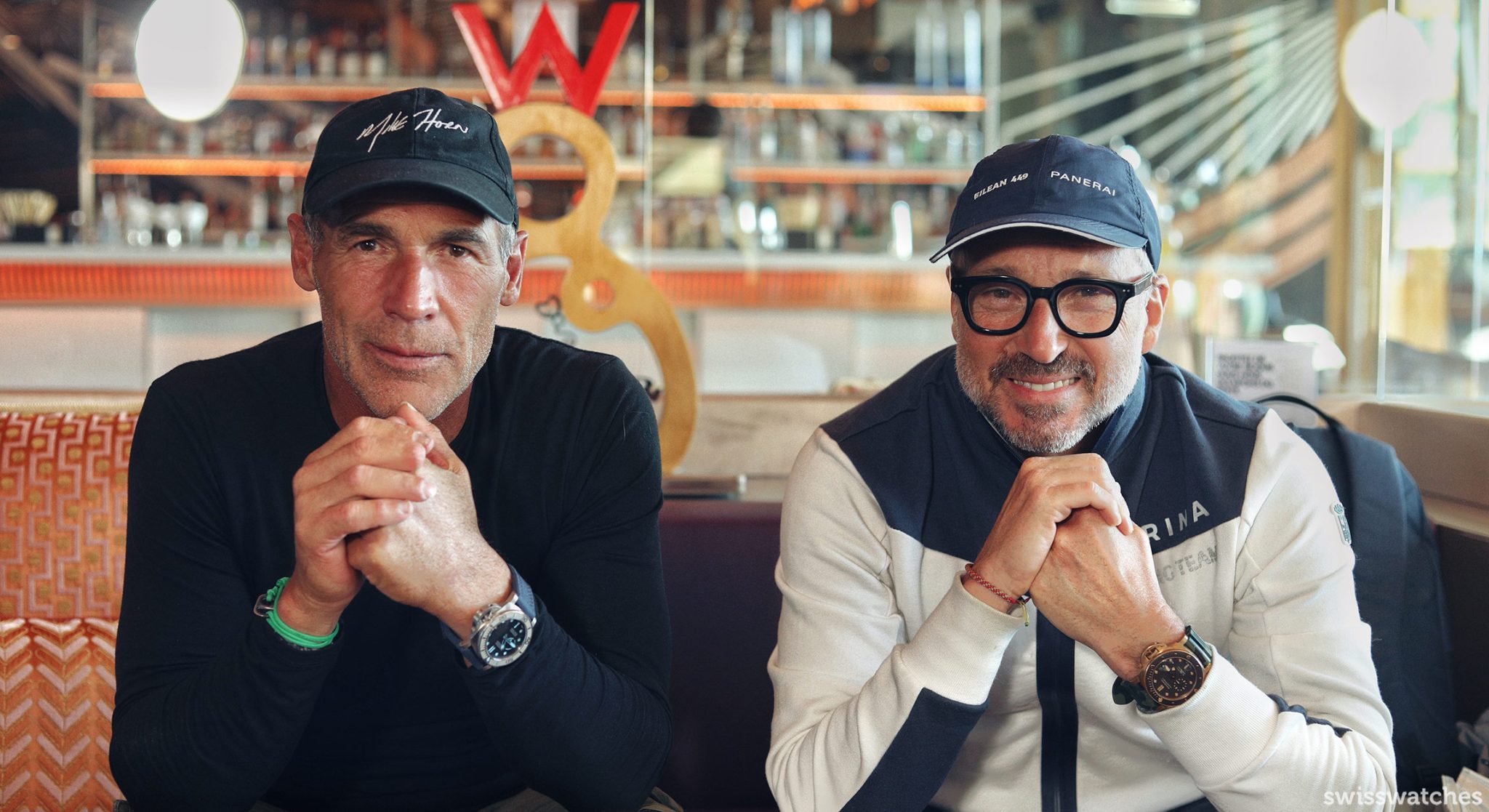 Horn and Pontroué are men with shared values
"I think we share the same values," adds Horn. "In a way, "Mike Horn" has become a brand in itself, and that brand is protected by the Richemont Group. So, if we share the same values, we must think alike. The very DNA of the brand – coming from Italian divers – and being able to go into these unknown extreme conditions is what I live for. It is for this reason that I am a proud ambassador of a brand that I would choose anyway, and one that I choose to be aligned with. We have the same intentions in the partnership, and that's what makes it not just marketing, but a true human experience of sharing the same values. It's all about authenticity."
"Also, in my life, I need to be "the first", in order to validate the way I think and what I believe about myself," muses Horn. "When I was in the Arctic Ocean, I knew that the minute I left my boat, I would be out there on the ice and possibly not survive. But I also knew that if someone could do it, it would be me. I think Panerai shares these same values; the idea of needing to do something before everyone else. So, standing in front of the Arctic Ocean, knowing that for the next 140 days of my life I would fight for life, it wasn't about what people want from me as an explorer. It's about what I want from me. It's about what I want to give to people, and to show what's possible."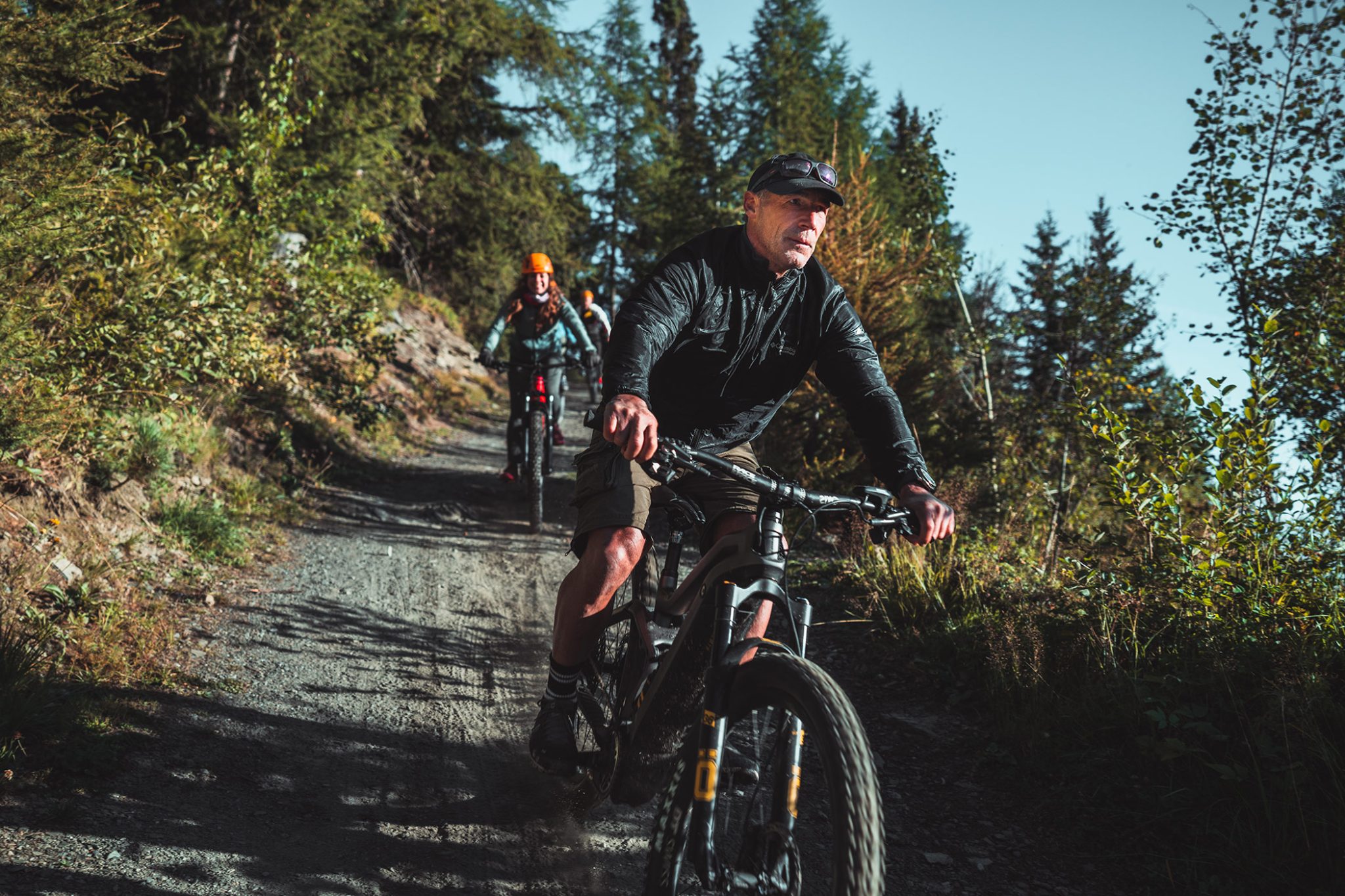 Credit: © Etienne Claret
So where does Panerai fit into this philosophy? "I think Jean-Marc shares these values of setting an example," Horn replies. "Many people today want to cross the Arctic Ocean, but if I don't tell them exactly how to do it, day by day, from what tent to use to what food to eat, to what component should be in the watch you wear, it isn't going to happen. Creating a watch that is 99 percent recycled is no different to crossing a frozen ocean. We stand in front of ourselves with the same challenge. And maybe it's not what the market is yet demanding from us, but it is what it will want in the future. But you need one guy to make it happen."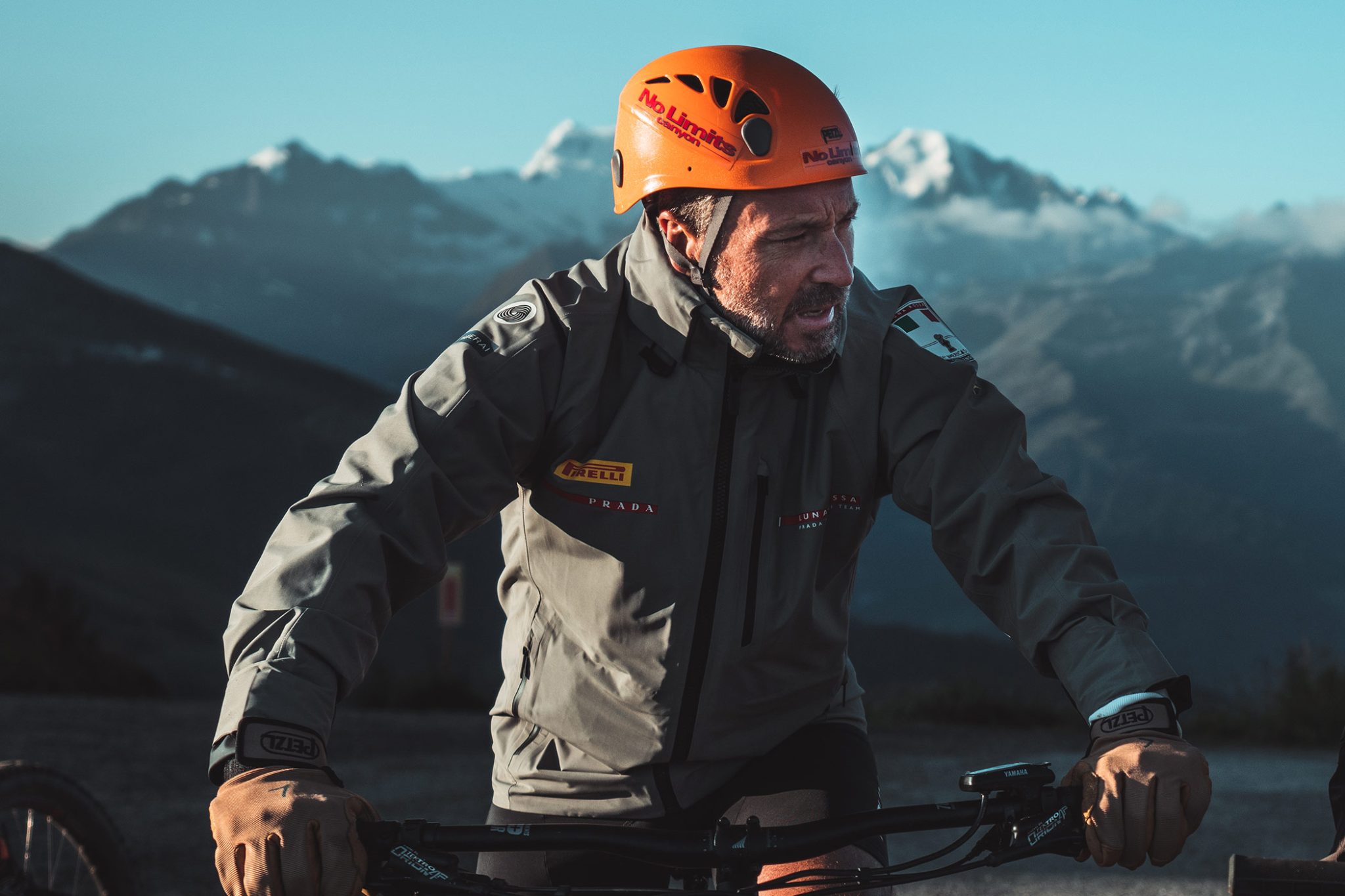 CEO Pontroué gets adventurous
Credit: © Etienne Claret
In terms of business, Horn and Pontroué also appear to be on the same wavelength. Neither are crowd-pleasers. "I'll be honest," says Pontroué. "When I deliver a new product, it's not necessarily in existence because I like it. It's introduced in order to enrich the brand alone. Novelties are never a cocktail consisting of the opinions of hundreds of people or collectors. When I develop a new product, not everyone is happy with what I do. However, I prefer to create something for people who love or hate a product than for people without any emotions."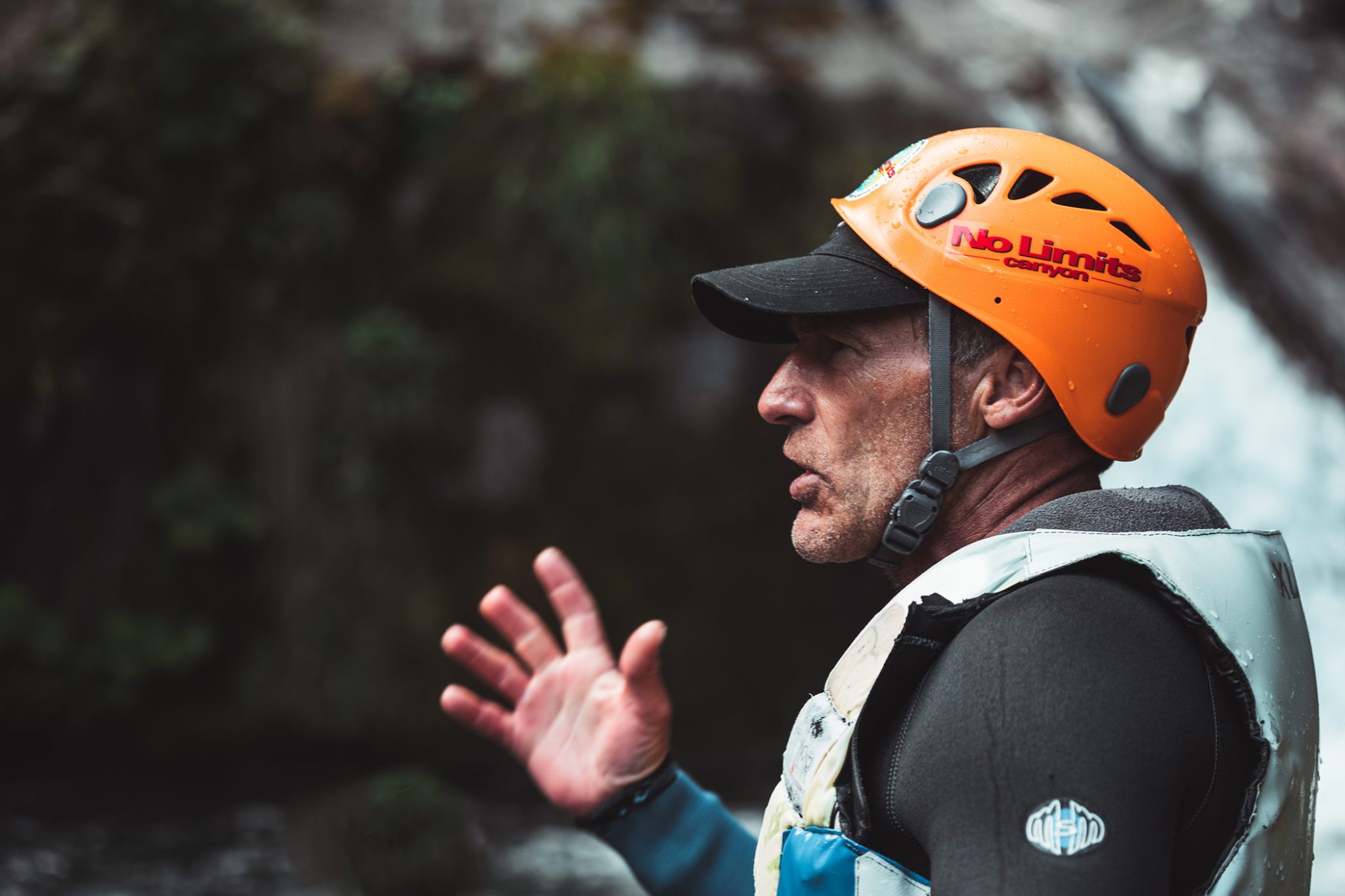 Mike Horn is an exceptional mentor and motivator
Credit: © Etienne Claret
"Likewise, I'm not looking for new clients," agrees Horn. "I'm looking to satisfy the clients who will wear the same watch as me. For example, take the following scenario. I am doing a "Paneristi" event in Hong Kong and wearing my Panerai. A Chinese guy I don't know asks me, 'Is that a real Panerai?'. He doesn't know who I am, but he knows Panerai. So, through a watch you create a connection. Panerai is a brand that connects people together. Additionally, new clients are not something we look for; they look for us because Panerai watches look so unique. For me, it's comparable to why my daughters call me their father; they have an emotional connection with me that no-one else can give them."
We conclude by talking about what the Horn and Pontroué most admire about each other. "I admire Mike's courage," says Panerai's CEO. "He leaves everything he knows, even his family, and spends months alone. He has the physical and mental resources to do something very few people could do. Secondly, I admire the way he handles interviews and events. He has no degree in presenting or speaking, and despite having no briefing from us – ever – he speaks about the brand with all the right words and with real depth. Very few people have the intelligence to do that."
The adventure draws to a close
Credit: © Etienne Claret
Panerai ambassador Mike Horn holds Pontroué in equally high regard. "What inspires me about Jean-Marc is that he has similar qualities to the human values I think are important in my life. That includes being on top of my business, being able to reach my goals, and being determined and courageous. Courage is something that is not easy in the world of business; it's easier in the world of adventure because it involves only me. Yet Jean-Marc has courage, and he takes risks for the brand and changes the face – but not the DNA – of the brand.
It is the only brand that offers experience to the same level as it offers the watch. He is willing to introduce something new and the first of its kind. I appreciate this shared value of bravery and willingness to move forward in a determined direction. It is this attitude that leads to progress."
---
---