Those who know me know that I have another great passion besides mechanical watches; tennis. For me, there is no more perfect tennis player in my generation than Roger Federer, because his game is unrivalled in elegance. Rafael Nadal and Novak Djokovic, his two greatest opponents, are certainly just as remarkable in terms of sporting ability and records, but Federer has that stylish, nonchalant and at the same time 'superhuman' something that makes him such an outstanding personality.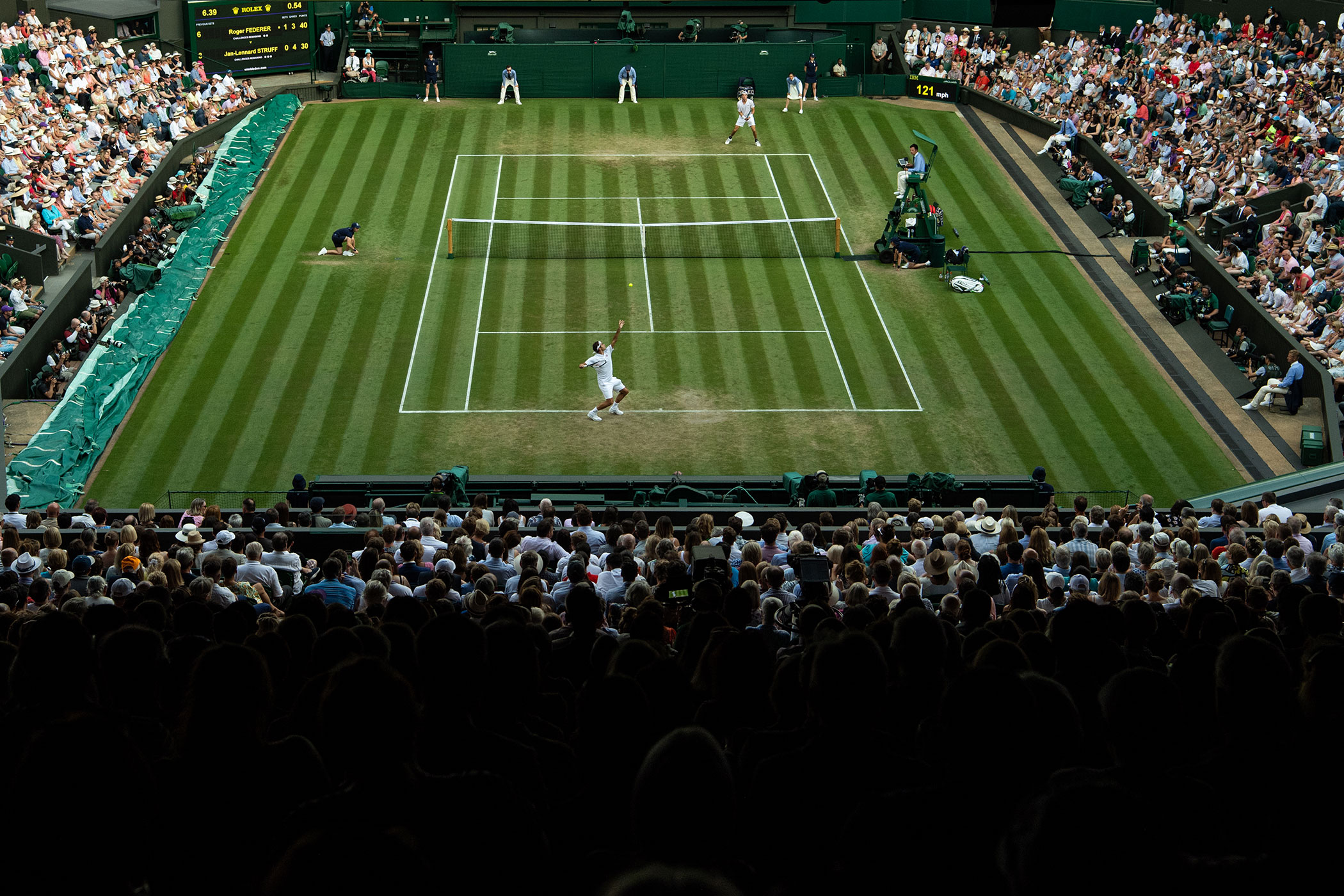 Roger Federer, Wimbledon 2018 © Rolex / Jon Buckle
Delicately yet unerringly, Federer caresses the yellow felt ball across the net in a way like no other. He moves across the court like a dancer and conjures up points that enchant his spectators. He is the ultimate tennis aesthete. There is certainly no one who doesn't enjoy watching him at work, doing what has always been his greatest passion.
Roger Federer, Wimbledon 2017 & 2018 © Rolex / Jon Buckle
Following his last match at Wimbledon in 2021, the now 41-year-old maestro had to retire due to injury. Two knee operations and an energy-sapping rehab followed. For although no one thought it possible any more, Federer was determined to return to the court. After an almost 1.5-year respite break, Federer has just announced that the Laver Cup in London at the end of September will be his last tournament as a professional athlete. The location is well chosen for a farewell, but we will miss him sorely.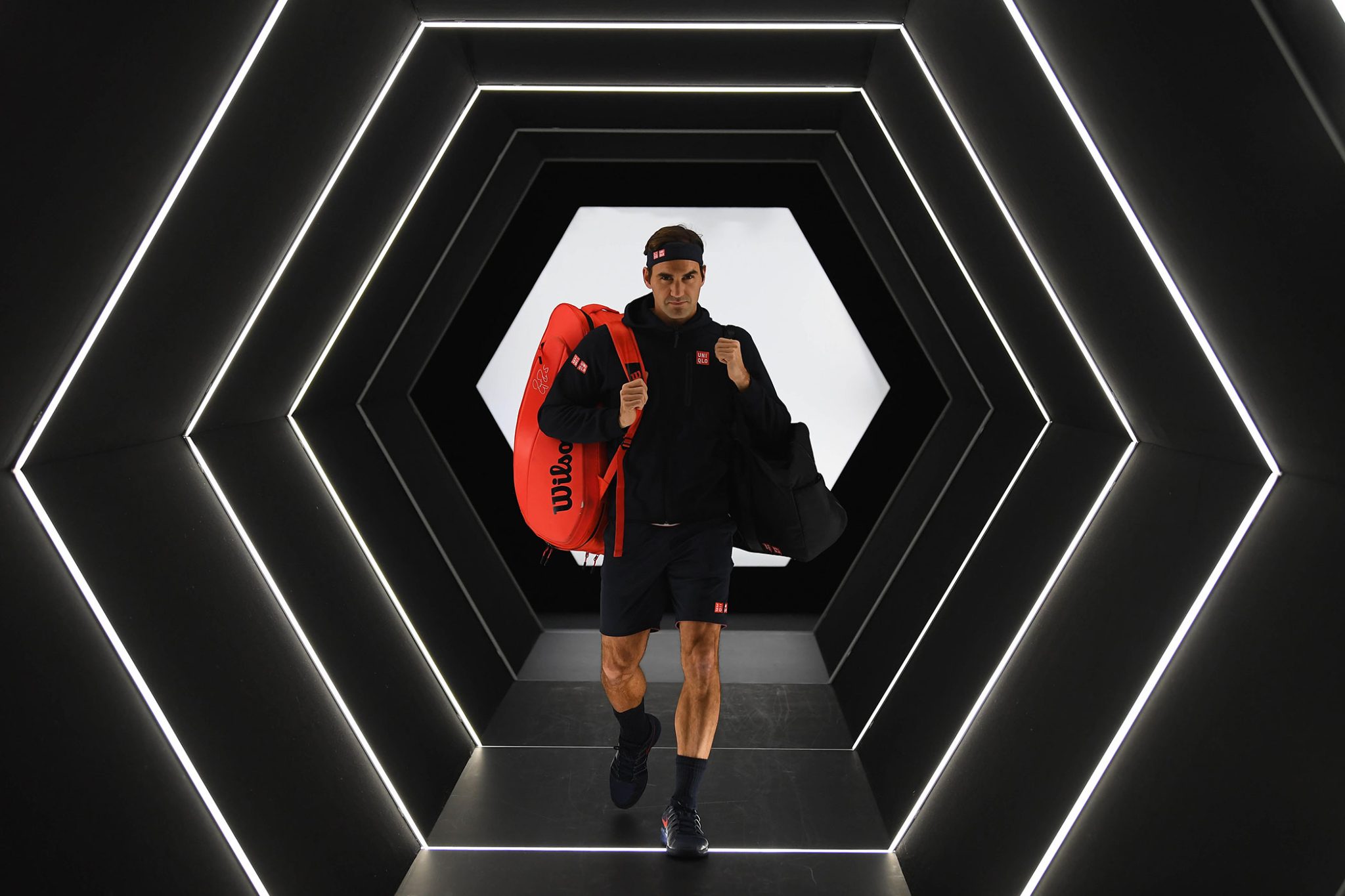 Roger Federer, Rolex Paris Masters 2018 © Rolex / Antoine Couvercelle
---
Tennis and Rolex
---
Rolex is undoubtedly the horology house most closely associated with tennis. In 1978, Rolex became the timekeeper at Wimbledon for the first time. The Swiss manufacture is now the official timekeeper of all four Grand Slam tournaments: the Australian Open (since 2008), French Open (since 2019), Wimbledon (since 1978) and the US Open (2018). Rolex is also the official timekeeper at the season-ending ATP and WTA championship tournaments – the Nitto ATP Finals and WTA Finals.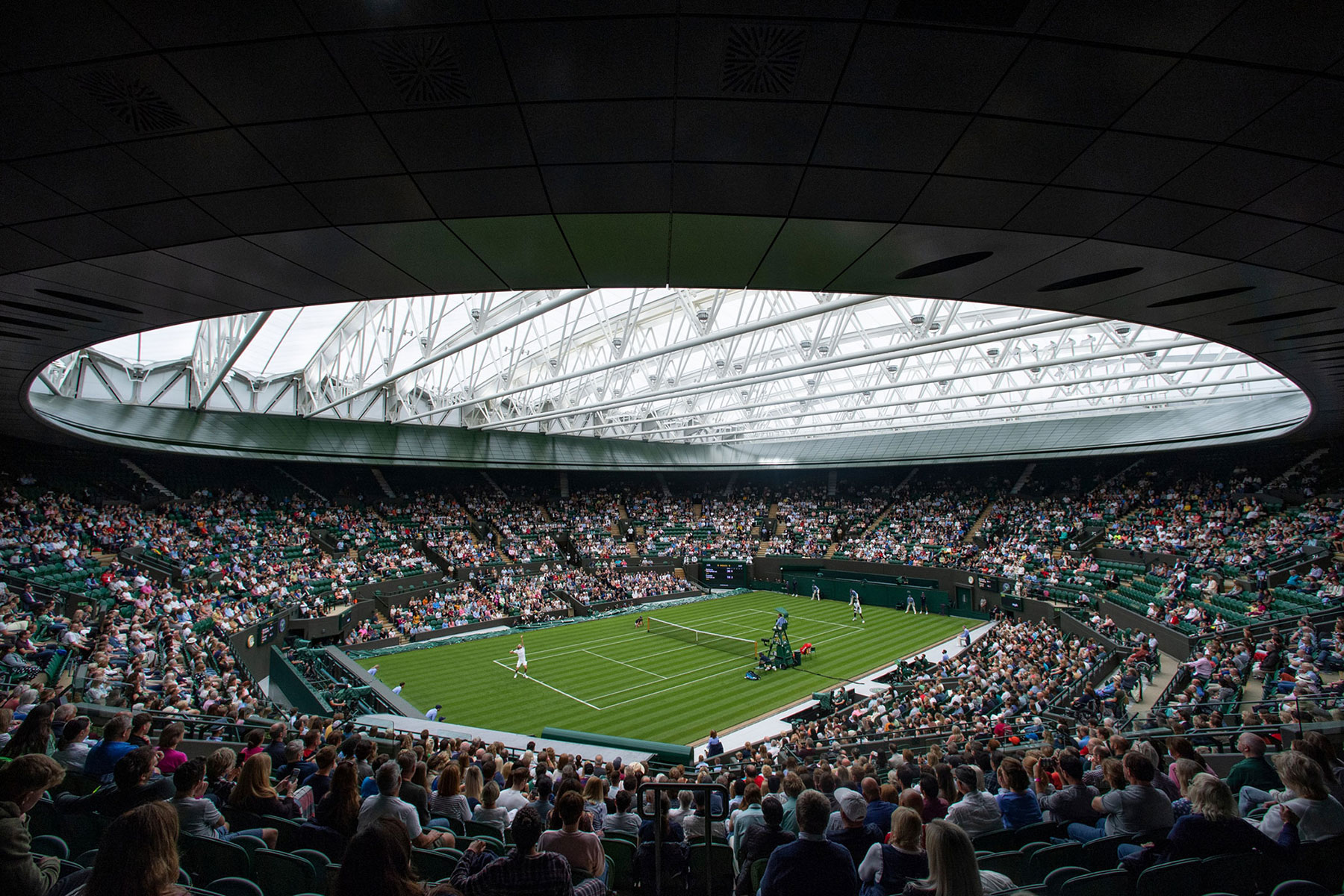 Wimbledon (left) © Rolex / Jon Buckle
Roland Garros (right) © Rolex / Antoine Couvercelle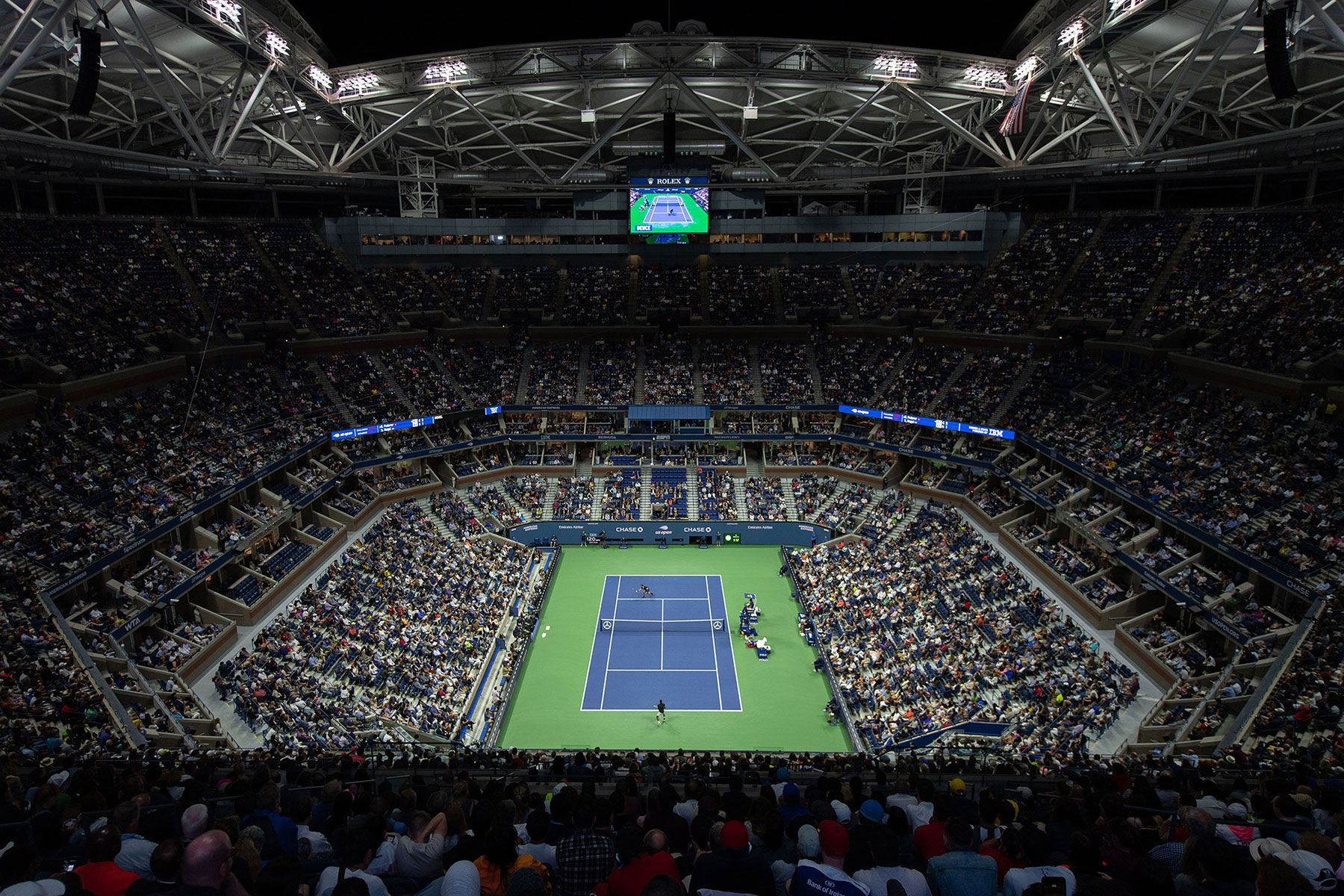 US Open (left) & Australian Open (right) © Rolex / Thomas-Lovelock
Since 2007, Rolex has sponsored the Davis Cup, which pits teams of the best players from some 125 countries against each other at the world's largest team competition. Rolex is also a co-founder of the Laver Cup, which was launched in 2017. It pits six top European players against competitors from the rest of the world. The two teams are coached by none other than eternal rivals Björn Borg and John McEnroe. Borg leads Team Europe, while McEnroe leads Team World. The tournament is named after tennis legend Rod Laver, who is now 84 years old.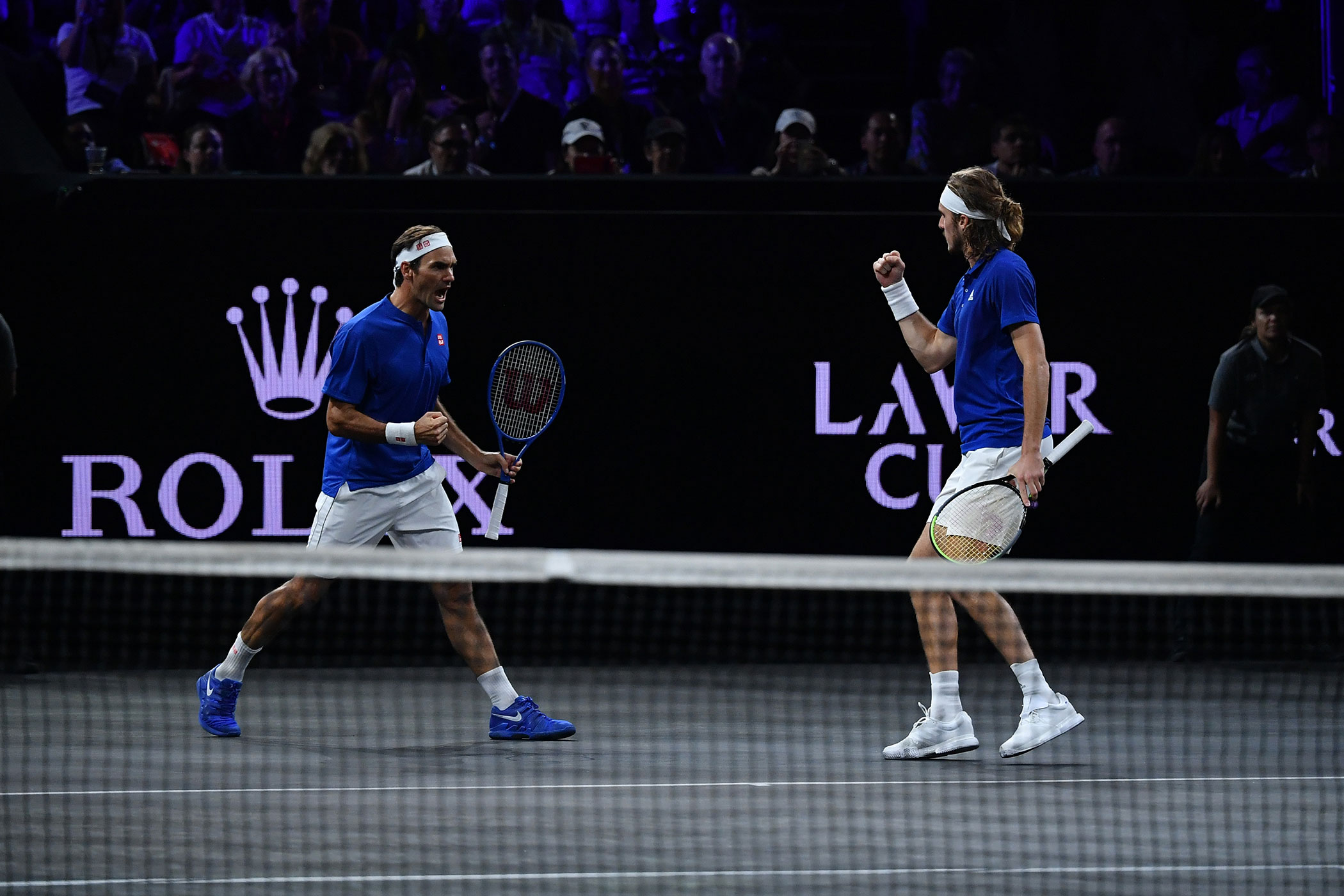 Laver Cup 2019 © Rolex / Antoine Couvercelle
---
Rolex and Roger Federer
---
Since the dawn of its involvement in tennis over 40 years ago, Rolex has supported individuals and organisations in the fields of art and culture as well as sport. Roger Federer has been a Rolex brand ambassador since 2001. In 2003, he won his first Grand Slam title at Wimbledon. He now has 20 Grand Slam victories to his name, six ATP Finals titles, two Olympic medals and 310 weeks as World No. 1, including 237 consecutive weeks.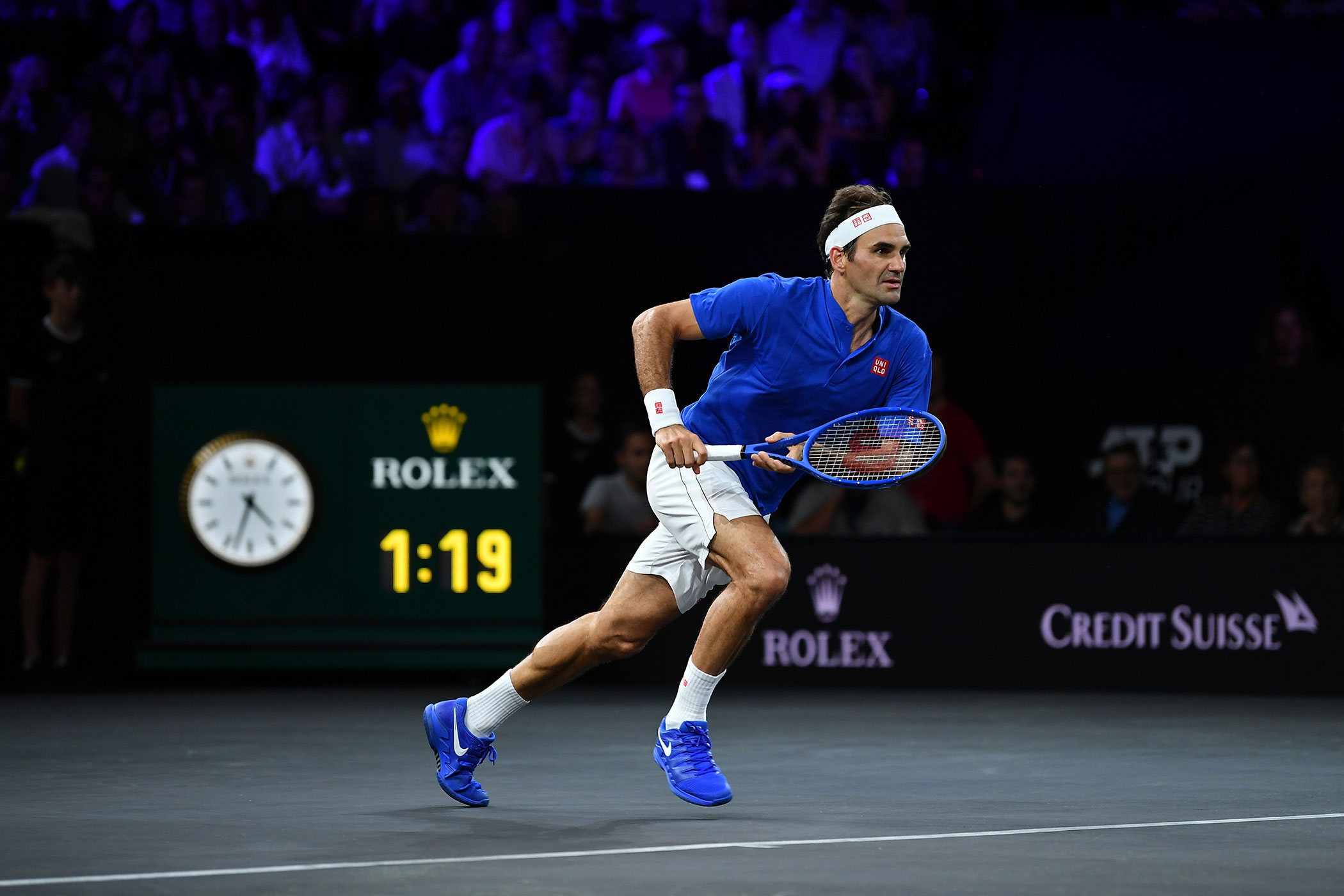 Roger Federer in Action © Rolex / Antoine Couvercelle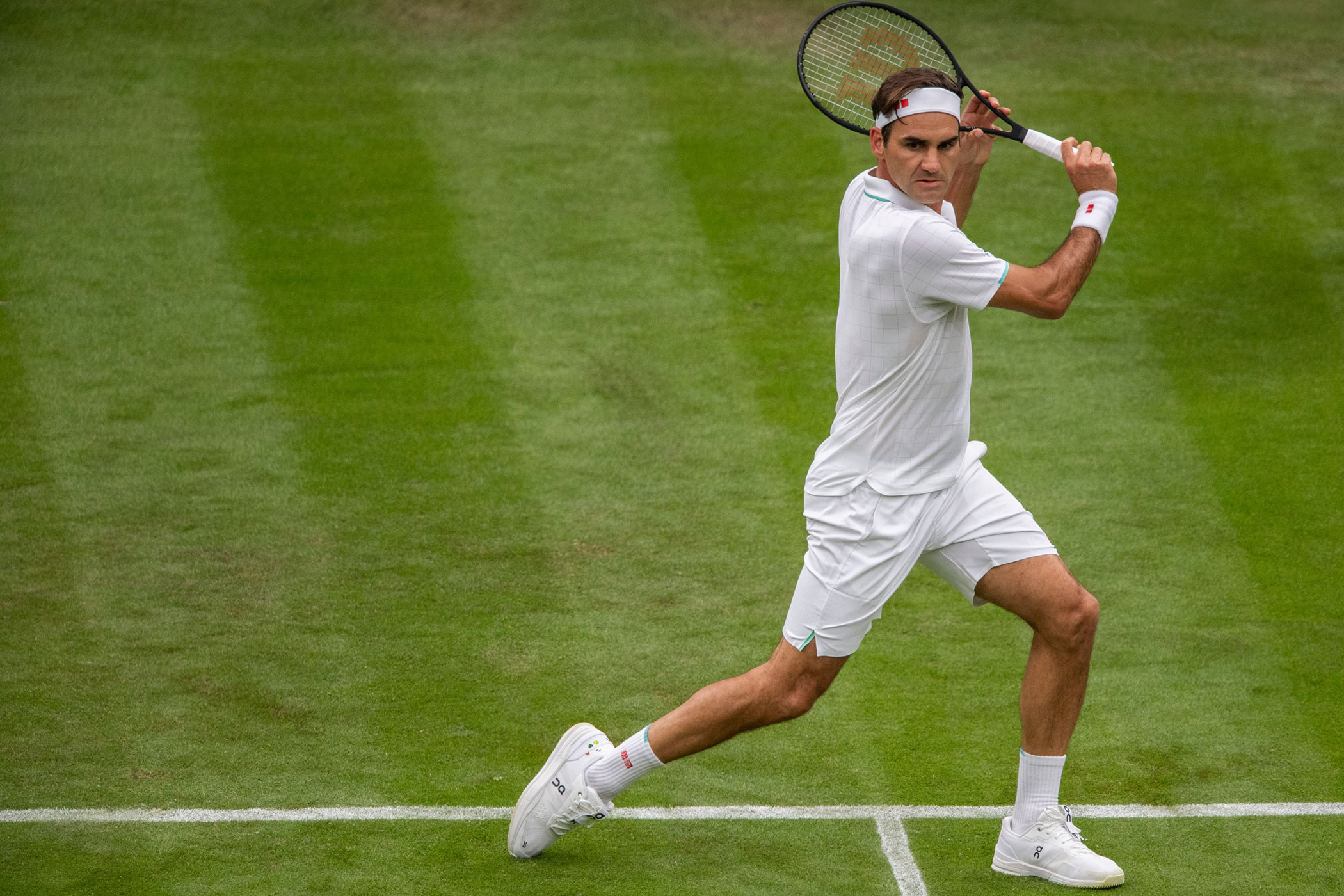 Roger Federer in Action © Rolex / Jon Buckle
Although Federer is most often associated with Rolex, the watch manufacture has signed numerous other brand ambassadors, including many youngsters who are now shaking up the tennis world: from Alexander Zverev, Carlos Alcaraz and Stefanos Tsitsipas to Iga Światek and Coco Gauff. The young Pole Iga Światek is currently even number 1 in the world. Two years ago, the 21-year-old player was still almost completely unknown. Within a very short time, she had risen to the top of the world rankings and was unbeaten in 35 matches. Only Venus Williams has managed this achievement in the women's game so far.
Iga Światek
US Open 2022 (left) © Rolex / Ben Solomon
Roland Garros 2022 (right) © Rolex
It is remarkable how sensitive Rolex is when it comes to talent scouting. Of course, they have the ability to sign the best players in the world with the greatest potential. Other brands follow young talent just as closely – but Rolex is and remains the top dog in tennis. No other watch brand can count so many tennis pros amongst its testimonies. The up-and-coming Carlos Alcaraz has recently also been chosen as a brand ambassador. The young Spaniard achieved just as meteoric a rise as Światek and has played his way into the top 10 within a very short time. When he turned professional in 2019, he was world No. 597. After his recent victory at the US Open, the young Spaniard is now the world No. 1. He is also the youngest player in history to beat both Nadal and Djokovic.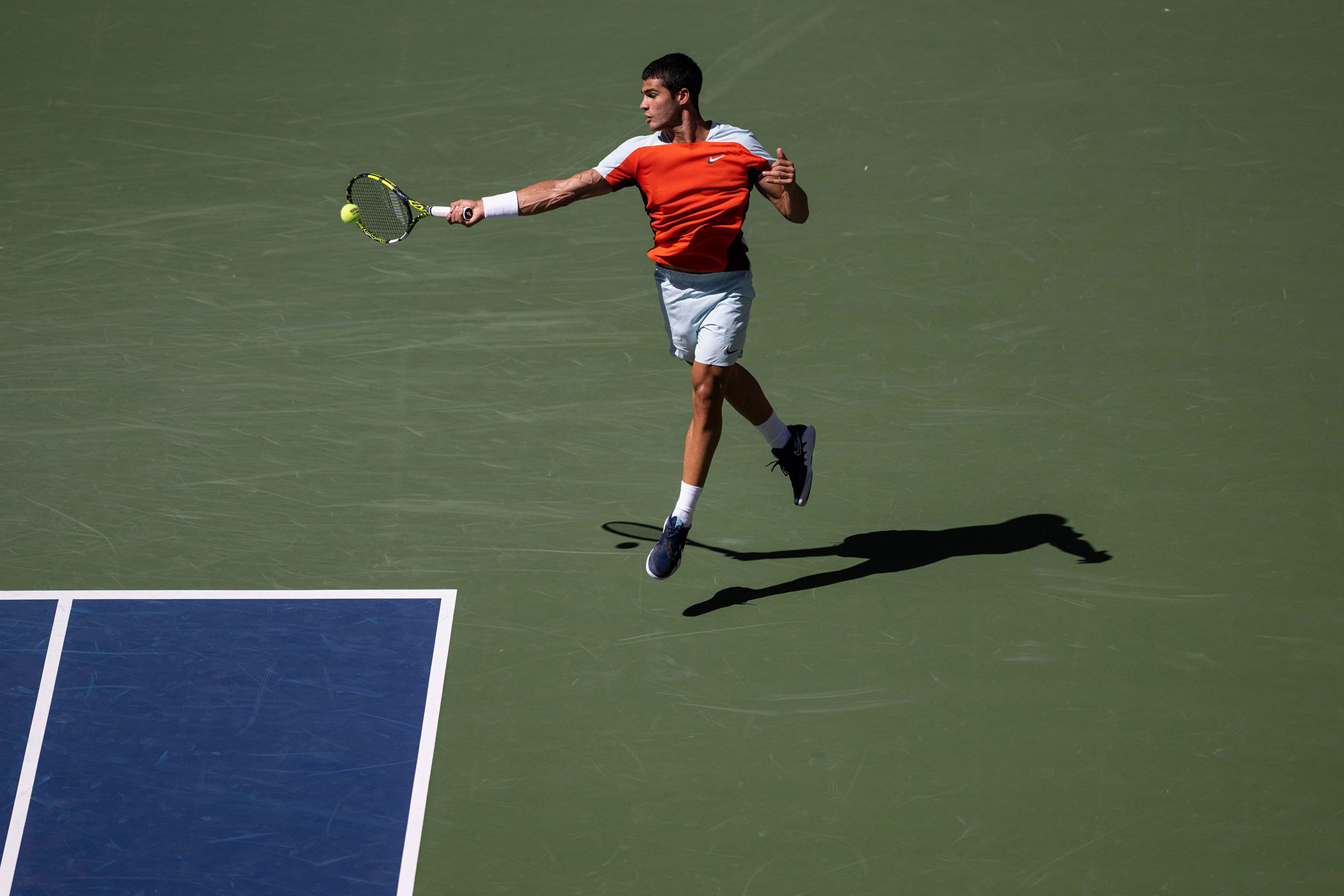 Carlos Alcaraz, US Open 2022 © Rolex / Ben Solomon
For all its foresight and meticulous scouting, however, the partnership with Roger Federer is a unique horological tennis fairytale. Roger Federer embodies, both as a person and as an athlete, what Hans Wilsdorf set in motion over 100 years ago when he founded the Rolex brand. The pursuit of excellence, attitude and values – and a certain reserve, even untouchability. Rolex and Federer do not seem like a perfectly orchestrated advertising partnership, but more like a coincidence. The partnership between player and brand is so coherent that it doesn't really need to be explained.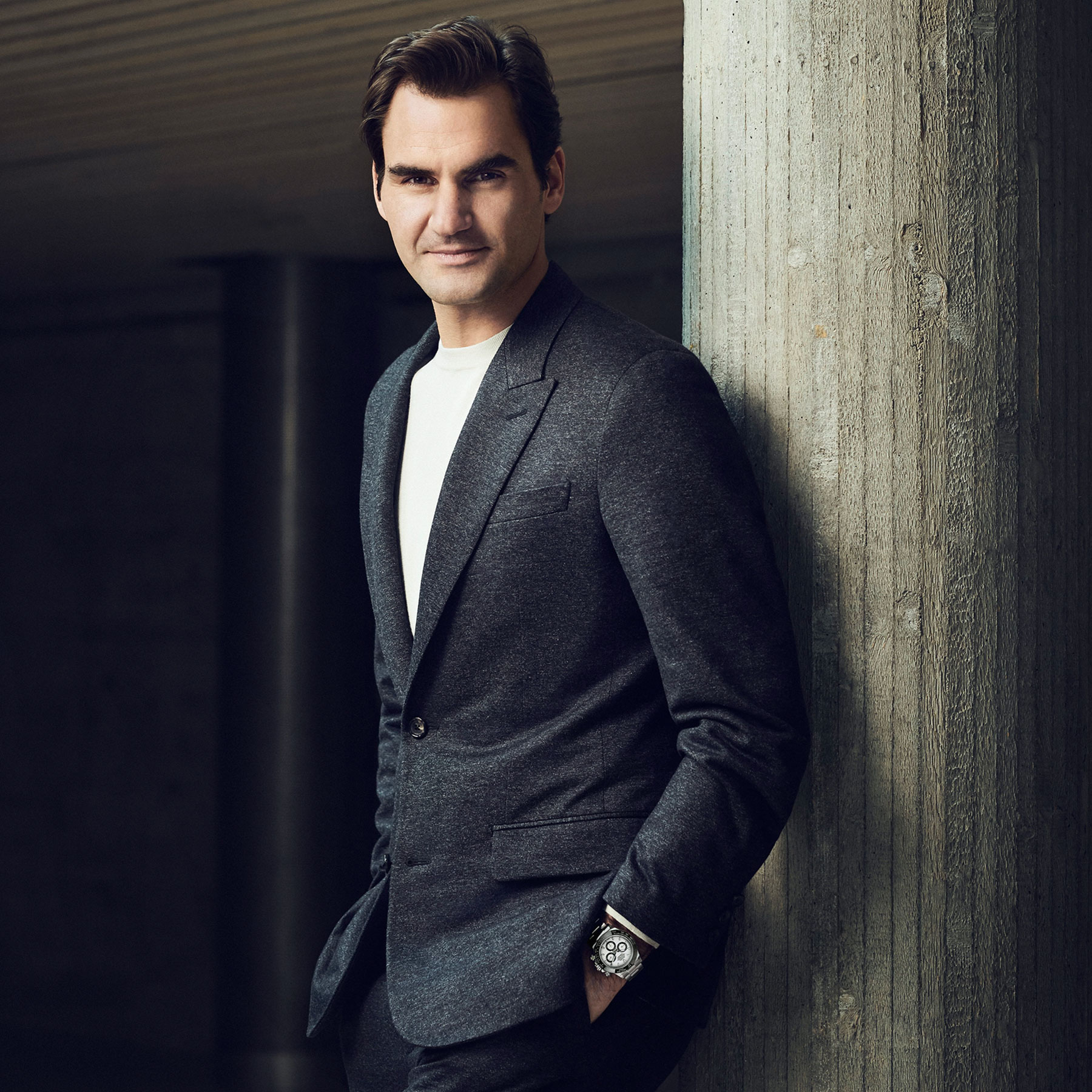 Roger Federer © Rolex / Thomas-Laisn
---
Federer's Rolex Watches
---
Since the very first thing Roger Federer does after every match is put his Rolex watch on his wrist, it is not difficult to identify some of his favourite models. Five models stand out, although Federer certainly has a much more extensive Rolex collection in his private life.
Rolex Oyster Perpetual Datejust Ref. 126303
When Roger Federer held up the trophy after his victory at Wimbledon against Marin Cilic in 2017, he wore the Oyster Perpetual Datejust in Oystersteel and yellow-gold. The model had been unveiled a year earlier, at the Baselworld watch fair. Federer once revealed in an interview that the Datejust is his favourite Rolex collection. Reference 126303 has a slate-grey dial and green Roman numerals, leading to previous models being nicknamed 'Wimbledon'.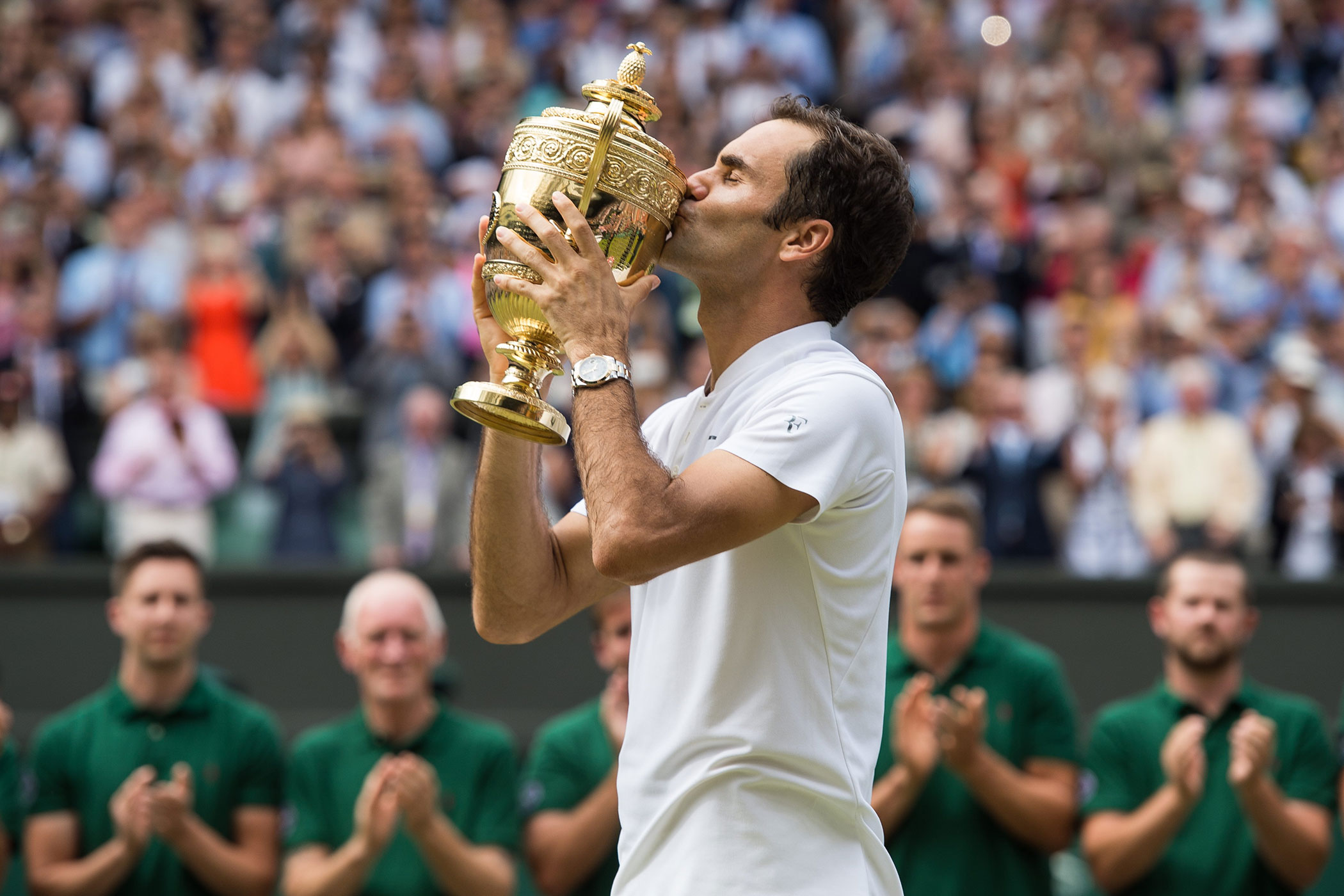 Roger Federer with the Oyster Perpetual Datejust Ref. 126303 on the wrist © Rolex / Jon Buckle
Rolex Cosmograph Daytona Ref. 116509 in white gold with silver-coloured dial
You have to look very closely at this Daytona. Unlike the usual editions, it has Arabic numerals instead of hour markers. This Cosmograph Daytona Reference 116509 comes completely in white-gold, featuring a silver-coloured dial. The chronograph seconds hand and the totaliser hands are red – as is the Daytona lettering. Roger Federer wore the watch after his victory at the US Open in 2008 against Britain's Andy Murray.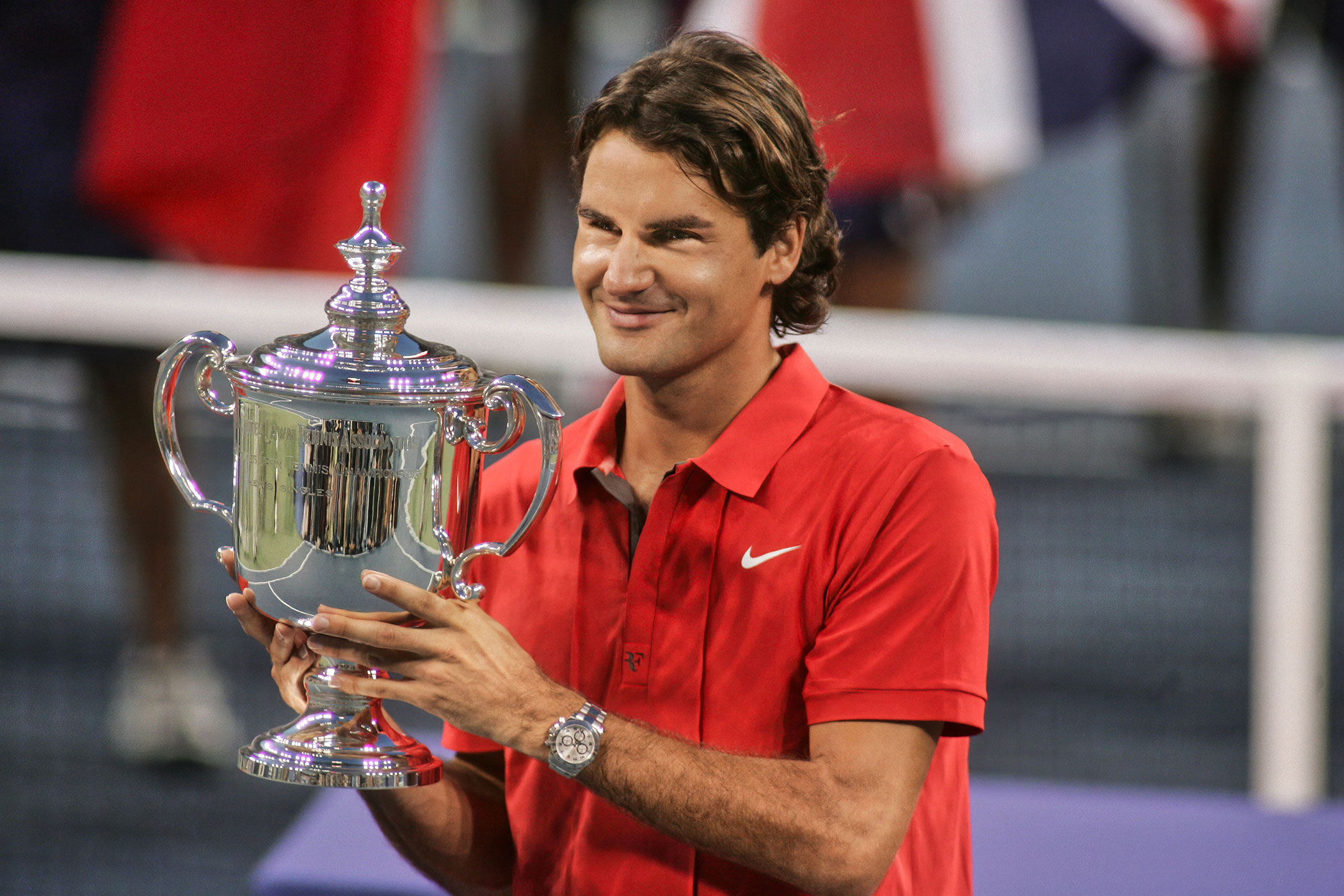 Roger Federer with the Cosmograph Daytona Ref. 116509 on the wrist © Rolex
Rolex GMT Master II Ref. 116710 BLNR "Batman"
After Federer's 2017 victory at the Australian Open against Rafael Nadal in a 5-set thriller, the Swiss athlete wore a Rolex GMT Master II nicknamed "Batman" because of the two-tone ceramic black and blue bezel. The GMT Master II is probably the most popular of all Rolex models today. It was originally introduced in 1954 with the Reference 6542 , destined for pilots who could display a second time zone with the GMT function.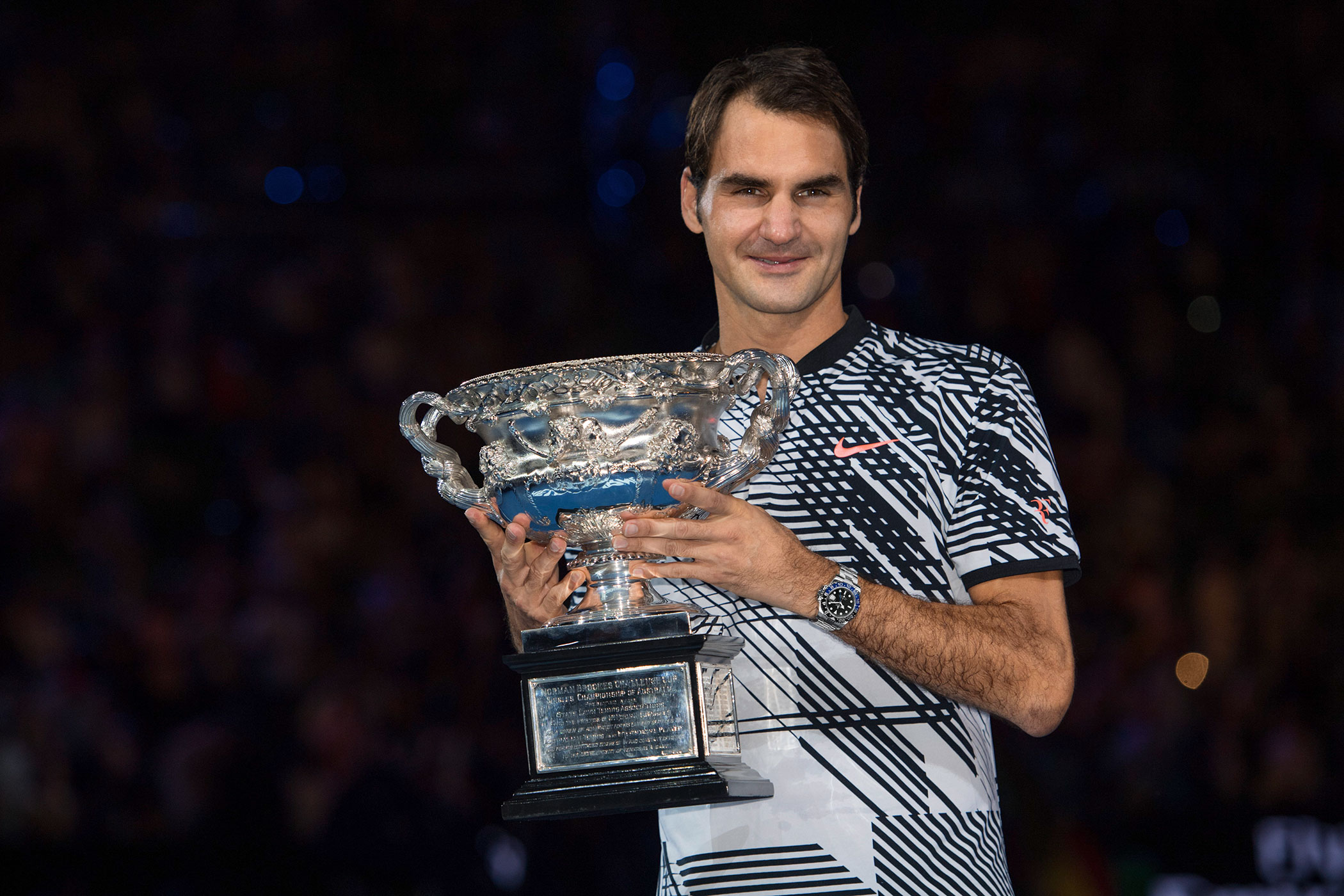 Roger Federer with the GMT Master II Ref. 116710 BLNR on the wrist © Rolex / Jon Buckle
Rolex Oyster Perpetual Sky-Dweller Ref. 326934
Federer could be seen wearing a Sky-Dweller on his wrist at Wimbledon 2018. Unfortunately, the maestro lost in the quarterfinals to South African Kevin Anderson in five sets. His Sky-Dweller Reference 326934 has a 42 mm white gold case as well as a stainless-steel Rolesor bracelet and a fluted bezel. The Sky-Dweller is appreciated by many as an elegant travel watch because it has two time zones that can be read simultaneously, as well as an annual calendar. The months are displayed in twelve viewing windows on the outer edge of the dial, with the current month always in red.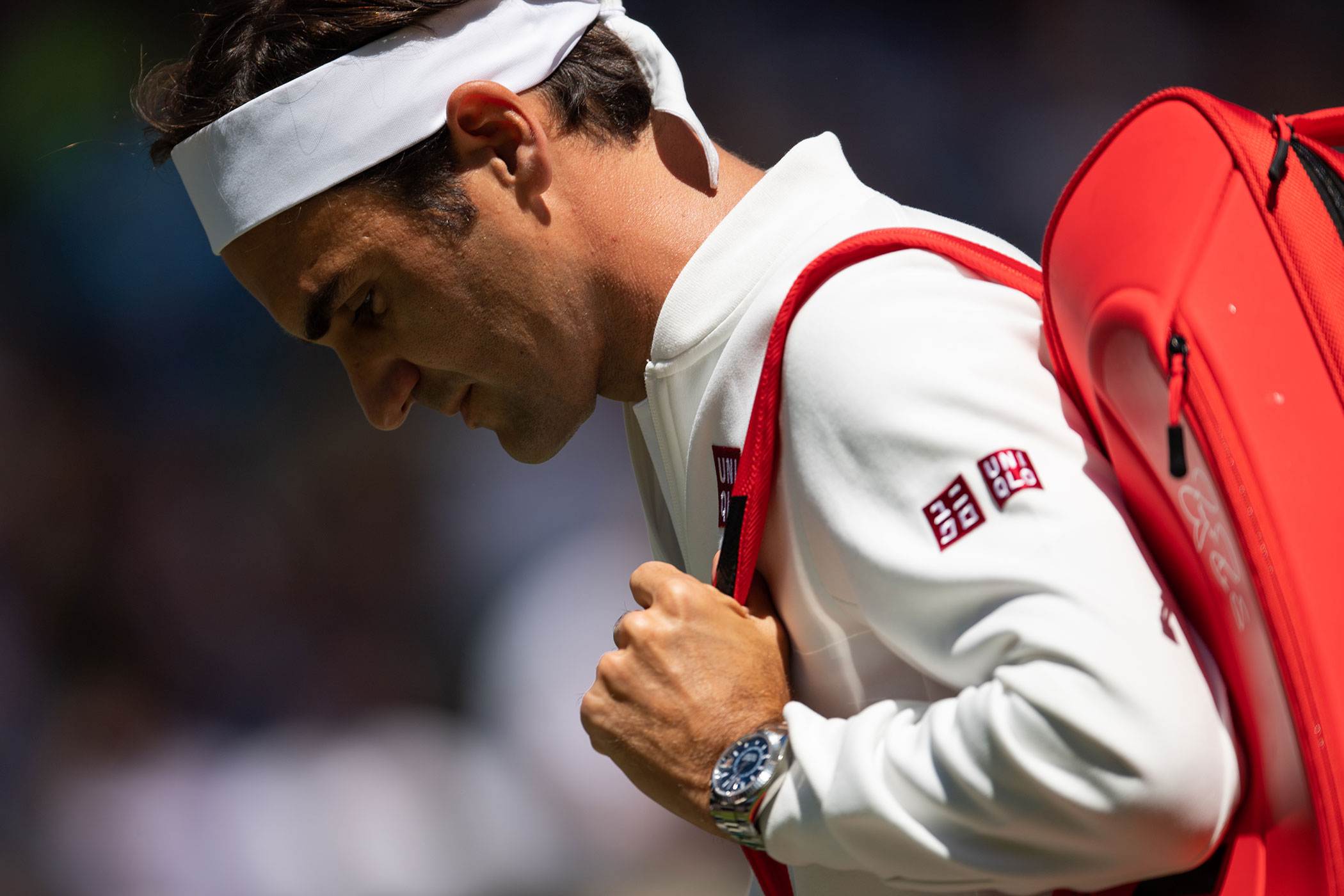 Roger Federer with the Oyster Perpetual Sky-Dweller Ref. 326934 on the wrist © Rolex / Jon Buckle
Rolex Cosmograph Daytona Ref. 116509-0071 in white gold with blue dial
In 2019, Team Europe wins the Laver Cup with the two decisive singles victories of Roger Federer and Alexander Zverev. At the award ceremony, Federer wore a Cosmograph Daytona in white gold with a blue dial and stainless-steel Oyster bracelet. Along with the GMT Master II, the Daytona is probably one of the most sought-after models among Rolex enthusiasts. Roger Federer has also been spotted wearing a vintage Daytona or two, including a Reference 6263 with a panda dial that was launched back in 1981 – the year of his birth.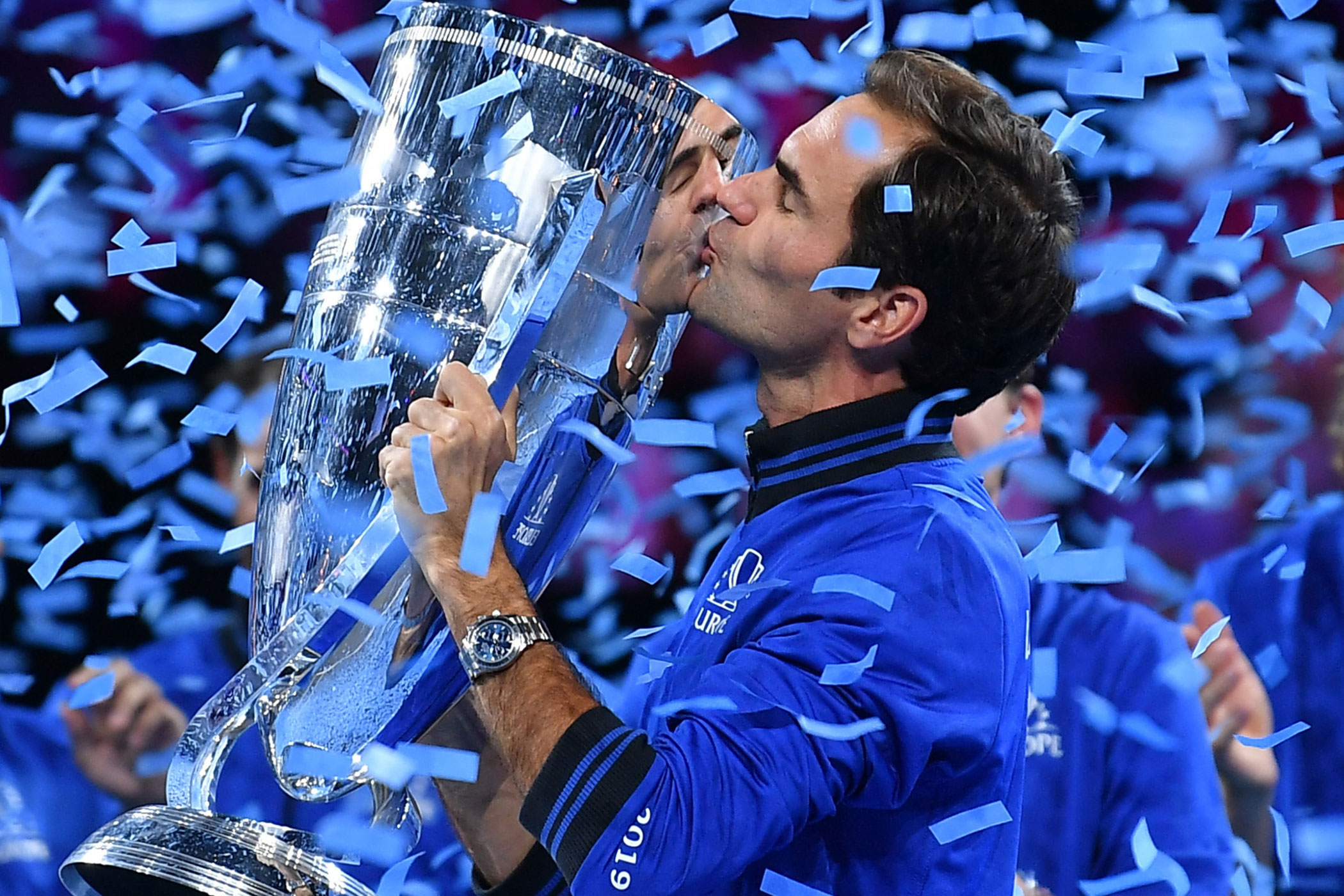 Roger Federer with the Cosmograph Daytona Ref. 116509-0071 on the wrist © Rolex / Antoine-Couvercelle
---
A Farewell, not a Comeback
---
I am simultaneously full of anticipation and melancholy – on the one hand, we will get to see the tennis magician, who is already 41 years old, play on the court once more. On the other hand, it will be the last time. We would all have loved to see him again at Wimbledon, his favourite tournament, where he also won his first Grand Slam title almost 20 years ago. The Laver Cup is a good choice as a farewell tournament because no world ranking points are awarded. It is not a comeback to see how he might do against the predominantly young competition; ratherm it is now all about enjoying and giving the master a worthy farewell from tennis. As the Rolex commercial says: "The legend around Roger Federer can only get bigger" – if no longer as an athlete, then as an individual and as an ambassador.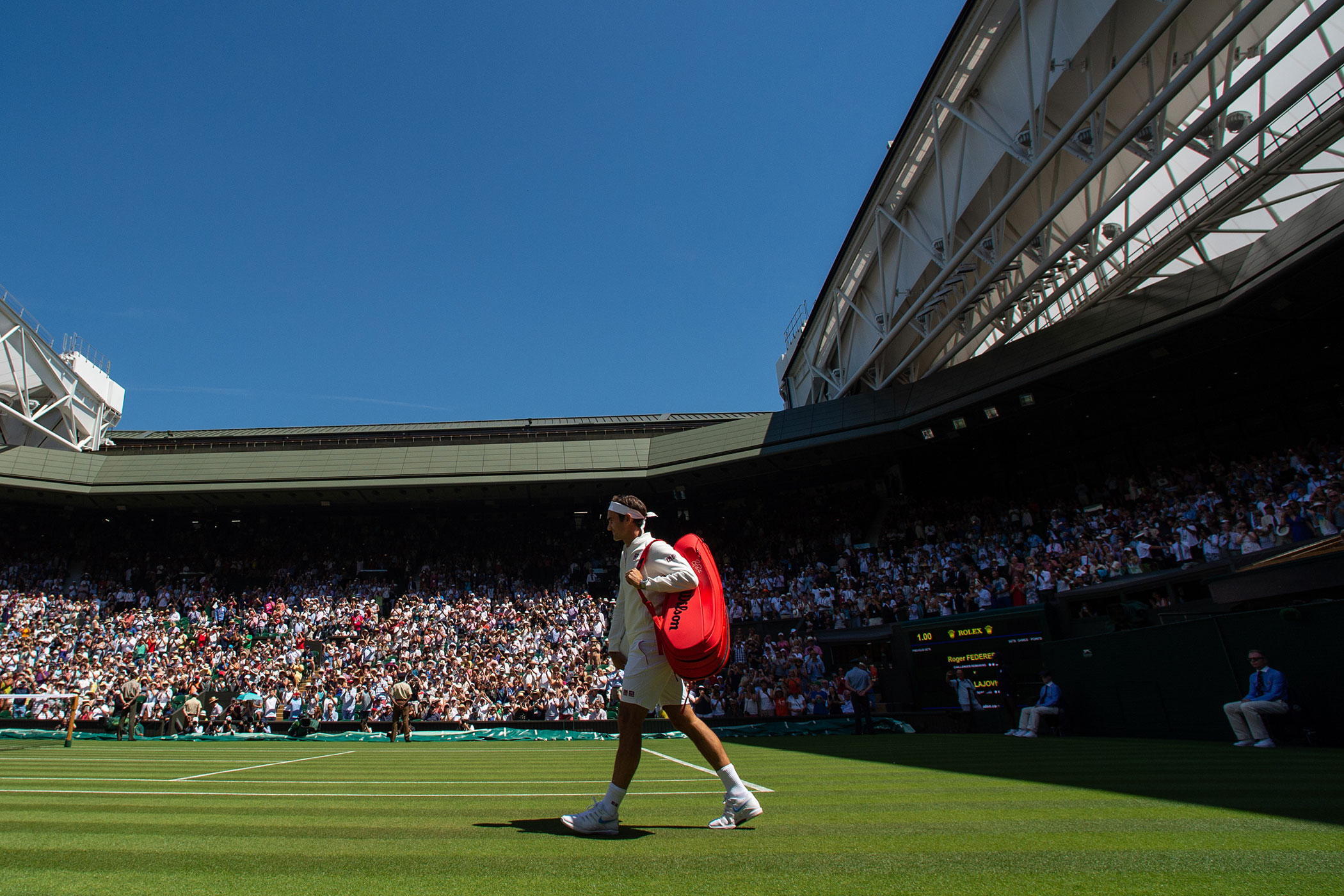 Roger Federer © Rolex / Jon-Buckle
---