Rolex is the most well-known and revered horology house on the planet. Owning a Rolex is the ultimate symbol of prosperity in the western world. But just how much wealth do these watches actually involve? It's time to discover the most expensive Rolex watches ever, from the stories behind them to understanding their nicknames. Get ready for some serious prices (and a lot of Daytonas).
---
12. Cosmograph Daytona Ref. 6263 "Albino"
This highly rare version of Rolex's famous chronograph Daytona model is from 1971, and comes in a 37.5 mm steel case. Formerly in the ownership of guitarist and collector Eric Clapton, it is once again the owner who makes this watch so famous. This Ref. 6263 is one of only four known white dialled Cosmographs to feature subsidiary dials that are not in black with white printing, but rather have the same silver finishing as the main dial. The few all-white Cosmographs in existence are therefore nicknamed the "Oyster Albino".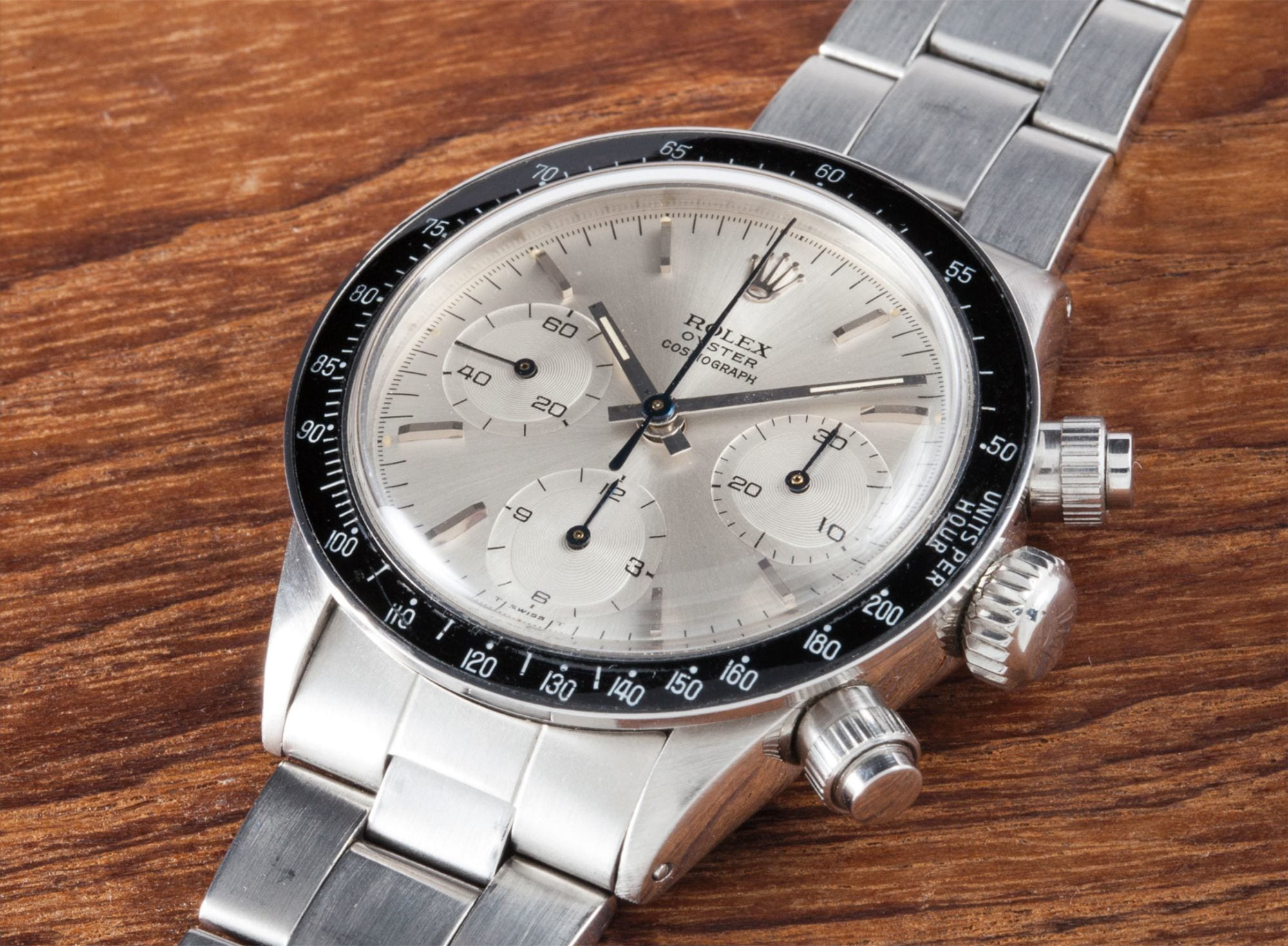 Rolex Ref. 6263, stamped 6262 inside the case back
Credit: Phillips
The vintage watch also still ticks with the correct movement, the manual winding calibre 727. Likewise it also features the correct MK1 pushers and bezel for the period – again, adding to its collection value. The steel Daytona model has been through several hands, and was last auctioned by Phillips for a record 1.325 million Swiss francs back in May, 2015.
---
11. The "John Player Special"
Second on our list of the most expensive Rolex watches ever to go at auction, we have the "John Player Special". This very special yellow-gold Daytona is a Ref. 6264, known for their pump pushers mirroring those on the original Rolex Cosmograph. The reference was rarely produced between the 60s and 70s. Nevertheless, the model is seen as an important transitional link between the two key periods of manual-winding Daytonas. In general, this model appeared in sporty stainless steel, while yellow-gold editions such as this were rare. In fact, only ten models are said to exist. Furthermore, even fewer of these feature a "Paul Newman" dial, also known as "exotic" dials. These were created in "lemon", champagne, or, rarest of all, black – as is the case with this model. Additionally, its distinctive golden subdial counters are highly legible thanks to the engine-turned finishing.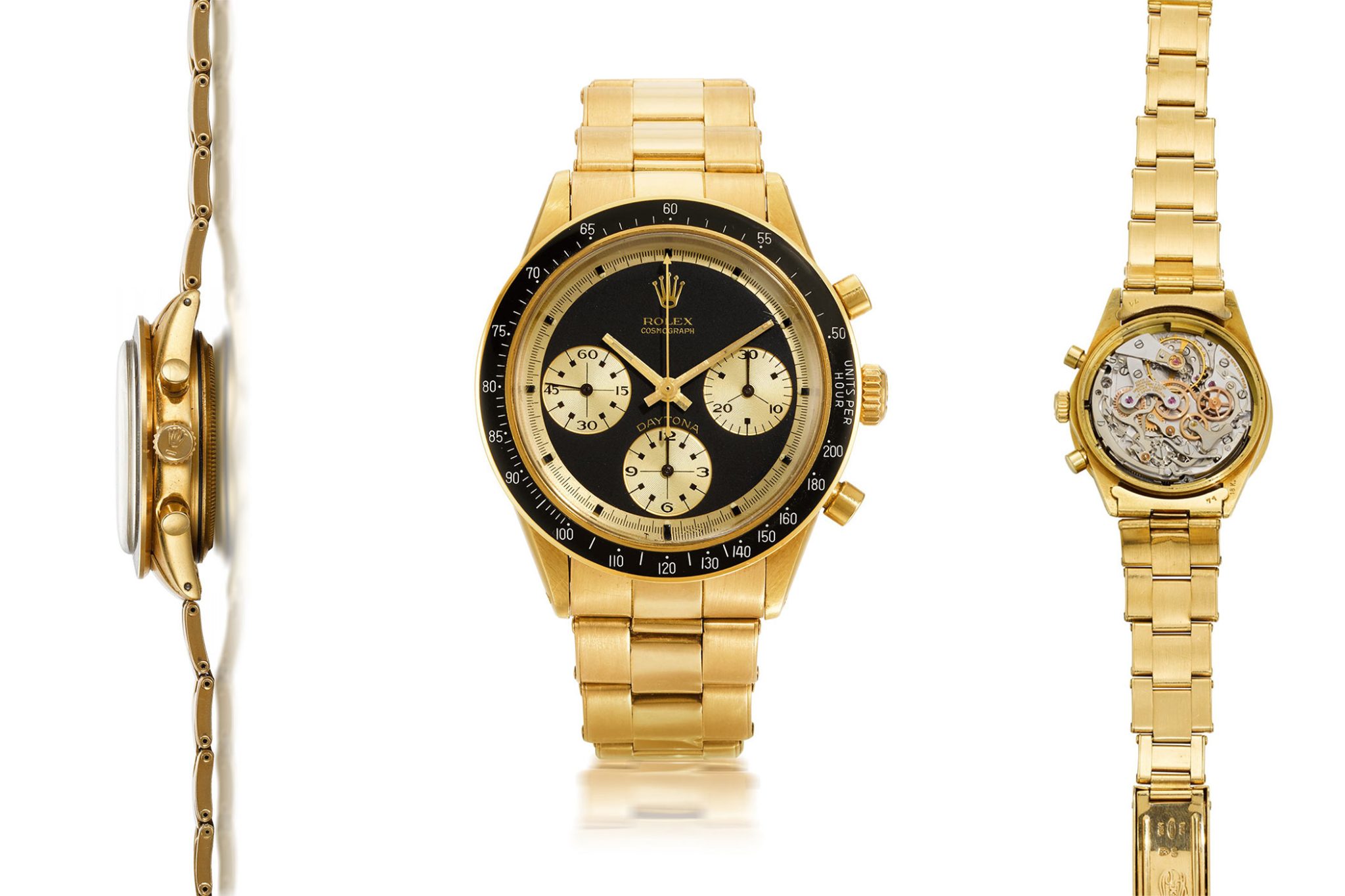 Rolex Ref. 6264 – The "John Player Special"
Credit: Sotheby's
This piece's name, "John Player Special", refers to the livery of the Lotus Formula 1 John Player sports car, known for its chic and glamorous aesthetic. The racing chronograph was sold on behalf of a private collector back in 2020 by Sotheby's, selling for around 1.53 million Swiss francs (GBP 1.215 million).
---
10. The GMT Master "Apocalypse Now"
This piece once belonged to The Godfather and A Streetcar Named Desire actor Marlon Brando. The Rolex GMT Master Ref. 1675, which was long thought to be missing, has the nickname "Apocalypse Now", having been worn by the actor in the eponymous 1979 film.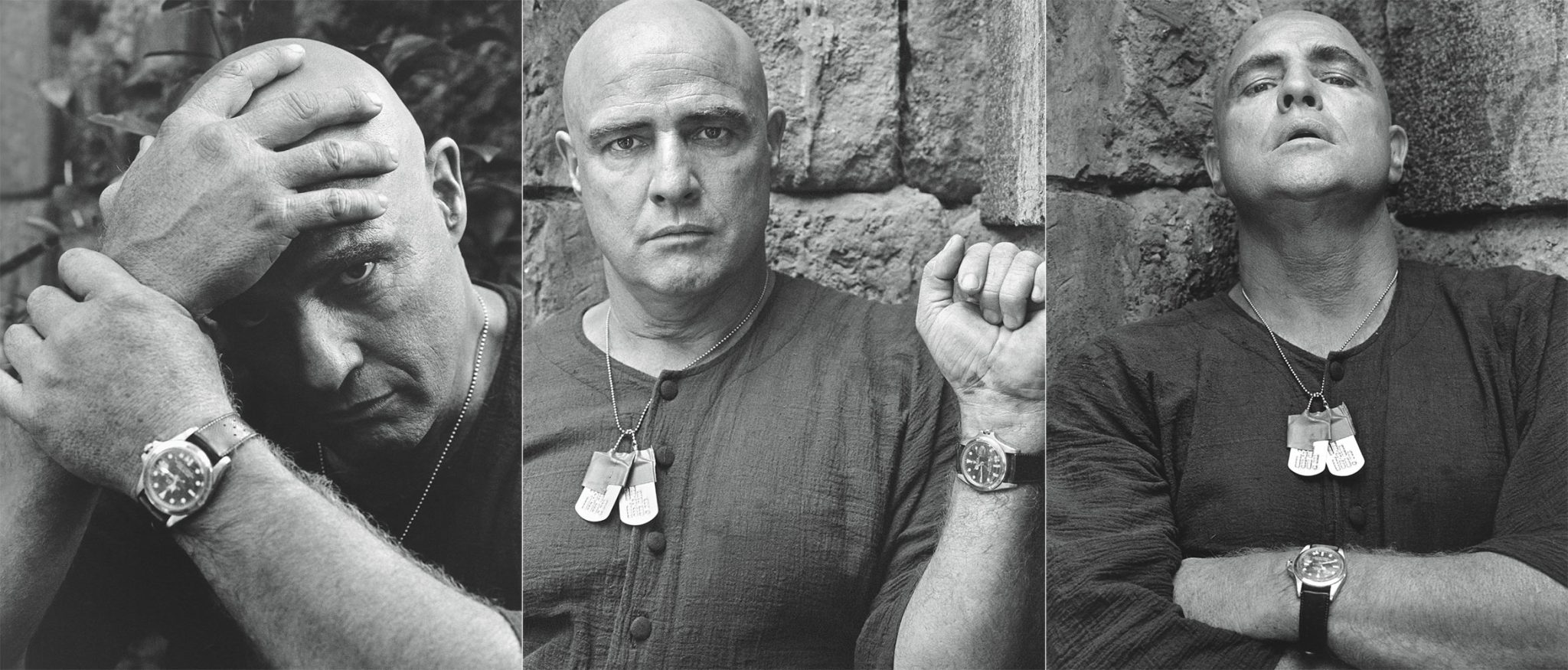 Marlon Brando in the film "Apocalypse now" with the Rolex GMT-Master Ref. 1675 on his wrist.
Credit: Phillips | Auction
Brando even etched "M. Brando" across the caseback – a feature previously never seen prior to its auction in 2019. The watch was in Brando's possession up until 1995, when he passed it on to his daughter, Petra Fischer. Upon gifting it to her, Brando said, "This watch is like a tank. You can do anything you want to it and it will keep on going. I want you to have it as a reminder of how proud I am of you."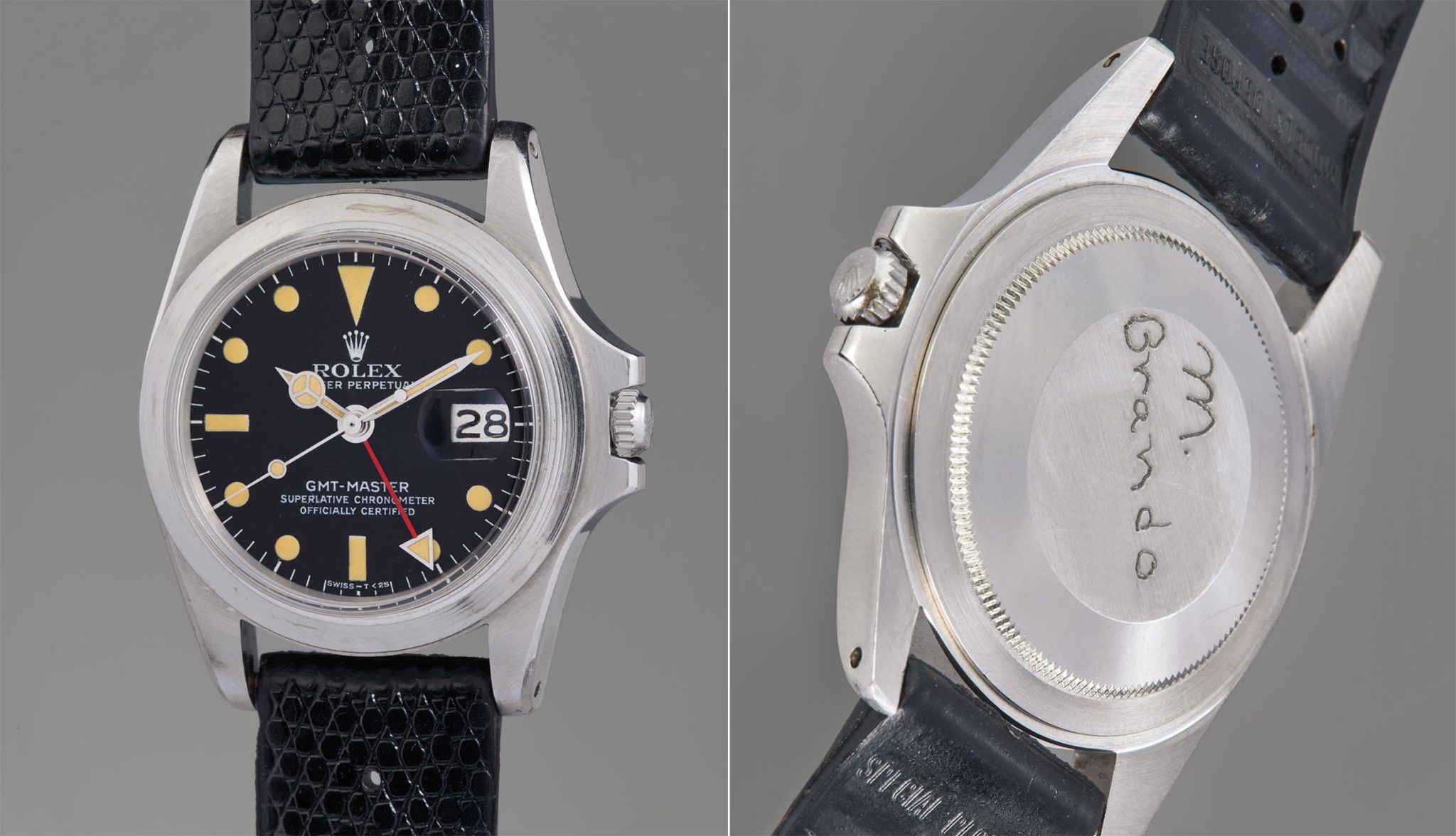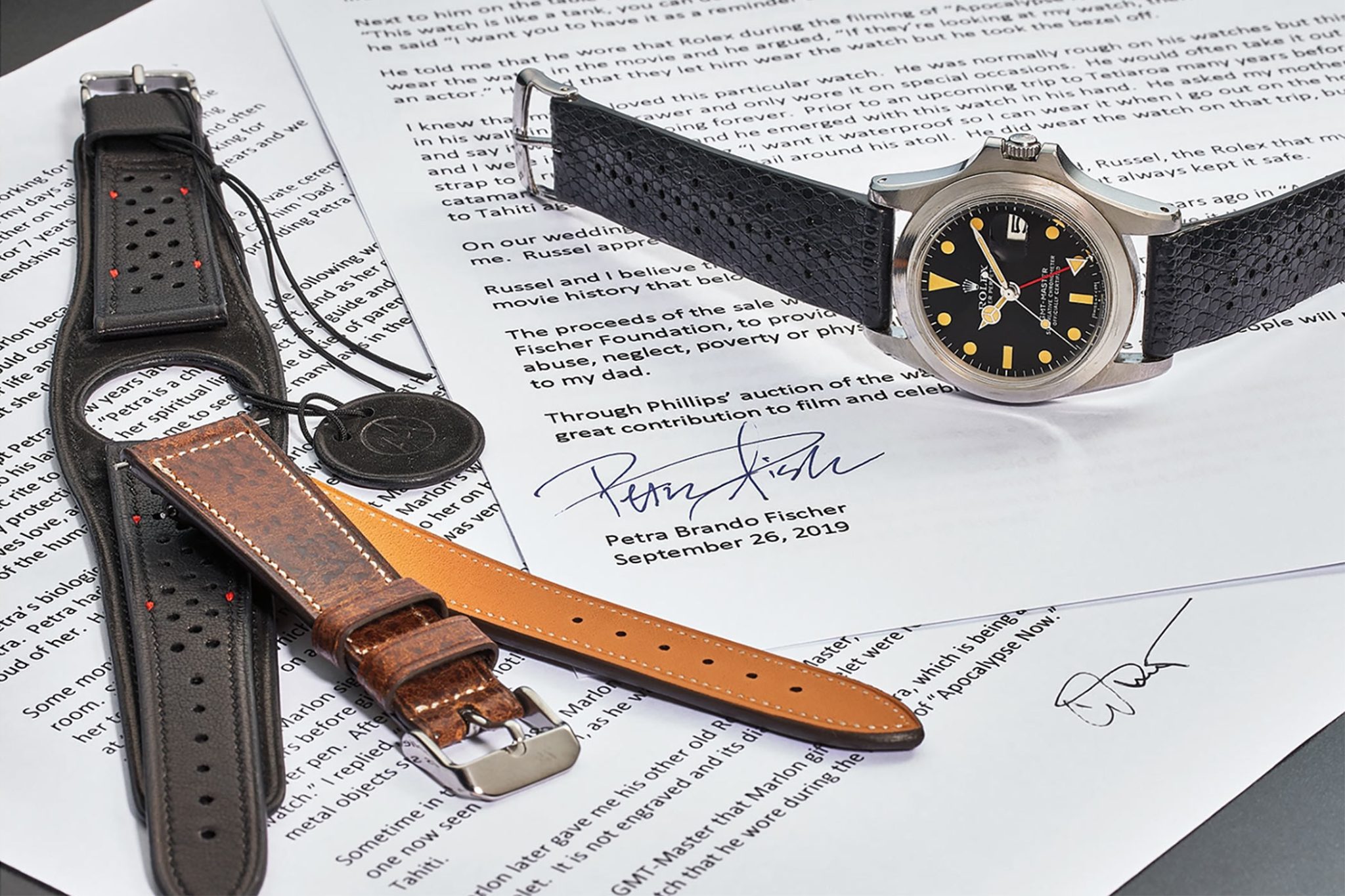 Marlon Brando's Rolex GMT-Master Ref. 1675
Credit: Phillips
Manufactured in 1972, the watch is notably lacking a bezel and comes with a black rubber strap to match the dial. Clearly a vintage piece, the Ref. 1675′s luminous hour markers and hands are now beige. Additionally, the dial, hands, case, crystal, and crown are all original to the watch. Phillips sold it for around 1.8 million Swiss francs (USD 1.9 million) back in 2019.
---
9. The "Oyster Sotto"
The third Daytona to appear on our list of the most expensive Rolex watches is the "Oyster Sotto" Cosmograph Daytona Ref. 6263. The stainless-steel chronograph from 1969 features an extremely rare "tropical" Paul Newman dial. It showcases a rare outer red 1/5 seconds division track, making it particularly sought-after. Its other typical "Paul Newman" dial features include art-deco style Arabic numerals and squared markers on the subdials.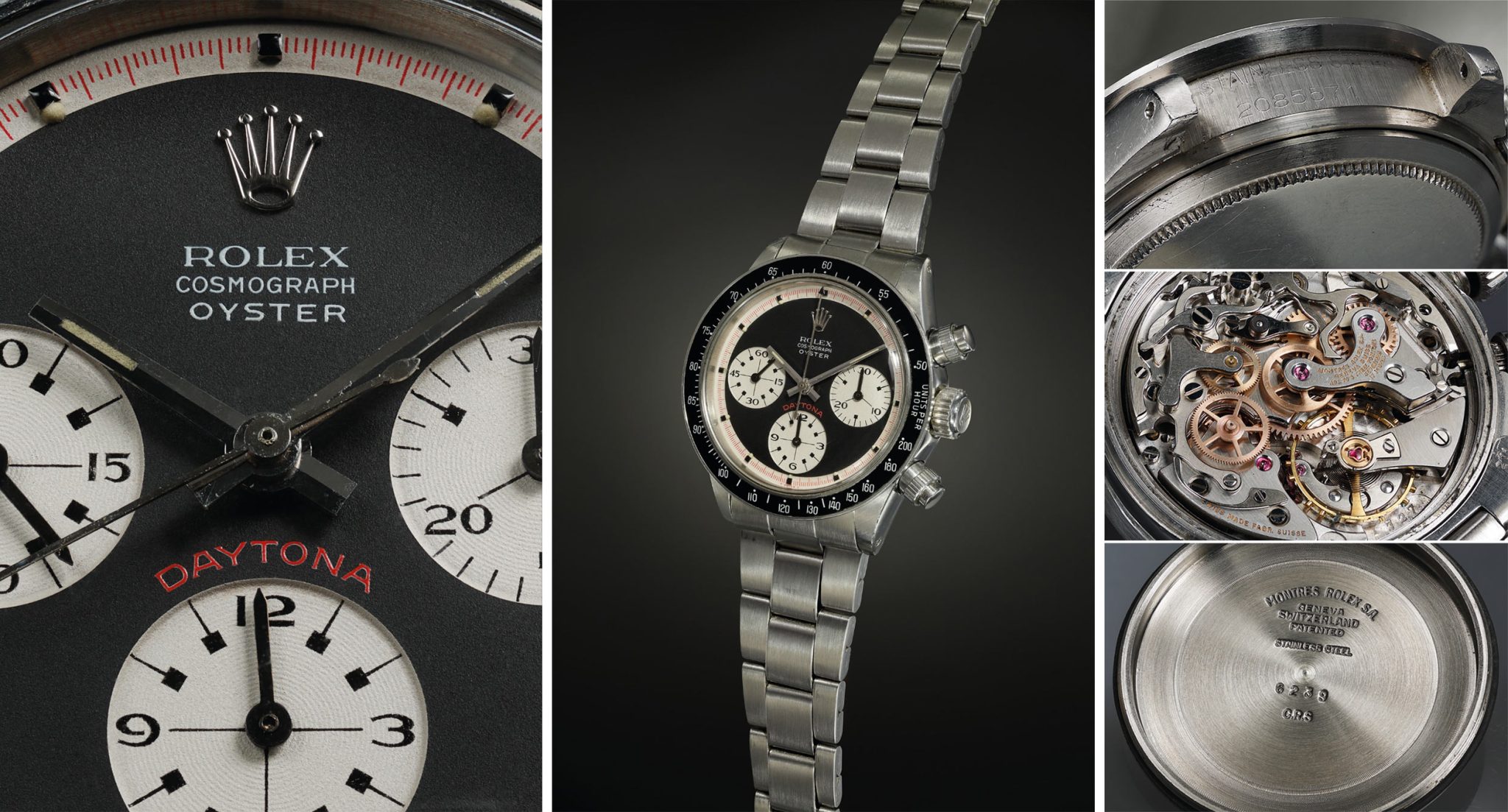 Rolex "Oyster Sotto" Cosmograph Daytona Ref. 6263
Credit: Phillips
This reference, with its vintage-looking dark brown dial, is one of only two pieces, both of which carry the name "Oyster Sotto". This translates from Italian as "Oyster underneath". This is because on the dial, the words "Oyster" lie underneath "Cosmograph". Furthermore, these two Oyster-cased Daytonas mark the very first Paul Newman-style dials to have an increased water resistance thanks to the screw-down pushers. The "Oyster Sotto" Cosmograph Daytona sold for 1.985 million Swiss francs by Phillips in 2016.
---
8. Rolex Antimagnetique
This record-setting Rolex from 1942, the Antimagnetique Ref. 4113, is one of only 12 models ever to exist. All 12 pieces come in a stainless-steel case. The Ref. 4113 was never commercially available, but was rather exclusively available to racing teams and their drivers. The split-seconds chronograph watch is undoubtedly highly different to the majority of any other Rolex models.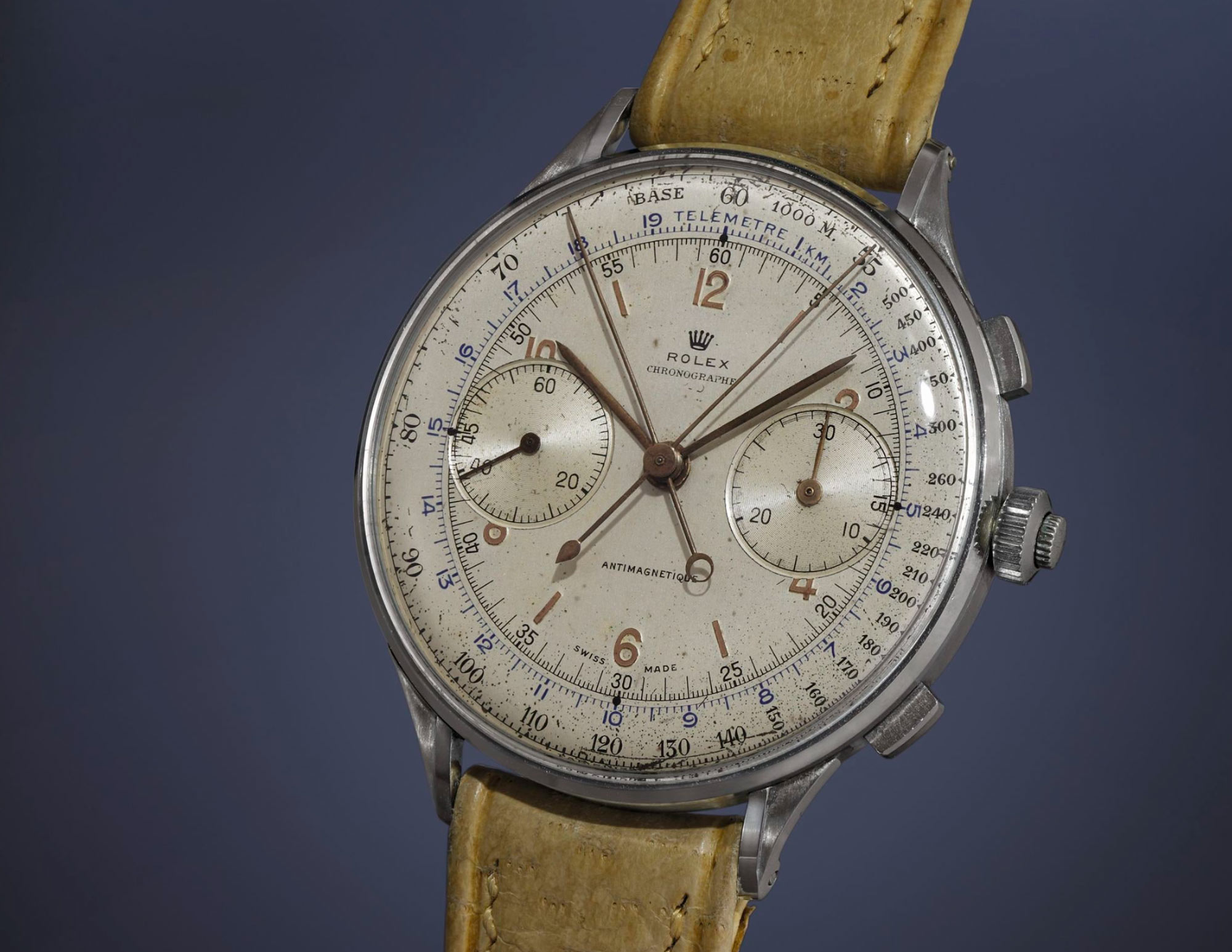 Rolex Antimagnetique Ref. 4113
Credit: Phillips
Rarity aside, the 44 mm watch (thus the largest diameter of any Rolex) also has a very interesting dial, with raised pink gold-coloured Arabic and baton hour markers, as well as a blue telemeter scale. Furthermore, across the seven decades since its creation, the silvered matte dial now has an elegant patina. Furthermore, the case still showcases the original satin finish on both the sides and caseback. Philipps auctioned the watch in 2016 for an impressive 2.4 million Swiss francs.
---
7. Cosmograph "Zenith" Daytona with turquoise dial
As one of only five Rolex Cosmograph "Zenith" Daytona platinum models (Ref. 16516) created on the order of Patrick Heiniger, then-chief executive at Rolex, in 1999, this version features a turquoise mineral stone dial. This material had never before seen on a Daytona model, making the rarity of the dial the key to the model's success. Only two of these turquoise dials are said to exist. Additionally, as the name suggests, the movement powering the Daytona is the Rolex calibre 4030, which uses Zenith's famous El Primero movement as its base. The watch was sold by Sotheby's in 2021 for around 2.88 million Swiss francs.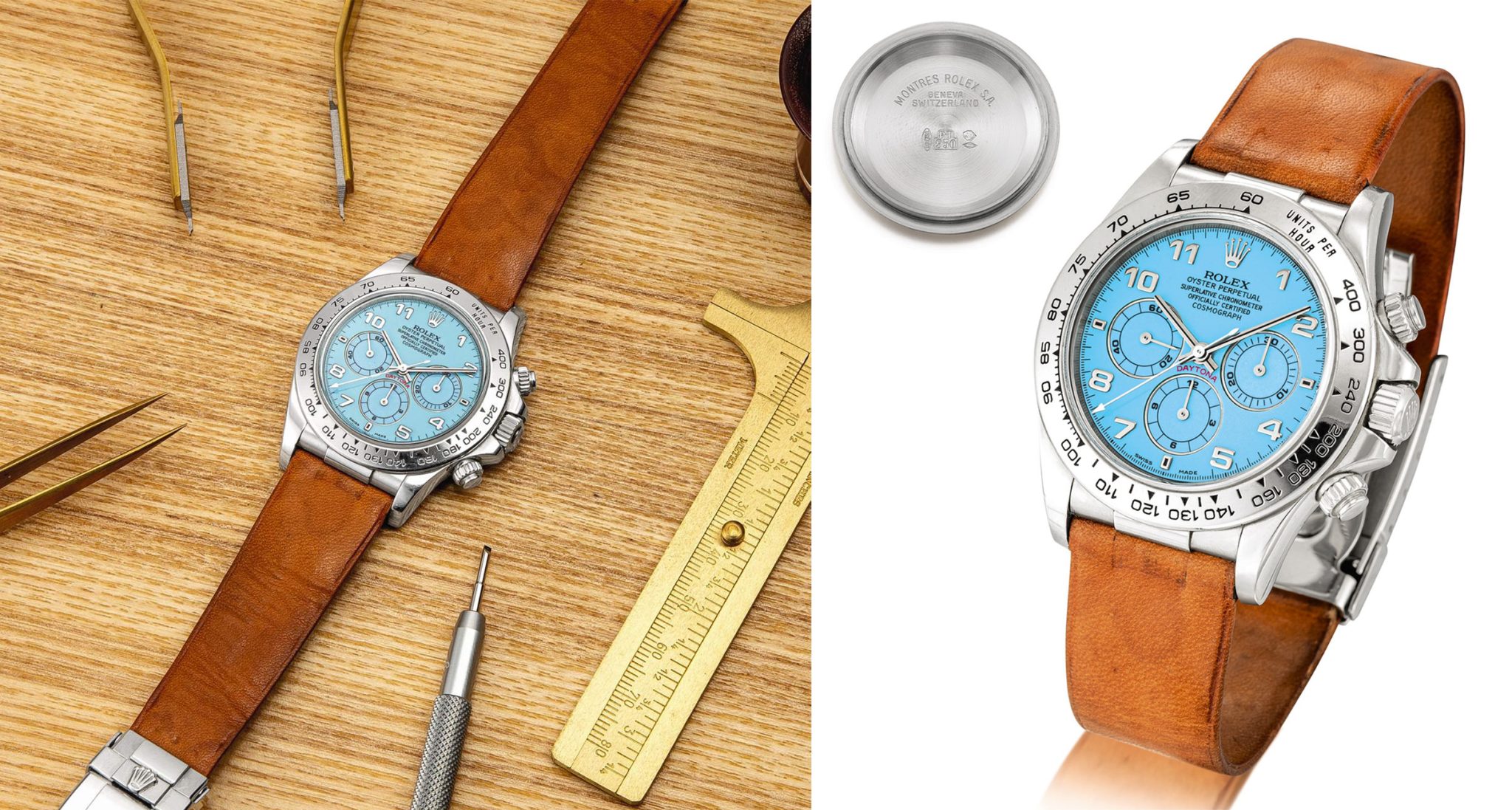 Rolex Cosmograph "Zenith" Daytona with with turquoise hardstone lacquer dial
Credit: Sotheby's
---
6. Cosmograph "Zenith" Daytona with Lapis Lazuli dial
The value of this watch is easy to comprehend: it is the only known platinum Daytona with a lapis lazuli hard stone dial. Powering it, like the watch above, is the Rolex calibre 4030. Despite its believed manufacture date of 1999, when a very limited number of platinum Rolex models were in production, the watch's caseback features the inscription "Pour J-F Gobbi XII 1998". Despite the movement not undergoing testing for accuracy and precision, with no guarantee by Sotheby's of the future working of the movement or authenticity of individual components, the timepiece still fetched about 3 million Swiss francs (HKD 25.375 million) in July 2020.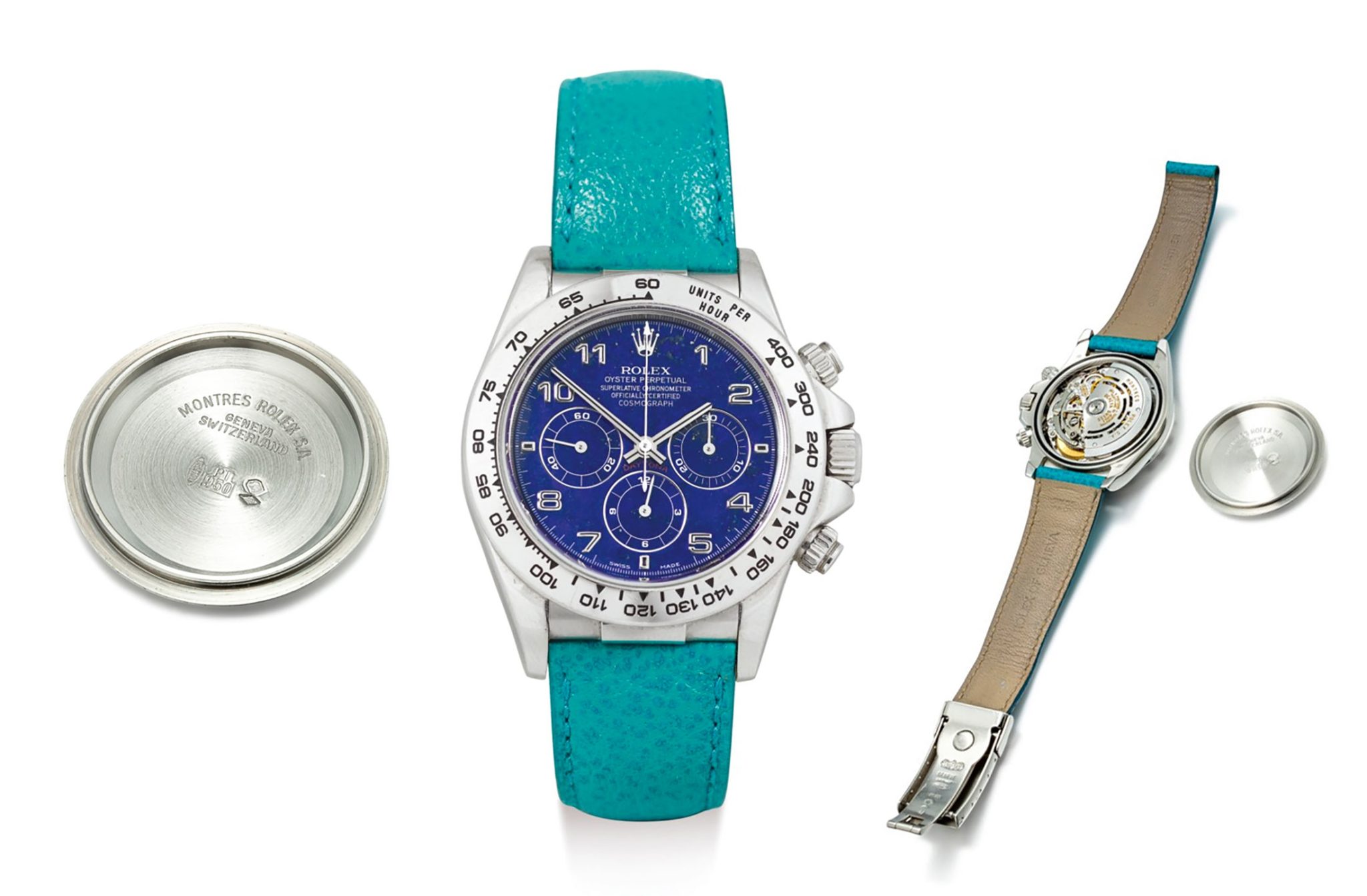 Rolex Cosmograph "Zenith" Daytona with Lapis Lazuli dial
Credit: Sotheby's
---
5. "The Neanderthal"
Up next on our list of the most expensive Rolex watches ever sold at auction, we have "The Neanderthal". Created around 1966, this model's name owes itself to its pre-"Paul Newman" dial characteristics. The watch's unique dial is invaluable in terms of providing Cosmograph Daytona fans with an insight into understanding the model. Its unusual proportions include oversized subdial counters (today known as "Big Eye" counters), which almost touch the outer white seconds track. Moreover, the watch also shows no obvious signs of its roots, given that Rolex chose to omit the words Oyster and Cosmograph from the dial.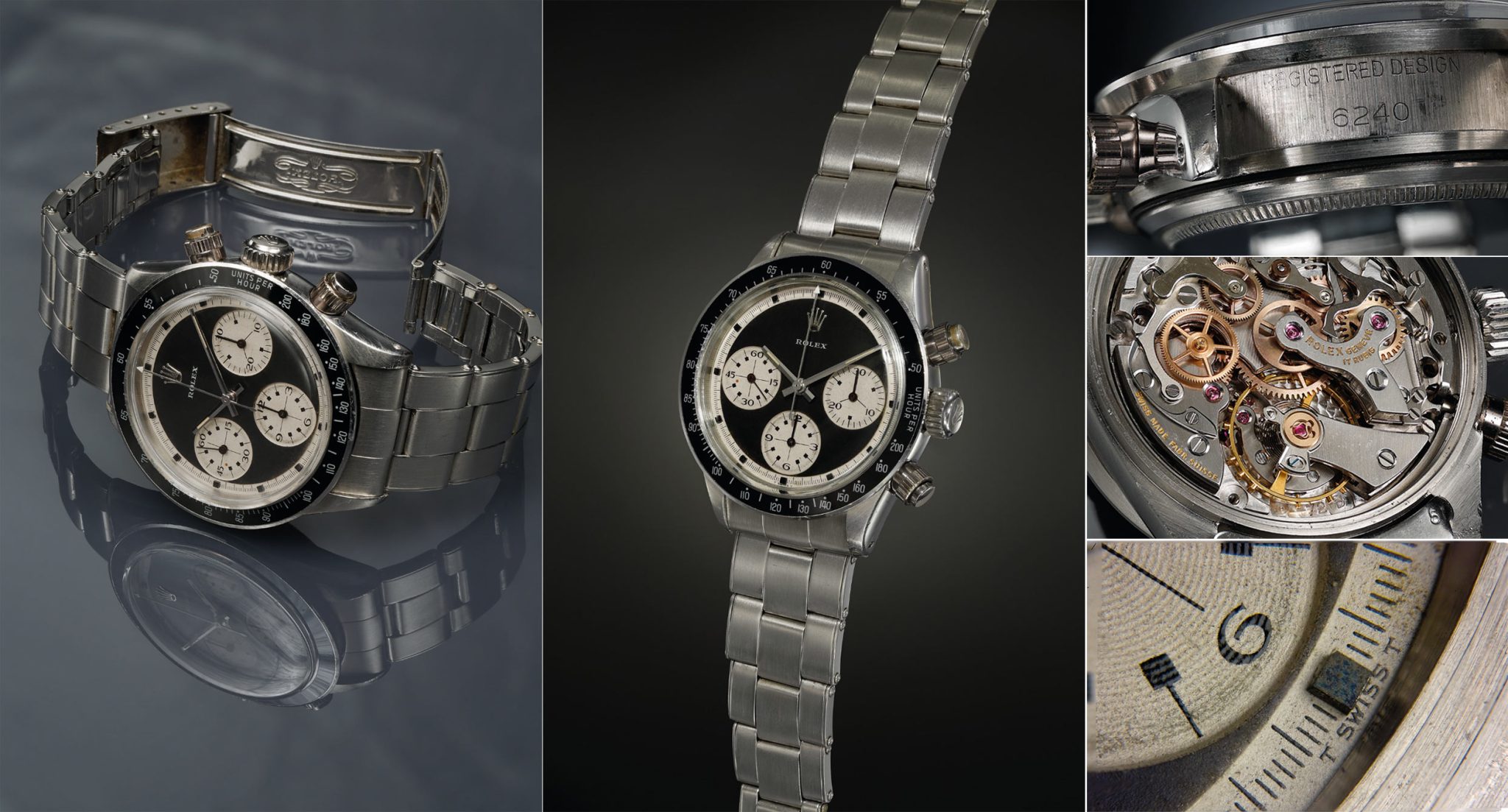 "The Neanderthal" – Rolex Ref. 6240
Credit: Phillips
The model, Ref. 6240, was introduced in 1965, coming solely in stainless steel with an acrylic bezel with a tachymeter scale. It was also the first Cosmograph to feature screw- down chronograph pushers. These first series pushers, with the brass peeking through, now have a layer of patina, and accompanying them is an original twinlock 700 series winding crown, which is particularly recognisable thanks to the Rolex coronet. The unusual model was sold by Phillips for 3.012 million Swiss francs back in May, 2018.
---
4. "The Legend"
Once the most expensive Daytona to sell at auction, this Ref. 6263, better known as "The Legend", was the subject of a dramatic bidding war between two men four years ago, with the winning bidder even walking out as the hammer came down. Featuring a ridiculously attractive lemon grené Paul Newman dial, it is one of only three yellow-gold Oyster Paul Newman Daytona models that experts believe to exist. Featuring screw-down as opposed to pump pushers, many collectors believed for years that such a model would never surface at auction.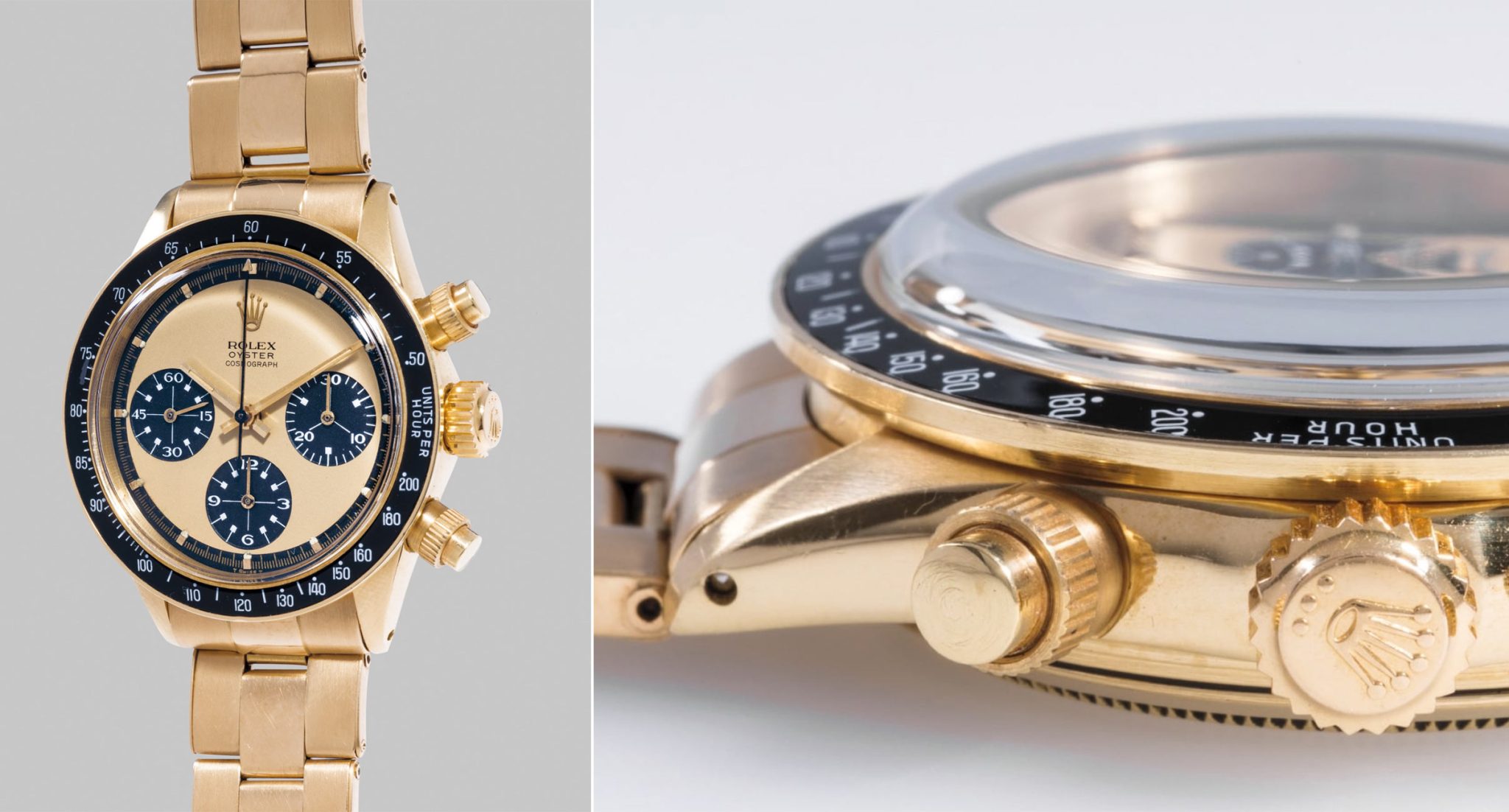 "The Legend" – Rolex Ref. 6263 caseback stamped 6239
Credit: Phillips
The Reference 6263 first appeared in 1969, as Rolex played around with various dial configurations. This version was one of the very first to ever appear. The watch's subdial counters feature white graphics, clearly contrasting with the gilt subdial details found on the Ref. 6239 and 6241 Paul Newman models. The highly rare yellow-gold chrono with a matching bracelet was sold by Phillips for 3.7 million Swiss francs in May 2017.
---
3. The "Bao Dai"
We're nearing the end of our journey through the most expensive Rolex watches of all time, and the stakes are getting higher. In order to understand the magnitude of this watch sale, one must first know a bit of its history and context. It's 1954, the Indochina war is at an end, and the world powers are meeting in Geneva to discuss the future.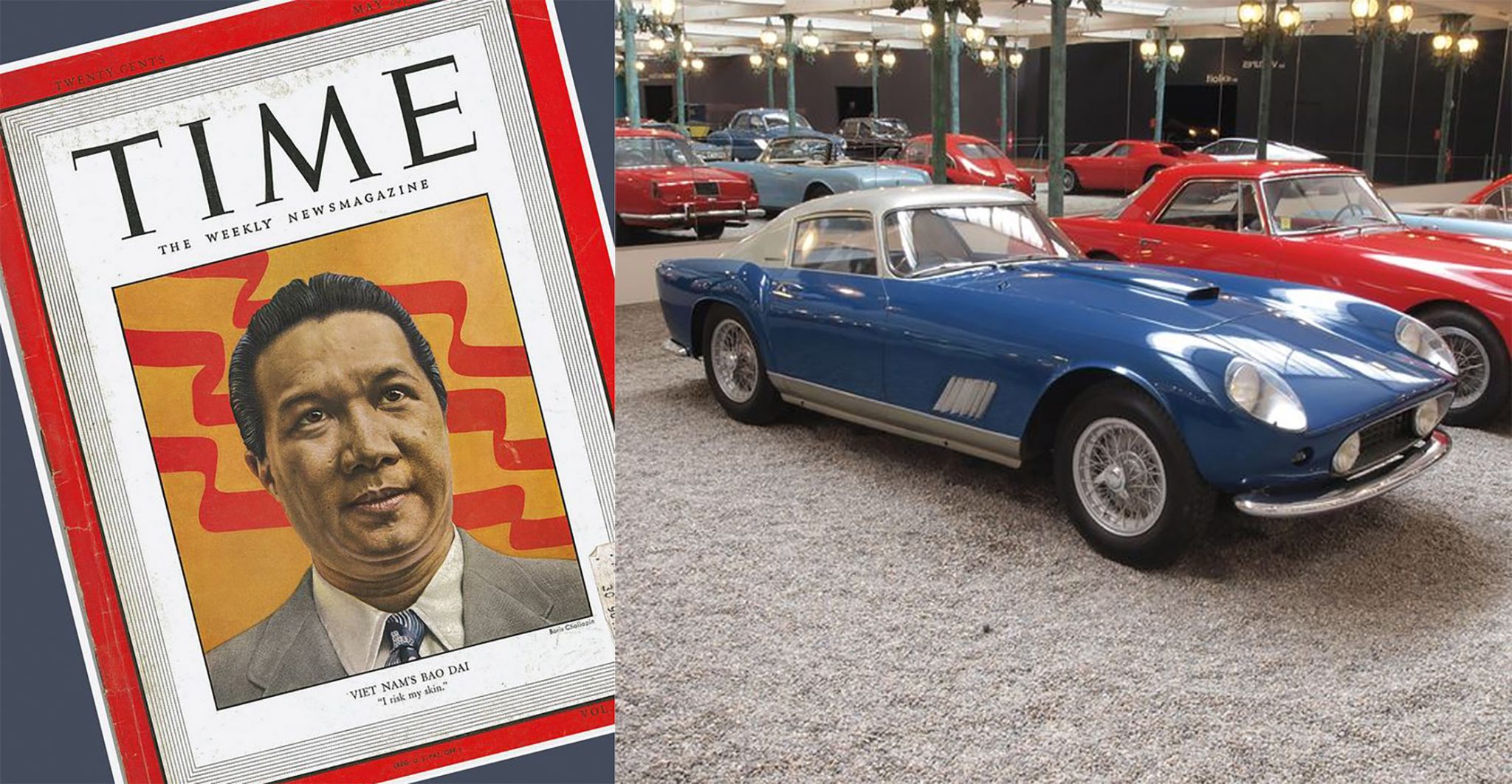 Credit: Phillips
The soon-to-be last Emperor of Vietnam, Bao Dai (meaning "Keeper of Greatness"), takes a moment to get some fresh air. He strolls across the road to a Rolex retailer. It is here that he requests the rarest and most precious Rolex ever made. After rejecting numerous models, he finally accepts a Ref. 6062 featuring a yellow-gold case, black dial, diamond indices, and stunning moonphase. Experts believe that only three such black dial models set with diamond markers exist.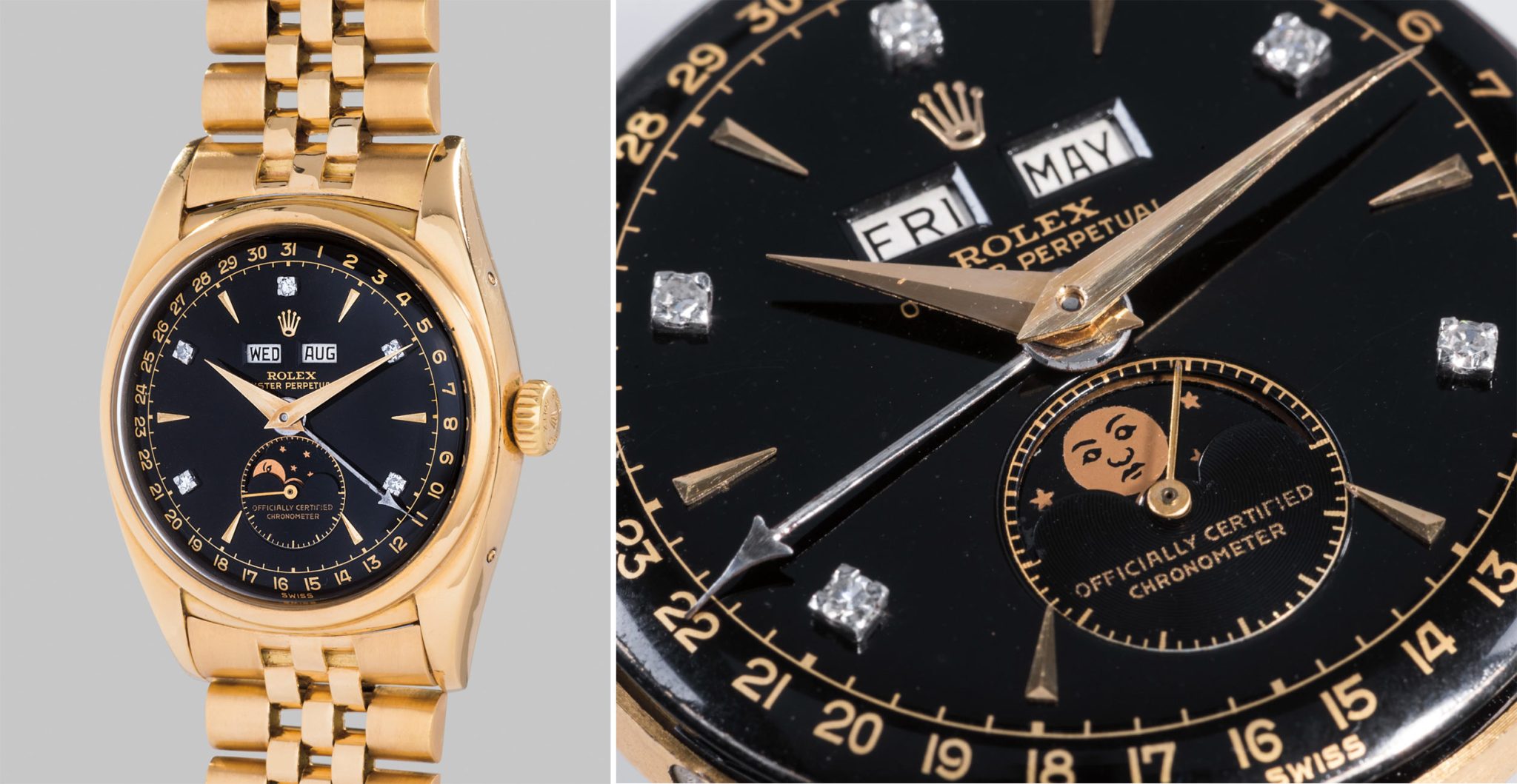 The "Bao Dai" – Rolex Ref. 6062
Credit: Phillips
The family of Vietnam's last emperor put the model up for auction in 2002, where it sold for 370,000 Swiss francs. Yet fifteen years later, it was resold at Phillips' Geneva Watch Auction in May 2017, for just over 5.066 million Swiss francs (5.050 million USD).
---
2. The "Unicorn"
Another watch, another intriguing name: the Ref. 6265 "Unicorn" is, as the name suggests, one-of-a-kind. This white-gold (as opposed to the usual yellow-gold or steel) Cosmograph from 1970 comes with a black "SIGMA" dial and an incredible bark-finished bracelet like no other. Created for a German retailer, the model initially came with a leather strap. We have its owner, watch collector John Goldberger, to thank for the change from a strap to the unique white-gold bracelet. This Daytona like no other sold for 5.937 million Swiss francs at Phillips in May 2018.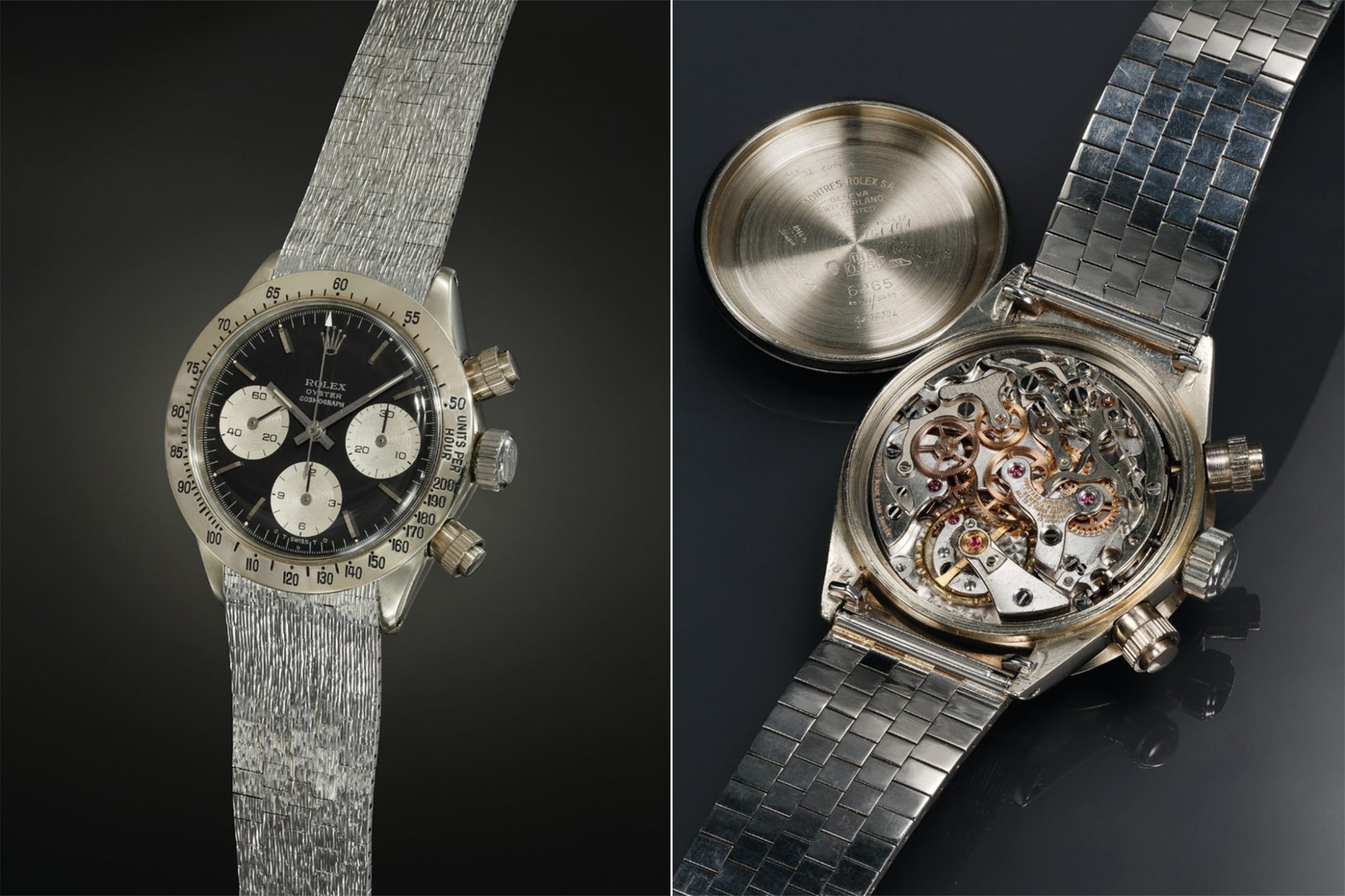 Rolex Ref. 6265 "The Unicorn"
Credit: Phillips
---
1. The "Paul Newman" Daytona
The most expensive Rolex ever, however, is the Paul Newman Daytona. Of course, Daytona "Paul Newman" dials generally owe their name to the type of once-unpopular exotic dial worn by the famous actor and racer. This watch, however, is the "Paul Newman" Daytona, once belonging to the man himself. According to auctioneer Aurel Bacs, of Bacs and Russo, "Paul Newman wore this watch pretty much every single day from '69 'til 1984." Famously, the watch, which was a gift the racer and actor's wife, reads "DRIVE CAREFULLY ME".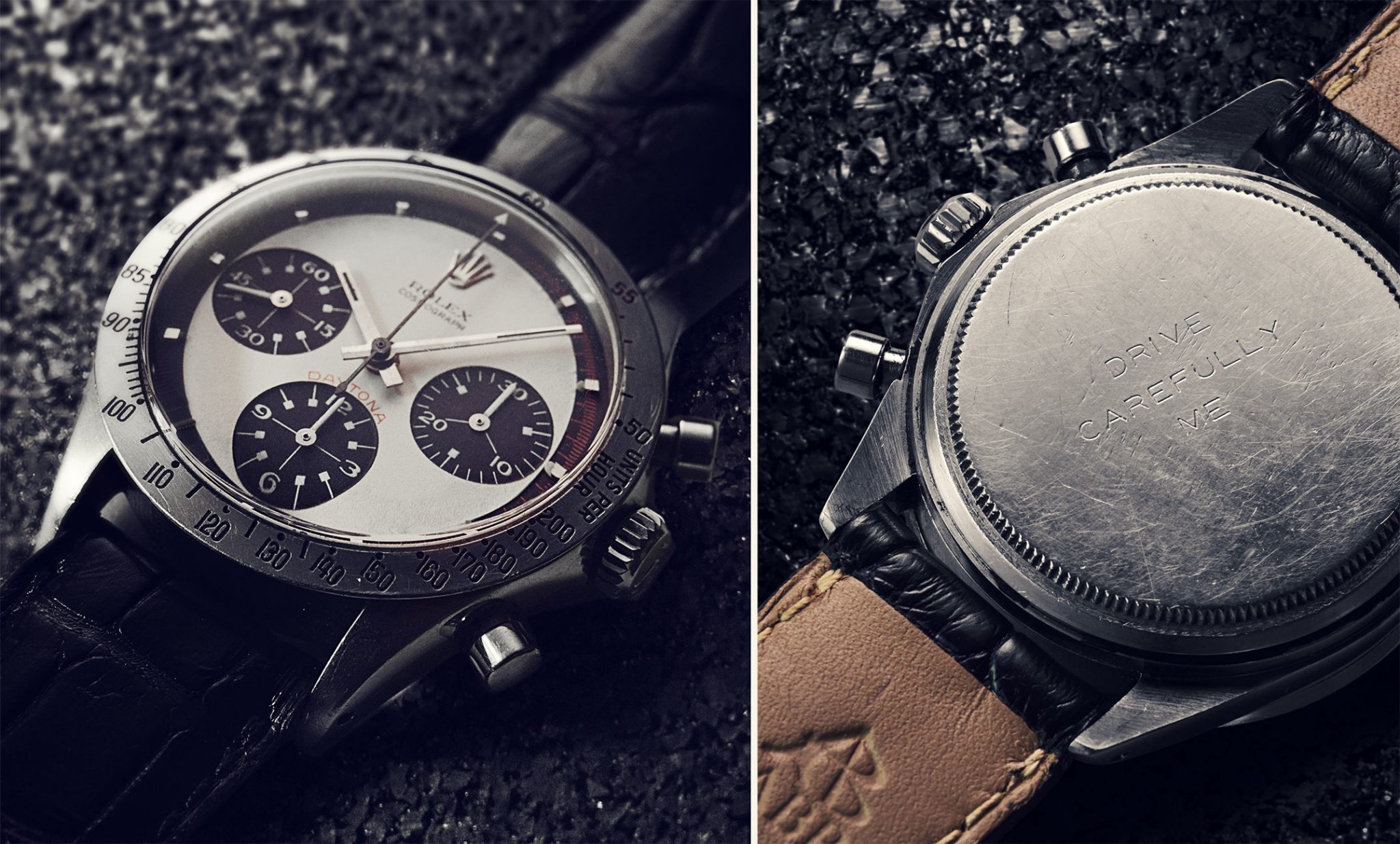 In October 2017, Paul Newman's Rolex Daytona Ref. 6263 set the world record for a wristwatch at auction when it was sold for 17,752,500 USD at Philips.
Credit: Studio Schöttger
To add to its value, there are numerous pictures of Newman wearing the watch, including at the 24 Hours of Le Mans and various other races. After passing on the watch to his daughter Nell's boyfriend, James Cox, the watch stayed with Cox until 2016. It was this point that he got in touch with renowned auctioneer Aurel Bacs. Consequently, the watch reached around 16.5 million Swiss francs (USD 17,752,500) at auction with Phillips, with Bacs as auctioneer, in 2017. It remains the most expensive Rolex watch ever sold to this day.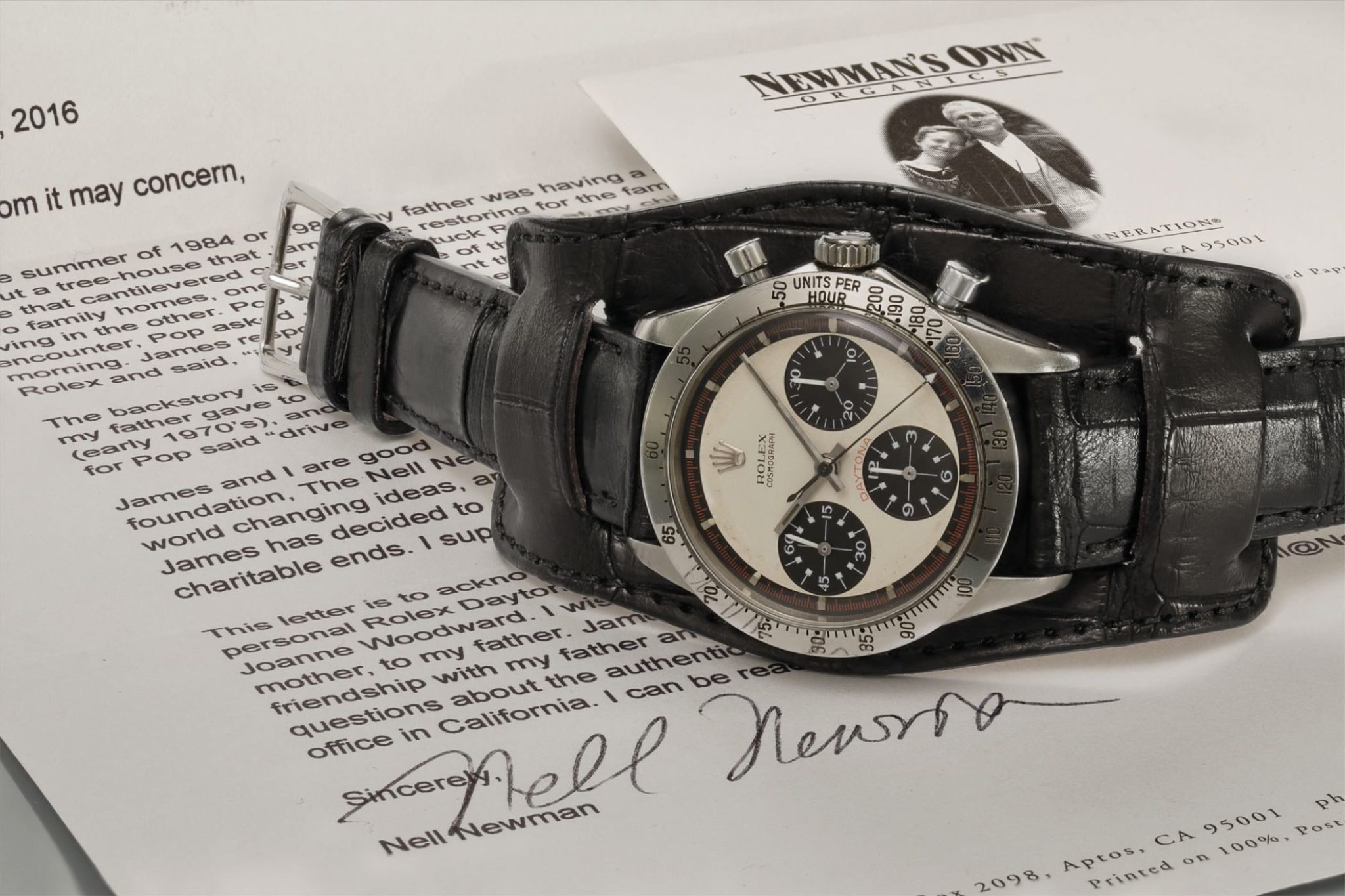 The "Paul Newman" Daytona Ref. 6263
Credit: Phillips
---
This article features the most expensive Rolex wristwatches to date,
as of October 2021.
---
| Model | Price realised |
| --- | --- |
| 12. Cosmograph Daytona Ref. 6263 "Albino" Ref. 6263 | CHF 1.325 million |
| 11. The "John Player Special" Ref. 6264 | CHF (ca.) 1.53 million |
| 10. The GMT Master "Apocalypse Now" Ref. 1675 | CHF (ca.) 1.8 million |
| 9. The "Oyster Sotto" Ref. 6263 | CHF 1.985 million |
| 8. Rolex Antimagnetique Ref. 4113 | CHF 2.4 million |
| 7. Cosmograph "Zenith" Daytona with turquoise dial | CHF (ca.) 2.88 million |
| 6. Cosmograph "Zenith" Daytona with Lapis Lazuli dial | CHF (ca.) 3 million |
| 5. "The Neanderthal" Ref. 6240 | CHF 3.012 million |
| 4."The Legend" Ref. 6263 | CHF 3.7 million |
| 3. The "Bao Dai" Ref. 6062 | CHF (ca.) 5.066 million |
| 2. The "Unicorn" – Ref. 6265 | CHF 5.937 million |
| 1. The "Paul Newman" Daytona | CHF 16.5 million |
---
---
Cover picture – Credit: Phillips
---