Ever since watchmaker Louis Cottier developed the first world time wristwatch in 1931, its mechanism was steadily improved in order to make this function as attractive and simple for its wearer as possible. The classic execution displays the 24 world time zones using a peripheral ring on the dial that can be adjusted accordingly from the crown. In almost 90 years, versions with rotating globes, sub-dials, additional hands or even a display in the case flank or case back have been added. In 2011, Breguet revolutionized the world time function with a genius mechanism: The Hora Mundi is the first mechanical timepiece with an instant jump time zone display. It allows one to switch between two time zones with one single pusher. But that's not all.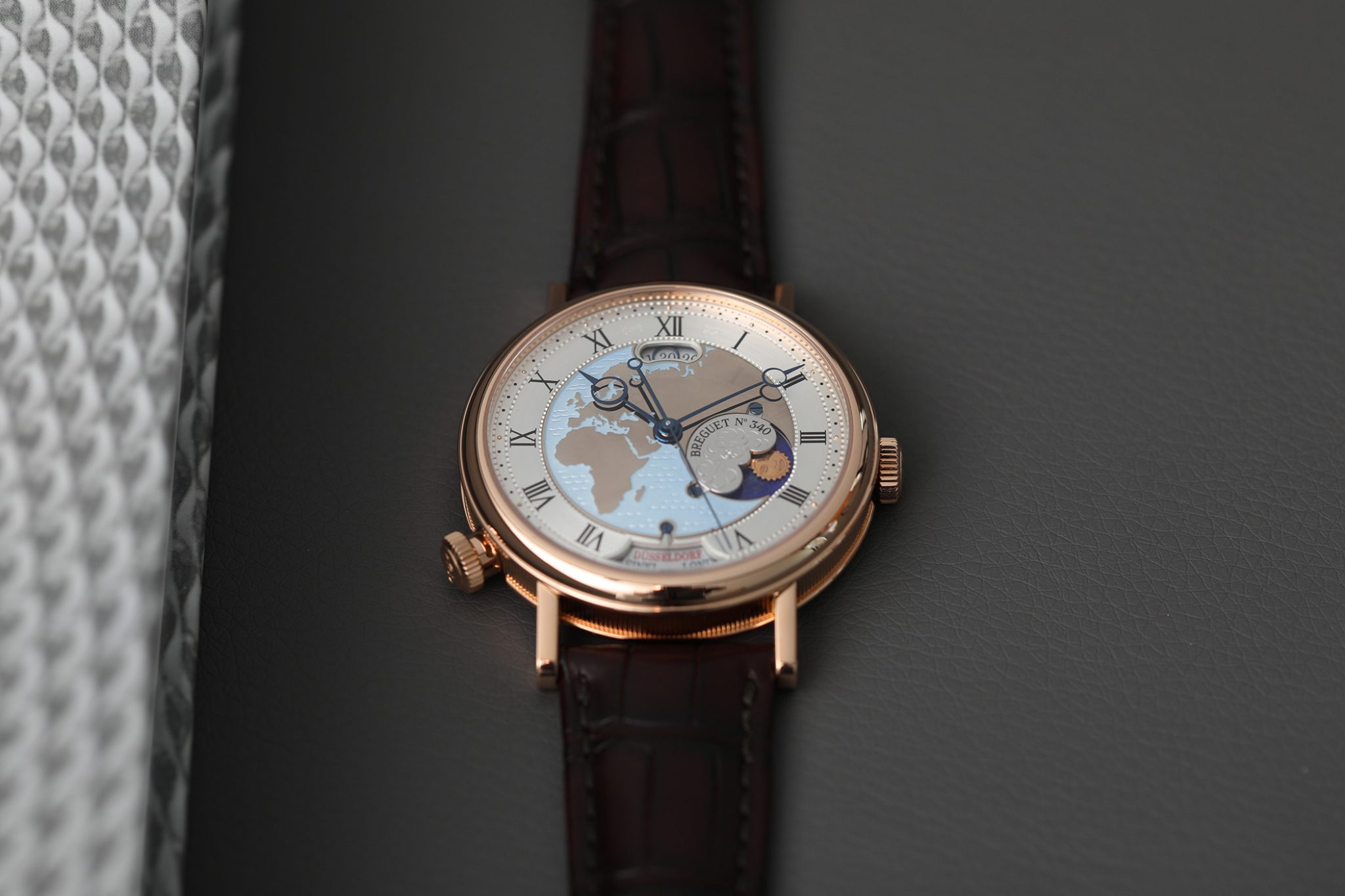 The watch with the genius mechanism – Breguet Hora Mundi (Düsseldorf Boutique Edition)
The Mechanical Memory
Let's first stick with the instant jump time zone display. First of all, from the crown at 8 o'clock, you can choose a second time zone by pulling it out and turning it to the desired destination within the display at 6 o'clock. If you also want to switch the local time to a different time zone, simply repeat the process. A clever memory system inside the movement automatically calculates the time difference between the local time and the second time zone. From the push piece inside the crown, you can now instantly switch between both reference times. Accurate operation during setting is ensured by a stop second system. The Hora Mundi is equipped with self-winding mechanical movement number 5717, which is based on calibre 777 with silicon escapement fitted with an additional module.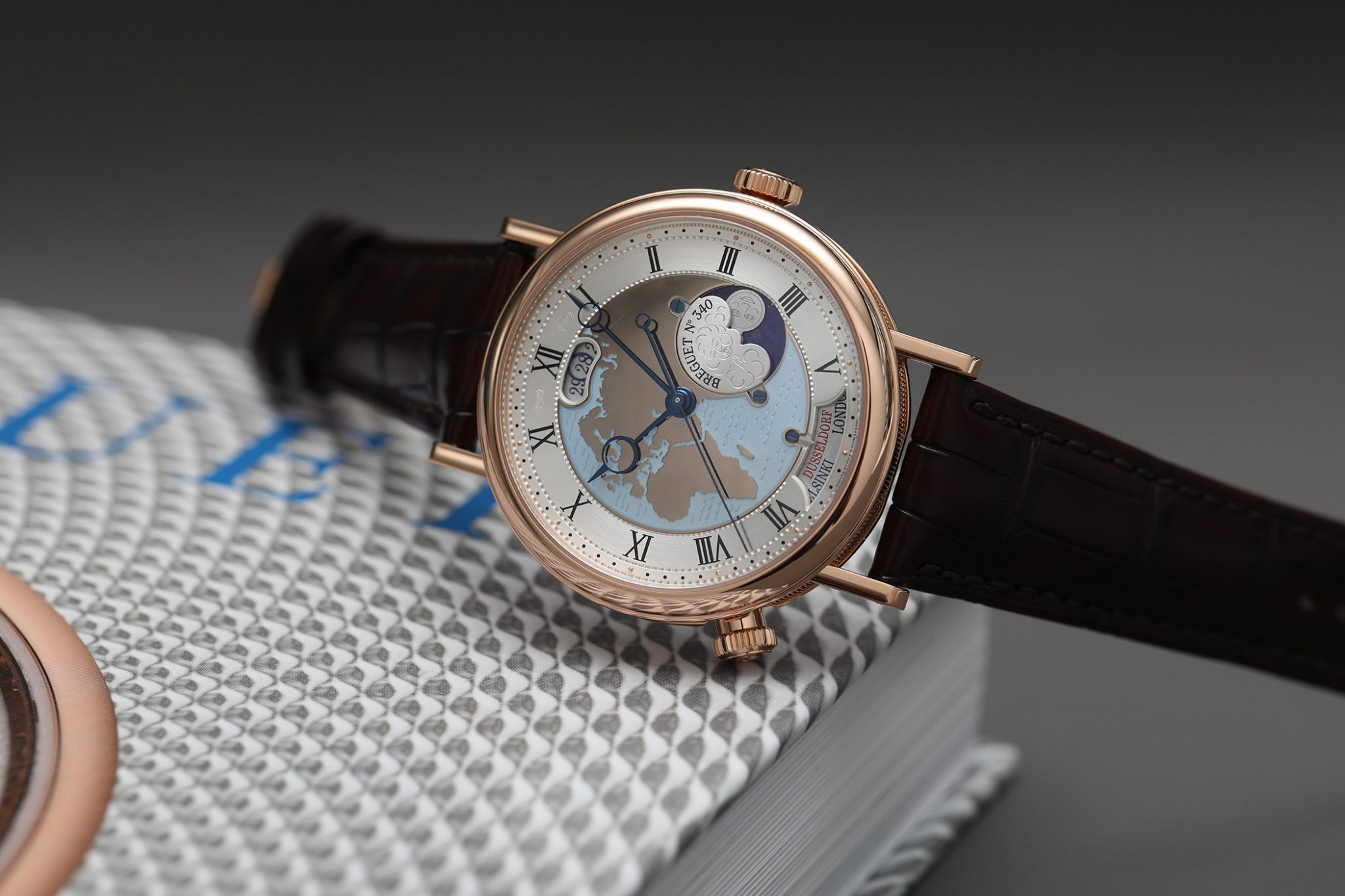 The magic is that in the process of jumping between time zones, the date and day/night display also synchronize accordingly. So, let's say we are sitting at dinner around 7 pm anywhere in Central Europe, and people in Tokyo are most likely already asleep. The time difference is nine hours compared to GMT time. On the next calendar day, as the sun slowly rises in Japan (depending on the time of the year), it is starting to set in Europe.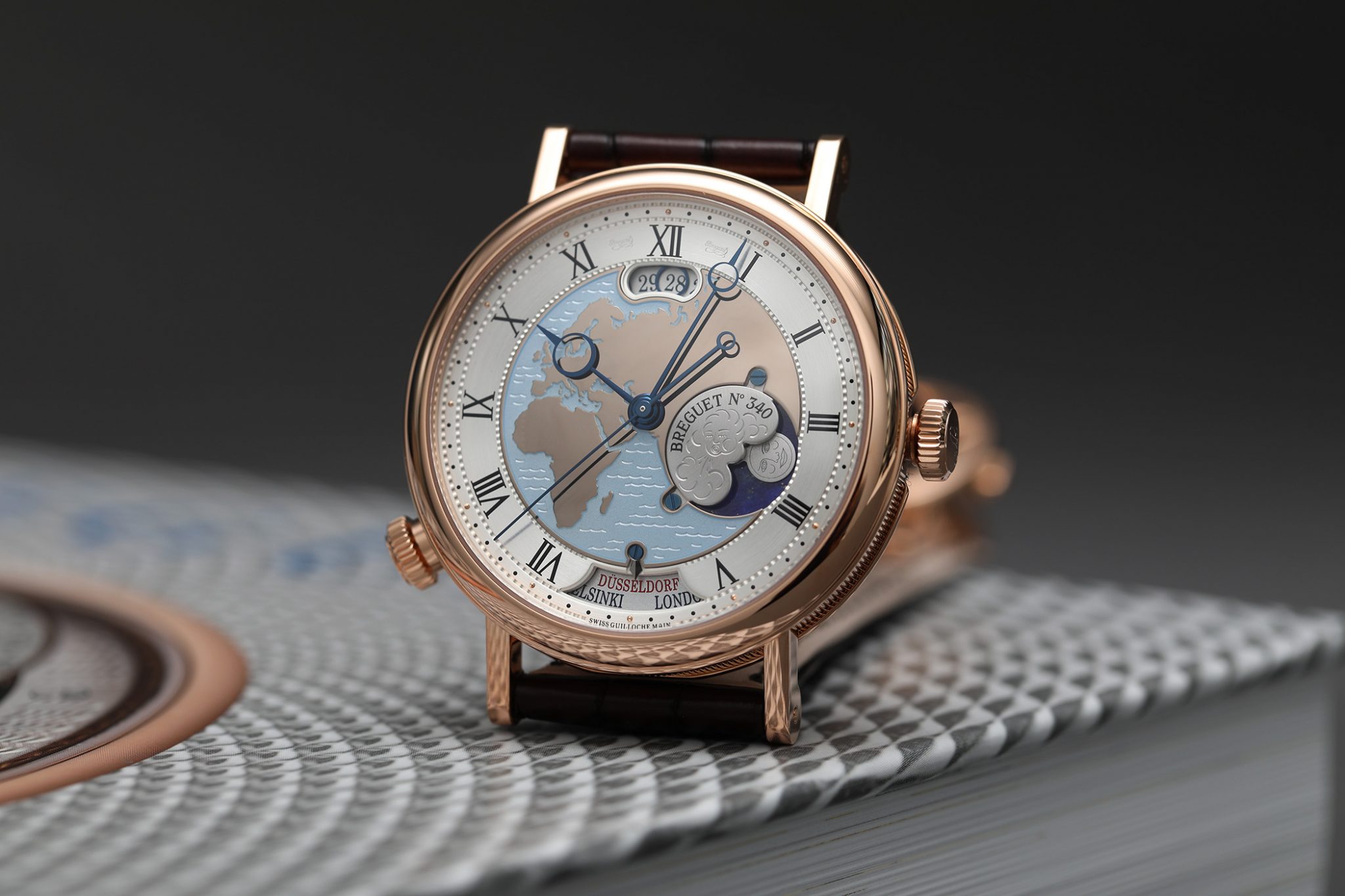 A beautifully finished dial – the sky indicator is made of lapis lazuli
Breguet's Hora Mundi takes all of these conditions into account for all possible constellations within the 24 time zones: a very respectable piece of technical savoir-faire that took Breguet's teams three years to develop and for which they consequently filed four patent applications.
A Sky Made Of Lapis Lazuli
We would not be talking about the Maison Breguet if the technical demand would not also involve an equally aesthetic execution. Every function finds its artistic companion on the dial side. The rising sun in gold circles across a sky indicator is made of lapis lazuli. When it sets, a moon in rhodium-plated gold starts sliding into view.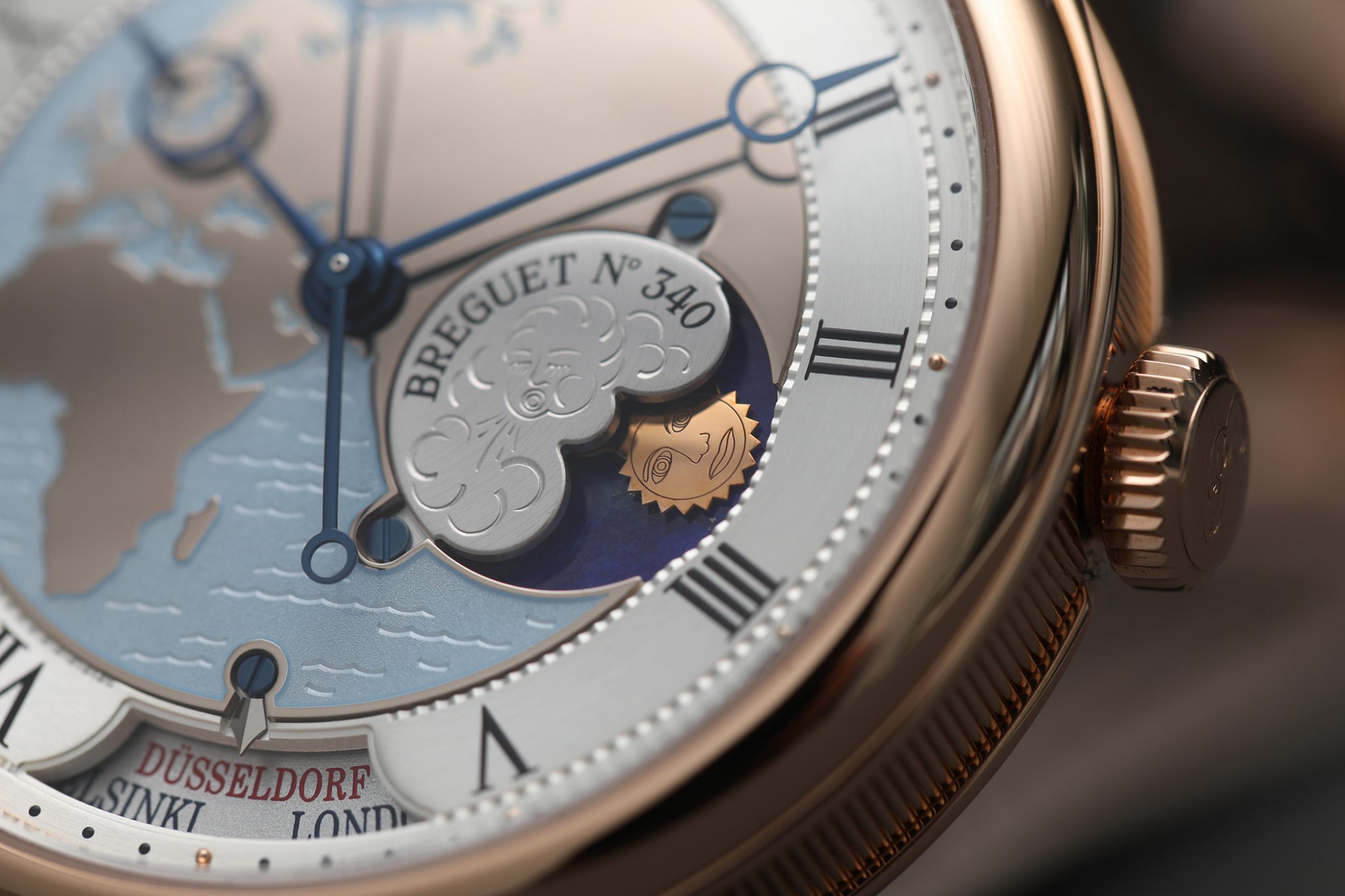 The date at 12 o'clock is displayed by a peculiar aperture in which three consecutive dates emerge from a dragging disc. A dragging date? Yes, basically – and to know which date you have to follow, they have added a tiny retrograde hand, hidden beneath the dial and ending in a small circle that follows the current date 'dragging' through the day to jump back at midnight, displaying the new date. You have to bear in mind that all of the delicate manufactured elements jump instantly and simultaneously as you switch between the time zones.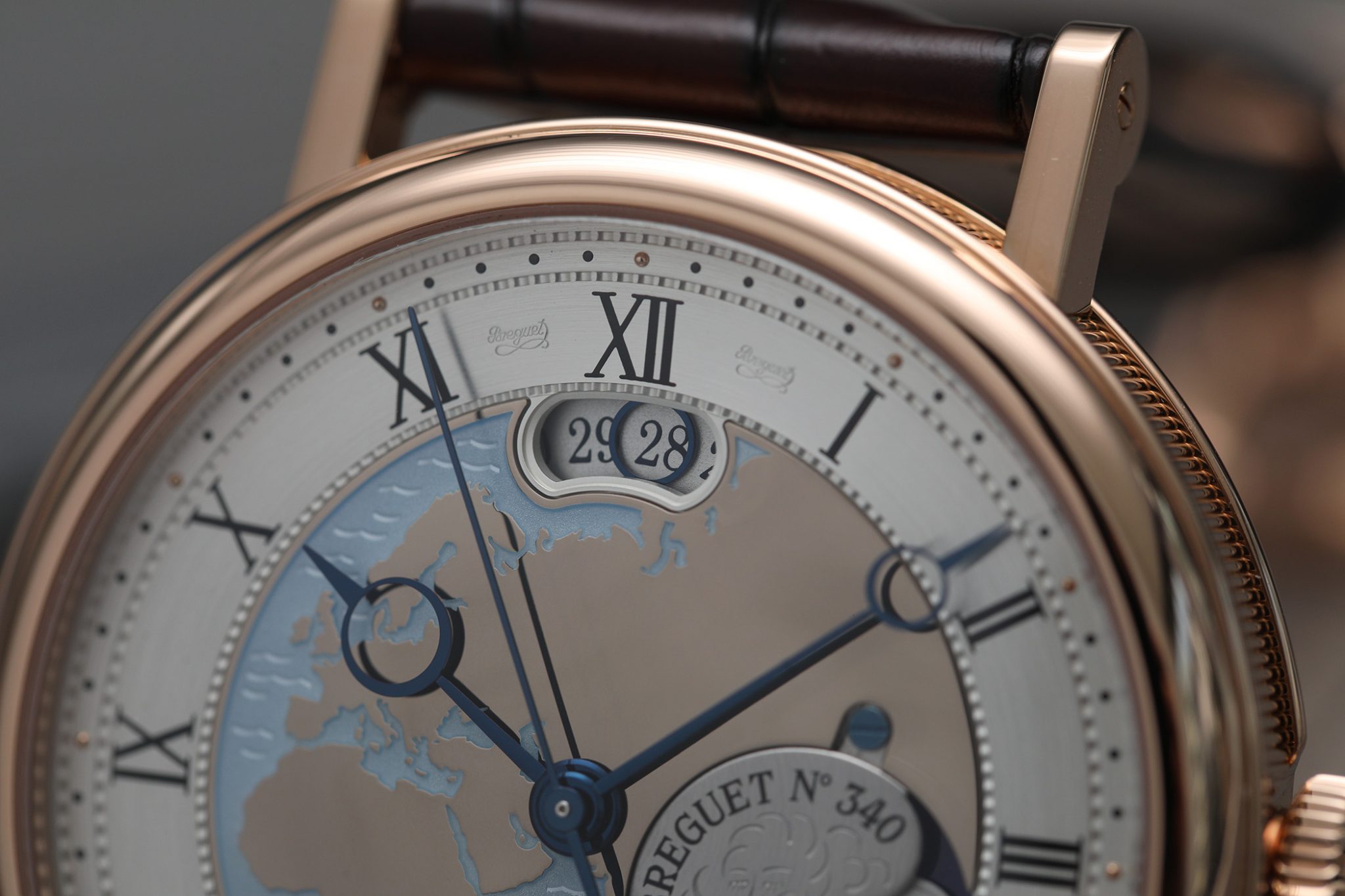 A dragging date with retrograde display at 12 o'clock position
New Time Zone: Düsseldorf
The dial is made of massive gold on which an ocean of multiple coats of lacquer and hand-guilloched wave motifs have emerged – a silvered and circular satin-brushed chapter ring tames the floods. The polished continents represent one part of the world and are available in three executions: the Americas, the European and African continents, or Asia and Oceania.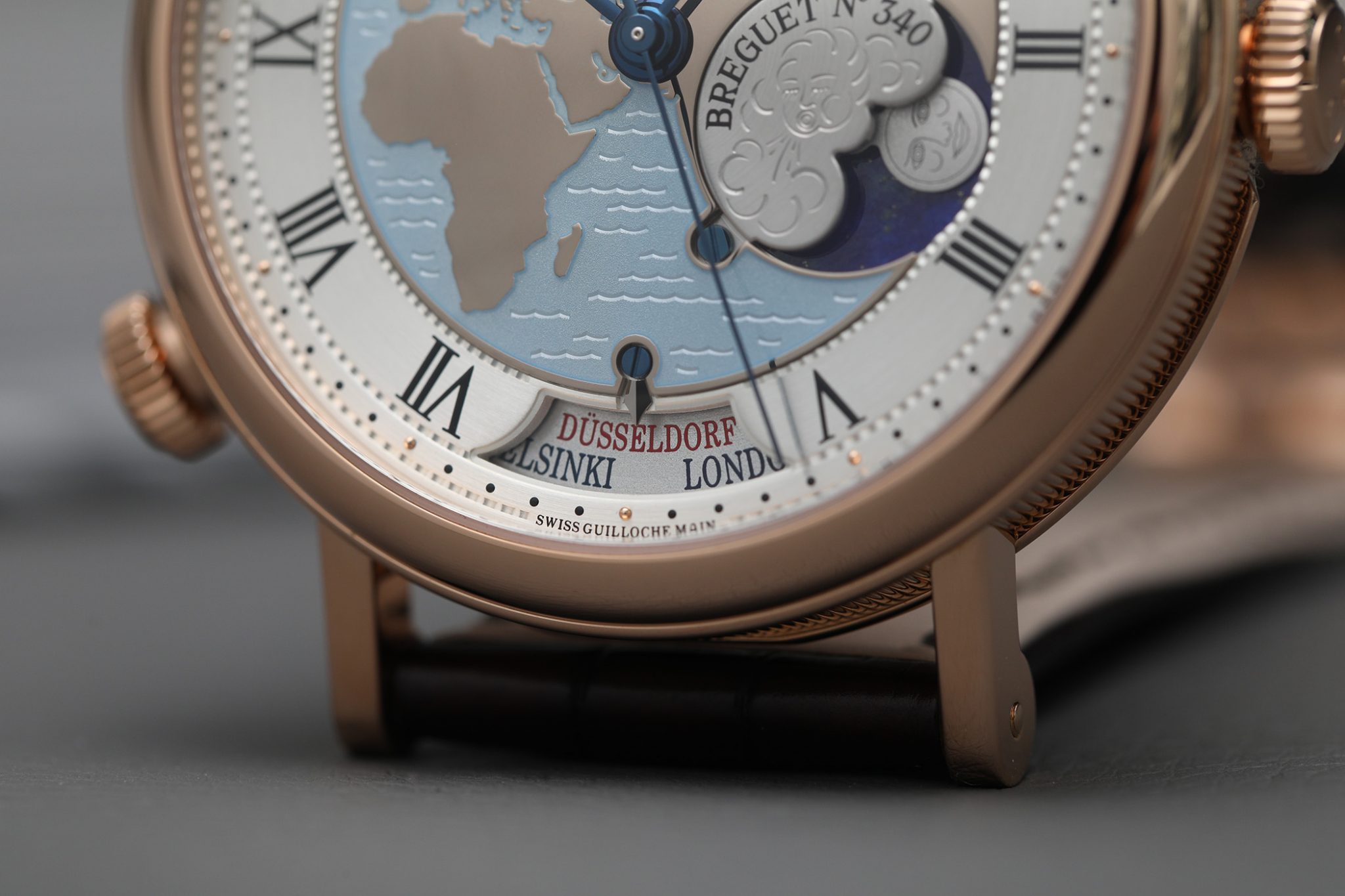 New time zone: Düsseldorf – but only for this special edition
The new Hora Mundi Düsseldorf Boutique Edition that was recently launched on the occasion of the boutique opening in Düsseldorf reads 'Düsseldorf' instead of 'Paris' to display the western European time zone. From now on, you can find Germany's first Breguet Boutique on Königsallee in Düsseldorf. The generous shop area has its own guest lounge – an original rose engine symbolizing a craft that founder Abraham-Louis Breguet already invented and established in 1786.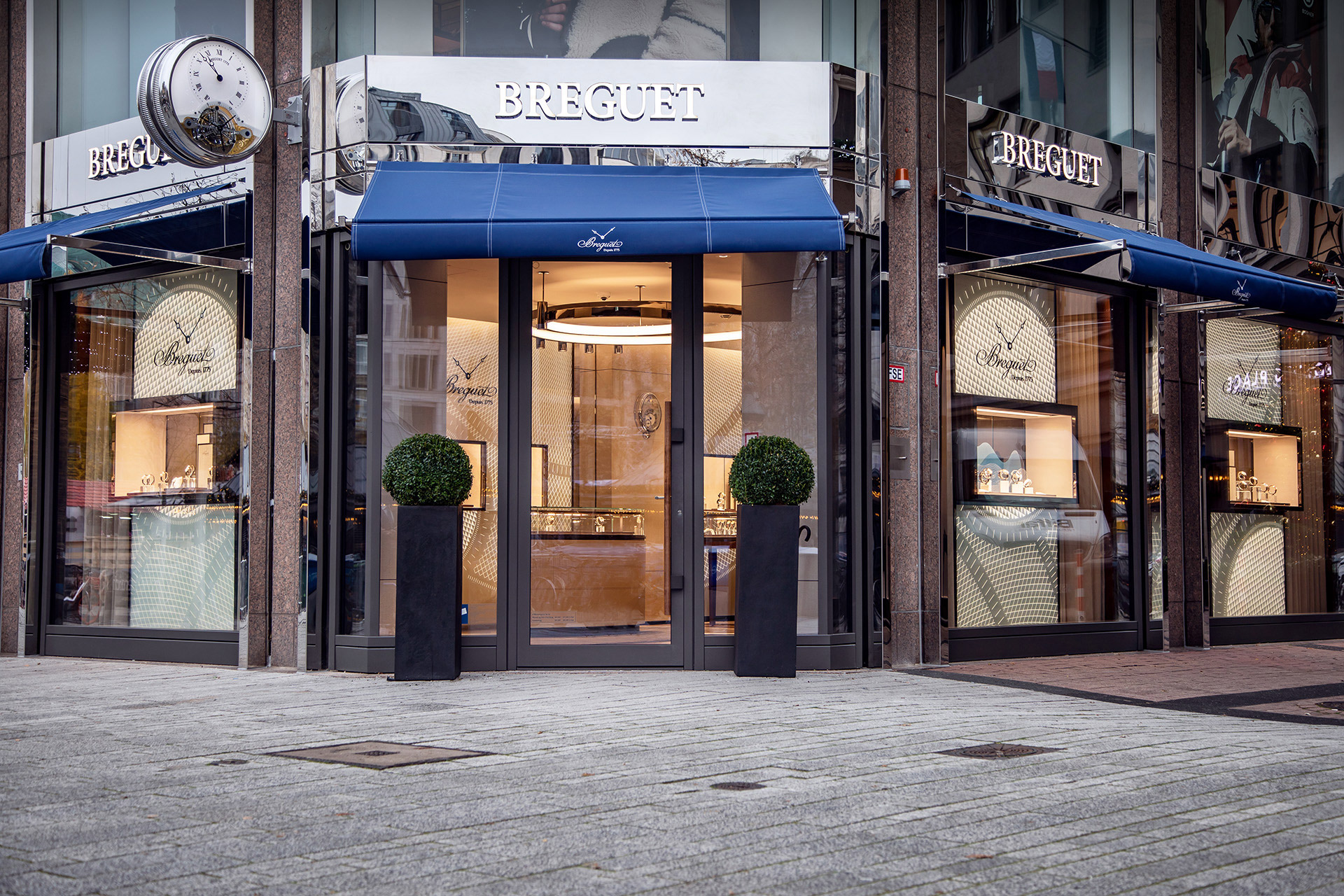 The new Breguet Boutique on Königsallee in Düsseldorf
If you are interested in one of the unique world-time pieces in 18-carat rose gold for 76,100 euros, you should order it during your next stayover at the Düsseldorf Boutique, where it is available exclusively, but not limited. For 91,000 euros, a version in 950 platinum is also available.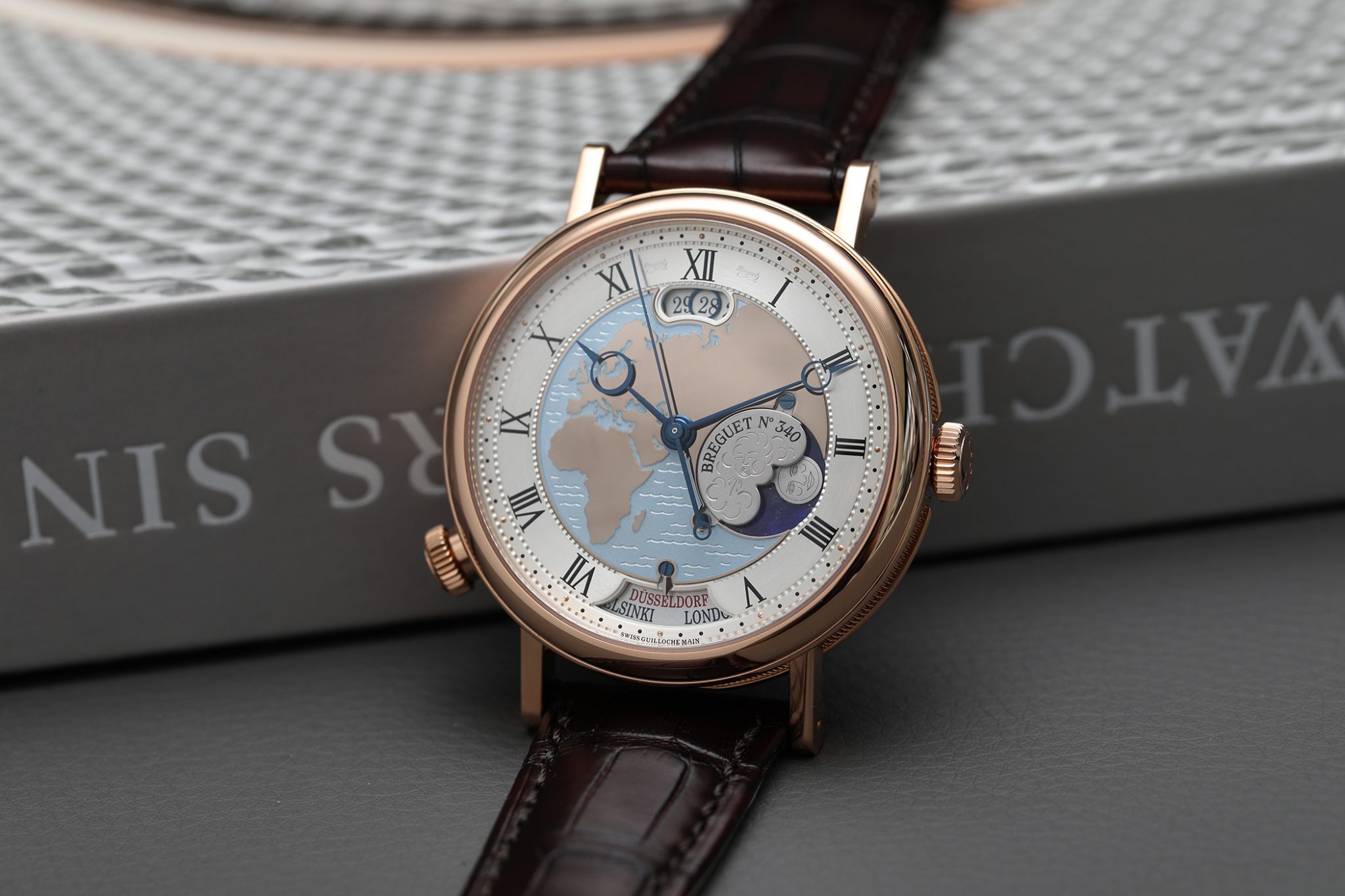 Exclusively available at Breguet's Boutique in Düsseldorf
---
---