To crown a timepiece "the most beautiful everyday watch of all time" is of course entirely based on personal taste, and there really have to be several strong arguments in its favour. From aesthetics, design, wearability and readability to history, price, and technical feats, it is not a title to bestow lightly. Yet the IWC Pilot's Watch (previously named "Mark") is a model that truly has it all – without flagrantly striving for perfection. To me, it is possibly the most beautiful daily watch of all time, and it was watch-love at first sight – for a multitude of reasons.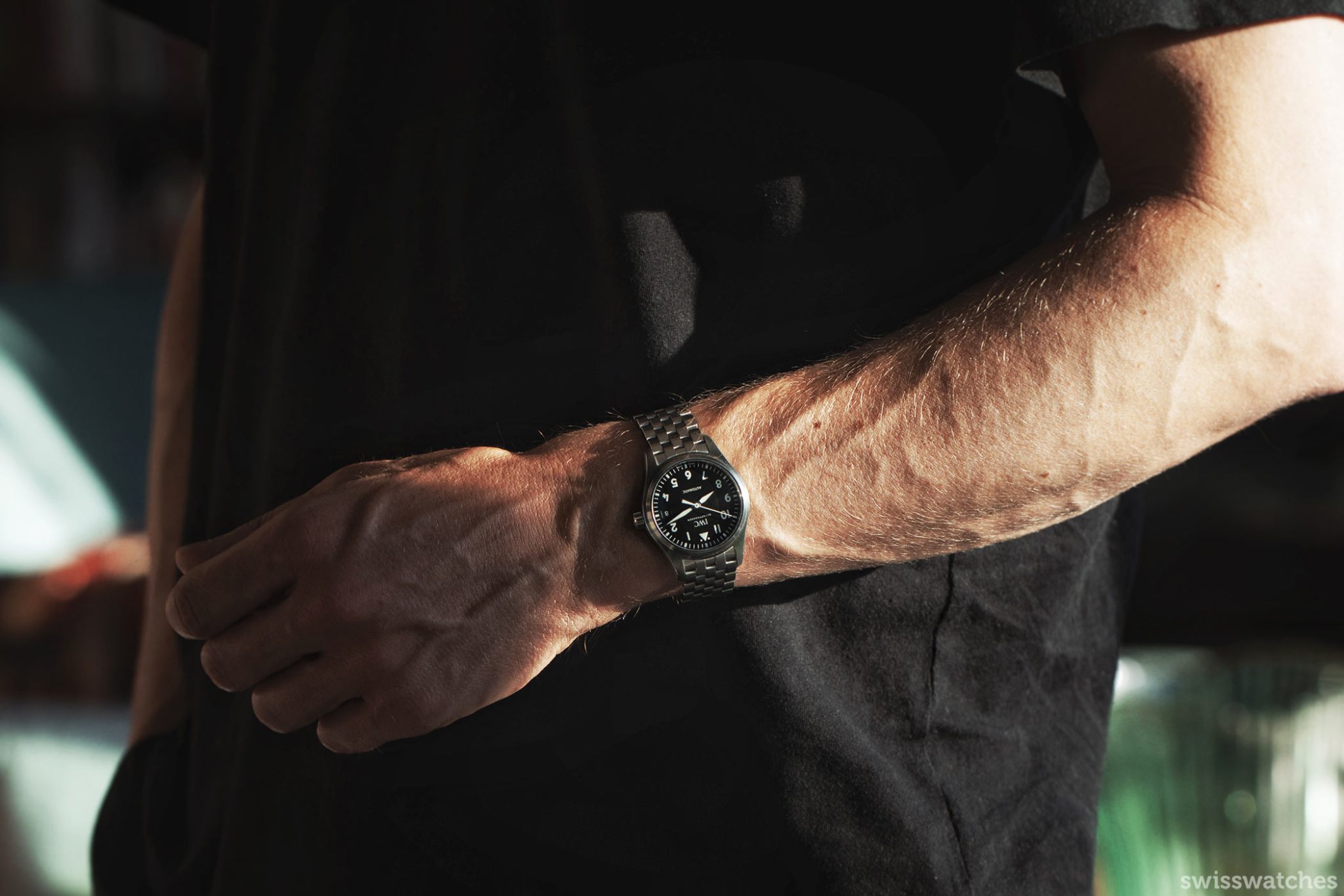 IWC Pilot's Watch Automatic 36 – IW324010
---
The first Rendezvous
I was invited to a wedding, speaking with an old friend I hadn't seen in a while. As we spoke, I noticed a Mark XV on his wrist. Created around 2005, it had a black dial, sleek design, a date window, and above all – and this is the main reason for my devotion to it – the typical multi-link bracelet. I fell head over heels for it immediately; not just because it was so inconspicuously cool, but also because it looked so damn good on my friend's tanned, tattooed wrist. He knew how to style the watch in the right way. Furthermore, for me, there is no worse sight than a puny wrist wearing a timepiece with a far-too-large diameter; proportions are everything.
My friend had chosen the 38 mm model to match his 19 cm wrist size, thus doing it totally right. Meanwhile, my wrist is somewhat slimmer, meaning 36 mm would be my ideal diameter (or at least my personal preference).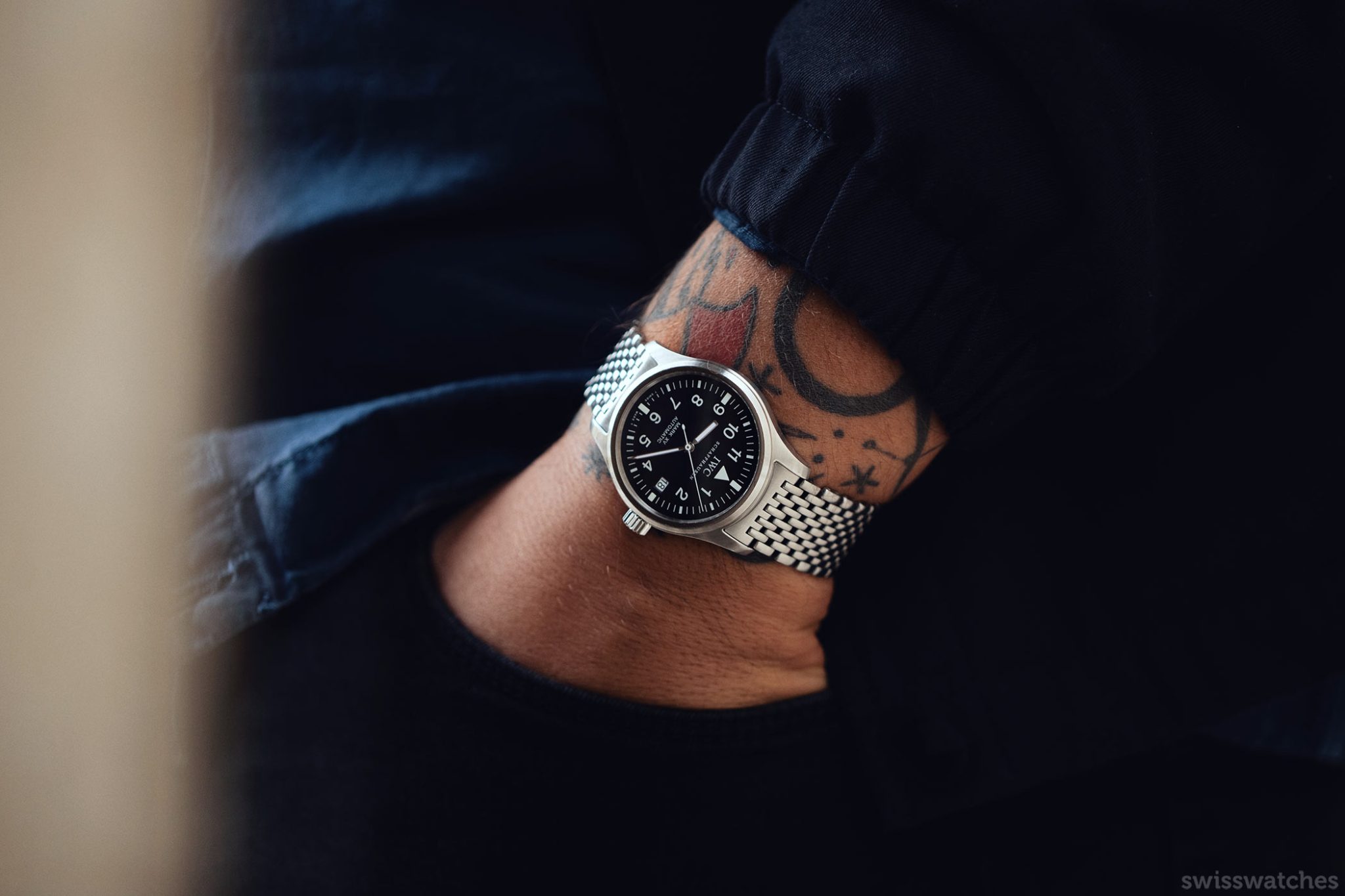 The IWC Pilot's Watch, previously known as the "Mark" models, of course have a cult status. People know them. But that was the first time that I had seen one in the metal, and I couldn't get it out of my head. In the weeks that followed, I asked myself why it had attracted me so much. Was it the exhilaration of that wedding night? Was it the way my friend wore the watch on his tattooed wrist? Or simply the watch alone? I have been wearing the latest version of the original Mark XII (more about that later) for the last eight weeks or so, and have now found the answer. Of course, a watch's aesthetic is inevitably somewhat influenced by the look of its wearer, but I have neither tattoos nor a noticeably attractive complexion – yet the watch looks just as good.
---
1948: The birth of the Mark XI
The watchmakers at IWC see themselves as engineers. They don't stem from the classic Métiers d'Art, in which expensively decorated dials and embellished movements play a central role. Rather, IWC goes for an approach by which it boils things back down to the basics. It was no different for the conception of its pilot's watches it made for the British Royal Air Force; IWC produced the Mark XI from 1948 onwards, equipping the armed forces with it up until 1981. The Mark XI featured a black dial with white numerals and indices, making it easy to read (also at night thanks to the inclusion of luminescence). At 12 o'clock, a white triangle arrow with two dots on the left and right also used luminescence, and served to improve orientation for the pilots. Additionally, soft iron on the inner side of the case protected against magnetic fields.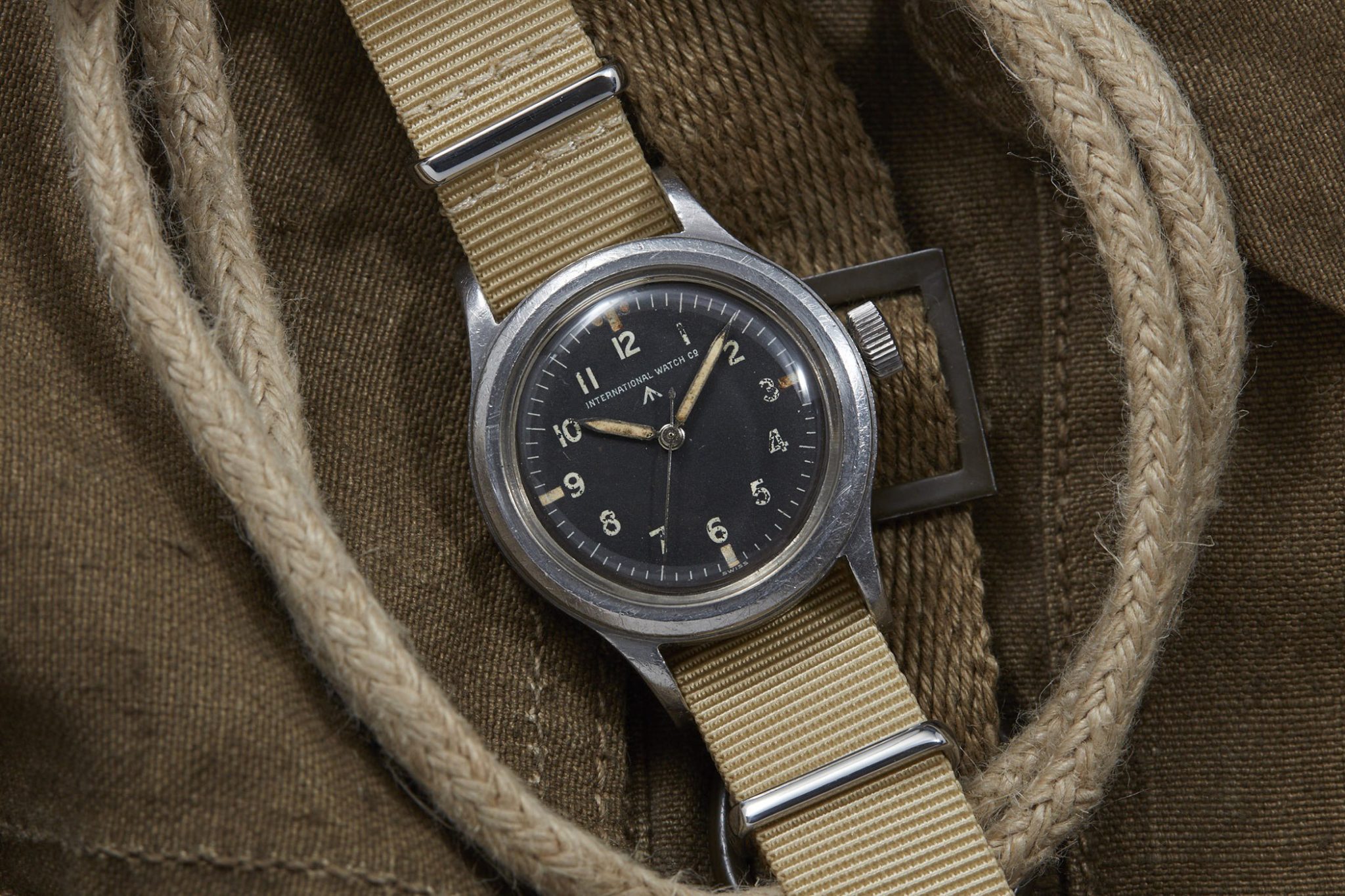 IWC Mark XI – Stainless steel case, approximately 36 mm.
IWC Calibre 89 Manually-Wound movement, circa 1948.
Fotocredit: Analogshift
Initially, the Mark XI watches featured a so-called Bonklip metal bracelet, bearing no aesthetic relation to the Mark models of today. In 1954, the addition of nylon straps introduced the possibility to wear the watch not only on the wrist, but also over the pilot's flying suits.
1994: IWC Mark XII
In the mid-80s, the Royal Air Force began to withdraw the Mark XI from use and for a few years, it disappeared. Then, in 1994, the introduction of the Mark XII Ref. 3241 heralded a new age for the iconic pilot's watch. Fortunately, rather than losing their original charm, they returned looking cooler than ever. The Mark XII was the start of a simple yet perfect mechanical watch with a timeless design code.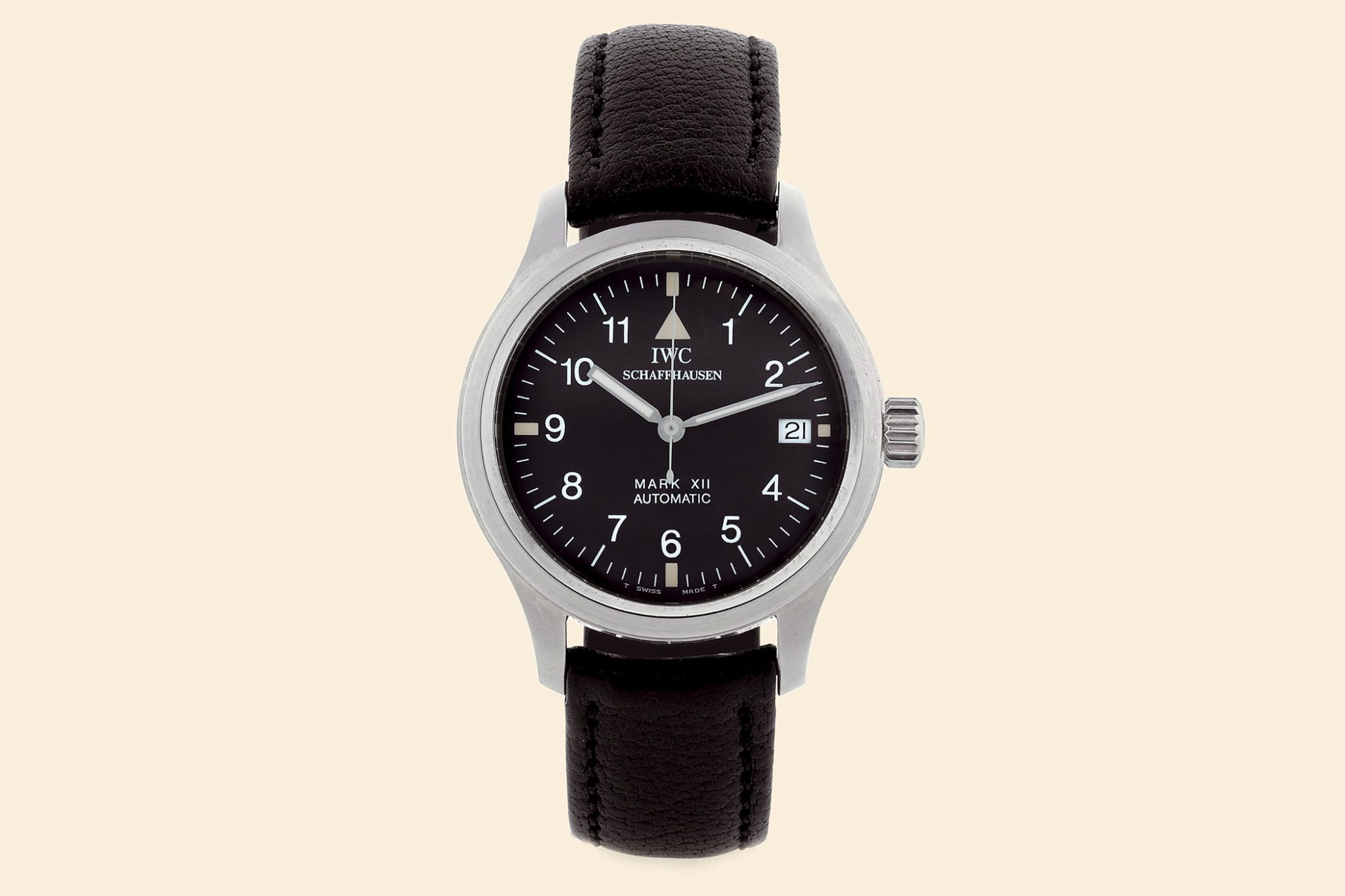 IWC Mark XII Ref. 3241
Kaliber IWC 884/2 (LeCoultre 889/2)
Fotocredit: Antiquorum
Scratch-resistant sapphire crystal replaced previously used plexiglass, while the simple calibre 89 was switched up for the automatic calibre 889/2 with date from Jaeger-LeCoultre. Above all, the fine stainless-steel bracelet made its first appearance. Of course, the leather strap option does also look very, very good, but for me, it is the combination of a steel case with the distinctive multi-link bracelet that makes the model so attractive. Additionally, the links were previously somewhat more teardrop-shaped, but now they became somewhat more angular, as well as consisting of only five links instead of nine.
---
The Mark models' successors
Following on from 1994, several subtle updates started to appear. While the Mark XII still had a 36 mm case diameter, the Mark XV Ref. IW3253 grew to 38 mm. Furthermore, IWC then replaced the Jaeger-LeCoultre calibre 889/2 with the calibre 37524, based on the calibre ETA 2892-A2. The Mark XV was produced from 1999 up until 2005, and both the Mark XII and Mark XV are amongst my favourite vintage Mark models. Unfortunately, though, the Mark XV is somewhat too large for me personally, due to its 38 mm case.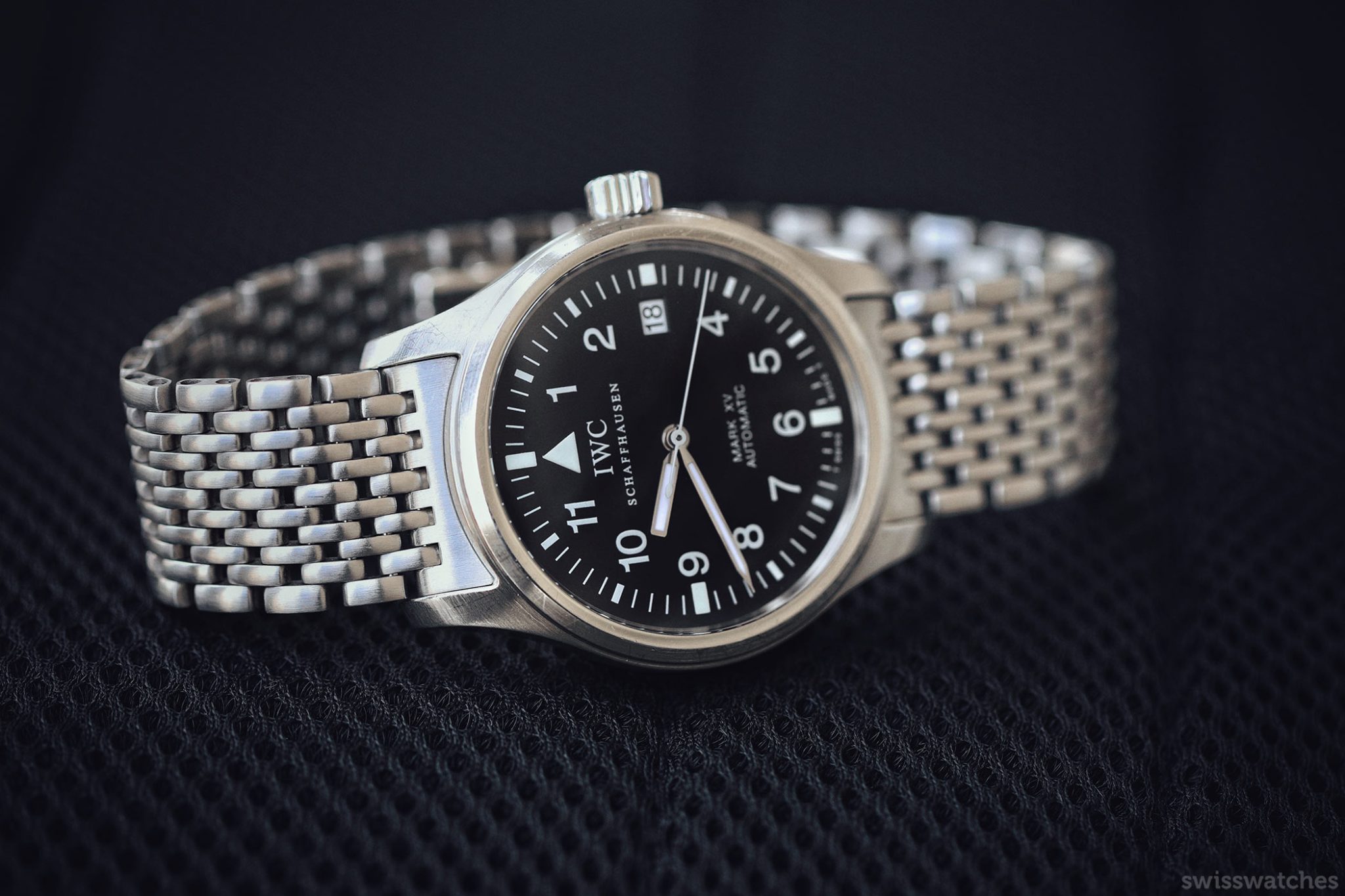 IWC Pilot's Watch Mark XV Ref. IW3253
Following this, the Mark XVI, Mark XVII, and 2016 Mark XVIII joined the family. Although the latter did in some ways resemble the original from 1994, it had to lose some of its DNA as it evolved, even if only minimally. At times, for example, the hour numerals at 3, 6 and 9 o'clock were replaced by bar indices, while the minute track at 12 o'clock was interrupted by the triangle arrow. As a fan of the original model, these are not inconsiderable changes for me.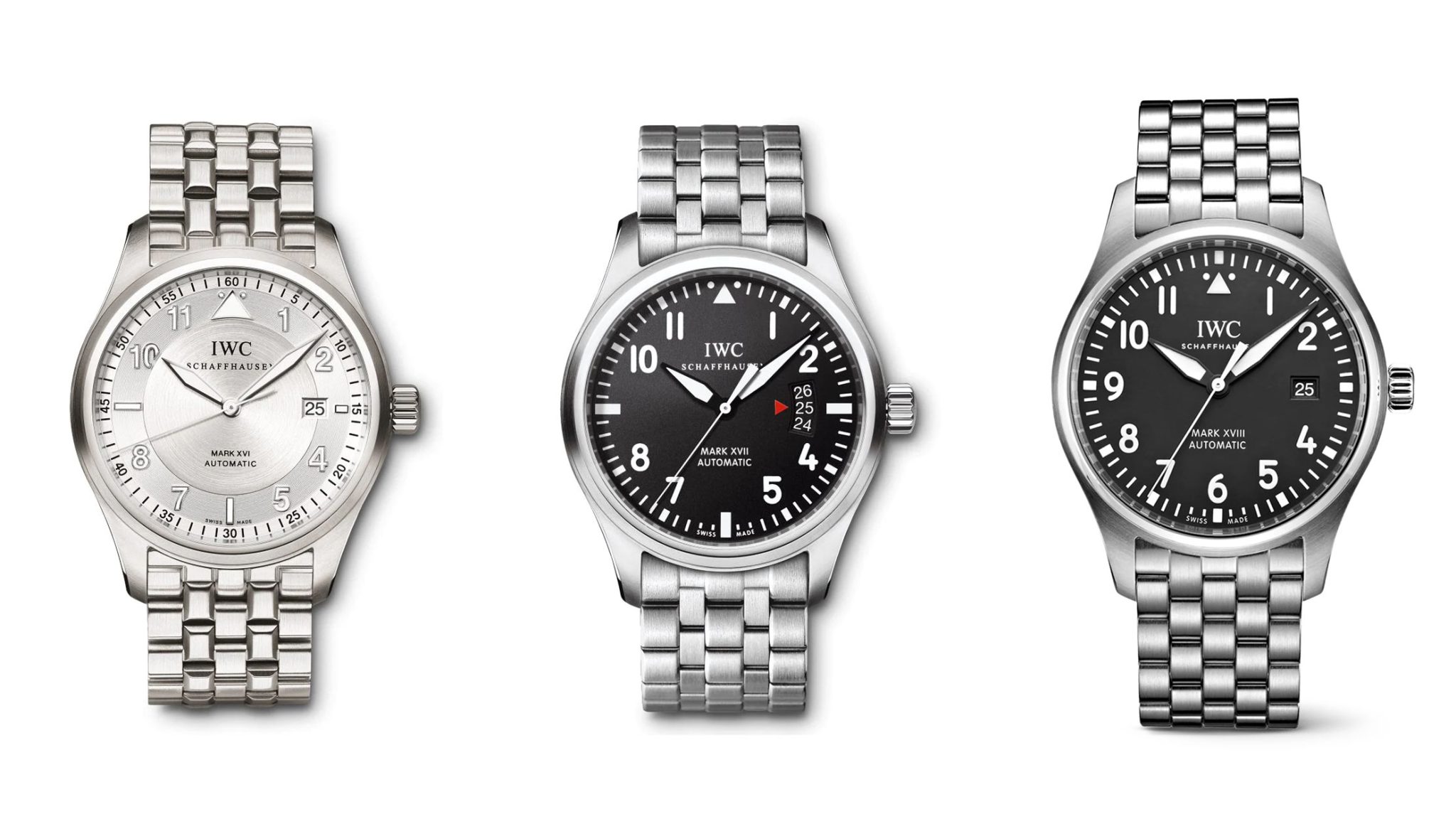 IW325505 (Mark XVI), IW326504 (Mark XVII), IW327015 (Mark XVII)
Perhaps some observant aficionados are wondering why the Mark XII (11) was followed by the Mark XV (15), and not a Mark 13 and 14. This simply has to do with the fact that in Western culture the number 13, and in Eastern culture the number 14, are associated with bad luck.
---
IWC's replacement of "Mark"
Today, the model exists as Pilot's Watch Reference IW324010 (36 mm) in the IWC catalogue. Fortunately for me, the decision was made to also offer the modern pilot's watch in the original smaller size of 36 mm in diameter. I did, however, test the 38mm model, but the proportions simply aren't compatible with my wrist.
The only real downer for me, though, is that the IWC engineers have replaced the baton hands of old times with lancette-shaped hands. Baton hands look much better with the tool watch design, reducing it to the essentials. It is also a pity that the word "Mark" no longer appears on the dial. But, of course, change is always necessary, otherwise one could keep producing the original model over and over – thus perhaps losing a bit of the nostalgia that vintage watches cause to stir within us. What I personally do like better about the modern version, though, is the date window with a black background, which was previously white on the Mark XII and Mark XV.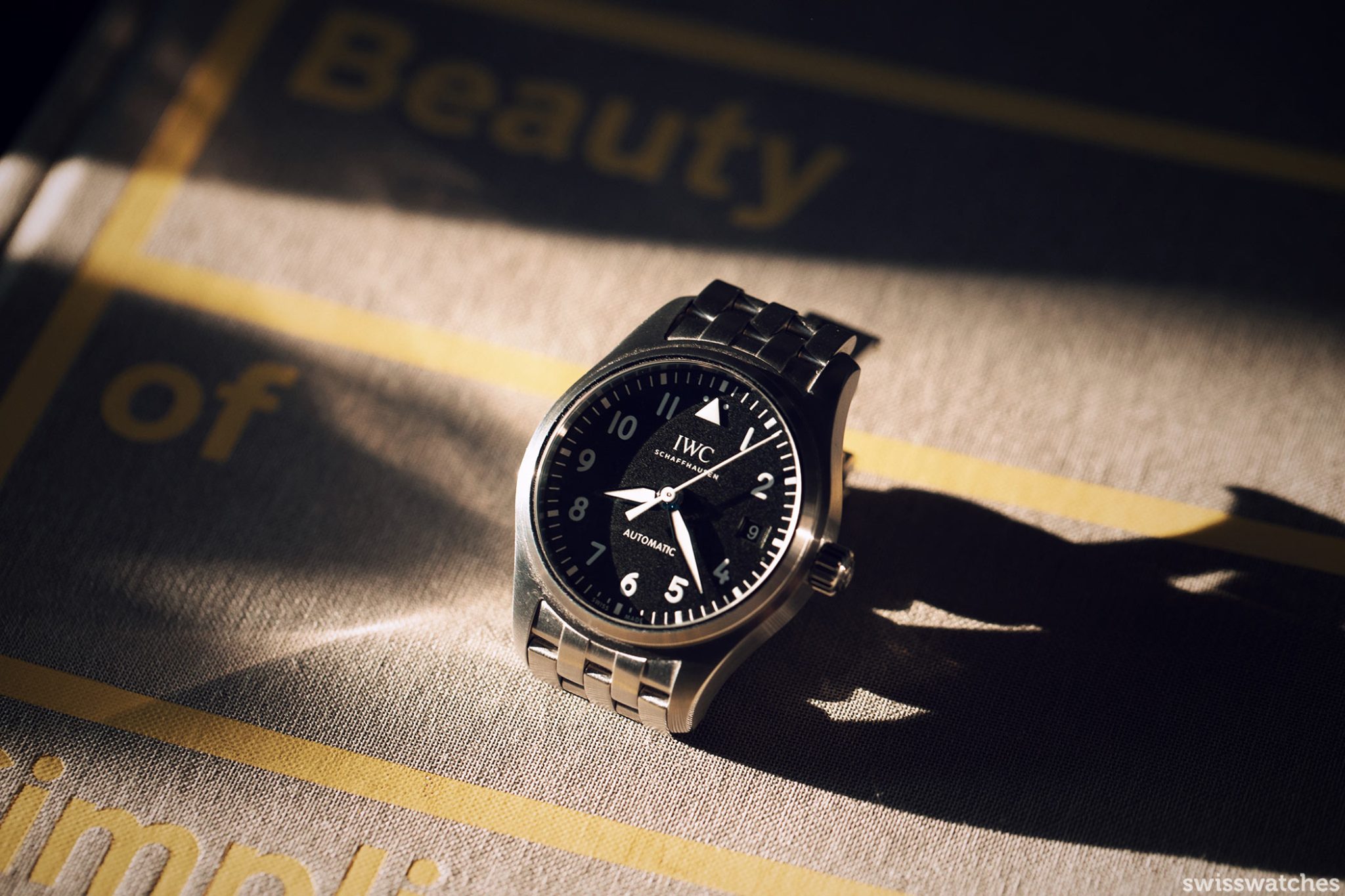 The movement
Inside the current Pilot's Watch is the calibre 35111, based on the Sellita SW300-1. These Sellita movements run flawlessly; there is truly nothing to complain about. The 35111 has a power reserve of 42 hours, and also features a date and stop seconds. Personally, I am convinced that IWC will also use a manufacture calibre in this pilot's line in the coming years. After all, the Spitfire line received a factory update in 2019 and has been using the in-house calibre 32110 with automatic winding ever since. It offers a 72-hour power reserve, and the demand for in-house produced movements is ever-increasing. Watch manufactures the size of IWC are now in a position to offer manufacture movements at attractive prices, so I do not expect a significant price increase for the Pilot's Watch in the future, either.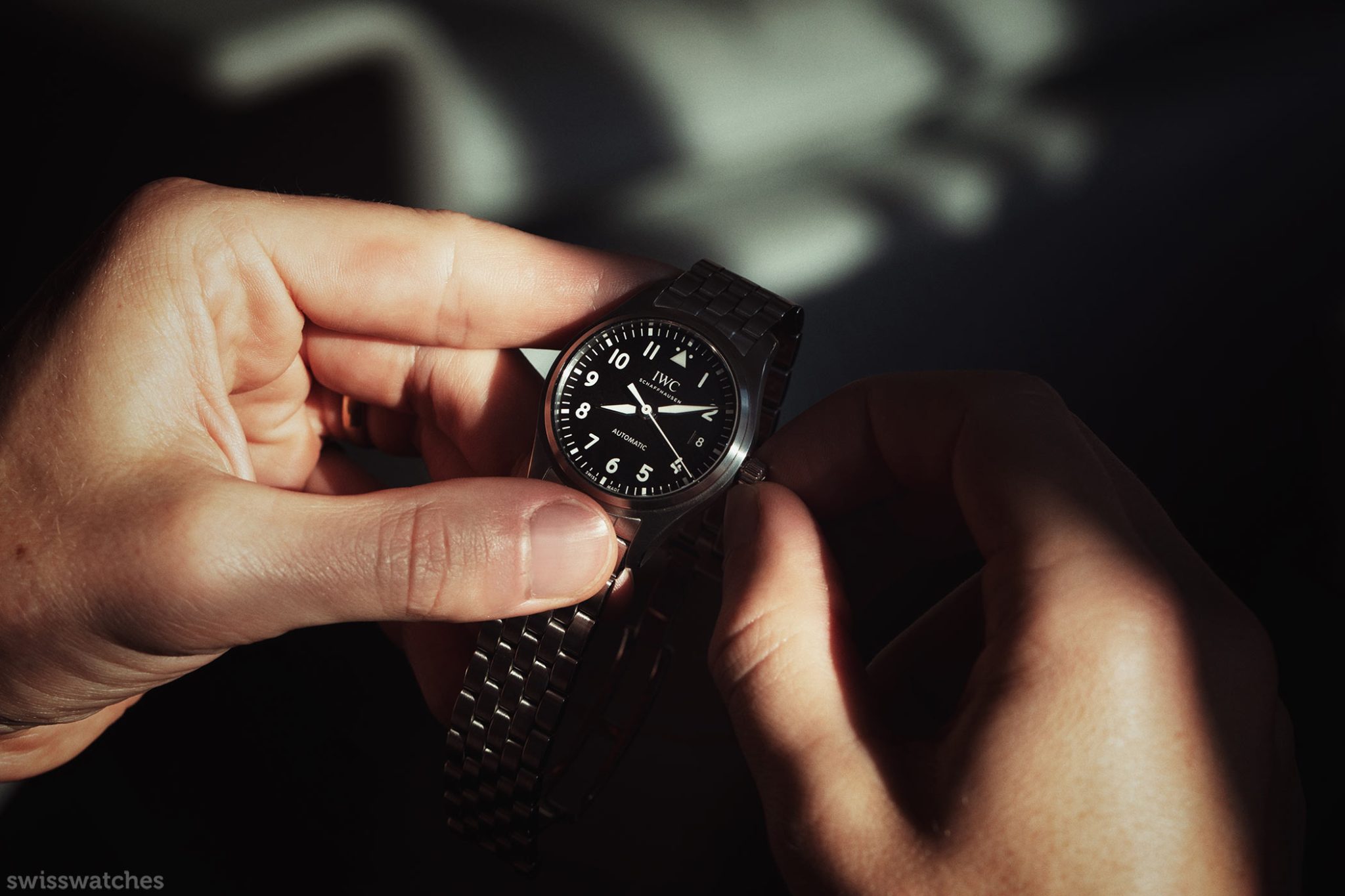 Mark XII, Mark XV and Pilot's Watch: Price and availability
The Pilot's Watch Automatic 36 (IW324010) has a list price of 5,550 euros and is available as a non-limited piece. By contrast, Mark XII models start at around 4,500 euros, although you won't find a very large selection with a steel bracelet. Meanwhile, the prices of the Mark XV vintage models vary greatly, but depending on the condition and design, one can expect to pay between around 3,000 and 6,000 euros. Here, too, there are unfortunately far fewer versions with a steel bracelet than with a leather strap on the secondary watch market. If you are still looking for an original Mark XI model, you have to pay about twice as much; this is quite absurd if you consider that at the time of their discontinuation in 1984, they were available for only 100 to 200 Deutsche Marks.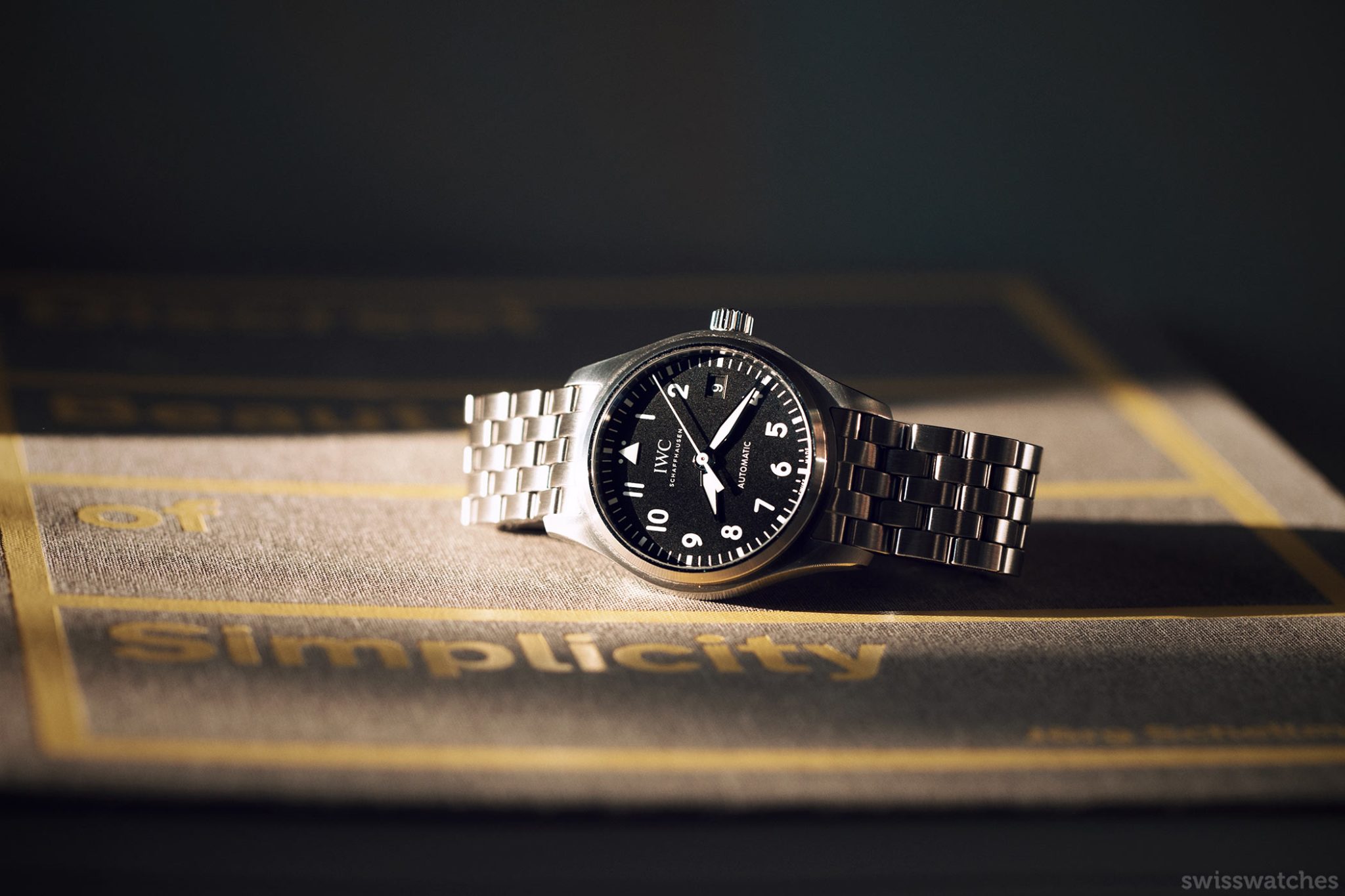 ---
Possibly the coolest everyday watch of all time?
As already briefly mentioned, 36 mm is the ideal diameter for my own wrist – but I also find that 36 mm suits the overall proportions of the watch best. The height of the timepiece is 10.6 mm, the bracelet's width 18 mm, and from a visual point of view, the watch with a 36 mm case diameter is wonderfully harmonious. A final personal preference is that this is a watch that I prefer to wear in summer with a T-shirt and jeans, or with a dark blue shirt and dark shorts.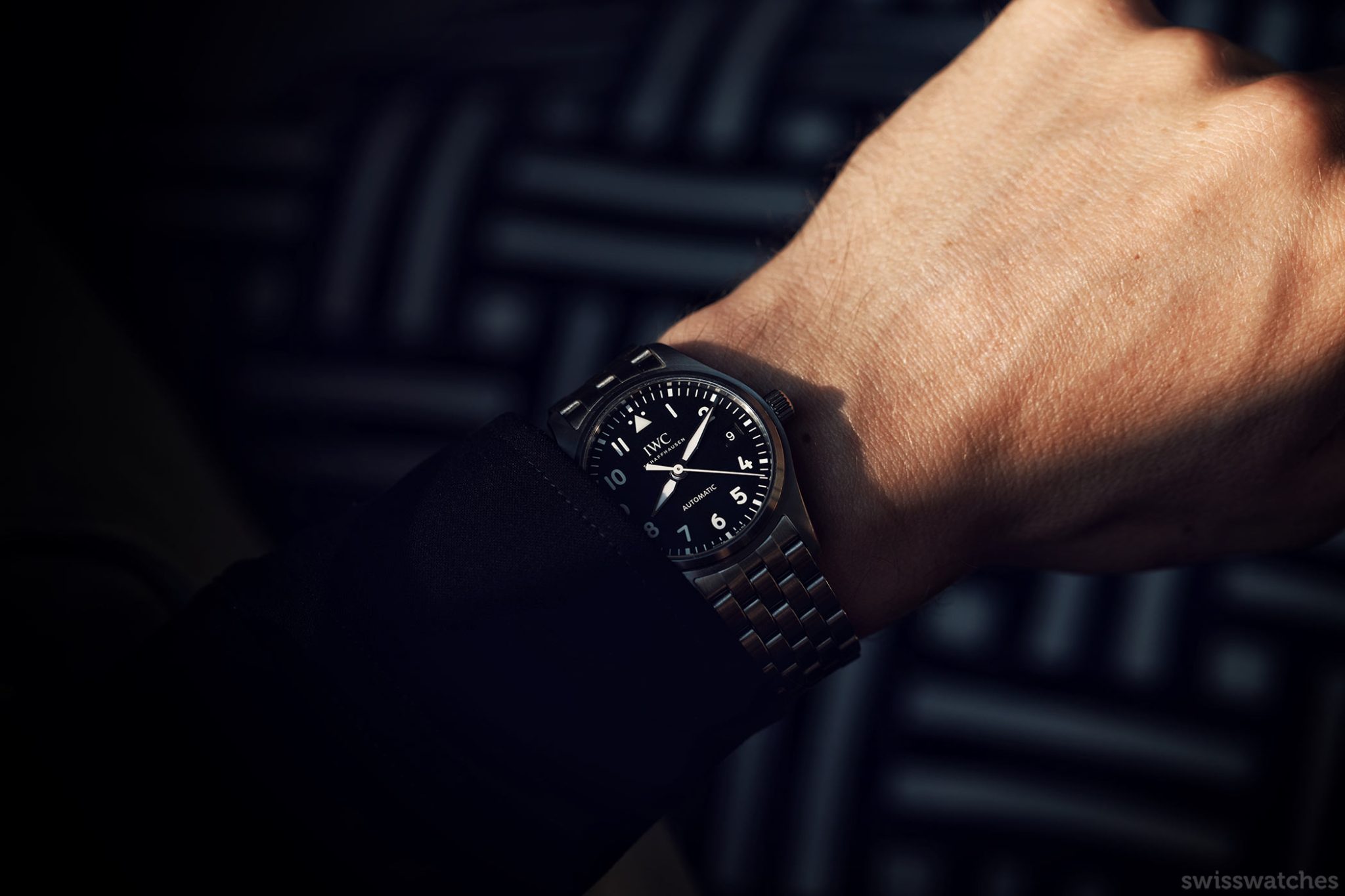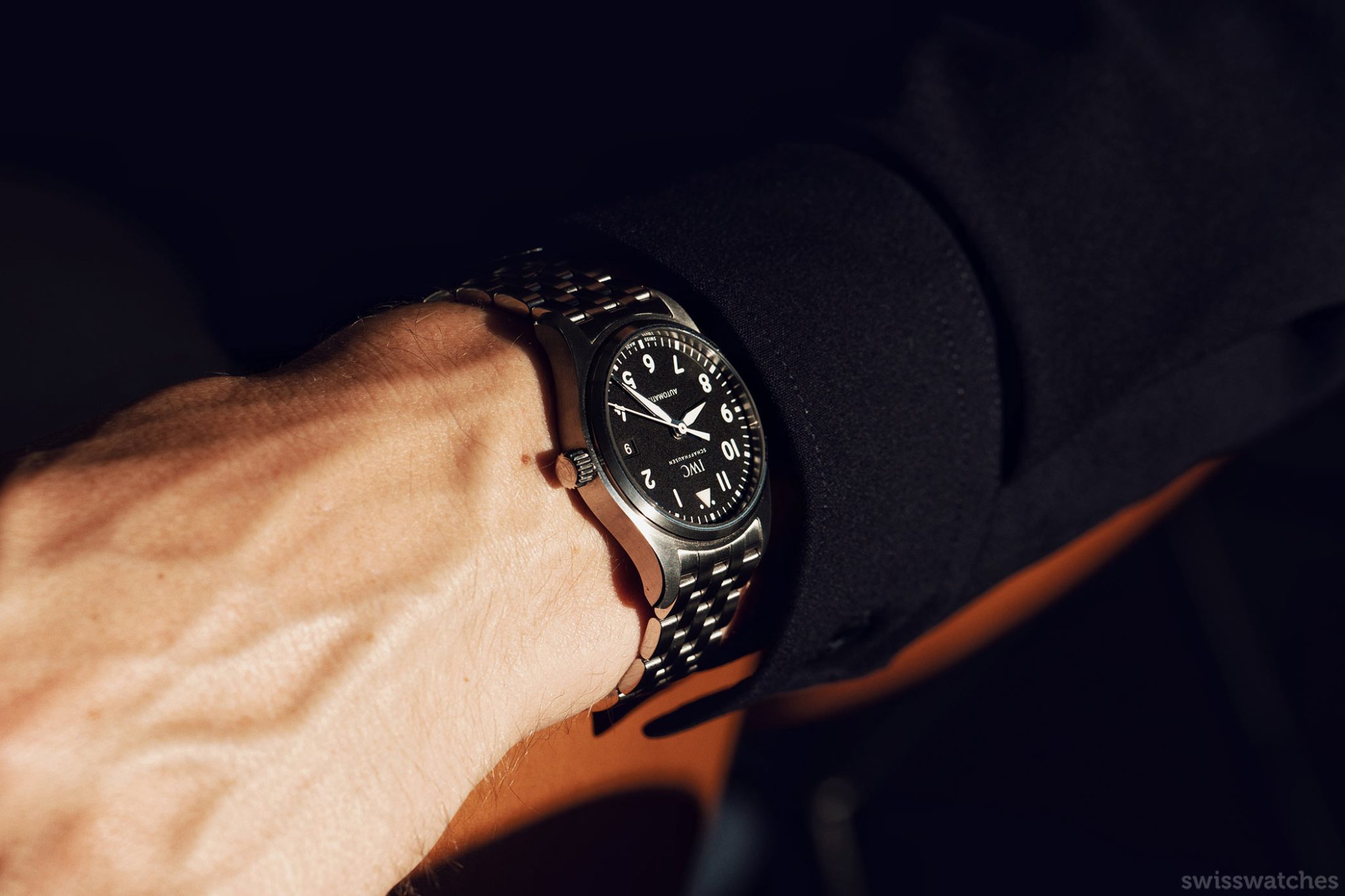 There are things – be they people, products, food dishes or buildings – that you look at and think that they appear to be almost perfect. They are often simple yet sophisticated, which is actually what makes them so attractive. For me, it's no different with IWC's Pilot's Watch. For me, the pure yet striking case on the masculine yet refined bracelet, and the simple yet functional dial, are a symbol of understatement, brilliance, and perfection.
---
---
FEATURES
BRAND

IWC

MODEL

Pilot's Watch

REFERENCE

IW324010

CASE MATERIAL

Stainless steel

DIMENSIONS

Diameter: 36 mm

Height: 10,6 mm

WATER RESISTANCE

6 bar (~60 m)

DIAL

Black

STRAP/BRACELET

Stainless steel bracelet

MOVEMENT

Caliber 35111

MOVEMENT TYPE

Automatic

POWER RESERVE

42 hours

FREQUENCY

28.800 vph (4 Hz)

FUNCTIONS

Hours, minutes, seconds, date

PRICE

EUR 5,550