LOT 100
It was obvious that lot 100 would be the most expensive Rolex Yachtmaster sold so far. Going for €1.82 million, Patrick Heiniger's platinum watch remained within the auction house's estimate. For the successful bidder, however, the bill came to over €2.3 million (net), so the final price can certainly be considered a success.
When it came to the only known Yachtmaster with a platinum case and bracelet, customised and with confirmed provenance, many were expecting a heated bidding war. In reality, however, this was not the case. The euphoria that drove the valuations just over a year ago seems to have given way to a more sober attitude.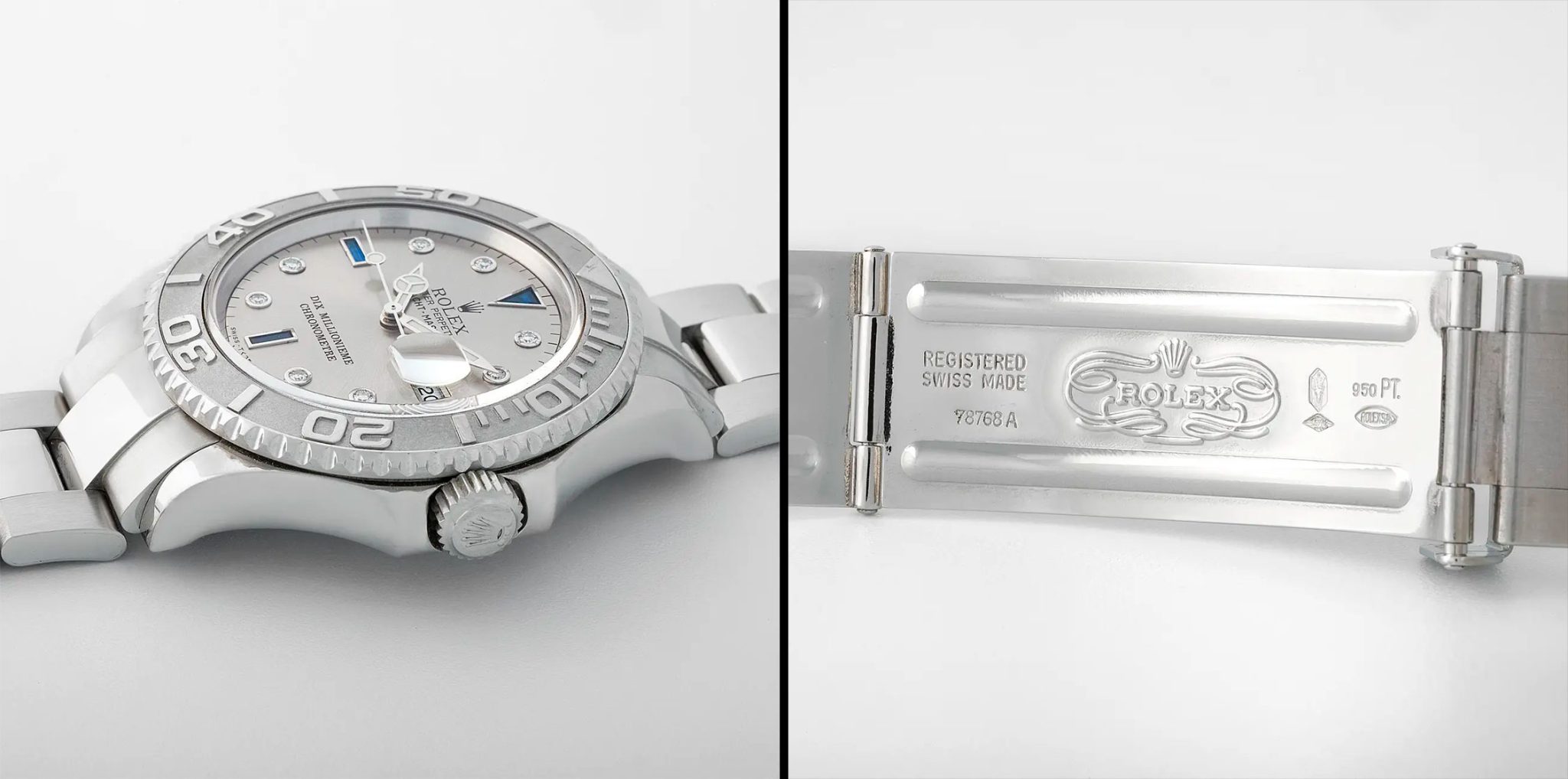 World record for a Yachtmaster: Lot 100, est. €1 to 2 million. Hammer incl. premium: €2.3 million
For many a spectacular lot, this meant that the reserve price, perhaps optimistically set, was not reached. All in all, the result of the auction with a sell-through rate of 90% and a total turnover of €22.3 million is impressive. For MLG, it was definitely the most successful watch auction to date.
---
LOT 49
In any case, the trend towards 'young classics' offered in unused condition has been confirmed. The Sea-Dweller Ref. 16600 is normally not a big seller at vintage dealers. Good examples can be found for less than the listing price of the current model. 'At € 338,000, the still sealed 'Polipetto' easily surpassed it's, already ambitious higher estmate'.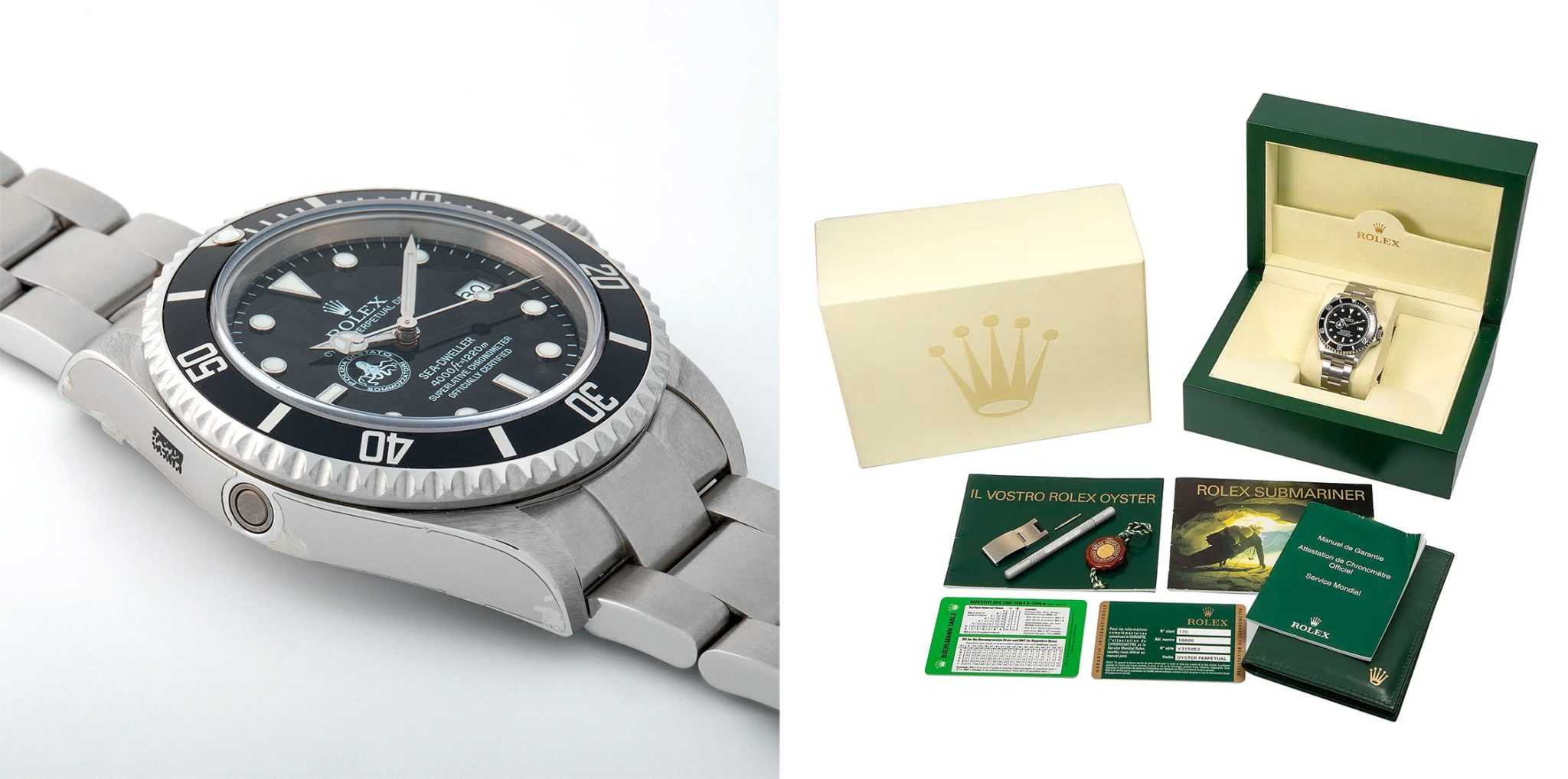 Rolex Sea Dweller 16600 'Polipetto', (NOS), est. €100,000 to 200,000. Hammer incl. premium: €338,000
---
LOT 104
The late Submariner model 5513, lot 104, also in 'NOS' condition, confirms the hunger for classics that are still as perfect today as they were when produced. The price of €39,000 is around four times the average for this reference and there are quite a few on the market.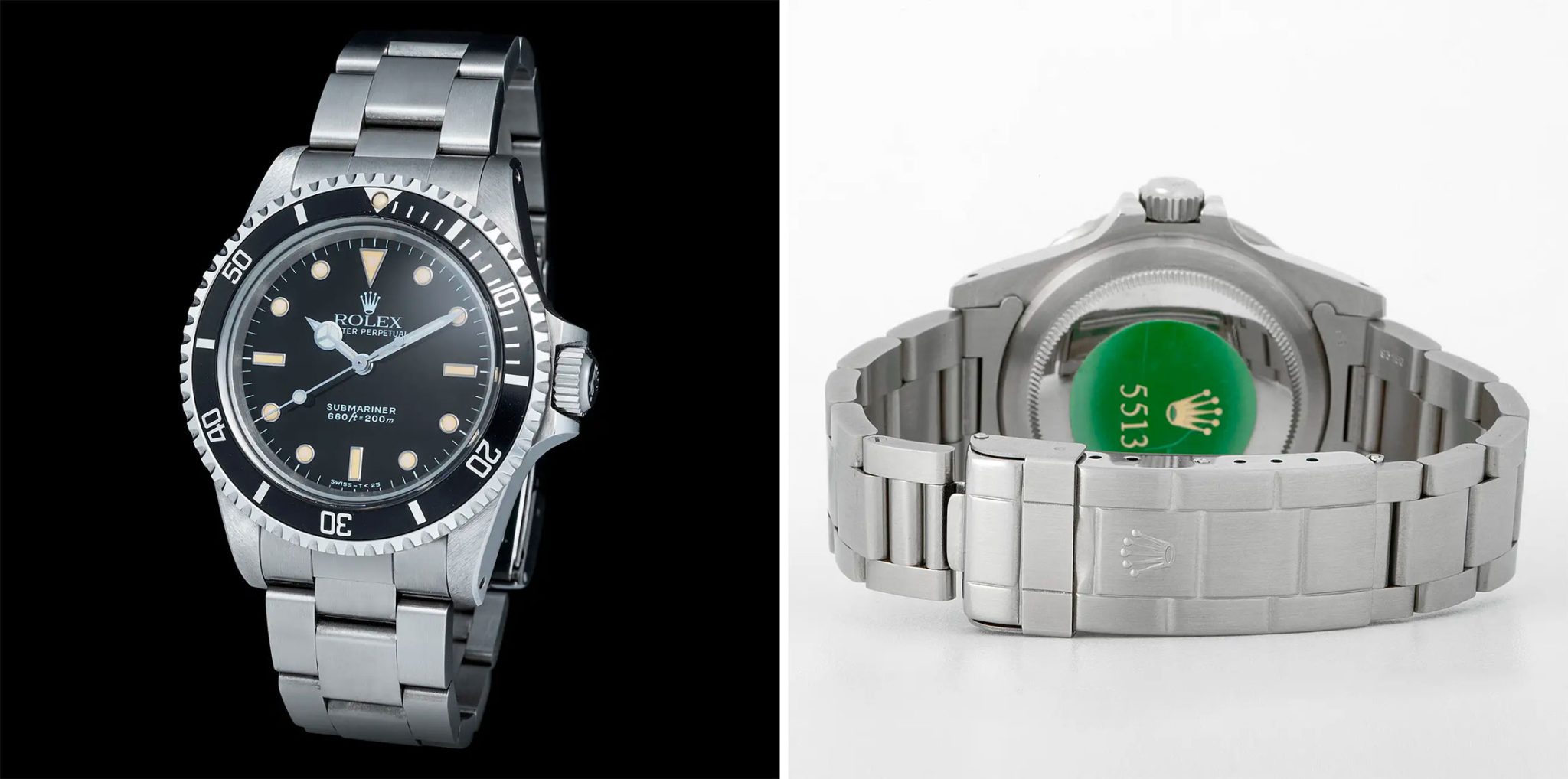 Rolex Submariner 5513, (NOS), est. €15,000 to 30,000, hammer incl. premium €39,000
On the other hand, for older watches, from the 1940s to 1950s, the price gap widens and even top examples can disappoint in the auction. As reported, some fine Rolex chronographs from this period were offered, but all of them struggled. The reason behind this is a move towards 'younger' and often larger sized classics from the 1960s and 70s.
---
LOT 198
One example is lot 198, Rolex calendar chronograph model 6036, which appears to be in very good condition. Calendar chronographs, just like automatic annual calendars with moonphase, are the pearls in the crown of ambitious Rolex collectors.
The range of lot 198 was between € 300,000 to 600,000. For the successor reference 6236 in comparable condition, the low estimate of €300,000 of this lot is often exceeded, even though this model is only known in steel.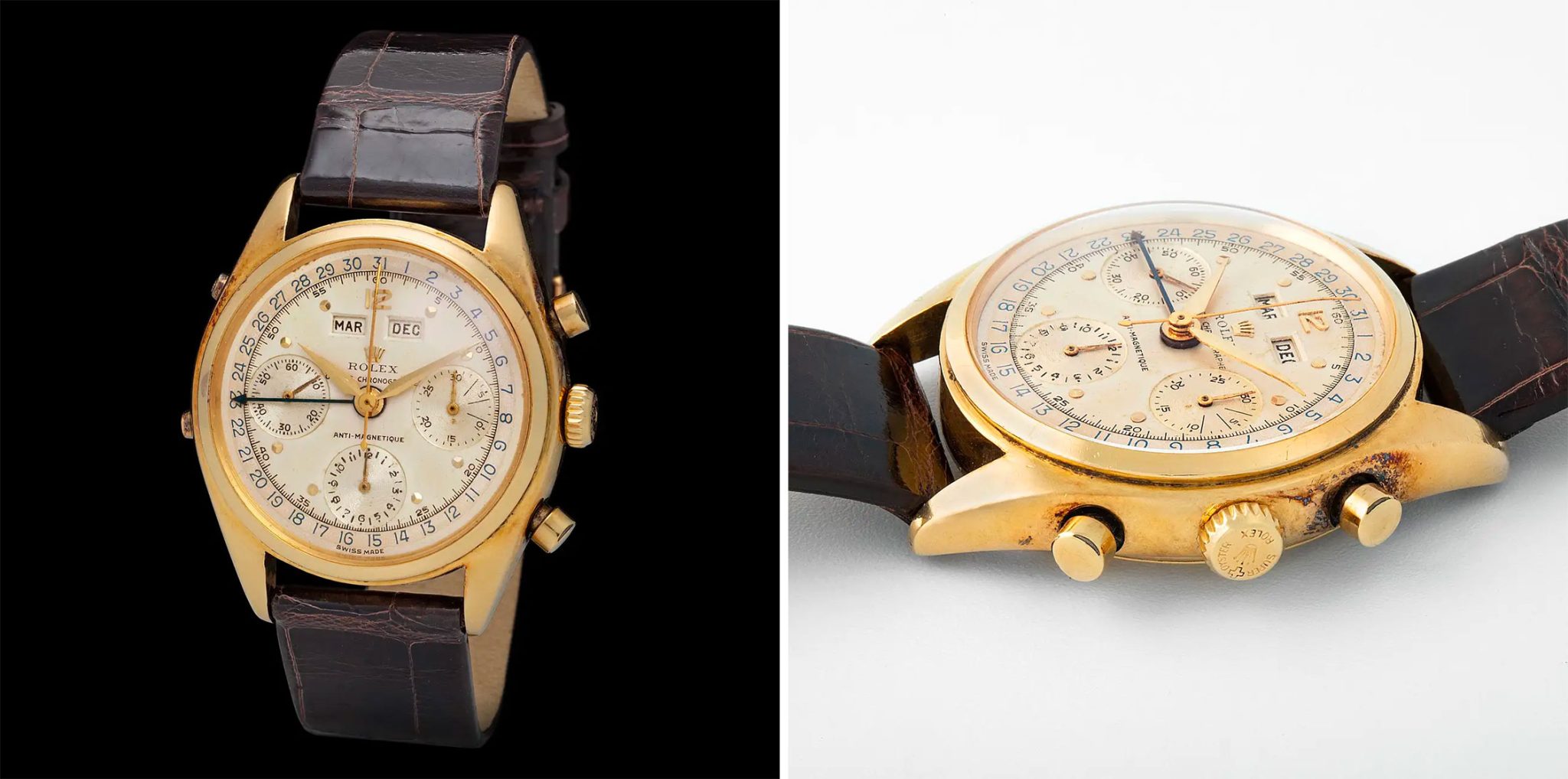 Rolex 6036 Calendar Chronograph, est. 300,000 to 600,000, no sale
Important visual differences lie in the case and dial. The case of the 6236 consists of three parts with an attached bezel, instead of only two parts with an integrated bezel ('monoblocco') like the model 6036. This gives the younger watch more presence and the more modern aesthetics also give it more suitability for everyday use.
---
LOT 10
More realistically than of late, the traditional favourites of the auction houses have also been highly valued: not least Daytonas with manual winding.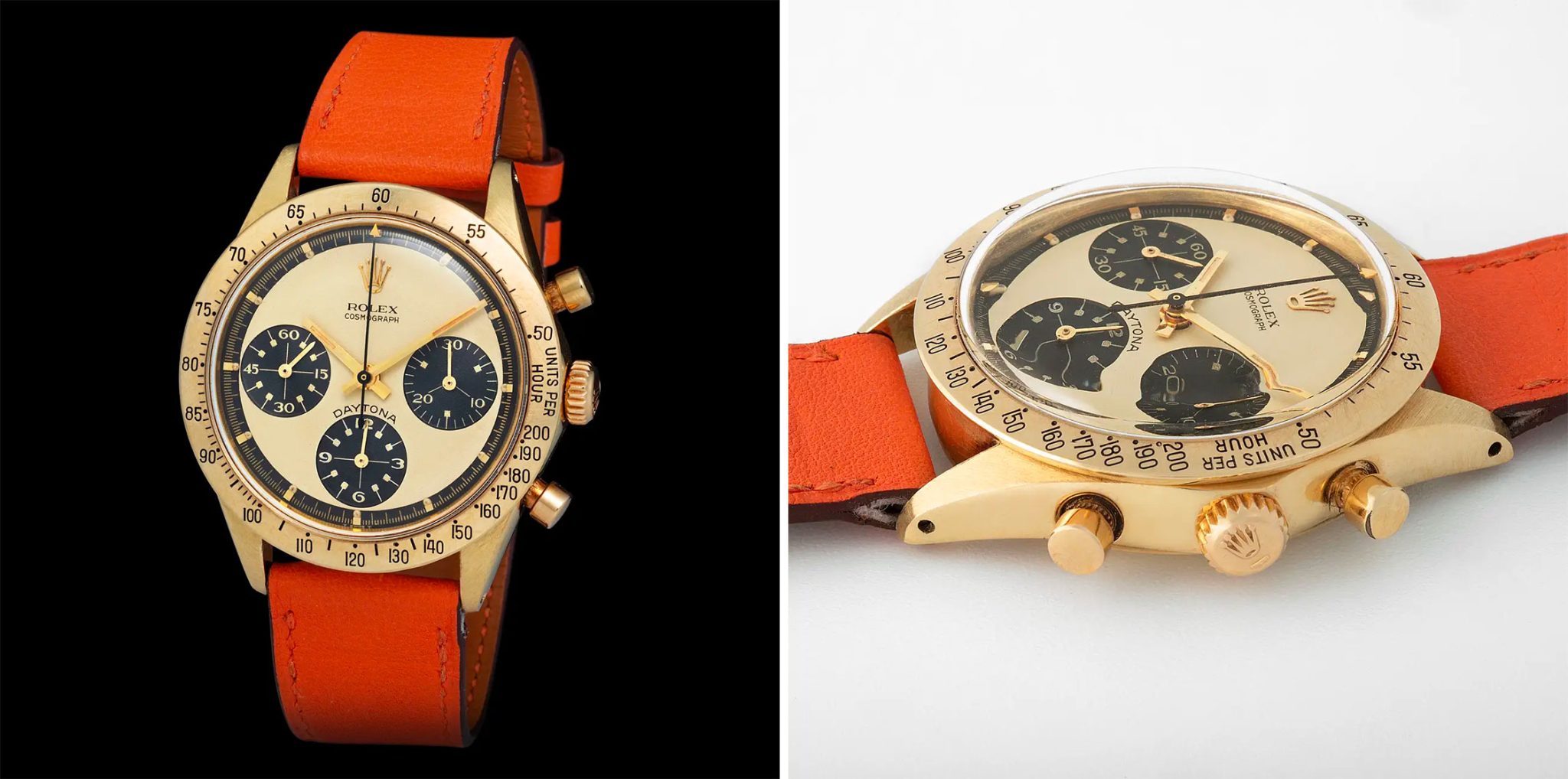 Rolex Daytona 6239 'Paul Newman', est. €500,000 to 1 million. Hammer incl. premium: €611,000
After all, the golden 'Paul Newman' from lot 10 has reached its reserve price. Given the rarity and beauty of the watch, however, it would not have been surprising if the upper estimate had been reached or even exceeded.
---
LOT 55
Lot 55 also stayed well within the range with a price of €325,000. Of course, various factors always play a role. This watch, for example, was in competition with a reference 6263, which is currently being offered by a well-known dealer in Monaco with a similar dial. The reference 6263 is more in demand than the model 6265.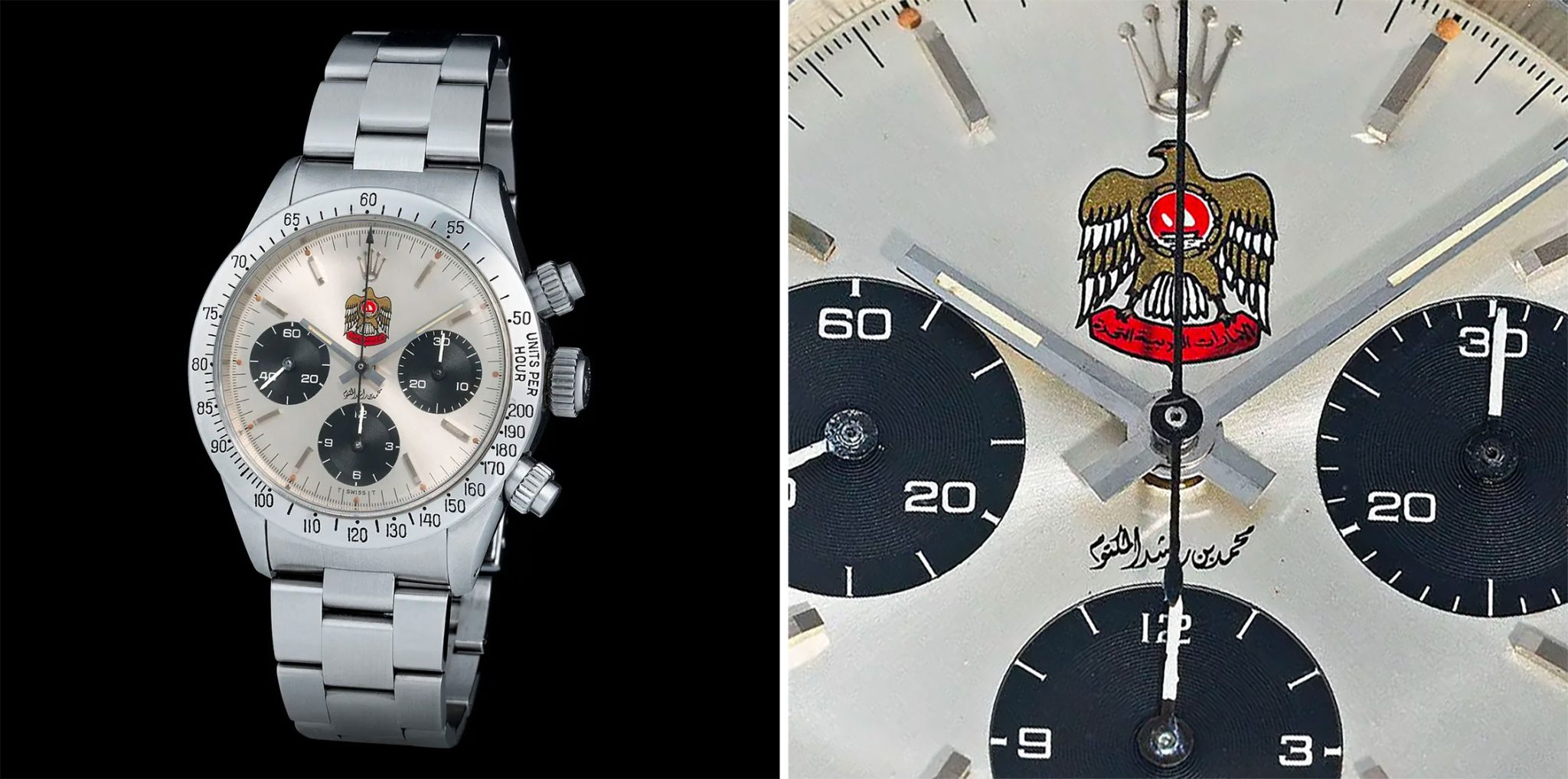 Rolex Daytona 6265, 'Quraysh Hawk', est. € 250,000 to 500,000, hammer incl. premium: €325,000
By the way, there is also a counterpart to lot 10 ('Paul Newman' in gold) in Antiquorum's spring auction. Lot 464 is a reference 6239, also 18-carat, with an even more sought-after 'John Player Special Dial'.
---
LOT 63
Size matters! Automatic Daytonas owe their steep valuation curve not least to their superior 'size impression' compared to the 'HAU' variants.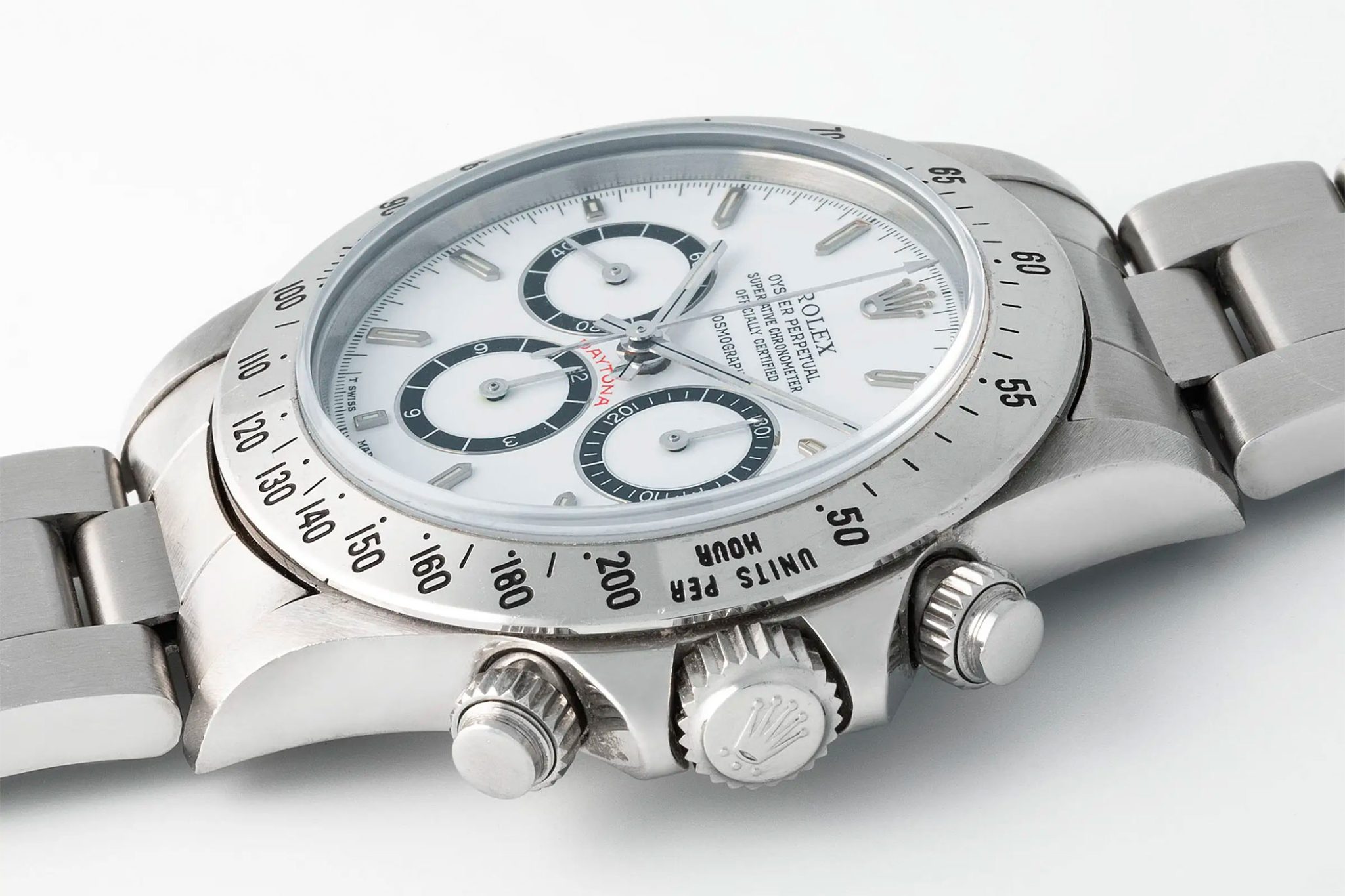 Rolex Daytona 16250 'R-Series Floating', est. €100,000 to 200,000, no sale
But even here, things are clouding over. The 'R' model with 'Floating Porcelain Dial' did not find a buyer at the low estimate of €100,000. However, one has to consider that 'Zenith Daytonas' with conventional white dials can be found for less than €30,000. The visual difference between 'floating' and standard dials is only noticeable to connoisseurs. Until recently, gold 'floating' Daytonas could be found for well under €100,000.
---
LOT 149
'Big Crown' Submariners are classics with a great presence on the wrist. Probably for this reason, they are harder to find today than 'Small Crown' models. In the 1950s, watches still had to be rather small and flat. The beautiful 'Coroncione' from lot 149 with its brown 'tropical' dial had no trouble cracking the reserve price.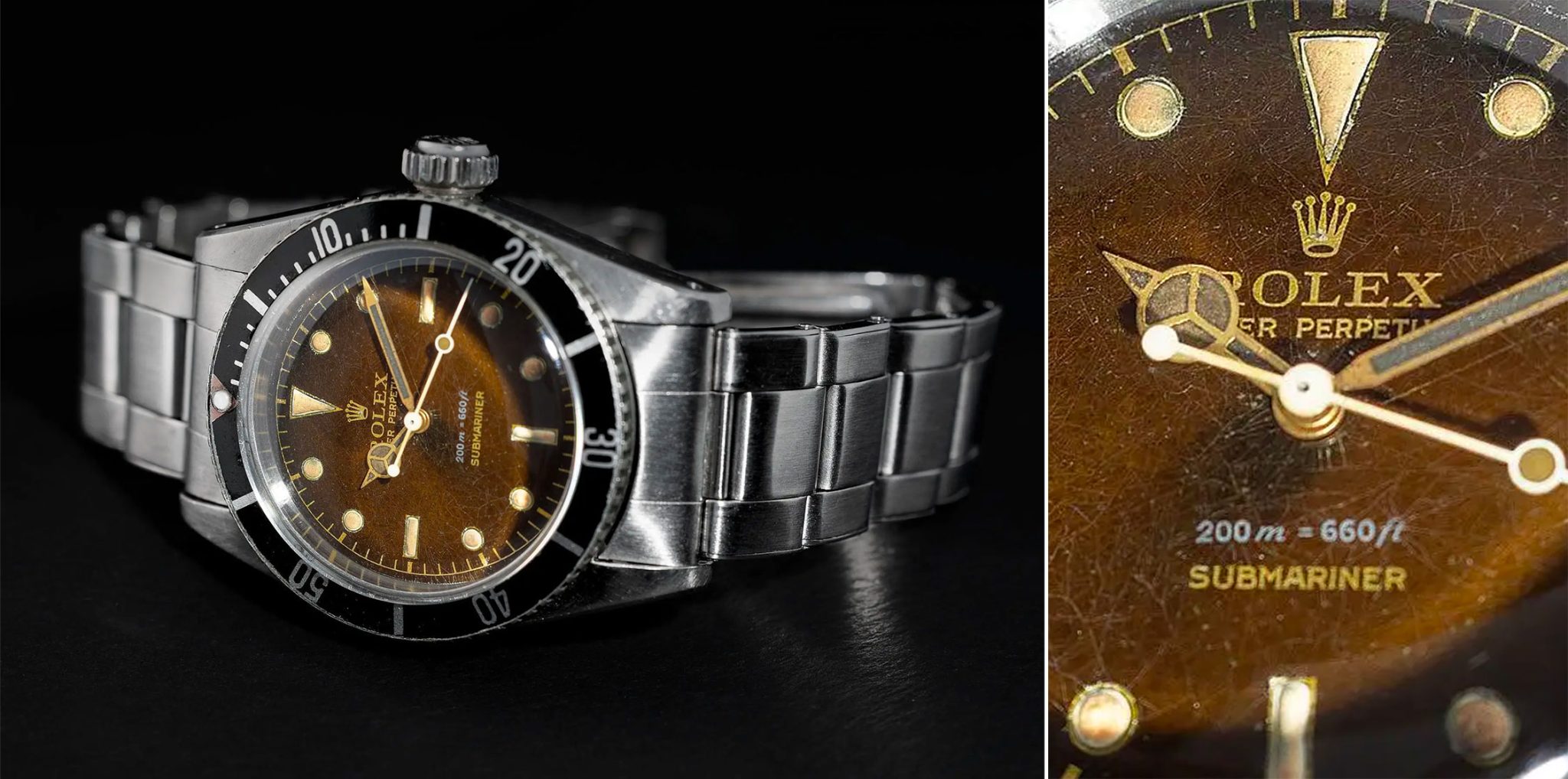 Rolex Submariner 6538 'Big Crown', est. €80,000 to 160,000, hammer incl. surcharge €188,500
---
LOT 188
Successful bidders are forced to use all their experience to recognise the true value of a lot and thus make the right bid. Not easy, considering the heightened adrenaline level during bidding. How often do comparable pieces come on the market and how does the condition compare to those already known?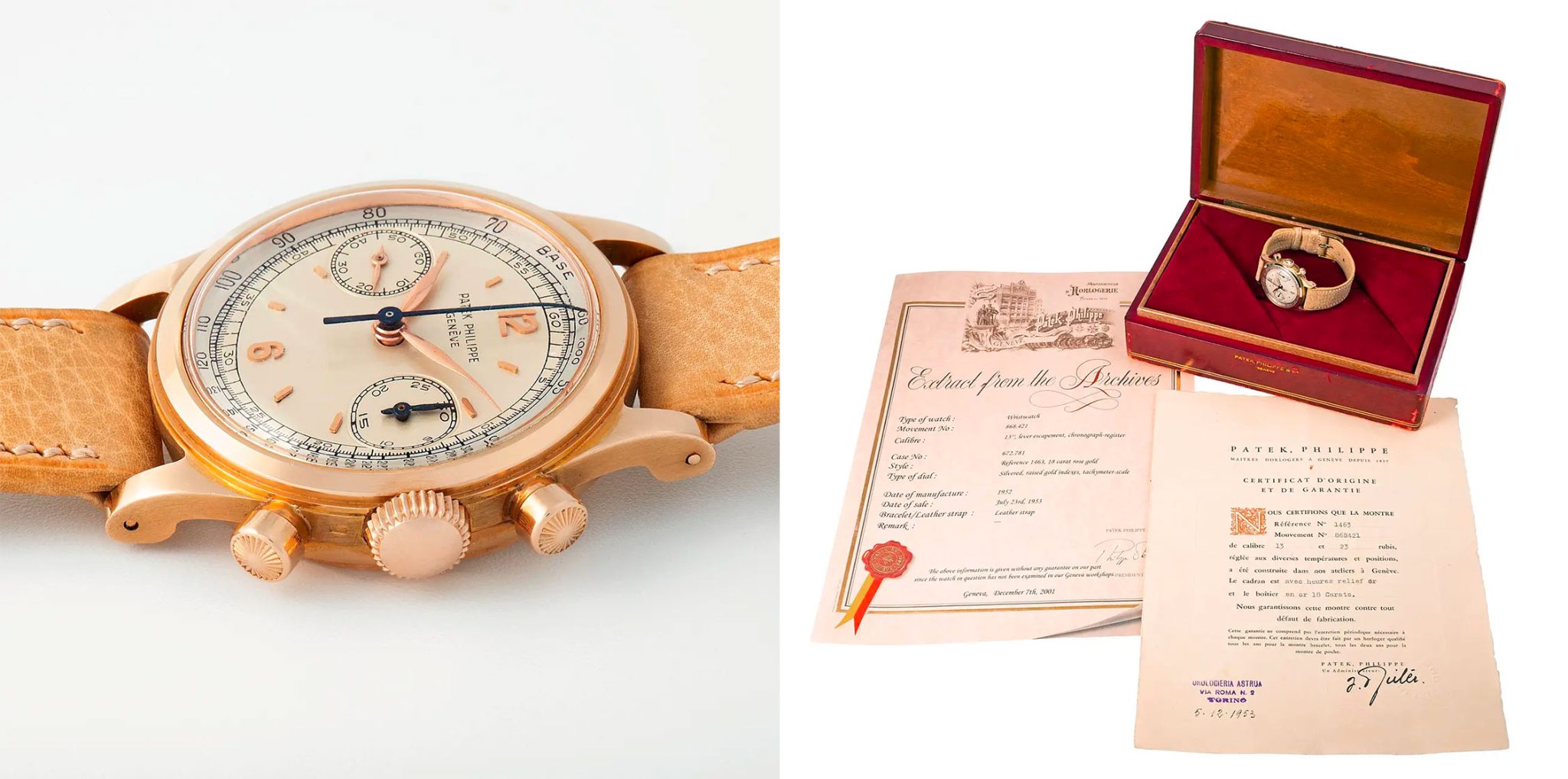 Patek Philippe 1463 'Tasti Tondi' in rose gold, est. €300,000 to 600,000, hammer incl. premium: €624,000.
Unsurprisingly, lot 188, a rose gold chronograph by Patek in a water-resistant case, easily cracked the €500,000 mark. A similar watch is lot 200 at Antiquorum, which will be auctioned in May. It will be exciting to see how that watch will do!
---
LOT 261
That leaves us to a look at the Patek Philippe Nautilus lots. The white-gold example with 'Khanjar' logo remained within range with a price of €1.3 million. A higher price would not have been surprising, especially as it is an extremely rare watch with an individualised dial that comes from the 'John Goldberger' collection.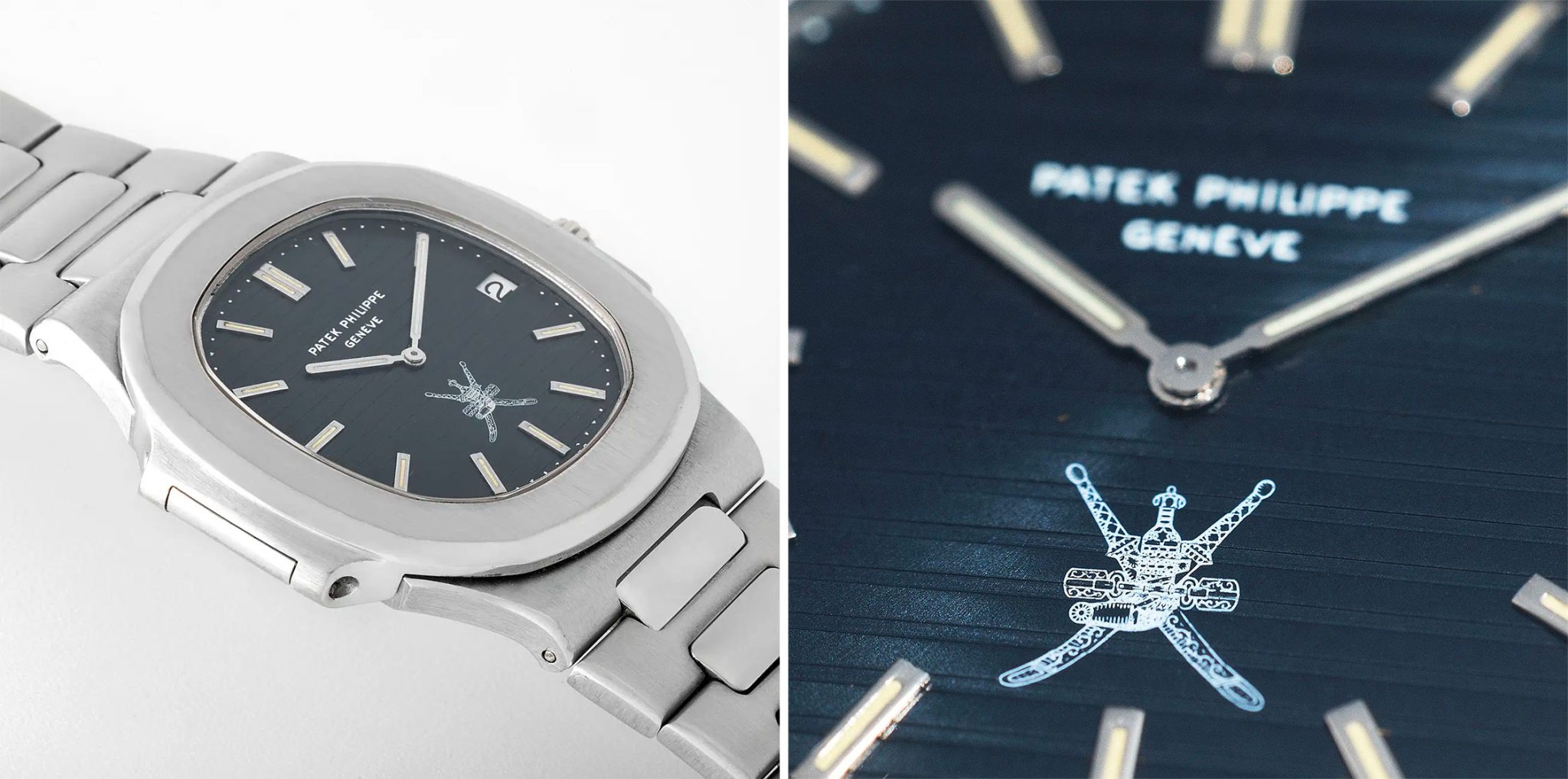 Patek Philippe Nautilus Ref. 3700, 'Jumbo Nautilus Khanjar', est. €800,000 to 1.6 million, hammer incl. premium: €1.3 million.
---
LOT 259
Also, the very beautiful and wearable lot 259 remained clearly within the estimate with its price of €169,000. After all the high prices paid until last year for the then-current 5711, this result seems modest – especially when you consider that the 3700 is, in a way, the 'original', with its beautiful blue dial.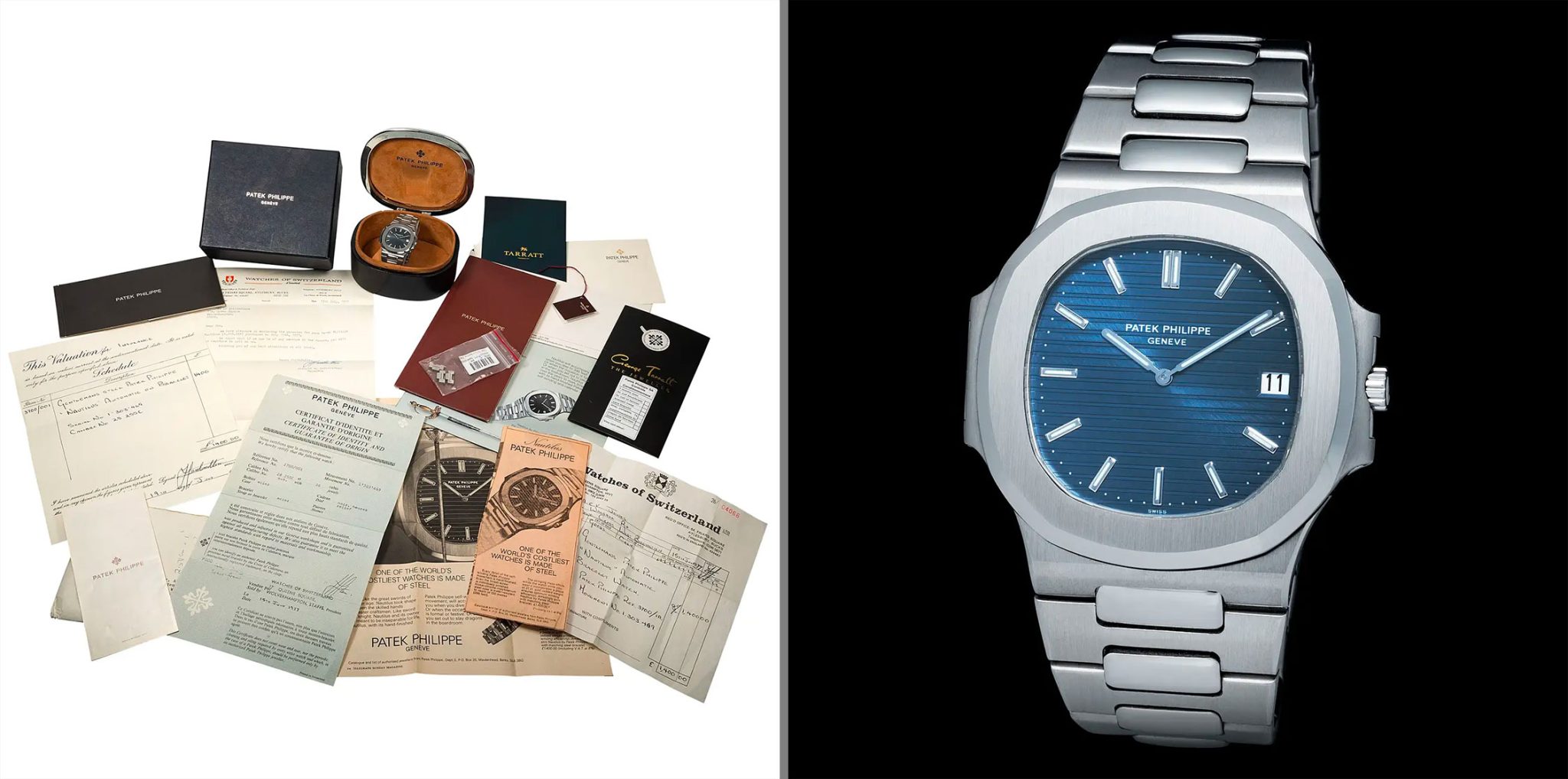 Patek Philippe Nautilus 3700 'Jumbo Blue Jeans', est. €100,000 to 200,000, hammer incl. premium: €169,000
Anyone who is annoyed that the (theoretical) value of pieces from their own collection has stagnated or even declined should bear in mind that these book losses are offset by the real chance of now finding pieces that may have been prohibitively expensive before. Of course, buying in cooled-off markets requires courage – but it has always paid off with classic watches when paired with expertise.
Less exciting than the auction room, by the way, but often more efficient, is the 'after sale'. In the past, I have been lucky with lots that did not sell at auction. Often the frustrated consignor is willing to make concessions.
---