The fascination with watchmaking is characterised by superlatives. There are timepieces with which one could dive to the bottom of the deepest ocean, which combine as many complications as possible, which are ultra-exclusive and rare, and ones that leave every watch enthusiast dreaming of them. A focus on high performance makes the industry stand out – an industry which doesn't only cater for the collector elite, but also everyday life, along with the requirements that every good watch should have. What's more, a few hundred years ago, owning a mechanical watch was something incredibly special and rare, with watchmakers such as Abraham-Louis Breguet designing watches for kings and emperors alike.
Fortunately, today, anyone can find a beautiful timepiece to suit their own budget and taste. Therefore, in the following three articles, we will present watches that – although considered "entry-level models" due to their price – combine a great deal of know-how, as well as decades of development and experience. These are watches that are not just cheap, but one hundred percent worth their given price.
Our criteria
This first part of our Buyer's Guide For Watches focuses on models in a price segment that ranges up to 1,000 euros. They are all watches from Swiss brands – after all, this is Swisswatches Magazine. In addition, they are all timepieces made of steel, because this metal is by far the most popular material, is highly resistant, and ages well over time. Most of these watches are produced industrially, but manufactured to perfection. All of the watches are powered by automatic or handwound movements, because it is the fascination with mechanical movements that sooner or later turns a watch novice into an enthusiast.
So, the criteria is plain and simple; the perfect way to start. Each of these watches will be an experience, but you should also be aware that there is a high probability that you will not just be buying this one watch. This is because once you gain an enthusiasm for watchmaking, you will always find new goals, dreams and timepieces.
---
GOOD DEALS: Watches up to 500 euros
---
Swatch Irony Sistem51 Petite Seconde 42mm – for 210 euros
Reference number: Black – SY23S400, Blue – SY23S403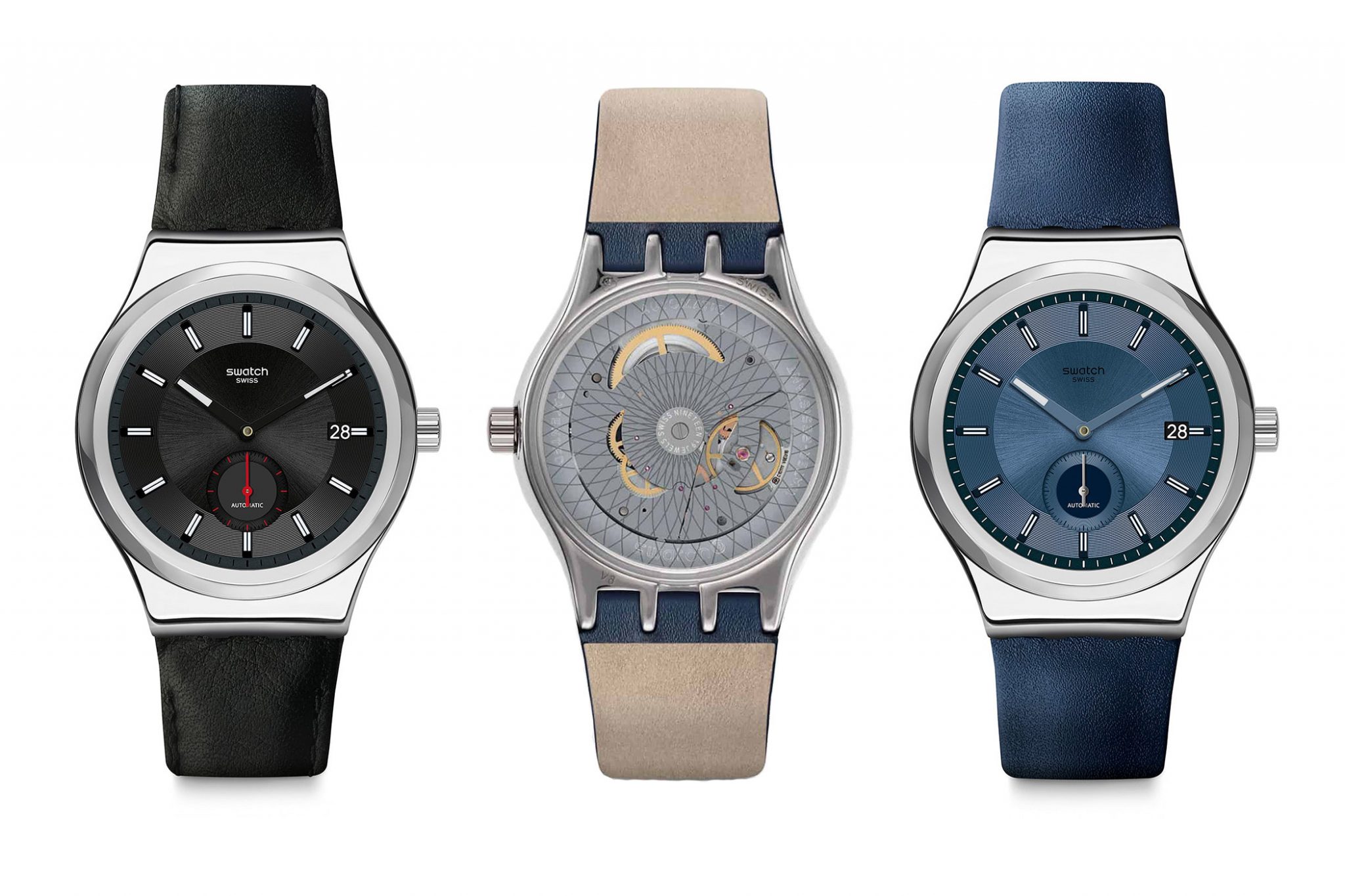 These varied, originally quartz lifestyle watches made of plastic once revolutionised and ultimately saved the Swiss watch industry – and captivated entire generations of collectors early on. In 2013, Swatch once again paved the way with the introduction of its automatic Sistem51 movement. Constructed from only 51 parts, it is considered to be absolutely outstanding in its simplicity and price. Thanks to Sistem51, it is now possible to have a collection of several high-quality automatic watches with different looks and relatively little effort. Alternatively, you can choose a timeless model like this one. Available in black and blue.
---
Zeno-Watch Basel Basic Pilot Automatic – for ca. 450 euros
Reference number: 12836-a1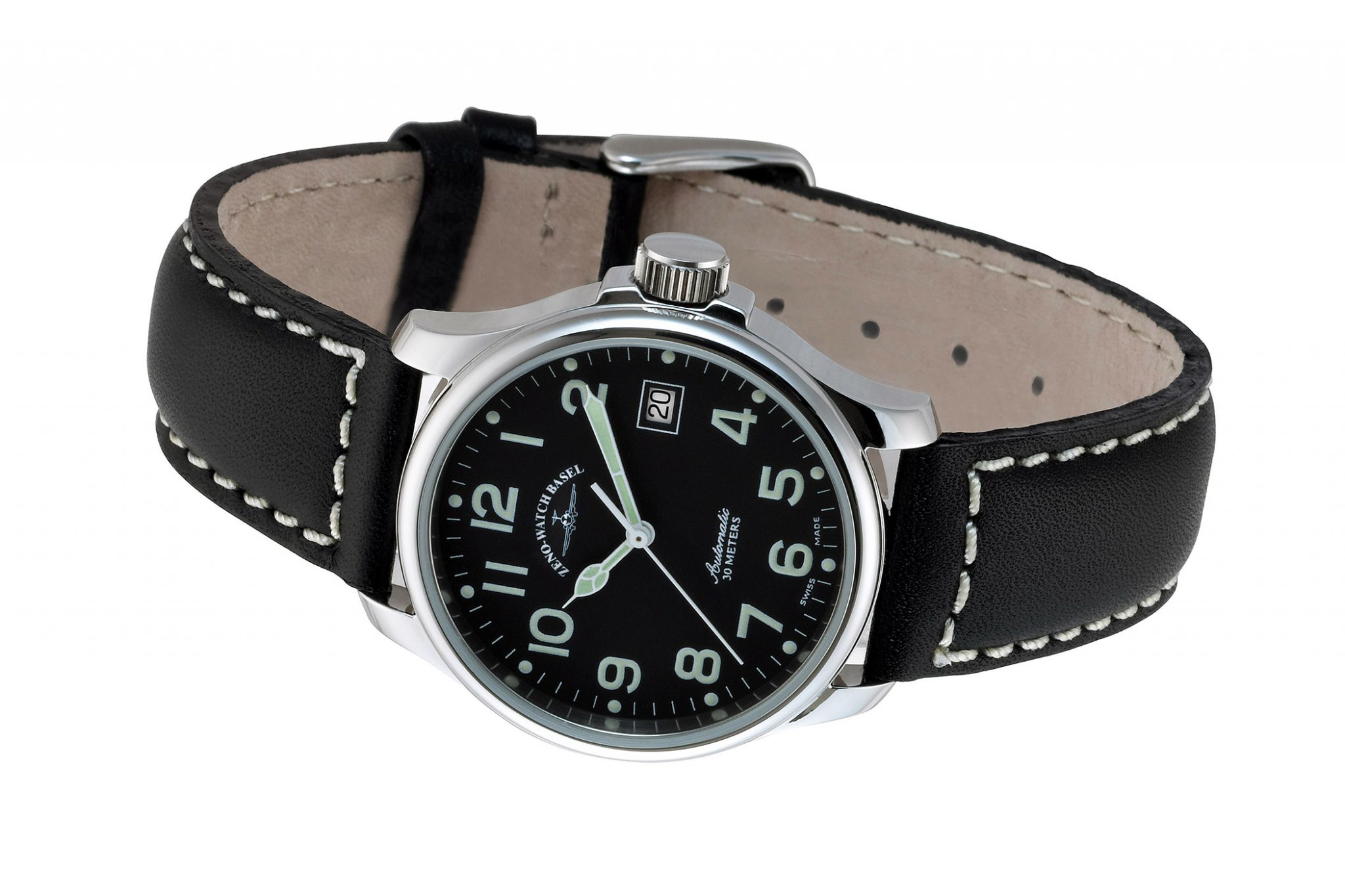 Zeno's roots trace back to 1868, when watchmaker Jules Godat set up his first workshop in Swiss Jura. The model shown here is also a particularly historic one, as it is a contemporary version of the brand's first pilot watch from 1965. The original model had a NATO strap, smaller numerals, a matte brushed steel case and a different logo.
The new logo with the lettering Zeno-Watch Basel appeared in 1995 for the first time. Before it was just Zeno. But still today, even more than 50 years later it still offers a great price-performance. The case, with a diameter of 37 mm, is almost dainty by today's standards, but perfectly matches the appearance and charm of the watch with its polished steel, black dial and cream-coloured indices.
---
Tissot V8 Swissmatic – for 460 euros
Reference number: T106.407.11.051.00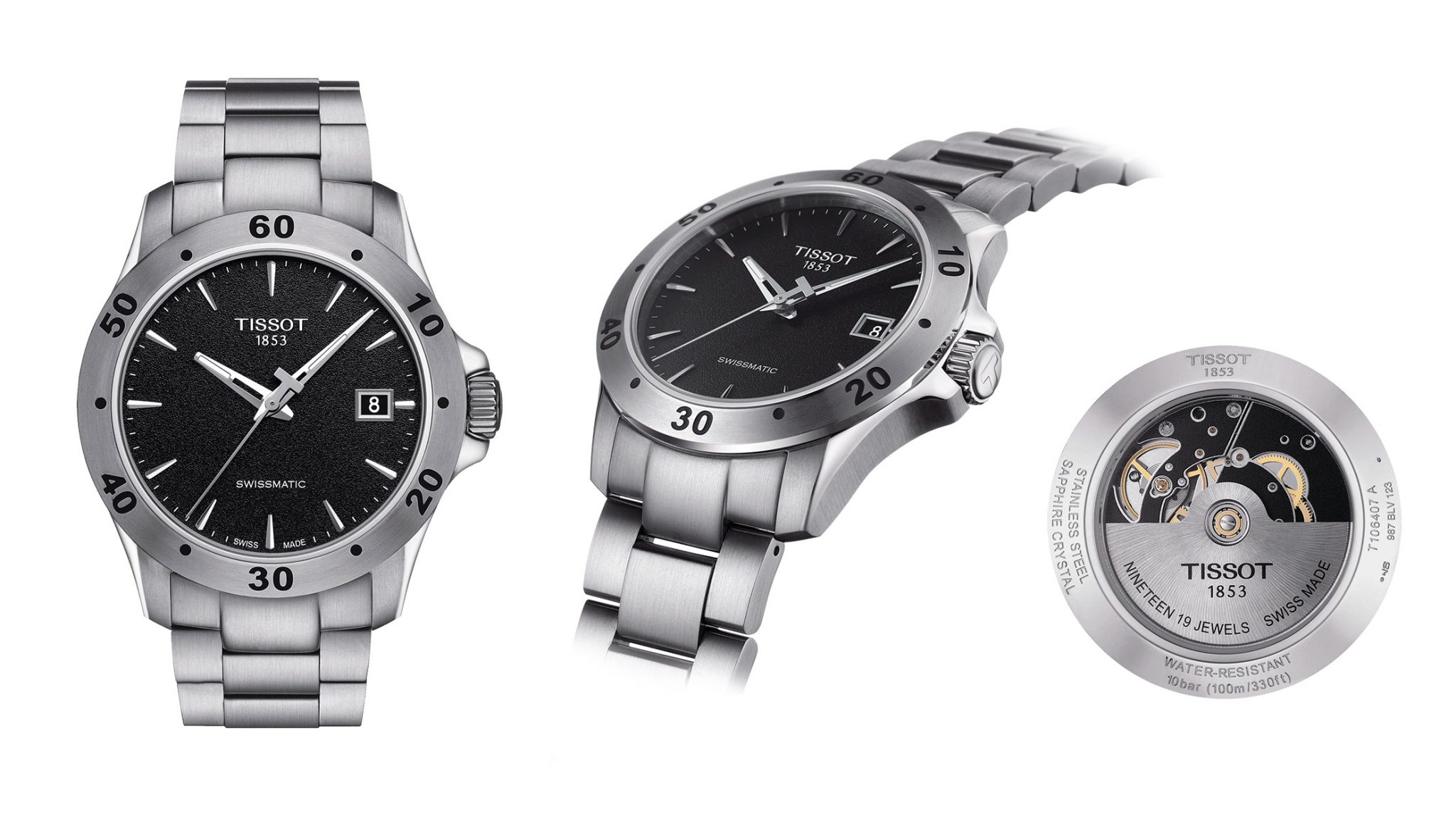 Staying in the realm of the Swatch Group, we arrive something every money-saving person adores: killing two birds with one stone. In the case of the Tissot V8 Swissmatic , you are obtaining a very attractive all-rounder, and doing so at a pretty competitive price. The 42.5 mm model has a first-class steel case with polished edges. The strap with a butterfly folding clasp is of the highest quality, and with its black dial and retro-looking design, the watch is extremely appealing.
On top of that, it has a transparent caseback, which is anything but a matter of course, even for more expensive models. Through the caseback, the owner can see what Tissot describe as a Swissmatic calibre, which ultimately resembles the movement from the Sistem51 described above. Therefore, the movement is once again pretty much closed off, which more or less excludes repairs or adjustments. This is considered a disadvantage by some collectors, but the advantage is just as obvious: the movement is industrialised and manufactured to the highest standards, is considered extremely reliable, and for the extra price compared to the Swatch, the customer can purchase watches of the best possible quality.
---
Hamilton Khaki Field Mechanical – for 470 euros
Reference number: H69439931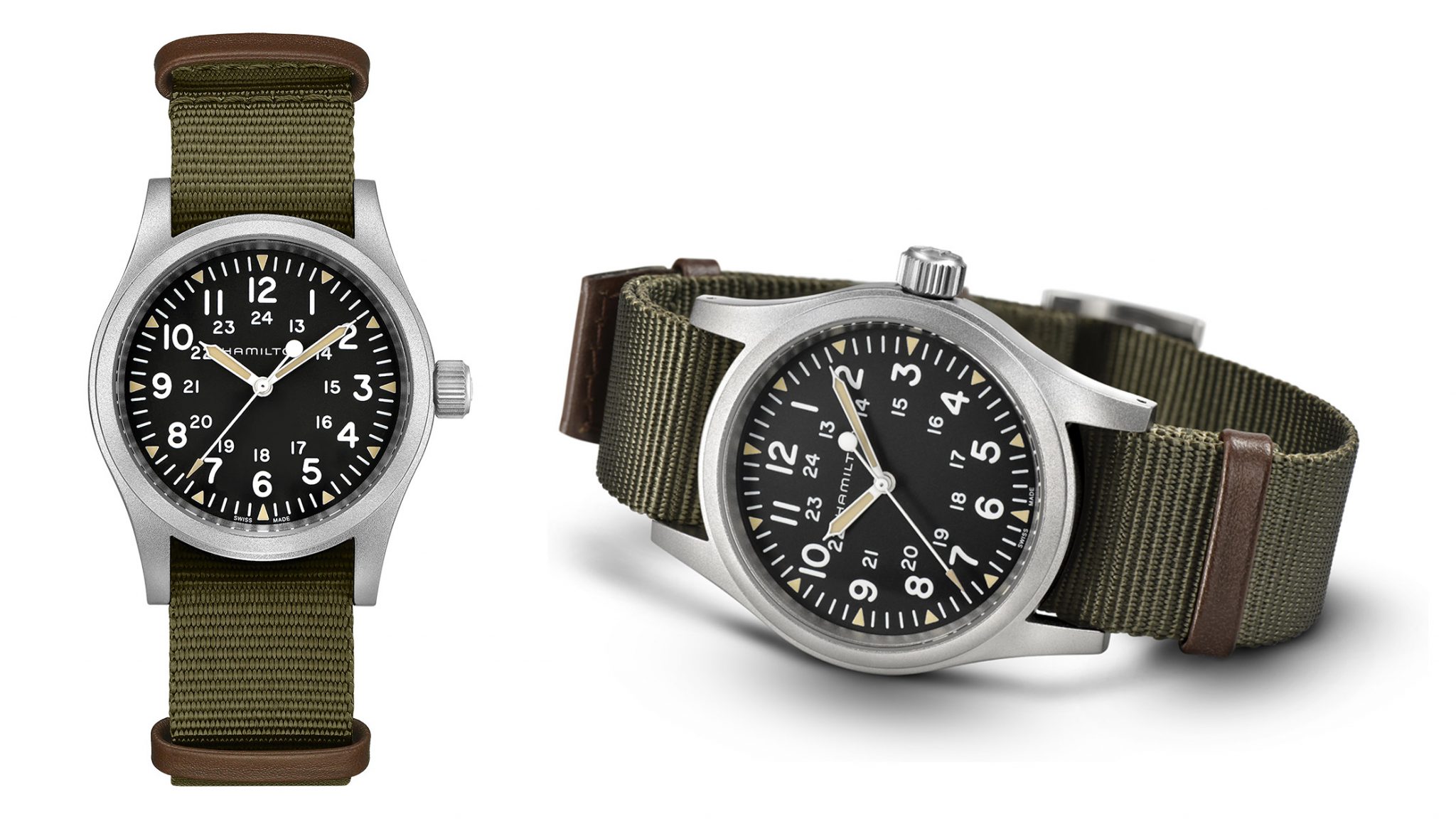 Retro looks are all well and good, but in this day and age, could they try to be slightly more daring? If you are thinking the same, then this model on a green NATO strap might just be something for you. Every glance at the Khaki Field Mechanical is a mini journey back in time to the 60s, when Hamilton produced a watch that served as inspiration for today's Khaki Field. The military look is anything but arbitrary – the Swiss brand with American roots has a great tradition in the production of watches for soldiers, and in World War I, US troops were even equipped by Hamilton. Inside the 38 mm watch, the manually wound calibre H-50 performs its duty with a power reserve of up to 80 hours.
---
STARTING UP: Watches between 500 and 1,000 euros
---
Certina DS PH200M – for 695 euros
Reference number: C036.407.16.050.00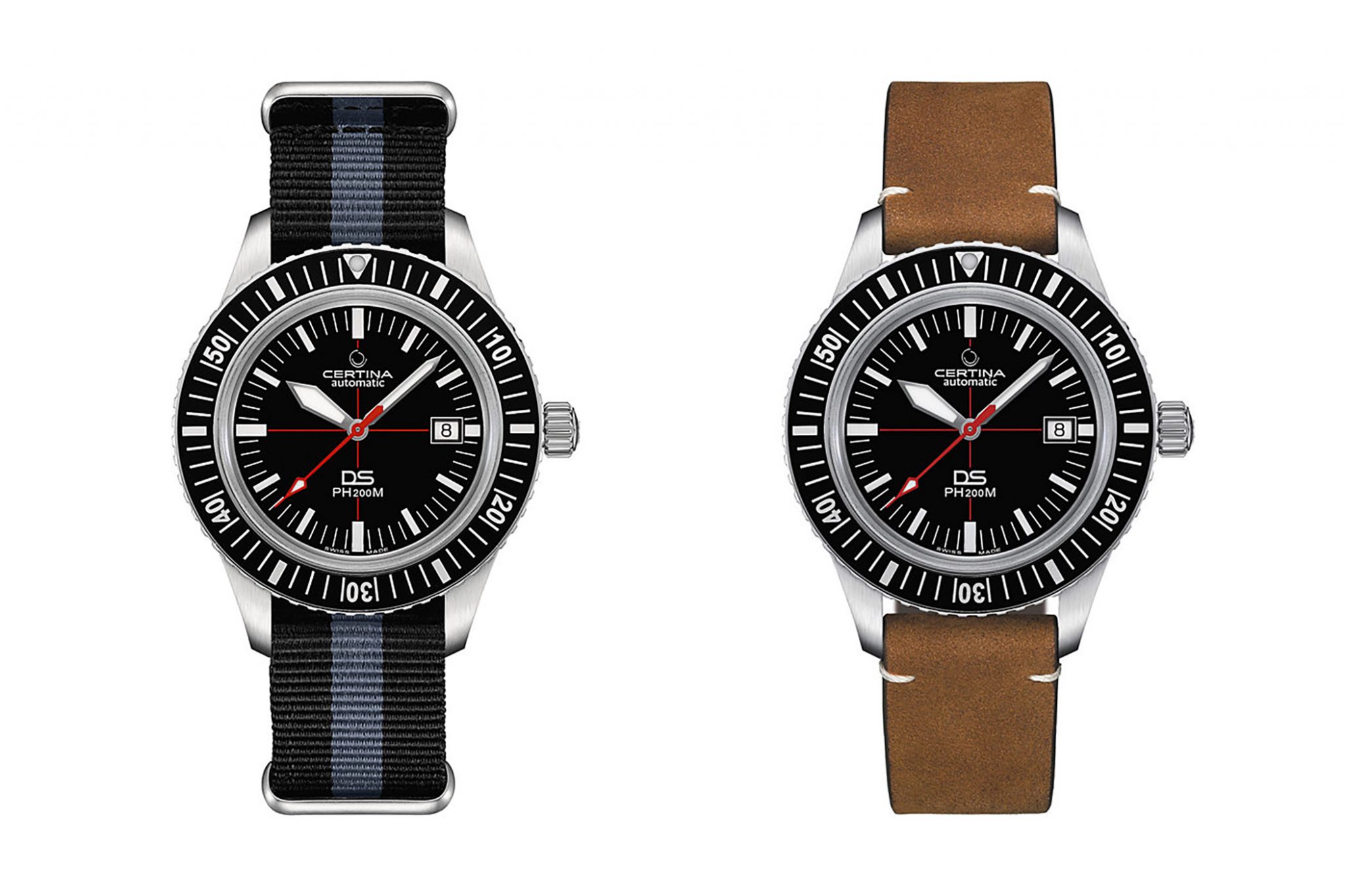 This model from the Heritage line is inspired by a diver's watch from 1967. Because many things were aesthetically more beautiful in the past, but not better in terms of craftsmanship, this watch is a rather perfect "fusion watch", integrating elements from then and now. As with the original, it uses hesalite, which is now coated with a protective layer for extra scratch-resistance. The watch measures 42.8 mm in diameter and is powered by the Powermatic 80.111 calibre, based on the ETA classic 2824-2, which is considered to be extremely robust and has proven its worth for decades. So here too, the past and the 21st century come together successfully.
---
Victorinox I.N.O.X. Mechanical – for 755 euros
Reference number: Black – 241836, Blue – 241834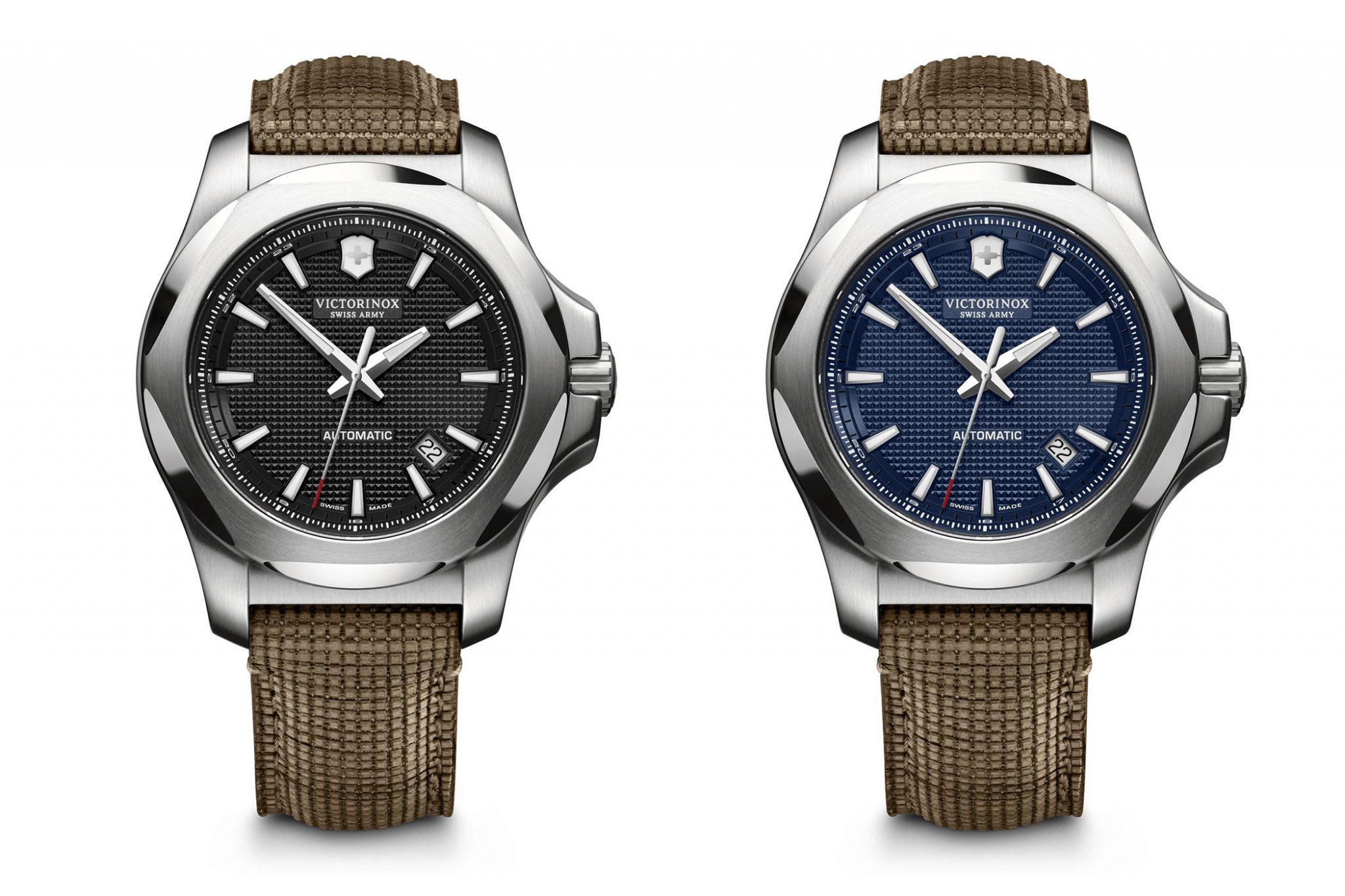 Men, from office workers chained to their desks, to the most cautious man on the planet, can nevertheless appreciate a timepiece that is tough and robust. It is precisely in this area that Swiss knife and watch manufacturer Victorinox is more than competent. Its I.N.O.X. models can fall from a height of 10 m or be run over by an 8-ton truck, yet still keep on ticking.
Inside the 43 mm models of the mechanical series, an ETA-2824-2 reliably ticks away and can be viewed through the transparent caseback. The bracelet is particularly unique in this version: Victorinox refers to it as a wooden bracelet, because a thin layer of wood has been applied to a leather strap, which gives the bracelet a special structure and feel, and on top of that, it has been designed in a pretty organic way.
---
Tissot Gentleman Powermatic 80 Silicium 40mm – for 820 euros
Reference number: Black – T127.407.11.051.00, Blue – T127.407.11.041.00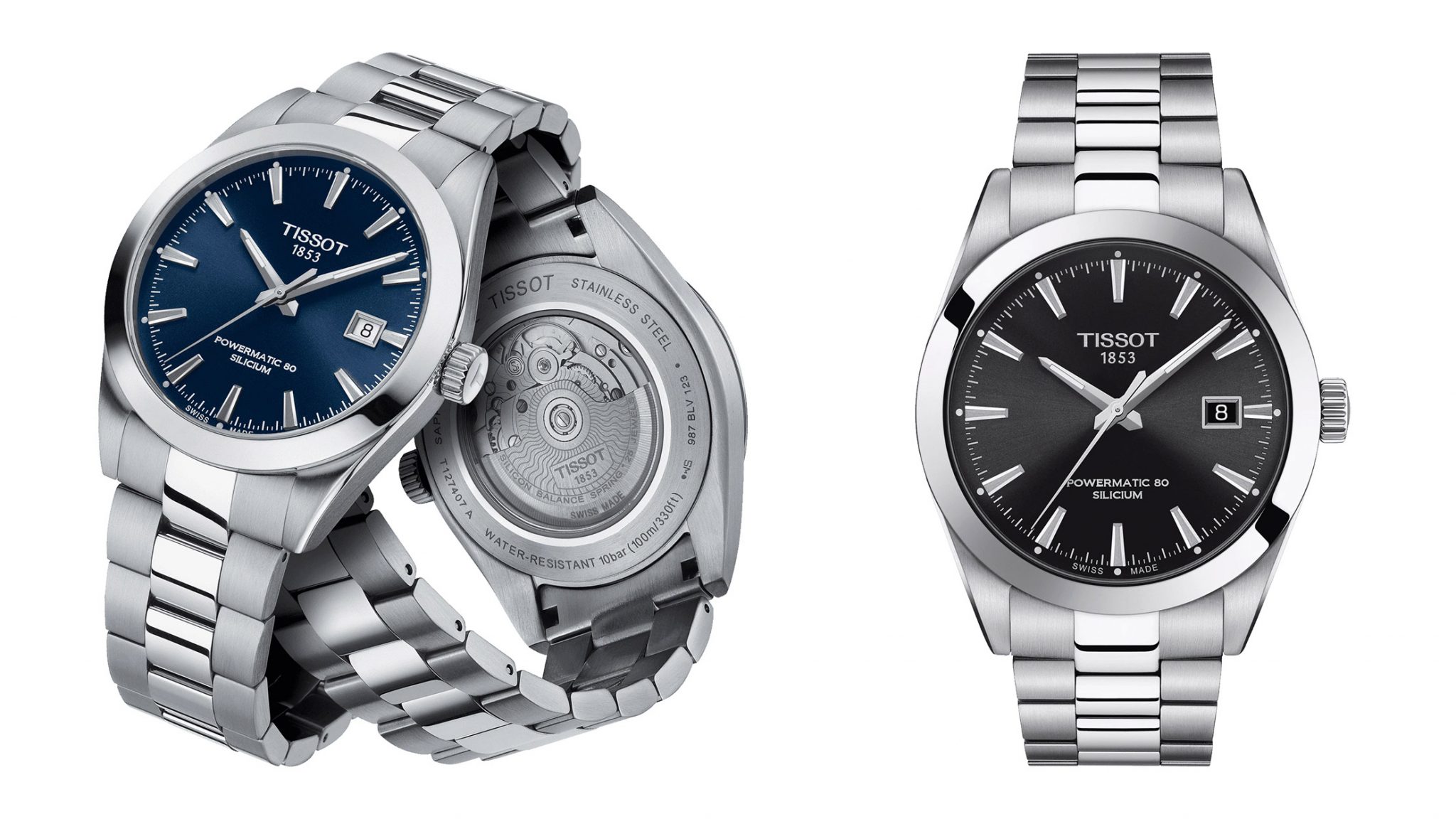 Once again, we're back to blue – this time from the traditional brand Tissot. One particular highlight of this steel watch with date display and satin-finished, polished hands is the view into the inside of the watch, which is possible thanks to the transparent caseback. The Gentleman model is powered by the Powermatic 80.811, offering up to 80 hours of power reserve, and equipped with a silicon balance spring. In this sense, this is a watch for connoisseurs with a taste for value for money and state-of-the-art craftsmanship.
---
Doxa SUB 200 Sharkhunter – for 990 euros
Reference number: SKU: 799.10.101.10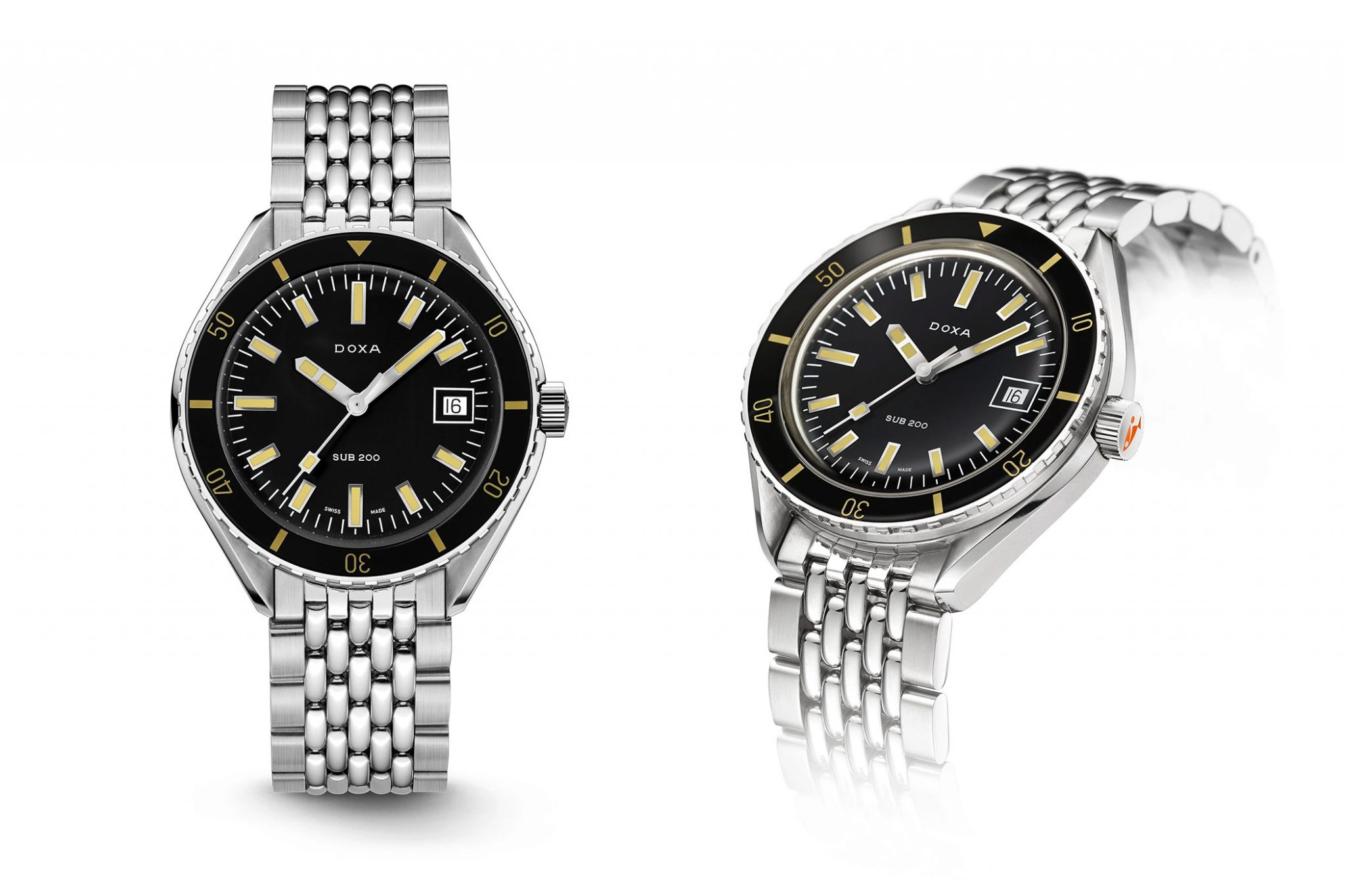 Doxa's history began in 1889 in the Swiss Jura with the watchmaker Georges Ducommun, who founded the "Fabriques Doxa" at the age of 21. "Doxa" is the Greek word for fame and prestige, and just like the brand's successful journey through the decades, its watches are considered to be resistant and precise. This also applies to the Sharkhunter diver's watch, which was presented at Baselworld in 2019.
It is the smaller (and less expensive) sister of the SUB 300 line, which is less technical and tool-watchy, so to say, but rather focuses fully on the current retro trend. Opinions may differ on faux lume, the artificial retro-coloured luminous material, but all in all, this 42 mm watch offers a decent deal – with the ETA 2824-2 movement and high-quality workmanship and the "beads of rice" strap, it holds its own in the far of competition. Furthermore, the model is available in various other versions, for all those who like it a little more colourful – for example, bright orange.
---
Mido Ocean Star Tribute Special Edition – for 990 euros
Reference number: Black – M026.830.11.051.00, Blue – M026.830.11.041.00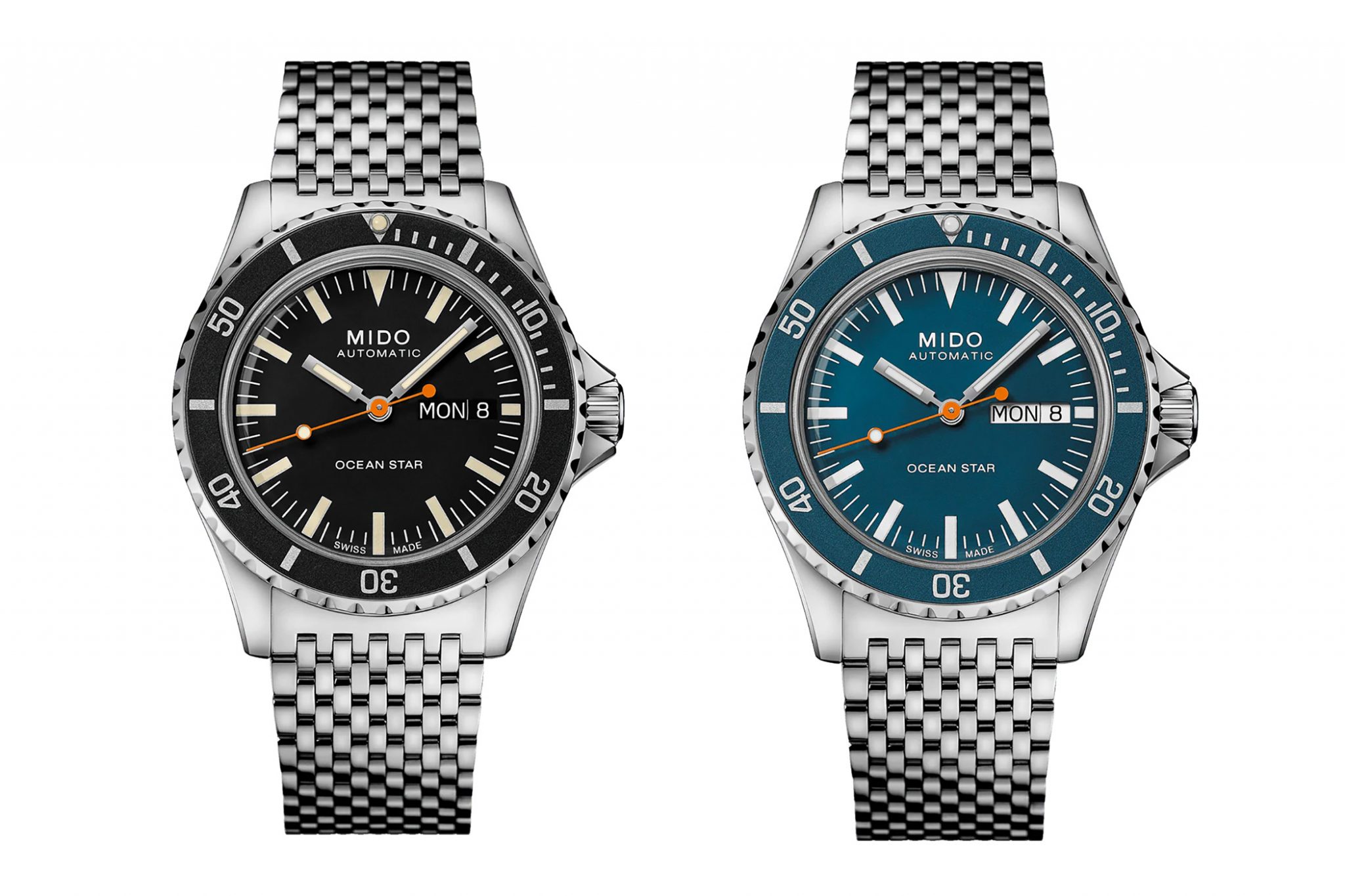 The first models of the Ocean Star were sold back in 1944, which is why this special model, available with either a blue or black dial, was presented in 2019 on the occasion of the 75th anniversary. The watch is not inspired by the first Ocean Star – which would possibly seem somewhat more expected – rather, it pays homage to the very popular and thus more commercially promising look of the 1960s.
With a diameter of 40.5 mm, it is comparatively petite by today's standards, compared to many similar models, and thus comes quite close to the look and feel of the good old days. It is driven by the Mido calibre 80, which is based on the group's own ETA calibre C07.621. In addition to the polished stainless-steel bracelet, the watch also comes with a (blue or black) complementary rubber textile-look strap, with which the overall appearance of the Ocean Star can be quickly transformed.
---