Editor Catherine Bishop discovers the timepieces setting new standards for the Swiss watch industry; gains insights from Breitling's Global Head of Sustainability into the company's lab-grown diamonds; and recounts a trip to a castle with new Breitling envoy, Hereditary Princess Cleo von Oettingen.
---
A night out with Breitling and Cleo's Midnight Tales
---
Close to the city of Nuremberg in southern Germany, there lies an old castle. Built in the 17th century, it is now home to the Oettingen-Spielberg family. On the dark winter night that I make my way to the castle, it is becoming home to many more people as Cleo von Oettingen, German actress and model, opens the gates to Breitling and an array of prestigious guests to celebrate the launch of the new Breitling Super Chronomat Automatic 38 and its Origins sibling.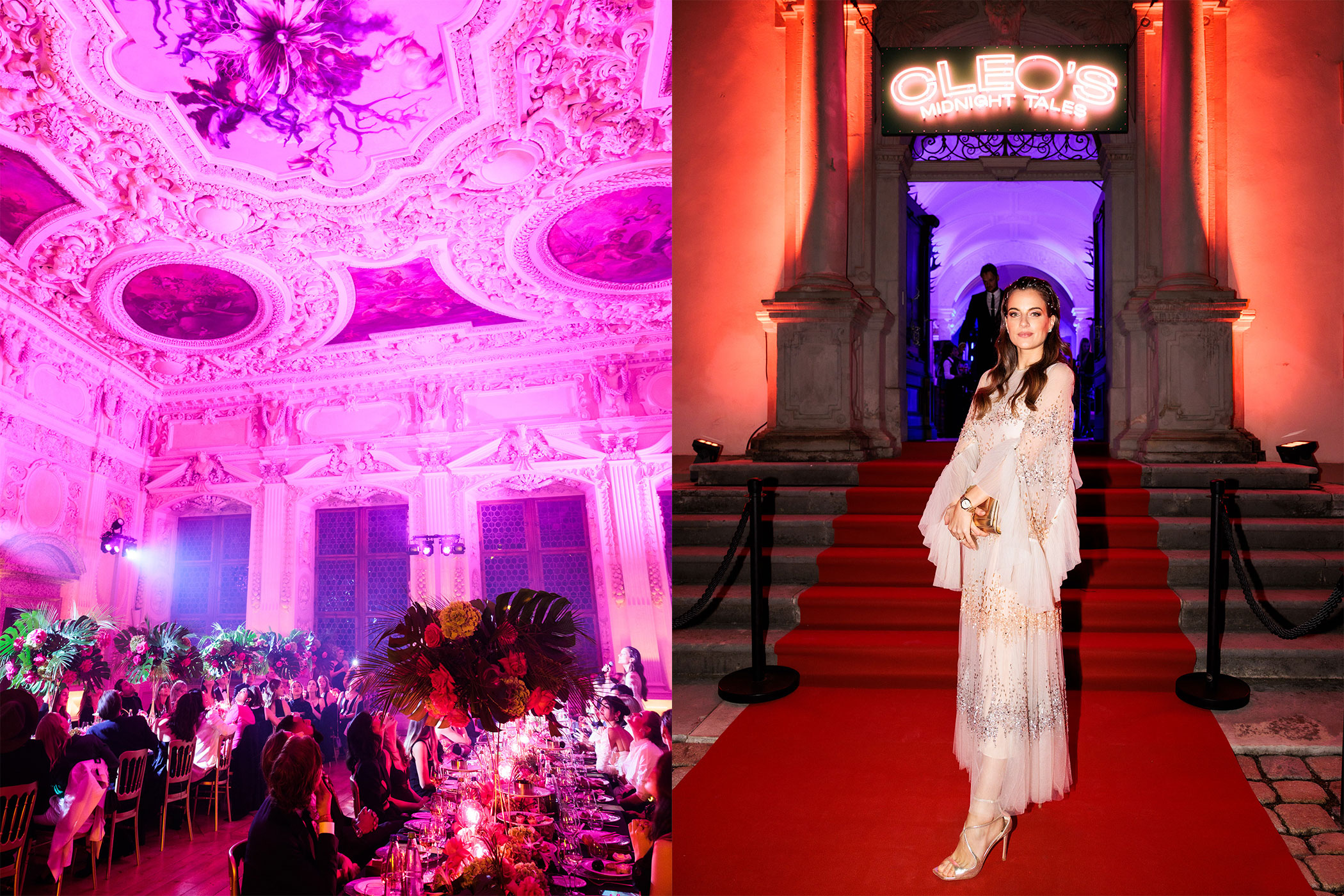 For Breitling, Cleo is a fun and creative force who represents la dolce vita. Those who surround her, from the German nobility exuding class and tradition to influencers oozing glamour and allure. For the German market, this work-hard, play-hard princess is perfect for inspiring Breitling customers to live a little and indulge.
Cleo names her event with Breitling Cleo's Midnight Tales. It's a carefully curated adventure through the castle that takes place at night, commencing with a lavish dinner in an exquisitely decorated ballroom, followed by a performance by soulful singer Aloe Blacc. Blacc serenades us with his hit I Need A Dollar amongst other favourites. We are eventually led to the final destination of our night, down imposing staircases and vast halls, into the castle's cellar – which, of course, Cleo has transformed into an exclusive, darkly lit nightclub.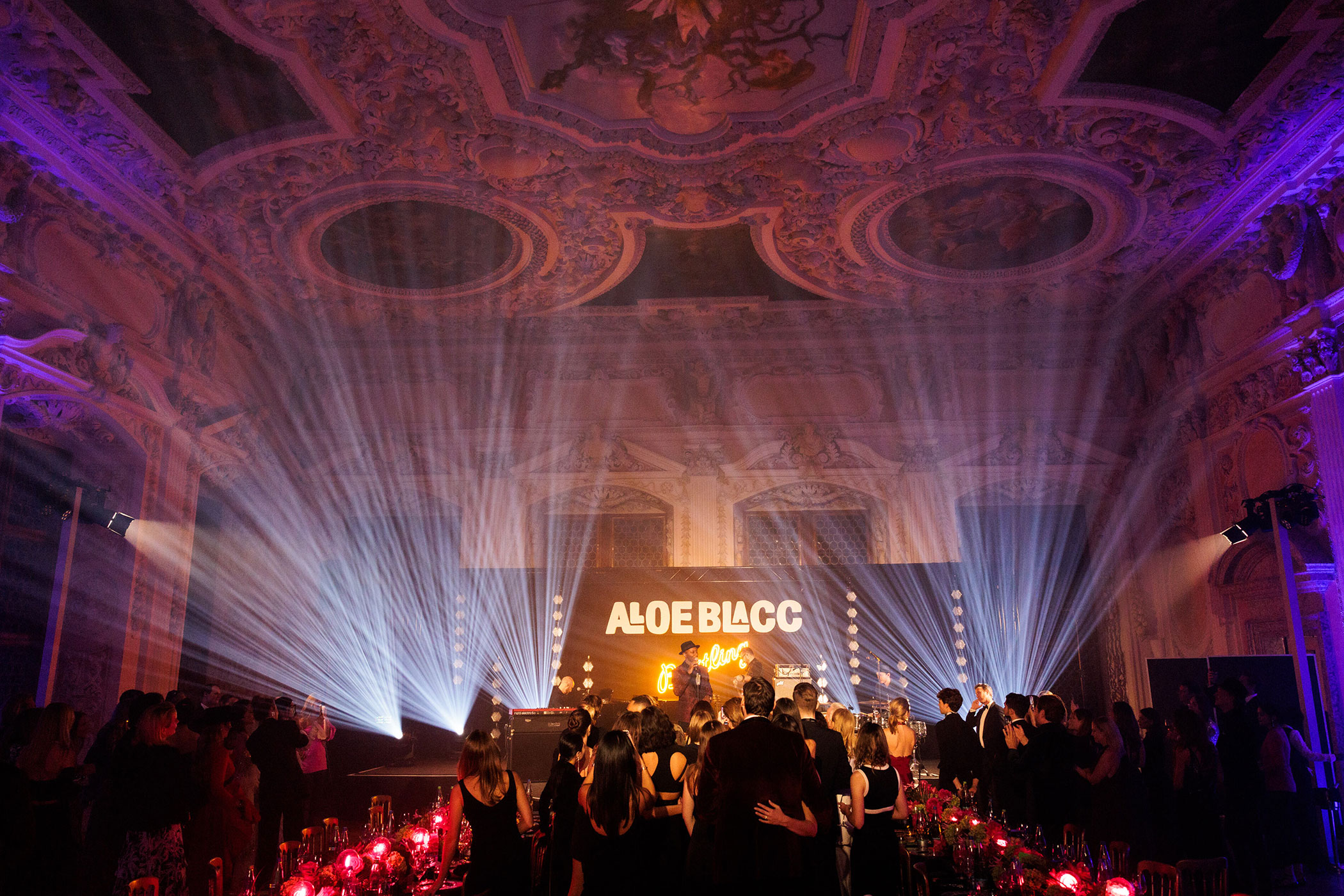 But the most exciting part for Swisswatches, of course, is the big reveal. While royals, influencers, musicians and dancers waltz the night away, we sit down by a crackling fireplace on cosy tartan sofas to meet the Breitling Super Chronomat Automatic 38 watches in person.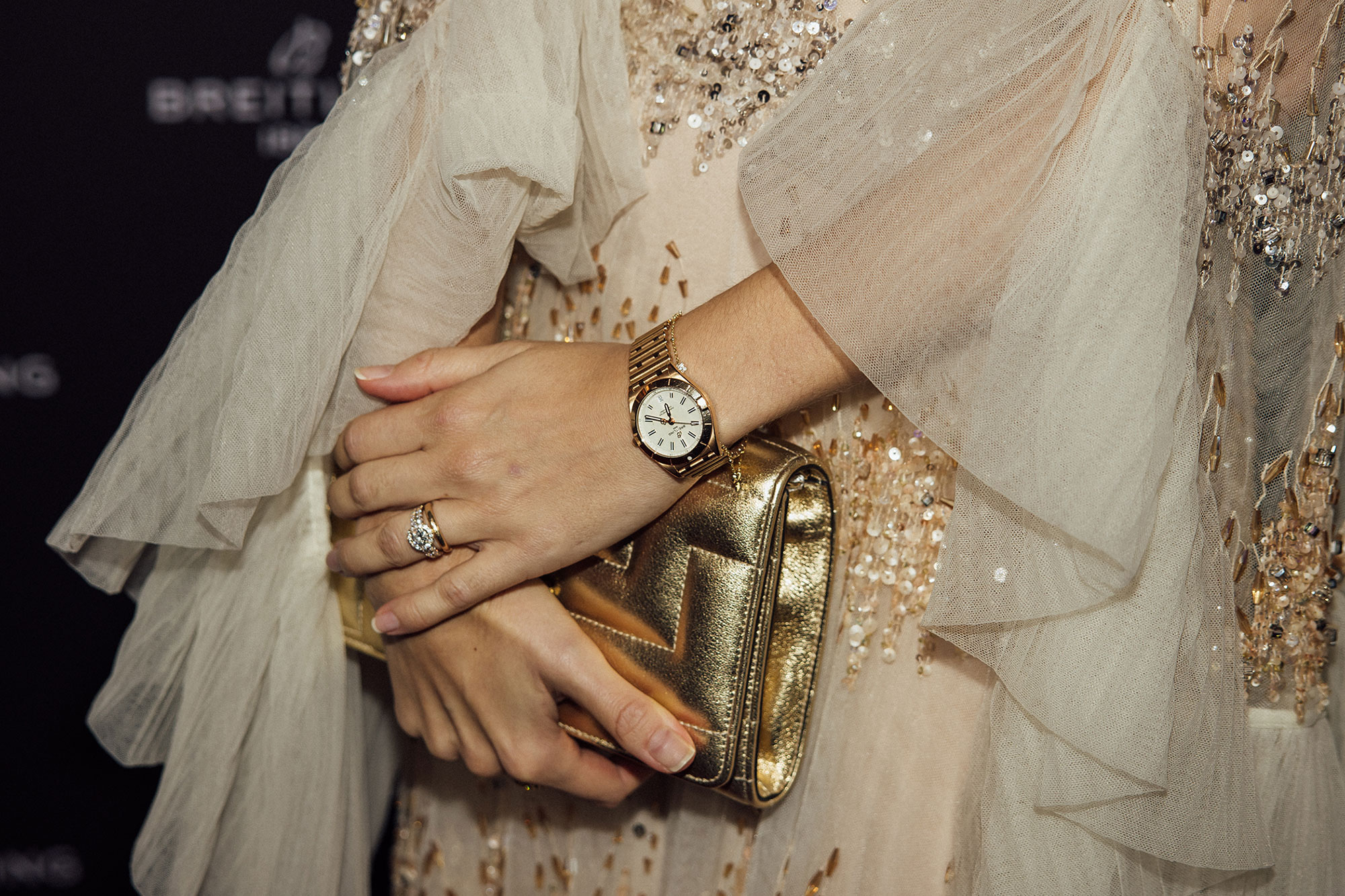 ---
The story of Breitling's Chronomat
---
During the 1970s quartz crisis, many brands were thrown into uncertainty and upheaval as a desire for mechanical watches rapidly declined. One demographic with a continued interest in mechanical timepieces, however, were pilots, who had a strong need for chronographs and pilot's watches. In 1983, as the dust from the crisis began to settle, Breitling teamed up with the Frecce Tricolori to create an elegant piece that could thrive in the cockpit as well as everyday life.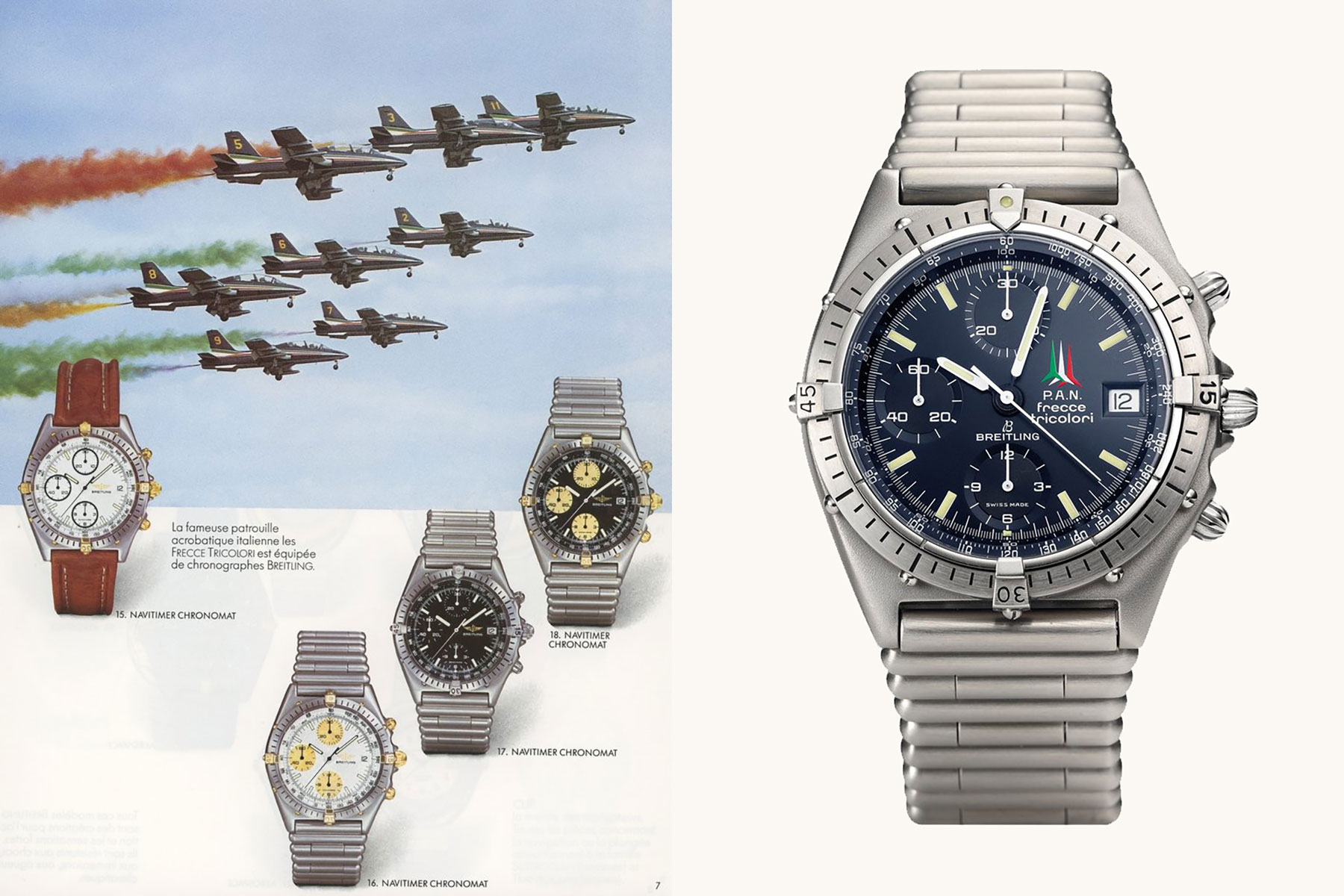 The result was a timepiece with trademark features, from the four raised rider tabs protecting the crystal to the stylish steel bracelet which captures the hearts of many today. Causing a sensation upon its launch – particularly commendable given the quartz crisis was still coming to a close – the watch quickly become publicly available and was christened the Chronomat.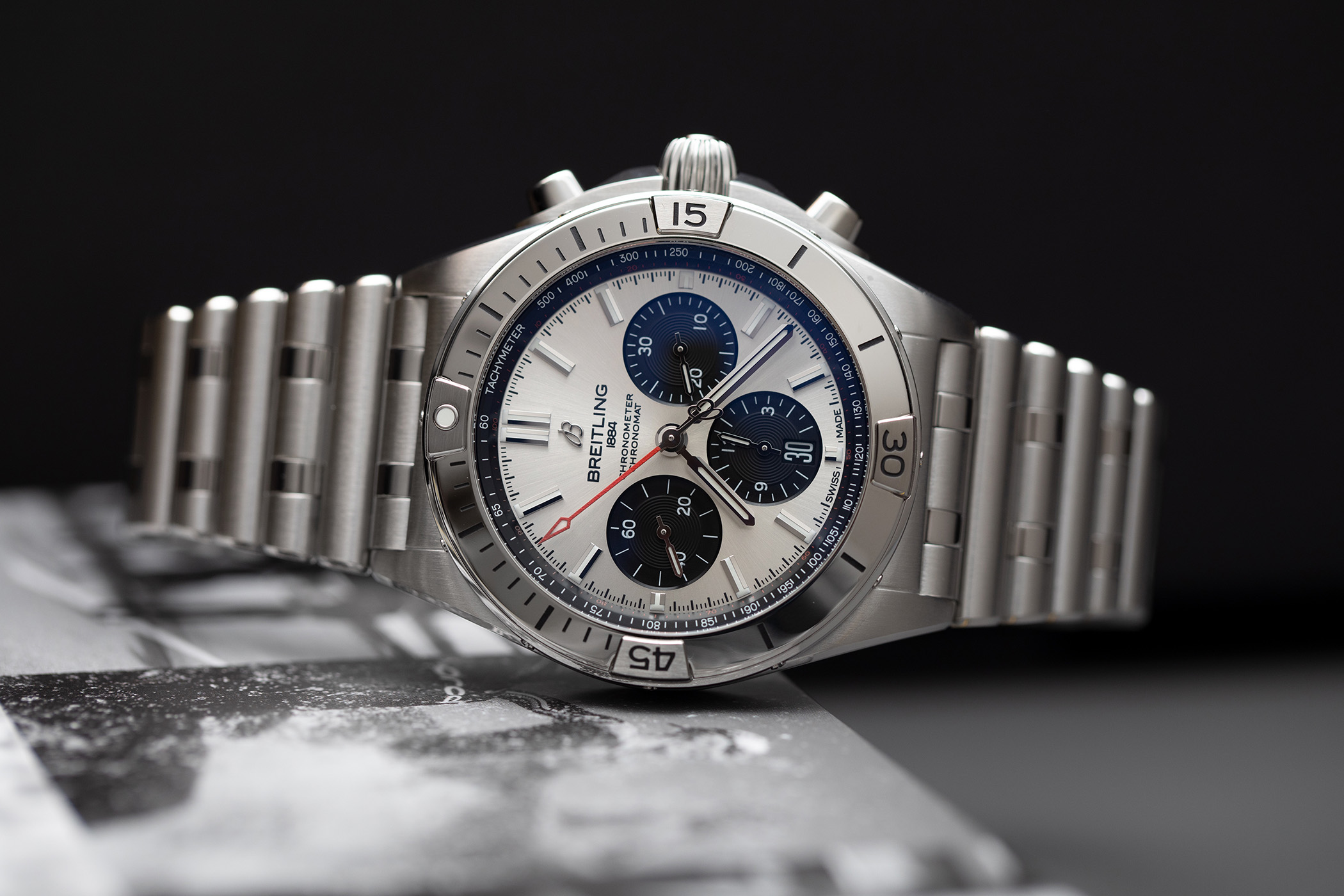 Breitling Chronomat B01 42 from 2020
Following its relaunch back in 2020, it's fair to say that Breitling's Chronomat models are now well and truly in their heyday – with no signs of slowing any time soon. Two of the latest models to join this very popular collection are the Super Chronomat Automatic 38 and Super Chronomat Automatic 38 Origins. Both watches mark a first not only for the brand, but also within the entire industry: their bezels feature lab-grown diamonds. So, what is the tale behind these trend-setting, history-making models?
Super Chronomat Automatic 38 and Super Chronomat Automatic Origins
---
Super Chronomat Automatic 38
---
The Super Chronomat Automatic 38 was introduced alongside the Chronomat Automatic GMT 40. One of the roles of this watch is actually to fill a gap: prior to its introduction, Chronomat case diameters spanned from a petite 32 mm to bold 44 mm – yet there was no middle ground. The new 38 mm models change this.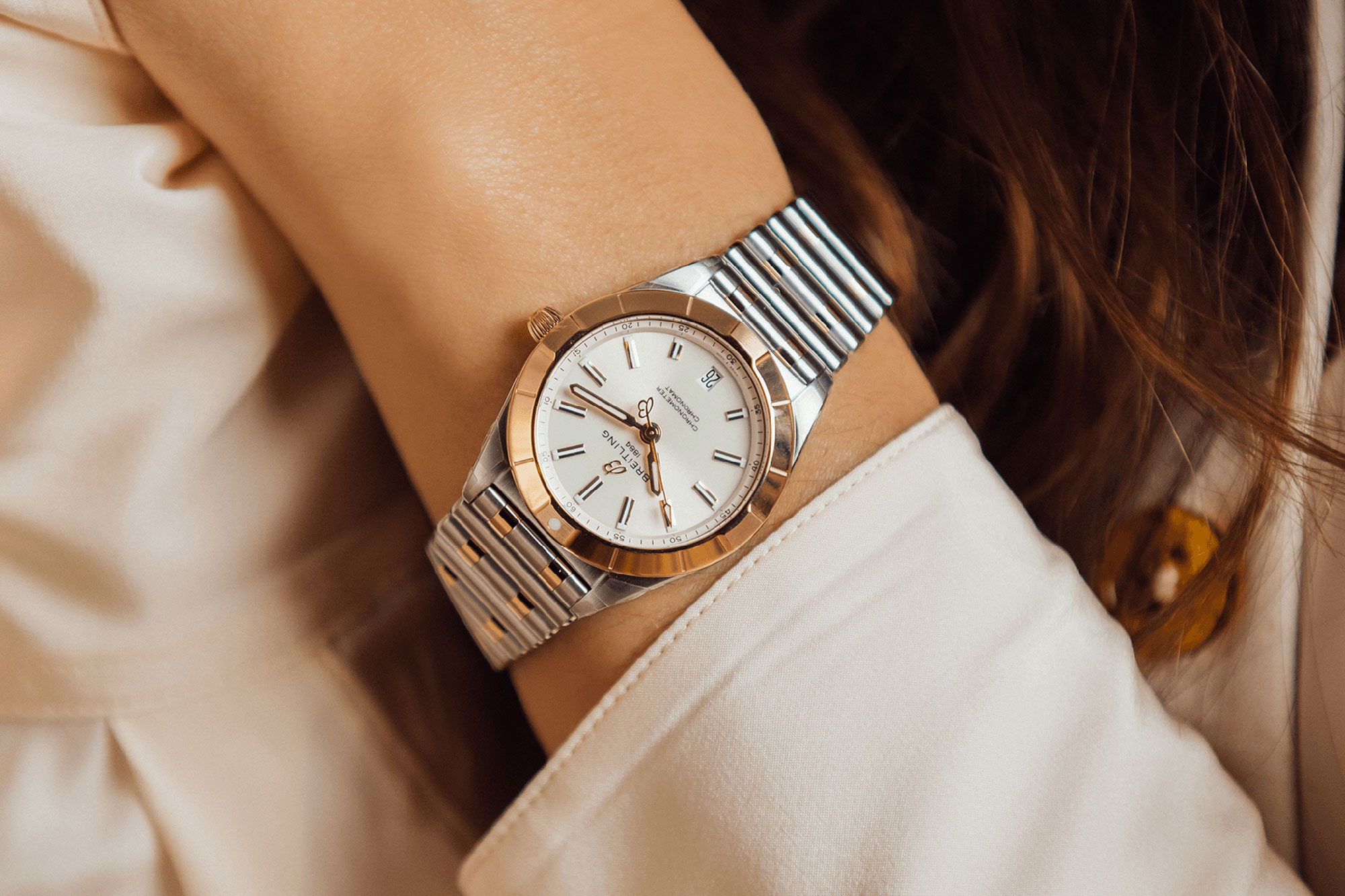 Yet surely a new size isn't enough to earn the title of 'Super'? No. Rather, this refers to the impressive new details on this rather different new Chronomat, never seen before on any other model. This includes coloured ceramic rider tabs and a matching ceramic crown, alongside the option of a rouleaux rubber straps. The latter is a particularly exciting change, given the ongoing popularity of rubber watch straps.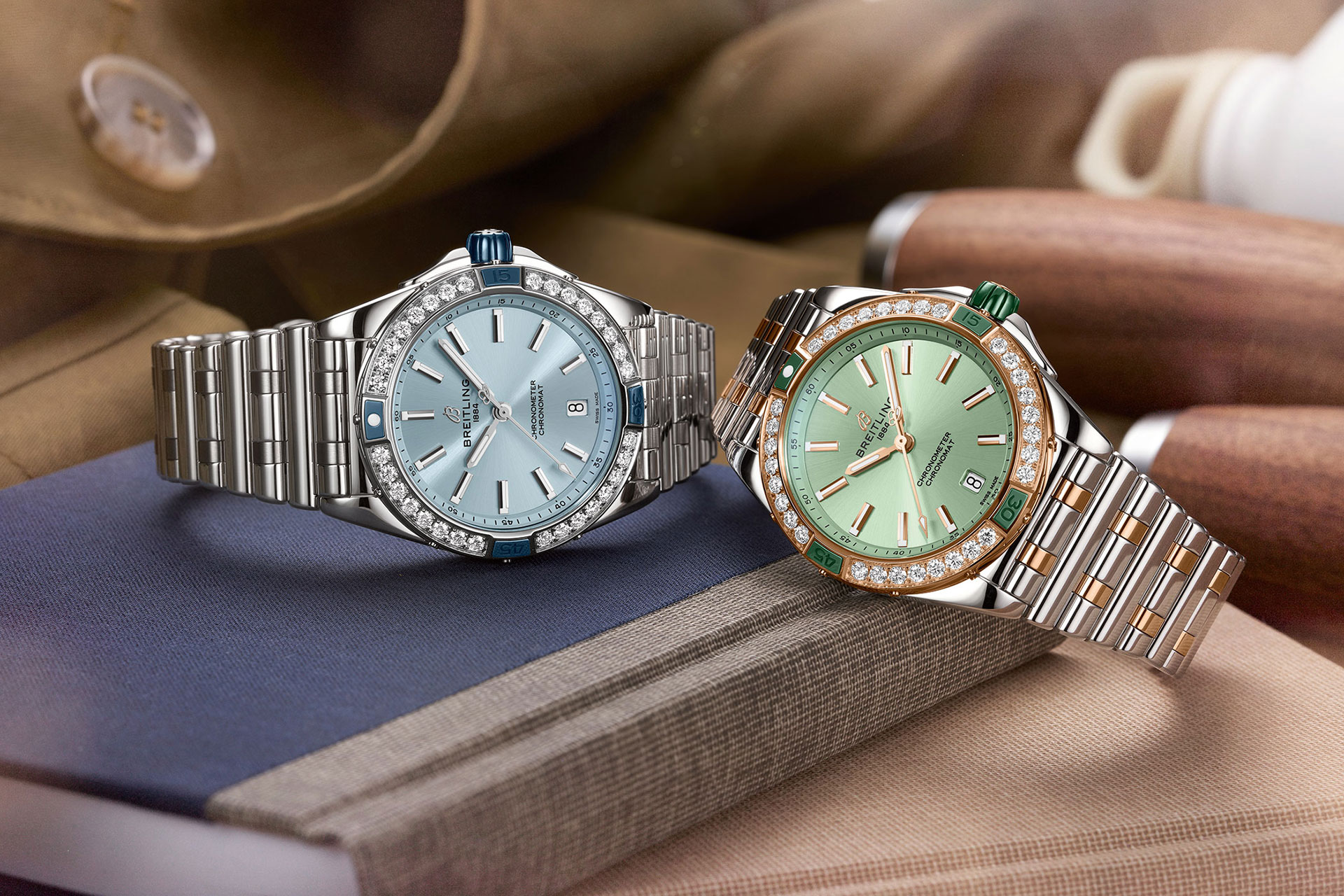 That's not the only striking aesthetic change. The new timepieces set oversized diamonds into the 18-carat red-gold or steel bezel, complementing the ice-blue or mint-green dials. A date window sits neatly at 6 o'clock, while the steel or gold hands use luminescence (as do the indices) for readability around the clock.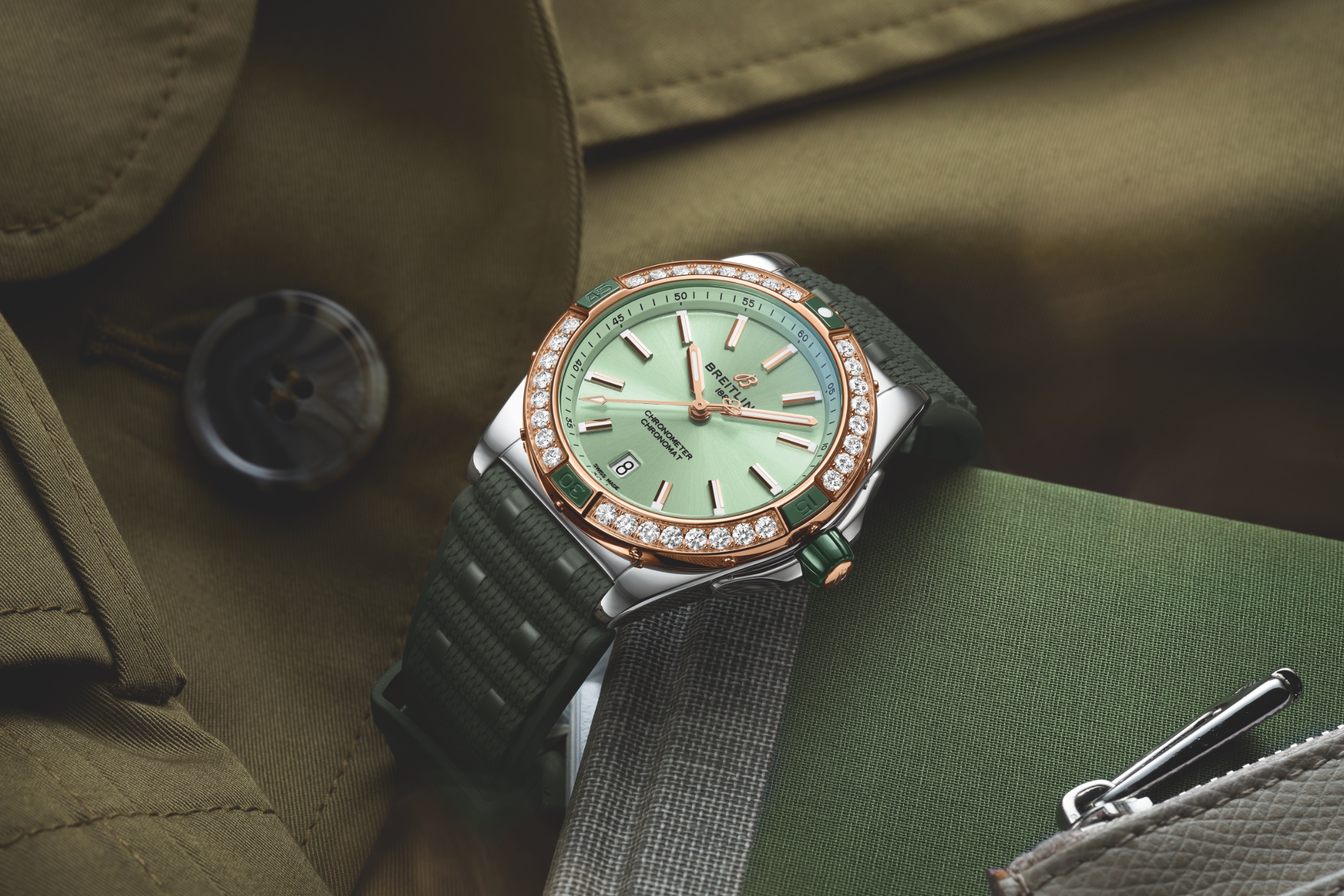 The price of the blue dial, steel case version is 9,450 euros with a rubber strap, 9,750 euros with leather strap, or 10,150 euros with steel bracelet. By contrast, the green version with 18-carat rose-gold accents is 11,500 euros with rubber strap, 11,900 euros with leather bracelet, or 13,600 euros with the bicolour Rouleaux bracelet with double-folding clasp.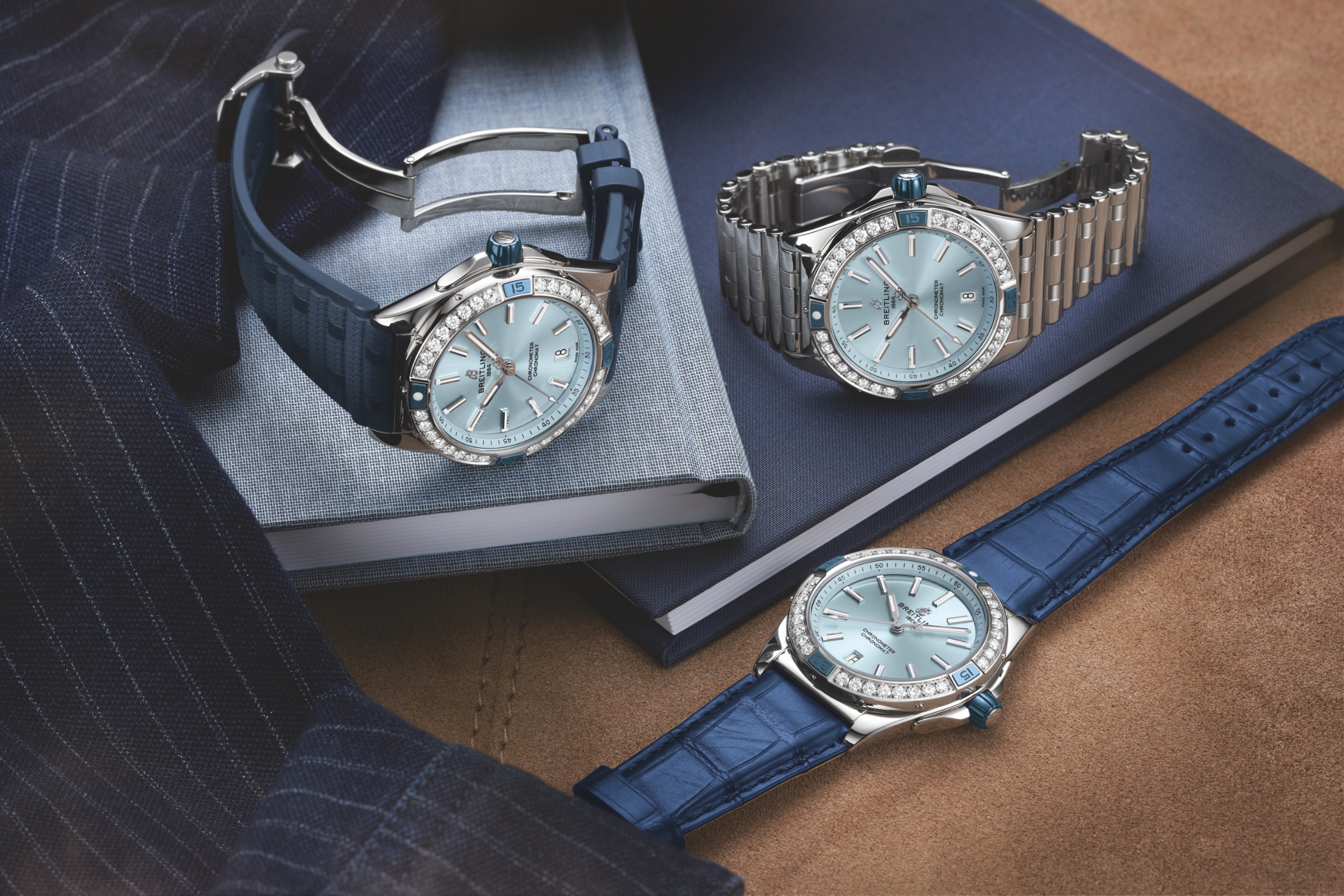 Then there are the technical details of the watches. The new Super Chronomat Automatic 38 is housed in, obviously, a 38 mm case, which is water-resistant to 100 m. This is combined with a height of 11.8 mm, which matches well to the original DNA of this watch also being for everyday wear. The proportions are pretty perfect, and it sits beautifully on the average-sized wrist.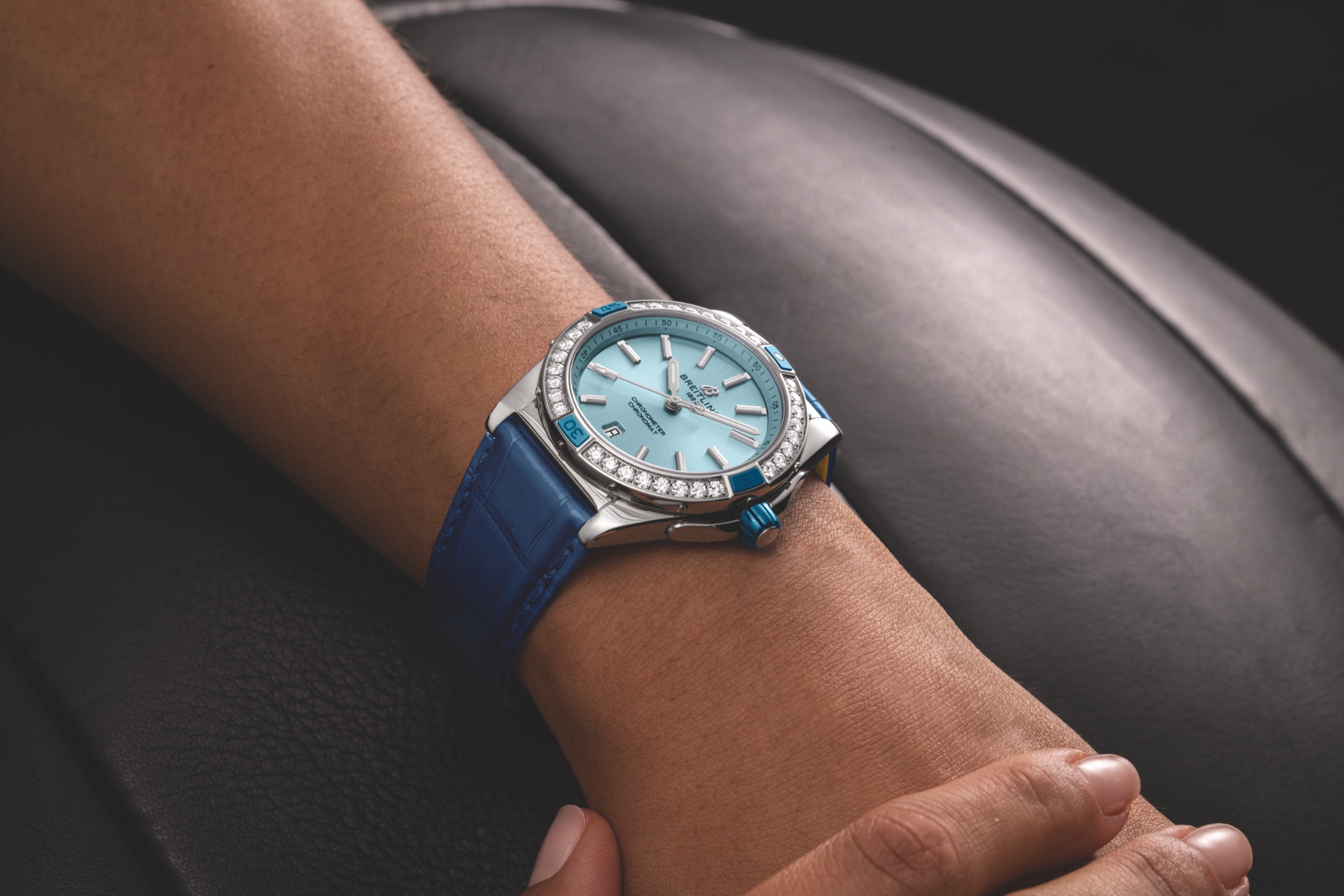 Powering the timepieces is the horology house's in-house calibre Breitling 17 with automatic winding. Beating at a frequency of 4 Hz (28,800 vph), it offers a power reserve of 38 hours. While not the largest power reserve, it works well enough if this is indeed to be seen as a watch for everyday wear.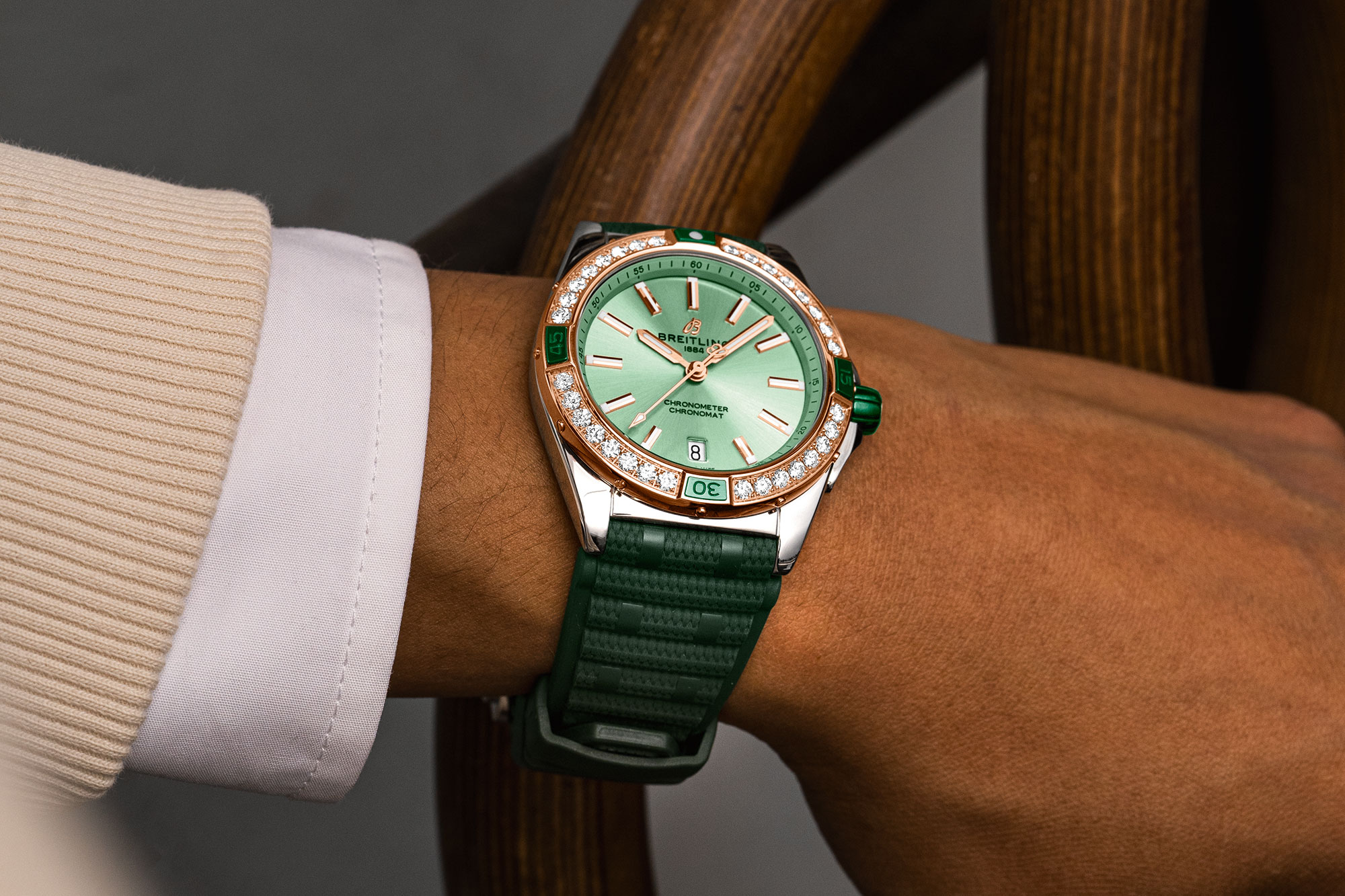 ---
Super Chronomat Automatic 38 Origins
---
Like the aforementioned watches, the Super Chronomat Automatic 38 Origins is, as the name suggests, a timepiece that is traceable back to its very roots. Featuring a transparently sourced gold case and lab-grown diamonds, the owner of the watch can check the proof of the watch's origins via an NFT.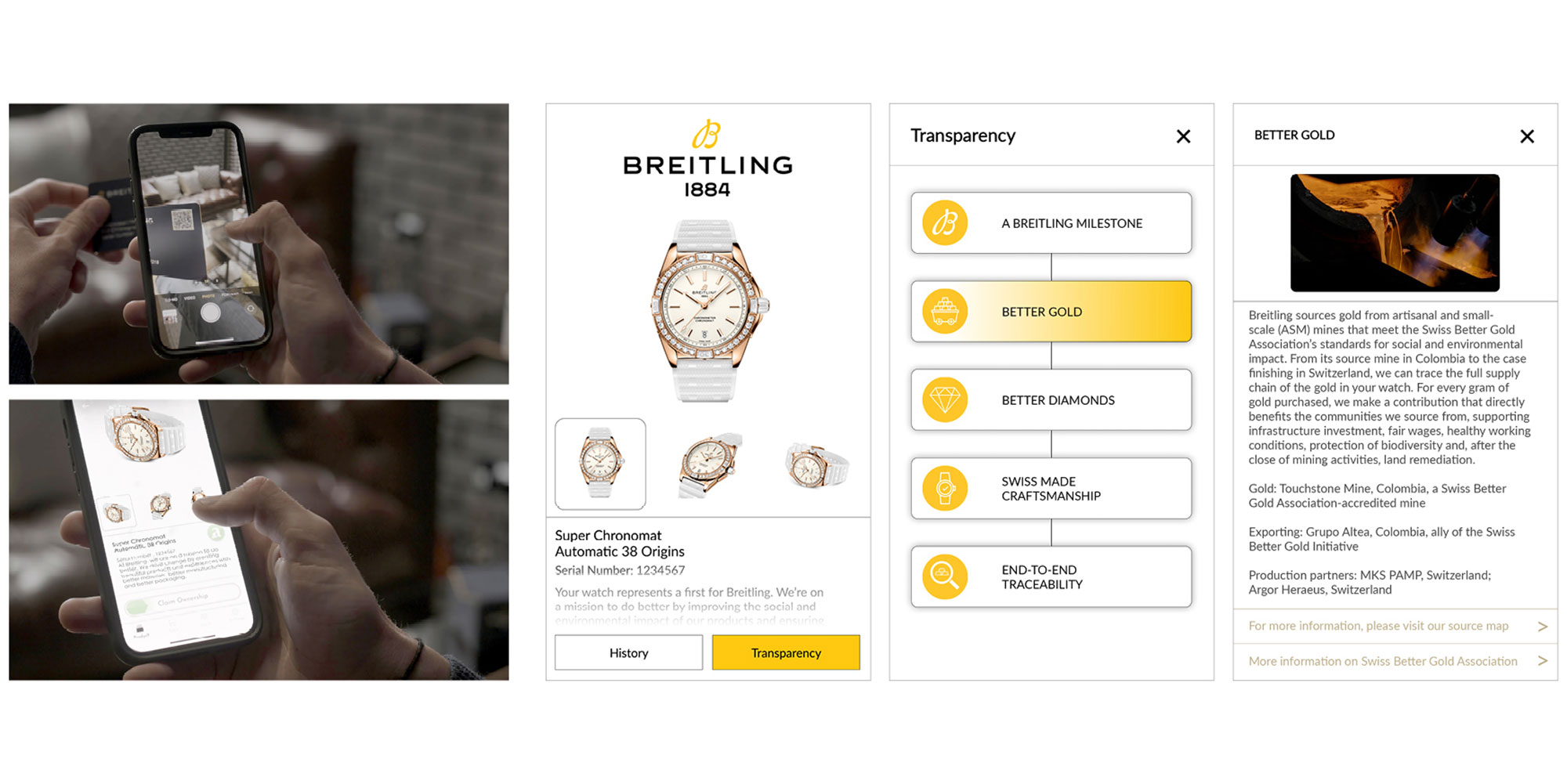 While every watch to emerge from Breitling since 2020 has come with a digital proof of ownership, the Origins watch demonstrates the supply chain from the raw material to the finished product in detail.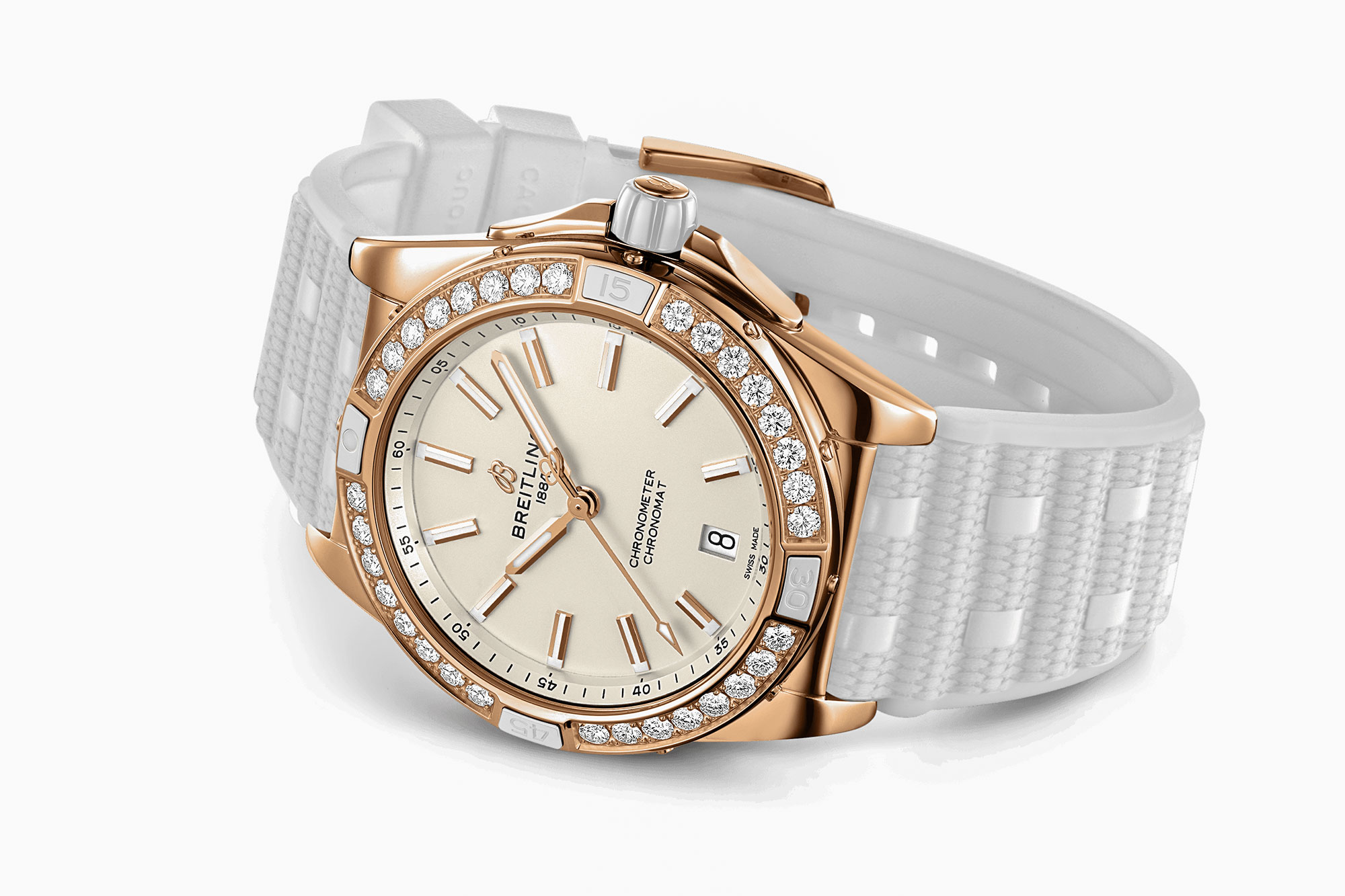 This watch stands out with its glowing 18-carat red gold case and matching unidirectional bezel. The gold comes from one single mine in Colombia, which is certified by the Swiss Better Gold Association. This non-profit aims to improve the working and living conditions in small-scale mining communities, while simultaneously establishing sustainable supply chains. Breitling likewise contributes to development projects in the region. By 2025, the horology house intends to only use gold that is traceable to certified mines like the Colombian site used for its new Origins timepiece. According to Georges Kern, CEO of Breitling, the company's 'roadmap begins here with the proof-of-concept Super Chronomat Origins.'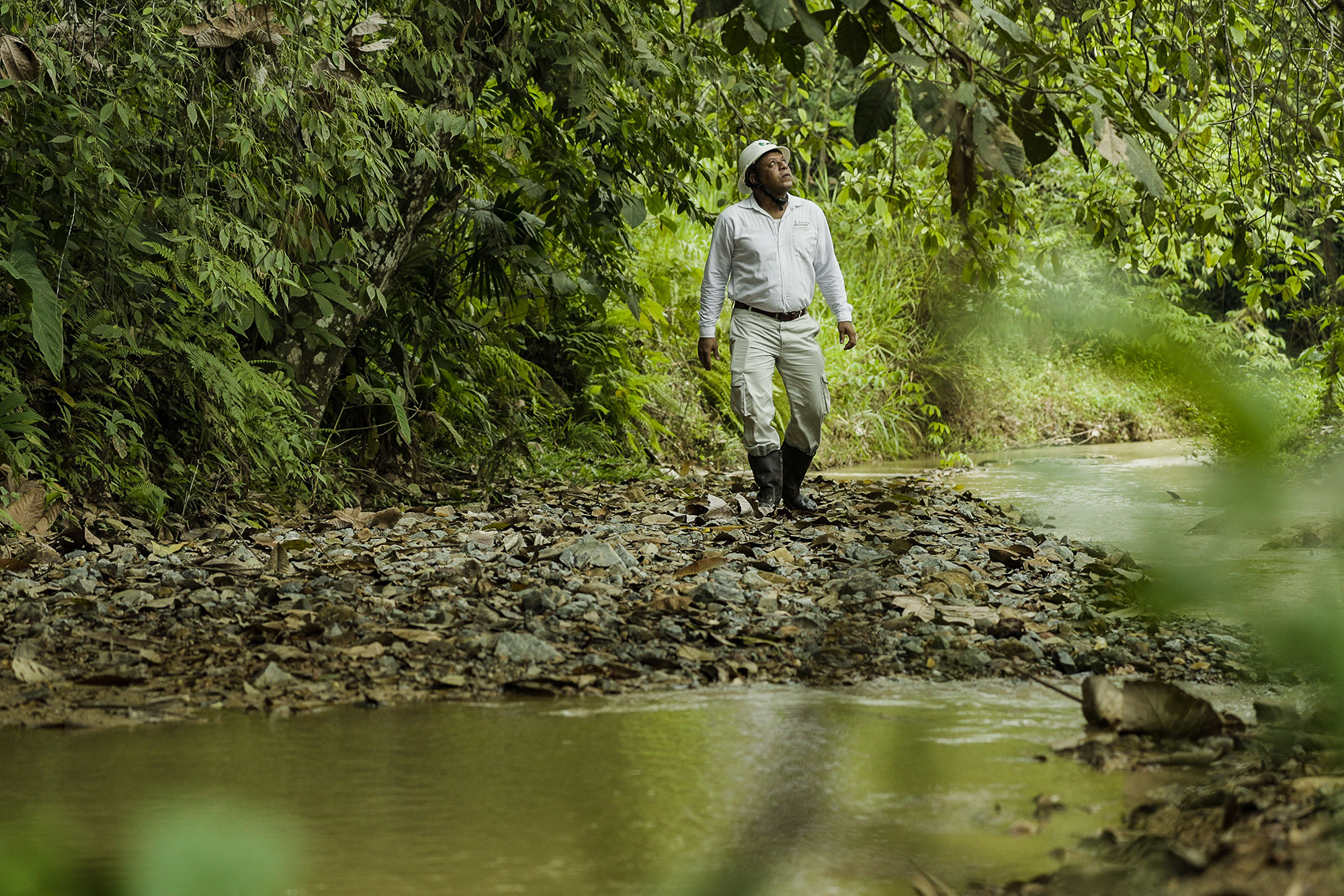 But back to the watch: the Super Chronomat Automatic 38 Origins is not only a statement in what it does, but also in how it looks. The 38 mm x 11.8 mm red-gold case has the same wearable proportions as its siblings, alongside a comfortable weight of 120.5 g – although this is also down to the fairly simple hour, minute, date functions the calibre Breitling 17 offers.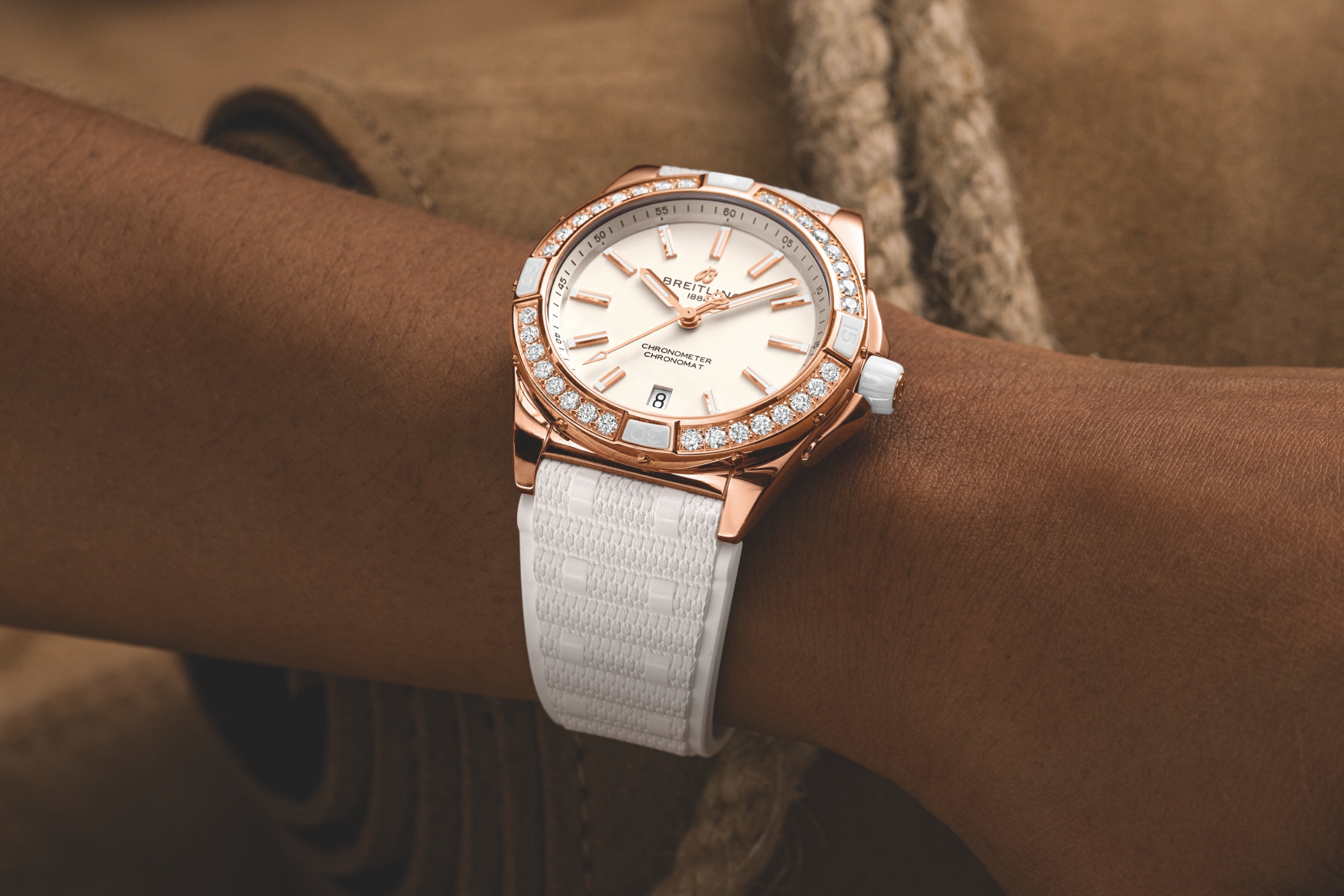 The most transformative feature of this watch is, as is so often the case, the strap option. The Super Chronomat Automatic 38 Origins comes with the choice of either a beige alligator or white rubber strap.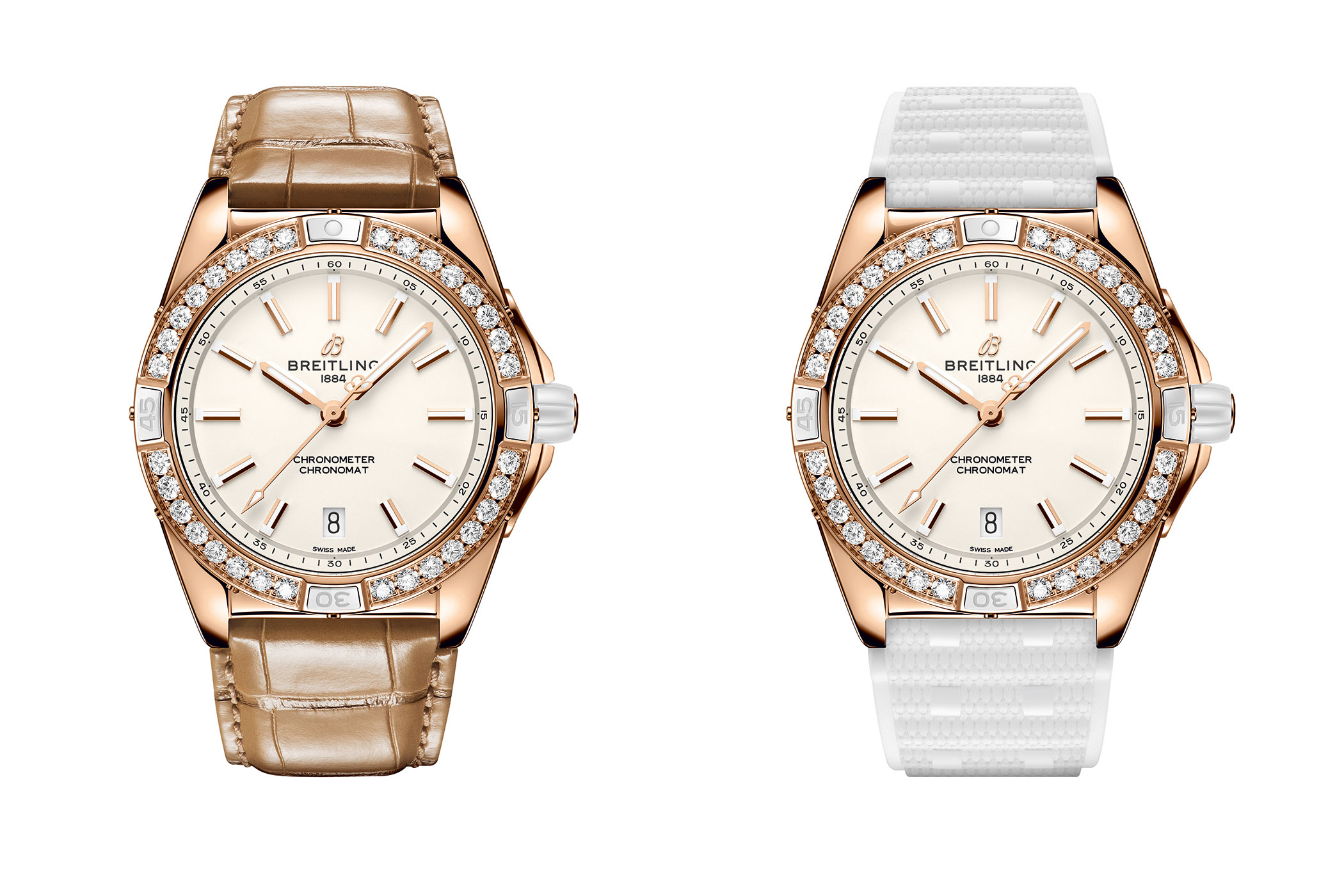 While the white rubber strap lends the watch a contemporary spin – as well as the edge that this option has never before been available on the Chronomat – the leather strap transforms this timepiece into a highly elegant option. This matches pretty well to its price point at the higher end of Breitling's range, costing 19,900 euros. By contrast, the sporty rubber strap costs 19,400 euros. The two strap options combine the active and elegant DNA behind the Chronomat by offering two such contrasting options.
---
Breitling's journey to lab-grown diamonds
---
The magic of diamonds
The spell diamonds cast on humanity stretches over millenniums. Diamonds were first discovered in the city of Golconda around 2,500 years ago, becoming a symbol of power and invincibility across India and beyond. Despite legendary tales of Alexander the Great chancing upon the snake-guarded Valley of the Diamonds, the diamond trade in Europe would not take off until the 10th century. Here, they also became a sign of power and divinity in courts.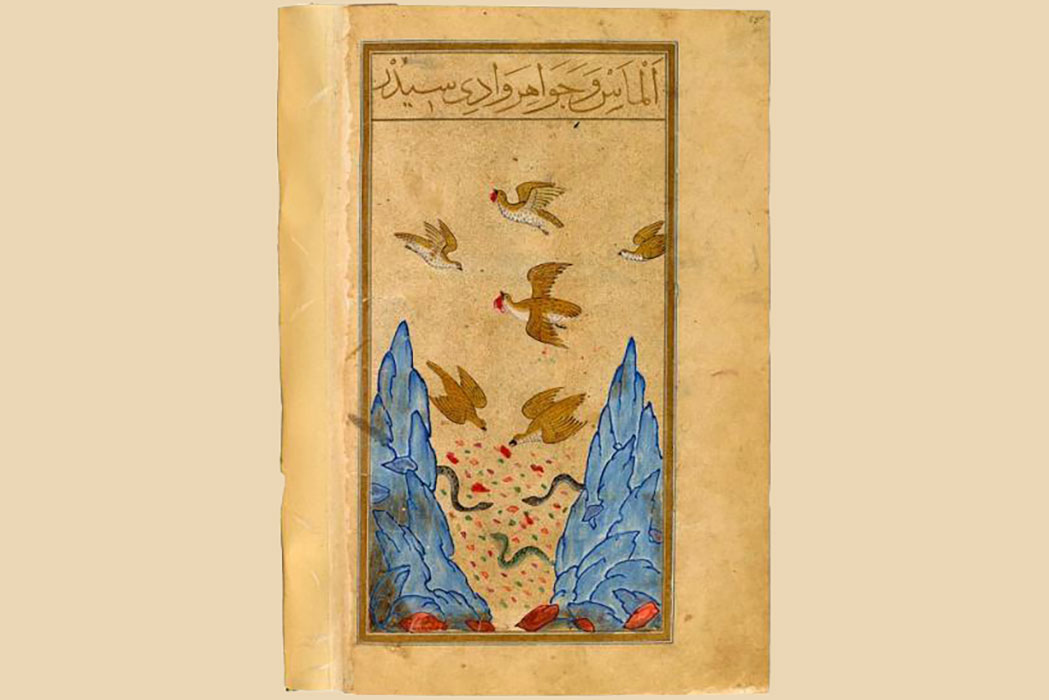 The legendary Valley of the Diamonds
Fotocredit: The Morgan Library & Museum
Diamonds have made history over time for a myriad of reasons, from King Louis' allegedly cursed Hope Diamond to the contested Koh-i-Noor (originating in Punjab) owned by the British Crown. Diamond jewellery has likewise become famous for its styles and those who wear it, from Elizabeth Taylor's Krupp Diamond to Marie Louise's Napoleon Diamond Necklace. Our obsessions with them extend to film, too: diamonds take the lead in many a movie, from Diamonds Are Forever and Gentlemen Prefer Blondes – with Marilyn Monroe's performance of Diamonds are a girl's best friend – to the darker Blood Diamond starring Leonardo DiCaprio. Evidently, we are captivated by these mesmerising gems, and the watch world is no exception. We can find diamonds transforming many an iconic watch, from Cartier's iced-out Ballon Bleu to Rolex's Pearlmaster 39.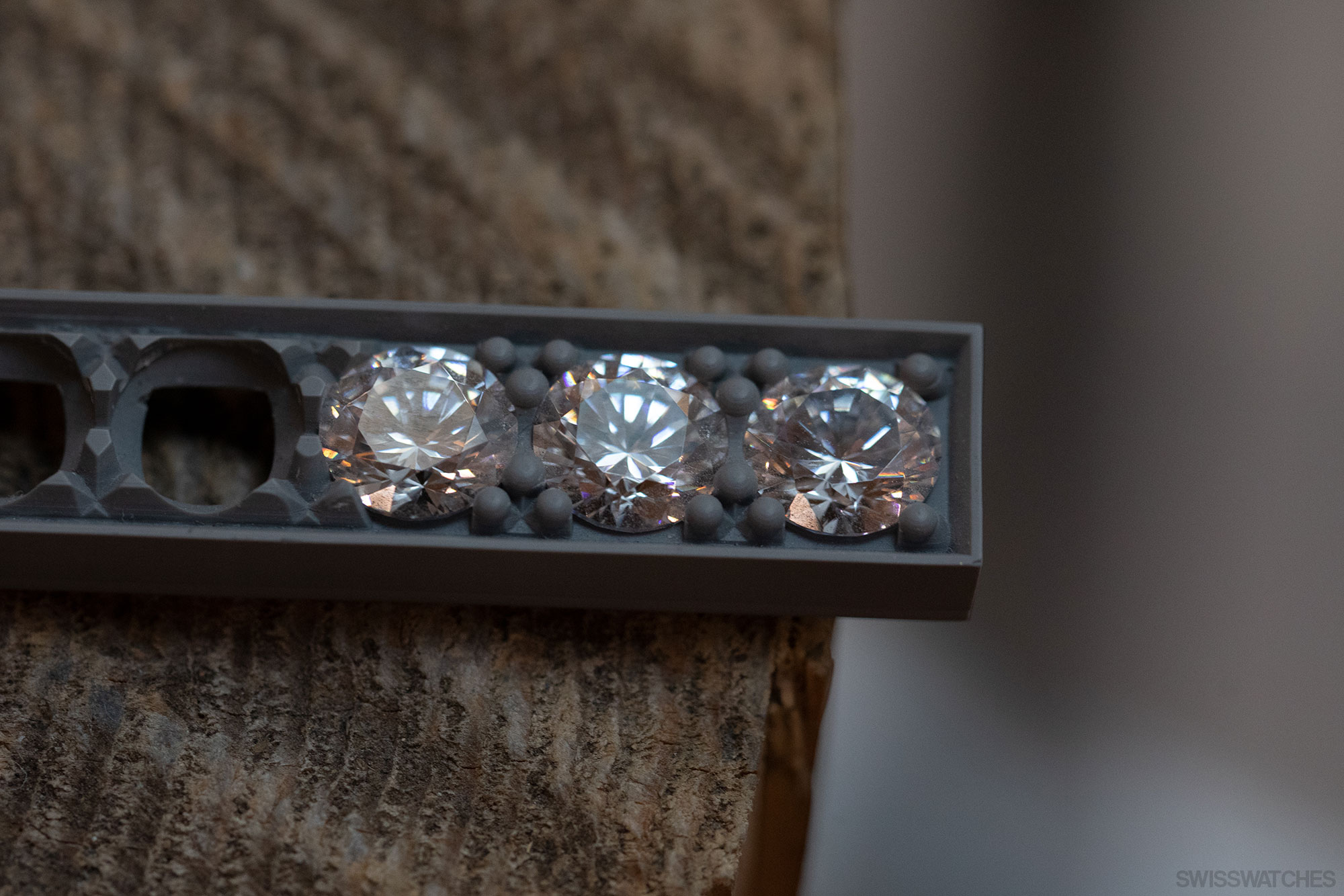 Natural formation of diamonds
But what exactly are diamonds? As our science teachers would tell us, diamonds are giant covalent bonds, in which the carbon atoms form a tetrahedral structure. Diamonds form deep down in the Earth's mantle, the layer between the Earth's crust and core. Around 140 km to 160 km beneath our feet, under extremely high temperatures and great pressure, their formation takes well over a billion years. The reason we find them near the surface today is thanks to ancient volcanic eruptions.
Lab-grown diamonds
By contrast, lab-grown diamonds take weeks to form. The process to produce the lab-grown diamonds used for Breitling Super Chronomats is called CVD: 'Chemical Vapour Deposition'. It involves using gas, which is injected into a chamber onto a diamond slice (also lab-grown), to which heat and pressure are applied. Over time, layer upon layer, the structure of the diamond appears. The end result is identical to a natural diamond. Yet what is lacking from these lab-grown diamonds are the potential harmful effects of mining, from habitat destruction to the release of small particular matter into the air and water in surrounding areas.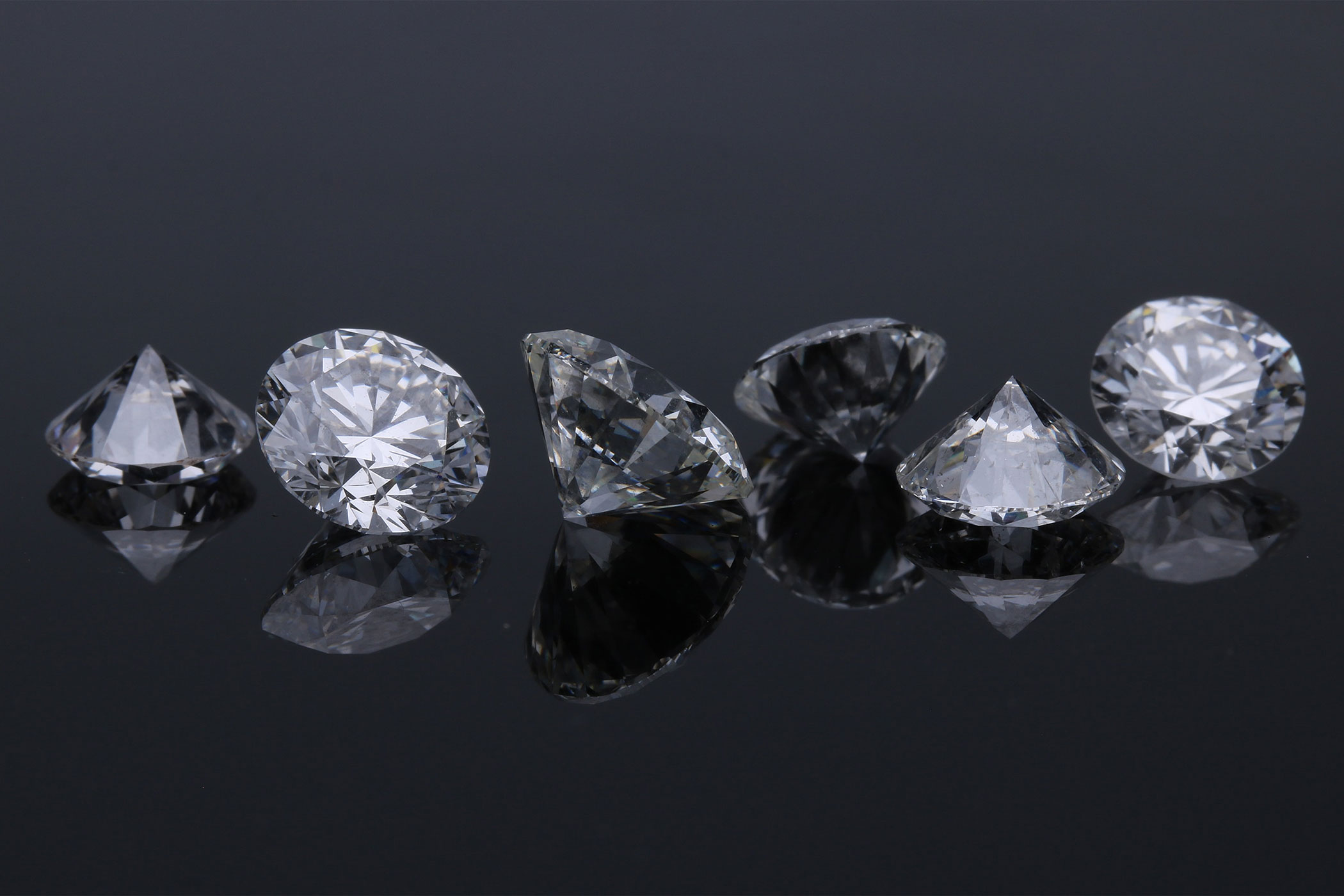 Credit: Edgar Soto
Mined diamonds versus lab diamonds – what's the difference?
Aurelia Figueroa is Global Head of Sustainability at Breitling and is well-versed on the damaging effects the mining industry can have. 'The U.S. Geological Survey estimates that for each diamond recovered by mining, 200 to 400 million times as much rock must be extracted,' explains Figueroa. 'The extraction process is very energy intensive, as is the ore crushing process which follows. Water quality and availability of water resources within the immediate area of mining areas can also be negatively impacted, as there is the potential for acid mine drainage and contaminant leaching into nearby waterbodies. Soil erosion and mine waste can also impact nearby areas.' Earlier this year, even, a dam at a mine in Jagersfontein in South Africa burst – destroying six miles of the town and causing at least one fatality.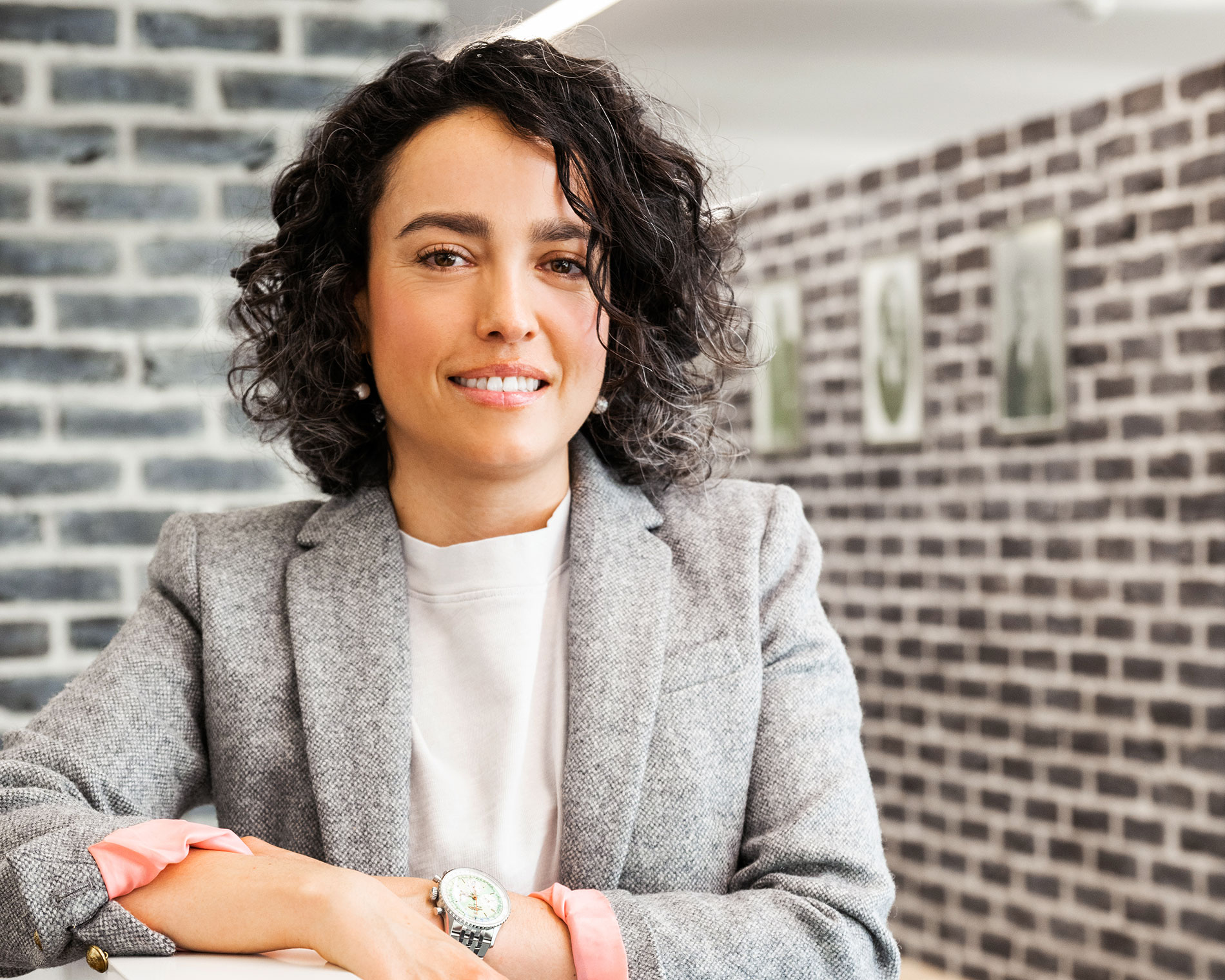 Aurelia Figueroa – Global Head of Sustainability at Breitling
Credit: Breitling
Furthermore, according to a recent report by the Global Diamond Industry, the production of lab-grown diamonds requires the use of seven times less water than a mined diamond, as well as only a fraction the amount of CO2 emissions (0.0028 g as opposed to 57 kg). This also applies to waste: the production of lab-grown diamonds produces half a kilogram, while diamond mining produces an incredible 25 tonnes. Overall, says the report, lab-grown diamonds have a 15,000-fold lower impact than diamond mining. By 2024, Figueroa tells me, Breitling intends cut out mined diamonds completely, and only produce watches that use lab-grown diamonds.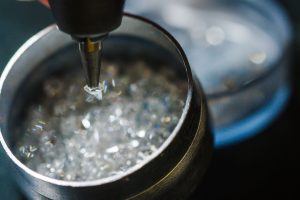 ---
Breitling's diamond producers
---
As the subject of sustainability becomes increasingly prevalent in the Swiss watch industry and beyond, traceability is an ever-hotter topic. Brands such as Panerai, for example, use blockchain to trace a watch and its materials such as gold back to their roots. Yet it was Breitling that again paved the way as the first watch brand to issue a unique digital passport for its products, starting with the Top Time.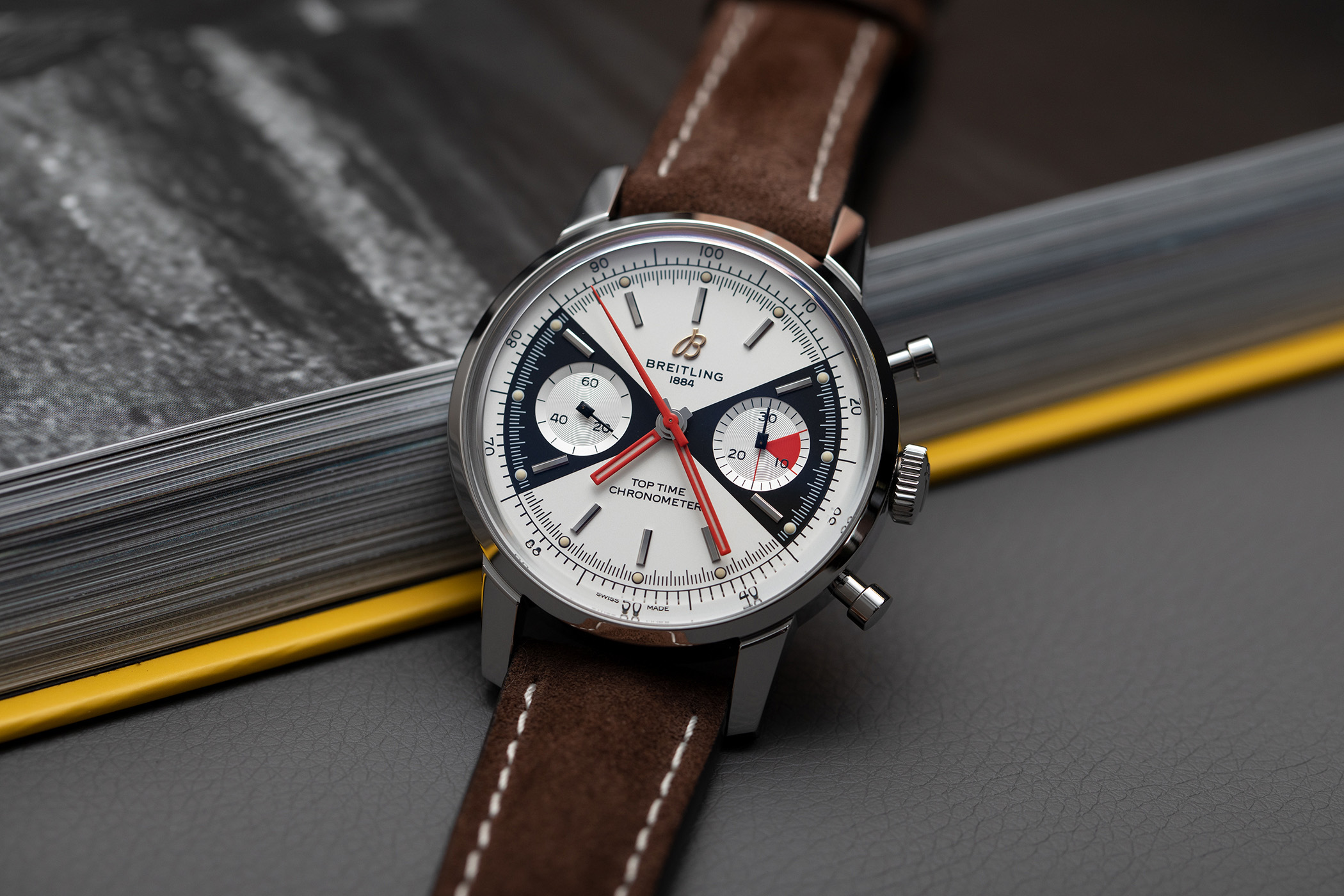 Breitling sources its lab-grown diamonds abroad, from carefully chosen partners. All of these suppliers have to be accredited with the 'SCS-007 Sustainability Rated Diamond Standard'. The SCS Global Services, operating across a broad range of industries such as fishing and recycling in order to uphold certain standards, ensures that the producers of lab-grown diamonds are adhering to high ethical, human and environmental expectations.
Breitling's lab-grown diamond producers are climate neutral – although it should be noted that off-setting elsewhere shouldn't be used as compensation for damaging processes at a manufacture. However, Breitling is evidently committed to avoiding this. The diamonds supplier for its Super Chronomat Origins watch, for example, is Fenix Diamonds in India. Here, the manufacture is transitioning to using 100 percent renewable energy by the start of 2023, through the development of solar power. This counteracts the fact that creating lab-grown diamonds weeks as opposed to potential billions of years, naturally uses large amounts of energy.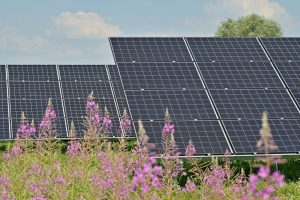 Credit: Andres Siimon
As we explain in our expert guide to Mining and Metals in the Swiss Watch Industry, however, external certifications are an excellent start, but not always enough. For this reason, Breitling – including its Global Head of Sustainability, expert Aurelia Figueroa – have paid personal site visits to its entire supply chain across the United States, India, and Switzerland. 'This complements the third-party audits which suppliers have completed and allows us to develop our values-based relationships', explains Figueroa. 'It is incredibly exciting for us to learn about the measures our supplies are taking in order to transition to full traceability: from reactor to final product, to develop renewable energy sources, and to give back to local communities.' Breitling is also to start doing the latter: it will soon introduce the Breitling Diamond Impact Fund, by which the brand will allocate a portion of the proceeds from lab diamonds to support social and environment impacts along the value chain.
---
Consumer attitudes
---
It's obvious that lab-grown diamonds have plenty of positives in comparison to their mined counterparts, yet that hasn't inspired any other brands to use lab-grown diamonds for this just yet. One reason for this could be the value aspect: lab-grown diamonds are still a novelty, meaning their value has not yet settled – and as of now, they're worth less than their mined counterparts. This is by no means necessarily a bad thing – the new Super Chronomat models, for example,feature larger diamonds that are identical to mined diamonds in terms of quality, yet at a considerably more affordable price.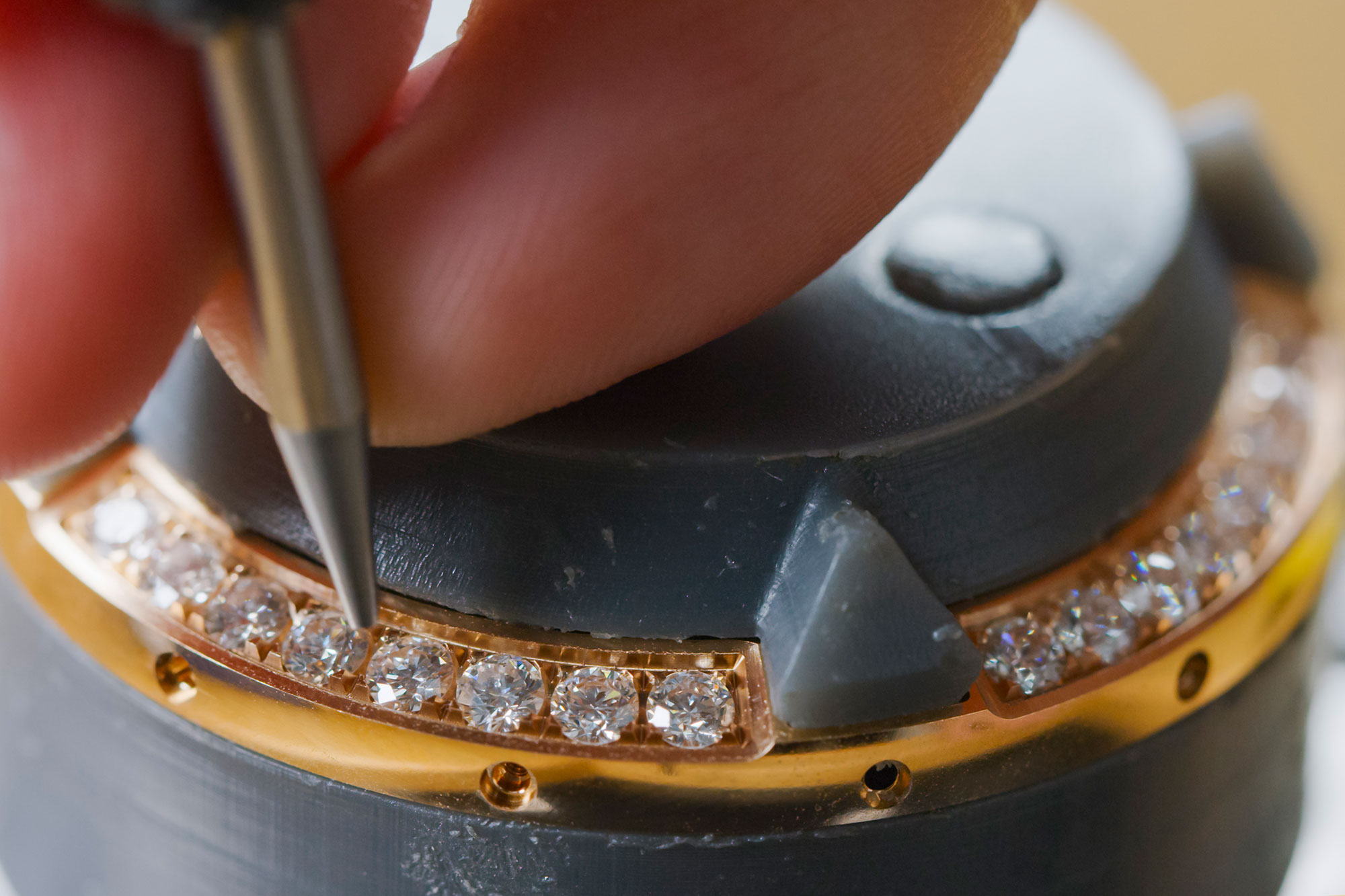 There is also the aspect of authenticity, which, it seems, simply comes down to opinion. While the diamonds are identical, some sentimental consumers will value the way in which a mined diamond has been created – traditionally and over billions of years – as opposed to in a lab over the course of weeks.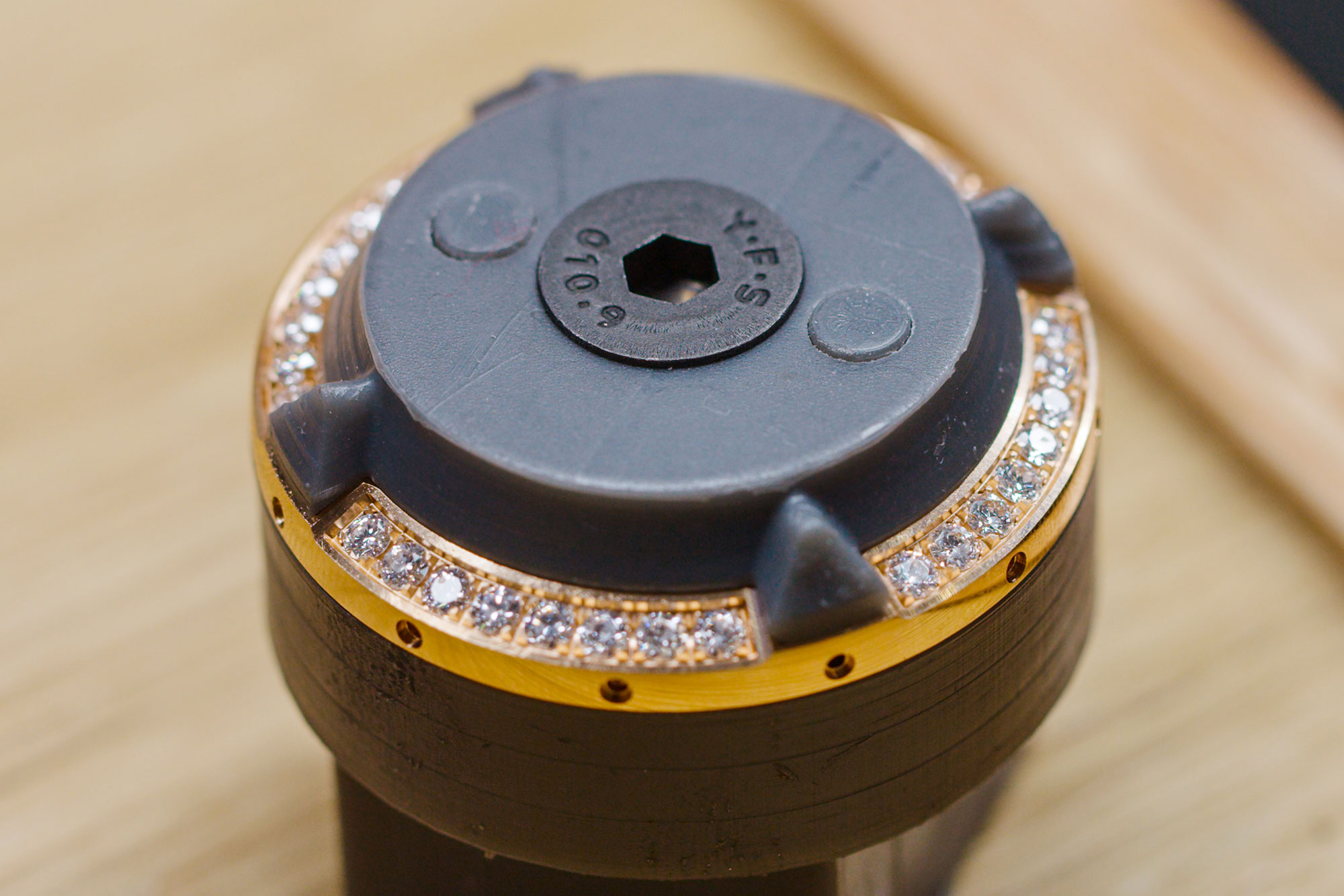 On a related note, there's quality: it's worth acknowledging that Breitling's lab-grown diamonds are all categorised as 'type IIa'. These diamonds have no measurable nitrogen or boron properties. As a result, they are the most valued and purest type of diamond. By contrast, only a small portion – roughly 2 to 4 percent – of all mined diamonds classify as 'type IIa'.
---
Inspiration behind Breitling's move
---
Given the debate behind both types of diamonds, the question arises: what motivated Breitling to become one of the very few luxury Swiss watch brands that uses lab-grown diamonds? Fortunately, the company's Global Head of Sustainability has the answer. 'In 2020, when we formalized our approach to sustainability, we first asked a diverse group of key internal and external stakeholders what we needed to focus on as a brand in terms of sustainability,' Figueroa tells me. 'In the process, we identified 10 priority topics, among which three were highest in terms of stakeholder priorities: Social impacts along the value chain, environmental impacts along the value chain and product integrity.'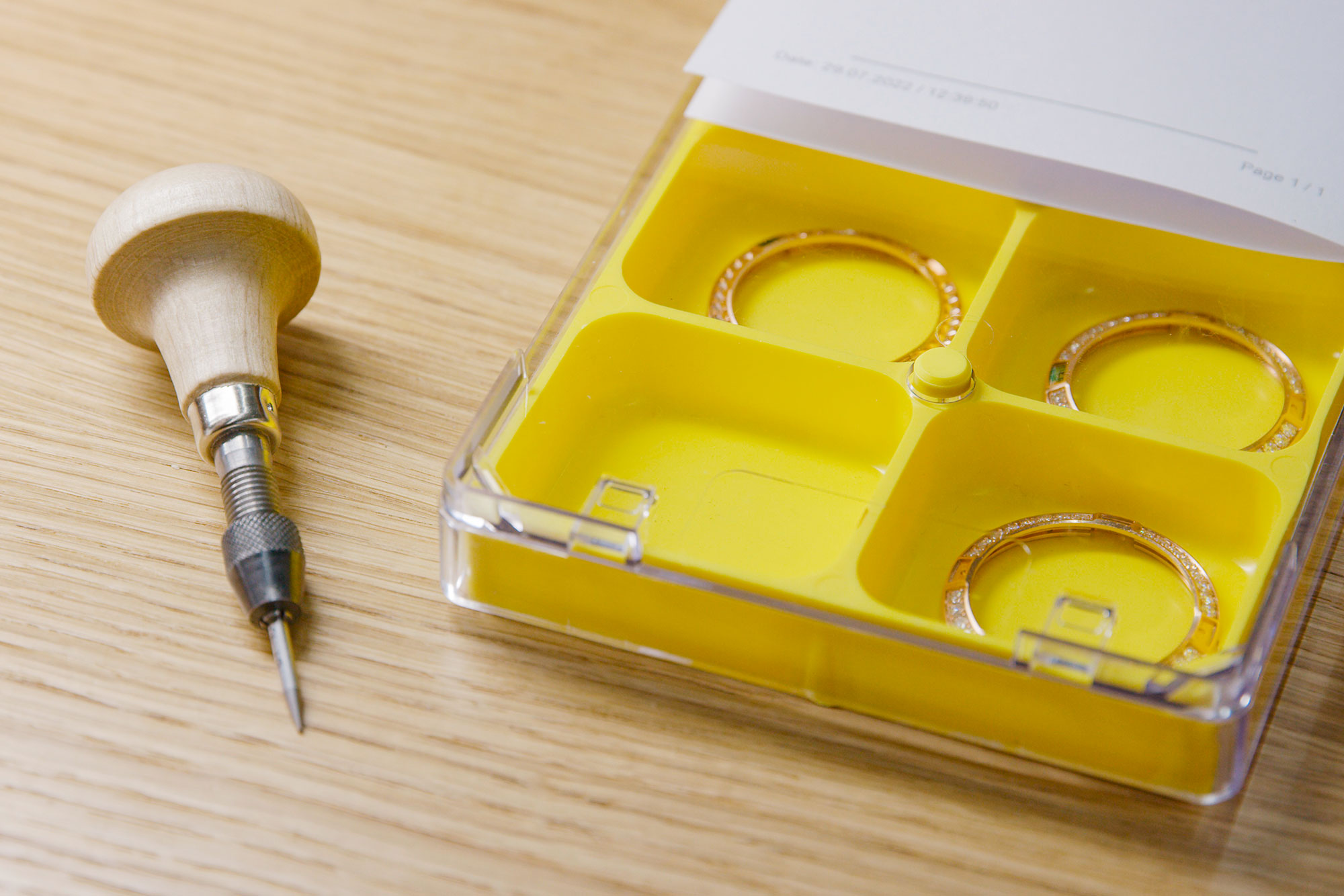 The discussion with Breitling's stakeholders resulted in a clear consensus: in order to have truly traceable, responsible sources for their diamonds, lab-grown diamonds was the most efficient way to achieve their objectives. 'Traceability is key to sustainability because it allows us to transparently communicate to our customers – and all stakeholders – about the social and environmental measures taken all along the supply chain,' supplements Figueroa.
---
The Verdict
---
Getting an honest answer from people about diamonds is difficult: those working with lab-grown diamonds insist it is more sustainable, while those using mined diamonds are quickly incensed upon hearing this argument. It's still a controversial topic in the industry, despite the fact that, as of 2018, Switzerland's watch and jewellery's industry alone used more than 67 percent of the world's diamond supply. As the facts make clear, however, that must make for a phenomenal level of emissions. By contrast, there's no doubt that lab-diamonds are ethically sourced, competitively priced, and created without expelling mineral waste or disrupting surrounding land. As a potential consumer of a lab-grown diamond watch, I have gone from sceptical to sold.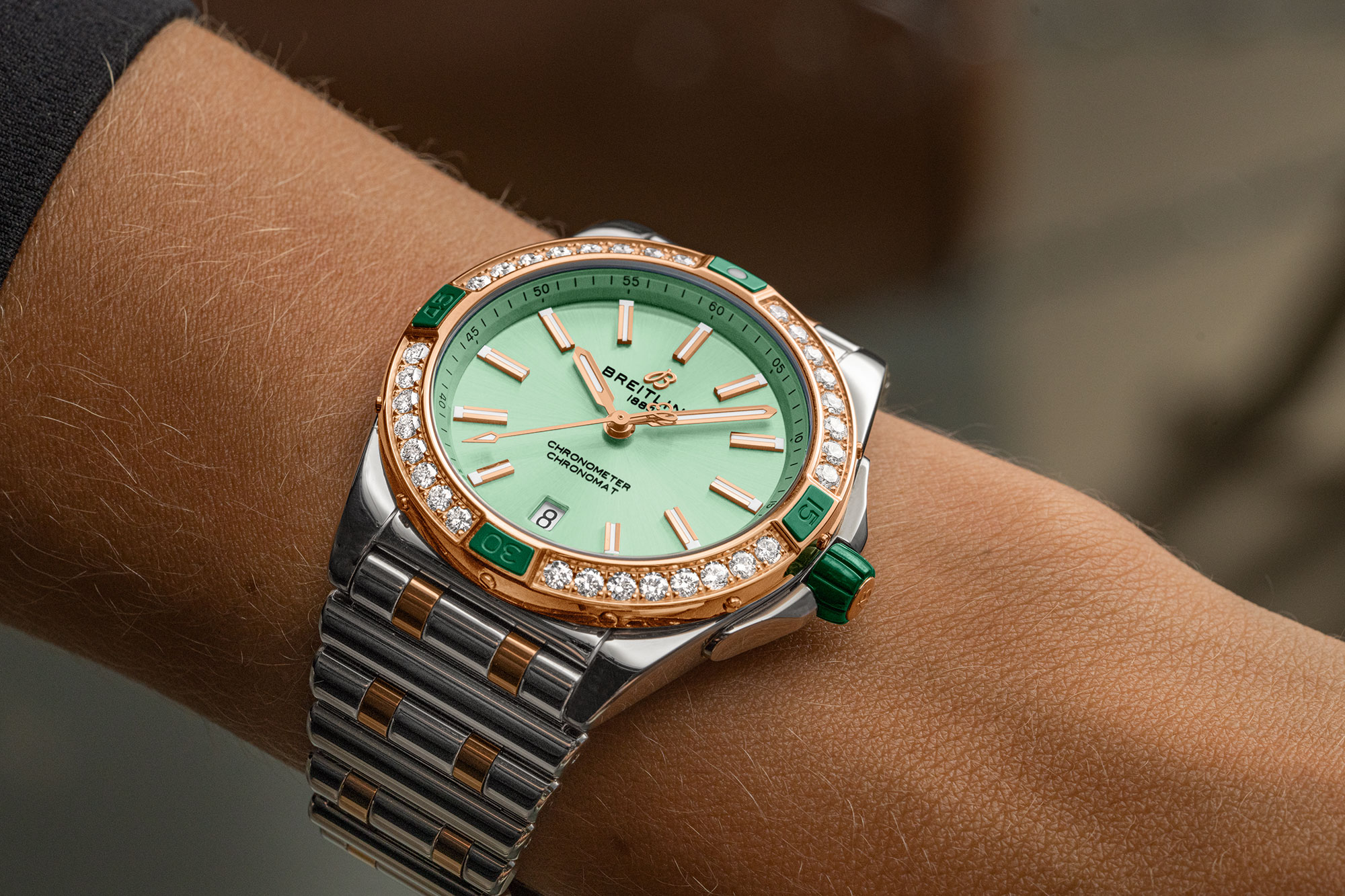 Yet I do understand one point by a pro-diamond-mining expert I spoke to: the luxury industry shouldn't be necessarily demonised more than the next industry. It's difficult to find any industry that isn't causing damage to the planet. That's why the great strides brands such as Breitling, Panerai, and IWC Schaffhausen, to name some of a few of the most sustainable brands out there, are to be celebrated and learned from. Here's to hoping that the glitteringly beautiful new Super Chronomat Automatic 38 and its Origins sibling inspire more brands to do the same.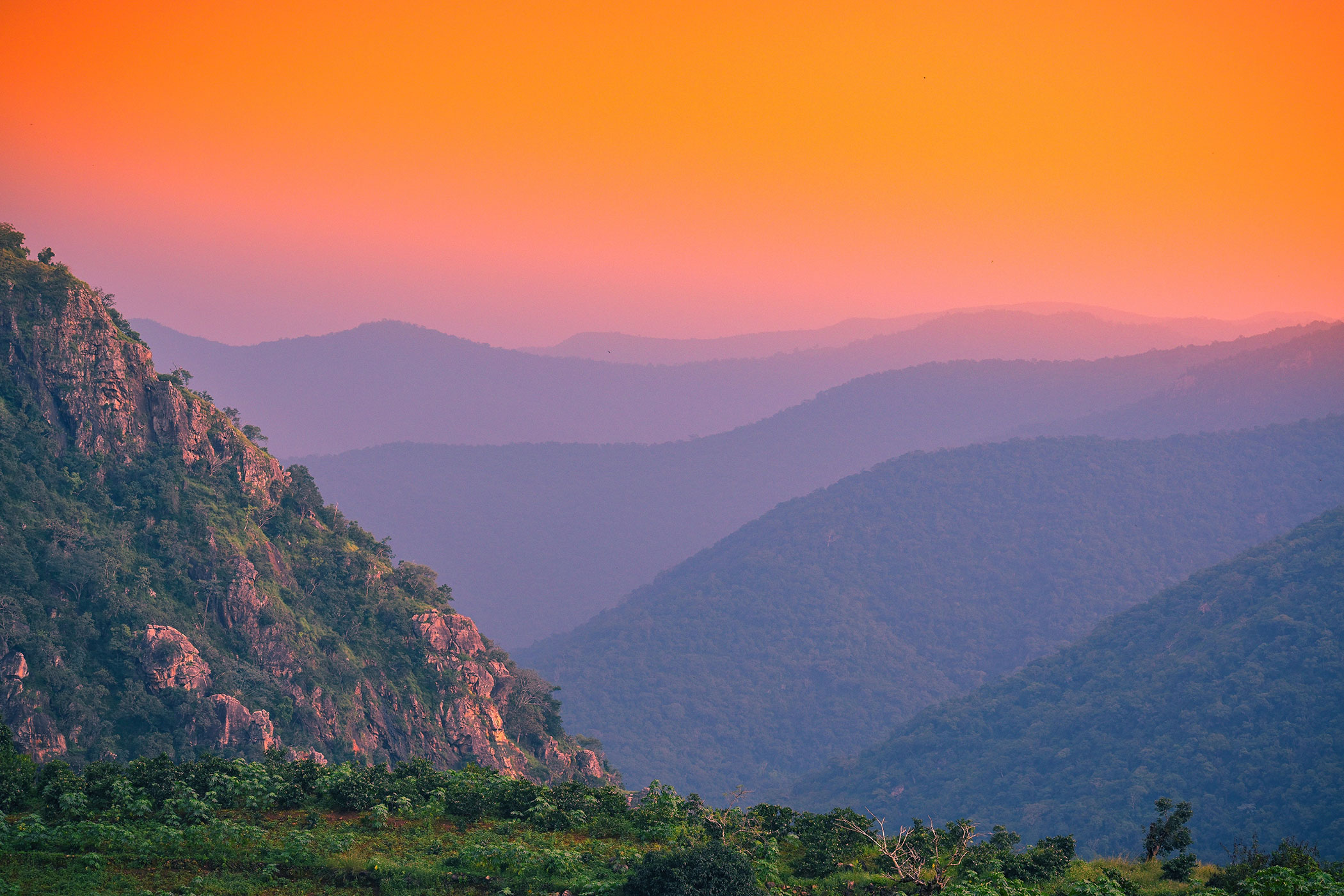 Credit: Navi
---