Has Bond always worn OMEGA?
Ever since the release of Dr. No in 1962, James Bond has both thrilled us and gained our admiration – as have his many watches. Seiko, Hamilton, Rolex, Breitling, and Heuer (as TAG Heuer was then known) have all graced the wrist of the world's favourite British spy. However, this came to an end in 1995 when GoldenEye marked a new era for 007's horological tastes.
The Rolex Submariner Ref. 16610 worn by Timothy Dalton in The Living Daylights (1989) marked the final time that Bond would vary his watch choice. In the film to follow, GoldenEye, Pierce Brosnan wore a quartz OMEGA Seamaster Professional (Reference 2541.80). From this moment forth, Swiss watch manufacture OMEGA became the only brand to appear on the secret agent's wrist.
The Seamaster made such an impression that it has remained the ultimate Bond watch to this day. Following its production, GoldenEye's costume designer Lindy Hemming disclosed: 'I was convinced that Commander Bond, a naval man, a diver and a discreet gentleman of the world would wear this watch'. It appears that Hemming was right. So without further ado, it's time to explore every one of the Seamaster models (along with their bizarre fictitious powers engineered by Q) worn by Bond.
---
The history of the Seamaster
The Seamaster line's watches have seen numerous changes across the decades. This ranges from manual and automatic winding to quartz editions, like the first OMEGA Bond watch. There have also been numerous variations in colour, bracelet, and case sizes over the years. However, the majority feature a stainless-steel case, screw-in crown, and luminous hands. It is no wonder that the smart, pragmatic diver's watch became the ideal action piece for Mr. Bond.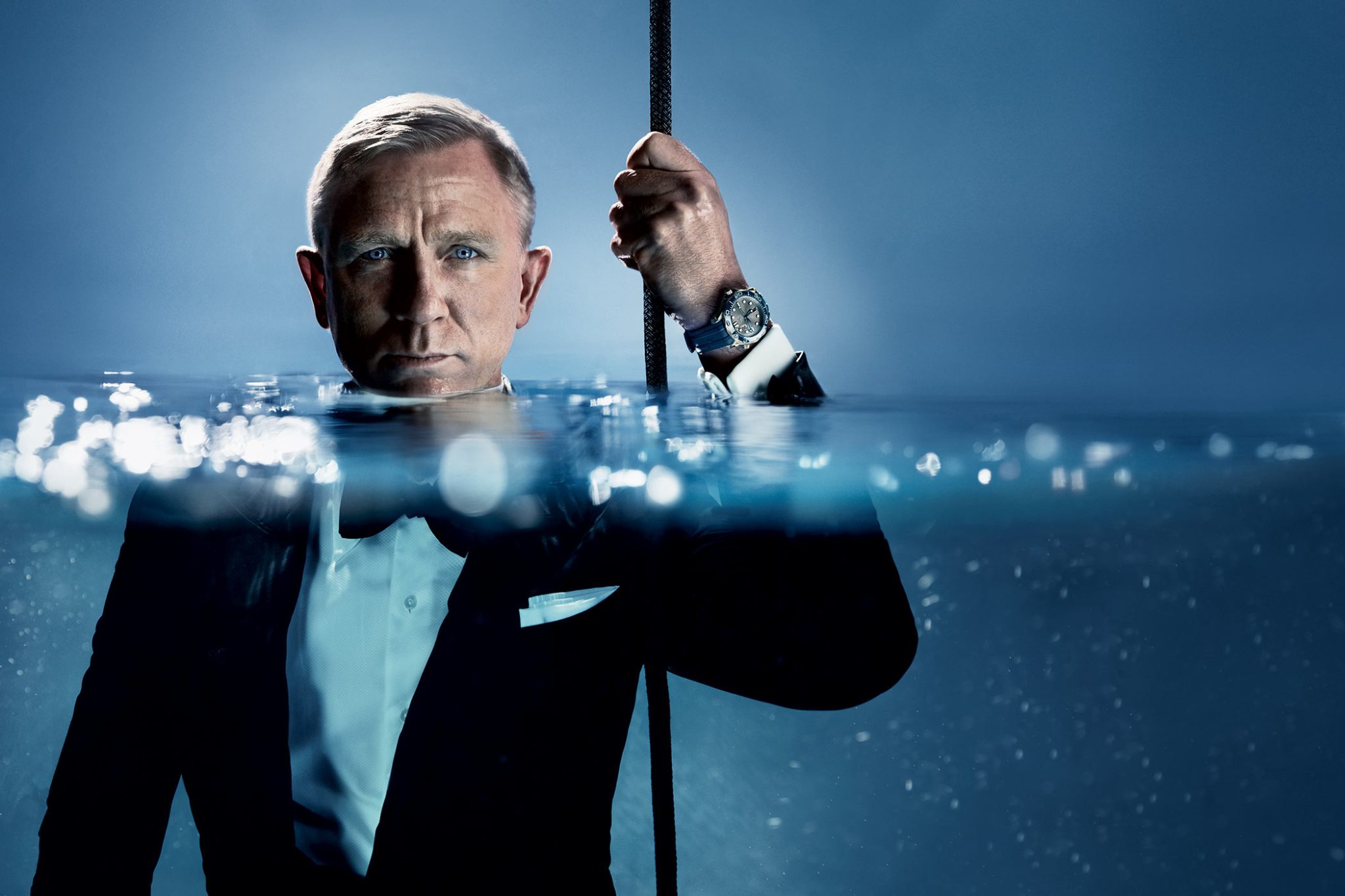 OMEGA's longest-running line still in production does indeed have a naval history. Launched in 1948, it takes inspiration from designs made for the British Navy in the Second World War. Over the course of the war, the Ministry of Defence ordered over 110,000 of its reliable water-resistant watches. These laid down a blueprint for the Seamaster line. The first Seamasters featured a rubber (rather than steel or lead) O-ring gasket and were principally created for use in submarines, as diving was not yet a popular sport. An O-ring gasket, for those who don't know, is a circular-looped mechanism that creates a barrier by sealing two surfaces. Thanks to this, the watch initially achieved 60 m water-resistance.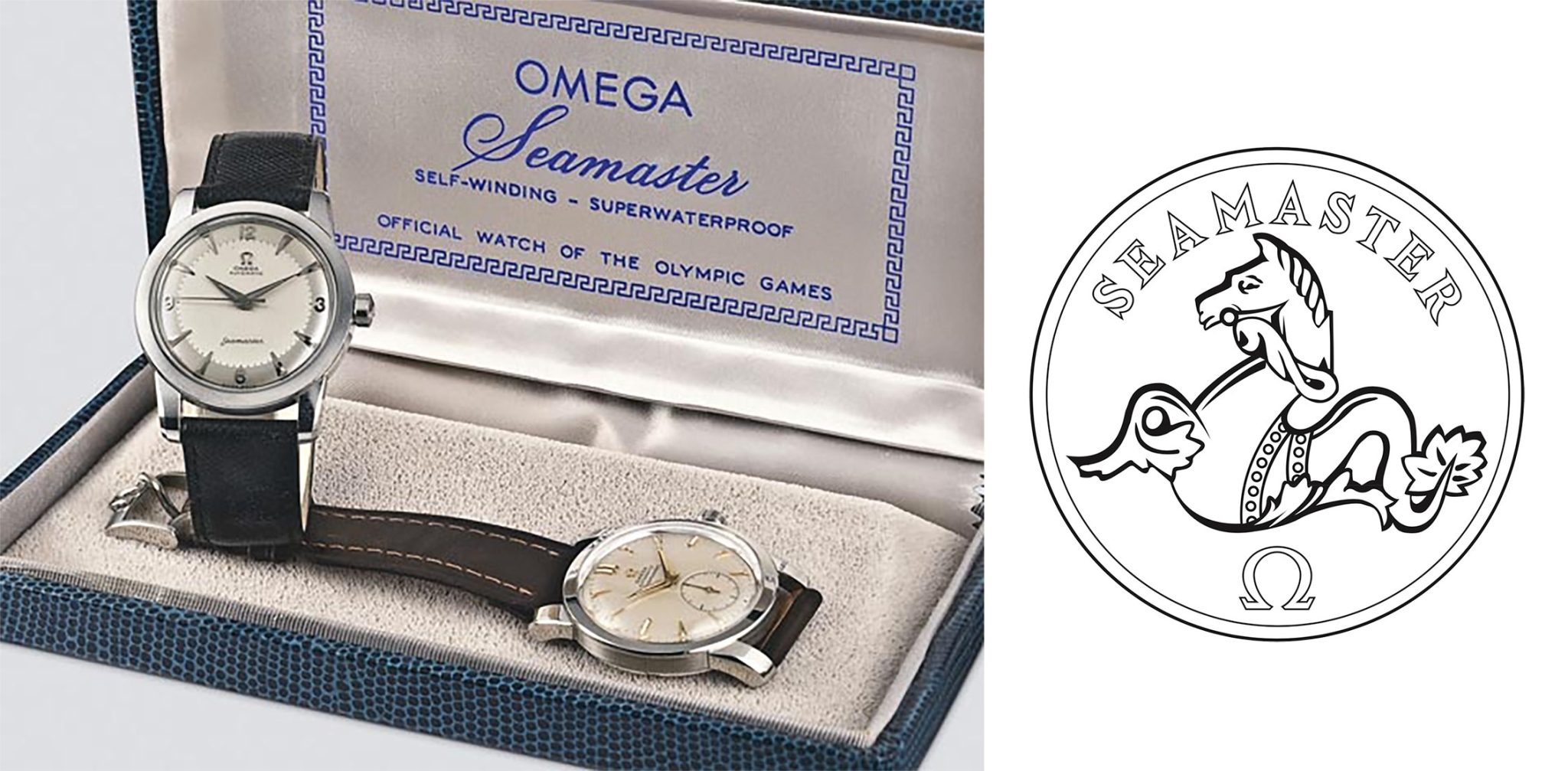 The first OMEGA Seamaster watches
A military background
In 1957, OMEGA released a powerful new trio of watches: the Speedmaster, the lesser-known Railmaster, and, most importantly for us, the Seamaster 300, which now reached 200 m water-resistance. Between 1967 and 1971, the British Royal Navy and the Army again made use of the model, and a screw-down crown also was added.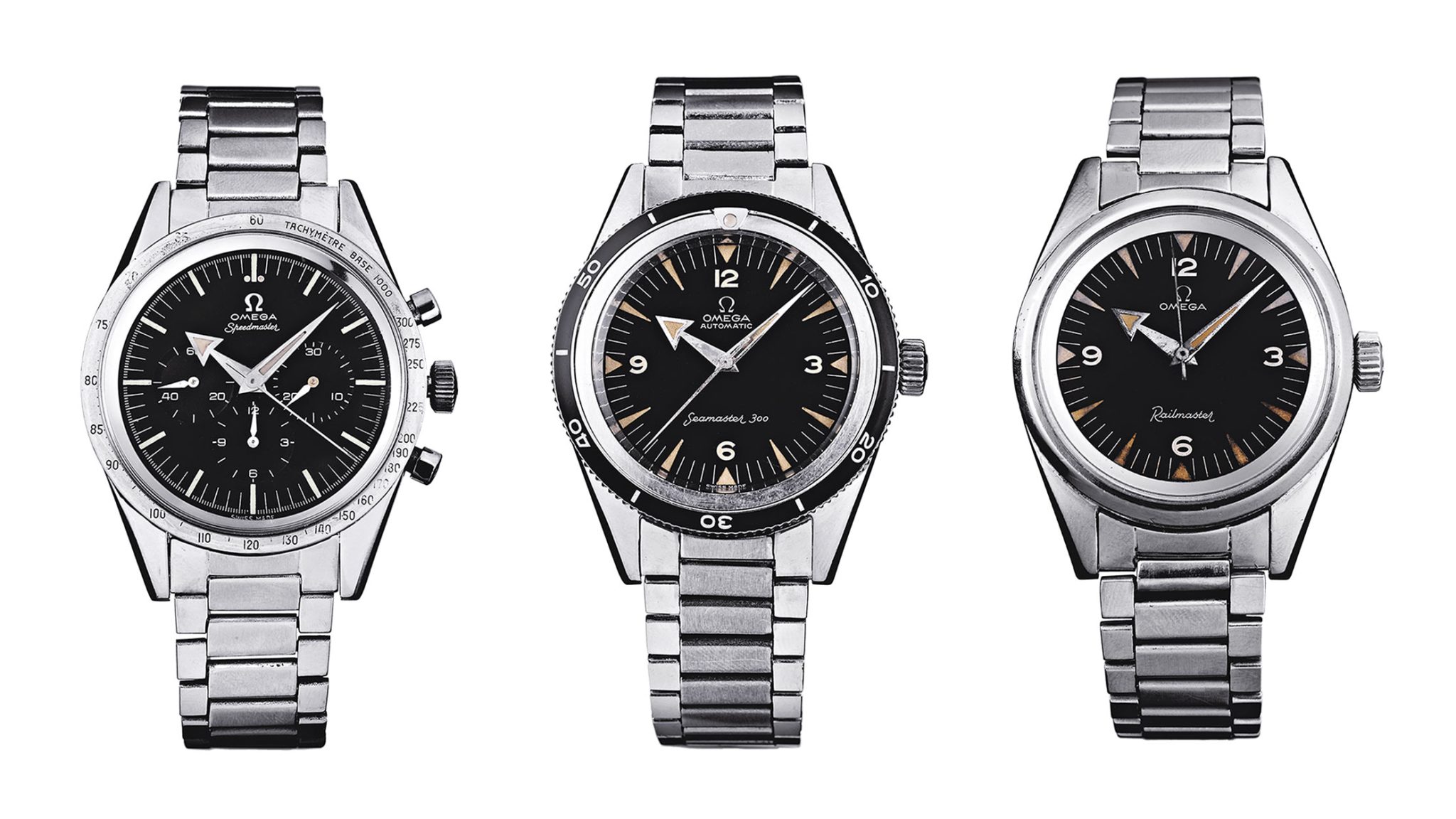 1957 – The professional watches by OMEGA: the Speedmaster, Seamaster 300 and railmaster.
Following this, the OMEGA Seamaster Professional Diver 300M was released to the public in 1993. It was this quartz-powered watch that could be seen on the wrist of Brosnan in GoldenEye two years later. The model's popularity surged, and the model's success has not looked back since. Furthermore, the Seamaster Diver 300M watches were revamped in 2018 to mark 25 years since the model's release and have also proved to be a hit. The 42 mm models showcase brightly coloured ceramic bezels with white enamel or Ceragold diving scales. While still equipped with the line's hallmark details, the updated versions now feature raised Super-LumiNova-filled indices and reshaped skeleton hands. Additionally, another notable update comes in the form of a conical-shaped helium escape valve.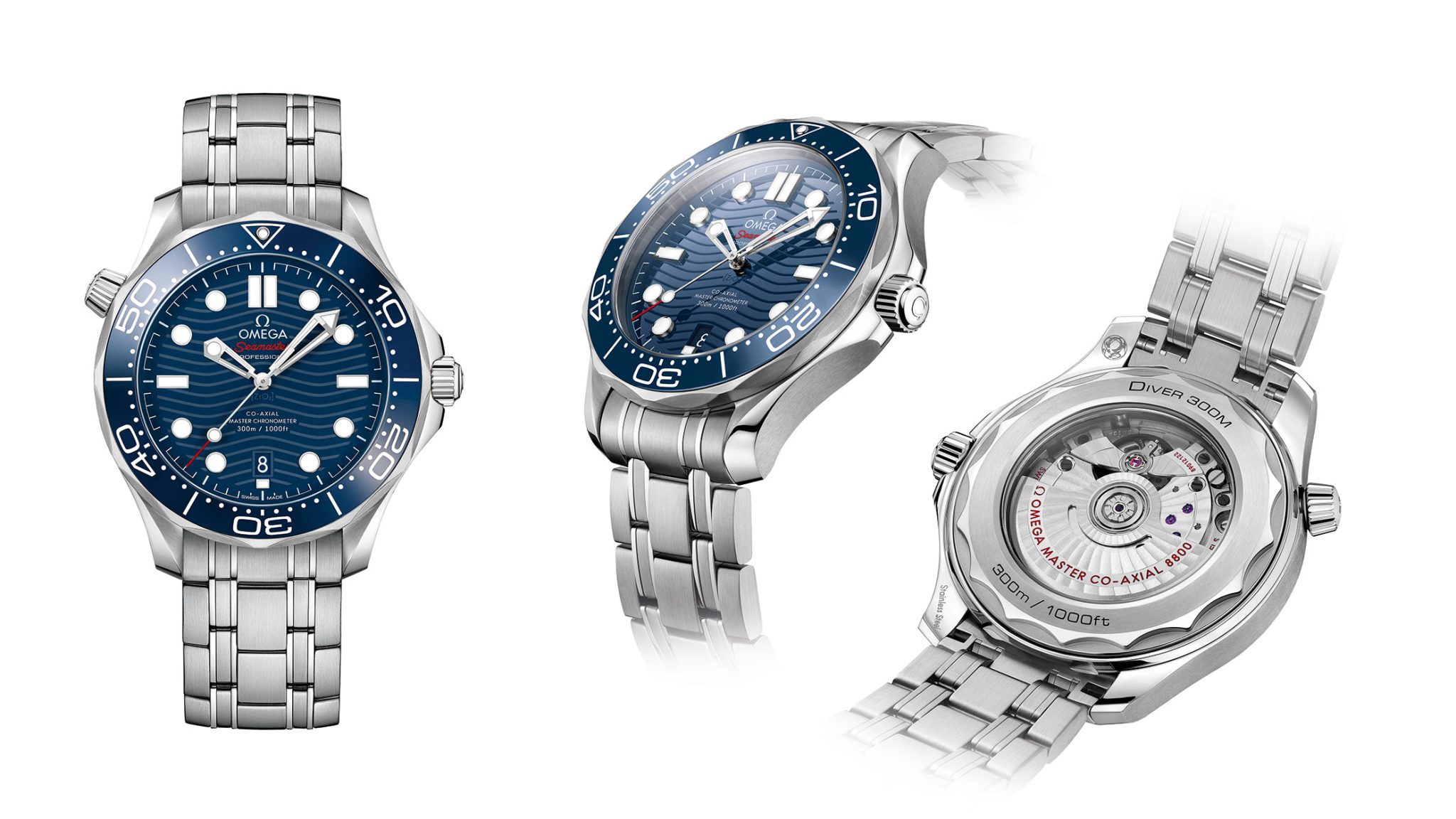 ---
GoldenEye – 1995
The 41 mm steel OMEGA Seamaster Professional 300M Quartz (Reference 2541.80.00), which famously saw a helium valve serve as a laser cutter in the film, also had some real-life (much safer) perks, too. The sporty-looking quartz model has a battery life of 42 months, integrating an end-of-battery-life indicator as well as a date window at 3 o'clock. Thanks to the helium escape valve and screw-in crown, the model is water-resistant to 300 m. Luminescent hands plus an anti-reflective, scratch-resistant domed sapphire crystal had Bond ready to take on Auric Goldfinger any time. However, he was also ready to charm his way from Russia to Monte Carlo thanks to the timepiece's suave blue dial with the collection's original wave pattern.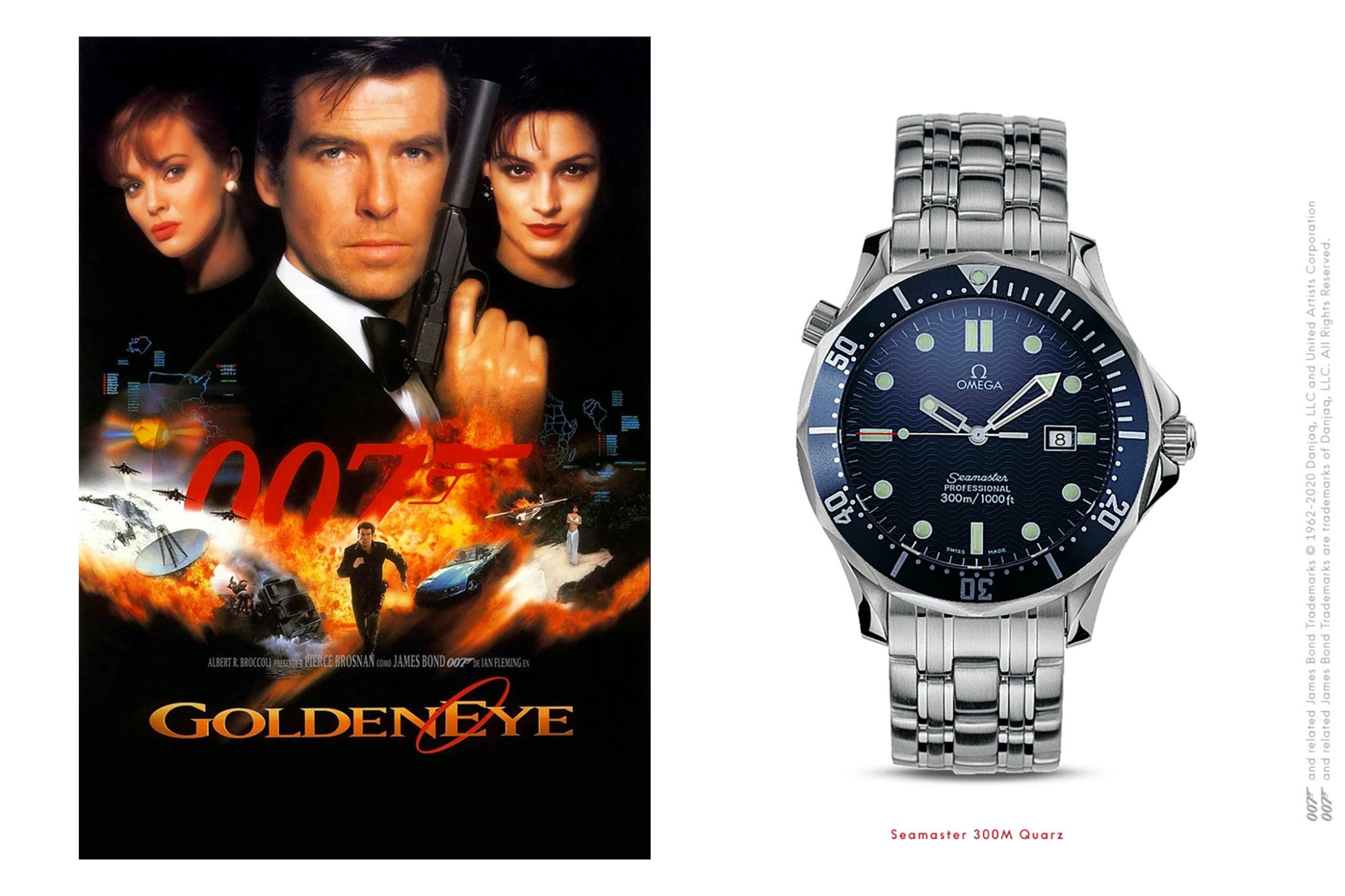 ---
Tomorrow Never Dies – 1997
The World is Not Enough – 1999
Die Another Day – 2002
The OMEGA Seamaster Professional 300M (Ref. 2531.80.00) that appeared in Tomorrow Never Dies would remain with Bond for the next three films. While featuring the same dial and design details as the quartz watch worn by Brosnan in 1995, this timepiece is a self-winding chronometer with a rhodium-plated finish.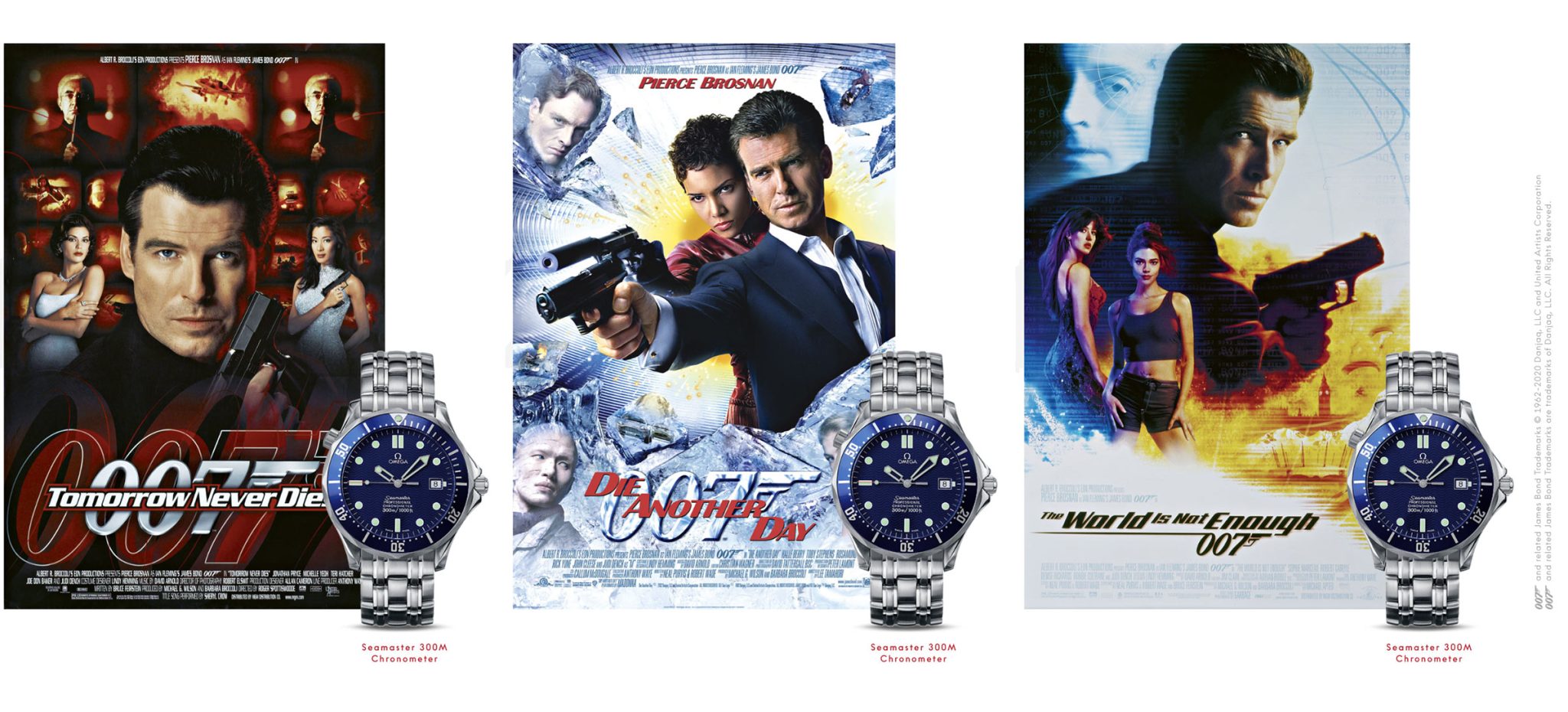 It is powered by the calibre OMEGA 1120 and equipped with a 44-hour power reserve. Once again, the watch features a screw-in crown, helium escape valve and date window at 3 o'clock. Of course, the model's appearance didn't only cause an explosion in the watch world – in the 1997 and 2002 movies, it saved the day for Bond, acting as a remote bomb detonator.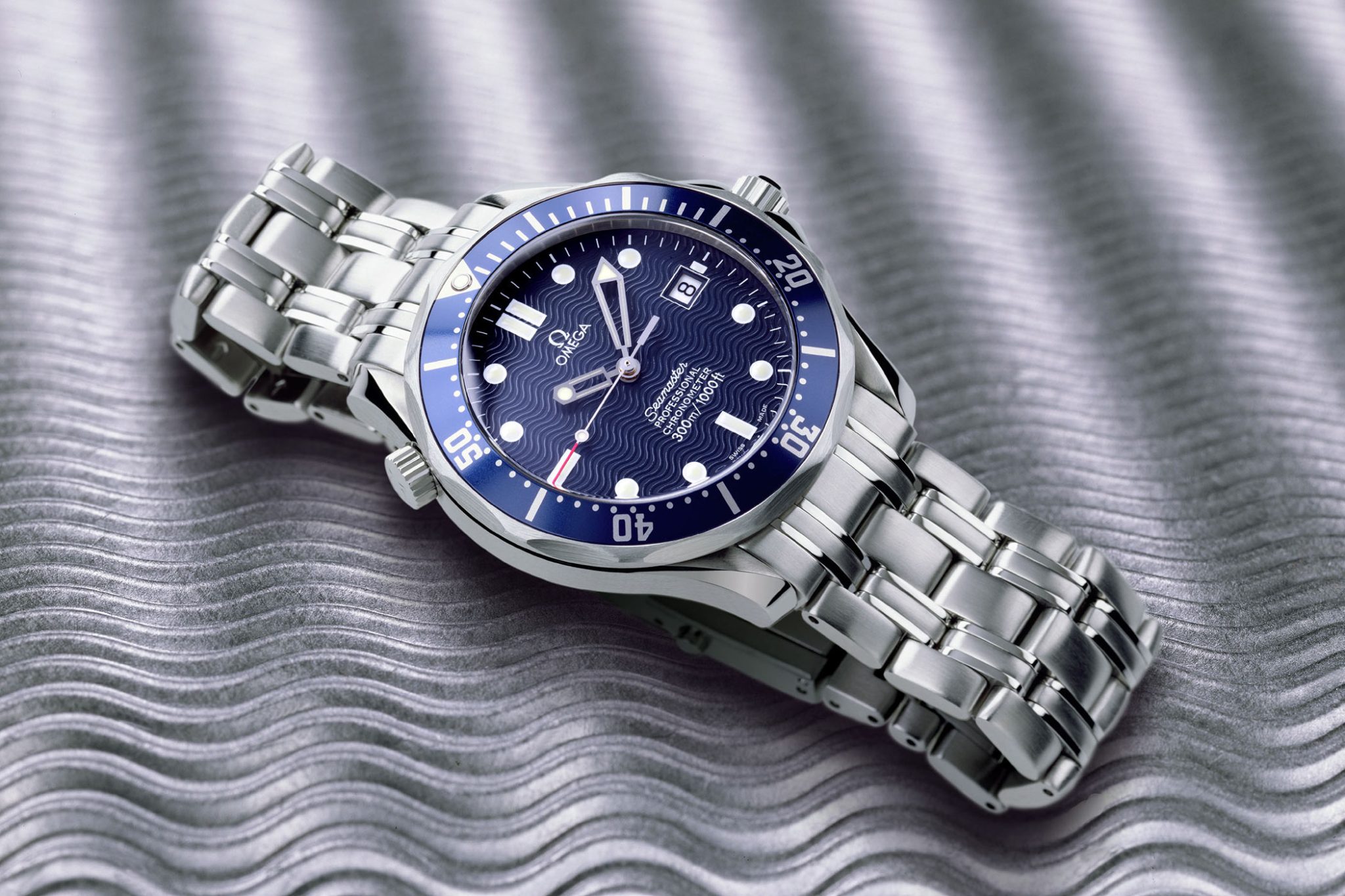 ---
Casino Royale – 2006
2006 brought not only a change in actors, but also in watches. Not one, but two Seamaster models are seen on Daniel Craig in Casino Royale. Both are disappointingly gadget-free, but that's not to say that the new James Bond wasn't well-equipped. The 41 mm steel OMEGA Seamaster Professional 300M Co-Axial chronometer (Ref. 2220.80.00) is powered by the Co-Axial Calibre 2500.
Thankfully, 007 was able to work around-the-clock thanks to its 48-hour reserve. Its rhodium-plated escapement, which was first introduced back in 1999, reduces friction in the movement. This of course results in long-term chronometric high performance. Furthermore, the watch's smart blue dial is complemented with a matching unidirectional rotating bezel. Notably, Le Chiffe (Mads Mikkelsen), one of the most formidable Bond villains to date, sits across from Bond in Casino Royale sporting his blood-weeping eye. Evidently a horology fan himself, Le Chiffe wears a steel Longines Evidenza Chronograph with a suitably sultry black dial. He wouldn't be the only one to be impressed by Bond's watch of choice. Bond's beau throughout the film, Vesper Lynd, famously stereotypes Bond as one of those 'former SAS types with easy smiles and expensive watches', enquiring of his watch, 'Rolex?'. 'OMEGA', he replies coolly. 'Beautiful', she concedes.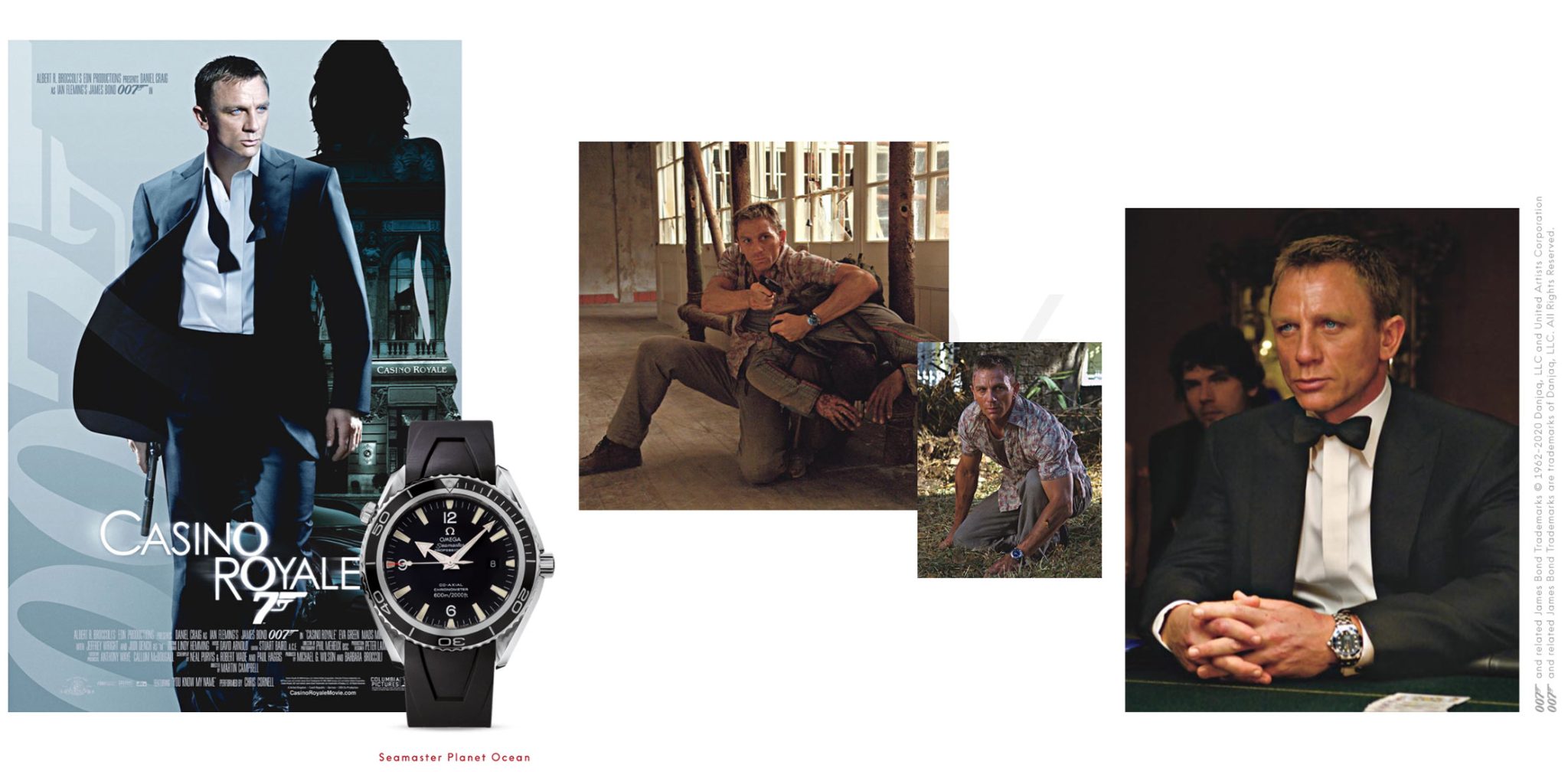 Another model from the collection, first introduced in 2005, also gets a look-in. The steel OMEGA Seamaster Professional Planet Ocean chronometer (Ref. 2900.50.91) comes on a black rubber strap and measures a sizable 45.5 mm. Showcasing a black dial and matching unidirectional rotating bezel, the timepiece is hard to miss, no matter how action-packed things get. Bond is certainly ready snoop around Le Chiffe's yacht thanks to its 600 m water-resistance. Once again, it uses the self-winding Co-Axial calibre 2500. Co-Axial calibres quickly appear to be something of a must for the secret agent.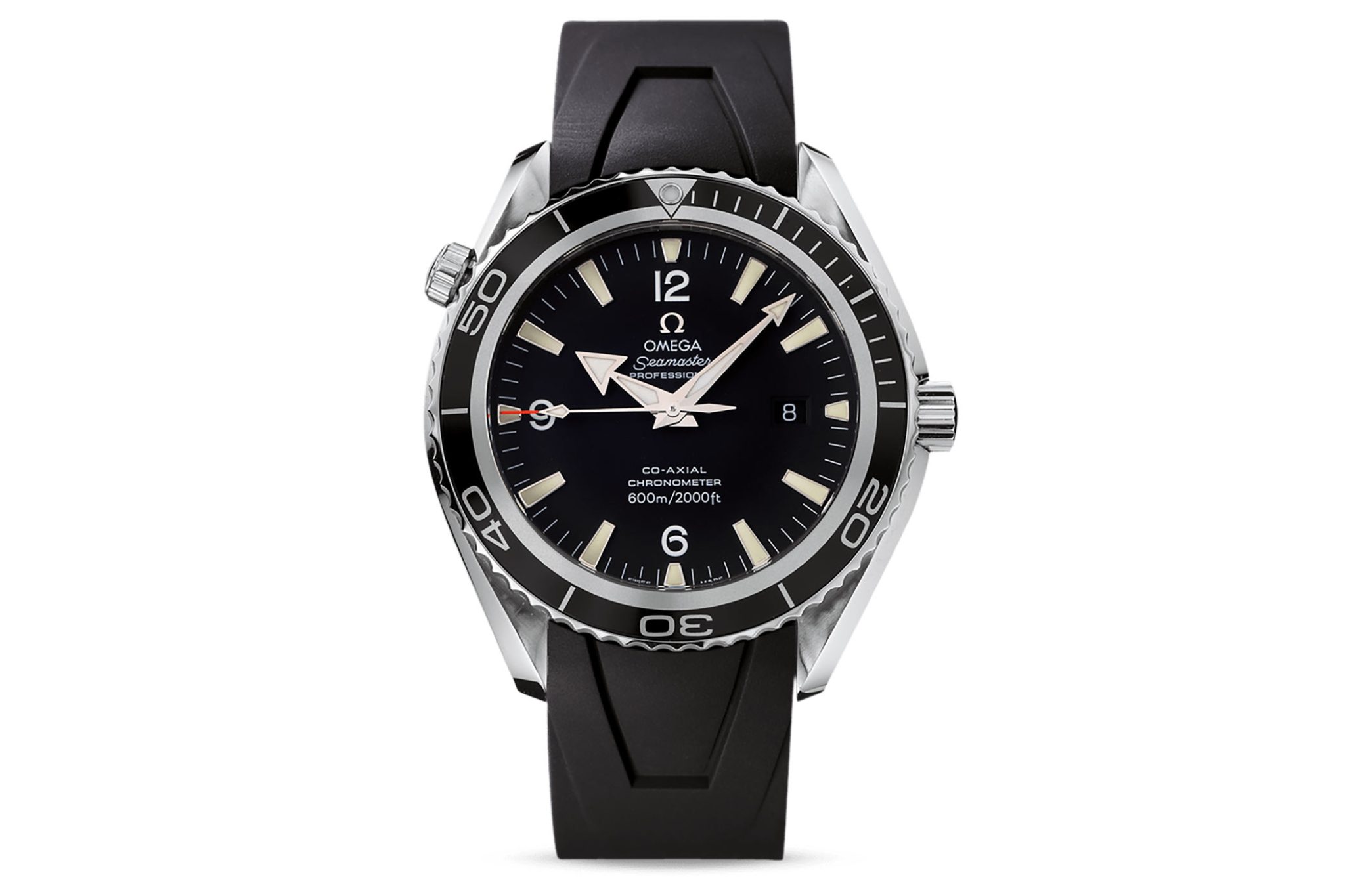 ---
Quantum of Solace – 2008
Admittedly Quantum of Solace just didn't quite cut it for many Bond fans, but at least he donned a decent watch, the OMEGA Seamaster Professional Planet Ocean 600M (Ref. 2201.50.00). The model is smaller than its sibling in Casino Royale, measuring 42 mm, and comes on a stainless-steel bracelet. Like its counterpart, the watch features a scratch-resistant, anti-reflective sapphire crystal, a black dial and matching bezel, plus a date window at the 3 o'clock. The Co-Axial calibre 2500 powers the certified chronometer.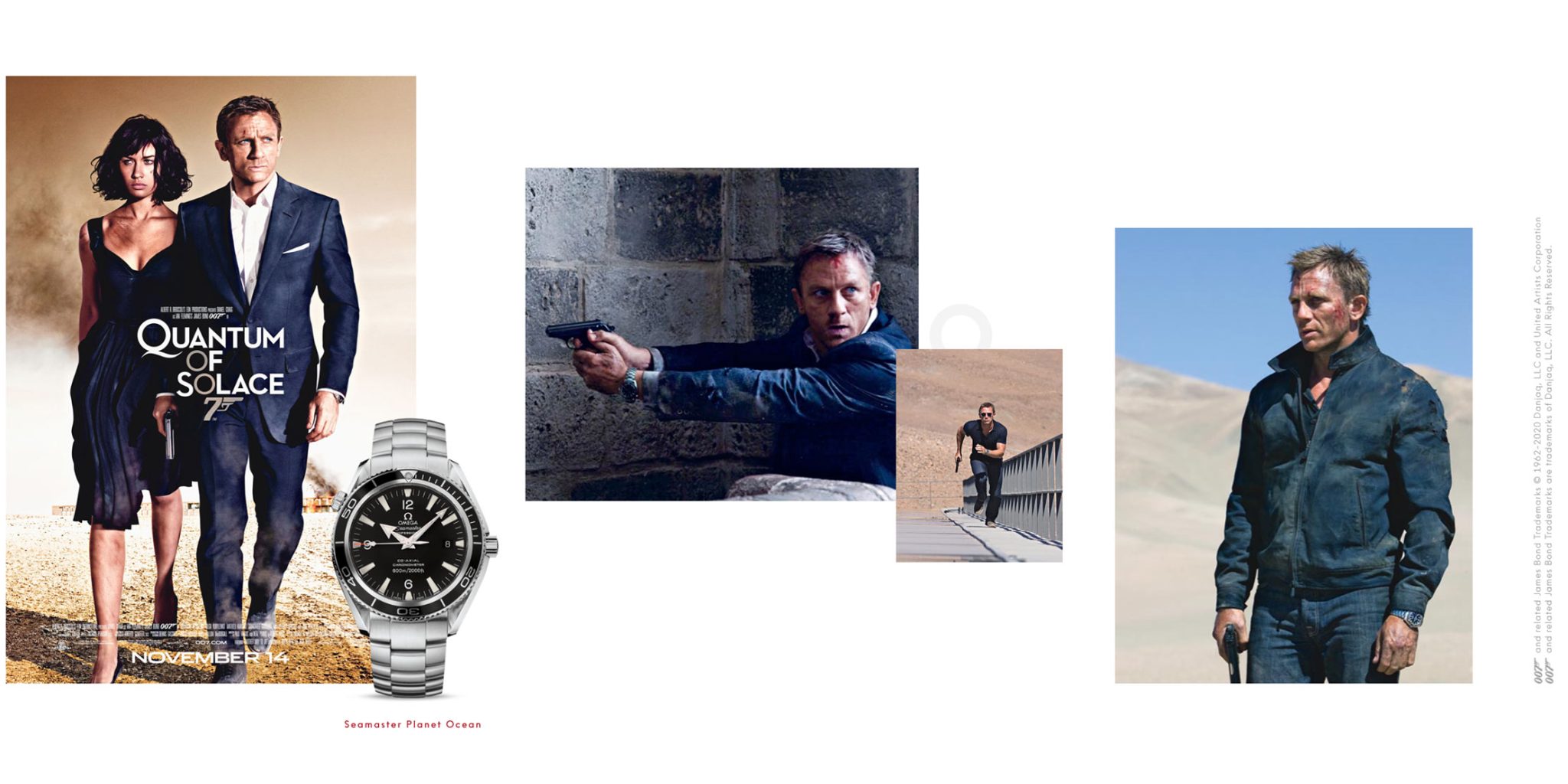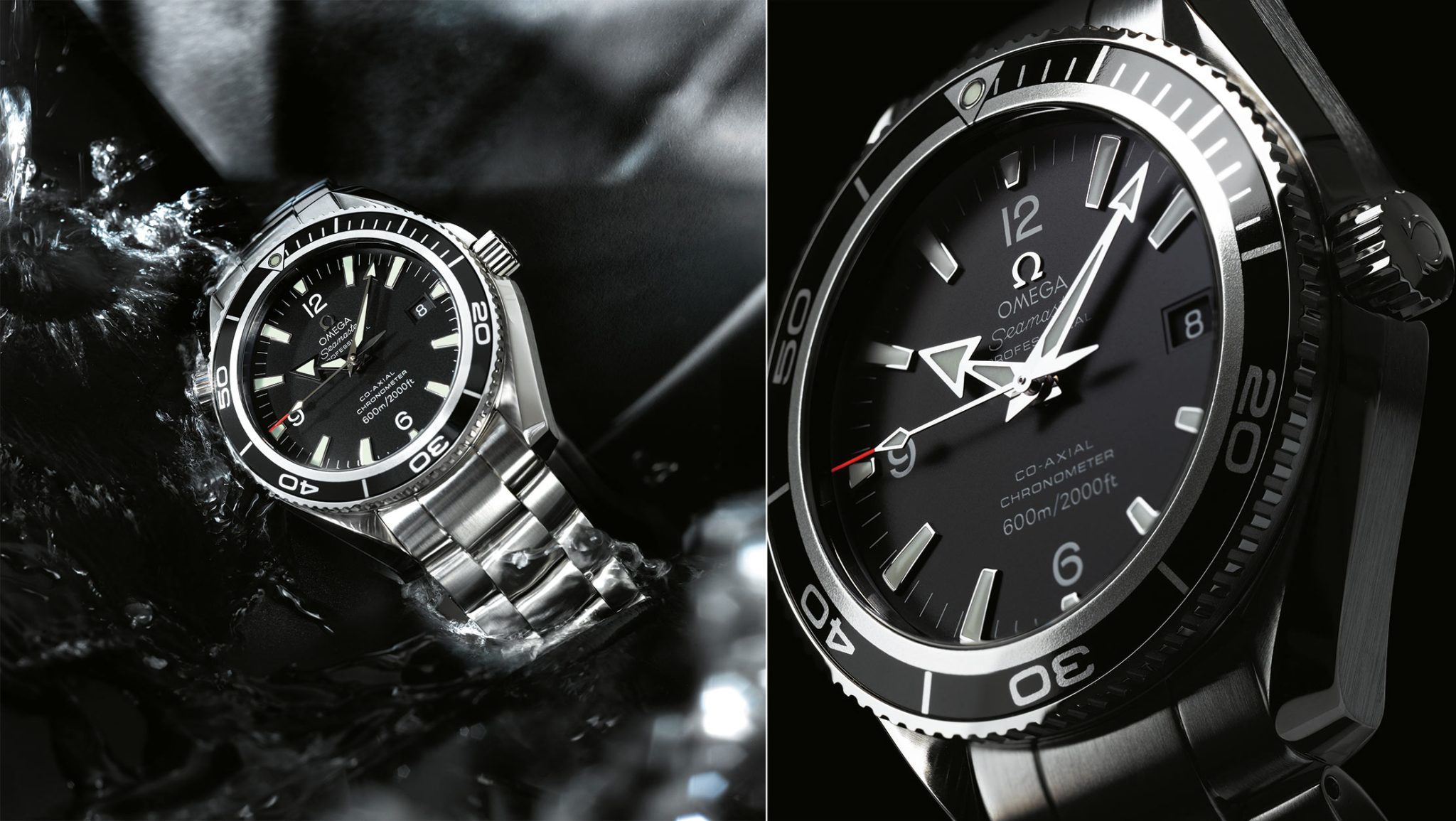 ---
Skyfall – 2012
A memorable moment for watch aficionados has to be the sight of James Bond sporting the OMEGA Seamaster Planet Ocean 600M OMEGA Co-Axial 42mm (Ref. 232.30.42.21.01.001) as he hijacks and drives a military tank. The 42 mm steel watch with a black dial and bezel offers the same features as the two Planet Ocean models we have already seen.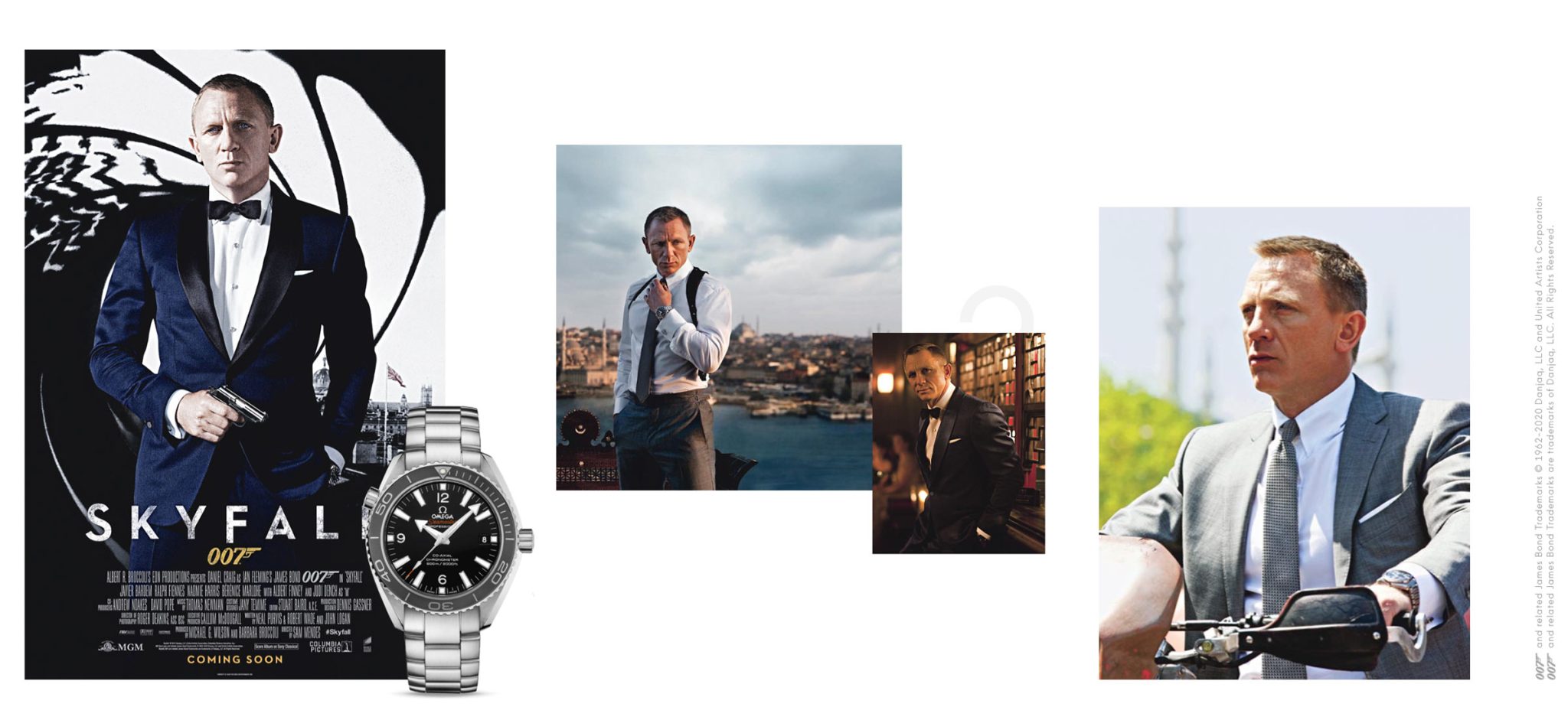 However, powering this version is the OMEGA Co-Axial calibre 8500 – an upgraded version of the Co-Axial calibre 2500. The movement integrates a free sprung-balance, two barrels mounted in series, and automatic winding in both directions. The brand's iconic Geneva waves in arabesque decorate the movement's bridges and oscillating mass. The wearer can admire this via the open caseback.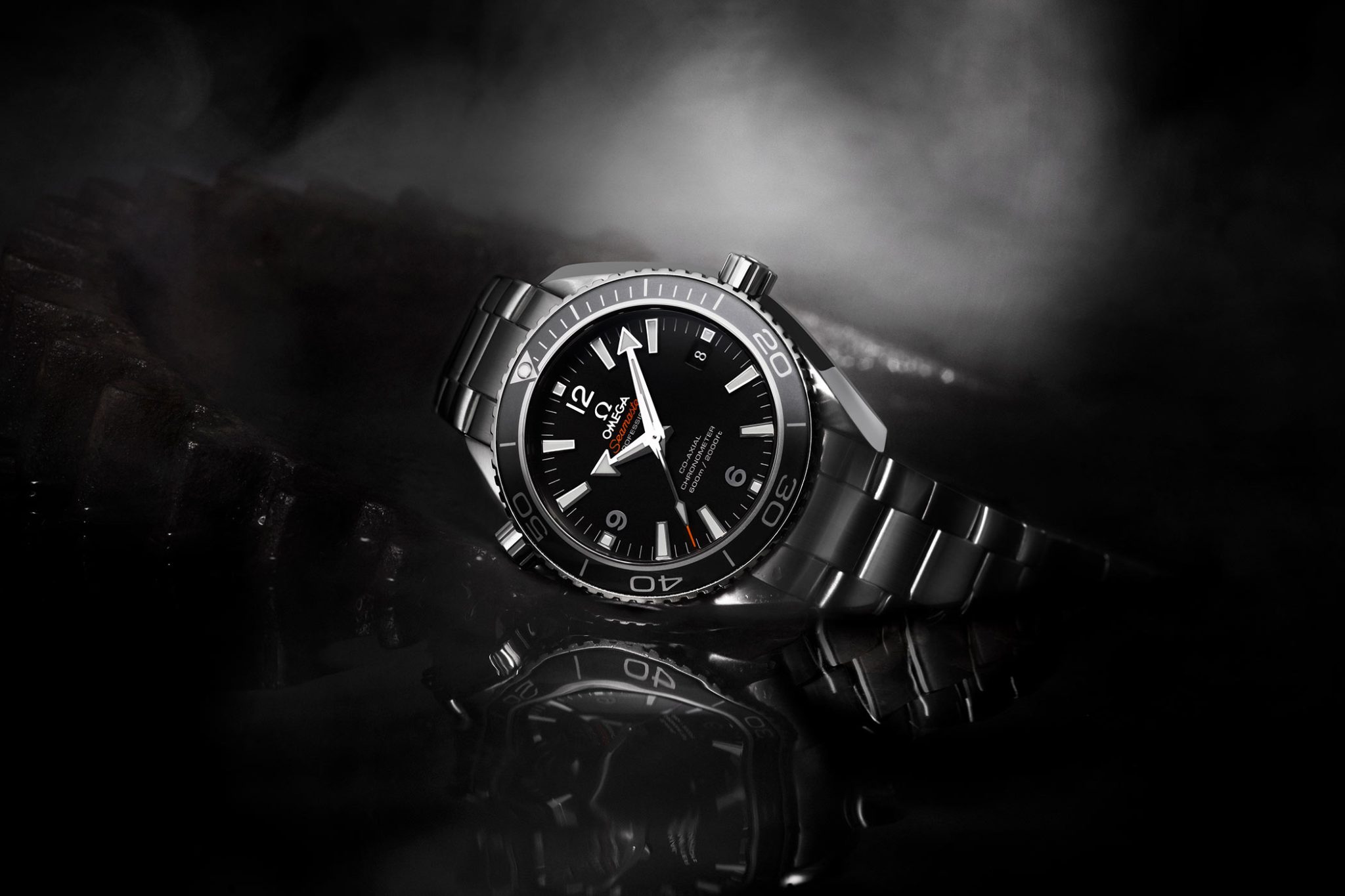 Bond is always ready to look sophisticated in a Saville Row suit, and in Skyfall he switches up his Planet Ocean for the OMEGA Seamaster Aqua Terra 150M (Ref. 231.10.42.21.03.003) for a meeting with M. The Aqua Terra sunbrushed, lacquered dials evoke the wooden decks on luxury sailboats thanks to the vertical lined Teak Concept pattern. The 41.5 mm stainless-steel case again houses the notably shockproof OMEGA Master Co-Axial calibre 8500, featuring the same qualities as the OMEGA Seamaster Planet Ocean 600M OMEGA Co-Axial 42mm (Ref. 232.30.42.21.01.001). However, the calibre is resistant to magnetic fields greater than 15,000 gauss (hence its 'Master' status). Again, the wearer can admire the movement through the transparent caseback.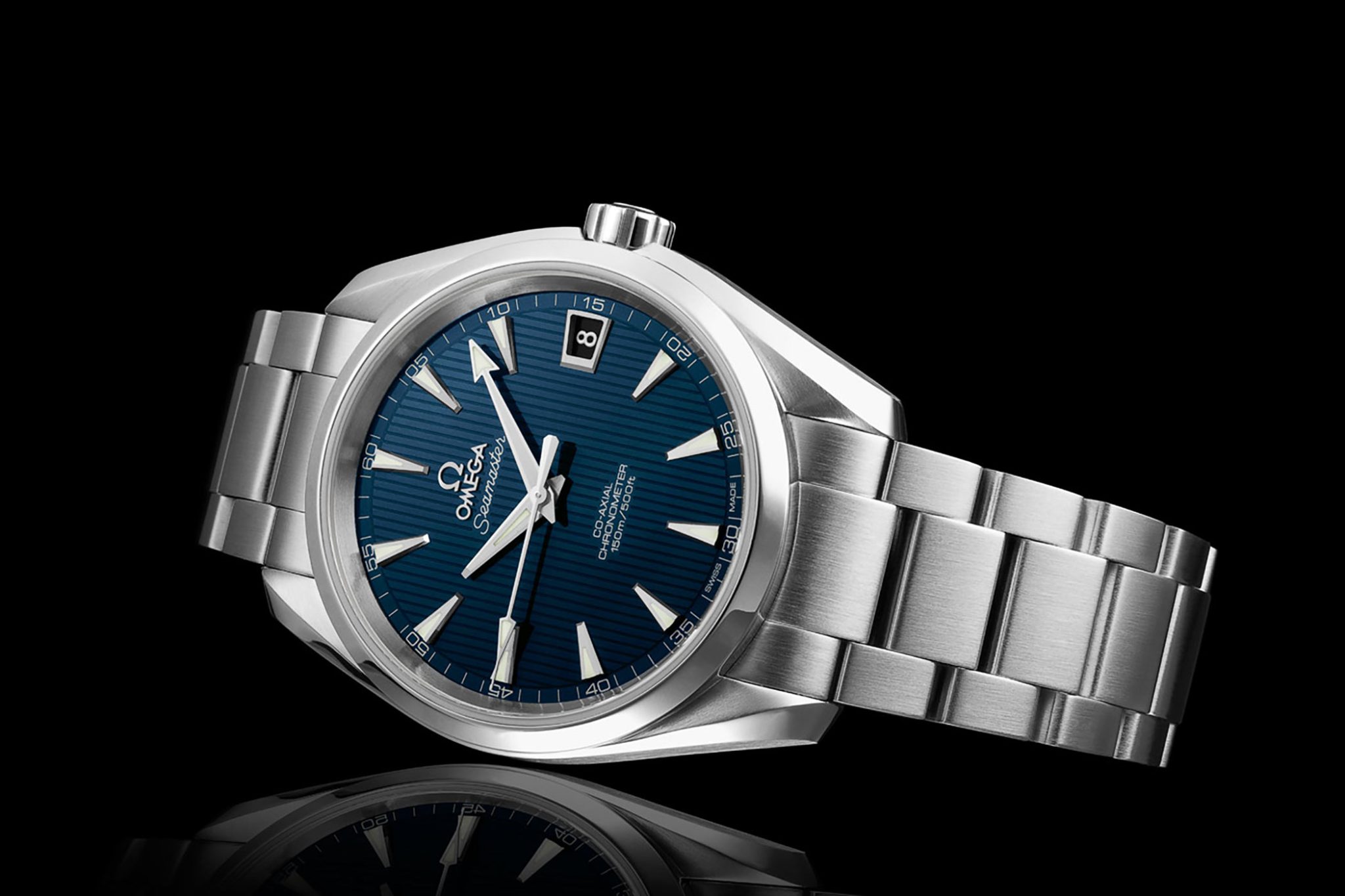 In case the audience hasn't had enough OMEGA moments for one film, the most observant viewers will have noticed that the London Underground chase scene sees villain Raoul Silva (played by Tiago Rodriguez) conveniently cruise past some OMEGA advertising for an OMEGA Seamaster Planet Ocean and an OMEGA Seamaster Aqua Terra.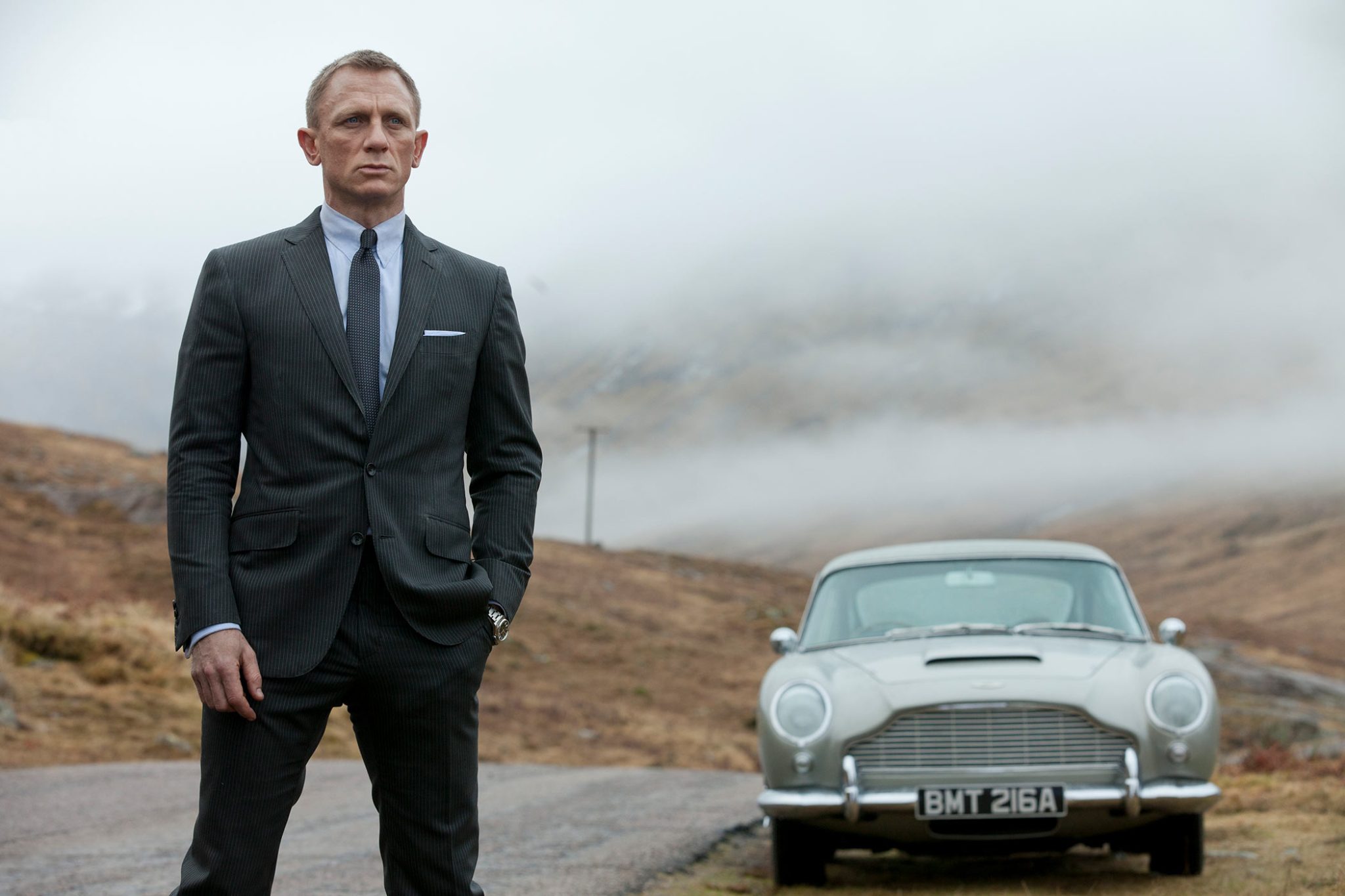 ---
Spectre – 2015
In 2015's Spectre, the secret agent sticks with the more dressy Aqua Terra in one of the opening scenes, as he takes his aim from a rooftop in Mexico. The OMEGA Seamaster Aqua Terra (Ref. 231.10.39.21.03.001) is a third-generation edition that holds the 'Master Co-Axial' status. Disappointingly, it is no longer in production. The blue-dial version of the stainless-steel watch saw the removal of the date window and the addition of a centre-link bracelet. When presented with it by Q, an unimpressed Bond asks, 'Does it do anything?', to which Q smoothly replies, 'It tells the time – might help with your punctuality issues'.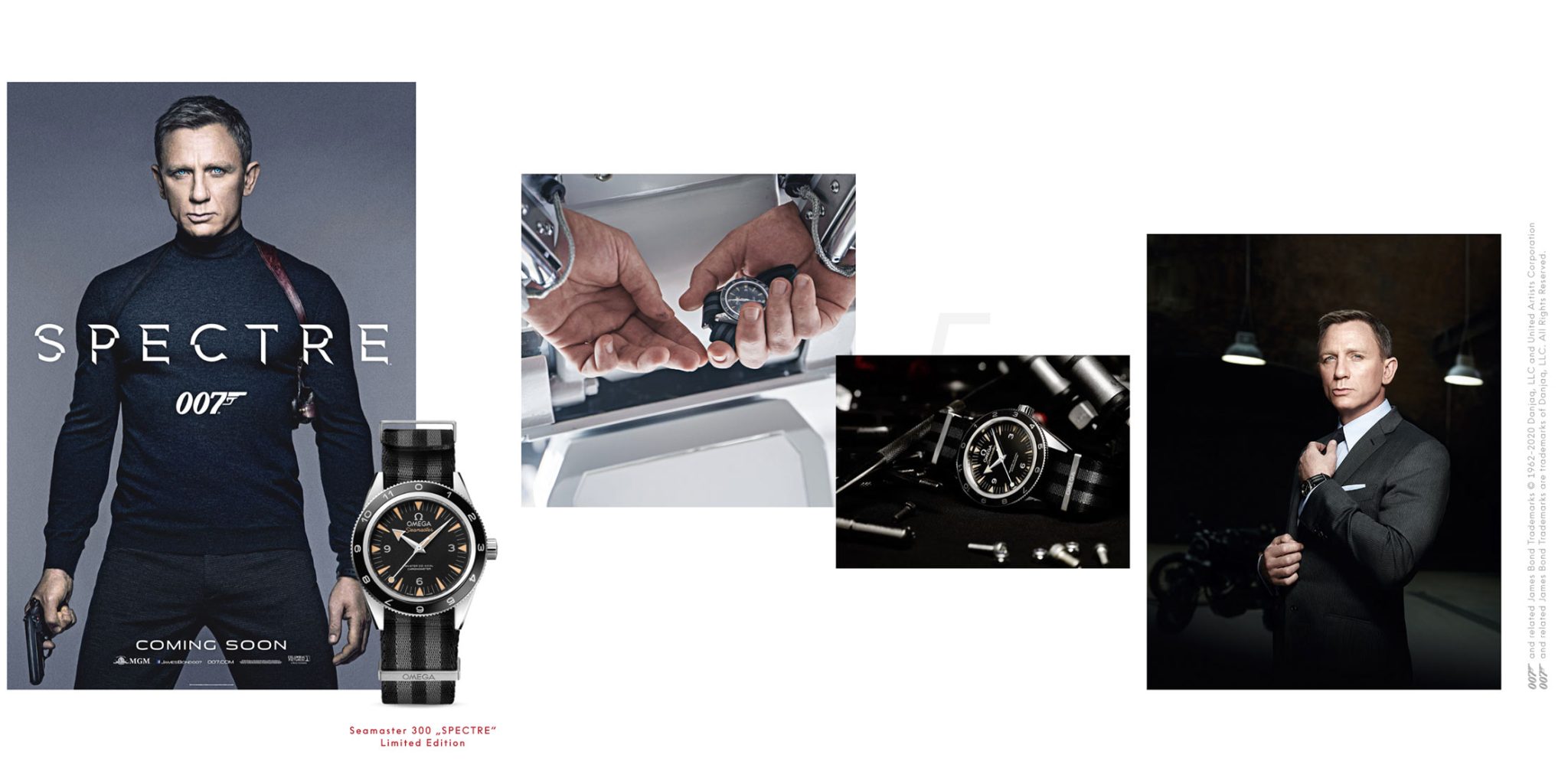 Keeping it old school
Later, Léa Seydoux, who plays the irresistible Dr. Madeleine Swann, perches on top of a trapped Bond and subtly takes his watch, before activating its grenade function and saving the day. That model is the OMEGA Seamaster 300 (Ref. 233.32.41.21.01.001). The edition is in fact an updated interpretation of the original 1957 Seamaster 300 model. Presented in a 41 mm stainless-steel case, the timepiece is unique in many ways. For one thing, it has a black ceramic bi-directional bezel ring, featuring a 12-hour scale in Liquidmetal. The rhodium-plated hands have a vintage blue coating of Super-Luminova and the watch also displays the brand's 'lollipop' central seconds hands.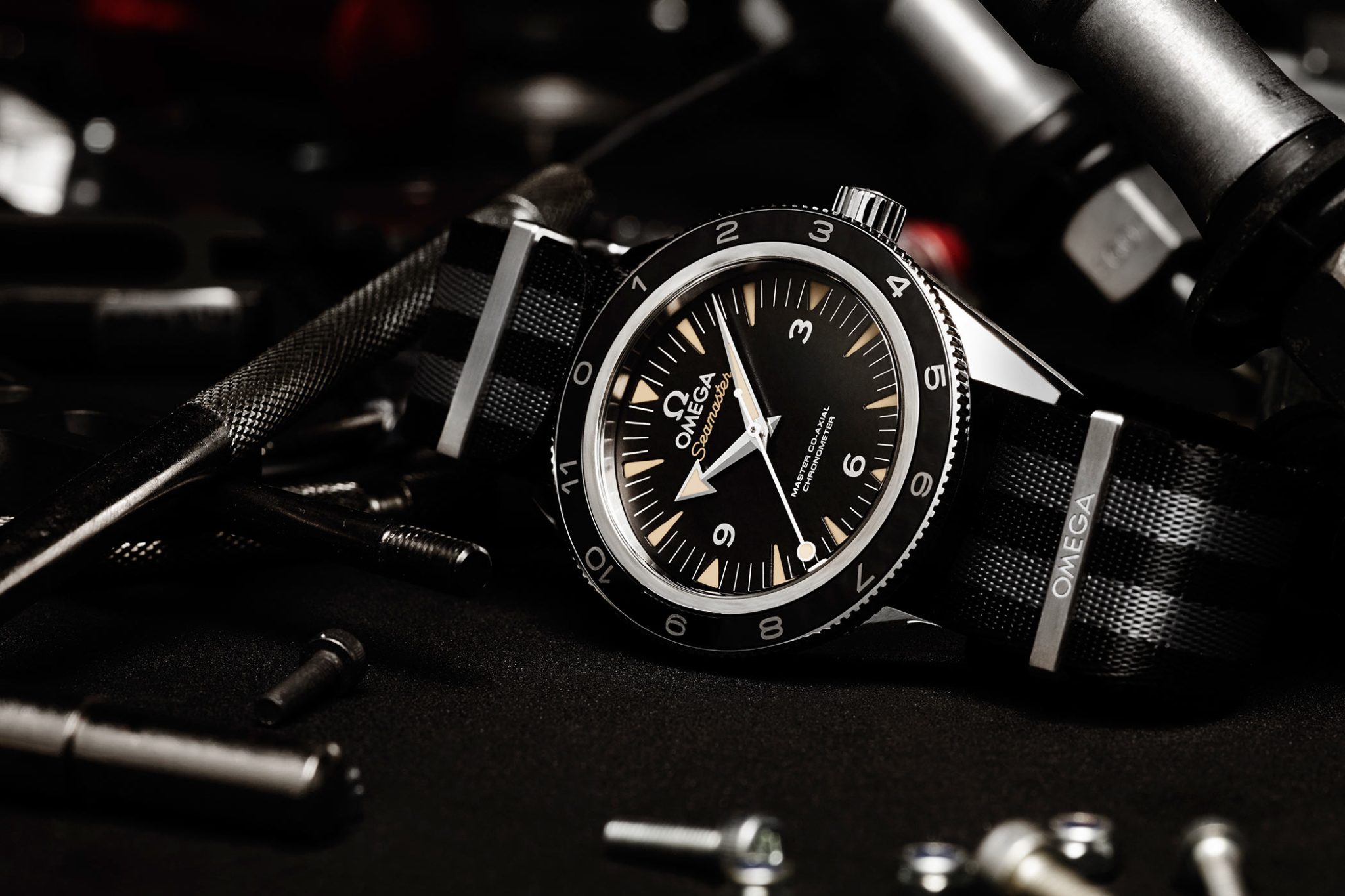 It comes with a 5-stripe black and grey NATO strap – otherwise known as the James Bond NATO Strap. In a new first, the exact model is also available to the public, with 7,007 models having been made. Driving the watch is the highly innovative OMEGA Master Co-Axial calibre 8400, which, like the calibre 8500, is resistant to magnetic forces up to 15,000 gauss. It has a 60-hour power reserve and is water-resistant to 300 m.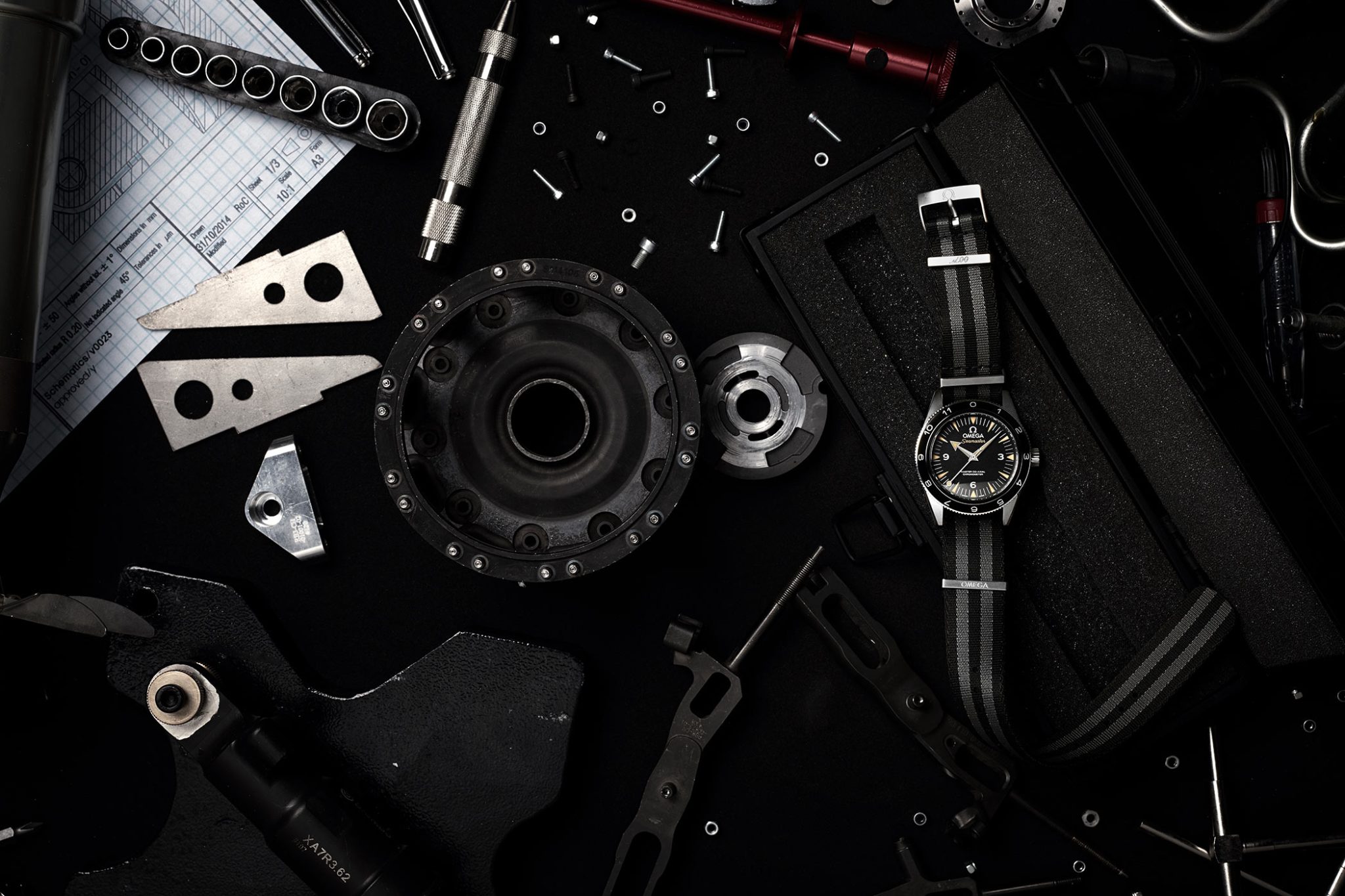 Finally, showcased alongside Bond's chic black leather driving gloves as he revs the engine, we see a flash of a mystery watch… Some believe it to be the vintage OMEGA Chronograph Caliber 321 (Ref. ST 101.010). If this article has got you feeling like 007, why not do some watch-spotting for yourself and see if you can be the one to save the day and solve the mystery?
---
No Time To Die – 2021
Last but not least, we are finally able to watch Craig's final stint as Bond in October 2021. Surprisingly, despite his love for the OMEGA Seamaster Aqua Terra models, he wears the Seamaster Diver 300M "007" Edition. What's more, he helped to design it. Presented on a mesh bracelet or NATO strap, the 42 mm model uses Grade 2 Titanium. By contrast, the unidirectional rotating bezel ring and dial are made from brown aluminium. Super-LumiNova ensures that the watch's indices, hands and diving scale are visible 24/7 – ;et's see if Bond benefits from it in the movie.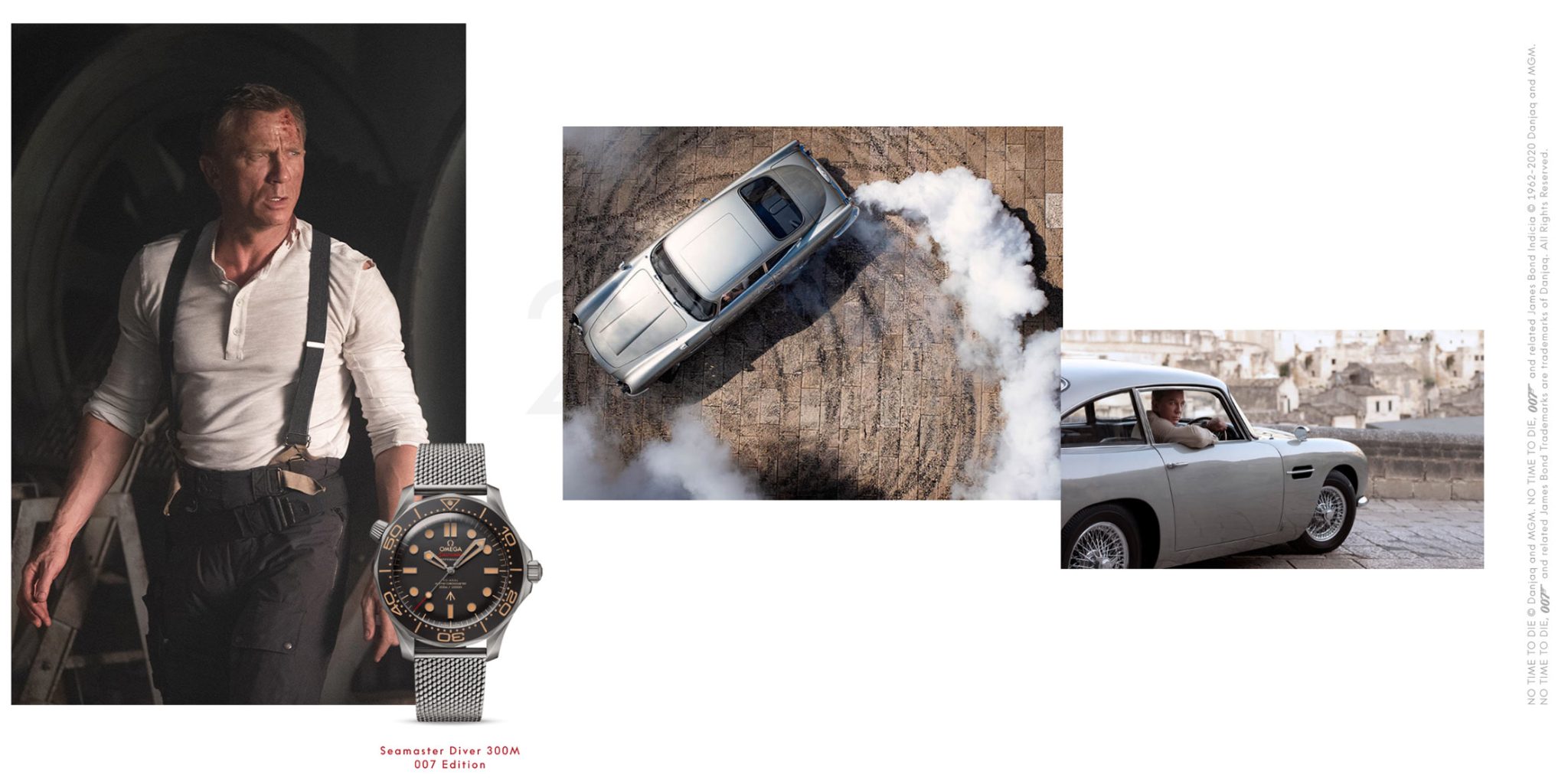 The timepiece is powered by the brand's Co-Axial Master Chronometer 8806. The self-winding movement has a 55-hour power reserve. Already available in OMEGA boutiques, the timepiece costs 9,000 euros presented on the titanium bracelet, or 7,900 euros presented on the dark brown, grey and beige NATO strap.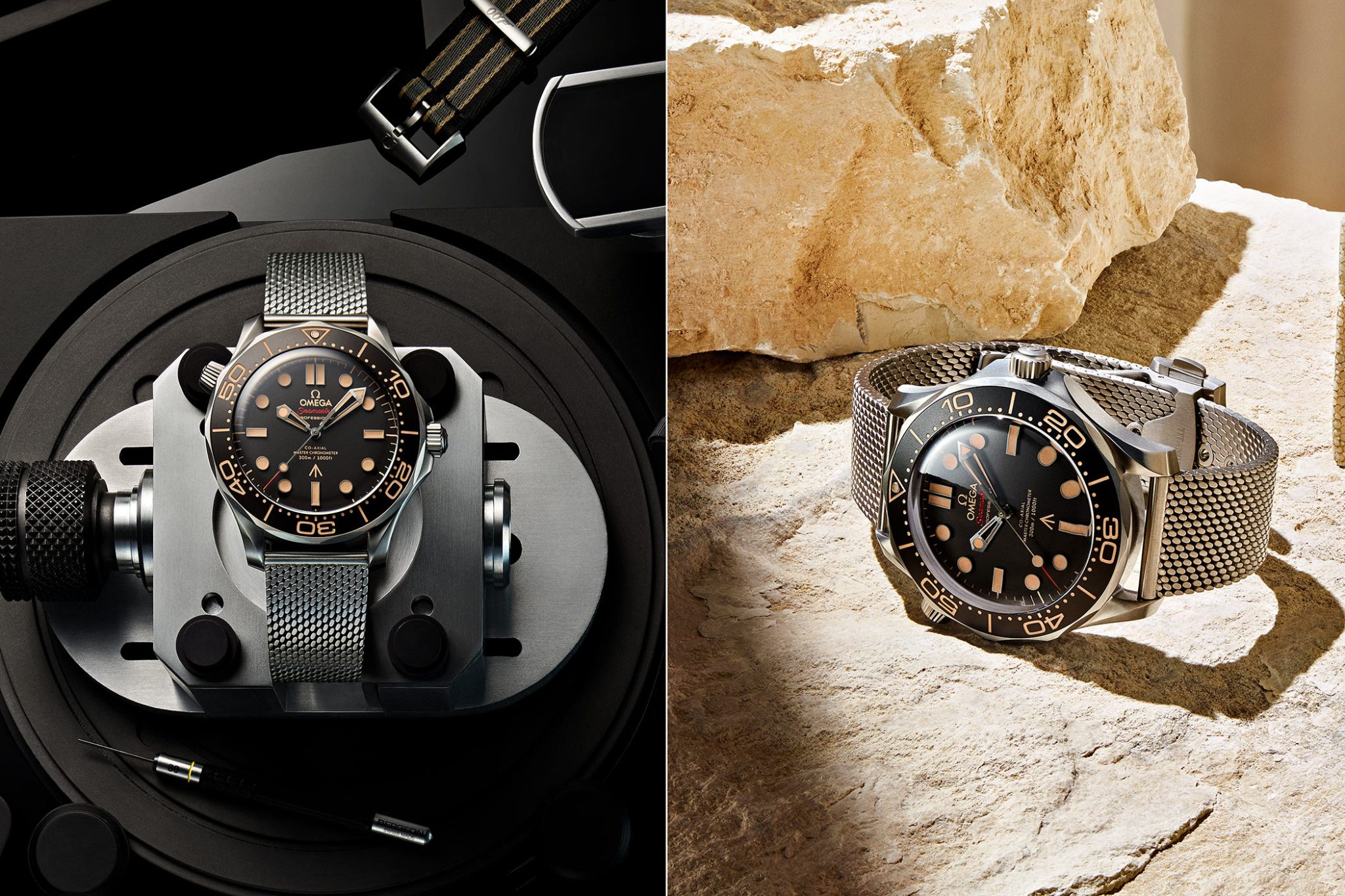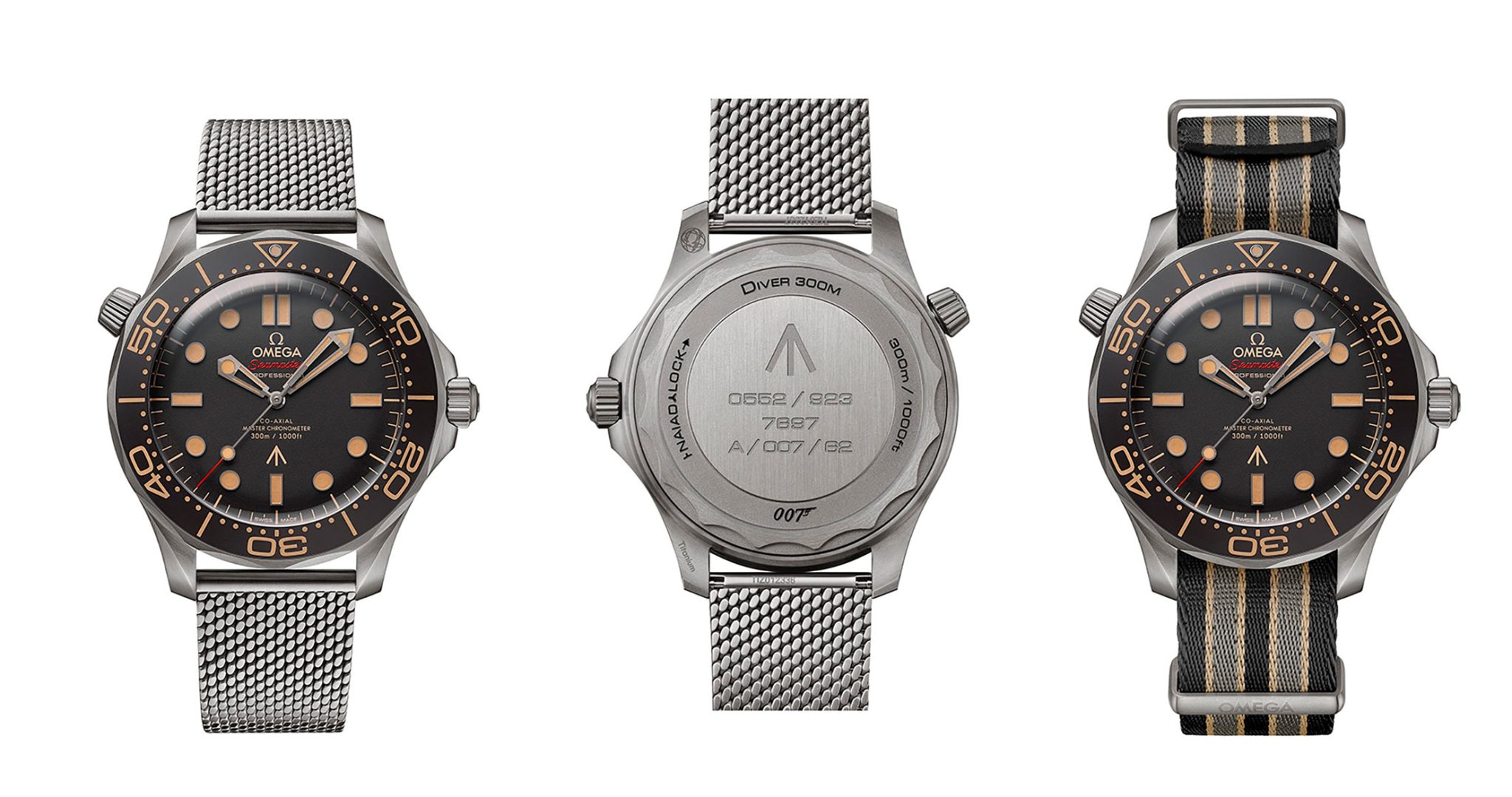 ---
Auctioning of Bond watches
Update 29.09.2022
Unsurprisingly, watches that have donned the wrist of 007 are worth a fair amount. With this in mind, the enterprise's producers, EON Production, teamed up with auction house Christie's to sell some of the films' timepieces that Daniel Craig wore on the wrist during filming. This charity sale, 'Sixty Years of James Bond', offered not only watches, but also costumes, props, and even vehicles – mainly from the 2021 movie No Time To Die. Prominent OMEGA watch sales included the Seamaster Diver 200M "007" Edition mentioned above, fetching a price of 226,800 GBP. Meanwhile, Bond's steel Seamaster Aqua Terra Master Co-Axial, with its handsome blue dial, reached 119,700 GBP.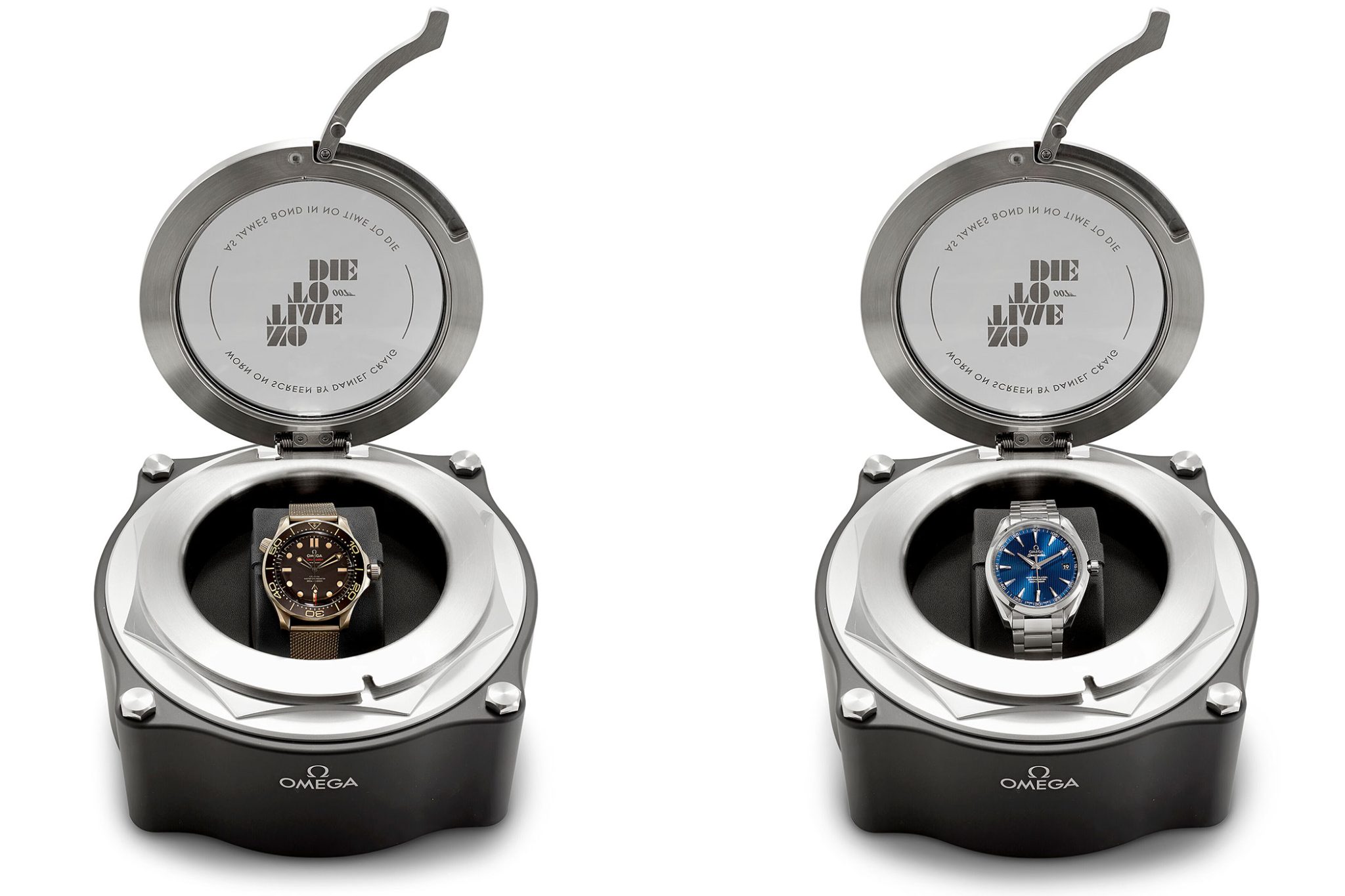 Credit © Christie's
---
Featured watches:
---
GoldenEye, 1995:
OMEGA Seamaster Professional 300M Quartz – Ref. 2541.80.00
Tomorrow Never Dies, 1997,
The World is Not Enough, 1999,
Die Another Day, 2002:
OMEGA Seamaster Professional 300M – Ref. 2531.80.00
Casino Royale, 2006:
OMEGA Seamaster Professional Planet Ocean – Ref. 232.30.12.21.01.001
OMEGA Seamaster Professional Planet Ocean chronometer – Ref. 2900.50.91
Quantum of Solace – 2008:
OMEGA Seamaster Professional Planet Ocean 600M – Ref. 2201.50.00
Skyfall – 2012:
OMEGA Seamaster Planet Ocean 600M OMEGA Co-Axial 42mm – Ref. 232.30.42.21.01.001
OMEGA Seamaster Aqua Terra – Ref. 231.10.39.21.03.001
Spectre – 2015:
OMEGA Planet Ocean for the OMEGA Seamaster Aqua Terra 150M – Ref. 231.10.42.21.03.003
OMEGA Seamaster 300 – Ref. 233.32.41.21.01.001
No Time To Die – 2020:
OMEGA Seamaster Diver 300M "007" Edition – Ref. 210.90.42.20.01.001
---
Photo credits:
NO TIME TO DIE © Donjaq and MGM. NO TIME TO DIE, 007 and related James Bond indicia © 1962 – 2020 Donjaq and MGM.
NO TIME TO DIE, 007 and related James Bond Trademarks and trademarks of Donjaq. All Rights Reserved.
---
---