At the beginning of April, we made our way to the French luxury ski resort of Courchevel, where Richard Mille gathered brand ambassadors such as professional skier Alexis Pinturault, biathlete Johannes Thingnes Bø and snowboarder Ester Ledecká as part of their "Ski Clinic". Tim Malachard, CMO of Richard Mille, was also there, of course. The perfect opportunity to talk to the young manager about the strategic direction of the most important ultra-luxury watch brand, but also to reminisce about the past – about his first meeting with Richard Mille, why at first no one believed in the success of the brand, which today is overrun due to enormous demand, and how to really get your hands on one of Richard Mille's most coveted watches.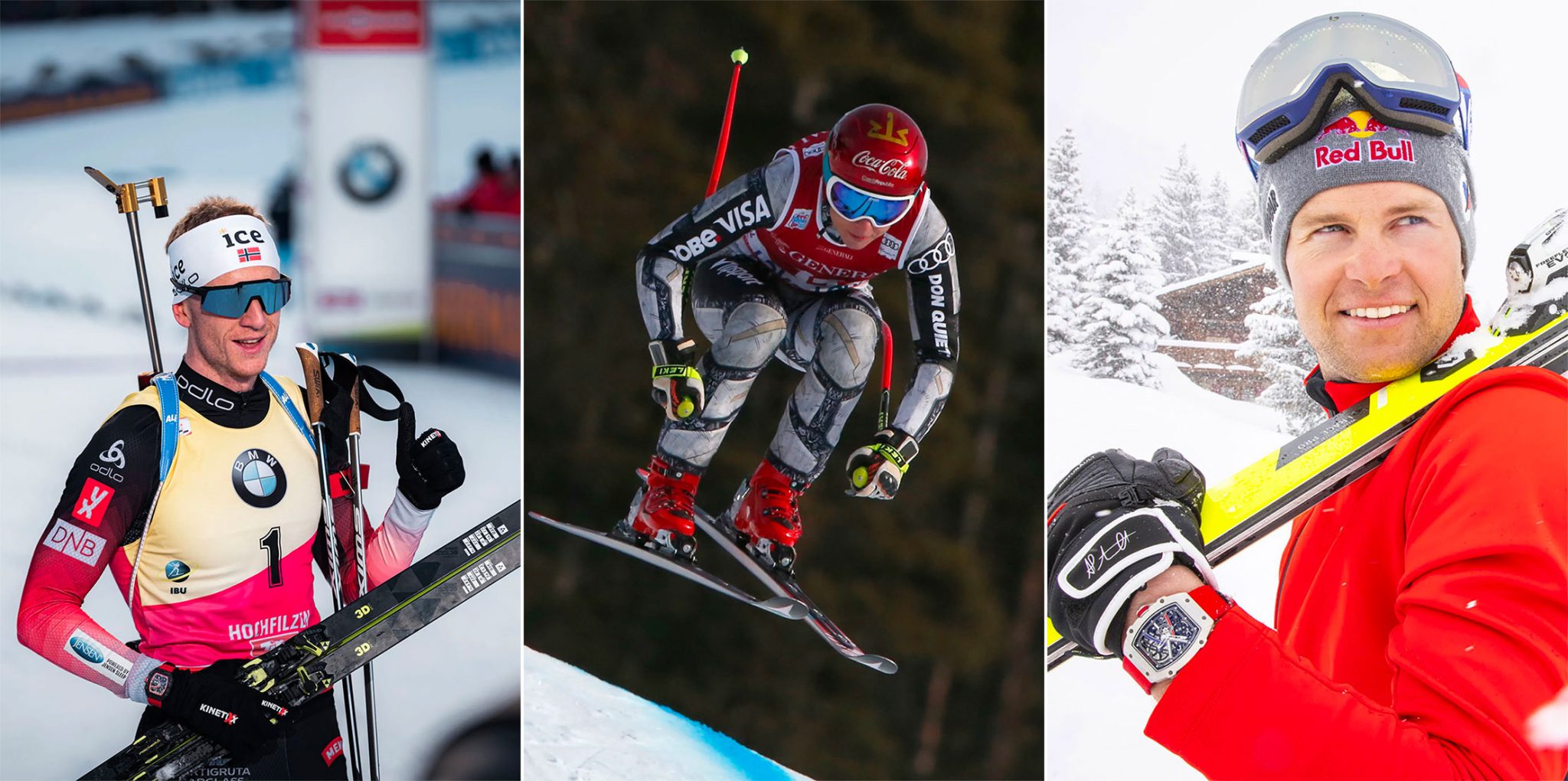 Friends and partners of the brand: Johannes Thingnes Bø, Ester Ledecká and Alexis Pinturault
---
You have been with Richard Mille for over 13 years. What is it that keeps you loyal to the brand?
---
I think there are many factors. When Richard Mille offered me a position back in 2009, I had already left my previous company, which was Aston Martin after the 2008/2009 banking crisis. Richard explained that he required a Marketing Director and asked if I was interested. I informed him that I'm no expert on watches. He replied, "You will learn very quickly". I do like watches, but back then I had more of an automotive background. Upon telling him this, he said, "Don't worry, that's the least of my problems. I want to employ you for who you are and for the next few years, I want to do things for the brand with you." Since that day, I have never, ever felt that I needed to go and look anywhere else, because I think Richard Mille is a unique person to work for. In fact, he's a unique human being because he is so passionate and very warm hearted. When you gain his trust, you just want to give 110 percent.
I was also thrilled to work in a company where you get to build the brand. The brand was still in its early phases and we still had to push to gain visibility through the right marketing. Back then, we had a lot of retail partners. It wasn't just boutiques as we have now. It was also a real challenge in terms of development at the manufacture, as we decided which watches we should push and launch. For example, when I joined, ladies' watches only constituted 5 percent of sales, and they were really difficult to sell. Nowadays, ladies' watches make up almost 30 percent of our output. I think when you work with someone who is a visionary like Richard Mille, you don't feel like you have a "traditional" job. Of course, it's been intense. It's been seven days a week sometimes and it never stops, but it's never been a burden for me.
---
Can you remember your first meeting with Richard Mille? What can you still remember about it today?
---
I still remember the first time I met Richard very well. It was 2004 when I was working for Ferrari and Maserati. I was Marketing Manager for France and he had been at Le Mans Classic, which was the big event that he sponsored since the very first edition in 2002, when he first launched his brand. we were also a sponsor with Ferrari and Maserati, and we met through the organizers for a lunch a few months later. We stayed in touch ever since. Richard became a customer at Maserati, and bought the new Quattroporte. When working at Maserati and you've got someone like Richard Mille, it's like having an ambassador. You want to look after him. So, when you get people like him who believe in the product, then you just want to look after them. After continually staying in contact, I eventually joined the company end of 2009.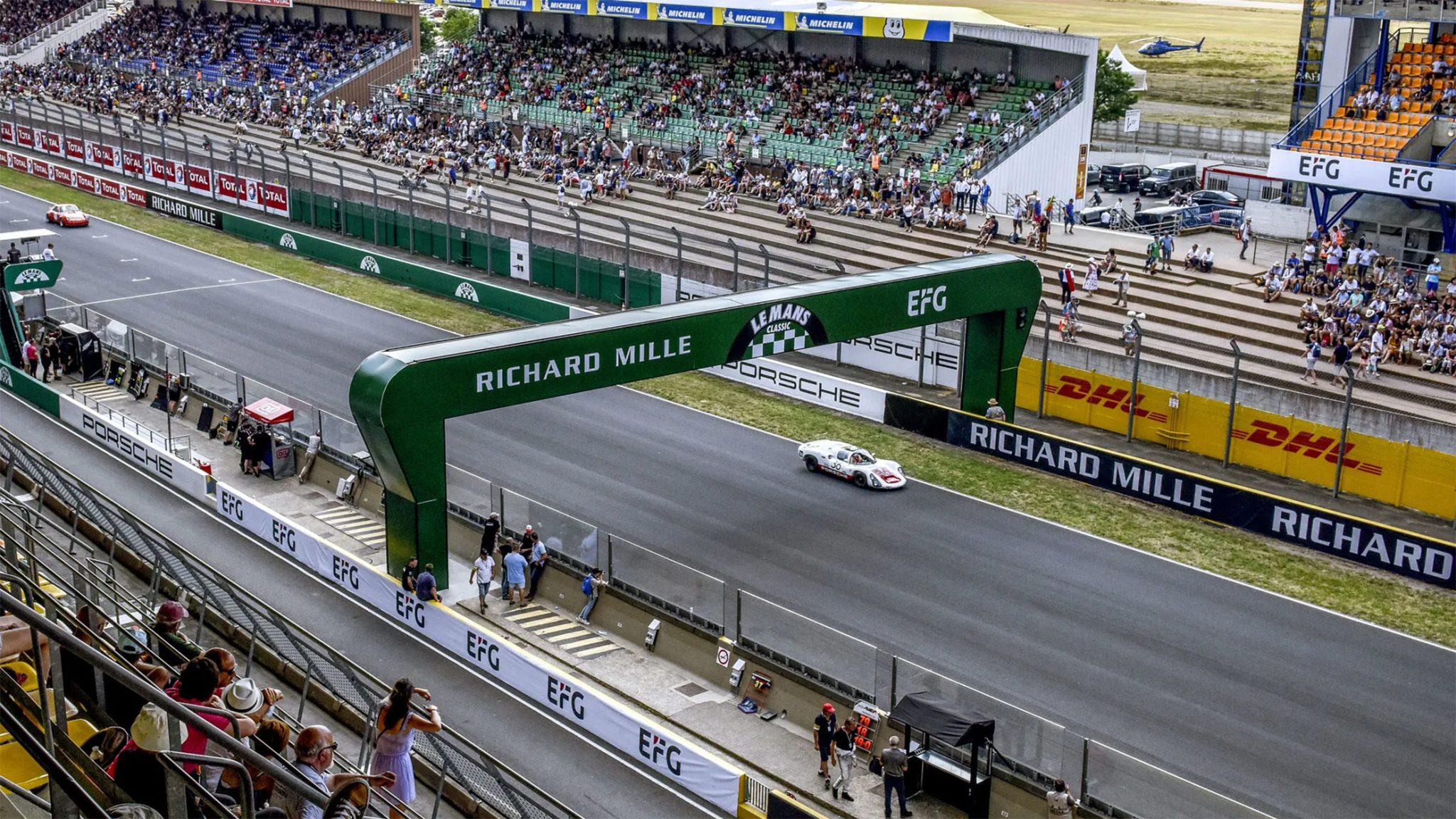 Le Mans Classic
---
How did you manage, in just over two decades since the brand's founding, to create such a desire for RM watches amongst watch collectors?
---
I think first and foremost, it comes from Richard's obsession since day one for the technicality of watches. So, the approach he brought back in 2001 was a bit revolutionary compared to the rest of the traditional watch industry. I think he launched his brand at the right time. And I think with the RM 001, he designed something which had never been seen before. There was the new shape, the movement, which was totally visible, the base plate in titanium, not to mention the ultra-modern materials like titanium, which one hadn't ever seen in watchmaking at that time.
I think a lot of people were a bit taken back for many years, especially the traditional watch collectors. It was quite funny because a lot of people looked at the brand and thought, they're not going to last a long time, it's going to be a fashion brand. When I started working for the company, a lot of people that I met would say, "Richard Mille is not for me. I'm a traditional watch collector. I'll never have one." Many years later, they returned, and I see the same people buying for their collection now because the brand has gained recognition with its very own identity. I think that over the years, all the work that we have done on brand awareness, on the products, and on our partnerships has made people aware that it wasn't just a one-off watch brand that was going to die down within a few years, it was here to stay. Many of the traditional watch collectors pay attention to the brand now and you see even auction houses and experts such as Aurel Bacs today, who have a lot of respect for the brand.
---
Today you are wearing the RM 055 Bubba Watson. Is this your favourite Richard Mille watch today?
---
The RM 005 Bubba Watson has always been one of my favourites. I'm a bit sentimental towards Bubba Watson because I introduced Bubba Watson to the Richard Mille Family in 2010 when Richard signed Rafa Nadal. He said to me that he wanted to create a watch for a golfer. So, I went through connections to see who were the upcoming youngsters in golf, because all the traditional ones were already taken by many brands. But we were looking for a younger generation. There were two or three profiles that were coming up and Bubba was one of them. Of the three contacted, he was the only one that accepted to wear the watch when he played. The others didn't want to do it. I was informed by a golf expert that he was quite a character, that he'd never had a golf lesson and that he was self-taught. It could have gone either way; he could either have won one tournament and disappeared, or he could do something amazing. We signed with him in 2011 and lo and behold, in 2012, he won the US Masters in Augusta. Today, he has won 12 PGAs including two Masters.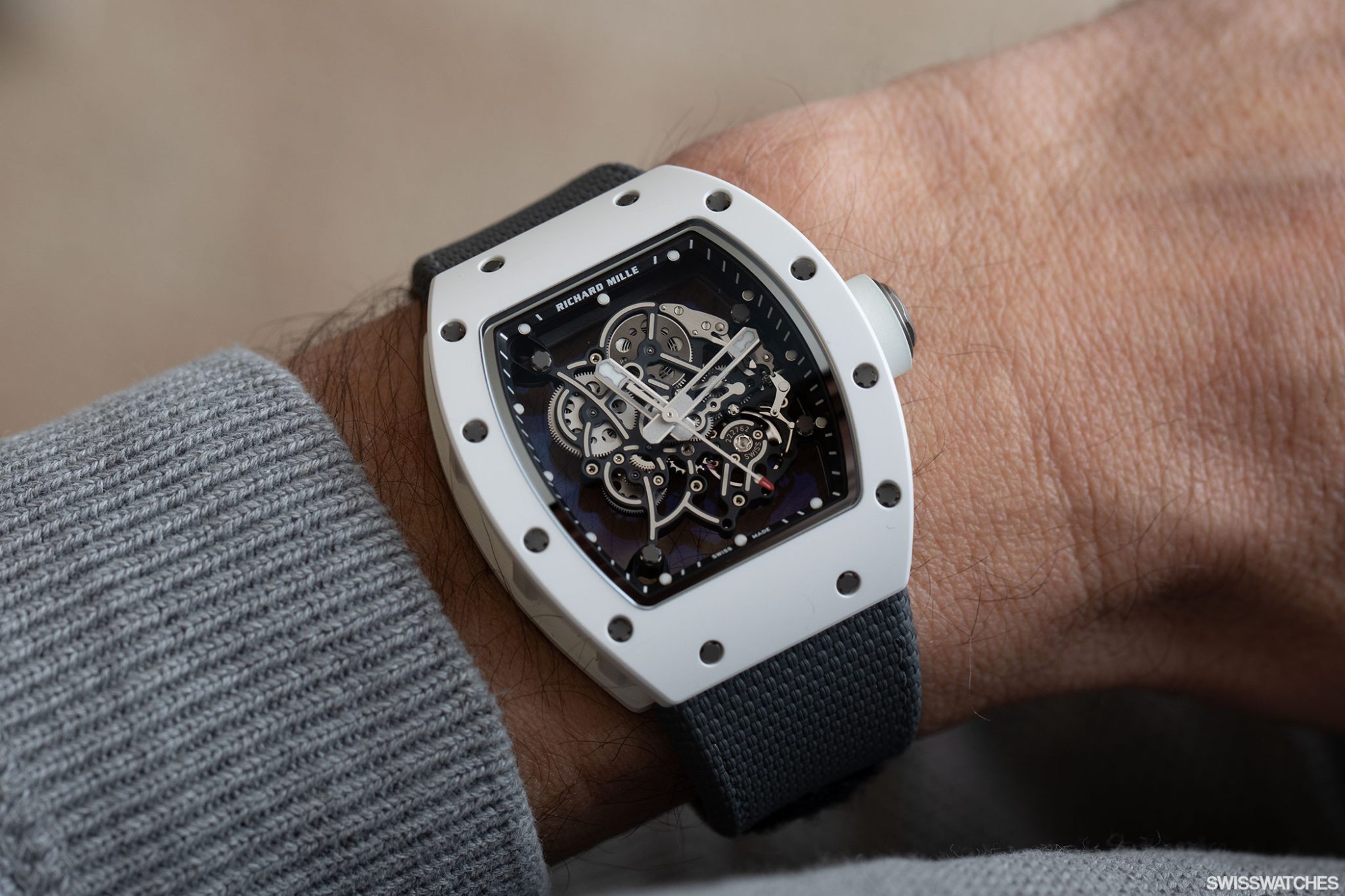 Richard Mille RM 055 Bubba Watson
I also really like the RM 67-02 sports variations a lot. I think they're really nice for the thinness, the materials, and the design. I have also always been quite a fan of the RM 030. It's a very traditional RM watch with the case being the traditional tonneau shape and using materials like titanium. I love the simplicity of the movement. I love the function with the on/off switch. I wore it for quite a few years and the switch was always off because I am too hyperactive. But I just love that kind of interaction with the movement with its mechanism that makes sense as well.
---
We recently had the watch fair in Geneva, with around 50 watch brands attending. Why is the concept of the fair no longer interesting for Richard Mille?
---
It just doesn't make commercial sense for us anymore. When we did the SIHH for ten years, from 2010 to 2019, it helped contribute to the brand being where it is today. This is something we never dispute. It's just that when we got to the last few years, we were going towards a business model that aimed to purely sell watches in our own boutiques. We have 39 boutiques around the world distributed by our four partners evenly between America, EMEA, Asia and Japan. Why would we present watches in a fair when we know that to a certain extent they are pre-sold by our own boutiques and we have nothing to offer because we are selling to ourselves and eventually selling to the final customer?
Also, at the SIHH you are not selling to the end consumer, you are selling more to your retailers around the world. We didn't need that anymore as we no longer have multi-brand retailers since 2019. So, it came down to how much we wanted to spend on what is basically a communication platform. It just didn't make economic sense due to the fact we're selling 100% internally. We wanted to allocate our budget in a way in which we could do our own watch launches ourselves, in our own environment, and do events for our customers, journalists, friends & partners.
---
Will there be any new approaches to increase the effectiveness of communication further, or is it better to be more reserved when the demand is so high?
---
No, I think that in terms of communications, we operate in a way where we want to make the brand increasingly open to the outside world and project an idea as to what we are about and who we are. Also, if you look at all the watch launches we have done in the last two years, we have a lot more content in terms of the creative process, manufacturing process, and the video and photographic concepts – especially in the digital age we live in now. That's really been a great attraction. Fans of the brand also gain information via our social networks and so on, and that's definitely different. We tailor our content to various different audiences to tap into whatever they are interested in. We are in a day and age where you can be selective as to who you want to follow and what you want to see. If you want to go and discover something about a particular brand, you can find all the content easily. We are probably one of the most exclusive and most expensive watch brands out there, but we want to also stay very humble in the fact that we want people to know that we are all about passion. We really want the outside world, our fans and our customers, to see how we develop our products further. Because we have so much to share, every product that we develop and launch is different. Every year we launch between five and eight models, and they're always extremely different from one to the next, whether from a conceptual point of view, in terms of materials, or in terms of the movement. I think we want to share more and more the values of the company in terms of the people as well, for example the transition that's happening between Richard Mille, Dominique Guenat and their children. Four of them are now working at top level management on the board and we want to reassure the customers that we are independent and we are not going to change that.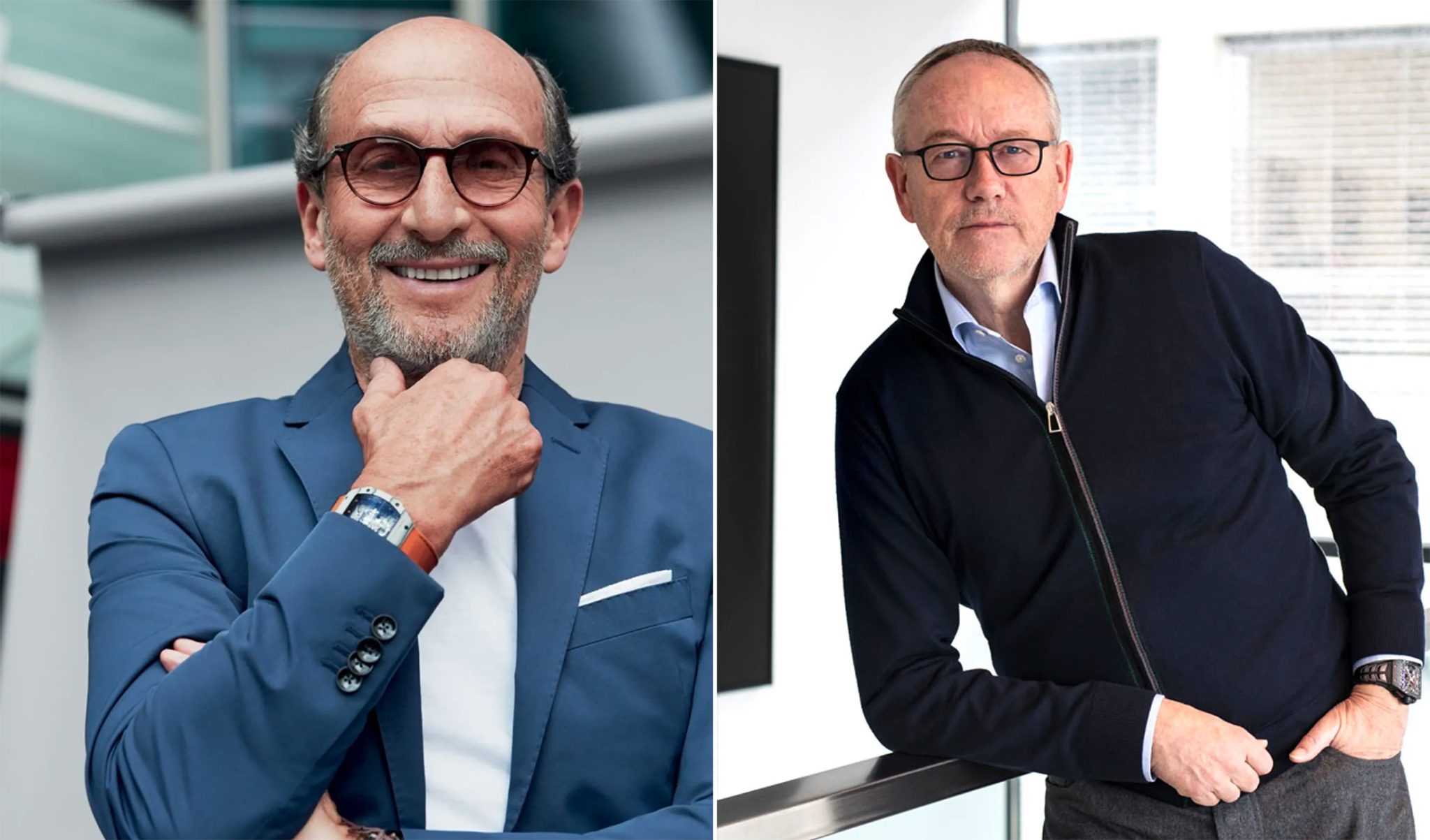 Richard Mille (left) and Dominique Guenat (right)
---
You still have some retail partners. What is the advantage of running your boutiques as a joint venture with a retailer compared to doing it on your own?
---
The reason why we do it is because we have loyal partners we have collaborated with since the beginning. We have four distributors in the world, RM EMEA, RM Americas, RM Asia and RM Japan. Richard didn't want to have too many distributors when he launched the company, and only wanted to have selective distribution and to build the brand together. That's how it still is today. Even now, if the opportunity came to say we will go alone, I don't think we would do it because these people are part of our family. So, it's two things: firstly, it's being loyal to people who believed in the brand when we first started. Secondly, it's from a human perspective of being very close to these people. We are like a big family. Richard Mille has around 500 employees in the world between factory and boutiques. 500 people is not that much when you look at where the brand is today.
---
Let's move then on to the client side. Richard Mille is very careful about who it will sell watches to. Which particular attributes do you look for in an ideal client?
---
The thing is, due to the Covid-19 pandemic, things changed. During the lockdown period, our production closed for two and a half months and we lost over 1,000 watches of production. When we reopened, the demand was still there and was, in fact, even higher. What we had to do is put a process in place in our boutiques around the world with our commercial team to make sure that every watch that leaves the boutique is sold to someone that we know is a genuine customer and who is going to keep it. We didn't want to feed the market on speculation because, you know, the market value of our watches today, is sometimes double the retail price, it's not us that dictated this, it's the market. Therefore, we want to make sure that we don't find frustration with genuine customers who wanted our products when they're seeing other people buying the products and saying, well, how come I can see this is on the market here and I can't get this watch? So that's why we are really careful.
At the same time, it's a very fine line too, because we also want to draw new customers to the brand. When you're producing 5,600 watches in a year, which is our target for 2023, out of that you want to have some first-time buyers. So, at the same time, we're also a bit conscientious about who our first-time buyers will be. We just want to make sure that they are not going to buy for the wrong reason. That's the real challenge, because we don't want to create frustration. Sometimes people contact myself, Alexandre or Amanda Mille and don't understand why they can't get a certain watch. We can't bypass our own rules. Clients have to go to a boutique to create a relationship with the boutique staff and become well known. Once you create the relationship, then you will have access to our products. But you can't just say, I want a certain watch straight away and buy it without creating the relationship. I mean, even in the digital age we live in today, it's never been so important to create human relationships in our lives. This also enables us to get to know our customers and how we can create events for them, how we can invite them to enjoy moments like this where they can come and meet our partners like at the "Ski Clinic" this weekend and ski with world champions! And that's something that they can't organize themselves. So, we do a lot of events throughout the year which are not big events in terms of the quantity of people that we have, but they are big in terms of values.
---
Richard Mille is very much into hypercars and motor racing. Your watches cost as much as a luxury sportscar and people are willing to pay that amount. How did the brand manage to create such a desire for its watches?
---
I don't think we ever looked at competing with any hypercar brands. We are definitely a brand that's synonymous with the automotive industry because it's about the creative passion. The major influence for Richard's watches has been from the automotive racing sector; mainly functions we've created, like the push button selector. You know, there are a lot of things that we have been inspired by in the function selector, an F1 sports car gearbox.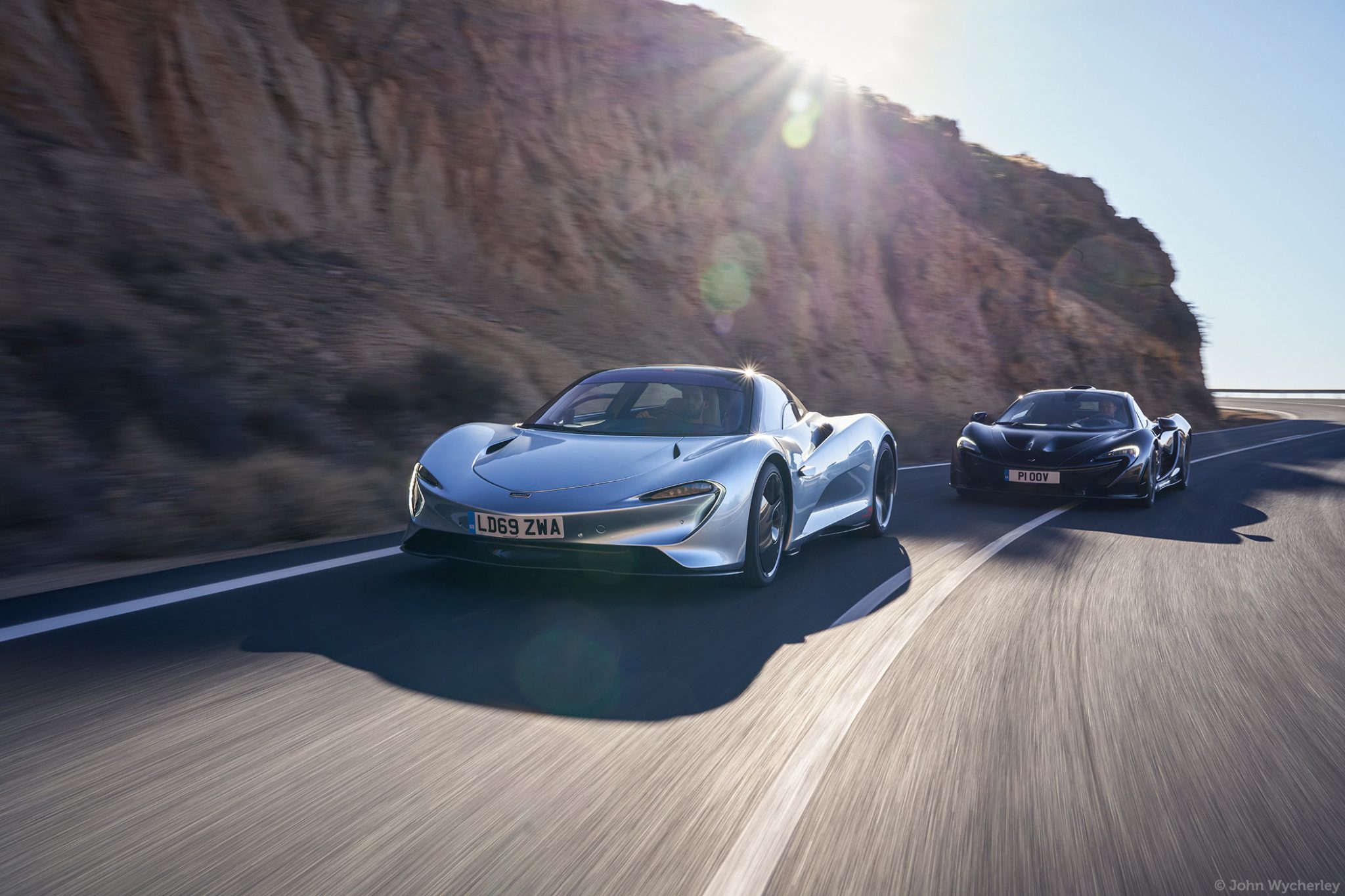 Richard Mille RM 40-01 McLaren Speedtail Automatic Tourbillon
We know that men who like cars usually like watches. The two tend to be synonymous. But even when we started working with McLaren in 2016, it was quite funny because they were selling their cars at a starting price of 180,000 euros and that was pretty much what our average retail price was. So yes, we were selling watches at the price of their cars, but we never wanted to compete with the pricing of what's out there in the car market. We were catering to collectors of that market who usually have not just one but multiple cars. So, also when you work with a prestigious brand like McLaren or today with Ferrari, then for sure you open up a new audience of McLaren or Ferrari owners that will be interested in having a Richard Mille watch, which maybe wouldn't have come to the brand before that.
Richard Mille RM UP-01 Ferrari
---
This year once again you will sponsor Nürburgring Classic and even bigger Le Mans Classic 2023. You also partner with other high-profile events such as The ICE in St. Moritz. How do you use these occasions to raise the profile of Richard Mille?
---
I think that these events are first and foremost about passion. The classic car world is a very strong market and is very different to the modern car market, and we were much more involved in the classic world since day one. We created the Concours d'elegance in Chantilly with Patrick Peter and now we're title sponsor for The ICE in St. Moritz but we can also talk about The Rallye des Princesses, Rallye des Légendes and many more. I think it's all about not doing mass-market events, but rather entertaining an audience that is high profile because of the collectors – and the value of the cars there are very, very high end, so that's our audience. It matches. We also like the spirit of these events, which are about sharing incredible cars that were made in the last 100 years and seeing them in action. The mechanics of these cars are incredible, and these are the things that inspire us and our watches since day one. I mean, if you open a Formula One engine from a car from 40 years ago and look at how the mechanics were made then, the details are just incredible.
---
Can we expect to see a very exciting watch that might rival the RM 029 LMC?
---
We have another one coming that's really nice. Very much in the spirit of what we did with the RM 029. The colours of green and white are of course synonymous with the event, so it's going to have the same kind of amazing colours, it's going to be a really nice edition.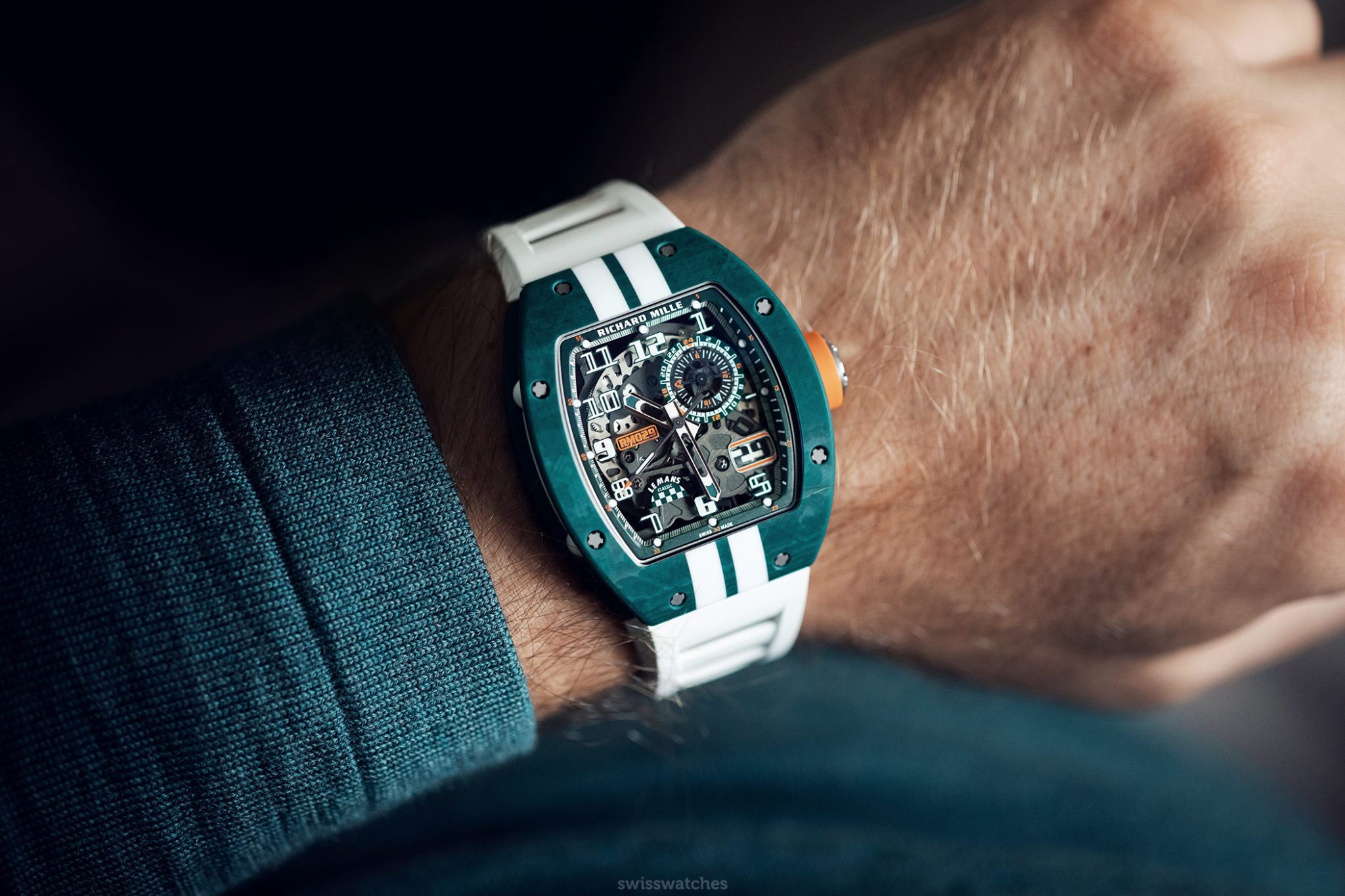 Richard Mille RM 029 Le Mans Classic
---
Richard Mille watches are not affordable for everyone. But the next generation is increasingly into watches and they are also more into digitalization. How do you speak to the new generation?
---
When I started working for the company 13 years ago, our audience was much more above 40, 45 years old. Today our audience is around 30 and we have many followers that are teenagers. You have to have a lot of money to buy our watches for sure. We are not an entry level price for a couple of thousand euros, which is the general norm for when you buy your first watch. But it's funny because the generation we are seeing now, especially with the access one has on one's phone, are actually more passionate about understanding what brands are about. From a marketing and communication point of view, I think today no one will accept any kind of marketing nonsense. It has to be authentic. Today you can discover anything you want via the Internet. Therefore, brands are being very cautious now. At the same time, it has encouraged brands to show what they are about. We have to demonstrate to people why Richard Mille watches are so expensive, and the best way to show that is to show how we work internally and how we create our watches. When you go to our manufacture, you have 210 people that are working with passion. All the finishing of the assembly of our watches is all done by hand by over 45 watchmakers. We also have CNC machines, but they are there to produce cases and that's it. The human aspect is huge. We are not industrial; we are really into what we call craftsmanship. I think the younger generation is really, really well educated.
---
You opened the boutique in Munich, Germany in 2017. How has the market in Germany changed since then and how important is the German market for Richard Mille?
---
Germany is a big economy. It's a big market in luxury goods and in the luxury car sector. It's been number one in Europe for many years. We chose Germany because at one point it was a country where we could not not have brand presence. But it's also a very traditional market in watches. So, when you have a brand like Richard Mille that comes up and says, "This is us and we're doing modern watches in a different way from what you're used to", it took a lot of persuasion. I think the German market picked up very quickly. It's doing very well today. We have very strong partnerships with certain companies like McLaren and Ferrari because there is a new audience within Germany that is coming to Richard Mille from these brands.
I think the German customers, once they get in, are totally loyal. You have to gain trust. We even talked about opening a second boutique in Germany, maybe in Frankfurt or Hamburg. But the problem is, we have so much demand now that we prefer just to supply Munich and allow it to feed the German market as a whole. I mean, if someone wants a watch and he lives in Hamburg or Frankfurt, they will now travel to Munich.
---
---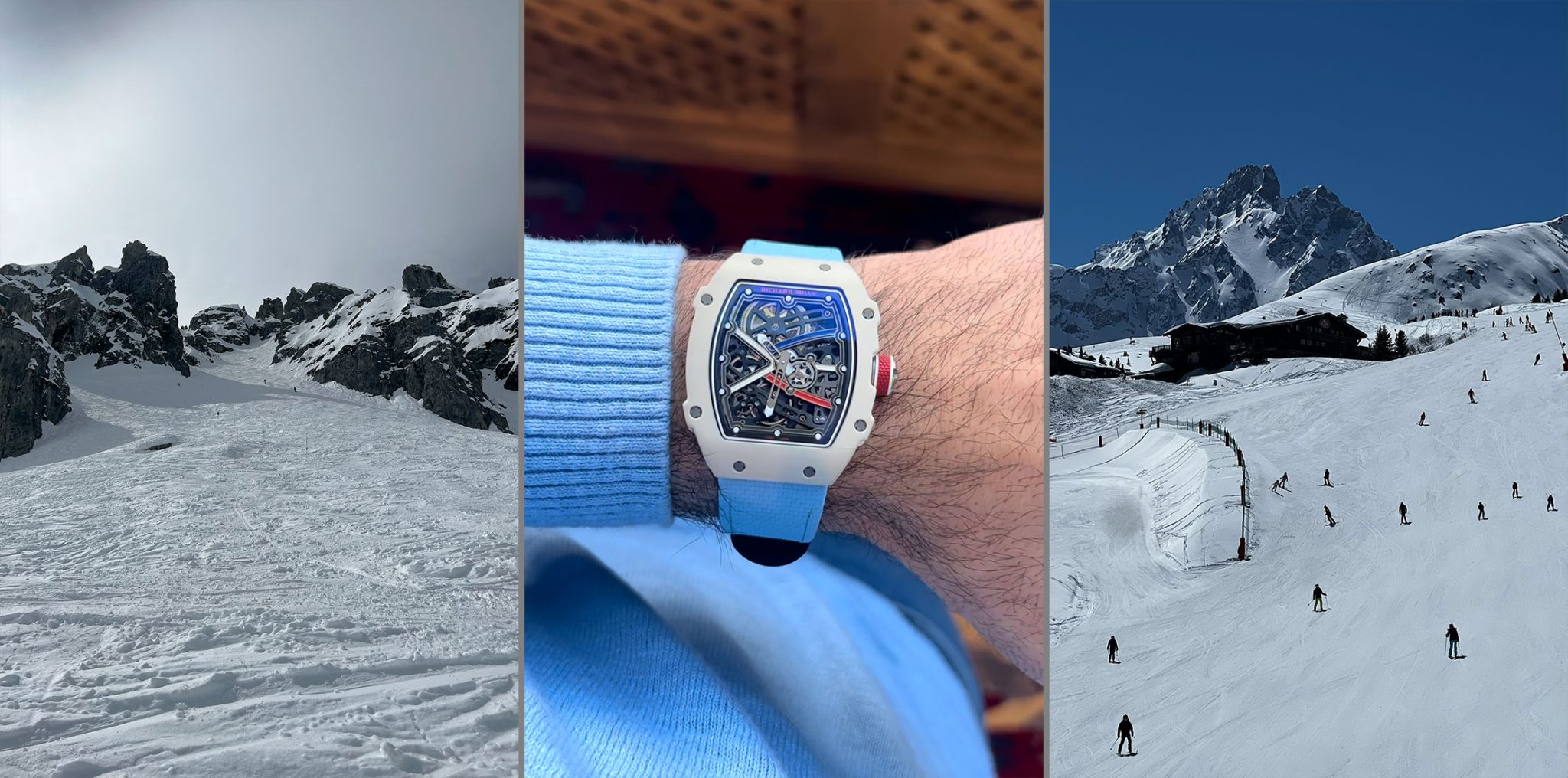 Richard Mille Ski Clinic 2023 in Courchevel