Just over one year ago Jérôme Biard took the lead of CORUM. He doesn't want to be compared to his predecessors – Biard, already as a child a big fan of the brand, has his very own vision. To our lunch in Zurich the sympathetic CEO appeared in familiar casual manner and revealed, why a brand like CORUM can not be profitable by pure sales only, why the fair-concept has to be reinvented and by what means he wants to connect with his customers in the future. If he could, Biard would love to talk to every single one. Only for Donald Trump he would probably not spare any time.
1. What does a mechanical watch mean to you, which watch are you wearing today and which one do you wear the most?
---
The only true watch to me is a mechanical one. I like the fact that it does not have a date of expiry, as long as you take good care of it. You can pass it on from generation to generation.
The watch I wear today is from our Admiral collection, the Admiral Legend 42 with a teak wood dial. This watch is elegant and at the same time very sporty-chic. I was always a big fan of CORUM and already as a little child I was into sailing and the Admiral (former Admiral's Cup) was the right watch collection for me. It has this sporty-elegant-chic that I like and that fits very well to my style, jeans and blazer, what I often wear.
I also like to put the Golden Bridge on my wrist, especially the tonneau-shaped Golden Bridge Stream. And just recently I asked my technicians for a rectangle edition in white gold, like the one we did for Joachim Horsely, but instead of an engraving of the partitions of Beethoven I asked them to engrave a sentence into it that I really like: "Elegance is the only beauty that never fades" from Audrey Hepburn. It is engraved into the back of the watch and I love the white gold combined with the dark elements of the micro structure.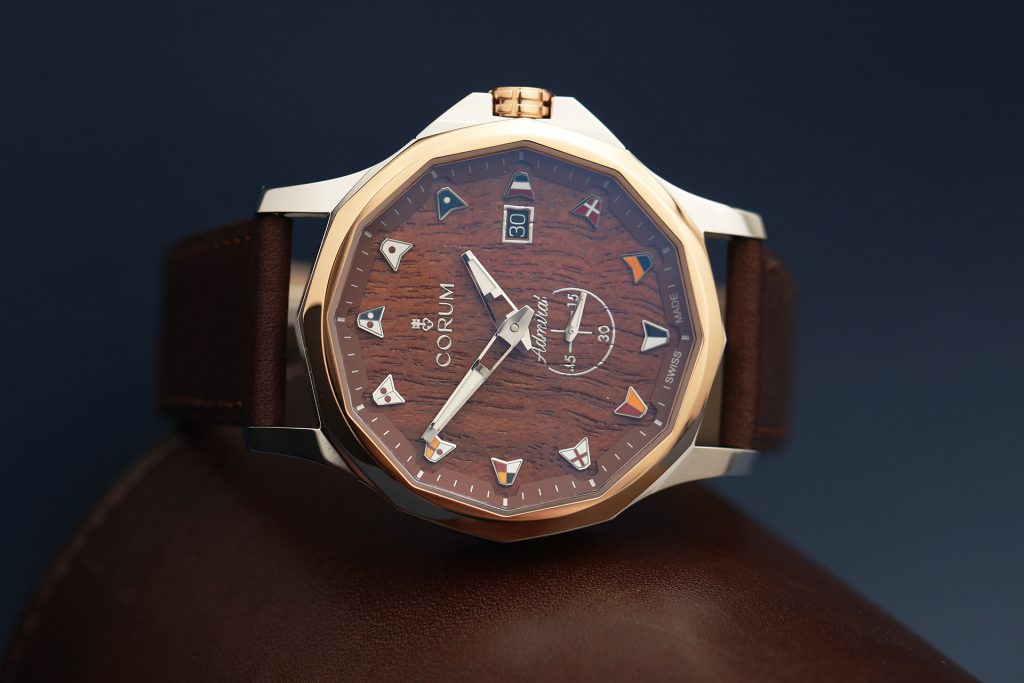 CORUM Admiral Legend 42 with teak wood dial
2. You are just over one year CEO of CORUM and your predecessor Davide Traxler at his time managed to increase sales by 38 per cent in only 12 month. Were you able to continue this success?
---
I don't want to judge the work of my predecessor and compare it to my work. In terms of sales we are around plus 15 per cent compared to the previous year so far. But I much more take into account the gross profits. And the cross profits we had when I arrived in the company in 2017 was at 32 per cents. Today we are at 47 per cents. This is more important to me because you can make a lot of sales but that doesn't necessarily mean that you do the right move for the brand in long term. In the past, some of the money was not spent in the right channels. I believe less is more. First of all the quality has to be better, the quality of the distribution has to be better and the production has to be much closer linked to the real sell out figures. All these issues play a more important role to me.
I have three main missions for CORUM: to give value to the brand, to give perspective to the brand, as well as to make our business model more efficient – we have been losing to much money over the years. For example: the subsidiary in the USA owns us more then 12 million euros and loses another 2.5 million euros every year. So you can imagine that we will not get back the money tomorrow. So even when the US subsidiary starts to make one million euros profit a year, we need 12 years to get our money back. So I prefer to work with strong distributors as it is much more efficient for a small company like CORUM. We can simply not afford to have eight subsidiaries all over the world.
3. What were your first steps as new CEO? Did you take any significant changes within the company?
---
The first two steps were travelling and listening. I wanted to understand the general perception of the brand. I talked to all our distributors and it was obvious that we have to focus more on the 'Golden Bridge' and 'Admiral' lines, however continue to be crazy creative with the Bubble, but in a more sophisticated way. And we must not forget our 'Heritage' collection by launching the coin of our 'Coin Watch' in a more fashionable way. On the management side I decided that we need to rethink our business model in order to earn money one day by making more turnover. We will not achieve this by continuing to sell more but making bigger losses. We also developed a new concept with a more sophisticated display language to show that we are a very creative and artistic brand that enhances our 'out of the box way of thinking'.
4. You just announced to leave the Baselworld watch fair after 62 years. How do you connect with your retailers, clients and the press in the future?
---
When I started in the watch business around 30 years ago the CORUM booth at Basel watch fair was the first one on the left – the monopoly position. And now we are the last one on the left. Don't misunderstand me, it still is a very good position and a beautiful booth but in between the world has changed a lot. As CEO you need to be aware of the economical reality of the brand. Six years ago the booth cost six million euros just to be built. Six million that we have to amortize in ten years. It is a lot of money for a small brand like us. Baselworld cost us around 2.5 to three million euros every year. So I have to make sure to invest this money in the best possible way to achieve my goals for CORUM and to follow my dreams for the brand.
I just come back from the SIAR in Mexico where they have a much stronger and closer relation to their customers. So we want to invest that money we used for Baselworld for more intimate little events. We produce quality watches and I want quality conversations with retailers, distributors, press and clients. Not many people know CORUM. So you need to take the time explaining. We produce around 9.000 watches a year. To reach all these wrists we need to talk to many more people in return.
5. Is the watch fair SIHH an option for you? Or do you think the two major watch fairs in Basel and Geneva will become less important in the future, taking the rapid change of the industry into account?
---
Today, I strongly believe we should reinvent the concept of the fair, just like some museums could reinvent their experience of culture and history.
Our goal is to help our retailers to sufficiently inform the final consumers. And that is not possible at the fair. I want to spend more time with everybody. At the fair I run through 30 or 60 minutes slots.
6. Do you plan to open CORUM Boutiques in Europe?
---
For sure not at mid-term. A boutique needs to be profitable and it is difficult today for CORUM to be at breakeven. A boutique is not only an image but should mainly be a profit centre.
7. Who is the stereotypical CORUM client?
---
That can be many people. But I would say, someone that believes in his dreams. A person that does things in a different way. It can be an architect, it can be a designer – but all together they are not people who tend to follow others. They are more the leader-type of persons with a lot of self-confidence. Hence our slogan "Craft Your Dreams". They don't care that nobody knows that they are wearing a watch that cost around 20.000 euros from an unknown brand.
8. Four former US presidents wore CORUM watches. Would you be honoured if also Donald Trump would wear one of your watches?
---
I like people with sensitivity and empathy instead of people who believe to know everything. So I prefer personalities like John F. Kennedy, Barack Obama or Bill Clinton. I am very sorry Mr. President.
9. This year you revived the Romulus from 1966. Is this model still today as successful as it was then?
---
On my trips I learned that everyone wants us to bring back the Romulus. So we carefully started to revive the Romulus by launching the Annual Calendar this year. Next year we will present a 3-hands version. Step by step we will revive a Romulus collection with watches in platinum and with different bracelets. We have to design them the way that our founder René Bannwart would today interpret the Romulus.
10. When the Bubble watch was first launched in 2000 it was not overly well received and disappeared a few years later. How do you explain its incredible success nowadays?
---
Severin Wunderman – who invented the 'Bubble' – was an unbelievable visionary and creative mind and he knew how to surprise the watch industry. People criticized however that he kills the Haute Horlogerie for CORUM and would put the Golden Bridge collection in danger. My goal is to make the link between both. We are making little mechanical pieces of art. This year we launched the 'Bubble' with a Tourbillon. So we pair the Haute Horlogerie with creativity. Also it makes sense with the architecture of this watch. Furthermore we also make small complications like monopusher, chronographs and other sophisticated details to stay true to CORUM. And on the other side we do the more classical Bubble watches with an artistic approach, but always at a high level because I want to offer sophisticated products. The 'Bubble' allows us to reach a new and younger clientele. We don't want to take the 'Bubble' too serious and are not so much limited to restrictions. This year we presented the Mini-Bubble and the Bubble cufflinks to show that we are little crazy – crazy but smart.
11. What can we expect from CORUM in the future?
---
We have to continue to surprise the market with more creativity. So we created a kind of Atelier and established the 'CORUM Lab'. We just presented the first limited edition from the 'CORUM Lab' with a tonneau-shaped movement inside and a very modern, appealing approach. We want to concentrate more and more on Métiers d'Art, put more focus on the Golden Bridge movements and develop new approaches how this beautiful movement can be used.
In the future we will also pay more attention to the individual needs of the different markets. I have absolutely no problem if we have a different advertisement campaign in Mexico then in Dubai. I have also no problem if we offer different watches for different markets. We can have a different visual communication and products locally, but the same identity globally. I want to tell you a story. When I was a little boy my dad brought me a toy back from Japan, which no one else had in school. Today when I bring my son a toy back from trips to Asia he can most likely find it in a shop in Neuchâtel. With CORUM I want to reach back to that exclusivity from the past.
12. In what direction does the watch industry move?
---
All brands should look into the mirror and reflect. They should not try to be bigger then they are. Too many brands are in big groups which results in the individual brands losing their identity. Some brands are to short on visions. In the future, there will be less actors I believe. The watch industry is going to be more and more a narrative industry. Only the ones have a chance that focus on quality, innovation and limited size. It has to become more exclusive – mechanical watches are not made for mass production. We are clearly producing luxury products that not everybody can afford.
---