Montblanc CEO Nicolas Baretzki has grown up with watches, but still manages the business of one of the most traditional brands for writing instruments. He sees many similarities when it comes to the manufacturing of both product divisions, especially in terms of craftsmanship that is based on many years of experience as well for writing instruments as for watches. For Baretzki, the growing digitalization offers a chance for a new appreciation for products that are manufactured with the passion for crafts and innovative spirit. At our lunch in Hamburg Baretzki tells us, why he nevertheless wants to conquer the SmartWatch segment, how you can offer a technically sophisticated Monopusher Chronograph for less than 5.000 Euros and why a traditional brand like Montblanc needs Minerva as a source of inspiration.
1. What does a mechanical watch mean to you, which watch are you wearing today and which one do you wear the most?
---
For me, a mechanical watch is a living mechanism. It's about emotions, about heart beating but also very much about craftsmanship and the stories they tell. I come from a watch-retailer family so I have always been surrounded by watches and I always had a passion for them. Mechanical watches don't mean any particular status to me, I have a very personal relationship to them.
Today I wear the 1858 Monopusher Chronograph with our in-house calibre MB M13.21. I love watches that are unique. I personally don't need to wear an expensive watch. This Chronograph is unique, simply because it is Minerva and we only produce a limited number of pieces and it houses a great movement. I also like to wear the 1858 Geosphere. I love its style. I am sure it will become a new iconic watch of Montblanc. When I wear this watch, I feel to be unique.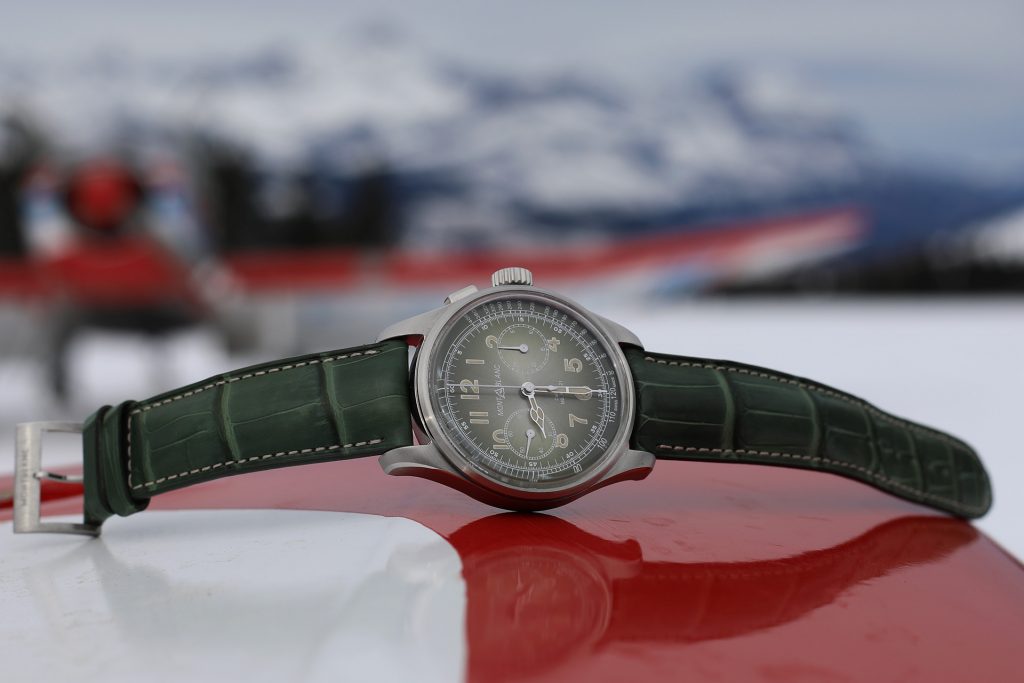 The Montblanc 1858 Monopusher Chronograph Limited Edition 100 features an original smoked green dial and matching green alligator strap
2. How important are writing instruments for a CEO who is so well established in the watch industry?
---
The roots of Montblanc are clearly in writing instruments. The approach of manufacturing writing instruments and watches is very similar. It's about craftsmanship and also about innovation. When you see the manufacture where we produce our writing instruments in Hamburg you will recognize that the processes, as well as the machines, are very similar to a watch manufacture. There is also a lot of attention to details, to design, to manufacturing. If you appreciate a nicely crafted product with a long tradition and paired with innovation you will most likely enjoy both, writing instruments and watches.
3. Montblanc runs around 280 boutiques in 130 countries. Looking into the future, do you plan to increase this number or will you focus on modernizing the existing ones first?
---
First of all, you have to reflect what Montblanc is about. And the Montblanc strategy was always about customer relation. We want to be as close as possible to our customers. This is why we went abroad at a very early stage. We were the first Maison to import luxury goods to India 25 years ago. We were one of the first Maisons in Brazil and we started with a subsidiary in China being one of the first luxury brands there. We did so because the proximity to our clients is so important to us. That is why we have 280 boutiques worldwide. And actually, there are altogether around 600 points of sales as we have many franchise partners. Before planning new openings, the challenge is more about making sure first, that you can deliver a very consisting level of service and image at all these points of contact.
4. Taking the high number of boutiques into account, what is the reason that your clients seem to buy increasingly offline instead of online?
---
I have never opposed online and offline. The two go hand in hand. We invest a lot in the experience our clients can enjoy when visiting one of our boutiques. We know from the customer point of view how difficult it is to find a right strap for example. But our huge network allows us to offer a wide range of different and special straps in our numerous boutiques. We developed a boutique concept that enables our customers to test a new fountain pen or new ink and we offer a personalization for our leathers. We really invest a lot into our boutiques because we believe that these experiences have to be made locally in the stores, not online. 60-70 per cent of our writing instruments are being personalized, mainly in stores.
Overall it is my aim to serve our customer whatever he wants in the most simple and convenient way – no matter if he wants to do it online or offline. Each client has his own way of consuming. Some people know what they want without any advice – some people want to discover and get inspired or seek some advice.
5. Which communication channels are especially important to the brand Montblanc and how will they change in the future?
---
As mentioned before the strategy remains to keep a close relationship with our customers. Therefore the main attention is on our boutiques and all the different points of contact when they are travelling. We have a very large network of Airport boutiques. We are also present in many luxury department stores. Our geographical network makes it very easy for our client to find us.
Online offers new ways of story-telling. Montblanc is such a dynamic Maison that has so many news to tell, which we can spread online. It is a great opportunity to share them with most of our customers around the world.
On the other side e-commerce develops fast and therefore we made sure that our customers are also able to purchase Montblanc products online directly from Montblanc, from wherever in the world they are. In the future, we will further expand both, the local experience in our boutiques as well as e-commerce.
6. Is the concept of a watch fair like SIHH still contemporary and sustainable for a watch brand like Montblanc?
---
Yes, no doubt. When I started in the watch industry about 25 years ago it was a fair for the most important retailers. But now it is getting more and more a client-orientated fair. For us, it remains a great opportunity to present all our novelties in a few days to the outside world and have a very intense exchange. Thus I really see a future in it as long as the customer and every watch enthusiast will become part of it. If you are interested in watches, you can discover the world's most prestige brands at one place. And it is not that you only see it all from behind a window. You can exchange and interact with the brand and the people behind it.
7. Could the digitalization have a surprisingly positive effect on the request for mechanical watches? As more people start to appreciate analogue products again in a more technological and faster-moving world.
---
That is a good point. In terms of writing instruments, it is definitely something that I already observe today. Interesting enough the more digital the world gets the more people want to have a proper writing instrument. I am sure this also applies for watches. There is a strong need and interest for true craftsmanship and for real objects. There is no reason why the digitalization should stop this. 40 years ago, everyone thought that TV will replace the radio and it did not happen. Both eventually stimulate each other.
8. You put a lot of effort into the communication of Minerva's heritage. The manufactures 160th anniversary in 2018 was a perfect occasion for this. Why is the Minerva story so important for Montblanc, a brand with a strong history itself?
---
Minerva is the whole source of inspiration for all collections of Montblanc. When you have the chance to own a manufacture that is 160 years old it would almost be a crime not to take advantage of it. You can find so many stories, design elements and technical features that you can use. Every collection at Montblanc is built up in the same way. You have that flagship piece of each collection – for example in the 1858 collection the Monopusher Chronograph or the Suspended Exo Tourbillon in the Star Legacy collection, or the 'doctor's watch', the Pulsograph, in the new Heritage collection we just introduced at SIHH watch fair 2019. They have pure Minerva movements all done in Villeret and usually start at a price of 25.000 Euros. And then you have the second part, which also consists of flagship watches but more in the field of story-telling like for example the Nicolas Rieussec in the Star Legacy collection that has a great story to talk about. Nicolas Rieussec invented the first inking chronograph in 1821 of which this collection is inspired. And the final part of each collection is the key positioning of Montblanc at a price segment of 2.000-5.000 Euros where we want to offer fine watchmaking in high-quality watches full of character, however of course without an in-house manufactured Minerva movement. And we will continue to build up our collections this way using the heritage of Minerva.
9. The Minerva story continues. At SIHH watch fair 2019 you introduced a new Heritage line that is inspired by Minerva wristwatches from the 1940s and 1950s. Can we one day expect the resurrection of Minerva branded watches – under the signet of Montblanc?
---
No. We used to have different design-, management- and development-teams for our two facilities in Villeret and Le Locle. But a few years ago we have completely integrated both teams. Because Minerva is Montblanc and Montblanc is Minerva. We have one design team, one management team and we don't distinguish any longer. There is no intention to re-create a new brand – it would not make any sense. It is one brand.
10. Montblanc watches have a surprisingly good price-quality ratio. At SIHH 2019 you just offered a new Monopusher Chronograph with a new exclusive basic calibre for under 5.000 Euros. How is this possible?
---
As our key market is in the segment of 2.000 – 5.000 Euros where we are able to offer a very attractive price-quality ratio, we wanted to offer a Monopusher Chronograph at an affordable price range. Therefore, we managed to own a one-year exclusivity from the renowned movement manufacture Sellita on this caliber SW510 to be able to be the only one to offer it on the market. We started this strategy five years ago to focus on this price range and continue this now with new technical offerings.
11. On the one side you use the heritage of Minerva in Villeret to produce authentic watches (e.g. Montblanc 1858 Monopusher Chronograph limited edition), and on the other side you also started to offer SmartWatches (e.g. Summit 2). How can you justify this decision to your customer and what is the biggest challenge in staying credible?
---
I have no problem in offering both. As I mentioned before, I do not oppose offline and online, so I also don't oppose analogue and digital. The segment of SmartWatches is growing fast and Montblanc is an innovative Maison with different fields of expertise. We have the writing instruments, the leather goods, our watches and now we also have our Smart devices (SmartWatches and Augmented Paper). I think this variety gives us the legitimacy to be experimental. I really believe that we can conquer that segment. Our SmartWatch does not compete with our mechanical watch collections. I have never seen clients that hesitate in the decision to buy either a mechanical or a SmartWatch. There is a clear clientele for the one and also for the other. They can even complement each other as we do have clients who have mechanical watches and enjoy wearing a SmartWatch for certain occasions. However, we want to stay true to our luxury approach and in every segment we offer the highest quality products. Our SmartWatches have the latest and most innovative technology, paired with our high-quality leather straps. And we offer more than that. We deliver fine Swiss-made quality looking at the finishing of the case of our Summit SmartWatches.
12. In your view, in what direction does the watch industry move?
---
I think that customers in the future will ask for more value for their money. This is why we have adopted this strategy five years ago to focus on a price range of 2.000 – 5.000 Euros where we surprise with high-quality and technical features. And I believe that more watch brands will start moving in this direction in the future. On the other side, I also see a huge need for exclusive pieces, for very high-end watches and for great innovations so we will continue this as well. To summarize: we want to offer more value for money and serve the strong appetite for exclusive pieces.
---