Wilhelm Schmid, CEO of A. Lange & Söhne, is a pleasantly grounded, sovereign and refreshingly optimistic person – making him a person who is symbolic of the proud Glashütte-based manufacture he represents. For Schmid, there has never been a better time for watch enthusiasts than today, thanks to our increasingly digitalised world. Still, the thoughtful CEO and car aficionado is not too keen on the levels of fuss around connecting in modern times, at least when it comes to the distribution of his watches; e-Commerce still doesn't play a major role for Schmid. He prefers to invest his resources into the product he calls 'art on the wrist' and into the many sophisticated details and technical refinements, which are reason enough for his customers to spend around 90,000 euros on a mechanical watch with a digital display. We met Wilhelm Schmid for lunch in Berlin and, amongst other things, were keen to find out if there will ever be a A. Lange & Söhne sports watch.
1. What does a mechanical watch mean to you? Which watch are you wearing today and which one do you wear the most?
---
My first experience with a mechanical watch was a rather brief one. I got it from my godfather as a traditional gift for my communion. I put it on for church but as we played football in the afternoon, it was already broken by the evening. I got my next watch at 17 and I was absolutely fascinated by the mechanics, a watch without batteries, where you can watch the gear wheels at work. I kept up two hobbies until today, both based on mechanics: cars and watches.
I have been wearing the Zeitwerk Date for about half a year now. To be able to wear and try the prototypes is one of the many nice privileges of being CEO. I got so used to this watch that I decided to add it to my collection. However, I am also a big fan of chronographs. That's why I mostly wear the Datograph Up/Down in platinum with a black dial.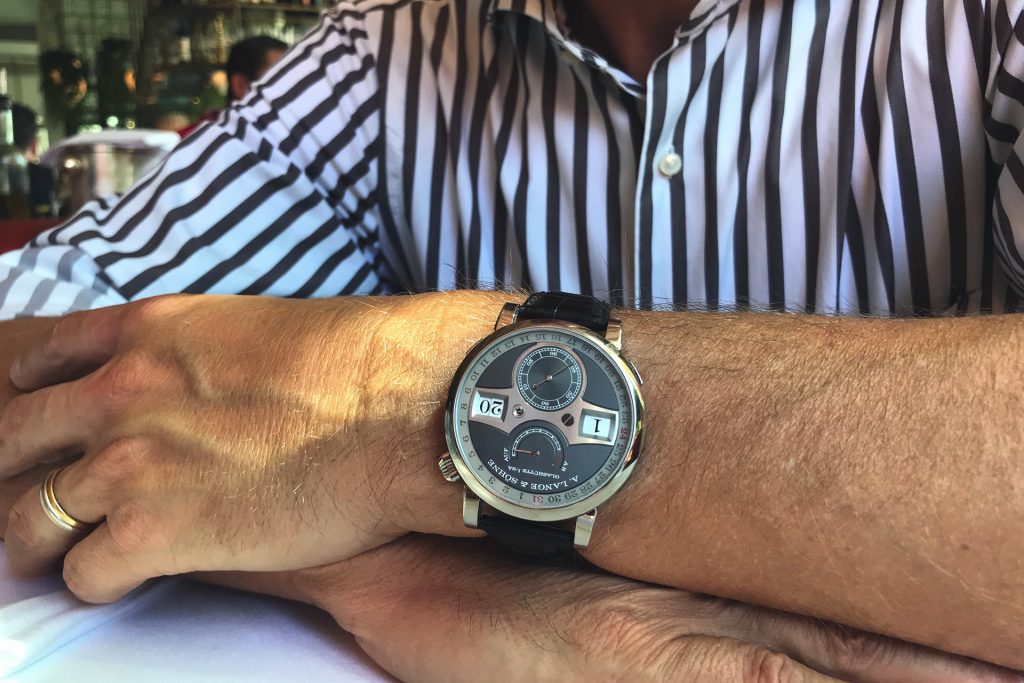 2. What are the main tasks of your daily business as CEO in order to ensure the successful development of Lange & Söhne?
---
Every CEO's first priority is to create a work environment for its team, which allows them to satisfy the customer's needs and help to develop the brand. I have to offer the tools and resources to do so, and organise all processes. That is the strategic part. The other part is mainly administrative and includes several meetings with customers, staff, board members, endless signatures, and many business trips. Half of the time I am travelling. We are a national company with international customers. 80% of our team is based in Glashütte, but most of our customers are not even from Germany. In order to connect these two worlds, you need to know what's happening in Hong Kong, New York, Geneva, London or Dubai. We have to bring Glashütte to the world, but also the world to Glashütte.
3. It seems that cars play an important role for A. Lange & Söhne, considering the partnerships with Concorso d'Eleganza Villa d'Este, the Classic Days Schloss Dyck and the Concours of Elegance Hampton Court Palace. Where does the connection come from?
---
We always had platforms connecting people and watches. Before my time, the brand emphasised its cultural heritage by cooperating with the Salzburger Festspiele. We are still focusing on that, and also engage with the public art collection in Dresden. But we have learned that not everyone interested in culture is also keen on mechanical watches. Therefore, we started looking for different options. People who care about vintage cars and are ready to invest time and money into their restoration are naturally interested in topics such as arts & crafts, traditions, performance and mechanics. Therefore, we bring our customers to events that they enjoy, and we get the chance to meet people who appreciate what we do. Furthermore, we have the press and social media to multiply the effect.
– What would you say vintage cars and your watches have in common?
First of all, vintage cars are handmade – just like our watches. Each car has a fascinating story and most of them were way ahead of their times. We see strong parallels to our watches, which I like to call "art on wheels and art on the wrist".
4. As a very traditional German brand, why did it decide to be acquired by a large Swiss group in 2001? What advantages and disadvantages did this create for A. Lange & Söhne?
---
A Lange & Söhne had already been part of a group once before. The Holding LMH (Les Manufactures Horlogères) – part of Mannesmann with Jaeger-LeCoultre, IWC and Lange, had been sold to the Richemont group after Mannesmann was acquired by Vodafone in 2000 and had given away all sectors except for telecommunications.
– Would it not be better for a brand such as A. Lange & Söhne to be independent?
It is a tiring topic to discuss as we won't ever be able to prove the opposite. However, I know that looking at the important topics in modern times such as IT, infrastructure, security, logistics, intellectual property and custom formalities, which we have to consider within the global context, we profit much more from being part of the group than being an independent brand. As part of a large group, we have the chances to acquire the best professionals from all of the different fields. As Richemont lets us make our own decisions and work independently in our everyday business, we really do have the best of both worlds. We also treat our team and customers as though it is a family business. At the same time, we have the great resources of the Richemont group, which we could never afford as an independent watchmaking brand.
5. You are manufacturing very complicated watches such as the Tourbograph Perpetual "Pour le Mérite", the chronograph "Triple Split" and the Zeitwerk Minutenrepetition. How well do your customers understand the mechanics of your watches? And how important is it for you that they do?
---
The majority of our customers understand what we do and appreciates the love for details, the design and mechanics – the simultaneous advancing of the display of a perpetual calendar at midnight, the exact advancing of a chronograph's minute hand, and so on. To understand what a "Triple Split" does, one needs to be a real watch enthusiast. And our customers clearly are, because they are willing to invest a lot of money in buying a watch that looks rather modest from the outside, yet they truly appreciate what's inside – its mechanics. That's why it's essential for us that all of our staff consult customers so that they fully understand all of each watch's technical aspects. That said, it's very likely that the customer knows it just as well.
6. Let's imagine I live in an isolated village in the north of Sweden and would like to purchase a watch from A. Lange & Söhne. How exactly do I proceed? Is e-Commerce an issue for you?
---
We usually try to meet all of our customers' expectations. So far, there is no demand for buying an A. Lange watch online. However, our customers do expect to find detailed information about our products online, including the phone numbers of our distributers and stores. In this case, the customer picks up the phone or writes an email, and we find a solution. So right now, E-commerce is not important to me. We still operate mostly in an analogue world.
7. Why should I rather choose a chronograph – or any other complication – from A. Lange & Söhne, as opposed to from another brand?
---
I take the Zeitwerk Date as an example. If you are willing to pay around 90,000 euros for a watch with a digital display, you know very well what you can expect. If you don't know much about mechanical watches, you will probably think it is a digital quartz watch. We do the unexpected and turn a digital watch into a mechanical one, which is technically extremely challenging.
Furthermore, we offer a combination of German precision and German engineering. It is very laborious to set a perpetual calendar, unless you have a universal pusher in order to switch all indication by one push – that is our way of thinking. There is a hierarchy in the importance of the display. There are plenty of perpetual calendars where you find it hard to capture all the information at a glance, simply because there are too many hands on the dial. What is most important? Date and time. Hence, most of the perpetual calendars at A. Lange & Söhne have a big date display, which is associated with its individual design.
8. This year, you celebrate the 25th anniversary of the Lange 1. What does this watch mean to A. Lange & Söhne?
---
Without the Lange 1, our manufacture and the town of Glashütte would not have the relevance as they have today. I would not be sitting here today talking to you without the success of this very special watch. I believe that the Lange 1 was the stroke of a genius. It was in the right place at the right time with its technical innovation, its craftsmanship and its timeless and distinctive design. It has been our bestseller for the past 25 years and still is today.
– Many collectors have expressed the wish to have a sports watch in their A. Lange & Söhne collection. Will it come?
I tend to only talk about things that already exist. Our customers appreciate that we know how to surprise them and if I were to tell you anything about this now, all of the surprise would be gone.
9. Looking at the communication of A. Lange & Söhne, there is always a focus on the product. Why does the brand A. Lange & Söhne never work with any testimonials or ambassadors?
---
Simply because all our customers are VIPs to us. We don't want to distinguish between someone who has to pay for his watch and someone who doesn't. Furthermore, we are above all watchmakers. No matter whether you visit us at our exhibition booth, come to one of our boutiques, or go to our vintage car events, the focus is always on watches. As our capabilities are limited, we need to use them purposefully. To us, that means: if you buy a A. Lange & Söhne watch, you exchange your well-earned money for one of our watches. This is the moment of truth to us. Before, it was all just promising, but now it's time to dance – and the dance is more important to us than any promise.
10. A. Lange & Söhne is well known for its many patents. Which ones are your personal favourites and why?
---
The patents are important as they protect our inventions from being copied. My favourite patents are the innovations that you don't see from the outside. For example, the seconds stop mechanism for the Tourbillon, or the constant-force escapement of the Zeitwerk. We are especially proud of our know-how, the knowledge gained from our long-term experience of how to avoid mechanical conflicts in a Grand Complication, how to build the delicate chain for the fusée-and-chain transmission, or how you finish the different steel parts of a watch in a way that it can fully unfold its aesthetical appeal within an assembled movement. If you take an A. Lange timepiece apart, with all its components, you know exactly what's in it, but you don't know how it is made. You cannot protect this with any patents, but it is still inimitable.
– You prefer talking about evolution instead of revolution, according to several interviews. Can you explain this based on A. Lange & Söhne?
The evolution takes place on different levels. For the development of our watch range, we build on the experiences we have had to take on the next step. In this sense, the Zeitwerk was also the result of an evolutionary process starting ten years ago, although many think it was a technical revolution.
For the brand, evolution means that we continuously become more international. We open new markets and boutiques, and foster our relationships with the some of the world's leading jewellers.
As for our team; we have built a modern manufacture in Glashütte which offers the best working conditions in watchmaking. In Berlin, we have a workspace paradise for digital nomads, creatives and designers. These are all correlated measures in how we continue to make progress.
11. You have your own Lange watchmaking school, running ever since 1997. How do you encourage the next generation to become watchmakers?
---
By demonstrating that watchmaking is a profession with a future. Watchmaking traditionally plays an important role in Glashütte and its neighbourhood, and it ghas been well-established there since 1990. We offer a secure job and an attractive environment, in a profession that most enjoy. You can make a career with us if you are do it right. It all depends on talent and dedication.
12. In your opinion, in what direction is the watch industry moving?
---
I believe there has never been a better time for watch enthusiasts than today. I have been collecting watches since 1980. At that time, hardly any watch was equipped with an in-house movement. 98 percent came from ETA, with added chronograph- or calendar-modules. You did not have any trade magazines, not to mention the internet. The possibilities available to attain knowledge, in order to establish a watch culture, were very limited. Therefore, now is the best time for everyone who enjoys mechanical watches.
---