For almost a year now Georges Kern is CEO of BREITLING and has turned the brand inside out. We met the realist and visionary at the restaurant Napa Grill in Zürich near the new BREITLING offices for an exclusive interview for Swisswatches and found out, why currently all brands return to their roots, why BREITLING despite the digital hype will never offer watches exclusively online and why the analogue watch is the new luxury.
1. What does a mechanical watch mean to you, which watch are you wearing today and which one do you wear the most?
---
For me a mechanical watch means craftsmanship, technology, emotion and also something that I understand and have a close connection to. In my opinion you appreciate a mechanical watch much more then a non-mechanical watch, no matter if it is a digital or quartz watch. Mostly the people connect their mechanical watch to a certain emotional moment – it is not just about reading the time.
Today I am wearing the new Navitimer 8. Apart from this I wear many prototype watches, because I need some time to make up my mind about a new watch. I look through many drawings, discuss them with our design team, look at them again and it takes me another 10 days or so before I can decided if the watch appeals to me aesthetically and how it feels in everyday life. There are watches that you don't like much in the beginning but which grow on you after some time. There are watches that you fall in love with instantly but suddenly become boring, and watches that you can wear for days and always feel comfortable with. The latter of course we try to achieve.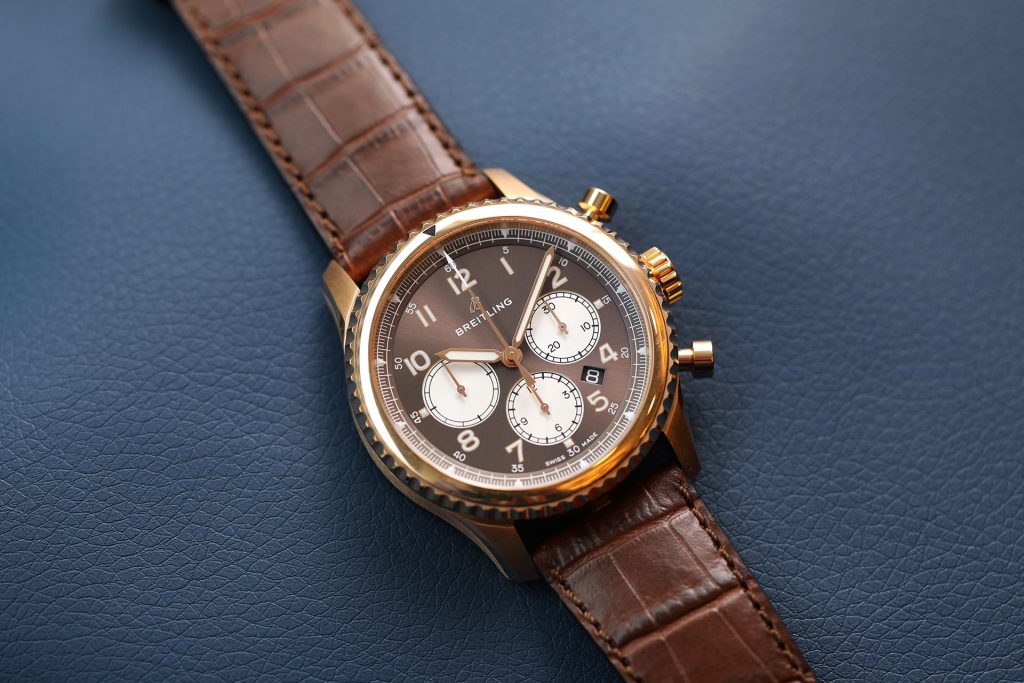 Navitimer 8 B01 Chronograph 43 in 18k red gold with a bronze dial
2. You are nearly one year CEO of BREITLING and you have completed a remarkable Road-Show around the world. For you personally, which are the most important impressions you have gained during this time? And which new challenges are you facing now?
---
When you have been working in this business for many years you develop a certain basic understanding for the industry and for specific peculiarities of a brand. You need to have the ability to admit yourself to a brand to gain a deeper knowledge about it and to be able to make visionary decisions. Strategically – and in this point I have not changed my mind – we have two different communities that we need to unite. The question of how we can serve the classical BREITLING community that loves vintage watches of the 50s, 60s and 70s which has made us so strong, and at the same time convince todays very loyal customers from our products, who like big and loud pilot watches.
3. Your first product for the brand is the Navitimer 8. Is this a strategically important product to open up to a new market and clientele? Which are for you the crucial arguments for the new Navitimer 8?
---
BREITLING has a strong and established connection to aviation. However, so far we did not offer any historical pilot watches in our watch range. There are modern pilot watches in the collection but nothing that reflects the history of the brand from the 30s, 40s and 50s. Another aspect is the design from that time as the watches were smaller then. So we wanted to take these two aspects into account and adopt it to the new collection to attract a new clientele. There are customers (mainly in Asia) that ask for a classical watch, which is smaller and thinner and expresses a certain 'understatement'. So these three aspects were decisive for the Navitimer 8: history, design and market development.
4. The Navitimer 8 and the Navitimer 1 are also available without chronograph function. Do you think this will become less important for the future (potential) BREITLING customers that decide to buy a BREITLING watch? After all, the brand is well known and appreciated for its chronographs.
---
It's remarkable that many people don't know that BREITLING invented the modern Chronograph – we have discovered this in many conversations and also during our Roadshow. It is a pity that this story has not been told more widely in the past. Of course we also need automatic and three-hand watches simply because there is a demand for them. I don't see the point why I should not also serve a price range between 3.000 and 4.500 Euro. We have always produced three-hand watches and need to extend this. Of course there will always be a strong focus on the chronograph watches.
5. Why did you decide for a recollection of the simple "B" Logo? And why is the logo from 1979 still visible on the Professional collection?
---
You need to distinguish between the logo seen on the products and the one from our Corporate Identity. In terms of CI we need an identity that corresponds with the brand. We do not only offer pilot watches, but also a Transocean or a Superocean which all together express the elements water, earth and air – hence we need a generic logo. Whereas we use both logos on our products. A Superocean Héritage II with just the 'B'. But the Avenger for example keeps the wings.
6. Some new functions have been added since BREITLING became a manufacture in 2009: worldtime (calibre B05), second timezone (calibre B04), manual winding (calibre B02) and rattrapante-chronograph (calibre B03). Will there be more functions to follow?
---
We will for sure offer more functions. BREITLING will however not make any more quartz watches, but on the contrary BREITLING will not touch the field of Haute Horlogerie.
7. During the Road-Shows in Zurich and Munich we saw many vintage watches. Will you revive some of them e.g. Premier, Top Time, Co-Pilot Yachting Chronograph? And is the direction for the future going back in time? Will some watches from existing collections disappear?
---
For sure. In the upcoming six month we will be working on a true re-edition of a historical BREITLING to give our customers a better understanding of the history. There is commonly a lack of knowledge of what phenomenal design BREITLING has been developed in the past. We are able to communicate this very well through such re-editions. These watches will come in a limited collection.
8. Just a year ago we experienced a great hype around smartwatch-functions in mechanical watches. Now we recognize throughout the industry that watch brands dig deep in their archives and with their novelties get back to past values. Has the future nothing to offer? What do you think about this?
---
I don't know any successful brand that has launched anything truly new in terms of design in the past 10 to 20 years. The classic watches like a Nautilus, Royal Oak, Tank, Oyster and Submariner are at least 50 years old or more. The only watchbrand that has managed to open up to a new market is Richard Mille. Of course there are always exceptions or it might exist a short term hype around a certain watch, but the 10 best selling watches in the industry are all old classics.
9. Recently you announced a partnership with the British motorcycle producer Norton. How did this develop and what are the reasons for this partnership? And how will the cooperation between BREITLING and Bentley continue?
---
Every product world needs to be represented exemplary in a certain way. For example, the water world with Kelly Slater and Surfing. This is our space of interpretation. Bentley stands for earth, which does not mean that you can also have a partnership with a traditional motorcycle company. It enables us to emotionally communicate themes through other platforms. Norton is one of the oldest motorcycle producers in the world. Hence we will launch a vintage watch and a cool Norton-model just like we plan to do with Bentley.
10. Just now you have announced a cooperation with the online shop Mr. Porter. Is this distribution channel an example of the future e-commerce marketing at BREITLING?
---
We will never exclusively offer products online. Also the Mr. Porter watch will be commercially available in a few weeks. Although it is limited to 1.000 pieces you can purchase it online and offline. I am against offering products exclusively online. The strategy is to force our realignment digital and communicate accordingly. We have therefore built up a dedicated team. The digital transformation does not only mean e-commerce but also social media such like Instagram, Facebook, Youtube etc. You need to distinguish between the process of decision and the process of buying. The process of decision usually takes some time. The customer informs himself through different channels, talks to friends, seeks advice, visits a BREITLING-Boutique and so on. The buying process can happen within seconds at any time. Therefore I want to be able to communicate with the customer analogue and digital to offer him different options to purchase our products.
11. You are very active on social media. You interact with fans, customers and critics. How much time a day do you spend online? And which communication channels are most important to BREITLING nowadays and how will they change in the future?
---
I believe it is fundamentally important to interact via social media as most people under the age of 40 communicate this way. We must assure to get in touch with this group and to reach them through the right channels in a decent way. The analogue watch does not compete with the digital watch. But the analogue mechanical watch needs to be communicated digitally with all its emotional and technical finesse to stay modern.
Counting all my social media channels I receive feedback from about 2000 people every two days who get in touch with me. They might just like a comment, comment themselves or share posts with other. That is the best research you can get. And this has a major impact on me. Of course I have to be loyal to a certain strategic foundation but I am no dogmatic person and as long as people enrich our brand with good ideas I listen. It happened before that I have changed my mind in some perspectives.
12. In what direction does the watch industry move?
---
I am convinced that the classical watch industry will experience an important growth. It can also be assumed that a great number of people, especially in Asia, will enter our price range. The analogue watch is the new luxury, because people don't always want to be connected digitally.
---