Since 2010 Sascha Moeri is CEO of Carl F. Bucherer and has managed to quadruple the watch production in only eight years. On the occasion of the opening of the new Manufacture we met the tireless CEO who never seems to sleep. However he has one dream at least, to further expand the productivity of this exclusive watch brand. Sascha Moeri talked to us about the major milestones of the brands history, the difference between Carl F. Bucherer and Bucherer stores and how Instagram affects sales.
1. What does a mechanical watch mean to you, which watch are you wearing today and which one do you wear the most?
---
I grew up in Biel, the heart of the watch industry. For me, a mechanical watch is also a symbol for our Swiss country. Looking at the number of pieces sold worldwide, of course we only export a small amount of watches. When you put the focus on the pure value, we are at over 50 percent. It is this combination of unique watchmaking craftsmanship and the 'old recipes' on which we build upon our innovation today – that is what makes a mechanical watch so special to me. There is a close link to vintage cars. Today there is so much technology built into the cars that all the emotion for the mechanical part gets more and more lost. In a vintage car all this is still intact – just like in a mechanical watch.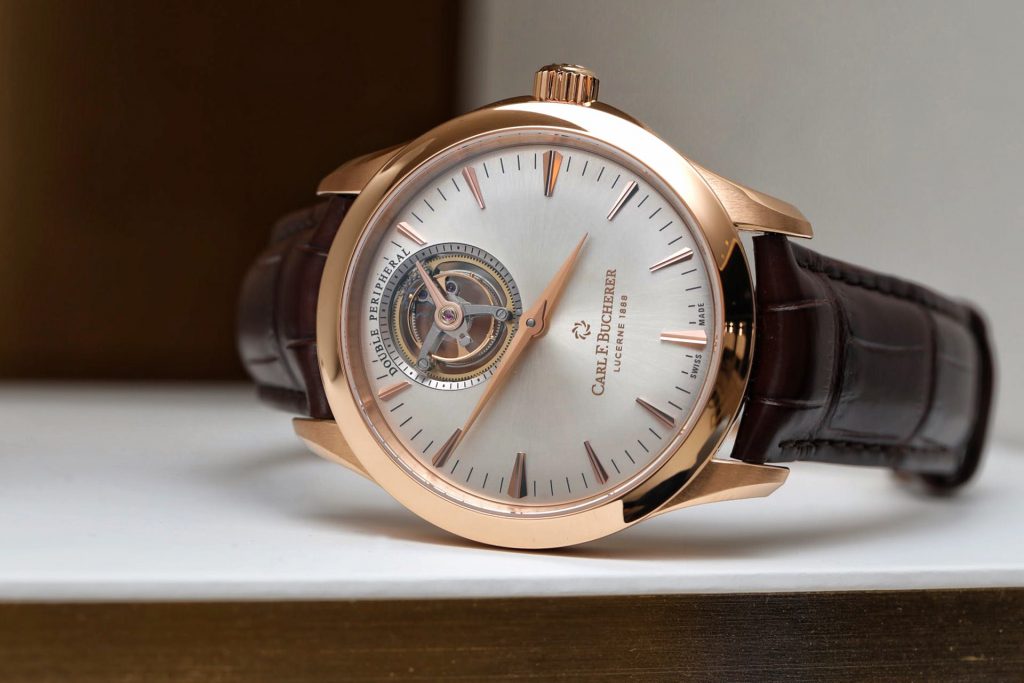 Carl F. Bucherer Manero Tourbillon DoublePeripheral in 18k rose gold with the silver-colored dial
Today I wear the Manero Tourbillon DoublePeripheral, a limited edition in that sense, that we are only able to produce around 100 movements in our manufacture. I do change my watches quite often, however I of course also have some favourites. For example the Patravi TravelTec FourX Limited Edition, which we launched for our 125th anniversary. The watch suits me perfectly – it's big, strong, tough and is equipped with a third time-zone which is especially important to me as a frequent traveller. I am travelling 6 month a year. I wake up at 5 am and talk to Asia. At 8 pm I have phone calls with America on my agenda. I always move within different time-zones. Therefore it is very important to have all times in view. As this watch appears to be rather sporty, I prefer to wear it with jeans or a leather jacket. With a dinner suite I love to wear the Manero Flyback in rose gold.
2. You are CEO of Carl F. Bucherer since 2010. The turnover of the brand has quadrupled. How did you do this?
---
I am extremely proud about everything that my highly profession team has achieved in the past 8 years.
On this path three elements had to be approached in following order: product, distribution, marketing. When I took over the brand in 2010 there was still a lot of optimizing within the product portfolio. My focus was to build up a broad but clearly differentiated product range which today is structured in five lines: Manero, Patravi, Adamavi, Pathos und Alacria, which all harmonize very well and offer an attractive starting price range. Especially our very successful Manero line upgrades our collection and is very popular.
Next to the product range, we have also restructured our distribution: we have opened new markets, founded new retail companies, added new distribution partners but at the same time had to terminate existing contracts. It was always very important to me that this switch needed to be fair. This also applies to my staff. I had to give Mr. Jörg G. Bucherer, the chairman of the board of the Bucherer Group, the promise not to make any internal changes in the first 12 month of my appointment. After 12 month I have initiated measurements in this field and made some changes and therefore there is a different team working for me now then before. Together we have taken a new path. A strong symbol for this is our new manufacture. It enables us to develop, design and industrialize independently to offer unique timepieces to our clients worldwide.
3. This year you celebrate 130s anniversary of the brand. Carl Friedrich Bucherer has opened his first shop in 1888. What are the most important milestones of the brands history and how do you implement the gained experiences from the past into the brand Carl F. Bucherer of today?
---
The first milestone was of course the founding year 1888 when Carl Friedrich Bucherer, a pioneer of his time, built the foundation with his shop for watches and jewellery in Lucerne. In 1919 he created his first own watch collection – 'Art Deco' women watches and pocket watches. His wife has always been working by his side, something very unusual for that time. Also his sons grew as watchmaker and goldsmith into the business. Carl Friedrich Bucherers' avant-garde thinking and tireless effort to have his business crow healthy, still today makes him an important role model for the philosophy behind the brand.
I think one of the most important milestones was the takeover of the brand through todays owner Jörg G. Bucherer in the 1970s. This man is a huge inspiration. A highly intelligent visionary, promoter and patron, who until today contributes to the business as the president of the board.
The brand experienced a realignment in 2010 when the watches received their own name Carl F. Bucherer, to honour the founder. Before they were named Bucherer. Already in the beginning we had watches named C. Bucherer or Carl Bucherer, however without a general agreement on any uniform name. From 2010 the independently watch brand Carl F. Bucherer has received a clear positioning.
4. At this years watchfair in Basel you have introduced the new Manero Tourbillon Double Peripheral. A world novelty with quite innovative technology. Is it part of your strategy to clearly differentiate the watch brand "Carl F. Bucherer" from "Bucherer" with watchmaking know-how, or do you follow other goals?
---
For the watch brand Carl F. Bucherer it is important to prove our abilities to ourselves. Whilst the jewellery stores from Bucherer are specialized on offering the most important and high-quality watches of the world to their customers, it is our goal to be part of this selected circle with our spirit of innovation and knowledge. It is important to me to also receive the right recognition in Switzerland that we deserve. Globally the difference to Bucherer retail doesn't need to be explained so much as it is in Switzerland or Germany. The peripheral technique that we developed helped a lot to contribute to our success and we want to continue this strategy.
5. In 2016 you have centralized the production in Lengnau. What are the major advantages of the new manufacture and how do they affect the products?
---
Previously we were distributed at three locations. Lately we were able to bring together our entire expertise to one place. The movement production, the research and development are handled from the basement part of the manufacture. Our own customer service and the product preparations are based on the ground floor. On the upper floor we have our cleanroom that enables us to produce watches to the highest level. The biggest advantage evolving from the verticalisation of the new manufacture is, that the production of watches is much more efficient.
6. Watch-enthusiasts argue about the importance of "In-House"-movements. What about the CFB-customers and how does the brand think about it? In your experience, is this a strong selling point or does a good design play a more important role?
---
Both. The Connoisseur is very interested in everything that happens inside a watch and knows every detail. But we also have many clients who are more interested in haptics and design. Male and female customers have different demands. We sell 40% of our watches to women, 60% to men. We mostly use quartz movements for our women's watches as the focus is mainly on diamonds, colouring and design. For men the technical aspect is more important. Collectors go even more into detail – elements like the calibre, complications or limitation play an important role to them.
But the most important thing to all our clients: no compromising in quality. They appreciate that we follow our own path, although there are short-lived trends. We can not afford compromises as the name of our founder is written on all of our watches, the grand-father of todays owner.
7. The price range from 5'000 to 20'000 Swiss franc, in which you offer your watches, is highly competitive. Where do you position your brand and where do you see it in the next 8-10 years? What is your vision?
---
At the beginning of this interview we spoke about the rapid growth of our production in the past years, however we are still today a very exclusive watch brand. Our promise is to offer high quality at a reasonable price. In my first interview in 2011 I talked about my vision to produce 15.000 watches one day. Meanwhile we produce 25.000 pieces. And 30.000 watches would be a wonderful next step in the successful history of the brand Carl F. Bucherer. Nevertheless, our growth has limits: we are no brand for 200.000 watches. We want to maintain our exclusivity.
8. You are frequently travelling to the USA and represent the brand at different events. What is this all about? Is the US-market especially important to Carl F. Bucherer or does it also have other reasons?
---
We have close contacts to the film industry and have many of our watches 'acting' in movies like The Meg, Atomic Blonde, John Wick, Fast and Furious. Charlize Theron for example wears a Manero AutoDate in Atomic Blonde and also a Manero Flyback with coordinates of a city map, which are engraved onto the movement and play an important role in the plot of the movie. In Atomic Blonde we have quite a few of our watches taking part. I have a close and personal relationship to some actors and producers, which is one reason why I am in America fairly often.
Another reason is, that the US market is extremely important to us. Europe and Asia remain key markets for us, but in terms of watch export USA is on our priority list. Meanwhile we have over 80 major selling points and keep growing there, which is also reinforced due to the acquisition of Tourneau through the Bucherer Group. We have also recently bought our distribution company Carl F. Bucherer North America Inc., which was a crucial step for our brand which enables us to exploit the maximum potential in this exciting and important market.
9. Quite a lot has happened in the past years in terms of sponsoring: mainly with prominent personalities but also with the Swiss National Football Team. Can we expect long-term partnerships with brands from other sectors?
---
For me the most important partnership is the cooperation with "MantaTrust", a foundation to protect the Manta rays. Plastic waste and overfishing are a major problem for them and threaten their survival. For this project we will get even more involved in the future and try to find more partners. We also support the Swiss National Football Team. But it is not just about football, but also about our homeland Switzerland. We have contracts with all 13 National Teams, including the junior and women teams. Besides this we are also actively engaged in a variety of other projects, mainly in the fields of sports and culture.
10. You are one of the few CEOs that uses the social media channels for a quite broad audience. What benefit for the brand do you gain? Do you also connect with fans, customers and critics?
---
I would like to spend even more time on social media. But unfortunately I don't have the time. People in my generation live with it quite natural. Social media has become a part of my life and has widened my mind a lot. I would never have believed that I will one day sell watches via Instagram! However it is important to find the right balance between on- and offline – in my privacy and in business.
11. Which communication channels are especially important to the brand Carl F. Bucherer and how will they change in the future?
---
I am convinced, whoever combines on- and offline the best will win.
12. In what direction does the watch industry move?
---
I am very confident about the future of the watch industry, especially in terms of our mechanical field. In this fast moving time we crave for the roots, authenticity and quality. I am convinced that mechanical watches will contribute to satisfy the desire for these values in the future.
---