Niels Eggerding has been with Frederique Constant for almost ten years. He experienced the both time before and after the company's takeover by the Japanese Citizen Group. As of 2018, he has been Managing Director of the Swiss watch brand, which was founded by Peter Stas and his wife Aletta in Hong Kong. Ever since then, Frederique Constant's credo has been to offer "affordable luxury" and this is still consistently pursued today. Instead of brand ambassadors, they prefer to rely on innovation, having developed over 30 manufacture movements, countless patents, and even offering a timepiece with a perpetual calendar for just over 8,000 euros. Over lunch near Geneva, the CEO revealed to us why Frederique Constant is a serious player in the watch business, the effects of being purchased by the Citizen Group, the Swiss watch industry, and which cheeky words Niels Eggerding said upon first meeting Peter Stas.
1. What does a mechanical watch mean to you, which watch are you wearing today and which one do you wear the most?
---
I started working in the watchmaking industry when I was nineteen, as an intern. I remember seeing a Zenith timepiece, as I worked for a distributor of Zenith watches at that time. I looked through the caseback of the automatic watch and saw all the various wheels and details. I continued to study the movement through the caseback for the next twenty minutes. I was completely blown away. Even though I did step away from the industry for two years, I came back and since that moment, I have never let it go. To me, a mechanical watch means pure watchmaking, craftmanship, an eye for detail, passion, and emotion. A quartz watch or a smartwatch will never be able to compete with a mechanical watch.
As for what I am wearing today, it is the Slimline Monolithic Manufacture timepiece, which we introduced in March. It is extremely disruptive, and actually challenging the mechanical watch regulation standards that have been established over the past 300 years. I think it's about time to challenge the watchmaking industry rather than leaning on the same principles. Cars, for instance, develop constantly. Watch movements have never been challenged so much in the same way.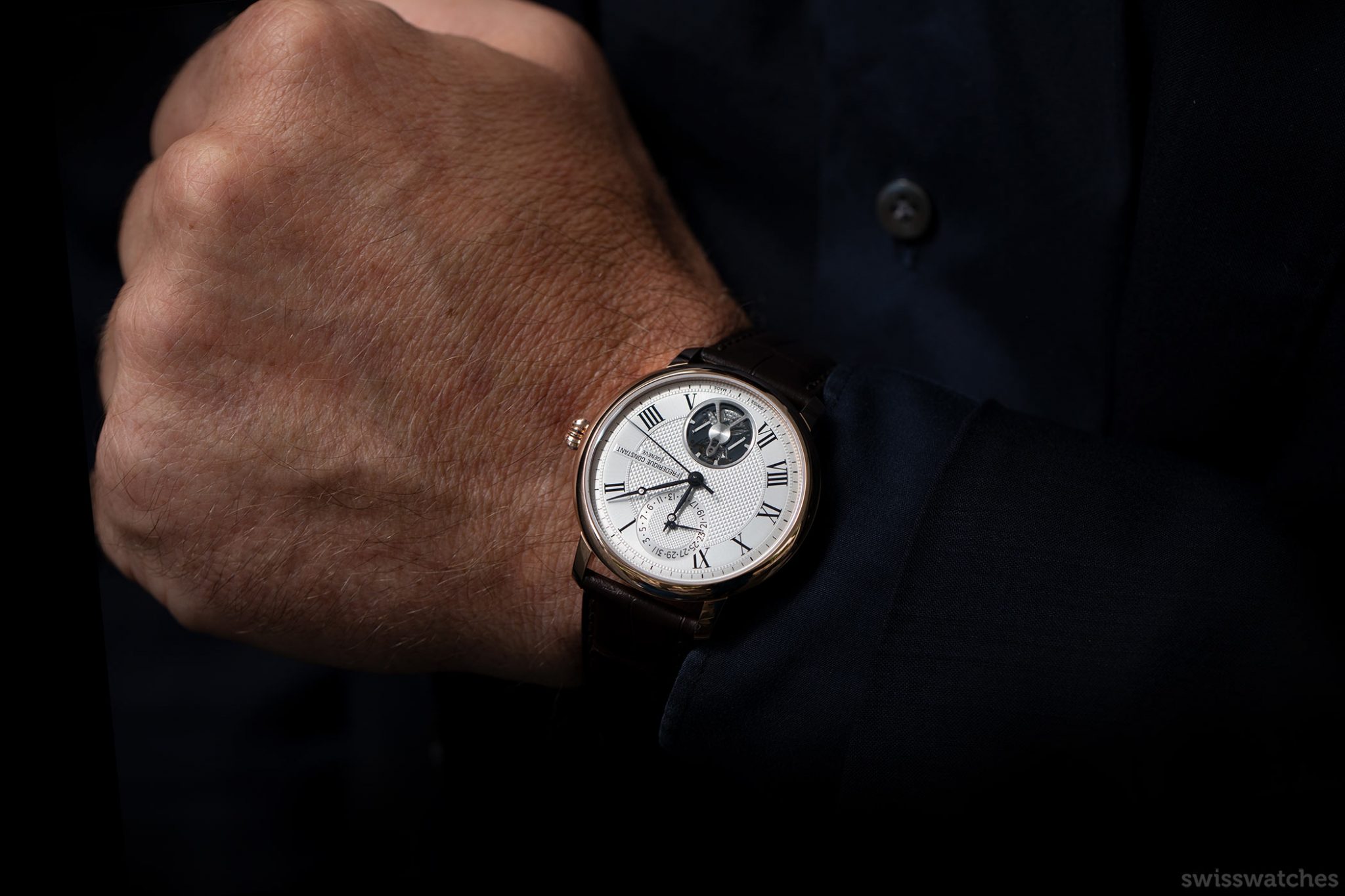 Frederique Constant Slimline Monolithic Manufacture
The watch that I wear the most belongs to the Highlife collection, which is the one I really designed myself, alongside my team. The Highlife line really marked the beginning of my appointment as Managing Director for Frederique Constant. Featuring a sort of "sport-chic" aesthetic, the Highlife collection also integrates complex mechanisms such as a perpetual calendar movement.
I am also lucky enough to wear a unique Highlife Perpetual Calendar Manufacture model, which has a grey dial. The idea behind this was to see how people reacted to the watch, but I ultimately felt that the grey colour was not strong enough to go commercial. Next year, however, we will be presenting the Highlife Perpetual Calendar Manufacture with a new blue-grey colour dial – stay tuned, I can't reveal anything more just yet.
2. You studied Business Administration at Eindhoven. What later fascinated you about watchmaking?
---
I was already working in the watchmaking industry at that time – for the Swatch Group back then – and I decided to attend business school because I felt that I wanted to do more and needed to reach a certain level of education. Besides that, I really wanted to go to Switzerland, so I told my wife when I was 26 that the moment I had the opportunity to go to Switzerland, I would do so. She said she trusted me and would follow me. Then in 2011, I met Peter Stas [founder of Frederique Constant]. I was working for the Swatch Group back then, more specifically for Longines. During Baselworld, I happened to see him looking at the window display of the Longines booth and I said "Hey, don't spy" in Dutch. We ended up talking for twenty minutes non-stop, and we had a connection. Peter Stas called me two weeks later, when I was on my way back from skiing in Austria with my wife, and asked if I would be interested in moving over to Switzerland. I remember I was driving the car at the time of the call, and my wife turned white. For me, the passion for Frederique Constant was there right away.
3. Why was Frederique Constant founded in Hong Kong?
---
At that time, Peter Stas and Aletta [his wife and co-founder of Frederique Constant] were based in Hong Kong. Peter worked for Phillips as a product marketing manager, and Aletta was working for ING Bank as a legal councillor. But it was obvious – even more when you know them personally – that they don't actually like large corporations. They always had a sort of entrepreneurial spirit. Back then, they were already travelling a lot to Geneva and to Switzerland in general. They saw Patek Philippe, Vacheron Constantin, and many other high-end watch brands as very expensive, and us Dutch don't like to spend that much. So the idea was to recreate high-end finishing on watches at an accessible price.
They started working just at their kitchen table, with ideas for dials and montages, before going to a Hong Kong watch fair with their idea. The first person to purchase the very first 300 units of their watch was a Japanese distributor – and suddenly, they had to start producing. It took them a year to create these watches and deliver them to Japan, where the watches then sold within one month. The distributor then requested 3,000 units, and then it accelerated. This encouraged Peter Stas to resign from his job and focus fully on the new brand, starting in Hong Kong.
Peter and Aletta Stas always focused on self-financing; the day I arrived, in 2012, Peter was very direct with me; his vision had always been very clear. He was also an engineer, but CEO-wise, he was very number-driven – and he really knew his numbers. For him, it was important to self-finance all the way, and not depend on banks. When Peter and Aletta reached around 10 or 20 thousand units, they started their move over to Switzerland. They made the move around 1997.
4. Initially, many of the watches were quartz. What is Frederique Constant's ratio between quartz and mechanical watches today?
---
About 60 percent of Frederique Constant watches are equipped with an automatic calibre. We used to also have manual-winding models, but then we chose to focus on self-winding movements only. We also developed 30 manufacture calibres, quartz watches, and connected timepieces. So we have some very important mechanical movements, such as the FC-718 (Worldtimer), the FC-705 (Moonphase), and the FC-710, our most accessible in-house movement, which starts at about 2,000 euros. Then you make your way up to the perpetual calendar movement, which costs around 8,000 euros, making this complication very accessible.
5. How would you describe the Frederique Constant customer?
---
Let's look back at when I started, as I remember asking my predecessor Peter the same question. He said, "The customer that we really see and that we want to serve is the up-and-coming businessman or woman. You've left school, you have your first serious job, but you simply can't yet afford a timepiece like Vacheron Constantin, Patek Philippe, or another high-end watch brand. Then you come across Frederique Constant. You're a 25-year-old woman or man, educated, graduated from university, desiring a nice-looking, automatic watch. However, if we analyse this idea further, in light of the last ten years, we are even closer to our consumers now thanks to the internet. We learn much more about our consumer, and we have seen that our consumers are slightly older than our initial target audience, actually. We are a classic watch brand, and this also evidently appeals to an older clientele. That said, collections such as the Highlife line remains younger and more dynamic, for instance.
The other thing I have noticed is that ten years ago, we were producing only a small quantity of manufacture calibres. Today, we have 30 in-house movements and Frederique Constant is no longer a small player but has become a serious player within the watchmaking industry – even the consumer knows it. As mentioned, we are offering a perpetual calendar movement watch for 8,000 euros, for example. Consumers who are watch lovers are buying from us now because of the complications we can offer. So, it's no longer the same "up-and-coming" business model. But on top of that, we have also broadened our clientele to include a group of serious watch connoisseurs, who love and appreciate watches.
6. So affordable luxury was the idea of your predecessor upon founding the brand. How did Frederique Constant establish this, as the company started out with 60,000 Swiss francs?
---
First of all, the founders are Dutch. Dutch people are deeply involved when it comes to spending money; they analyse the quality versus price ratio very carefully. They are hard workers who know how to manage a company in terms of workload and costs. Then comes the product: Frederique Constant offers high-quality finishing timepieces at an accessible price. A different margin management is what allowed us to achieve such a compromise. What's more, high volumes in selling quartz and automatic watches allows us to work and develop our in-house movements and watches. We work at a different rhythm compared to many other manufactures; on the one hand, we expect a lot from our team, but on the other hand, we consider them as part of the Frederique Constant family. This is essential to us.
We don't spend our money on expensive ambassadors, but rather in innovation and proper finishing of our products, for which consumers get a fair price. Plus, we always reinvest our benefits back into the company. On top of that, we are careful and aren't spending too much. This is key to survive and to continue to build our brand, alongside a strong and efficient strategy. It's hard work and it requires a lot of dedication from our employees, but the moment you have it, you can really build your brand in a very accessible, inexpensive, and fair way.
7. Citizen has gained direct access to Swiss watch know-how with the purchase of Arnold & Son, the movement manufacturer La Joux-Perret and Frederique Constant. Do you see a danger that the migration of federal Swiss Savoir-Faire to the far eastern competition could negatively affect the Swiss watch industry in the long term?
---
The Citizen Group bought the Frederique Constant Group (Frederique Constant, Alpina Watches, Ateliers deMonaco) over five years ago. At that time, I asked my predecessor "Why Citizen?" and he replied that for us, it was very important that whoever took us over had to align with our values and let us stay independent in terms of both spirit and decisions. If you look at how I operate as Managing Director today, you see that I report to the Citizen Group and talk with them often, but they really let us drive the company independently and as a Swiss company.
If Swiss watchmaking companies are not constantly challenging themselves, then history will repeat itself, similarly to what happened in the 80s, with the Japanese taking over a huge market share. This was because the Swiss watchmakers were not innovating or moving enough, and not accepting or anticipating certain prices. History always repeats itself, but as long as one remains open-minded and pushes oneself to innovate and develop, I think you can stay in the lead. I think that the culture we have in Europe, including in Switzerland, is so strong that it would be very difficult to replace it. It's like the car industry – who could ever beat the German car industry? They have been challenged by Tesla and took a decision to innovate their fleet and introduce strong options with electric engines. And the Swiss watchmaking industry should do the same and embrace challenge.
– The contract with Citizen stipulated that both the founders and the management would remain with the company in their previous positions for at least five years. As of this year, the five years have passed. What's next?
That's right. Aletta and Peter Stas wanted to leave Switzerland and take care of their kids, as well as their parents, and go back to their home country. This is why I have been appointed Managing Director. We share the same values, I am also Dutch, and I have been under their wings for the past five years. I will continue to check in with Aletta and Peter, but they will no longer be involved operationally. They might advise me, but they will no longer be on board.
8. Regarding the watches: what level of craftsmanship or traditional watchmaking techniques go into Frederique Constant timepieces?
---
I think we bring a lot of innovation and craftmanship into our manufacture timepieces, as well as our smartwatches. Regarding our manufacture movements, we produced, for instance, the FC-760 Flyback Chronograph calibre, and its construction is highly complex. We also introduced the FC-975 Perpetual Calendar Tourbillon movement, and the FC-810 calibre equipped with the Monolithic oscillator. All of these movements are decorated using traditional decoration such as Côtes de Genève, perlage or engraving, and they are all assembled by hand. However, smartwatches are also very complex to produce, as they are equipped with a connected module but present a traditional appearance thanks to their analogue dials, which reflect traditional watchmaking.
However, regardless of the complexity of the movement, our aim is always to keep it simple in the end. With the Monolithic oscillator, for example, one component is replacing 26 previous components of a standard assortment. This is the kind of simplicity we always aim for. The FC-178 Worldtimer calibre is another example, as it doesn't feature any pusher. Rather, all functions can be adjusted via the crown. So, simplicity is always our focus. This makes our products more accessible, durable, and more user-friendly.
9. Can you explain to us what Frederique Constant's "Smart Screw" system of the tourbillon cage is all about?
---
The Smart Screw system really enabled us to balance the cage to be much more stable in terms of amplitude and frequency. We also have many other patents, with many of them being for our Monolithic oscillator. We also have about 50 patents for our smartwatches. We don't focus that much on patents though, particularly as they are very complex in the watch industry; you have to come up with something that is totally different and new, that has never been invented before.
10. Which lines are particularly popular with men and women? Are customers increasingly interested in the watches with manufacture movements, or are these two target groups still very different?
---
The one that consistently sells well with men is the FC-335 Classics Moonphase timepiece, which is very iconic and accessible. For women, it's the 30 mm FC-206 Slimline Moonphase model featuring a diamond bezel and dial; it's very sophisticated and very classic. It's a bestseller. Several other bestsellers are basic automatic watches, for 1,000 euros. Additionally, the Classics Worldtimer Manufacture timepiece is a very strong and iconic model at Frederique Constant, and is constantly sold out.
I think consumers are consistently interested in our manufacture movements. Also, our consumers get a lot for an accessible price, as this has always been the Maison's mission since its founding. But it is also very regional; in Germany, for example, we sell a lot of watches with manufacture movements, and in France, fewer manufacture movements but still often automatic movements. South Korea is also a very strong market, which is predominantly interested in classic manufacture movements, particularly the FC-235.
11. By now – and especially in the last 18 months – digital channels (social media, e-Commerce etc) have become an important new field to most watch brands. What were your most important lessons learned from the interaction with your clients?
---
We were already very active online, but we have strengthened further during the pandemic. We are also completely redesigning our website. We can instantly see what the consumer wants; just because we think we have created the perfect watch doesn't mean it is going to sell easily. We don't always lead by producing something beautiful and automatically have consumers picking it up. Rather, the consumers are really the ones who take the lead. For this reason, we keep a close eye on the sales pattern happening online, analyse it constantly, and adjust our strategy accordingly. Online sales are thus a good way for me to instantly see what people want from our brand. Last year, we even sold from 15 to 16 percent online. Online retail is extremely important for us. We can also educate people about our brand via the e-Commerce platform. Our retailers also get a percentage from online sales, as they also help us to build our brand.
– What kind of buying experience does the brand offer its customers online?
We have been conducted a survey in which we asked about a thousand people who bought our watches to inform us about how they came across our brand, how they regard Frederique Constant, how they found the service and delivery, and so on. The number one topic that came up was communication and accurate delivery. If someone purchases a watch from our website, they first and foremost want good communication. Therefore, we inform our customers on the journey the watch will make before reaching their hands. This is the most important part – communication. Secondly, we constantly keep clients in the loop as their watch is being delivered to them. As long as you communicate, things are fine – even if an order is late. We believe that delivery should include communication, track and trace, and a small gift. We have learned a lot about this in the last six months – it's more than just selling and shipping. Our research also indicated which ages want to buy online, and which want to have a customer experience in-store. My 16-year-old son, for example, hates to buy online, whereas my wife loves to.
12. In your view, in what direction is the watch industry moving?
---
I think the whole watchmaking industry is in the midst of a crisis, which has been going on over the past five years or so, actually. I think the Apple watch has now become a substitute for many people. And quartz watches have been particularly impacted. We have all been getting money from governments due to the pandemic, but sooner or later we are going to have to pay the bills. Those stores, those distributors, and those brands that aren't fully healthy are going to die. Meanwhile, healthy and strong brands which manufacture mechanical watches will recover and remain. But it is very clear that we are going through a major crisis.
---
---