Matthias Breschan, the CEO of Longines – one of the most successful watch brands in the Swatch Group – travelled from Zurich to Sylt, Germany's northernmost island, especially for this day. The occasion was the brand's new pop-up installation, taking place at the seaside resort of Kampen this summer. We took the opportunity to meet the native Austrian, who has been with the Swatch Group for almost 30 years, for lunch at the iconic restaurant Manne Pahl. Among other things, we learn how 2020 could have been a record year for Longines despite the pandemic and lockdown, which sales mark the company wants to break by 2025, and what a pocket watch of the Sultan of Istanbul has to do with the rich history of the brand.
1. What does a mechanical watch mean to you? Which watch are you wearing today and which do you wear most often?
---
Today, no one buys a mechanical watch just to tell the time. In recent years, the mechanical watch has simply become the best accessory to say something about one's personality. Many people work in professions where a certain dress code is required – for example, in the medical or service sectors. This provides a few opportunities to tell something about oneself, at least from the outside – a mechanical watch is ideal for this.
Today I'm wearing our Longines Spirit Zulu, which can display up to three time zones. I'm wearing the blue version and, as a blue sports watch, it fits in perfectly with the island of Sylt, where we are today. For me, the watch also embodies the DNA of the brand very well. What makes Longines unique is its incredibly rich history. For example, many people don't know that we developed the first wristwatch with a GMT function back in 1925. The flyback function was also invented by Longines and a patent was filed in 1935. Both functions were particularly appreciated by pilots. And Zulu means 'Zero' in aviation terminology, which stands for Greenwich Mean Time, from the English Zero Meridian.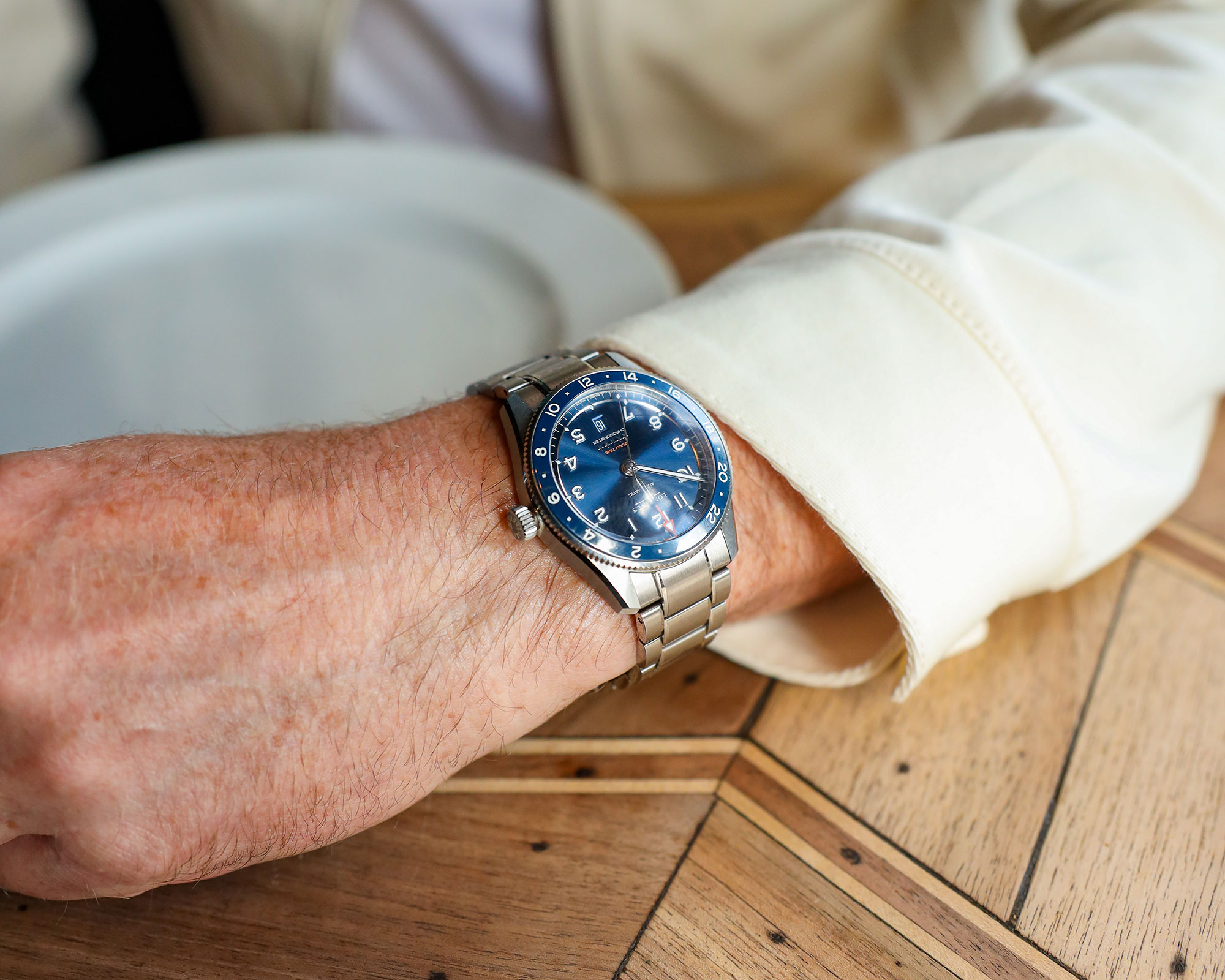 On the wrist: Longines Spirit Zulu
As far as our product range is concerned, I don't have a personal favourite, so I adapt my watches to my daily activities or travel programme. However, I try to avoid watches that are currently unavailable or difficult to find, as I always want watches to be delivered to customers first before I wear them.
2. How did you find your way into the watch industry?
---
I came to the watch industry via the telecommunications route. Swatch wanted to diversify with cars and telecommunications in the 90s. There were joint ventures with Mercedes, Smart, Siemens and other partners. We had developed a prototype in the 90s that had a telephone integrated in a watch, but the project abruptly came to a halt. As the internet began to develop, everything was initially available for free or at a discount. It was only later that Apple managed to alter this behaviour, making consumers understand that you have to pay something for services on the internet and for hardware. At that time, Swatch was quite justifiably concerned that this would destroy the brand and so the project was cancelled. Once you have a foot in the watch industry, it is easy to become fascinated by it, so you are very likely to stay, which was the case for me.
3. You took the reins at Longines in July 2020, following on from Walter von Känel, who led the company for 30 years. How does a handover like this work? After all, Walter von Känel played a decisive role in shaping and influencing the brand.
---
The handover was somewhat complicated, as you can imagine. It took place at a time when almost all our shops worldwide were closed. Nevertheless, the handover itself was completed quite quickly because the brand has a clear DNA: a balance between classic and sporty models, 50% of which are for women and 50% for men. That was the way we wanted things to continue, regardless of who might be CEO. I think the most important thing with a change of CEO is that the CEO adapts to the brand and not the brand to the CEO. It was up to me to identify what made the brand so strong in previous years and to create a roadmap for the years to come.
4. You joined Longines in the middle of the pandemic, production had to be scaled down, and over-the-counter retail came to a standstill. Nevertheless, you are still able to chalk up 2020 as a record year. How come?
---
For one thing, the brand is extremely solid. Even though retail almost came to a complete standstill in the first half of the year, we saw all the more interest in our brand in the second half of the year after the situation eased somewhat, as some Asian countries fortunately recovered very quickly. Secondly, we reduced our worldwide portfolio from 1,500 references to 800 references. The distinction between the watch collections should now be more obvious to the consumer. Of course, this is easier to convey with a smaller number.
5. You now you want to generate a turnover of 2 billion Swiss francs by 2025. What is your two-year plan to achieve this goal? Will you continue to expand and open up new markets?
---
We have and intend to continue expanding distribution, especially in terms of quality. We have not really increased the number of Point of Sales in the last few years either, but improved them. We now have a stronger brand presence within our Point of Sales. We have also worked on a model policy that is strongly aligned with the history and strengths of Longines, i.e., classic and sporty watches. Longines is a frontrunner in the 1,000- to 5,000-euro range, and we don't want to go out of this price segment. In other words, whenever we develop a new product, it has to be within this price bracket. This even applies to our flyback chronograph and GMT watches. The price-performance ratio is unique to Longines. There is so much technology in there for 3,000 and 5,000 euros respectively. Furthermore, we are one of the few watch brands that sells just as many watches to women as to men.
6. Many new customers know the brand by name, but not the history behind it. What are the most important brand values that define Longines?
---
What makes Longines unique is the strong history of the brand, despite many people not knowing about it today. We have such a rich heritage in our company history that we can allow ourselves to take the best and most iconic developments of the past and tell their stories to consumers through exclusive new movements and products.
The events and destabilising times these last few years have led to an increased desirability, especially among young people, for having roots in the past, for strong anchors to hold on to that are solid and stable.
Although I have worked in the watch industry for over 20 years, I also initially had no idea what a strong heritage the Longines brand has. Longines is responsible for the development of the GMT and flyback function and even invented the rotating bezel – and there are always a great number of anecdotes and stories to go with all the achievements. In 1908, we already developed a GMT pocket watch for the Sultan of Istanbul, as he wanted a watch that showed two time zones. Longines also has a unique connection with aviation, be it Charles Lindbergh, Amelia Earhart or Howard Hughes.
Longines made a name for itself early on in precision timekeeping. In 1914, Longines was already able to measure to the tenth of a second at sporting events – then in 1916, it was even able to measure to the hundredth of a second. We were responsible for timekeeping for almost all sports, which many people aren't aware of today. Longines was in Formula 1, Rally Monte Carlo and Le Mans for over 30 years. These are all authentic Longines stories that we are bringing back to light with new modern technologies.
– You are also very involved in equestrian sports, a very elite sport. To what extent does this go hand in hand with Longines' pricing policy?
If I wear a GMT watch today, it doesn't mean I'm getting on a helicopter in the afternoon. For us, it's about the lifestyle that people want to associate and identify with the sporting events. Most people who watch it don't have a horse themselves or haven't even ridden one in their lives. But the customer would like to be a part of this universe.
7. In 2018, Longines produced its 50 millionth watch. There's a huge Longines watch archive out there. Wouldn't that be a lucrative business for the CPO sector?
---
No, Longines will definitely not enter the CPO business. But we will use our history and develop new movements to mark these milestones of Longines, such as the GMT function, the flyback chronograph or the high frequency watches. We will associate that with vintage watches, but it's not a business model for us.
8. You offer a Collectors Corner through the online shop. How does this differ from the CPO business?
---
We buy vintage Longines watches, restore them, and then offer the watches for sale in our Collectors Corner. Our main motivation is to tell the Longines story with these vintage watches, not to turn it into a business model. And when we launch new watches inspired by the vintage models, such as the Longines Ultra-Chron, we buy up old models and use them to tell the story much more effectively and show the progress we have made in the meantime. We have the great advantage of having a complete record of our production since 1867 and can identify and trace each model using its serial number.
9. Will the expansion of monobrand stores play a greater role for you in the future? The number of Longines' own boutiques is currently rather limited and relies heavily on the retail distribution network.
---
Our strategy is not to open monobrand boutiques everywhere. It is first and foremost important that we have the best possible presence in strategically important places. If this presence is not guaranteed by our retail partners, we then consider opening our own boutique. But if we have a strong partner who gives Longines the presence it deserves, then there is no reason for us to open our own boutique. We still have around 260 monobrand boutiques worldwide.
10. Does the same apply to Longines as to other luxury watch brands in that you have to have the watches in your hand first before you buy them? How important is online sales compared to brick-and-mortar retail?
---
Online sales grew a lot during Covid; between 5 to 10 percent depending on the country. We believe in building a bridge between online and offline. Of course, the stores and distributors can't carry all the references, so online can give the customer the opportunity to find out about everything on offer. The customer can thus make a pre-selection and then make an appointment in the shop to try on the watches. Personal contact with the watch is still crucial for most customers.
11. Longines is known as a timepiece for many sports, especially ski racing. Next year, in 2024, will mark 100 years since Longines first becoming responsible for timekeeping as part of the International Winter Sports Week in Chamonix. Do you have anything special planned for next year?
---
Yes, we are currently in talks with the FIS (Fédération Internationale de Ski) about it. There will be a race in Chamonix to mark the anniversary that has just been announced. We will definitely do something around that with the Longines brand.
12. What direction is the watch industry is headed towards?
---
The vintage trend will continue to flourish, and this is something we will benefit from thanks to our strong heritage. In terms of models, the trend is likewise making a return to classic watches. In the last few years, it was sports watches, especially diving watches with rotating bezels. The trend is towards 'silent luxury' – i.e., understatement – and an elegant watch from our range fits in perfectly. Our classically inspired Master line is our strongest collection, despite the ongoing sports watch hype.
---
---