A conversation with Maximilian Büsser is (at least in a metaphorical sense) like a rollercoaster. Our talk over lunch was a wild journey through the human soul, shaped by euphoria and joy, which suddenly headed free fall into deep compassion and sympathy. Maximilian Büsser, a once creative little boy, got lost to an industry in which he became responsible for profit and growth. In his prime, as a successful but grief-stricken man, he turned his back on his supposedly great career and founded independent watch lab MB&F. Full of enthusiasm, Büsser immersed himself in his work, but some serious setbacks shook the young business shortly after its foundation. Büsser never regretted this step towards independence, because the creative man inside him could finally make a comeback. We met Maximilian Büsser in Geneva, where he founded MB&F in 2005, as well as the M.A.D. Gallery, the first mechanical art gallery in the world. In our interview, the founder and great mind who we like to call the 'Ridley Scott of watchmaking' tells us about his many ups and downs in his life, and why the brand purposely being financially ​stagnating ever since 2013.
1. What does a mechanical watch mean to you, which watch are you wearing today and which one do you wear the most?
---
Mechanical watchmaking pretty much saved my life. It all started 28 years ago, when I bumped into Henry-John Belmont, who was general manager of Jaeger-LeCoultre at that time. During a very uncertain period for mechanical watches, he offered me a job, asking, "Do you want to be one of the few saving this company?". I accepted. I studied engineering before, which was a rather sober environment, and by entering the watch industry, I could mix engineering with beauty and humanity. There I found a real passion and a surrogate family. You must know that my dad and I never got along very well, so Belmont became my surrogate dad. Watchmaking is one of the most important factors of what has made the man I am today. I was very creative as a child, but I was always the weird one at school and I didn't have any friends. Watchmaking has allowed me to become somebody who is proud of what he has done, someone that feels balanced for the first time. That is my bond with mechanical watches.
And today I am wearing my HM6, one of my favourite pieces ever. I like to switch between this one and my Legacy Machine Perpetual, which is made in cooperation with Stephen McDonnell, who reinvented one of the most complex traditional watchmaking complications. He is the only genius that I have ever met. He never studied watchmaking, and he taught himself from scratch – totally mind-blowing.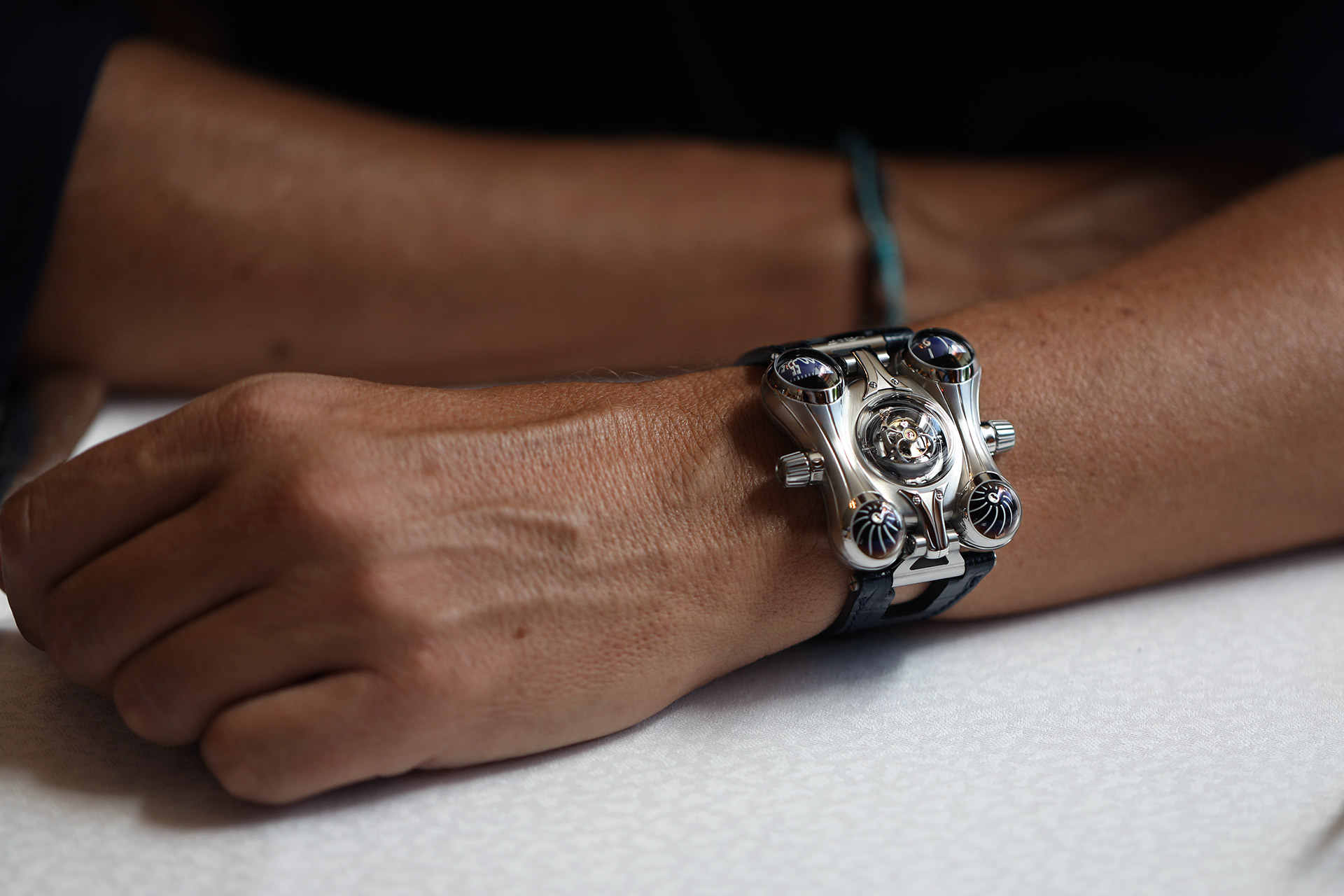 MB&F Horological Machine N°6 – HM6
2. You had been with JLC for seven years and at the age of 31, you became CEO of the brand "Harry Winston, Inc. Rare Timepieces" based in Geneva. You had the best prospects to make a great career at the most established brands in the watch industry. Why did you take the risk to become self-employed?
---
Well, it might sound little strange, but it was and still is psychotherapy for me. When I was a manager at Jaeger-LeCoultre, a headhunter called me and offered me the position of managing director at Harry Winston timepieces. Although I was happy at Jaeger, I could not decline this opportunity. What should have been the best time in my professional life to this point, turned out to be a total nightmare. Harry Winston timepieces was basically bankrupt in 1998. One week after my contract was signed, Harry Winston was put on sale. And they left me with this disaster and said "fix it".
1998 and 1999 were the worst two years of my professional life. But we managed to put Harry Winston on the map of watchmaking, giving it the same level of recognition as its jewellery. However, the more the company was grew, the less I enjoyed myself. Although I was a young and successful CEO, I did not feel proud because the little creative boy I used to be had sold out. Instead, I had become a marketing man, creating products that would please as many people as possible and sell as much as possible. Well, that's what I was hired to do but I was disgusted with myself, because I created pieces that I didn't even like.
I worked for a couple of years secretly on creating my own brand, where I finally could work with friends that share the same values, and finally took the big step of resigning, to my boss and partners' shock. Everyone told me how difficult it would be, and funnily enough, I even asked myself, "Who on earth would want to buy these horological creations?". But when you fall in love with something, you don't care about the consequences. You just carry on doing what makes your heart beat faster.
3. Felix Baumgartner, one of the founders of the independent brand Urwerk, is said to have lived in a remote building without water and electricity at the very beginning – every penny went back into the product. Did you have to face similar dramatical conditions?
---
Luckily, I still had my flat. But although I had put some money aside, it was far from enough to get this brand off the ground. At the very start, I managed to convince six retailers in 2005 to pay me, two years in advance, one-third of their opening order. That brought in another 700,000 Swiss francs. I was hoping to deliver my first piece by the end of 2006. But the main sub-contractor I was working with, who did the engineering of the movements and produced the components to assemble the movements, was sold off in May 2006 to a brand. And clearly, the brand didn't want to make movements for third parties, but for themselves. You can imagine how devastated I was.
I still remember the exact date. On the 8th of January 2007, my supplier decided that he would not assemble my movements. By incredible chance, British watchmaker Peter Speake-Marin, who had co-created the piece with me, was at that meeting. He had a strong network and finally managed to find five guys to help me assemble my movements. One of them was Stephen McDonnell, a brilliant watchmaker from Northern Ireland.
The next issue we faced was that we were missing 50 out of 365 movement parts and did not have the assembly plans. We had to redo components and eventually it took us six months to assemble two movements. By then, I had already spent all the money I received in advance. And I thought to myself, if I go bankrupt now, I will spend the rest of my life paying back money to the retailers, who had trusted me. But we managed to deliver the first two pieces of HM1 on the second week of June 2007. And the retailers paid me the next 65%, but as I had already spent the first third they gave me in advance, my margin was gone. Somehow, I survived and in 2008 things seemed to go better – until in September 2008, Lehman Brothers went down. To cut a long story short: I never had to bathe in public toilets like Felix, but we had our fair share of nightmares. We had four really tough years in 2007, 2008, 2012 and 2014, all for different reasons. Since 2014 though, finally, it's all rock 'n' roll.
– By what financial means did you manage to establish the brand MB&F? Did you ever have any external investors?
Never. Within 14 years we have created 16 calibres, financed initially by my little savings, and we never had an investor. We have never made a loss, but we have barely ever made a profit either. That is life on the edge…
4. What was your first experience with mechanical watches?
---
I received my first mechanical watch was from my parents at the age of 8, I think. I remember this very well, because it was part of a routine my dad and I developed. Every evening, when he came to say goodnight to me, I would wind it up in front of him and put it under my table light so the lume would glow at night.
– Do you collect watches from other brands?
Of course. I just bought some amazing vintage Longines at auction with incredible dials and cases from the 1950s and 1960s. I also recently bought a watch from a young watchmaker called Clement Gaud, who created a brand called L'Aventure. I also own, amongst others, a Voutilainen, an Urwerk, a Sarpaneva and whenever I wear them, I don't only remember the pieces we co-created together but also that these guys have dedicated their lives to doing what they love. I am not only wearing a stunning example of watchmaking; I am also wearing a piece of their life and soul.
5. Where do you take your inspiration for new watches/machines from? And why do you call them machines and not watches?
---
Well, watches are there to provide the time. And I am not there to provide time. At MB&F, we create mechanical sculptures; works of art which happen to provide the time. So, I wanted to call them something different – but I am very bad at names. At the time when I was working on my first HM1, I went into a concept store and saw a perfume by Andree Putman called 'Preperation Parfumée'. That was the simple title: perfume preparation. So, 'Horological Machine' came into my mind.
To answer your first question, my inspiration comes mainly from my childhood, when I was alone most of the time. When you are alone, the only way to save yourself is to have a lot of imagination. So, I pretended to be Luke Skywalker or Captain Kirk. Most of my childhood I wanted to be a car designer and instead of talking to girls, I continued drawing and designing. I once made a joke when I was 16 that my best friend was called Commodore 64 – my first computer.
6. Please explain the concept behind M.A.D. (Mechanical Art Devices) Gallery – can MB&F still be called a watch brand?
---
I need to tell you an anecdote about this. We launched the M.A.D. Gallery in Geneva on the day we launched the Legacy Machine One. Before that, we only had our 'Horological Machines'. My dilemma was that some watch retailers would look at my crazy machines, and say "This is not a watch". I told them: "That's right, it's art". So, I tried to present my creations at Art Galleries and they would say that they did not sell watches. As no one seemed to understand my work, I had the idea to open a hybrid concept of the first ever mechanical art gallery. It works pretty much like a decoding machine, serving to explain the MB&F brand. Perhaps people could not understand my machines, but if I could show them all these different mechanical artists they might start to understand what I do, as we are all then on the same wavelength. By the way, the M.A.D. creations are not there for decoration; it's a true gallery, and we support each artist we curate.
– M.A.D Galleries are already established in Geneva, Taipei, Dubai and Hong Kong… What about London, New York or Tokyo?
I hope that they will come one day, but I have to find the right people to partner with. These are not moneymaking operations. You rather need passion and dedication, and you must love it for what it is.
7. In your own words, please explain the collections Horological Machines, Legacy Machines and Performance Art. How does each collection reflect your personality?
---
When I first showed the Legacy Machine to my team, they were shocked. Why? Because for them, they did not reflect my horological ideology. But at some point, I realized that I need to express my love for traditional watchmaking. Just because I create crazy time machines doesn't mean that I don't adore classic watchmaking. However, I am not a fan of 20th-century watchmaking, where everyone started to focus on performance, marketing or cost-cutting. The real watchmaking took place in the 18th and 19th century, when all of the complications we still use today were invented. 'Legacy Machine' is a 100% analytical collection and a consequence of my love for classical watchmaking.
The 'Horological Machines' are a completely different concept. They are a creative outburst in which I can express myself. Instead of analytical, they are instinctive and animal-like.
'Performance Art' is another completely different animal. Performance Art emerges when I give one of my pieces to a creator I admire and tell him, "Enjoy!". That took a long time for me to get into, because up until then it was always just about me – "It's my story, it's my creation." But at some point, I got over it and my first collaboration started in 2007 after I met designer Alain Silberstein at a dinner in Singapore. I asked him if he would be interested in redesigning one of my pieces – we stayed in touch, and in 2009 we launched the great HM2.2 Black Box – a limited edition of only eight pieces.
8. You have been working with many well-known personalities or brands, such as Kari Voutilainen or L'Epée. Is there a certain watchmaker from the 18th or 19th century that you really would have loved to work with?
---
It is a very difficult question. There were so many great watchmakers at that time, but I guess it would have been Ferdinand Berthoud, who was an absolute genius. He was awful at marketing but an incredible watchmaker, who inspired many other great watchmakers to follow his lead. He is credited with the first ever movement with two balance wheels, which I paid tribute to in our Legacy Two.
9. The MB&F Lab is based in Geneva. You, however, live in Dubai. Why is Switzerland so important for your brand and why is Dubai so important for you personally?
---
Well, I grew up in Switzerland, for a start. Another reason why I established MB&F in Geneva was because I worked at Harry Winston before, and the brand was based there. This is where I had my entire network required to successfully start a business from scratch.
The decision to move to Dubai was made when my wife got pregnant. I knew that if I lived near to the company I would never see my daughter grow up. Furthermore, Dubai offers a perfect infrastructure, by which it is very easy travel to everywhere in the world. We didn't know if it would work but we tried – and five years later, we are still enjoying it here. The company has had its five best years and I have been so lucky to see my daughters growing up.
10. Why did you decide to stop growing with your brand from 2013 onwards?
---
There are two main reasons for this. I have built a company without any middle management. We are five directors and 21 people in a direct line. So, everyone in my company is actually doing something effective for the company every day. There is no one who is paid to do nothing like just managing other people. When they come in the morning and start working, they can see the impact on the company in the afternoon. It gives them meaning and pride. I believe that is one of the many reasons they are happy at MB&F. I don't want any middle management, and therefore, it can't grow.
Another reason is that I want to see my children grow up. My dad didn't see me grow up and I don't want to make the same mistake. I can't do this if I want to keep on growing the company. My goal was to reach a yearly revenue of 15 Million Swiss francs and I achieved this goal in 2013, and so I stopped growing from then onwards. My children played an important role in this, because before my first daughter was born, I didn't need balance in my life. I could easily work three hours more and sleep three hours less – my life was all about work.
11. You are personally quite active on social media. How important is this for a small brand like MB&F and how do you mainly reach your (potential) customers?
---
I think we were one of the first brands to have a Facebook, and later Instagram account. This started nine years ago. It was so important, because it gave both customers and us the chance to have direct communication, and to ask questions and then react. Up until recently, it was free of charge. Most big brands use corporate communication for their social media. And no one wants to hear corporate-produced content. We have real engagement on our accounts because we speak exactly as we are; naturally, honestly and – as much as possible – with a sense of humour.
12. In what direction is the watch industry moving, in your opinion?
---
It seems that today, we have a bi-polar industry. We have some large entities that have become enormous, which tend to take very few creative risks. If they are actually creating, they are innovating in terms of fundamental technology – making their products more precise and more reliable, trying to improve on the performance part of the movements. And on the other hand, the small independents, who are an incredible source of inspiration, are creating the wildest pieces. On the one hand, everything is getting industrial, and on the other hand, we retain human craftsmanship. We still engrave our bridges manually, and all our angling is done by hand too. But let's be clear; without the big guys, we would not exist. They are the ones who tell people that they should buy a mechanical watch. We have to be grateful to them. Statistically, for every 500,000 watches they sell, we sell one of ours.