For almost 20 years, Angelo Bonati guided and shaped the Florentine brand Panerai. Since just over a year, however, there is a new man at the helm: Jean-Marc Pontroué, who has been with the Richemont group for almost 20 years now, having previously held the title of CEO at Roger Dubuis.
During a visit to Hamburg's Hafencity, we met with Pontroué for lunch on the waterside – a good place to talk about the origins and future of a brand that has produced professional watches for the Italian navy since the very beginning. Pontroué pursues the heritage of his predecessors, but with his very personal hallmarks; he implements innovative materials, has launched a new collection, and is surprisingly approachable to his so-called Paneristi community, while always keeping the brand's identity in mind.
1. What does a mechanical watch mean to you? Which watch are you wearing today and which watch do you wear the most?
---
A watch for me is always mechanical, otherwise it is not a watch. It is beautiful to wear a piece of art on your wrist. At my former company, they let me build a movement with 300 components from scratch, so I am very aware of the beauty of it.
– That is impressive. Did it work in the end?
(Pontroué laughs) Yes, it actually did. Well, at least that's what they told me.
Today I am wearing the Luminor Submersible BMG-Tech™ 3 Days Automatic 47 mm – PAM00692. I have around three to five watches, which I constantly switch between. When we have a prototype, I put it on the wrist to see how it grows on me. One of my favourite watches personally is the Submersible 1950 Carbotech. Also, the Bronzo is a great watch, however I never wear it when meeting people as it is somehow ironic to showcase something during a business meeting that they have to wait to get for some period or cannot get at all. It is a question of respect.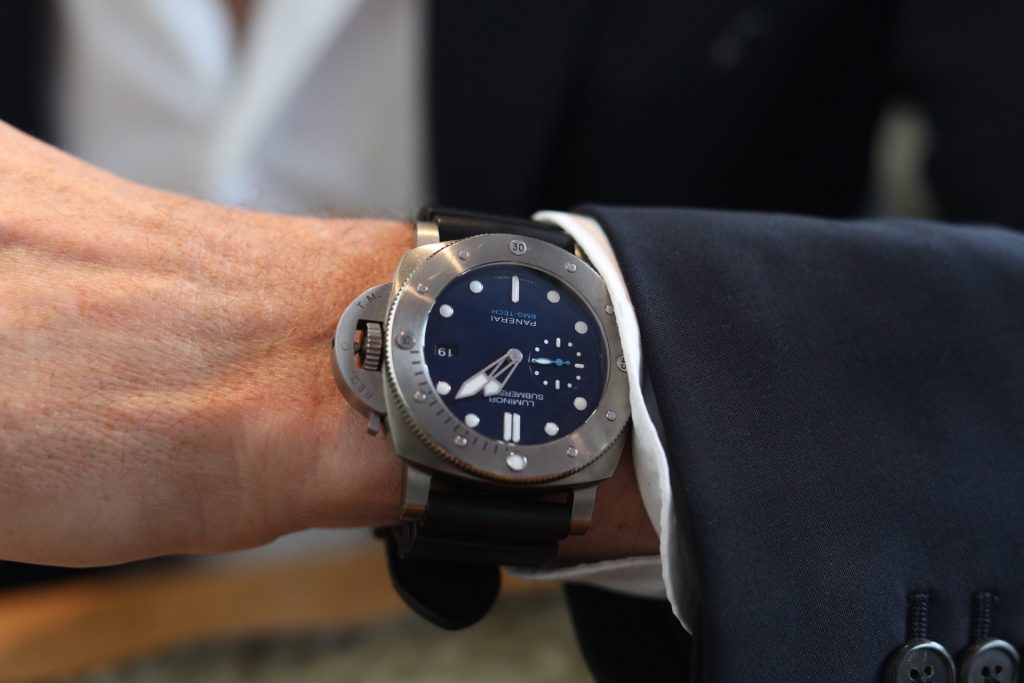 Panerai Luminor Submersible BMG-Tech™ 3 Days Automatic 47 mm – PAM00692
2. You have been working for the Richemont Group for almost 20 years now and you have been the CEO of Panerai for just over one year. For you personally, what is so special about the Florentine brand?
---
Panerai watches are emotional products that happen to tell you the time. They combine precise Swiss watchmaking with the creative Italian side of the brand. This is quite unique in our industry. It is a very interesting cocktail in terms of creativity and team spirit.
3. In 1997, the Vendom Group (Richemont today) acquired Officine Panerai. Why was this step crucial at that time and how has it contributed to the success of the brand since?
---
There was close to zero business at that time. Richemont of course had the power in terms of distribution and organisation and has helped Panerai to become one of the top 20 brands in the world. I think the group put all its experience that it had learned from its other brands over the years into Panerai – how to position it on a high level, how to focus on icons, how to recreate the design specification, and how to make military accessories a timepiece accessible for people who are dressed casual or wearing a suit. At that time, people were wearing small watches, and we came along with 45 or 47 mm cases. It was risky at that time. But Richemont has the historical competence to evaluate if this type of project is what the market needs or not. And they succeeded.
4. Your predecessor Angelo Bonati took the brand to great levels of success across the past 20 years. Which legacy from Mr. Bonati will you continue and what is your personal strategy for the brand?
---
Angelo is responsible for everything that the brand is today. He was very consistent in not bringing the brand into exotic developments. He had one model that he expanded to make the 'Submersible', the 'Due' and to continue to enrich the 'Radiomir'. He brought processes in-house that had previously been outsourced, and he was responsible for developing new materials. Everything that we continue today is what was developed by him from 1997 onwards.
I think what Porsche has been doing with the 911 is a benchmark for our brand. They have this specific type of car since 70 years ago, and they have been changing a couple of elements to make it very different from the original one. But what's so special about it is that 'Selbstähnlichkeit' in this product, a German word that means 'consistent similarity'. And that is what we try to do at Panerai. The product becomes iconic, just like the Porsche 911. When people hear the word or see a 'Radiomir' in person, in most cases they instantly know the brand behind it. There are not many watch brands where you have a model that is recognizable and linked to a brand to this extent.
5. You were previously CEO of Roger Dubuis, a brand that is strongly driven by innovation. Might this be a reason that new materials and complications enrich the Panerai collection today, as recently seen on the novelties of 2019?
---
The innovative spirit was part of Panerai long before I joined the company. Think of the Carbotech, the BMG, the Laboratorio di Idee, or the new recycling theme. So basically, I have just continued what has been done before. At Panerai, there is the innovation on the one side and the Italian spirit on the other. At Roger Dubuis we have no Italian spirit in the brand. It is a Geneva-based brand carrying the Geneva Seal. We don't have that at Panerai because Panerai comes from a different origin. But I agree with you, the innovation in the two brands are very strong aspects in the personality of them.
– Does such an innovative approach fit to a brand like Panerai?
When it comes to implementing new materials into the collection, it had to be done on the 'Submersible' because it was here that our innovation journey started, looking at the Bronzo or also BMG. 'Submersible' is in the field of extreme sports at Panerai. So, when we do have innovation we will most likely introduce it on the 'Submersible', where it fits perfectly due to its purpose and history.
6. What is the reason for separating the 'Luminor Submersible' line? What does the collection 'Luminor' and the collection 'Submersible' stand for today?
---
When you join a brand you first start to question everything. One of my questions was: "why is 'Submersible' part of 'Luminor'?" – and people tell you that it was always like this. But it is my job to question that. About 80% of our customers are new to the brand. So, ideally, you don't need to explain the whole range to them but make it clear and simple from the outside what 'Luminor', 'Submersible', 'Radiomir' or 'Due' stands for. It needs to have appeal without explaining too much. When I saw that both models have been mixed up, I decided to split them and give much more power to 'Submersible'. We wanted to have two different successful stories. We don't apply the same recipes for 'Luminor' as we do for 'Submersible'. You will see more on this during the next SIHH. The first step was to separate the two lines, and to have 'Submersible' as our survival instrument for modern heroes, as we say.
7. With the new collection 'Submersible', you seem to further break away from its Rolex past, in order to tell a new Panerai story. Was this your intention?
---
I never had in mind what happened with Rolex in the past. This was part of the brand's activities at a given time in the past – but Panerai has been living independently since decades ago. The idea was much more to create a line that can appeal new potential customers who are in extreme sports business, with modern heroes such as Guillaume Néry, who was diving at a depth of over 100 m and joined a partnership with us recently.
8. What significance does the Bronzo have for Panerai? Will you continue to extend the Bronzo theme?
---
Another main legacy from Angelo is definitely the Bronzo. Hence, we call our new Bronzo model 'The Original'. He started the hype around bronze watches despite the fact that many told him it will not be successful. It came from his passion from sailing. Many ask why we advertise a watch that we cannot supply. It is to remind every brand that is entering this segment that the bronze theme is Panerai territory.
9. Some collectors criticize the fact that the new Bronzo is not strictly limited anymore. What was the reason for your decision? Was it simply profit driven?
---
If I were only profit driven, I would have produced 10,000 pieces instead of 1,000 a year. I was in Japan recently and there were 50 people waiting for the new Bronzo. We only had five pieces in the local store. It is the same with our Panerai experiences. If I wanted to focus only on business, I would have sold many more. That is the beauty of Panerai – to create fun and desirability with limited quantities.
In terms of Bronzo, I could also make 50 different dial colours for the next 50 years. We did dark green, blue and brown in the past eight years. What's next, pink? That is not our future strategy. The challenge is how to install an iconic model in an iconic brand, keeping the exclusivity but not changing colours each year. Therefore, I have decided to continue its production in the years to follow, but with a limitation of 1,000 pieces.
To summarise: in 2020, we will not present the Bronzo Submersible 47 in a new dial colour. However, we have many creative ideas for the years to come.
10. The Paneristi are a unique watch community worldwide. How do you explain this hype? Do you follow their discussions?
---
When I first joined the brand, my key intention was to meet with them. We have 30,000 fans who follow us on everything that we do. They are mainly there to support us, of course there are some critics, but we are all on the same mission. To honour their loyalty for so many years, they were the first ones to know about the Experience, and in October, they were the first ones to see the novelties we showed at SIHH four months later. The Paneristi community comes together every year in a different city of a different country, and I want to join them, of course. The next meeting will be in Amsterdam in October of this year.
– You only recently proved your commitment for the German Paneristi community. For many years, they failed to get there to be a launch of a Special Paneristi Edition under the lead of Mr. Bonati. Only one year after you joined the brand, the community just presented its first PAM01080.
I wanted to honour people who are close to us. Out of the 300 Paneristi that joined the annual meeting in Hong Kong last year, 20 came from Germany – the biggest percentage out of all European countries. We will not necessarily make special editions for every single country, but there are some markets that justify that we do it. We opened our first boutique in Switzerland (Zurich) and it happened to be a good time and occasion to celebrate a German/Austrian/Swiss edition.
The community can also expect further models in the future. Like the Marina Militare that we launched this year, a model dedicated to the Egyptian Navy (similar to the Egiziano back in 2009) can certainly be part of our special editions in the near future. And the 'Radiomir' is a line that we have positioned as a homage to the history of the brand. In the next five years, we will present some new products in this line. I am happy to also consider the reference 6154 for this, as it has been requested by the community for some time now.
11. E-commerce versus retail. Where do you see potential for the brand Panerai, both now and in the future?
---
I am a big supporter of E-commerce. E-commerce is a great way to reach our customers who do not have a retailer close to them, which happens mainly in India, Asia or the US – and India is a growing market for us. Both retail and E-commerce are equally important to me and the brand. But we are also extending E-commerce in Europe as the purchasing behaviour of people changes. They have developed a habit of primarily buying online.
12. In which direction is the watch industry moving, in your opinion?
---
I strongly believe that the 30 big brands will become even bigger. I think that mechanical watches are getting more popular than ever before. Smart watches have not affected the Swiss mechanical market. The challenge is that brands have to be even more distinctive and need to strongly promote their individual DNA. On the other hand, the storytelling needs to be understood and explained in one sentence. If you have too much information to tell, people will not follow.