Watch restoration is one of the main pillars of Parmigiani Fleurier. With the experience of numerous restorations and 300 years of watchmaking under its belt, CEO Davide Traxler and his team aim to design enduring watch collections that withstand time. Although a mechanical watch is something rather masculine for Traxler, ladies watches make nearly 50 per cent of his turnover. In his opinion, watches are not bought for their function, but for emotional reasons. Traxler, who calls himself a very lucky man, took over at Fleurier's one year ago. We took the time to talk business, find out which watches that speak to him, discuss the downside of monobrand shops, and get the details on his relationship to Michel Parmigiani.
1. What does a mechanical watch mean to you, which watch are you wearing today and which one do you wear the most?
---
A mechanical watch is the epitome of a genuine watch. It responds to men as we like mechanics. For me personally, it is something that is masculine to start with. It reminds me of a story from my kids when they were little. When I put my children on a bike for the first time, the girls were looking elsewhere, but my son kept looking at the wheels. We just like mechanics, it's in our DNA. I remember very well the noise of my first mechanical watch – the tick tock. The watch was singing to me. By the way, it was a Timex, as I was born in the USA.
Today, I am wearing the Tonda Metrographe, a chronograph. I love the mix of rose gold and blue. We call the tone 'Abyss Blue'. Here you can really see the depth of the blue. In porcelain we also have a 'Bleu de four' type, which is heated and gets a very rich colour. I enjoy blue, like many other men.
I can't really say that I have a favourite watch. Whenever we bring out a new model, I have to wear it intensively for about 3 weeks. It has to grow on me. And through that process we make changes. To really experience a watch, you have to wear it a lot. It is important to see the reactions of others. Do people want to try it on? These are all important lessons for us.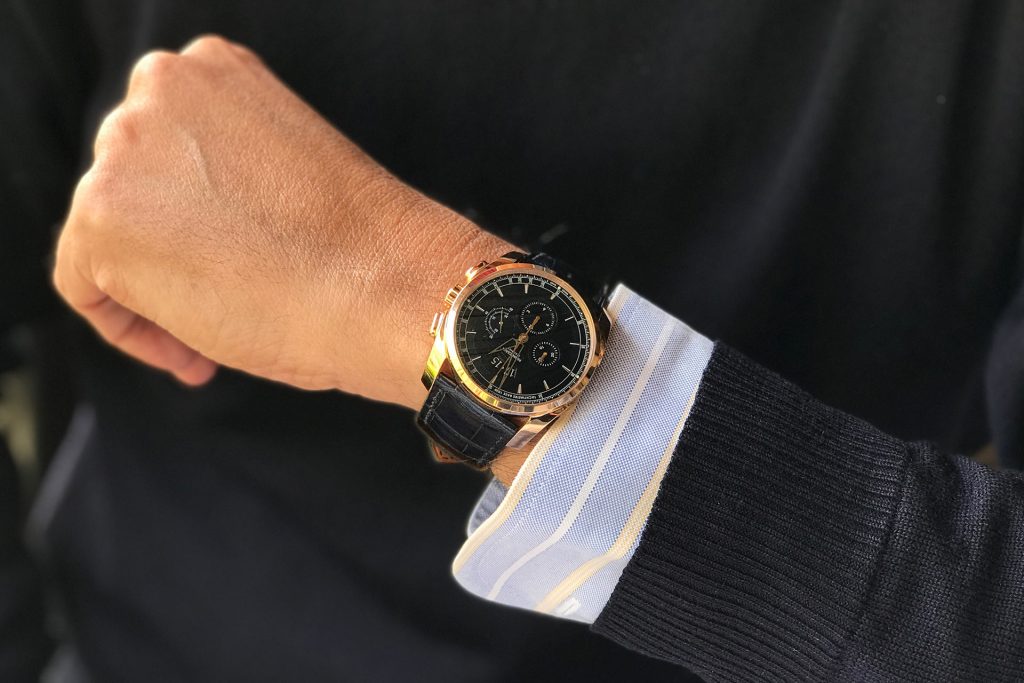 Parmigiani Fleurier Tonda Metrographe Ref: PFC274-1002500-HA3241
2. You have been CEO of Parmigiani Fleurier for a year now. What has changed? How was this year's SIHH?
---
A lot has changed. There has been a change in the level of the foundation, hence there has been a change of generations. And the new generation has brought in a very high quality of board members. We have Mr. Gebhard with his long international experience; he has a real understanding in processes of business, and a forward-thinking, long-term view. He wants to guarantee that in every moment, the decision we make is based on hard data and facts rather than intuition, and he wants to be certain that every effort is made to make the brand successful. That is challenging, because every decision we make and every idea we bring forward is challenged by a person who is brilliant and has a long business experience.
Just a few weeks ago, we introduced a new board member: Mr. Riedo, who used to be CEO of Jaeger-LeCoultre. Before that, he had a long experience as CEO of TUDOR. He has also gained a long-term knowledge in watchmaking. With senior board members of this quality, it helps the quality of our decision-making immensely. That has created a long-term mindset concerning who we are, where we are headed, and who we want to be. The quality of every decision we take has been thought through a lot. That doesn't mean that we don't make mistakes, but it does guarantee that we are putting the maximum effort for the company's process to be right.
3. You mentioned that you base your decisions on hard data and facts instead of intuition. Does this ever limit your creativity?
The point is that creativity has to match with some kind of hard facts. And I am a person who is more intuitive, I like to listen to the market, I like to talk to people and the retailers which I have known for many years now. This is a huge wealth to me, because they give me an honest feedback. But this is not enough. On the other side you need to have the hard data. It meant for me to be more rigorous and less instinctive and that is healthy at the end of the day. It is a good counterpower – like to have someone who is very logical and put a creative next to him. It will work well.
At SIHH we have almost doubled the amount of appointments. We caused about 30% increase in orders. This is not where we want to be, but it is a first step in the right direction. We are moving in the right direction, not yet at the right speed. Our trade is not a fast trade like the fashion industry. In our trade you keep the collections for a longer time, our good is a durable good. The processes of buying are different from a retailer and customer point of view. This teaches us to be more patient.
4. In one of your first interviews, you said that you would like to reduce your investment in Europe to have more budget available for Asia, the US and the Middle East. Do we have to worry about the European market in the long term?
---
The European market has already changed. The European consumer is mostly not celebrating success any longer. I give you an example: two couples sit at a dinner in Huston, Texas. The one wife talks about a beautiful ring. The other woman encourages this wife's husband to get it for her saying that she deserves it. I have not heard this spoken anywhere in Europe recently. The concept of deserving something, a gift or celebrating a success (e.g. if you made money on a deal) is very strong in the United States and in Asia but has hugely reduced in Europe. If at all, it is more used in protestant Europe and less in catholic Europe.
In Germany the people are still enjoying to wear luxury goods and celebrating it for something they did, or someone else did, like a gift. And watchmaking is all about gifts – a gift to yourself or a gift to someone else. It's never about a need or a function. It's all about emotions. The purchase of a luxury good is emotional. And this emotion has changed in certain parts of Europe, especially in Italy, Spain and France. Today, the mood is different. People are not wearing those beautiful jewellery they have – they put them in the safes. People are also not wearing certain watches and they are not driving their expensive cars. The whole consumption has changed completely.
Consequently, we reduced our subsidiaries in Europe and we took advantage of the fact that Europe is one market and centralized our after-sales service, logistic and marketing team for Europe to Munich, Germany. Munich becomes the leader in Europe for us.
5. You are known for driving sales even in times of crisis. How is turnover developing at Parmigiani Fleurier?
---
I have to say I was always lucky and I hope that my luck continues. At the moment it is a lot of work to get where we want to be. And that means being rational in the way that we build our collections. We have made a three-year plan. I would not say that we are successful today, but we are moving in the right direction as mentioned before. I would say that we are growing when we have six months of constant growth – but I don't have six months of constant growth behind me.
6. Your collections are divided into three pillars: Toric, Kalpa and Tonda. Does this apply to all markets? Which collection is strong in which market?
---
Parmigiani Fleurier comes from restoration. Restoration has given us an understanding of 300 years of watchmaking. From the mistakes made in the past, we know what lasts and what doesn't last. I say this because I think 'Toric' is the expression of the highest traditional watchmaking today. In terms of case and movement finishing and in the entire aesthetic of the watch. It represents the epitome of traditional watchmaking. The market however is not always interested in classical watches. Some markets react differently to that sort of product. I think the market that is most focused on 'Toric' is Japan. When it comes to 'Tonda', it is a much more versatile collection that touches just about consumers everywhere. And 'Tonda' is responsible for 60% of our turnover so it's always our largest collection. 'Kalpa' has that shape that makes it something that remains niche, and it wants to be niche. Hence, the consumer for 'Kalpa' is a self-knowing, confident and an aware consumer. He has a certain maturity in watches. What surprised me most when entering the company, that with the 20% of our collections that are ladies' watches, we make about 40 to 50% of our turnover. So, ladies watches are much stronger for us than someone would imagine from outside.
7. You already strongly believed in the Asian market before you started working for Parmigiani Fleurier. How is it that people in a country – where digitalisation has grown more rapidly than anywhere else in the world – be inspired by mechanical watches?
---
That brings us back to the function. We know that no one is buying a watch because of its function. The watch is brought for celebration. And when you have a growing economy people enjoy celebrating their success. That's the simple explanation. Another element that we forget is that in the 19th century, all the most exquisite pieces went to China. Before that they went to Turkey in the 18th century. The Chinese have a tradition in enjoying watches. Interesting enough, the German customer is very into the technical part and the Japanese are into the philosophy – they want to know everything, right from the birth of the idea.
8. You are known to have a very illustrious personality within the watch industry. At the same time, watchmaking is a rather sober profession. How do you nevertheless enjoy your work?
---
What I enjoy about our business is, that we are talking about beautiful objects that are made with different criteria. There is a seriousness in the industry that is to me reassuring. Watches in general are reassuring to me – I like the tick tack, I like the noise and I like the fact that it is one big family. Also, the retailers are like families. You talk to people that run their own businesses and that have invested in the trade. Their lives depend on the trade. And the relationships you build in this trade are strong. And when you look into fields like IT for example, everything is based on pure innovation.
Every year Mr. Scheufele, president of Chopard writes me a nice letter and we speak and see each other, even though I don't work for him any longer. Of course, sometimes you have to terminate the professional relationship with a retailer that you have worked with for a long period, but you still sit down for dinner and have a bottle of wine together. However, there are limits. It becomes disrespectful when you have a strong relationship with a retailer and then you go monobrand next to him. I personally don't believe in monobrand stores anyway. I believe in retailers. They are the crucial link to the consumer in long term. Allow me something to add: when the two best in class, Rolex and Patek, don't make their own boutiques…maybe we have something to learn.
9. Why did the collaboration with Bugatti come to an end?
---
Parmigiani Fleurier and Bugatti have made some special revolutionary pieces at that time. The first cooperation, the type 370 was the opening of many brands today. Bugatti gave that drive to make something incredibly different. But it is a cycle and the cycle had come to a point where the creativities together weren't going to the next boundary. And the person in charge of the licensing of Bugatti used to be a colleague at Chopard. So, we know each other very well and we still decided to part ways. It was not painful to any of us.
10. One has the feeling that you recognized the importance of social media very early on. Why do you have a private Instagram account since the end of last year?
---
I am not a social media person at all. My Instagram account is run by the company and not by me. I don't even know how to post a picture. But that does not mean that I don't understand the importance of it. The key is not to be good at everything, as long as you understand the importance of it.
11. What is important to you when choosing the right "friends of the brand"?
---
For me, it is gathering people who have beautiful minds and do creative things. And most importantly, like the brand because we don't pay our friends of the brand. If I think of Akrame Benallal, a young Michelin star from France with different restaurants and all different concepts that are internationally recognized. This guy is incredibly dynamic, focused and a fun person. There is always something to learn from him. In Russia we work with Ilya Sachkov, a 32 year old self-made Billionaire. One of the most brilliant people I have ever seen in my life: understated, giving, hard-working and also a great sports-person. Compared to ordinary brand testimonials, these people are so special and reachable and understated. It is a great amount of sharing you do with these people. And sharing with people who are successful is very interesting for me personally.
12. How often are you in contact with Michel Parmigiani? To what extent does he allow you to decide things on your own?
---
When I am in the office, we see each other every day. Michel Parmigiani is the mind and inspiration of the whole watchmaking 'hub' around it. We restore any watch, not only our own. So, sharing this knowledge is unique at Parmigiani Fleurier. Michel today is president of our board, not operations, but he is our inspiration, so I need him every day. Michel and the board validate all decisions as we move forward. We all have a role in this business; sometimes I am happy with the board's decision, and sometimes I am less happy.
13. In your view, in what direction is the watch industry moving?
---
I would say we have had one long party. Every time the market crashed, there was a new market appearing and saving us. 2008 seemed like the end of the world. And then the Chinese market came to save us, and the party continued. I would say today, overall, we have matured as a trade. And that is a good thing, as everyone is getting better at what we do. Everyone is professionalizing at every level of the companies. What you see is the end of huge CEOs and the beginning of real managements. It is shifting from the person to the brand and shifting from the CEO to the whole management. Everyone has grown because things have become less easy – and that is very healthy for all of us.
---