Guido Terreni has been at the helm of Parmigiani Fleurier since the beginning of last year. In this industry, which tends to refer to decades or even centuries of tradition and experience, this is ultimately only a blink of an eye in the history of watchmaking. But for Parmigiani Fleurier, it is one of the greatest importance: for as great as the prestige of the manufacture and its products is, and as legendary as its reputation is in the restoration of historical models, never before has the brand received so much attention as in recent months. This is largely due to its new Tonda PF watches, which Terreni, having previously shaped Bulgari's reputation in the world of watches, presented together with his team just a few months after starting in Val-de-Travers. The Italian manager is correspondingly tidy, and in high spirits, as he parks in his black Range Rover in front of the Six Communes restaurant in Môtiers. After a green salad for starters, the main course serves us insights into the professional methods of a man who has found his destiny in developing outstanding watches that go on to define brands.
1. What does a mechanical watch mean to you, which watch are you wearing today, and what watch do you wear the most?
---
The decision for a particular mechanical watch is always an extremely personal one. What I love about watches is that they live in my eyes – they have a heart! Apart from that, there is of course a special emotional connection due to the fact that my watch always accompanies me everywhere. Moreover, the choice of a watch is always a commitment to one's own personality and style. If diamonds are a woman's best friend, then a watch is clearly a man's best friend. On top of that, twenty years in this industry have increased my understanding, respect and enthusiasm for the complexity behind the development of each movement and model.
You know, in my youth, I loved the way the Vacheron Constantin looked on my father's wrist. However, I am convinced that things of the past cannot be replicated. I am therefore interested in the past above all to understand the legacy and traditions of a manufacture. When I came to Switzerland in 2000, I already owned an IWC. After that, during my twenty years with Bulgari, I exclusively wore their watches. I have been wearing the Tonda PF Micro Rotor since its launch. For me, it is a fundamental watch because it symbolises the rebirth of our brand. I feel very emotionally attached to it because when I look at the watch I think of the team, our work and, what we are creating together.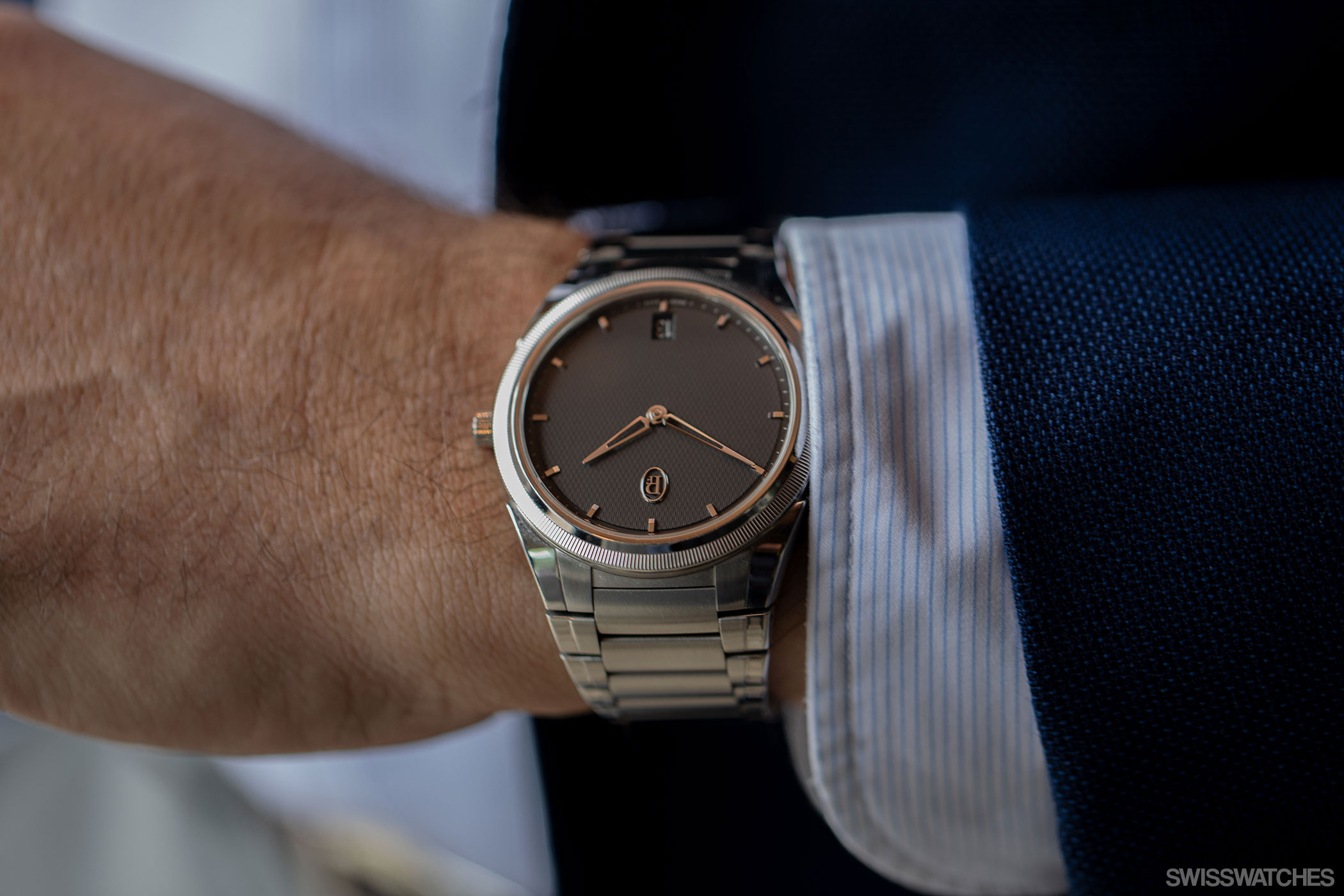 Parmigiani Fleurier Tonda PF Micro Rotor
2. At Watches and Wonders in Geneva, your novelties were incredibly well-received. How do you look back on those few days?
---
It was a wonderful time, which in retrospect seems almost surreal to me. We work hard to give our brand a distinctive identity, and when that pays off in recognition by the media, the industry, and, of course above all, the clients, then that is the greatest reward. It was certainly a risk to present the Tonda PF for the first time in September last year. Internally, it was discussed as a rather bold decision because the series is ultimately the evolution of a watch that was already quite well-received at the time – the Tonda GT. But I am convinced that the brand needed something that defined and reflected its identity in a particularly precise and sophisticated way. If we hadn't presented the watch back then, the fair would have proven completely different. In Germany, for example, it already built up a certain momentum at the end of last year, which is important because I appreciate clients in Germany for their high regard for craftsmanship and refinement. The series has also been well received in the USA, Singapore and Japan – and here, too, the culture surrounding watches is particularly strong.
In my opinion, Parmigiani Fleurier has therefore not been repositioned as a brand, but merely reactivated. We are now interpreting the style of Parmigiani Fleurier and the new Tonda PF collection for different functions. With the introduction of the Rattrapante GMT, we have achieved a true world premiere. In the history of watchmaking, no one ever imagined using the Rattrapante function beyond in a classic chronograph. Yet our solution is so intuitive and obvious! We simply refuse to accept that supposedly everything has already been invented. After all, this basic idea ultimately characterises the beauty of niche brands in general: we can dare to experiment, we can push the boundaries! That's what we're doing right now. To get a feel for our success: we have four times as many orders today as we sold watches last year.
3. Will you be able to meet the high demand?
---
That is the big challenge – and a problem specific to the luxury industry. We had to allocate our production capacities even before the fair and could only estimate how the demand for the certain collections would develop. The fact that the demand for the Micro Rotor is now four times greater than current production, and that the skeletonised version is three times more in demand – this is something our wildest expectations did not see coming. The biggest issue is with the movements. Last year we actually had more than enough of them, but now we will have to ask our customers for a little patience. Fortunately, Parmigiani Fleurier is a manufacture whose customers want it to succeed. It may take some time, but we will deliver. After all, we want to work with our partners and for their customers, and we use gentleness, courtesy, and respect to do so. After all, these are the values that go hand in hand with the basic idea of understatement, and that is exactly what we strive for.
4. You just spoke of the power of niche brands. What do Parmigiani Fleurier & Co. do differently – or what do the big brands lack?
---
Big brands don't lack anything, but they serve a different audience. This leads to them offering less overall, because most people are after the same things. It was no different in the car industry in the 1950s. Originally there were hundreds of brands, but people eventually just focused on a few. Now the car industry is much more competitive because innovation and the evolution of technologies are a key factor for success there, whereas in watchmaking people actually reject innovation in some respects. At the same time, haute horlogerie in Switzerland is now at its highest level ever. This is not about sales prices; watchmaking at the highest level has other values, and it is important that people understand this. To keep this spirit alive, it is important to stay true to ourselves. We must respect those who are waiting for our watches, but also those who have already bought them. Quality is everything in this context, from sales to communication. We don't sell a single watch because of an ad in a magazine or because a celebrity wears it. Rather, the business comes from a fusion of taste and quality.
Some brands are reworking their past to do this. For example, you currently see many re-editions from the 1970s, which some people find interesting. I don't. Fortunately, there are a lot of people like me who think that luxury should strive to evolve rather than copy the past. These are highly educated people who know exactly what they want and what sets them apart from the average customer. In the past, this was exactly the core of the luxury business. However, due to the increase in purchasing power and the growing number of buyers, it has become a longing to adapt and to show that one has achieved something in life by wearing a status symbol. That is ultimately understandable. At the same time, however, this development has created a kind of "anti-attitude". These are people who reject this kind of luxury and who don't want to sit at a table with five people who all wear the same watch.
This is exactly where young niche brands come into play. Their founders are still alive and offer something completely unique, like Max Büsser at MB&F. Or Laurent Ferrier, who works in a very classic way, yet has his very own style. Parmigiani Fleurier is somewhere between these independents and the big brands. We have the potential to become bigger – as is evident right now – but that is not the main goal. The main goal must always be to keep the fire that makes the brand interesting burning. That's why we make creations like the GMT Rattrapante. It is a statement. We simply refuse to believe that watchmakers have already done everything.
5. As Managing Director of a comparatively small brand, you have to plan and calculate particularly carefully. How does your work at Parmigiani Fleurier differ from your work for Bulgari?
---
My experience at Bulgari was actually completely different. It was a different brand, different clients and a different company history – I was with an Italian jeweller. Even after we set seven world records, Bulgari was still perceived primarily as such. It simply takes decades to build the foundation to reposition a watchmaker in a sustainable way.
Parmigiani Fleurier is the complete opposite, because the brand was founded by a living legend in the field of restoration. So we are already at the summit, so to speak. For me, restoration is the highest mechanical art form, and the skills required for it are unique. Michel Parmigiani is the man who embodies this art form today, and has done so for fifty years, including the time when everyone else was running towards quartz. You have to understand this cultural relevance; even UNESCO considers traditional watchmaking a cultural heritage of humanity.
Michel has preserved and maintained the purity of the craft since he was 25 years old, restoring hundreds of timepieces for the Patek Philippe Museum and also for the Sandoz Family Foundation. So, all my work revolves around this cultural knowledge and its importance. And we have to understand, restoration is always about the fact that the original creator of a watch and its original horological idea must always be visible. That shapes the DNA of our brand, because we will never be a brand for someone who wants to show off.
6. Is the joy of 'minimalist luxury' propagated by Parmigiani Fleurier a bigger trend, then?
---
In some respects, yes. I think there are three factors. First, the luxury business is getting bigger and bigger. If that happens, then there is a threat of arbitrariness, then luxury becomes mainstream. That's why there are people who are bored with the classic understanding of luxury, with the big logos and the ubiquitous brands. They are mostly very educated customers and it's not about materialism for them, it's rather a special way of looking at life and enjoying luxury. It's certainly a niche, but these people are all about that: appreciating brands that aren't known everywhere, and instead are convinced with competence. That puts us in a good position. Besides, the pandemic helped; people were at home and had more than enough time to look for something new.
Basically, I am convinced that we are facing an age of unbelievable creativity in watchmaking – comparable at most to the seventies. These customers will benefit from that. And last but not least, it's a question of style: if you interpret this longing not to be mainstream well, and have a soul that you truly bare, then it works. It doesn't necessarily have to be our style and soul – Laurent Ferrier or Urwerk, for example, are completely different from us, yet brands with soul and success -– but authenticity and recognisability are essential.
7. First you made Bulgari horologically great, now Parmigiani Fleurier. How do you personally approach the question of what a brand needs, what constitutes its soul and how the watches for its future should be?
---
Quite simply, I have done a lot of research and learned a lot about Parmigiani Fleurier. Of course, it is very fortunate that Michel, the founder, is still around. In a very condensed way, there are two defining Parmigiani Fleurier pillars for me. Firstly, there is an enormous and deeply rooted expertise in watchmaking, based on Michel's expertise in restoring old watches. Secondly, we are always humble and profess to be an understatement. These two thoughts shape everything we do, how we appear, and how we understand each other. We are never loud, nothing is "in your face". Everything you could wish for is there, but it is often not visible.
The guilloché on the dial of the Tonda PF GMT Rattrapante, for example – it is so small and fine that you can hardly see it, but the texture of the dial makes the owner of the watch happy. It makes you feel rich without being boastful. All these details are insanely intricate to produce, and extremely subtle in their aesthetics. But if you have a sense for the beauty of things, and for craftsmanship whose specialness often only becomes apparent at second glance, then Parmigiani Fleurier is probably attractive to you.
8. How would you describe your management style?
---
For me, a brand always develops from its product. The soul of a brand must then ultimately materialise in the act of the transaction. 35,000 euros for a single watch, for example, is a lot of money, and if a customer invests this in one of our timepieces, then we have to honour this with a lot of money and creativity. Creativity is a very special art form here.
In my time at Bulgari, which as you know used to work with Gerald Genta, I was able to look at the best of his designs in the archives, and he really tried out every conceivable direction. But that's not how you build a brand, which is why not all the designs were realised. So the talent was there, but if you just let the talent do what it wants, it's not necessarily the best thing for the brand. My role is to guide Parmigiani Fleurier in a certain direction and to give it a consistent identity. To do that, I bring my personal sensibility, because I also decide on the design and the style. I ask my team: Who are we? Who do we want to serve? What are our aesthetic codes? In my job, the ingredients that already exist become the main actors, so to speak. Like when we decided to make our seal our brand logo. It just made it clear that our watches are very personal objects. That's why we now have this beautiful logo, which was originally only intended as a poincon de maitre, a mark that is actually only supposed to prove the origin of the product. Normally, you don't put much effort into it, but Michel Parmigiani just made it so unique.
Ingredients like these create an identity. I have to take the lead and be responsible for the mix, and my great luck in all this is that we produce everything in-house. It wouldn't have been possible otherwise, and it was also one of the main reasons that I switched to Parmigiani Fleurier.
9. You seem to be planning Parmigiani Fleurier to be timeless – you have so far persistently ignored certain trends like green dials. Why is that?
---
You can only build a brand by giving it its own identity. The colours we use are no coincidence. Just yesterday I had a discussion with people from one of our stores. A customer had asked for a unique piece and sent us the 'Pantone' colour sample of a certain Rolex. I decided that we would never do anything like that. In the end, it's like using the light blue of Tiffany & Co. Why on earth would you use Tiffany blue for another brand? I understand, of course, if Patek Philippe and Tiffany & Co. have a shared history, but why on earth would we, for example, have such a shade on a Parmigiani Fleurier? Over my dead body! You have to respect your brand.
10. So how do you choose colours?
---
Discretion, refinement, never loud – these are our values. But what does that mean for our choice of colours? Le Corbusier, one of Switzerland's most important architects, designed a palette of colours in 1931 that represent all of this. He was a source of inspiration. So we have this palette as a stylistic guideline, but beyond that, we always have to look at what effect the colours have in common. When I look at the colours of all our dials together, both the current ones and the ones to come, they all have the same soul. For example, the Milano blue of our GMT Rattrapante: it is not a normal blue, it also has a grey tone that makes it elegant and sophisticated. Or our grey dial; we worked on this shade for three months! These colour nuances are all very important to me because they show how to create something that is both important and existing.
11. Now, in this industry, you are usually preached that it takes years to develop a range of models. But the Tonda PF collection was presented in Fleurier only a few months after you started.
Yes, I talked about that with my development manager the other day. He said that I had practically dictated my wishes to the team right at the beginning. And that's true: I had discovered the markers in an older collection, and for the minute display I had been inspired by a macro shot of a trompe l'oeil drawing. On the other hand, I had of course already studied the brand intensively in the months before, during the recruiting phase for the CEO job. So you could also say that I took over Parmigiani Fleurier on my 80th day with the company. After that, design and product development did a very good job and after only three weeks we had a first draft. This also shows the power of the basic idea: if you go round in circles forever, constantly discarding designs and starting again, then it is perhaps better to question the idea as such than the design.
My experience is: the simpler and more plausible the ideas are, the stronger and more sustainable they usually are. A truly ground-breaking model is probably only created every ten years, and I hope that with the Tonda PF we have created such a watch. But I also have to say that I haven't actually invented anything new. The importance of different 'ingredients' such as the comfort of the bracelet, or the guilloché on the dials – all of this existed before, it was just a bit lost. I just had to bring it out, remix it and modernise it a bit. Without the team, all this would have been impossible.
12. In what direction do you think the watch industry is moving?
---
The beautiful thing about our world is its size and its diversity. There is room for pretty much everyone in the watch business, and the style can be very different. Some may be loud, others a little more refined. There are all kinds of approaches. I myself hope – and this is definitely linked to the experiences through Covid-19 and the current times – that humanity as a whole will seek more depth in life. When I look at my 17-year-old daughter and her generation, for example, they are committed to extremely noble values. If this basic attitude exists, and this generation does not allow these pure values to be corrupted by sometimes-demanding everyday life, then the world of the future will be a much deeper one. Superficiality in the sense of displaying social status by flaunting wealth should then disappear, and a purely quantitative view of life will no longer be desirable. I think Parmigiani Fleurier fits very well into this world of thought and its values, where people have a more discreet, minimalist way of thinking.
---
---