At SIHH watch fair 2018 Montblanc has introduced a whole new range of exciting watches from their 1858 collection celebrating 160 years of the Minerva Manufacture – and dedicated them to the Mountain Explorations from the 1920s and 1930s. Last year Montblanc's 1858 collection was reissued. This year these watches are re-launched with a little upgrade. More interesting to talk about are the new 1858 Geosphere, the 1858 Monopusher Chronograph Limited Edition 100 and the 1858 Pocket Watch Limited Edition 100 within this collection.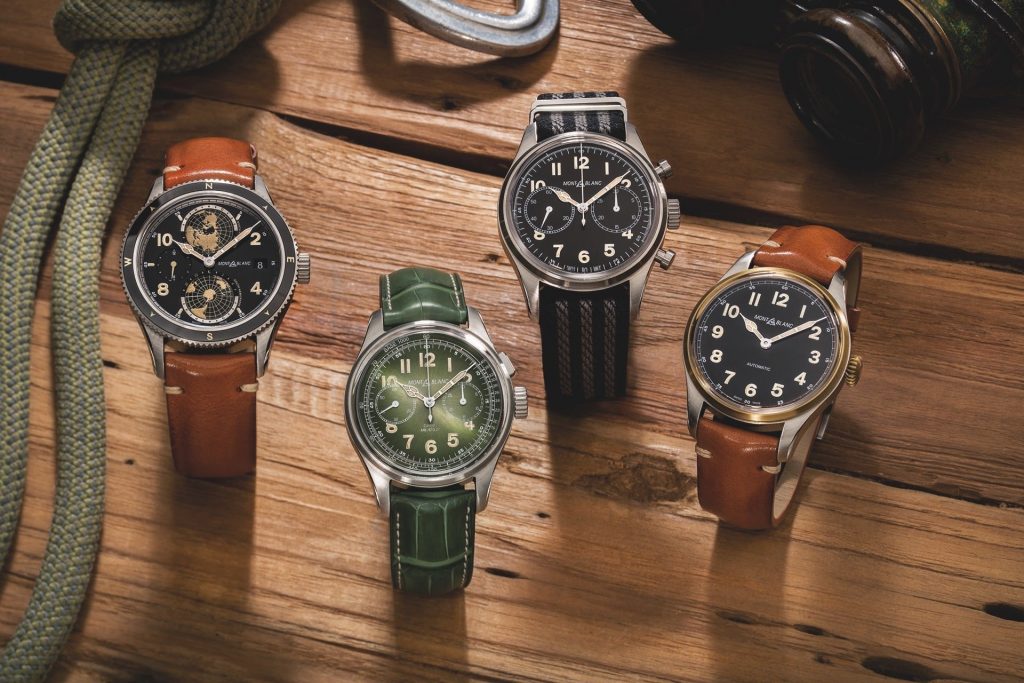 The novelties of the Montblanc 1858 collection
Since Montblanc acquired Minerva in 2007, the watch collections have been strongly inspired by the heritage of the Manufacture's long history. And 2018 is a very important year as Minerva was founded 160 years ago in Villeret. A good reason for Montblanc to take another journey to the roots of Minerva and revive some exciting watches from past times.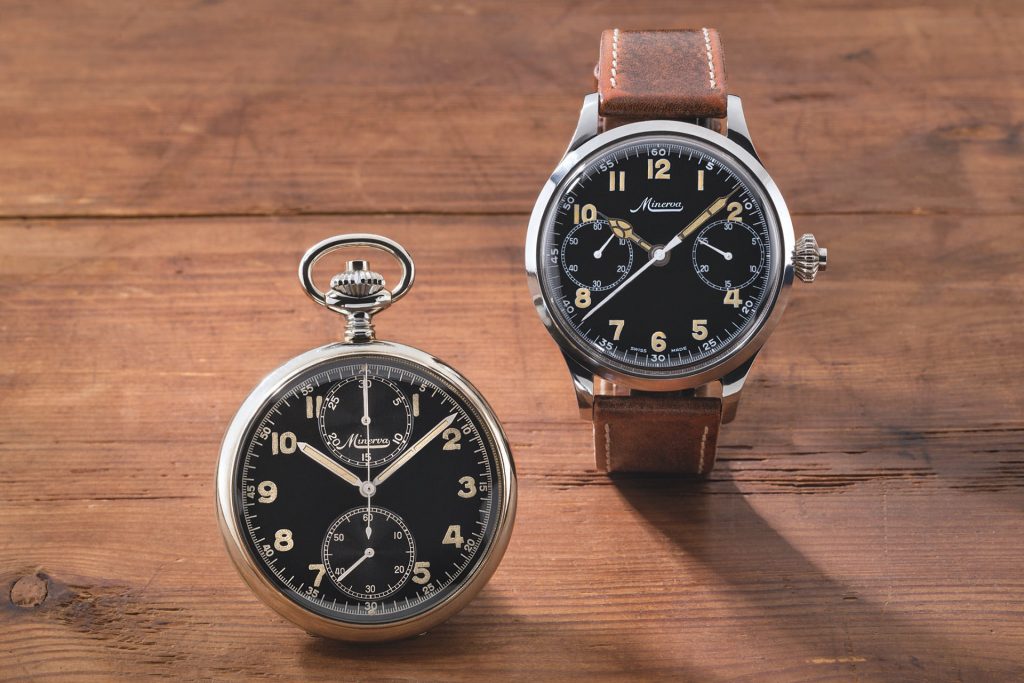 The historical timepieces of Minerva
For us, a highlight is certainly the new 1858 Geosphere, which features a brand new manufacture worldtime complication calibre (MB29.25). In our point of view it is a very successful symbiosis between a rough vintage look and a modern design. Watch enthusiasts know and appreciate Minerva's accurate and reliable timepieces. In the early 20th century they produced a range of the best Chronograph stop watches, pilot watches and also Monopusher Chronographs ­– the latter we will come back to later.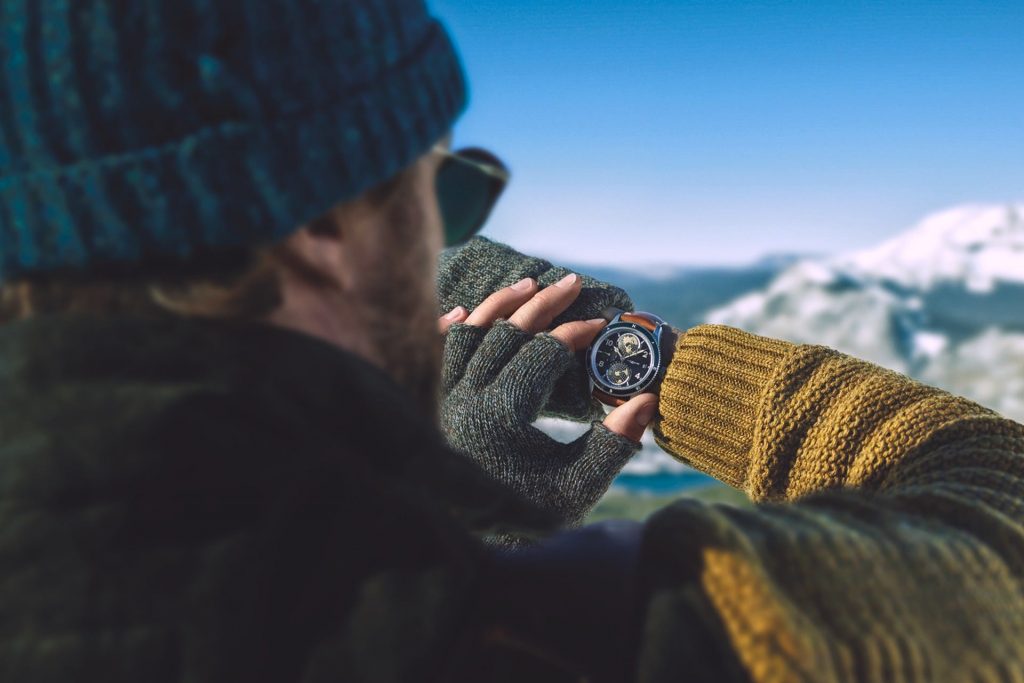 The highlight of the new collection – the Montblanc 1858 Geosphere
Firstly, we look at the 1858 Geosphere. This time, Montblanc dared a journey back to the time of mountain explorations from the early 1920th. The Geosphere is dedicated to the Seven Summit mountaineering challenge – it's that crazy challenge where climbers set out to ascend the highest mountains from seven continents.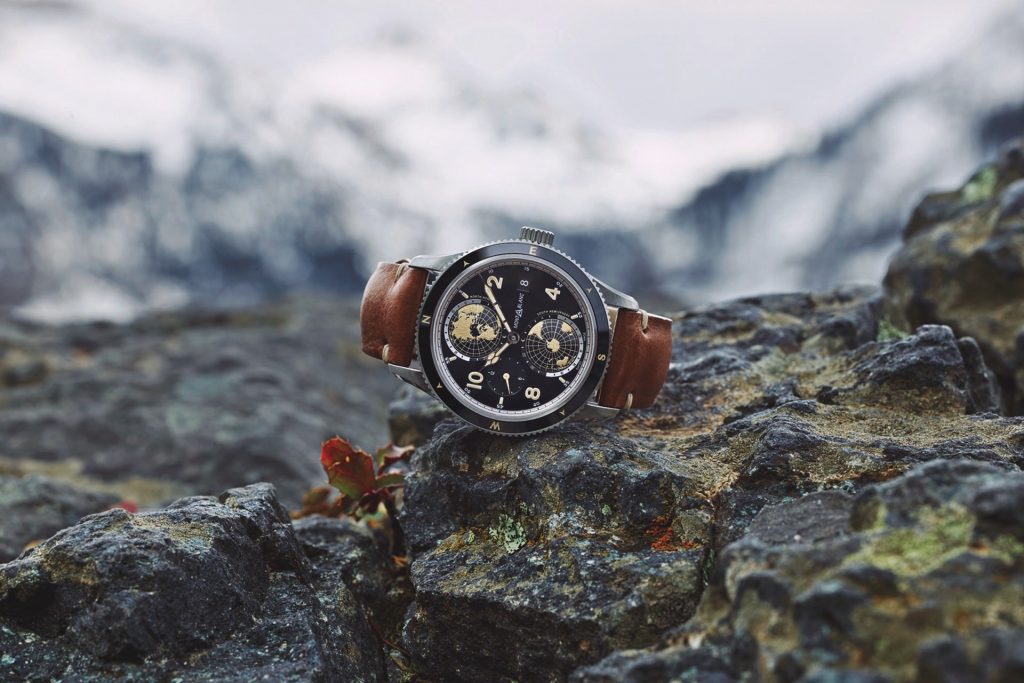 The Montblanc 1858 Geosphere is dedicated to the Seven Summit challenge
Of course, this watch does not have an altimeter, compass or other gimmicks, but besides some vintage design elements from the original watch it is equipped with a worldtime complication with two turning hemisphere globes, which modern adventurists are probably more likely to appreciate. They are surrounded by a scale with the 24 time zones and a day/night indication in contrasting colours. You'll also find a second time zone display at 9 o'clock. But the actual link to mountain exploration is hidden on the two small turning globes. Montblanc has marked the world's Seven Summits with tiny red dots. See if you can find them on our pictures! The 1858 Geosphere comes in two versions, with a steel case or a limited edition bronze case (1858 pieces).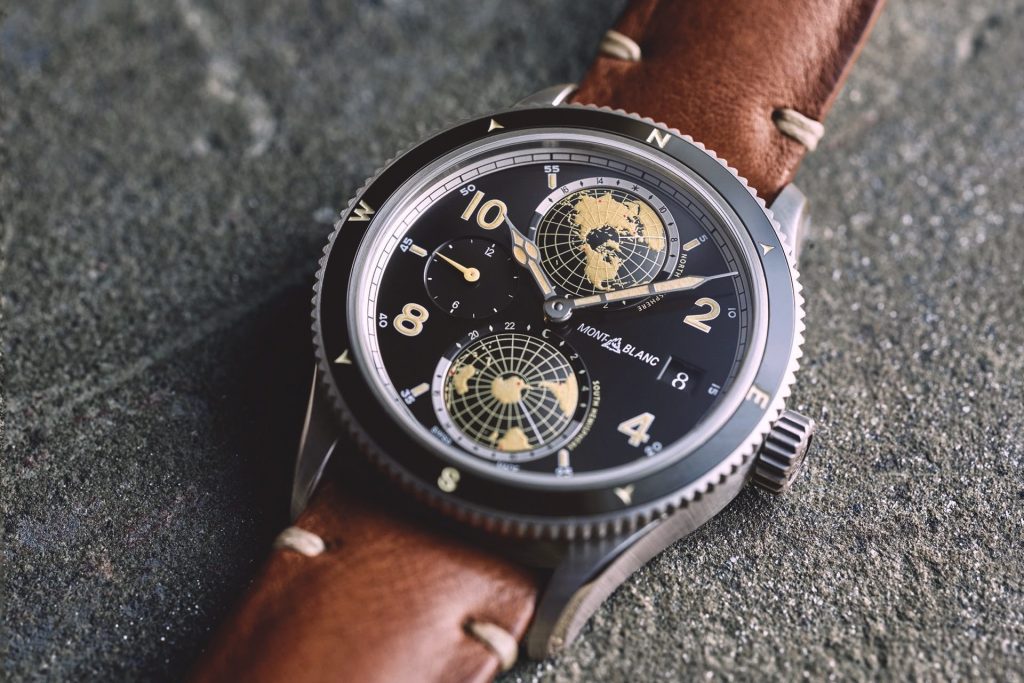 The world's Seven Summits are market with red dots on the two turning hemisphere globes
Another novelty brings us back to Minerva's early Monopusher Chronographs. They were developed in the early 1920th with only one push for the chronograph function. So the crown's function was also to start, stop and reset the chronograph. To enhance the vintage look, the new Montblanc 1858 Monopusher Chronograph Limited Edition 100 has an original smoked green dial with matching alligator strap. A very flashy colour for Montblanc's rather conservative colour range.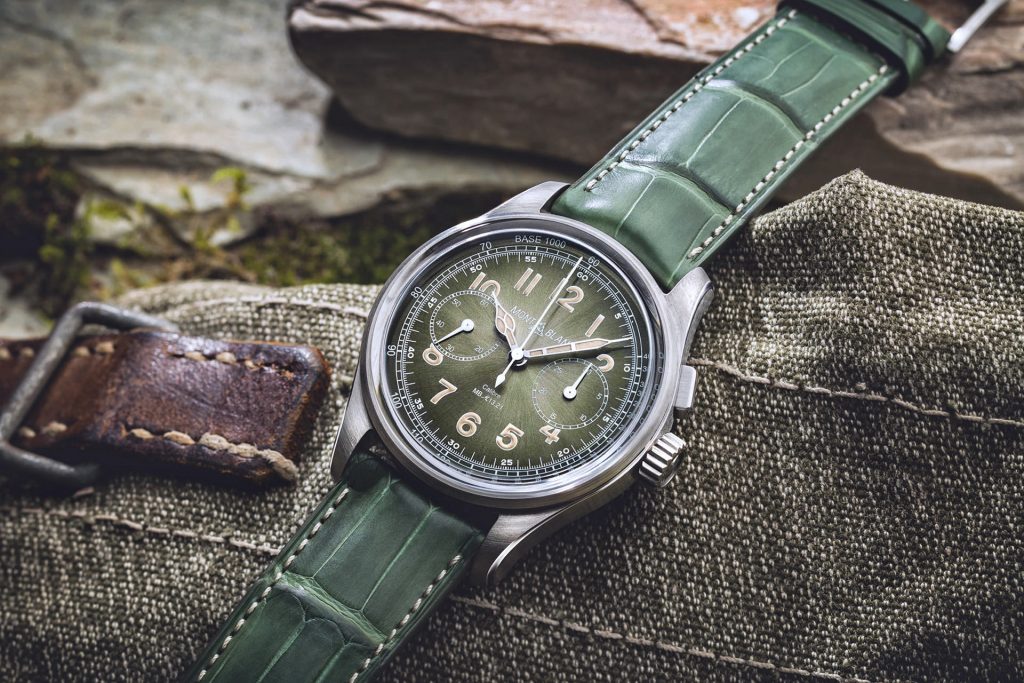 The Montblanc 1858 Monopusher Chronograph is limited to 100 pieces
For enthusiasts who like it even more nostalgically Montblanc also introduced a pocket watch. The Montblanc 1858 Pocket Watch Limited Edition 100 has an in-built compass and can be transformed into a wristwatch. You just need to attach a brown Sfumato aged calfskin strap with two pin buckles. The dial is crafted from Dumortierite stone, which is a natural mineral and creates a very distinctive blue shining.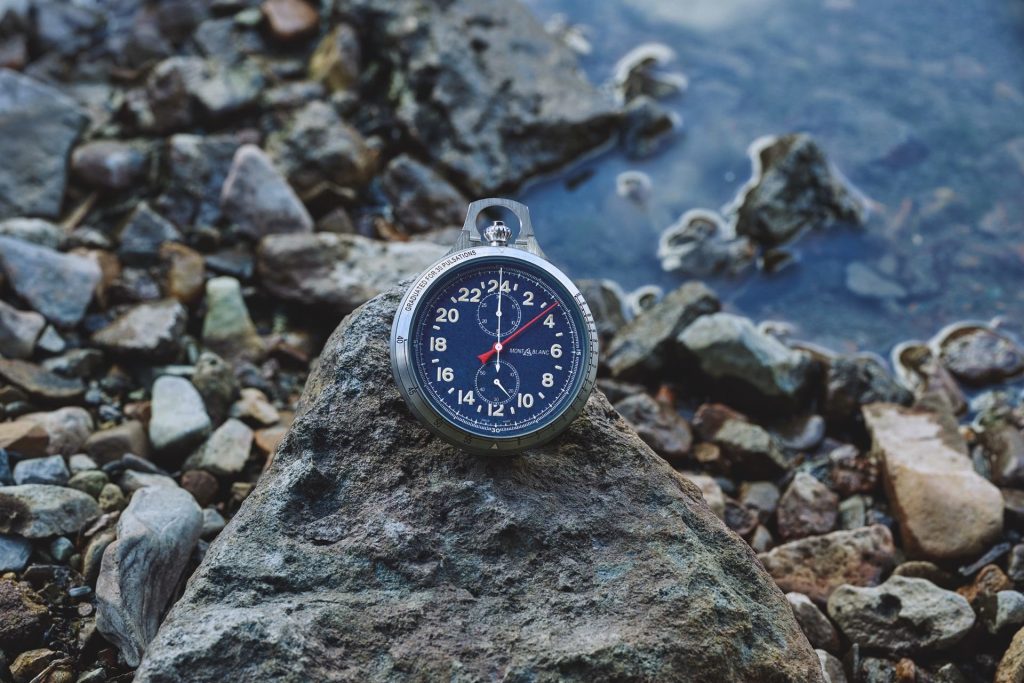 The Montblanc 1858 pocket watch is equipped with a compass
All the novelties come with a vintage aged calf leather strap, and/or a Sfumato aged calf leather Bund strap and/or a woven NATO strap, which are handcrafted in France at traditional weaving manufacture with a history of 150 years. All watches are also certified by the Montblanc Laboratory Test 500.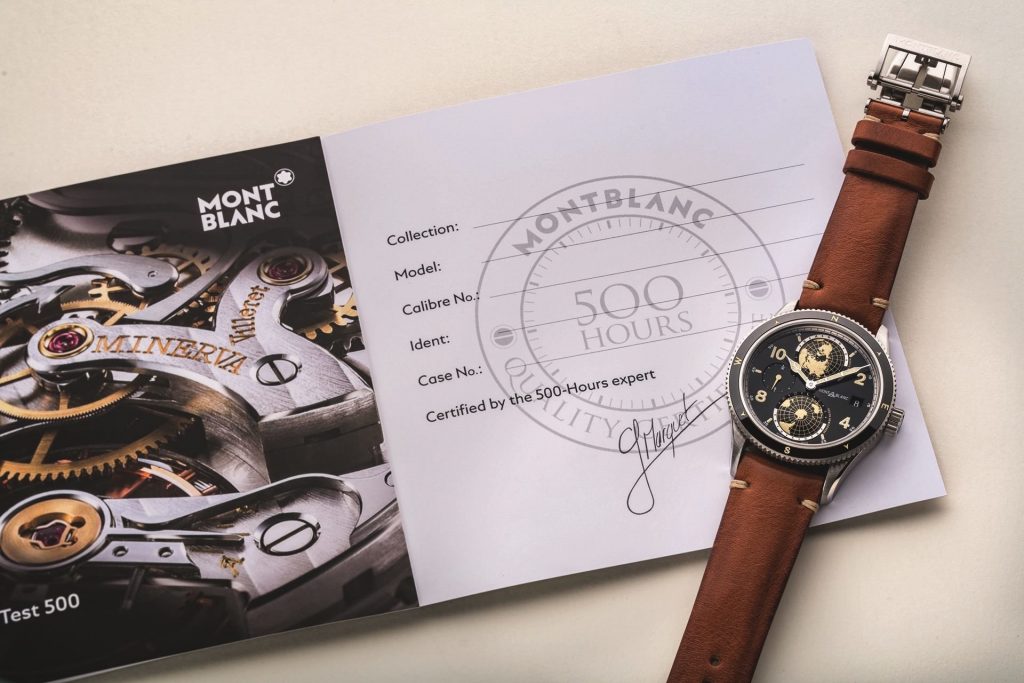 The Montblanc 1858 Geosphere
---
---