Patek Philippe watches are never cheap – but just how expensive can they get? We took a journey back through time to uncover the most expensive Patek Philippe wristwatches ever to sell at auction. Let's climb our way up the millions, and get to know some of the most exquisite timepieces that have helped make Patek history.
---
15. The "Calatravone"
Heading up towards the highest-selling watch, our list begins with this Calatrava Ref. 570. Manufactured in 1942, its appeal lies in its rarity as well as its very well-preserved 37 mm case. The Ref. 570, known as the "Calatravone" (Italian for large Calatrava), is also popular amongst collectors due to its large case (for the era), as well as its flat bezel and modern look.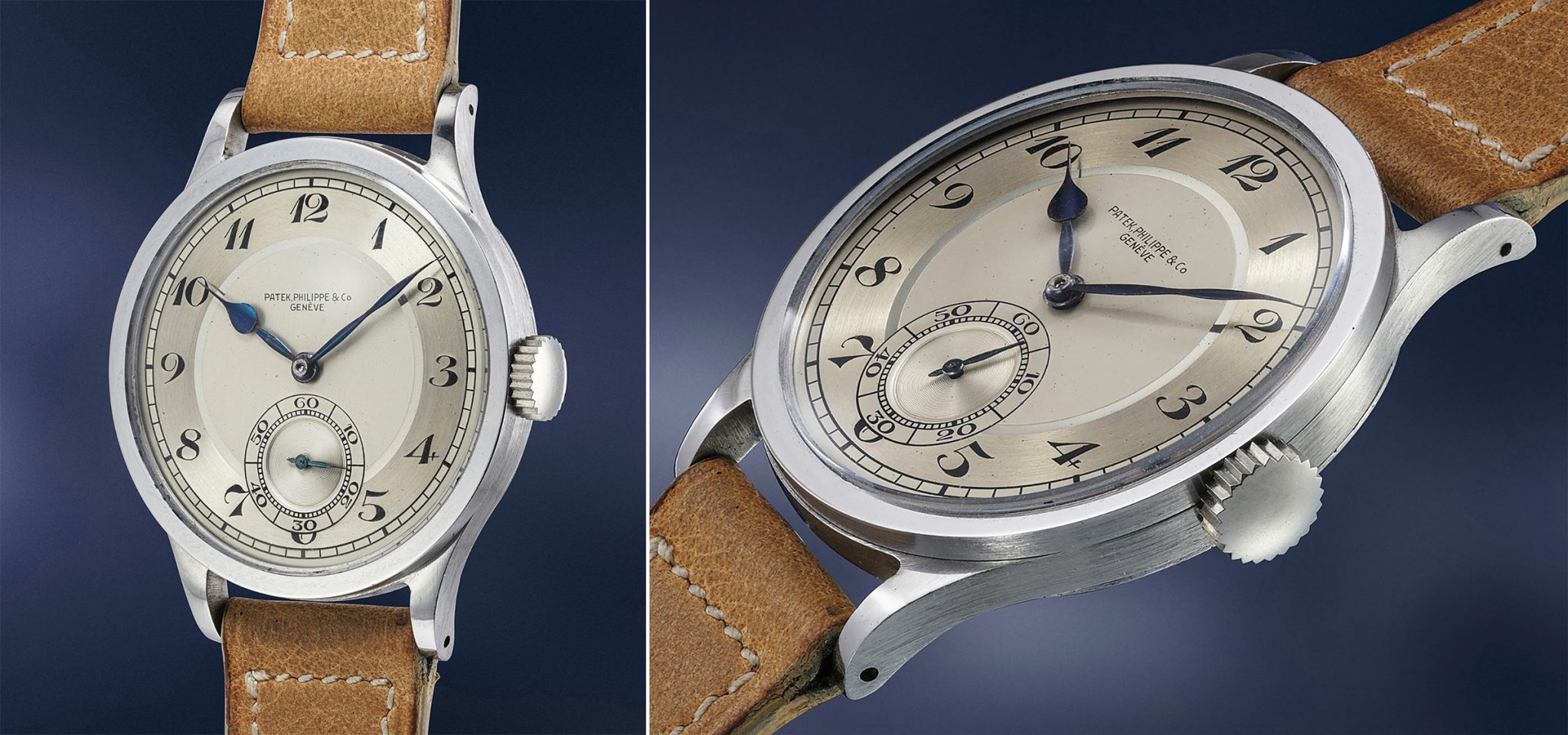 Patek Philippe Calatrava Ref. 570 – "Calatravone"
Credit: Phillips
The real allure of this watch, however, is that it is one of only two steel Ref. 570 models with an exquisite two-tone dial plus Breguet numerals and railway track to ever appear at auction. Furthermore, it truly is in excellent condition, despite being almost 80 years old. According to the archives, its dial has not been dabbled with over time and, as mentioned, the case has been very well preserved. The Ref. 570 was sold by Phillips for CHF 3.297 million at the 2021 Geneva Watch Auction. Its auction price broke the world record for this reference, not to mention for any stainless-steel wristwatch without complications.
---
14. Split-seconds chronograph from 1945
Continuing on the same track, this gentlemen's split-seconds chronograph from 1945 is one of only two known Ref. 1436 models to have a stainless-steel case. As with many of the vintage watches on this list, most other models tended to have a yellow-gold, or occasionally rose-gold case. While Patek did, in fact, make a small number of stainless-steel cases throughout the early 1940s, less than a handful were ever actually used.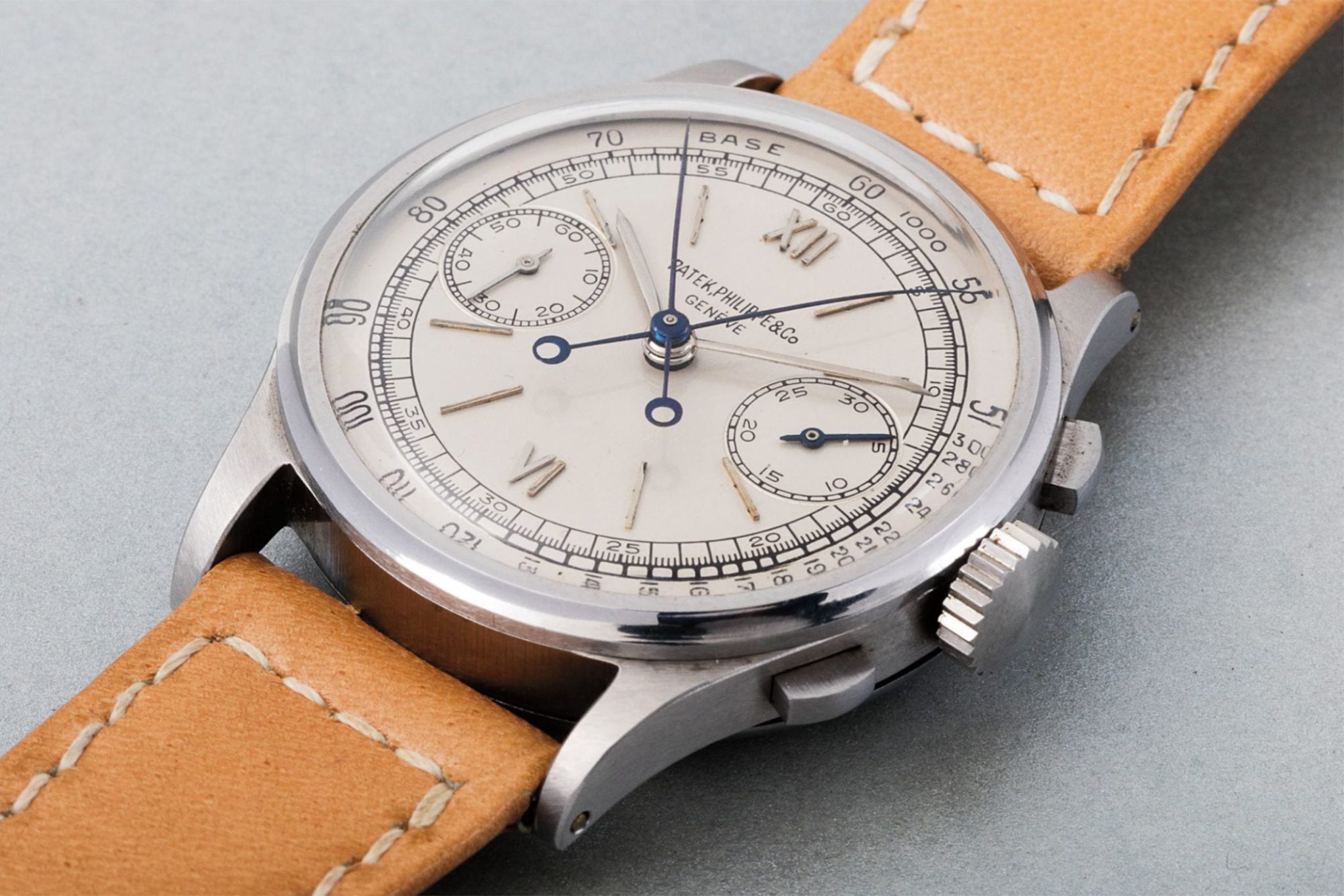 Patek Phillipe Ref. 1436 from 1945
Credit: Phillips
The Ref. 1436's silvered dial features raised steel hour markers, while the signature and scales (including the tachymeter scale) use raised black enamel. The Ref. 1436 was sold on November 7, 2015, for CHF 3.3 million by Phillips in Geneva. Moreover, it was only the second time that the watch had been offered up for sale since its original sale in 1949 – despite having three owners in this time.
---
13. Eric Clapton Ref. 2499/100
Manufactured in 1987, this platinum watch carries the Geneva Seal and integrates a chronograph and perpetual calendar. The first Ref. 2499 appeared in 1951, replacing the legendary Ref. 1518. It remained in production for 35 years – although only around 349 watches were produced in the entirety of its run. Of these watches, this watch (Ref. 2499/100) is the only Ref. 2499 in the world not to be housed in a yellow-gold or (albeit very rarely) pink-gold case. It is thought that the model was produced upon the wishes of Philippe Stern to celebrate the end of the Ref. 2499's run.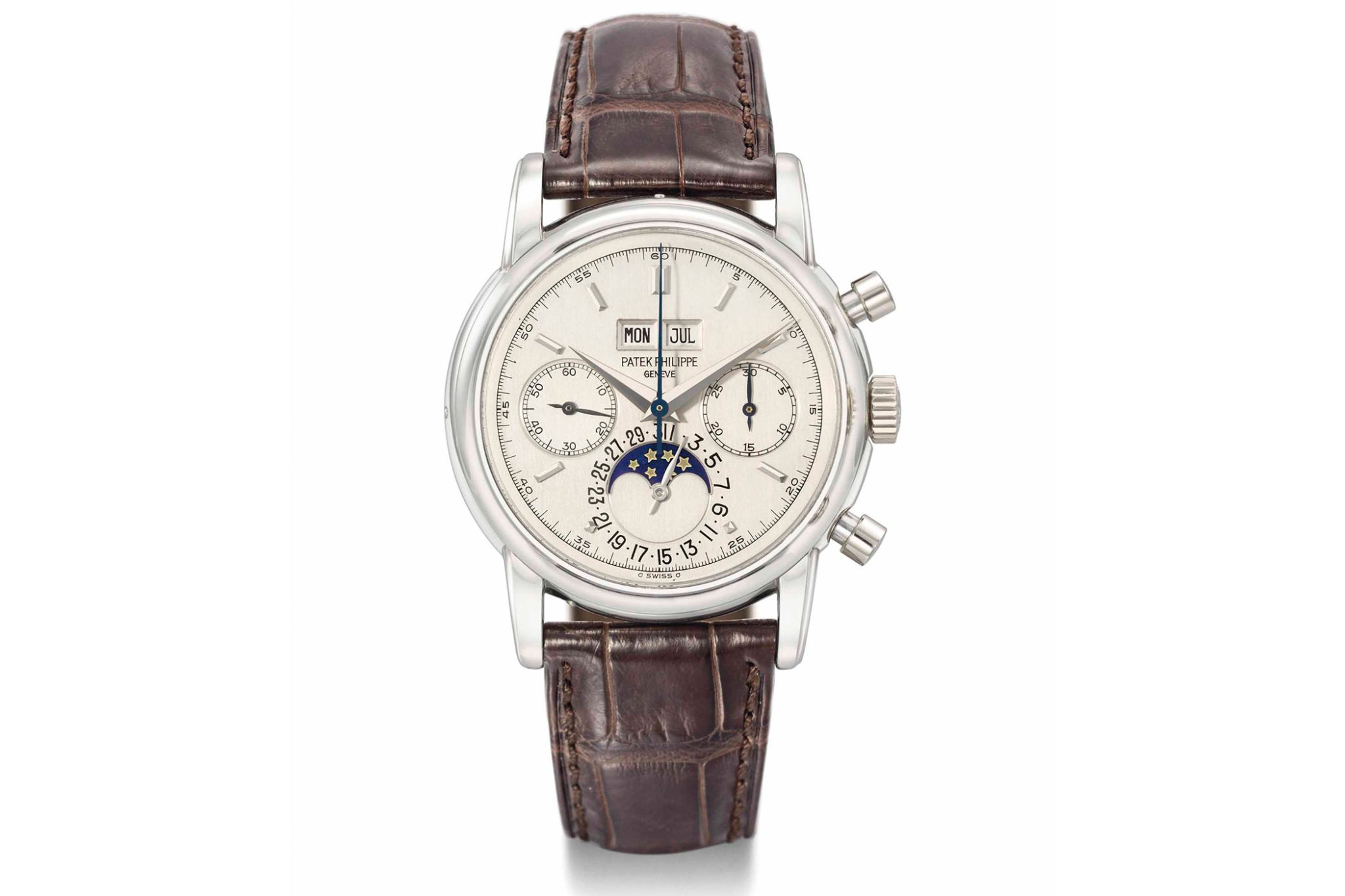 Patek Philippe Ref. 2499/100 "Eric Clapton"
Credit: CHRISTIE'S
Any Patek with a "white metal" case – aka steel and (to a lesser extent) platinum – is, of course, a rarity in itself and adds appeal for any collector. However, the watch has also passed through a number of prominent hands, with previous owners including English guitarist Eric Clapton. Notably, the musician sent the model for a full service shortly prior to putting it up for auction. It was auctioned on November 12, 2012, at Christie's for CHF 3.44 million.
---
12. Ref. 2499 in Yellow Gold
This 18-carat yellow gold piece from 1952, surfacing in pristine condition in 2020, astonished many upon its discovery. The first series reference was retailed by Serpico y Laino, which was founded in the late 1920s, and the company's name is stamped on the dial. Only two 2499 watches are known to feature the retailer on their dials. While no longer in existence, its name appears on several of the most important Patek and Rolex pieces from the last century. The 2499 is known for replacing the 1518, and the first series, with watches such as this, feature square chronograph buttons, applied Arabic numerals, and a tachymeter scale.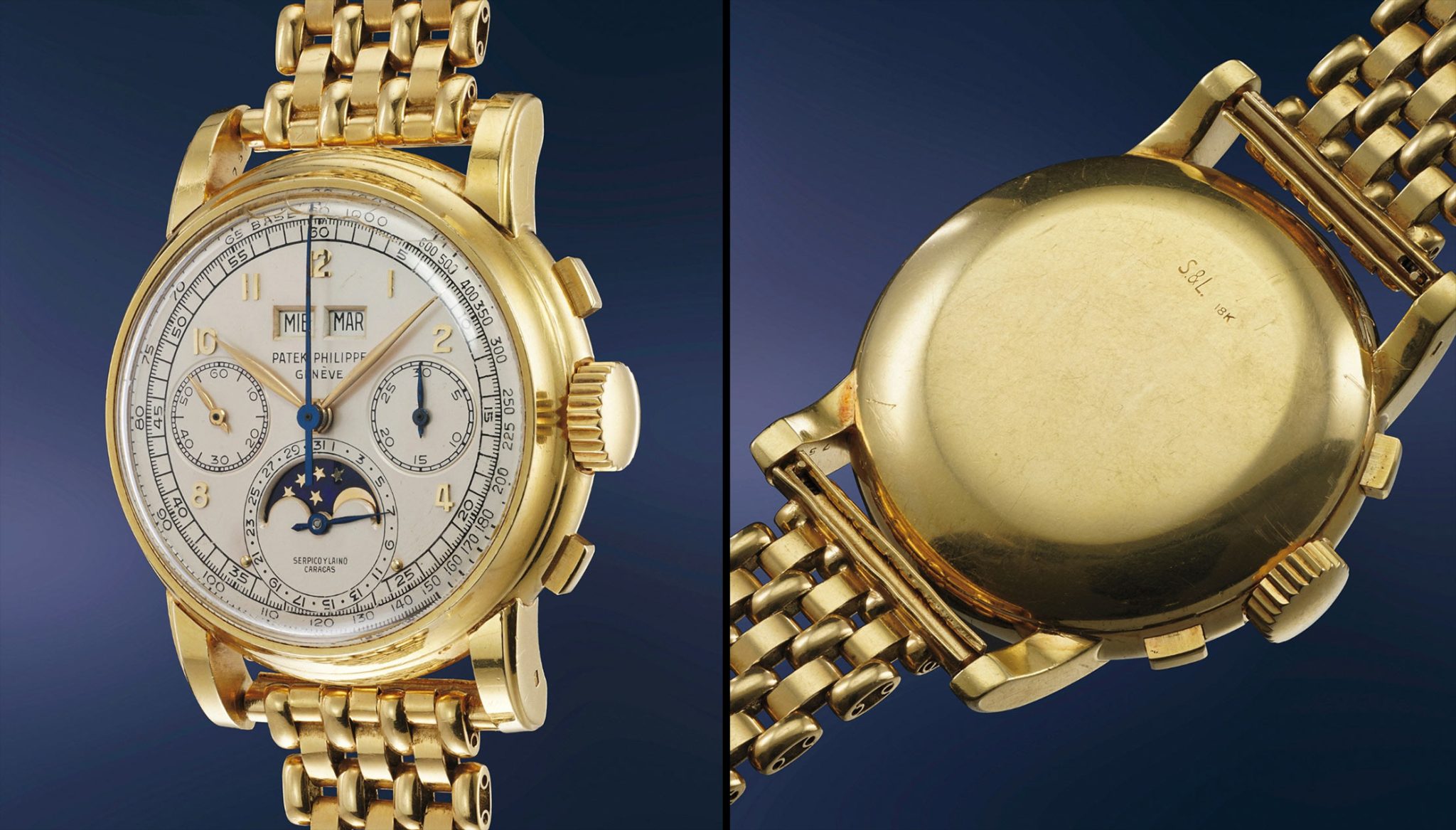 Patek Philippe Ref. 2499 Perpetual Calendar Chronograph in Yellow Gold
Credit: Phillips
The watch's yellow-gold bracelet is also notable, being produced and stamped by renowned Gay Frères. Its clasp is stamped with '1.57', marking the first quarter of 1957 (when it was first sold). The bracelet is thought to have been ordered by the client to match his wristwatch. The watch sold at Philipps for CHF 3.539 million in 2021.
---
11. "J.B. Champion" Ref. 2458
This intriguing men's wristwatch is from 1952. The historic Ref. 2458 model is one of Patek's larger vintage models, measuring 36 mm. The platinum model was only produced commercially in yellow gold, or (again, rarely) pink gold. This watch is the only known version to have a platinum case. The dial of the Ref. 2458 displays small seconds at 9 o'clock and the prestigious words "GENEVA OBSERVATORY BULLETIN No. 861121" at 3 o'clock. Additionally, the dial is decorated with beady minute divisions around the periphery.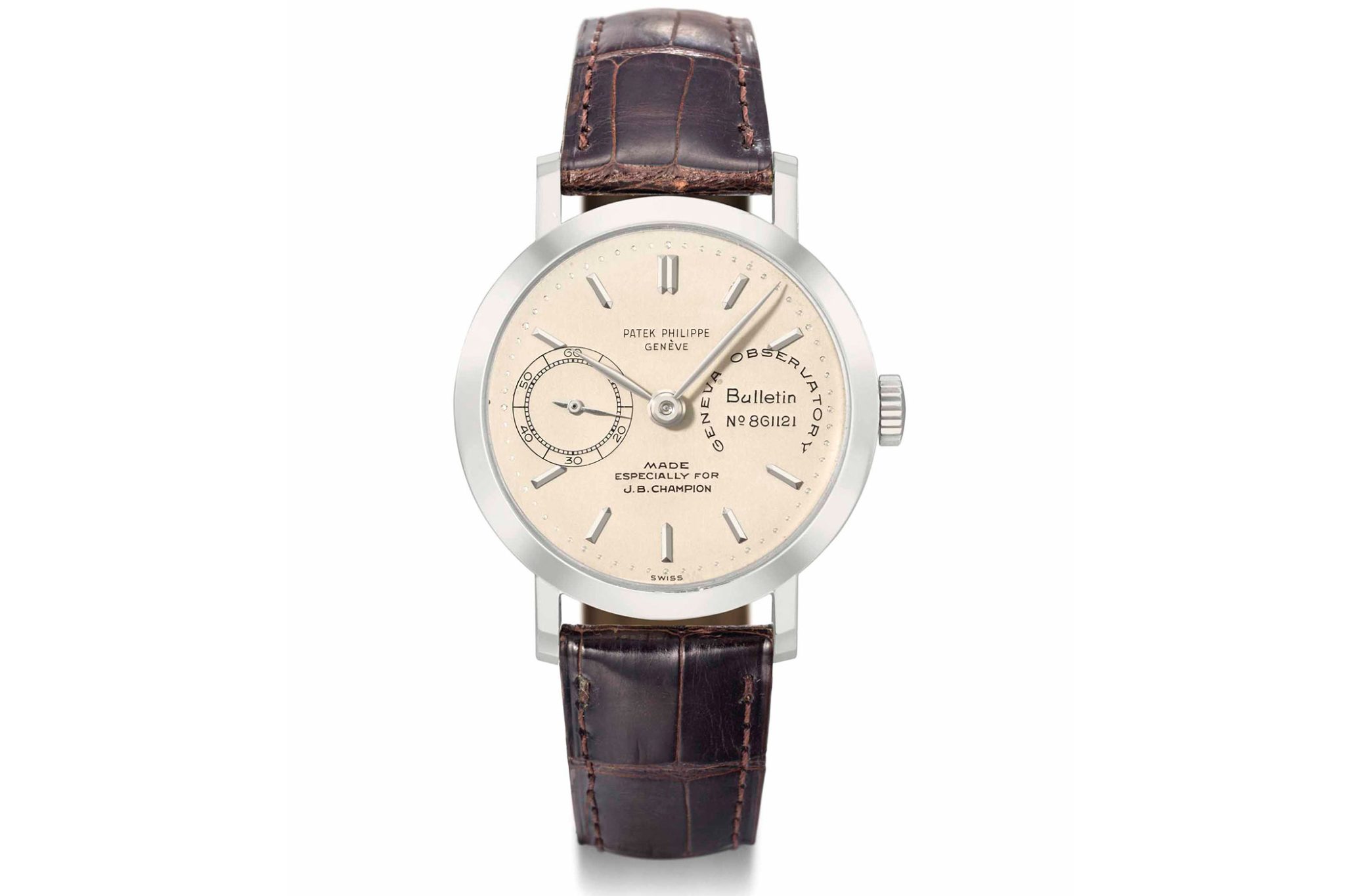 Patek Philippe Ref. 2458 "J. B. Champion"
Credit: CHRISTIE'S
The real story of this watch is apparent thanks to the printed sentence at 6 o'clock, which reads "MADE ESPECIALLY FOR J.B CHAMPION". The lawyer J.B. (Joe Ben) Champion was an avid Patek and Vacheron Constantin collector, although he was eventually convicted of fraud shortly before his death. Nevertheless, he remains known as Patek's most privileged client of the post-war years. In fact, he even received the very first self-winding Patek Philippe wristwatch in 1953 (the Ref. 2526). This platinum Ref. 2458 came with an additional diamond-set dial and platinum bracelet at the request of J.B. Champion, and sold in 2012 at Christie's for CHF 3.78 million.
---
10. "Asprey" Ref. 2499
This Ref. 2499 is housed in a yellow-gold case and integrates a chronograph and perpetual calendar. The Ref. 2499 is a highly coveted model amongst collectors, and this one, dating back to 1952, is part of the first series. However, this particular version is even more special given that it is likely the only Ref. 2499 with a dial signed by London retailer Asprey. Its silvered dial displays the time with gold numerals, while other details such as the tachymeter scale, small seconds, and subdials are black.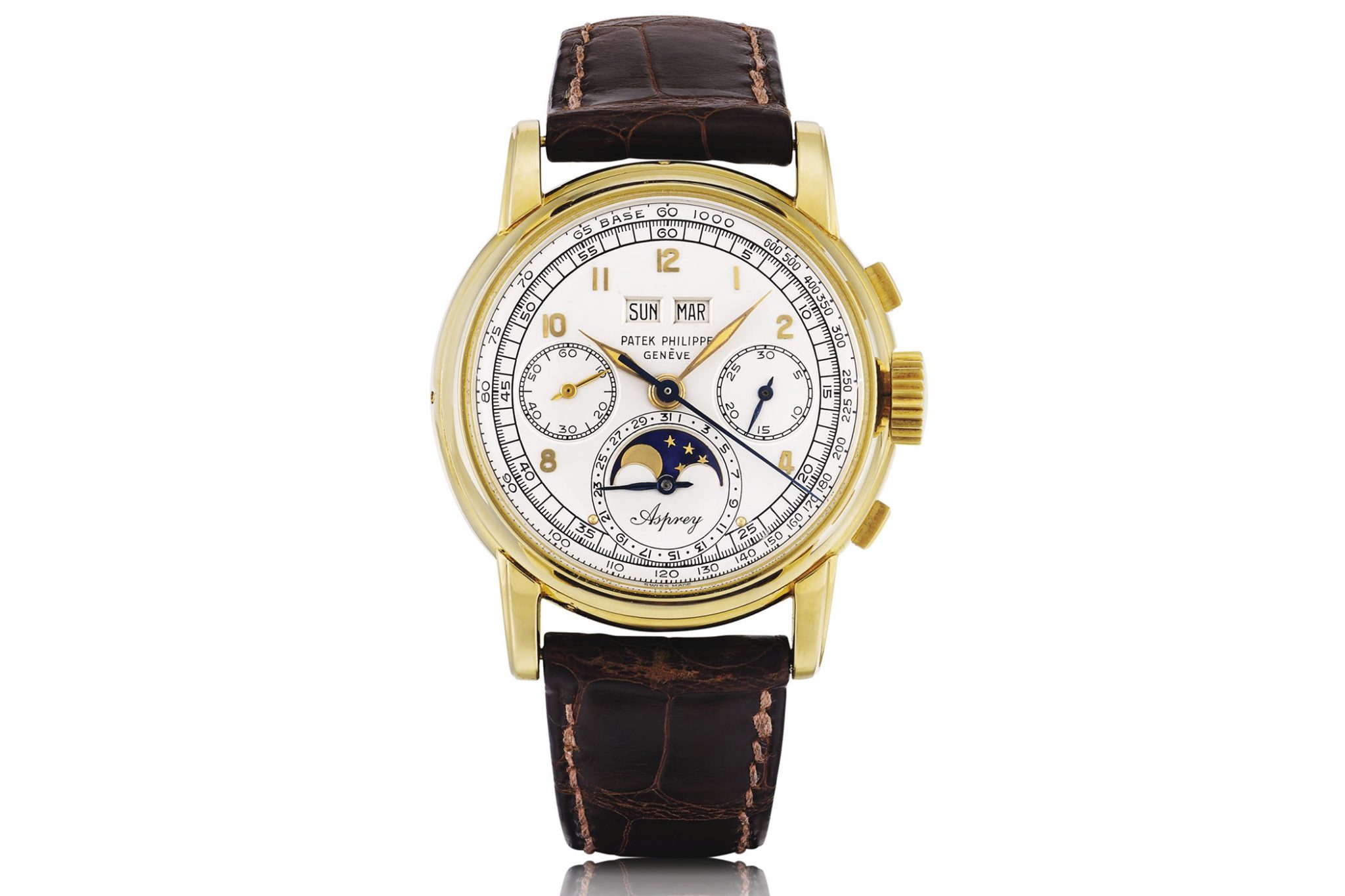 Patek Philippe Ref. 2499 "Asprey"
Credit: Sotheby's
A further interesting feature is the snap-on caseback, which not only features Asprey and Patek's hallmarks, but also reads "RC 25th May 1956". This refers to its first owner's initials, as well as the date of the watch's purchase. The rare Ref. 2499 was sold on November 13, 2018, by Sotheby's Geneva, for CHF 3.915 million.
---
9. Ref. 1526
Next up in the list of the most expensive Patek Philippe wristwatches of all time is this incredibly rare 34 mm circular steel wristwatch from 1949. Interestingly, it was once the property of Briggs Swift Cunningham II, an American entrepreneur and avid automobile and yacht racer. A key impressive asset at the time was the Cal. 12"'120's amagnetic compensation balance. Furthermore, the calibre's functions include a perpetual calendar and moonphase.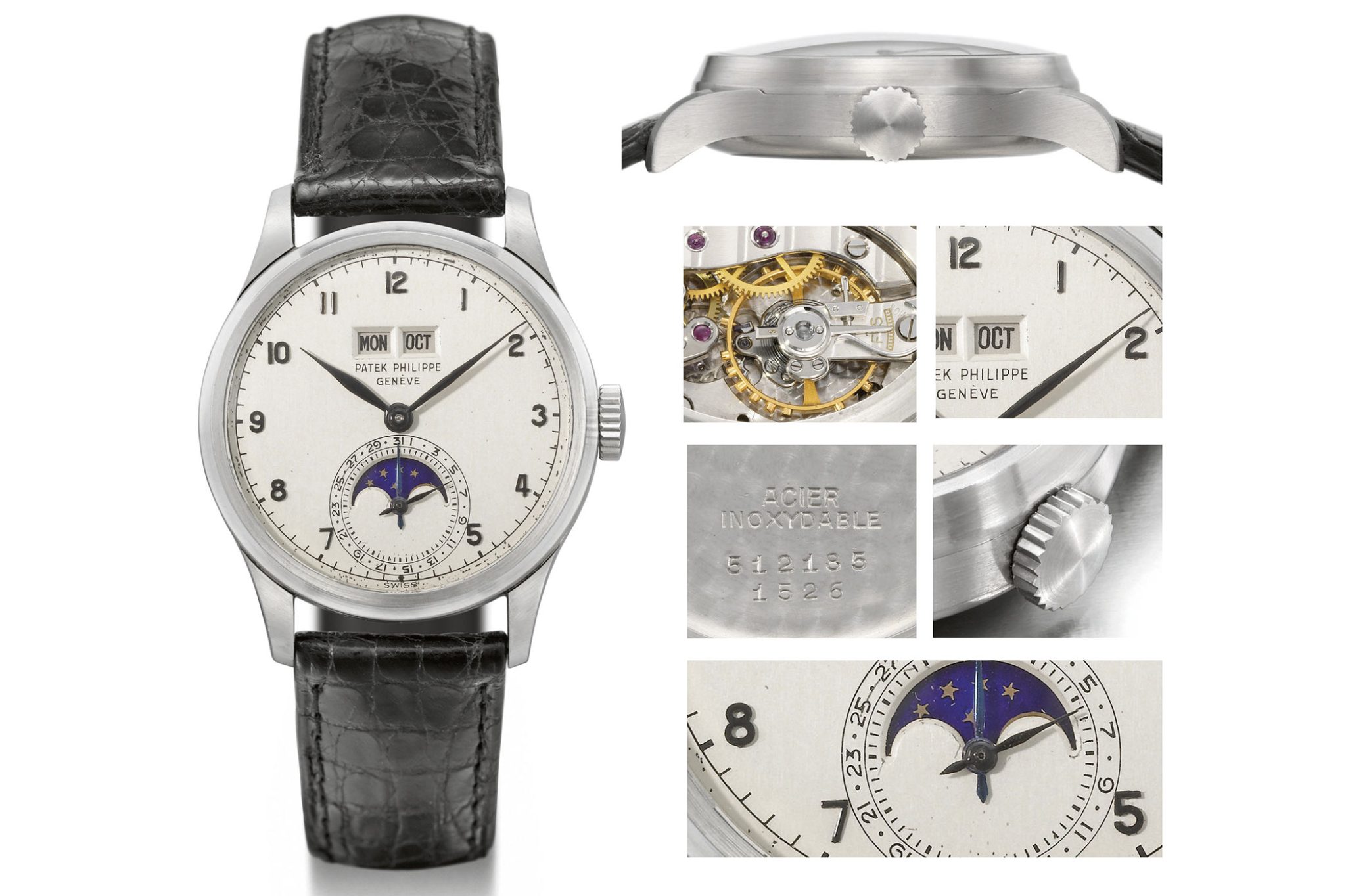 Patek Philippe Ref. 1526 Perpetual Calendar
Credit: CHRISTIE'S
In terms of design, the watch showcases a silvered matte dial with applied black-painted, white-gold Arabic numerals and matching feuille hands. Additionally, the dial displays two windows for the day and month. Finally, a subsidiary dial indicates the date, small seconds, and moonphase. The complicated timepiece sold on 12 May, 2008, at Christie's, for CHF 4.14 million.
---
8*. Nautilus Ref. 5711/1A-018
In a year already filled with 7511 hype with the appearance of the new olive-green Nautilus model, Patek excited its followers further with the one and only Ref. 7511/1A-018. Featuring an unmistakable Tiffany blue dial, the watchmaker and jeweller created the watch to celebrate 170 years of working together. The luxury sports model features an open caseback and an in-house automatic movement with central seconds, the calibre 26-330 S C, which is to be discontinued in 2022.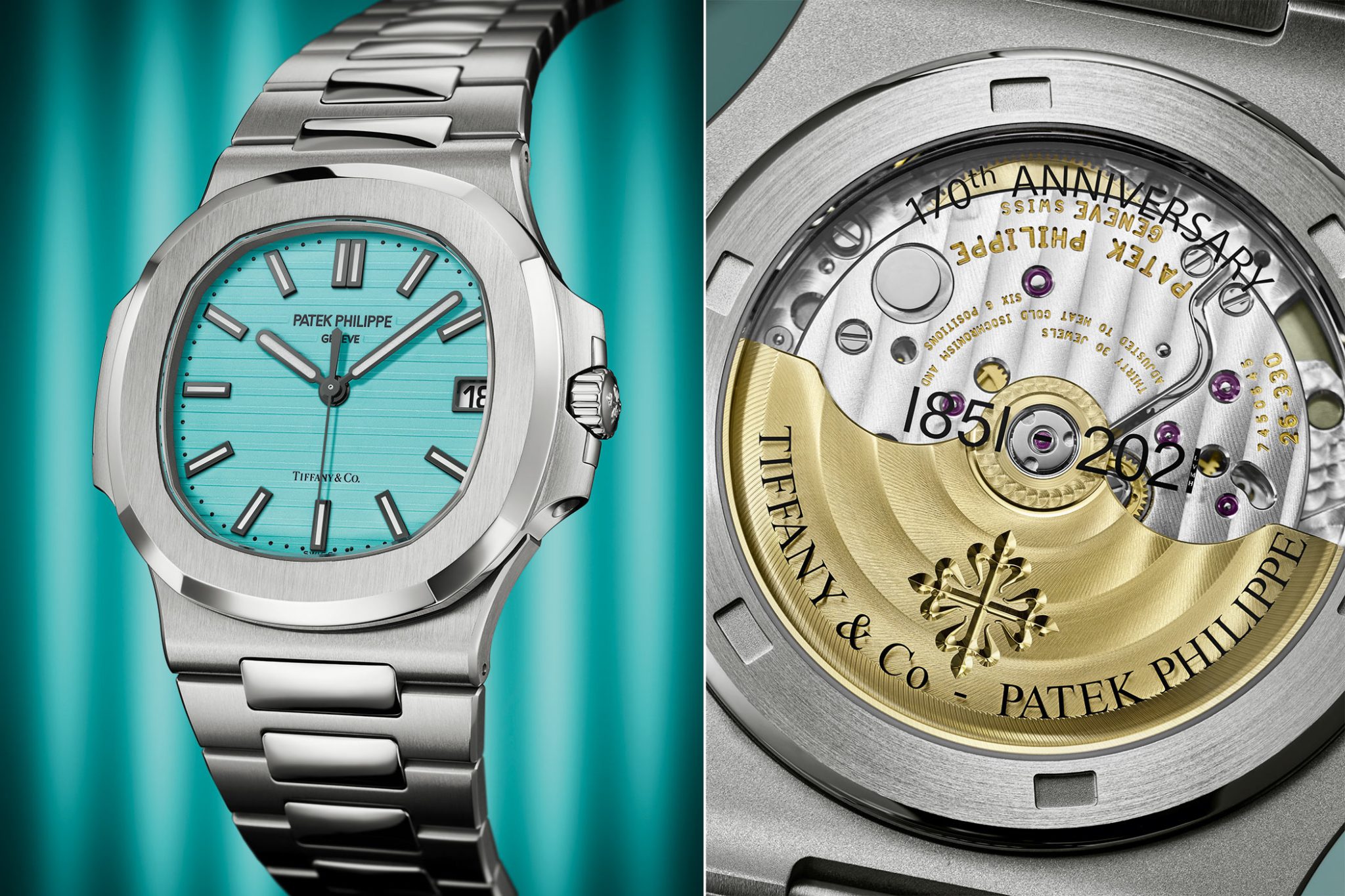 Patek Philippe Nautilus 5711/1A-018 "Tiffany & Co." Limited Edition
Credit: Phillips
The unmistakable blue colour of the dial has a registered colour trademark by the jeweller. Stamped with the 'Tiffany & Co.' and Patek Philippe signatures, the watch's baton hour markers and hands are in blackened 18-carat white gold. All proceeds of the watch went to The Nature Conservancy, which works to conserve the land and waters across the planet, as well as focusing on tackling climate change. It was sold by Phillips in December, 2021, for about CHF 5.986 million (USD 6,503,500).
---
7. Ref. 1527
A relation of the above model, this watch from 1943 integrates not only a perpetual calendar and moonphase, but also a chronograph function. Furthermore, it is the only one of its kind existing in the world. The Ref. 1527 comes in an 37.6 mm 18-carat yellow gold tonneau-shaped case. A silvered matte dial indicates the time with applied gold Arabic numerals and outer railway five-minute divisions.
Furthermore, the chronograph function means it also features a tachymetre scale, three subsidiary dials for constant seconds, and a 30-minute register. Additionally, the date lies around the moonphase indicator at 6 o'clock. The case, dial, and movement are all signed "Patek Philippe". The one-of-a-kind watch sold in 2010 at Christie's for CHF 6.26 million.
---
6. Ref. 1415 "Heures Universelles"
This 31 mm platinum model, Ref. 1415 HU (Heures Universelles) from 1946 indicates no less than 41 cities, countries and regions of the world. The "World Time" system was invented in around 1931 by Louis Cottier, before being swiftly adopted by watchmaking giants such as Patek, Rolex, and Vacheron Constantin. The Ref. 1415 HU has a three-part case with polished and brushed finishings, as well as a hand-engraved revolving reeded bezel bearing the names of cities.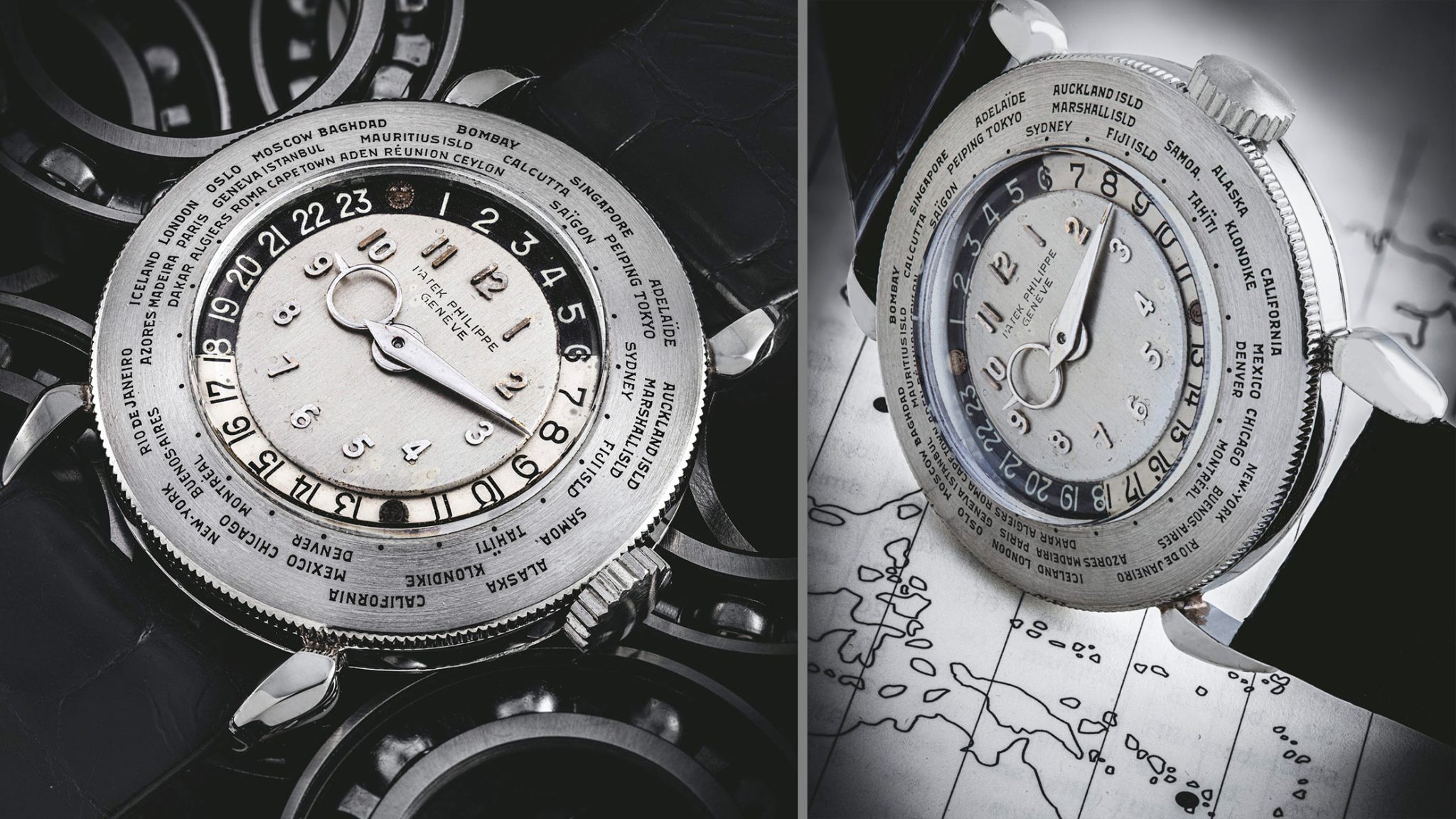 Patek Philippe Ref. 1415 "Heures Universelles"
Auction: Antiquorum – Photo Credit: CHRISTIE'S
The revolving concentric dial is matte silver and indicates the time with applied white-gold Arabic numerals. The dial displays 24 hours, for the nocturnal and diurnal (daytime) hours. Powering it is the M. Cal. 12"'-400 HU, which is rhodium-plated and features (behind a solid caseback) "fausses côtes" decoration plus 18 jewels. Back on the exterior, distinctive teardrop faceted lugs attach to the black leather strap. It sold back in 2002 at Hotel Richemond (Antiquorum), Geneva, for CHF 6.6 million.
---
5. "Silk Road" Ref. 2523
The fourth highest auctioned Patek piece is the "Silk Road" Ref. 2523, by famous watchmaker Louis Cottier, whose initials are engraved on the enamel disc. The two-crown World Time model with a rare cloisonné enamel dial marks the highest ever price for a yellow-gold wristwatch sold at auction. Measuring 36 mm, the recently discovered watch from 1953 features a dial representing Eurasia. The world time complication features two rings: a fixed – yet adjustable – one with the 24 time zones, plus a second 24-hour ring that revolves anti-clockwise. This allows for the correct time for each city to be read on the respective adjacent segment of the 24-hour ring.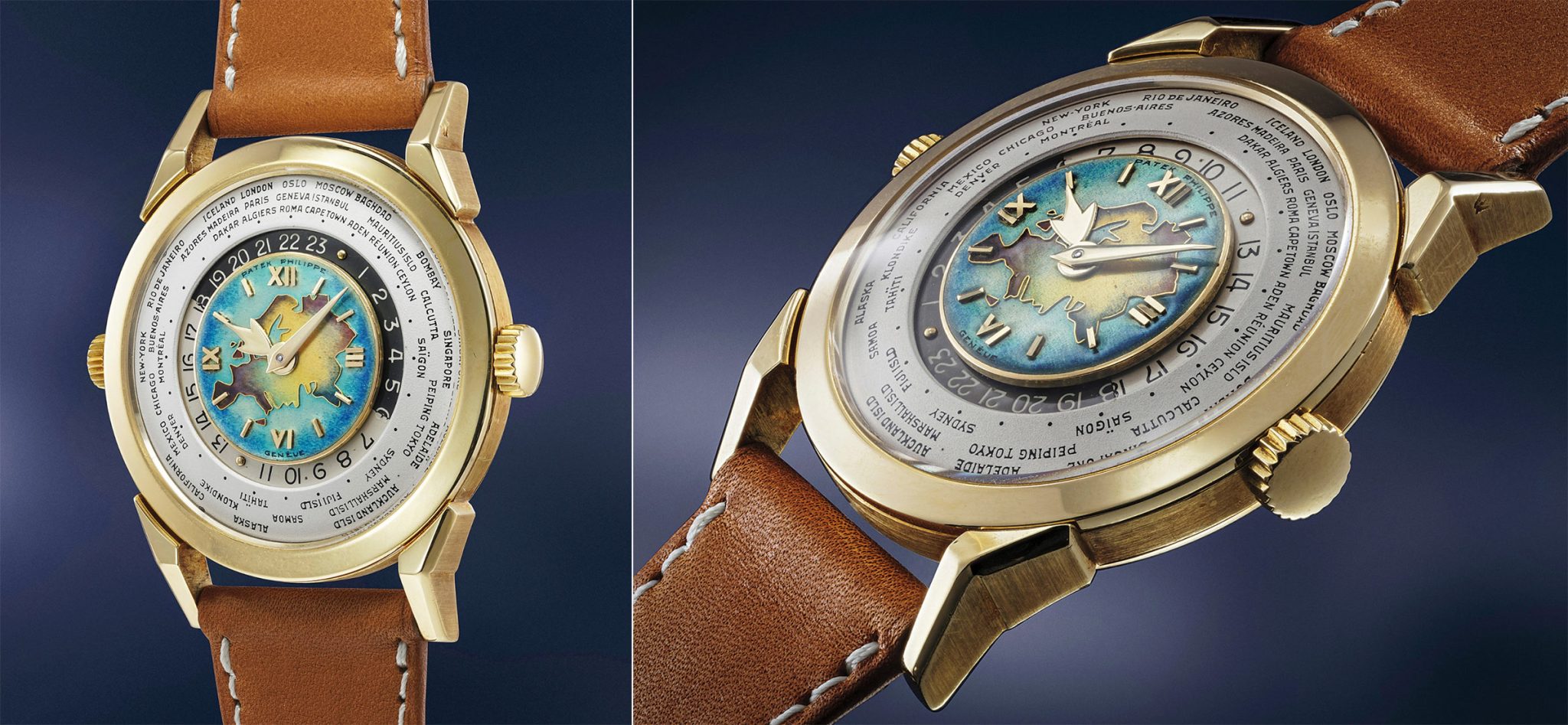 Patek Phillipe Ref. 2523 "Silk Road"
Credit: Phillips
Of the known Ref. 2523 models, only 12 have a cloisonné enamel dial, due to the technical difficulties the material presents for watchmakers. This includes six models displaying North America (three in yellow gold, two in pink gold, and one in white gold), three showing South America (two in yellow-gold and one in pink) plus three featuring Eurasia (including this piece), all of which are yellow gold. This version is known to be the earliest ever made Patek cloisonné Ref. 2523. The model was auctioned in May 2021 by Phillips for CHF 7,048,000.
---
4*. Ref. 5016A-010
In third place for the most expensive Patek wristwatch ever is the Ref. 5016A-010. This 36.8 mm wristwatch with minute repeater, tourbillon, perpetual calendar, retrograde date, and moonphase plus a Calatrava-style steel case – a rare material, of course, at Patek. In fact, it is the world's only Patek Philippe watch with this reference to come in steel.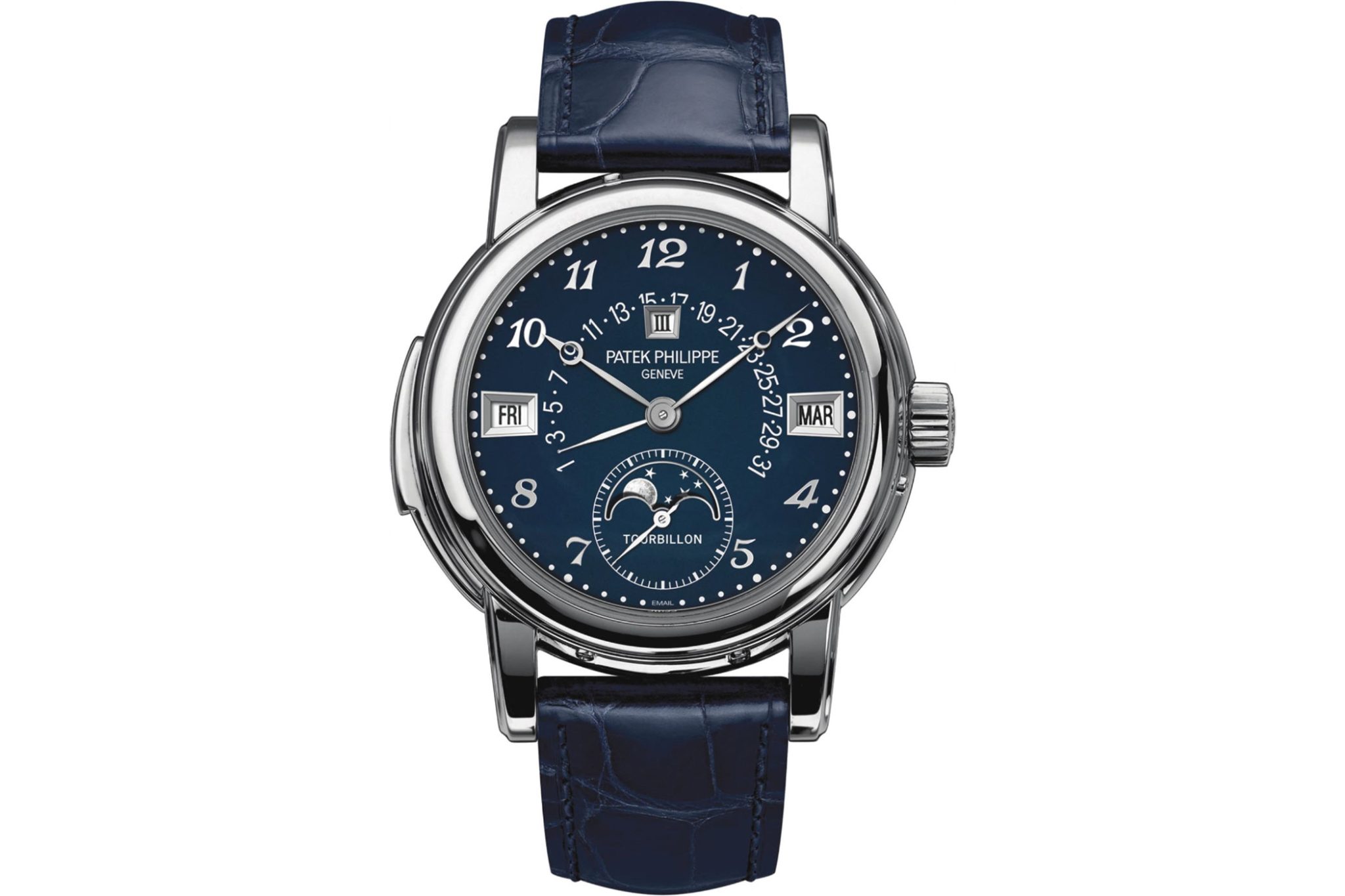 Patek Phillipe Ref. 5016A-010 – Grand Complications
Credit: Phillips
Interestingly, the watch also integrates an interchangeable solid caseback and sapphire crystal caseback. The latter option allows for a view of all 506 components, which are hand-finished in true Patek style. The Ref. 5016A-010 was sold at the Only Watch charity auction in Geneva back in 2015. While its estimated selling price was only 700,000 to 900,000 CHF, Phillips ending up auctioning it off for an incredible CHF 7.3 million.
---
3. Ref. 1518 in Pink Gold from 1948
This 35 mm 18-carat pink-gold watch packs in a French perpetual calendar and chronograph, and also holds an incredible story. As Patek aficionados will be aware, the horology house kicked off its perpetual calendar chronograph watches with the Ref. 1518 back in 1941. Not only the first serially produced watch of its kind, the combination of complications had also never been seen from any other brand. The majority of the 281 models first introduced had yellow-gold cases, making this pink-gold version, one of only 58, a rarity. What's more, most had silvered dials, while only 14 with copper pink dials, such as on this one, have ever surfaced on the market.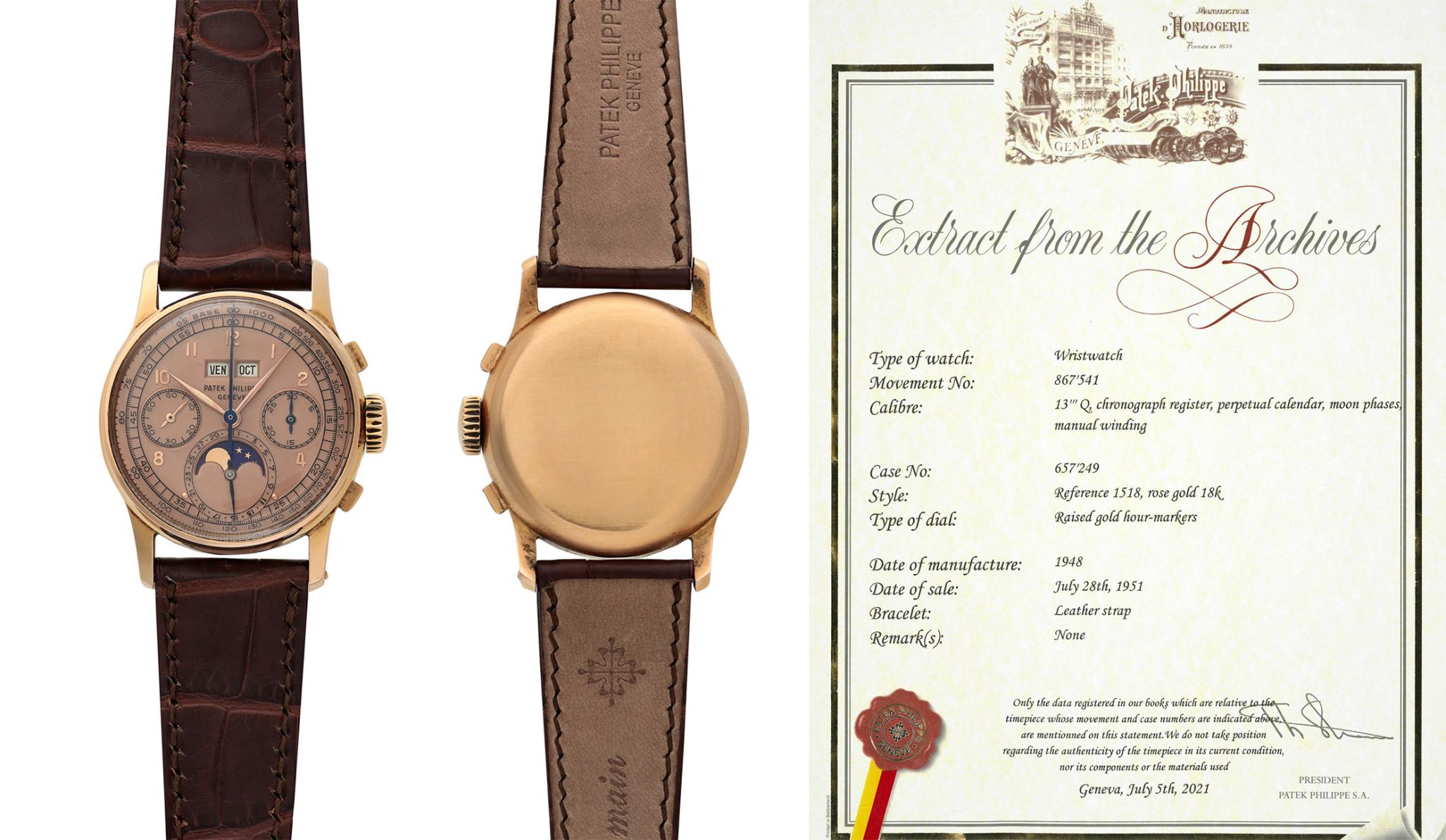 Patek Philippe Ref. 1518 Perpetual Calendar Chronograph from 1948
Credit: Sotheby's
Being passed on directly rom the family of the original owner, this particular piece was initially purchased by Egyptian Prince Tewfik in 1951. Still in excellent condition, the 1518 still has its original brushing marks on the case, with the case and lug proportions also remaining almost unchanged. Likewise, the dial's scales are still perfectly preserved in the original raised black enamel, and it still has its original crown. Last but not least, this is also thought to be the only pink-on-pink 1518 that still has its original certificate of origin. It sold for about CHF 8.751 million at Sotheby's in 2021.
---
2. Ref. 1518 in Stainless Steel
The second most expensive Patek Philippe wristwatch on record is the Ref. 1518 wristwatch in a 35 mm stainless-steel case, from 1944. The reference originally made history in 1941 as the first regularly produced chronograph with perpetual calendar. Naturally, this particular model's rarity stems from the use of steel. While around 281 Ref. 1518s were made, most were housed in a yellow-gold case. Around 20% of the Ref. 1518s came in a rarer rose-gold case. Only four watches were made in stainless steel.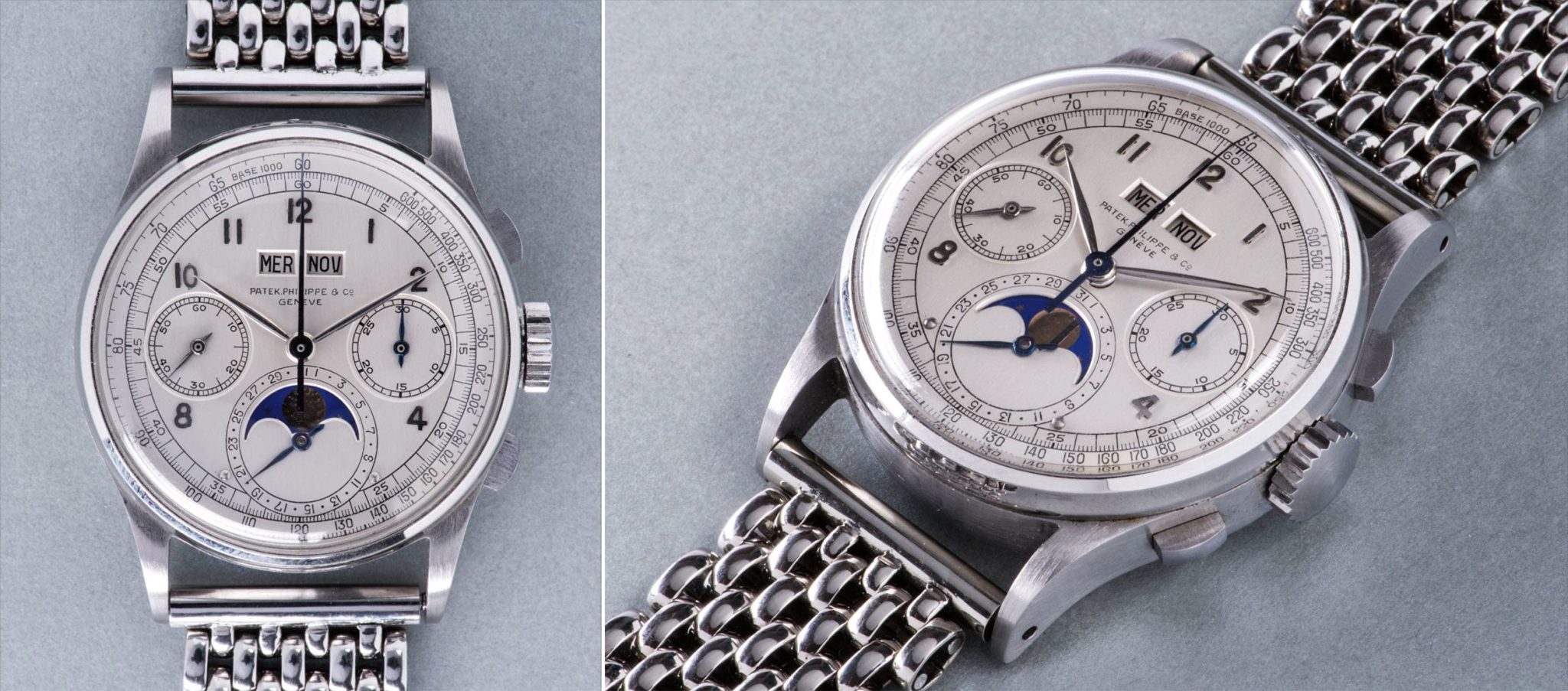 Patek Philippe Ref. 1518 Perpetual Calendar Chronograph in Steel
Credit: Phillips
One of these four steel models was famously in the ownership of the last ever King of Romania, who was exiled in 1947 and passed away in 2017. Powering the steel Ref.1518 that went at auction several years back is the manual winding 130 Q movement. Its auctioneer was Phillips, Geneva, in 2016, and its selling price was CHF 11 million.
---
1*. Grandmaster Chime Ref. 6300A-010 "Only Watch"
In first place for the most expensive Patek Philippe wristwatches of all time is, of course, the Grandmaster Chime Ref. 6300A-010. So what makes it so special? For one thing, it's the only Patek Philippe Grandmaster Chime to appear in steel. A Grandmaster Chime is also full of watchmaking wonders, integrating 20 complications, to be precise.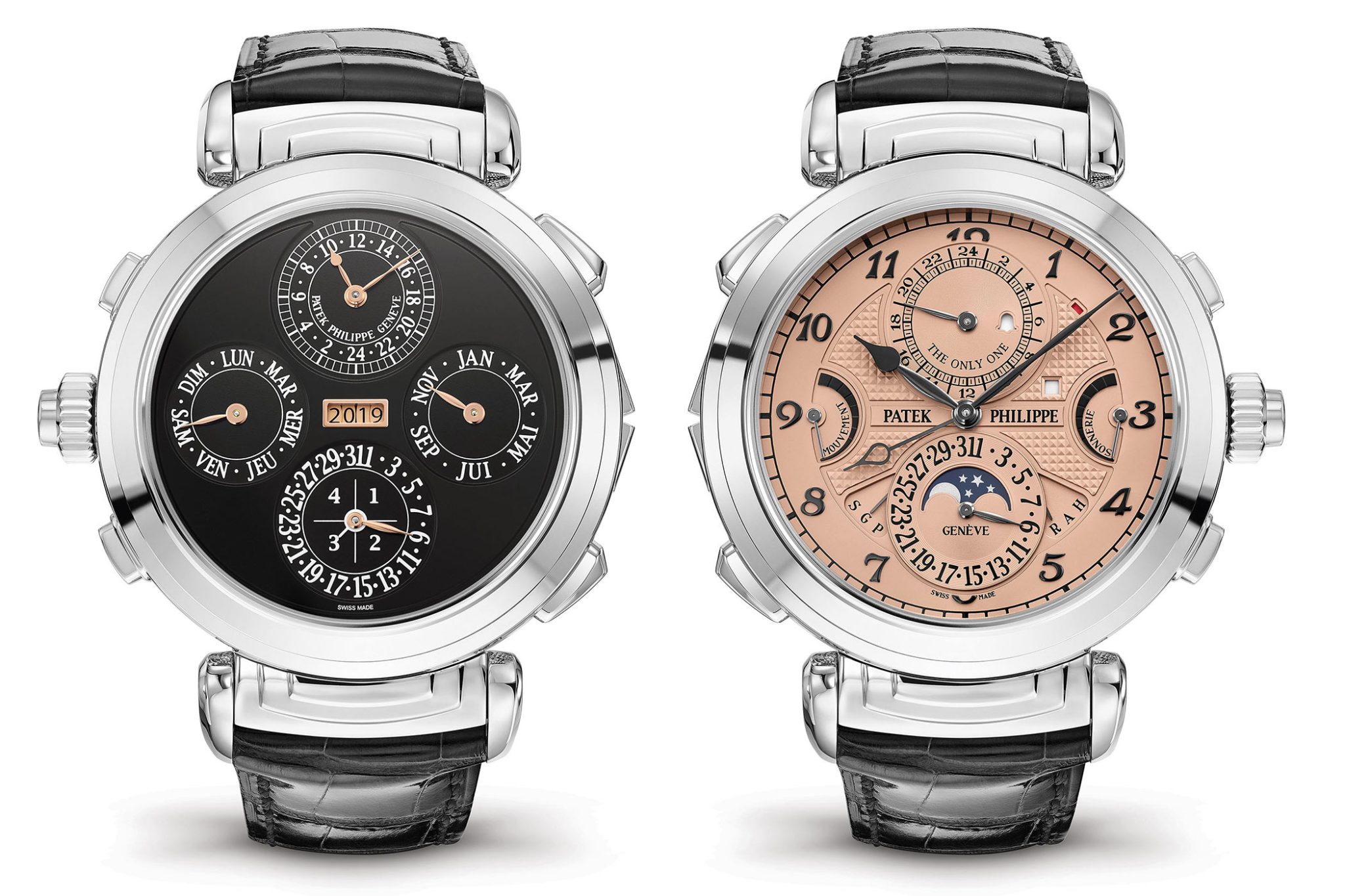 Patek Philippe Grandmaster Chime Ref. 6300A-010 "Only Watch"
Credit: CHRISTIE'S
This includes five acoustic functions – two of which are patented global premières – as well as an alarm that strikes the preprogrammed alarm time, and a date repeater, which sounds the date on demand. Other features include: a strikework isolator indicator; a second time zone with day/night indicator; day, date (on both dials), month, leap-year cycle by hands; a four-digit year display; a 24-hour and minute subdial, and a crown position indication. Additionally, the watch switches between its two dials (how else do you fit 20 complications and keep things legible?) using a patented reversing mechanism.
Conceived for the 2019 Only Watch auction by Christie's, this wonderful feat of horological craftsmanship is a testimony to Patek Philippe's skilled watchmakers, and tops the list with an auction price of no less than CHF 31 million.
---
---
Note: Watches marked with * are charity auction pieces and therefore can affect the real value compared to pieces that come to auction free from incentives.
---
This article features the most expensive Patek Philippe wristwatches to date,
as of December 2021.
---
| Model | Price realised |
| --- | --- |
| 15. Calatrava Ref. 570 – "Calatravone" | CHF 3.297 million |
| 14. Ref. 1436 Split-seconds chronograph | CHF 3.3 million |
| 13. Eric Clapton Ref. 2499/100 | CHF 3.44 million |
| 12. Ref. 2499 in Yellow Gold | CHF 3.539 million |
| 11. "J.B. Champion" Ref. 2458 | CHF 3.78 million |
| 10. "Asprey" Ref. 2499 | CHF 3.915 million |
| 9. Ref. 1526 Perpetual Calendar | CHF 4.14 million |
| 8.* Nautilus 5711/1A-018 "Tiffany & Co." | CHF 5.986 million |
| 7. Ref. 1527 Perpetual Calendar Chronograph | CHF 6.26 million |
| 6. Ref. 1415 "Heures Universelles" | CHF 6.6 million |
| 5. "Silk Road" Ref. 2523 | CHF 7.05 million |
| 4*. Ref. 5016A-010 Grand Complications | CHF 7.3 million |
| 3. Ref. 1518 Pink Gold | CHF 8.751 million |
| 2. Ref. 1518 Stainless Steel | CHF 11 million |
| 1*. Grandmaster Chime Ref. 6300A-010 "Only Watch" | CHF 31 million |