The new OMEGA Speedmaster Apollo 11 50th Anniversary model has exceeded every reach of any watch we published so far. Only just launched, it has already become the talking piece of the watch community and will hit the stores in July. Just a little bit of time left for some history class.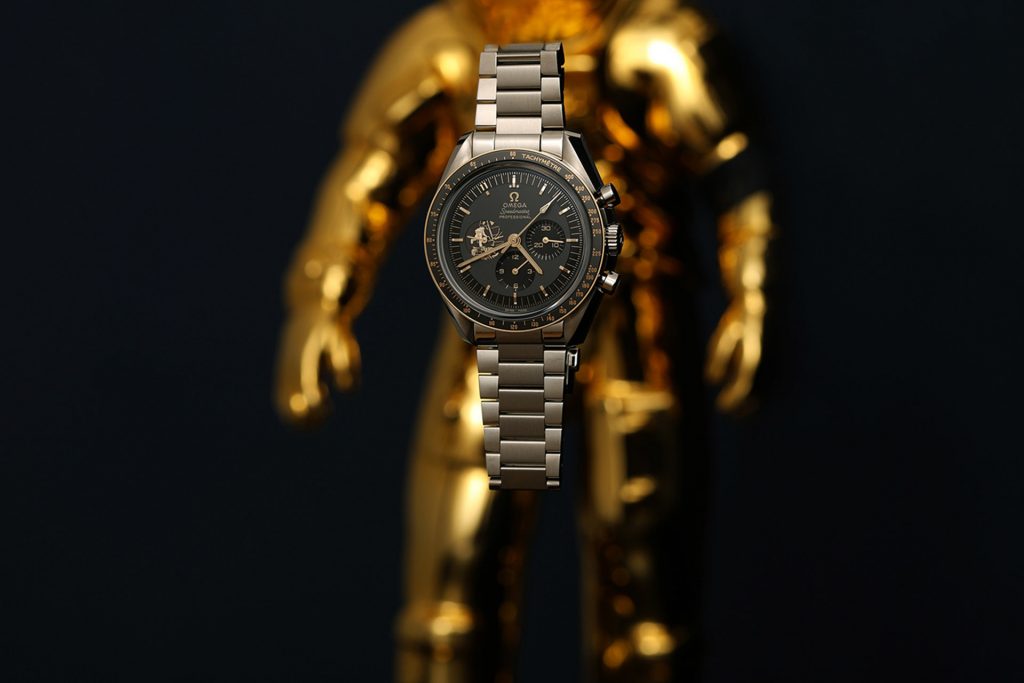 50 years of lunar landing – OMEGA's new anniversary watch
When the NASA searched for a watch in the 1960s which would meet the high technical requirements for space missions, numerous brands submitted their watches. In the end, only three watches were accepted for the tests, two of them already failed during the thermal-vacuum test. In 1965 James Ragan, a NASA engineer who supervised the examinations validated the OMEGA 'Speedmaster' to be ready for space. It withstood temperature shocks, impact- and vibration testing and vacuum functional checks and therefore joined the first lunar landing mission in 1969, called Apollo 11.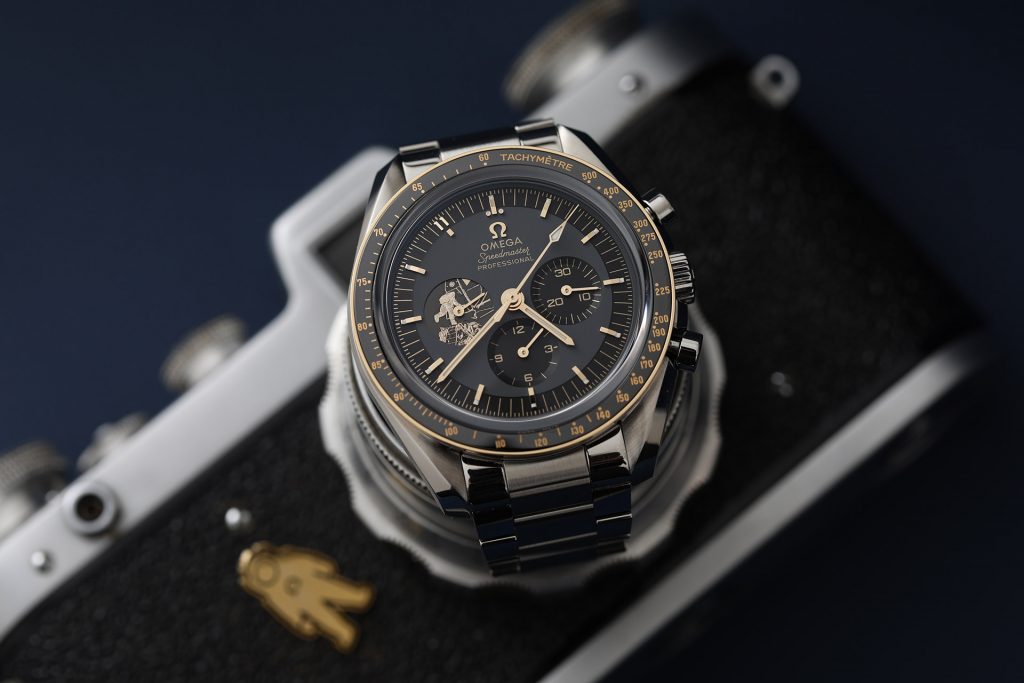 The watches were a backup for astronauts in case the onboard instruments would fail
But why on earth do astronauts need mechanical watches in space? Where you might think that it's just a marketing strategy there is actually a useful thought behind it. The watches were a backup in case the radio contact might cut to the ground control station or in case that any digital instruments fail. And that was actually the case at the Apollo 13 mission in 1970. When all technical devices broke down after an explosion, the astronauts had to fire their engine rocket for exactly 14 seconds to get on the right route while entering the earth's atmosphere – timed by their OMEGA 'Speedmaster' watches.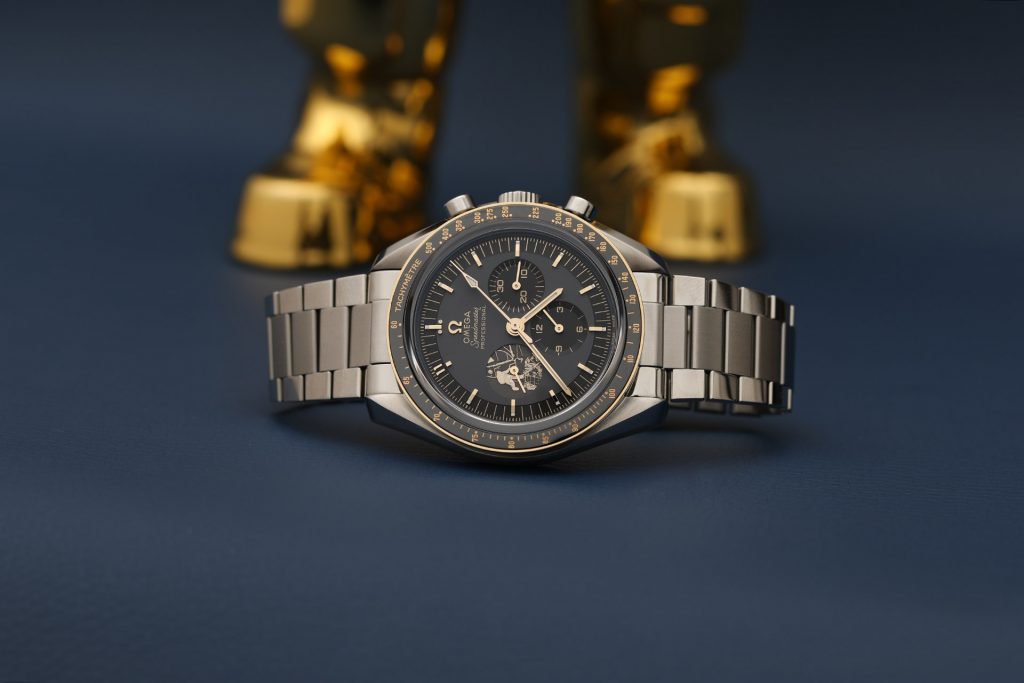 OMEGA Speedmaster Apollo 11 50th Anniversary
The first watch that 'stepped' on the moon in 1969 is being remade for its 50th anniversary of the Apollo 11 mission. And as 50 years means a golden jubilee, there is plenty of gold. For this, OMEGA has developed a new alloy called Moonshine-Gold in 18K. Indexes, bezel, logo and all of the hands (except the central chronograph seconds hand) are refined with Moonshine-Gold. And the effect truly shows a somehow more fainted but warm light that could well be reflected from the moon. A gentle yellow gold that tends to be more solid and offers more shining durability. The bezel ring is made of polished black ceramic with an OMEGA Ceragold tachymeter scale.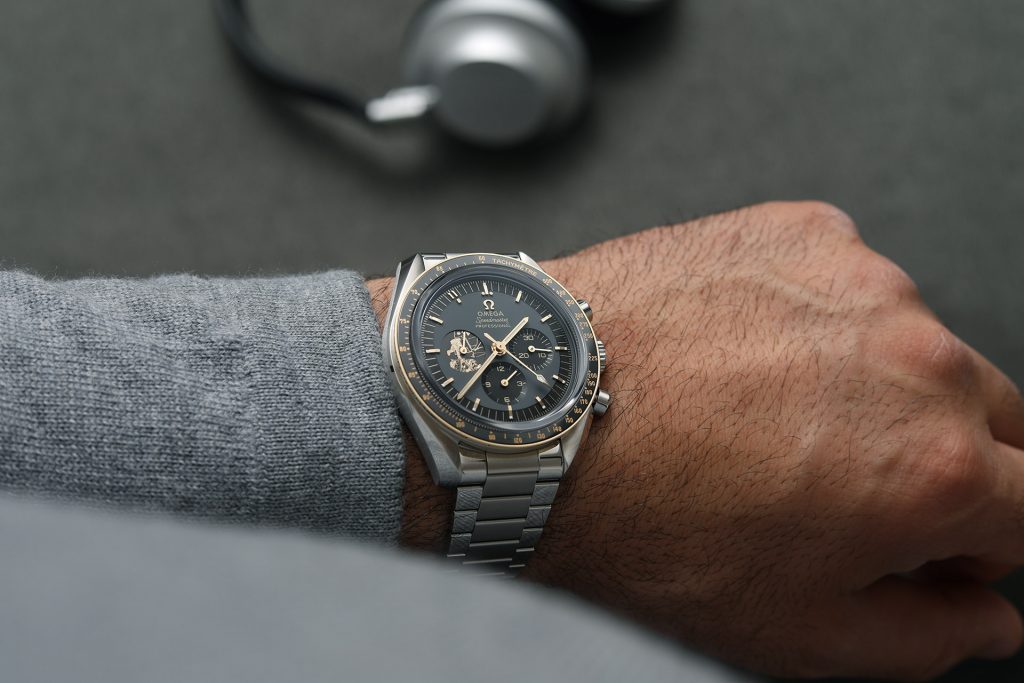 OMEGA Speedmaster Apollo 11 50th Anniversary
OMEGA continues for what they have been distinguished in 1965 already and surprises with new materials and technical progress. The praised calibre 1861 has received an update. The new calibre 3861 has been Master Chronometer certified by METAS, which means the highest standards in precision, performance and magnetic resistance. It has a so-called Co-Axial-escapement and a silicon spiral spring.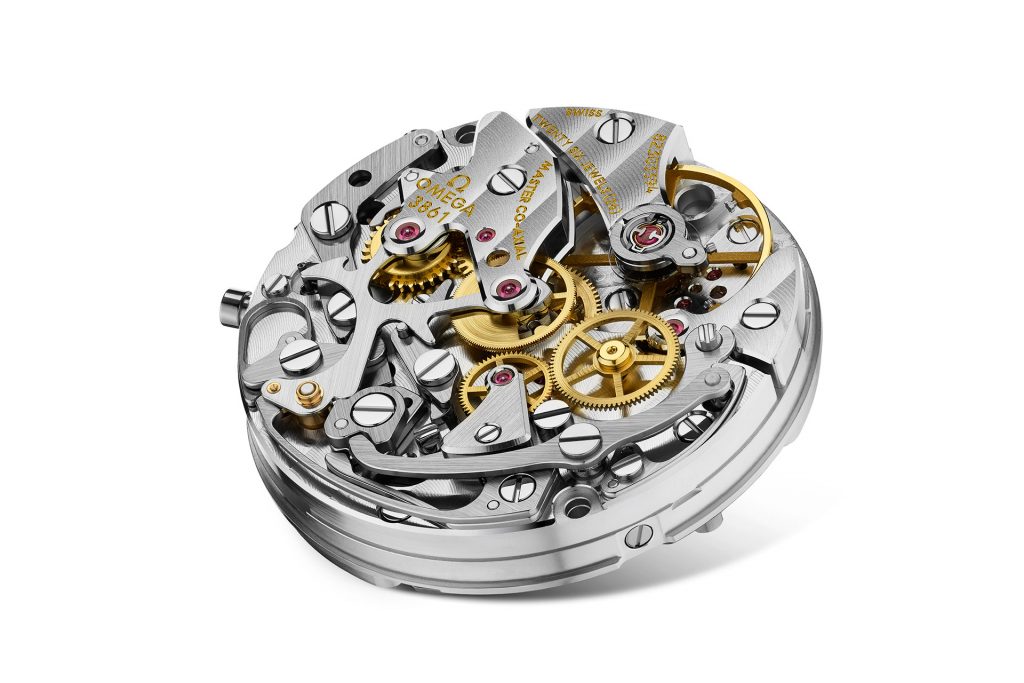 The new calibre 3861 – Master Chronometer certified
Taking a closer look onto the dial you can spot some nice details, like the index at 11 o'clock dedicated to the Apollo 11 mission. The subdial at 9 o'clock is also crafted from 18K Moonshine-Gold and is blackened and laser-engraved. It features the famous image of Buzz Aldrin climbing down the ladder onto the lunar surface.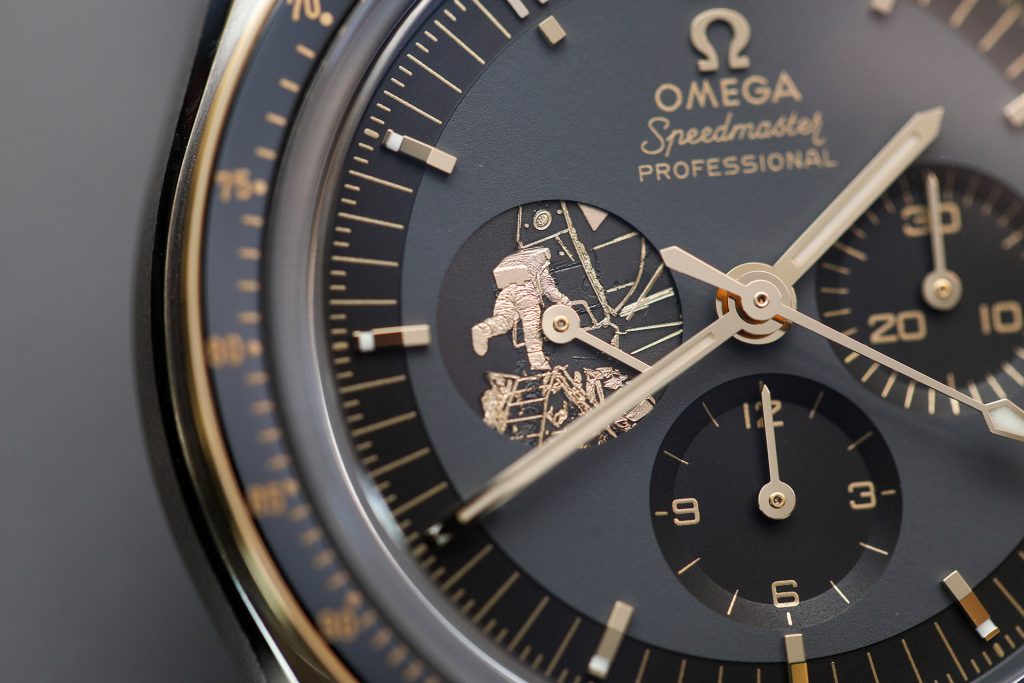 Buzz Aldrin in OMEGA Moonshine-Gold
The caseback features a laser-engraved footprint representing the first human step on the moon, philosophically reinforced by Neil Armstrong's legendary words. And that came from a man who was generally rather reticent.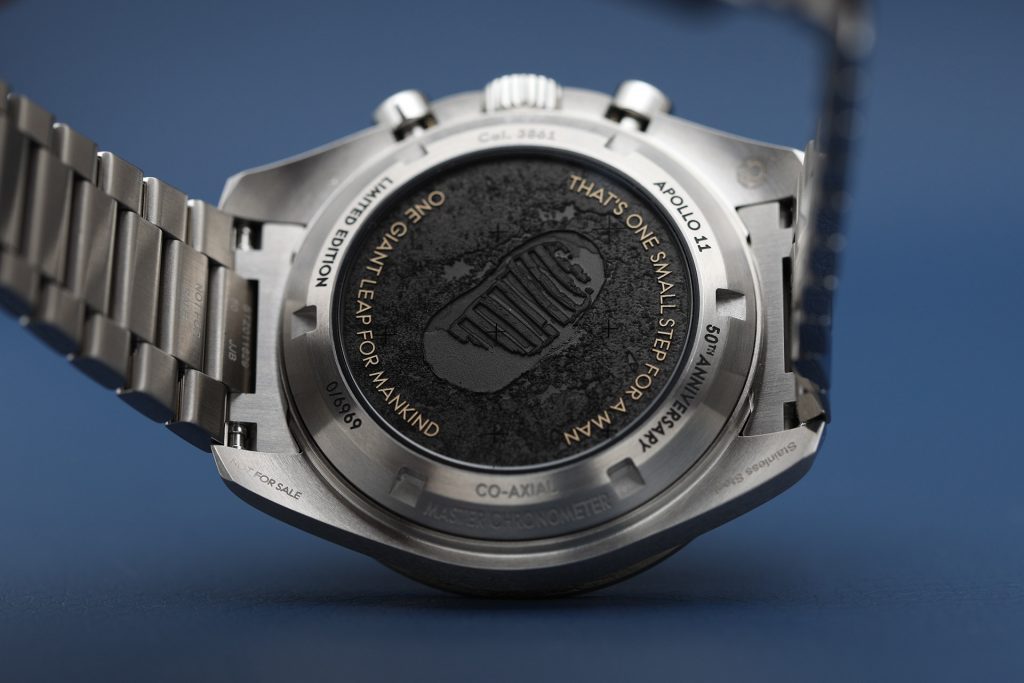 A laser-engraved astronaut footprint on the caseback of the steel version
The new OMEGA Speedmaster Apollo 11 50th Anniversary is limited to 6969 pieces. Maybe it would have been positively unexpected to use a hesalite glass instead of sapphire. Although the watch is constructed on the basis of technic and innovation, one should not underestimate this synthetic material. It was still used for the 'Speedmaster' or 'Moonwatches' at that time, because they don't splitter when breaking – and that was even in space crucial for astronauts. It would have been a quite interesting mix of retro-thinking combined with a contemporary and innovative use.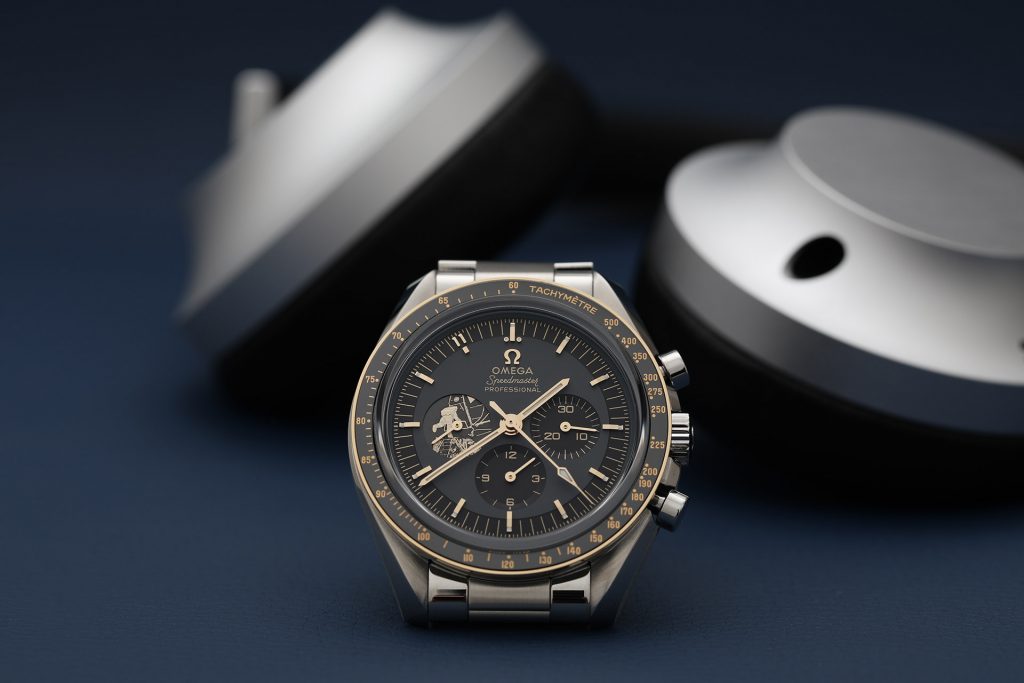 OMEGA Speedmaster Apollo 11 50th Anniversary
A full gold version of the Speedmaster Apollo 11 50th Anniversary with burgundy red ceramic bezel was already introduced in March this year. It was inspired by a special edition reference BA145.002 that was given to president Richard Nixon, vice-president Spiro Agnew and a few NASA astronauts in November 1969.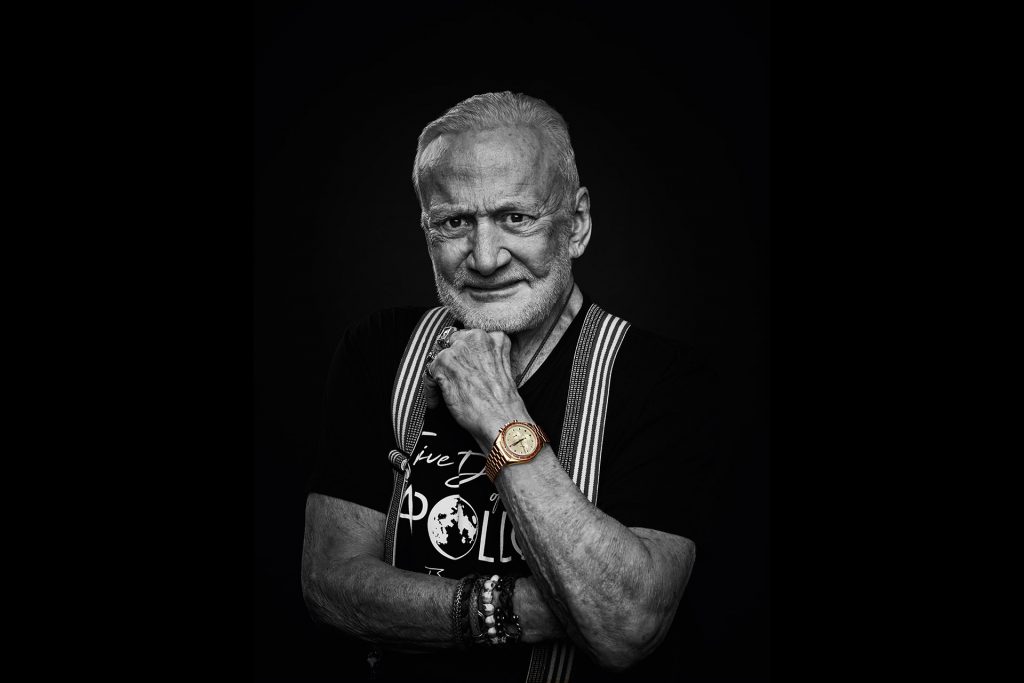 Apollo 11 astronaut Buzz Aldrin with a golden OMEGA Speedmaster watch
By the way, president Nixon and his vice did not accept the gift due to its enormous value – instead, they can now be admired at the OMEGA museum in Biel.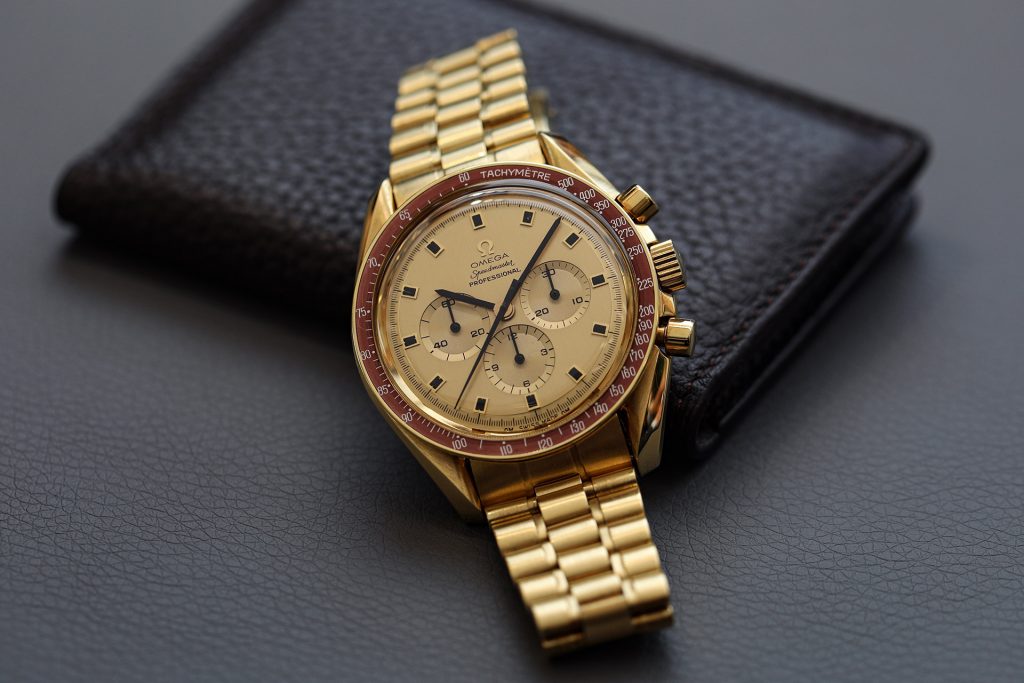 The original watch reference BA145.022 that Richard Nixon received in 1969 (left)
As Richard Nixon rejected the gift, it can today be admired at the OMEGA museum in Biel (right)
The remake shows the imprint OM (Or Massif) on the dial just like its original meaning, that it is made from solid gold. In this case it is the new Moonshine-Gold alloy. It is limited to 1.014 pieces.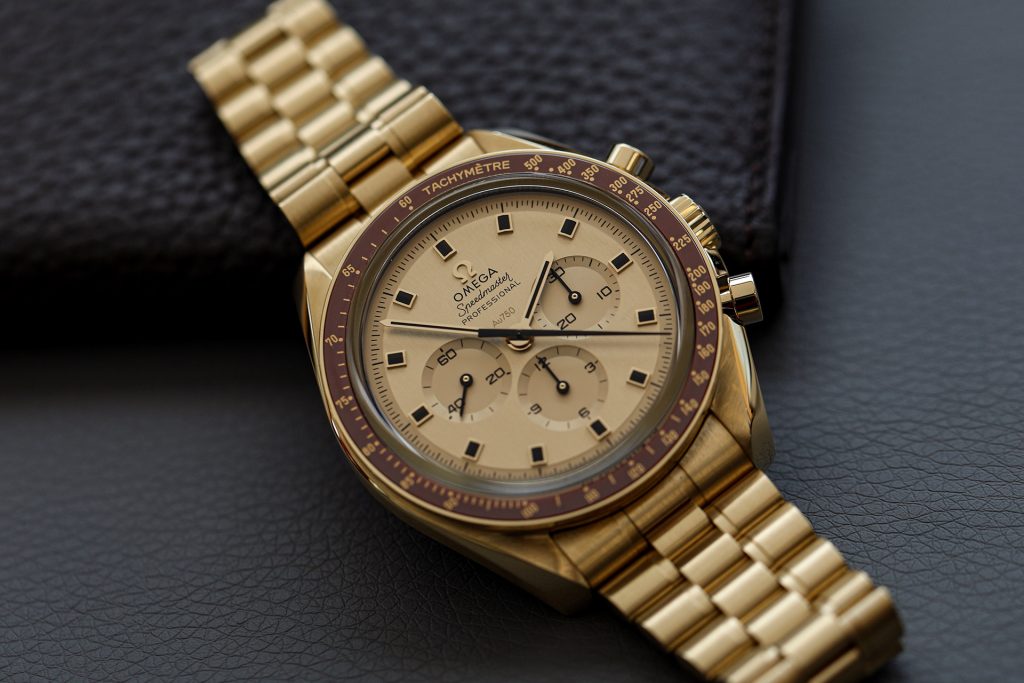 Already presented in March 2019 – Speedmaster Apollo 11 50th Anniversary Moonshine Gold Limited Edition (left)
Only the full gold version has an open caseback to show calibre 3861 (right)
The stainless-Speedmaster costs 9.000 Euro and the gold-Speedmaster 32.300 Euro, the latter only arrives in stores in autumn.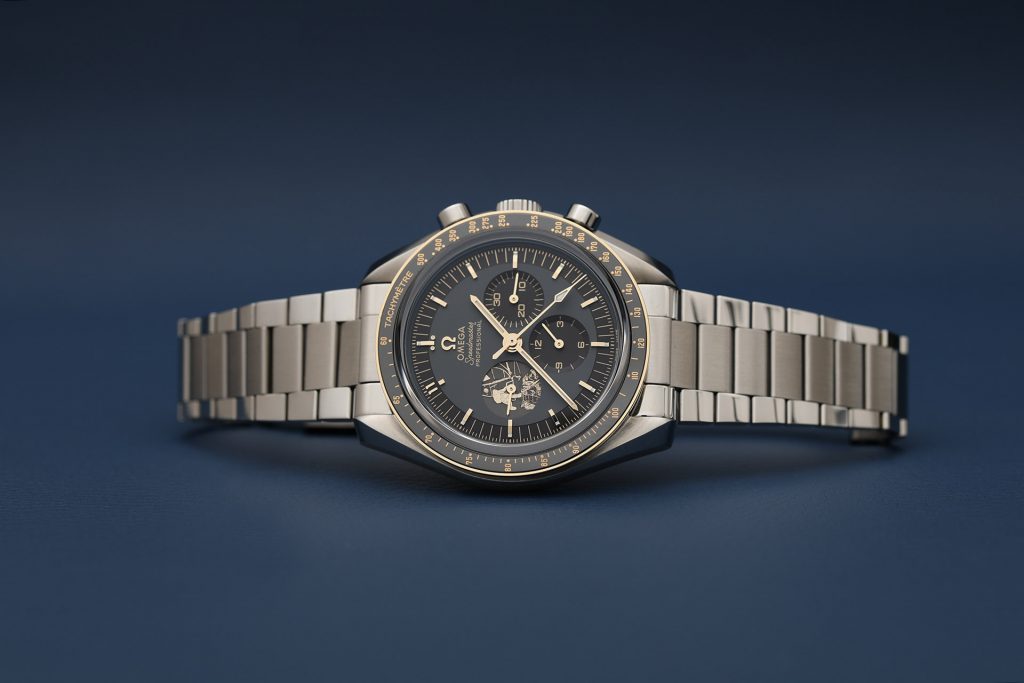 Speedmaster Apollo 11 50th Anniversary (left)
Very closed to the original – the new gold shade makes the difference (right)
---
---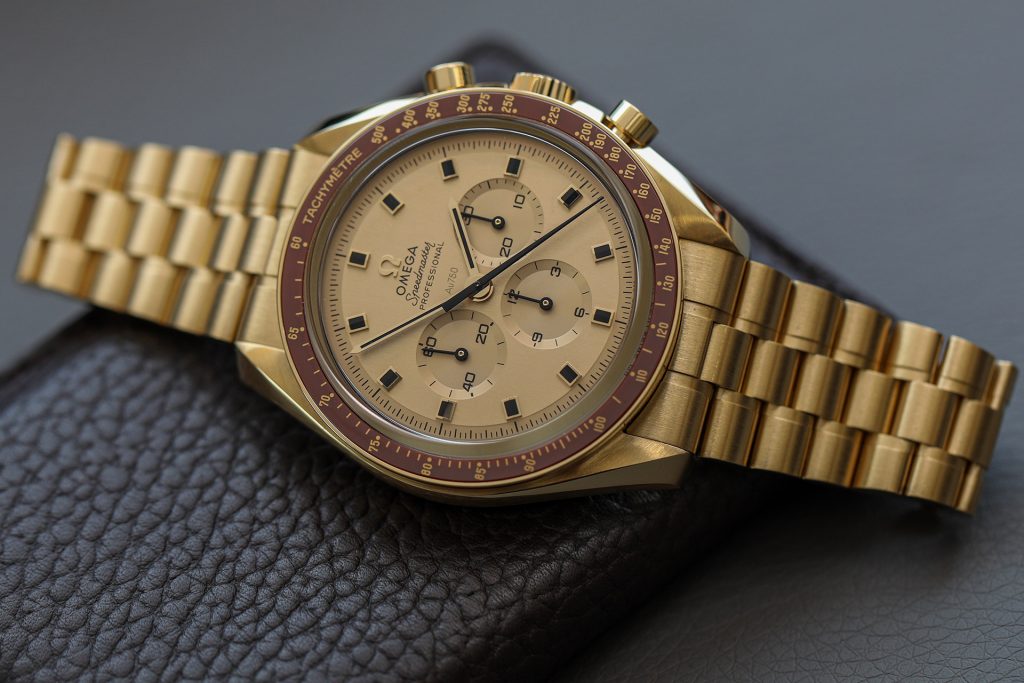 ---