Perpetual Calendar watches have a special status at Patek Philippe. The major reason for this might be, that in 1925 they equipped the first wristwatch ever with this mechanism, the reference 97 975. The function however reaches back to watchmaker Thomas Mudge, who produced the first pocket watch with Perpetual Calendar in 1864. Also watch collectors are especially keen on Patek's Perpetual Calendar watches, hence many – especially vintage – references reach enormous sums at international auctions. However, also new references are very popular even at a list price of around 100.000 Euro and more. In 2017, Patek presented the reference 5320G that kind of steps out of line. But why?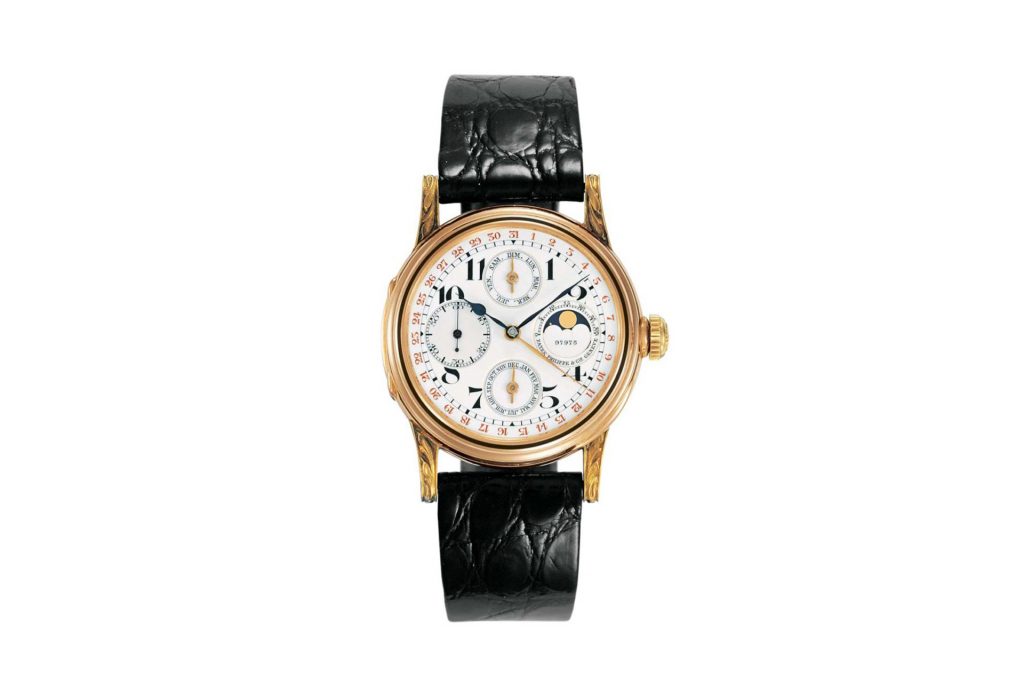 The worlds first perpetual calendar wristwatch – reference 97 975 from 1925
Looking at Patek's Perpetual Calendar watches from the past 90 years, you can spot a clear evolution, shaped by special features and functions that evolved over each decade. Reference 96 from 1937 was the first model with a double aperture for the day and month as well as the moon phase at 6 o'clock, equipped with a retrograde mechanism and the double aperture centrally positioned at that time. Only reference 1526 from 1942 replaced the double aperture just under 12 o'clock where it established until today. In the 1940s, more and more references appeared with Arabic numerals and dots placed on the dial (reference 1518 for example).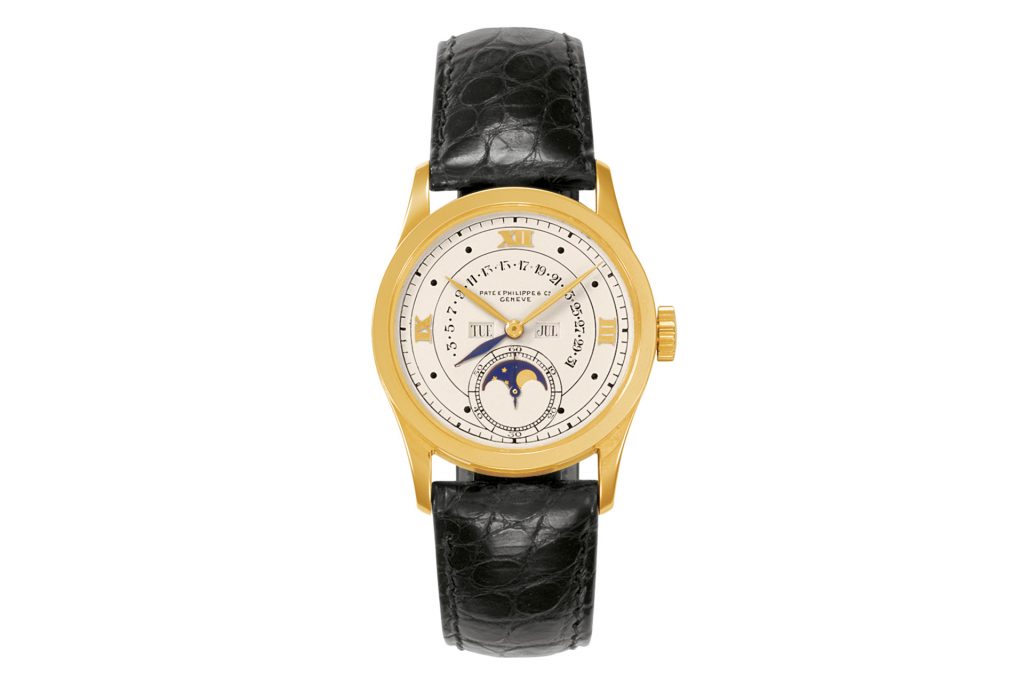 The first model with double aperture for day / month indication – reference 96 from 1937 (left)
In 1942, reference 1526 comes with the double aperture positioned underneath 12 o'clock for the first time (right)
The case design changed decisively in the 1960s. The case flanks changed from a round to a more edgy shape and the lugs became sharper. One of them was reference 3449: it was only produced three times in 1961 and can be called the rarest Patek Philippe watch with a Perpetual Calendar. It has achieved more than one million Euros at auctions. But it was the reference 3448 from 1962 that has prevailed and remained until 1981 – it was produced longer than any other Patek Philippe watch. Besides one rose gold and two platinum versions that are probably kept in the safes of some eager collectors, this reference is surely the most commercial Perpetual Calendar model at Patek Philippe.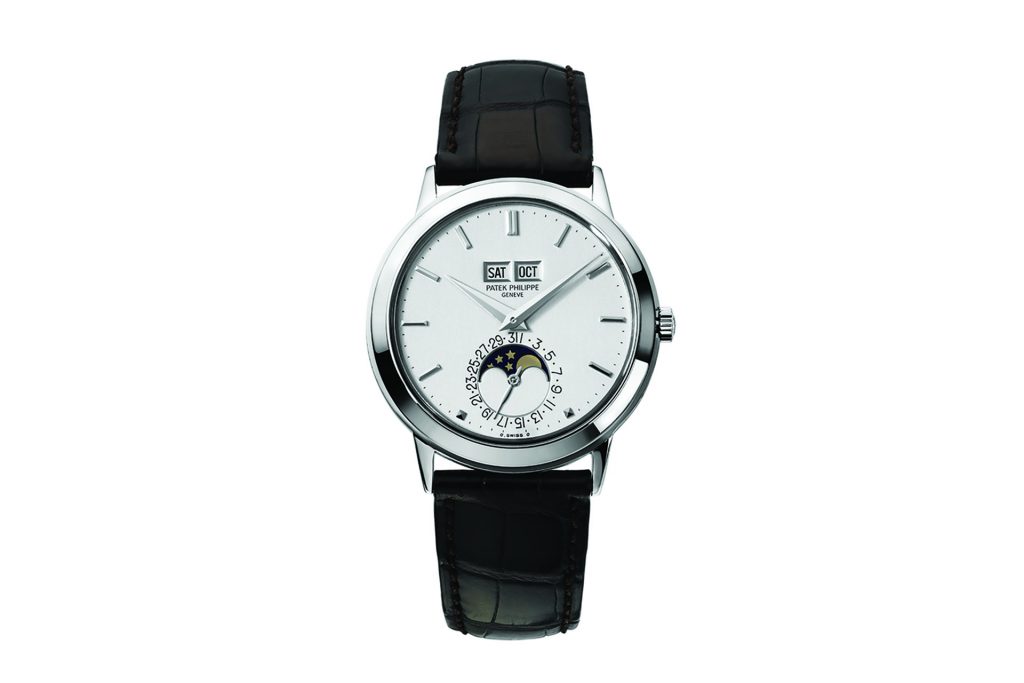 Reference 3448 was produced between 1962 and 1981 (left)
Patek Philippe's first calendar watch with leap year indication – reference 3450 from 1981 (right)
Reference 1591 from 1944 with sharp luminescent syringe hands (middle)
And that takes us straight back to reference 5320G. When it was launched in 2017, it surprised us at a price of 76.930 Euros, comparable cheaper than the Maisons most Perpetual Calendar watches. The 5320G is a compound from many references of the past 90 years. The moon phase at 6 o'clock is taken from the above-mentioned ref. 96 from 1937. The double aperture below 12 o'clock as well as the Arabic numerals and dots are inspired by ref. 1526 from 1942 and ref. 2497 from 1951, amongst others. The sharp luminescent syringe hands are inspired by ref. 1527 from 1943 or ref. 1591 from 1944, although Patek claims to have taken the inspiration from ref. 1563 – we can identify more similarities to ref. 1527 or ref. 1591 by all respect. The leap year indication, that also adorns the 5320G was first shown on the ref. 4350 from 1981. So you see, the 5320G is like a healthy patchwork family.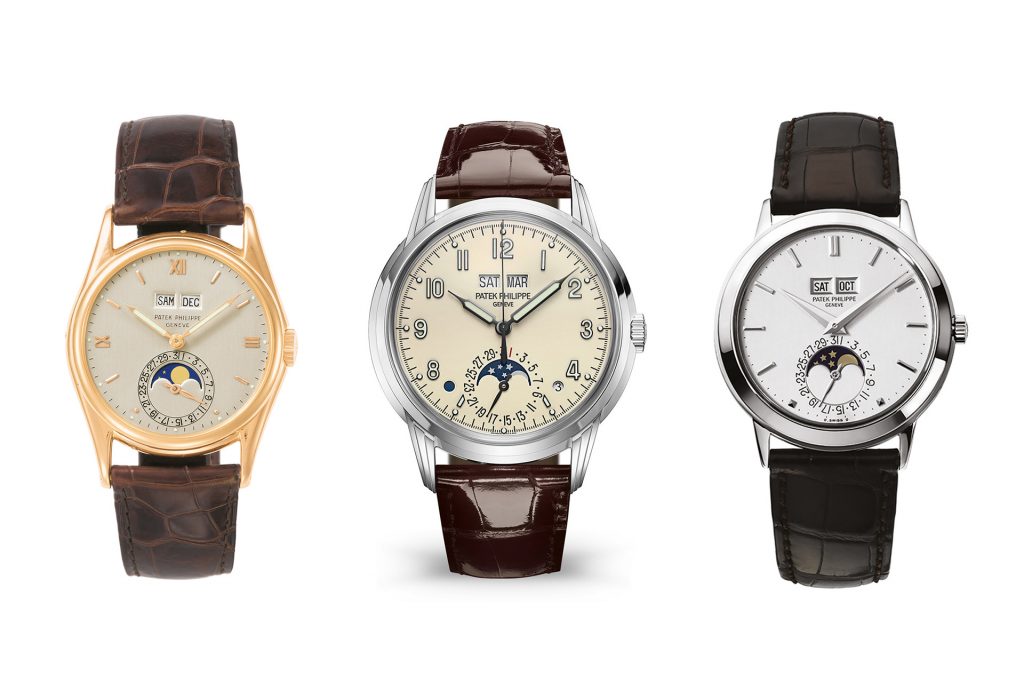 Reference 5320G (centre) with two historical models (ref. 1527 left and ref. 3448 right)
However, ref. 5320G from 2017 has the most parallels to this named ref. 3448. Maybe this was the reason for Patek Philippe to adapt the price for a more commercial audience. The price reduction could also be judged by two more reasons. The case was stamped from one monobloc, hence one piece of white gold. Decades ago, this was arduous handwork, manufacturing the different increments into the case and lugs. The finishing however is still made by hand of course.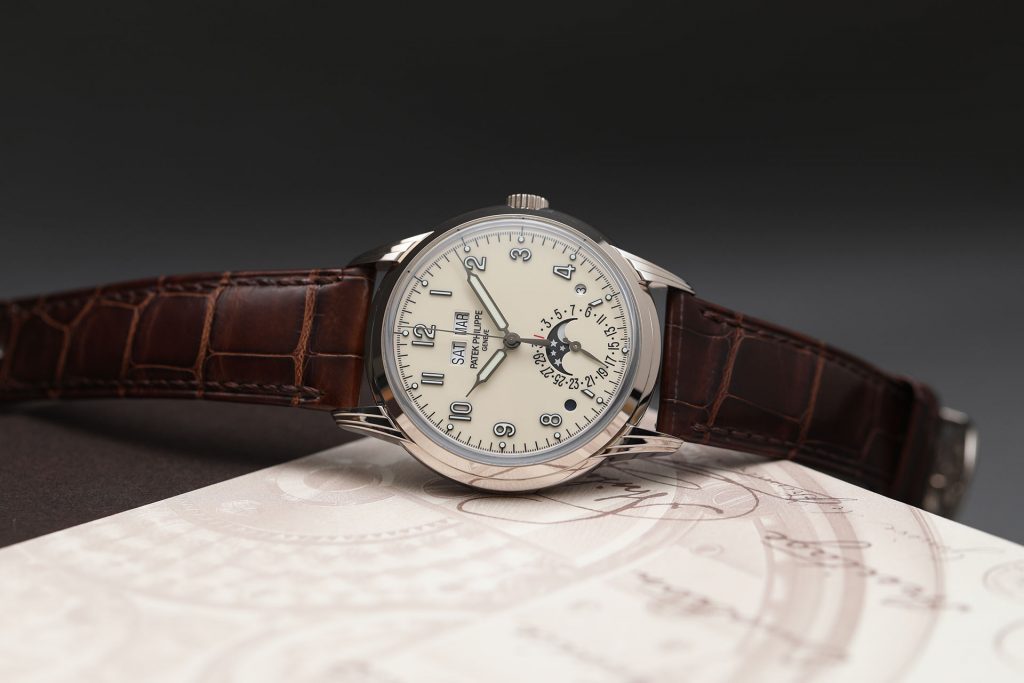 Patek Philippe Perpetual Calendar Reference 5320G
Another reason might be inside the watch. The calibre 324 is a quite common movement at Patek Philippe and also runs in more basic Calatrava, Nautilus and Aquanaut models. It was not upgraded by any great movement innovations and the power reserve of 45 hours is standard too. Maybe they should have put more focus on one certain feature. The Patek connoisseur and collector might find it hard to identify himself with this reference – the newcomer however without doubt gets a solid Perpetual Calendar watch, and 90 years of brand-history at the same time.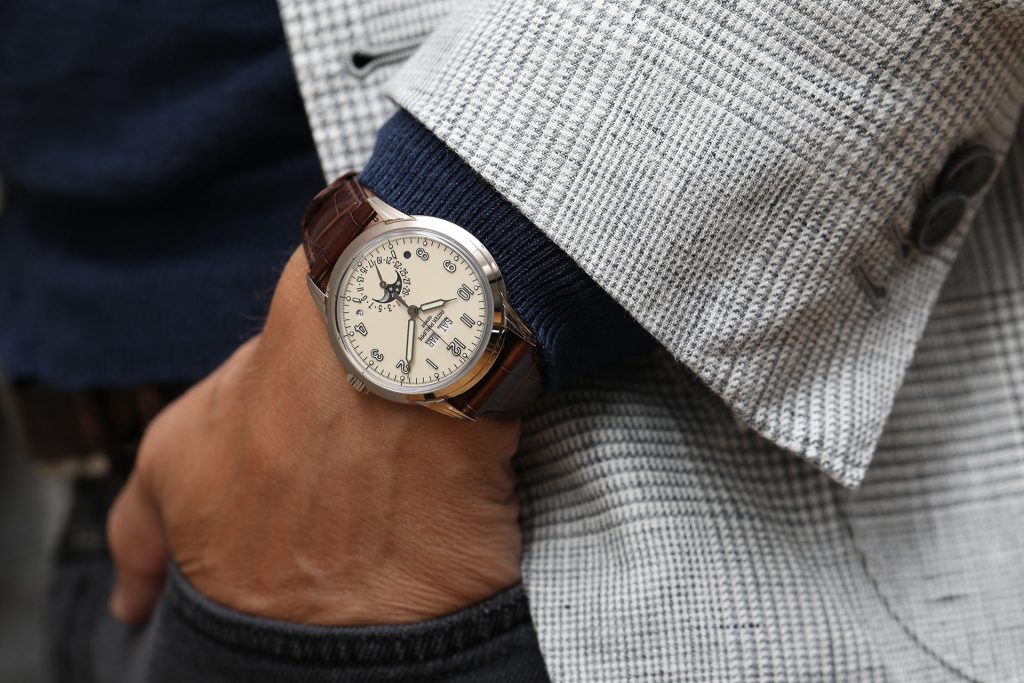 90 years of brand-history on the wrist
---
---