To speak of a modest-looking watch would be inappropriate for such a complex model with such a long history. However, if one looks at the versions currently representing the collection, the latest Patek Philippe perpetual calendar chronograph is probably the most discreet version of them all. Yellow gold with a silver-opaline leaf ­– this is a beautiful and classic addition, as well as a reinforcement of the collection and a pure, understated piece.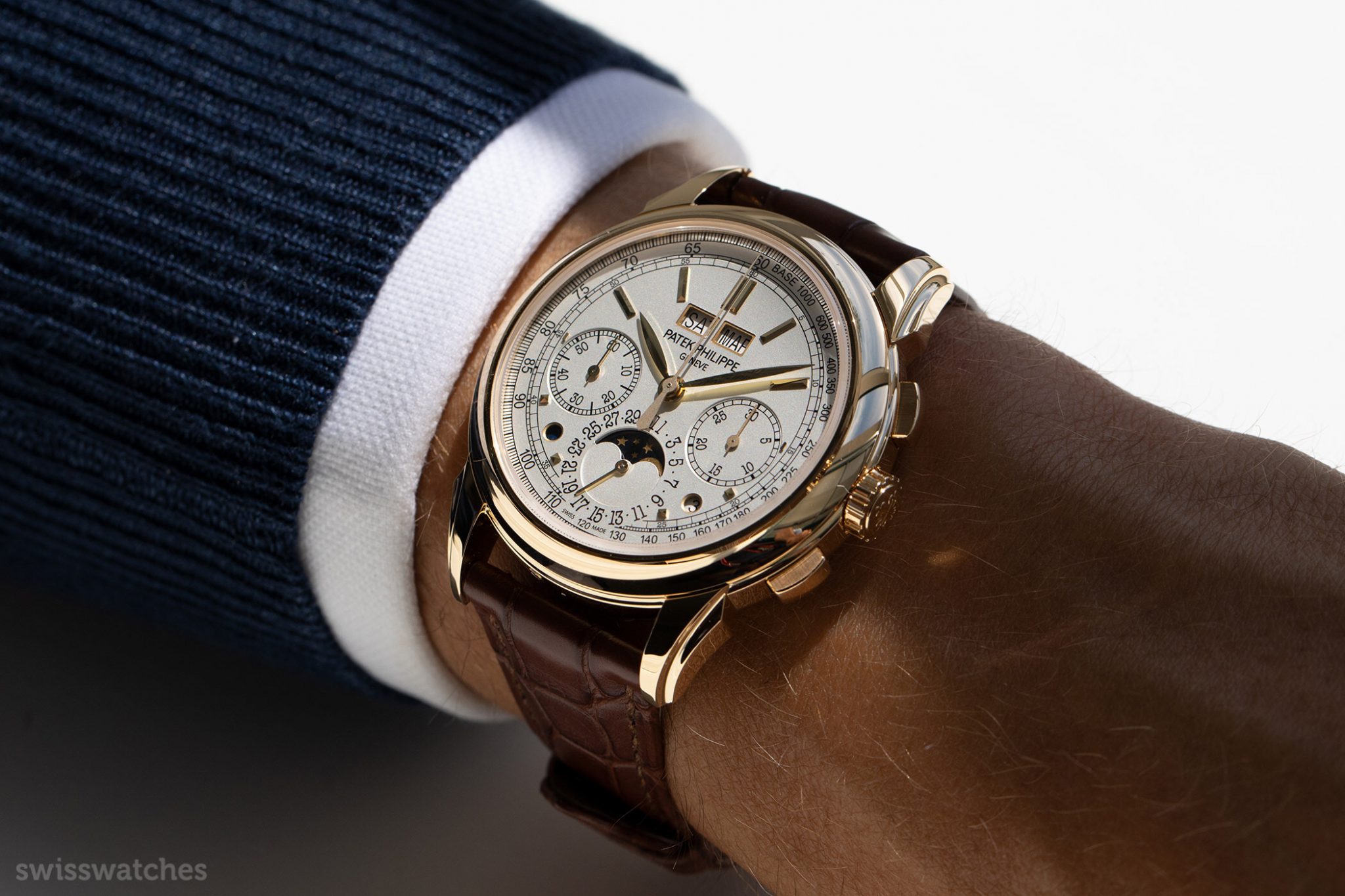 The new Patek Philippe 5270J-001
The outstanding Grande Complication 5270 was last available in rose gold, with either a solid precious metal strap and black dial, in platinum with a black dial and diamond bezel (Ref. 5270-1R-001), or as a platinum version with a salmon-coloured dial (Ref. 5270P-001).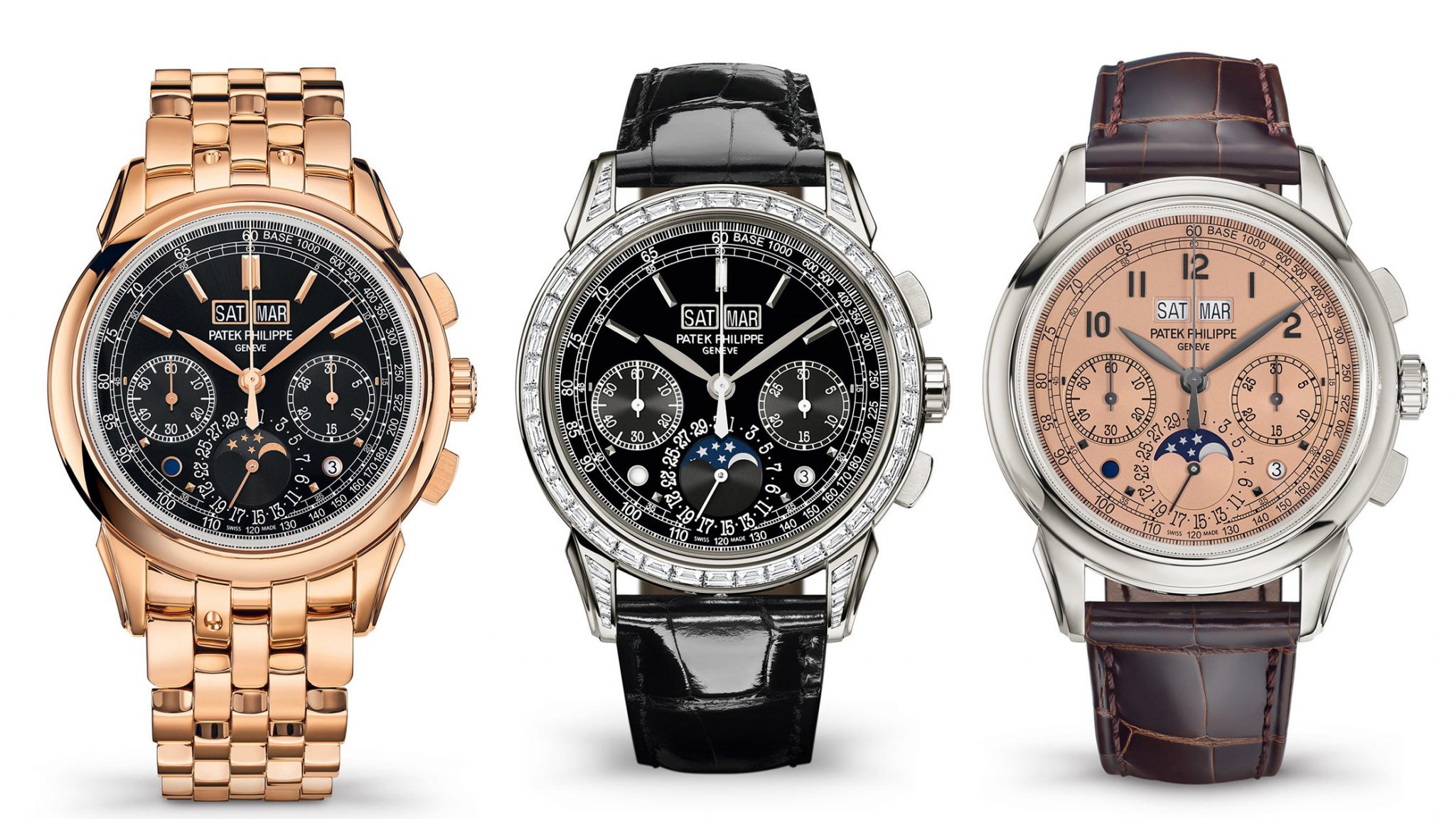 Ref. 5270-1R, 5271P, 5270P
The latter, in particular, was celebrated for its vintage look upon its launch in 2018. It is still extremely coveted, and virtually single-handedly paved the way for the ongoing trend towards salmon-coloured dials. And yet, it is true that rose gold is not for everyone – especially when it comes to a six-figure investment.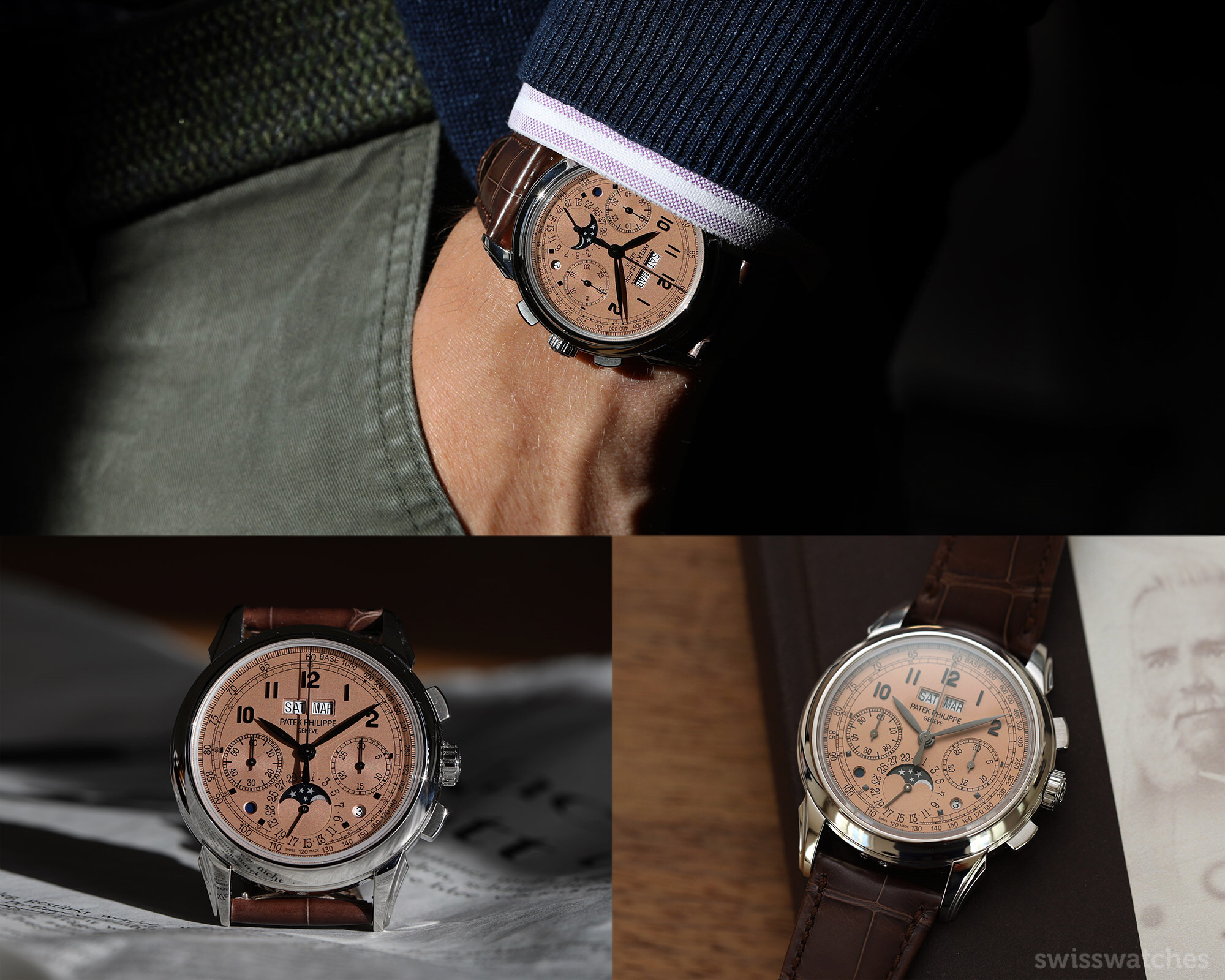 Ref. 5270P with salmon dial from 2018
New Aesthetic On The Block
Patek Philippe's addition of this new, yellow-golden 5270J to the flamboyant references is therefore very understandable. The result is so harmonious and so typical and familiar to Patek itself that we almost asks ourselves: is this really new?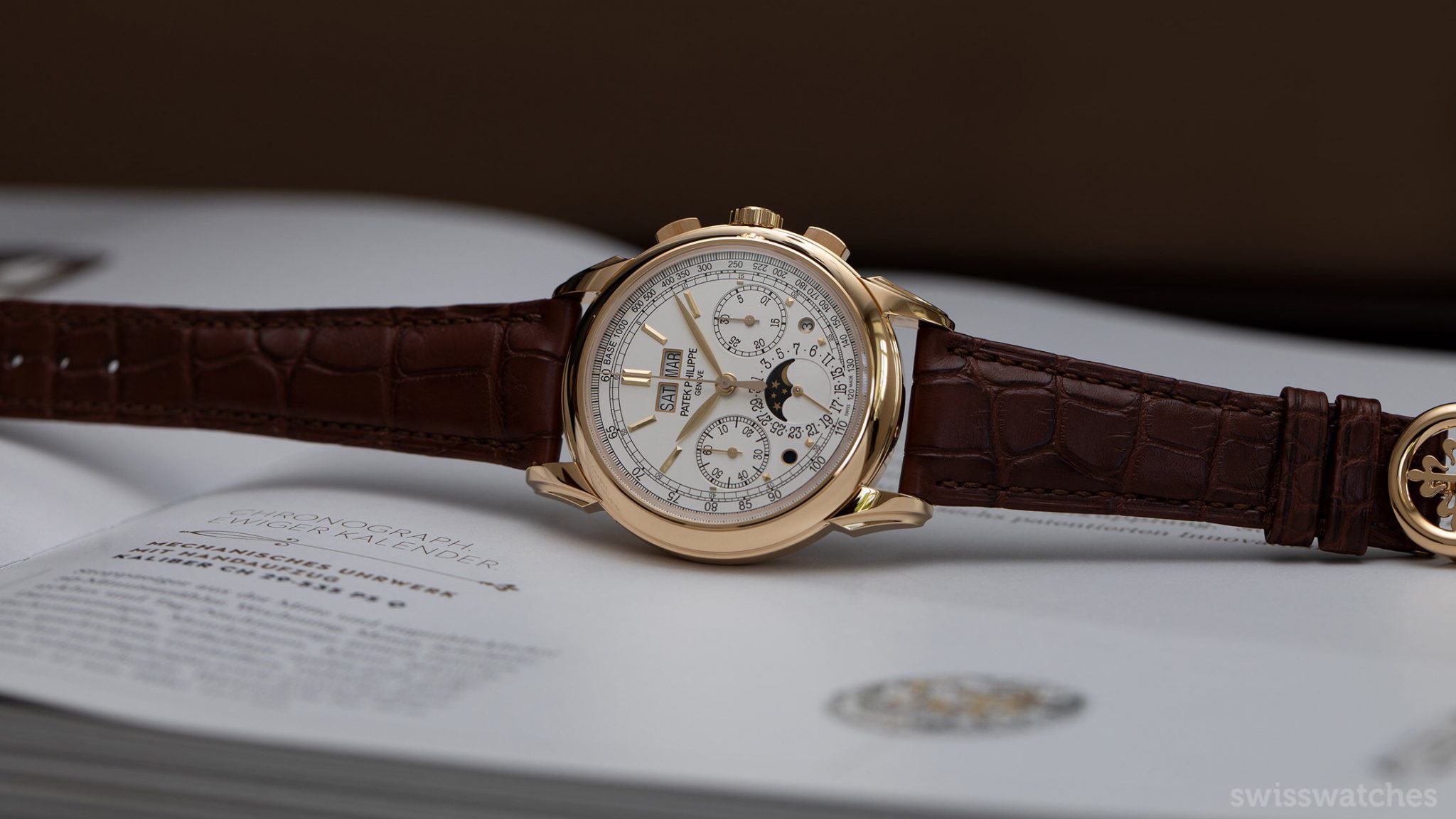 Ref. 5270J-001
Its features include its baton markers and feuille hands, a double window for the day of the week and month at 12 o'clock, a moon-phase window and leap-year indicator. The 5270J is the first yellow-gold version of this model. In this form, it could be said that the new model acts as an oasis of peace in our currently unsettled world. On which note, it will certainly serve to reassure and encourage all those fans of the manufacture who are alienated by more modern designs, such as the recently launched limited Calatrava 6007.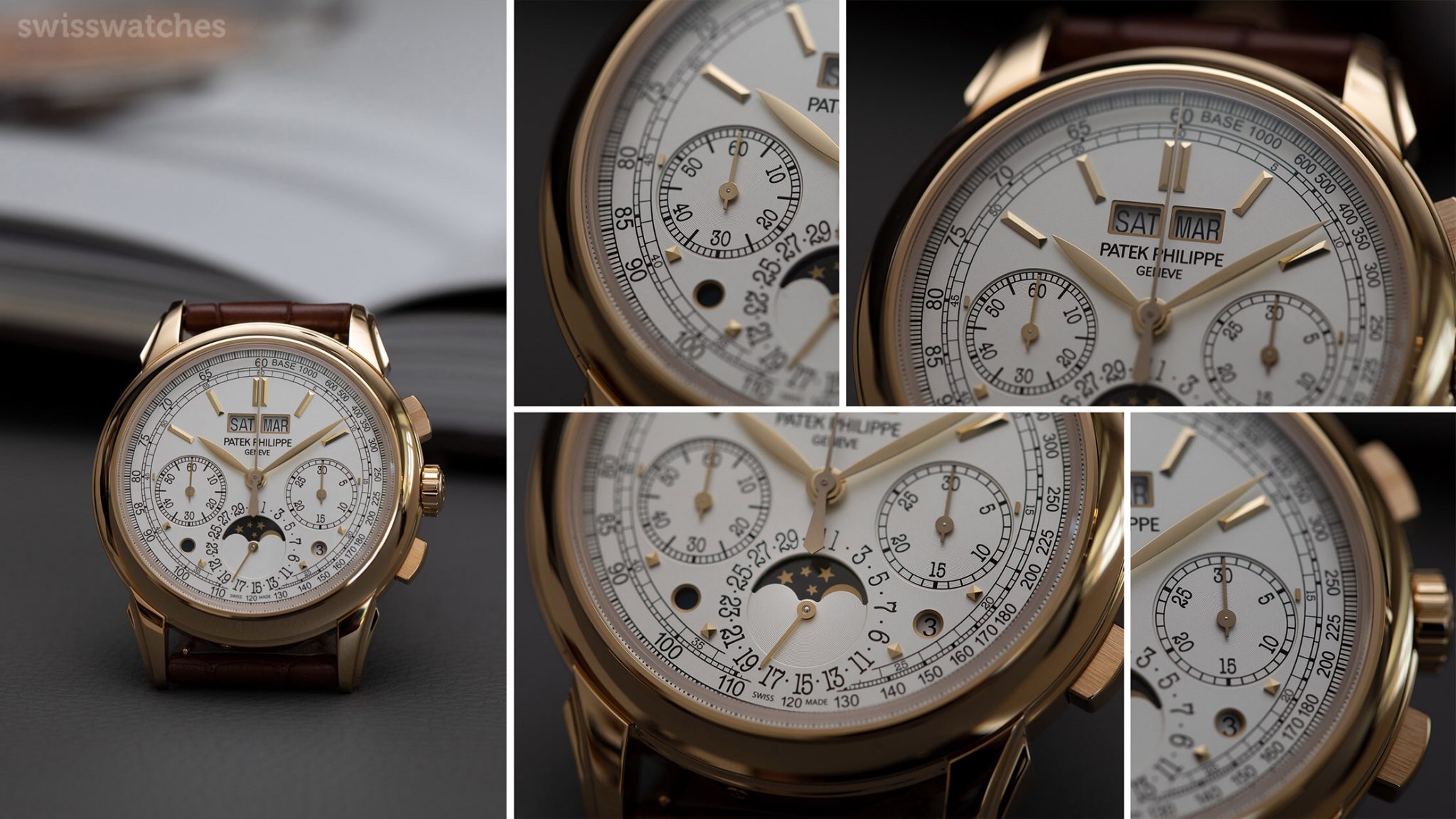 Chronograph With Perpetual Calendar: The History
To get an idea of the importance of this reference, one need look no further than recent auctions: a rose-gold reference 1518, previously belonging to Jean-Claude Biver, was recently auctioned off for 3.4 million Swiss francs – setting a new world record.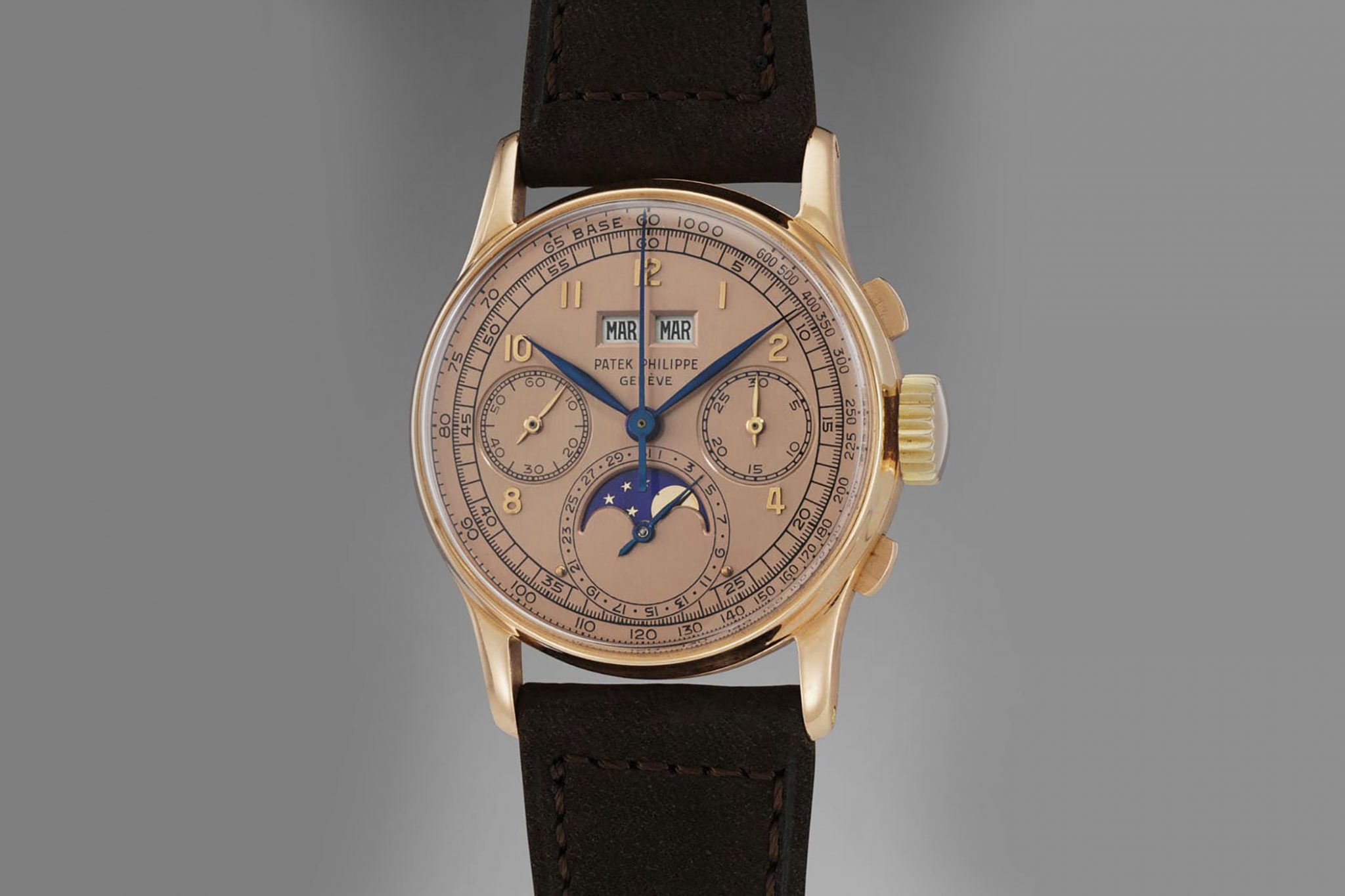 Ref. 1518 (Photo © phillips.com)
The 1518 is the mother of all perpetual calendar chronographs at Patek Philippe, and the first ever mass-produced watch with these complications. Although, the term "serial production" can be misleading in this case; as far as we know, only 281 models of this watch have been made in 14 years of production. This was followed by references 2499, 3970, 5970, and finally, in 2011, the first 5270.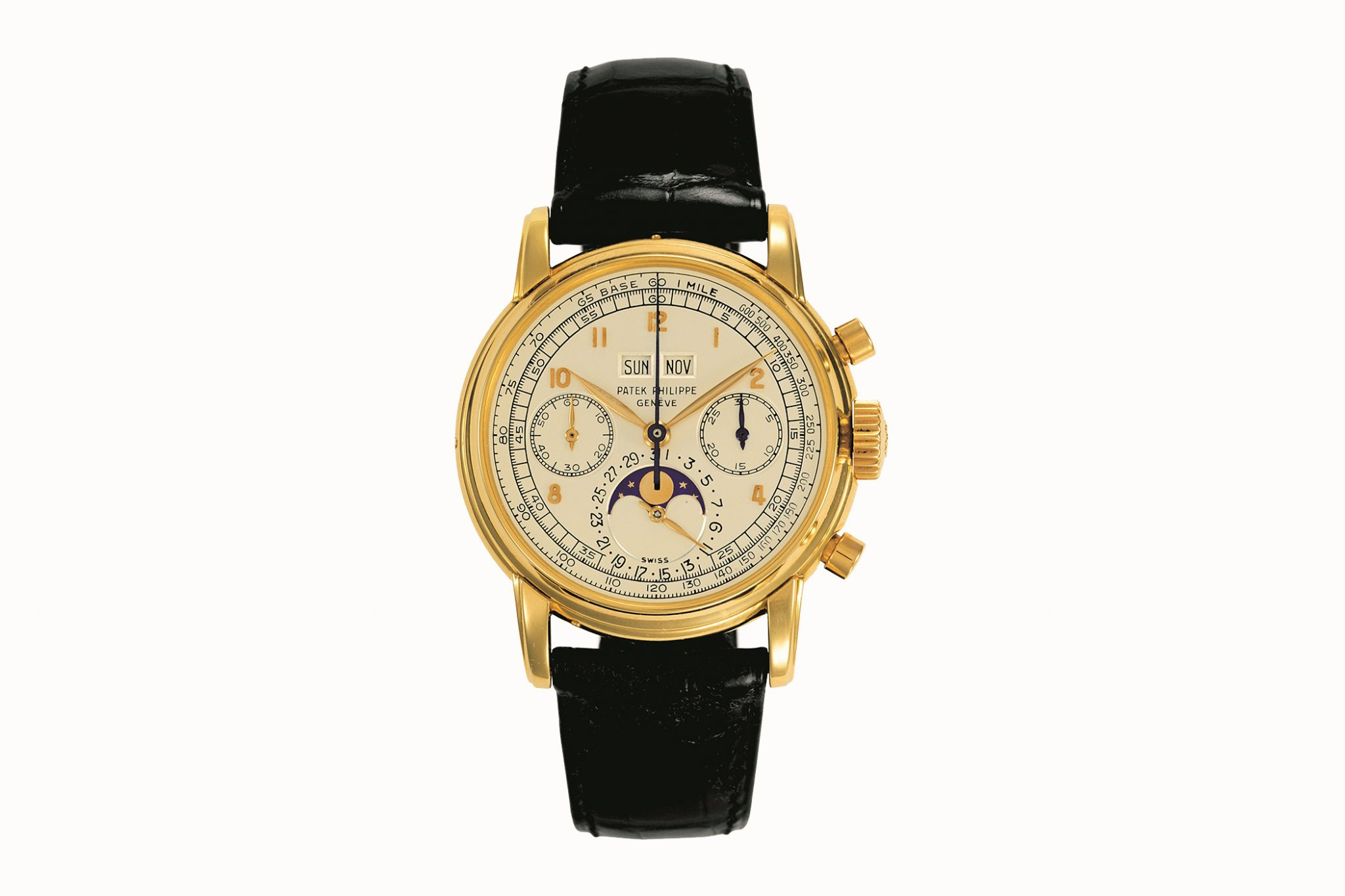 Ref. 2499 from 1951
With a diameter of 41 mm and a height of 12.4 mm, it is the largest hand-wound chronograph with a perpetual calendar in the history of Patek Philippe. This is why many traditionalists appreciate the predecessor models more, although the 5270 is notably compact and discreet.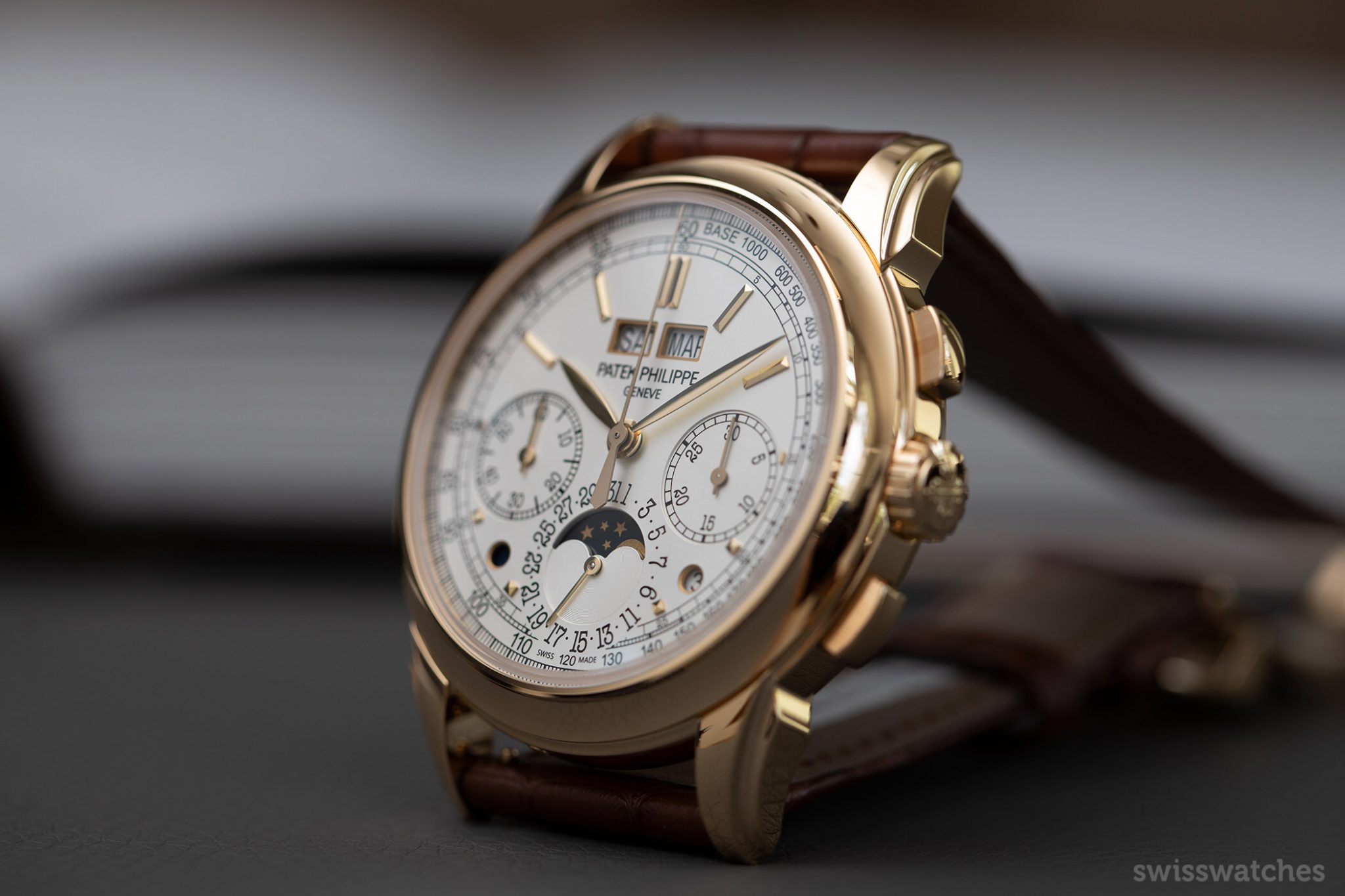 The so-called "chin" caused even more discussion in the past – the dial design of earlier references had been designed in such a way that the sub-dial with moon phase and date display at the six o'clock position required a bulge in the tachymeter scale; a detail that displeased many, and was quickly adjusted.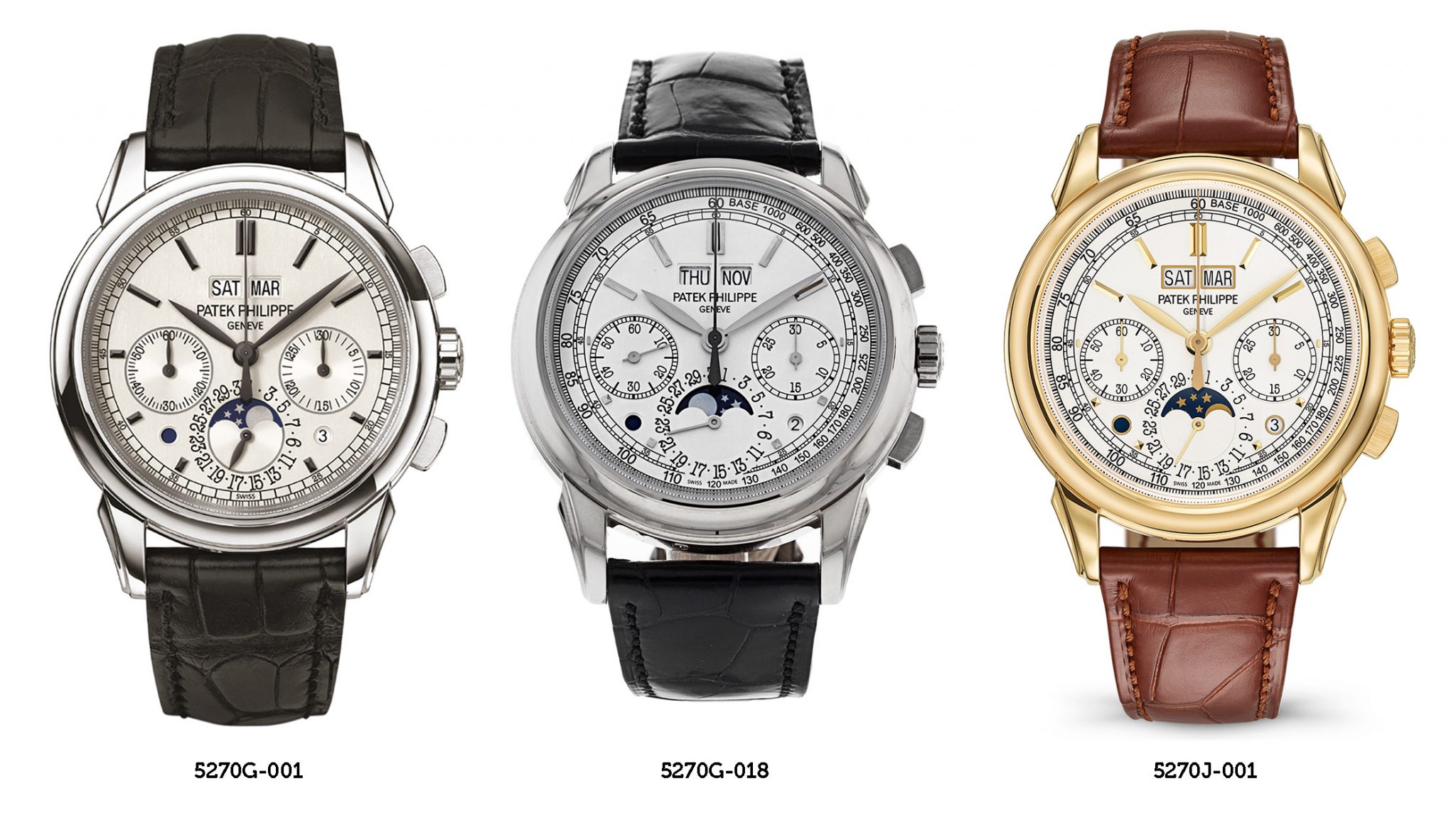 Inner Value: The Movement
The 2020 yellow-gold edition presents itself as flawless, mature and harmonious in its design, and apart from the fact that chronographs with a perpetual calendar are of particular importance to Patek Philippe, the 5270 has a very special position in the history of the family company. The movement, the calibre 29-535, is the first in-house movement of this kind in the history of Patek Philippe. Its predecessor, the calibre 27-70, was based on a Lemania movement.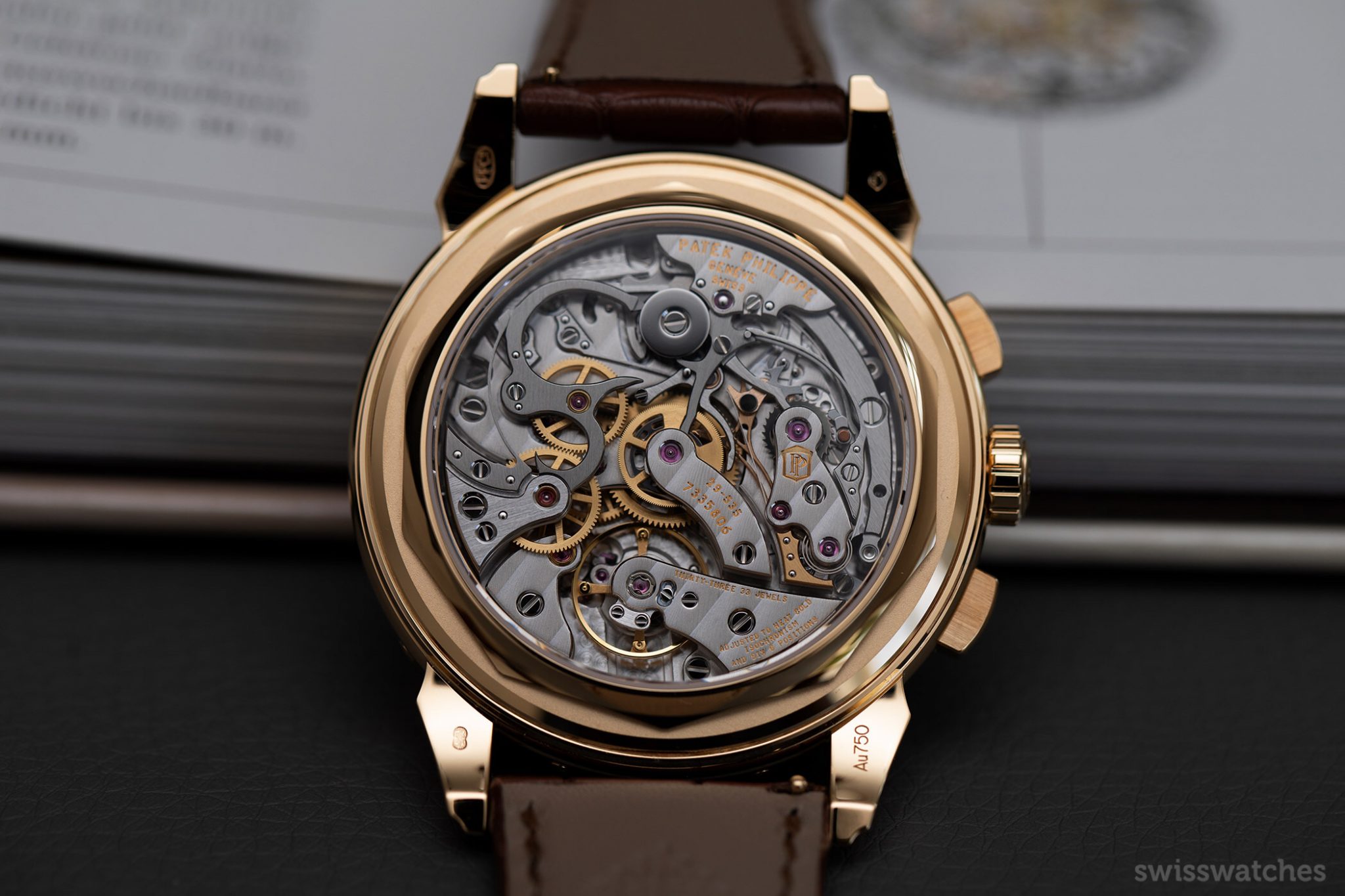 Calibre 29-535
The 29-535 combines six patented chronograph innovations, and it is a pity that the sight of a 5270 is and will remain very rare. Because to use the chronograph pushers, to see how constantly and precisely the seconds counter moves and stops, and to see how a piece of watch history is created from 456 individual parts, which moves at 4Hz or 28,800 vibrations per hour – that is an absolutely exceptional experience for every watch enthusiast. It is therefore hardly surprising that the circle of prominent fans ranges from Drake (owner of the brilliant-cut diamond version) to Sylvester Stallone (team salmon) and Ellen DeGeneres (rose gold with matching bracelet).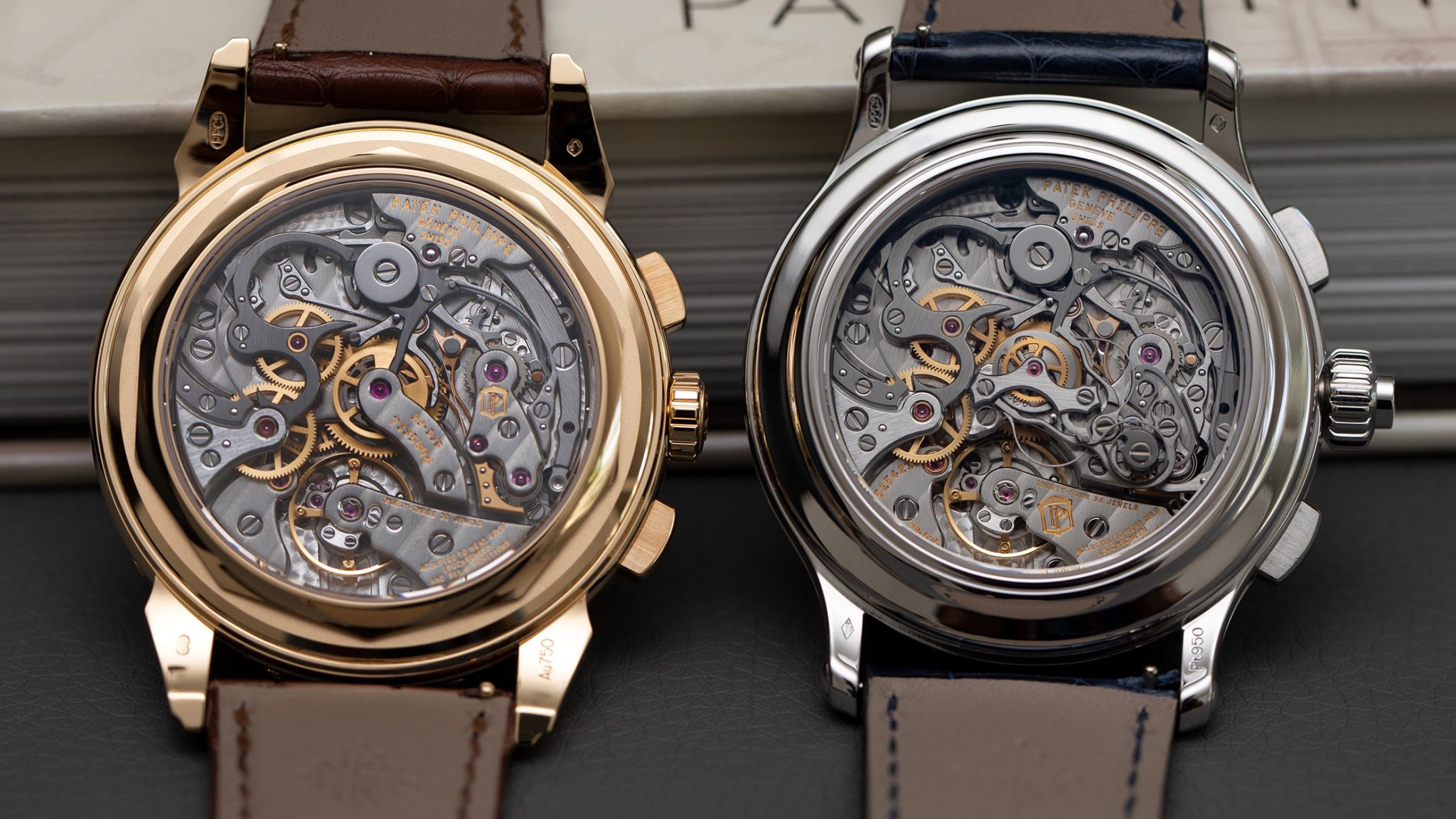 Comparing the movement (calibre CH 29‑535 PS Q) of the 5270J to the movement (calibre CHR 29‑535 PS) of the 5370P from the open caseback side, following can be noted: The split-seconds chronograph (5370P) looks more complex then the chronograph movement with perpetual calendar (5270J). Furthermore, the movement of the 5270J with its 456 components has a diameter of 32 mm and a height of 7 mm, whereas the 5370P with 312 components measures 29,6 mm diameter and even 7,1 mm in height. One would expect that two complications (perpetual calendar & chronograph) take up more space then a split-seconds chronograph, because it also needs more components.

The reason is that both references are built upon the same base calibre, but the split-seconds chronograph is more complex then a classical chronograph, as it needs a second start-stop mechanism. And through the caseback of both references only the two different chronograph mechanisms become visible, whereas the calendar module is not displayed. As for the split-seconds chronograph, a second chronograph is built on top of the basic mechanism and this actually takes up more space in its construction then a classical chronograph with perpetual calendar. The bigger diameter of the 5270J movement is due to the calendar module.
Eternal beauty: The Model's Outlook
Among the 5270 references, this new yellow-gold variation is certainly one that will be particularly popular. It isn't conspicuous, it doesn't serve any trend and it conveys neither a vintage nor modern look. Rather, it displays the combination of two complications – a hand-wound chronograph and a perpetual calendar – both of which are fully typical of Patek Philippe, with a quality and design that can only be found in the Stern family.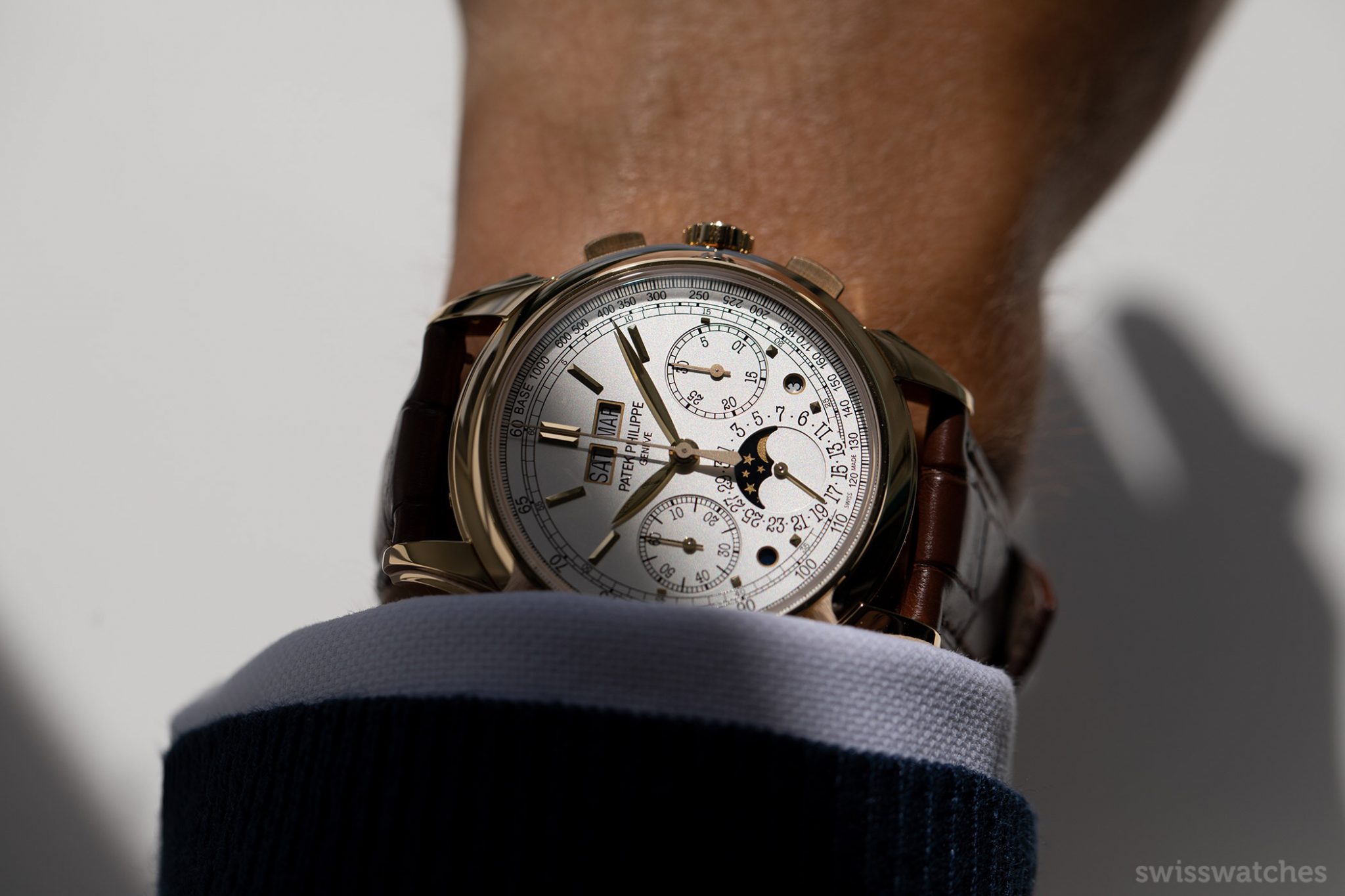 At 152,000 euros, the yellow-gold version is a good 16,000 euros less expensive than the platinum version, which costs 168,340 euros. Nevertheless, at this price level – with a few exceptions – Patek Philippe itself is of course also at the top end of the scale. The watch is simply Champions League, and we can assume that it will be difficult for collectors to get hold of the model. This was and is already the case with the salmon-coloured version, and is certainly not something likely to change with this new, incredibly popsular colour scheme.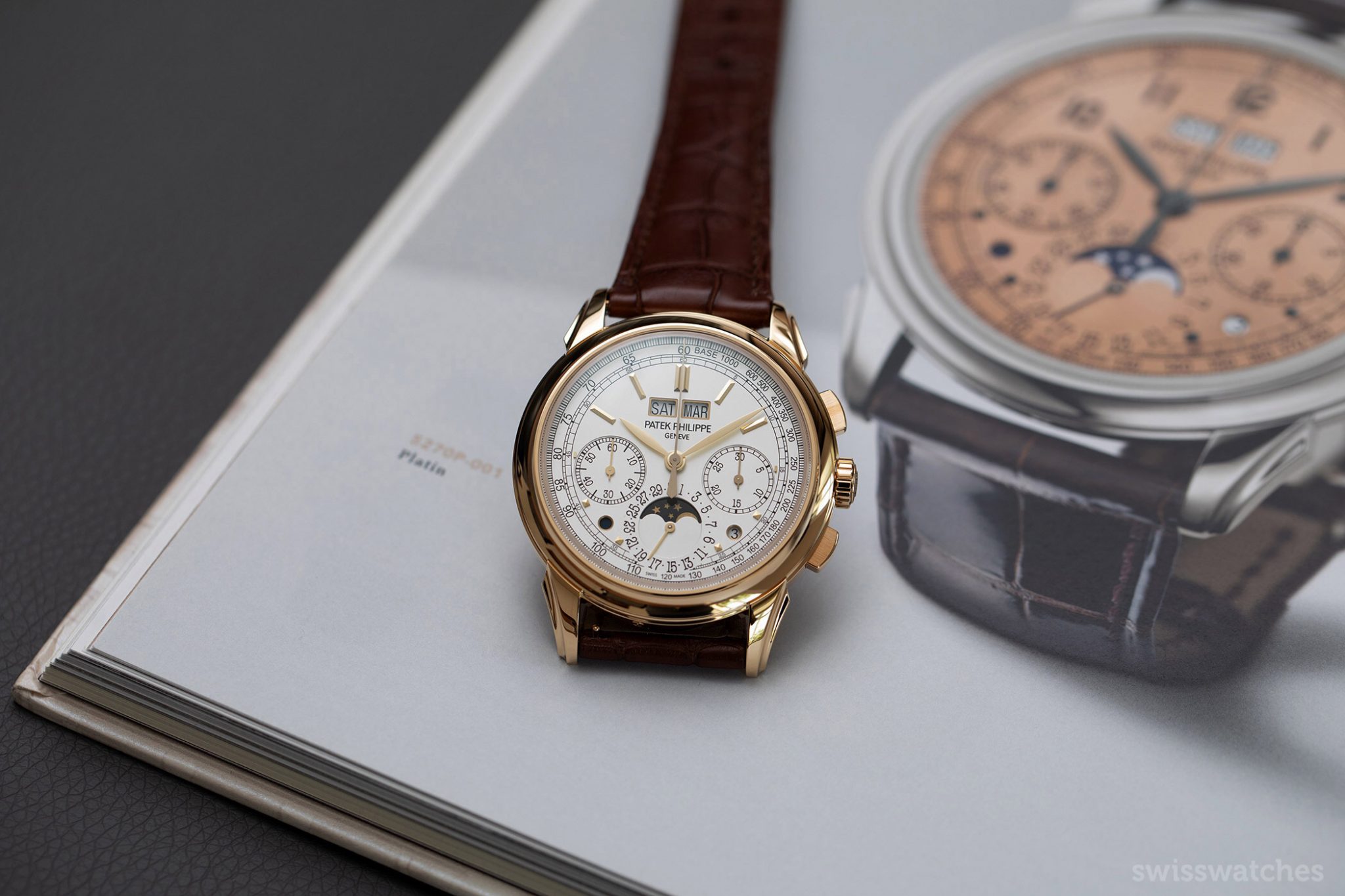 ---
---
FEATURES
BRAND:
Patek Philippe
MODEL:
Grand Complications – Perpetual Calendar Chronograph
REFERENCE:
5270J-001
CASE MATERIAL:
Yellow Gold
DIMENSIONS:
Diameter: 41.0 mm
Height: 12.4 mm
WATER RESISTANCE:
3 bar (~ 30 m)
DIAL:
Silvery opaline, gold applied hour markers
STRAP/BRACELET:
Alligator leather, hand-stitched, matte chocolate brown
MOVEMENT:
Caliber CH 29-535 PS Q
MOVEMENT TYPE:
Manual winding
POWER RESERVE:
With the chronograph disengaged: min. 55 hours – max. 65 hours
FREQUENCY:
28,800 vph, 4 Hz
FUNCTIONS:
Hours, Minutes, Small seconds, Chronograph, Central chronograph hand, Instantaneous 30-minute counter, Perpetual calendar, Day, month, leap year and day/night indication in apertures, Date by hand, Moon phases
PRICE:
≈ EUR 152.000
---