The history of Cartier's world-renowned horological creations spans well over a century. However, the Cartier Ballon Bleu de Cartier is still a relatively new addition. Since its release in the 2000s, it's become one of the most-loved unisex watches out there – particularly for women looking to break away from stagnant, over-marketed watch designs.
As a female with an interest in horology, it is often frustrating to see the feats of watchmaking hidden behind diamond dials that are predictably marketed as 'charming' and 'alluring'. This all-too-common design approach runs the risk of creating watches that are inaccessible and monotonous for those who aren't looking for a sparkling version of what is ultimately a smaller, more expensive version of a watch primarily meant for gentlemen.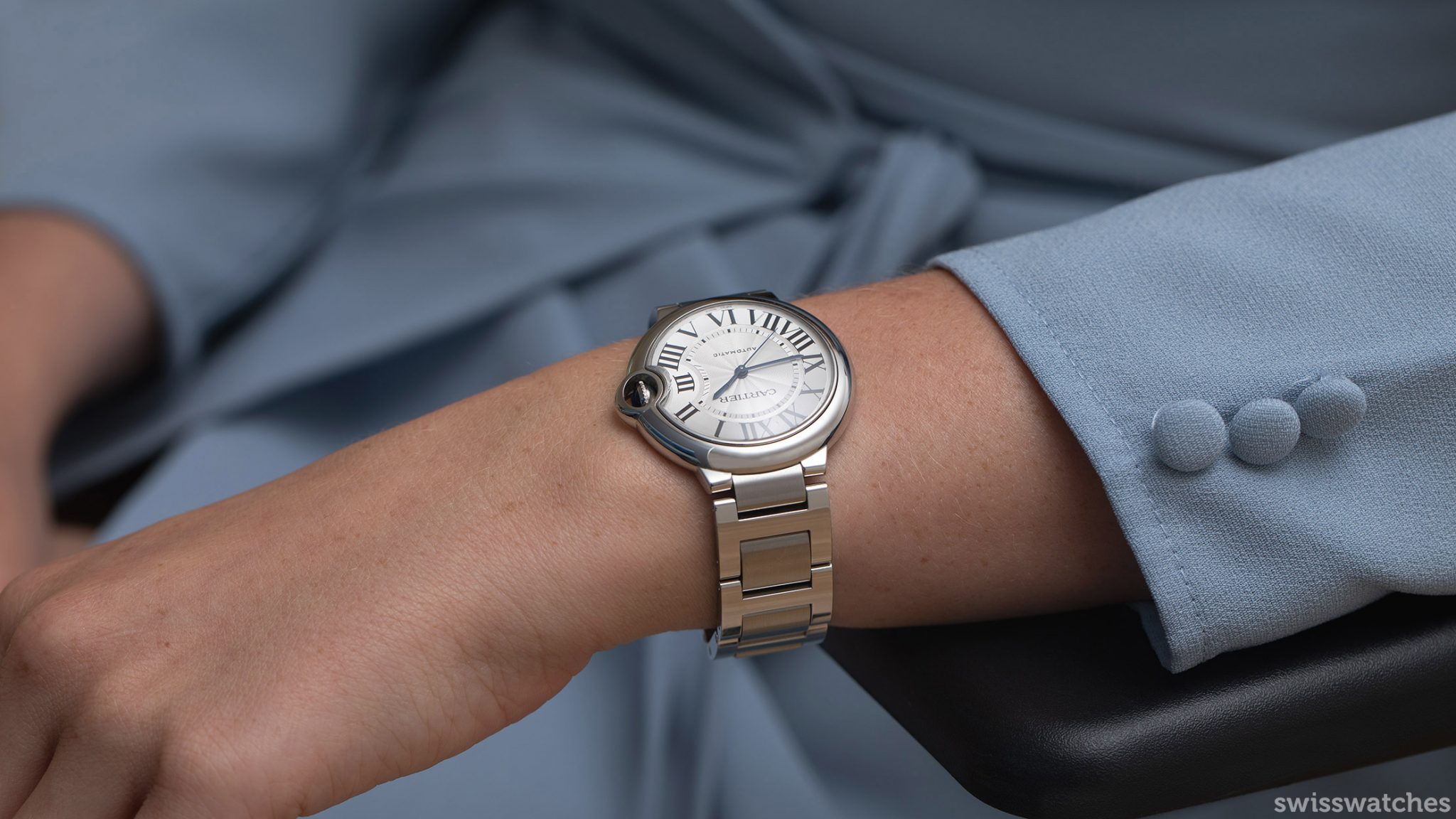 It is also a lazy solution which fails to take into account the aesthetic changes required for a ladies watch. Like many men, we also appreciate a fine, classic timepiece. Ladies don't necessarily want the glitz and glamour that is inevitably poured over so many ladies' watches.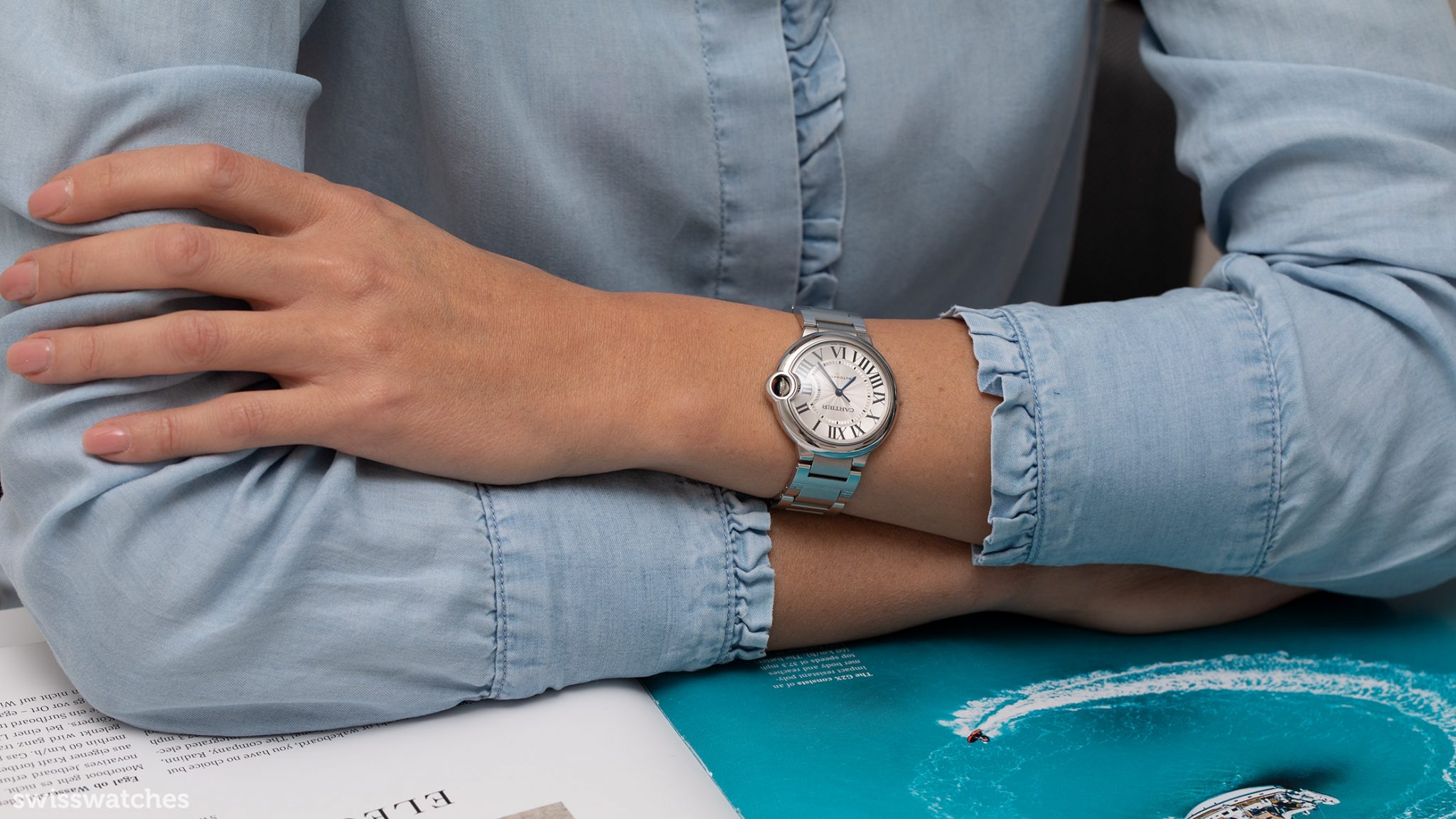 This is something that the president and CEO of Cartier North America, Frédéric de Narp, noted upon the Ballon Bleu's launch back in 2007, stating: "The simplicity [of the watch's design] is a departure from the current market of embellished timepieces." This statement continues to ring true today within the luxury watch sector. It is also the reason I fell in love with the stainless-steel Ballon Bleu de Cartier 36 mm (36.6 mm, to be precise). It's so simple, so beautiful, and, as the name suggests, leaves you feeling attractive, low-key and care-free.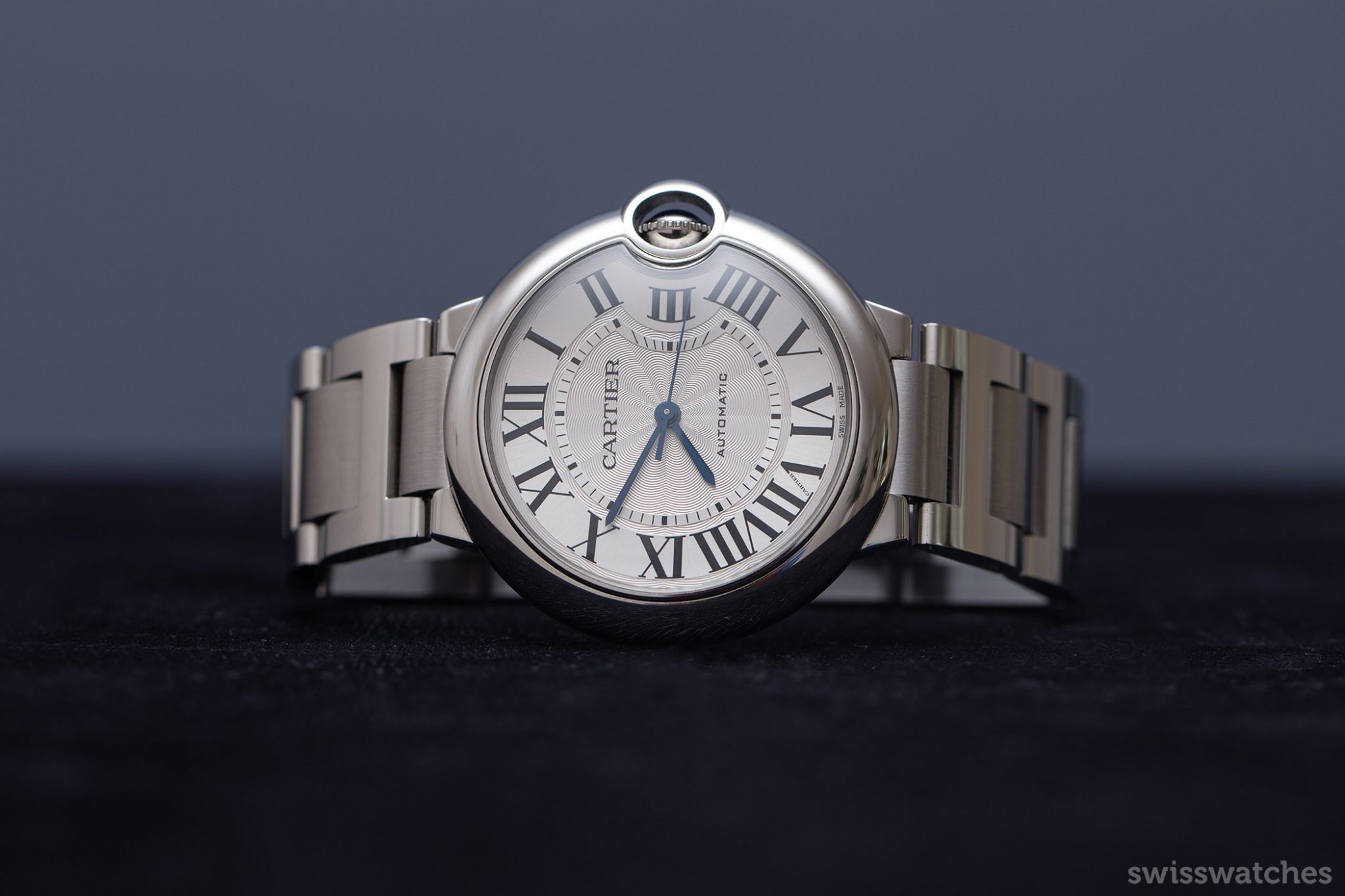 The Background
Cartier first introduced the watch in 2007 – a time of both upheaval and excitement. While Rihanna burst onto the scene with her hit 'Umbrella' and Steve Jobs announced the release of the first iPhone, the world was on the brink of a global financial crisis, which was to take hold by December 2007. Meanwhile, at Cartier's watchmaking manufacture in La Chaux-de-Fonds, a brand new timepiece had been conceived. The Ballon Bleu de Cartier's harmonious design fitted seamlessly into the maison's design concept, while contrasting with the hectic, fast-paced environment picking up pace across the globe.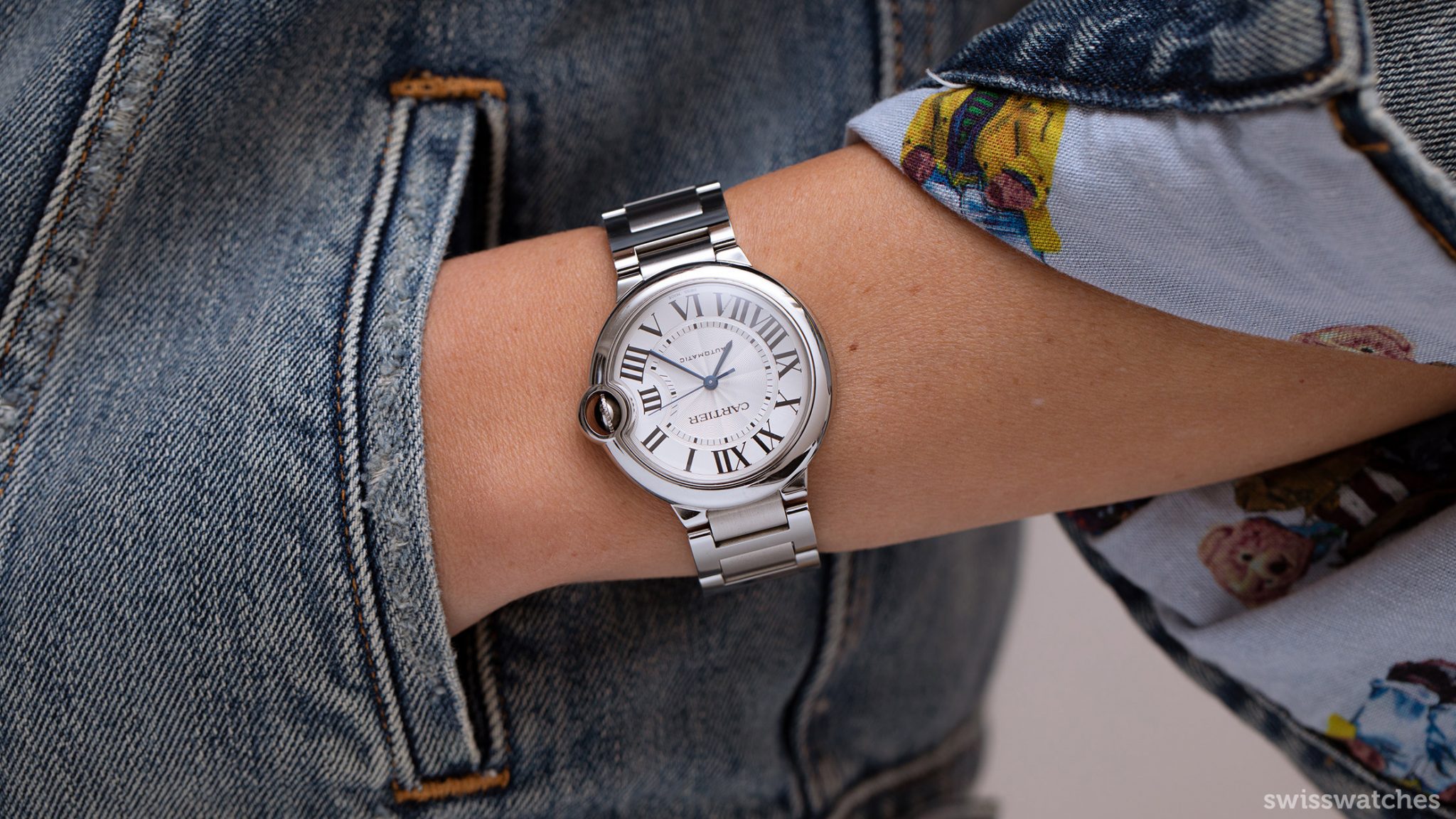 A Broad Appeal
One joy of the Ballon Bleu is that it is one of those rare creations that equally suits both genders. On men, such as R&B legend Usher, it looks relaxed, yet refined, and actually surprisingly alternative. Meanwhile, on women, it exudes class and style. Furthermore, it looks good with pretty much anything; a denim jacket, a little black dress, or even a suit. Indeed, it was recently spotted on the wrist of France's Minister of Europe and Foreign Affairs, Jean-Yves Le Drian, during a press conference.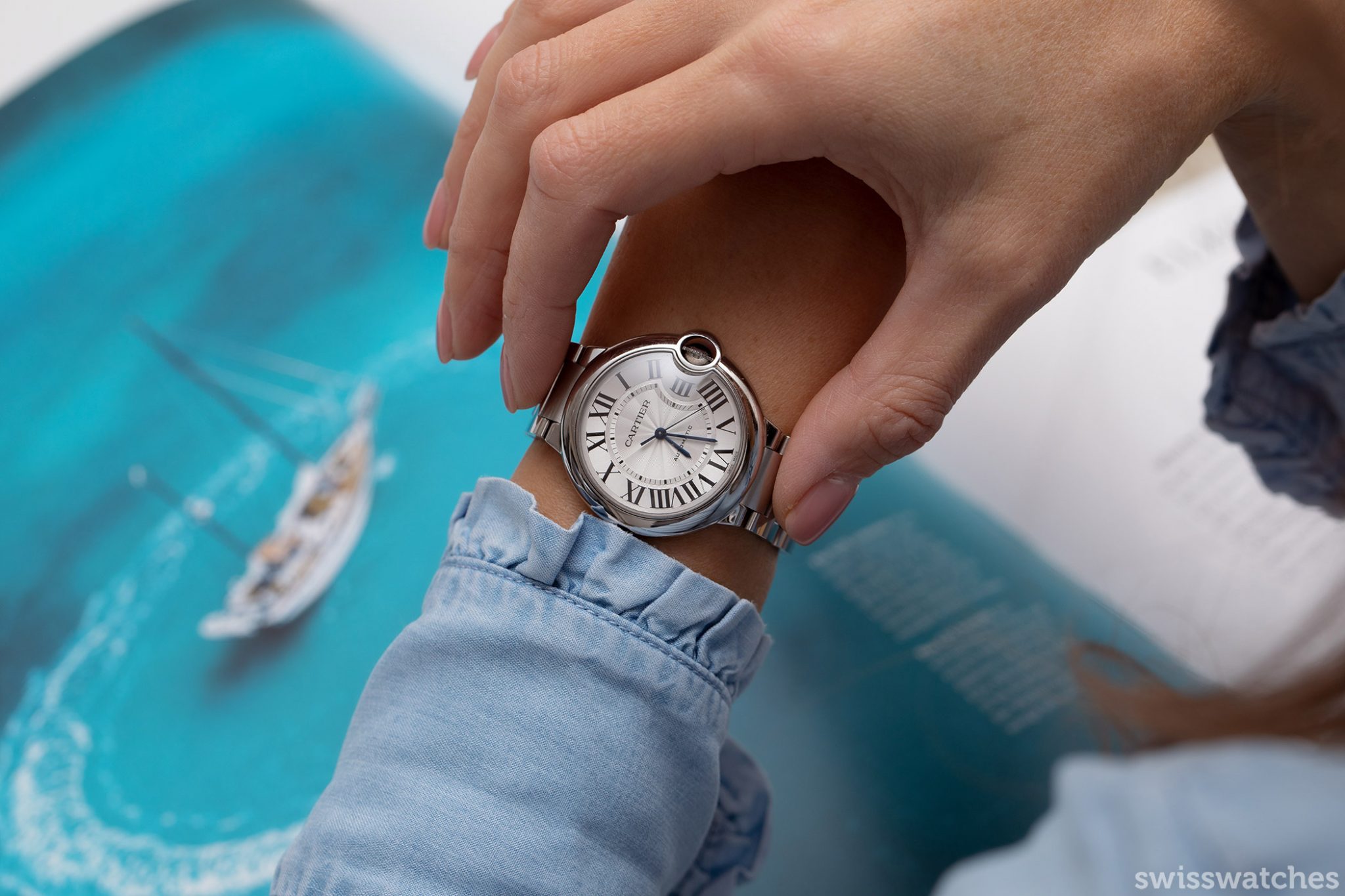 Secondly, the Ballon Bleu de Cartier is an enduringly relevant timepiece. While gaudy watches heavily adorned with diamonds and precious metals simply don't suit everyone (not least younger generations), the Ballon Bleu de Cartier transcends both age and time. Its subtle, stable design means there's no danger of it going out of style, allowing it to continue down the family line to sons and daughters alike.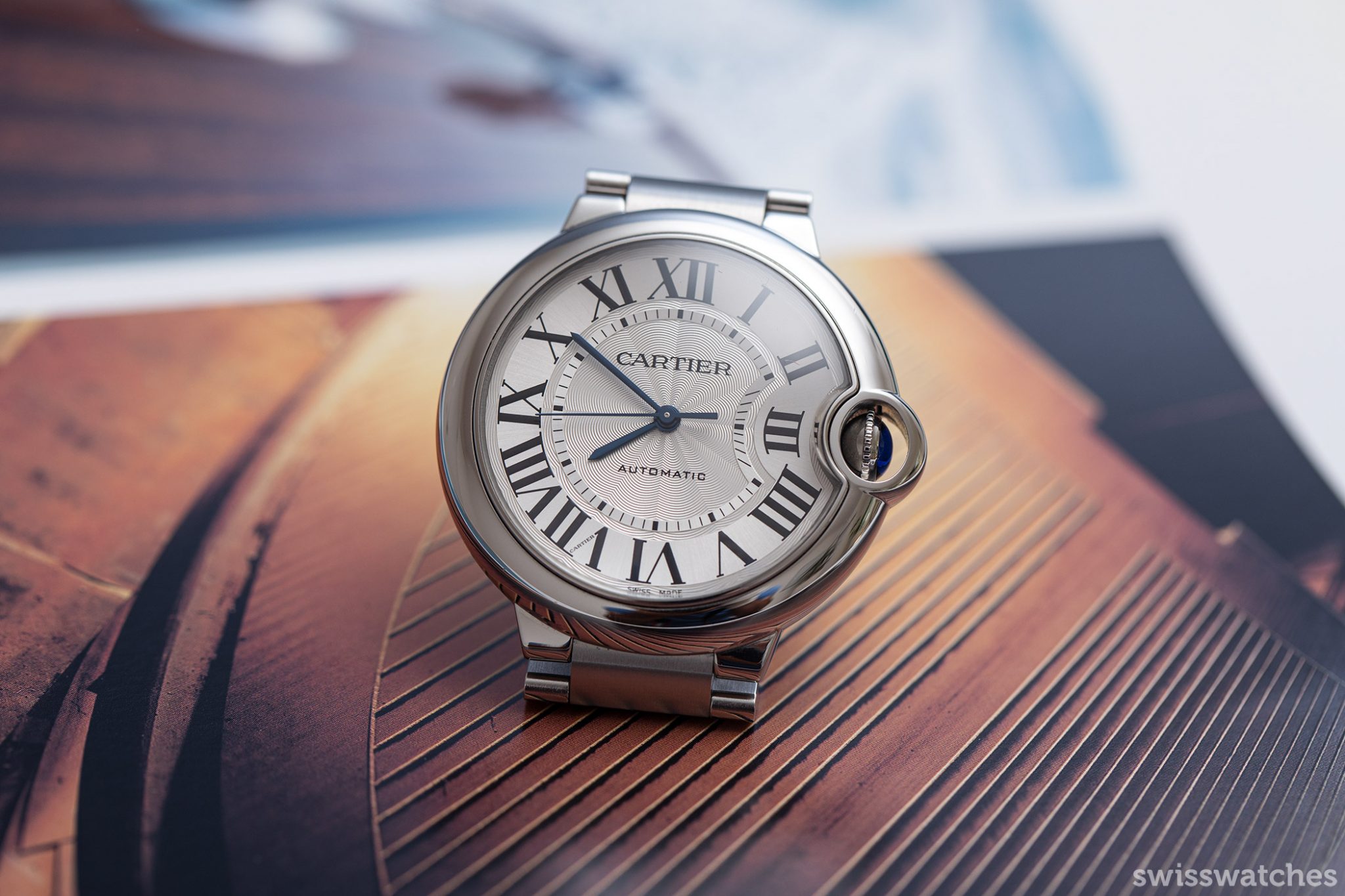 Naturally, the brand has played around with the watch, creating an array of different styles. This ranges from the inevitable sprucing up of models with diamonds and pink dials, to more complicated versions, such as a moonphase or a flying tourbillon. However, to me, minimalism is key to the austere beauty of the Ballon Bleu.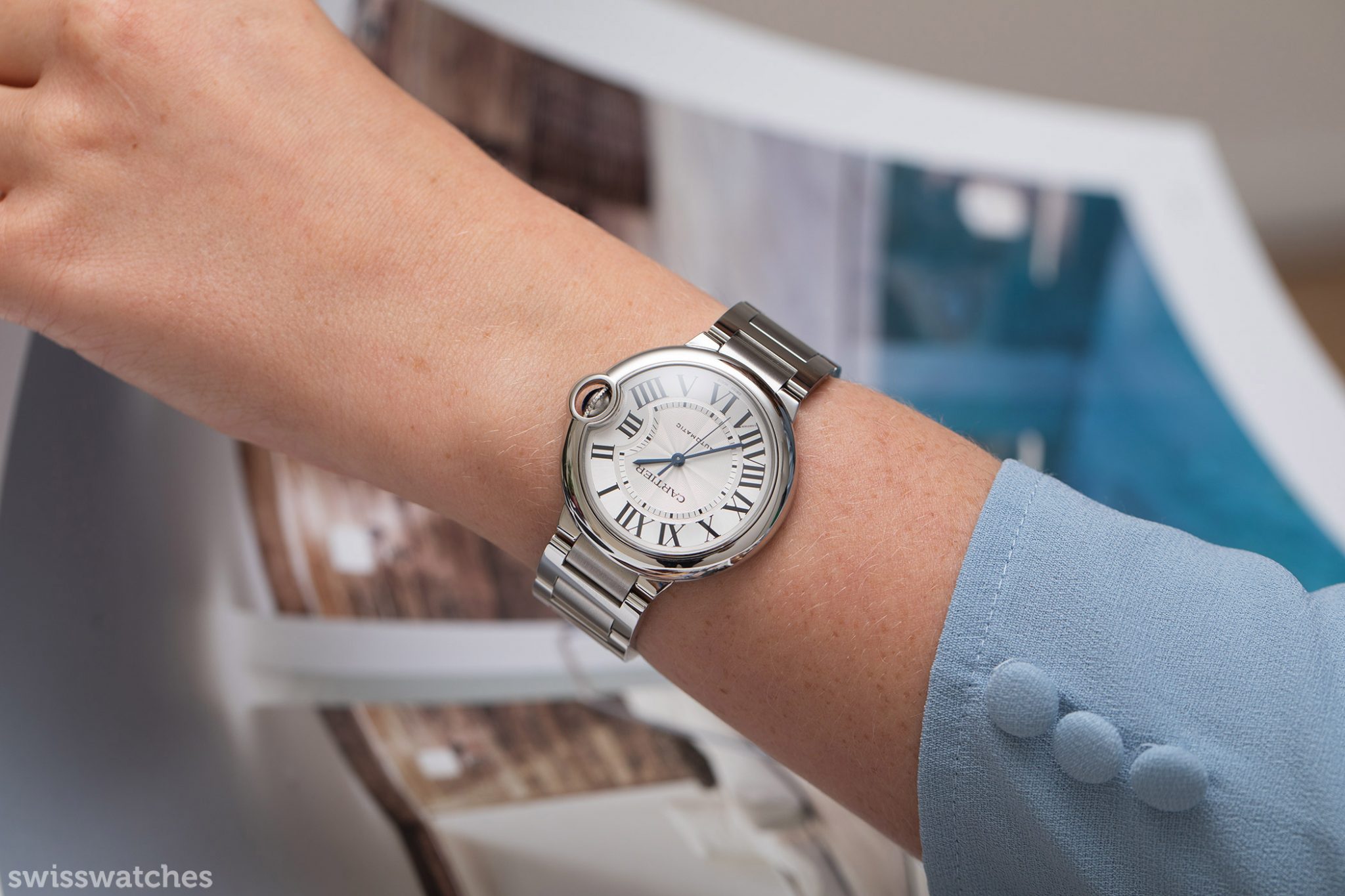 The Followers
Despite the watch's French roots, I, being English, find it to be a watch I connect with profoundly. For me, the brand as a whole makes me think of traipsing past Harrods in the rain, with my spirits lifted by Cartier's vivid red window displays. The watch itself reminds me of British fashion icon Kate Middleton at the tennis, wearing her 33 mm Ballon Bleu de Cartier – with no diamonds in sight, one might add – on a stainless-steel bracelet (5,600 euros).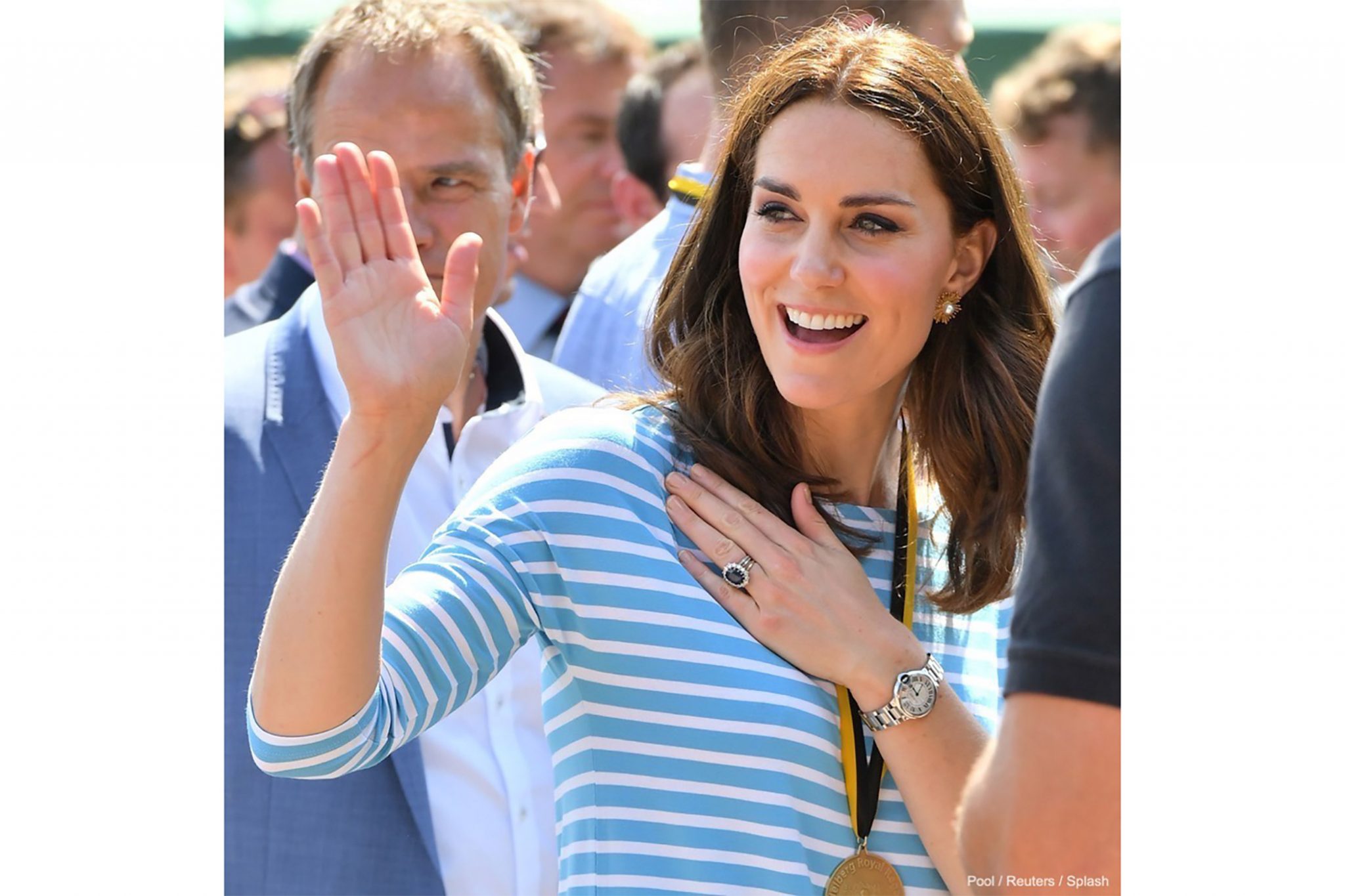 Middleton's influential style, for all the luxuries she is no doubt able to enjoy, is consistently low-key, timeless, and in-vogue. Perhaps that's what makes both her and her choice of watch so eye-catching. Modern Family's Sofia Vergara (Gloria) is also fan of the curvaceous, playful watch. It's a fitting choice of timepiece for a woman who is equally bold and vivacious. Vergara wears the 36 mm rose-gold version, which starts at 13,300 euros.
The Highlights of the Cartier Ballon Bleu
The Case
Looking at the Ballon Bleu de Cartier, the graceful arc steadfastly protecting the fluted crown inevitably draws one's attention. However, this elegant and iconic integrated crown guard doesn't come without a downside. Dust easily gets into the small concave within, and this tiny inner space can be irritatingly difficult to clean.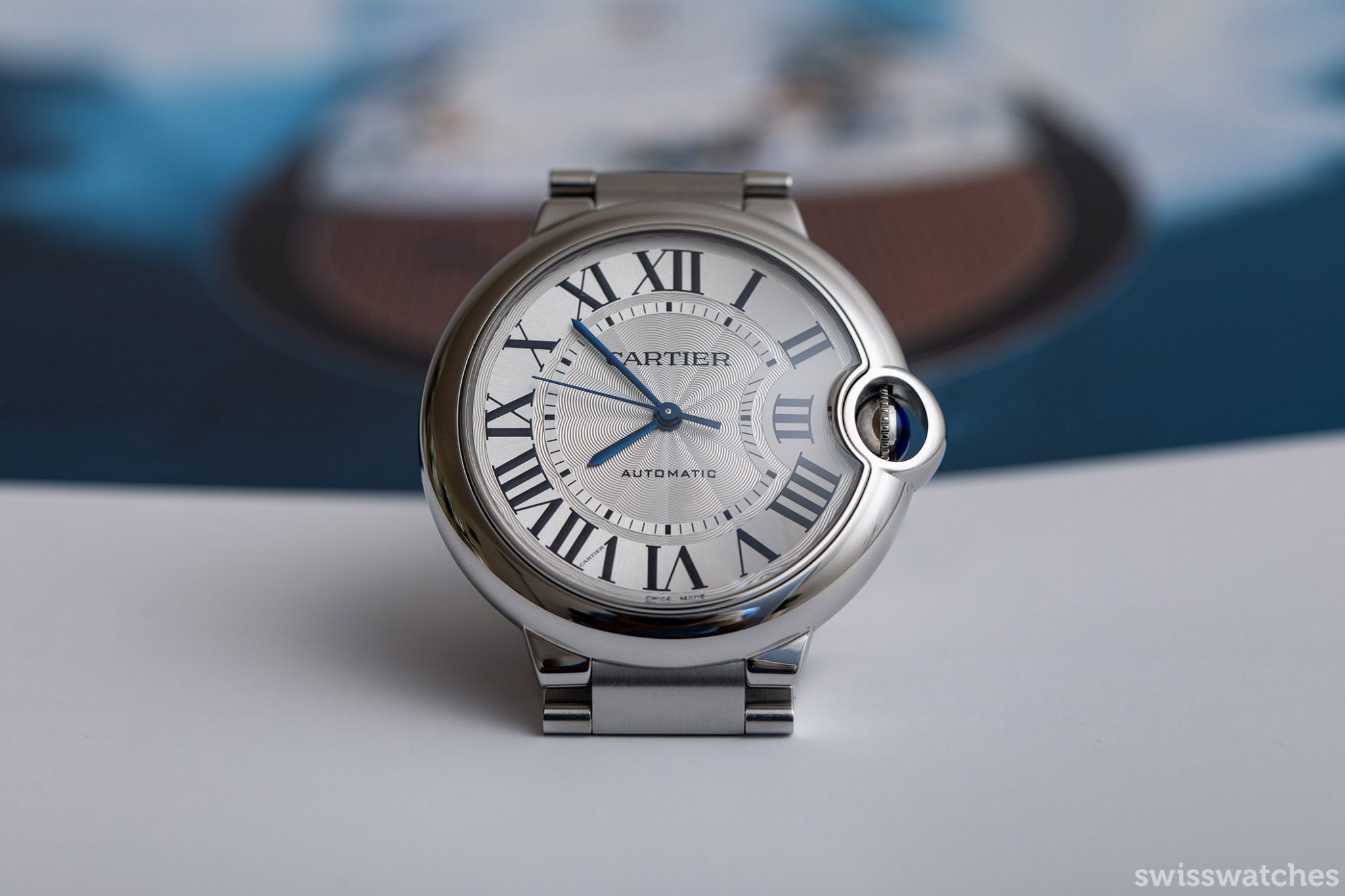 Furthermore, it's somewhat tricky to actually see the blue cabochon 'nestled', as Cartier puts it, inside the crown. The blue cabochon is an important and recognisable design feature that is very noticeable on other Cartier watches, such as the Pasha du Cartier or Santos-Dumont. However, once again, the Ballon Bleu de Cartier ultimately dials it down.The stainless-steel model undoubtedly reigns supreme in comparison with, for example, the bicolour version, which features a somewhat garish yellow-gold crown within the stainless-steel arc.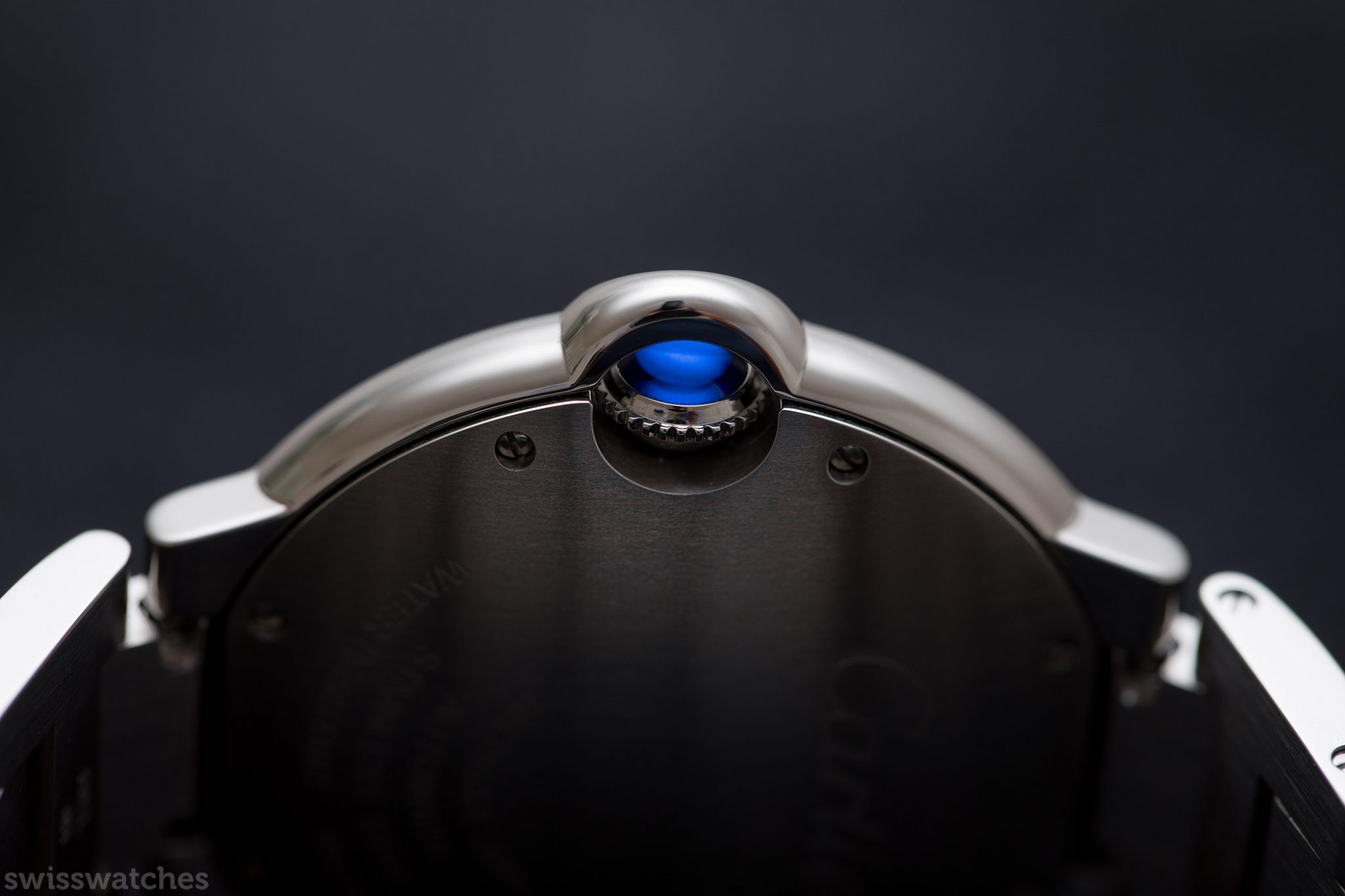 Despite the watch looking surprisingly flat from a bird's eye view, the shapely sapphire crystal is domed when viewed from the side. If you turn the watch over and press it lightly against a flat surface, you can feel its roundness. Despite the model's relatively sturdy appearance, the watch has a water-resistance of only 30 m. However, given the everyday luxury watch's purpose, it hardly requires more.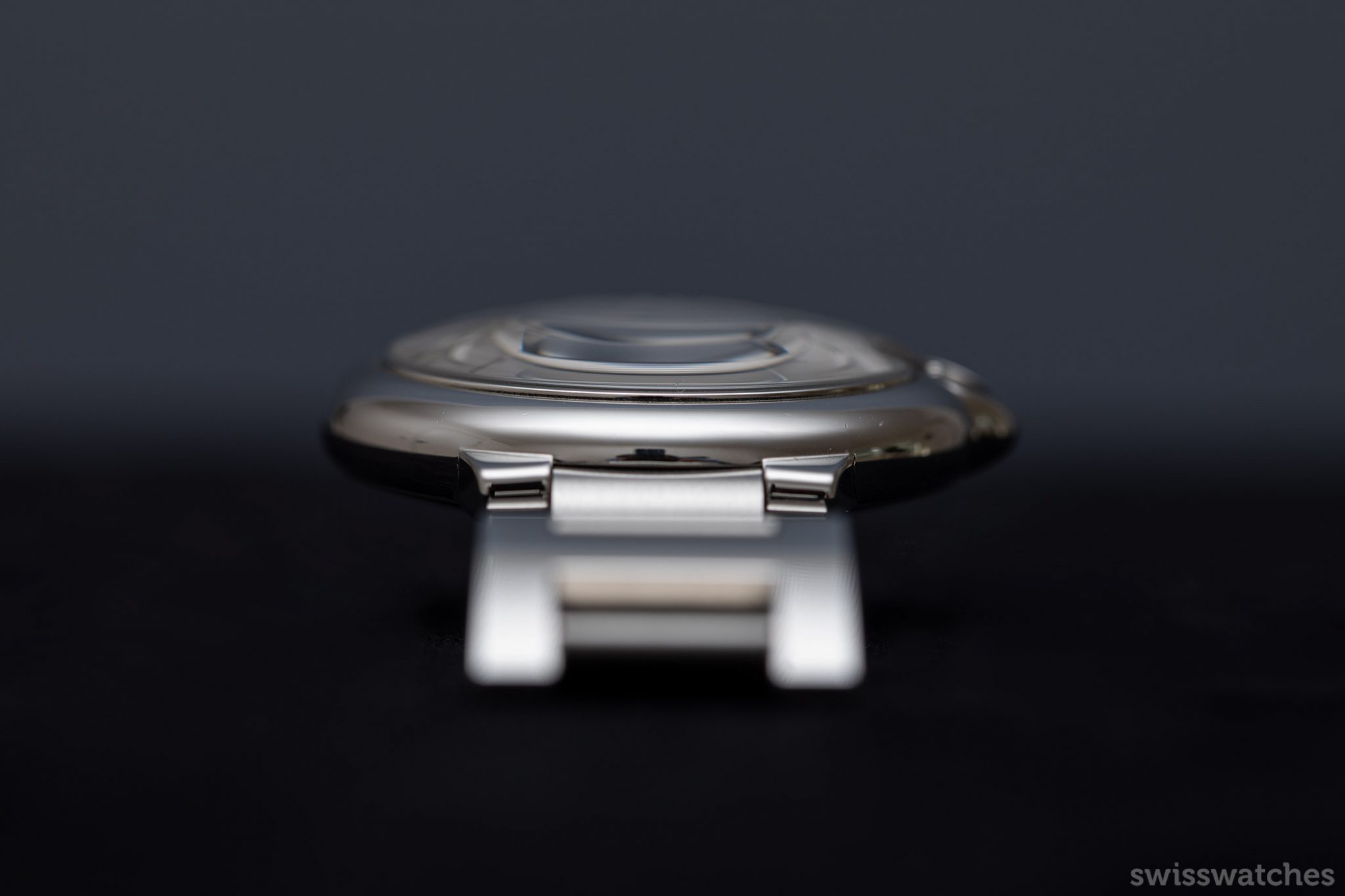 Finally, the versatile Ballon Bleu models are available in a range of case sizes: 28 mm, 33 mm, 36 mm, 37 mm (moonphase), 40 mm, and 42 mm. Materials offered include rose-gold, stainless-steel, yellow-gold, white-gold, or bicolour (gold and steel).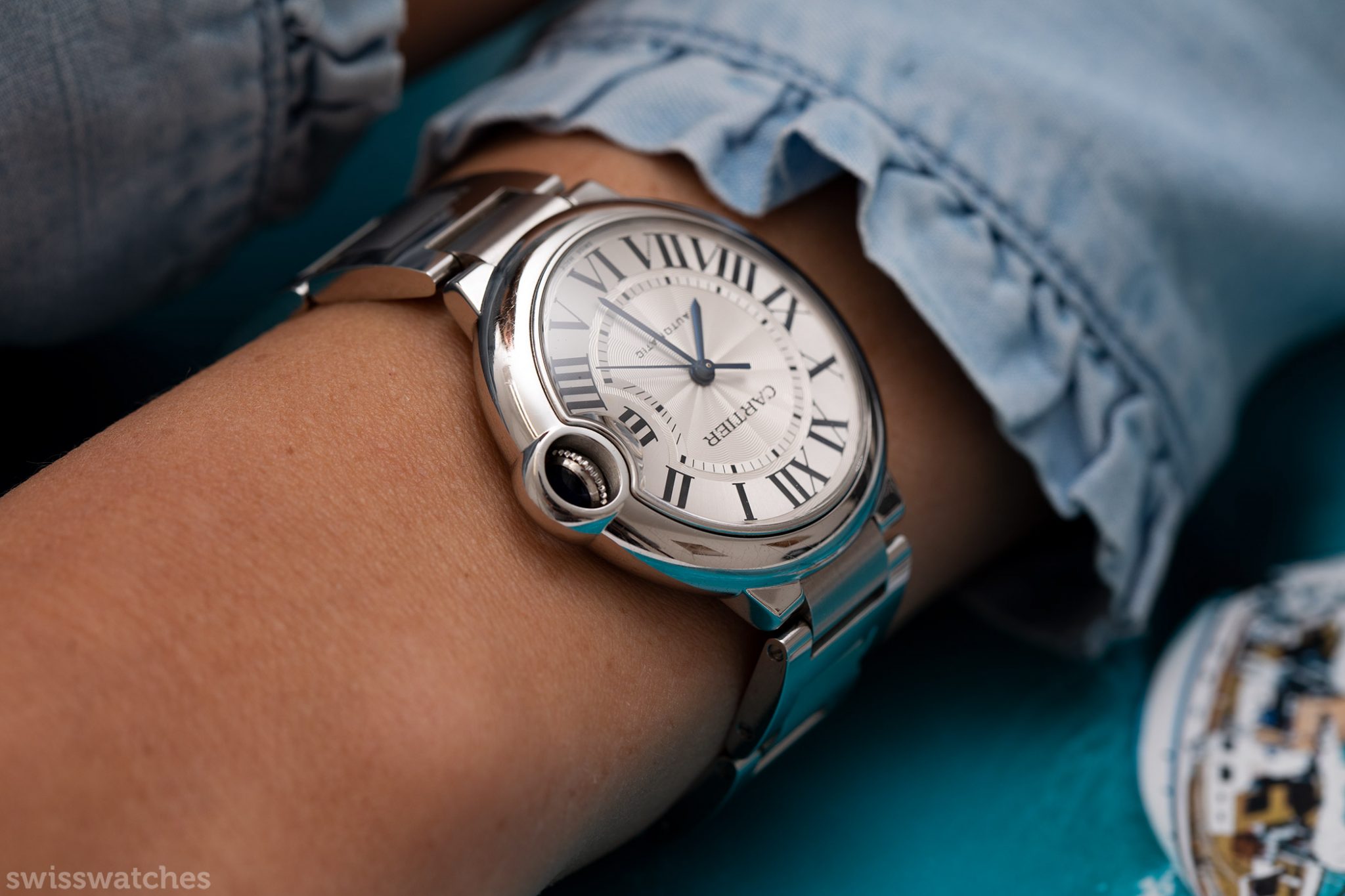 The Dial
Some people look down their noses at Cartier watches, viewing the brand as a fashion house. These people haven't taken into account the incredibly complicated movements the brand has brought out across the years. Just take this year's Rotonde de Cartier Haute Horlogerie watches, or the Santos-Dumont line, which not only have a touching and historic story, but have also become an unrivalled design icon. Having defended Cartier's watchmaking division (not that one should have to), let's take a look at the design of the Ballon Bleu's dial.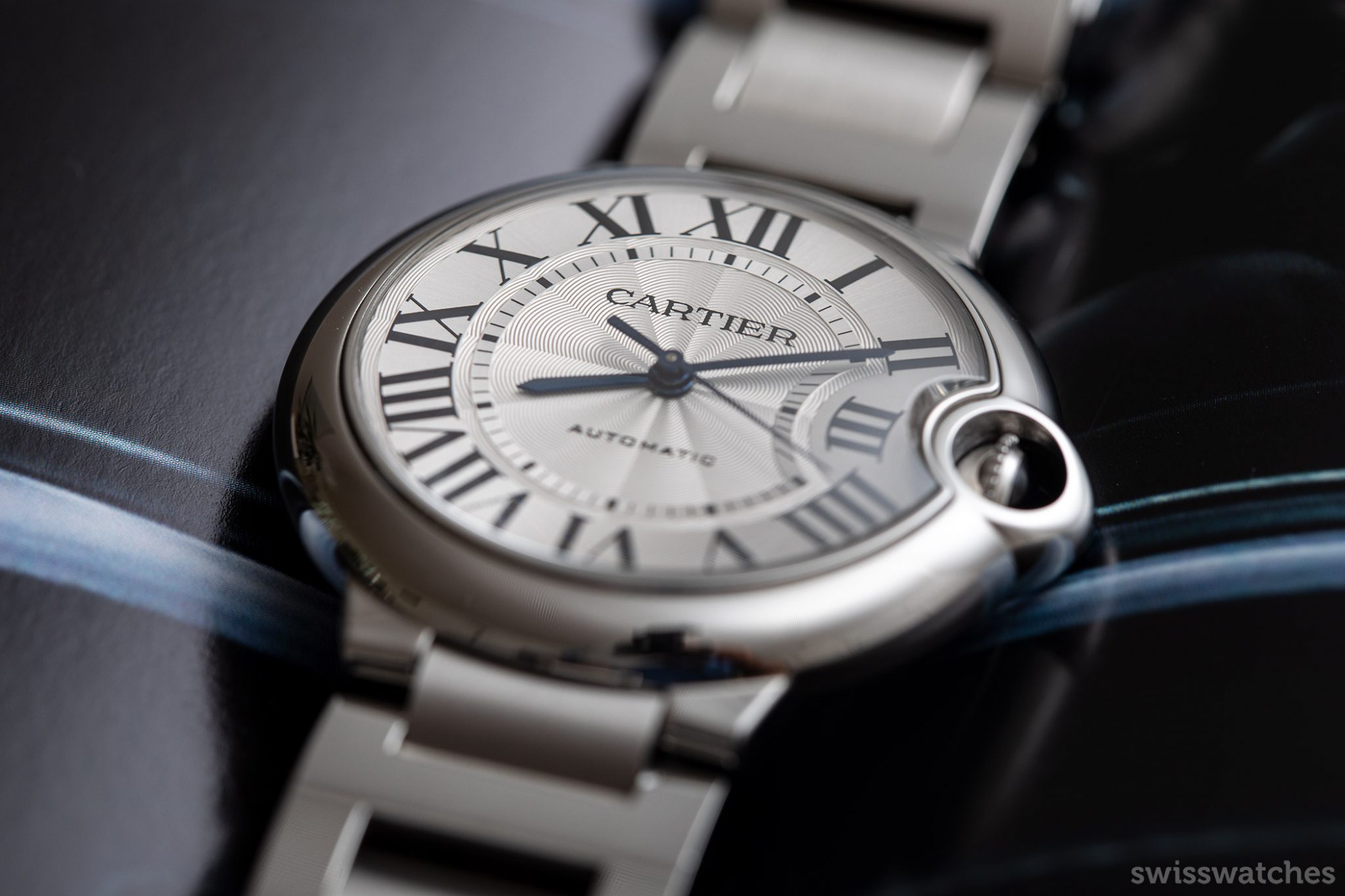 The silver opaline dial is not only sunburst but also guilloché, playfully switching between the two motifs. Aside from that, the dial keeps things relatively simple, featuring unapologetically large black "Frappé" Roman numerals. The VII numeral integrates the Cartier logo, Meanwhile, the numeral III, along with the minute track, curves inwards to make room for the oval concave around the blue spinel cabochon. This is another design feature that is unique to the Ballon Bleu de Cartier. By contrast, a retro-looking minute track outlines the central part of the dial, simultaneously emphasising the hours.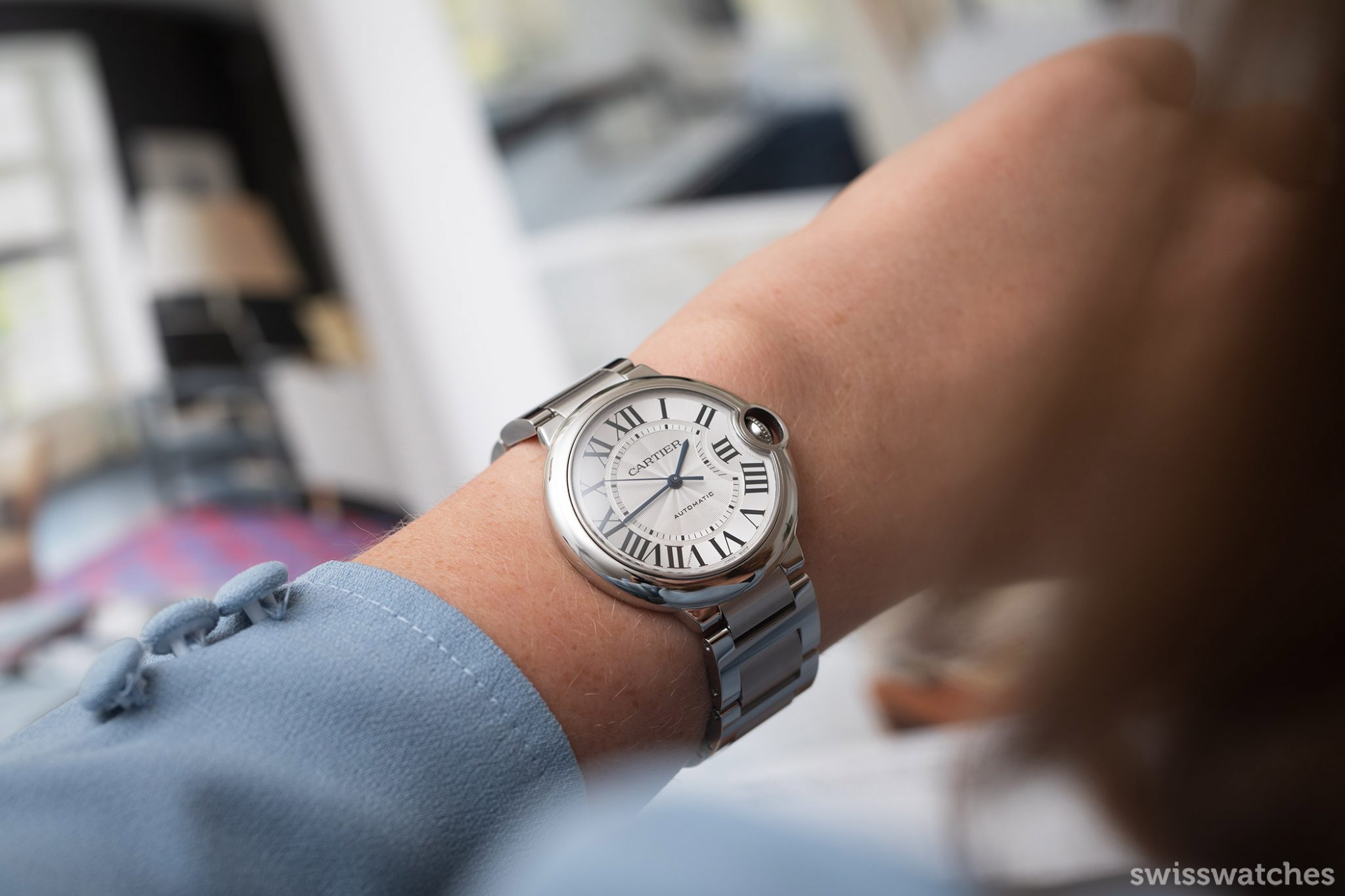 In photographs, the sword-shaped, polished blue steel hands stand out proudly. However, in real life, their blue colour are somewhat harder to make out unless in bright lighting, due to their fairly dark hue. At 6 o'clock, almost as if to prove a point, the words "SWISS MADE" are printed across the slim guilloché outer ring. This brings us to the movement.
The Movement
This watch's design is all about simplicity and clarity, and, thankfully, it has the calibre to match. The 36 mm model houses the self-winding Cartier calibre 076. Using the ETA 2671 as its base, the movement has a diameter of 17.2 mm and integrates 25 jewels. As you might expect in this price range, protecting the movement is a solid stainless-steel caseback.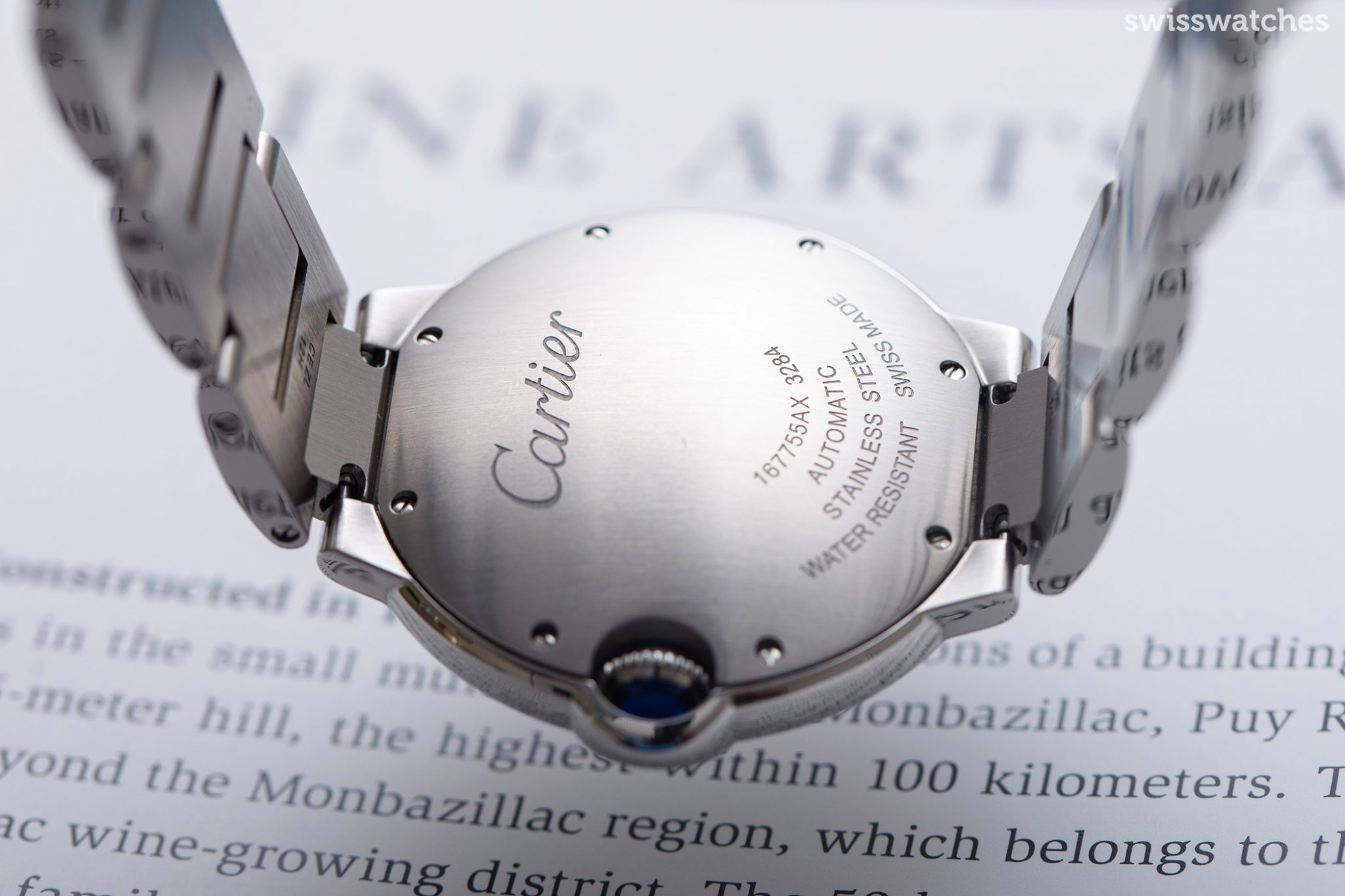 The movement beats at a perfectly respectable frequency of 4 Hz, and provides an equally decent power reserve of approximately 38 hours. Additionally, it uses a Glucydur balance – made with a non-magnetic, hard copper alloy, it protects the movement from the likes of laptops. Furthermore, the inclusion of an Incabloc shock arbsorber protects the calibre from various knocks in everyday life, whether wearing the watch at the office or at a party. Finally, the calibre's Etachron fine adjustment system, commonly used in ETA calibers, allows for fine adjustment of the hairspring position. With all of this in mind, the Ballon Bleu offers a high quality – if not particularly exciting – movement, all for a pretty reasonable price given that the timepiece at hand is a luxury Swiss watch.
The Bracelet
Personally, I'm neither a leather strap nor bicolour bracelet fan, and on the Ballon Bleu de Cartier, I don't think anything fits better than the stainless-steel bracelet option, held together with screws. The bracelet, which is a mixture of brushed and polished steel, is well suited to the timepiece's simple yet strong feel.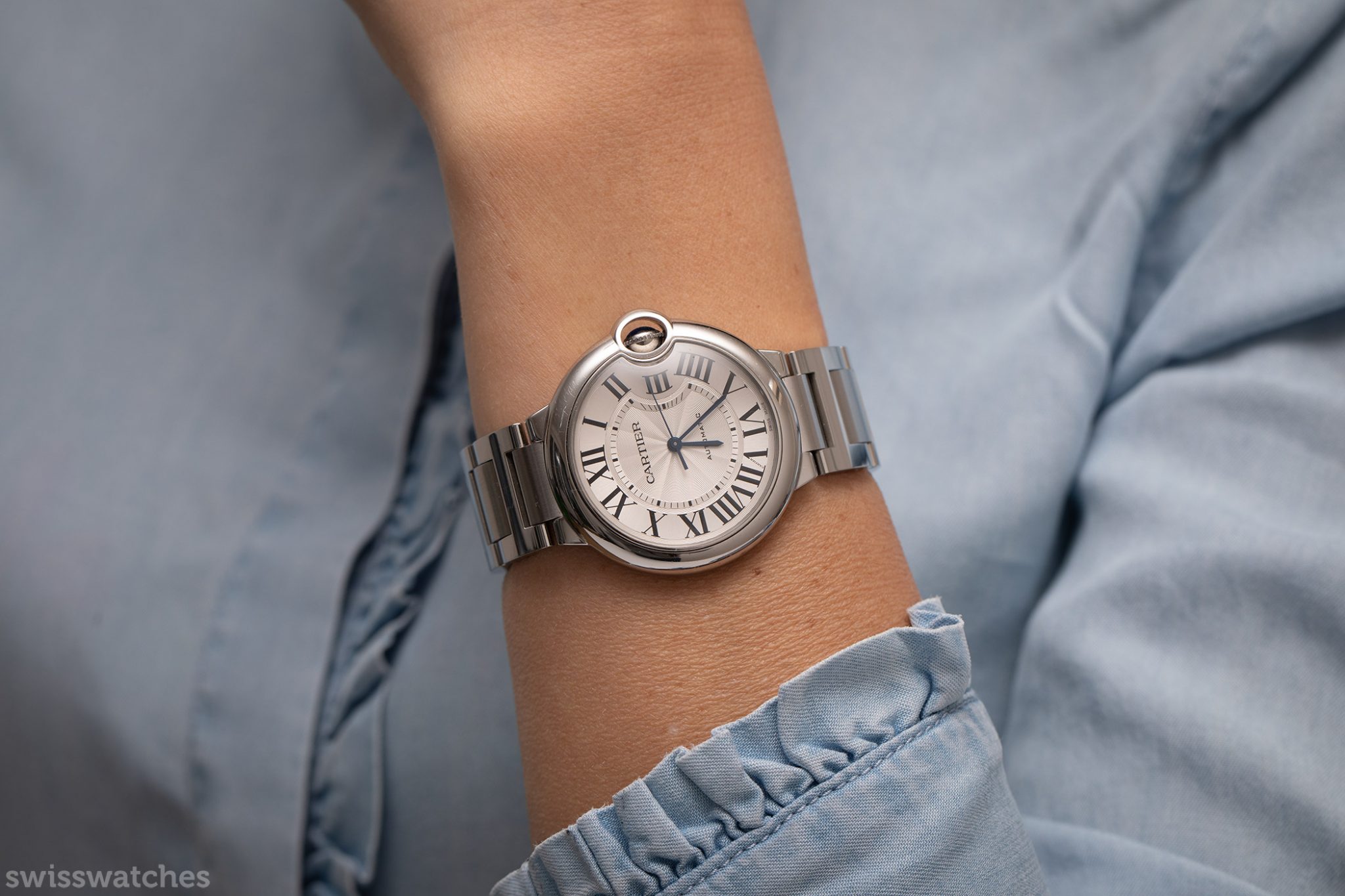 On the other hand, the bracelet, while seamlessly executed aesthetically, uses a hidden clasp. This involves the process of 'snapping' it open and closed, requiring knowledge of where (or where not) to put pressure. If you're choosing the Ballon Bleu as one of the first pieces in your Swiss watch collection, you will have to learn how to operate it. For some reason, the clasp took me, a person who handles watches daily, some time to get my head around.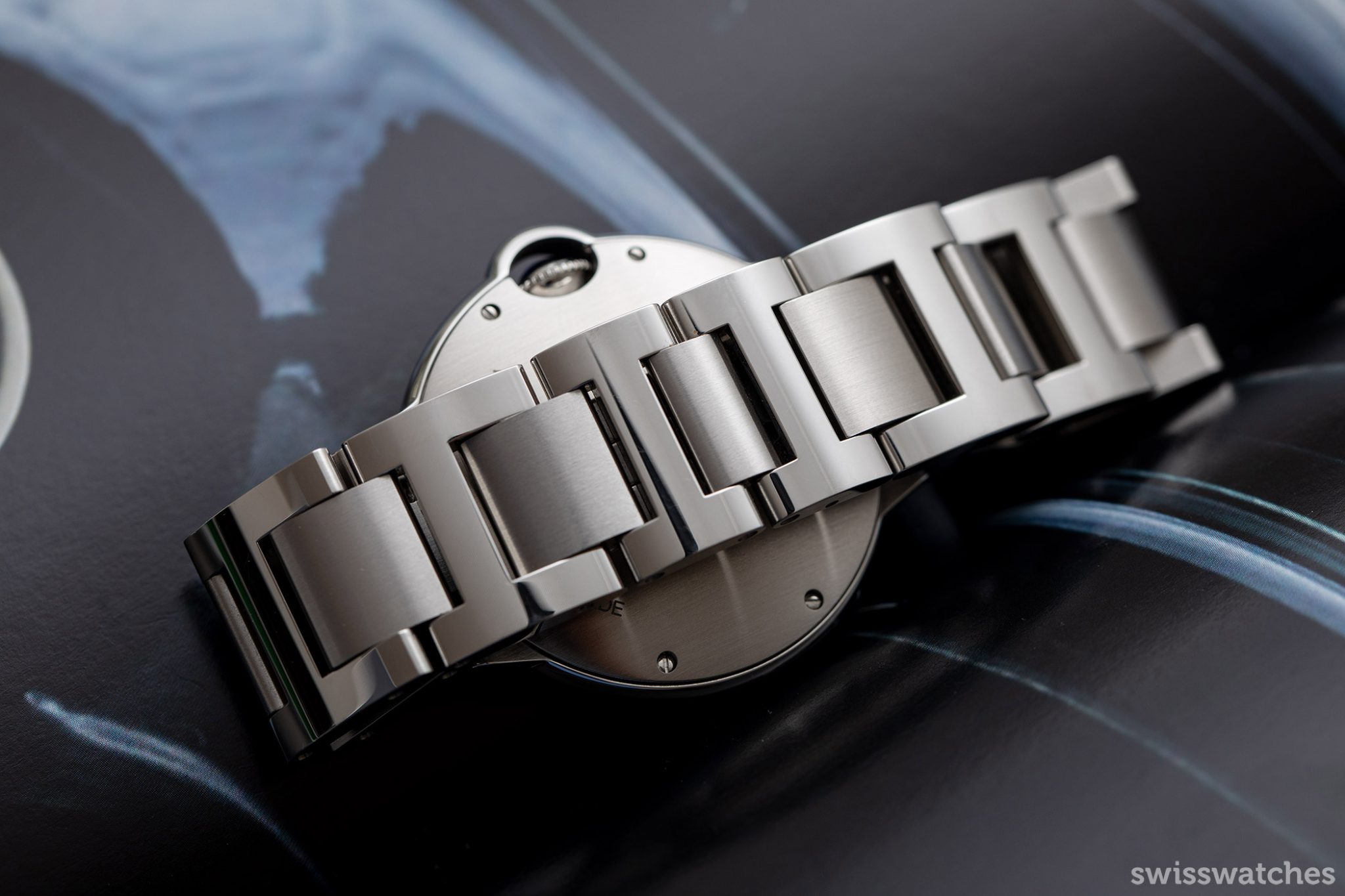 Cartier Ballon Bleu: The Verdict
At first, it seems like you can take in Cartier's Ballon Bleu at a glance. Sure, it's bold, big, and beautiful. But if you take a step closer, you see the harmonious balance of French refinement and elegance within the Swiss-made timepiece's design. The chic style of the Cartier watch, whether worn on male or female wrists, also serves as a reminder that wristwatches started at as jewellery, celebrating the art of design and aesthetics as much as horological science.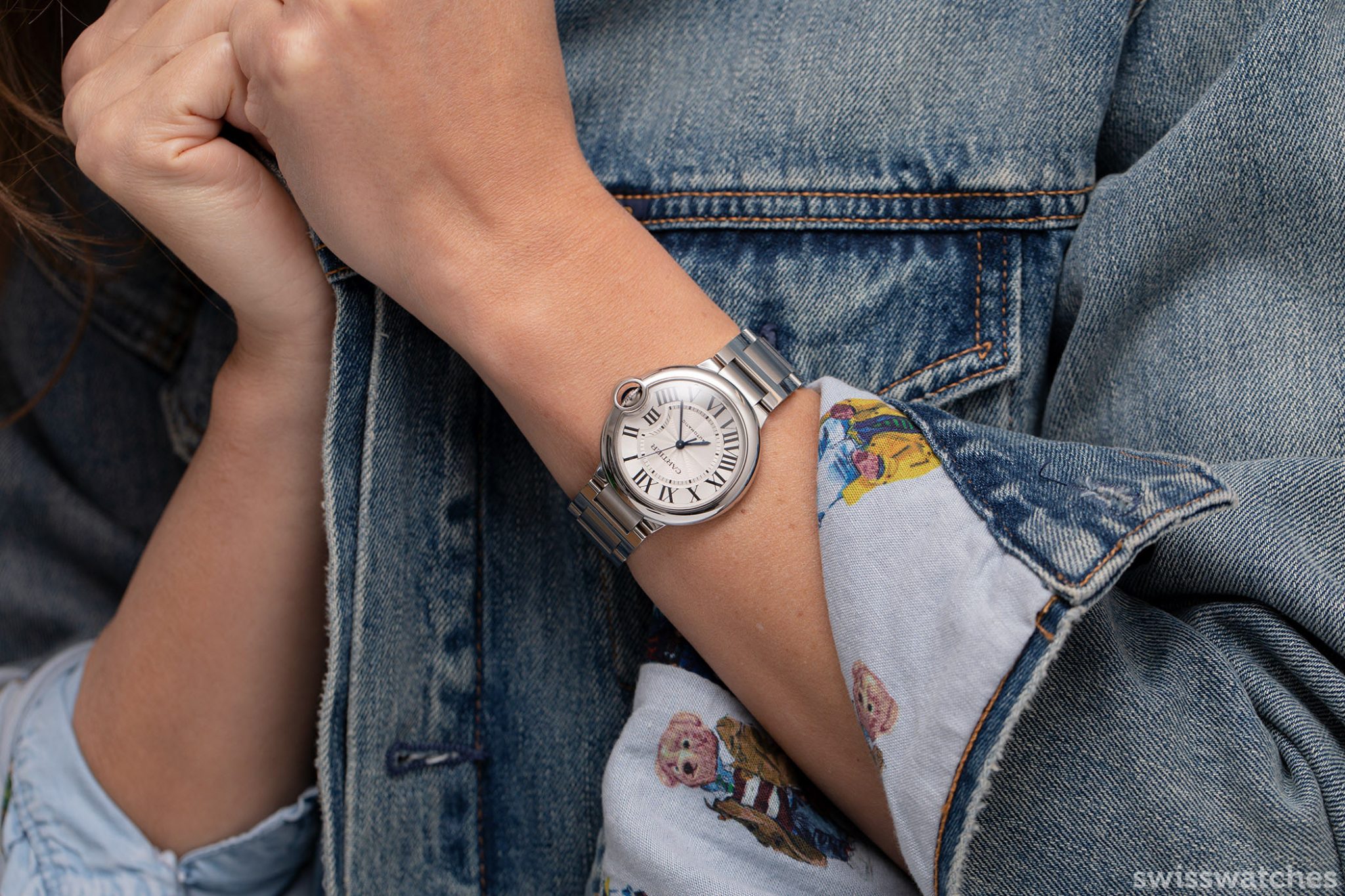 To reiterate my first point: a ladies (or indeed unisex) watch, such as the Ballon Bleu, does not have to be covered in unimaginative, overbearing diamonds to be considered a luxury timepiece. Admittedly, the calibre within the 36 mm stainless-steel Ballon Bleu is not going to break any records any time soon, but neither does it try to. Rather, Cartier's under-the-radar pièce de résistance presents us with the powerful philosophy that "less is more" – and that is a mantra that will never go out of style.
---
---