Swisswatches Magazine is always on the go. But in August we started an adventurous journey which took us 17 days, over 7.000 Kilometres through 17 places across Europe. Our luggage: some shorts and some watches! Departure: Munich. Destination: surfers paradise spot Ericeira – just by car and through the beautiful landscapes of Lugano, Portofino and Genua, crossing the French boarder to Monaco, Cannes and Marseille into Spain's cities of Valencia and Sevilla to Lissabon and Ericeira in Portugal, only to mention some spots.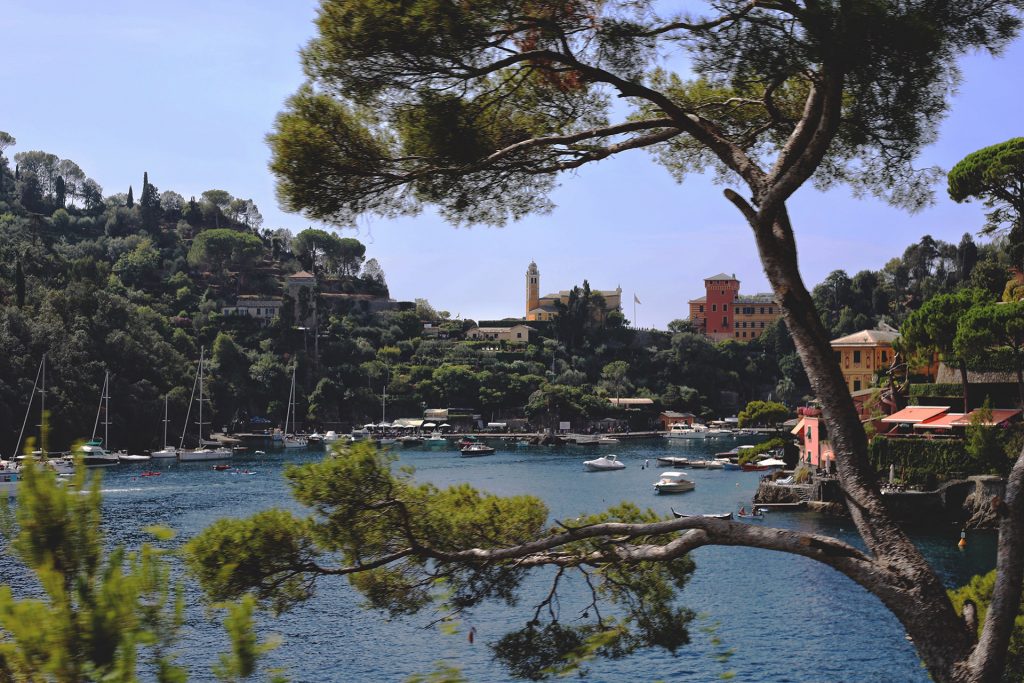 Portofino, Italy (left)
Barcelona, Spain (middle)
Lagos, Portugal (right)
One of the loyal companions of the journey was the new Patravi ScubaTec from Carl F. Bucherer. The new member of the Patravi family fitted perfectly with our travel arrangements as it is a diving watch! We spent some time on the beach surfing (with our own "Swisswatches Magazine" surfboard!) and swimming in the Atlantic sea so we where able to experience the wear-ability of the watch.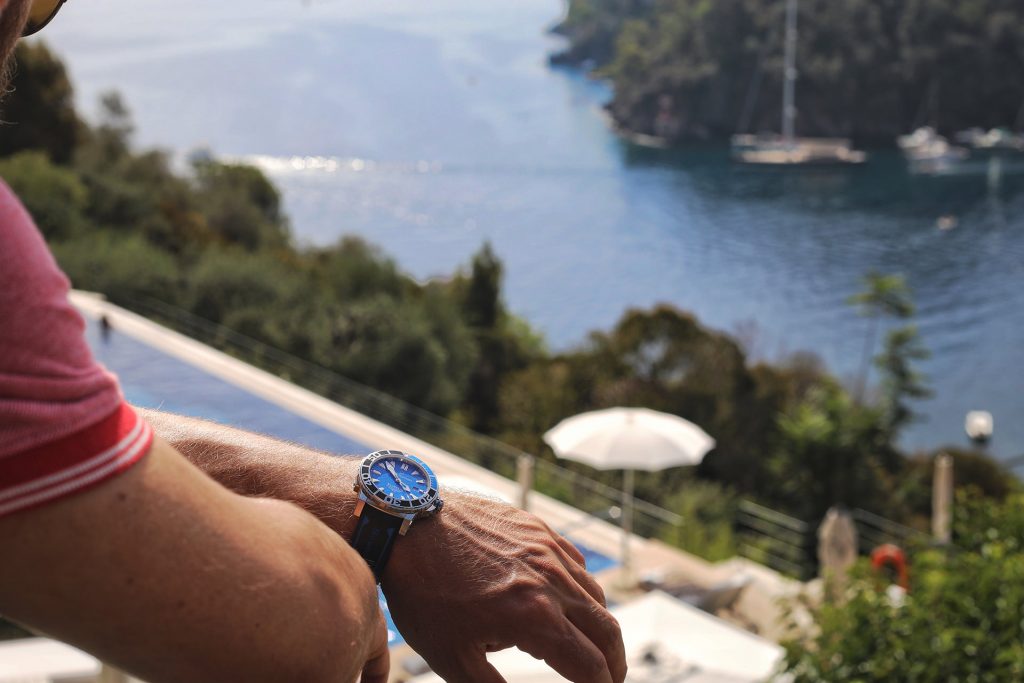 One feature that stands out immediately is the unique blue colour of the dial and parts of the ceramic bezel. It had something attractive to us – reminding us every day about the beauty of the sea and it's magical appeal. It's a colour that was developed for Carl F. Bucherer only.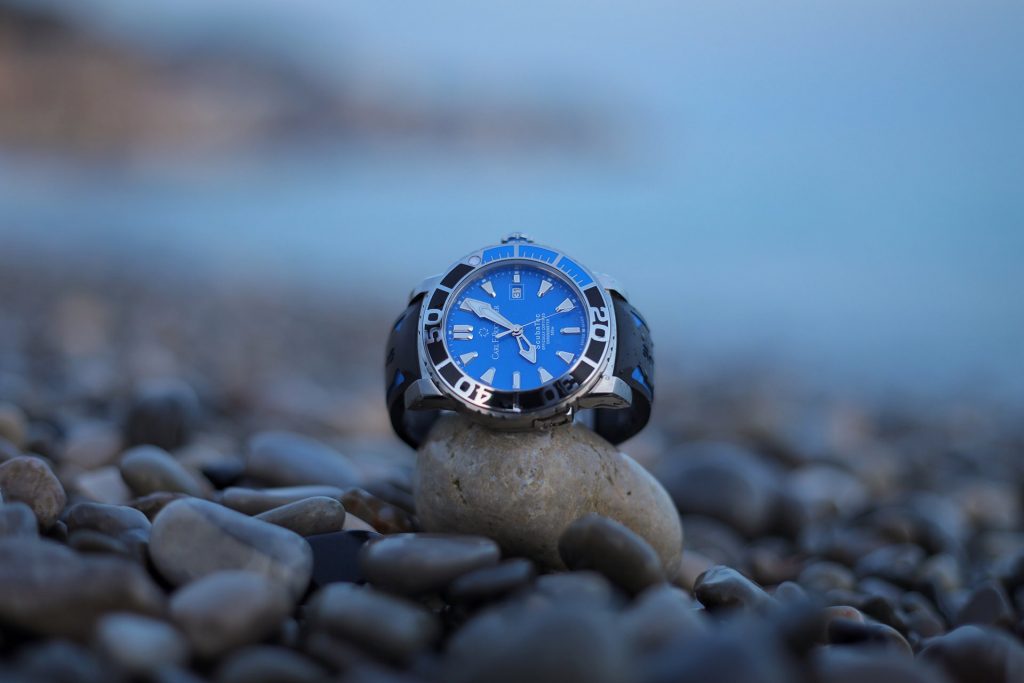 The watch is made for diver's comfort and has a large dial and clock hands for perfect readability under water. At diving watches, the bezel is there to show the diver the remaining time he can stay under water before the air runs out. The bezel is only rotating anti clockwise. This is important for divers because should they adjust the bezel under water accidentally, time will automatically reduce and the diver will arise earlier. Better this way, then the other way around. Also the SuperLumiNova used on clock hands and indicators shines bright blue underneath the almost 4 mm thick sapphire-glass! A helium-valve will release the gas when descending or arising, which is important to protect the watchcase from too much pressure inside.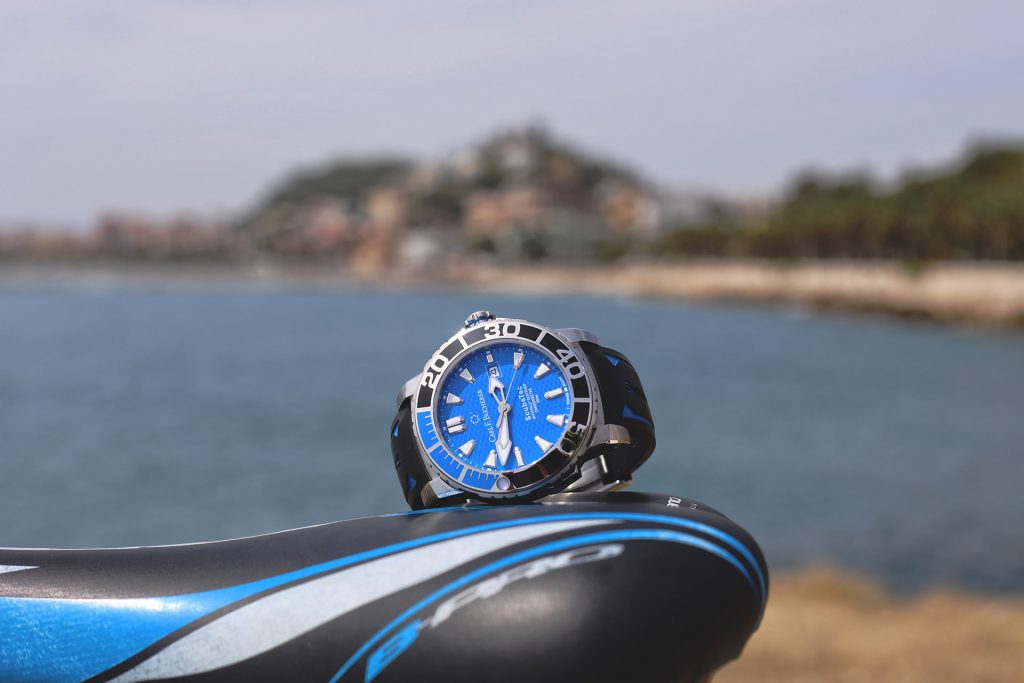 During our journey we learned that this watch is an all-round talent! We wore it during surfing or swimming in the Atlantic sea, but also took it out for a casual scroll around the epic city of Valencia! The ScubaTec is available with a rubber and steel watchband and different bezels – all made of solid ceramic. And thanks to the quick-change watchband you can switch to the steal version for more elegant evening occasions for example. Take a look on our images how well it harmonizes with a blue suit! The price of the new Carl F. Bucherer Patravi ScubaTec is 5.200,- Euro with rubber band and 5.450,- Euro with steel band.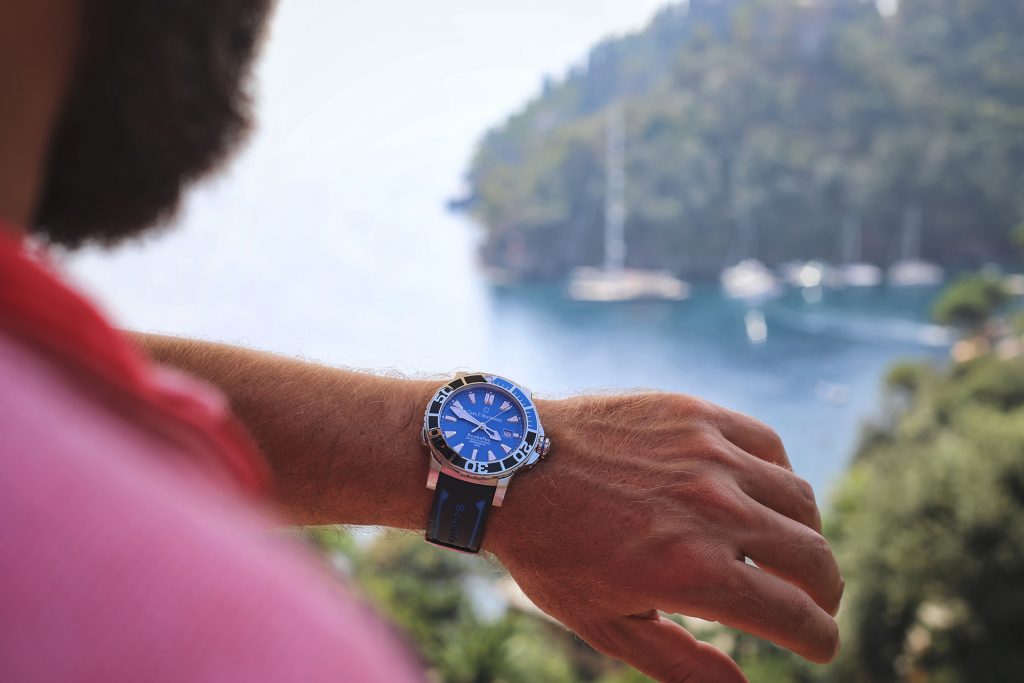 This was only the beginning of a new series called "Swisswatches Magazine On Tour" – we will share with you more stories and watches from our journey shortly.
---
---