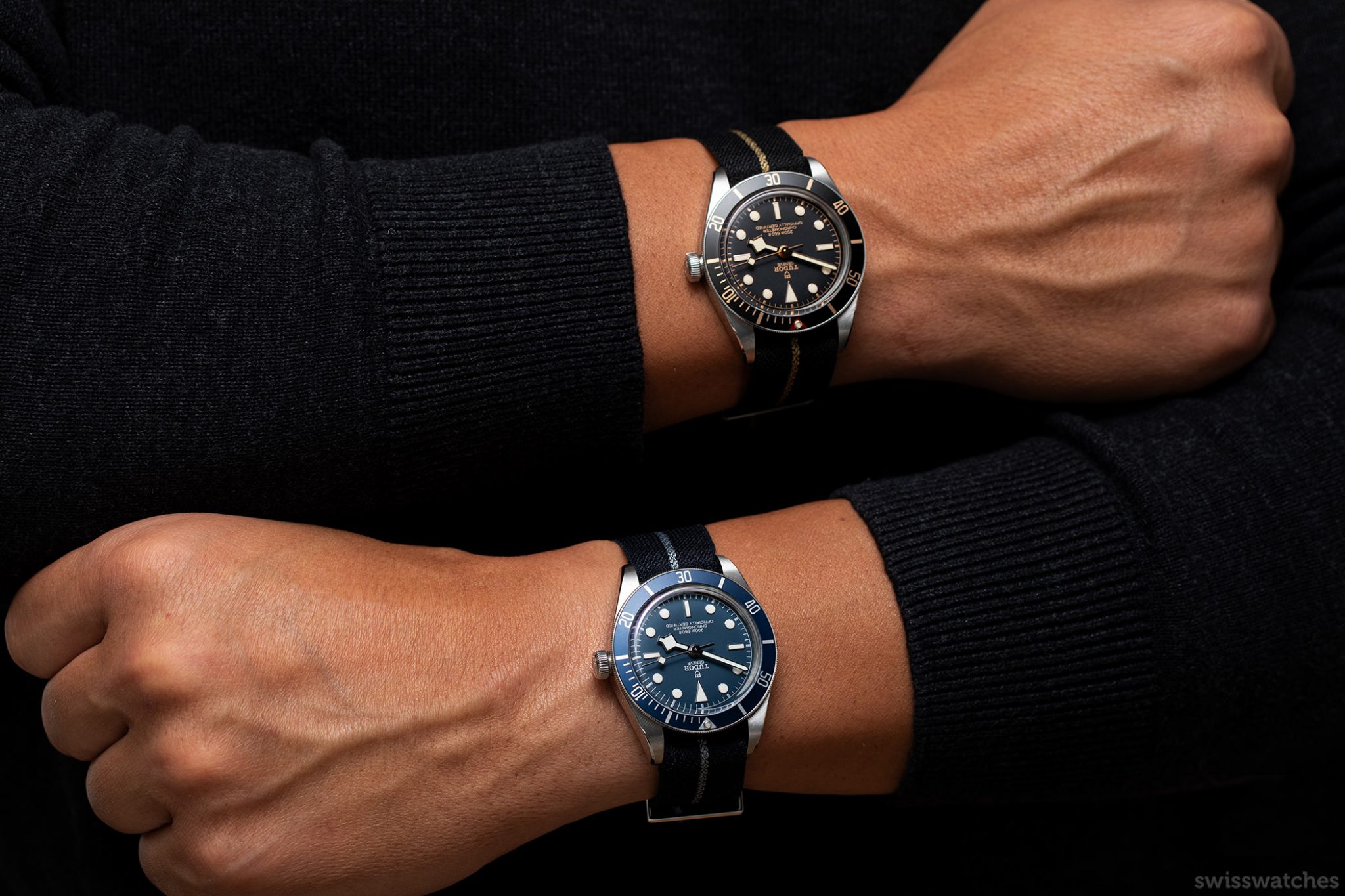 If Rolex founder Hans Wilsdorf were alive today, he'd be very proud – and even surprised – to see the leaps and strides that his second enterprise had made. TUDOR, registered in 1926 yet founded in 1946, has since established complete independence from its prominent sibling, now standing alone with self-confidence and enjoying a high level of respect from those in the Swiss watch game.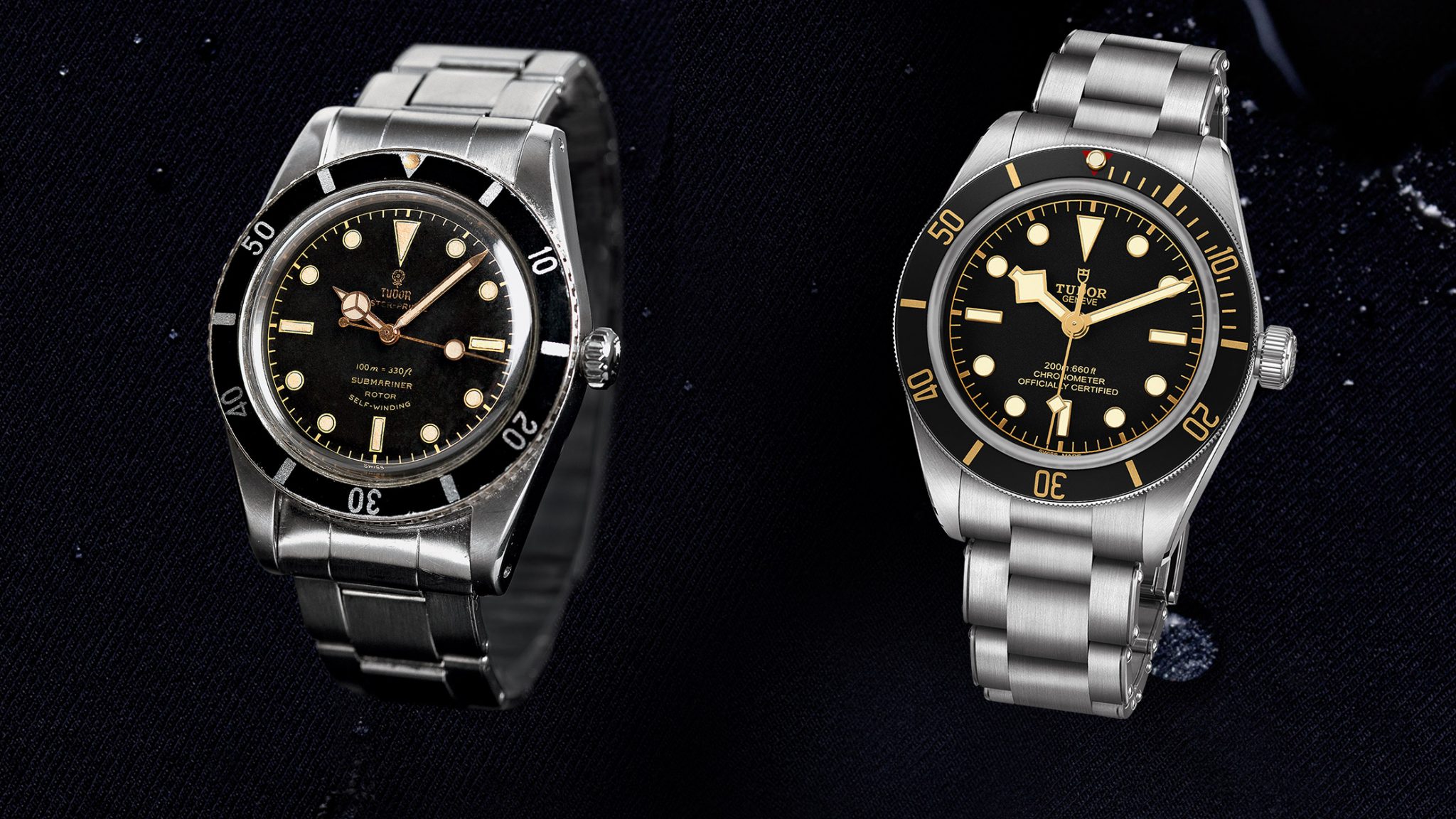 TUDOR Submariner Ref. 7922 (right) & Black Bay 58 (left)
Alongside its legendary chronographs, TUDOR's diver's watches have also made quite the splash. Having produced its first diver's watch in 1954 in the form of the Oyster Prince Submariner Reference 7922, the horology house's sea-faring tool watches now enjoy a strong reputation and widespread popularity. The Black Bay 58 is no exception.
---
What's the story behind both models?
The two Black Bay 58 models differ greatly in terms of not only aesthetics, but also in terms of the story behind them. For this reason, it's worth returning to the roots of this still-new line to see what inspired their opposing looks.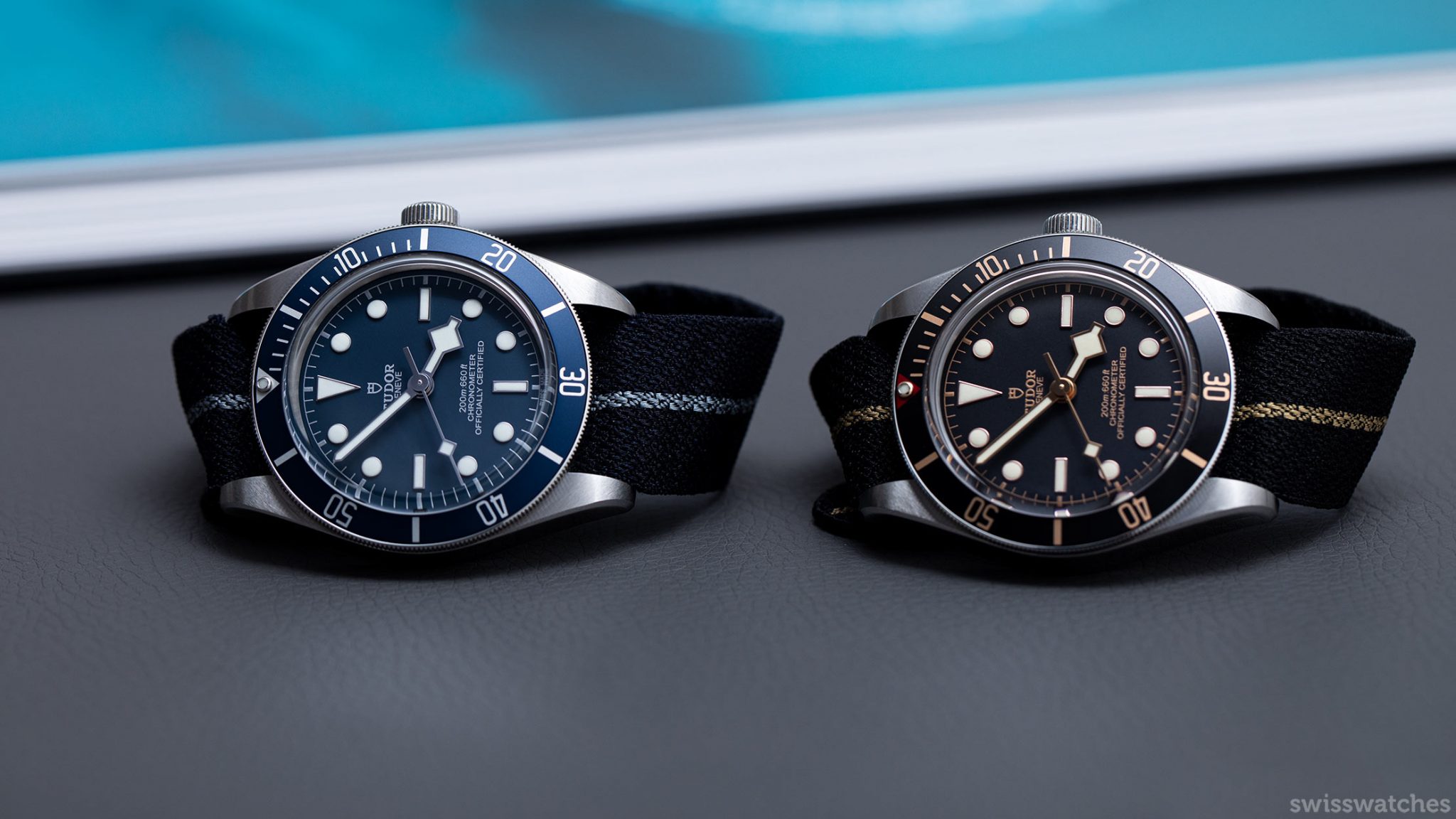 TUDOR Black Bay 58
Ref. M79030B-0003 in blue & Ref. M79030N-0003 in black
---
Inspired by a legend: The 2018 model
TUDOR's original Black Bay 58 is clearly a watch that aims to transport its followers back to the past. After all, neo-vintage watches – when executed well – are currently enjoying a certain level of popularity in the market.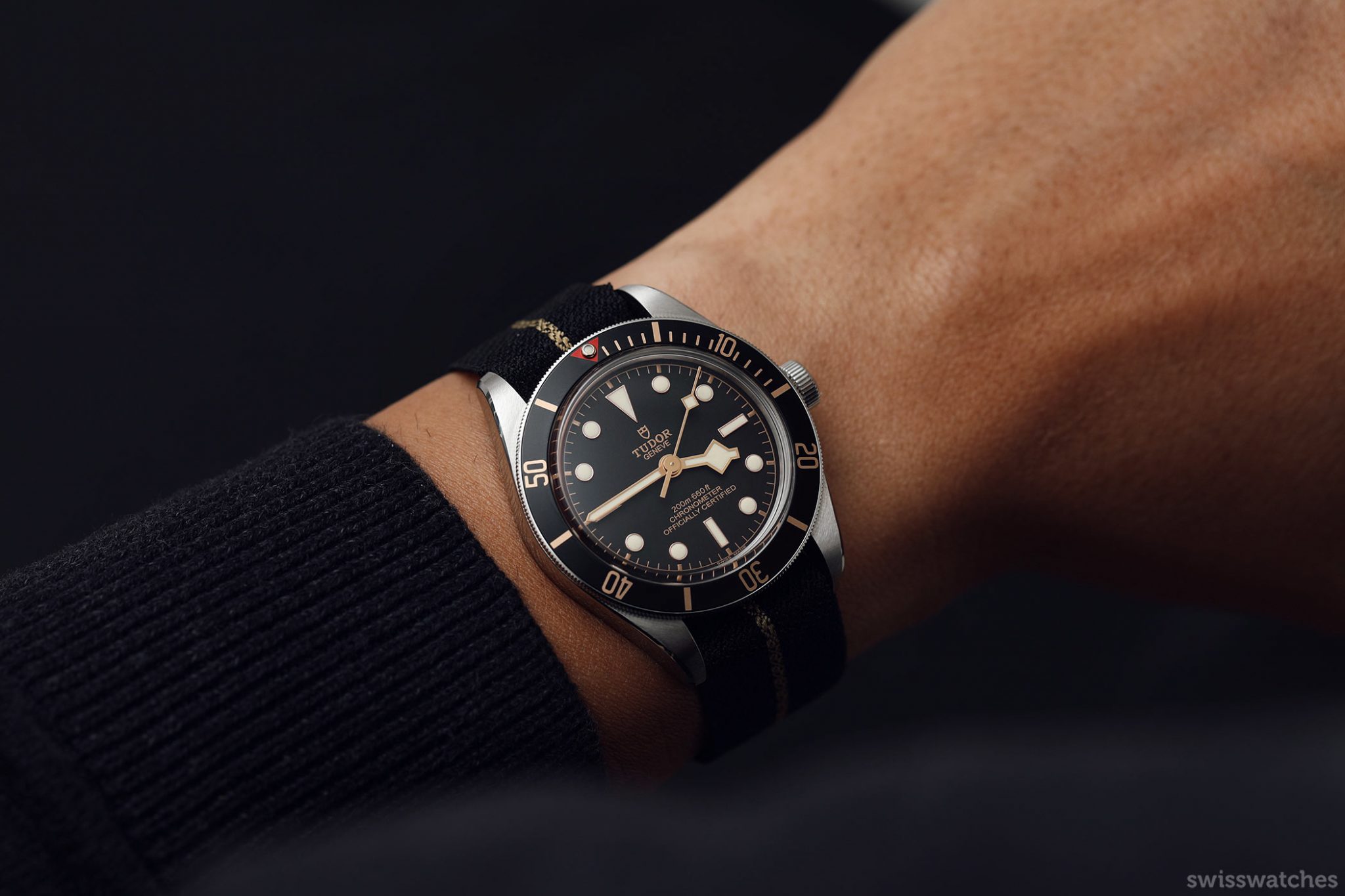 First appearing in black and gilt, the Black Bay 58 is a good example of how to do a neo-vintage watch the right way. This achievement is partly due to the historic watch(es) that inspired it. The design code is an adaption of its first diving watches from the 1950s – more specifically, the year 1958, when TUDOR produced a diver's watch with water-resistance to 200 m for the first time. That 1958 watch was the revered "Big Crown" Ref. 7924, known for its 8 mm crown without crown guards. It is for this reason that the entire collection is known as Black Bay Fifty-Eight (hence '58).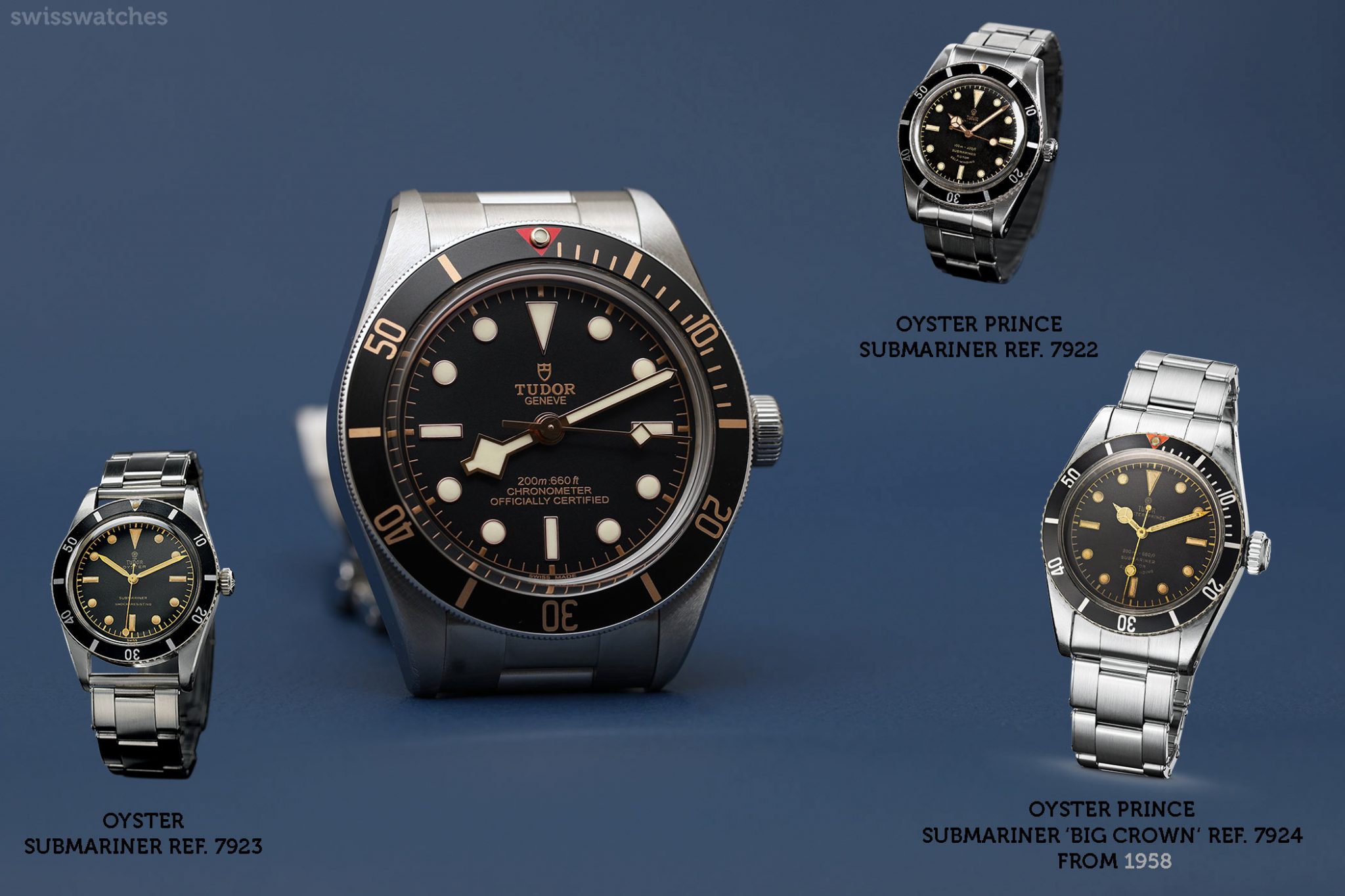 The innovative 1958 model's case was made thicker, while its screw-down crown became larger. Another tweak to ensure the 200 m water-resistance was a thicker, dome-shaped Plexiglas crystal. While featuring the same self-winding calibre 390 as the Ref. 7922, its black lacquered dial now proudly bore a new inscription: "200 m = 660 ft".
The original Black Bay 58 takes up several of the identifying features from the first generation of TUDOR's 7900 series of divers' watches that were water-resistant to 200 m. These small new features gradually cropped up as a result of TUDOR's experiments to discover which characteristics would help to create the ideal divers' watch. To name a few of these specificities: there's the large winding crown without crown guards, the red triangle on the rotatable bezel, and of course the 50s-style gilt domed dial.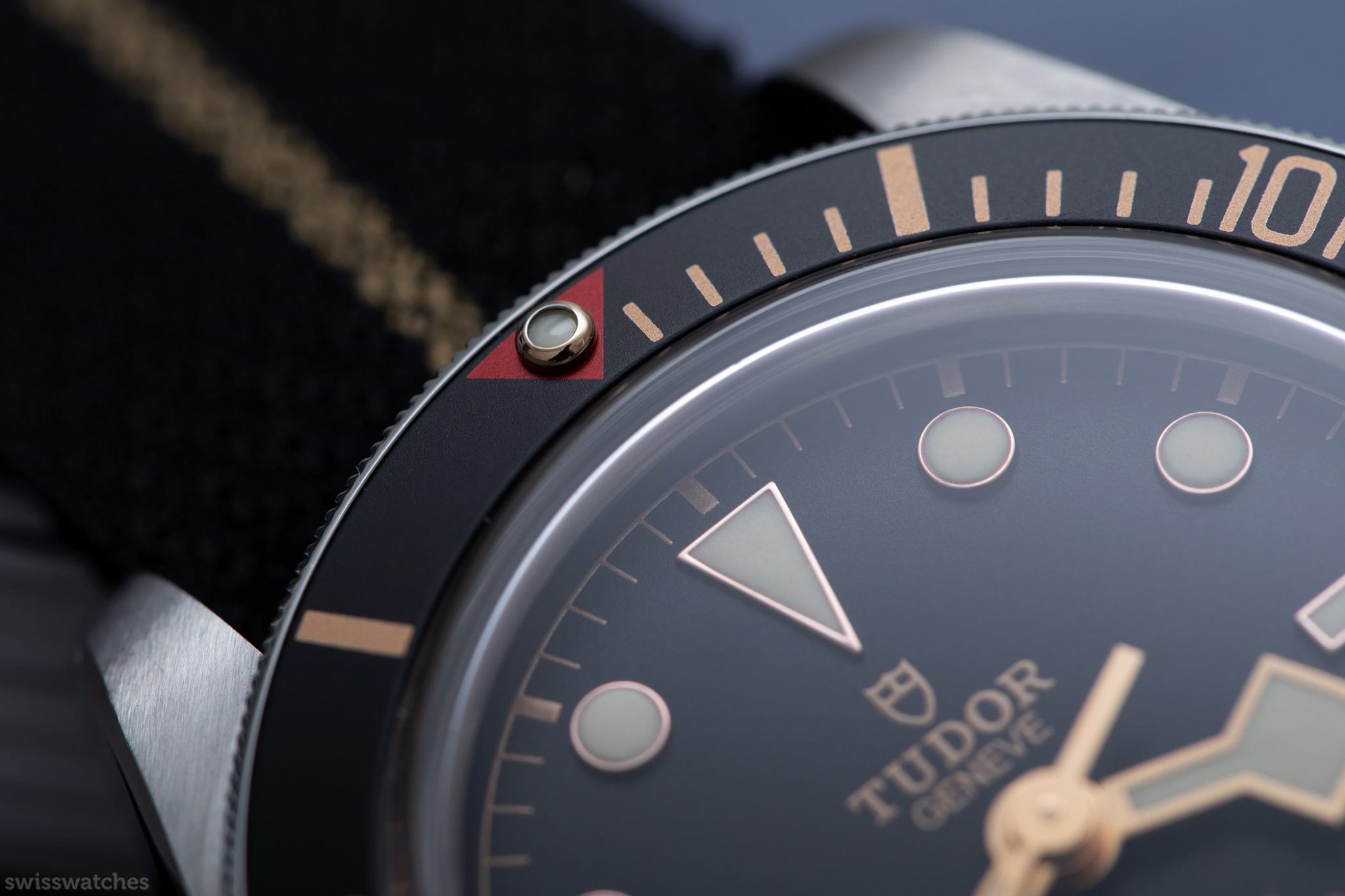 Then there's the case size; measuring 39 mm x 11.9 mm (while the Black Bay watches measure 41 mm x 14.8 mm), the Black Bay 58's dimensions are unusually small for a modern diver's watch.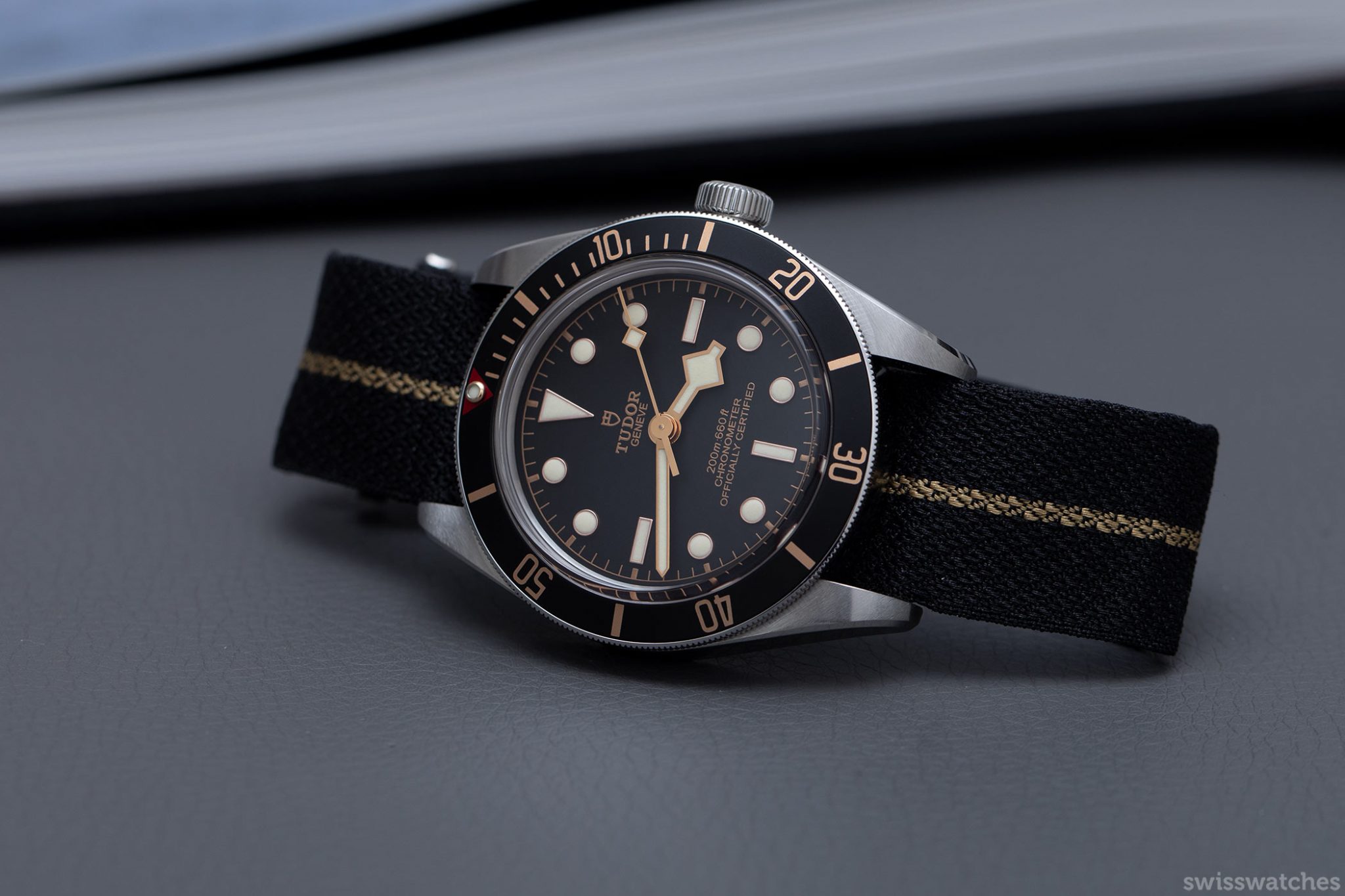 On the one hand, this size is a tribute to TUDOR's earliest diver's watches. In fact, the 1958 Ref. 7924 had an even smaller diameter of 37 mm, while its successor, the 1959 TUDOR Oyster Prince Submariner "Square Crown Guards" Ref. 7928, had an increased case size of 39 mm. On the other hand, the decision to scale down the size and keep in line with the characteristic proportions of its mid-20th century diver's watches isn't just meaningful – rather, it also makes financial sense as an appealing choice for vintage enthusiasts, not least because smaller watches are now en vogue once more.
---
A tribute to TUDOR's past: The 2020 model
So, we know the inspiration behind the 2018 version of the Black Bay 58. Of course, the dimensions and basic design code still apply to the blue version, however the aesthetics are very different due to the colour of the 2020 model. Herein lies an interesting tale.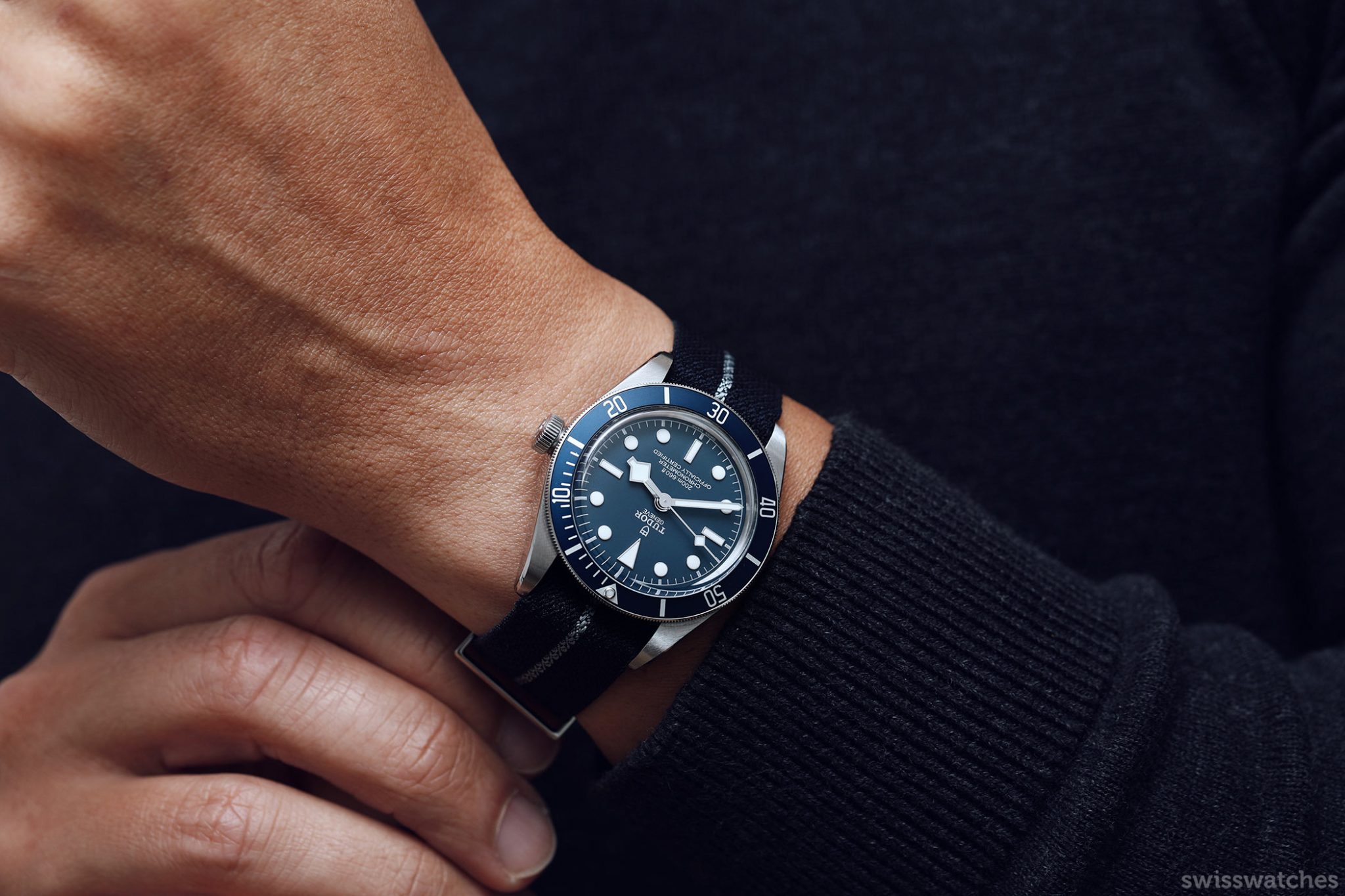 As you may know, TUDOR in fact call the blue version of the TUDOR Black Bay 58 "Navy Blue". The story behind this is that, back in 1969, TUDOR introduced a diver's watch with a blue dial and bezel. Other sports watches in the collection were also soon attired in blue, creating a recognisable aesthetic dubbed "TUDOR Blue". So that's the "Blue" part explained, but how about "Navy"?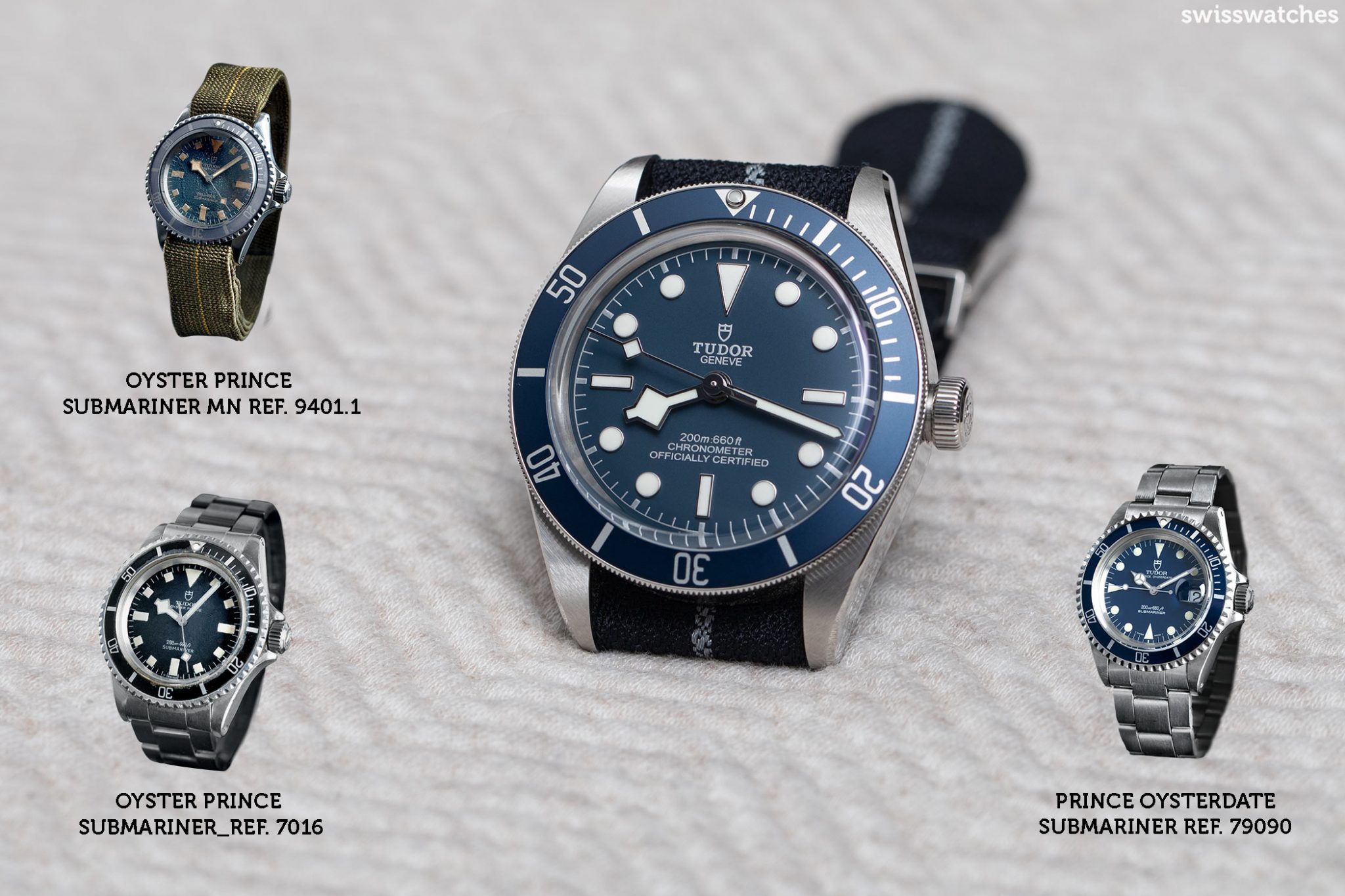 The aforementioned "Blue" colour was used for the "Blue Snowflake" TUDOR Oyster Prince Submariners from the mid-70s. These models were famously worn by the French Marine Nationale, assisting the nation's navy far out at sea. The 2020 Black Bay 58 "Navy Blue" title is thus a nod to France's naval employment of TUDOR. In my eyes, the model's title and colour scheme alike emphasise not only the importance of the horology house, but also the level of trust TUDOR gains from its customers – not least a prominent and vital client like the French navy.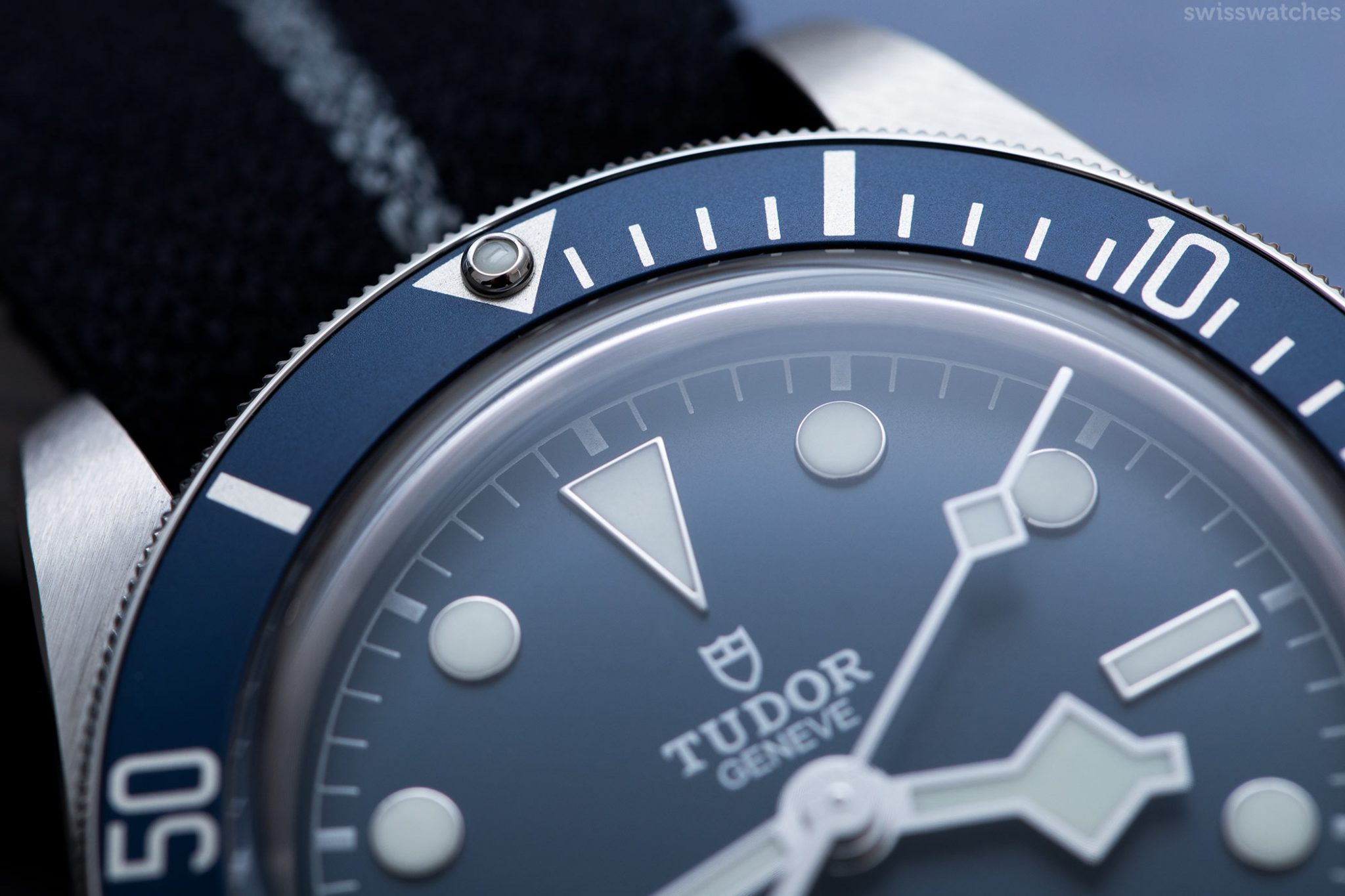 ---
Different aesthetics, identical qualities
As one would expect, the basic architecture of the 2018 and 2020 models is identical. Both are made from 316L steel (TUDOR's favoured alloy for its steel watches), however some TUDOR fans are convinced that the black version's material seems darker. Having presented this theory to the horology house, TUDOR reassured me that both models use the same steel material. However, TUDOR added that they had noted how "different colours of bezel and dial have a visual effect on how the tone of steel comes across." Of course, the bracelet's clasp now bears the name TUDOR, however the 7924 bore the signature of Rolex.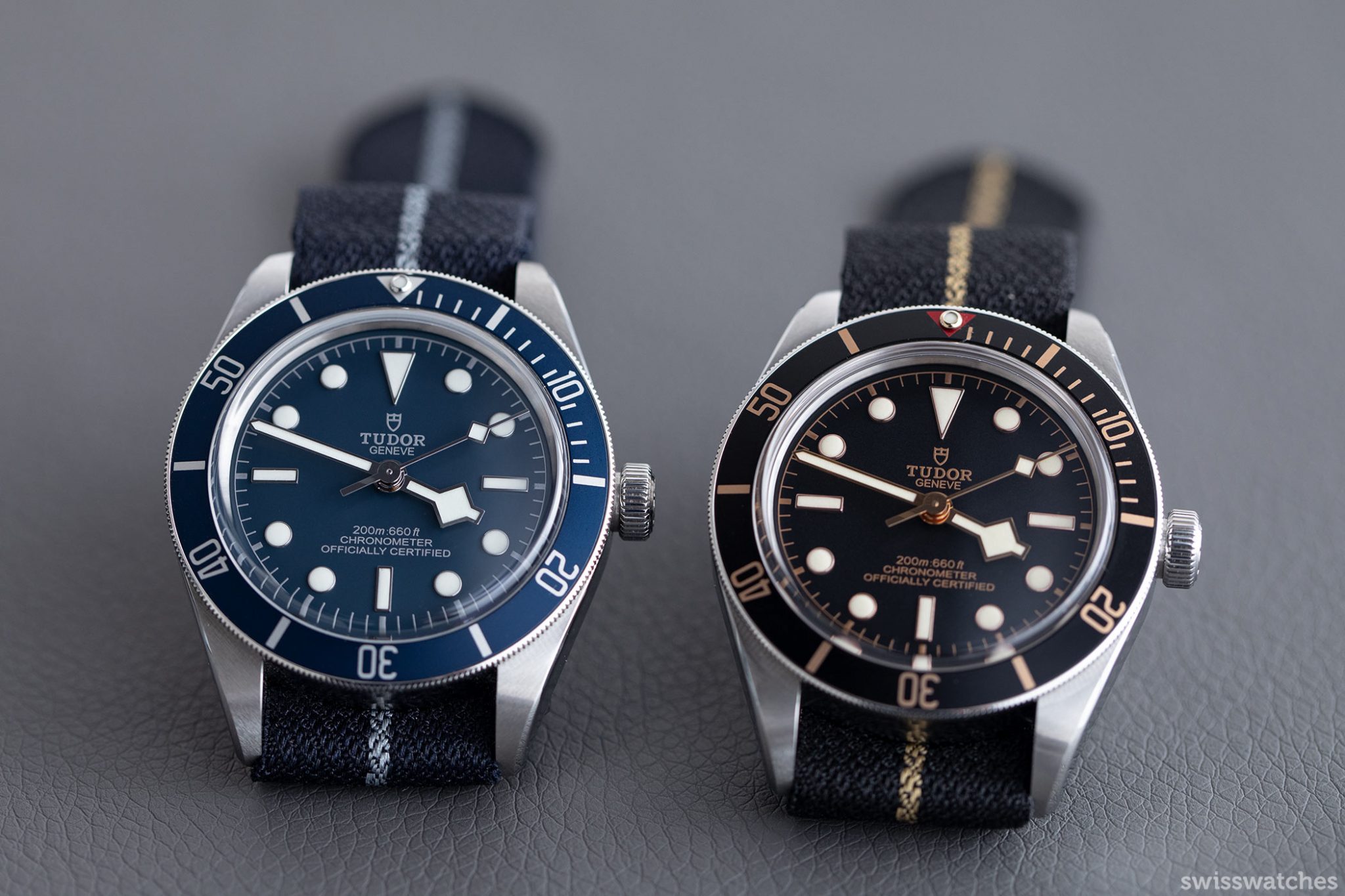 As is the case with its Black Bay relatives, the so-called "snowflake" square hands are a key design element. "Snowflake" features have been a hallmark of TUDOR diver's watches since 1969, when they first appeared in the brand's catalogue.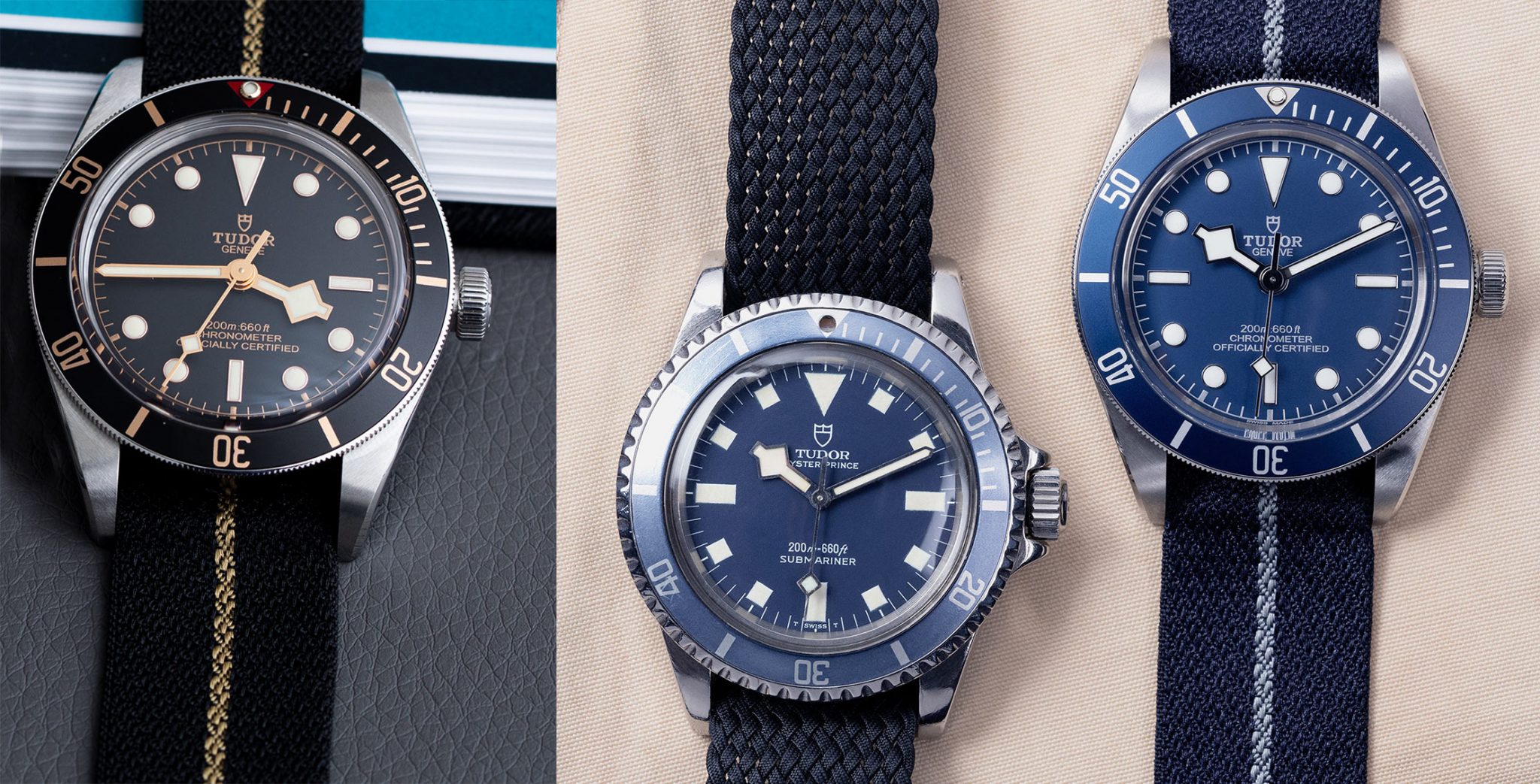 Continuing on the vintage-feel theme, another noteworthy feature is the coin-edge unidirectional rotating bezel, which is made from anodised aluminium and has a 60-minute graduated disc. The fact that aluminium is used undoubtedly adds to the watches' old-school charm, but naturally means scratches are more likely than on, say, a ceramic bezel.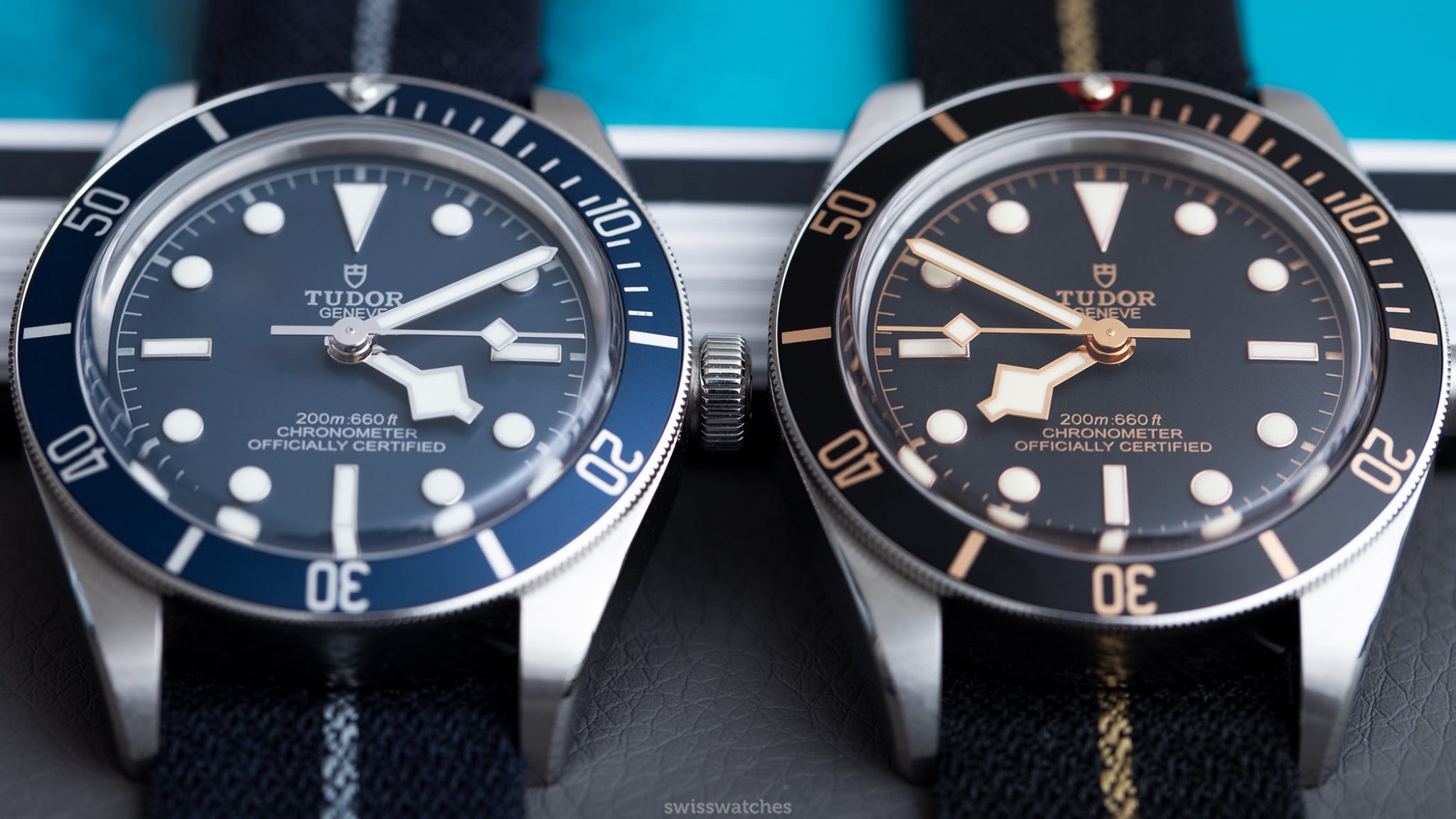 Meanwhile, a small pearl-like dot filled with Super-LumiNova sits in the triangle on the bezel – a clever feature to improve legibility. Likewise, as one would expect for any diver's watch, the hour markers and hands are helpfully filled with grade A Swiss Super-LumiNova, glowing bright green at night. Interestingly, while the 2018 version's hour markers and hands flaunt finishing touches in gold, the Black Bay 58 Navy Blue model's hour makers and hands use rhodiumed brass.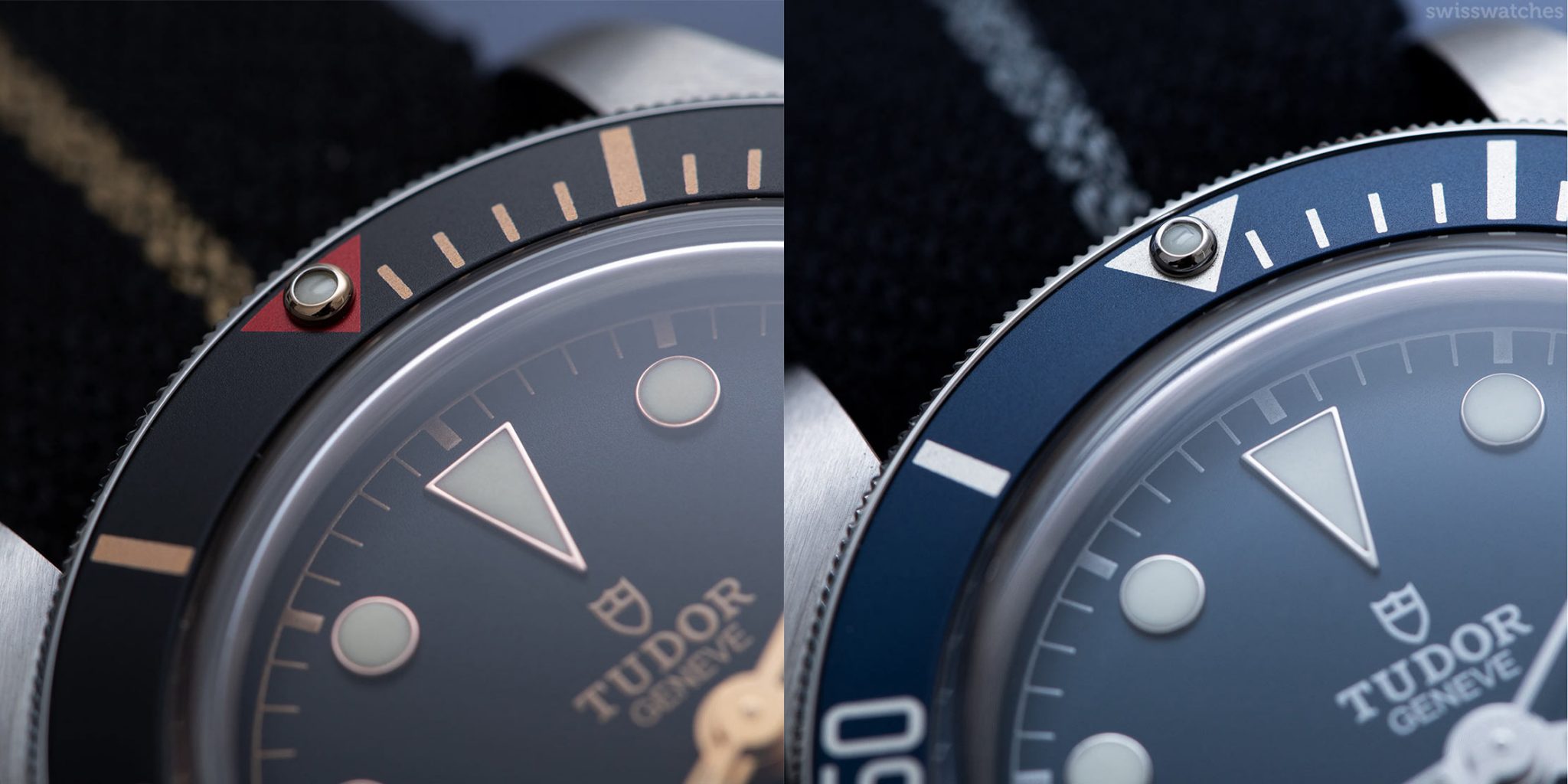 Finally, the models unsurprisingly have a water-resistance to 200 m, as was the case with the watches that first inspired the line. This is partly thanks to the screw-down winding crown, which features the TUDOR rose. Finally, both models' domed dials are protected by a domed sapphire crystal (shifting from the 1958 version's use of Plexiglas).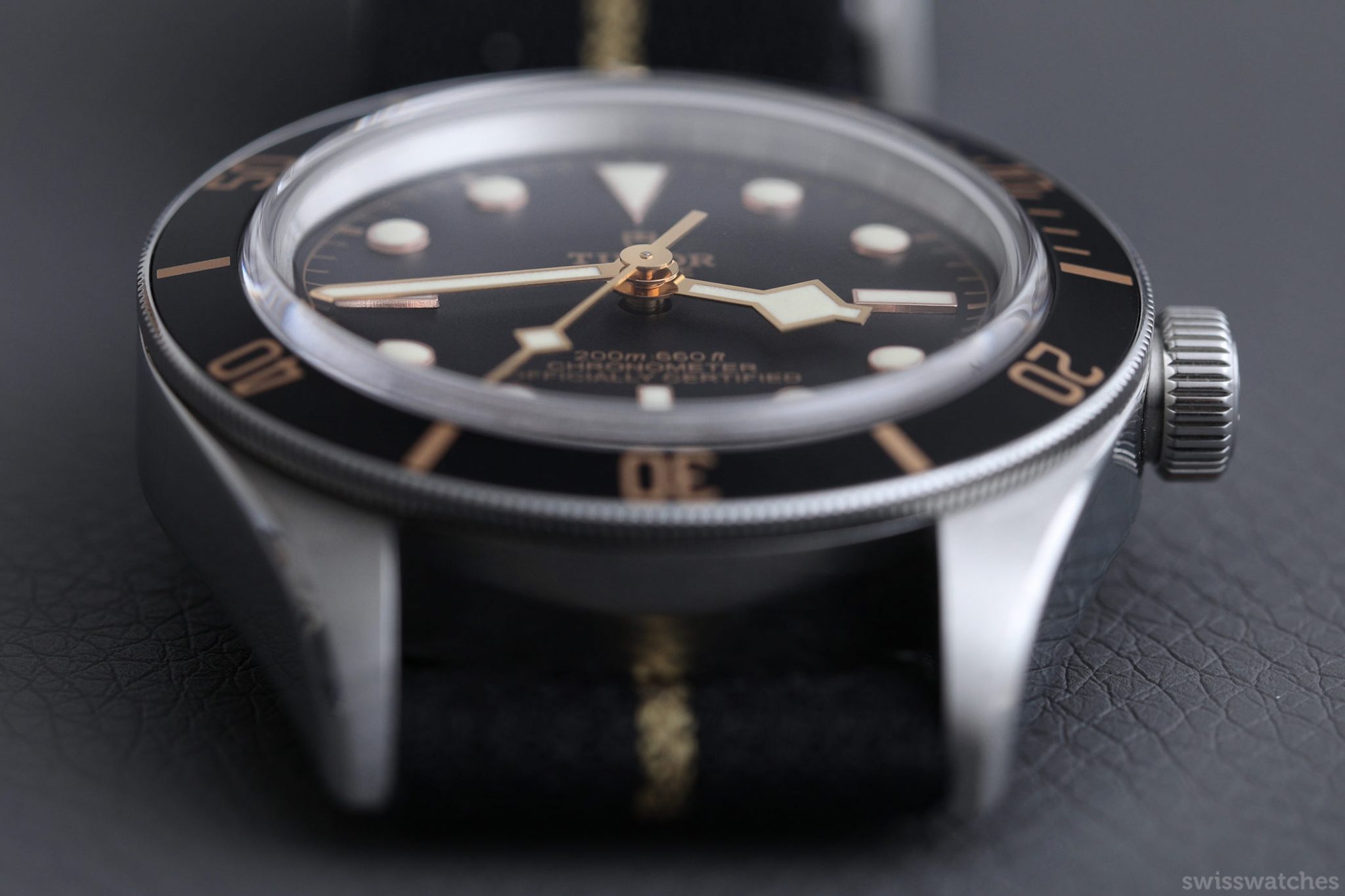 Black Bay 58 on the wrist
Both models also sit comfortably on the wrist – in fact, their design specifically takes men with slim wrists into account. The wearability of the watches is owed to the relatively flat caseback and a 20 mm gap between the lugs.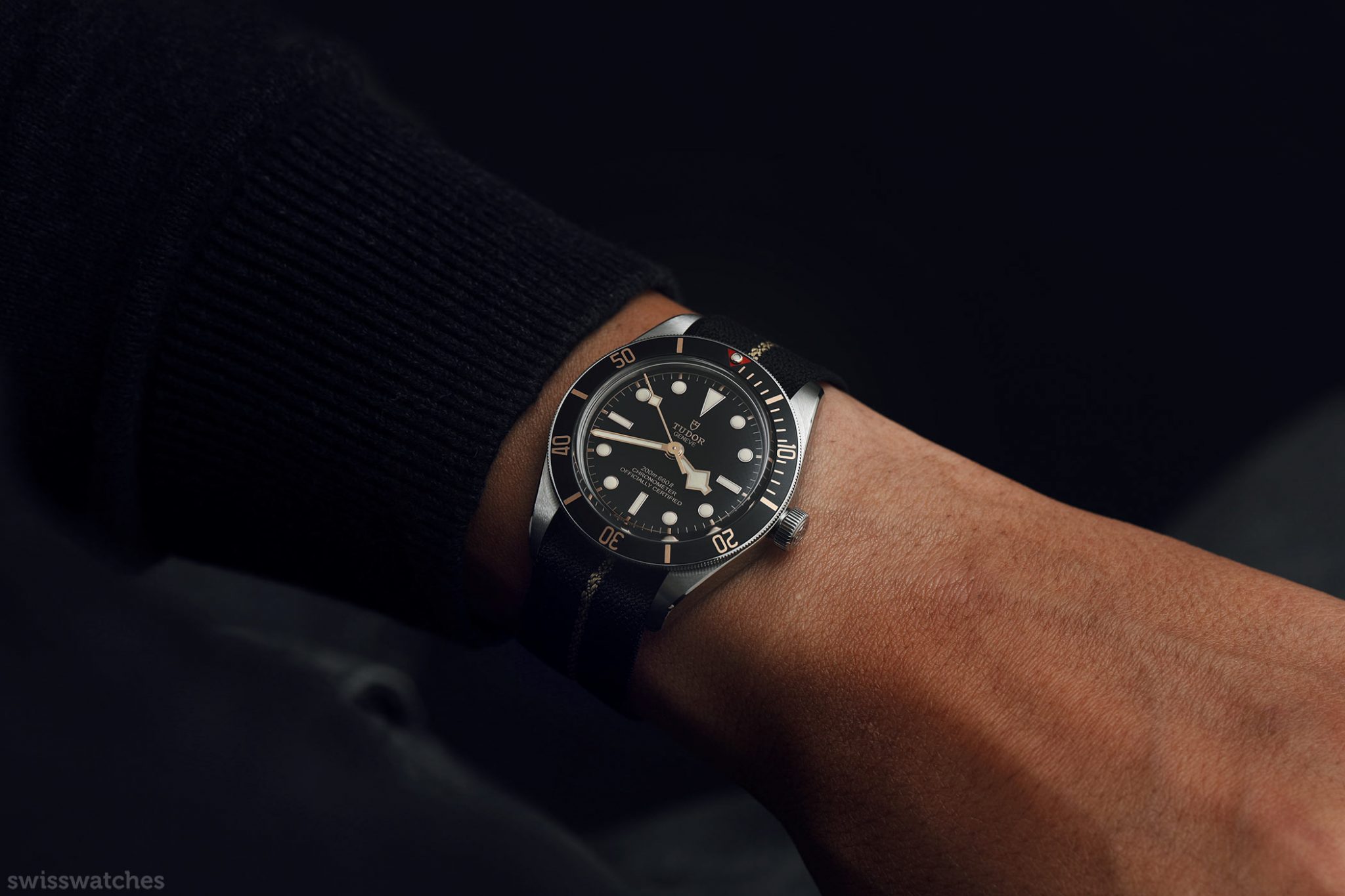 The Black Bay 58 models are presented on a 'soft touch' leather strap or NATO strap – the latter is woven in France by Julien Faure, TUDOR's ten-year partner, using 19th-century Jacquard looms. The fact that the NATO strap is fabric also holds historical significance; back in 2010, the brand became one of the very first watchmaking brands to commercially offer the option of a fabric strap with its watches.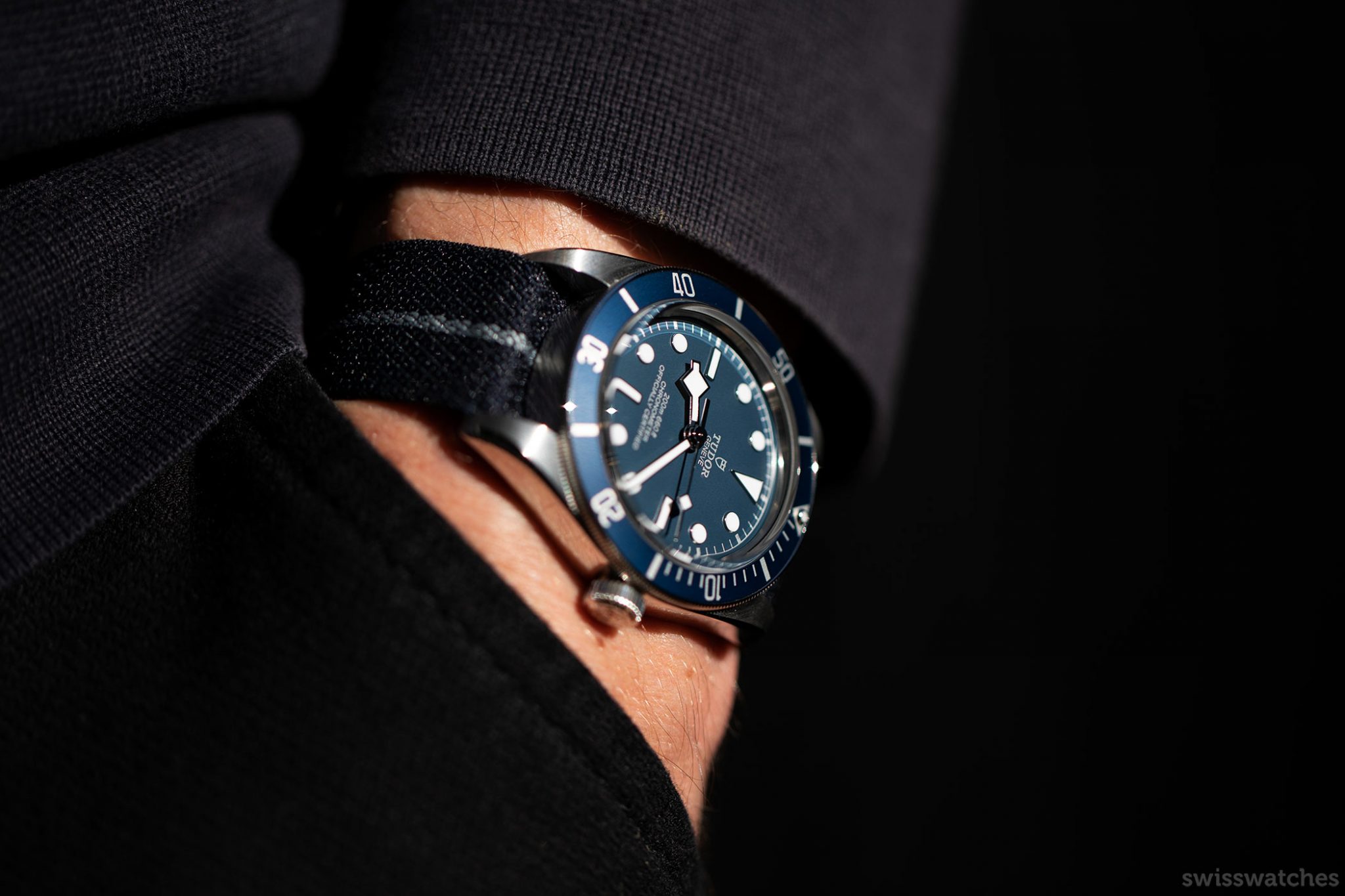 The alternative is a steel bracelet with polished and satin finishings, which operates using a folding clasp with a safety catch. Inspired by the folding riveted bracelets of the TUDOR watches in the 50s and 60s, the bracelet is recognisable thanks to the stepped construction and visible rivet heads. That said, the inclusion of these rivets are purely decoration; they aren't actually attaching anything together. Rather, they simply build on the watches' historic appeal.
The Movement
Moving onto the COSC-certified calibre, the watches are powered by TUDOR's in-house MT5402 calibre, a self-winding movement with a bidirectional rotor system. As well as providing the basics (hours, minutes and seconds), it integrates a stop seconds function allows for precise time setting. The mainspring barrel provides a convenient "weekend-proof" power reserve of 70 hours, meaning it can be left off the wrist for a couple of days without the need to reset and rewind.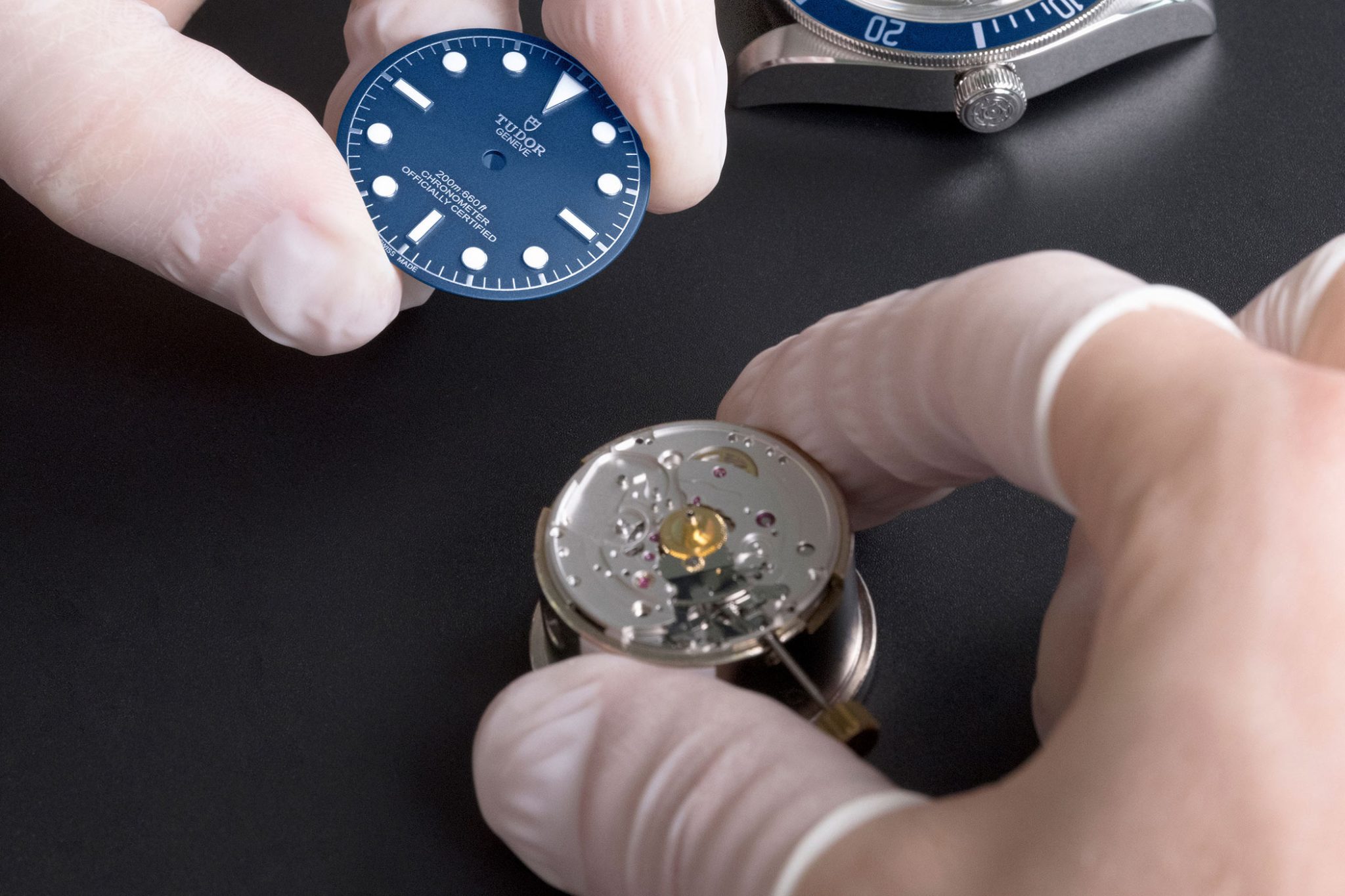 Notably, the calibre has no date function; this only adds to the realistic old-school feel of the neo-vintage Black Bay 58 models. Finally, the movement integrates a non-magnetic silicon hairspring and a free-sprung adjustable mass balance wheel, and beats at a frequency of 4 Hz.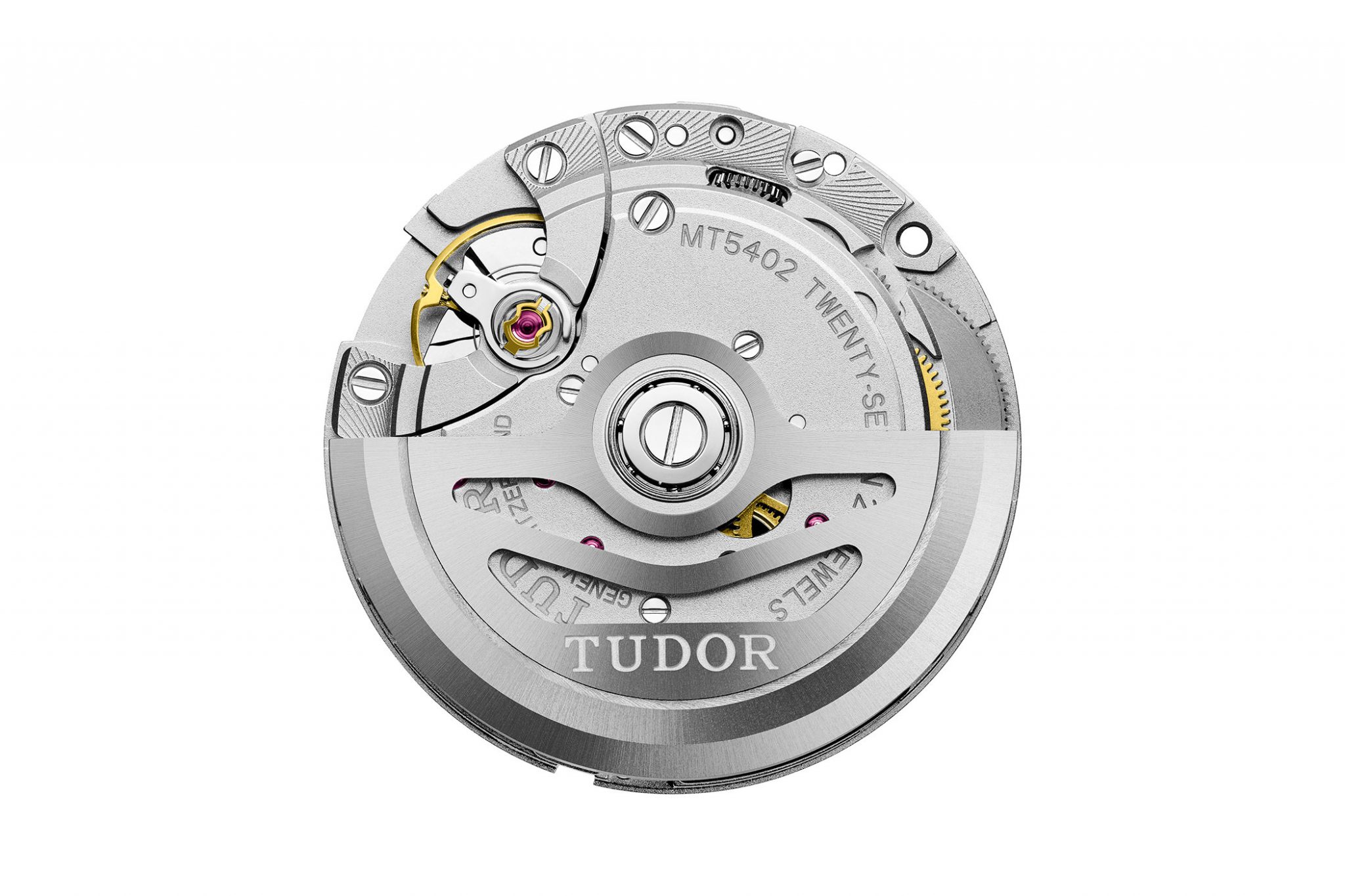 As one would hope but not necessarily expect on a luxury diver's watch, the movement is decorated. In typical TUDOR style, its rotor in tungsten monobloc is openworked and satin-brushed with sand-blasted details, while the bridges and mainplate have alternate sand-blasted or polished surfaces and laser decorations.
---
How do the watches size up?
These watches come from the same line, take certain design elements from different historic models, and thus emanate completely different vibes. To find out why the black version wins for me, it's time to first subjectively compare and contrast both watches.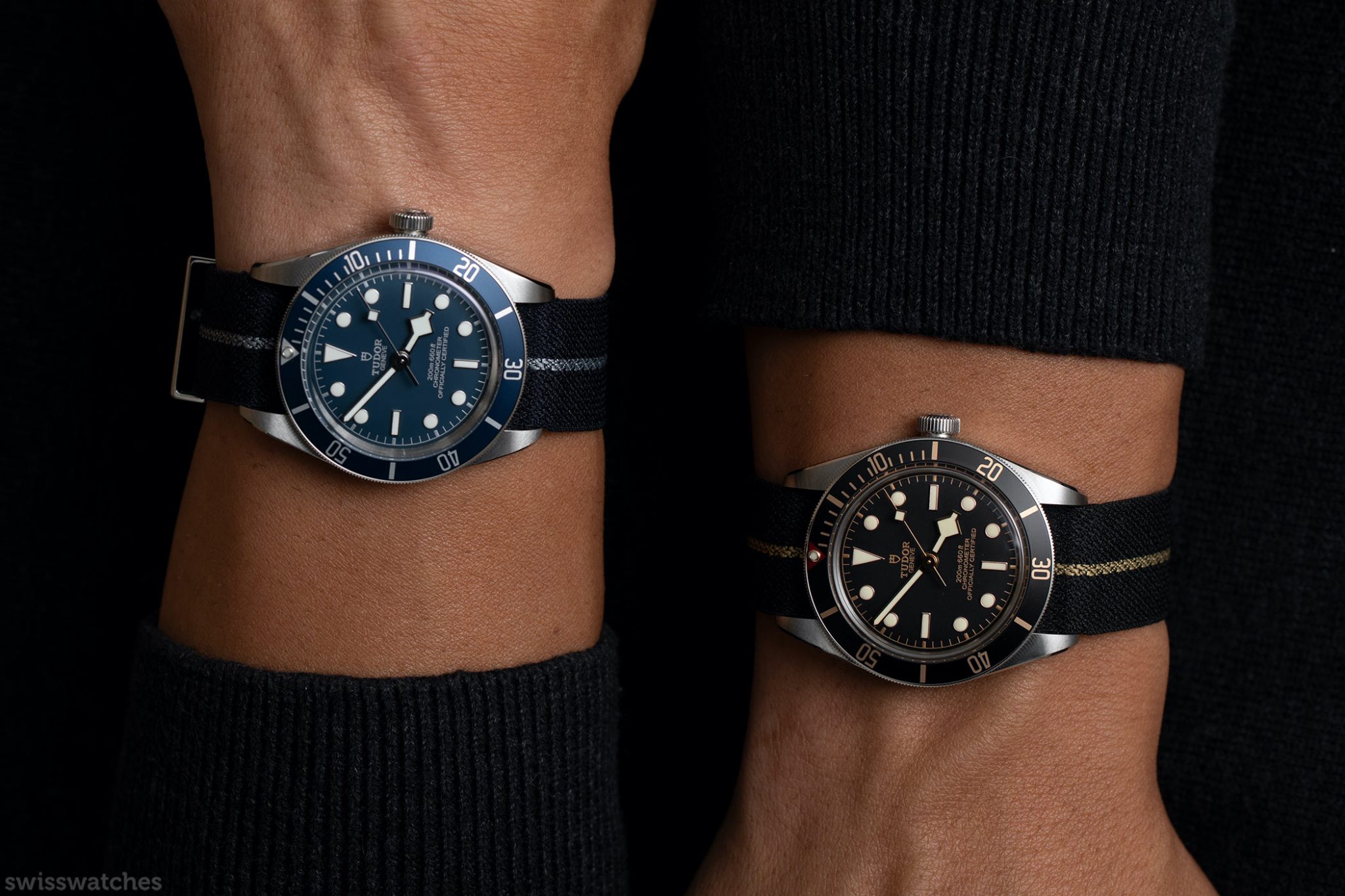 TUDOR Black Bay 58 – 2018: Black
Despite its dark grained dial, the original TUDOR Black Bay 58 has an almost cosy feel to it. This is largely thanks to the use of gilt visible on the hour markers, hands, minute scale and bezel. This inviting colour palette, created by the gilt and pink-gold hour markers, creates an almost autumnal warmth on the watch. It's rare to see a black dial exude such a warm feel. This makes the original Black Bay 58 a pretty versatile watch.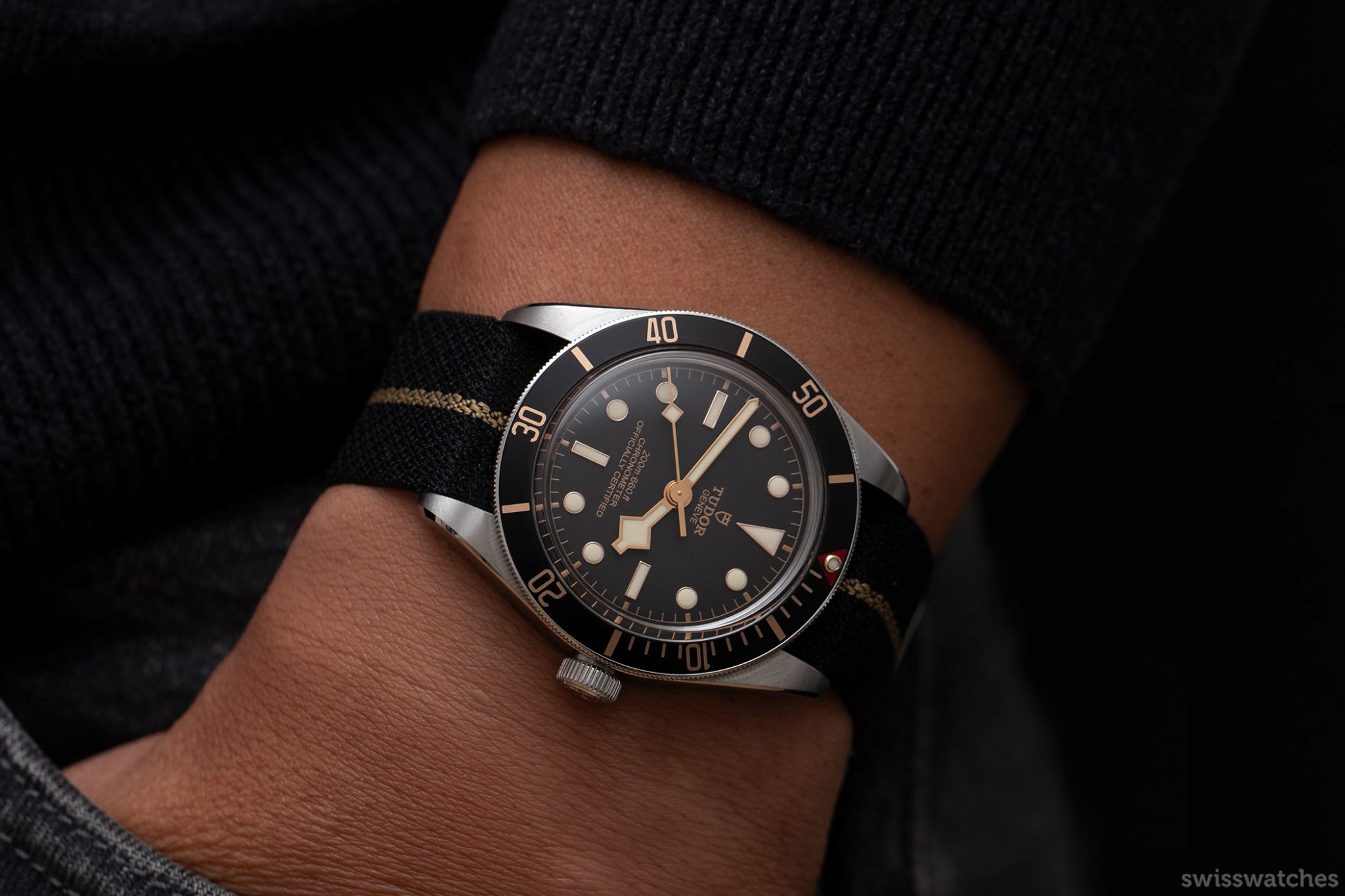 It's laidback in its style, yet serious in its design. You can imagine it on the wrist of a man savouring a hot coffee on an October day, or along with a burgundy wool jumper on a stroll in a forest with friends. That said, this Swiss diver's watch has a purpose – whether or not you're a fan of the aesthetics, it is highly legible around the clock, not to mention easy to read even in the deep waves of the sea. According to one friend's unexpected opinion, it's a "pirate's watch"; while they'd have to be a fairly financially successful and tasteful pirate, I do agree that its aesthetic, not least with the brown leather strap option, transports the wearer back to the past, to choppy seas and faraway adventure.
TUDOR Black Bay 58 – 2020: Navy Blue
By contrast, the blue version, with its navy matt grained dial, gives off more of a summer-on-a-yacht vibe. When I first saw it on a friend's wrist at a restaurant last summer, the first thing that I noted was that it was a much more animated, bright watch than its sibling. Worn on a seriously high quality NATO strap, it looked confident, yet classy and masculine.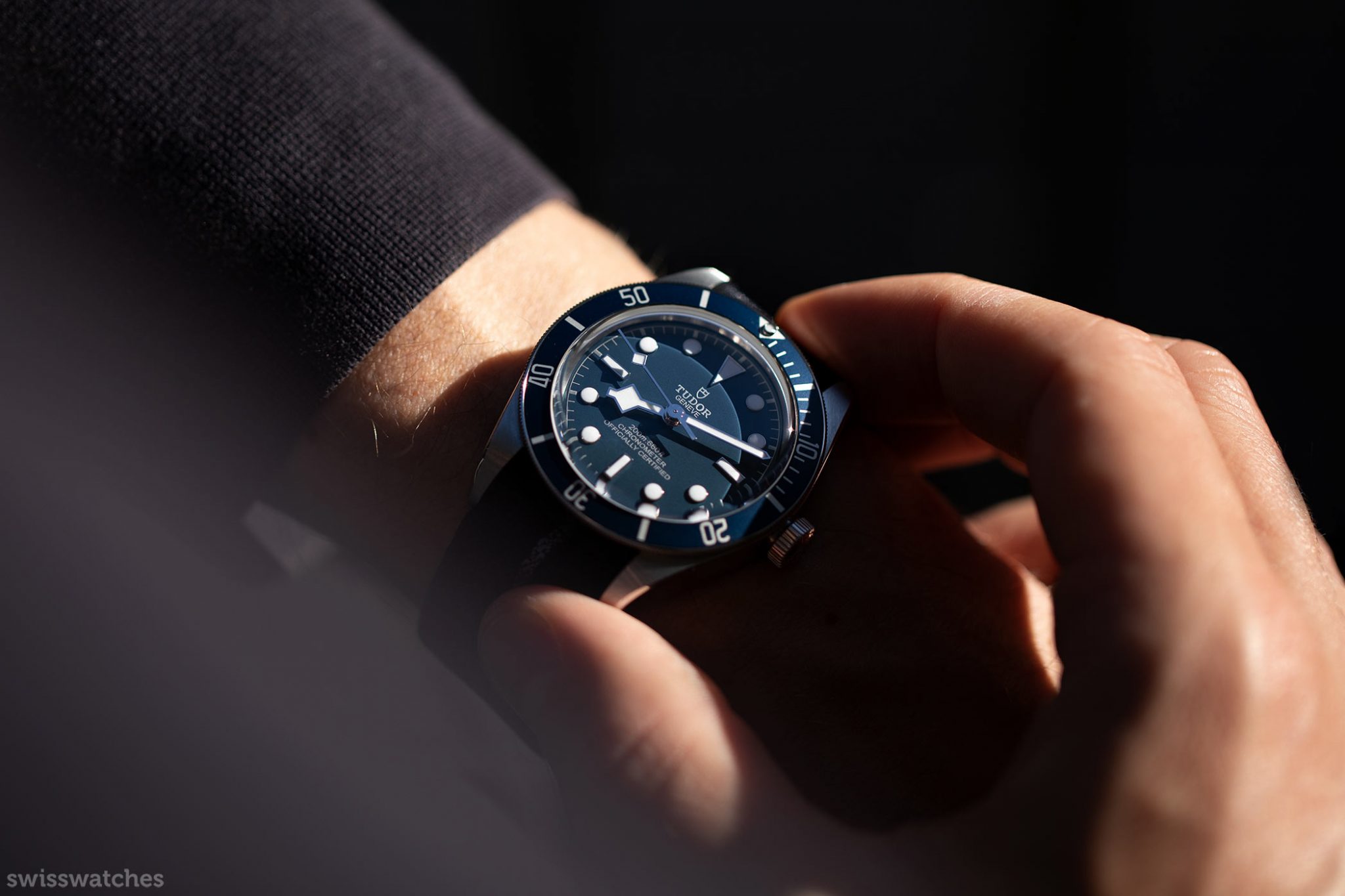 If I were to personify this watch, too, I would say it feels like a sociable, casual piece, which one might wear while meeting friends on the French Riviera, sipping rosé. Speaking of France, it's worth revisiting the fact that this watch takes its inspiration from the "Blue Snowflake" TUDOR Submariners from the mid-70s, worn by the French Marine Nationale. As mentioned, it genuinely means a lot to see how a nation invested its trust in a company. I like to imagine the pride, not to mention the pleasure, that the navy got out of using the tool watches at the time. Finally, as the model's success has proved, TUDOR played the game well by smartly responding not only to the increasing demand for smaller size watches, but also to the continuing popularity of sporty watches with blue dials.
---
The Verdict
While using the same design language and mechanisms, the two editions are evidently starkly different. Therefore, it is possible to draw two basic conclusions. Firstly, both models are inevitably popular due to their ability to be neo-vintage watches that nevertheless boast an impressive calibre and high quality craftsmanship. Secondly, both watches have what many enthusiasts are after: a strong story. But here's why the black version still reigns supreme.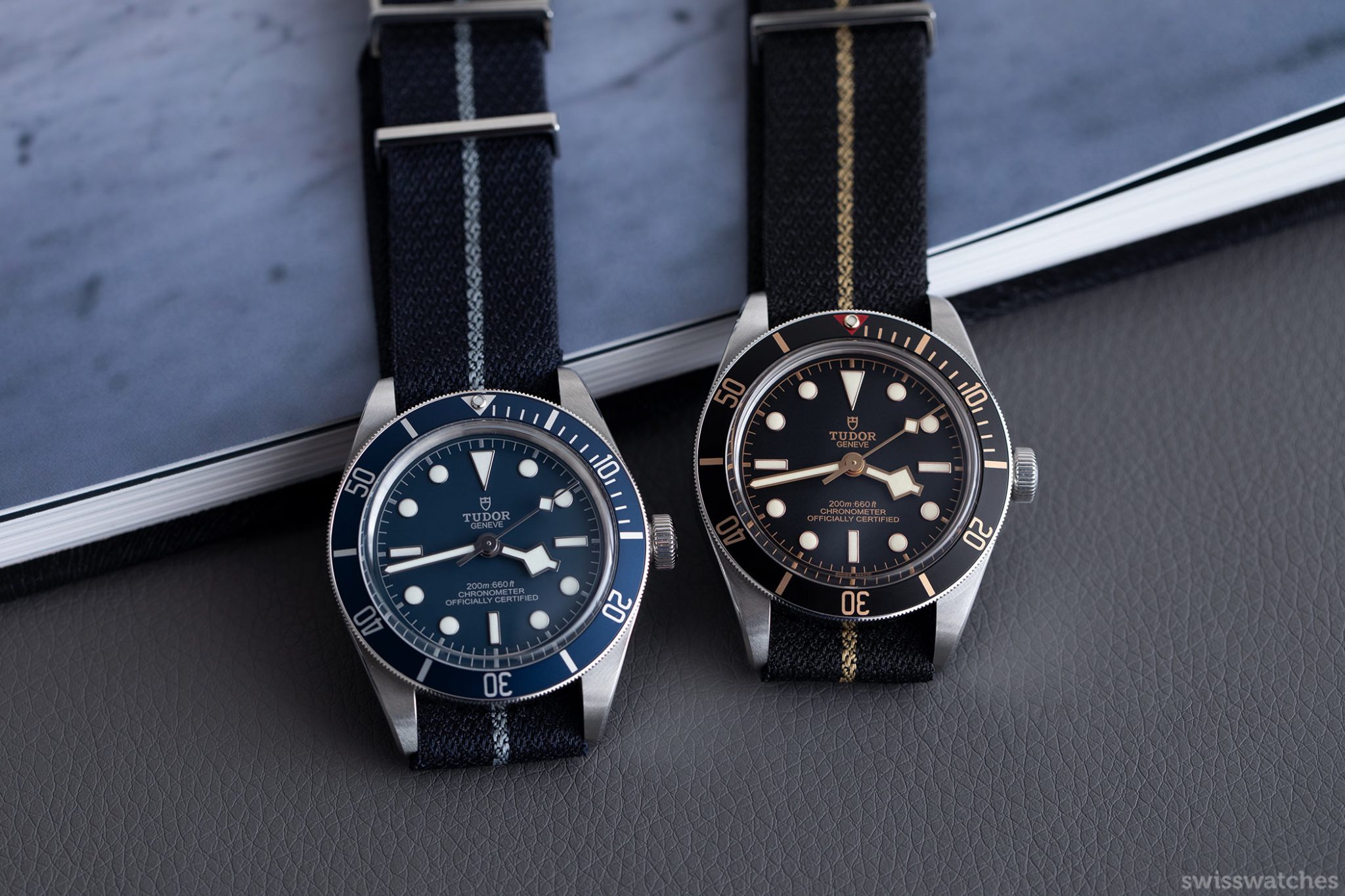 Firstly, with its boldly vintage look and feel, it definitely stands out for its more unique appearance. Unlike the 2020 version, this watch isn't so obviously trying to jump onto any trends, and its colour scheme is refreshingly different. Secondly, there's its inspiration; the black and gilt model primarily formed its design codes using TUDOR's 1958 Ref. 7924. This is important – after all, the entire line's name stems from the famous and ground-breaking diver's watch. As a result, it is able to provide what many members are looking for; an authentic sense of heritage. The original Black Bay 58 is successfully executed, with a neo-vintage design that combines a sentimental story with equally poignant design elements.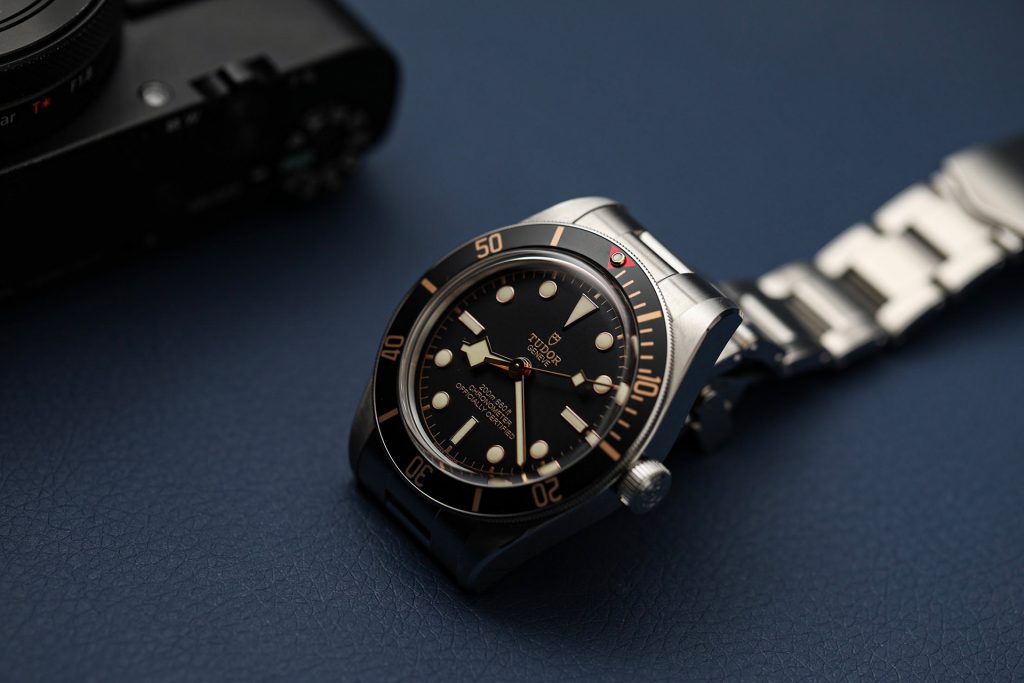 That said, the navy blue version also tells a strong, powerful tale of the faith a country put into a horology house. Furthermore, despite being the more contemporary-looking of the two, it does still seamlessly balance storytelling and style into one watch. That said, its sporty composition in combination with a blue dial unabashedly caters to current trends.
When compared with its sibling, this 2020 model's design is aesthetically a far cry from the 1958 Ref. 7924, at least at first glance. For this reason, despite possibly a more preferable appearance for the majority, it holds less sentimental value in my eyes. What's more, TUDOR has always been appreciated by its fans for its watches' high quality, lower price points, and availability in comparison to its older sibling Rolex.
And yet, getting hold of the navy blue version has proved surprisingly difficult. I've heard numerous stories of waiting lists and even forum-talk – possibly sarcastically – of swapping up a much more expensive Rolex "Smurf" Submariner in favour of obtaining the navy blue edition. Either way, catering to trends clearly does come at a price, although TUDOR never provoked the hype around it in the first place.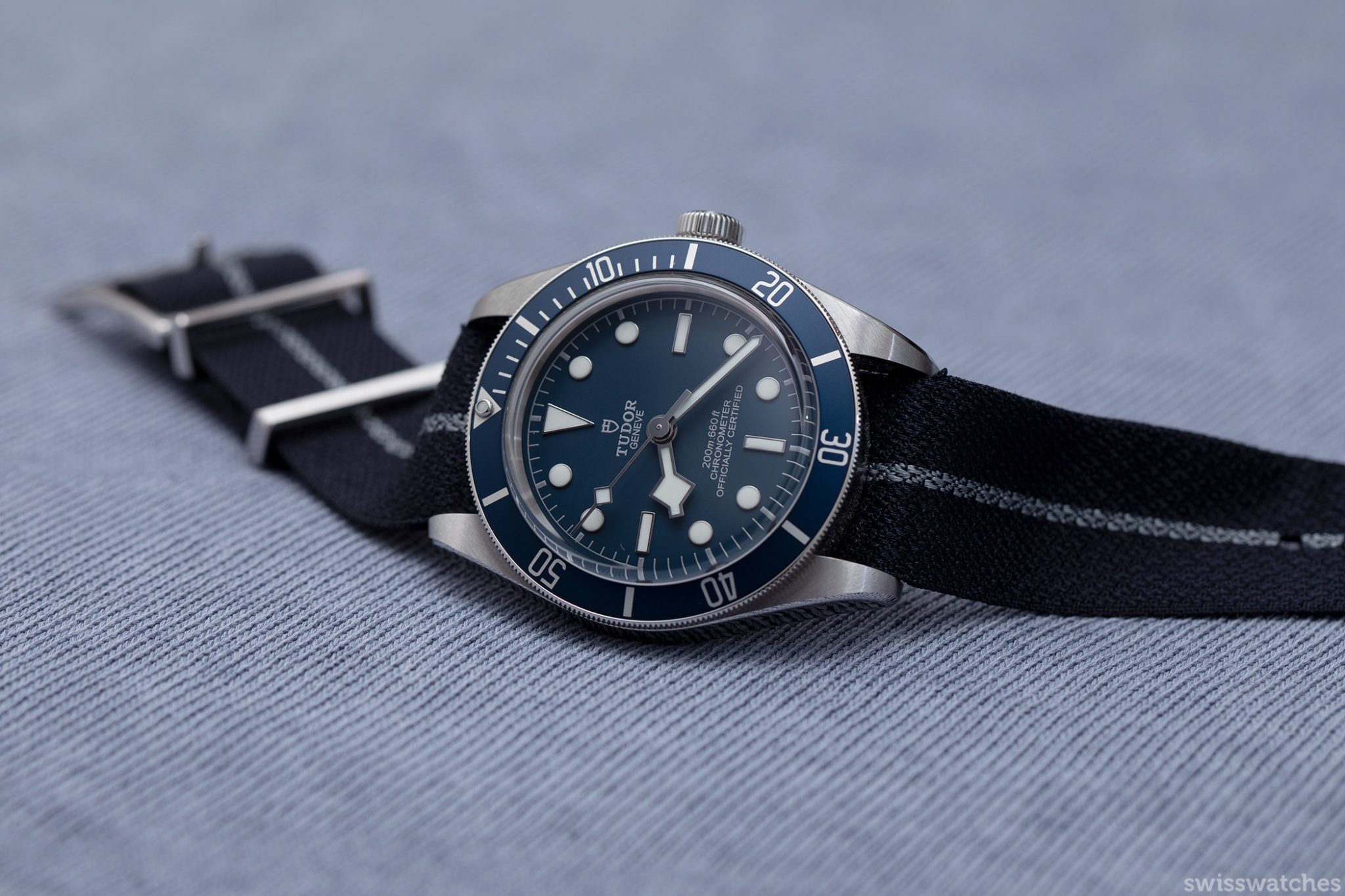 While, therefore, the original Black Bay 58 version wins for me, the joy of the watchmaking community is its vast range of opinions. Thankfully, the differing aesthetics of these two models mean that at least one of the two should speak to you. If not – let's cross our fingers and hope that TUDOR astonish us again this year.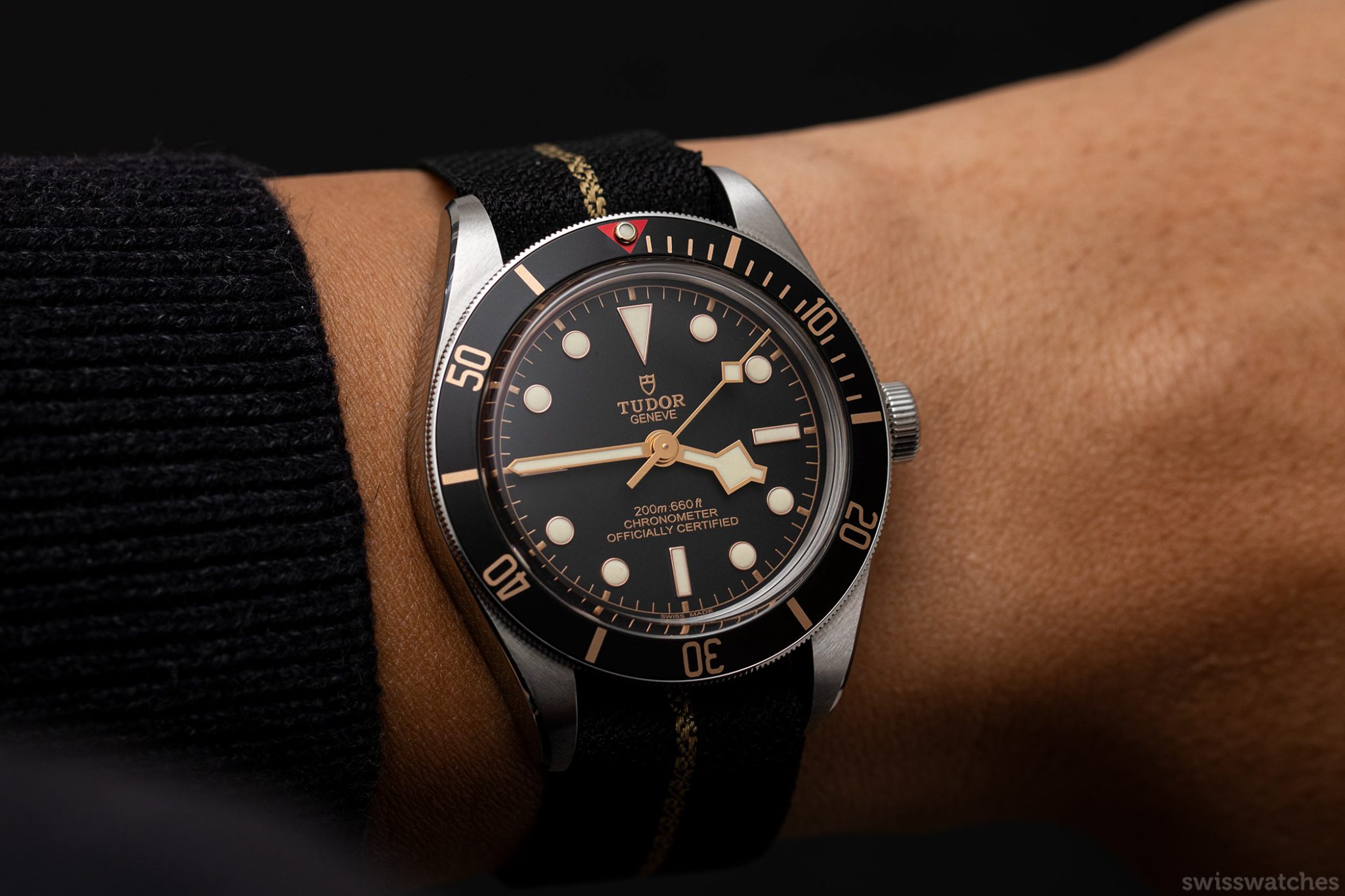 A final point – as the picture demonstrates, your choice of strap or bracelet can change the entire look of a watch. If you aren't sure which style is for you, you can visit TUDOR's online configurator and explore the options for yourself.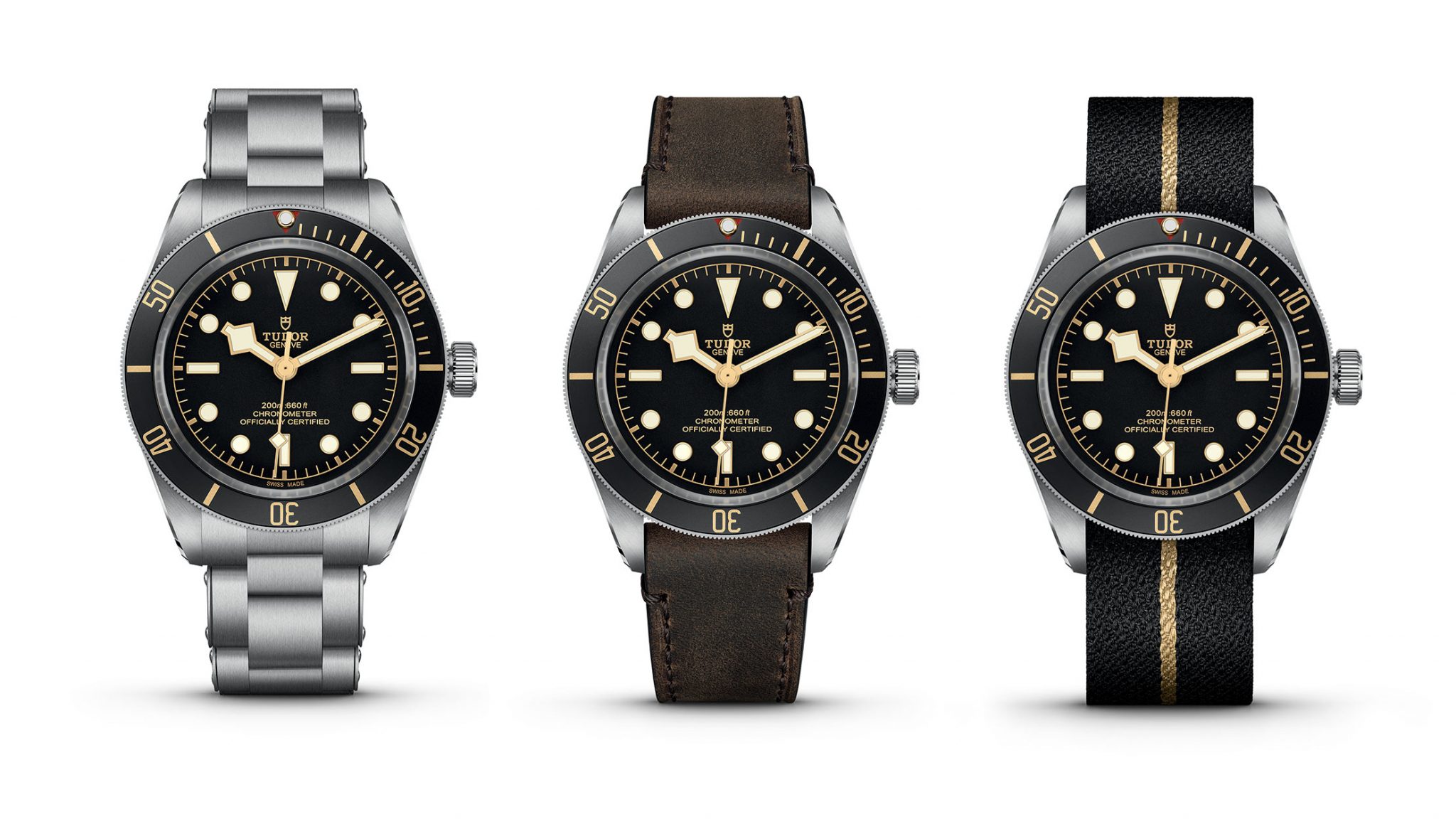 The Black Bay 58 with a brown leather strap / black fabric NATO strap and Black Bay 58 Navy Blue with a "soft touch" leather strap / blue fabric NATO strap are available at a price of 3,060 euros. Both versions with a stainless-steel bracelet cost 3,340 euros.
---
---
FEATURES
BRAND
TUDOR

MODEL
Black Bay 58

REFERENCE
79030N (Black), 79030B (Blue)

CASE MATERIAL
316L Steel with polished and satin finish

DIMENSIONS
Diameter: 39 mm
Height: 11.9 mm

WATER RESISTANCE
20 bar (~ 200 m)

DIAL
Domed: Black or blue

STRAP/BRACELET
Black:
Riveted steel bracelet with polished and satin finish
or brown leather strap with folding clasp and safety catch
or black fabric strap with a gold-coloured band and with buckle 

Navy blue:
Riveted steel bracelet with polished and satin-brushed finish,
or blue "soft touch" with folding clasp and safety catch,
or blue fabric strap with silver band and buckle

MOVEMENT
Manufacture Calibre MT5402

MOVEMENT TYPE
Automatic

POWER RESERVE
70 hours

FREQUENCY
28,800 vph (4 Hz)

FUNCTIONS
Hours, minutes, seconds

PRICE
Both versions with straps: EUR 3,060
Both versions with bracelet: EUR 3,340