It was exactly five years ago that Zurab Zazashvili, founder of Swisswatches, first met Raynald Aeschlimann, then newly appointed CEO and President of Omega, for an interview. He had been in office for 22 months and the brand was celebrating its 170th birthday. The planned interview became an extended lunch date and was published that way. The topic was so popular with readers that Swisswatches developed a series with the most important personalities and pioneers of the Swiss watch industry.
Now, we meet with Aeschlimann once again. Under his leadership, Omega has made the transition from a traditional manufacture to a genuine 360-degree experience brand with seeming ease. The Swatch Group has sold over 1.5 million of its Moonswatch, available for 260 euros. Gen Z stood their ground around the world at the launch, which took place exclusively in boutiques. At the same time, a Grande Complication, the Speedmaster Chrono Chime, was recently introduced at a price of just under half a million euros, of which no more than seven are produced annually. How do these vastly different products work together and how does Omega remain true to itself as one of the leading Swiss watch brands? Enter our second lunch with a CEO who has been with his company for over 25 years, yet is still as passionate about his job as the day he started.
Almost exactly five years ago, we met you for our first lunch interview. At the time, Omega was celebrating its 170th anniversary, and you had been CEO for two years. What achievement are you particularly proud of today, five years later?
---
Oh, I can think of many things, but in 2022 I already had two incredible Speedmaster moments. The first was the collaboration with Swatch, which produced the Moonswatch in the spring, and then in the autumn the launch of the Speedmaster Chrono Chime, the most complicated Speedmaster ever. For me, that was a year of pure icons. Even if it's hard to imagine today, when I took office, the Speedmaster had nowhere near the importance it has today, both in terms of sales and importance among the four main lines. I really wanted to change that, and Omega has succeeded because of its icons. We don't need new ones and we didn't have to reinvent them, just reposition them.
We would rather have guessed that you were the CEO of Omega who managed to break the dominance of the Speedmaster and help the Seamaster achieve the success it deserves?
---
I wouldn't call it breaking the dominance, because the Speedmaster deserves its sacred place in our hierarchy. But I am proud to have raised the profile of the Seamaster, a watch collection with an exceptional heritage. But it is no coincidence that our latest Speedmaster Racing, with its precise Spirate system, takes its design cues from a famous Seamaster. This is a great Omega story. We just have two superheroes. Today, the most important line is indeed the Seamaster, but the Speedmaster follows right behind. The Constellation and DeVille have also remained at a high level. Plus, one should never forget: the Speedmaster is one of the non-Gerald Genta watches that is in the top three in the entire watch world.
What do you see as the most important milestones of the last five years in terms of models?
---
It's not just about the models, it's about Omega as a brand. We have achieved many things in the past five years, and this list is by no means complete. Our Seamaster Ultra Deep watches made a record-breaking dive. We have introduced new watch materials like Bronze Gold and O-Mega Steel. We have developed innovations such as the aforementioned Chrono Chime and, more recently, the Spirate balance spring system to achieve exceptional precision. We have developed amazing new partnerships with Clearspace and Privateer to help map and clean up space. We have served athletes well at two Olympic Games, performing our timekeeping duties in very challenging conditions. We have managed to introduce ground-breaking innovations such as motion sensing. We have welcomed new brand ambassadors to the family, such as the extraordinary Zoë Kravitz. I am also very proud of Omega's resilience and exceptional performance during the very difficult pandemic years.
What has Covid taught you?
No matter what the crisis, the most important thing for me is and remains the development of the right products and therefore I am very grateful for what my colleagues have created in the last five years under conditions that many would describe as very difficult. Of course, Covid has been difficult for everyone, but on the plus side, the brand has evolved enormously, especially in terms of products. Covid also gave us an opportunity to communicate our brand values much more intensively. As a brand, you can't just flip a switch and say: from tomorrow onwards, we'll all adapt and you need the right employees for that. Everything we see today was finalised during Covid. The employees put even more effort into it.
Back then, you predicted that there was still a lot of potential in the luxury watch industry, and the figures have proven you right: the market has grown enormously.
---
Yes, that's true. In America alone, we have tripled our turnover within two years! We also owe this, for example, to the support of social media platforms like yours. Together with a few other platforms, you have made this niche accessible to many more people and not just a few experts and collectors. I remember well back then our first Hodinkee edition. Fans want to connect with brands differently today than they used to.
By the way, the success also affects other regions; America I mentioned, but also UK, Germany, France and Italy are strong. Even South Korea has done well. As well as all that, we sell more than a third of our watches in our own boutiques. I am satisfied; Omega is very well balanced at the moment.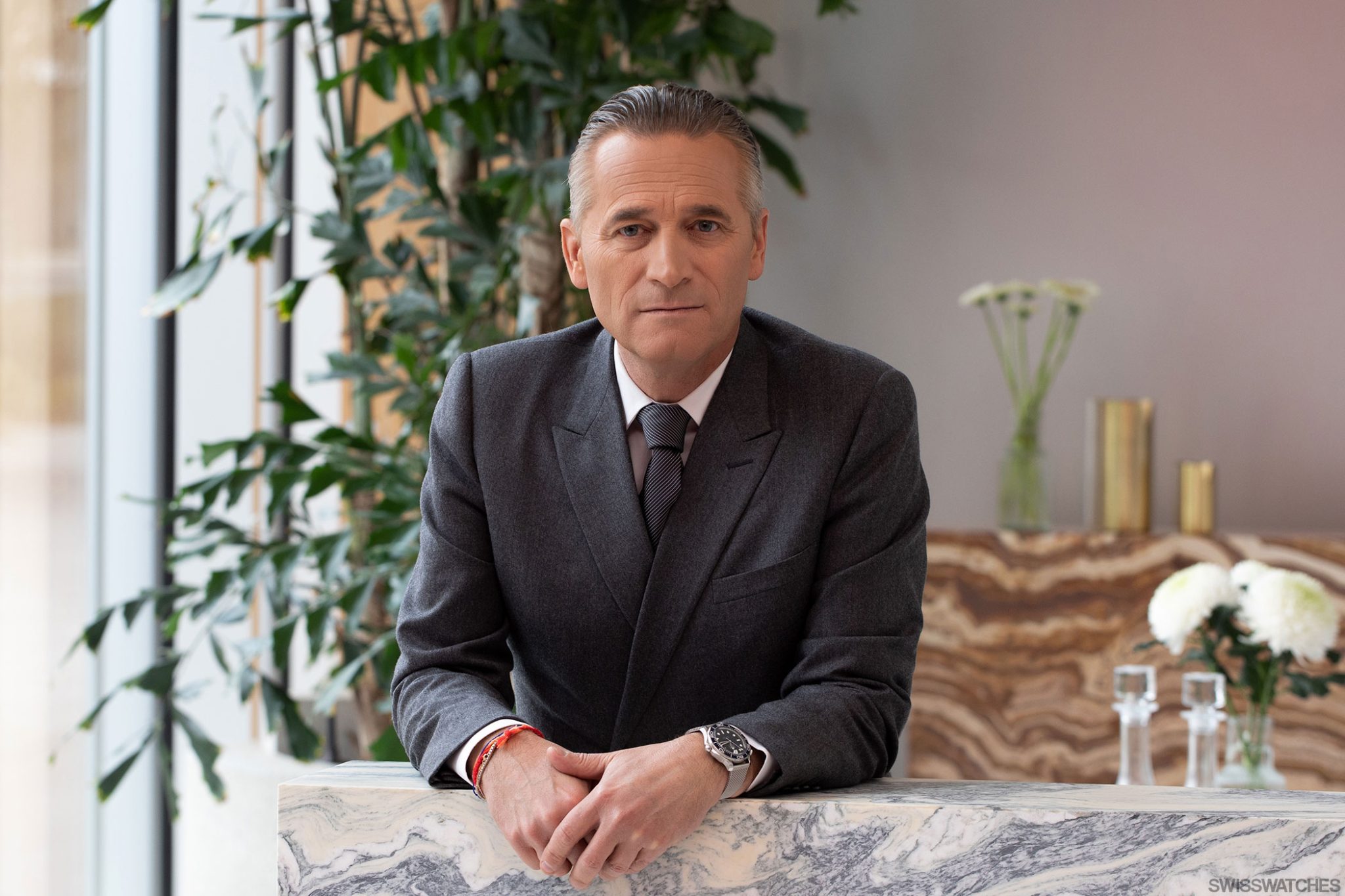 Omega CEO and President Raynald Aeschlimann
When you started as CEO, Omega had many limited editions. How did you eventually solve that?
---
I didn't really have to deal with it or make dramatic changes because we had already reduced the number of limited edition models. Limited edition watches are ideal for collectors, and they are an important part of the luxury watchmaking tradition. But we want to meet the needs of all Omega fans who want to own a watch because they trust the brand and simply love the look of the watch. Today, without the limited editions, we have more orders and waiting lists than ever before.
Please tell us about the origins of the Omega Moonswatch collaboration. Rumour has it that over 1.5 million watches have now been sold. Is the watch your most important message to the Gen Z?
---
I'll tell you something: I firmly believe that only the Swatch Group could bring something of this magnitude. Apart from the strict secrecy of such a project, it is crucial that neither of the partner brands leaves its territory. With many collaborations in fashion and industry, this is not always the case, and quite often they end up in court. With us, each respects the other. There would never be a Moonswatch in steel with me, just as there would never be a mechanical watch. It is and remains a Swatch. But all of us at Omega were completely enthusiastic about it right from the start. People tend to forget this today but the Swatch Group, and Swatch in particular, has played a crucial role in revitalising the entire Swiss watch industry, so the collaboration was a very playful way of paying tribute to the efforts of the parent company. The Moonswatch is a perfect way to give entry-level collectors the chance to wear their own version of the famous Moonwatch. The Moonswatch collection made of bioceramic always includes colours and design elements that clearly stand out from the actual Speedmaster.
With a retail price of 260 euros, the watch is very out of the ordinary. What is Omega's price range today and how has it changed over the years?
---
Yes, it has to change, because it's a Swatch. On the other hand, look at our retail. In the last 20 years, we have tripled our average price, from 2,000 to about 7,000 Swiss francs per piece. But this is only possible if you also add value, i.e. additional services such as amagnetic movements, the METAS certification, longer guarantees or our Master Chronometer certification. Today, these watches offer much more in terms of technology than they did 20 years ago. Of course, one should never become arrogant with such excellent numbers. Our customers' expectations to become ever more precise never cease; that is firmly anchored in our brand DNA.
Swatch developed the Moonswatch, you developed the ultra-complicated movement of the Speedmaster Chrono Chime's Reference 1932 together with your group sister brand Blancpain: today, the Swatch Group deals with these issues much more openly than it did a few years ago.
---
That was unthinkable in the past. But isn't that wonderful? Yes, we developed the 1932 movement together with Blancpain. But the Chrono Chime is not a collaboration. It's a research project, led and conceived by Omega. At some point, we went to our colleagues at Blancpain because we had reached our limits here. That's when Marc Hayek helped and said, 'This watch should be possible.' We got advice from the right specialists, but the watch is assembled here by our watchmakers.
Now your most famous watch can be ordered for around half a million euros. How did the Speedmaster come to house such an extraordinary movement?
---
With the Chrono-Chime, we talked exclusively about the movement for a long time, and spent a lot of time looking at our classic models. Then I brought the Speedmaster into the conversation. I thought to myself: it inspires people, so why not? A Maybach also remains a Mercedes, but on a different level. So why shouldn't we make a Chrono Chime based on our most famous model? After all, we don't just want to create special watches for special people, we want to inspire all fans of Omega. Of the 25 watches we've already sold, 22 are from the Speedmaster line, and only three were ordered in the case based on the world's first minute repeater wristwatch. Recently, we delivered the first one to New York, to a customer of about 50 years old, who until a year ago had not even worn a watch – can you imagine?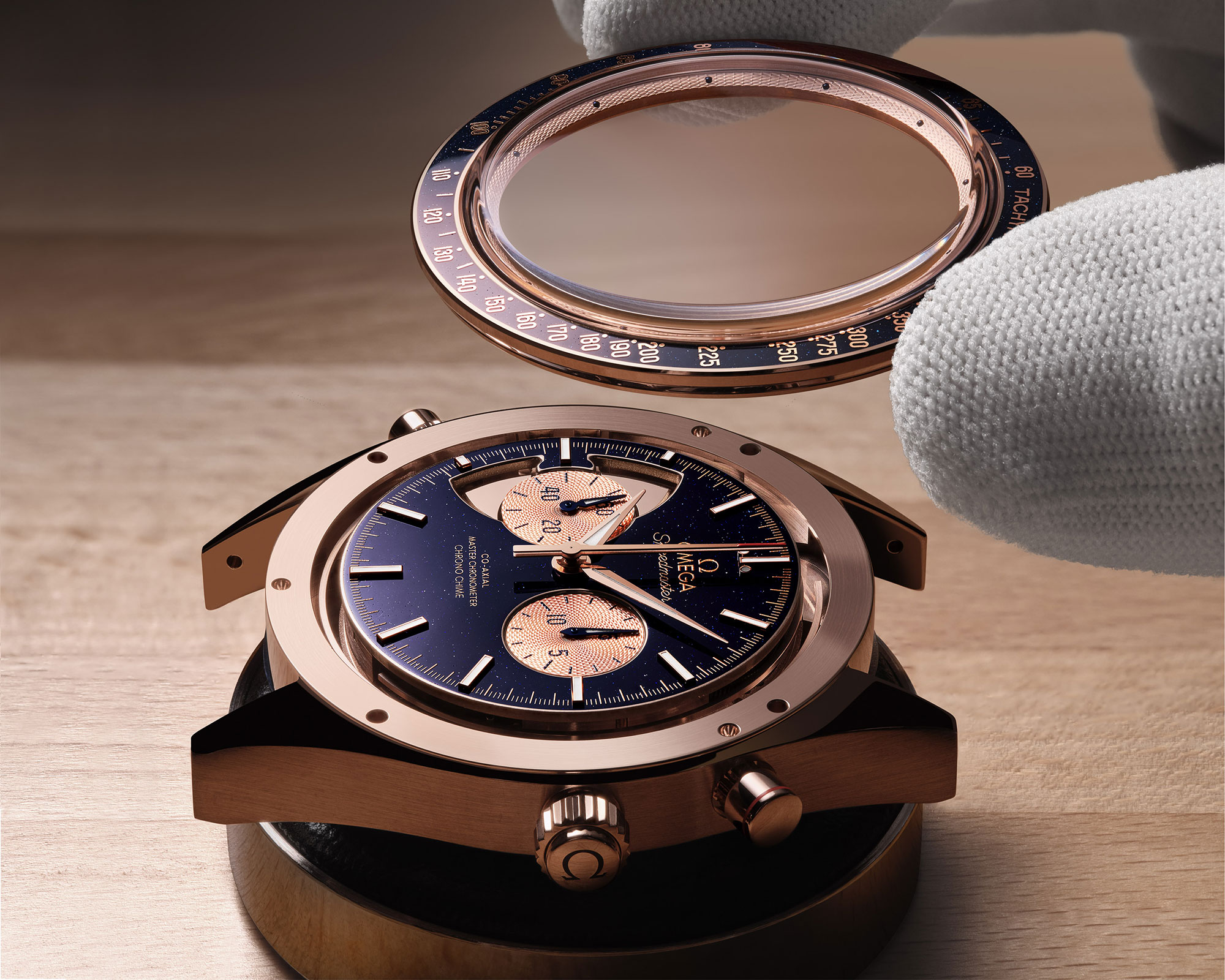 Speedmaster Chrono Chime & Olympic 1932 Chrono Chime
You talked about the next generation of customers. Gen Z is on everyone's lips. What are you doing for this new generation of customers? How do you manage to get young people excited about the Omega brand today?
---
On the one hand, the next generation is very label-oriented, but at the same time, young people have many questions just like Generation Y before them. They like to learn and they like to know a lot. They are interested in even the smallest details. I find that fascinating…
…But do they still go to boutiques? Aren't they looking for a completely different kind of experience rather than a condescending salesroom?
Last year, we announced record sales in our 160 boutiques. You have to remember that China was still in lockdown and people there were all sitting at home. But they're right: the right fans are primarily interested in the brand. You have to continue to immerse them in experiences around Omega. That can be stores, but it can also be our museum here in Biel or the manufacturing facility next door, and of course that happens around the clock over the internet. Biel is also a great place for that, and this is where we will continue to plan the future. This is where our roots lie.
Could you theoretically imagine building a hotel in Biel for Omega fans like Audemars Piguet did in Le Brassus?
---
Yes, sure, why not? Biel is not on the moon. It can be reached extremely quickly from Zurich Airport and thus from all over the world. Just the other day, I was approached in the parking lot by a customer from Canada who was spending his honeymoon here. He told me that he bought his Omega Speedmaster here in Biel! Now that's what I call the Biel effect.
When we last spoke five years ago, e-commerce was still an experiment for Omega, too; you launched your e-boutique back then. What significance do online sales have for Omega global today?
---
I remember it well: I hated e-commerce at first! Even today, it annoys me when my daughter sits around using a tablet. Is that really a great experience? I demanded that we had a great experience in e-commerce, too. We only do e-commerce in 13 countries in total, because we either offer 360 degrees or we don't do it at all. We've also mastered the whole repertoire: live chat, live presentations with video call. E-commerce only works if it's perfect.
Et voilá – five years later, e-commerce is our most important sales channel in America. Not just in regions where there are no boutiques, but also in New York or Miami. You want to know what sells well online? Everything [laughs]. No, seriously, it's really balanced price-wise; people even purchase 50,000-euro models in solid gold online. The most expensive watch we've sold online to date cost around 100,000 euros, ordered by a customer in New York. But what amazed me the most was that we could have sold the watch with gold: we would have delivered the watch with silk gloves, but the customer wanted to order it online – and the boutique was only 15 minutes away from his home! Maybe that level of purchasing only works in the U.S. right now.
So, boutiques is a buzzword at Omega. How many boutiques do you operate and how many new ones are you planning this year?
---
We have branches in 30 countries, including in India. In total, we run 160 of our own boutiques. You rarely find that among Swiss manufacturers. Your German fans can rejoice: we are already in Hamburg, Berlin and Frankfurt, and perhaps more will follow [grins]. It's all about developing relationships with loyal local customers.
What roles will testimonials play in the future, and to what extent is cinema hero James Bond still important?
---
We are James Bond's wristwatch; we have the longest track record with the film character and it will stay that way. But James Bond also has to be reinvented again and again. I am 100 percent confident that the next James Bond film will also be in the spirit of our times, just like the Seamaster line is today. With each new Bond, we have the chance to equip a new actor who will perhaps play James Bond again for a decade or two. That's sensational. An anecdote on the side: we already broke new ground with Daniel Craig: We wanted to develop his Seamaster together with him, and his opinion was decisive. To this day, it is among the top five bestsellers of our watches. It's the most successful James Bond watch; so successful that it now remains as a permanent part of the Seamaster collection.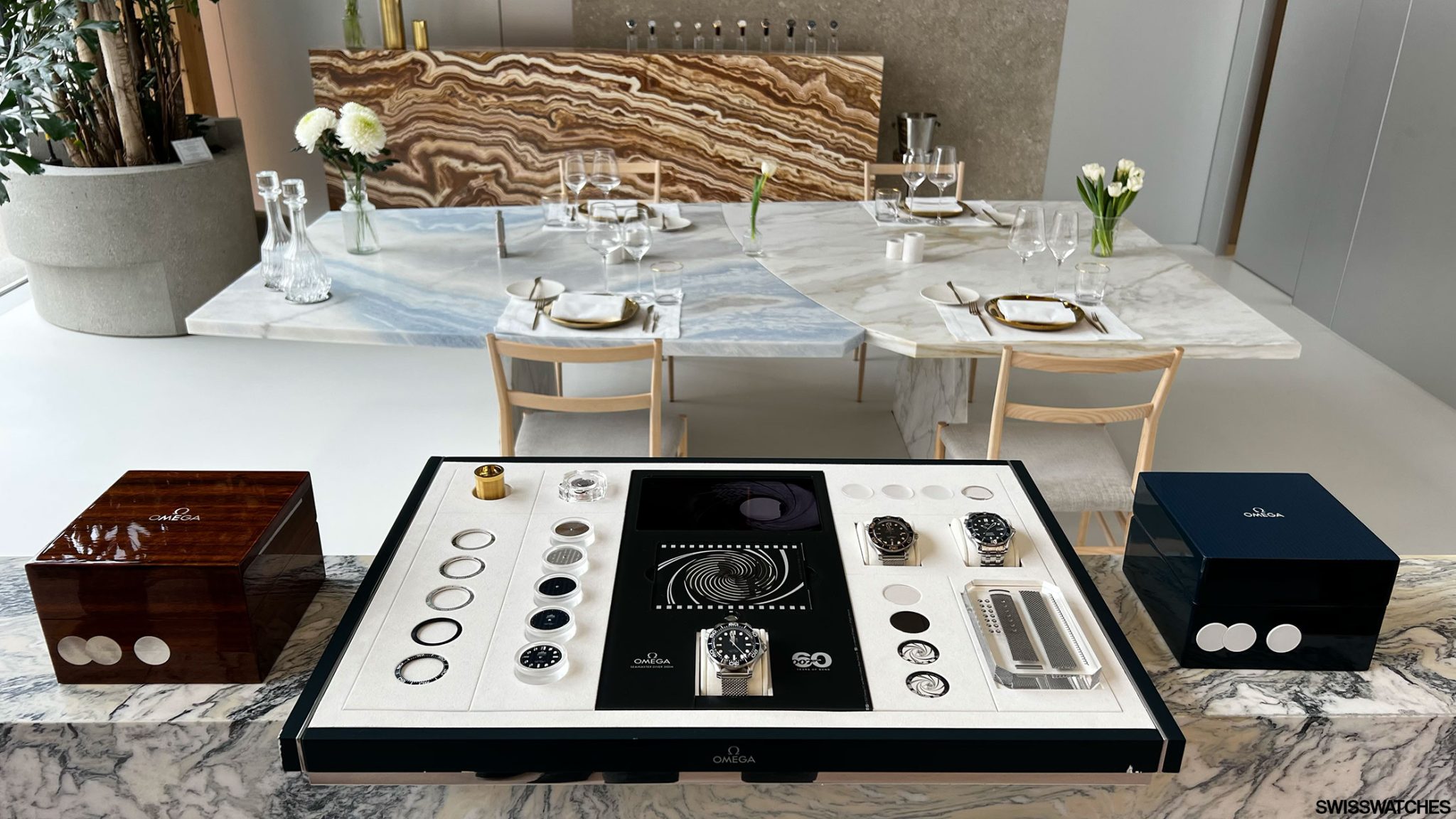 With all the tremendous growth in recent years, how much potential do you envisage for the future?
---
If you are not number 1, there is obviously always potential, right [smiles]? Seriously, some in the industry overlooked how much potential for growth there was for Omega even five years ago. It's not just about ranking, it's about finding the right niche. That is something defined by inner values, not just what you sell to the outside world. And that's where I see our greatest strength: there are no internal barriers within the Omega team. Even though I hear a lot in internal discussions about things that we may never do, we allow these discussions nonetheless. People sense this open approach. At the end of the day, luxury means selling products. The most successful brands are those that have not only developed their own products, but also mastered selling them.
What do you see as posing the greatest risk in the Swiss watch industry today, as well as specifically for Omega?
---
With so much dynamism, you have to stay focused and not launch too many projects. The fact is, we are part of the largest watch group in the world and we are also excellently positioned industrially with partners like Nivarox and ETA. It would be a nightmare for us if we were not part of the Swatch Group, because innovations and new technologies only come into being in collaboration with the group. Take the Spirate system: that was a five-year collaboration between six to eight of our group suppliers. It's unthinkable that a brand could do something like that on its own. Between us, there were moments when the engineers told us: we can't do it, forget it!
Can you keep up with the enormous pace of innovation of recent years?
---
Oh yes, certainly, otherwise we wouldn't be pushing so hard. Wait until the end of the year. Market leadership brings responsibility. We're celebrating 75 years of the Seamaster collection this year, but it's definitely not going to be a history-focused event; it's clearly focused on the future.
You've been with Omega for over 25 years now. How do you maintain a fresh outlook on your own company after such a long time?
---
Good question! Just imagine: 25 years ago, we didn't even have our own in-house calibres. No Co-Axial escapement, no METAS, no Master Chronometer, no Caliber 321. I think it's very important to not think you're the centre of the world. Biel is definitely not. Our success comes from dedication, our history is our legitimacy, and only true innovation leads to success. This has always spurred us on, forcing us to remain dynamic. Having the Olympics as one of our pillars helps me to maintain this dynamism and also to be able to say no to other matters. Things like Formula 1 are already not sustainable today and would also not make sense from a timing perspective. We really have remained a timekeeper to this day, having been measuring all Olympic Games since 1932. You have to stay true to your past.
Last question: Which watch are you wearing today and why?
---
Raynald Aeschlimann: I wear the Seamaster 300 M. It's a diver's watch, of course, and at the same time it's the best-selling line in the Seamaster collection. I really like the blue personally. But all colours – black, blue, green – are in demand. The green one runs like crazy, and that's without advertising. I used to wear the Aqua Terra Worldtimer a lot, but I really love the new bracelet on the Seamaster 300 M. It just added a touch more elegance to the watch.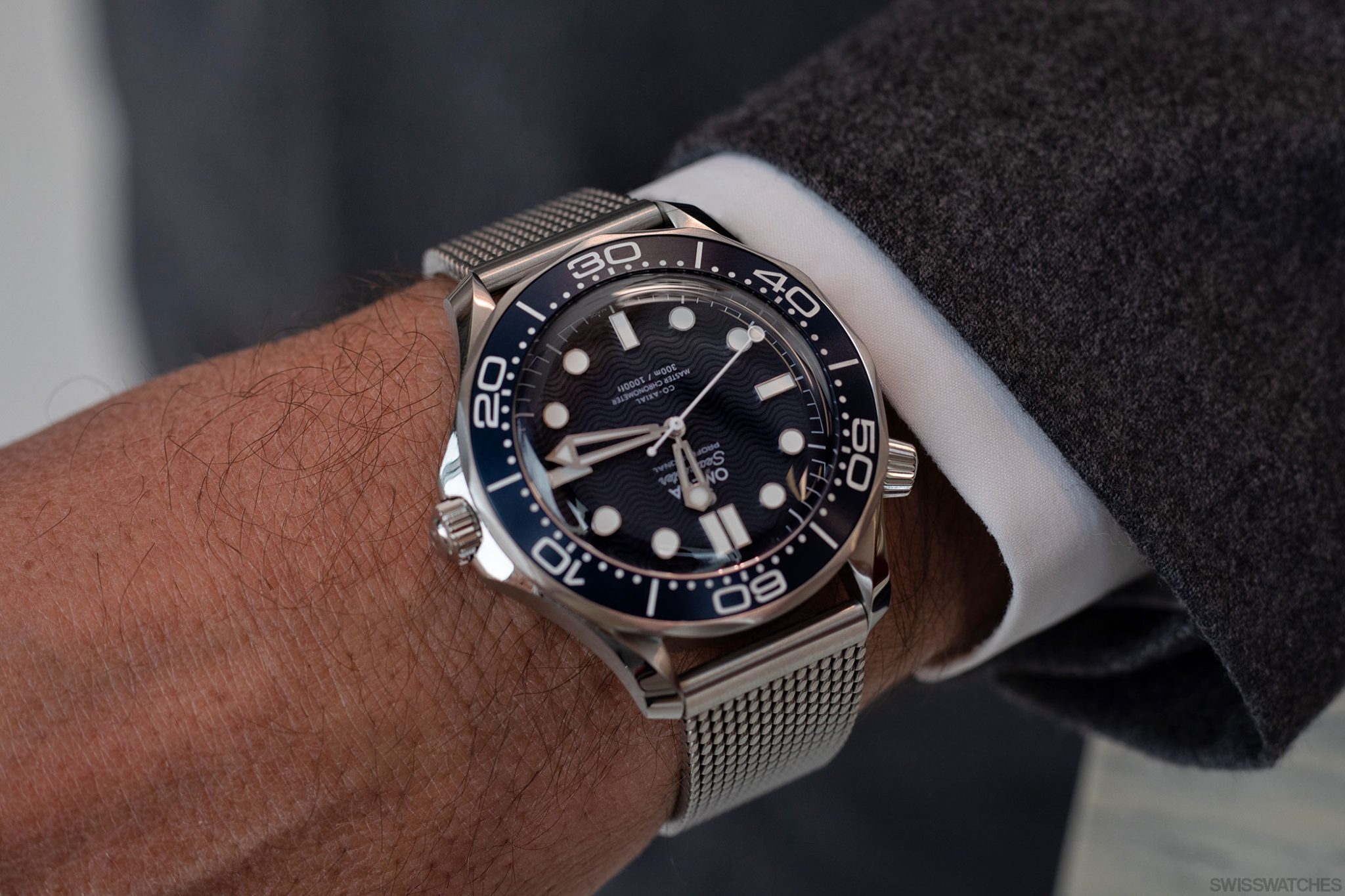 Omega Seamaster Diver 300m James Bond 60th Anniversary
---