Where would the watch brand Audemars Piguet stand today without the Royal Oak? For some time, the name Royal Oak was more famous than the brand itself. They even considered to establish a second brand. The newest model of the Royal Oak has caused another level of excitement. But what makes this watch so iconic?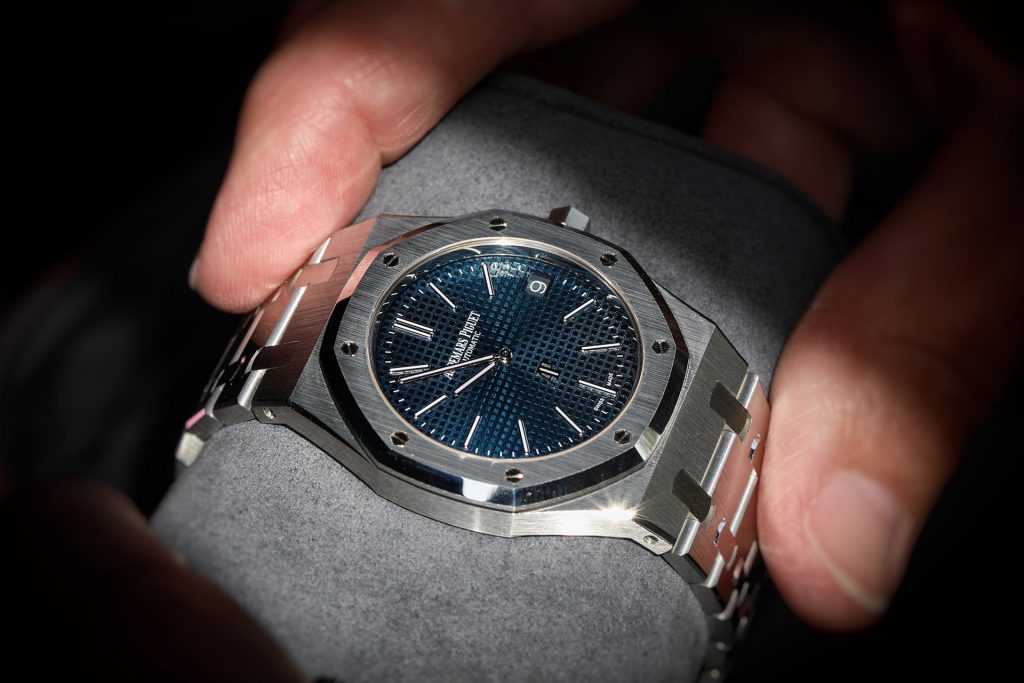 A design icon since 1972 – Audemars Piguet's Royal Oak
In the beginning, the business started very painstakingly. The Royal Oak had to take a lot of derision during the start of its launch in 1972. First of all, it was the first sports watch with a steel case, a very unconventional way for that time.
Many critics scoffed that steel was only a cheap material that is used for kitchen sinks. Furthermore, it was way too bulky with its 39mm case size – both, men and women preferred smaller sized watches. And then there was this octagonal bezel that did not fit to the brands image, and much less to the style of that time.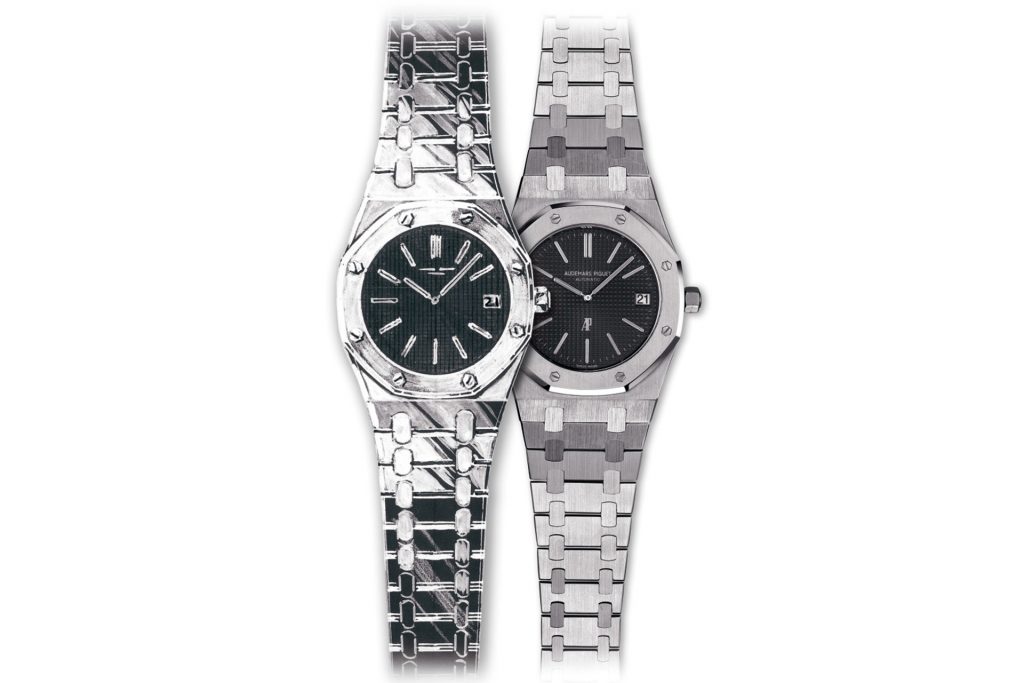 Original sketch (left) of the Royal Oak by Gérald Genta
It once nearly broke the brand's neck, but today it is the economical spine of Audemars Piguet. Credit goes to a cloak and dagger operation shortly before the novelties presentation at the Basel fair in 1971, and a sudden childhood memory of Gérald Genta, the mastermind behind the Royal Oak.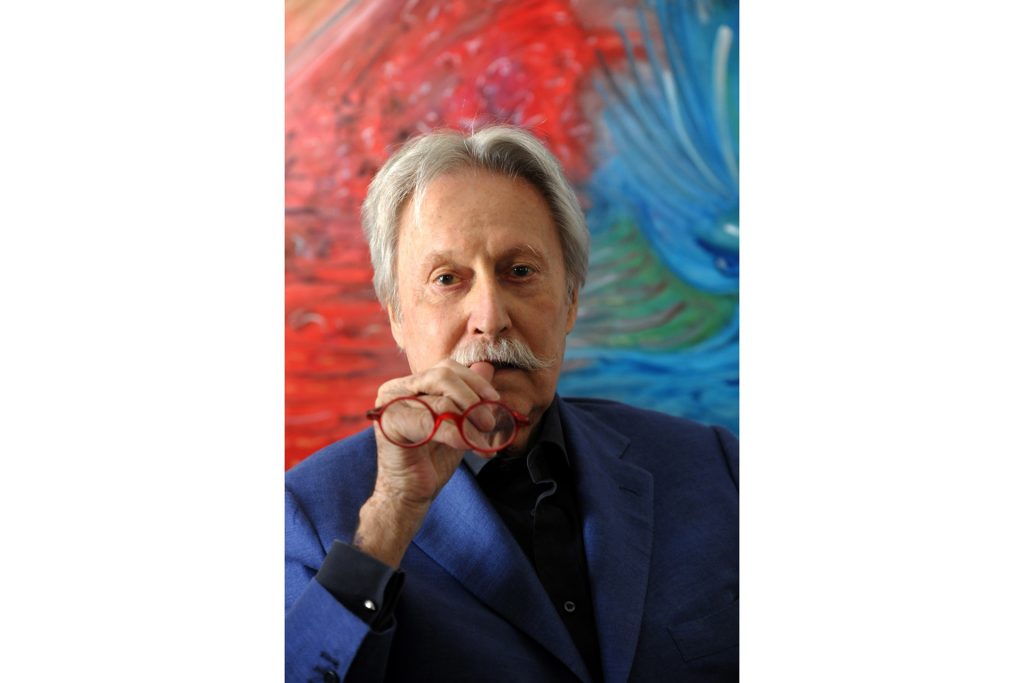 Gérald Genta – watch stylist and founder of the Royal Oak design
Gérald Genta, who called himself a watch stylist (the title 'designer' came some time later) was already at Audemars Piguet for 20 years. He worked together very closely with the general director of that time, Georges Golay. No watch was produced without Genta and Golay having approved it first. Shortly before the fair appointment in Basel in 1971, Genta received a call by Golay who requested a sporty steel watch for the Italian market within 24 hours.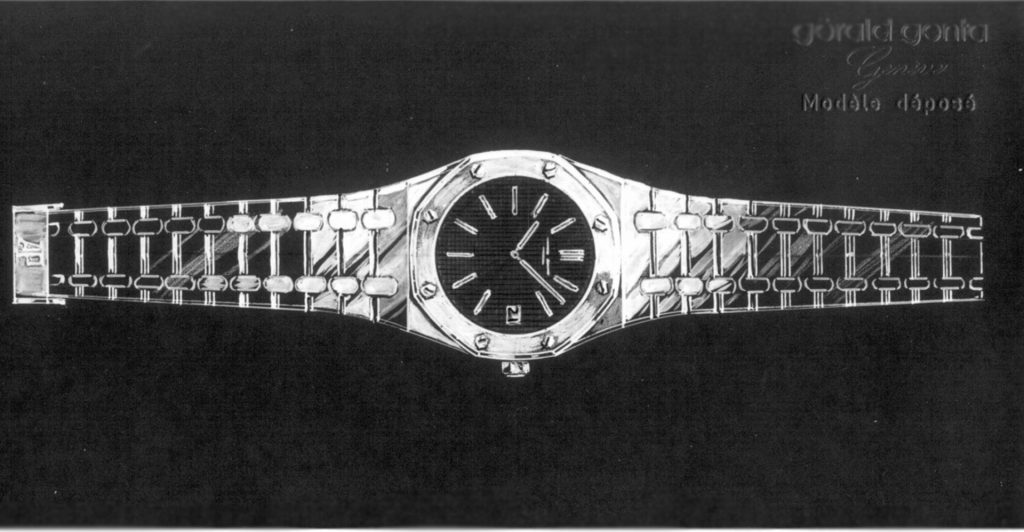 The first and only sketch of the Royal Oak
At that night, Genta had only one shot – the Royal Oak was born, inspired by a childhood memory when he spotted a diver putting on his helmet and locking it with eight bolts and a rubber seal. If this would protect a human from water, Genta was convinced that this must also be possible with a watch.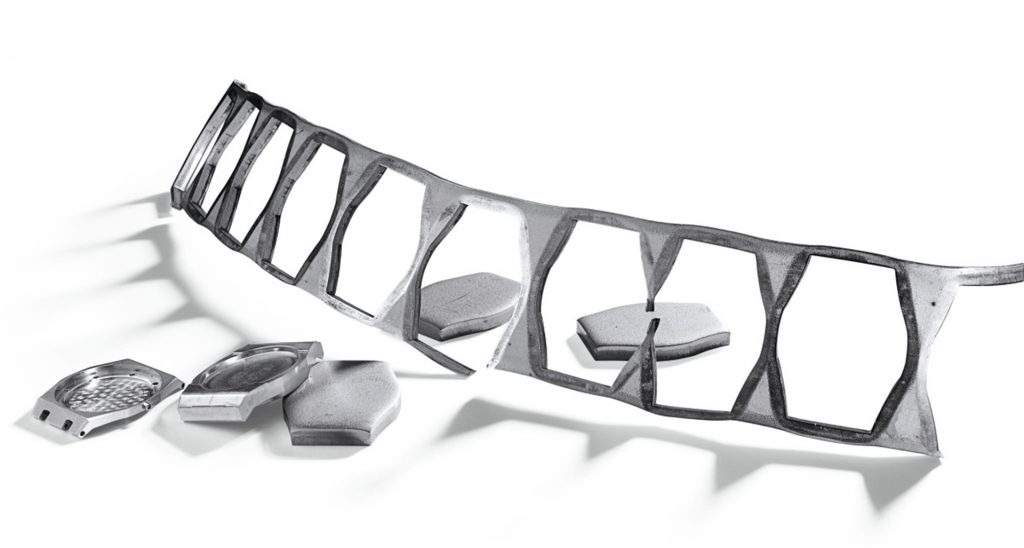 Precision forging of the Royal Oak cases with integrated caseback
The Italian importer Carlo De Marchi was keen about the sketches, when he saw them in the next morning, but it failed to succeed. In Switzerland and Italy, it took three years to sell 400 Royal Oaks in each country. And there was not even a name for the watch at the official rollout on April 15th, 1972. In the beginning, it was given the nickname 'Safari' – a touch of desert and adventure they must have thought.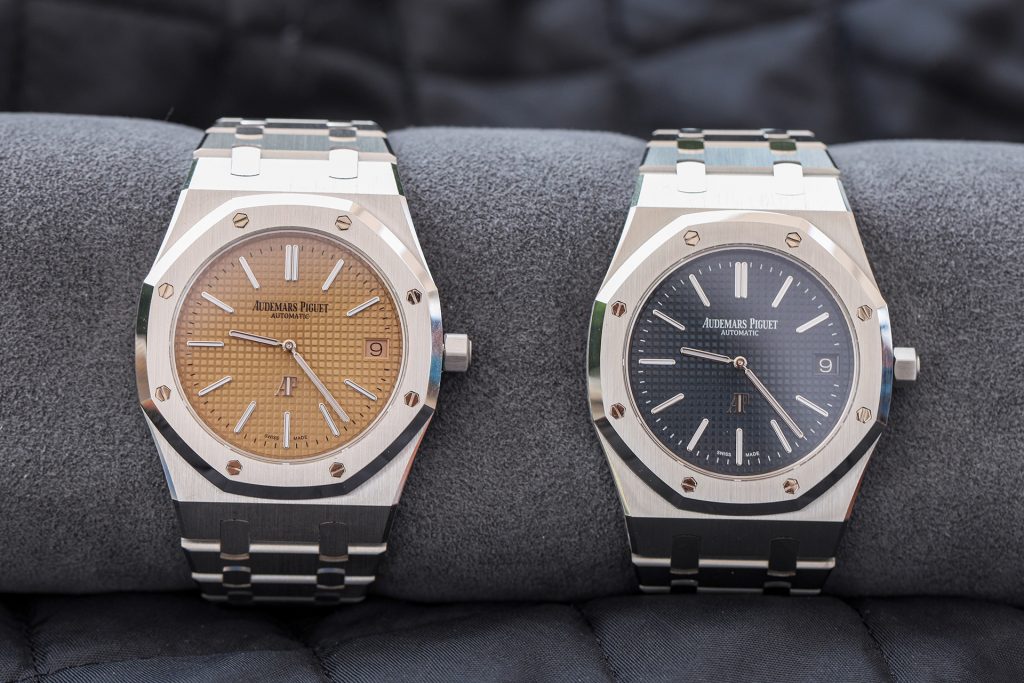 Rarely seen together – Royal Oak Extra-Thin 'Salmon' and 'Blue'
It was the importer mentioned above, Carlo De Marchi who eventually named the watch "Royal Oak". The true reason is not clearly documented – however, two historical happenings that might contribute to the explanation. The first incident goes back to King Karl II, who hid on an English oak tree while on the run from being beheaded in 1651. The tree turned – historical speaking – into a 'Royal Oak'. The second indication comes from the British Navy. From 1664, their battle ships were traditionally called 'HMS Royal Oak', and their hull was coated in steel, which might have reminded De Marchi of the watches.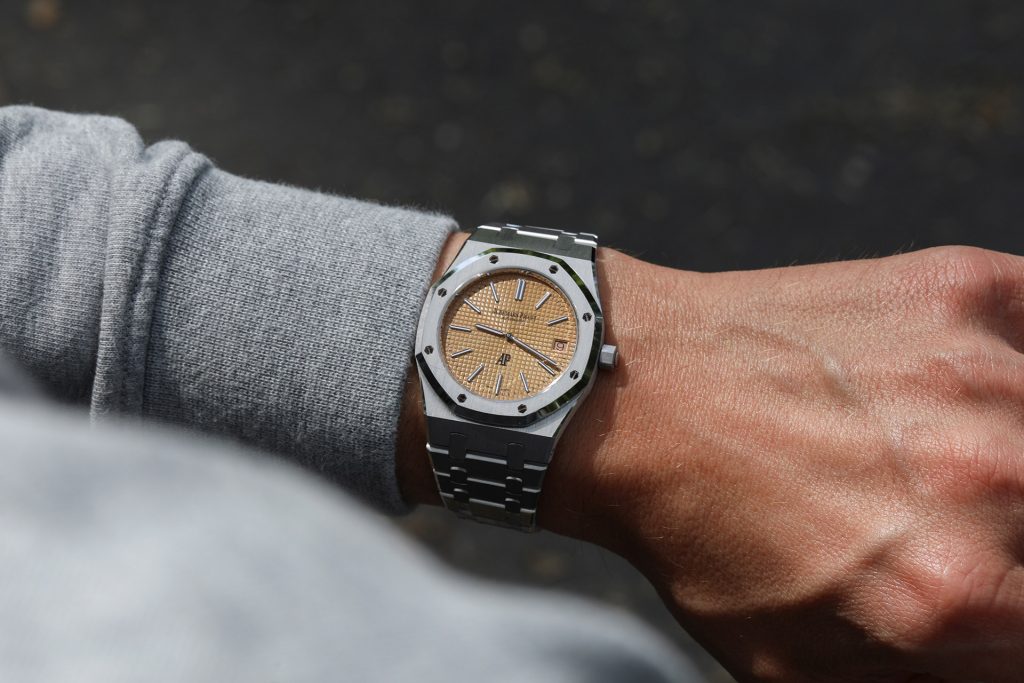 Royal Oak 'Jumbo' Extra-Thin in white gold and with salmon dial
But despite all creativity and fancy name dropping, it was simply not successful. Too bulky, too unusual and with 3650 Swiss Franc way too expensive for a steel watch. But in 1974, a Royal Oak flashed from the wrist underneath Giovanni Agnelli's suit. He was the FIAT boss, an influential businessman, an idol, a captain and style icon. Out of a sudden, the watch became a great success over night. Audemars Piguet started to use brand Ambassadors on advertising campaigns for the first time, and suddenly everyone wanted to have that exceptional product. The critics got infected by the hype and started to convert from haters to likers. The connoisseurs mainly appreciated the technical features and design. Besides the somewhat controversial aesthetic of the watch, one should not forget – the watch was so complex that only sales points with an internal watchmaker could offer customer service.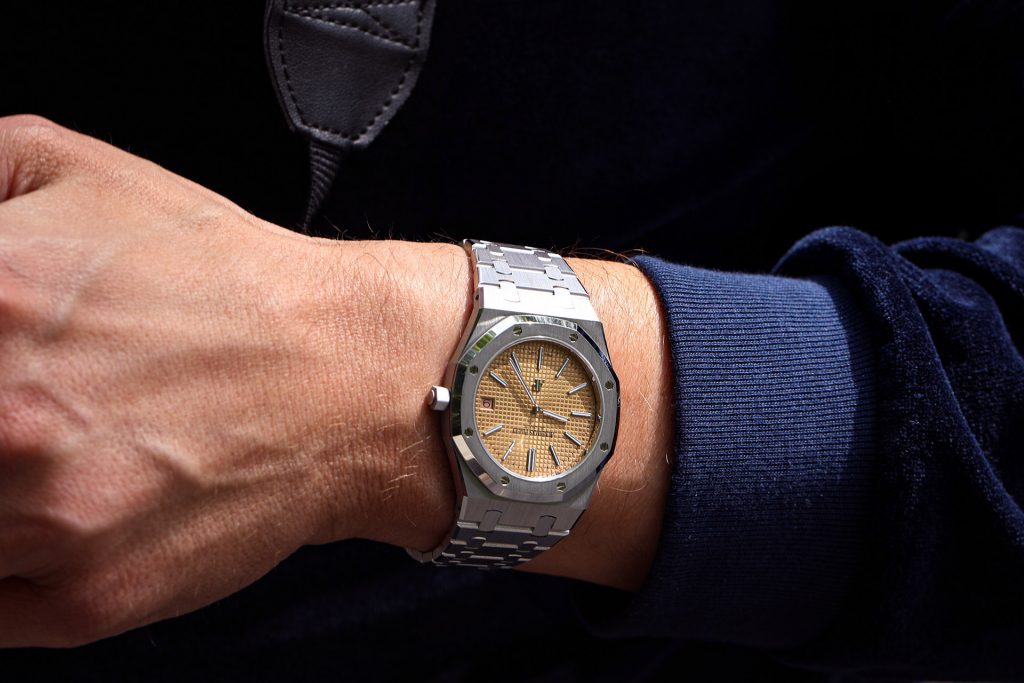 Royal Oak 'Jumbo' Extra-Thin from 2019
Gérald Genta was the first to use stainless steel on a luxury watch, which went well with the concept of a waterproof sports watch. However, Audemars Piguet treated this less precious metal just like gold. The processing and finishing proofed to be difficult as steel was a rebellious metal. Taking a close look onto the Royal Oak, you will spot neatly polished and satin-finished-cases and the bezels are brushed with chamfered and polished edges. The processing was a huge challenge for Favre & Perrier, a specialist of manufacturing gold cases. They even urged Genta that it would not work. But for Genta, steel was THE material of the fading century and he was eventually rewarded for remaining persistent.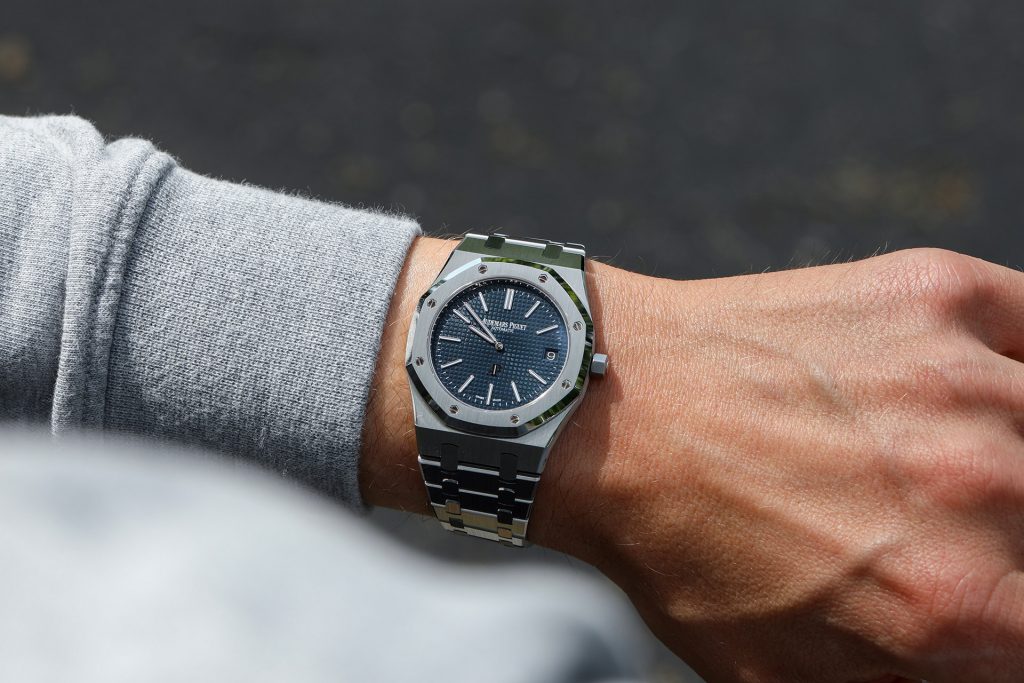 Royal Oak 'Jumbo' Extra-Thin in steel (Ref. 15202ST.00.1240ST.01)
The case centre piece and case back are stamped from one piece what majorly enhances the imperviousness. A rubber seal has been pushed between two notches in the bezel, then put on the case and compressed by eight screws.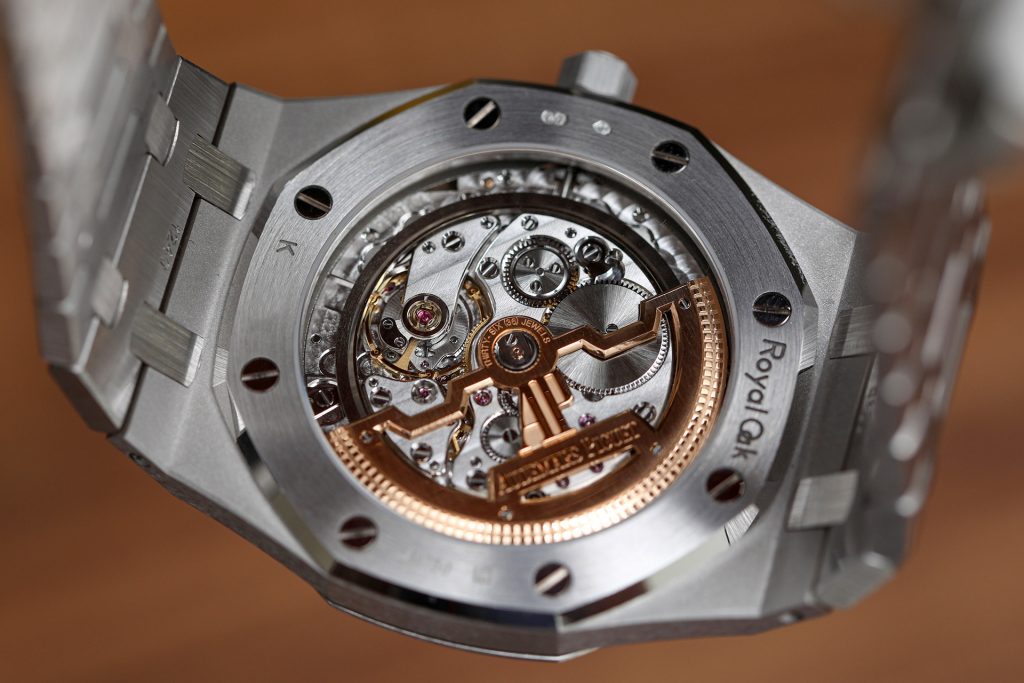 Eight screws firmly hold case and bezel together – spotted: the manufacture caliber 2121
Furthermore, the bracelet was exceptional and very complex to produce. The individual bracelet-links reduce its size from lug towards clasp. As steel is difficult to process and all links are individual in size, the mounting is made solely by hand.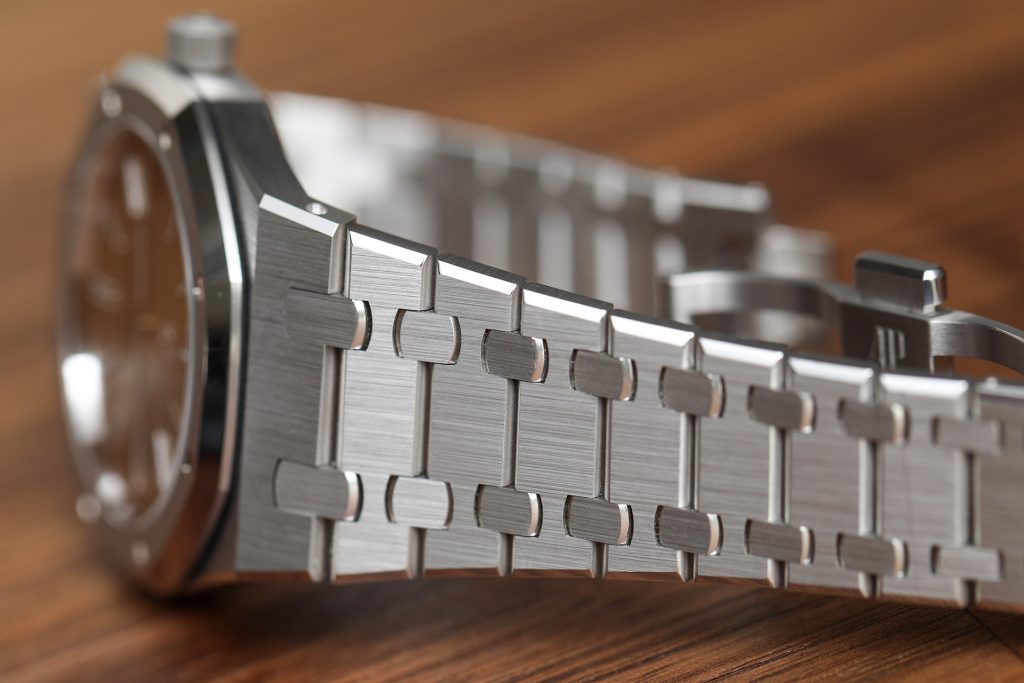 Hand-made: the individual bracelet-links reduce its size from lug towards clasp
Last but not least, the 'Tapisserie'-guilloche belongs to the dial of a true Royal Oak just like cubism belongs to Picasso. Its manufacturing requires a special qualification and takes several hours.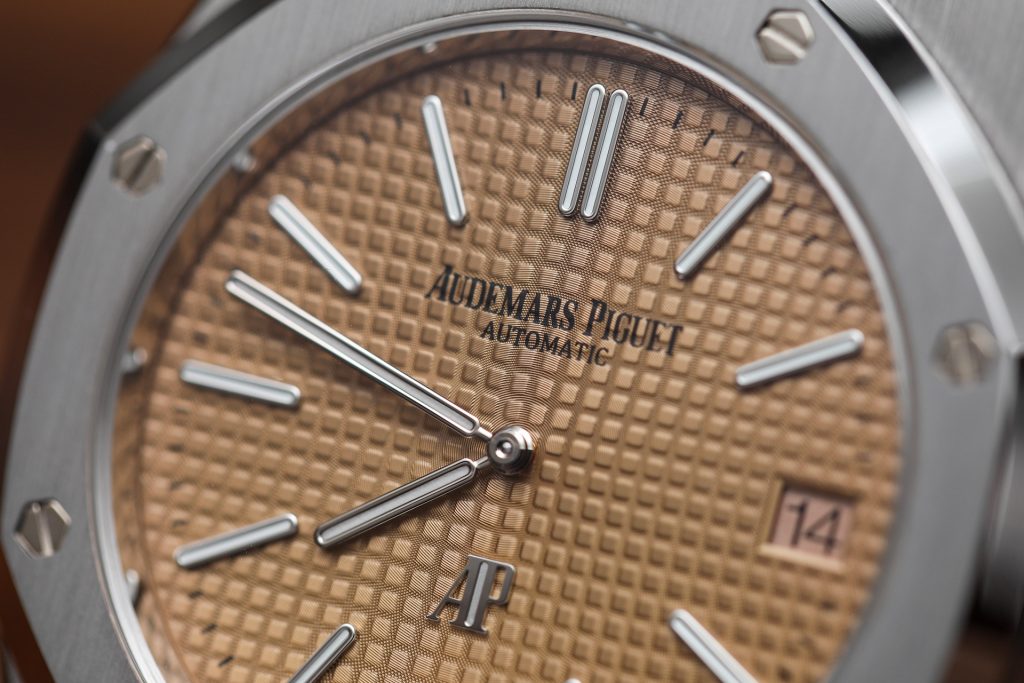 The 'Tapisserie'-motif on the dial is typical for the Royal Oak
Staying true to its rebellious disobedience, the Royal Oak has continued to surprise in the past 47 years of its existence. One of them was the Royal Oak Offshore, which was launched in 1993, shortly after the 20th anniversary. The model was dedicated to a younger and mainly male audience – as women started to wear men's watches, men needed a watch that stood out in size. Now, the rubber seal became visible, and a chronograph was added to the collection. Audemars Piguet launched versions with rubber- and leather straps as well as gold and wrought carbon cases, tuned with complications like second timezone, perpetual calendar, tourbillons, flyback chronographs and extra-thin movements.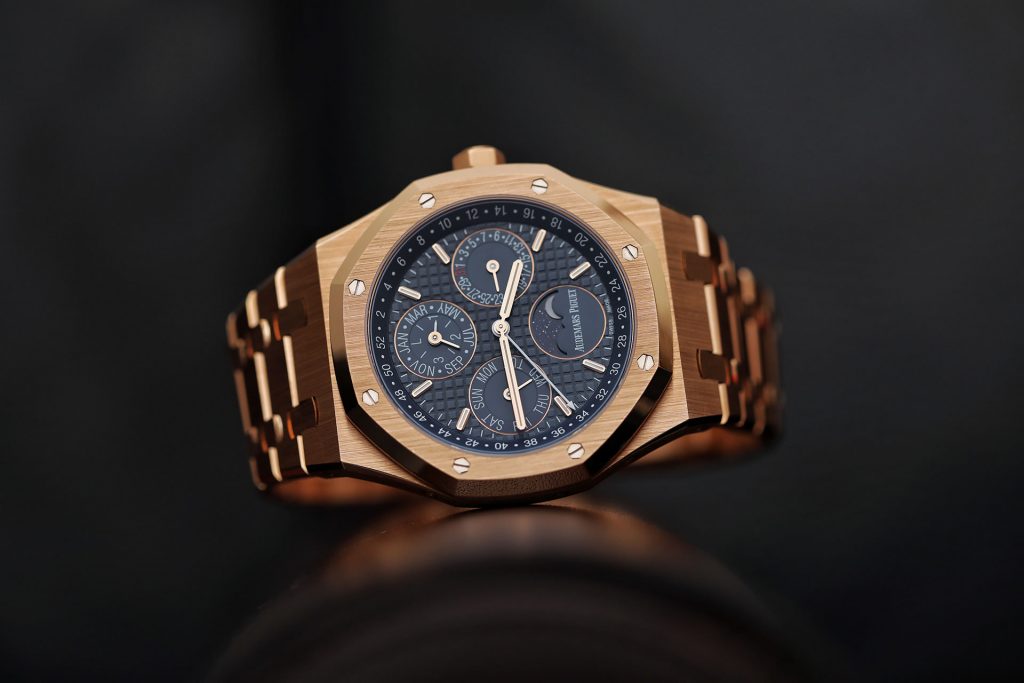 Royal Oak Perpetual Calendar (left)
Royal Oak Offshore Chronograph (right)
Royal Oak Tourbillon Extra-Thin Ceramic (middle)
This year Audemars Piguet introduced a new Royal Oak 'Jumbo' Extra-Thin in white gold and a salmon dial. Just like its predecessor in steel that was introduced 1992 for the 20th anniversary of the Royal Oak, this new model drives everyone crazy again.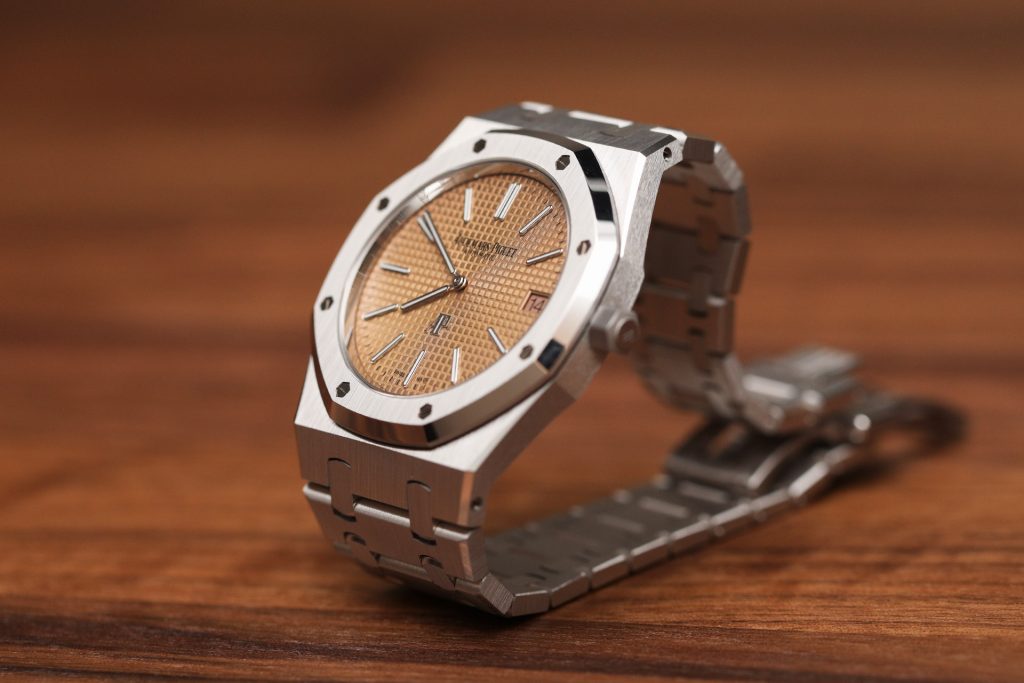 The extra-thin case measures a height of only 8 millimeters
By the way, the first prototypes of the Royal Oak were made in white gold as it was easier to process than steel. So, it might implicate a homage to the early days, besides the existing demand for watches in white gold.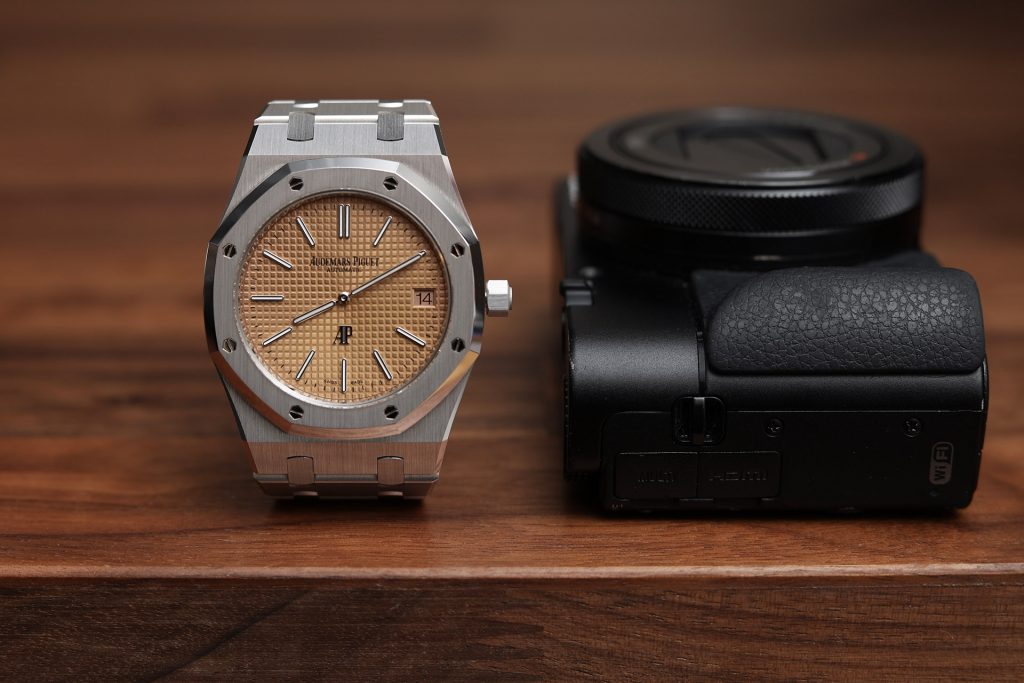 The salmon dial is inspired by a model from 1992
When we recently picked up the new watch at the AP House it was clear to us – it is the most aesthetic modern version of the Royal Oak, closely followed by the Royal Oak 'Jumbo' Extra-Thin in titanium/platinum (Ref. 5202IP.00.1240IP.01) with a 'Petite Tapisserie'-dial in smoked blue or in steel (Ref. 15202ST.00.1240ST.01) with a dial in blue. The two blue versions are somehow more accessible than the new salmon version, that in effect is rose gold.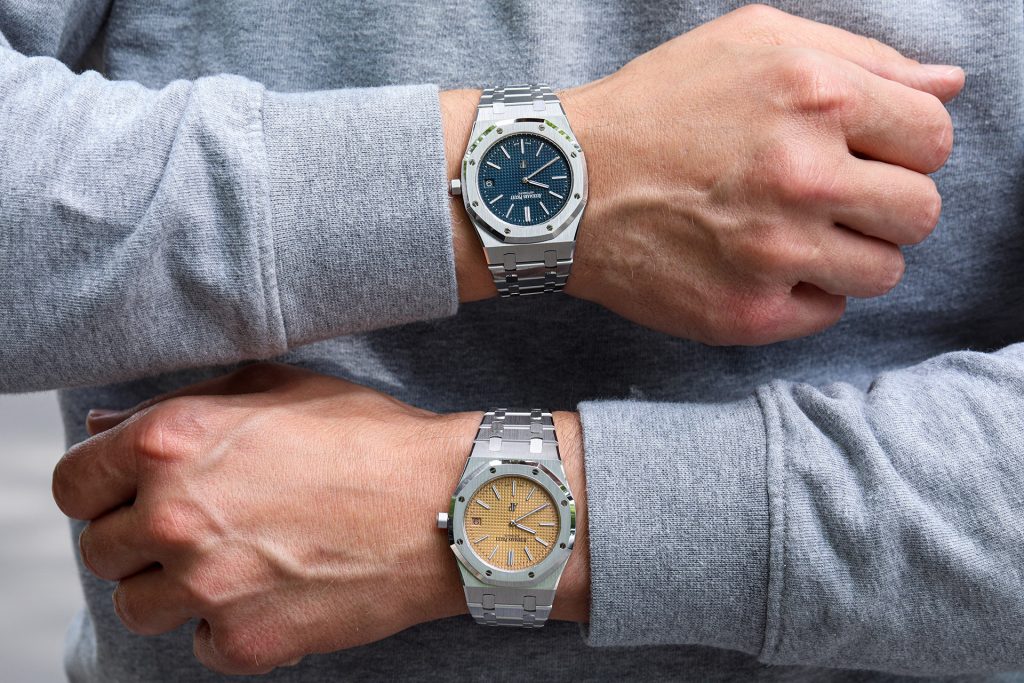 Royal Oak Extra-Thin 'Salmon' and 'Blue'
The watch was like a friendly ghost who disappeared just as fast as he turned up. He left a deep impression and will most likely not show up again. At an annual limitation of 75 pieces the hasty ghost might even remain a myth to most people. What stays: a true icon of the watch industry.
*Reference: ROYAL OAK – Audemars Piguet, by Martin K. Wehrli and Heinz Heimann, 2012
---
---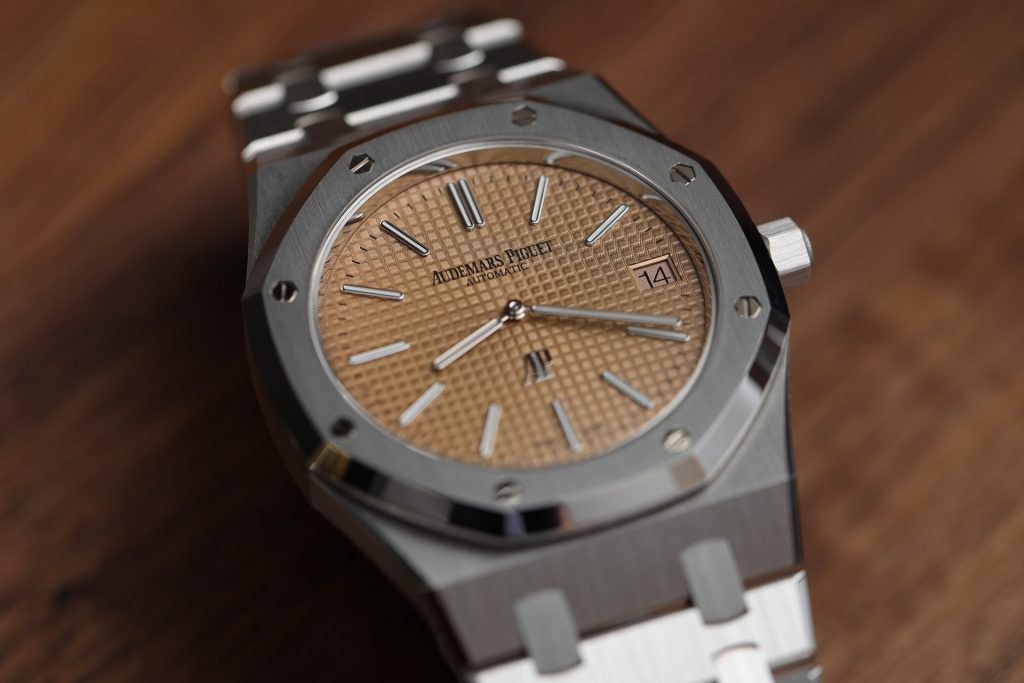 ---