They love watches and make no secret of it: get to know our horology enthusiasts Philippe and Alexander in conversation.
---
Alexander: I was in the Swatch Store in Hamburg yesterday. The Bioceramic Scuba Fifty Fathoms collection was – of course – sold out. Only a yellow-orange-black 'Pacific Ocean' was on display.
Philippe: And?
Alexander: To be honest, it didn't grab my attention. With its predecessor, the Moonswatch, I was absolutely smitten. But even though the Blancpain cooperation has produced the better watches from a technical point of view, they didn't really inspire any strong feelings for me.
Philippe: I understand. At the end of the day, there are two reasons why brands do these collabs: for the 'cool factor' and to gain recognition. Sure, it's also about generating revenue, but in my opinion the marketing side is always the main thing in focus. The latter works well with the Blancpain watch, but it's a bit more difficult in terms of it being 'cool'.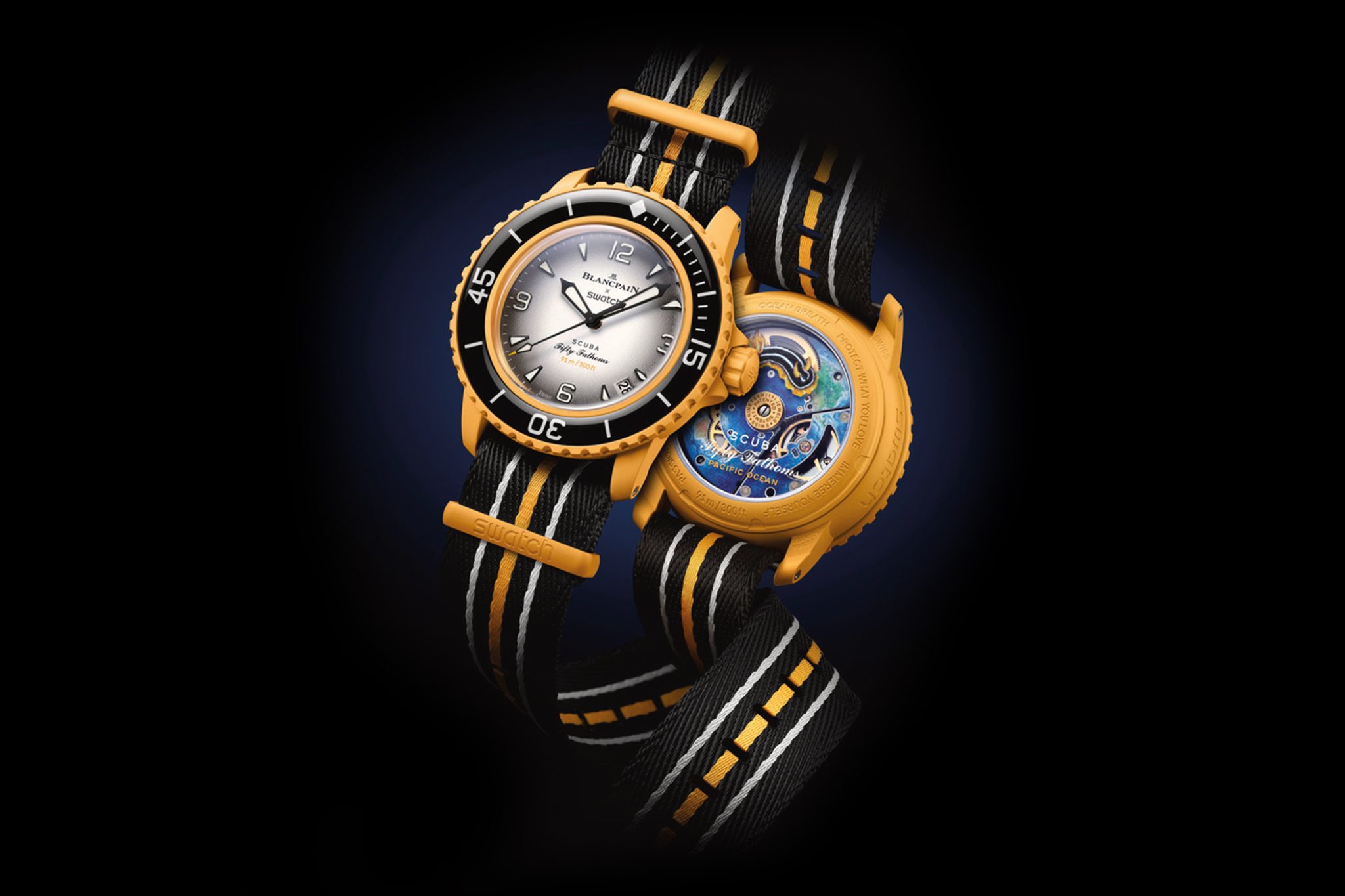 Alexander: Somehow it also bothers me that this collaboration is – somewhat unimaginatively – done in-house. I mean, if Adidas does something with Prada: cool. If Supreme does something with Louis Vuitton or Rimowa: also good. Or Tiffany & Co. and Nike. But one Swatch Group brand with another Swatch Group brand? And without a real limit, simply to make sales and interpret the current collab hype in another unique way?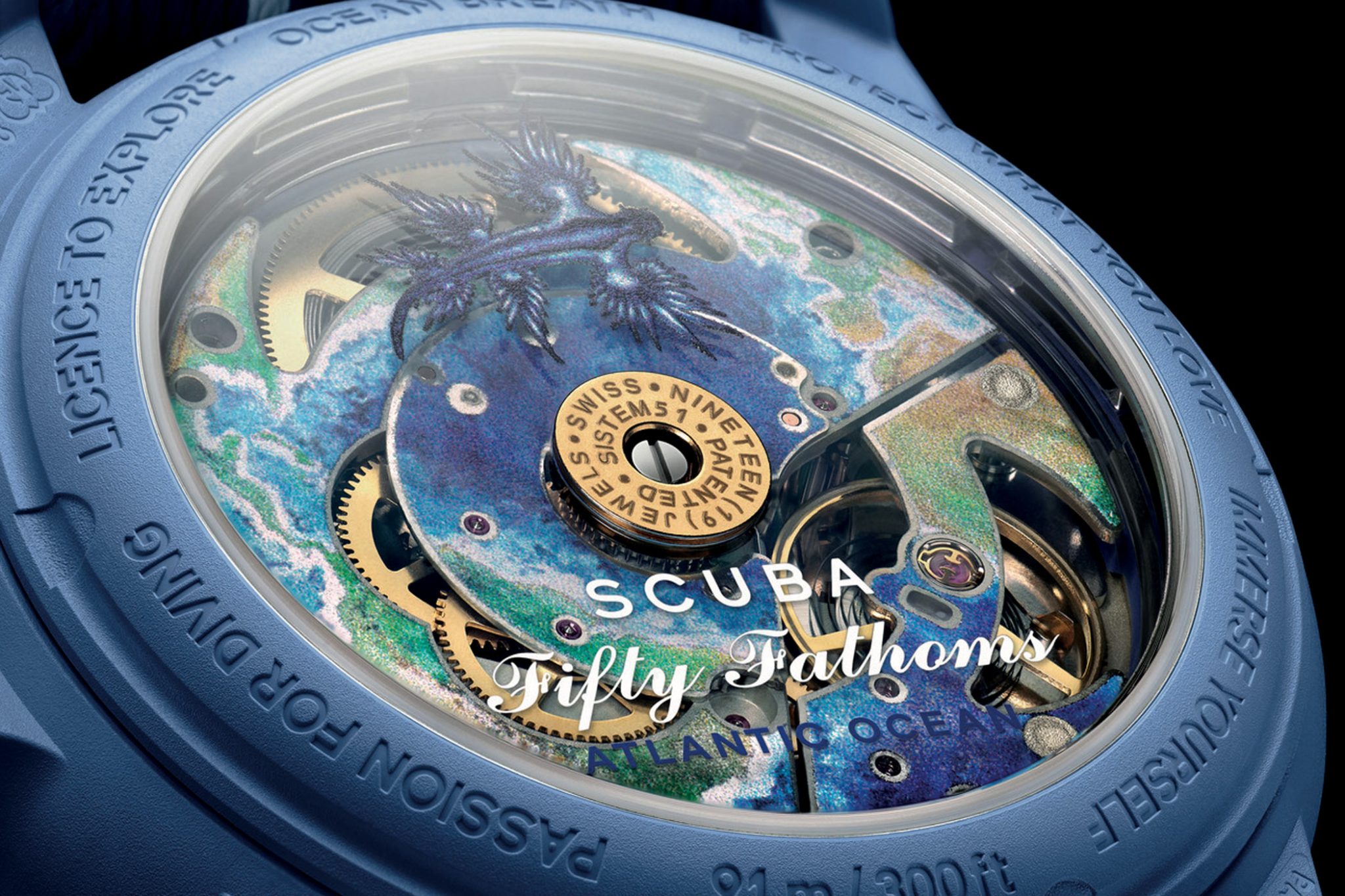 Philippe: Yes, what started at some point – at least for me – with the Karl Lagerfeld collection for H&M, has gone off on a few strange tangents. Basically, I like the democratisation effect of the collaboration: you allow customers (who due to the value of a Blancpain previously had no chance to do so) to have a real relationship with a famous watch design. But the question is: how long will it really last?
Alexander: The Moonswatch was even more catchy, also because the price of an Omega Speedmaster is not quite as high as that of a Fifty Fathoms. I can well imagine that many Moonswatch buyers of today will maybe buy an Omega the day after tomorrow.
Philippe: But the Speedmaster is also something completely different. It's a watch that almost everyone knows. That's not the case with the Fifty Fathoms, which was previously only really known to collectors. I've also seen interviews with people who stood in long queues for the Blancpain watch, but had no idea what they were actually buying. Personally, I would also like to know what Blancpain dealers think about all this: they work long and hard to present the brand in the best possible way – and then the parent company launches a 400-euro watch on the market.
Alexander: You have to be careful not to oversaturate the market. You can actually get a Moonswatch pretty easily nowadays. And the prices on the secondary market for the Blancpain watch have not exploded nearly as much as they did for the Moonswatch immediately after its release.
Philippe: My guess is that they want to use these models to attract customers who otherwise wouldn't have bought a Swatch. They come to the Swatch store for the collaboration, it's sold out, and then they buy another Swatch. Because it has to be said, Swatch still does a lot of cool things – the artist editions for example.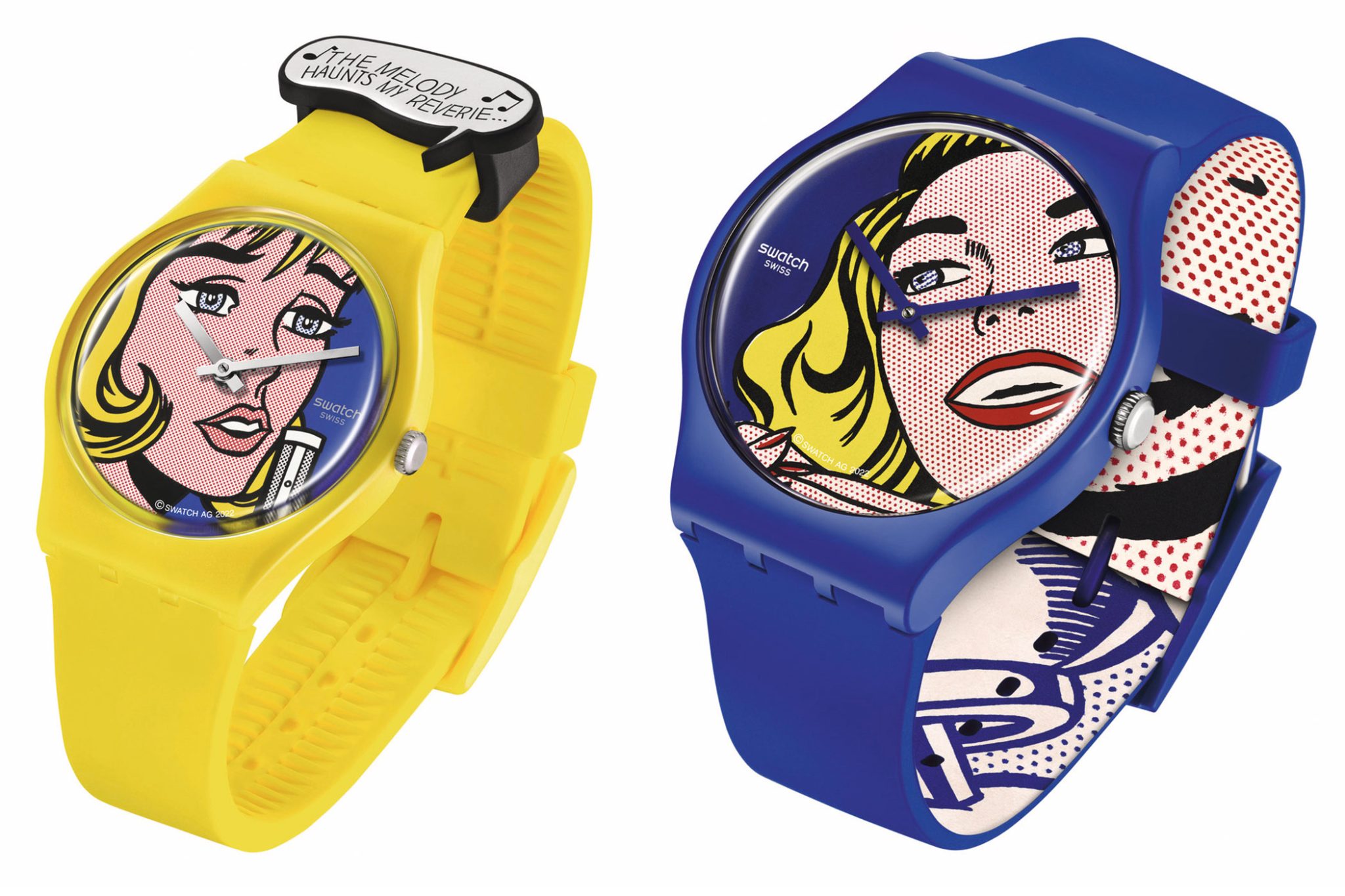 Alexander: Absolutely. But is it the right way to show the high-quality brands of the house to a larger audience? Personally, I think the MB&F way with its M.A.D. editions is better. Everyone knows that the watch has the MB&F spirit, but it is not only in a different price segment, but also under a different name. If you think about it in a less niche way, you could also say that it's a similar case with Rolex and Tudor.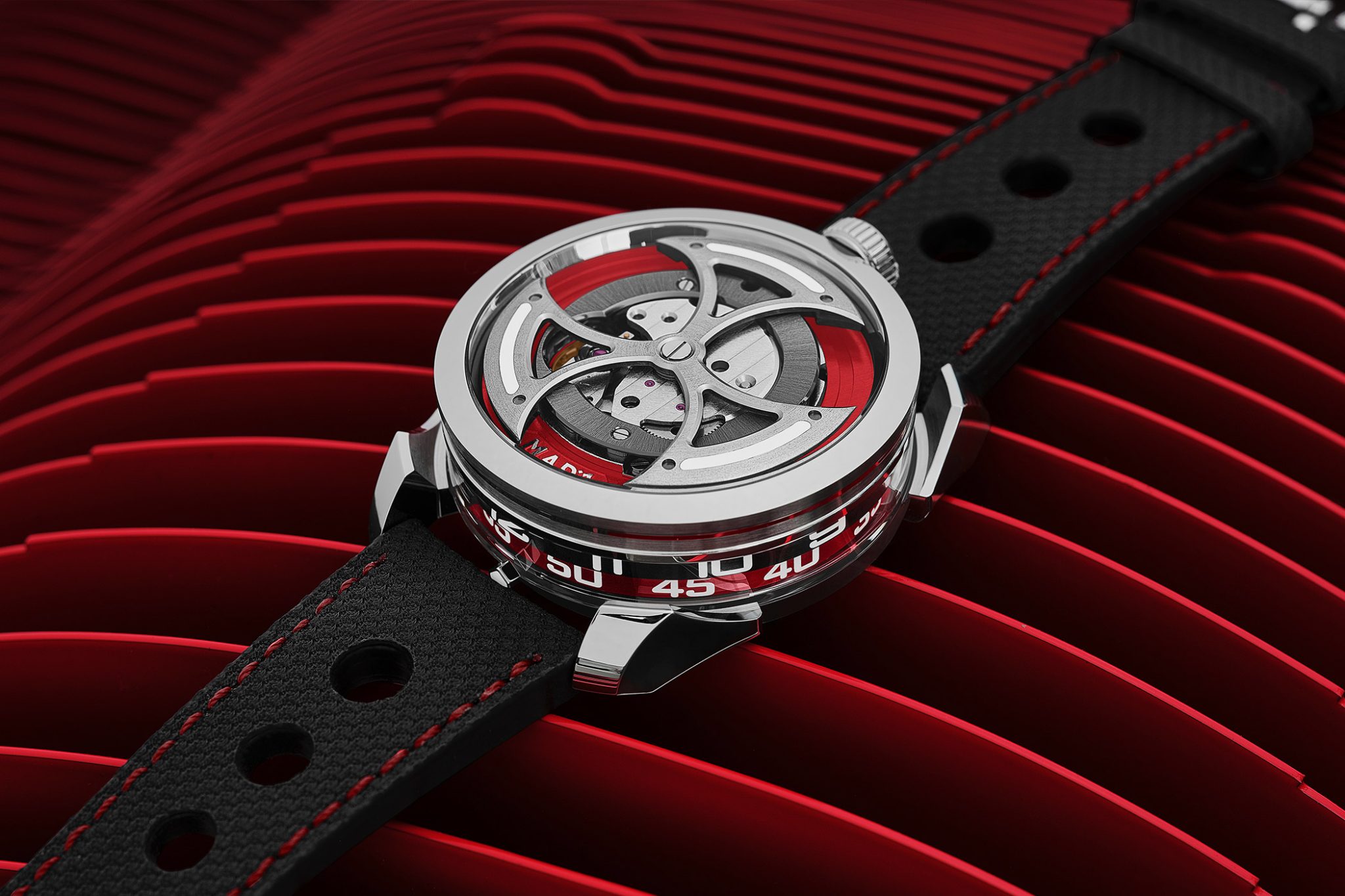 Philippe: Totally. MB&F is also very careful that the watches don't end up in the hands of flippers. They have the Raffles system, where they draw lots to see who gets to buy the watch. But if someone then posts the watch too quickly on Chrono24, he won't receive it at all. At the same time, it has to be said that the Blancpain watch will certainly help to rejuvenate the Blancpain brand, and they will also surely speculate as to whether loyalty to the brand will be created earlier. I just fear that with this frequency and with this form of marketing, the lasting added value will diminish.
Alexander: The Moonswatch was indeed special because it was a collaboration that went against all the rules of collab marketing. With the Blancpain Swatch, you have to wait and see. But the watch will certainly be a success within a small niche: amongst watch collectors who also have or can buy the 'real' Fifty Fathoms, but wear the Swatch version for reasons of understatement or because so many watches are now stolen, from London to Paris.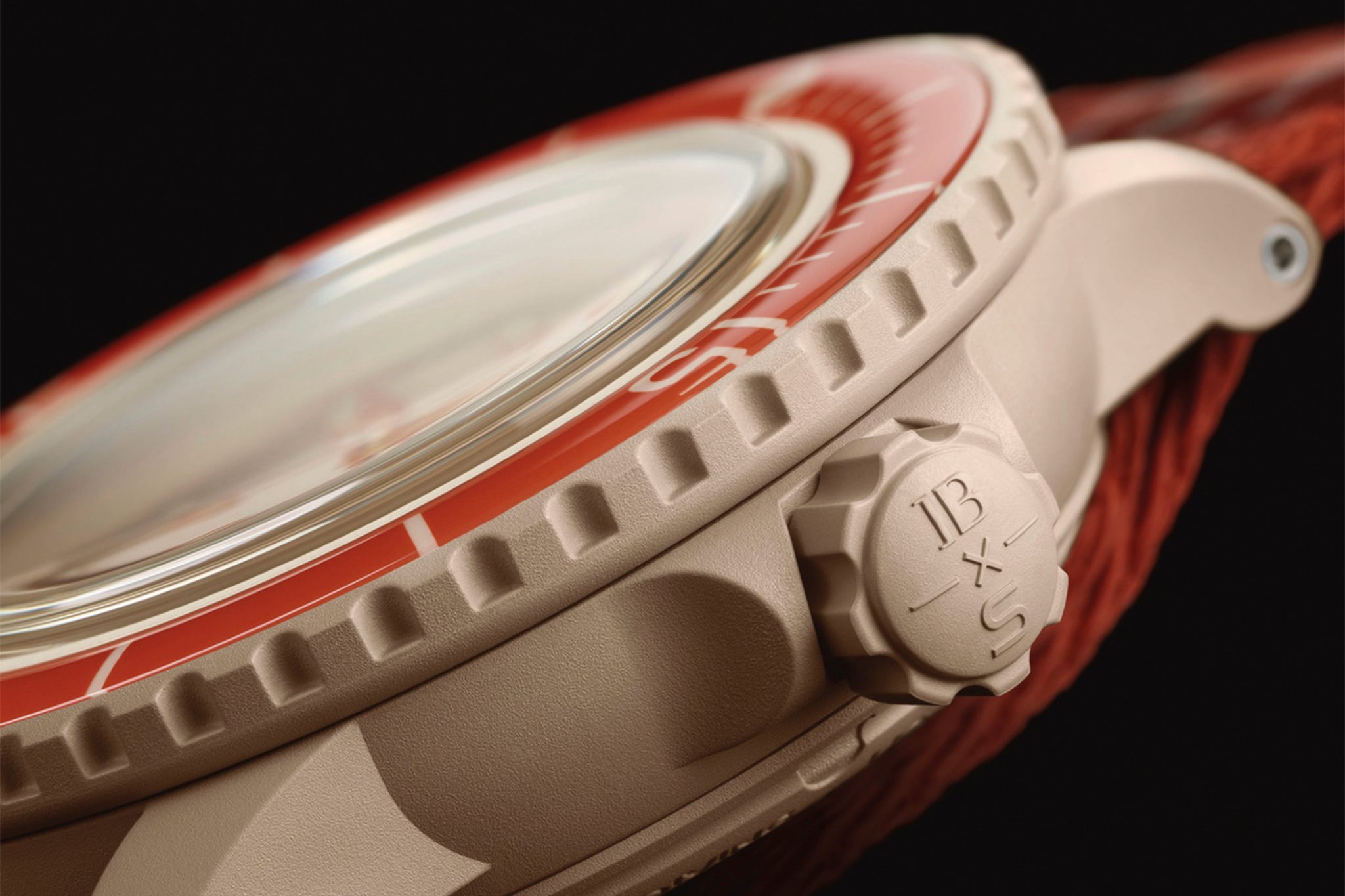 Philippe: Which, of course, then somehow plays into the cool factor. But in terms of sales, this mini target group is probably irrelevant.
---