If one were to scour the Breitling website for the Superocean collection today, only the latest models, recently launched on grand scale, would surface. All of the older models – with the exception of the Heritage Superocean models – are nowhere to be seen. Evidently, Breitling is definitively commencing a new era for its long-standing line – something that has already begun for several other collections since Georges Kern took over the helm. The new Superocean Automatic is perhaps the coolest diver's watch that Breitling has ever conceived, with its playful, bright candy colour variations and new case materials. To top it off, there's also a new, head-turning limited edition on the scene in orange and green.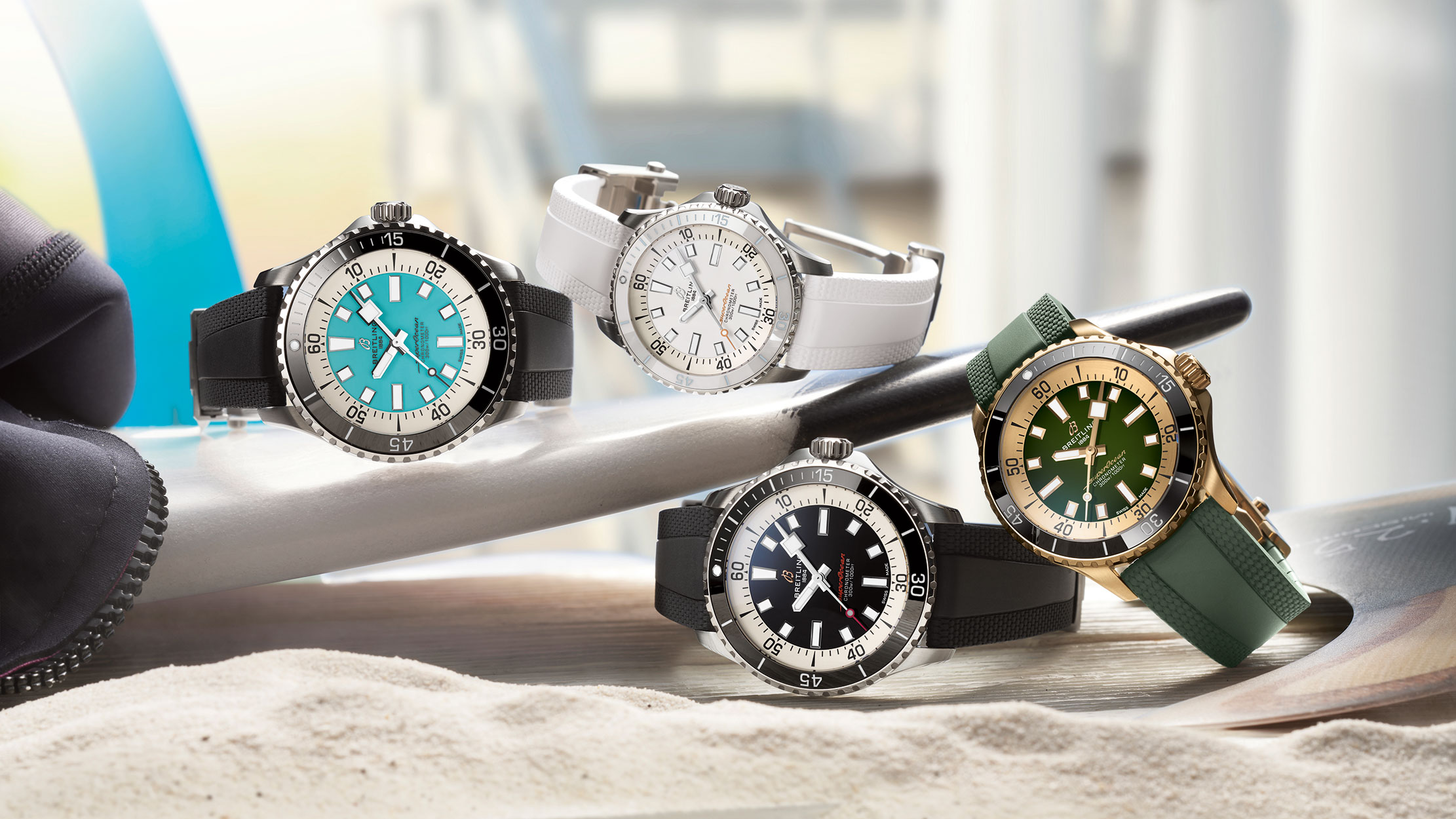 ---
Good timing
---
Bringing out such an attractive and commercial array of novelties onto the market – 28 new references, to be exact – is a smart move from Breitling. Not least given the number of many competing models burdened with substantial additional costs, resulting in an increasing number of watch enthusiasts seeking alternatives. Aside from a couple of smaller product launches (Superocean Heritage 57 or the collaboration with Outerknown), Breitling's primary focus across the last few years clearly focused upon relaunching pilot's watches. But now, the array of products surrounding the Surfer Squad, in particular Kelly Slater, is steadily growing.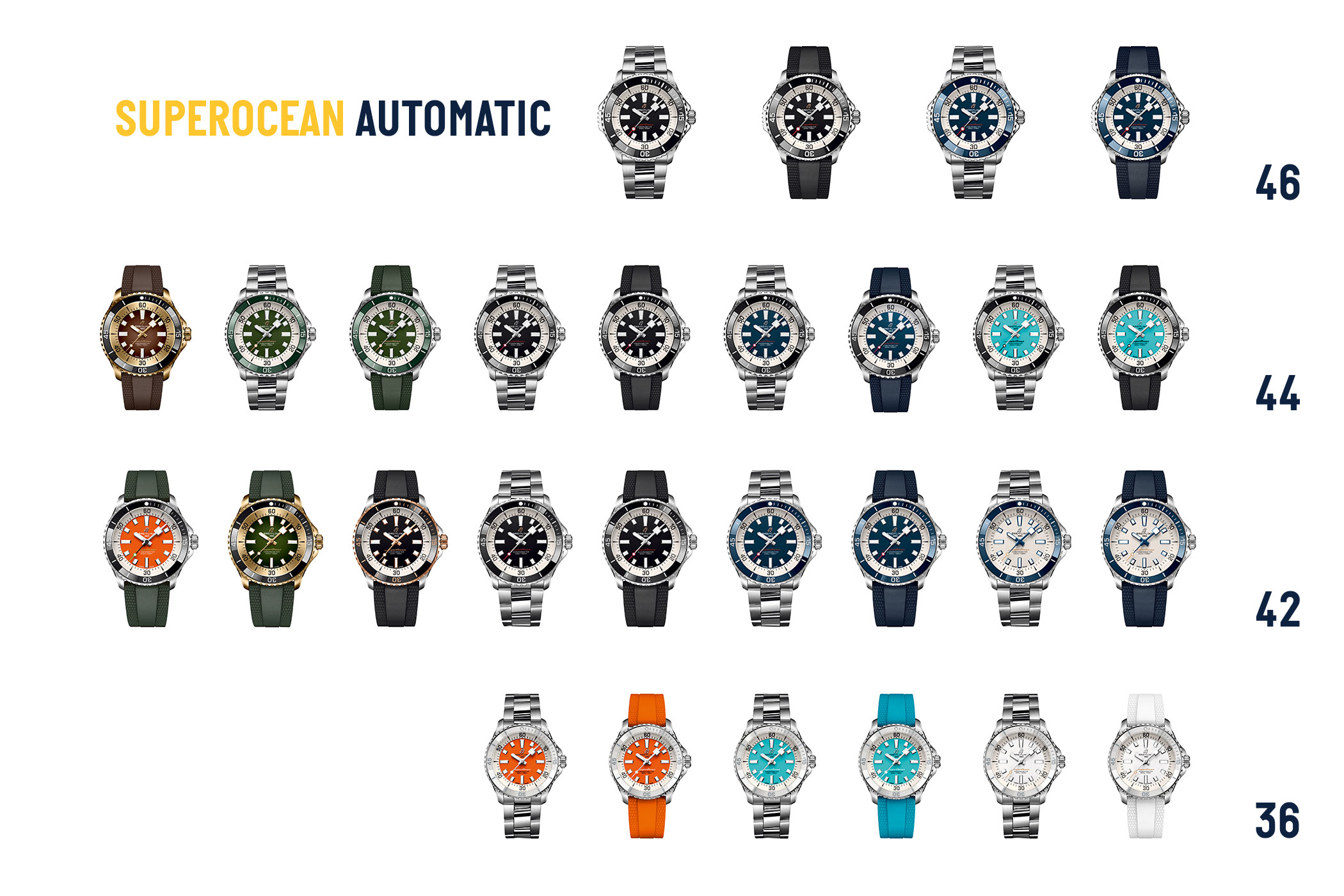 All 28 references of the new Superocean Automatic from Breitling
Breitling has been producing diver's watches since the 1950s. Earlier this summer, the watch company celebrated the launch of its latest Superocean Automatic collection at the hip surfer spot of Biarritz, on the French Atlantic coast. The new watches vary greatly to their predecessors from recent decades. Breitling takes its design inspiration from the 1970 Superocean Slow Motion model, or more precisely, the Reference 2005 Mk2. The model instigated a completely new design code for diver's watches. It features no seconds hand, given they have no real use for divers. In its place is a chronograph hand, with one full rotation around the dial taking an hour – hence the name 'Slow Motion'.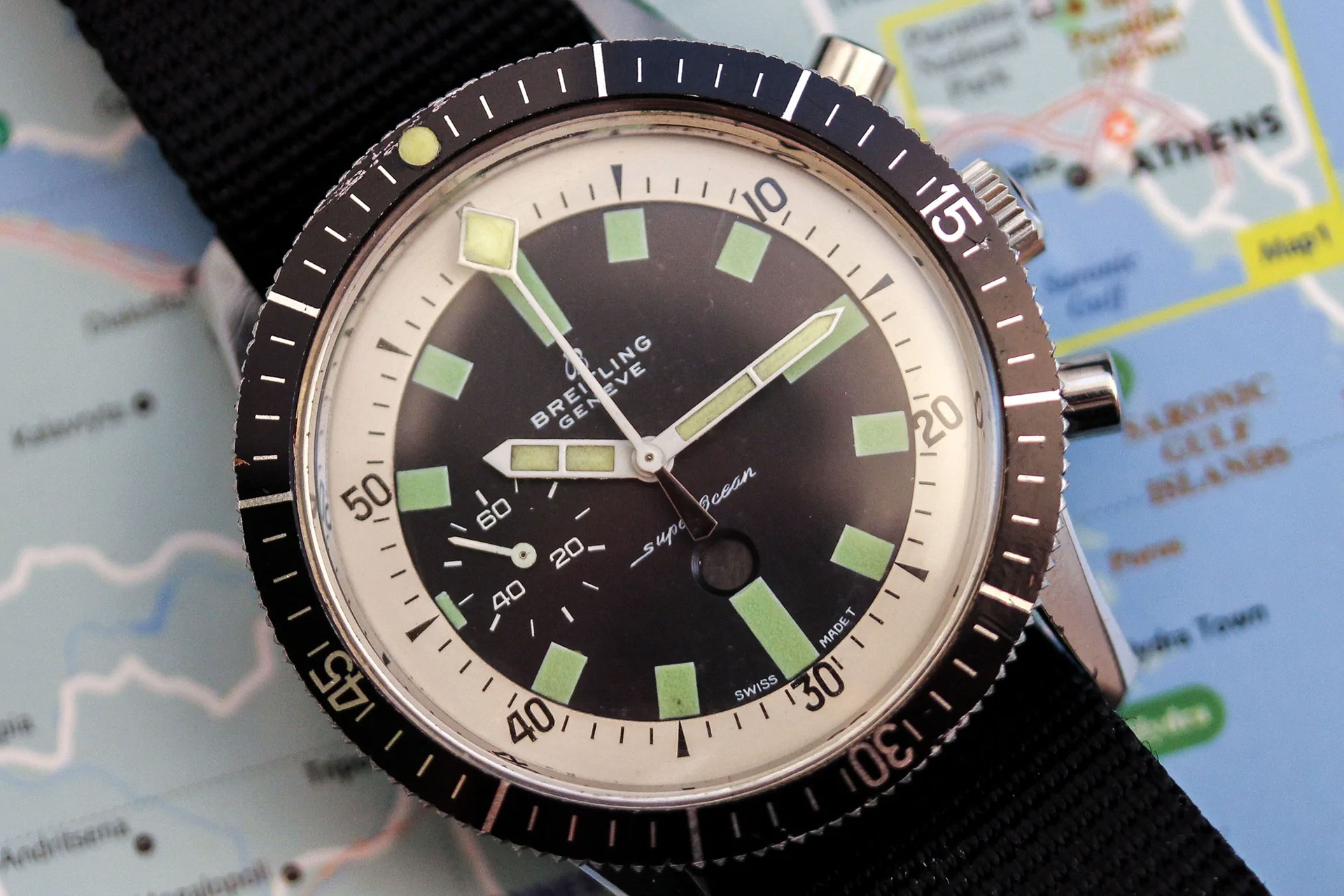 Breitling Superocean Chronograph Ref. 2005
Credit © Analogshift
---
The coolness factor
---
The tip of this extra chronograph hand had an unusual yet all the more striking quadratic shape. Similar to Rolex's lollipop hand, except four-cornered as opposed to round. The indices were likewise square instead of round, with a full covering of Super-LumiNova. The Slow Motion particularly stood out for its contrasting ring on the dial, marking the minute scale. Breitling's goal was to create as legible a diver's watch as possible. That said, the needs of consumers have naturally changed fifty years on. The watches are no longer first and foremost really there for the sake of diving, but rather as a daily watch option. Furthermore, Breitling is very much establishing itself as a lifestyle brand, which, through strong campaigns and chic products, is tapping its way onto the radar of a completely new clientele. It is for this reason that the new Superocean models features several unrecognisable elements in comparison to the original diver's watches from the 1960s and 70s. Breitling trim a little of the functionality off in favour of an extra level of coolness, fresh colour palettes, and materials.
The new Superocean comes in four sizes with three case materials and two strap options. For men, there are variations in 42, 44, or 46 mm. For women, there are also colourful models available in a 36 mm case. I would have loved to see a 40 mm model for men, because it is one of the most worn sizes these days. Nevertheless, the 42 mm model sits just as well on the wrist thanks to the nice and flat case architecture, with a height of 12.56 mm.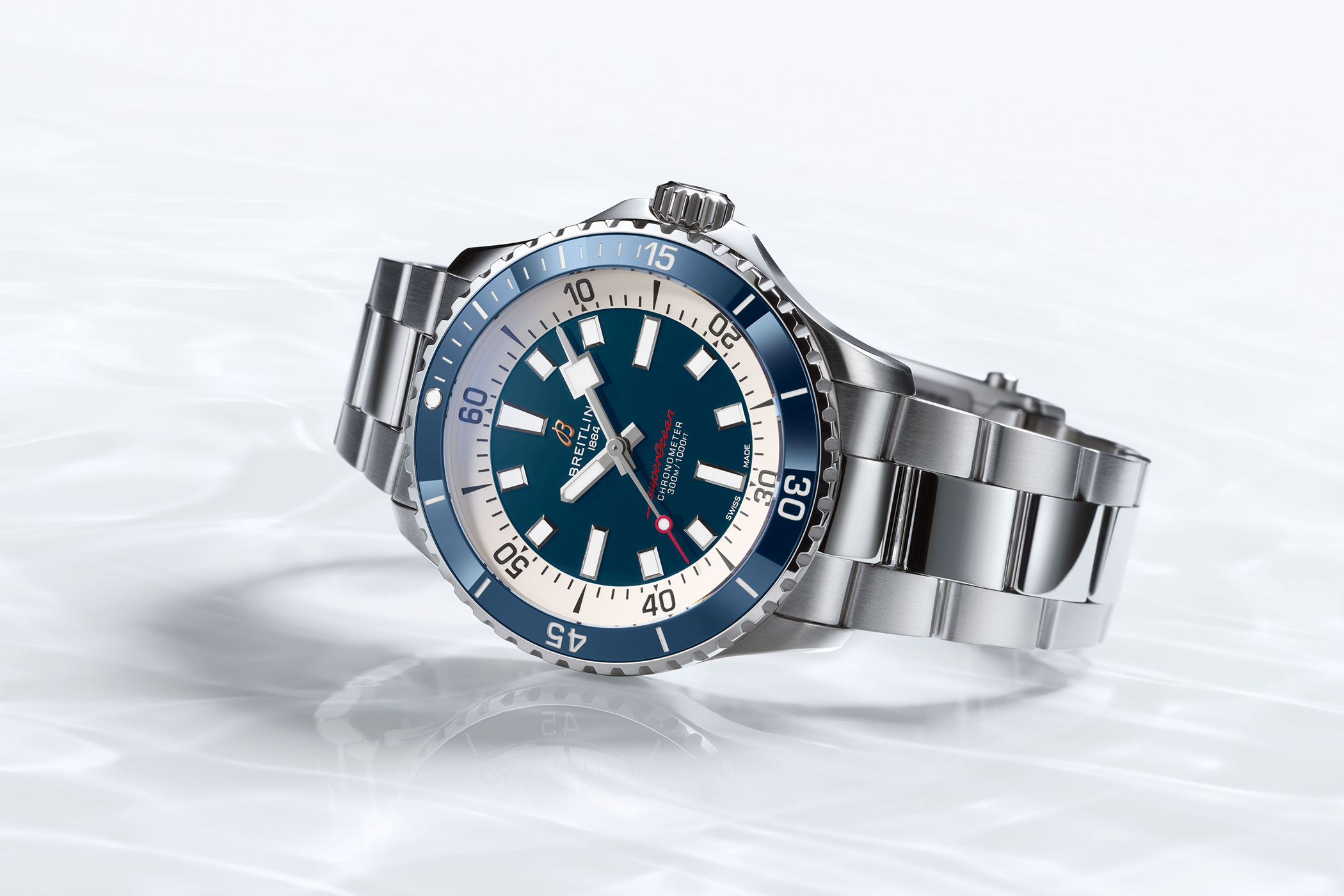 Breitling Superocean Automatic: 42, 44 und 46 mm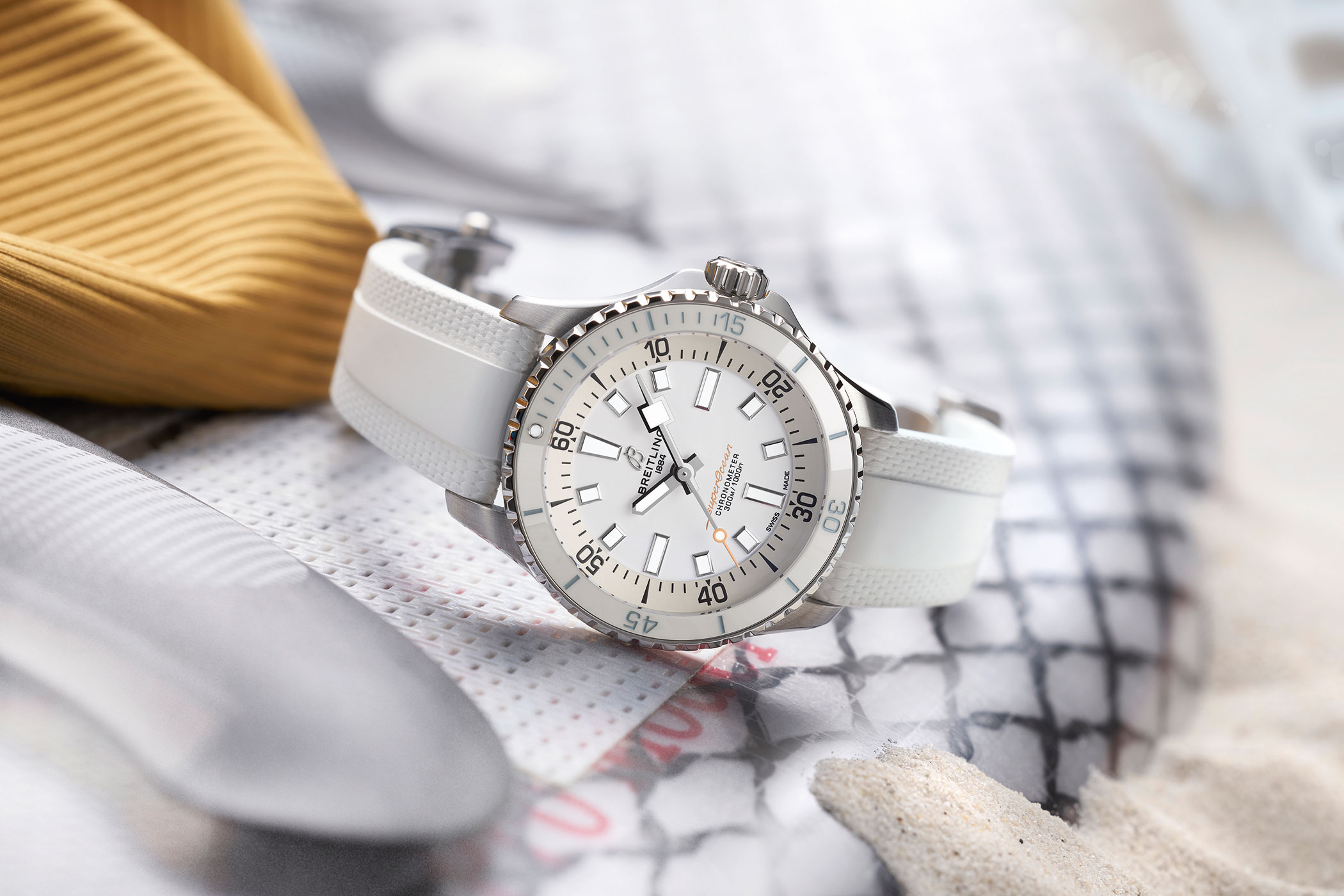 Breitling Superocean Automatic in 36 mm
---
Materials
---
For the first time, Breitling is introducing a bronze watch alongside its steel and steel-gold combinations. This of course makes sense for a diver's watch. While bronze can occasionally look a little rough, the tone here is fantastic – warm, rose-golden, yet not too shiny. Even the inner minute ring is made of bronze. Breitling use a particularly corrosion-resistant alloy so that the case doesn't gain patina too quickly. After all, the case is more exposed to moisture than the minute ring, with its protection from the sapphire crystal – plus it would look odd appearing weathered on the outside, yet new and shiny on the inside. It will be interesting to see how the patina of these watches change over time with frequent use. The Superocean Automatic in bronze is worn on a chocolate-brown or green rubber strap with a folding clasp.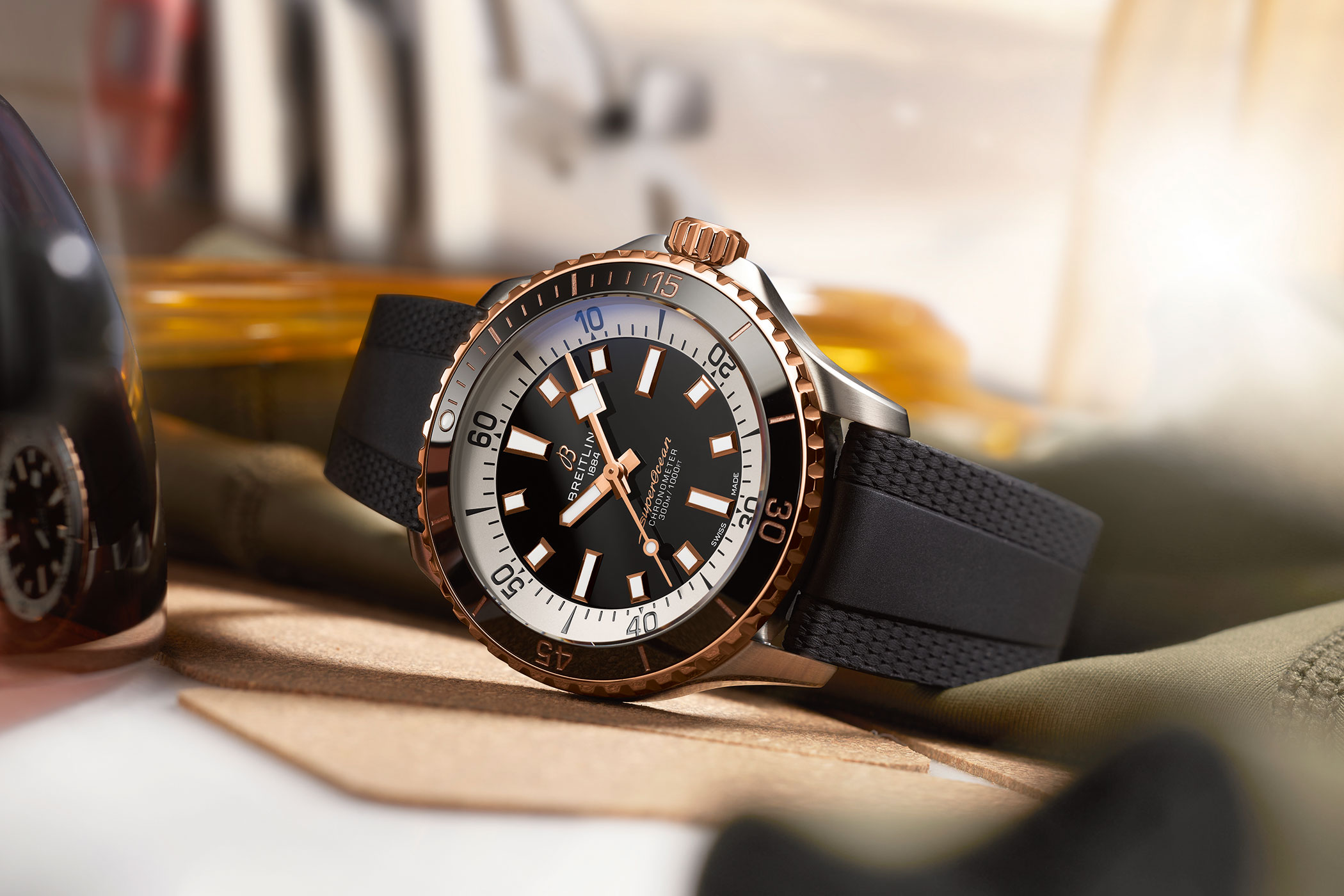 Breitling Superocean Automatic:
BiColor (42 mm), Bronze (44 mm) and Stainless Steel (46 mm).
In addition to rubber, Breitling also offers the new Superocean models on a three-link metal bracelet. Fine-adjustment up to 15 mm is possible via the folding clasps, proving useful in my case. The bezels are scratch-resistant, have ceramic inlays, and – in true diver's watch fashion – one can only adjust them in one direction. Only on the 46 mm version does the bezel secure against the crown. Breitling implements this with the help of a patented locking mechanism, and it turns either both or just one way if required.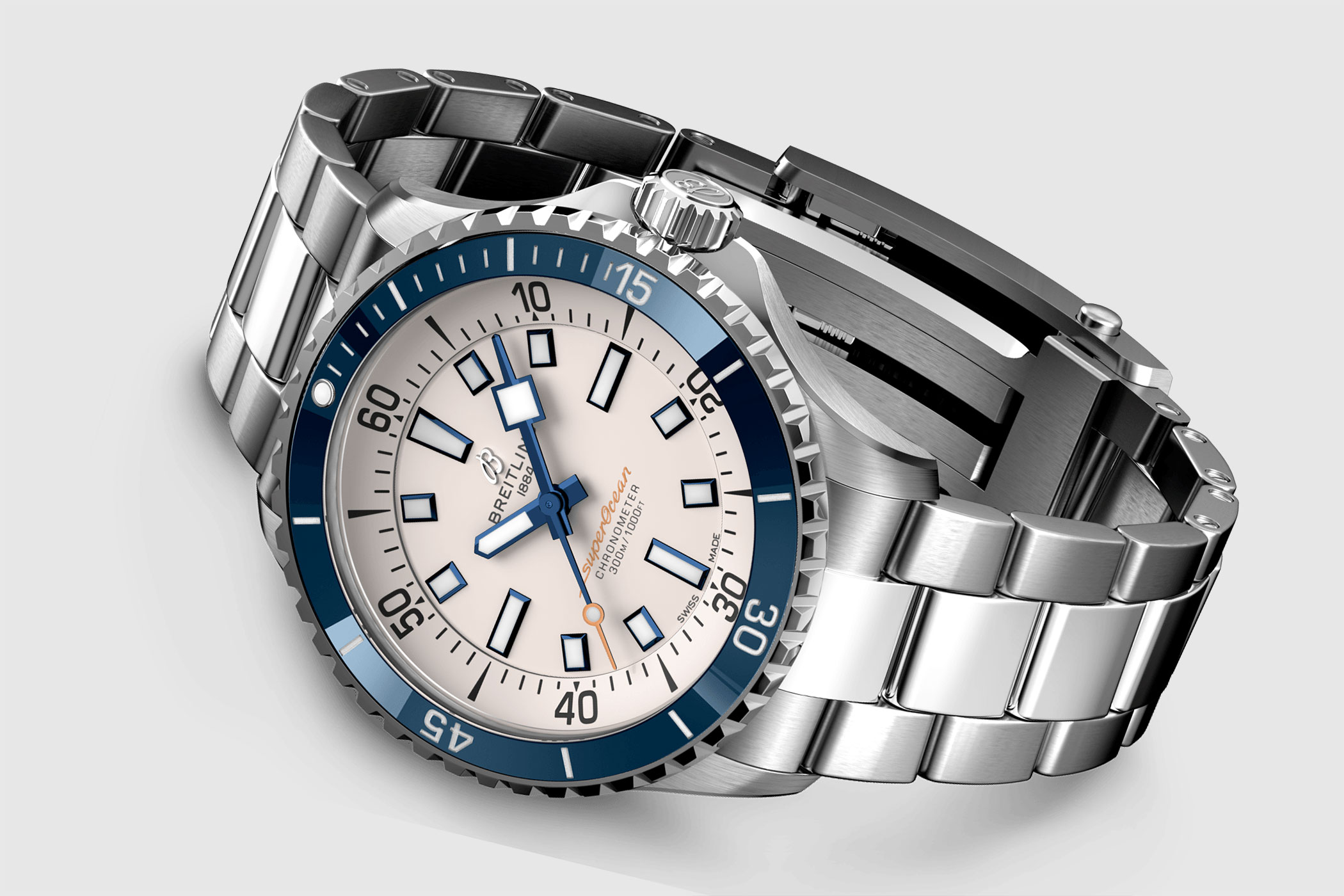 ---
Limited Kelly Slater Edition
---
Kelly Slater is not only the best surfer in the world, but also an entrepreneur who has been part of Breitling's Surfer Squad for several years. With his sustainable clothing brand Outerknown, Slater designed watch straps made from ECONYL yarn for Breitling's Superocean two years ago. For the new Superocean line, Slater was involved in the development of his own edition. A personal story of Slater's played an important role. The result is a limited edition of 1,000 pieces with an orange dial and military green rubber strap. It's a rather unconventional combination. Yet it is one that works so well that the model is my personal favourite from the new collection.
Slater's father, who sadly passed away 20 years ago, would probably agree. The inspiration for this model came from a watch he used to wear while surfing. The brand is unfortunately unknown, and the watch no longer exists since Slater's father lost it while surfing. However, what is known is that it had an orange dial and a green strap. Slater has also been known to 'airbrush' his boards with this colour combination, as they say in surfer-lingo.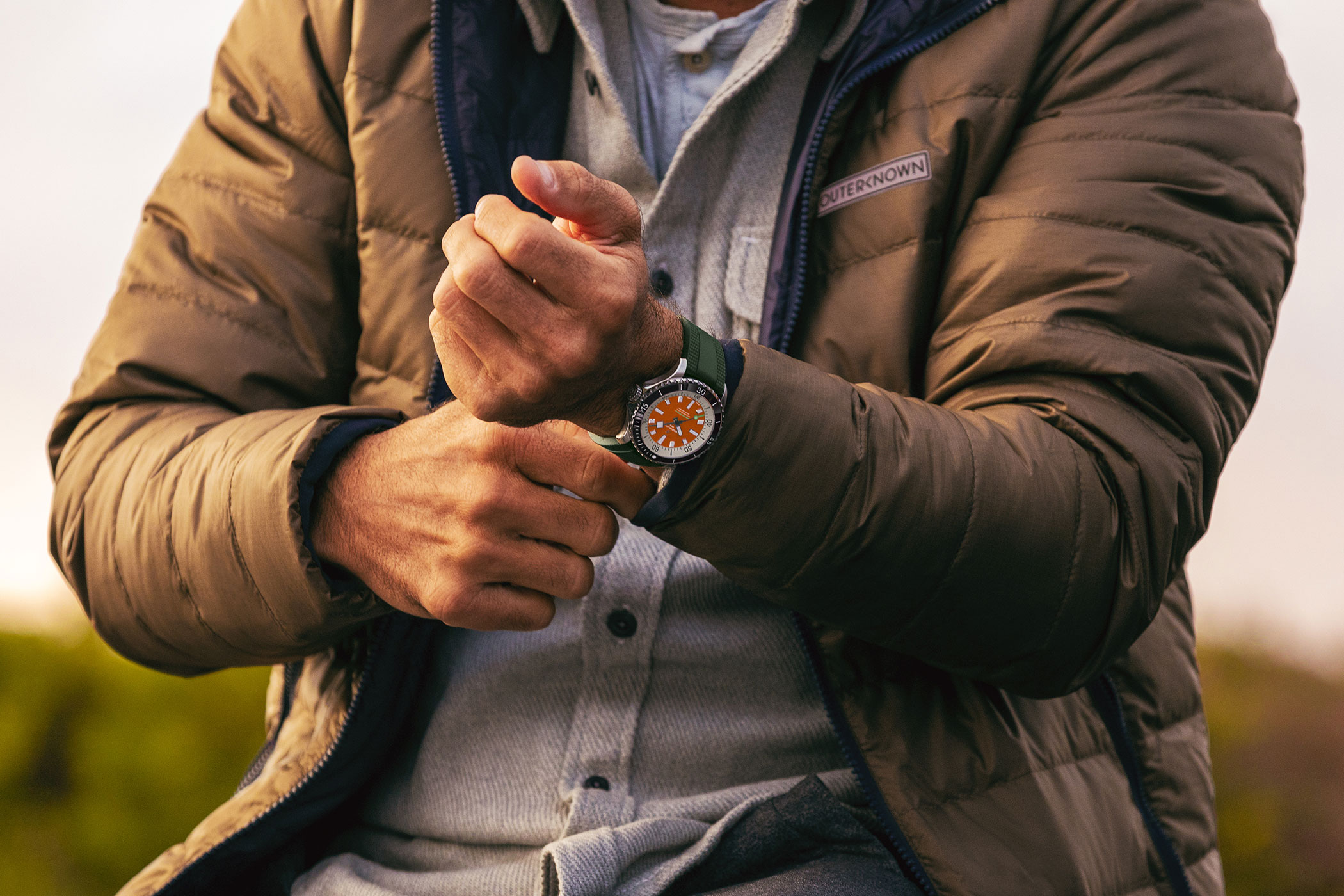 ---
The movement
---
The original Superocean Slow Motion watches ran with a modified Venus 188 movement with the special chronograph function. The calibre 17 of the new Superocean displays hours, minutes and seconds. It's a Sellita movement (from the calibre SW200 family) that is based on the ETA2824 movement design. The advantage is that this makes the new models quite flat, which has a positive effect on wearability and comfort. The disadvantage is that the power reserve is only around 38 hours, which is no longer a great achievement in today's world of luxury mechanical watches.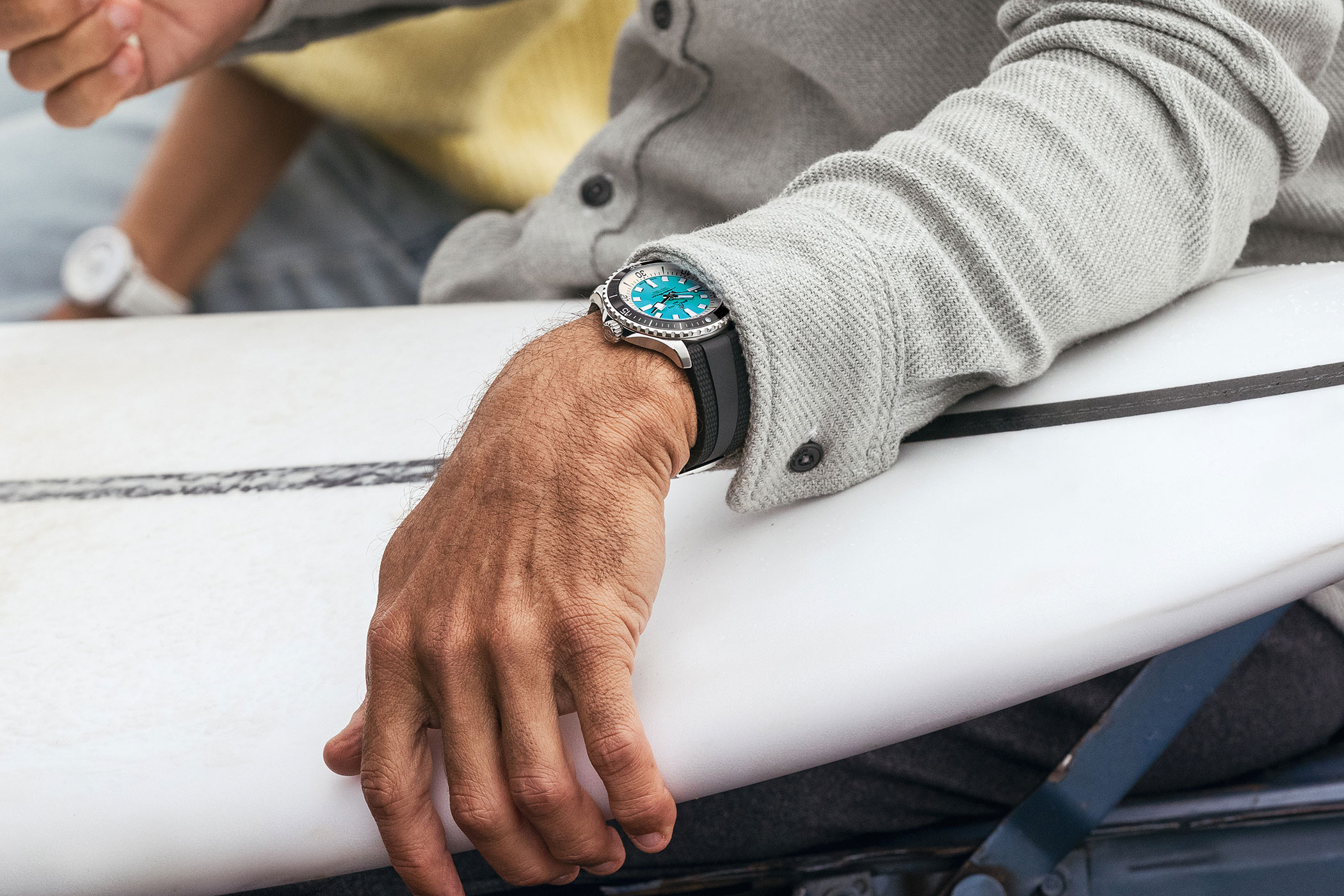 Nevertheless, it is remarkable how quickly Breitling can react to the market, trends, and consequently launch new products within a very short time. That would have been inconceivable in the past. But today, Georges Kern sits at the accelerator and sets the pace. Sometimes only 6-8 months pass from the conception of an idea to the market launch. The new Superocean models – especially the ladies' versions in 36 mm – are sure to be a success, even if the prices (from 4,400 euros) are bold for a simple three-hand Sellita movement.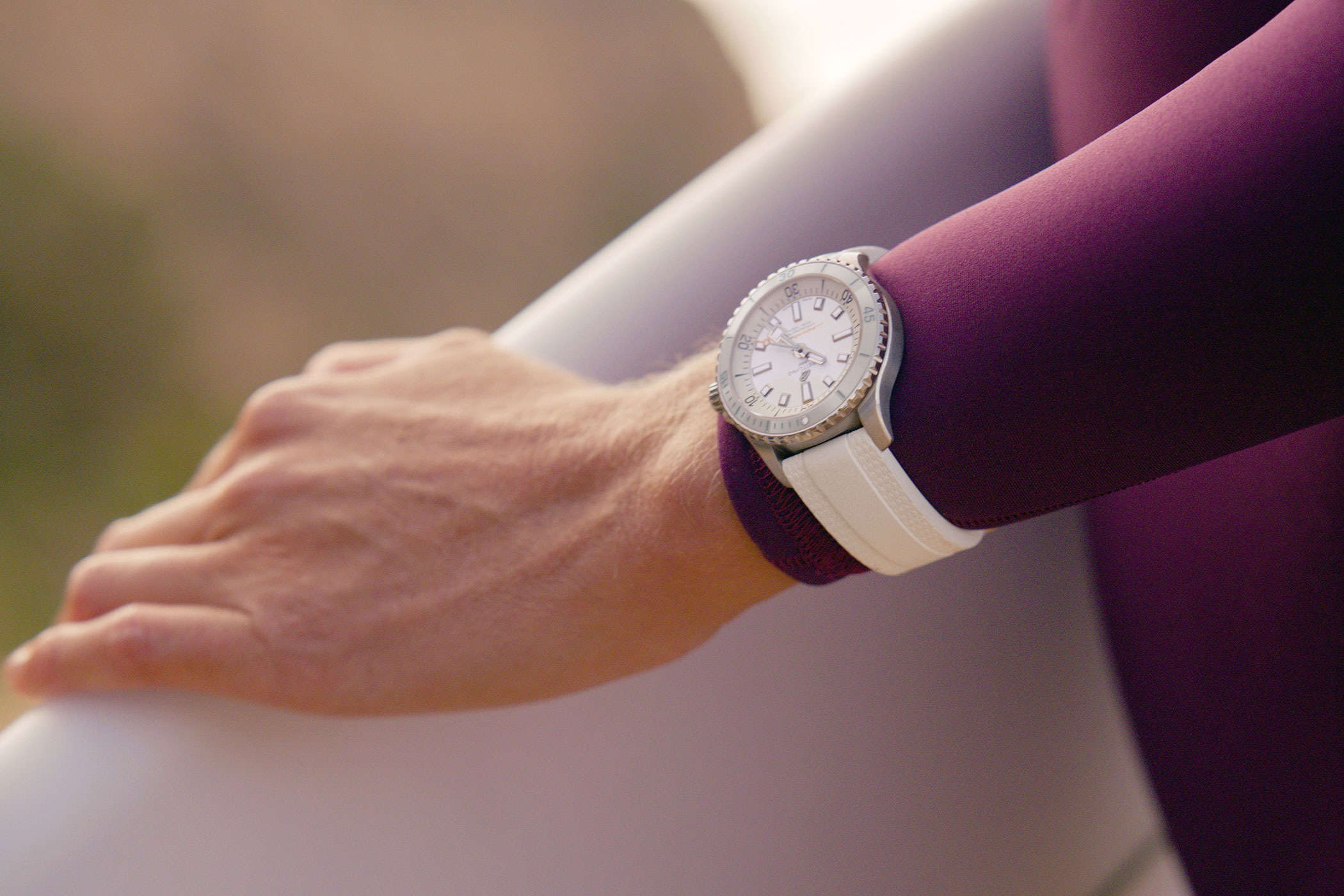 The toughest competition in this price segment will probably be Tudor with its in-house movement by Kenissi. With the Superocean models, it will be the strong marketing and aesthetics that will encourage customers to make a purchase. Furthermore, Breitling is offering an attractive alternative for those wanting an affordable watch to wear daily. This contrasts with the many models from other manufacturers that are difficult to obtain – or carrying price tags on the secondary market that are astronomical. As mentioned, a version in 40 mm would be nice, but 42 mm does indeed wear surprisingly well. Furthermore, it will be exciting to see how the line develops. After all, the Superocean line sees Breitling moving away from the classic tool watch and towards a lifestyle product. A date would therefore be a conceivable upgrade for the future.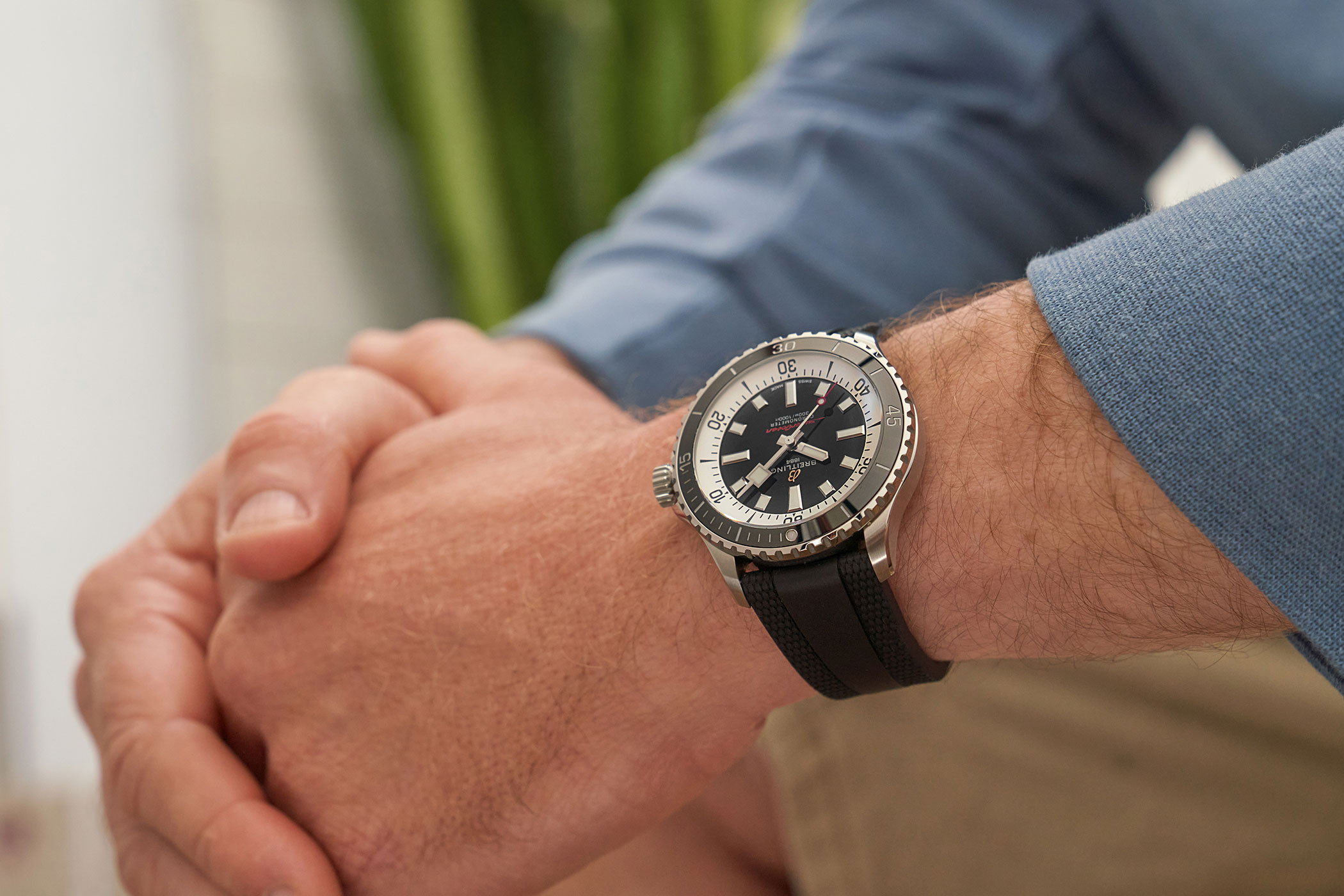 Some variations of the new Superocean Automatic are already available. The steel/gold, bronze, Kelly Slater Edition, and 46 mm models can already be pre-ordered, but will not be delivered until September. The ladies' models start at 4,350 euros, the men's models at 4,400 euros. The Kelly Slater Edition costs 4,650 euros.
---