Any Rolex fan who looks at the title of this article will immediately spot something new – the Rolex Submariner Date is now available in 41 mm for the first time. What's more, the new generation models – with seven new versions in total – are accompanied by a 41 mm No-Date Submariner (Ref. 124060).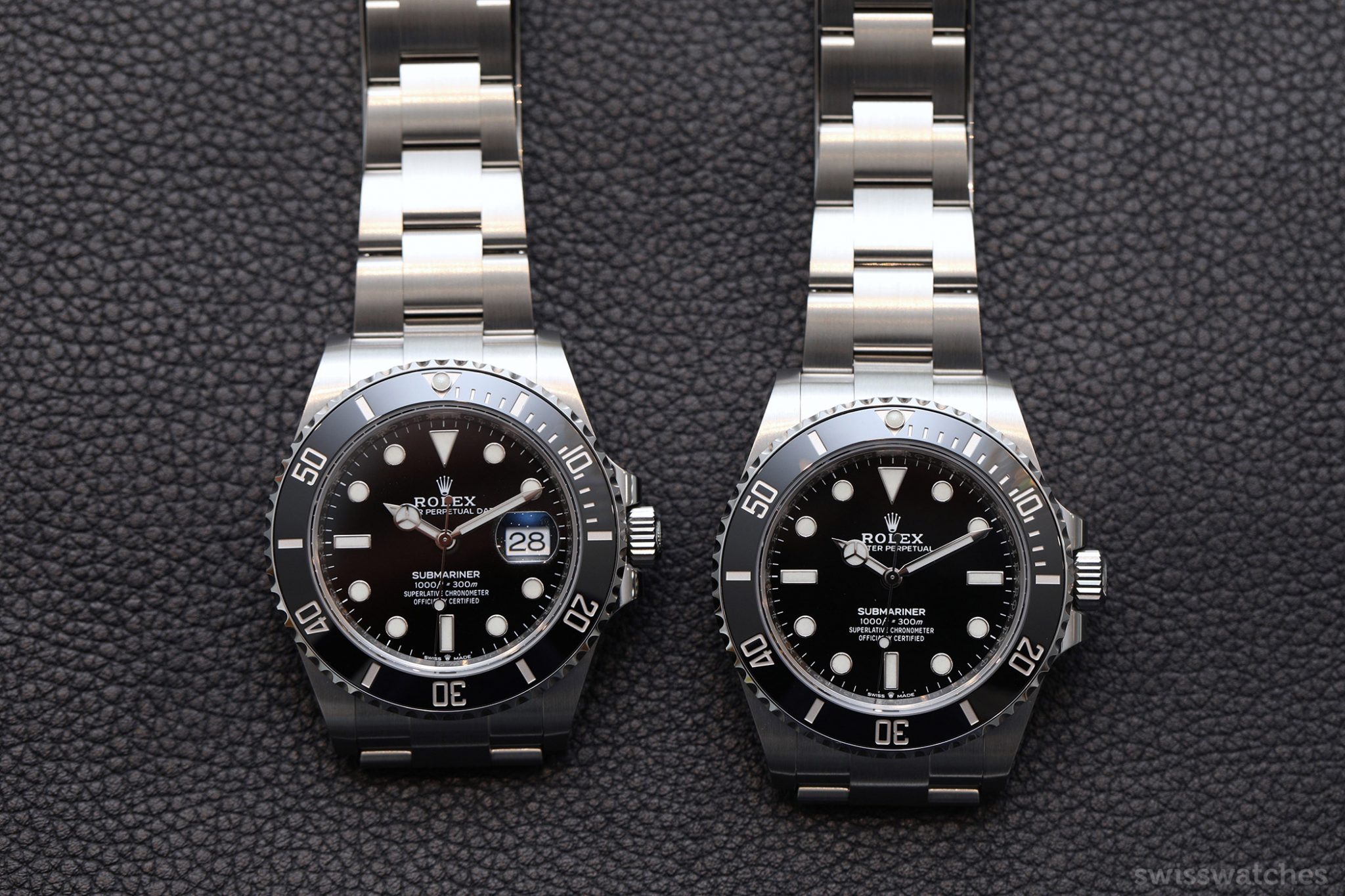 Ref. 126610LN (With Date) – Ref. 124060 (No Date)
Ultimately, there's far more to the hype than this simply being an article revealing the latest Rolex novelties. With us having already met with Rolex and seen the novelties in the metal, we are ready to share exactly what the hype of the new Submariner models is all about.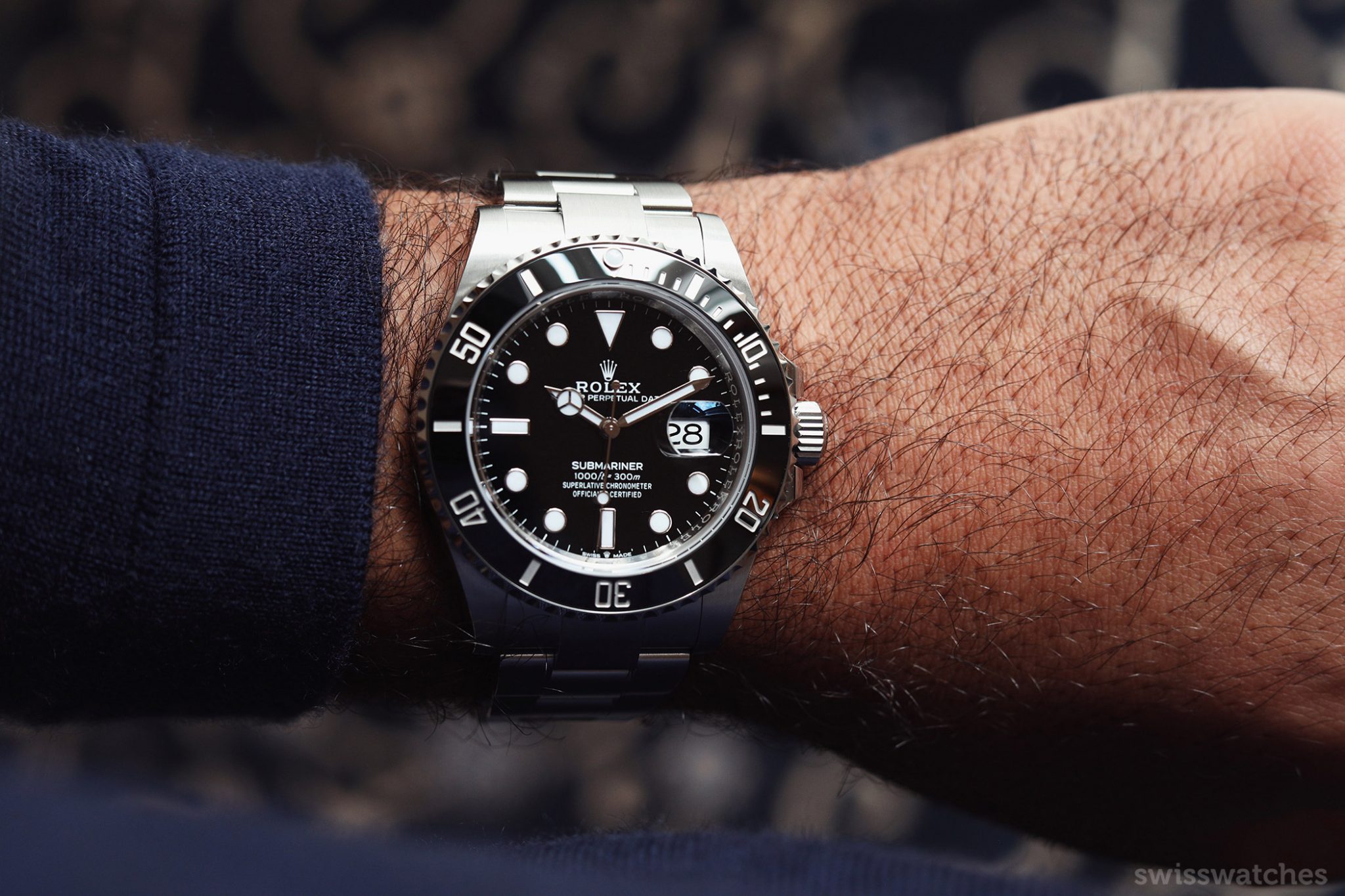 Ref. 126610LN (with Date)
---
The Case and Bracelet
Obviously, the most noticeable update is, as Rolex puts it, the watches' "slightly larger" size, now measuring 41 mm. To someone without an interest in the watch world, this would seem a somewhat ridiculous amendment from its previous 40 mm diameter. However, this isn't all about looks – a rarity for Rolex, some might say – rather, this is about wearability. Not only is the case slightly larger, but also, several other elements help to make the watch more comfortable on the wrist.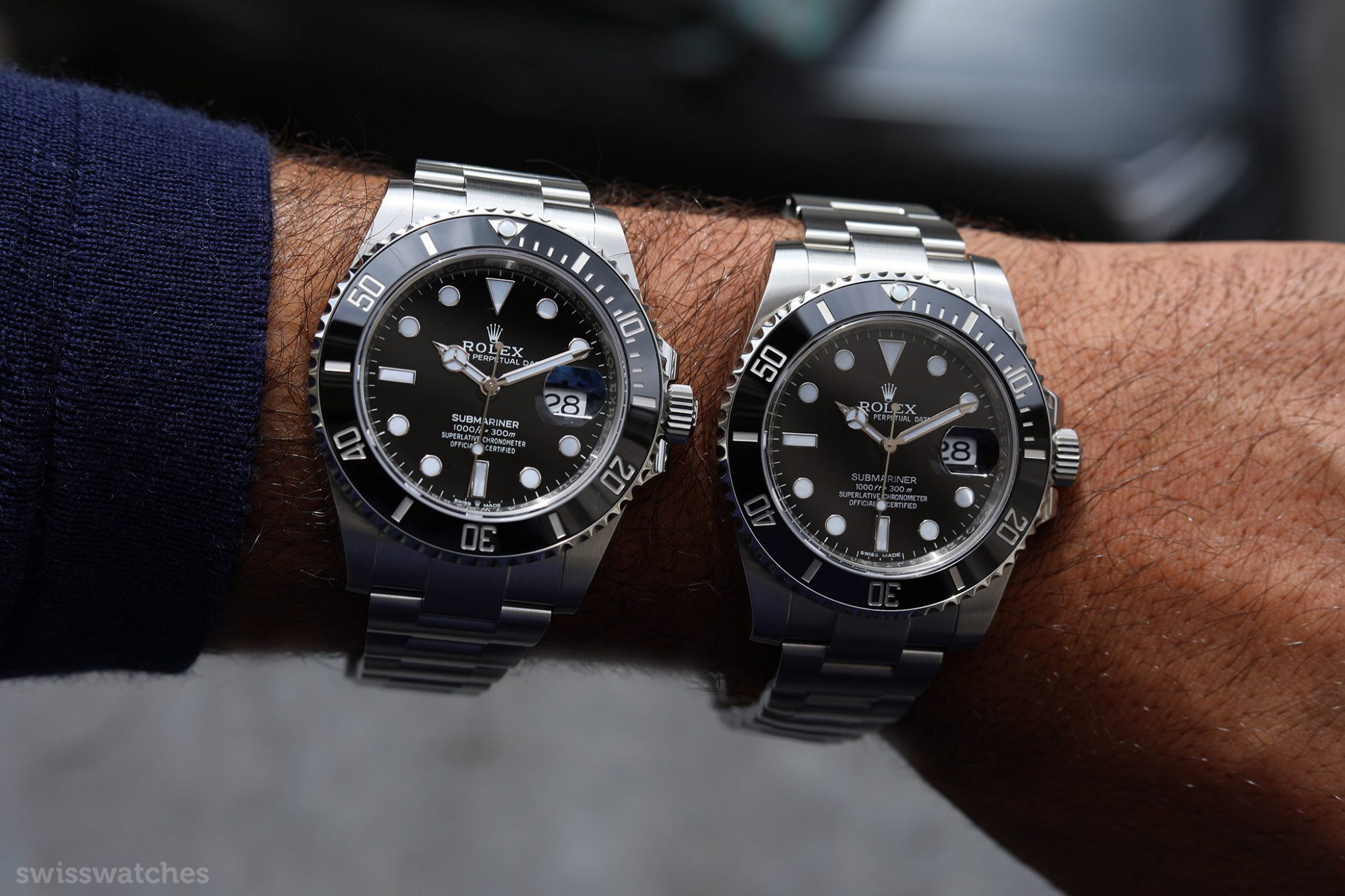 NEW versus OLD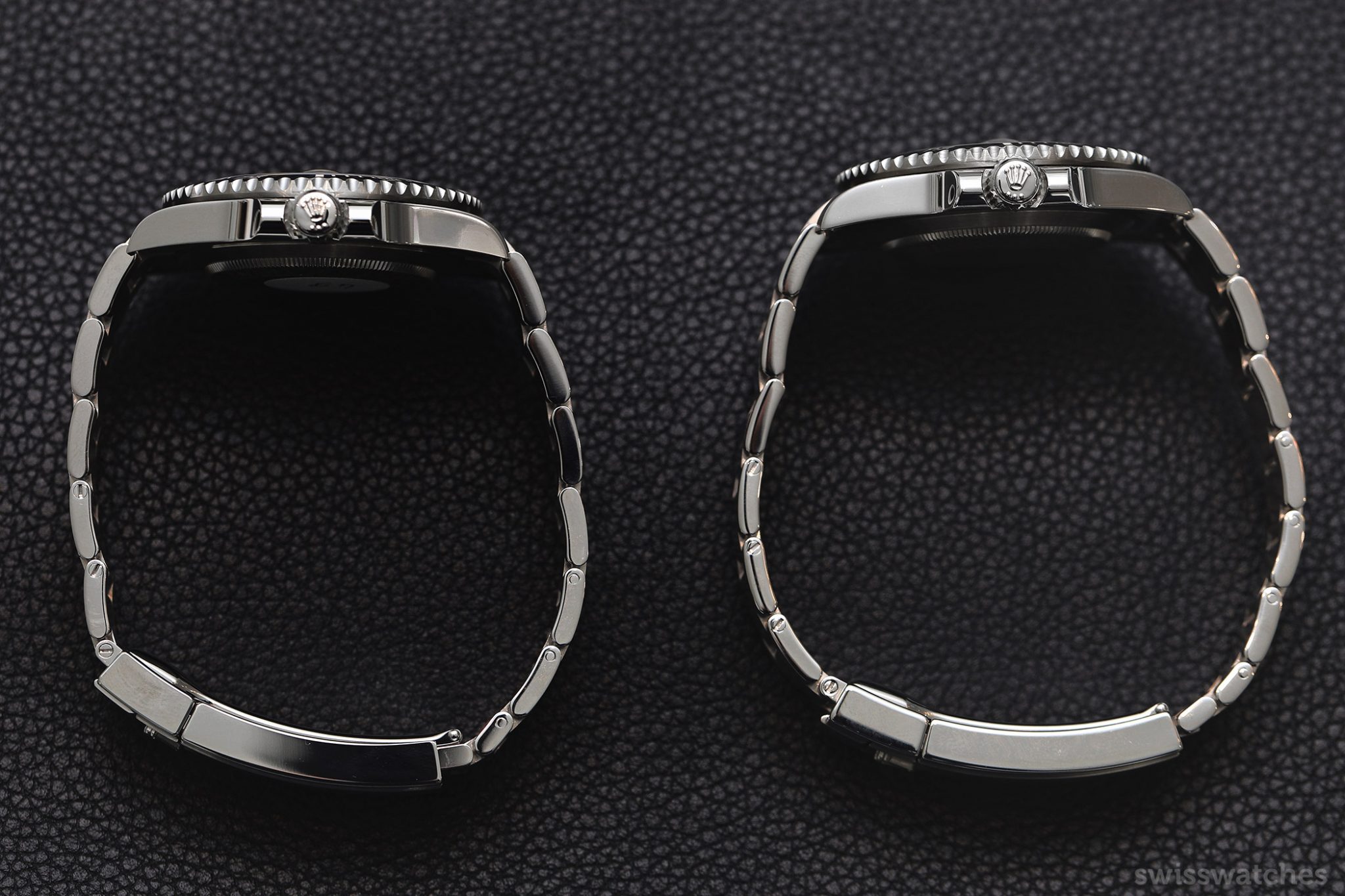 NEW versus OLD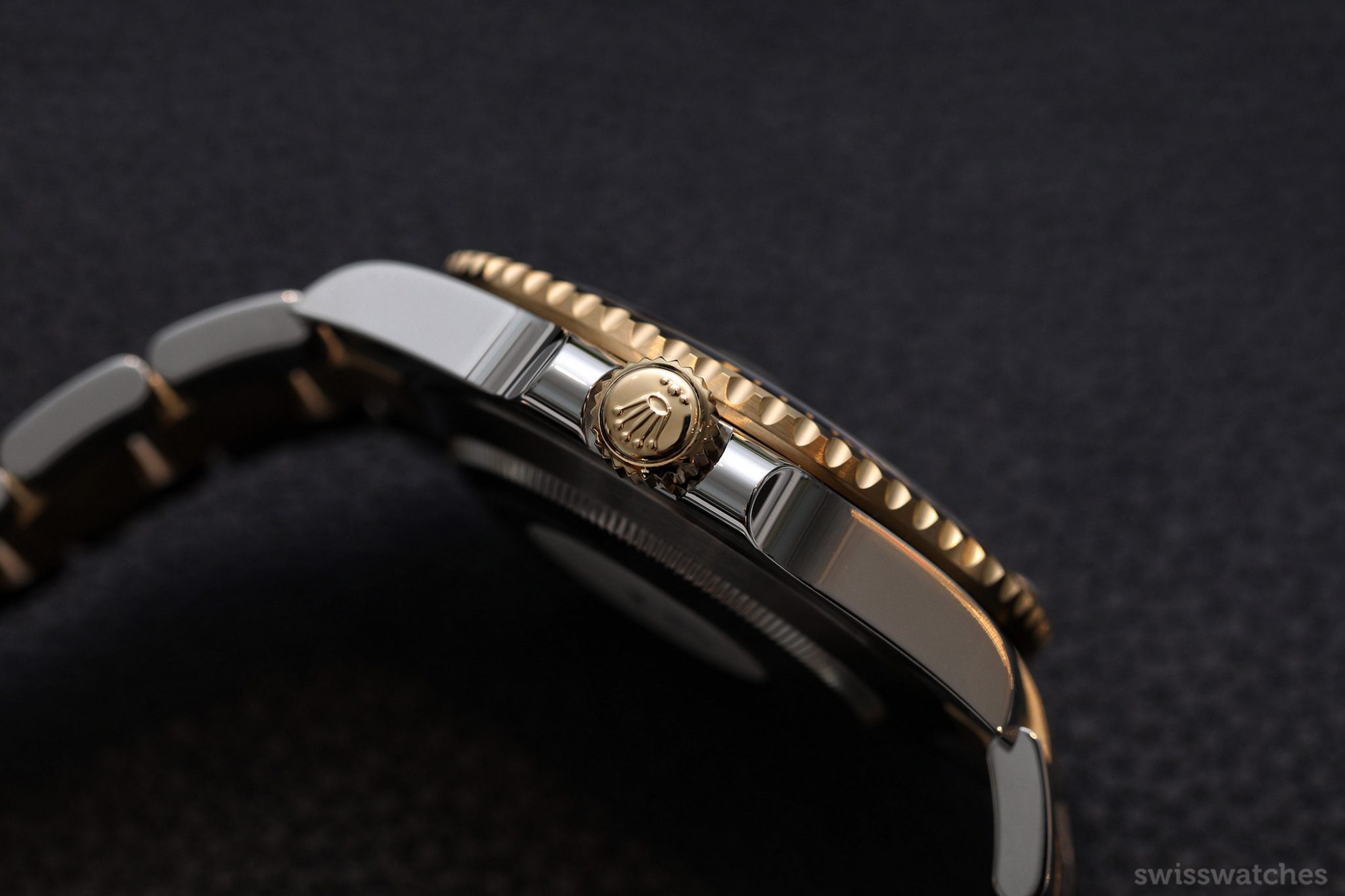 Ref. 126613LN
The watchmaker has introduced slimmer lugs (0.5 mm, to be precise) and a wider bracelet. When comparing the old and new bracelet (now 21 mm x 19 mm), it must be said that the new one is something we never knew we wanted. The subtle change in diameter is more wearable, and offers a more sleeker, bolder, more shapely Submariner that fits slightly better with the personality of collection, as well as the wrist. Whether or not you approve of the changes, the overall adjustment in bracelet and case size has created significantly better proportions.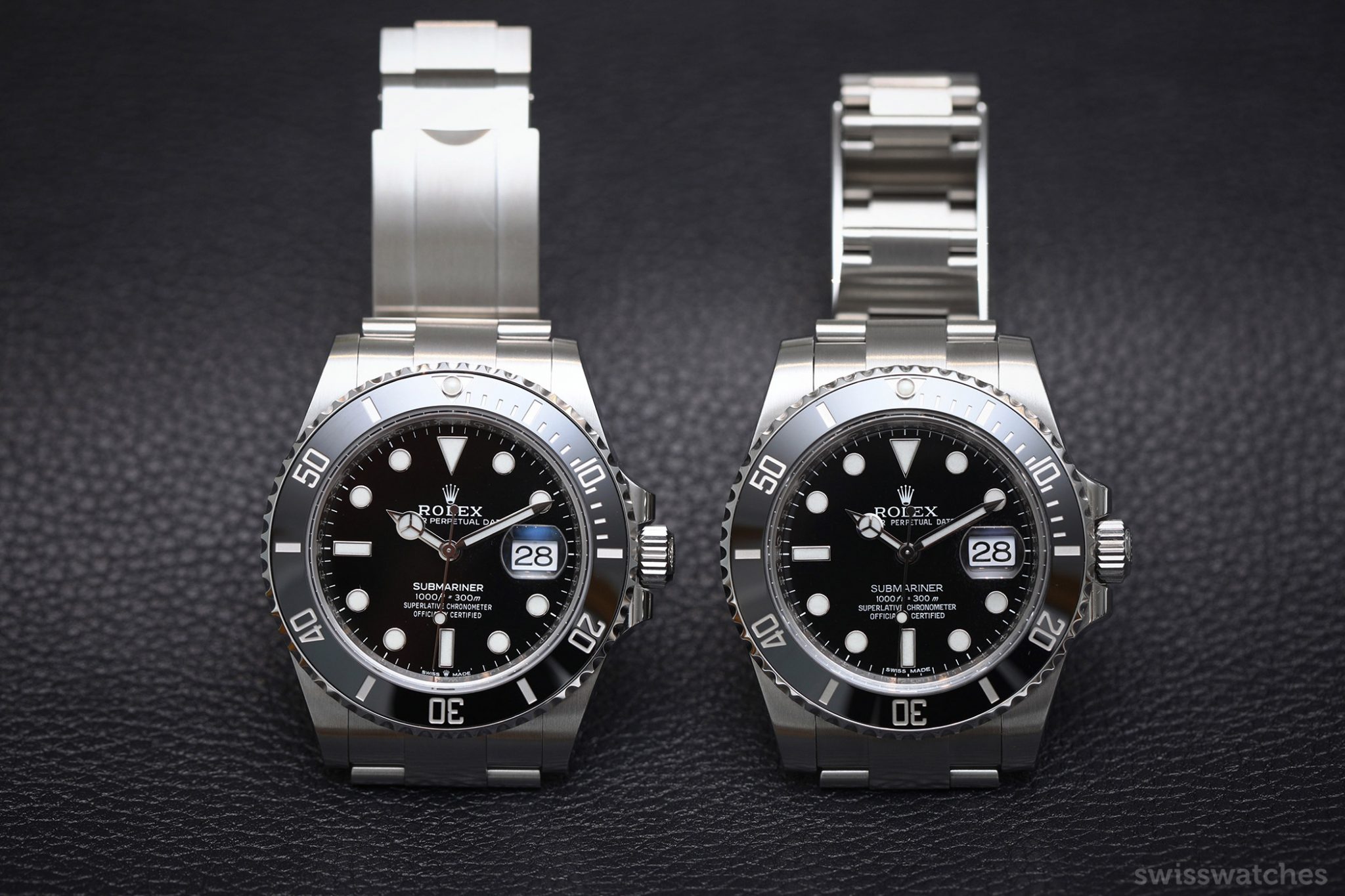 NEW versus OLD
The updated three-piece link Oyster bracelet uses Rolex's Oysterlock folding safety clasp. Its only real change is its aforementioned broader width. In all honesty, the majority of Rolex Submariner wearers are most likely not avid divers. Nevertheless, this patented mechanism does allow for peace of mind when wearing a coveted Rolex piece. It also integrates the brand's Glidelock extension system.

This is of course nothing new. However, it is generally regarded as one of the highest quality clasp and bracelet designs in the world, and that is always worth a mention. It also highlights a prevalent motif regarding Rolex novelties; consistency. Clearly, the brand literally only changes what needs to be changed, and steers clear from wasting time with unnecessary, confusing small amendments to its watches.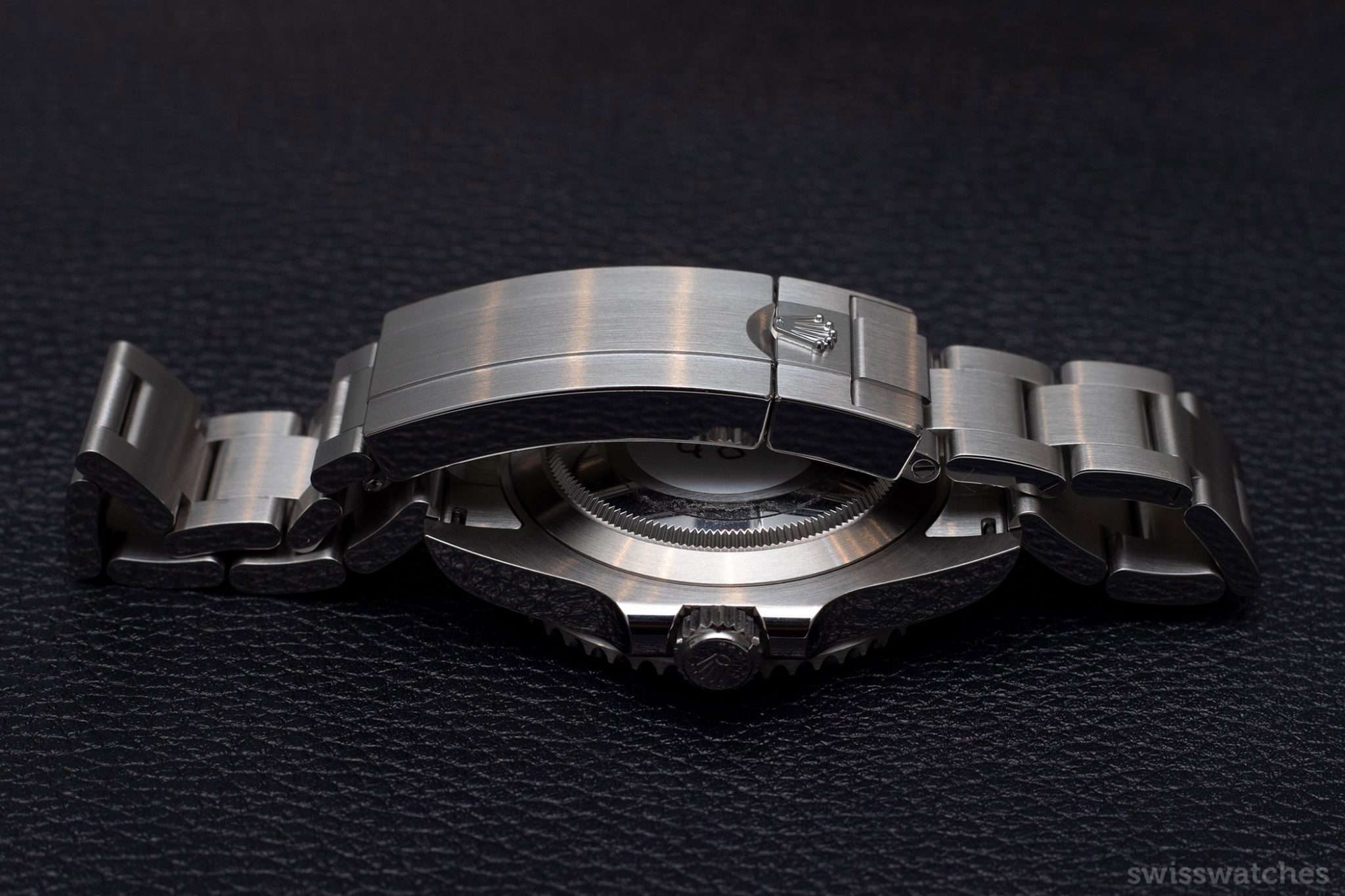 Materials
This is the part many people have really been waiting for – what materials are being offered in the latest iterations? Firstly, the latest iteration of the Rolex Oyster Perpetual Submariner without a date display, the Submariner Ref. 124060 (No-Date) is once again housed in a stainless-steel case. Of course, it is evident that the watch has needed few obvious updates because it's already an indestructible crowd-pleaser.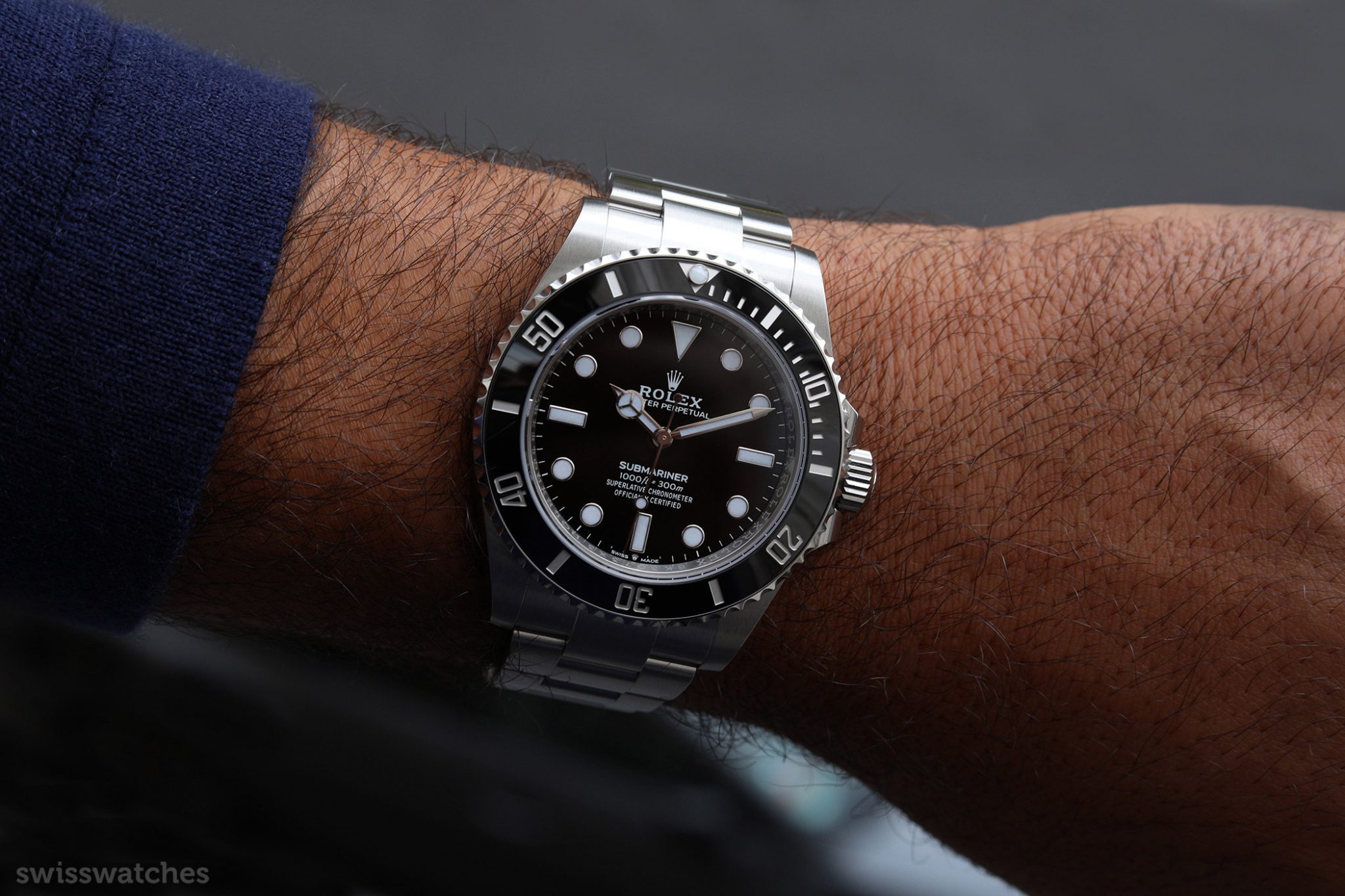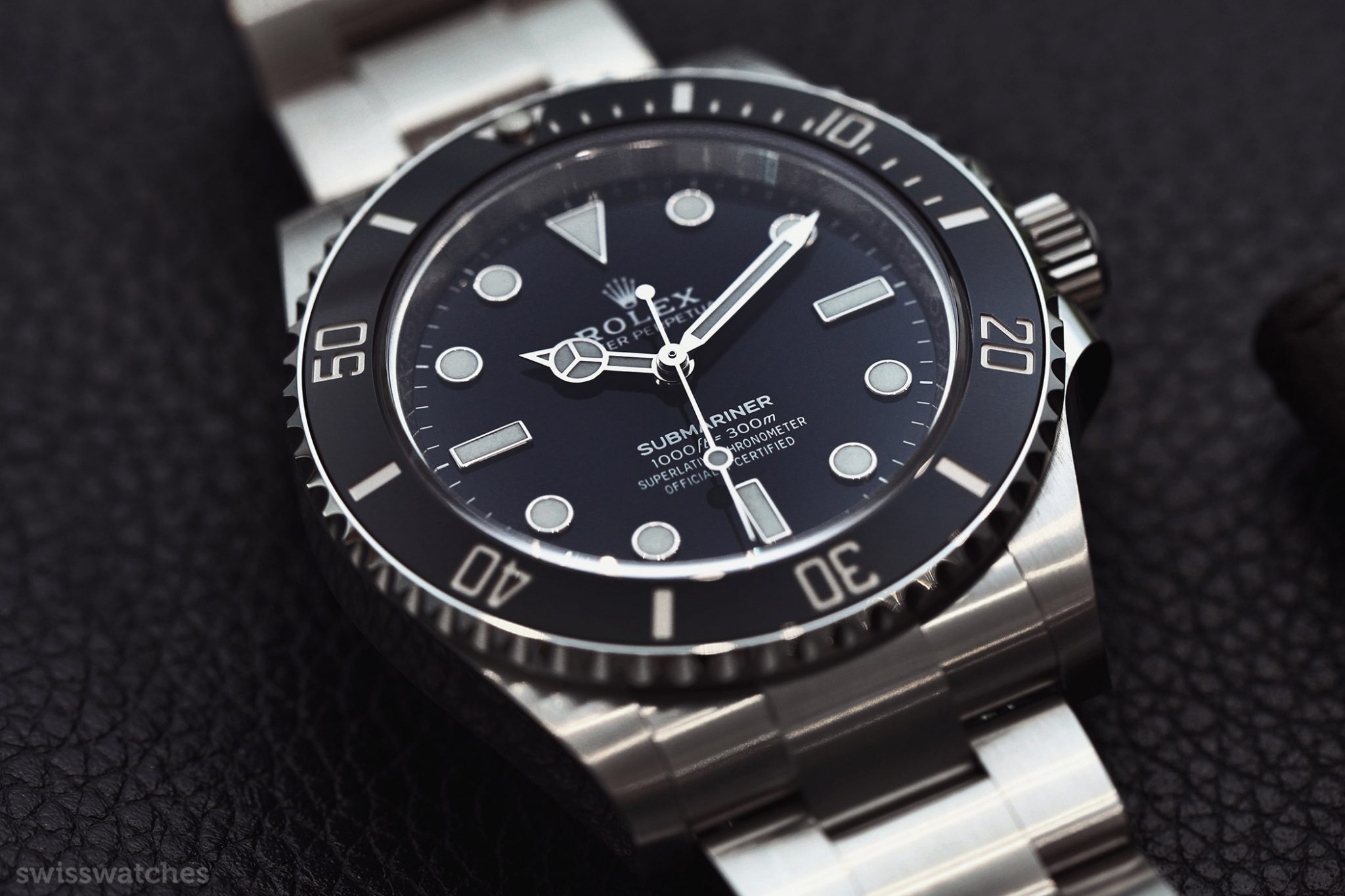 Submariner Ref. 124060 (No-Date)
However, it's also obvious that the continued choice of stainless steel is to ensure that the watch maintains its monetary value. For some, this decision to restrain from more exciting materials may have a charming appeal. Meanwhile, to others, it will appear to be limiting, calculated and conservative.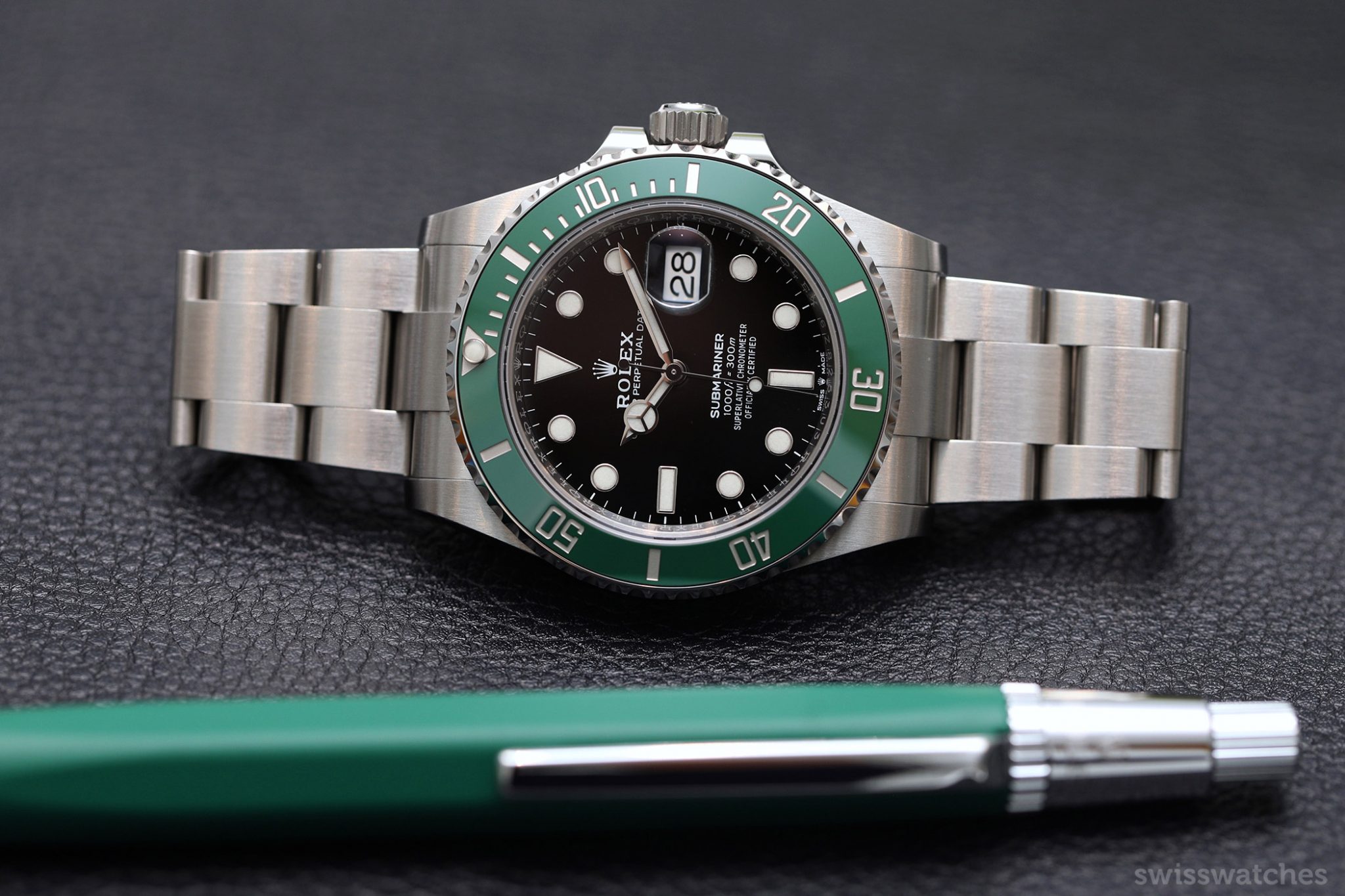 Submariner Ref. 126610LV
That said, the seven new versions with a date function do not disappoint. All of them are equipped with Cerachrome bezels (ceramic and 'chrom', the latter meaning colour in Greek). Meanwhile, the bezel markings are either PVD gold or platinum. By contrast, the case and bracelet materials vary from Rolesor and Oystersteel to white gold or yellow gold.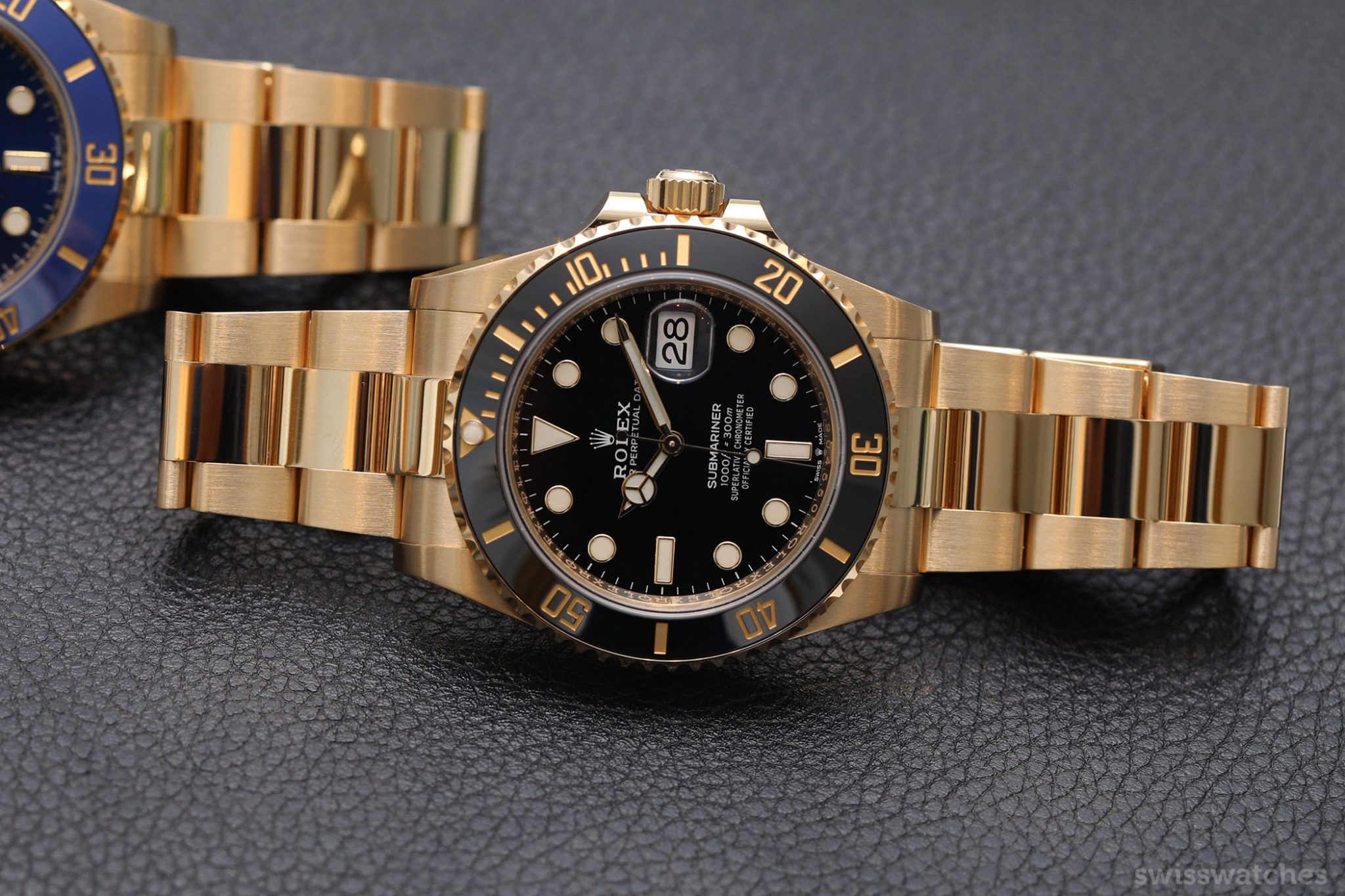 Dials and colours
While Rolex avoid making too many small adjustments, there is a simple and subtle way to differentiate between Rolex Submariner 41 mm 2020 editions and their predecessors; the new-generation models feature the brand's crown between the words 'SWISS MADE' at 6 o'clock. Furthermore, there appears to be a slight change in typeface.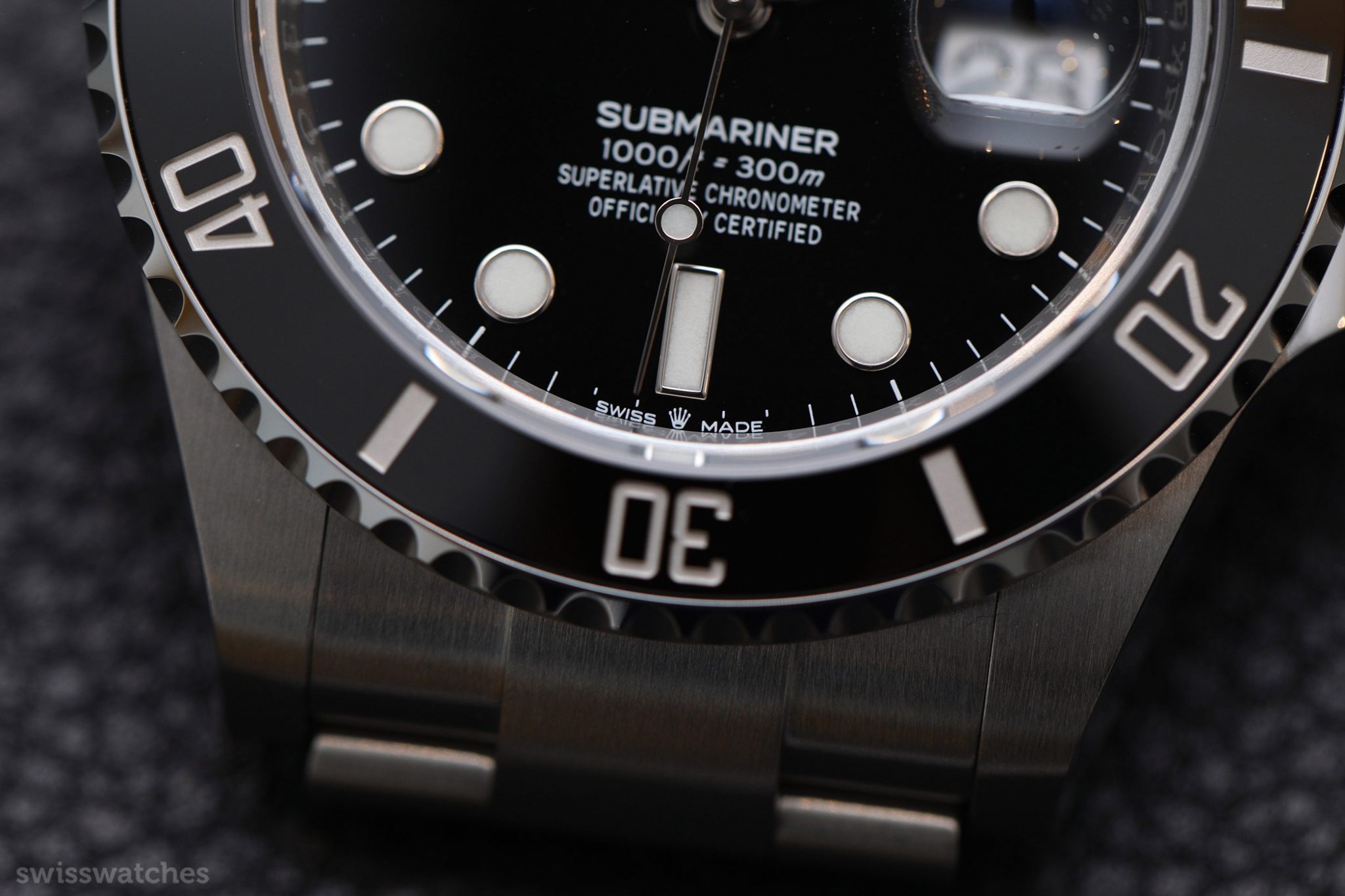 Ref. 126610LN (with Date) & Ref. 124060 (no Date)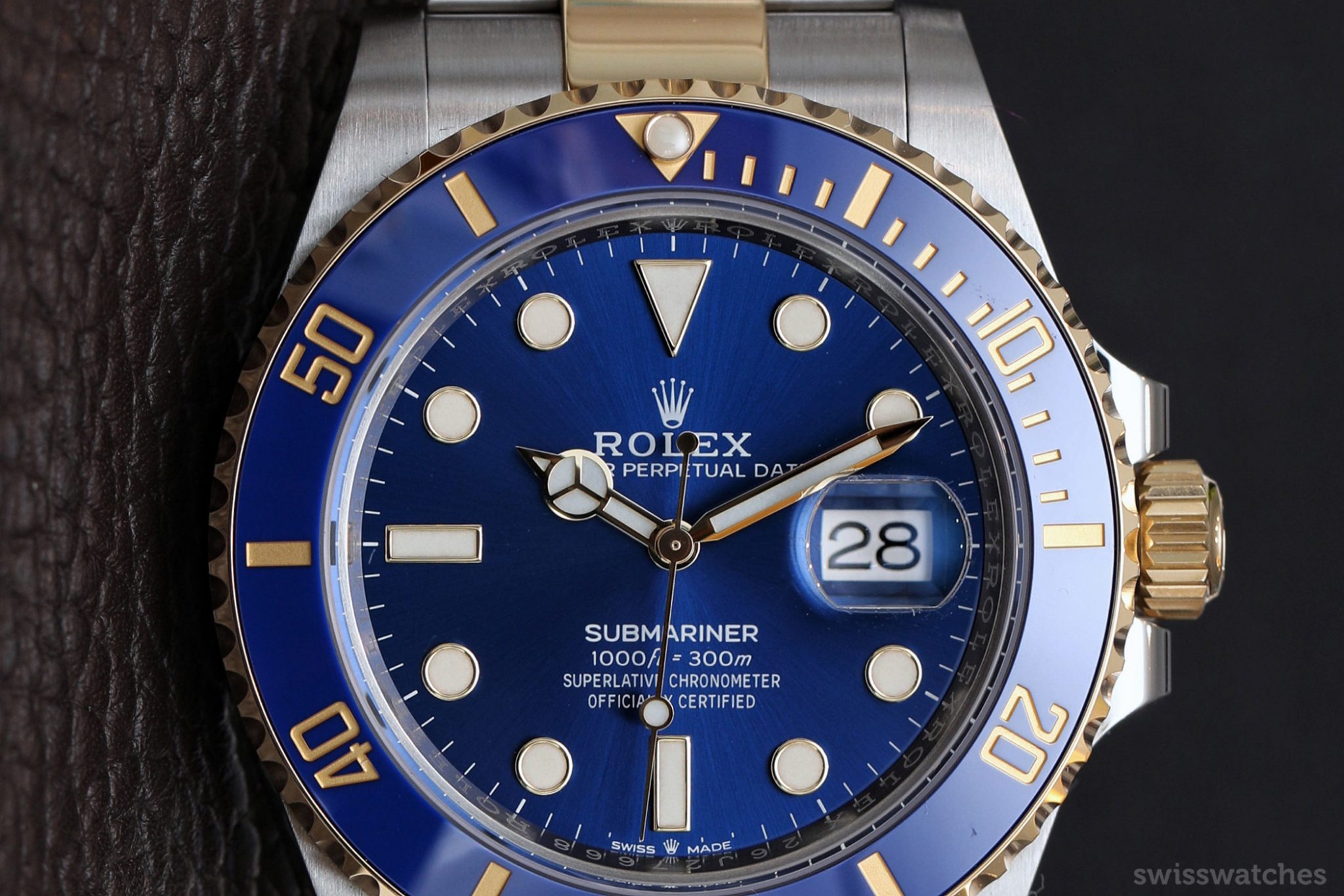 Ref. 126613LB
---
Colour Combinations
Furthermore, 2020 also brought some new colour combinations. Thus, the exact materials and colours used on the seven Submariner Date novelties are as follows:
Ref. 126610LN: Oystersteel with black dial and black bezel, harking back to the original Submariner design
Ref. 126610LV: Oystersteel with a black dial and green bezel, creating a distinctive colour combination.
Ref. 126613LB: Rolesor – Oystersteel and 18-carat yellow gold – with a blue dial and matching blue bezel
Ref. 126613LN: Rolesor – Oystersteel and 18-carat yellow gold – with a black dial and black bezel
Ref. 126619LB: 18-carat white-gold with a black dial and blue bezel
Ref. 126618LB: 18-carat yellow gold with a blue dial and matching blue bezel
Ref. 126618LN: 18-carat yellow gold with black dial and black bezel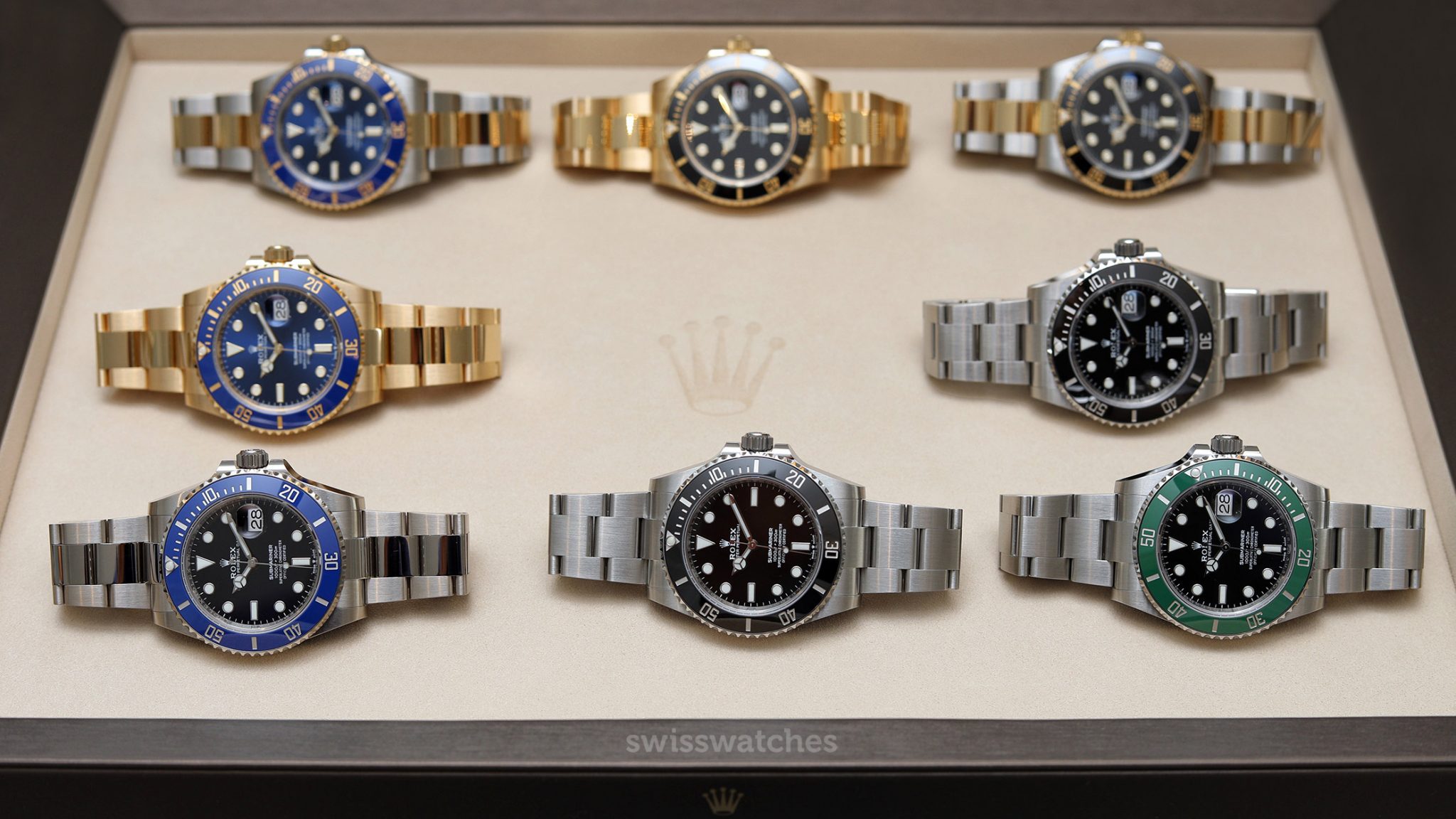 Ultimately, the colour combinations and materials remain a matter of taste. While some would never dream of a yellow-gold Rolex with a blue dial and bezel (it's not exactly subtle, or an everyday option), others will likely fall in love with the bright and bold colour combination.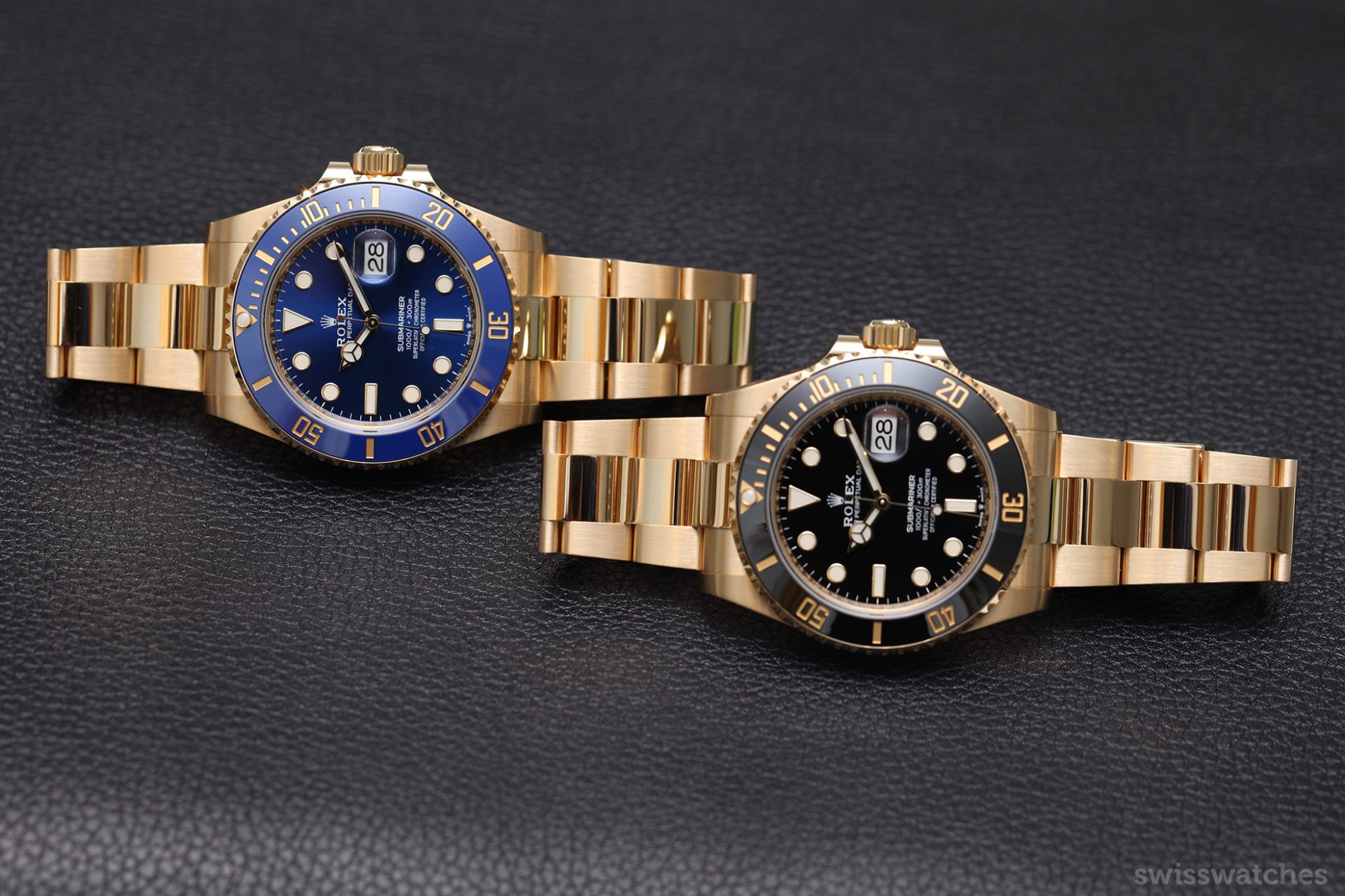 Ref. 126613LB and Ref. 126618LN
By contrast, a more subtle option is the white-gold 126619LB, combining a classic Submariner-style black dial with a blue bezel – a good move given the amount of attention blue has been receiving in the watch world. Meanwhile, the 126610LV's green bezel is likely a response to the discontinuing of Rolex's 'Hulk' model. Therefore, this green bezel model is likely to be a new favourite. Indeed, rumour has it that one official Rolex dealer has already received over 1,000 orders for it. This is not surprising, as speculations of a green execution already circulated in watch forums for quite a while.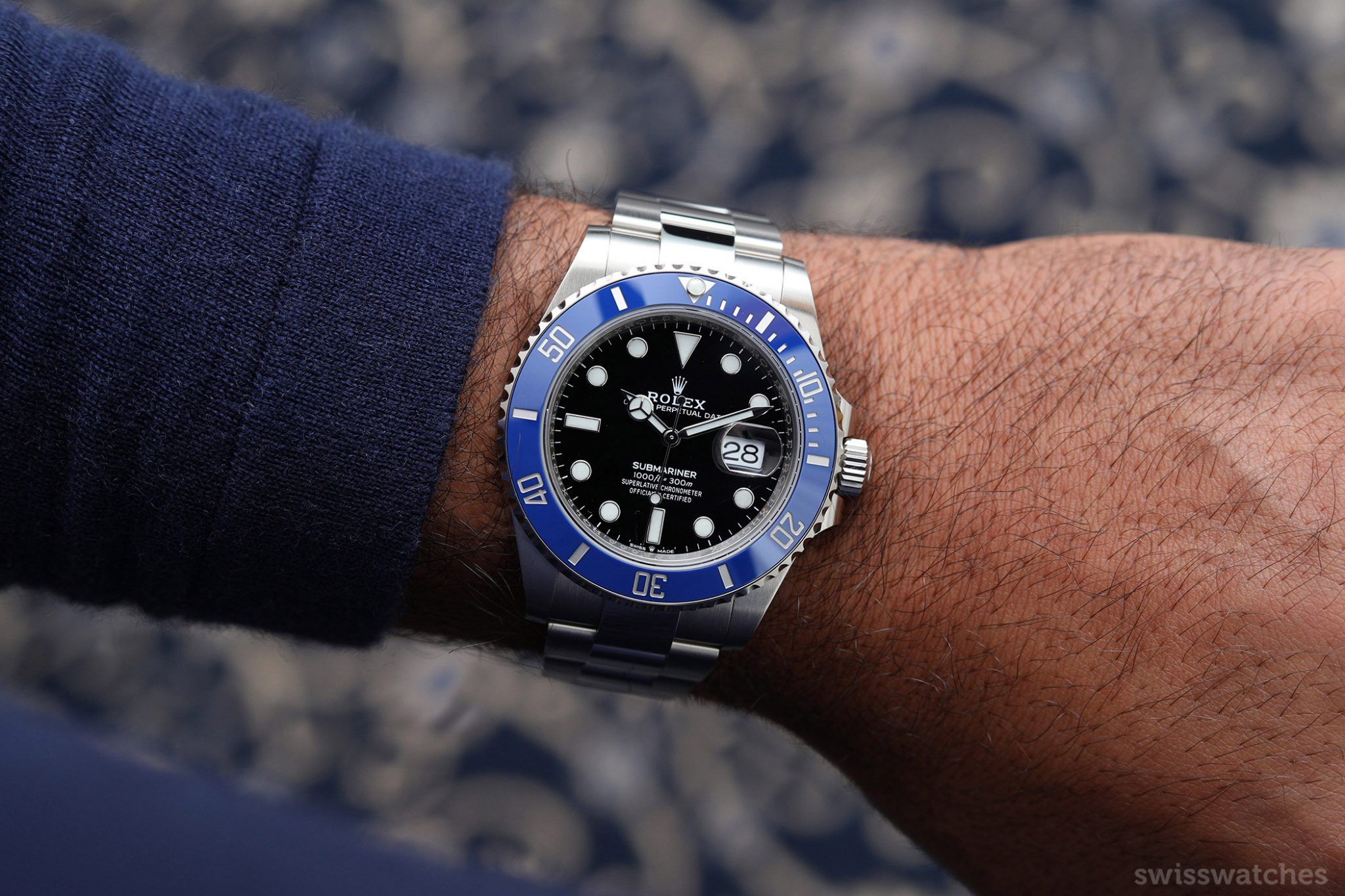 Ref. 126619LB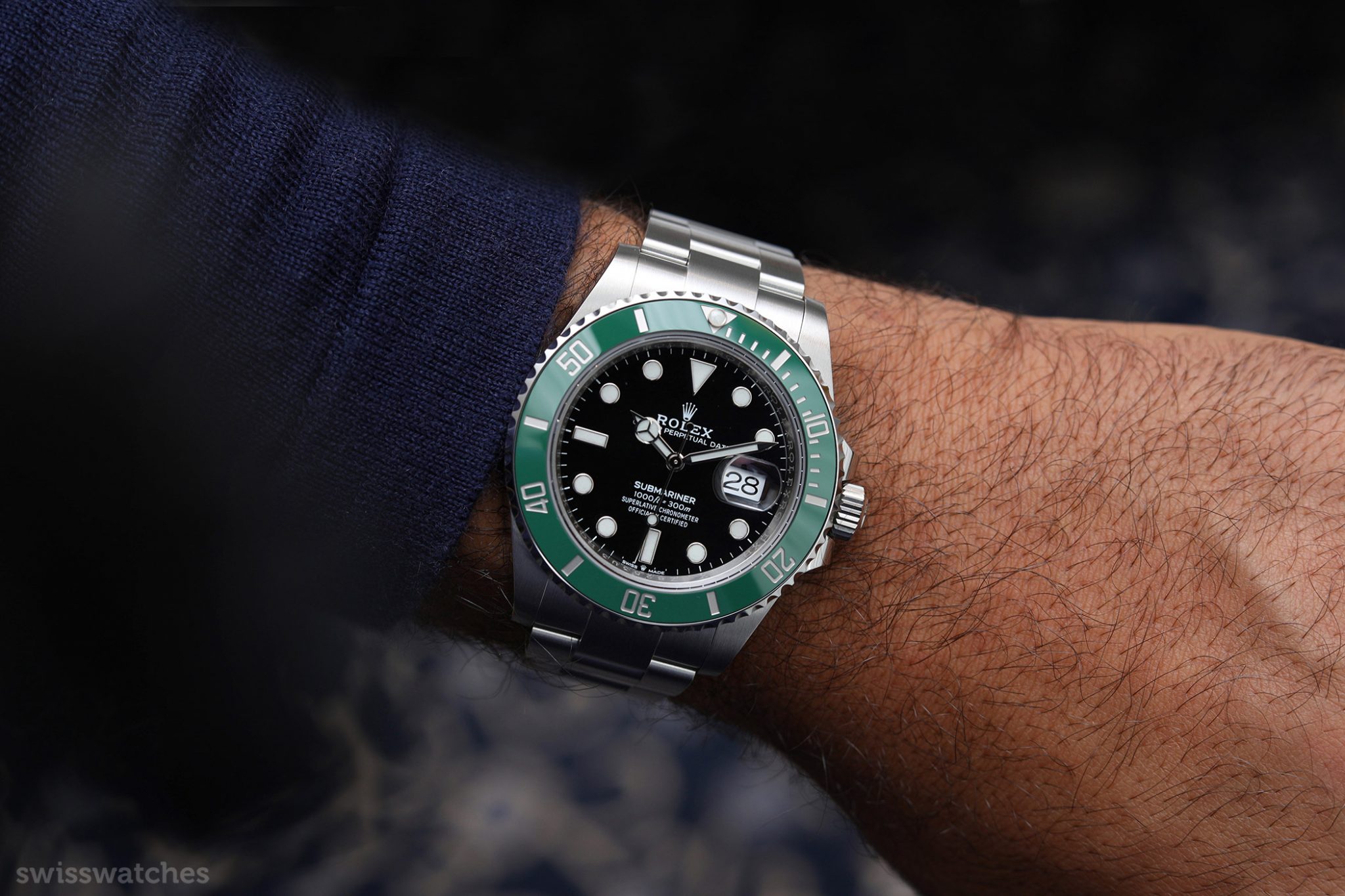 Ref. 126610LV
Overall, the latest combinations of materials and colours appear to be level-headed and intelligent choices by Rolex, putting a contemporary 2020 spin on the historic line's latest watches. All seven versions will likely prove very popular, not least the models with blue or green bezels.
Rolex Submariner 41 mm 2020: Updated Movement
Finally, the movement is naturally a talking point. The Submariner Date has switched over to the calibre 3235, while the Submariner without a date function uses the 3230. Both calibres, which now offer an extended power reserve of 70 hours, incorporate Rolex's Chronergy escapement, which is known for being efficient and reliable. Made of nickel-phosphorus, it is also insensitive to magnetic fields. Furthermore, both movements are fitted with an optimized blue Parachrom hairspring. This makes it 10 times more precise than a traditional hairspring in the case of shocks. The blue Parachrom hairspring is equipped with a Rolex over-coil, ensuring regularity in any position. Finally, the oscillator is fitted on Paraflex shock absorbers, increasing the movements' shock resistance.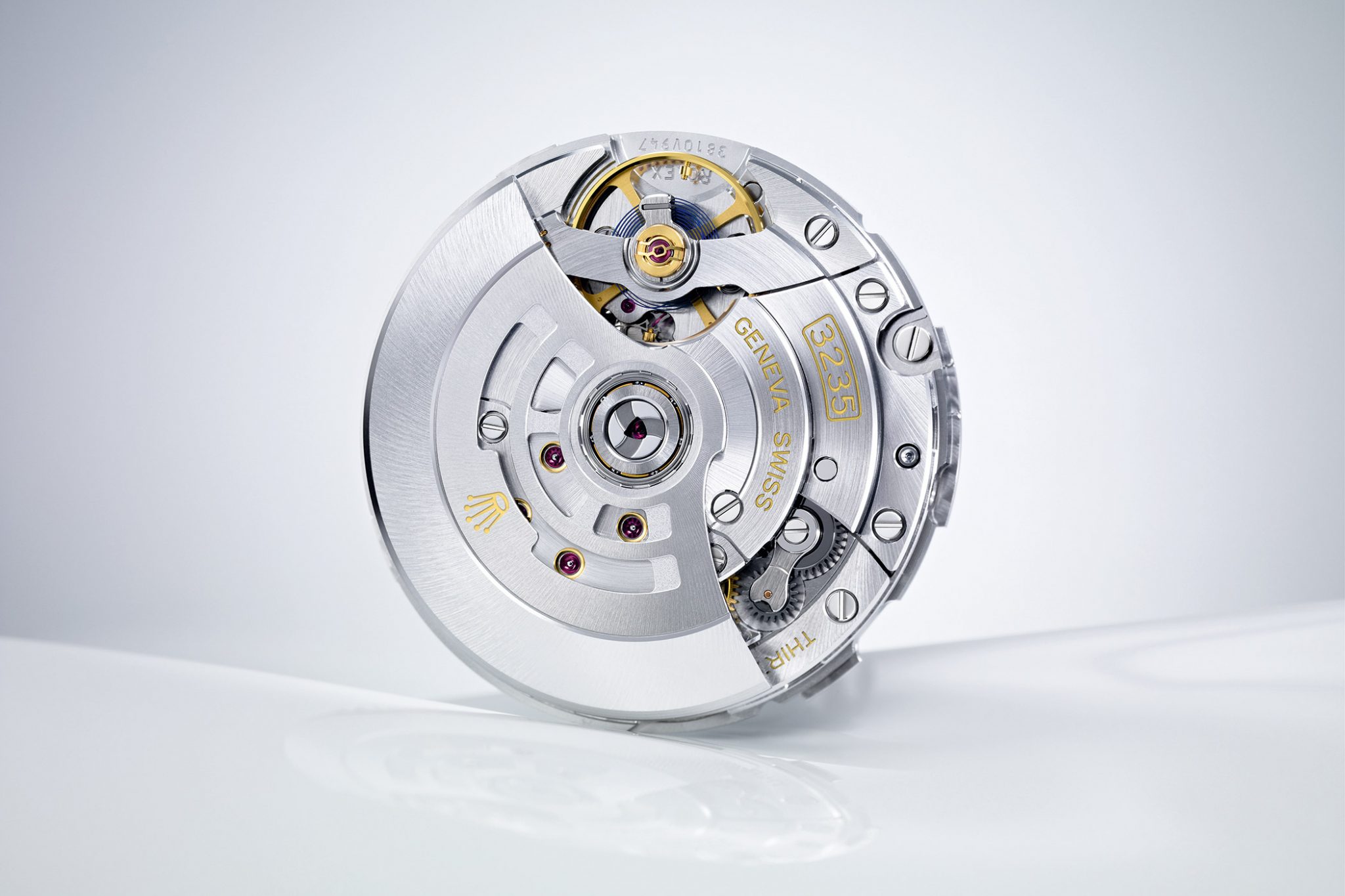 Calibre 3235 with date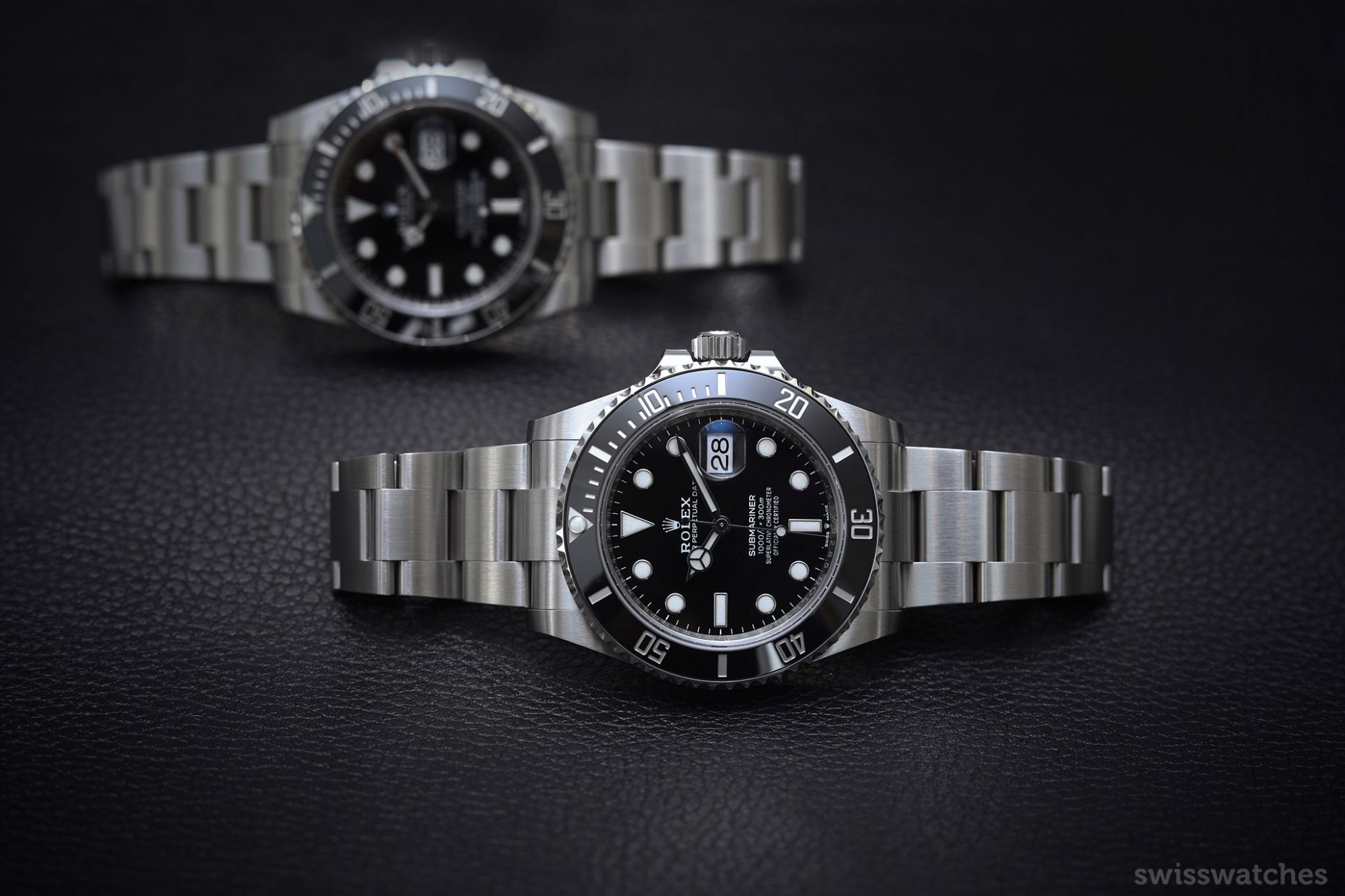 Ref. 126610LN
It is worth analysing what we can derive from Rolex's switch to these two movements. Firstly, what the movements demonstrate (as always) is Rolex's excellent, reliable and technologically advanced watchmaking abilities. However, if we put these calibres into a black and white perspective, they're simply reliable, precise self-winding movements with a 70-hour power reserve. This is a significant increase of power reserve in comparison to previous models, however it's not something that's totally out of the ordinary in mechanical watches these days. Therefore, the calibre updates can be seen as a much-needed change, with benefits including better precision and a longer-lasting power reserve. However, it's 2020, and this change is exactly what a Rolex Submariner should now be providing – but it's not going to send anyone into a frenzy.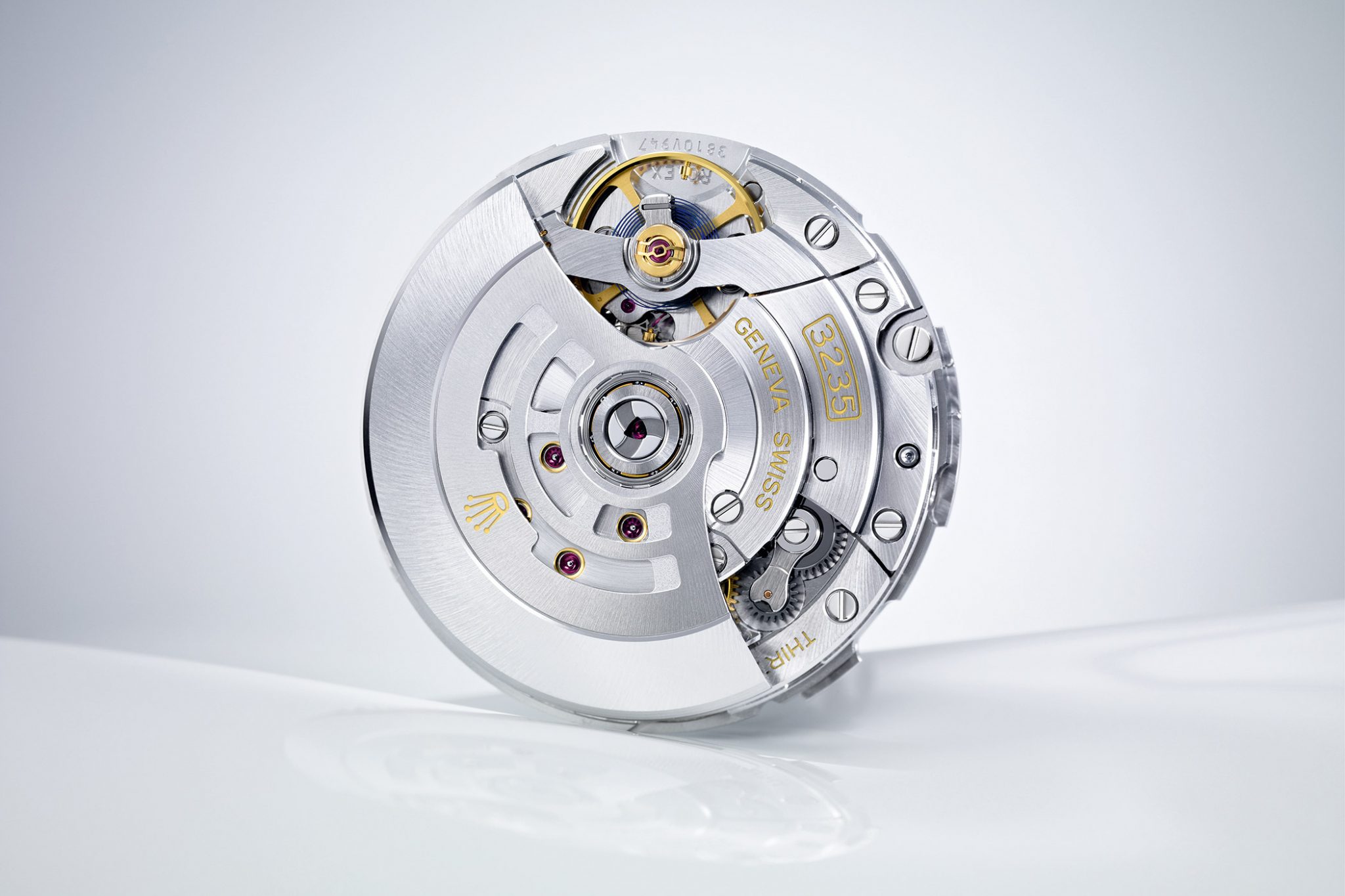 Calibre 3230 without Date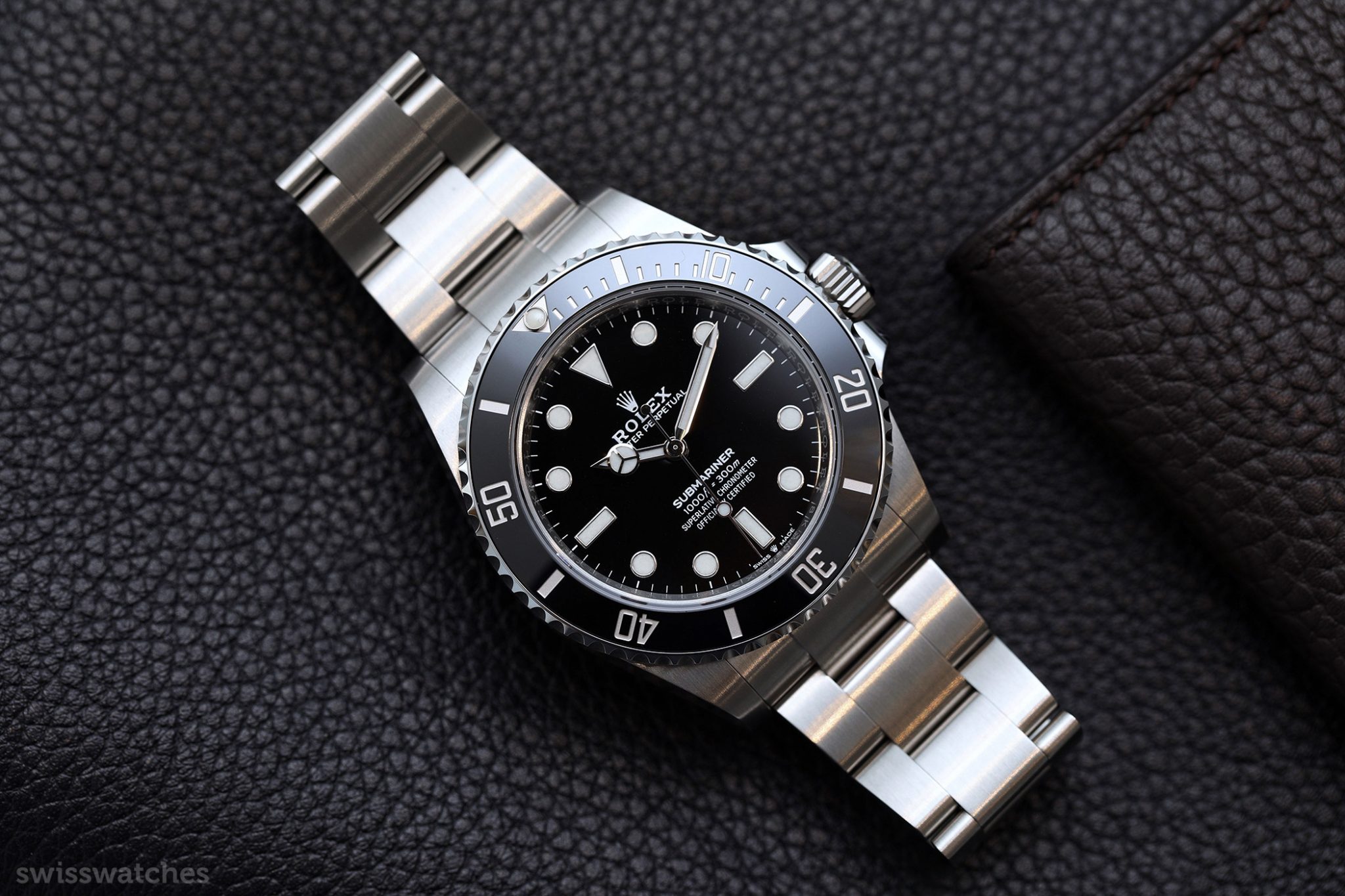 Ref. 124060
The Verdict
Rolex is a brand that centres itself around excellence, and the Rolex Submariner 41 mm 2020 models are the perfect demonstration as to why; there's arguably no need for any eccentric or ambitious new features. Rather, the watches are simply part of Rolex's steady and reliable ability to impress and endure. Evidently, this has been achieved this year through calibre, case and bracelet updates. That said, sooner or later, there is likely to be a divide in the watch community. Many are always looking to see big, exciting changes in what is already a fast-paced industry.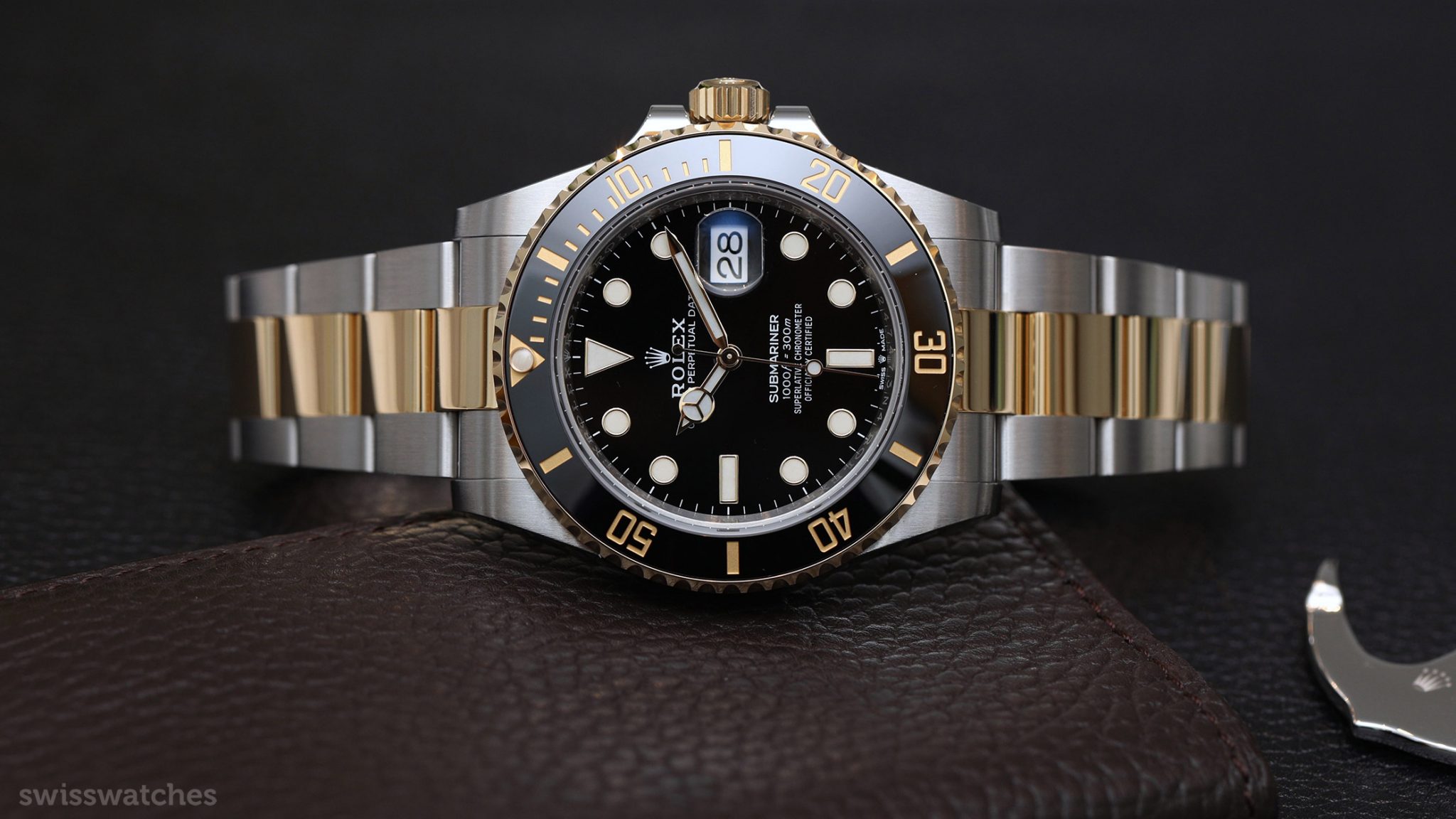 Ref. 126613LN
However, this is not Rolex's general approach. Rolex is rather a brand that calmly and calculatedly focuses on the gradual evolution of its products. While Rolex watches such as the Submariner continue to be popular, this leaves us with a question. Are we always going to be happy with Rolex's continuous 'slow and steady wins the race' attitude, or is it about time for a Rolex revolution?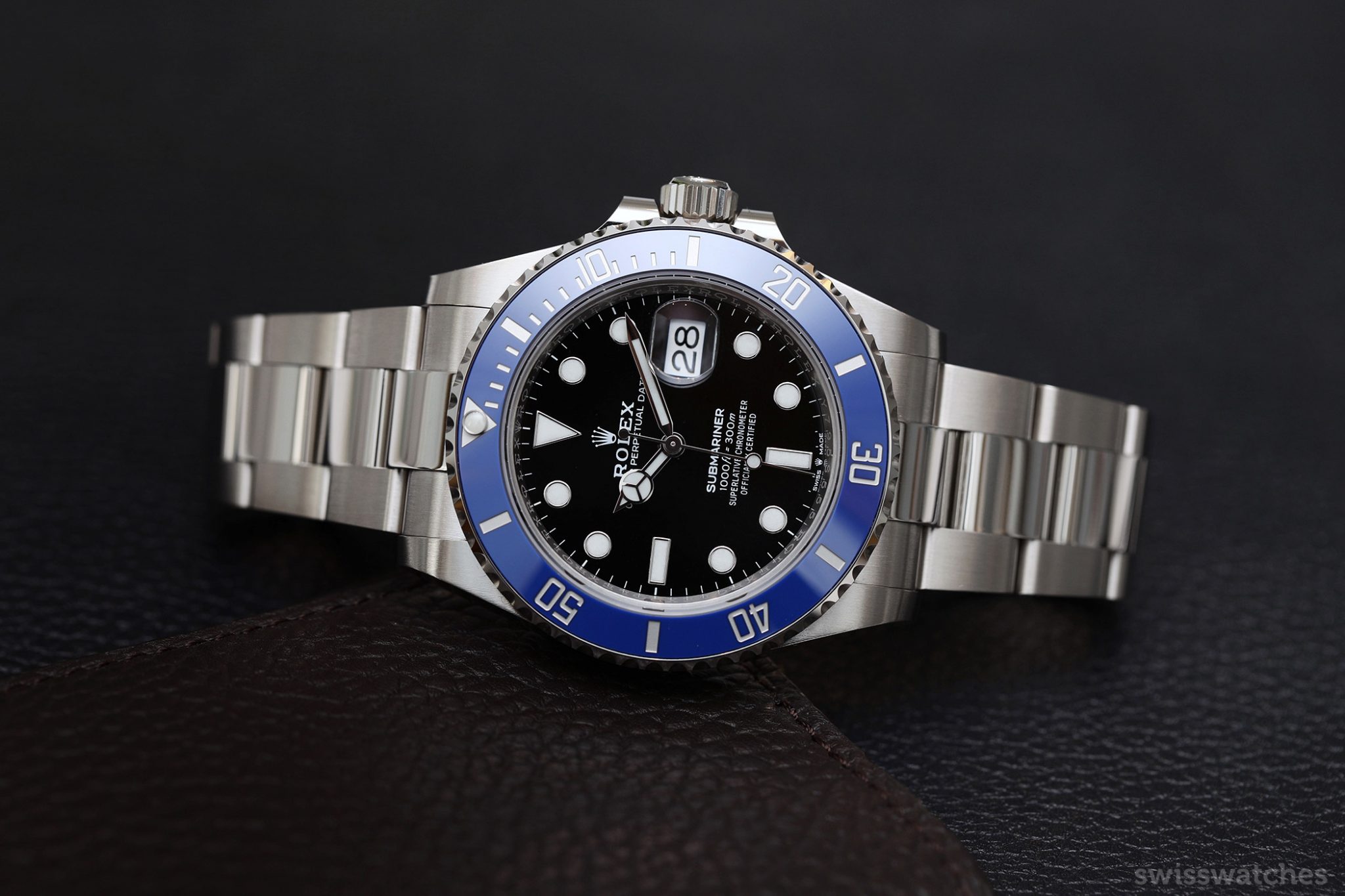 Ref. 126619LB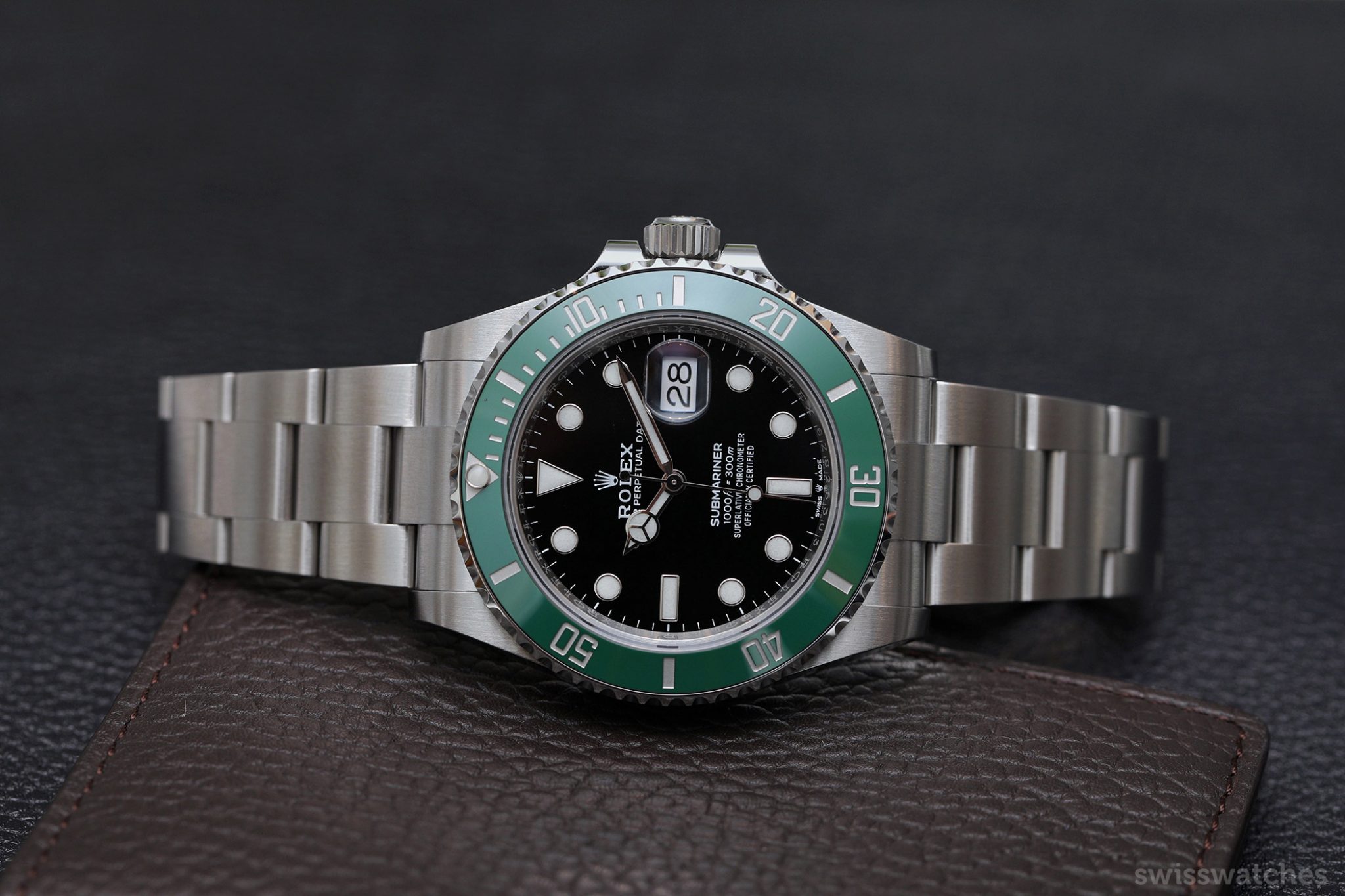 Ref. 126610LV
---
Rolex Submariner 41 mm 2020 Prices: Ref 124060: 7,350 euros. Ref. 126610LN: 8,300 euros. Ref 126610LV: 8,700 euros. Ref. 126613LB and Ref. 126613LN: 13,000 euros. Ref. 126618LB and Ref. 126618LN: 33,700 euros. Ref. 126619LB: 36,200 euros.
---
---