Anyone who is interested in tennis and has ever watched a match by Spanish superstar Rafael Nadal will have noticed something extraordinary: the intimidating brutality inherent in the sportsman's body language, which is expressed through several characteristics; the intense moaning every time he hits a ball, or his aggressive hits, which are so powerful that every single finger is protected with tape. Sometimes, the calluses on the ball of his hand bleed.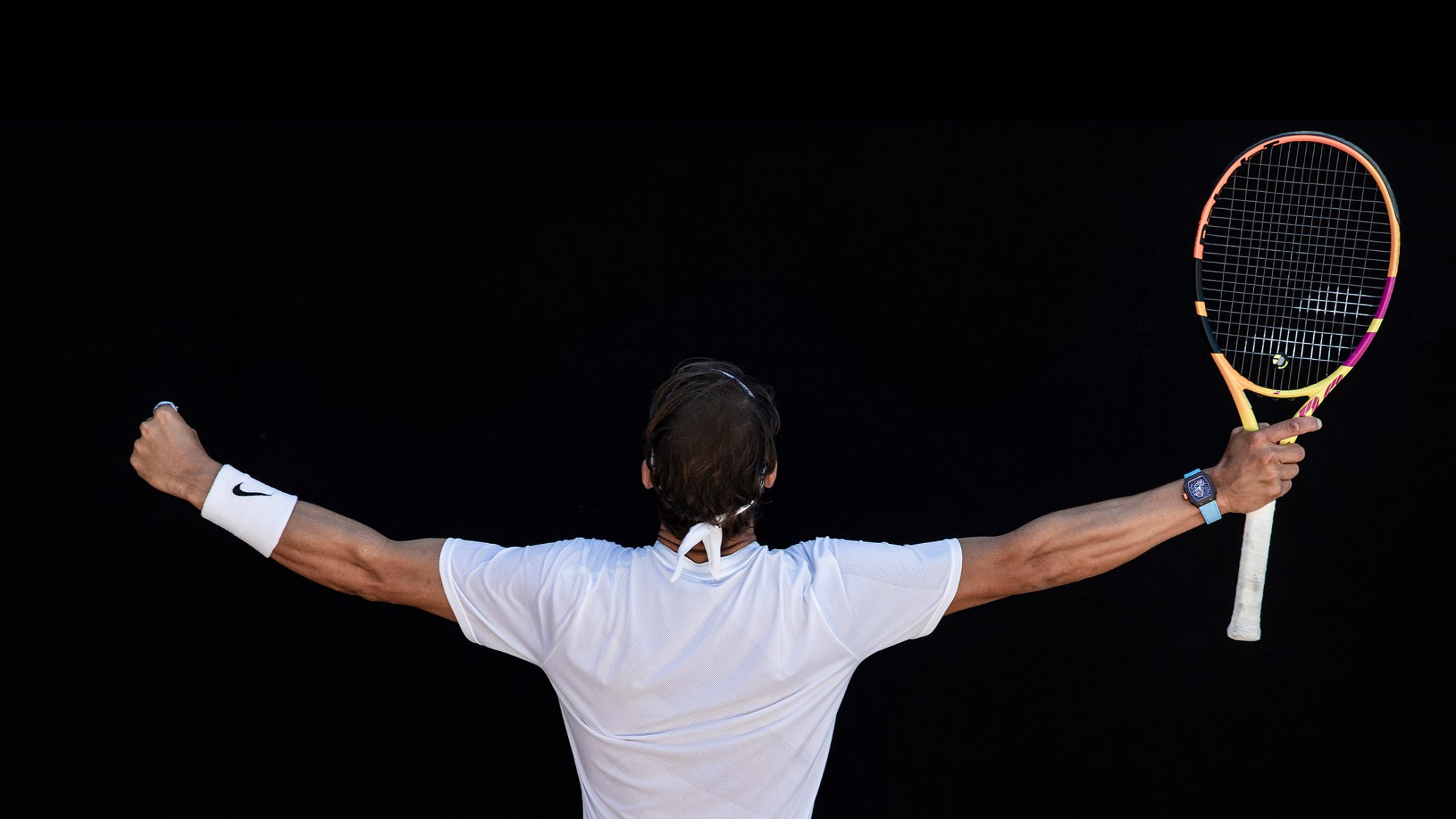 Rafael Nadal is like a machine on the tennis court, constantly running at full speed. His gaze is grim and highly focused, every rally is a matter of life and death; fortunately not in reality, but in the game – in his game – trimmed to perfection.

A tourbillon for Rafael Nadal
The forces, which Rafael Nadal's specially made racket has to withstand, are enormous. Nadal has a special technique of using his wrist to give the tennis ball a special spin with each stroke. On court, there is no player who can get more spins on the ball.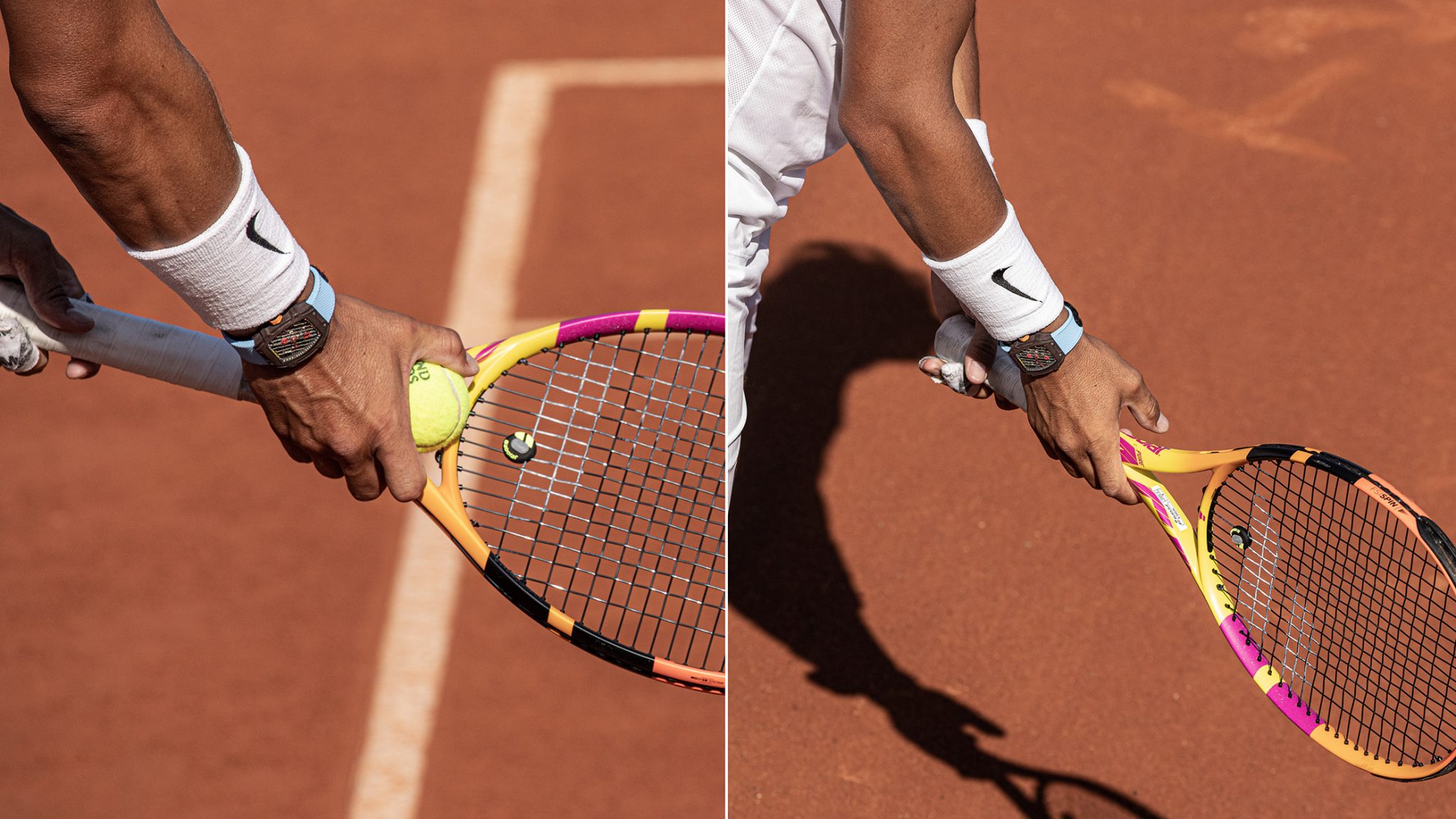 A good decade ago now, this inspired watchmaker Richard Mille to develop a watch that could withstand such forces on the wrist. Not only that, but he also decided that it should be a tourbillon – a highly delicate, sensitive mechanism. The idea was as absurd as it was ingenious that Richard Mille was able to attract the attention of Rafael Nadal. For the first test wear, when Richard Mille strapped a watch with a platinum case around the athlete's wrist, Nadal was visibly confused by the heavy weight. Of course, it was only a psychological trick on Richard Mille's part to confront him with a heavy watch first, rather than immediately handing him the RM 027 Tourbillon Rafael Nadal, weighing only 20 grams. Nadal was thrilled. In 2010, he won the US Open for the first time, and what's more, he won it for the first time while wearing a watch.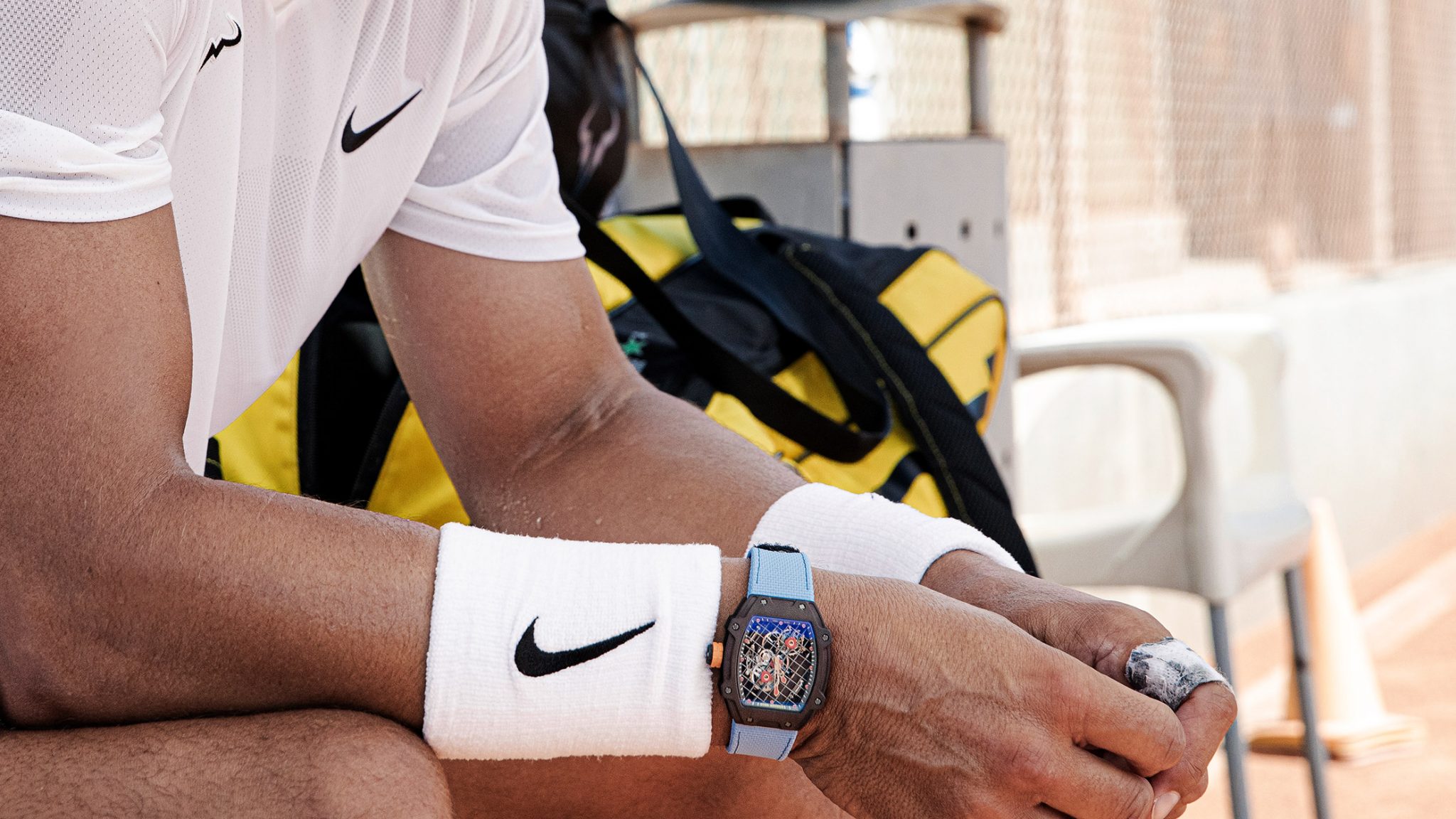 RM 27-04 Tourbillon Rafael Nadal
That was ten years ago now, and seven more models followed, always outperforming each other technically, and causing a sensation both aesthetically and in price. The two perfectionists, Richard Mille and Rafael Nadal, have become close friends, and meet regularly in private outside the court. "When I am with Richard Mille, I am not bored for a second, it is always so inspiring to spend time with him", Nadal enthuses. On the occasion of the 10-year partnership, Richard Mille is now presenting an anniversary model that once again surpasses all previous ones. It probably also surpasses our imagination of how much money a watch can cost. In this case, it is a handsome USD 1,050,000 (around 900,000 euros).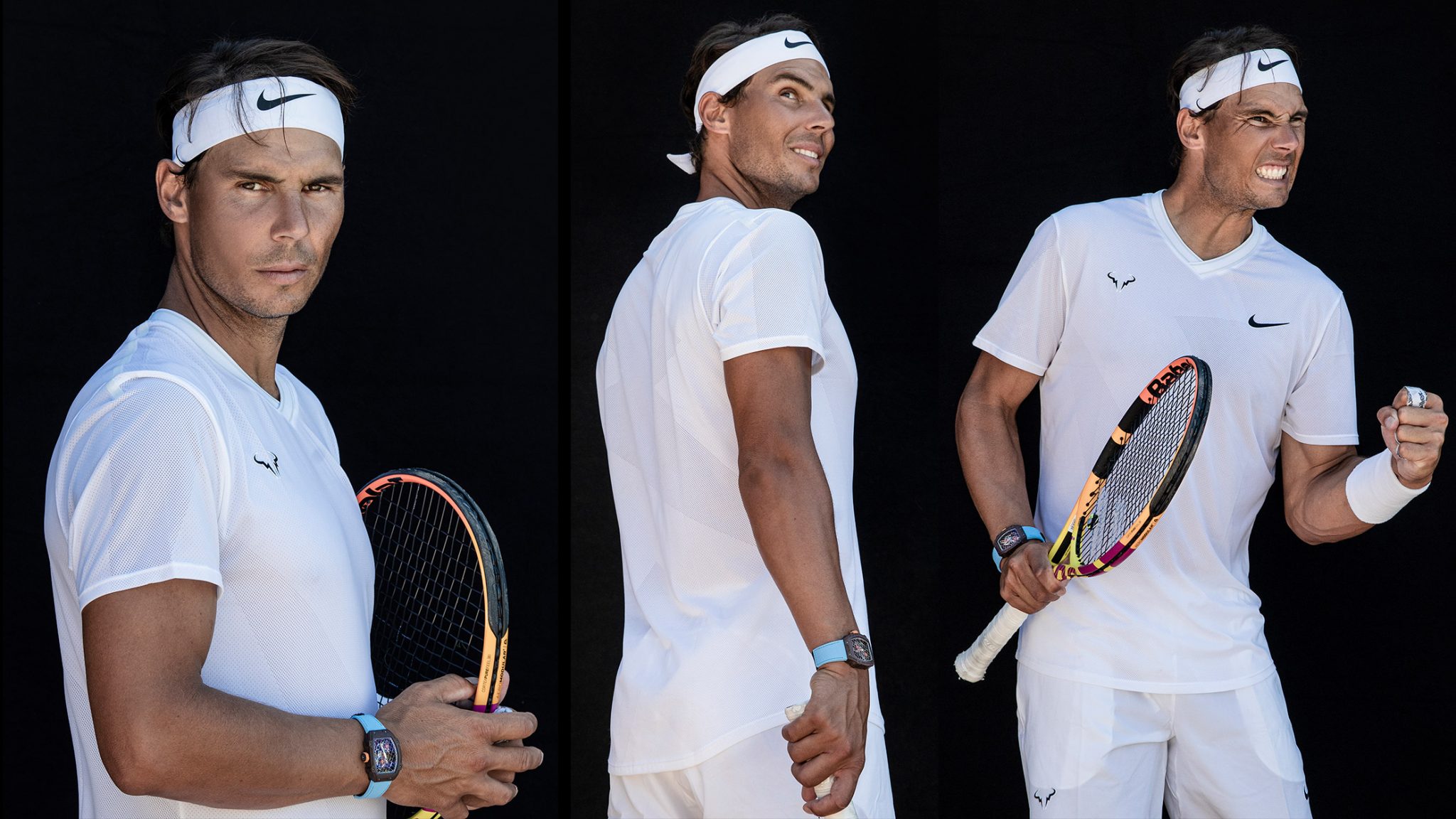 RM 27-04 Tourbillon Rafael Nadal
The latest model weighs just 30 grams, including the strap. Although the very first RM 27 model from 2010 was ten grams lighter, the new RM 27-04 can withstand accelerations of over 12,000 g – a record for Richard Mille. By comparison, a Formula 1 driver experiences accelerations of around 5 g when cornering. Acceleration experienced on a rollercoaster reaches 6 g, while at about 8 g, an inexperienced driver becomes unconscious. The unique net structure, which stretches into the casing like a tennis racket and absorbs the vibrations like a tennis string, certainly contributes to the watch's incredible resistance.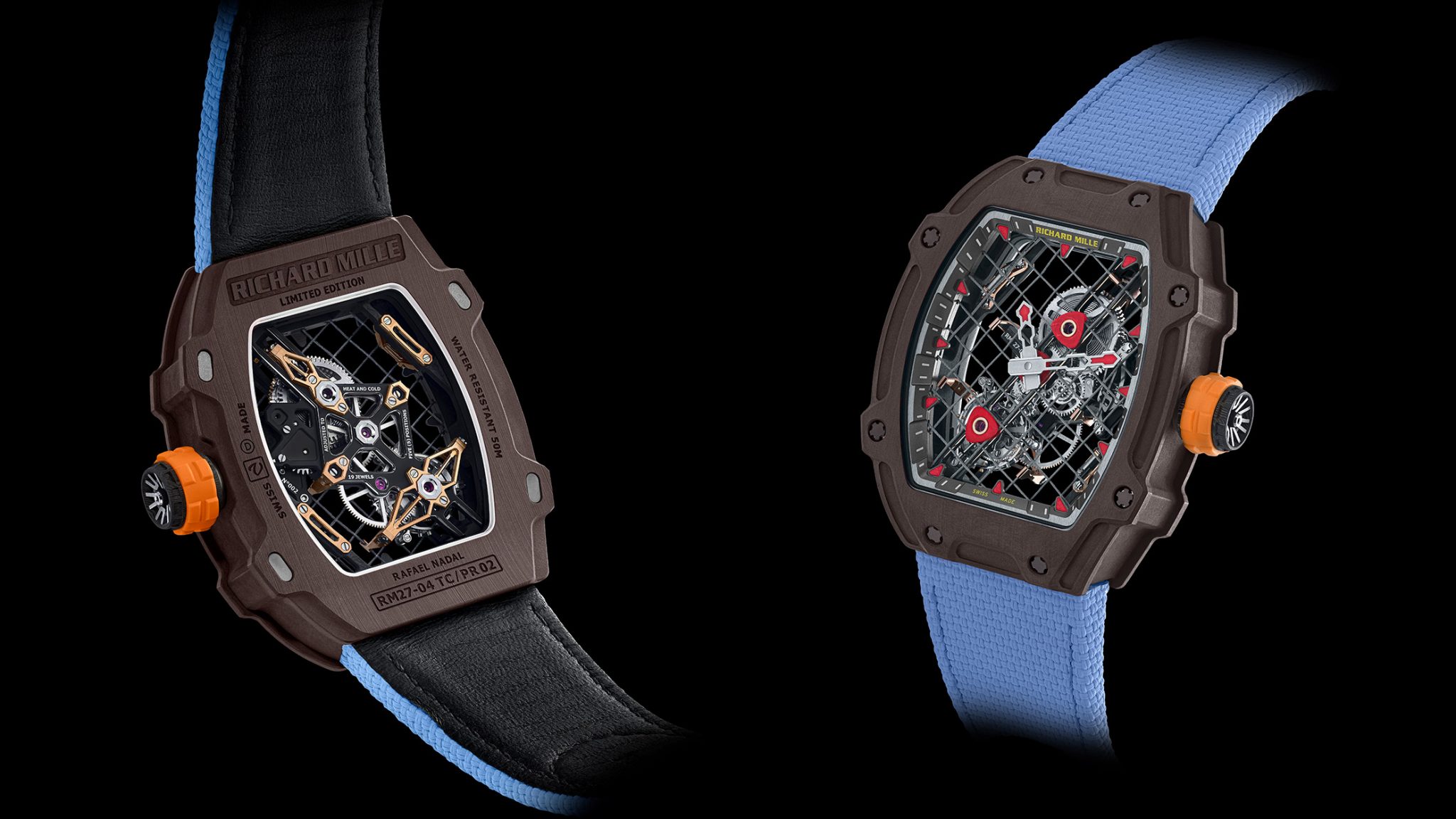 Hand-wound tourbillon movement calibre RM27-04
Taking its inspiration from the strings of a tennis racket, the movement's support comes from a finely radiated net structure measuring only 855 mm². It consists of a single braided steel cord with a mere 0.27 mm diameter. The hand-wound tourbillon movement, calibre RM27-04, attaches to the mesh with the help of five polished Grade 5 titanium hooks with a 5N-gold coating, starting from the underside of the movement plate. As with the stringing, the watchmaker first pulls all the longitudinal strings, before crossing the transverse strings, so that the wire passes above and below the longitudinal strings. The plate and bridges are made of an alloy made up of 90% Grade 5 titanium, 6% aluminium and 4% vanadium, and are black PVD-coated. The extra stiff alloy ensures a particularly smooth running of the wheel train, and also proves useful as a popular material in the aerospace and automotive industries.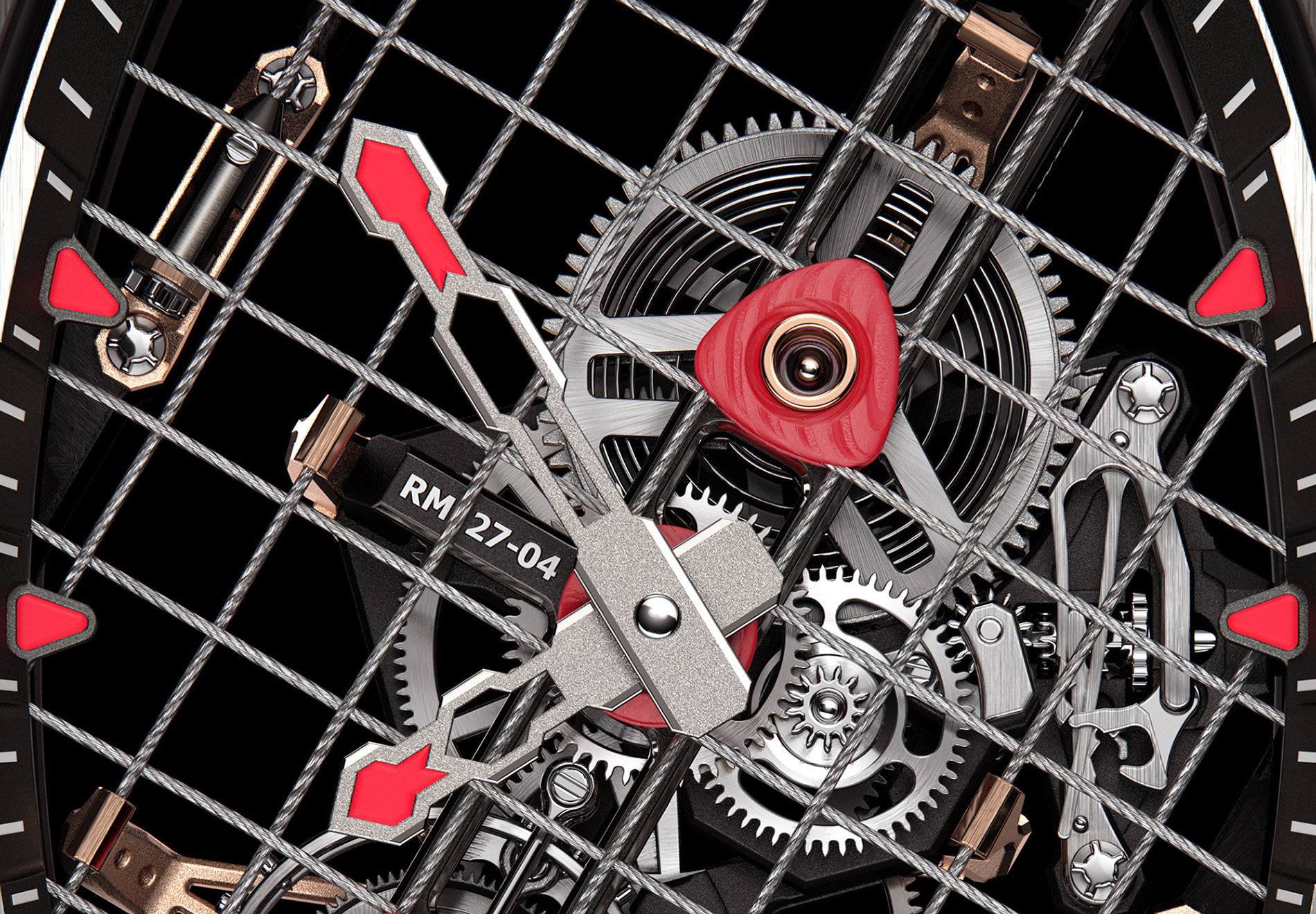 The net structure is inspired by the strings of a tennis racket
A Special Case
For the first time, the case of the new RM 27-04, with its sandblasted and polished surfaces, is made of "TitaCarb". This high-performance polyamide is reinforced by 38.5% carbon fibres; the addition of carbon gives "TitaCarb" a special tensile strength (370 MPa or 3,700 kg/cm). As a result, the material is not only almost as resistant to breakage as steel, but also resistant to humidity and temperature, which fits well with the requirements of a watch for a player like Rafael Nadal. The case, which is water-resistant to 50 m thanks to two nitrile O-ring seals, is assembled with eight Grade 5 titanium spline screws and 316L stainless-steel ring washers.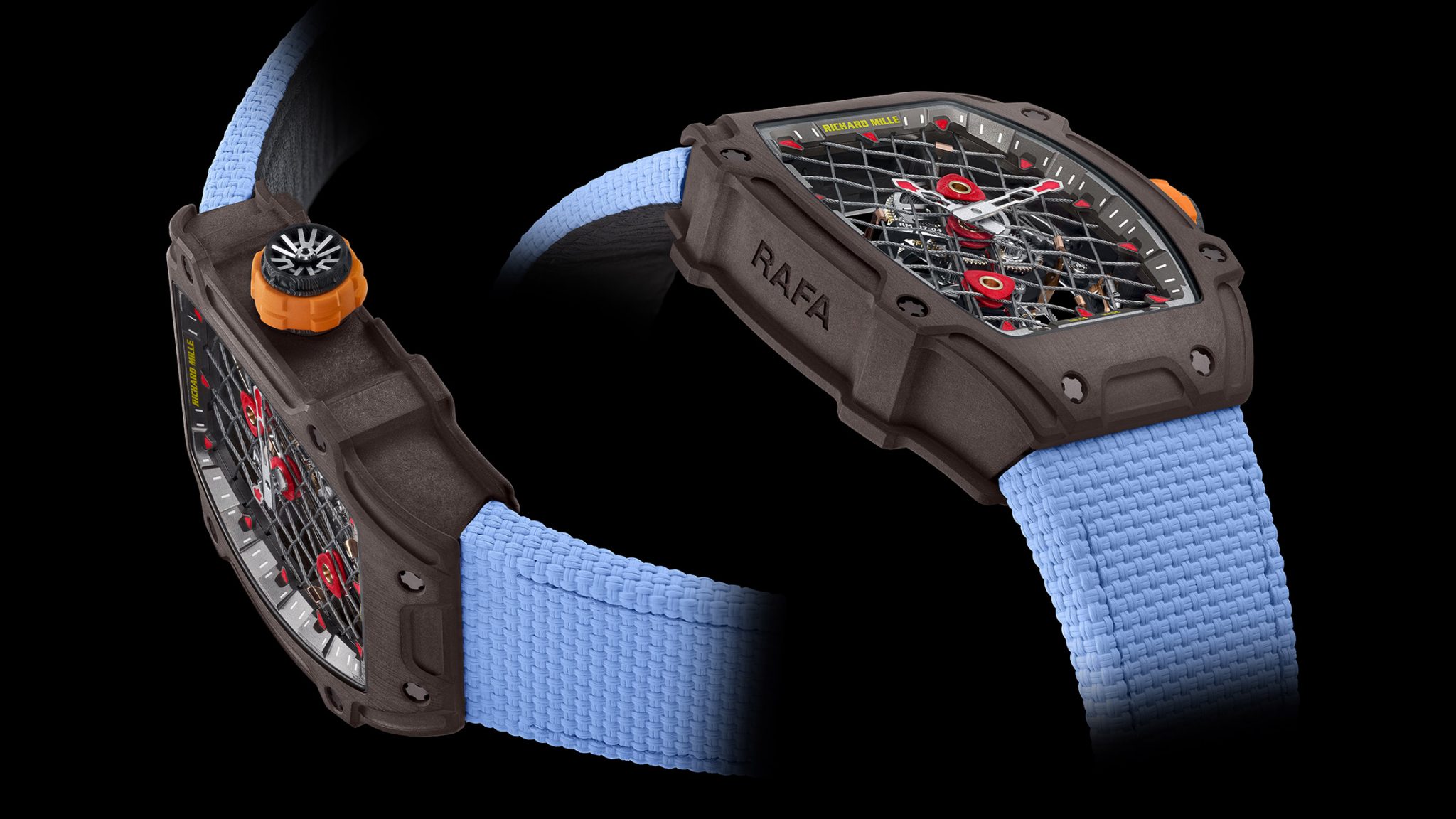 The case for the first time is made of "TitaCarb", a high-performance polyamide
Rafael Nadal is back in action this week at this year's Roland-Garros Tournament in Paris – and on his wrist, for the very first time, will be the new RM 27-04 Tourbillon Rafael Nadal. It is limited to 50 pieces.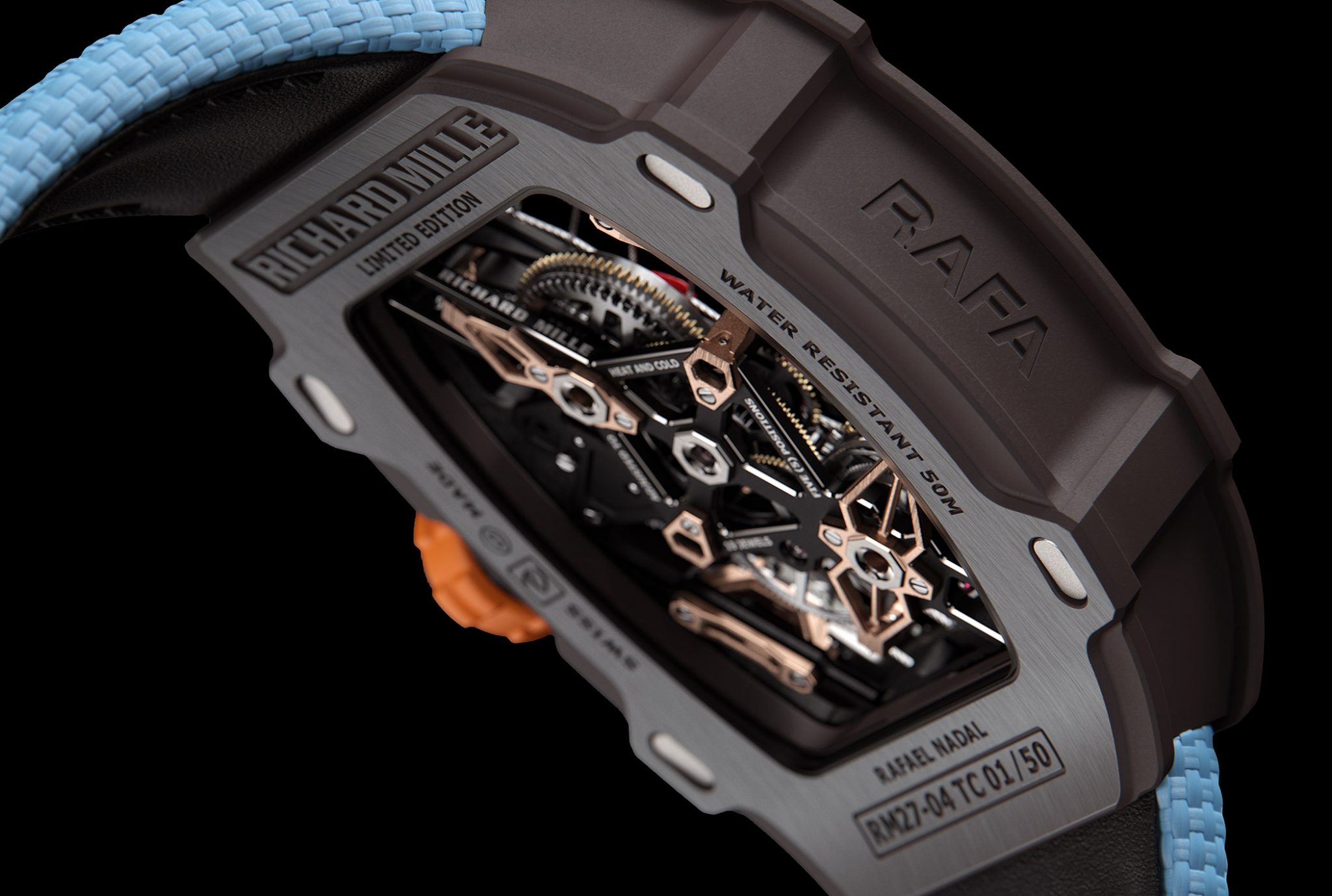 ---
---
FEATURES
BRAND:
Richard Mille
MODEL:
RM 27-04 Tourbillon Rafael Nadal
REFERENCE:
RM 27-04
CASE MATERIAL:
TitaCarb® – Richard Mille exclusive
DIMENSIONS:
Diameter: 38.40 x 47.25 mm
Height: 11.40 mm
WATER RESISTANCE:
5 bar (~ 50 m)
DIAL:
Skeletonised
STRAP/BRACELET:
Textile strap
MOVEMENT:
RM27-04
MOVEMENT TYPE:
Manual
POWER RESERVE:
38 hours (±10%)
FREQUENCY:
21,600 vph (3 Hz)
FUNCTIONS:
Hours, minutes
PRICE:
USD 1,050,000 (EUR 900,000. approx)
Limited to 50 pieces