Forays into the fashion world are an increasingly prevalent – yet often vehemently contested – occurrence in the Swiss watch community. Comments on various horology sites vary from 'Do you even know your audience?' and 'In what way do you think collectors can possibly relate to this?', to 'What happened to exclusivity?' Wait – what do we have here? A designer, Samuel Ross, partnering up again with Swiss watch manufacture Hublot? That's surely a collaboration if I ever heard of one. But hold on a second – that's the sound of silence over at Swisswatches HQ. Because, it seems, very few of us can argue with the lively and carefully curated design of the new Hublot Big Bang Tourbillon SR_A, a limited edition of 50 pieces. Join me, traditional kinsmen of the watch world, as we open up our minds to the future and challenge the perception of collaborative timepieces.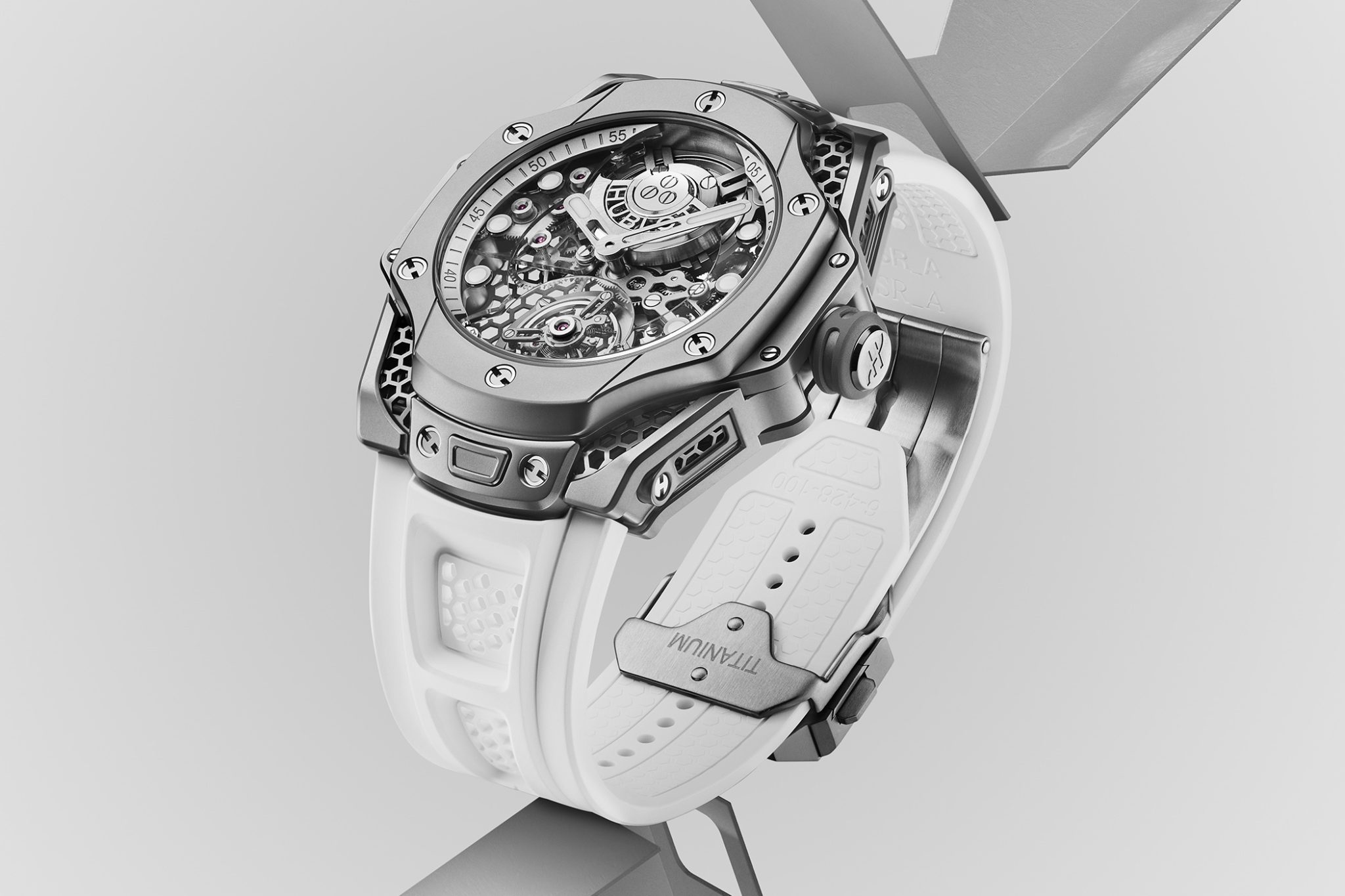 The new Hublot Big Bang Tourbillon SR_A
---
Samuel Ross: A design philosophy
---
I must admit, a fair amount of the interest that drew me to the Hublot Big Bang Tourbillon SR_A, as well as its 2022 predecessor, is that Samuel Ross and I do have something in common: we are both born and bred in London. While my background tends to emerge in the form of oversharing, speed-walking, and questionable consumption levels of tea, the British product and fashion designer has transformed his experiences into something rather more meaningful.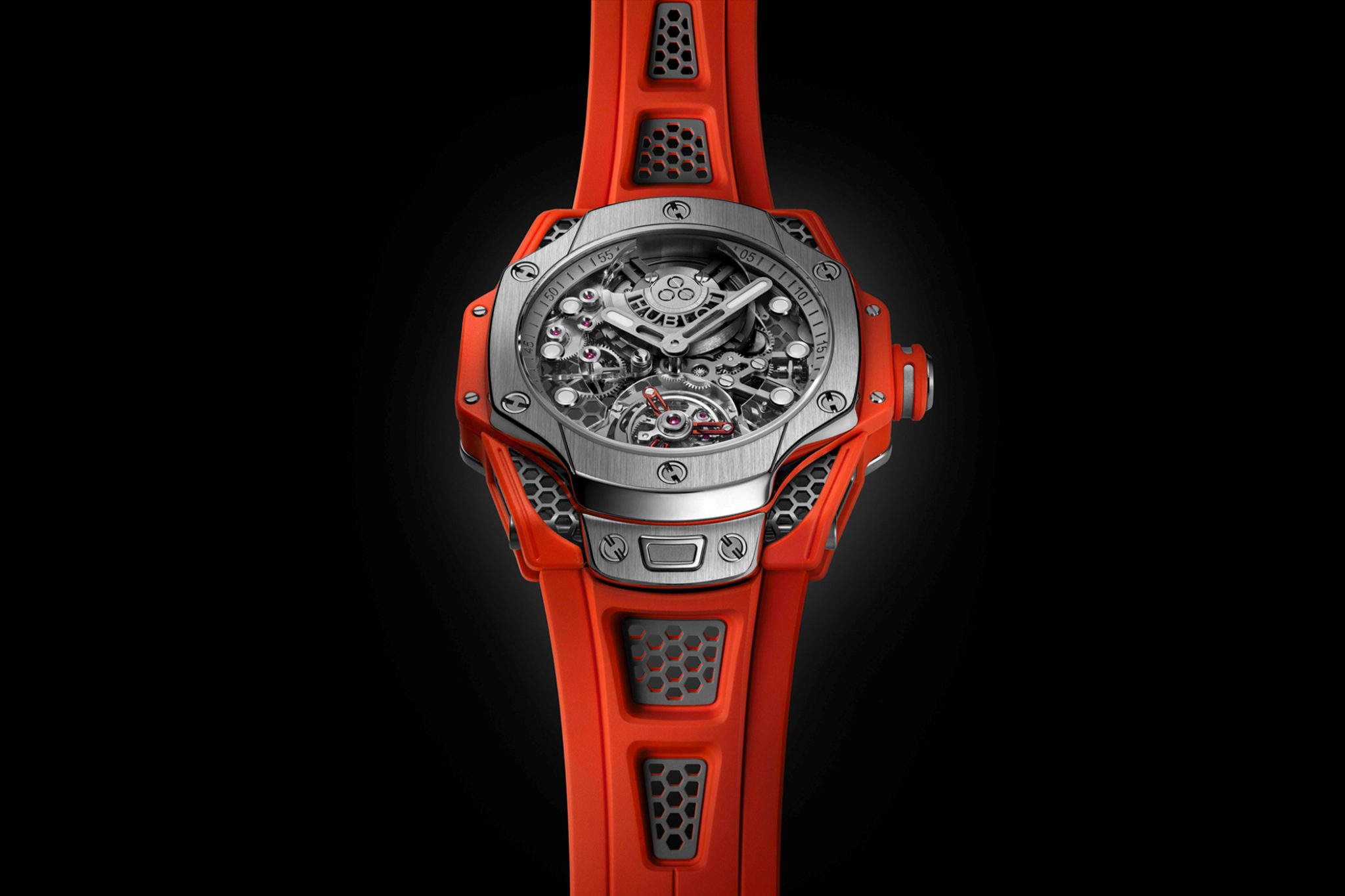 The 2022 iteration of the Hublot Big Bang Tourbillon SR_A
For the designer, whose former collaborative projects vary from Apple and Nike to Aqua di Parma, London 'channels a spirit of abstraction, a wider lens through which society can be experienced and viewed.' The city is seminal to his way of seeing: it is a place, he says, in which one must sometimes search for the beauty and repurpose how beauty can be defined. It is exactly this philosophy that Ross carries into the Big Bang and its role in the revolution of both menswear and watchmaking.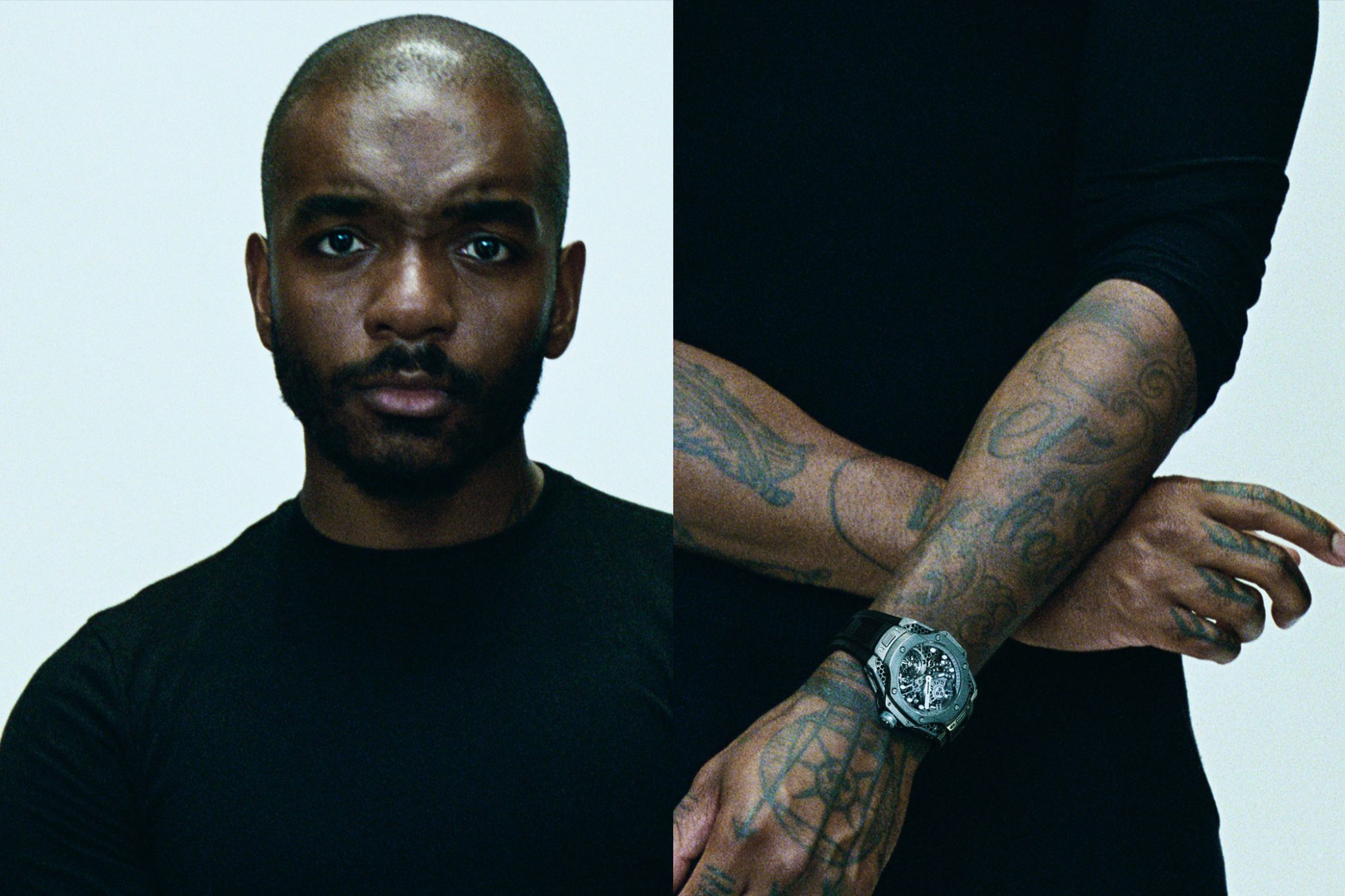 Designer Samuel Ross
---
Functionality is key
---
Samuel Ross first crossed paths with Hublot back in 2019, when he was awarded the brand's Hublot Design Prize. As a product designer, Samuel Ross is a pretty good match for Hublot, which is revered for its work with materials. The new Hublot Big Bang Tourbillon SR_A (taking its name from his eponymous company SR_A) has a shiny micro-blasted titanium case in the typical Big Bang hexagonal shape, paired with a vivid green rubber strap (although 'Infinity Black' and 'Full White' straps are also available) with a matching titanium folding clasp.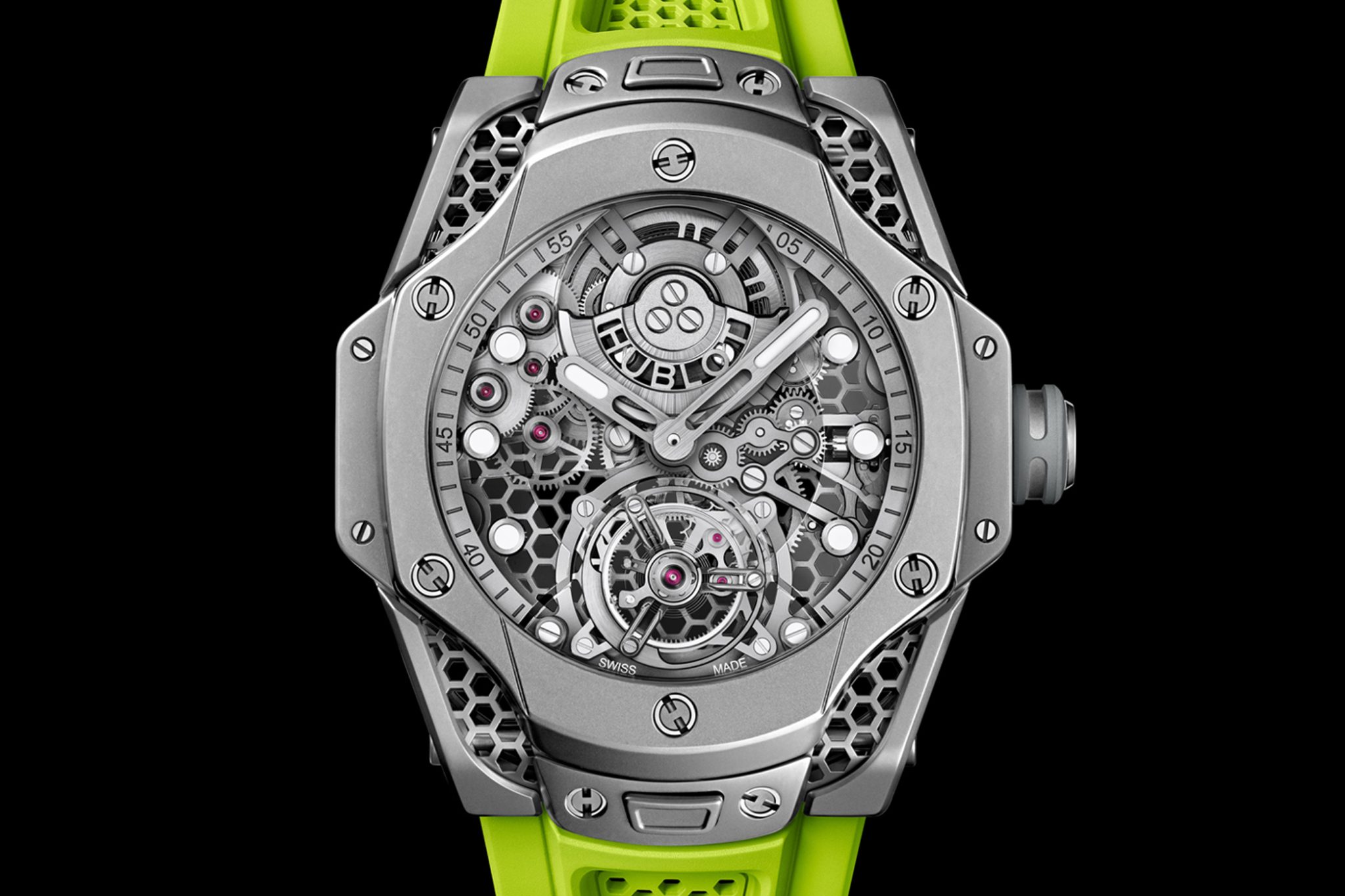 The new watch comes with a vibrant green strap, alongside two other options.
Hublot, by the way, paved the way towards wearer comfort by introducing the first rubber straps for a luxury Swiss watch back in 1980. The decision to switch from colour on both the case and strap to solely the interchangeable strap on this new iteration is owed to Ross' resolve to create an even more refined timepiece, using the iconic Big Bang as his canvas in which to inject his own transformative style.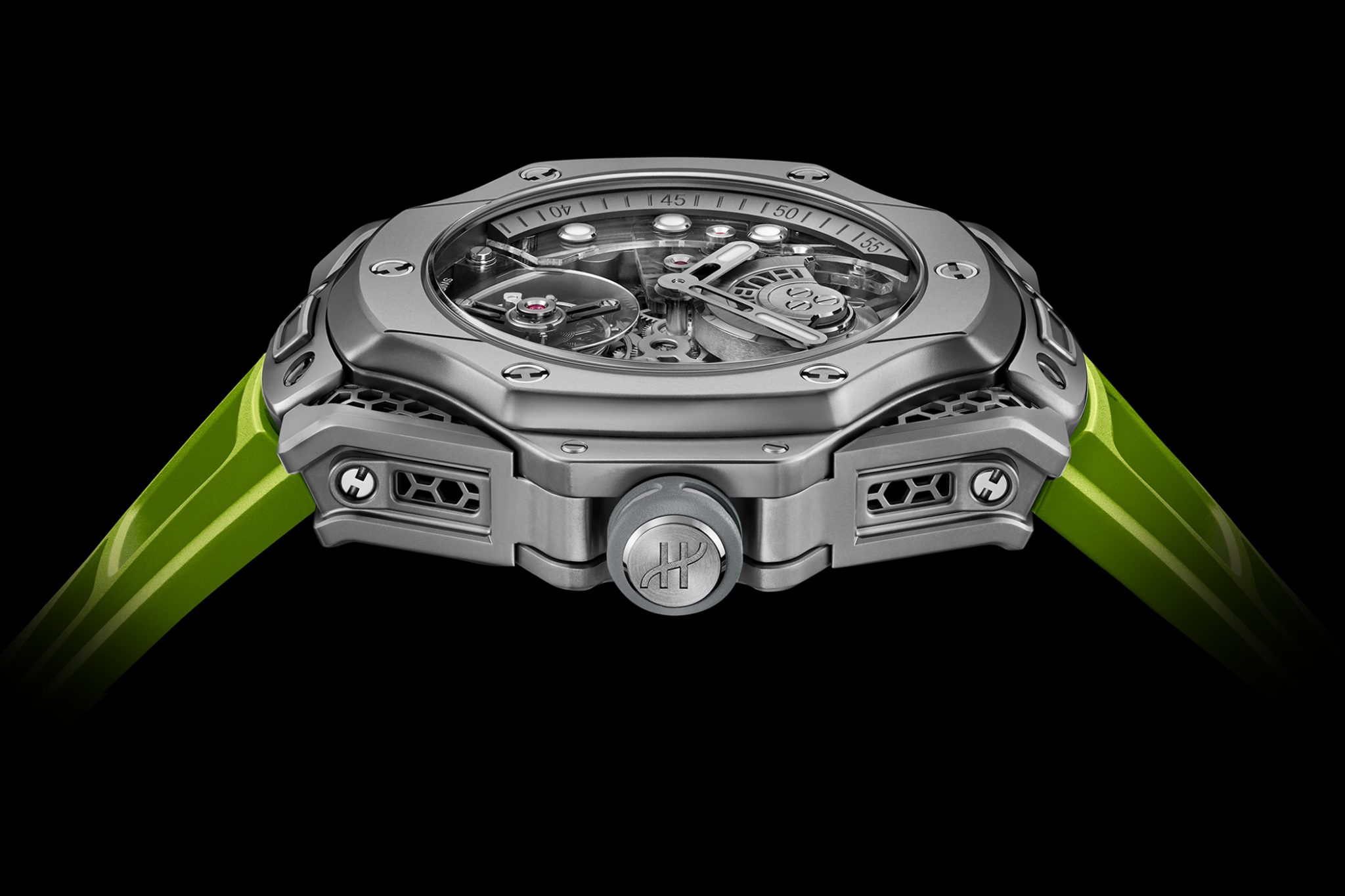 The latest iteration is somewhat more refined than its predecessor.
With its eye-catching green strap, it won't come as a complete surprise that the design of this watch – which Ross describes as a 'wearable sculpture' – centres itself around nature. One key theme Ross celebrates in this timepiece is the 'geometry of nature', which is encapsulated by the distinctive honeycomb theme on the case and extending onto the strap. The honeycomb motif provides a very breathable feel to this ergonomic, lightweight piece. Indeed, the titanium plates comprising the case and bezel are polished, brushed, and perforated to not only create a sleek silhouette, but to make the watch as wearable as possible. "Creating a lean, light, breathable watch that conveys itself, almost as a sculpture, remained a priority," confirms Ross, who is not a fan of heavy watches. Last but least, the light yet robust 44 mm watch has a water-resistance of 30 m, meaning this contemporary watch case is ready for action at all times.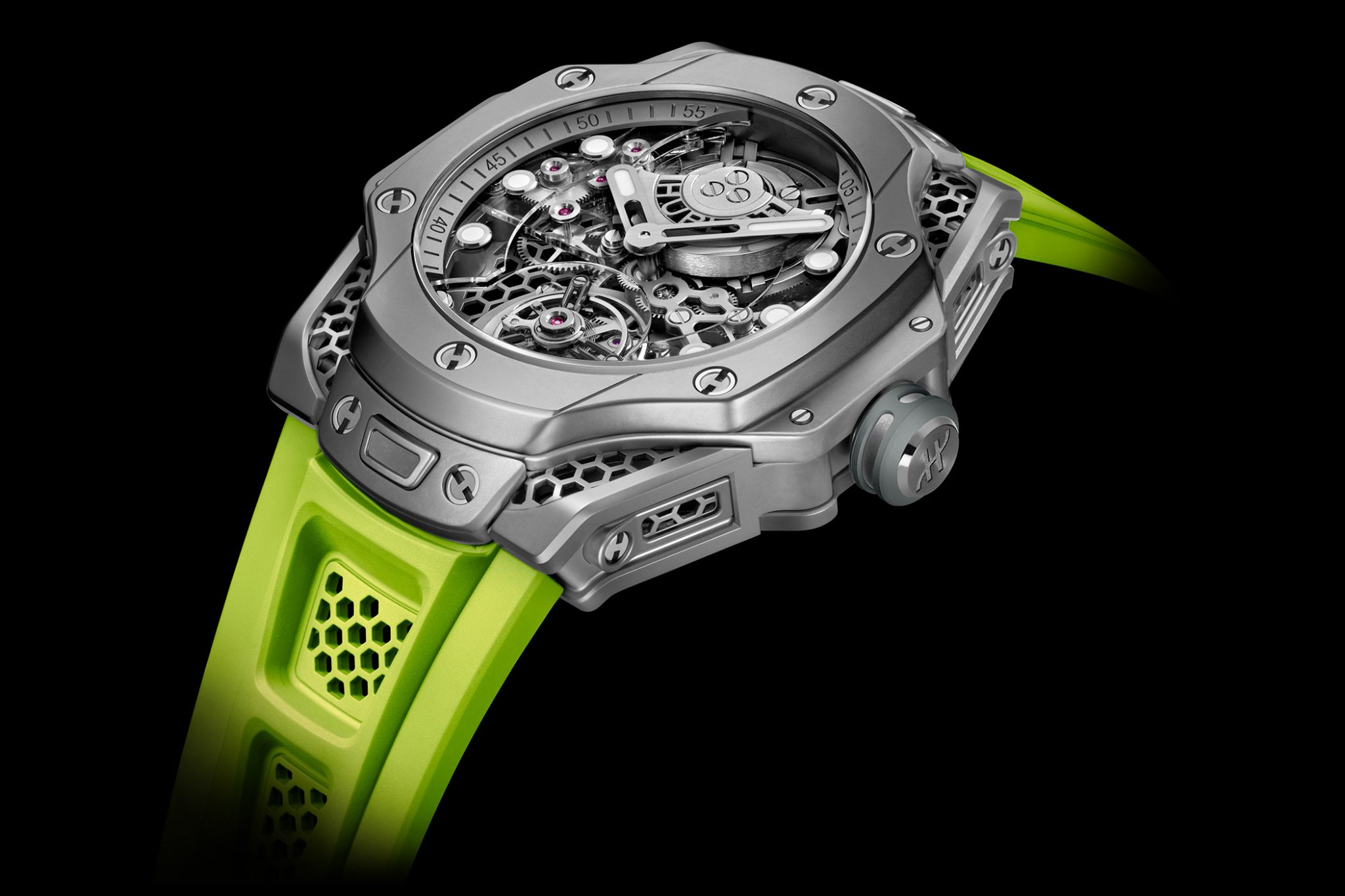 Creating an aerodynamic timepiece was of great importance to Samuel Ross.
---
Skeletonised style: A dial and calibre come together as one
---
The dial centres around the aesthetics of the calibre within, with the honeycomb motif reaching onto the dial. It is evident that a sense of creating something 'breathable' is paramount in its design, with parts of the dial's minute track even cut out to create an open space, while the hands, which are filled with luminescence, give the appearance of floating above the exposed movement. In another unexpected move, this watch, in line with its predecessor, also flips the micro-rotor so that it serves as the logo of the Hublot timepiece. For me, the watch is very much synonymous with London, a city where claustrophobic clusters of skyscrapers suddenly give way to open spaces, from parks to 12th century churches with community gardens, in which you can let time stand still, take a minute, and breathe.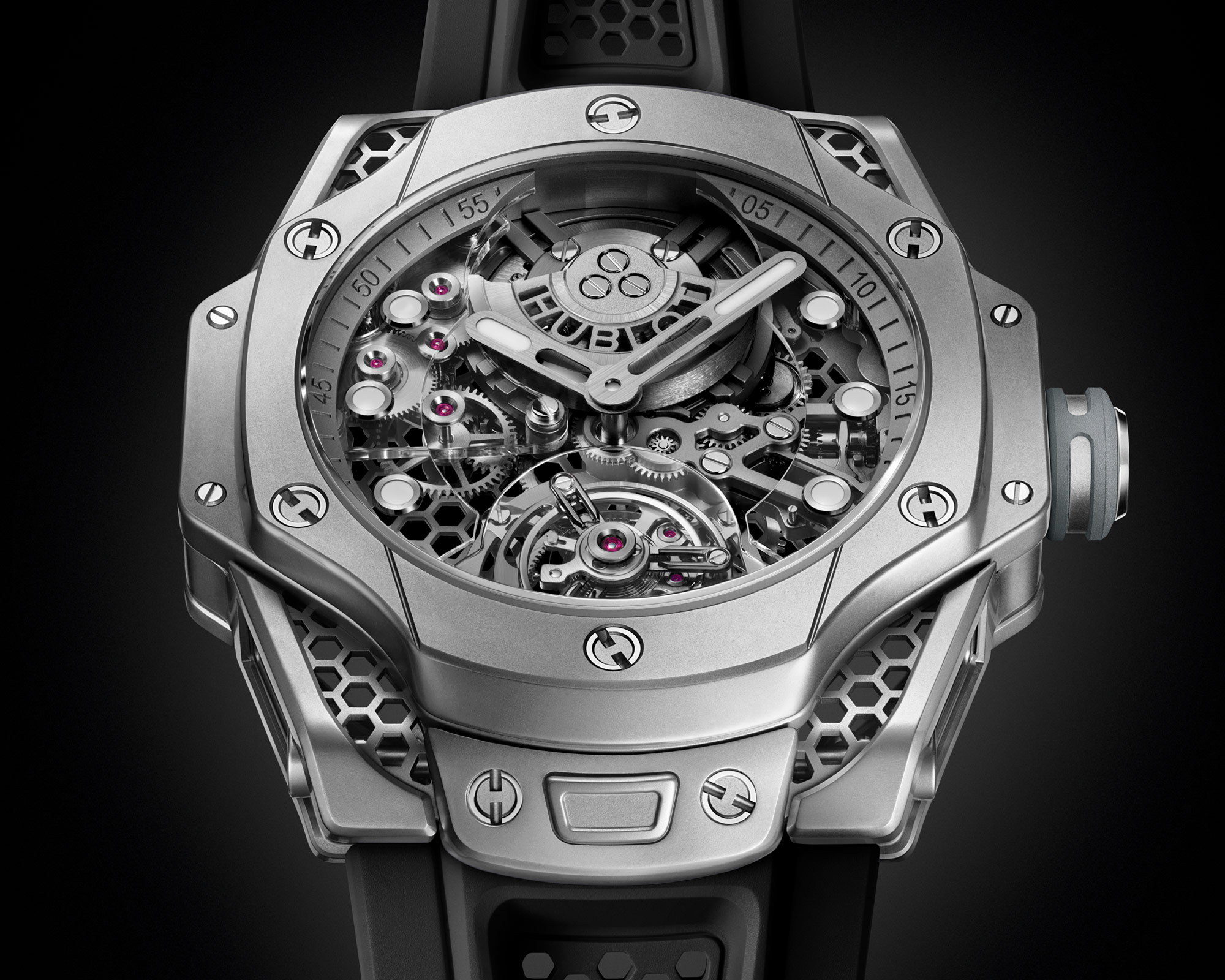 While urban in its aesthetic, the watch nevertheless also pays tribute to nature.
Evidently, the aerodynamic aesthetic of the movement and the dial are synonymous with each other: but we can still delve into the technical details of the calibre HUB6035. Integrating Hublot's first automatic tourbillon movement and consisting of 243 components, this calibre has a three-day (72-hour) power reserve and a frequency of 3 Hz. While the first Samuel Ross x Hublot watch in 2022 incorporated orange elements into the tourbillon to echo the vibrant strap, the 2023 version's tourbillon has a sleeker aesthetic, remaining monochrome to keep a neutral colour palette. The movement contributes to the agile, airy feel of the watch – and the wearer can still catch a glimpse of the movement via the honeycomb motif covering the caseback.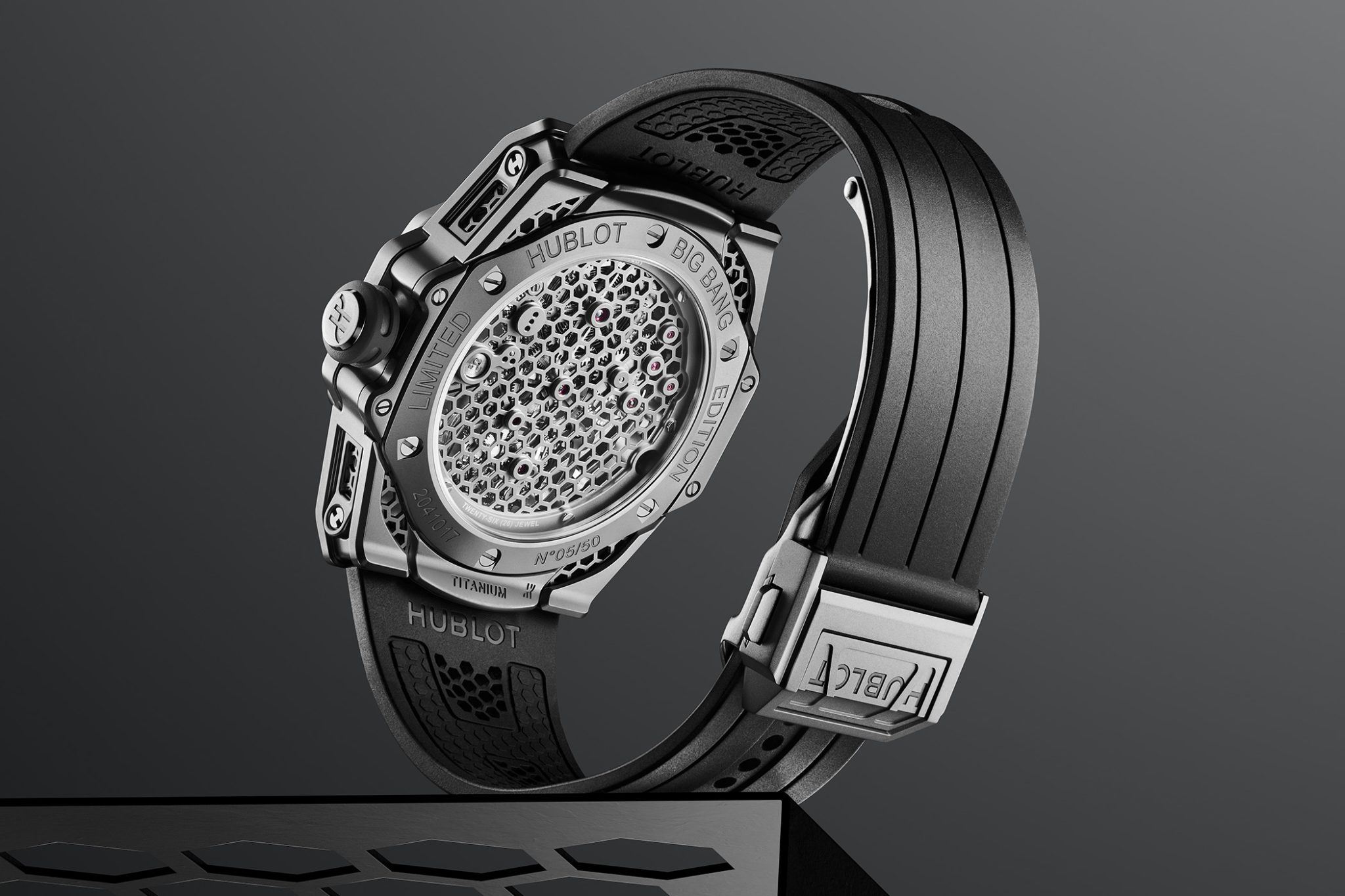 The distinctive honeycomb motif continues onto the back of the watch.
---
The Art of Fusion
---
Sure, collaborations are not for everyone. But, from pushing the limits with ceramic to pairing luxury gold watches with rubber straps for the first time in horological history, Hublot is a brand that likes to mix things up – hence its mantra, 'The Art of Fusion'. No wonder, then, that the brand took the initiative to pair up once again with Samuel Ross, who is, in my opinion, a frontrunner within the millennials' generation of design.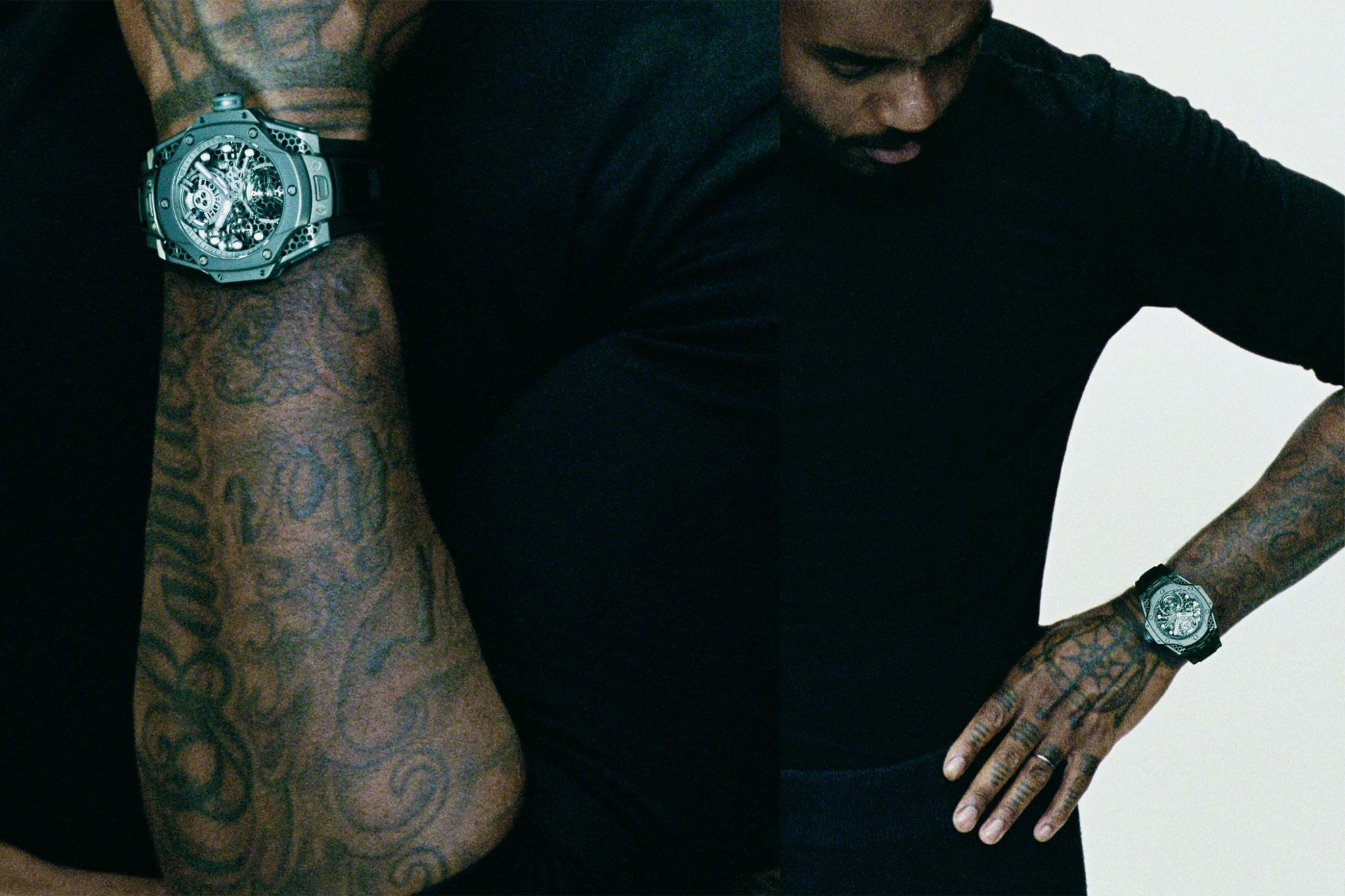 Samuel Ross modelling his latest timepiece created in collaboration with Hublot.
Let's also remember that this is a limited edition – it's most likely here to emphasise the brand's positioning as a forward-thinking, boundary-challenging watchmaking company, that aligns traditional horology (such as the tourbillon we see in this model) with innovation. As an increasing number of manufactures, from Omega to Blancpain, seem to be grasping: if we are to entice future generations of watch collectors, even the most traditional of companies must move with the times. While it doesn't – and won't – entice the conservative watch collectors amongst us, there's no doubt that the latest Samuel Ross x Hublot watch embraces and celebrates the future of horological design, and the infinite possibilities it may bring. As Ross articulates: "This partnership with Hublot, it wasn't just about an opportunity to gain some capital: it was about having a perspective on what the future of luxury industrial design could look like."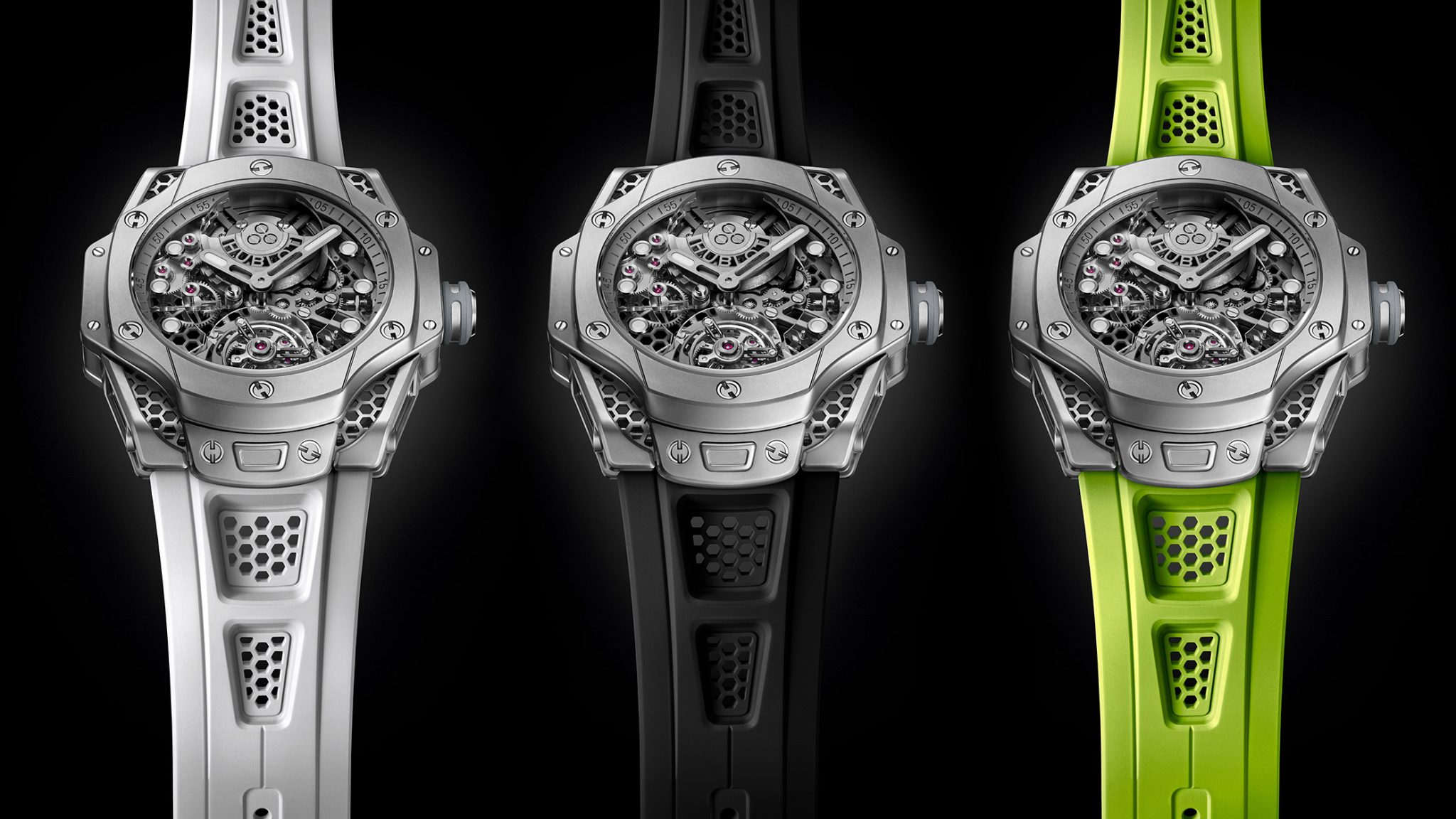 The new Hublot Big Bang Tourbillon SR_A, shown here with all three strap options.
The price of the Hublot Big Bang Tourbillon SR_A 132,000 euros.
---
---