The values of Rolex Daytona, Patek Philippe Nautilus and Audemars Piguet Royal Oak models are steadily growing. It's time to take a look at the market and ask: What's the reason behind rise in value – and will it remain?
Casting our minds back to before the current world crisis, time was and still is, more than ever, incredibly precious. But this is an article that wants to avoid the evil C-word. Rather, it's about how we use watches to reward ourselves for special achievements, capture special memories, and simply celebrate a craft that provides much more than just indicating the time – there are numerous reasons to be interested in the fine art of horology.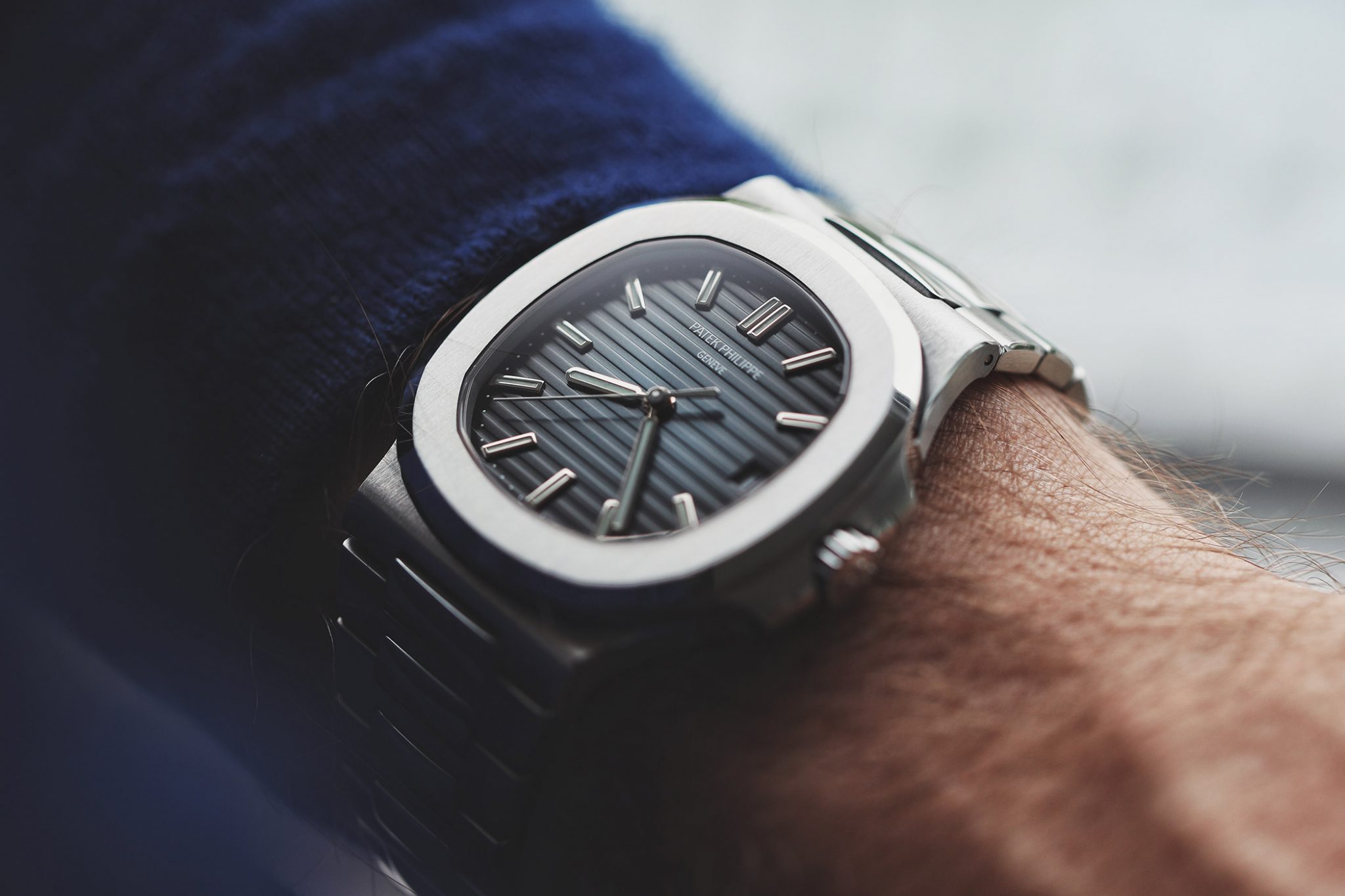 Patek Philippe Nautilus Ref. 5711-1A
These days, you will read in watch blogs and forums that right now, there are more important concerns than the current supply situation in boutiques from Rolex, Patek Philippe and Audemars Piguet. That is very true. However, that isn't to say that our time-out and departure from the norm might offer a good opportunity to reflect a very unique development of a few brands within our beloved watch industry.
Searching for the un-purchasable watches
In case you weren't aware: Last December, a local newspaper in Munich published an article saying: "Luxury watches sold out everywhere: Rolex crisis in Munich!" Munich was not the only place. Up in Hamburg at the city's Rolex boutique, we spotted almost empty displays. According to the sales team, it was not some questionable marketing action to artificially increase the demand, and it was also not due to a change of display, but simply due to a change in the market. Over the years, supply and demand at some brands and collections have got out of balance.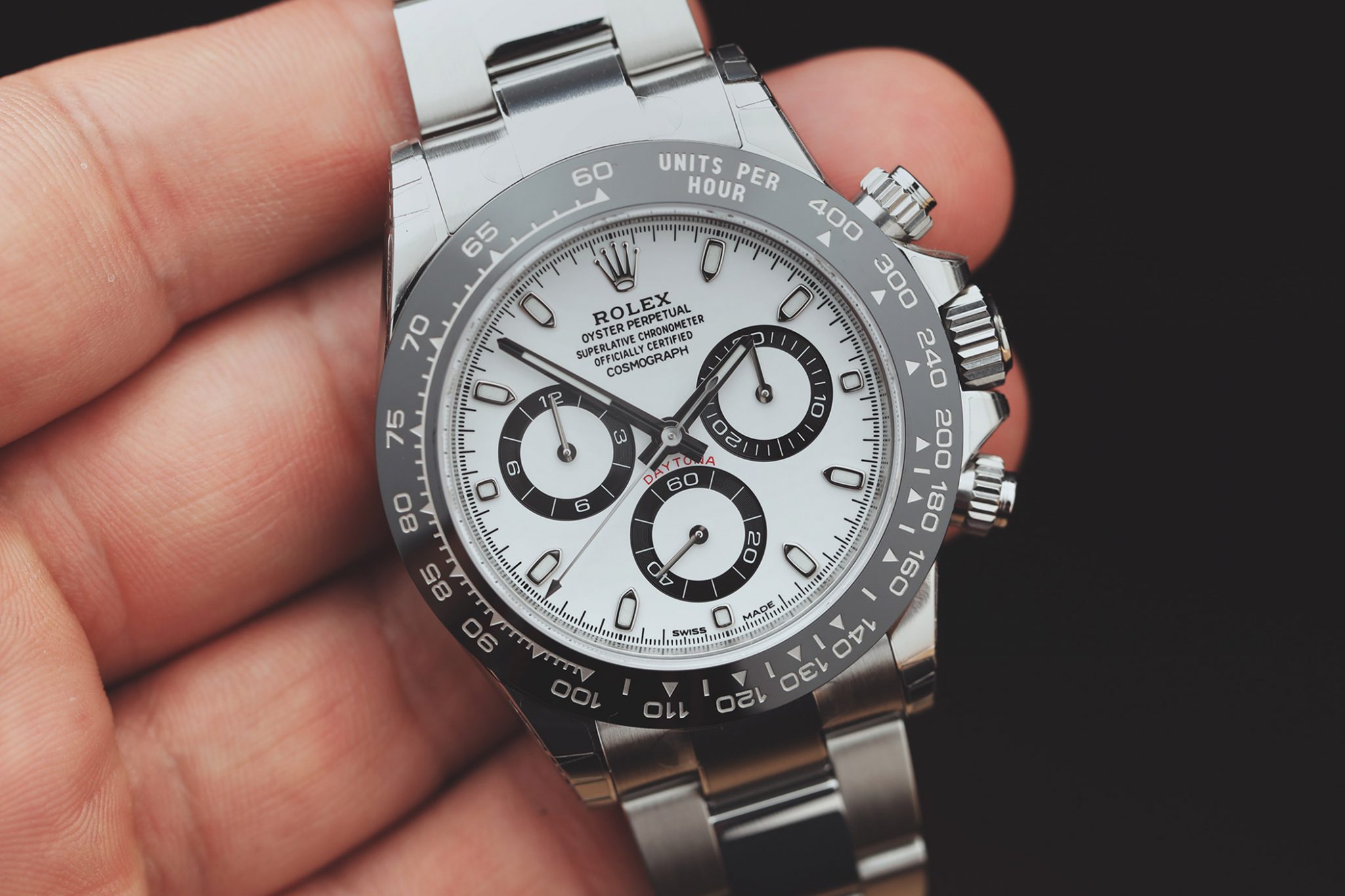 Rolex Cosmograph Daytona 116500LN
For example, standing in the Audemars Piguet boutique in Dubai asking for a Royal Oak Double Balance Wheel Openworked (retail price: 51,900 euros, grey market price: above 80,000 euros), you will likely receive the suggestion to start with something simpler. But most people don't want to slowly develop their collection. Who wants to have a Fiat in his garage, if in your heart you are longing for a Ferrari? In this situation, people tend to get attracted to the grey market. Ultimately, people would rather pay more on the grey market, than spend less on something that doesn't touch your soul.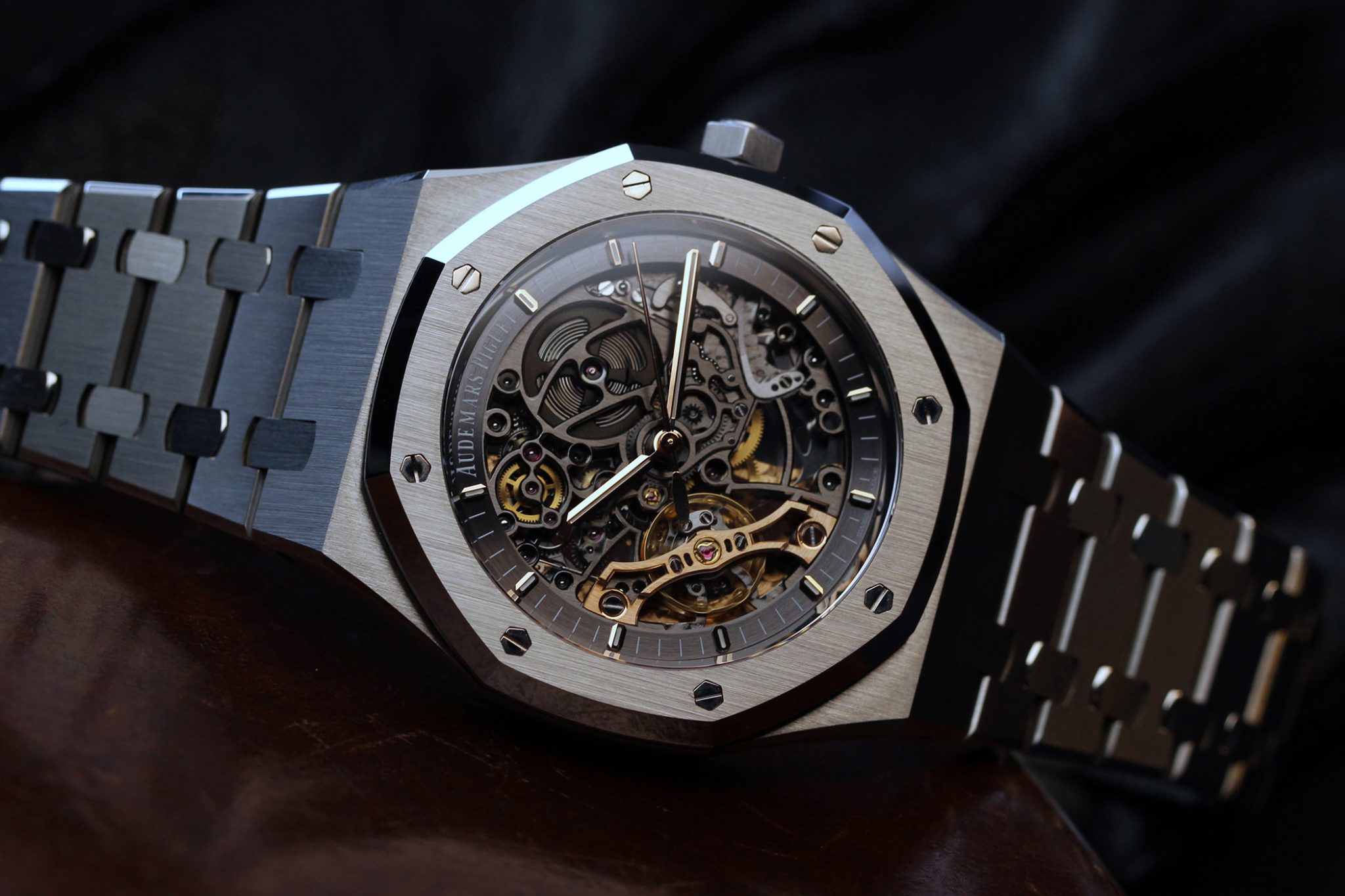 Audemars Piguet Royal Oak Double-Balance Wheel Openworked 15407ST
Growth of demand year on year
One thing is for sure; What has developed at Audemars Piguet, Patek and Rolex is the exception of the rule. They were – and still are – in an unusual position whereby prices on the secondary market – at least for parts of certain collections – have gone way beyond the price recommendations. For clarification: At Chrono24, search enquiries have increased rapidly within only one year from December 2018 to December 2019. The GMT Master II, also called "Pepsi" (126710BLRO) has seen 'only' a 14.18 percent increase, the Daytona-Reference 116500LN 30 percent, for the classical steel Nautilus from Patek Philippe 52.82 percent, and for Audemars Piguet's Royal Oak 15202ST, no less than a 56.8 percent increase.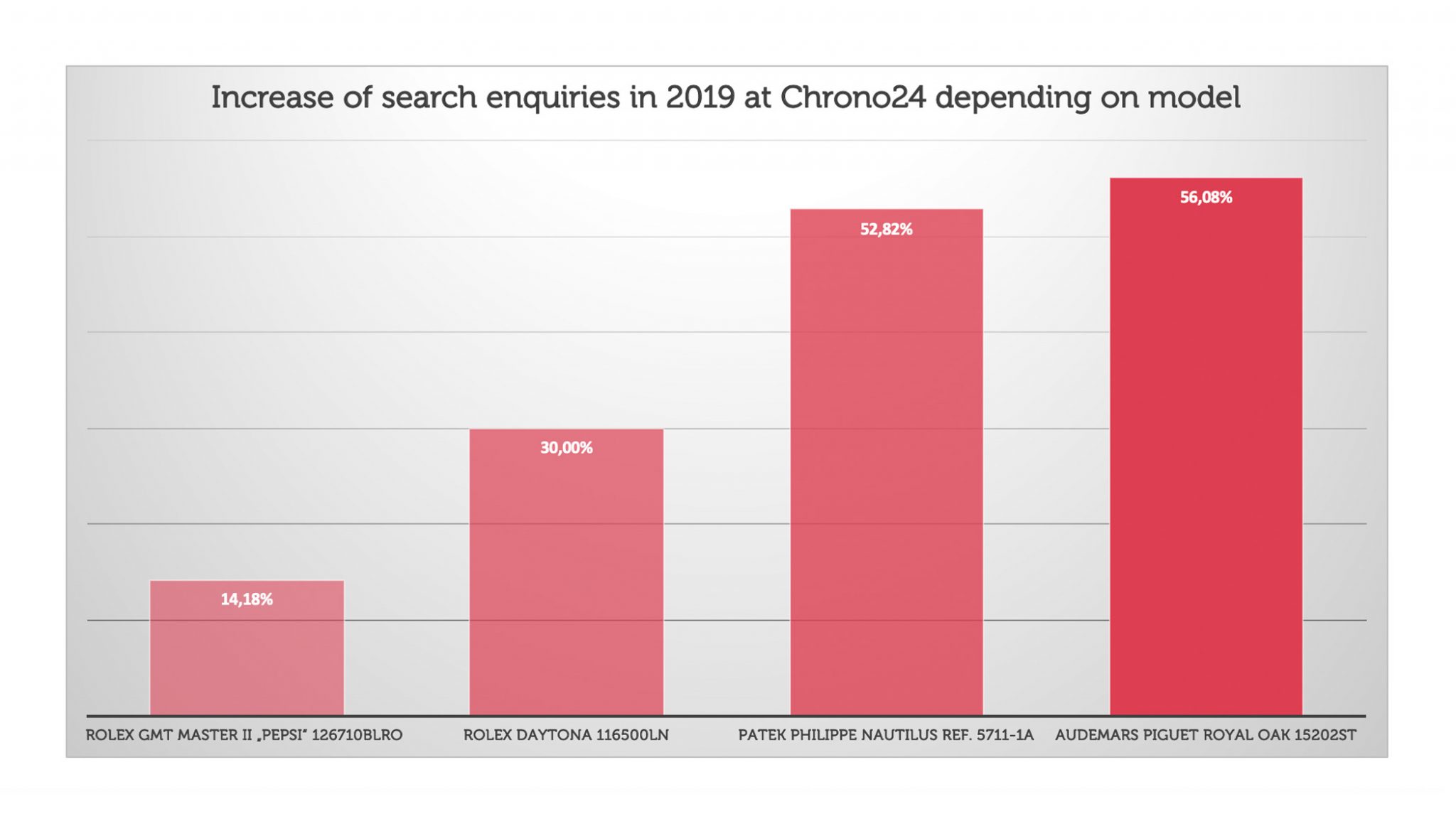 How Instagram & Co. build up the hype
Not every search request has resulted into a purchase, but the growing numbers give us a clear indication: Watches with an iconic design and an extraordinary history tend to get particularly high attention, and social media platform Instagram has contributed a lot to this. It is these models that generate a lot of likes, it's these models that are worshipped by thousands, and it's these models that are traded for huge sums on the grey market, that worry true watch enthusiasts. Established secondary retailer Roman Sharf from "Luxury Bazaar", for example, promises that he is not really attracted to the margin in this segment, as every amateur today knows about the value of the steel Rolex sports watches, and therefore, they will never lose value.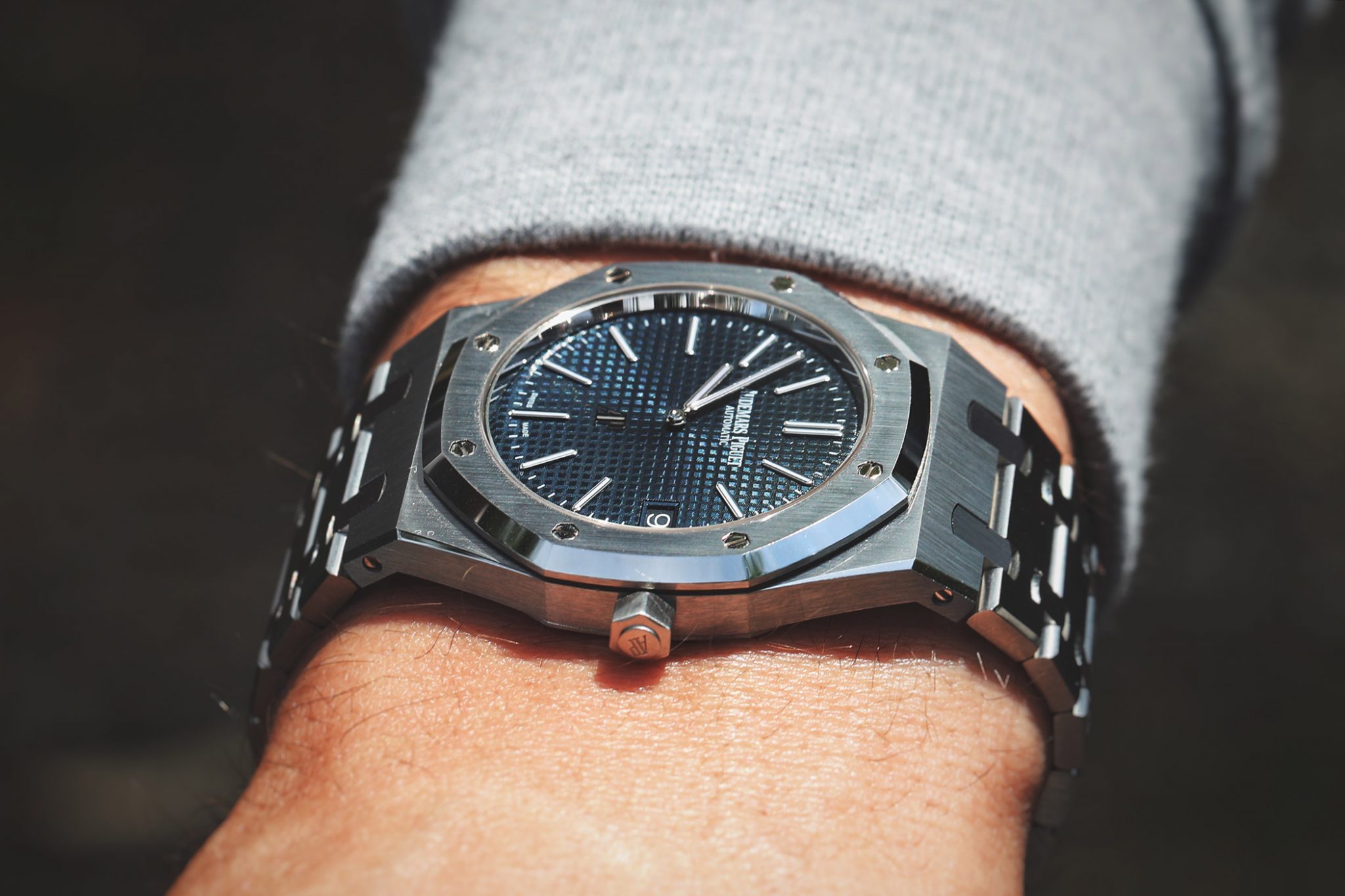 Audemars Piguet Royal Oak 15202ST
A simple calculation: The Nautilus is really rare
It's pretty easy to calculate: At Rolex, Audemars Piguet and Patek Philippe, the brands take a lot of care of the style icons within their collections. They are fully aware of their products' value and even in times of high demand, they do not get tempted to increase production just for the sake of profit. As for Patek Philippe, company boss Thierry Stern will not exceed the production of steel watches per year beyond a certain extent – it supposedly stands at around 20 percent of the normal annual production of 65,000 watches. That means that around 13,000 steel models are hitting the market every year, which are shared between roughly 400 retailers.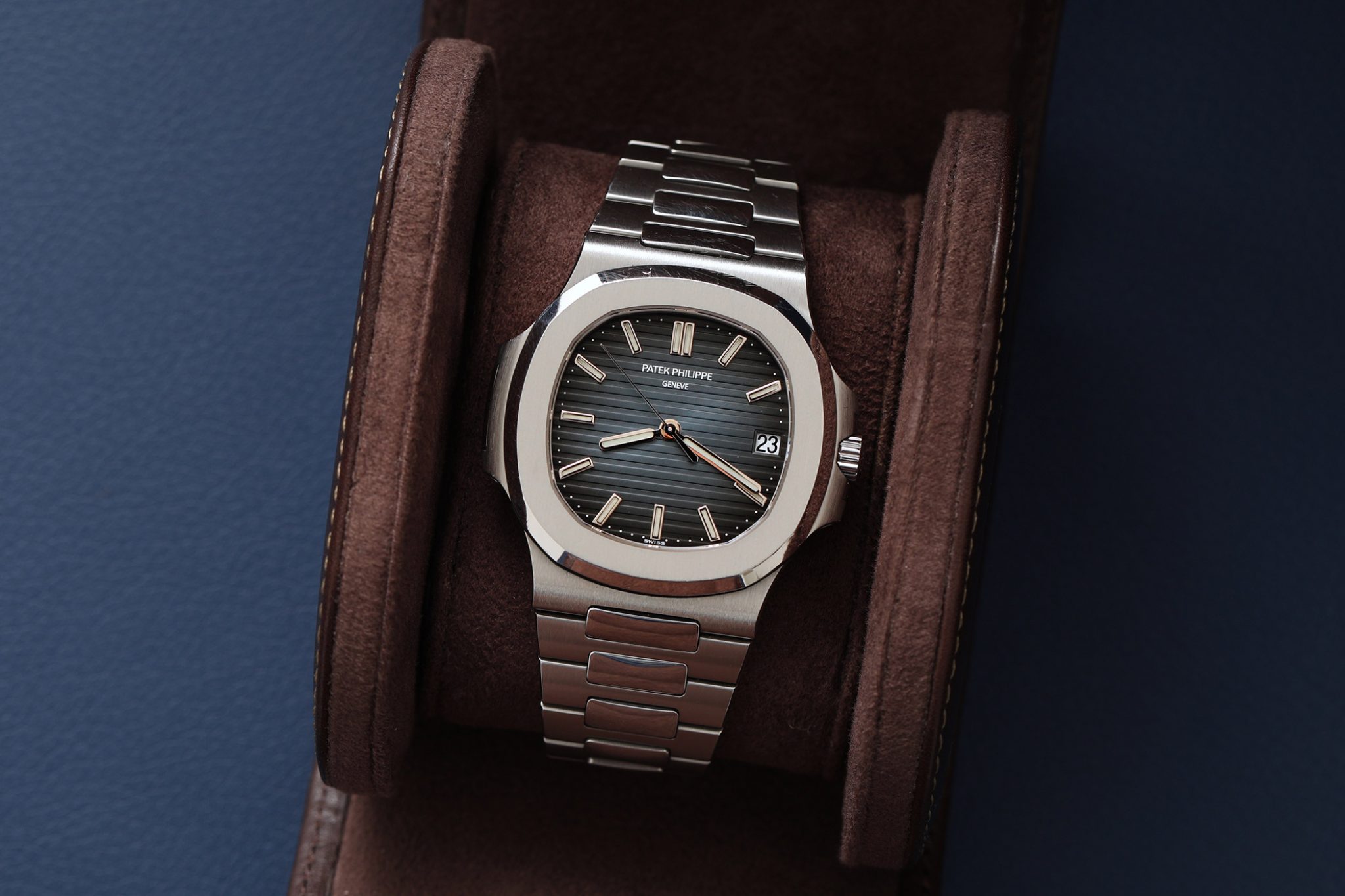 Patek Philippe Nautilus Ref. 5711-1A
On average, every retailer receives around 32.5 steel references per year. However, these not only include the highly sought-after Nautilus 5711 (official retail price 27,550 euros, grey market price in used condition above 50,000 euros) or reference 5712 (36,930 euros vs. around 70,000 euros), but also the increasingly popular steel Aquanaut models and less popular female references of the 24 collections. Let's put it this way: in the world of Patek Philippe, stainless steel is rarer than gold. And once another steel reference like the Calatrava 5212 with weekly calendar from last year is being presented, the secondary market prices only know to go in one direction. While the official Patek retailer has the model priced at 30,100 euros, at Chrono24 they start at around 42,000 euros.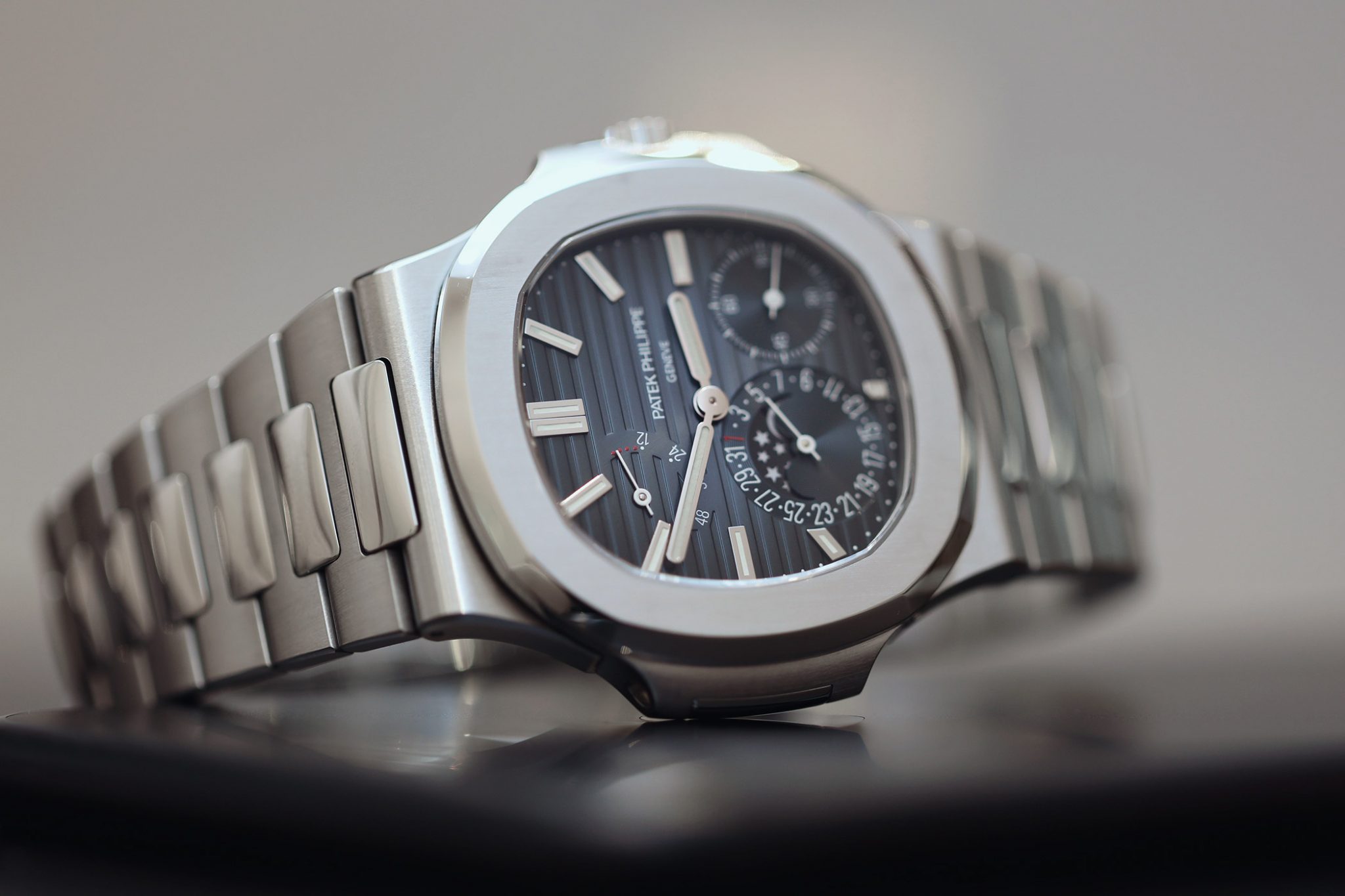 Patek Philippe Nautilus Ref. 5712-1A (left)
Patek Philippe Calatrava Ref. 5212A (right)
The Rolex myth: the status quo of the pricing curve
When it comes to Rolex, things are not much different, with the exception that the annual production is much higher, but at a lower price level. In comparison to the Grandes Complications from Patek Philippe, Vacheron Constantin, A. Lange & Söhne, Breguet or Richard Mille, Rolex offers watches at a legendary value for money ratio, topped only by the image gained for the owners. Numerous Instagram accounts are dedicated to the phenomenon of the Rolex grey market; for example, the classic steel Daytona 116500LN has a retail price of 12,250 euros, and a secondary market price of 22,500 euros. The Batman-GMT: 9,000 vs. 16,000 euros. The "Pepsi": 9,000 vs. 17,000 euros. And what applies to the steel models also affects the gold models: The GMT-Master II in white gold with meteorite dial shifts from 34,900 euros at an official Rolex boutique to above 45,000 euros from grey market dealers.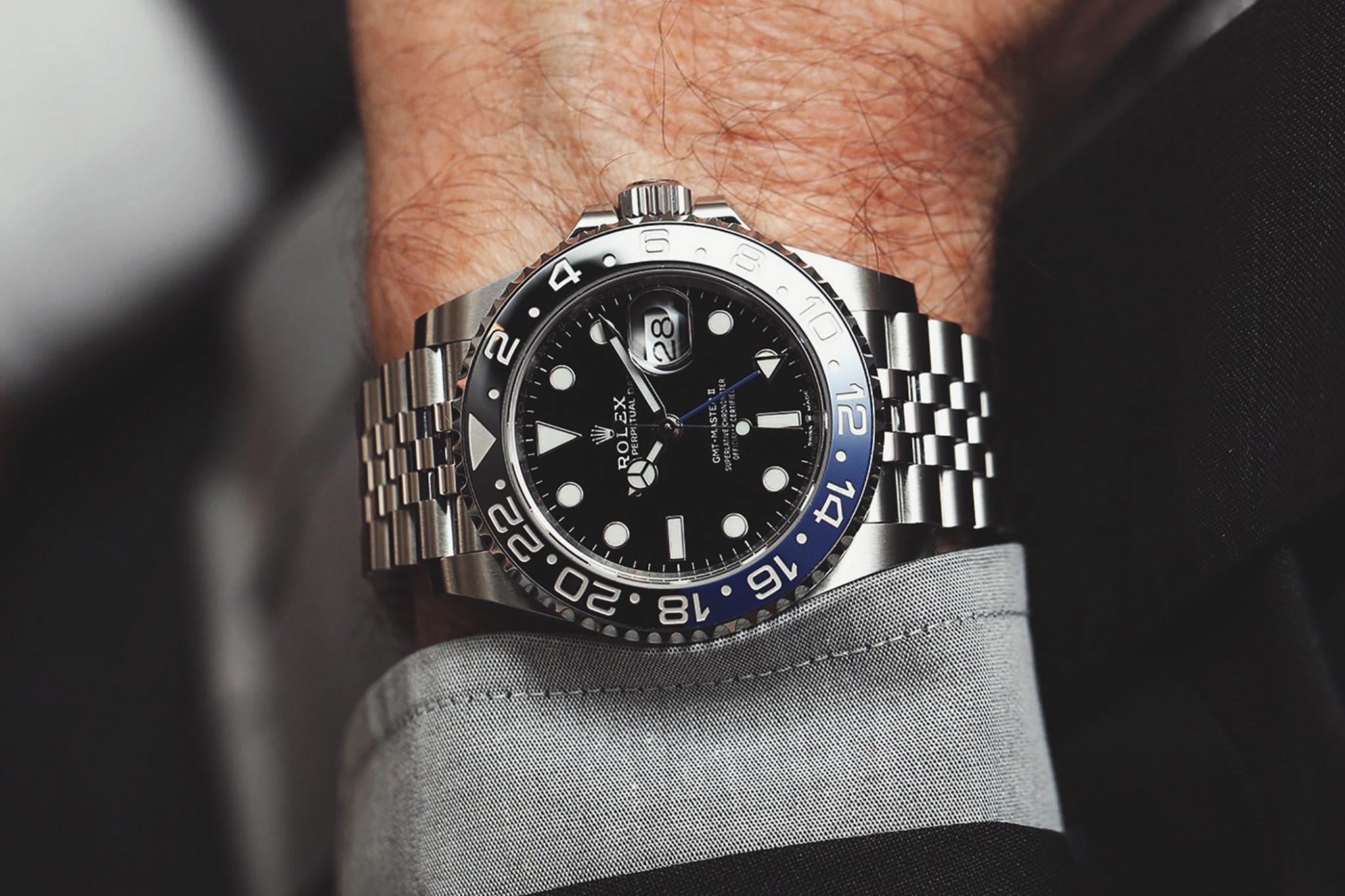 Rolex GMT-Master ll 126710BLNR (left)
Rolex GMT-Master II 126710BLRO (right)
Rolex Cosmograph Daytona 116500LN (middle)
Prices of recognisable models also vary depending on region, yet buying certain watches from one of these three brands (Rolex, Patek Philippe or Audemars Piguet) at its retail price is almost always a good investment. Of course, this should not be the main reason for purchasing a luxury watch, but it does give you a good feeling nonetheless. On top of that, the allure of the timepiece grows even more, as the wearer of such a watch proves that he either has great connections to his local dealer, or has the extra money to buy above retail price. They are the ultimate status watches: models that even non-watch lovers know.
The legendary waiting list – who will get one?
This tricky situation has caused a huge challenge for all official retailers. But no one enjoys discussing it: taking the price differences into account, to whom can a brand sell a Nautilus, Royal Oak or Daytona without fearing that it will soon be sold on the grey market for considerable profit? There are about as many thoughts and conspiracy theories about the sales-criteria of retailers on the internet as pictures of these watches on Instagram.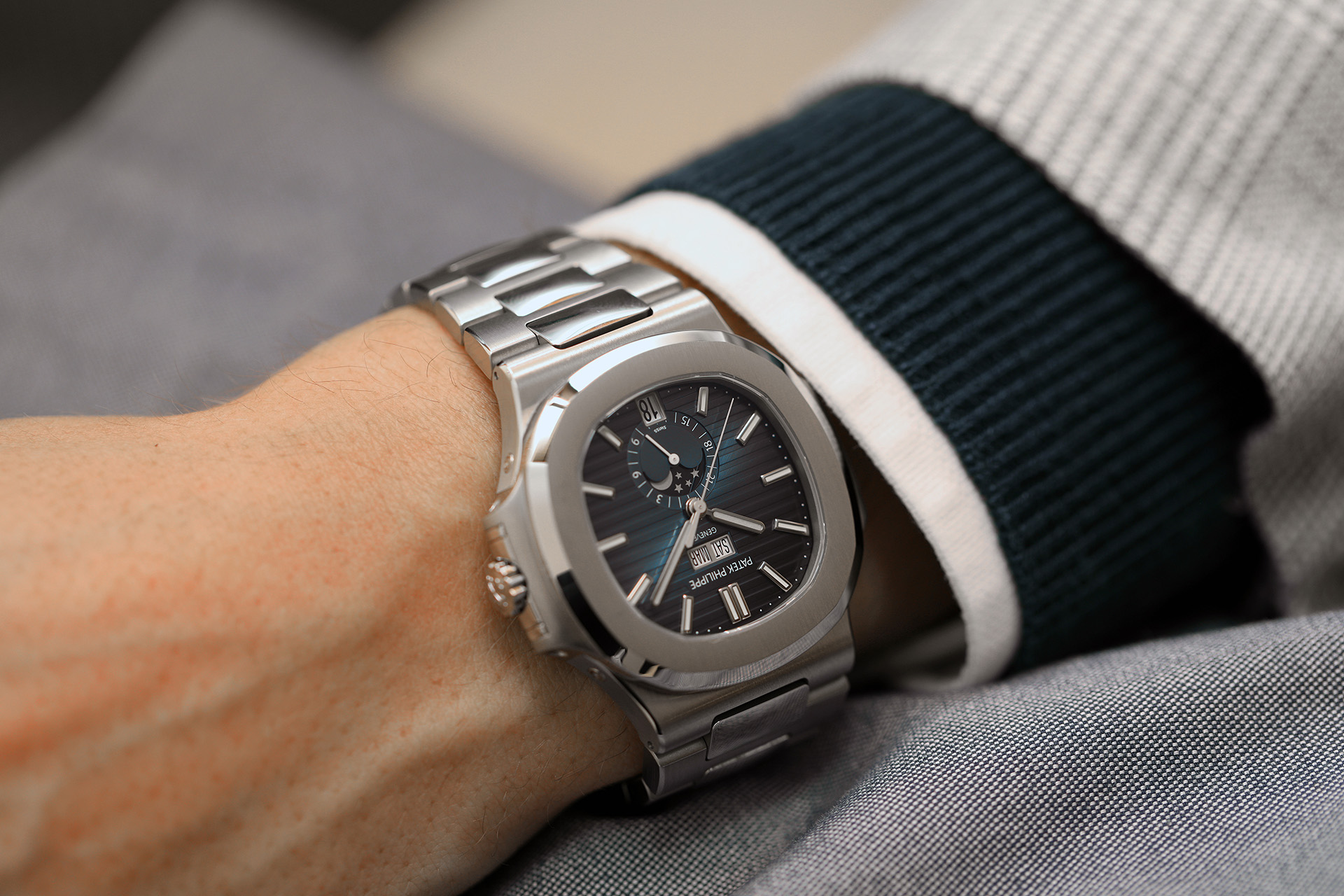 Patek Philippe Nautilus Ref. 5726-1A
In the end, you could explain them yourself with common sense, and retailers from Munich to Hong Kong will confirm the following. Firstly: For a new client, it is almost impossible to get hold of one of these high demand models. Retailers even refer to waiting lists that in reality have already been closed. Secondly: there isn't such a thing as 'one ultimate waiting list'. Every retailer individually maintains good relations to their clients and the more loyal the client, the more likely they are to receive a hard-to-come-by model, simple as that. Some time ago, a retailer told a potential buyer who was interested in purchasing the limited Patek reference on the occasion of the manufacture's 175th anniversary that it could unfortunately only consider clients who generated an annual profit of at least a six-figure amount for them. That was in 2014, a time when the watch world was much less competitive about purchasing rare references. Although harsh, it is understandable that every dealer favours their best client most of all.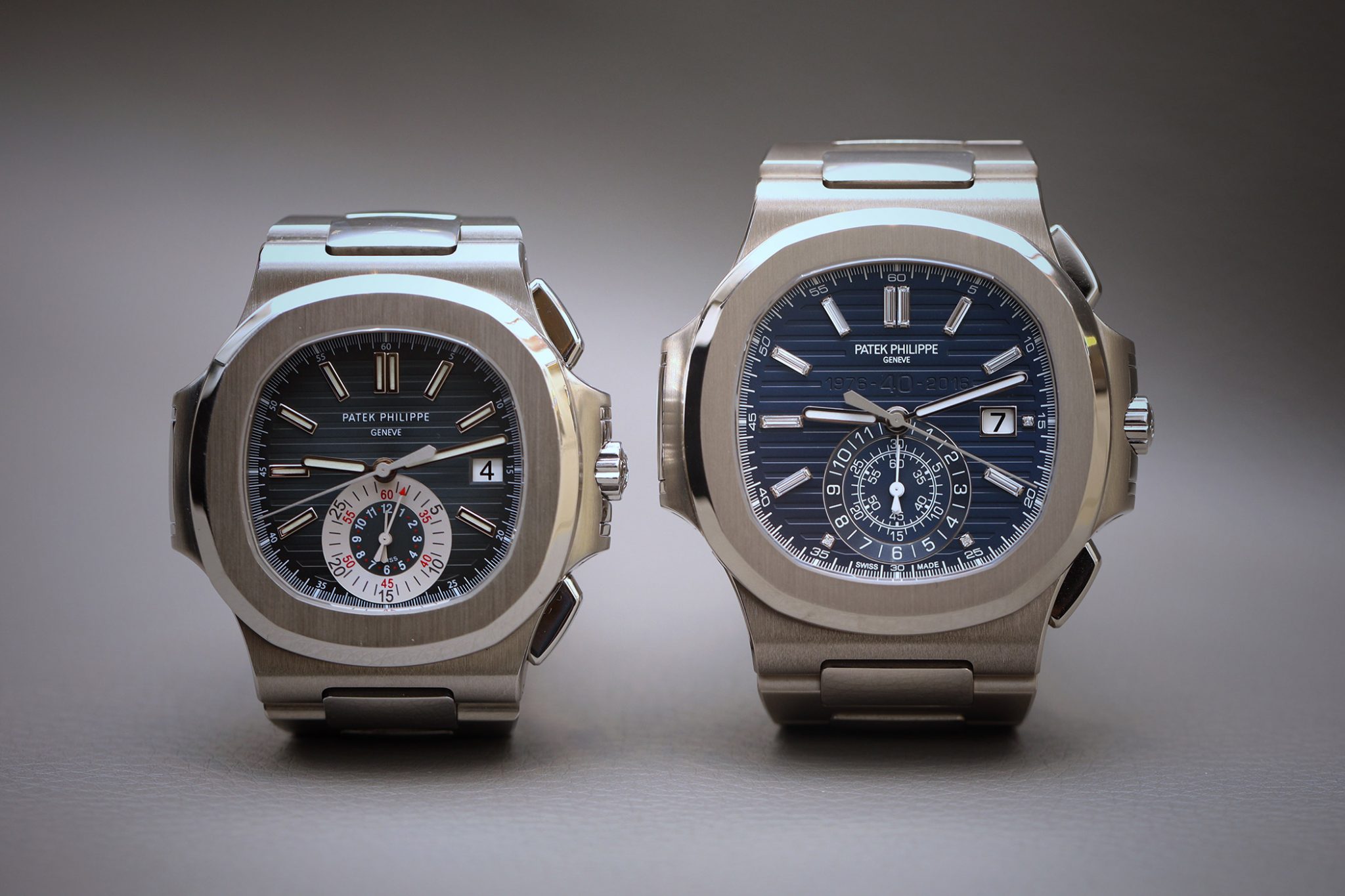 Patek Philippe Nautilus Ref. 5980-1A & 5976-1G
Another criterion is: local customers are preferred to tourists from abroad. Why should they sell a rare watch to a tourist from a different part of the world, when you could also give it to a local client who stops by more regularly? Existing customers aside, it is also about establishing good relations. Then there's possibly the most important criterion of all: a client who is evidently buying a watch for pure passion and would never pass it on to anyone else. Manufacturer and retailers look very closely at which watch appears where and when on the secondary market, meaning that if an individual is buying in the hope of selling, they can be identified. This brings to mind a story from one retailer that got confronted by a manufacture five years after selling a popular Gerald-Genta design. The model appeared on the secondary market and the serial number proved that the watch has been sold by him. The brand confronted him, demanding to know how he could justify his actions.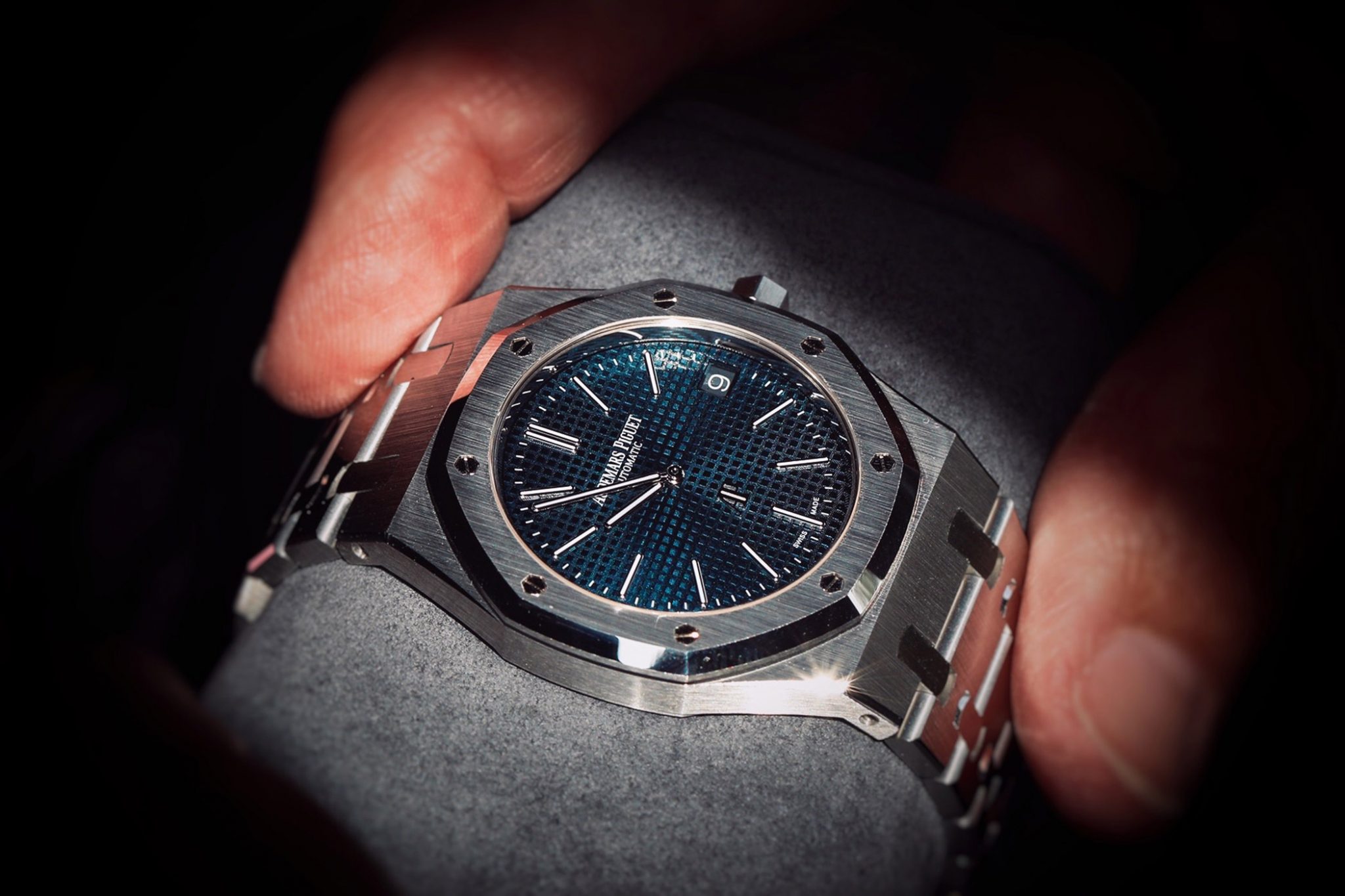 Audemars Piguet Royal Oak 15202ST
There was a time when it would have been unchallenged to simply sell on a timepiece, if a client was no longer interested in a certain model after some time, or if their financial conditions changed and a sale became necessary. But these days, in times of grey-market-euphoria, these arguments no longer count for much at all. The general opinion is that watches ought to be purchased to keep for the next generation – and the generation after that.
Will it stay like this forever?
What we can say for sure is that another reason why the secondary market prices are so high is that overall, only a relatively small number of these limited pieces will appear on the grey market. And in this hype-driven business, it is probably worth considering: do you really admire this one iconic piece? Does it really have to be a "Pepsi"? Is the Nautilus really the ultimate century design? Or did you possibly just get a little bit too drawn in by the Instagram rush, having lost your more impartial view on other watches from different horology houses?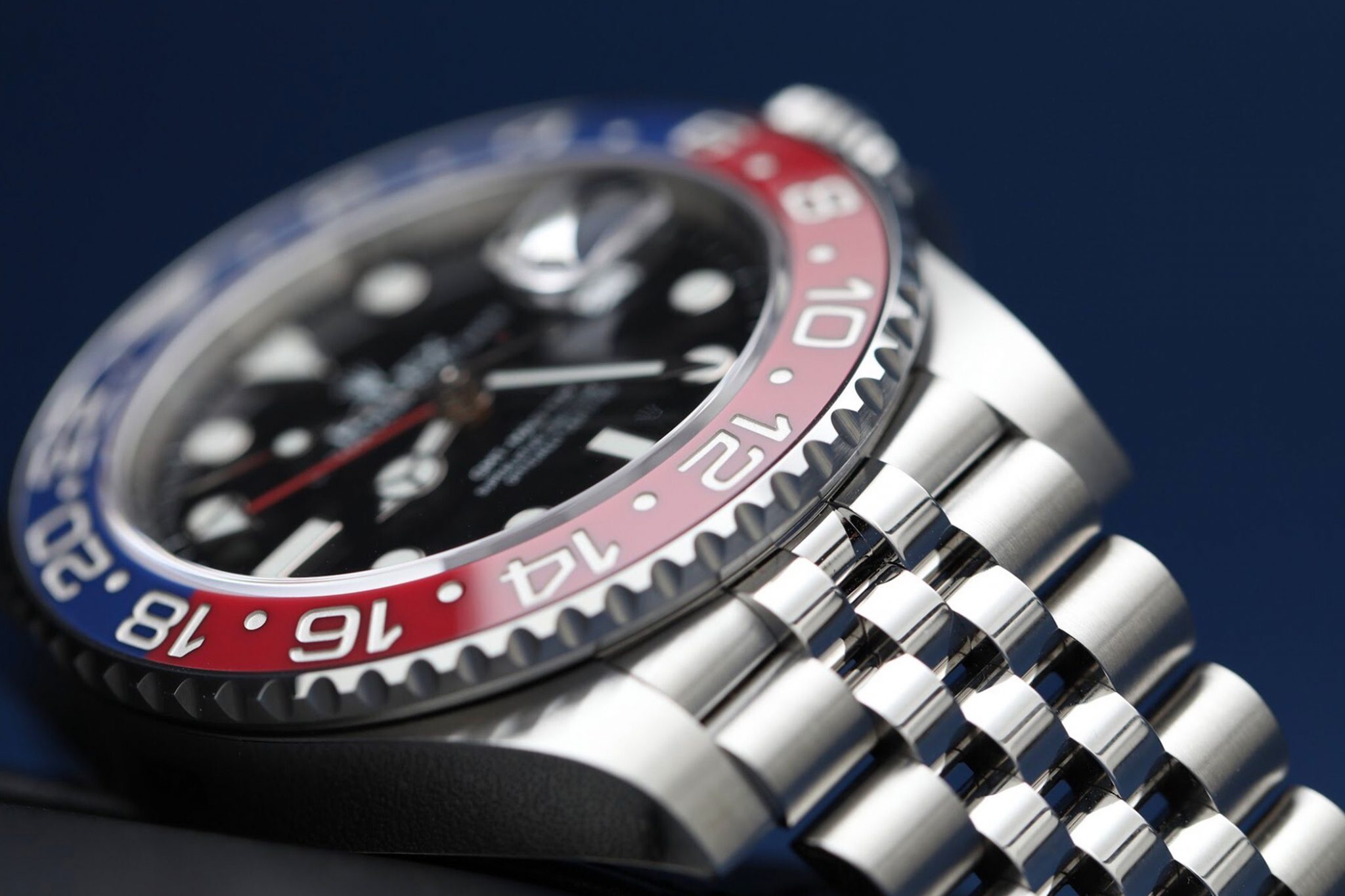 Rolex GMT-Master II 126710BLRO
The current crisis did not (until now) really affect the prices of Royal Oak, Nautilus and GMT-Master. However, manufactures and boutiques are currently being shut down across the globe, and offers will become even more limited (although the current stock market crash will certainly reduce the joy of consuming for a while). However, the joint desire for beauty and time will remain as it did before and will in the future. People will not give up the search for their dream watch. For everyone to whom watches carry a deep meaning, this would be like giving up yourself.
---