Christian Lattmann already waits in the manufacture's entrance as we arrive in La Chaux-de-Fonds. The brand's CEO welcomes us in such a heartfelt way, as if we had been long-time friends of the Maison. It all feels so familiar, not only, because the small but fine manufacture is very charming anyway, but also, because despite a bothering cold, Lattmann takes the time, to show us every part of the brands Ateliers himself. He knows every of his around 50 employees by name – he knows who they are, what they do, if anyone is sick or on holiday leave. Jaquet Droz is not just any manufacture in this horological dense region, but the founder of the three most important mechanical androids that have shaped the watchmaking history in the 18th century – The Writer, The Draughtsman and The Musician are masterpieces of their time.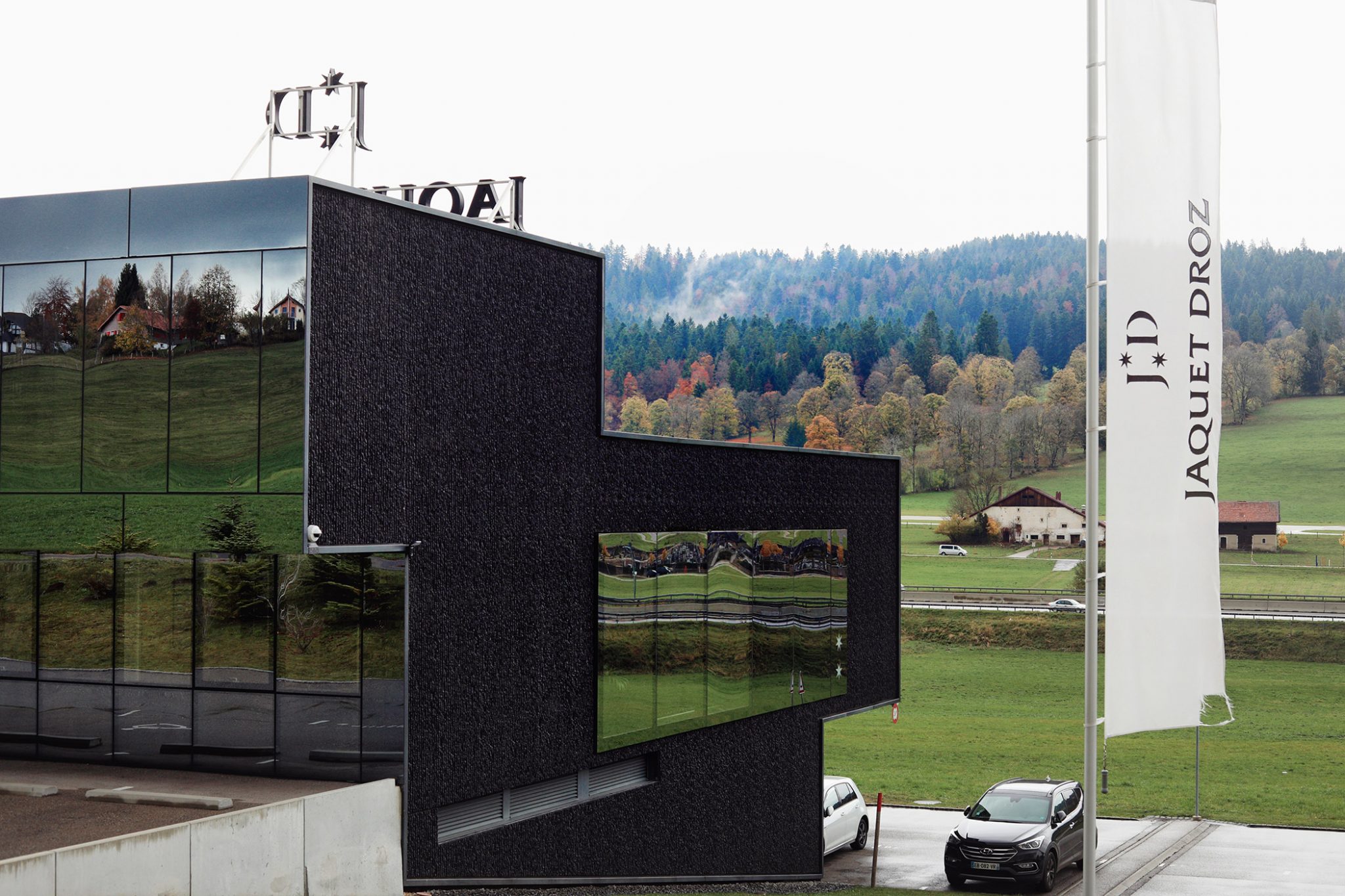 Jaquet Droz manufacture in the Swiss Jura mountains
CHARLIE THE MAGICIAN
The Maison Jaquet Droz has not lost any of its uniqueness ever since. And the first proof is brought to us by a life-size automaton with a striking similarity to actor Johnny Depp. Lattmann introduces Charlie to us, one of the modern androids of Jaquet Droz, that represents the character Willy Wonka in the movie "Charlie and the Chocolate Factory", played by actor Johnny Depp. Charlie, the magician, was brought alive in 2013 on the occasion of Baselworld and ever since he baffles visitors of the manufacture with his hat tricks – sober and peaceful, other than his living likeness. Of course, Charlie is nice to watch and an effective marketing tool, but today, Jaquet Droz prefers to demonstrate its savoir-faire in miniature work.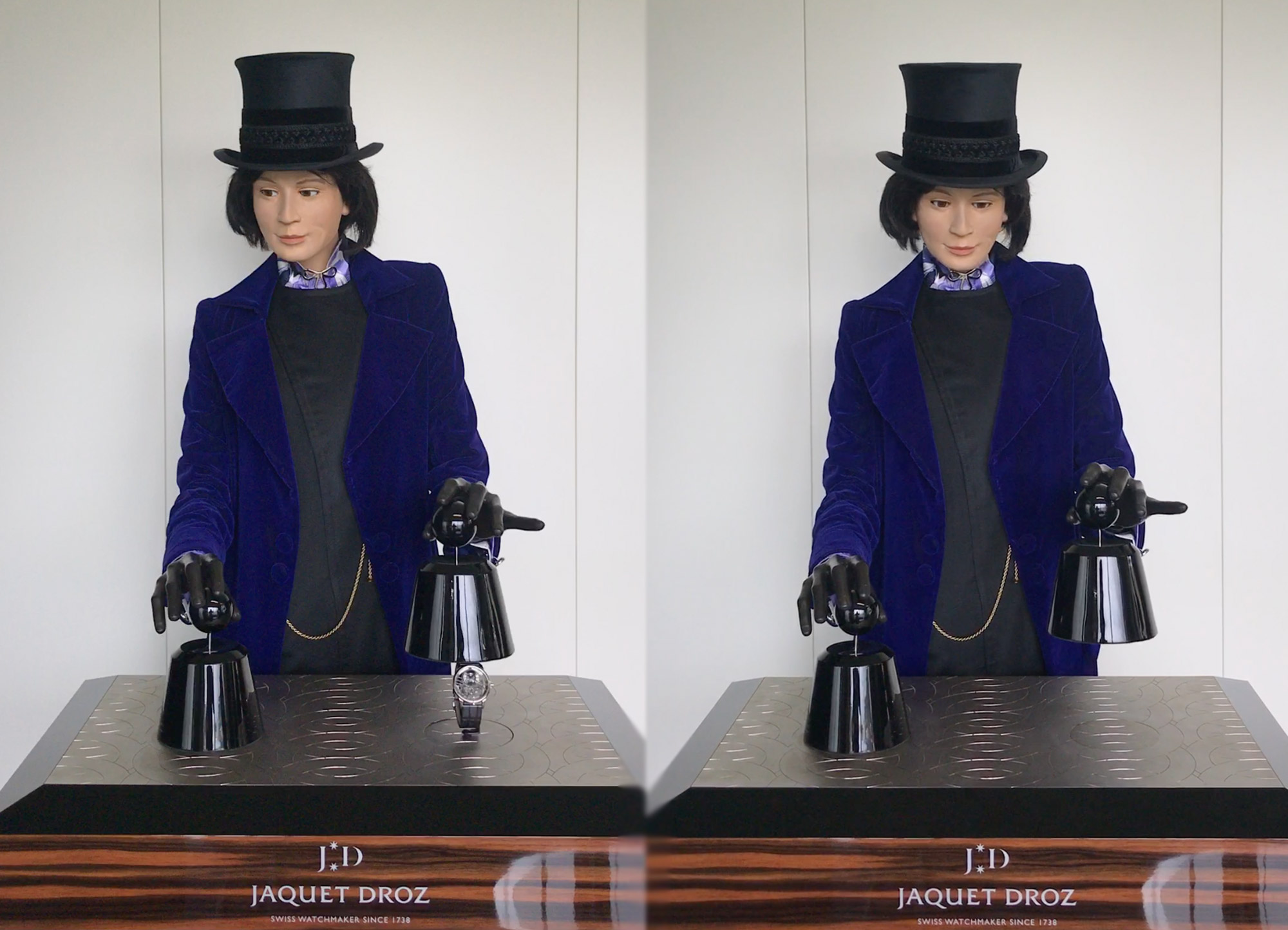 Charlie makes watches disappear – he's no thief however, but a magician
In 2000, Jaquet Droz was acquired by the Swatch Group and finally, after many decades of sleeping silence, has been brought back to blossom. In 2010, the Maison was given a brand new manufacture in the heart of the Swiss Jura mountains, the place where everything started just over 280 years ago. In 2011, the 'Ateliers d'Arts' are being established – they are ought to preserve the existence of traditional craftsmanship. In their Ateliers, they strongly foster miniature painting, the art of sculpture and engraving as well as the art of paillonné enameling. In 2012, the Bird Repeater revealed to be Jaquet Droz's first modern automaton in a wristwatch. Inside the 'Ateliers d'Art', decoration and automata techniques merge together in harmony.
THREE MECHANICAL ANDROID DOLLS
Jaquet Droz dates back to 1738, the year when watchmaker Pierre Jaquet-Droz established the brand in La Chaux-de-Fonds. He produced a series of longcase clocks, before starting to enhance his movements with music and automata. This has especially caught the attention of a wealthy and demanding clientele and hence Jaquet-Droz started to travel the world, to present his automata at court and nobility. With the support of his son Henri-Louis and the neighbours son Jean-Frédéric Leschot, the Maison 'Jaquet Droz and Leschot' released more and more advanced androids. Three humanoid automata helped to reach the peak of their success – The Writer, The Draughtsman and The Musician, that were first presented to the public in 1774 and can still today be admired at the local history of art museum, on every first Sunday of the month for museum guests. For us luckily, the three dolls made an exception and worked some overtime.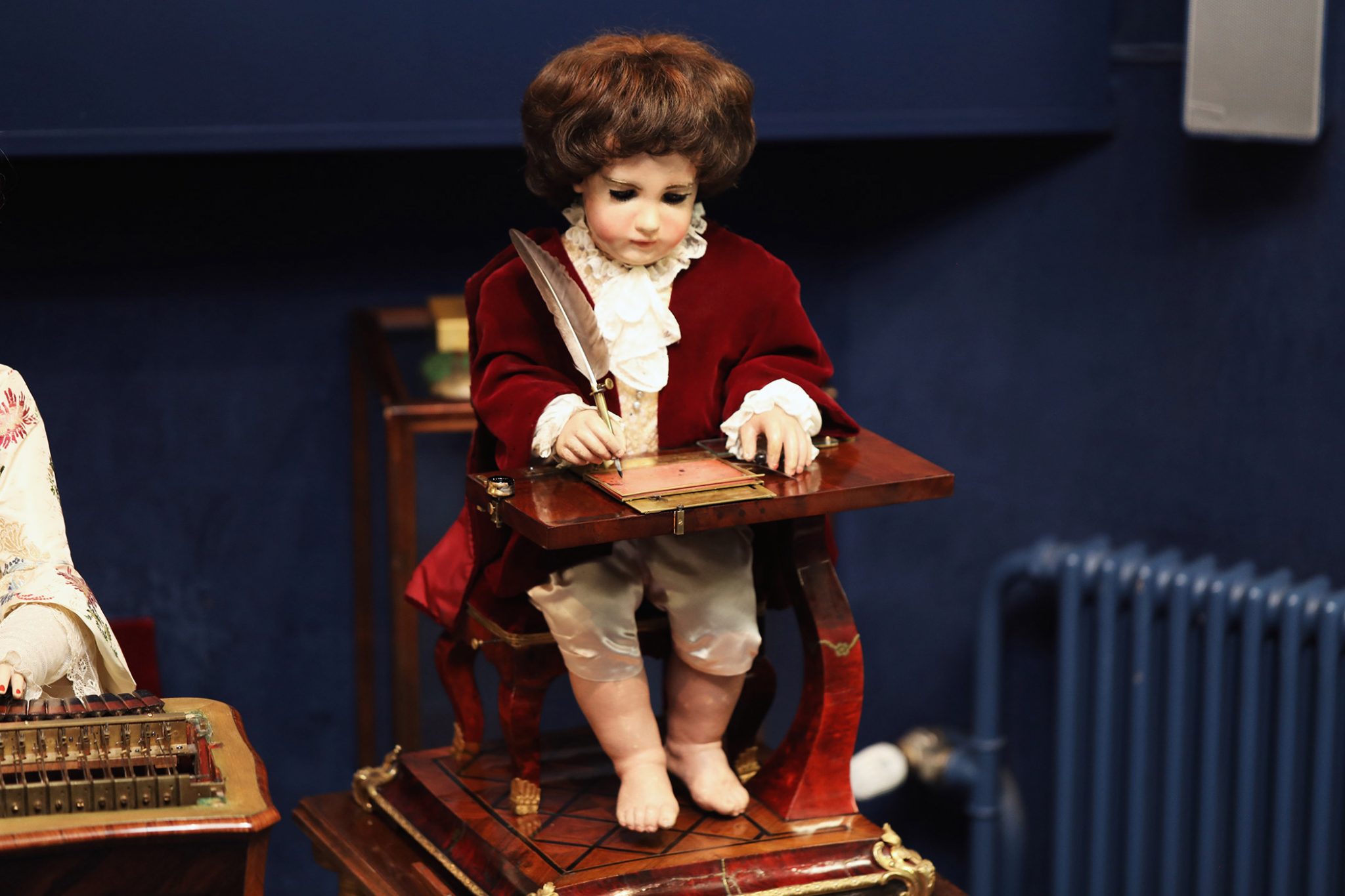 Whereas Charlie has an electronic engine, the three humanoid automata entirely run mechanically. They are each made of more than 4000 components and due to their memory storage, they can be considered as the precursors of modern computers. The Draughtsman, probably the most skilled one of the three, is able to draw a sophisticated sketch of a cherub seated on a chariot being drawn by a butterfly – a reminiscence to love and passion and a motif that can today be found on Jaquet Droz's modern wristwatch automata.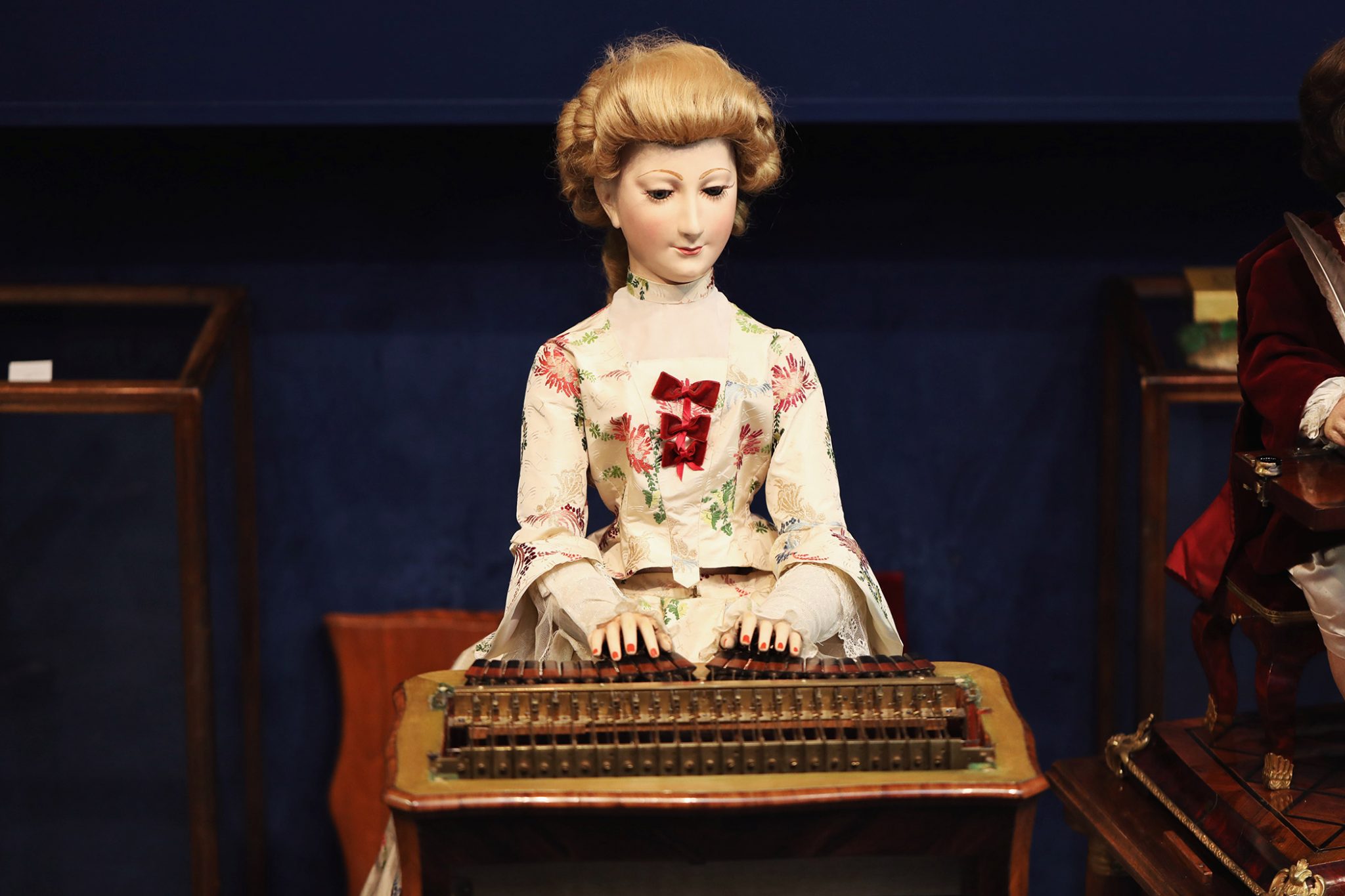 280 YEARS OF BRAND HISTORY IN ONE POCKET WATCH
For its 280th anniversary, the manufacture in 2018 set a new benchmark with the Parrot Repeater Pocket Watch. It represents 280 years of brand history in one single piece.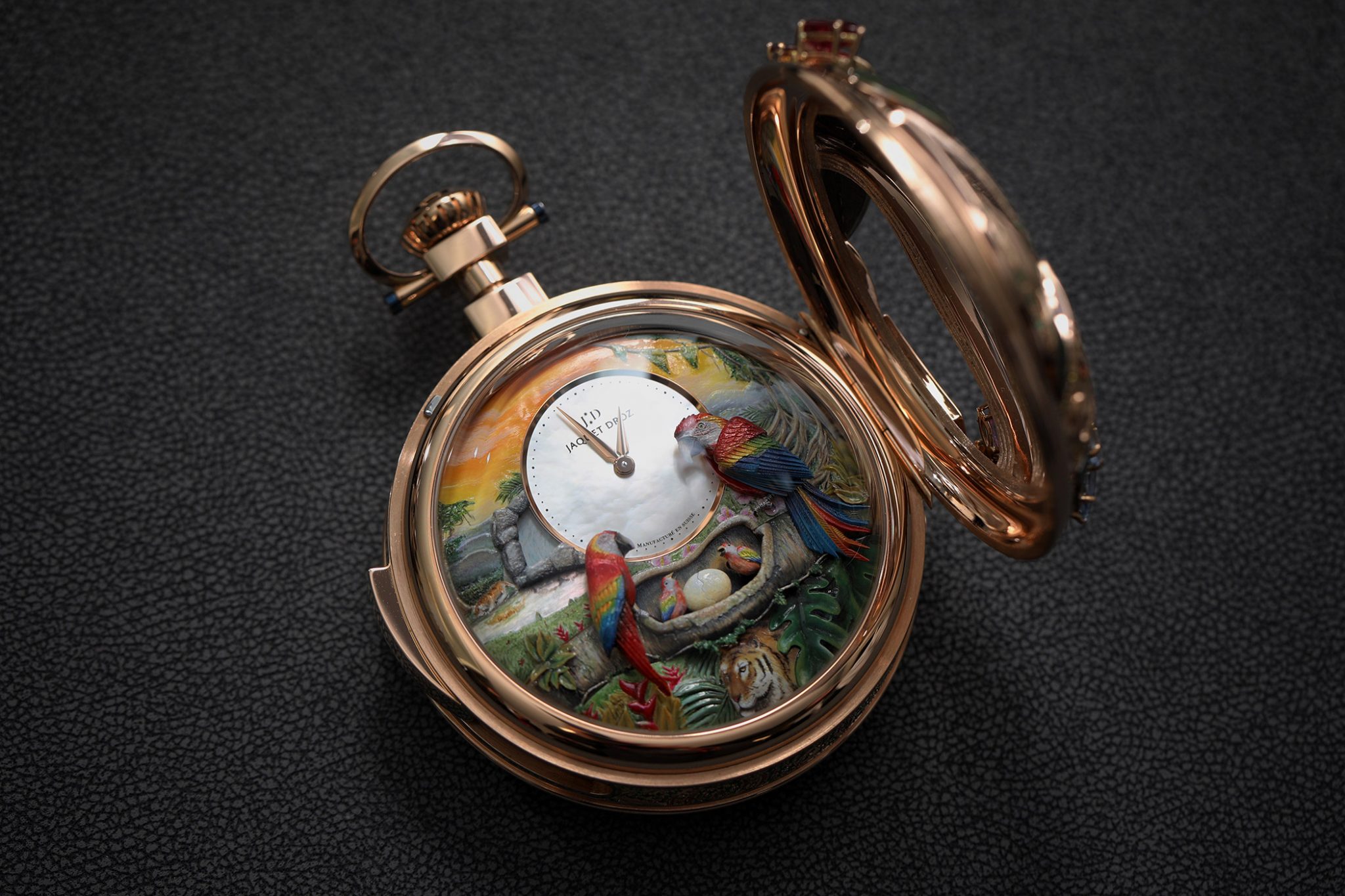 Jaquet Droz's masterpiece – Parrot Repeater Pocket Watch
In a period of three years, this extraordinary pocket watch has seen the hands of each of the Atelier's watchmakers and craftsmen at least once. Every artistic savoir faire of Jaquet Droz can be found inside or outside this unique piece. Miniature painters, sculptors and engravers paint on tiny surfaces no bigger than a square millimetre, they carve sculptures of the size of a human hair and finish dials with Grand Feu enamel and its paillonné technique, where gold or silver foil is being applied under the enamel for a refined shine.
Its Haute Horlogerie calibre consists of 668 components with minute repeater and cathedral gong. A sliding pusher at 9 o'clock sets this colourful play in motion. The story tells about a pair of Macaws parrots watching over their chicks with one of them hatching from its egg, surrounded by jungle vines, hibiscus and birds of paradise bloom. At the foot of a waterfall, a tiger pauses for a drink. The nature has always played an important part at Jaquet Droz.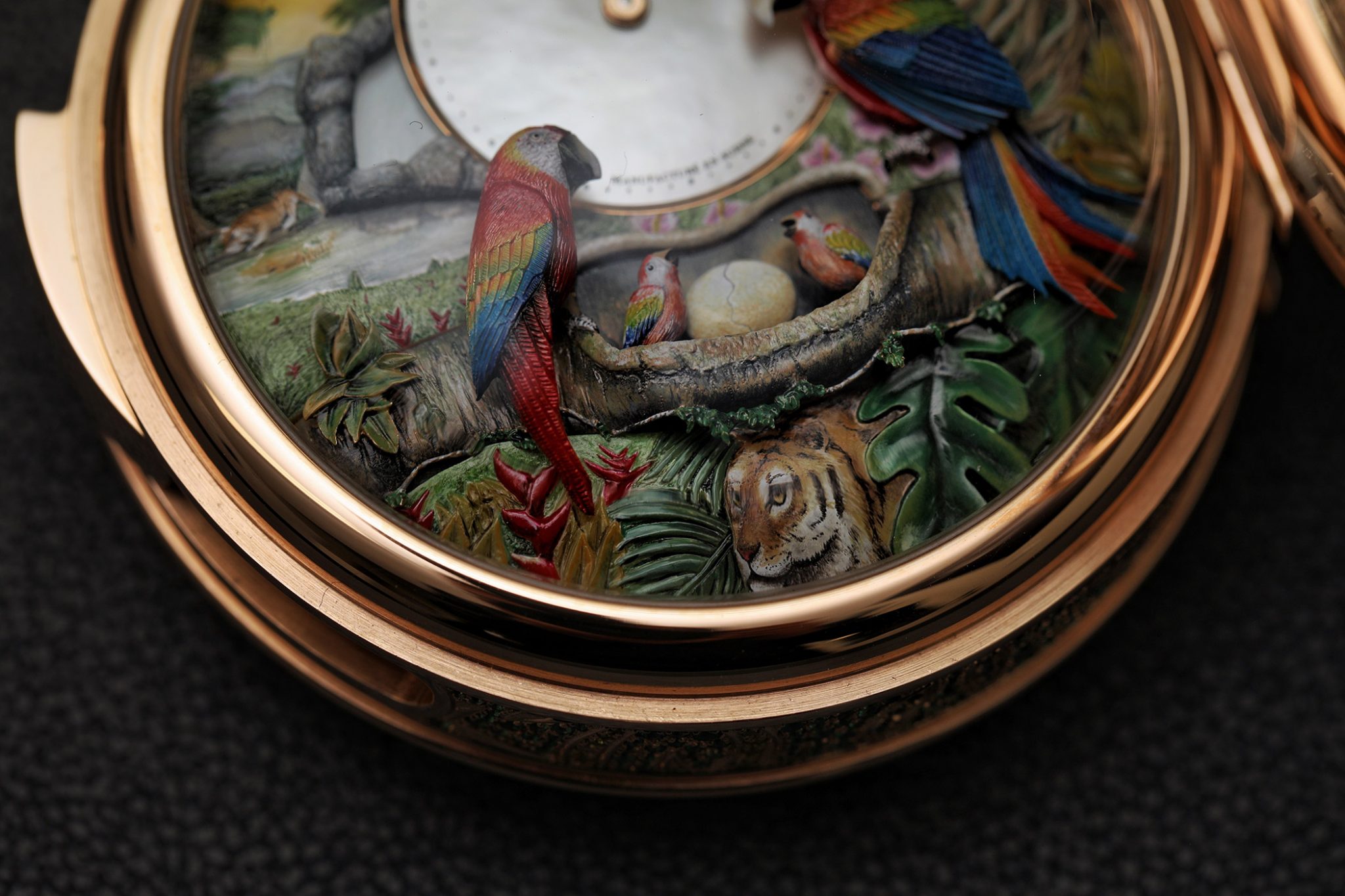 Minute repeater and automaton in one pocket watch
JD's sister brand Blancpain, also part of the Swatch Group, delivers the movements. They decided to share the skills from the group and dedicate all their resources into the production of automata mechanism and traditional craftmanship. All dial and automata components are manufactured insides the Maison's Ateliers.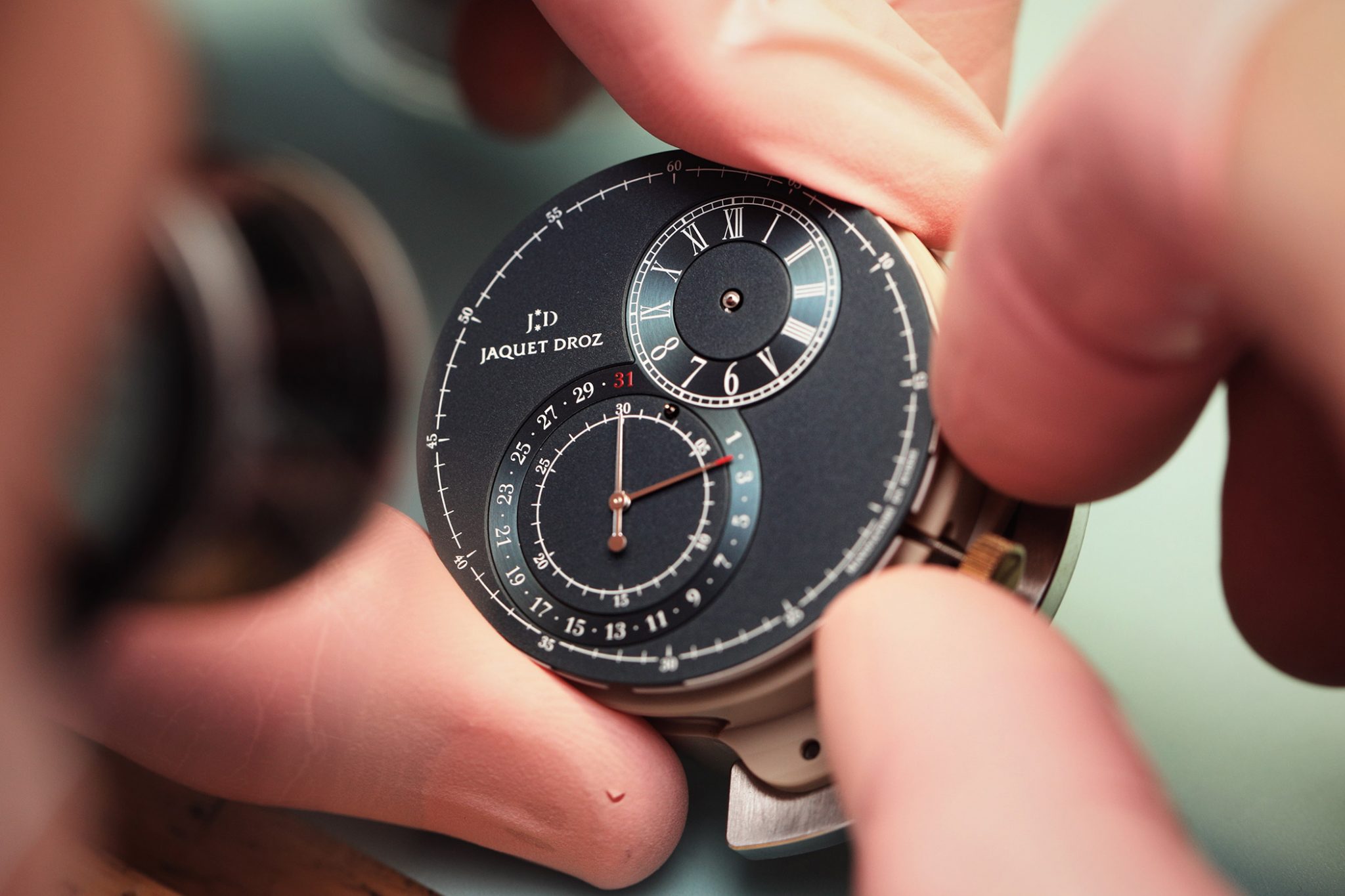 Two watchmakers are taking care, that movements, automata and decoration become one unite. They master all steps, from the mechanisms to assembling of the dial parts of which requires a special training, that is exclusively offered by Jaquet Droz and takes around four months. Christian Lattmann is very proud of this, as it encourages new and young watchmakers to be part of something very unique. His youngest watchmaker recently started to master the complexity of a minute repeater, the holy grail of all watch complications.
Mythical creatures – a cherub seated on a chariot being drawn by a butterfly
Although the movements are being delivered externally, the control and assembling takes place in the Maison's own 'Atelier de Haute Horlogerie'. Nevertheless, the automata too have a very peculiar mechanism that one must know how to master. They have tiny barrels that bring components into motion and let birds sing (Charming Bird) by air pressure. The tone of voice depends on the speed of the pistons and the size of the bellows inside the cylinder. One of the cylinders generates the air like a pump, another cylinder stores the compressed air, which is then passed on to a third cylinder shaped like a bird whistle generating the sound. The pump is powered by a deconstructed oscillator.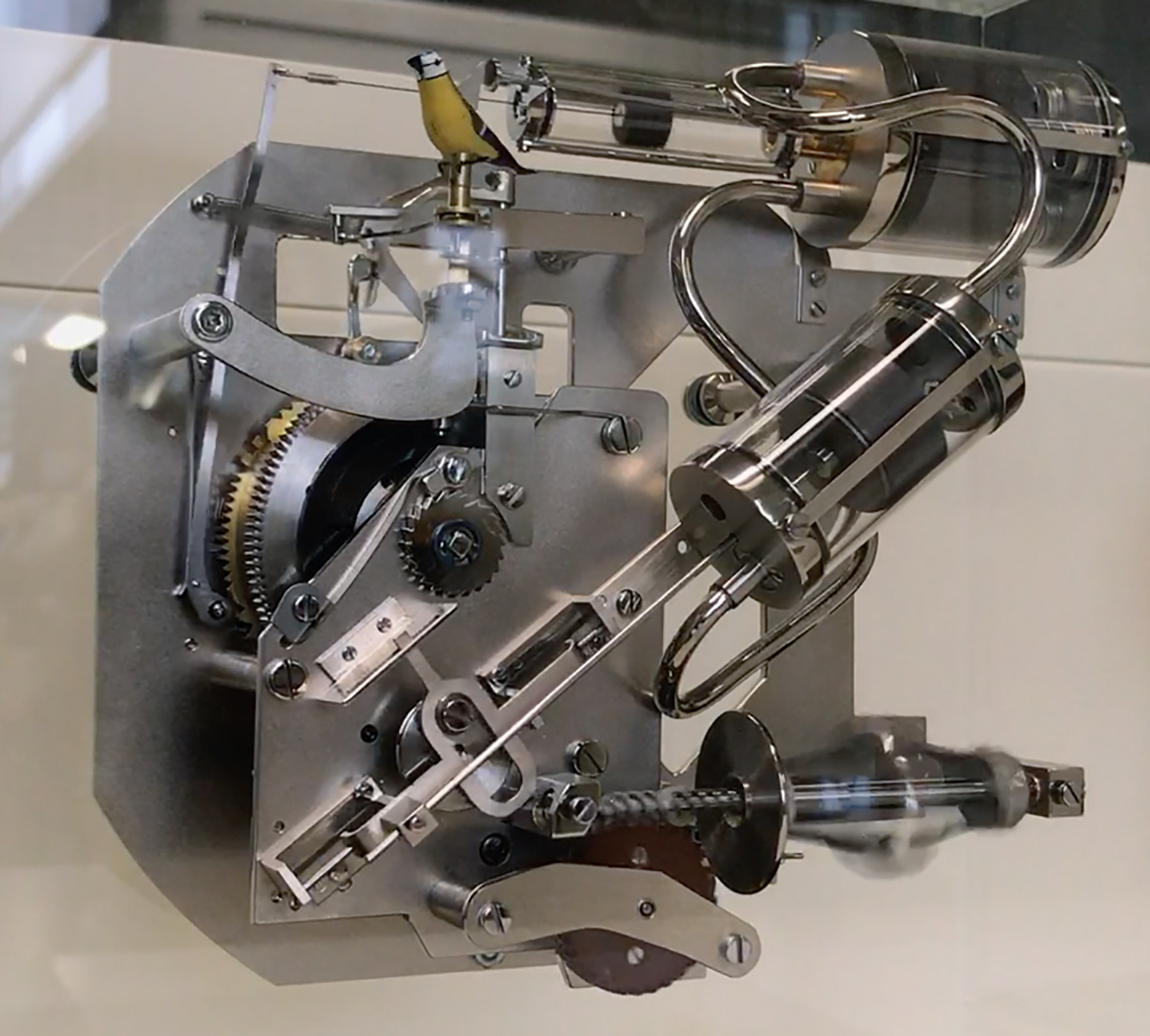 Large-scale demonstration of the 'Charming Bird' mechanism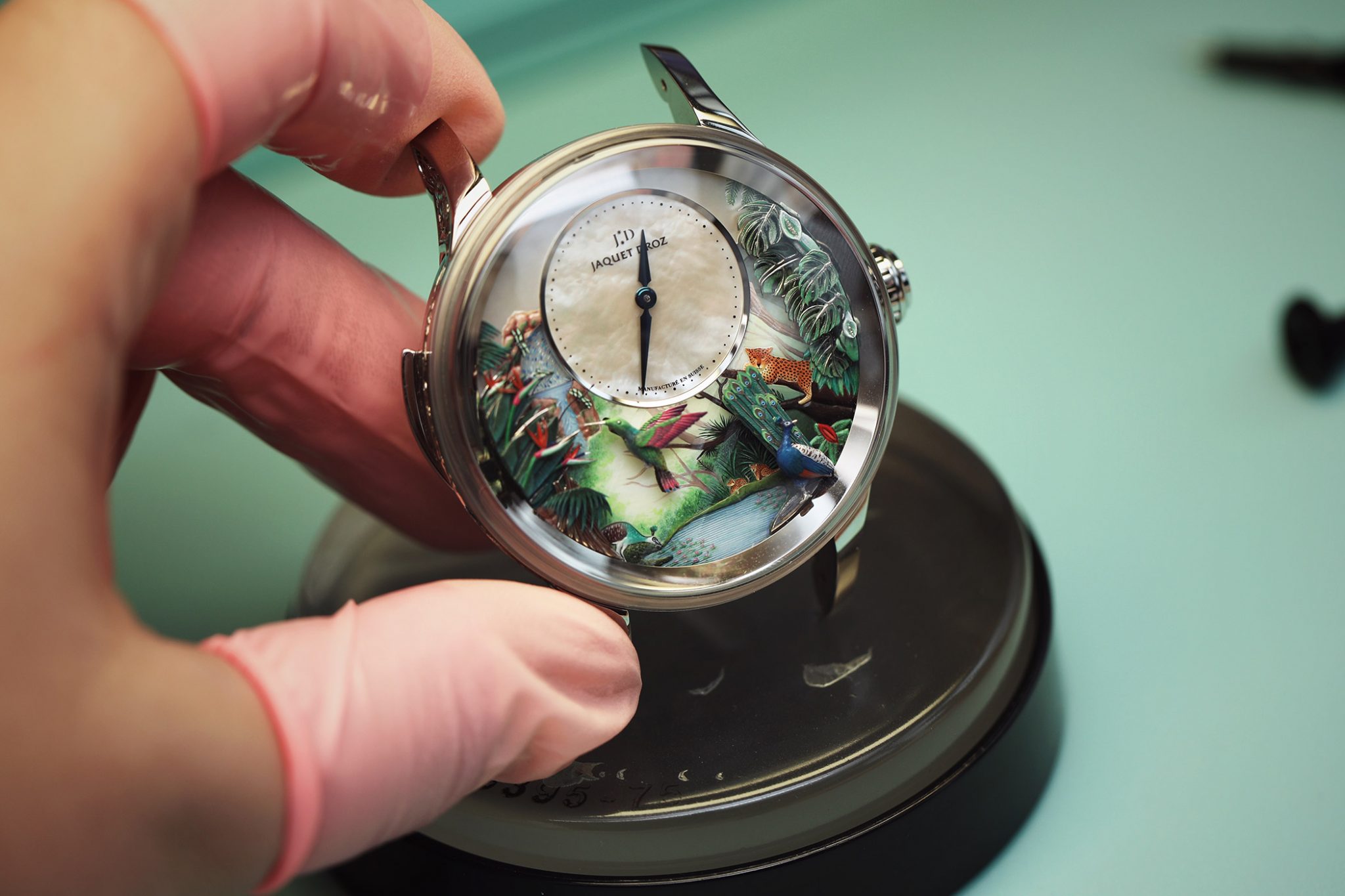 FROM QUAIL EGGSHELL TO AN ELEPHANT
The manufacture covers quality management, production, assembling and even restauration. However, the most magical place surely is the 'Ateliers d'Arts', where all the miniature pieces of art are crafted. Minerals like aventurine, cuprite, slate, onyx or lapis lazuli are being used to decorate some of the beautifully finished dials. On another watch, numerous of tiny lacquered quail eggshell mosaics are being assorted and assembled to create an elephant motif.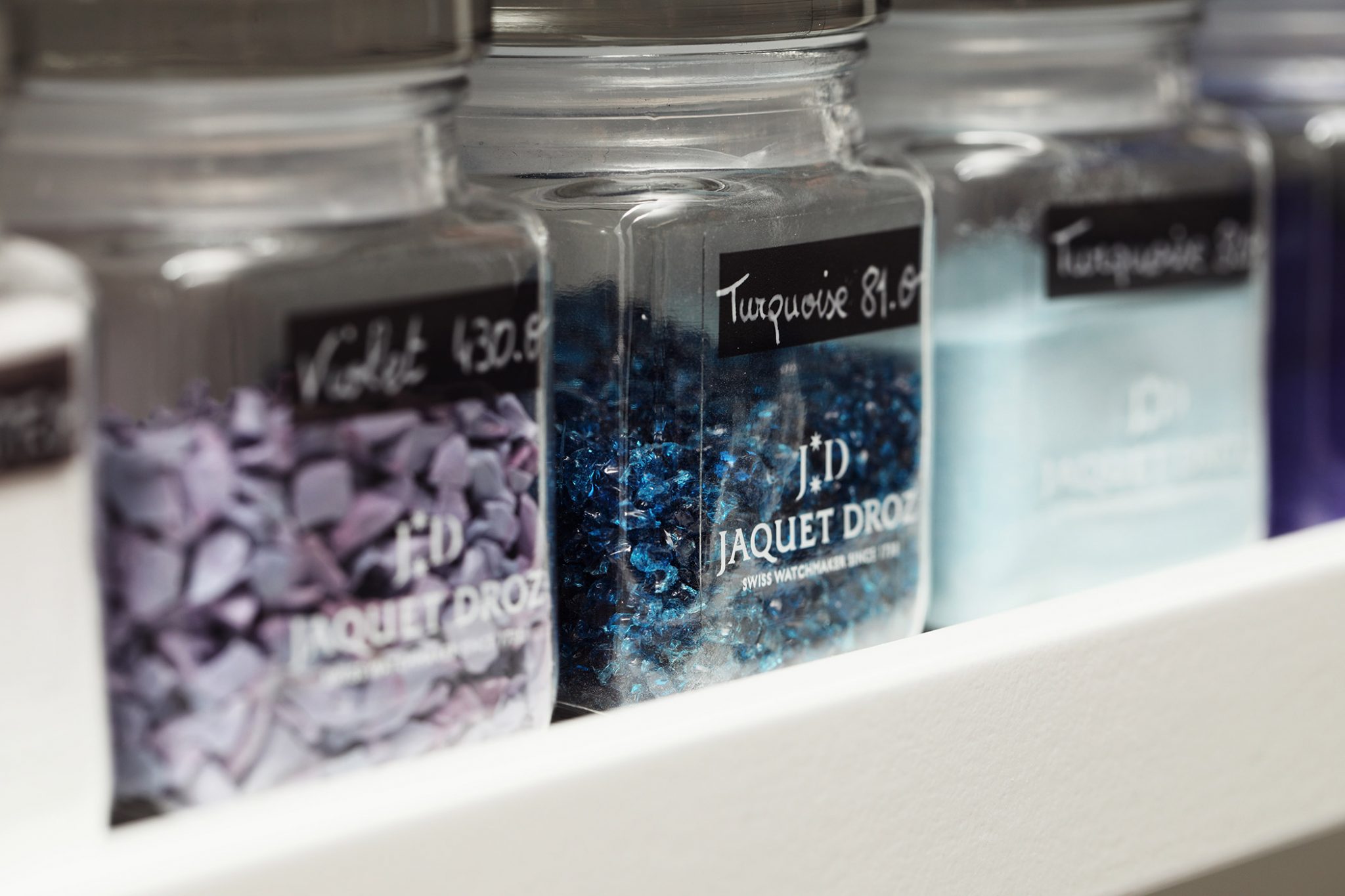 Ateliers d'Arts – a laboratory for artisans
Water lilies, lotus flowers and mobile koi fishes that flap their tails are being shaped, carved, painted and applied on to three-dimensional dials that look like tiny theatre stages. The miniature painters take hours to pestle colourful minerals in a mortar until they have turned into a fine powder, add water to it and paint tiny pictures onto dials. Engravings and motifs are always made free handed, only sketches assist their work.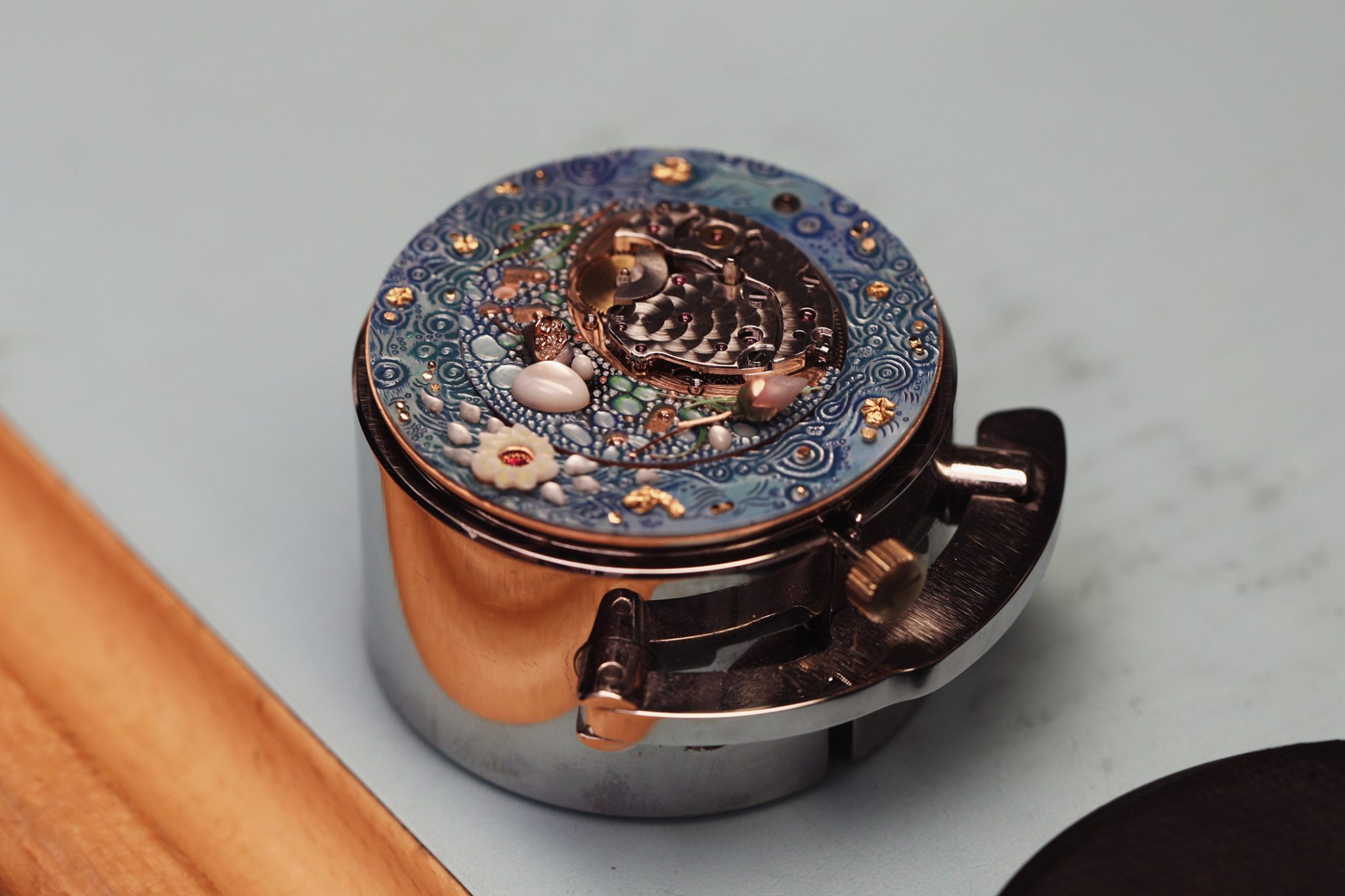 The majority of dials are made of different Grand Feu techniques – it's almost impossible to imagine Jaquet Droz without them. There is a technique in decorative arts called champlevé enamel for example, where tiny troughs are carved into the surface of a metal object and filled with vitreous enamel, before fired in an oven.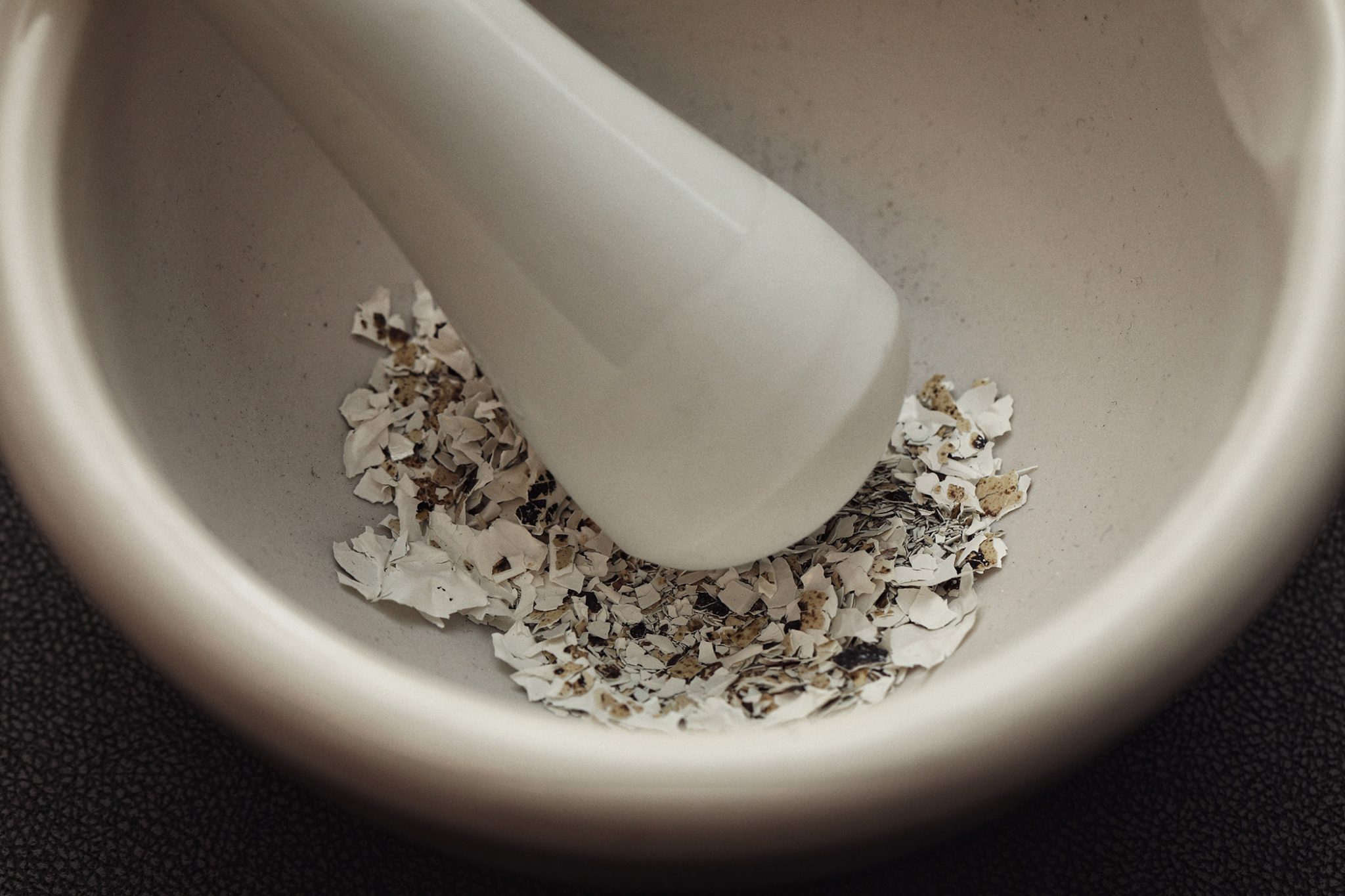 One of the artists in the Atelier holds a dial with champlevé enamel against the light – whereas usually, enamel is always applied onto a surface, here, it is only filled between metal braces and fired. Once fired and hardened in the oven, it becomes vitreous.
THE JD BIRDS SIND ALL YEAR ROUND
In view of the obsession to craftsmanship and detail, it is not surprising that only a few thousand watches leave the workshops at Jaquet Droz every year – most of them are limited to 8, 28 or 88 pieces. The number "8" is present everywhere at Jaquet Droz and is reminiscence to the "Grande Seconde" pocket watches by Pierre Jaquet-Droz from 1784, where the order of the large seconds and small hours indication on the dial has been displayed in the shape of the number "8". The combination of Arabic and Roman numerals as well as a clear design language are characteristics for this collection. In fact, together with pieces from the automata collection and 'Ateliers d'Art', they are JD's customers most popular watches.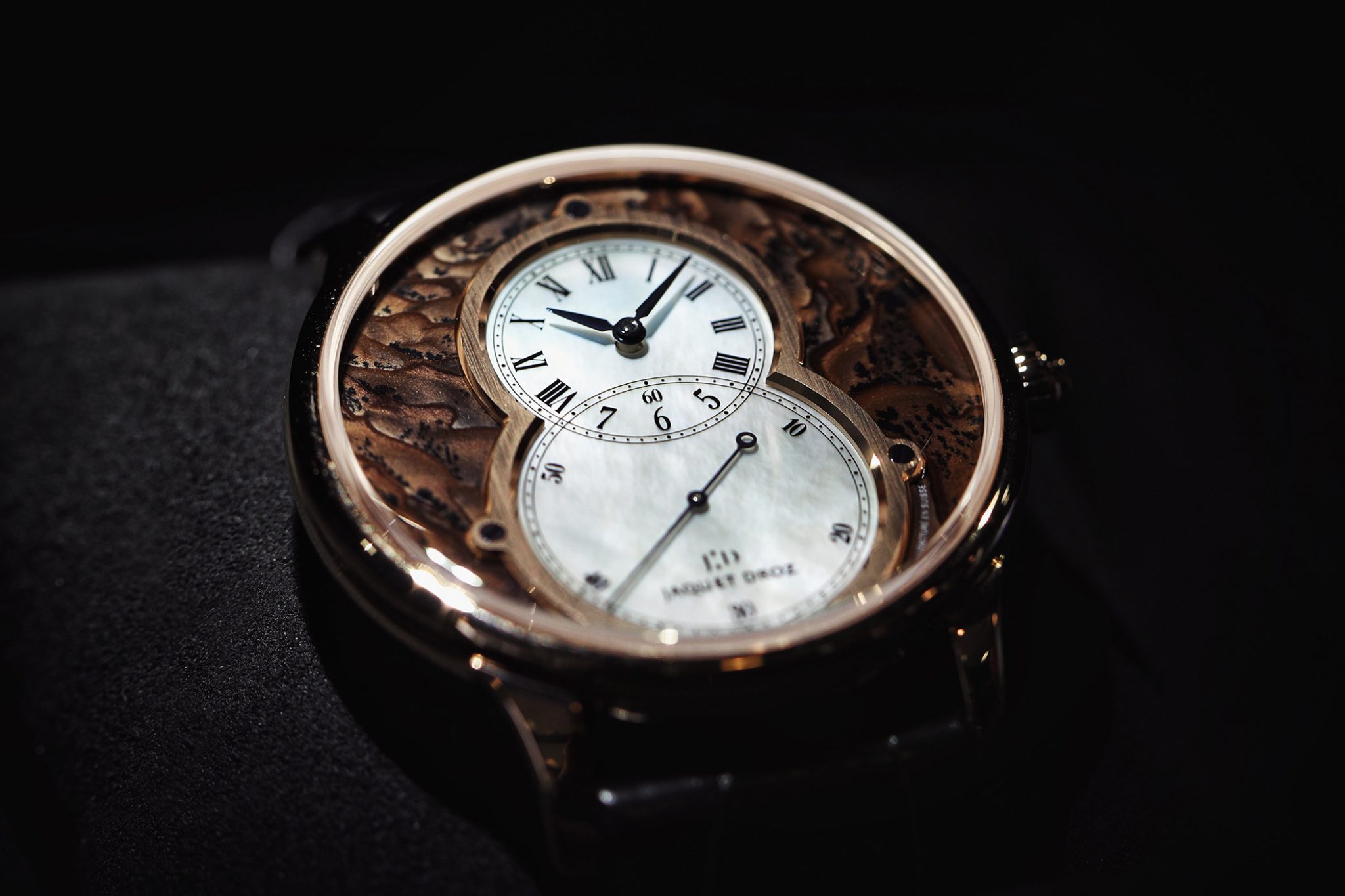 Jaquet Droz Grande Seconde
At the end of the visit, we almost feel a little touched by the momentum; infected from the artisanal manner of the craftspeople, from their contentment they spread and from their dedication and the silence of this peaceful and intact nature, where they don't chase any fast-moving trends. It must certainly be nice to wear such a piece of contemporary history from a place like this on your wrist.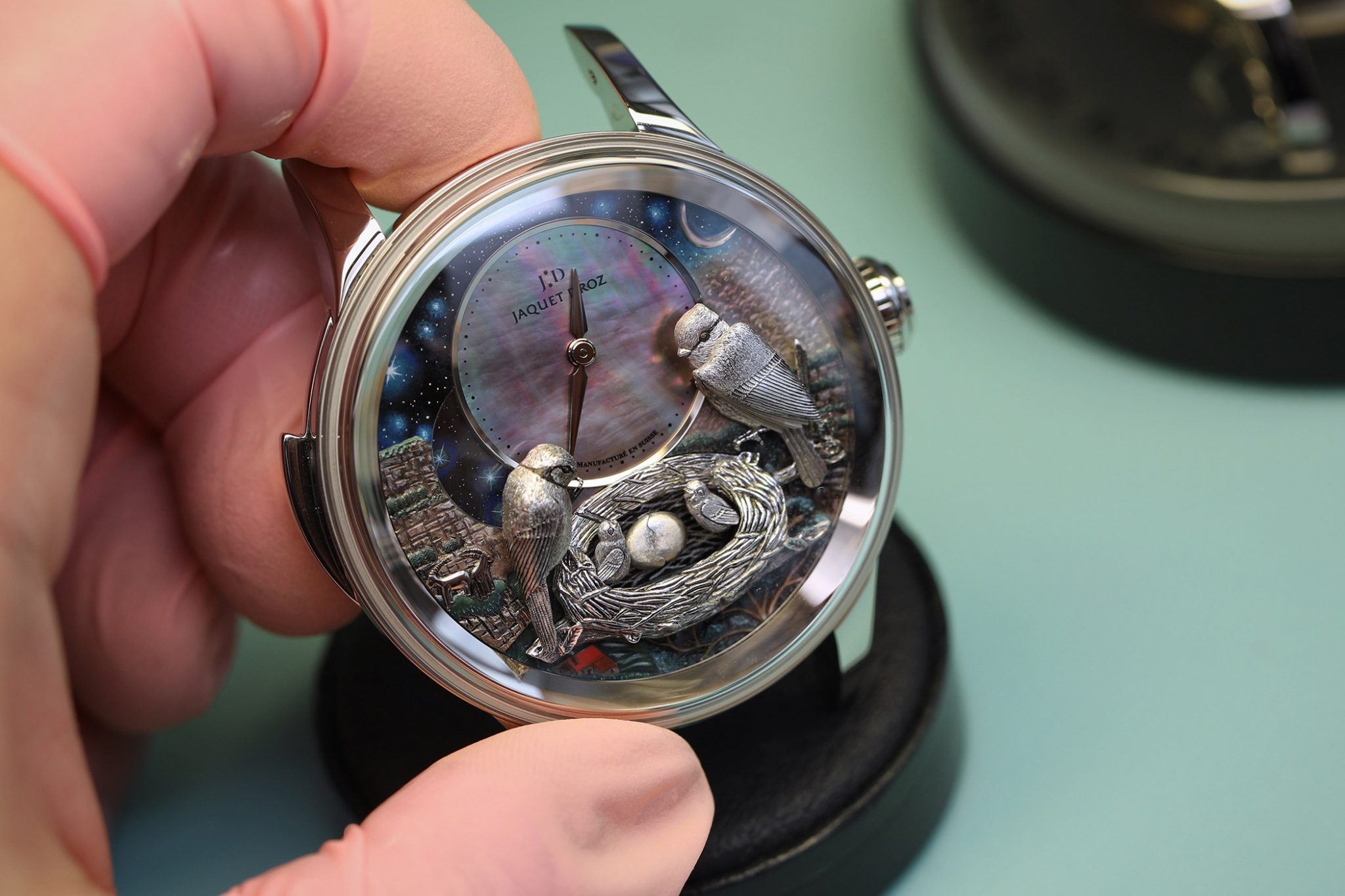 Jaquet Droz Bird Repeater
Christian Lattmann insists on taking us outside personally to seeing us off. On our way back, it started to become cold on this afternoon in late October. In the Jura mountains, they start to get prepared for the winter, which can be long and tough. Only at Jaquet Droz, the birds continue to sing, all year long.
---
---