Claude Greisler is a determined man with a clear attitude and vision. Not least because of these reasons he managed, together with his business partner Serge Michel to make the brand Armin Strom a manufacture in only three years. Nearly all movement parts are produced in-house in Biel. Greisler is not only CEO and watchmaker of Armin Strom, but also a perfectionist. For him, all field could always be optimized to some extent. The next step – also being able to produce all cases in-house. Greisler not only comes from the same village as the watchmaker Armin Strom, but they also share the fascination for mechanical movements. In Biel, we met a thoughtful CEO, for whom the watchmakers' efforts for innovation has gone missing a little over the past three decades. How Greisler wants to make it better, and what new techniques he is working on? You'll find out in our interview.
1. What means a mechanical watch to you, which watch are you wearing today and which one do you wear the most?
---
For me, a mechanical watch stands for durability. When I think about all the modern consumer goods, it becomes even more obvious. I just recently bought a Garmix Fenix 3 and it's already outdated, as they already introduced the Garmix Fenix 5. But the Speedmaster watch that I bought 20 years ago is still today up to date. That's the beauty about mechanics that we can always restore it to make it last for 150 years or more.
Today I wear our Mirrored Force Resonance. It is our first watch with the Resonance technology we introduced 2.5 years ago. It is basically the grand-design with a white dial, which makes it a very classic timepiece to me. You get good readability by the bright dial.
I almost only wear our Resonance watches. Sometimes I also wear our first skeletonized watch that we produced and designed in-house. It has a special value for me. The Skeleton Pure has a double-barrel offering eight days of power reserve. By the way, the watch won the Red Dot Design Award in 2015 with its blue-decorated movement parts.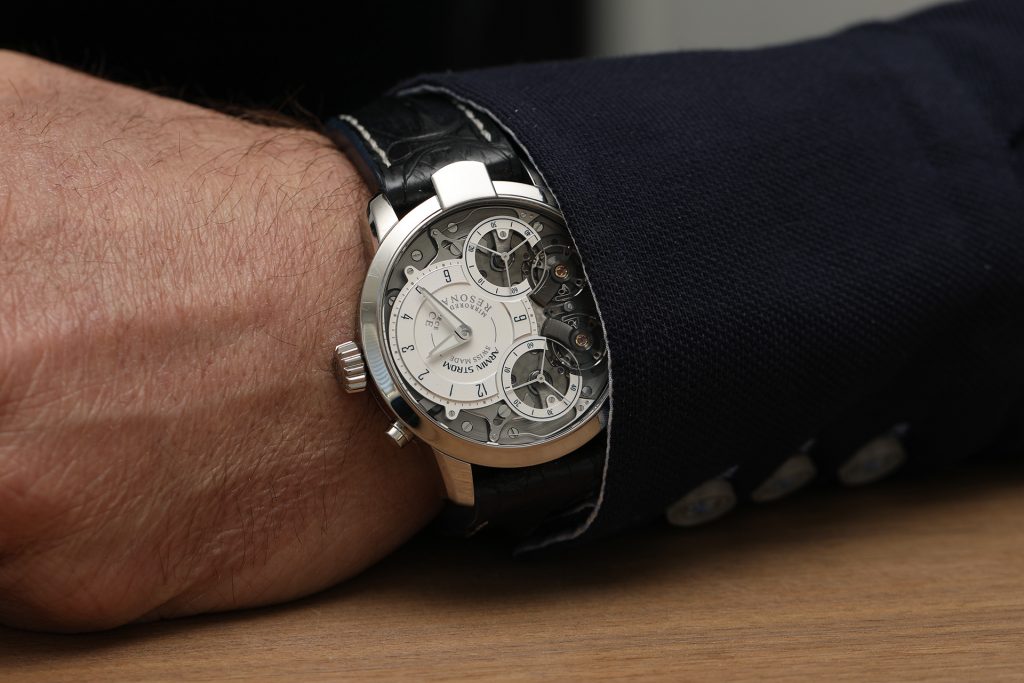 Armin Strom CEO Claude Greisler wearing the Mirrored Force Resonance
2. The Armin Strom AG was established in 2006 – only three years later you introduced your first in-house movement and became a manufacture. How was this possible in such a short period?
---
We had a clear vision. When we built up the manufacture, we very well knew what we wanted. We have worked very hard for our goals, almost 24/7. We have put together a young and dynamic team that was equally motivated. Due to the fact that we built up a manufacture from scratch, we were lucky to make use of the newest technology that was available at that time. It is a great advantage to have everything at one place – development, design, production, decoration, galvanic, assembling. In the beginning, I assembled everything myself. It speeds up processes a lot when only a few people have to make decisions.
But as we are perfectionists, all fields can constantly be optimized. We try to improve every day and I also ask this from my team. In the long term, we also aim to produce cases in-house. It's the volume that holds us back. We only produce around 400 watches a year, and therefore the investment of dedicated machines would be inefficient at this stage. But in the long term, we want to produce them independently.
3. What is the magic about skeletonized watches?
---
The magic is that you can see and experience the mechanic. That is something that watchmaker Armin Strom and I share – the fascination for mechanics. No matter if in wall clocks, pocket watches, table clocks or wristwatches – it is beautiful to see how all the wheels mesh to show the time. In the past, people bought watches with open case backs, because they were curious about the mechanics. But Armin Strom had the vision to reveal the whole beauty of the movement to his clients. For instance, we would always look through the glass panelling of a sportscar exposing its engine, because we are somehow fascinated. The mechanics of timekeeping is actually much more intelligible as in a car. These are all reasons why Armin Strom decided to skeletonize his watches.
4. Who is the typical client for your timepieces?
---
The Armin Strom client is a person that is fascinated by watches. However, this fascination for mechanical watches does not start at Armin Strom, because our clients usually own a few watches already. After having gained some experiences with watches, he will know his personal preferences and eventually adopt this to his buying behaviour. He starts to become more curious and raises interest in niche products. Now he's ready for an Armin Strom watch. We don't produce standard movements. All our watches have a technical benefit.
A classical hand-wound Armin Strom watch has a power reserve of five days. We have a double-barrel with eight days of power reserve. We have built the winding mechanism or micro-rotor on the dial side to expose the mechanics. Even our 'Resonance-Gear' of two movements is deliberately mounted on the dial side of our watches.
5. Your quantities are limited. However, you have retail partners on every continent of the world. What are your criteria to decide for the right partners?
---
We seek to work with renowned and specialized retailers. Our retailers always search for innovative products in order to offer their clients something special. They have all the skills and are familiar with all the preferences of their individual clients. We are no pull-brand that spends huge amounts on advertisement which is addressed to the consumers. We are a brand that can offer additional benefit to our retailers.
6. When did your enthusiasm for physics start? The collection 'Resonance' is based on the resonance principles that you have studied extensively.
---
Physics is actually just a side effect. After my watchmaker qualification, I have conducted advanced training for the restoration of complex mechanical watches. During this training, I noticed that watchmakers in the past were enormously driven by innovations. They constantly tried to improve their watches. During the quartz crisis in the 1970s and 1980s, the mechanical watches have experienced a drop in terms of development. Since then, it is always about the same features and complications – we do GMTs, Tourbillons, Chronographs, Perpetual Calendars. But there are only a few brands that really try to improve their accuracy. The idea of Resonance is to synchronize two watches in order to enhance its accuracy. This Resonance technique has never really been explored on watches. That was the origin of our idea. There is still plenty of room for innovations in watchmaking – and that is our motivation.
7. It is not unusual that brands produce exclusive watches for clients – but the configuration of watches would be unthinkable for many traditional brands. However, you have ventured this step. How did you come up with the idea for your watch-configurator and how is your experience so far?
---
The idea came through our passion for cars. Serge Michel and I love to configure cars. By doing so, you subconsciously learn a lot about a brand. And we wanted to offer this experience to our clients. Everyone has its individual taste and instead of specifying dial colour or strap type, our clients can participate in the decision. Today, nearly all the watches we sell are configured in a way. However, it's mainly our specialized retailers that configure an Armin Strom watch for their stores – or even configure them together with their customers according to their taste.
8. At the watch fair SIHH 2019, you have just introduced a new Resonance model with a sapphire glass case. Have you now accomplished your goal to pay the most possible attention to the movement?
---
Yes, absolutely. Hence, we call it the 'Master' collection. One day, while we were sitting together for lunch and skipping through watch magazines and social media posts, my team suddenly revealed to me, that I was not giving them enough time. There would be so many more things to improve on this watch. So, we put even more time and effort into it to show, what we are capable of. We were overwhelmed when we saw the final product for the first time. Of course, it also looks good with a titanium or gold case, but with the sapphire glass case, the Dual Time Resonance was perfect for us and our philosophy.
9. Let's talk about complications: how complex was it to implement the Resonance technology into a watch, compared to a Perpetual Calendar or Tourbillon?
---
The Resonance is incredibly sophisticated. In terms of our clutch spring, we enter a completely new field. Most movements are always built in the same way – a basic movement in which levers make certain switches. The clutch spring is a flexible clutch between two objects. And the watch industry has basically no experience with this. We have addressed this issue to an institution that was able to support us. We have collaborated with mathematicians and engineers that develop microscopes for astronomical applications in space. It took us three years of meticulous work, and we have created over 25 prototypes. That means, we had to cope with plenty throwbacks but still carried on, because we are driven by innovation. Everyone can recreate something, but to create something innovative makes the difference.
10. What channels of communication do you use for the brand Armin Strom? How do you spread your story?
---
Specialized retailers are the best communication tool. They are in close dialogue with us, know the brand and are able to promote our products to their clients in the best possible way. So far, we have not shared our story directly with the consumers. Thanks to social media, this has changed. But you need to know the different ways of communication. The consumer has a different background then a journalist or retailer, who is engaged with the subject most of his time. Therefore, it is important for us to find the right language on different channels of communication. It is a certain challenge that we have to assimilate.
11. What laws of physics are you working on at the moment?
---
We will present two novelties this year. The development has just finished and we started to refine them. The first novelty is a Grande Complication based on the Resonance principles and limited to 10 pieces. But for me personally, the true highlight is the re-launching of our first collection. The Manual, the Gravity and the Gravity Date from the collection 'Single Barrel' will celebrate a revival this year with technical solutions that are new to the industry.
12. In your view, in what direction does the watch industry move?
---
The biggest change in the industry will result from new consumer behaviour. In the future, it will not only be about Retail Business, Monobrand Business or Monobrand Online Shops but a mixture of them. The main question is, what channels do I best use to sell my products. The industry, as well as the brands, still have to learn a lot in this field. The customers today expect to be able to have reasonable access to all products. The local retailer is not enough, looking at the geographical situation in countries like America. In the past ten years, the brands have learned to produce their own, innovative products – now it is the biggest challenge to find the right distribution channels.
---