Audemars Piguet's company hybrid Porsche takes us from Geneva airport to our meeting with François-Henry Bennahmias in the Vallée de Joux. But not to a fancy restaurant – our lunch takes place at his office desk. Later, he will suddenly interrupt in the middle of the conversation because he has thought of a little game that will apparently amaze us, and remain in our memories forever. Bennahmias is a person who loves to surprise and polarise – and precisely with these qualities, he creates experiences that bring people to the brand, which, as CEO, he has been leading to new heights of success for the past eight years. You may have found yourself in one of his new AP Houses; they are both a sales centre and a unique experience for its clients. At the moment, there is such hype about Audemars Piguet that any of its markets could sell twice as many watches as it has available. In any case – over lunch at his office in Le Brassus, Audemars Piguet's CEO (and former Swatch collector) tells us why the brand is not looking for profit, and how he came to AP by chance.
1. What does a mechanical watch mean to you, which watch are you wearing today and which one do you wear the most?
---
In my mind, a mechanical watch has a beating heart and a soul like a human being. It bears the DNA of the craftspeople who created it and reflects their passion. Today, I am wearing the selfwinding version of our latest collection, CODE 11.59 by Audemars Piguet. I have been wearing CODE 11.59 by Audemars Piguet a lot recently, which I love for all the details it incorporates – it is the epitome of the no-compromise watch.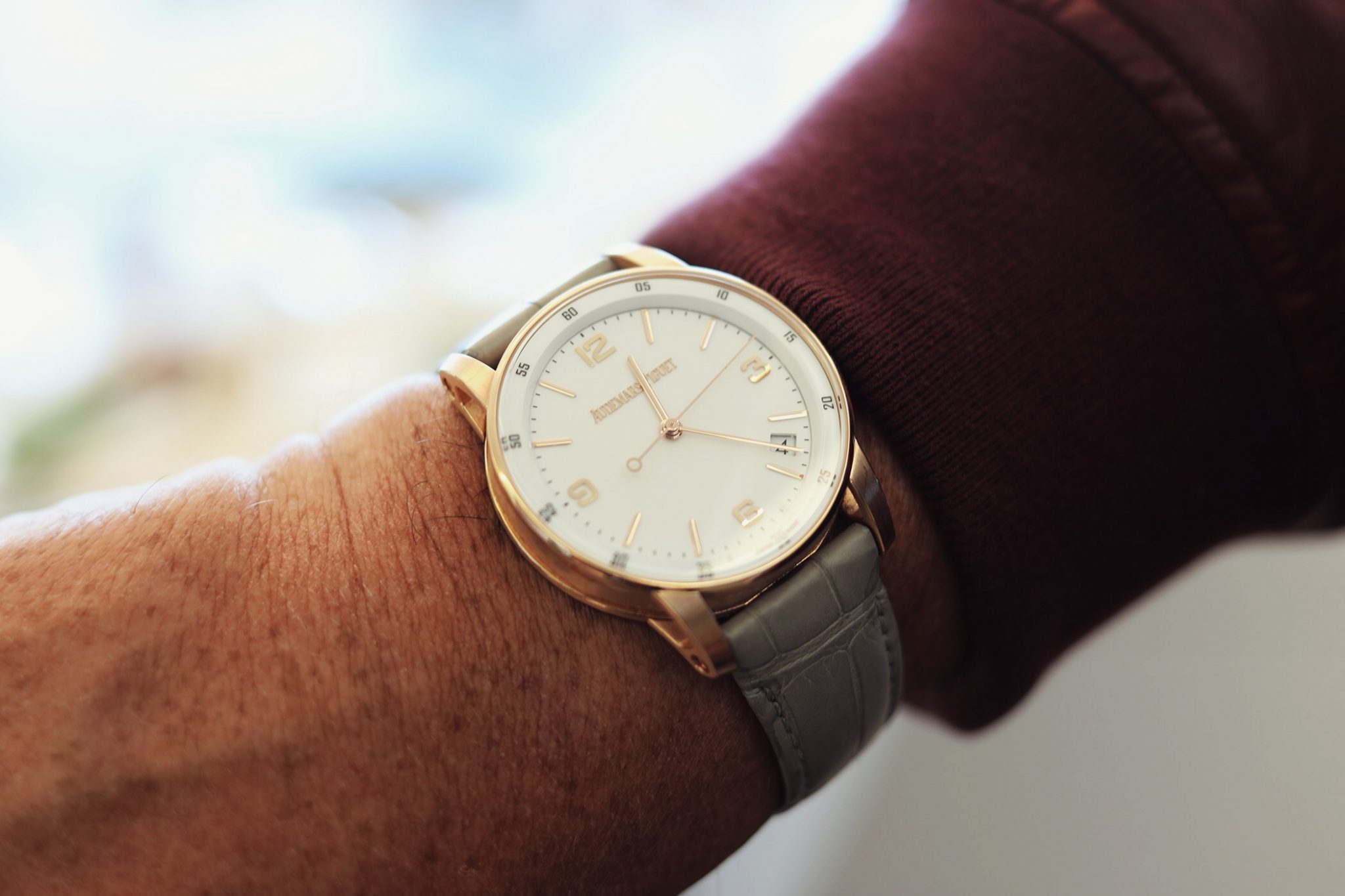 CODE 11.59 by Audemars Piguet Selfwinding
I don't have one single watch that I wear the most. However, I do have some favourite AP watches. Number one is the very first AP I bought: it was a Royal Oak Perpetual Calendar Openworked in stainless steel, which I got in 1995. My second favourite is the Royal Oak Offshore we did with Arnold Schwarzenegger in 1999 for the movie End of Days. It was the beginning of AP's relationship with personalities in a variety of fields. It was always for a good cause, which meant a lot to me. The third one is the Royal Oak Perpetual Calendar in black ceramic. I bought it as soon as it was launched, after impatiently waiting for five years.
2. What did you know about the brand Audemars Piguet and mechanical watches in general when you started to work for the brand in 1994?
---
When I was offered to work for Audemars Piguet, I had never heard of the brand. I was quite impressed by the vibe and AP's history when I met the people working there and discovered the watches. I was not a watch guy at all, well, except for Swatch watches. I was one of the biggest Swatch collectors at that time. I bought my very first mechanical watch from a Golf player that I admired, because I really wanted to have something personal from him.
I actually got into Audemars Piguet by accident. I was on holidays in St. Barth when I bumped into a former acquaintance in a jewellery store there. We spent most of the holiday together and six months later, he took over Audemars Piguet as the French distributor. Shortly after, he asked me if I wanted to come and join the company.
3. In the late 1990s, you were responsible for the US market. How well established was Audemars Piguet in the United States at that time?
---
The brand didn't have a good reputation in the US at the time. When I arrived, we had 95 points of sales. Whenever I went to a store and introduced myself the retailer asked me to leave. Why? Because the brand image was negative in their opinion. Now, it's the number one market.
Which are the most important markets for Audemars Piguet today?
The United States are number one followed by Japan and Switzerland. The Japanese are passionate about beauty and share with us a deep respect for ancestral craftsmanship. They know a lot about watchmaking – it is impressive.
And which market has the biggest demand?
All of them! Every market could sell around 50% more watches than they have available.
4. In 2019, you achieved another record year for the eighth consecutive year. You seem to be at the brand's peak of success year after year. How do you keep the balance between profit optimizing and sustainability?
---
The volume is directing everything we do. If we control the volume, we can control the integrity and quality of the deliveries.
5. Let's talk about the slightly controversial, but possibly underestimated CODE 11.59 by Audemars Piguet. A new collection of 13 references with three new movements. What was your motivation for this collection? Was there a strong demand from clients for a round watch?
---
The main reason why we did CODE 11.59 by Audemars Piguet was to bring forward the history of the brand. The brand lived many more years without the Royal Oak than with it. We wanted to go back in history and show Audemars Piguet's long heritage of design experimentation that preceded the Royal Oak. The new CODE 11.59 by Audemars Piguet has been built in the course of seven years, taking into account all the progress that we made in the past. Hopefully, through these experiences we can lead this watch to great success. It is going well so far.
We faced different challenges while developing this collection but it was worth the effort. For instance, we only work with one supplier for the dials because they are extremely difficult to make. A few months ago, he told me: "I think you made a mistake when sending me the order for 2020. You ordered 4000 pieces instead of 2000." I explained that we were doubling the quantities in 2020. "Are you selling that well?" he asked. I guess we are.
What was the idea behind the case, glass and dial?
We went through about 25 different designs. We wanted to push further the limits of our crafts. We worked with different internal and external designers, and one day, the case was born. We wanted people to look at CODE 11.59 by Audemars Piguet from a watchmaking point and say: "respect." The logo, made of thin layers of gold, is achieved through a chemical process known as galvanic growth. And it took us two years of development to place it on a lacquered dial. After we launched the watch in January 2019, some people told me; "That's not that difficult to make – we will do the same in six months." Guess what? I am still waiting.
Did you expect this reaction?
Yes. In December, we gathered the 1200 employees of Audemars Piguet HQ and Switzerland together for a day to show them the new CODE 11.59 by Audemars Piguet. 1200 people entered the room, but they all left as one, fully behind the launch of this new collection. We knew there would be controversial opinions, but we were ready.
6. You also introduced a new in-house integrated chronograph movement with column wheel and fly-back function. Will it also be used for other Audemars Piguet chronographs in the future, like the Royal Oak?
---
Yes, eventually this movement will also run in some of our other watches.
7. You produce around 40,000 watches a year; not enough to satisfy the demand. Will you increase the production in the upcoming years?
---
In 2015, we decided to limit the production to 40,000 watches a year for five consecutive years. To respond to clients' increasing demand and improve the quality of their experience, we have decided to increase our 2020 production to 45,000 watches. The most important thing is to increase the brand's equity. We are not interested in chasing numbers, but focus on long-term objectives. That is our mission.
8. You have radically reduced the number of concessionaires and seem to put more focus on mono-brand boutiques and your AP Houses. Tell us more about your retail strategy? What's the idea and concept behind the AP Houses?
---
It is extremely important for us to know who our clients are. For too many years, we left this in the hands of people in between. We made a choice seven years ago to be in direct contact with our clients. We want to know what we are doing right or wrong. An experience in a boutique is not only about watchmaking. It can also be about a unusual encounter with someone you had never met before. You can leave today and think whatever you want about me, but you will most likely remember our encounter.
9. What role do Jasmine and Olivier Audemars play in your daily work and all the decisions that you take for Audemars Piguet?
---
I come with a vision of how we want to implement the strategy which I share together with the Board of Directors. And then Jasmine and Olivier challenge us, even push us sometimes. In seven years, they have never asked me to increase the revenues by 50 percent. They never spoke about increasing profitability. They want the brand to remain long lasting. So, I am responsible for the strategy on how to achieve these goals, and it sometimes means that we have to slow down.
10. In 2022, you will celebrate the Royal Oak's 50th anniversary. You must have some ideas for this anniversary. Can you already share some thoughts?
---
I can't tell you yet.
11. There has been a lot of movement on the vintage watch market in the past 5-7 years. What do you personally think about this market and does it have any relevance for the brand Audemars Piguet?
---
Absolutely. It is becoming bigger and bigger. In terms of true vintage watches, we face many challenges, as it is hard to find old AP watches in good condition. So, the prices at auctions have risen a lot. Pre-owned watches are a huge topic. We are currently developing our certified pre-owned strategy, but we will do it on our own terms and at our own pace. We are not interested in being the first.
12. In your view, in what direction is the watch industry moving?
---
We are eight billion people on this planet. So, there are around 80 million very wealthy people. Let's divide this by four to have the top wealthiest people on the planet, 20 million. Last year, around 600,000 mechanical watches were made at top price. As you can see, there is a huge potential.
---
---