Carlos A. Rosillo and Bruno Belamich have been friends since the age of 15 and in 1992, they founded the watch brand Bell & Ross. Today they are the pioneers in the filed of military watches. We spoke with co-founder Carlos A. Rosillo about the most important milestones from the past 25 years, and why the brand Bell & Ross probably wouldn't exist without Mr Helmut Sinn.
1. What does a mechanical watch mean to you? What makes it perfect for you?
---
A mechanical watch means two things to me. First of all, it is a watch in which the technical elements made visible offer a good understanding of the engineering. Also, the beauty of a mechanical watch is that if you take good care, it lasts a lifetime and you can even pass it on to your children. Secondly, a mechanical watch is a valuable product. It can last because of the technical aspects or because of a good design. When you are only able to produce a limited amount of any product, it makes it more valuable than mass produced products.
What makes it perfect to me? When you combine shape and function. For example, we are very well known for our iconic square watches (Instrument collection). So, we decided to make a square movement. Then we took it one step further, and decided not to make a case around it, but rather, the sapphire glass. So the movement, the mechanical aspect, is fitting the shape of the watch – like a piece of art in a frame.
2. Which watch are you wearing today and which one do you wear the most?
---
Today I am wearing the BR-X2 Skeleton Tourbillon Micro-Rotor. To sum it up in a few words: it's square, elegant, technical, but easy to wear because it is not too thick (it measures only 8mm with the sapphire case). There is no certain watch that I wear the most. It depends on my mood and the occasion. Sometimes I wear watches from the Instrument collection as they are more classy. If I want to be more sporty ,I wear the Nightlum, BR V2 or BR Diver. With the X1, I like that you can see all the technical details in it.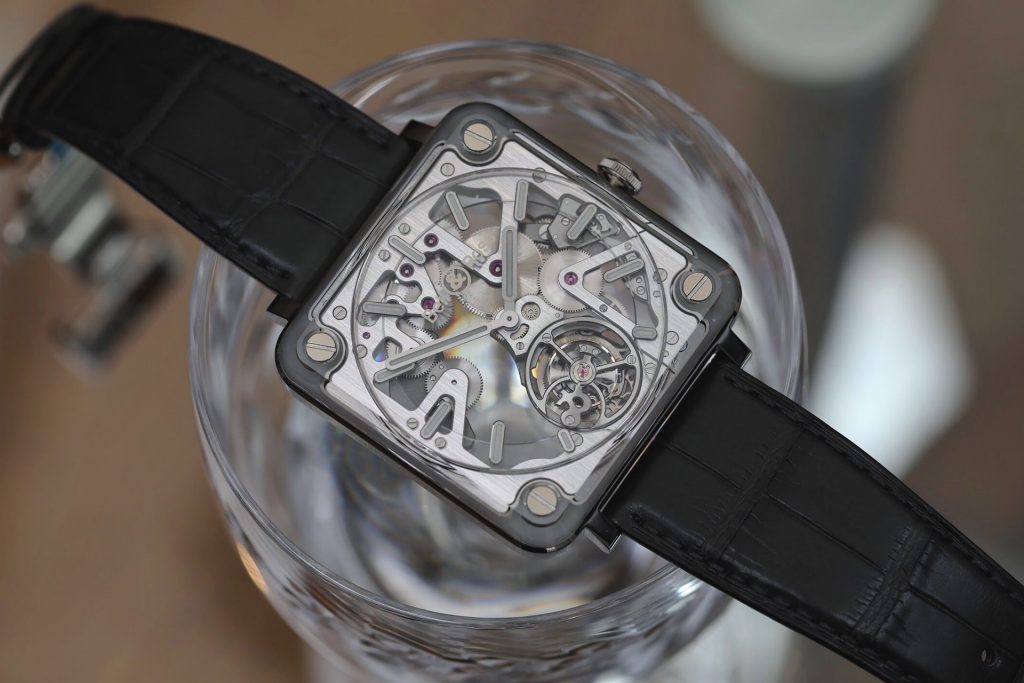 Without case – the Bell & Ross BR-X2 Skeleton Tourbillon Micro Rotor
3. The brand Bell & Ross was founded by you and Mr Bruno Belamich in 1992. What happened exactly?
---
We have been good friends since the age of 15. He is a product designer, while my knowledge is in the field of business. That makes us very complementary to one another. We were lucky to meet Mr Helmut Sinn from Germany at that time, who had a lot of experience in watches; he actually produced our first watches. We started straight away with a collection and the attention we received at Baselworld was far more than expected. Not too many people were into military inspired watches at that time, but we seemed to open people's minds.
4. Where did the idea for military-inspired watches come from?
---
Military equipment is efficient. You can draw many parallels to our everyday life. The Internet was first used by the military. Today's SUV cars originally come from the military. Some garments, which are still in fashion today, were inspired by military wear. You know why we called our collection X1? When the Americans wanted to break the sound barrier in the 1950s, NASA launched a program called the X-program and the first plane that broke the sound barrier was called Bell X-1 with its pilot Chuck Yeager. They wanted to go beyond limits. This was our inspiration for the X1, which is highly sophisticated and equipped with the most extreme technicalities.
5. What are the most important milestones of Bell & Ross from the past 25 years?
---
I can summarise this in four steps. The first step would be the contribution of Mr Helmut Sinn at the very start, when we gained his knowledge of watchmaking. The second step was the autonomy of production. We suddenly grew very fast because we had a great demand worldwide. In the beginning there was even more demand than we were able to produce. We were lucky that we had some good partners as well as our production in La Chaux-de-Fonds, where we were able to control the quality and quantity.
As our third step, we needed to strengthen our position in the market. There are many companies that like aviation and military things, so we needed to work on our identity. We concentrated on the dashboards, which were used in aviation. We captured the soul of a plane – which is the dashboard – and put it on the wrist. In 2005, we launched the first square watch. From that moment, we had created an icon that was completely different. The final step of our most important milestones was the birth of the X-collection. We became a manufacture and started experimenting. When you look at our X-watch you don't question if it is a mechanical watch – you can see it.
6. Bell & Ross specialises in manufacturing professional instrument-watches and the motto is "function shapes form" – hence the collection Instruments. Tell us little more about your vision of the Vintage and Experimental collections?
---
Vintage is about being inspired by classical watches from the past, combined with modern aspects. We actually started as watch collectors and went around the flea markets and looked for vintage watches. We then injected modernity into a classical watch.
Experimental is the challenge of complex techniques. Here, the material is always very sophisticated. The construction of cases are much more complex then seen in other collections. Ceramic, zirconium, sapphire glass – and the mechanical aspects are also always made visible.
7. Your partner and creative director Bruno Belamich said "to create new models I need new sources of inspiration every year." Since 2014, the B-Rocket, Belly-Tanker, Aero-GT and BR Bird have been born. Is this already becoming a sort of tradition for how you will present your new products?
---
Not necessarily. Existing objects can inspire him, or he can also be inspired by a plane that only exists in his imagination. Bruno likes his freedom and is not limited in creativity. I give you an example: Bruno loves planes – so he draw a sketch of a plane as how he would imagine it to be. It was the BR Bird. In a second step, he tried to put the language of the plane into the watch. Sometimes we take our inspiration from existing objects, and sometimes we invent them.
8. There is a section on the Bell & Ross website called "Professional-References". How did these cooperations develop? Did the elite unit of the French GIGN come to Bell & Ross or was the initiative on your behalf, to show the manufacturing competences of the professional instrument watches?
---
We have built up this reference over the years and people come up to us because we inspire them. We continue our cooperation with some elite forces because they use our watches as their tools. For Bell & Ross, these people are our brand ambassadors, rather than public figures.
9. Since 2016 you joined partnership with the Renault Formula 1 team and with this took a step into another very technical field –motorsports. How did this develop and what are the reasons for this partnership?
---
When you speak to most of the engineers in Formula 1, they come from aeronautics. The car has to stay on the ground, the plane in the air, but both fields arise from aeronautics. Thus, Formula 1 makes sense for us and the partnership is very successful. It is our challenge now to present new watches that fit this cooperation. Our design team loves to visit the car production sites and to converse with their design team; it stimulates creativity.
10. Looking at the different collections the price range of the mechanical watches is diverse: from BR V1-92 MILITARY to unique piece BR-X1 SKELETON TOURBILLON SAPPHIRE BLACK. What are the advantages and what challenges do you face with them?
---
We are not defined by the price. What is important is that our customers always recognise a Bell & Ross watch. We have customers who go up to half a million euros for one watch while others are happy that they can have a valuable watch for 2,000 euros. For a company, it is of course economically worthwhile to have different price ranges as long as there is a demand for them. It is also a strategic aspect. For example, if Mercedes would only produce the Maybach I don't think they would be as successful. When you only offer high-end watches you still need to produce many and also sell them to cover your costs. So you also need a daily business with mid-price range watches.
11. Which communication channels are especially important to Bell & Ross today and how will they change in the future?
---
Obviously the digital world has changed a lot. You get an instant and efficient reaction. But also the Baselworld fair is important, plus Print, Billboards, POS. By the way, we launched our first website in 1998 – not many brands had a website then. We were also the first brand ten years ago to have a boutique.
12. In what direction is the watch industry moving?
---
There might be a sort of concentration of the watch industry. Look at Basel; compared to a few years ago, there has clearly already been a strong reduction of brands. It might be a way to clean the market, and only the best will survive – but not necessarily the largest. In fact, the big brands, which are focused on quantity, will struggle in my opinion. Because I don't believe that the watch market is made for quantity. Furthermore, the digital world is definitely also changing a lot.
---