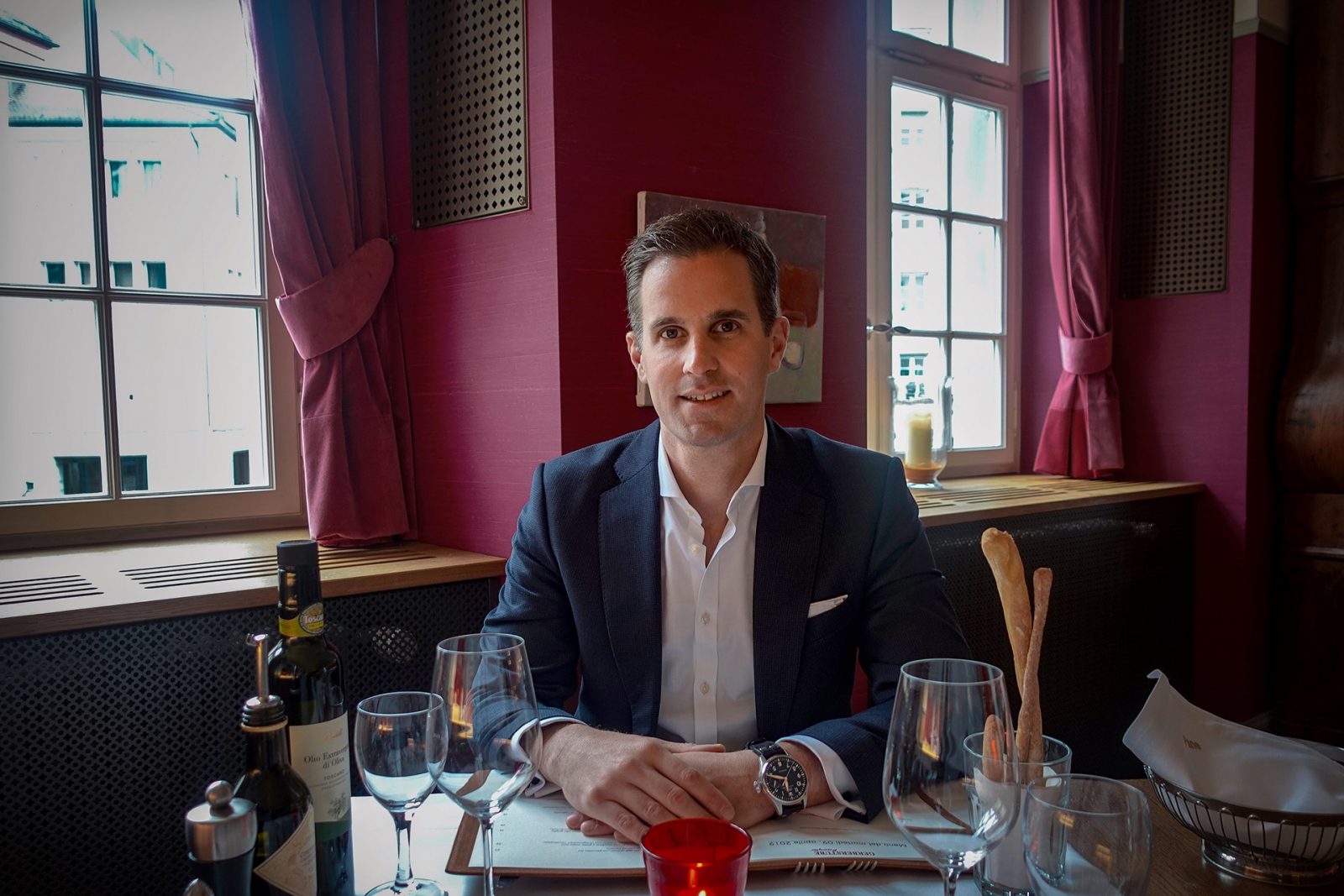 If Christoph Grainger-Herr had to personalize the stereotypical IWC customer, he might catch himself picking his own name. And not out of sheer vanity, but because the young CEO embodies and leads the brand with so much genuine dedication, for just over two years now. The trained architect has been with the brand for over 12 years already. As precise as the International Watch Company – IWC – has established its engineering skills in terms of watches in the past 150 years, just as eloquent and perceptive Grainger-Herr masters his choice of words. And yet, he rather cherishes an approach reducing things down to the basics – at least in terms of watch collections. In Schaffhausen, we recently learned more about his visions on how a traditional watch brand remains modern without losing its DNA, how collections can emerge from social media and why we witness a comeback of records, Leica cameras and vintage watches.

1. What does a mechanical watch mean to you, which watch are you wearing today and which one do you wear the most?
---
What makes a mechanical watch so unique is that it keeps so many emotions, symbols and messages in such a compact little object that you always carry with you. All other objects that are able to transport these emotions in a similar way, like our home, our apartment or car, we will have to leave behind at some point. A mechanical watch is one of the rare products for a man which he is able to express himself with, that tells something about his preferences and passions, and this all on such a tiny surface.
Today, I wear the IWC Big Pilot's Watch Edition "Le Petit Prince" with our 7-day power reserve automatic movement calibre 52110 in steel, with blue dial and a blue strap that I chose for this watch. It is actually the watch that I wear the most. On the one hand, it symbolizes the whole history of aviation and on the other hand, it is an elegant but sporty and very versatile watch. A perfect everyday watch.
2. You have been CEO of IWC for just over 2 years now. What are you especially proud of?
---
Our 150th-anniversary last year was a high point, during which we also presented our new manufacture. I am very proud to see how we managed to combine a highly modern production site with a unique experience for visitors, both of which convey the spirit of IWC in a perfect way. I am also especially proud of the dedication and motivation of our team, that now fills our new manufacture with life.
Furthermore, I am very pleased about the execution and design of our new Pilot collection, where we deliberately didn't want to explore the military side of the 'Spitfire' but instead the engineering and design story. On August 5th, our pilots Steve Boultbee and Matt Jones will set off on a circumnavigation of the world with a 'Spitfire' from 1943. The plane was heavily restored and will travel 43.000 kilometres in about 150 stages. An adventurous project as they are completely on their own in this one-seater plane. There isn't even heating on board. To be able to take off for longer distances, we have installed additional tanks. The plane can now take stages of up to 1300 kilometres at once.
3. IWC watches are being described as "precise engineering and timeless design". Why is "engineering" such an important word in the communication of the brand? What does engineering mean to you personally?
---
That is our approach how we practice watchmaking. We don't come from a classical 'Métiers d'Art' approach, but we rather define ourselves as engineers. That means to come from a problem-solving approach and manufacture products that deliver optimum performance in their functionality, which are solid and user-friendly at the same time. We also try to follow an approach reducing things down to the basics. At IWC, we hardly see any complications that only exist to be most sophisticated or nicely decorated; our expertise lies in the field of materials like titanium, ceramic, ceratanium and instruments like depth gauges, double-chronographs, GMT and world timer, all mechanisms that have a useful function. A good example is our perpetual calendar. When the development started, the mechanism was made of around 200 components and needed to be adjusted by multiple pushers. At that time, we developed the same mechanism made of only around 80 components, adjusted by only one crown and it was pre-set to the year 2499.
4. The brand maintains a strong partnership with Mercedes-AMG and both share the passion for engineering. However, in the car industry the future seems to be hybrid or electronic. In this respect, how does the future look at IWC? Will you continue to share the same values?
---
We build products that are made for eternity – it is something intrinsic to mechanical products. By contrast, software-based devices become obsolete after a short time. Our demand has always been that our watches have to last a certain period of time and can be passed on for generations. It has always been a little different with cars. They have a more limited durability. But the engineering ideology remains the same. This knowledge will start to vanish with electric cars. But the demand and passion for mechanical engines will not disappear overnight, just like smart watches will not replace the mechanical watch. This is another reason why we so strongly support the 'Spitfire'. The plane is nearly 100 years old and still up in the air – we want to preserve this engineering knowledge and keep it alive. It is important for our future society to preserve these skills.
5. Being a brand rooted in America, how well established is IWC in the USA?
---
The US clearly is the next target market for us where we will highly invest to raise our level of awareness. We have huge potential due to our history that needs to be exploited. On the other hand, it is nearly impossible to conquer all markets equally. We are happy to be so strong in Asia. We have perfectly used the momentum in China to strongly establish the brand in the past 20 years. And for the future, the focus will clearly be on the US and some Latin American markets like Mexico.
6. You have the IWC Collector's Forum and the IWC Collector's Day. What exactly happens here and to what extent are you personally involved?
---
Apart from seeing each other during fairs or bigger events, the Collector's Forum organizes smaller meetings with collectors around the globe, a maximum of 40 guests. We exchange thoughts about our existing collections, soak up feedback, talk about future ideas and just have a good time together. Of course, I try to attend all meetings. The knowledge of collectors is immense and it is incredibly inspiring to dive into their stories.
7. For the first time, you let visitors enter your 'holy' manufacture. What is the real reason? Credibility becomes more important than flawless self-presentation or do customers need this entertainment for a unique brand experience? Or both?
---
We are an open and accessible watch brand which is rooted in our DNA. It is important for us to show each of our steps. It has also to do with the difficulty we face when explaining the complexity of a watch to a client, especially those featuring a closed case back. But when people are able to experience all the steps that it takes to manufacture a watch, they will develop a very special relationship to the product. Also, themes like sustainability and origin play an important role. All our manufacturing steps can still be tracked, and that is since 1868. And now every visitor can become a first hand witness. It is unique in the luxury industry – I can't think of another industry where this is truer.
8. Access for visitors, exchange through social media, more focus on consumers during trade fairs; does the consumer industry develop to be a 'big brother is watching you' system in order to soak up as much information from their customers as possible?
---
(Grainger-Herr laughs) That is an interesting question. But no, that is actually not our motivation at all. The motivation derives from the fact that we produce emotional products that bring joy. We make products for our clients and the more they can experience them, the better for all of us. The digital and structural change has provided many new options that we want to use. With these changes, we are also able to provide our clients with an advanced service that is tailored to their needs. But it has certainly nothing to do with a surveillance-state-like principle.
9. By now, social media has become an important new field also to most watch brands. What were your most important learnings that derived from the interaction with your clients?
---
Quite a few. For example, we started to produce watches that were originally supposed to be single copies, like the Big Pilot Safari. There was this overwhelming reaction on social media that led to a production of 100 pieces that we sold immediately via social media. The many possibilities of social media enable an enormous exchange with clients that today prefer to use this way of communication. This way, many projects emerge that we actually didn't plan.
10. How do you plan to maintain the fascination for mechanical watches for the next generation, and at the same time respect the needs for your loyal collectors and existing customers?
---
It is a question of finding the right balance between continuity and innovation. I personally don't believe so much in the break of generations. When I see how luxury and art in the life of humankind work since thousands of years and how the social system of values and needs behind this remain constant, I can hardly imagine that this would have changed so drastically within one generation.
But what certainly has changed is the way that the young generation approach brands, how they interact with them, their different needs and the way of communication and retail channels. Being a timeless luxury brand, we must find the balance between preserving the DNA and proactively adapt to the new channels at the right time that we want to communicate and tell our story to eventually reach our clients and sell our products. However, there is only a minor change in taste – we are not the fashion industry that constantly needs to reinvent itself. Indeed, younger generations' preferences in terms of watch models are still largely the same as they were 20-30 years ago. The transition is mainly taking place in the communication, distribution and service demand, then in the product itself.
11. Collectors criticize famous testimonials (also social media influencers) to be emotionless multipliers that do not authentically embody the true brand's values. With this, will brands start to lose their DNA in the long-term?
---
It is actually a popular tool from the luxury industry deriving from association-marketing. Association is one of the key elements of marketing emotional products. They always embody quality, tradition, crafts and lifestyle. Let's go back 1000 years again. Luxury as creations were individual craftsmen, artisans, composer and artists that produced individual pieces for kings and a rich clientele. As soon as a new product was purchased the question circulated, on which royal court this might be worn, what wears the king, what wears the pope and so on. Around the 17th century, the first glossy magazines circulated in Europe that illustrated what was worn on the royal courts in Versailles or in England. Today, nothing really has changed. Nowadays it's Pop Culture instead. From Mozart to Hip Hop stars, that became the new role models today. The principle is largely unchanged.
But then, the social media influencer brought a new phenomenon and the industry had to undergo a learning process. On the one hand, the influencer has the same strong communication impact on social media as other ambassadors, but on the other hand, the same rules must apply. The story needs to be authentic, just like the relation to a brand needs to be authentic. In the digital field, we increasingly discovered how on a payment base brands were replaced from week to week, of course this is not credible. It would be just as inauthentic beyond social media when a tennis player would change his shoe brand every other day. This has gone in the wrong direction and as a global brand I need to be careful and aware.
A good example of an authentic collaboration is our ambassador Bradley Cooper. When we met for the first time, there already was a deeper interest in the brand. Only quite some time later we have officially announced a collaboration. And for two years, he is an authentic and passionate ambassador of the IWC brand.
12. In your view, in what direction does the watch industry move?
---
Whereas 10 years ago the market was dominated by brands with new approaches and design, the people now reflect back to consistent, traditional and iconic brands with strong values and a long history. There is a rising demand for retro and vintage watches since a few years. I have always asked myself why. One answer that I have found for myself is the fact, that in the post-war era we had a clear vision for the future. We knew that technical progress and an increase in productivity led to better prosperity. In the 90s this upward swing has started to diverge. With the digitalization, also many questions have arisen that don't clearly define the future development. The people don't share a common opinion any longer. Where is the hope of the future? We don't know. We increasingly feel uncomfortable and rather hold on to things that give us familiarity and safety. And this is the comeback of records, Leica cameras, historical cars and mechanical retro and vintage watches.
---