Swisswatches Magazine recently visited the new Omega headquarters in Biel, where we met with CEO and President, Raynald Aeschlimann, for lunch to find out more about the direction the brand is heading in. Amongst other things, we discussed the changes and challenges since he took over at the helm 22 months ago, as well as what James Bond and Edwin "Buzz" Aldrin have in common.
1. What does a mechanical watch mean to you? What makes it perfect for you?
---
First of all, a watch for me should always be mechanical. Of course, it remains a question of taste and what the clients want, but the experience you will have with a mechanical watch is unique – and for me, the most emotional. The Omega brand was established 170 years ago, and after a few years, the founder realised that perfection lies in a mechanical watch. He recognized the many advantages of a mechanical movement ­– you have spare parts, detailed blueprints and your own material – and hence the 19-Ligne calibre was born in 1894. For me, the mechanical movement is at the heart of our work. It is basically the only machine in our immediate environment that runs 365 days a year, and this almost perfectly. And this is the case here at Omega, because Omega in Greek means "perfection". Ever since our foundation 170 years ago, we have strived to go even beyond perfection. That's what makes us so unique.
2. Which watch are you wearing today and which one do you wear the most?
---
At the moment I am wearing the Seamaster Diver 300M in steel and Sedna-gold with a rubber strap. I have the great privilege to be able to switch watches very often. I only wear watches that really mean something to me. We have completely re-designed the 300 M line, which was a huge challenge because the watch is so much respected by Omega and our fans. It's like having to completely re-design a Porsche 911. This watch is an inspiration for so many people, and we didn't want to take this inspiration away from them. I think we have done it pretty well. It is the best that one can manufacture in today's industry, and at the same time we have preserved its roots. I am wearing this particular version because for me, it combines the perfect balance of colour. What our design department created is so good, that I wore this watch throughout the entirety of Baselworld, which I rarely do. But most of them all, I wear the Seamaster Planet Ocean 600M Co-Axial Chronograph in rose gold.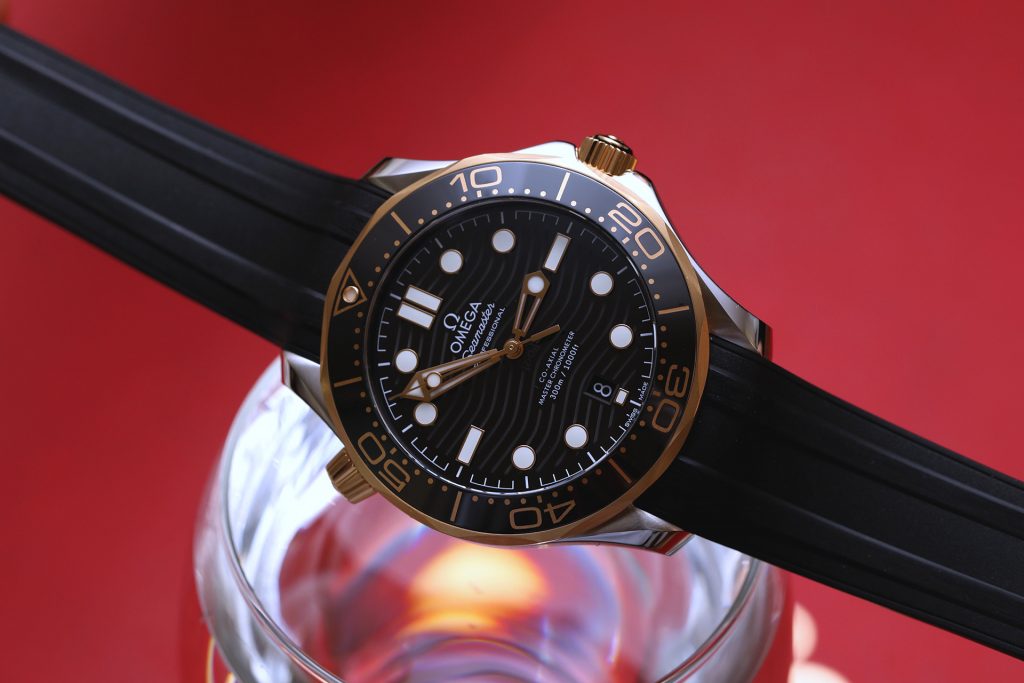 One of Mr. Aeschlimann's favorite watches:
the Seamaster Diver 300M in steel and Sedna-gold with a rubber strap
3. You were Vice Director and International Sales & Retail Director from 2001 to June 2016. Compared to your new position as CEO, what are the biggest challenges, and what facilitates this new position?
---
There are actually not many changes, because I have always worked passionately for the Omega brand. Of course, the team that supports me is a great relief. My colleagues instantly accepted my new position as CEO and President, and together we have achieved so much. The biggest challenge is always the question what we at Omega can achieve – not just me but the whole team, and the question of how much capacity do we have for creating novelties. One change as CEO and President is definitely the responsibility to identify problems, solve them, and at the same time, develop novelties and exciting projects. Our clients have great expectations for Omega and don't wait for something new just because others did it – they expect something of our own – something unique.
4. You have been OMEGA President for about 22 months now. Which of your team's successes are you especially proud of?
---
I am proud of so many achievements of our work. It doesn't always have to be a sales aspect. I am proud of the steps that we have taken together. We have employed more then 100 new people and opened a new headquarters. These are internal achievements that we are proud of. For our clients, we have introduced new products that on the one hand respect our tradition, and on the other hand, we have launched a new Trésor line for ladies, on which we already received great feedback. On terms of sales, I think #SpeedyTuesday was without doubt our most important project. Everyone has worked together to make this a great success and the whole team can be proud about this. The enthusiasm and passion in those who work for Omega is something that makes me personally very proud!
5. Recently, OMEGA opened its new manufacture (where we are sat right now) in Biel – what will change?
---
I am so happy that we finally are bringing together all working units. It's like a clinic where all watches are being born and being looked after step by step. The Swatch Group made it possible for us to be united under one roof. This aspect, paired with the motivation of our employees, leads to much more productivity.
6. How will the company and the products change in the future?
---
The whole world changes at the moment and we adapt to it. The millennials, as they are known, are much more brand-orientated. Luxury isn't just expensive but they want to feel the brand in terms of the value they get from their product. Hence, they want to emotionally live and experience the brand, and not just the product. Therefore, it is crucial that we share our values through the right channels. I believe that Omega has accepted this change very well. We are not an arrogant brand, we have never said that we know better than anyone else. We have always listened to our customers demands, and the proof for this are our more than 150 boutiques worldwide – no matter how other brands do it.
7. Since 1995, James Bond wears the Omega Seamaster in every movie. Furthermore, 49 years ago, on July 21th 1969 when Edwin "Buzz" Aldrin first took a step onto the moon, he was wearing the official NASA-spacewatch on his wrist: the Omega Speedmaster Professional. If you could ask people how they know the brand Omega, what do you think would be the breakdown of these two stories?
---
I think the Omega brand is well known all over the world. If you would ask people where they know Omega from, I believe they would say from many things – you cannot divide it into Bond vs. Moonlanding. The Speedmaster story is surely the most incredible Omega story of all times and also the most famous one… But rather for people who are interested in watches in general. The Seamaster and James Bond story is also known by people who are not so familiar with watches. Different people know us by different stories, but that is good. They know Omega from one story or another.
8. A mechanical watch can be called an 'offline' product. With the birth of Omega's Speedmaster "SpeedyTuesday" this might have changed. How does a mechanical watch survive in a digital world for Omega?
---
Not very long, because it was sold within four hours. No, but seriously, the SpeedyTuesday has created a community that would have never been so big offline. That's what is so wonderful about online, this connected world that brings together people with similar interests. That is an important advantage from the online world, and also Instagram. It was a very emotional moment thinking about the fact that more than 12,000 people worldwide wanted to have this watch. I have even talked to some of them personally and we shared some thoughts.
9. Let's talk about Omega's limited editions: when looking at the watch-communities, opinions are divided. Some watch fans think that too many watches are limited and some of them are not happy about certain limitations in particular. What are your arguments?
---
You are right, some products have been too limited or limited too often. At Baselworld we again introduced some limited editions, for example the Speedmaster CK2998, but we did not limit the Apollo 8 and the platinum version. So basically, only three watches, the Speedmaster CK2998 and the two Seamaster 1948 types, and these watches are so special that I find it necessary to limit them, just to point out their particularities. Some other watches also need to be limited due to their complex manufacturing, even if there is a strong demand. We try to respect our customers needs, and try to find a good balance in between.
10. Which communication channels are especially important to Omega nowadays and how will they change in the future?
---
Social media is very important, especially if you want to get connected with the new generation. However, we still need to be careful that we create content that respects our values, that is relevant and excites. A close relation to influencers and watch bloggers enables us to take a look from outside to understand what we do and where we will go in the future. Furthermore, we own a huge network of boutiques around the world, which enables us to be face-to-face with our customers. This immediate feedback is incredibly valuable to us because Omega fans are passionate buyers, so we learn a lot about what makes them happy and what doesn't. How our communication strategy will develop over the years depends on how the digital channels will change. I believe the biggest change will be the speed of communication and also how customers decide to buy a watch.
11. Having opened an e-commerce platform in the United States, Omega give the option to buy directly from the brand. How do you find a good balance which ensures you do not to provoke local concessionaires and expansion of your retail channels? Will Omega turn into a "direct-to-consumer" brand?
---
We certainly don't want to provoke our concessionaires with e-commerce. There are so many Omega fans in such a big country who really want to buy an Omega watch but live more than 700 kilometres away from the next point of sale. There are three states in the USA in which we are not existent. Big shopping malls disappear. This lack of access needs to be filled temporarily. Online business is something that we are engaged with in our everyday life, so why should someone not be able to buy his or her desired watch online? We will also expand this concept to other countries where it is necessary.
12. In what direction is the watch industry moving?
---
It is one of these rare luxury-industry-sectors where there is still so much potential. It is not comparable with a luxury bag brand, for example, where it is always about design and material that renews itself. Looking at the watch industry, it's the technical aspect, which develops and reinvents itself continuously, that is so incredibly exciting.
---