Benjamin Comar has been CEO of Piaget since 2021 and is responsible not only for a whole range of highly complex watches, but also for extravagant jewellery. For although the manufacture originally started out as a supplier of watch movements, by the mid-20th century the maison had a desire to extend its expertise to other areas. For Comar, it was Yves Piaget who introduced his creations to the chic and sophisticated society of the 1950s and, with his unique lifestyle, led the brand to what still makes it so special today. That Comar is the right man to successfully carry on the legacy into a new age is clear from his résumé, having worked in the luxury watch and jewellery industry for over 25 years. We met the CEO for lunch at the manufacture in Plan-les-Ouates near Geneva, where Piaget runs its jewellery workshops, to learn the ins and outs of this very special brand.
1. What does a mechanical watch mean to you? Which watch are you wearing today and which watch do you wear the most?
---
Mechanical watches are a part of a marvellous world because they are based on micro-mechanics. Despite all the technology you find out there today, we still have the tradition of showing the time through mechanical movements that are handmade here in Switzerland. That's the magic of pursuing traditions and patrimony.
Today, I am wearing the new Piaget Polo Date Black in steel with rubber strap, which we just launched at Watches & Wonders and is already in high demand. There are two watches that I actually wear the most; the Altiplano Ultimate Automatic and the Piaget Polo Skeleton. This combines two qualities that are typical of Piaget: the ultra-thin movement that we are known for, and the skeletonised architecture. I wear the blue model of the Piaget Polo, but there is also a green version that we just launched. The Piaget Polo was initially created in 1979 for the US market. I think that over the years, the Piaget Polo did not receive the attention it deserves, so we are happy to have it back – plus the costumers love it.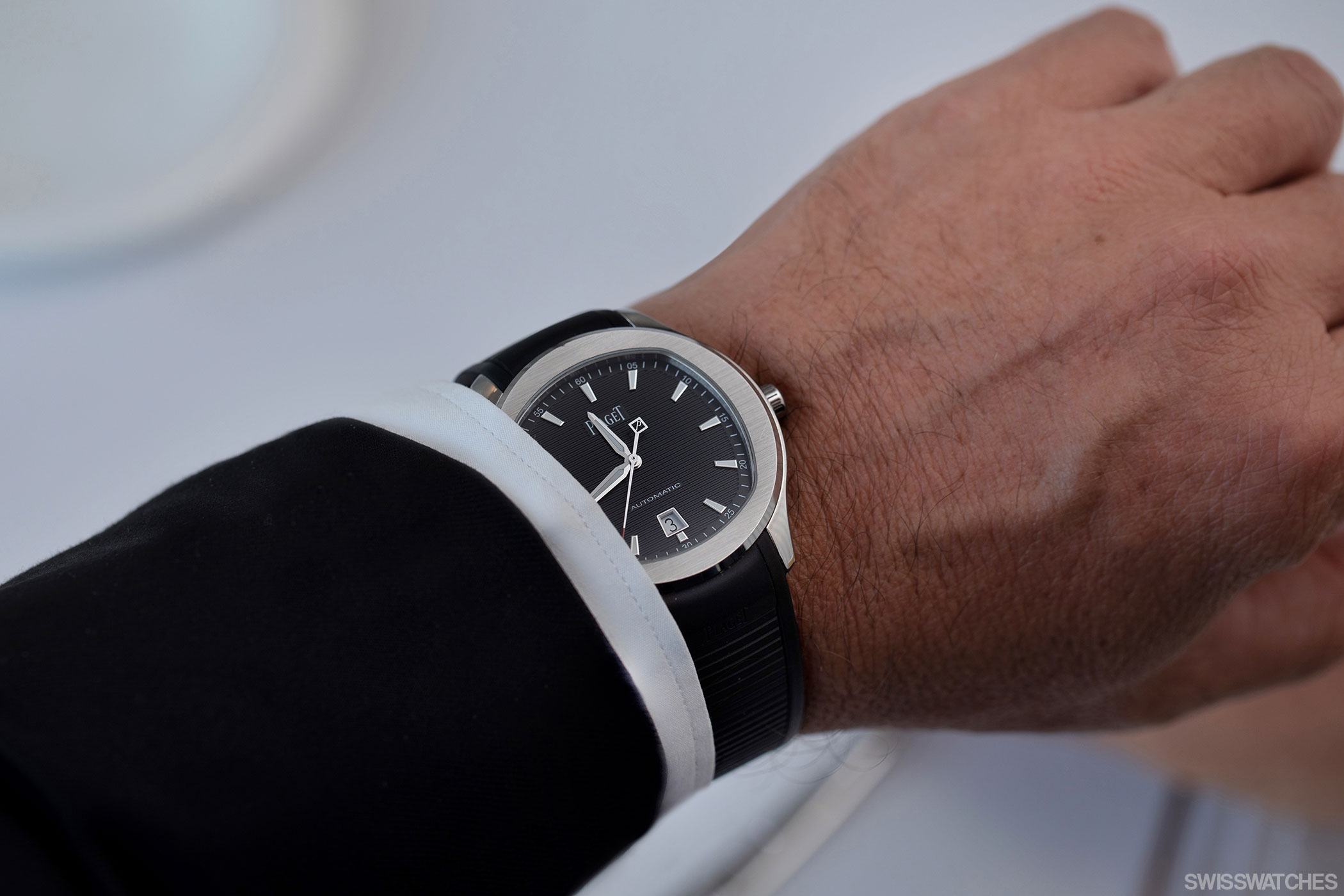 Piaget Polo Date Black
2. Piaget started out in 1874 as a supplier of watch movements, then added bracelets and pocket watches as well as luxury wristwatches. Since the middle of the 20th century, Piaget has also been making jewellery. Is Piaget a watchmaker or a jewellery manufacturer?
---
Piaget was originally a watchmaker, but we then swiftly implemented the jewellery side of things. Mastering watchmaking liberated our creativity so we decided to enlarge our field to jewellery. I think that globally, we are known as a very luxurious, prestigious brand, so it was brave to take that step. At that time, it was pretty unique within Geneva to create 'fancy' watches with coloured dials and precious stones; brands were more classical in their style back then. At our very first meeting, I mentioned to Mr Piaget that it takes some guts to establish a watch and jewellery brand like Piaget, and he told me: "I wanted to be different". I think that is still the culture today. We are great watchmakers and also great jewellers.
3. Piaget has its roots in La Côte-aux-Fées, in the Swiss Jura. In 2001, a second manufacture was opened in Plan-les-Ouates, near Geneva. What is the difference between the two locations?
---
La Côte-aux-Fées represents two values. Extravagance and elegance. Here we have the watch movements, the ultra-thin technology, the Altiplano Ultimate Concept. We built the premises to have more space, where we are now able to manufacture all our products. In Plan-les-Ouates, we have our Ateliers where we create and build our jewellery.
4. After positions at Cartier, Chanel and Repossi, your expertise clearly lies in the jewellery industry. How passionate were you about watches before you became CEO at Piaget?
---
I always loved watches, like most men do (laughs). At Cartier I was Marketing Director, so I was responsible for jewellery and watches. And during my time at Chanel, I was responsible for the High Jewellery watches. So, I was always in the watch world. I have also been collecting watches myself for a long time – not many, but a few.
5. Your predecessor Chabi Nouri established an E-commerce platform in the US for the first time in 2017. How has it developed since then?
---
Since then, we have implemented E-commerce platforms in China and Europe, including in Germany. It's very important and it gives us freedom. I like the system because it literally enables you to select a watch at 12 pm, sitting in your kitchen. It's a very complementary network for us to have within our retail portfolio.
– How do your retail partners react regarding your expansion plans in e-commerce?
We treat our retailers as partners. 95% of our range is available from both: our partners and our E-commerce. There is no conflict, and everyone could technically sell anything they wanted – but we also don't want to overload retail.
6. Piaget has also been selling its watches via Net-A-Porter and Mr Porter for several years. Did this – for a luxury watch brand's early entry into the E-commerce business – also protect the brand during the pandemic?
---
I think the brand was mainly saved throughout the pandemic thanks to the colossal effort made by our team. Our sales team also maintained very close personal contact with our clients; via mail, via phone, via Zoom. But in general, the culture of purchasing luxury goods online grew immensely during that time, so obviously having our well-established E-commerce channels helped us too.
7. You have been working in the luxury industry at Richemont for over 25 years. How has the clientele and their buying behaviour changed over time?
---
Firstly, the level of knowledge held by clients has grown immensely, largely thanks to the internet. People are looking for high levels of authenticity, yet are more relaxed when it comes to purchasing. Previously, it tended to be a very coded purchase: birthdays, weddings – people seemed to buy only for special occasions. Nowadays, people don't need a specific occasion. Purchasing luxury has become more casual and therefore we are able to also sell more sports watches now, hence our biggest line today is even the Piaget Polo.
– Talking of the Piaget Polo line: how do you assess the trend of sporty-elegant watches? Is it a temporary fad or do you believe we are in it for the long term?
I believe in a long-term trend. I mean, classical watches will always be sought after. But who would have thought 15 years ago that Chanel would be so successful in selling sneakers? There is not one luxury brand today that is not doing sneakers. There is a more relaxed attitude in general, so sports products' values in fashion and luxury goods are increasing.
8. We would argue that Yves Piaget, the great-great-great-grandson of founder Georges-Édouard Piaget, probably shaped the brand most in terms of how we know it today. Would you agree?
---
I totally agree with this. Yves Piaget shaped the brand with the main principles of extravagance, elegance (which I term 'Extraleganza'), alongside the sense of sharing joy, are values that were created by Yves Piaget in the 1950s. When I first met him and asked how he would explain Piaget. He said, "Piaget is very simple; it's from La Côte-aux-Fées to La Côte d'Azur." He referred to the very fancy, elegant and chic population of La Côte d'Azur on the French Riviera: bold, daring, expressive. This encapsulates everything that Piaget still is today.
– Yves Piaget has just celebrated his 80th birthday. Are you still in regular contact?
Sure, he is still an adviser to us. He has his office here and still comes couple of months. We actually celebrated his 80th birthday here together, gifting him a very special watch that he had wished for a long time.
9. With the Altiplano and its ultra-thin movement, Piaget has already set a number of world records, which have since been surpassed again by the competition. How do you feel about this?
---
I am very happy about that, otherwise we would feel alone! It opens up the market and draws more attention to a topic that we all profit from. Also, we have paved the way of ultra-thin watch movements for a long time.
– Did you see Richard Mille's RM UP-01 Ferrari coming or was it also unexpected for you? Before this, Bulgari was always your biggest competitor in ultra-thin movements.
To be honest, I didn't see this coming from Richard Mille. But it's a very different watch and market. We are still considered to be the elegant ones in this area.
10. The Altiplano Ultimate costs over 400,000 euros. Who are the buyers of this model?
---
We have a lot of collectors. There is a waiting list of approximately one year to get the watch. You can customize the watch so it's rather for collectors. We have customers who pick a date and place that is special to them – their wedding, for example, or the birth of their children – and we create the night sky with the stars on the dial, showing exactly how it looked during that specific date and place.
11. What particular challenges do you face in the development, production and aftersales of the ultra-slim watches in the Altiplano line? How about the Piaget Polo Skeleton and complicated traditional Piaget Polo models such as those with minute repeaters?
---
The challenge is time. The developing period of one watch takes five to six years. When you have an idea, you know that it will take about 5 years until it is ready to be launched. It's a long time. In this world where everything goes so fast, the key is to really master time. You need to take the time to develop and maintain the quality. And in terms of quality we always follow our motto "always do better than necessary". I hope we can keep this close to our hearts, as people will respect this and recognise it as creating part of the magic that is mechanical watchmaking.
In what areas does Piaget still need to catch up?
We need to catch up in the way we communicate things. We have great products, we have great sales people, we have great watchmakers. We need to be sure to share this with the entire world.
12. In what direction do you think the watch industry is moving?
---
I believe that craftsmanship will continue to be the driving force of our industry and actually become even more important. When the quartz crisis hit the traditional watchmaking industry, everyone thought that it would not have a future. We proved this to not be the case. The same happened in modern times with the new era of smart watches. It genuinely did not really affect the mechanical watch industry. What I like in the luxury industry is that people are very creative and innovative, but still have a foot in tradition in order to preserve our patrimony. This is exactly what our customers like us for.
---
---