Our conversation with Chabi Nouri took place back in January – so before COVID-19 and all that followed with it. Nouri's optimistic views on watchmaking and the sector itself are remarkable. She speaks with passion and enthusiasm about the rich heritage of the company she inherited three years ago, when she became CEO of Piaget. After all, Nouri leads a company that is not only treasured for its Haute Horlogerie, but also for its great in-house manufacturing of jewellery creations. The combination of both watches and jewellery is what makes Piaget such a unique manufacturer. Furthermore, the clear competition the brand faces comes from its own parent company – and this not something that bothers Nouri. Rather, she actually sees it as an additional benefit for Piaget's own creativity. Finally, even when we put forward a couple of further questions regarding the current crisis, Nouri by no means lost her positive attitude.
1. What does a mechanical watch mean to you, which watch are you wearing today and which one do you wear the most?
---
In today's world everything moves so fast and life is not eternal. Mechanical watches are something that last. They embody the know-how and craftsmanship of Switzerland that integrate so many centuries of watchmaking. And in all that time, a lot of innovation has gone through watchmaking. A mechanical timepiece is something that you can pass on to someone else, it is something that can be explained and it embodies a lot of memories.
Today, I am wearing the ladies Altiplano Automatic, a new model that we have launched on the basis of the 900P. It is manual wound and the movement is fused with the case of the watch. We decided to create an automatic version. The challenge was where to place the oscillating weight because the movement and case are fused together. The way to do it was using a peripheral weight. You can actually see it rotating on the dial. When we were working on the Altiplano Concept Watch, we came up with the idea of fusing the case and movement to save space. And as women tend to have more refined and thinner watches, this was a perfect way to transfer it to the Altiplano ladies watch.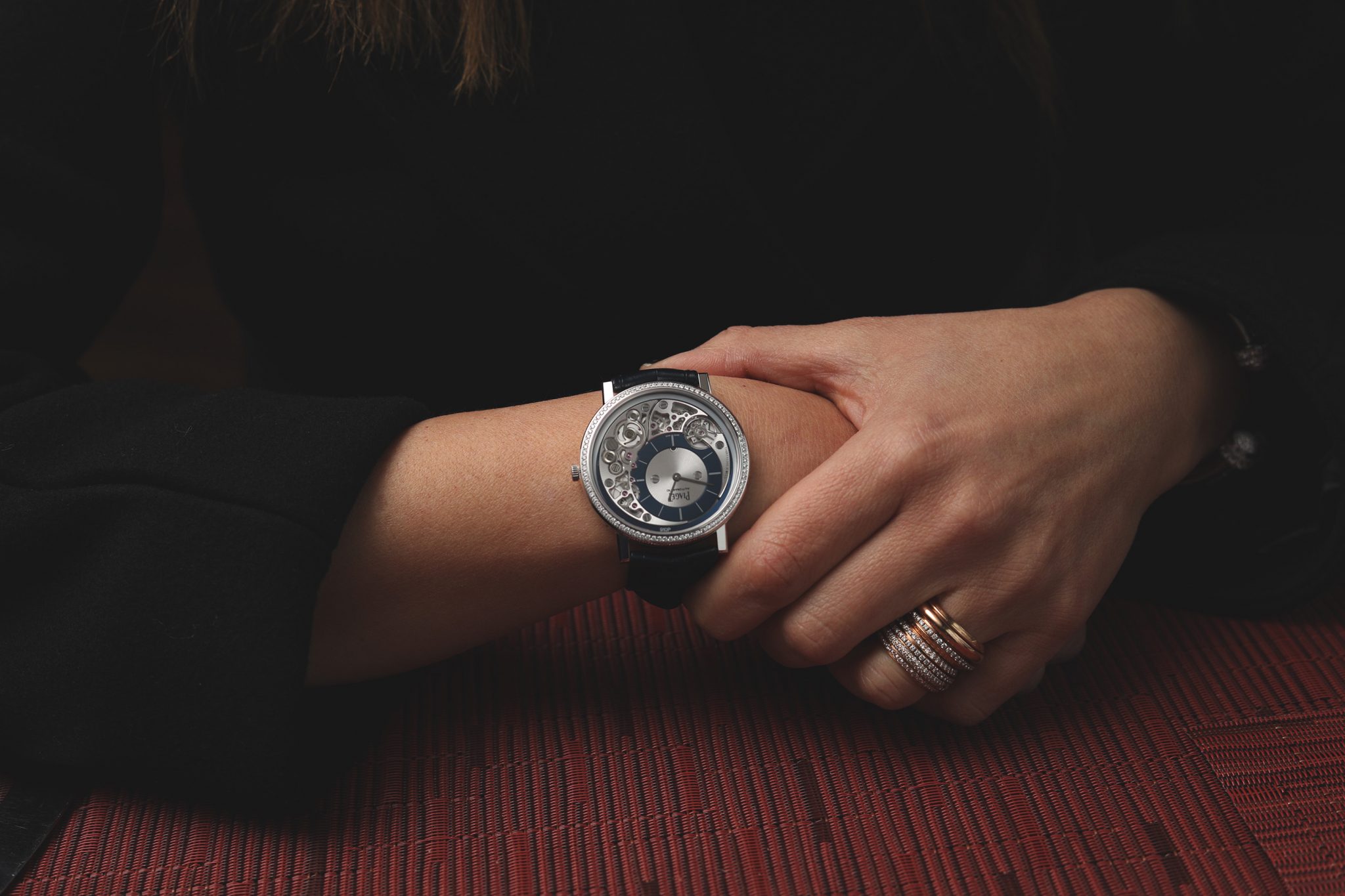 Piaget Altiplano Automatic
I also like to wear the Gala Limelight. It embodies many of Piaget signature features, fully integrating the artistry of Piaget. Additionally, I have a vintage Montres Piaget which I also wear sometimes.
2. How does Piaget differ from other manufactures? What are the milestones of the brand?
---
Piaget started out as a watchmaking manufacturer. At that time, Piaget supplied many Swiss brands and 50 years later they decided to register the brand and make their own watches internally. In the 1950s and 1960s, we started to integrate a lot of know-how about gold crafting, the art of sculpturing and gem setting. In Geneva, we actually had the biggest gem setting capacities and know-how in this field. We then decided to fuse watchmaking, gem setting and gold crafting.
What makes a difference today is that we have an integrated manufacture. It is very rare to have that, as we go from an internal creative studio to actual development. We also have a gold moulding facility – which is also very rare to have in-house. It is challenging, but also a great opportunity to be able to work on watches and jewellery at the same time, and it is an opportunity that not many brands have. I like to call it 'umbrella', the uniqueness that we have – the Polo, the Altiplano, the Gala and the rest of the jewellery watches are really the preciousness that link all of these worlds together.
3. Piaget is not the only brand in the Richemont Group that offers jewellery and watches. Cartier and Van Cleef & Arpels are pretty strong competitors. How do you evaluate the fact that two competing brands are within the group?
---
We all have a very unique positioning. Piaget really comes from the watch manufacturing world. We have strong distinctive signatures between these brands – we have our own territories and there is enough space for all of us. At the same time, it is great for creativity and innovation, as it pushes all of us to continue to innovate, create and bring novelties and own distinguished lines.
4. Piaget just introduced the new Altiplano Ultimate Concept, the thinnest mechanical watch in the world that in 2018 was presented as a concept watch. Why has it taken you two years to have it commercially produced? What changed since then?
---
The team worked solely on the prototype for four years – during which time many of the established codes of watchmaking were re-invented – and spent a further two years perfecting the design and engineering in order to bring the watch to your wrist and ready to commercial use. We had to use new material, instead of gold we used a new cobalt-based alloy – cobalt is 2.3 times stronger than gold-, in order to become so small. We invented new techniques – in all we could file 5 patents. Most parts needed to be re-engineered and re-sized entirely. The mainspring barrel, the source of power that drives the mechanism, is also of an entirely new design that has no cover or drum but is mounted on a single, ceramic ball-bearing within the frame of the watch and enables the fully-wound movement to run for up to 40 hours. This all demanded time, perfection, technical innovation and a team of the best watchmakers you could find.
– The Altiplano is very distinctive for a Piaget watch. Why is Piaget not so famous amongst collectors?
As mentioned, we do have a very strong positioning on the watchmaking side. But on many markets we have explored a lot of jewellery watches, some markets with more focus on women and some more on men. And that field is not so strongly developed in collector's circles. It is also the demand of the market that makes it interesting for both worlds that we have. We have a world of high watchmaking and a more Piaget signature world, which is high watchmaking combined with jewellery and gems. And many of our male customers like to wear the jewellery timepieces. We have always stayed true to our DNA and have not followed any trends just to be recognised by collectors.
5. Shortly before you have taken your position as CEO of Piaget at the start of 2017, Johann Rupert, Richemont president, said that Piaget needs more diversity. What exactly did he mean and to what extent were you able to implement this?
---
I don't think he said that. At least he did not say that in the context of Piaget. However, talking about diversity I personally think that it is very important, because our creations are interesting for so many types of people from different backgrounds, so we also need to represent that within our brand. And gender, for example, has never been an issue at Piaget, we always have been very well-balanced, and we still are – we have many women at the top of our management. And half of the clients interested in watches are women, so we have to think in a diverse way. The profile of the person in an executive position counts more than if it is a man or woman.
6. You have been primarily hired to get the brand back on track. What had to be changed and why were you the right person for this task?
---
First of all, the brand has never lost track. The brand has been developing very well in the last decades. When I joined Piaget, I had a very interesting focus, it was to really understand the foundation and driving force of Piaget. I have done a lot of research in understanding the DNA of the manufacture. I have understood what has really driven the brand for the last almost 150 years. I try to continue and develop the signature and strength that we have from this extraordinary history, in order to express Piaget in the right way today.
7. When it comes to watches, Piaget is famous for its ultra-thin models. Is this still your core business you earn money with?
---
The Altiplano is definitely one of our core watches. It is a big icon for Piaget that in 2017 celebrated its 60th anniversary. In 1960, we developed the movement 12P. It was the thinnest automatic movement in the world. All of our movements today are an evolution of that movement. The Altiplano was the original Piaget and will continue to be. Did you know that Piaget developed 35 ultra-thin calibres including 20 records throughout its history as a watchmaker? And we are very proud to be able to achieve all of this in-house.
8. Piaget has acquired an established clientele over many decades. What can you learn from the next generation, the millennials? What are their needs?
---
First of all, Piaget was one of the first brands in the high luxury segment to go with digital, which it did back in 2012. That same year, we already had an e-commerce platform to sell watches online. Within the organisation, there are many younger generations working for Piaget. We didn't have to start a big transformation project – it came really naturally. We were the first brand to collaborate with Net-a-Porter. We never had a barrier with the digital age. What we need to continue to do is to explain the richness of our industry to the younger generation, so that they understand and embrace the beauty that is behind the watchmaking. I think everybody today is looking for something that is exclusive, personal, with a strong history and a good story and this is what we need to continue to communicate.
9. Was the introduction of the Polo S in steel a consequence of market demand, or solely an internal decision to also implement steel models into the collection?
---
The core products of Piaget are definitely made in gold. The Polo watch is an evolution of the Emperador – it has the same shape of the case. The idea was about how to make the Emperador a more everyday watch. The line carries all the very high watchmaking that we have at Piaget and we were looking at a way to expand the line. It was a combination of market demand, evolution and the willingness of Piaget to have a more everyday watch.
– Will Piaget further expand their steel offer in the future?
That is not the core model of Piaget and we don't have a market position on that. But it is important that we craft and treat steel in the same way as gold – to express the timeless elegance of Piaget. Then, there is no rule regarding what could follow in the future.
10. Do you sometimes ask for your husband's opinion when it comes to new designs of men watches?
---
Not only my husband but many other men and women equally look at our new designs or prototypes. And the first thing that we try to look at is how much is it really a Piaget watch. For example, if there is no name on it, can we identify that is a Piaget watch? This is our way of approaching new models. And yes, of course I also take the opinion of my husband into account.
11. In Germany, Piaget is only available at concessionaires and online. Is part of your strategy to open boutiques in Germany to get more direct access to your clients?
---
We have 119 boutiques, 300 point of sales worldwide in total. Overall, we are very well balanced with our points of sales across the globe. On the business developing side, Piaget has been very quickly entering new markets. In the 1960s already, we were the first ones to go into all the different markets in the Middle East, plus we went into all of the American markets and also Japan. For now, we don't plan to open a boutique in Germany, mainly because our multi-brand partners in Germany are very strong. And we always continue to develop and maintain these partnerships.
12. How do you think will the watch industry evolve after the crisis and are there already any lessons that you have learned for the future of Piaget?
---
I believe that there is always something positive to learn about any difficult and challenging times. We all have learnt so many different ways to live, to work, to be resilient, to be creative and to support each other.
We already had to rethink the situation fast when the watch fair Watches & Wonders was cancelled. But the FHH has created a wonderful digital platform so we could still connect with journalists, retailers, watch lovers and even a greater audience. On this platform the journalists, retailers and public were able to discover some of our exciting novelties. Even though it doesn't replace the personal interactions we usually have, this is a great new way to share more broadly our passion for watches, our stories, our know-hows, innovations and novelties.
---