Nicola Andreatta has a calm, collected persona, despite leading the most fast-paced and disruptive horology house in the industry: Roger Dubuis. Following on from our time spent together at Goodwood Festival of Speed last year and our catch-up during the extraordinary year of 2020, we sat down once more to chime in 2023 with lunch at Il Mirtillo, a cosy traditional Italian restaurant situated 16 kilometres from the watch manufacture in Geneva. After picking me up in – inevitably – a Lamborghini, with whom the brand has a long-running partnership, Andreatta settles himself into the cream-coloured linen cushions and readies himself for another horological cross-examination.
1. What does a mechanical watch mean to you? Which watch are you wearing today and which watch do you wear the most?
---
For me, a mechanical watch is a piece of art. It's much more than just an instrument to tell time. It tells something about who you are. One can admire the intricacy and the beauty of what's inside, too – and this is something you cannot do with a quartz watch or with a connected watch or a device. I don't even call them watches.
Being a CEO, I have the luxury of testing many different timepieces. Most of the time, I try to wear something that adapts to the moment I am in. For example, when we work with Lamborghini, normally I wear a Spider. Or, if I have a special event that evening, I might wear an Excalibur with some complications. As I said, I often test things, and lately, I've been wearing an Excalibur with tourbillon and have been testing it for a while.
I'm also starting to test out the Excalibur Monobalancier (MB), which to me is the entry level of the brand – yet you can see all the character, all the features, everything we do even in the simplest models we make. While it's not a complication per se, the way we make it makes it feel that way completely.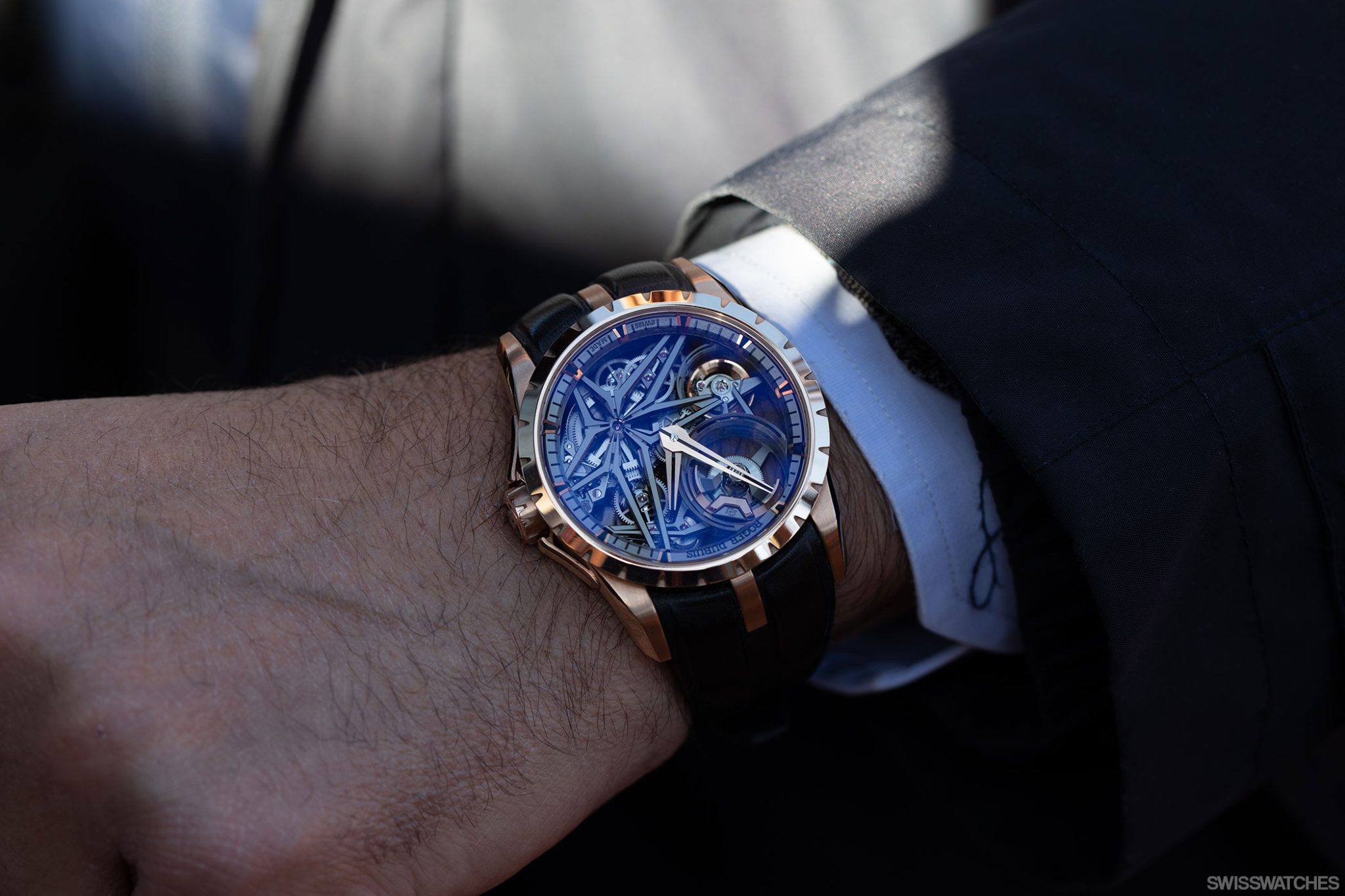 Ref.: DBEX0954 – Excalibur MB EON Gold Limited Edition Automatic Skeleton Flying Tourbillon 42MM
I'm so proud about the way we have evolved the design of the case and of the movement – the watch offers such high performance. We have been changing a lot of things in this watch and its calibre, so that I'm very proud to wear it in its final form. It also works very well with its diameter of 42 mm; this is probably the size I love the most.
2. How do you feel as the brand approaches its 30th year, and what do you hope to see happen at Roger Dubuis in the coming decade?
---
Of course, we are thinking about the fact that in two years, it's going to be an important anniversary. But ultimately, if you look at the rest of the watchmaking world, we are still extremely young and we aren't a brand that tends to look back; we prefer to look forward. So, celebrating 30 years doesn't really make much sense for us. Rather, we want to celebrate the next 30 years, and we are preparing something for this.
We are preparing something that fits the overall strategy of the brand. In terms of our calibres, we are considering how we can evolve what we offer today into something that will become larger and more comprehensive. We are reinterpreting and reworking some of the most important complications in the watchmaking world – and our plan is to come up with a new milestone every year, starting later this year.
Using this idea, we can reinterpret traditional watchmaking and create something more expressive and more contemporary, while considering how complications can be made more modern today. In other words, we are figuring out how we can actually update the world of watchmaking. As always, we are focusing on the future. As mentioned, we will come with an important step later this year, and we have actually already planned the next five years.
How has the brand evolved over the past three decades?
The brand has evolved dramatically. To me, if you are not true to your DNA, you risk losing your client because you are not true to yourself. I've seen so many brands making a departure from what they were supposed to do simply because they are looking to gain more clients. I don't want to make the same mistake.
In a way, we are always true to what Roger [Dubuis] and Carlos [Dias] started. You know, Roger used to say that he wanted to do something different in the world of watchmaking – this applies to his idea of going in a different direction compared to the classic watchmaking world. Today, our aim is to represent a credible alternative to classic fine watchmaking and to interpret what's going to be the future through our own hyper-evolution. We have definitely evolved fast over the last three years. I'm very happy about the work done to recenter the messaging of the brand, and to further clarify the values that we stand for.
We don't need to head in a different direction today. I want to make sure that we keep inventing, keep creating, and keep working with the future in mind. It's possible that those who loved the brand 30 years ago do not really understand where we are going today, but that's fine. We don't intend to please everybody. We want to make sure that connoisseurs and the watch lovers like what we do, with the knowledge that it's new and it's different. It has to be special.
3. Roger Dubuis has been concentrating upon and evolving the Excalibur for some time. You have said that the focus will be on the Excalibur Spider in the coming years, which often involves collaborations with Lamborghini and Pirelli. This line really pushes the limits in terms of experimentation. What kind of innovations can we expect to emerge as Roger Dubuis turns its attention to the Spider?
---
First of all, it's logic: Excalibur and Excalibur Spider: we work with two main collections. Then you have Knights of the Round Table, which is somehow still part of Excalibur.Right now, we need to attack the Spider. We are going to do the same kind of exercise as we did with the Excalibur; to keep the roots of what we created when we presented the Spider and evolve it towards what we think will be the future.
We are working on many different designs, many different cases, and we are going to add plenty of materials. You have to make sure that the material reliable and won't create any issues for the client. Then, in terms of wearability, you need to test and to keep exploring. We currently have several materials which we are testing in order to hopefully put into production in the future. Again, one specific material will be shown at Watches and Wonders this year, which is a world premiere. Others will follow.
That said, we don't want to unveil everything during Watches and Wonders because we have other important moments this year where we want to be able to present something too, because we are increasingly matching launches to our partners. The idea is that thanks to the connection with our partners, be it Lamborghini, Pirelli, Goodwood or other events, we have the right crowd at the right moment to support a certain product – more specifically, in the world of motorsport. So in the Spider world, we know that we have Watches and Wonders: this could be a first moment, maybe less motorsport driven. But then we have Goodwood, then we have Pebble Beach, then we have the Super Trofeo; we have plenty of moments when we think it's the best time to use our voice and present something new to our clients.
On that note, what sort of thing can we expect from Roger Dubuis at the imminent Watches & Wonders fair? Last year, your Knights of the Round Table sold out before the fair even started. Are you confident your novelties will enjoy similar success this year?
It's not a Knights of the Round Table, that I can tell you. We will have something very interesting relating to the future. We will have everything I said is going to be there. But it's the beginning of this new chapter in the history of in which we are going to evolve and continue with revolutionary watchmaking. So, there will be something that will take us into this new journey. Everything we've been doing in the last few years, with all its hype and craziness – I think this year, once again, everything is going to be very consistent.
4. At the end of last year, you said you wanted to be producing 100 percent Geneva Seal watches within the next two years. There's still a good year or so to go. How are you preparing for this and do you still think you'll be able to meet this goal on time?
---
So firstly, the good thing is that the way we make watches now doesn't really change compared to what we're going to do in the future. We are organised to make Geneva seal certified watches; the only product today we have in our assortment without the Geneva seal is a Spider. But probably, things will change.
Secondly, our return rate has reduced dramatically in the last few years, and again, this shows that we are going in the right direction. So the finishings, the craftsmanship, the watchmaking: everything has to be the best of the best. We cannot compromise on anything. Also, we live in the Geneva Canton, where we ourselves have grown and learned what it is that we are doing. It's also a way to be endorsed by a credible entity about the way we do things.
5. Is it fair to say that Roger Dubuis puts aesthetics ahead of functionality?
---
It doesn't mean that we do not care about the function. It's just the matter of sequence. The first thing we say is that the watch has to be beautiful, but this has to do also with the evolution in the watchmaking world. Before, it was an instrument. Now, it's no longer an instrument to tell time. It's also something that says something about you. So first of all, we care about the design. It has to be a beautiful object. It's art.
We care about making the function more beautiful, I suppose, so that's the thinking behind it. But the function stays the same either way. Furthermore, we love challenges. First, we make sure it's beautiful – and only then do we put things together. We work on the craft. We work on the technique to make sure that it works just as well.
So you never compromise even a little with the aesthetics?
If we have achieved technical feats, yet the watch is ugly, we reject it. But to question what is ugly and not ugly? That's about taste. You know, not following what the clients want doesn't necessarily mean something is a mistake, because at the end, luxury is about creative impulse, too. We want to keep this creative impulse. We cannot give it to our clients otherwise, or else nobody's going to innovate.
6. You also produce special editions and unique pieces for your clients. How do they differ from the core collections? What are collector's wishes when it comes to their own unique Roger Dubuis watch?
---
Well, as I said, I consider the fact that we maintain the creative impulse as very important. Now we also see that luxury is becoming more and more personal, especially when you get to a certain level.
Our clients who can afford crazy things want something very special. So, we have two levels in our assortment. The first one is a little personalisation, which can be something like an embellishment on the caseback. Or, it can be something completely different, such as a brand new creation where we really sit down with the client and we design the watch with him. That happens inside our lab where we have engineers, craftsmen, and designers who sit down with the client, trying to understand what they want. Then, we basically develop together with the client. We start with an idea and we come to something pretty unique. This way of doing things is growing, by the way. We have more and more clients who want something unique and special.
7. A new, younger generation of clients is increasingly interested in buying luxury watches. How are you adapting to cater to this upward surge in interest from affluent young people?
---
We don't need to adapt. As I said, we want to represent an alternative – a credible alternative – to classic fine watchmaking. This is exactly what this new clientele wants. They don't want to have the same watches as their fathers. They don't want to have the same watches as people in the past. They want something new, which represents them in a better way. In that sense, the expressive, contemporary approach we have with our watches, cater very much to this kind of new clientele. So our universal sense of expression works pretty well with our young clients. All in all, I think we have the perfect offer for them.
Then how would you define the typical Roger Dubuis client? Do you think your typical client is changing?
It's a complicated question with a complicated answer. Our clients are achievers, and because of that, they have a decent spending power. But other than that, it's very complicated to define our client. Very different ages. Very different cultures. They come from every country in the world. Because of this, sometimes it's complicated for us to find a common way to communicate with them. That's why we go down to the one-to-one connection, hence why we need to have a kind of a limited crowd with us – so that we can really make sure that we offer our clients the best possible personalised service.
8. How important are retailers to you and in what way do you view retailers and boutiques differently, particularly in terms of client exploration?
---
Very important. If they're good partners, retailers are super important. So when they play the game – support our messaging, present our timepieces in the right way – there are many things that they can do for us. The idea is that we want to continue and potentially double down working with those partners who we are sure are real partners.
What we're saying, essentially, is: fewer partners, more partnership. We are reducing the network and making sure that those who remain are those we want to play with. This is how we will expand in the future. We want to open just a few more boutiques to make sure that we are in the right places with the right presence, where we can really present the brand well. We are still developing the brand, so we need to make sure that our clients hear the message from us and hear it well.
How is Roger Dubuis developing in the US?
As I said, the US was always in the picture, but we never really put the right effort behind it. Now, though, we've started. We have just opened a new boutique in Orange County, South Coast Plaza, which I personally paid a visit to. I think it's the perfect place for us to be very high up, while offering something totally different. We also have the locations in New York and Aspen. We are also planning to expand in California with an additional two locations. We are looking south, too, potentially to Texas. In any case, we are certainly increasing our effort in the US because we see that there is a growing demand for our presence in the country.
9. Are you looking forward to Goodwood? What lessons did you learn from your first year that you will take into account as you plan the coming year? Can we expect to see another watch launch at the event?
---
Well, it was the first year, so clearly we learned a lot. We knew it was a test which would help us to understand if and how we could improve our presence there. I think we learned a lot. Firstly, we never expected that crowd, that excitement, that passion. I think that's where we need to play a bit more with pushing our visibility even further. I think in terms of presence, we are very happy about our presence at the driver's club and also on the other side. The booth was pretty visible and I think that's something we're going to continue. Now we also understand a little better how we can improve our presence there. We are going to have a new line-up of incredible cars. We might come up with some surprise that we are currently discussing for this year. So, it's still all in the making. We have four or five months to go, so we are still working on the details.
10. Roger Dubuis does pretty much everything in-house and also has its innovative and very well-equipped Q Lab. How much do you collaborate with other brands within the Richemont group to help them out with their own research – and vice versa?
---
There is constant collaboration, and all the CEOs meet every month. So, there are plenty of connections and plenty of moments when we can discuss things, as well as undergo training. You know, we invite people from other brands to train with us and vice versa, depending on what we need or what they need. There are plenty of collaborations.
11. Do you plan to keep production at around 3,000 pieces per year for the foreseeable future?
---
We want to remain very exclusive, yes. Currently, we cannot make more, although in the future, there will be some kind of growth, but it's not going to be what the other brands have been doing. But at the same time, I want to avoid what we are seeing around now with scarcity becoming the way to push prices up and so on. We need to make sure that we manage the expectations of our clientele and I want to make sure we have enough watches for every store. That's why I don't want to open more stores.
12. In what direction is the watch industry moving now?
---
It's very difficult because it's a very uncertain time. What we have seen recently is that the big horology houses become even bigger. The groups are taking over, but at the same time, there is a huge opportunity on small, more niche brands. I think that anything in-between doesn't work. So, either super high value brands or the big groups with the big brands are coming out on top.
I think there is also a quest for value. Real value clients are becoming more and more specific in what they want and knowledgeable about what they want. Because of that, they know how to choose brands better. I feel like the bubble we have seen will happen again, but for a limited amount of time, and it's going to be orchestrated by the big brands, as they are playing with quantities. Like an elastic band, they are able to give a little more.
---
---